Ultimate Cyprus Bucket List: 27 Things To Do And See
If you asked me, how much time you would need to see as much as possible in Cyprus, then that would be my answer – as much as possible. The first thing you need to do is to rent a car, because, without it, it is quite impossible to see the beauty of this island.
The majority of the real 'pearls' of this island are hidden somewhere in the middle of it or somewhere remote, where there is no public transportation, but those places are the best ones to visit!
Waterfalls in Cyprus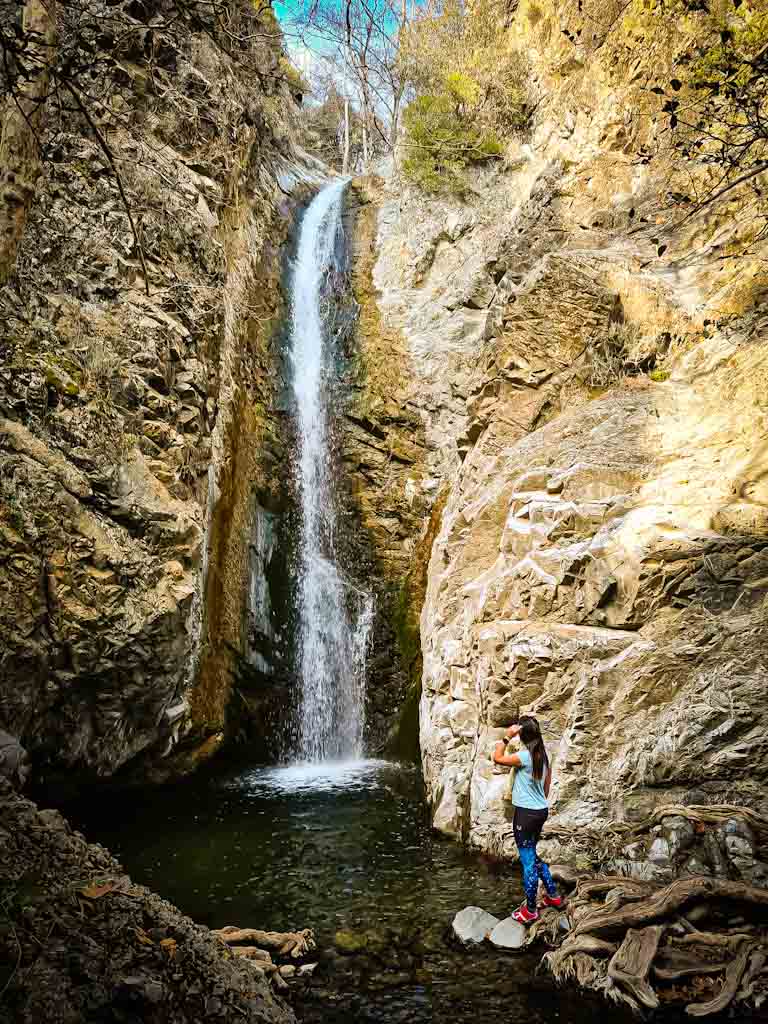 1. Kremiotis waterfall (map)
2. Millomeris waterfall (map)
3. Chantara waterfall (map)
4. Caledonia waterfall (map)
5. Mesa Potamos waterfall (map)
Waterfalls in Cyprus – they are definitely not the highest in the World, but they are definitely worth a visit if you happen to be on the island! Read more (including how to get there, where to park, what to expect etc.) about all of these waterfalls in this article – Explore these 5 amazing waterfalls in Cyprus!
Tip! There are waterfalls in Cyprus with entrance fees like the Green Valley waterfall or the Adonis Baths Waterfalls. I would suggest you be careful and read the reviews before going.
We were not convinced about either of those places to be worth the money (we saw the pictures and read the reviews) and actually thought that these waterfalls listed above were more impressive, plus you can visit them for free!
Beaches and coastal rock formations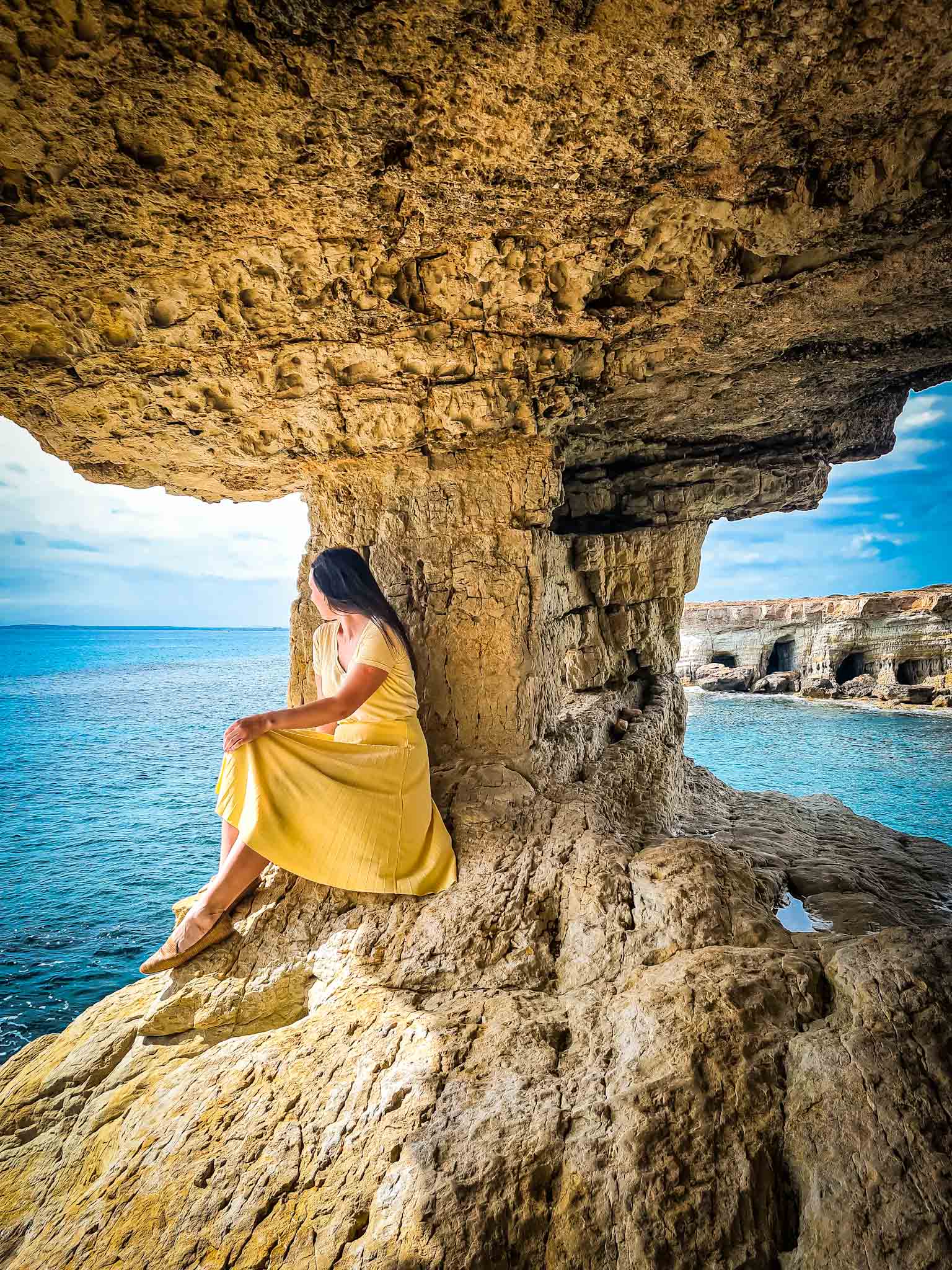 6. Love Bridge (natural arch) in Ayia Napa (map)
7. Aphrodite's Rock / Petra tou Romiou (map)
8. Sea caves in Ayia Napa near Cape Greco (map)
9. Prestos beach with impressive rock formations (map)
10. Explore Edro III shipwreck and Peyia sea caves (map)
11. Crystal-clear white-sand Nissi beach (map)
12. Governor's beach with black sand
Cyprus has quite a unique coastal area – lots of sea caves, epic rock formations, pebble, rock, sand beaches, natural arches, and so on. And all of that coupled with clear blue water – sounds like a paradise and it could be close!
There is a lot to explore and mainly on the Southside of the island. You can read more about these amazing rock formations in this article – Wow! Check out these 7 beautiful rock formations in Cyprus!
Troodos mountains and hiking adventures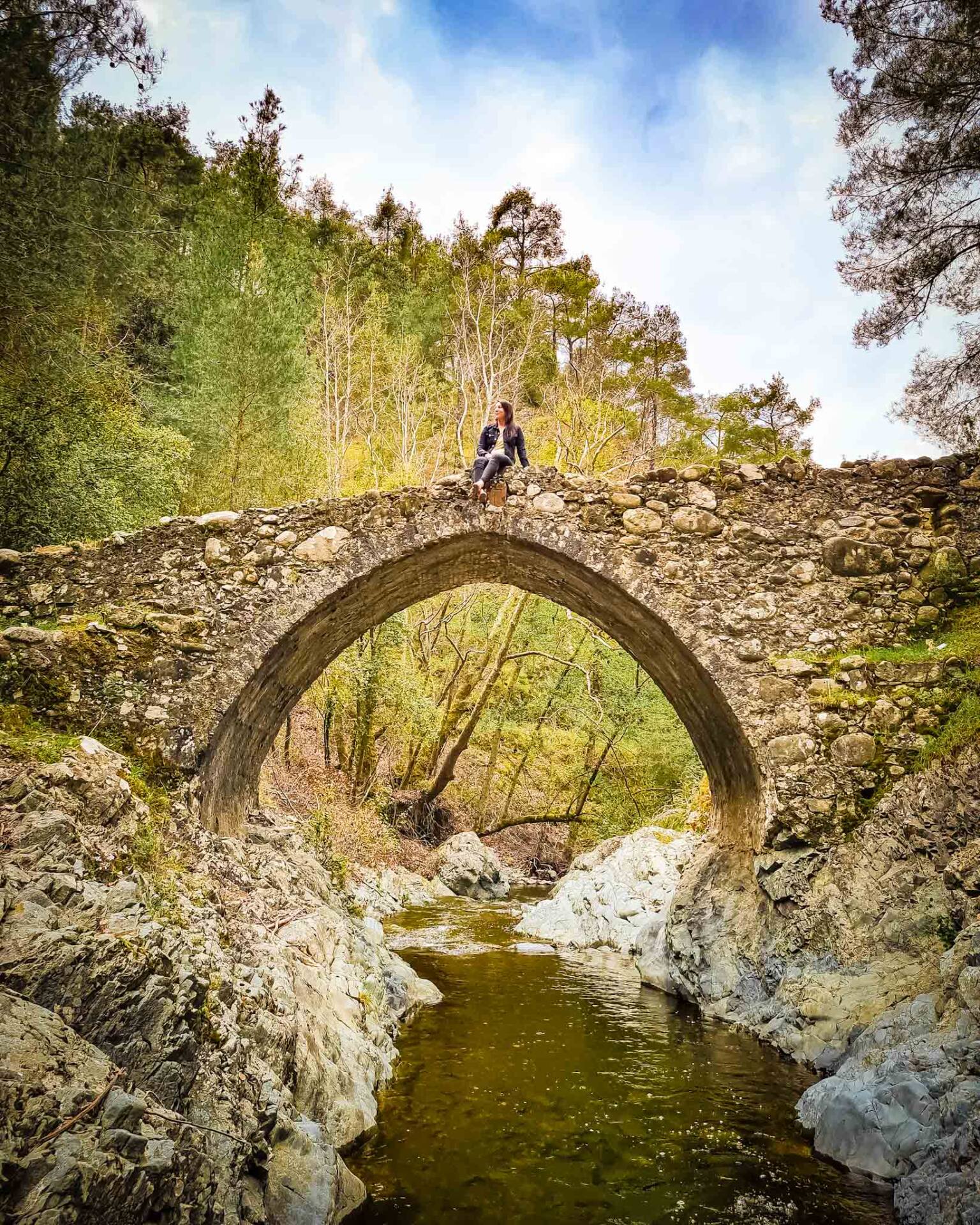 13. Hike Artemis trail around the highest mountain – Mount Olympus
14. Look for medieval Venetian bridges
15. Explore mountain villages in Troodos mountains like Omodos village
16. Buy whine in a local winery – Troodos mountains are full of local wineries!
17. Visit Kykkos monastery and other mountain churches like Panayia Sto Throni Church at Throni Hill (1450m)
Troodos mountains occupy about a fourth of the islands' territory and there is so much to do there! You definitely should not miss this area, because it is full of history, local traditions, unique places, and the most amazing views over the island!
Read all about different ideas and what you can do in the Troodos mountains in THIS article! Troodos mountains are a great escape from the summer heat because temperatures drop, when you get higher in the mountains – although sunny up there, it is comfortably cooler than at the seaside of Cyprus.
Unique adventures and experiences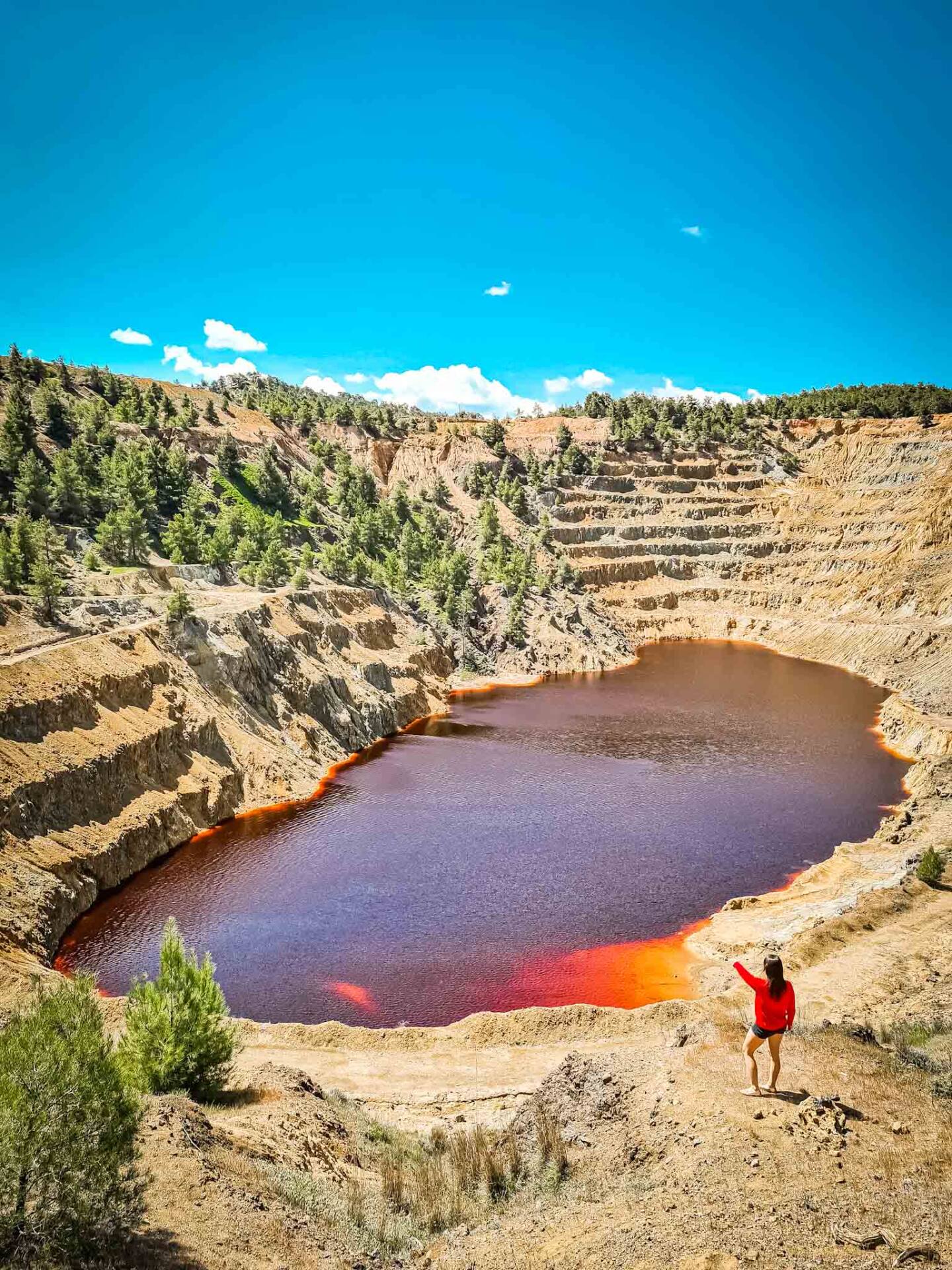 18. Visit the mysterious Mitsero Red lake (map)
19. Explore the amazing Avakas Gorge (map)
20. Dive into the history in the Tombs of the Kings in Paphos (map)
21. Hiking adventure: Madari Circular Trail overlooking mountaintops (map)
22. Impressive Cape Aspro Trail in Pissouri (map)
23. Explore the Akamas peninsula and climb to the top of Moutti tis Sotiras (map)
24. Have a picnic and watch the sunset in Troodos mountains
25. Explore the Salt lakes in Limassol and Larnaca (with flamingos!)
26. The unique Agioi Saranta Cave Church (map)
27. Sunken St.Nicholas Church in Kouris Dam (map)
Cyprus might be associated with beach resorts, swimming, and sunny weather, but it is quite an adventurous and interesting island!
If you are up for an adventure, check out THIS article for some inspiration! You can also read more about some unique spots and places in this article: 15 most unique places in Cyprus!
Happy exploring!
You will notice, that I did not include any city in the bucket list, because I do think that the most special places and experiences in Cyprus are truly away from the cities. Do not get me wrong – cities are nice for staying, going to restaurants, shopping, and having a walk along the promenade (if there is one).
If you are a city person, then definitely visit the biggest ones – Nicosia, Limassol, Larnaca, Paphos, and others, but I myself am more of an adventurer, so this list is an inspiration to do something special and unique.
More Cyprus travel inspiration!
PIN FOR LATER!