Adventure time! 9 unusual ideas to explore Cyprus
Whether you are a true adventurer and only seek unique things and experiences while traveling or you are a simple tourist who sometimes likes to spice things up and include in your travel itinerary something extra, anyone can draw some inspiration from this list of adventurous things to do in Cyprus! Here is my list of the top 9 adventures in Cyprus!
Read more >>> Ultimate Cyprus Bucket List: 27 Things To Do And See
1. Explore the amazing Avakas Gorge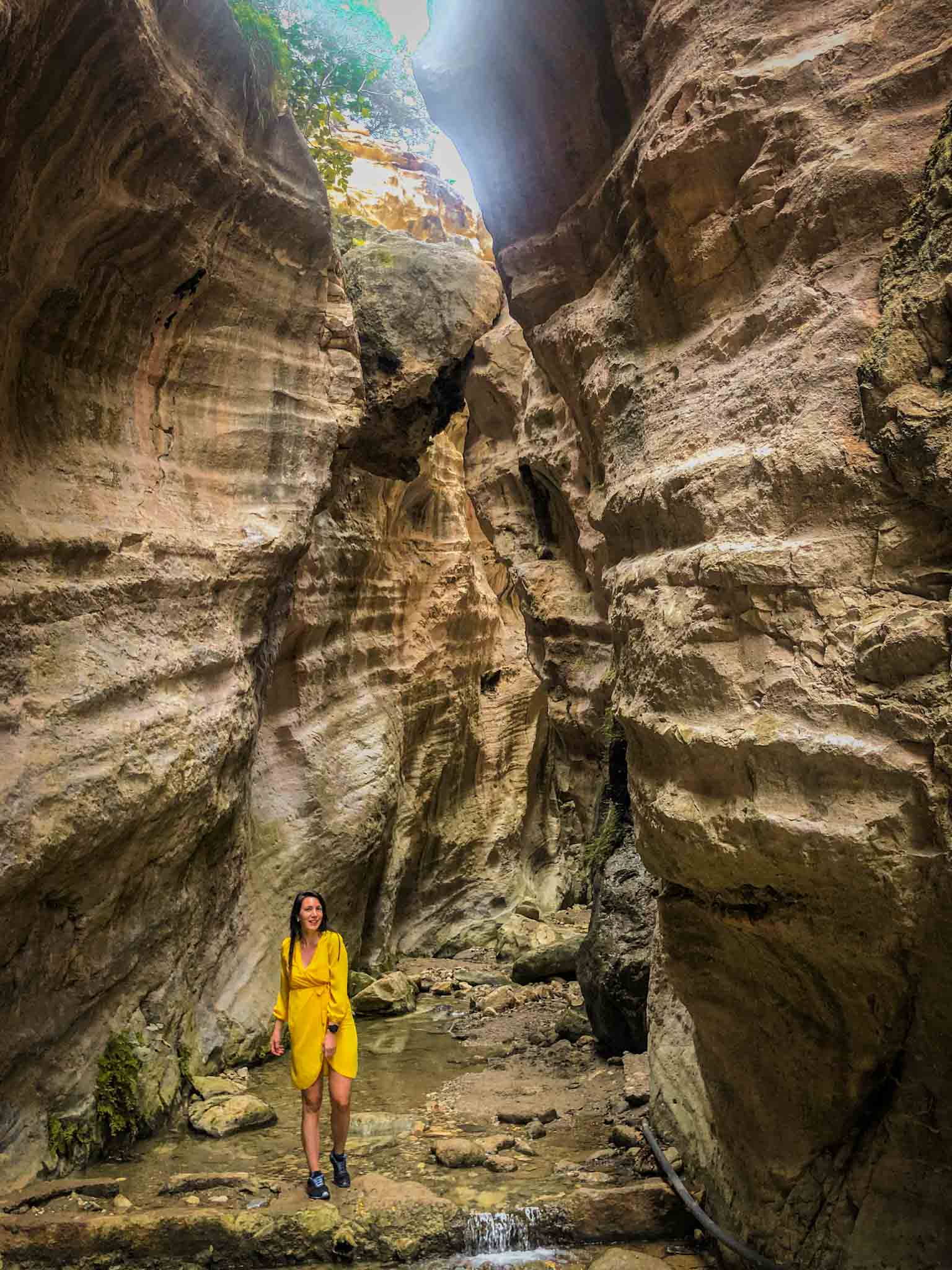 Walking Avakas Gorge Trail, following a riverbed, was one of the best adventures in Cyprus! If not THE best one! The first 2 kilometers are the most picturesque when the gorge is very narrow.
This is where you want to take the pictures. The rest of the trail will be crossing the stream numerous times, climbing big boulders, and following muddy paths next to the river. After 4 kilometers (2.5 miles) the trail leads uphill out of the riverbed and onto country roads.
What is left is tracking back to your car the same distance. Trail difficulty is moderate, and it took us 3 and a half hours to finish the whole loop. But it is an adventure for sure, which I will never forget.
You can park your car at the beach or right before heading downhill to the start of the trail. If you are not afraid of steep and bumpy roads, you can drive downhill and park your car there.
Trail start location: OPEN MAP!
2. Walk around the highest mountain – Mount Olympus (1952m)
Mount Olympus at 1952 meters above sea level is the highest peak in Cyprus. During summertime, the Troodos mountains, located at higher levels, are an escape from the heat, but during wintertime, there can even be snow and you can do some skiing on the slopes of Mount Olympus. However, any time is good for some hiking.
There are two popular hiking trails around mount Olympus – Artemis trail (just 8 kilometers/5 miles) is the highest trail above sea level and is located just 100 meters below the summit, but the Atalanti Nature trail goes another 100 meters lower – at 1750 meters above sea level. It is 13.5 kilometers (8.4 miles) long and will offer you amazing views and a day well spent!
Artemis trail start location: OPEN MAP!
Atalanti Nature trail start location: OPEN MAP!
3. Explore beautiful waterfalls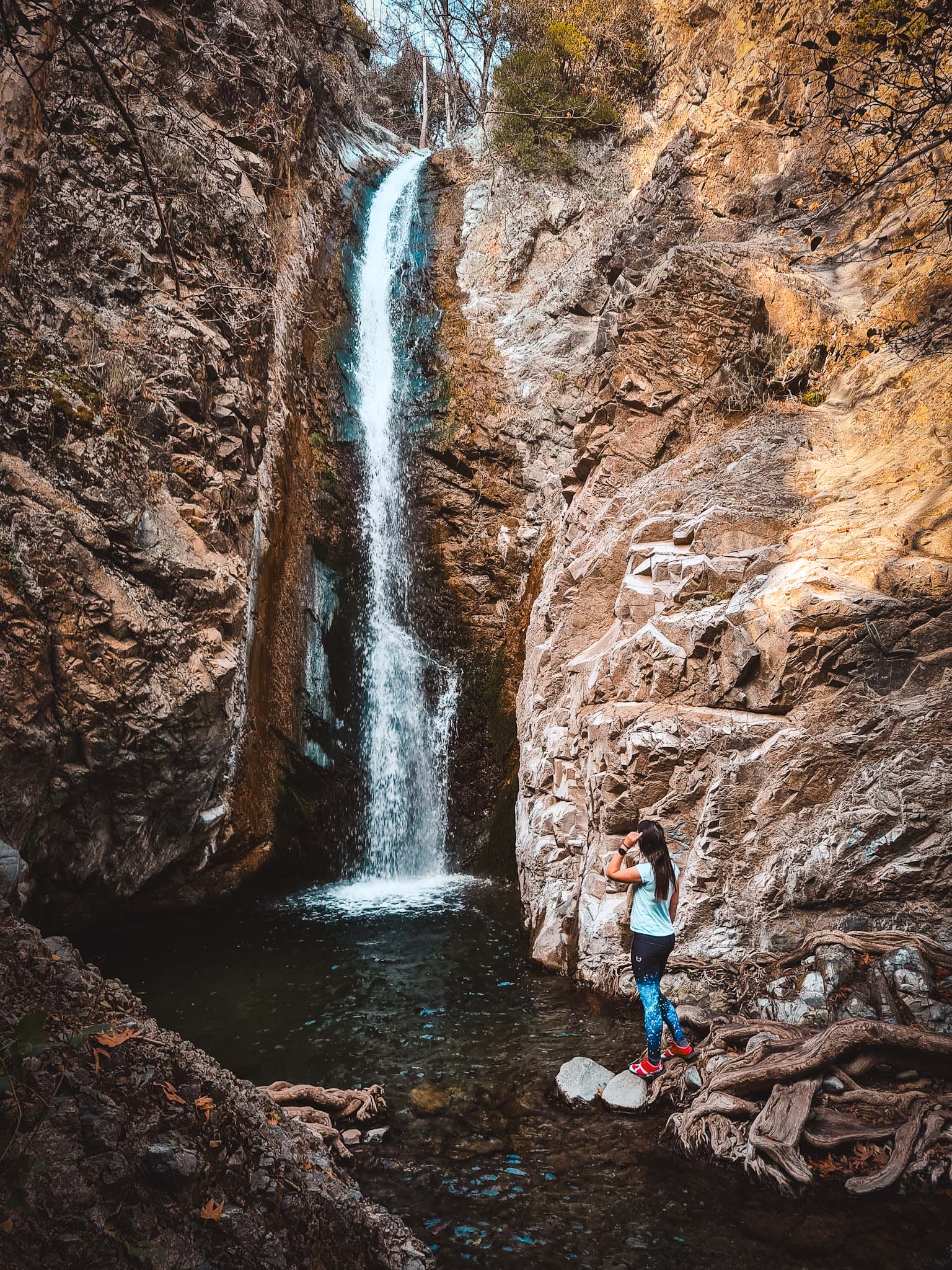 Cyprus island is quite rocky and that has helped form some beautiful waterfalls on the island. Some are quite jungle-like, some are inside a mountain, some are very easy to get to, but some need some hiking.
Some waterfalls are on private property and require an entrance fee which is not worth it, in my opinion. Here is my list of the most beautiful waterfalls in Cyprus, that you can visit for free, how to get to them, where to park the car, and what to expect: Explore these 5 amazing waterfalls in Cyprus!
4. Hiking adventure: Madari Circular Trail overlooking mountaintops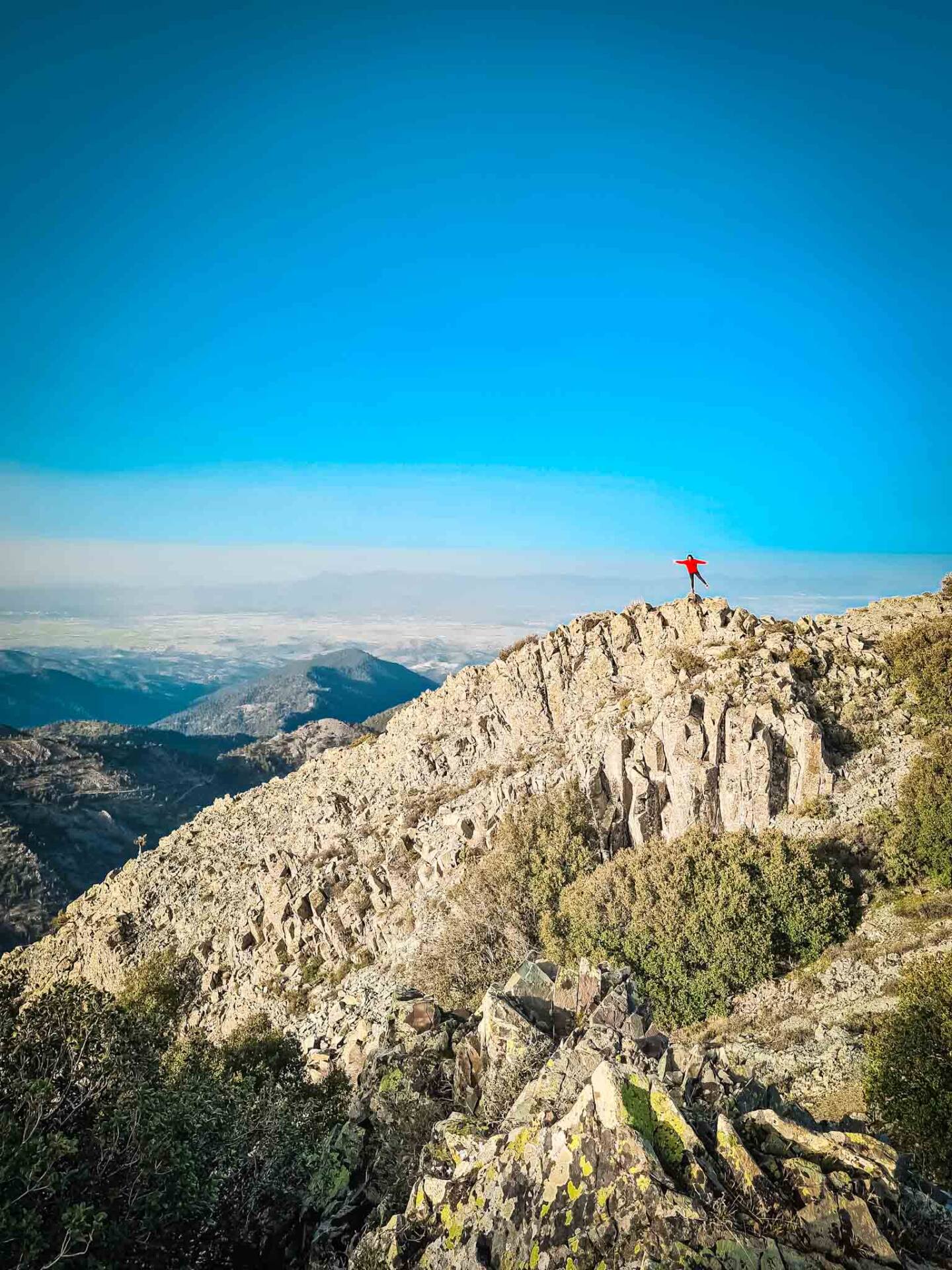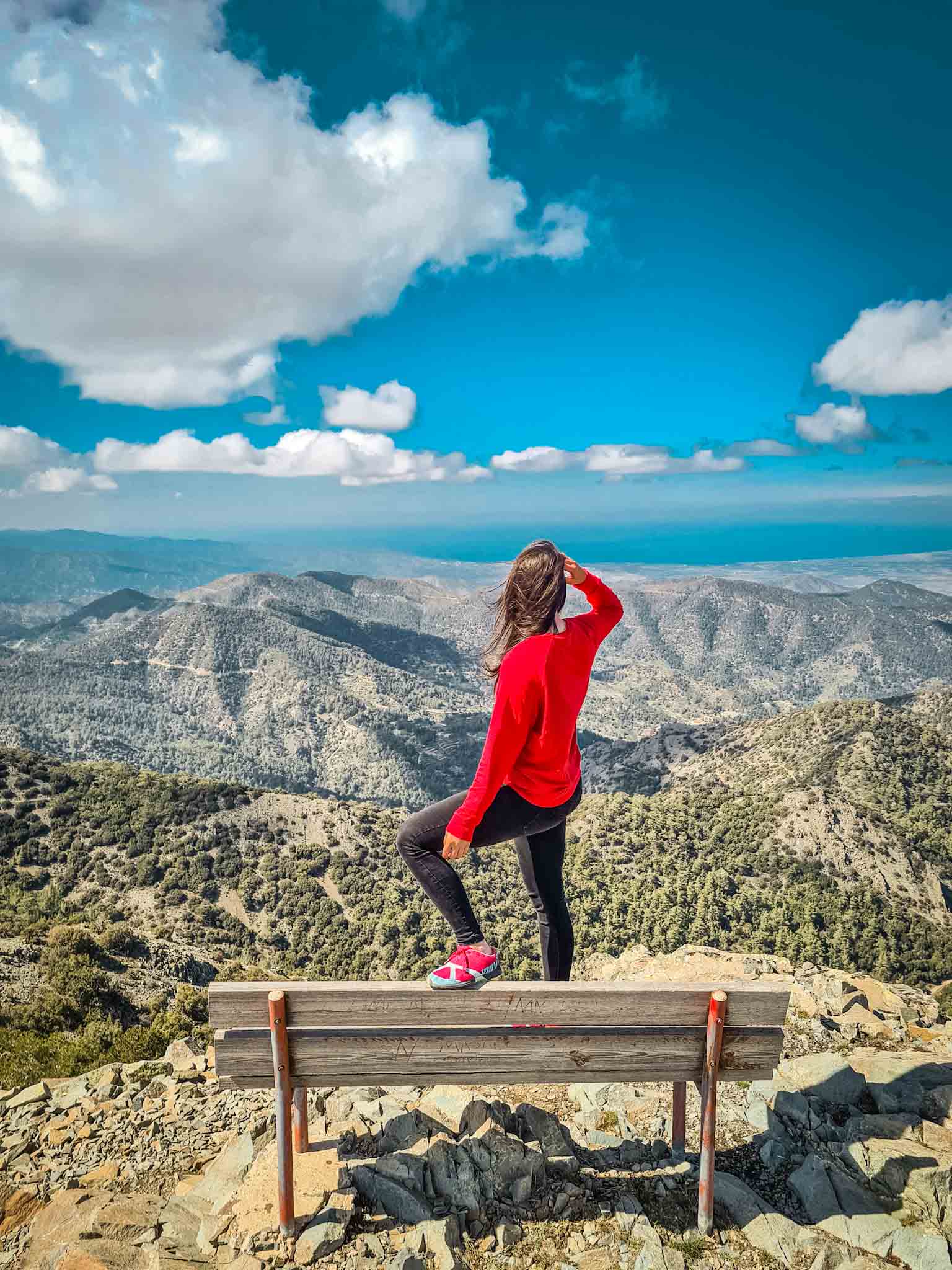 This is a must-do nature trail in Cyprus trail if you can dedicate at least half a day to mountains and stunning views! This 13-kilometer (8-mile) trail with 700 vertical meters takes you through forests, over rivers, and next to mountaintops.
You will get some of the most amazing views in the Troodos mountains, including the overlook of the North of Cyprus and the Kyrenia mountain range. The highlight of the trail is the Madari Fire Station with stunning views and nice picnic spots.
It is just 4 kilometers (2.5 miles) from the start and, if you are not up for the whole trail, this is the point where you can turn around and hike back to your car. You won't miss anything too special if you do so!
Trail start location: OPEN MAP!
5. Dive into the history at the Tombs of the Kings in Paphos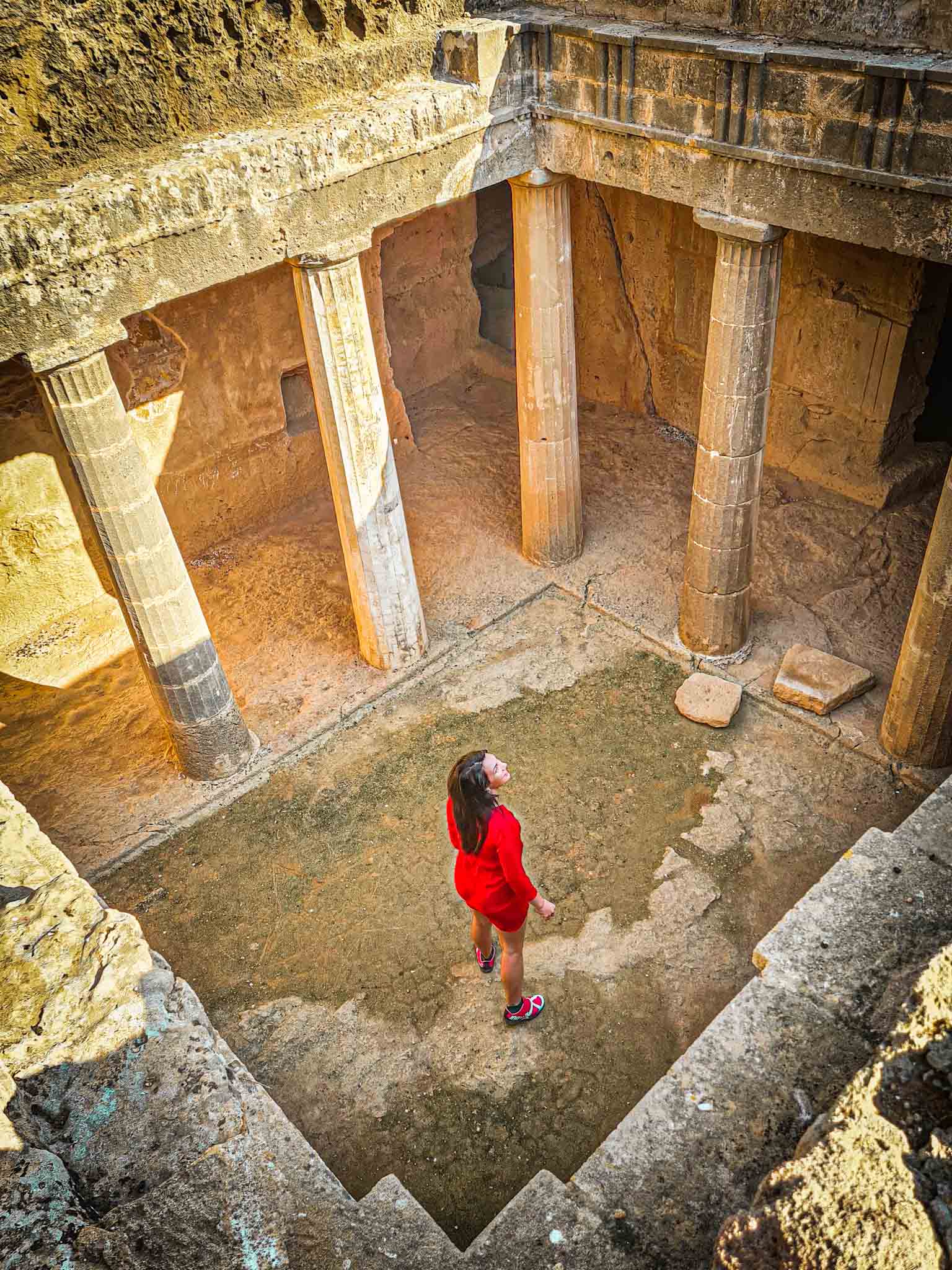 The former underground necropolis sounds like a strange place for sightseeing, but it is just a place to go and explore. There is an entrance fee to the territory of the Tombs of the Kings of 2.50 EUR.
The tombs are carved out of solid rock and reminded me of history lessons at school when the teacher showed pictures of ancient Egyptian funeral customs. When entering the territory, you will be given a map (or you can take it yourself at the entrance) with all the tombs marked with numbers.
The area is quite big and you can spend even a couple of hours walking around and discovering. There are only 3 tombs with columns, so I suggest exploring them if you want this particular picture! You can find the opening hours and other information on the 'Visit Cyprus' website HERE.
Location: OPEN MAP!
6. Adventure at the coast: sea caves in Prestos Beach and Cape Greco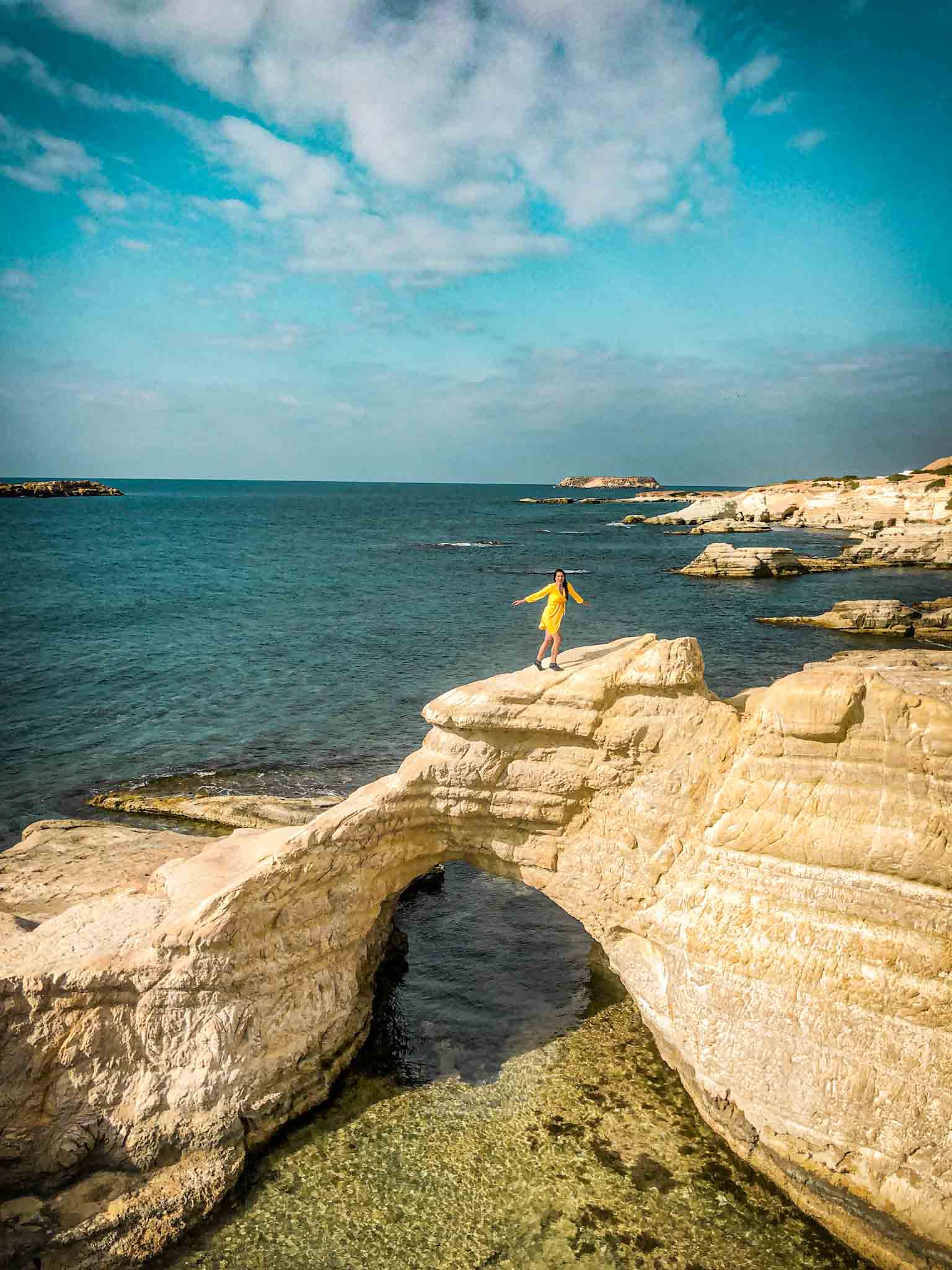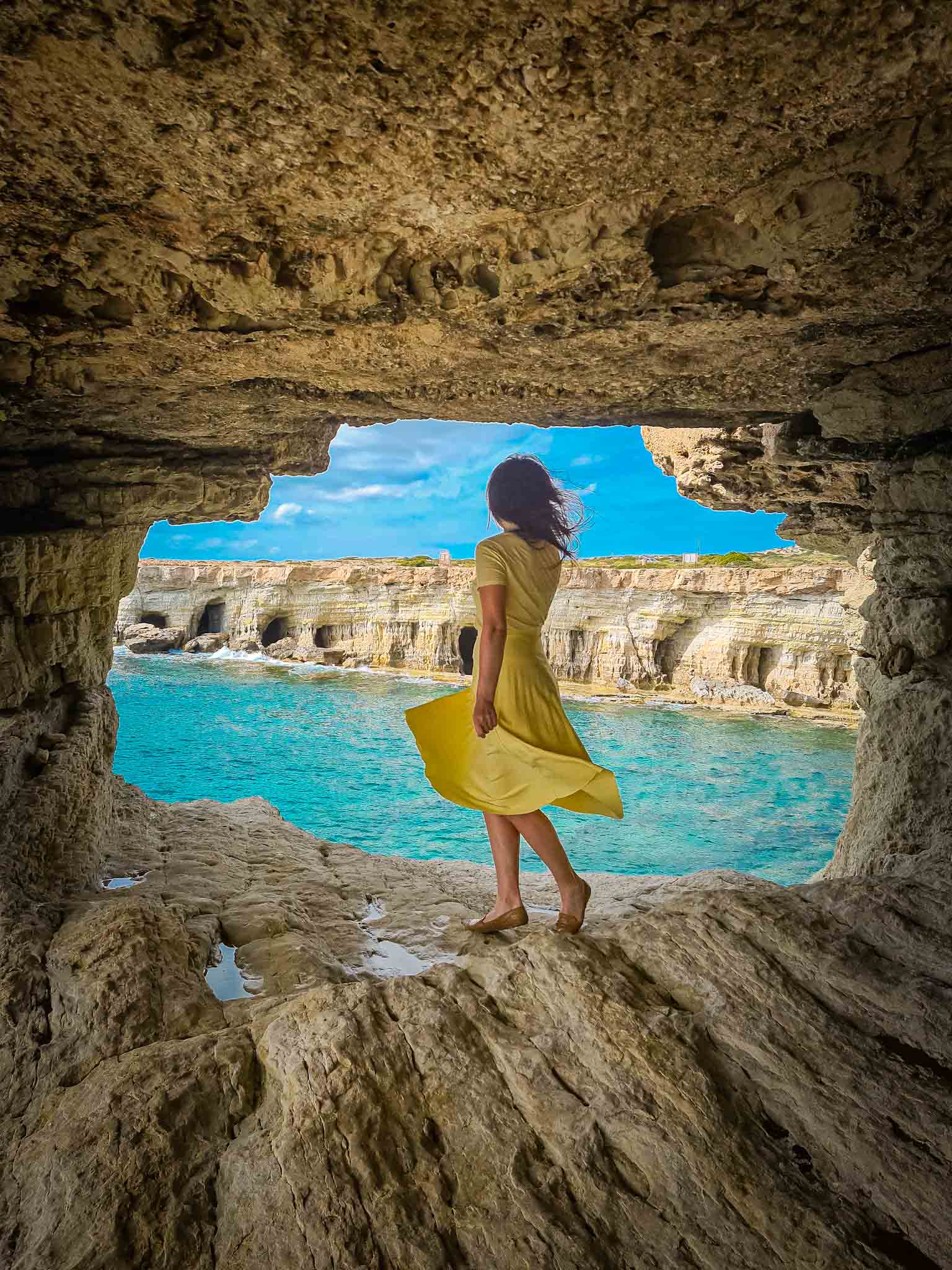 There are two areas in Cyprus, where you can explore sea caves and unique coastal rock formations. Those are Prestos Beach not far from Paphos city and sea caves near Cape Greco.
The coastline near Prestos Beach is somewhat of another planet! Impressive rock formations are all over the coastline – Aiva arches, Aras fingers, Moria bridge.
There is a steep climb down to the beach, but then it is all set – climb the rocks and explore! However, sea caves near Cape Greco are one of the most photographed places in Cyprus. There are sea caves high on the cliff, that you can actually climb inside.

Location for Prestos Beach: OPEN MAP!
Location for sea caves near Cape Greco: OPEN MAP!
7. A Unique adventure: discover Mitsero Red Lake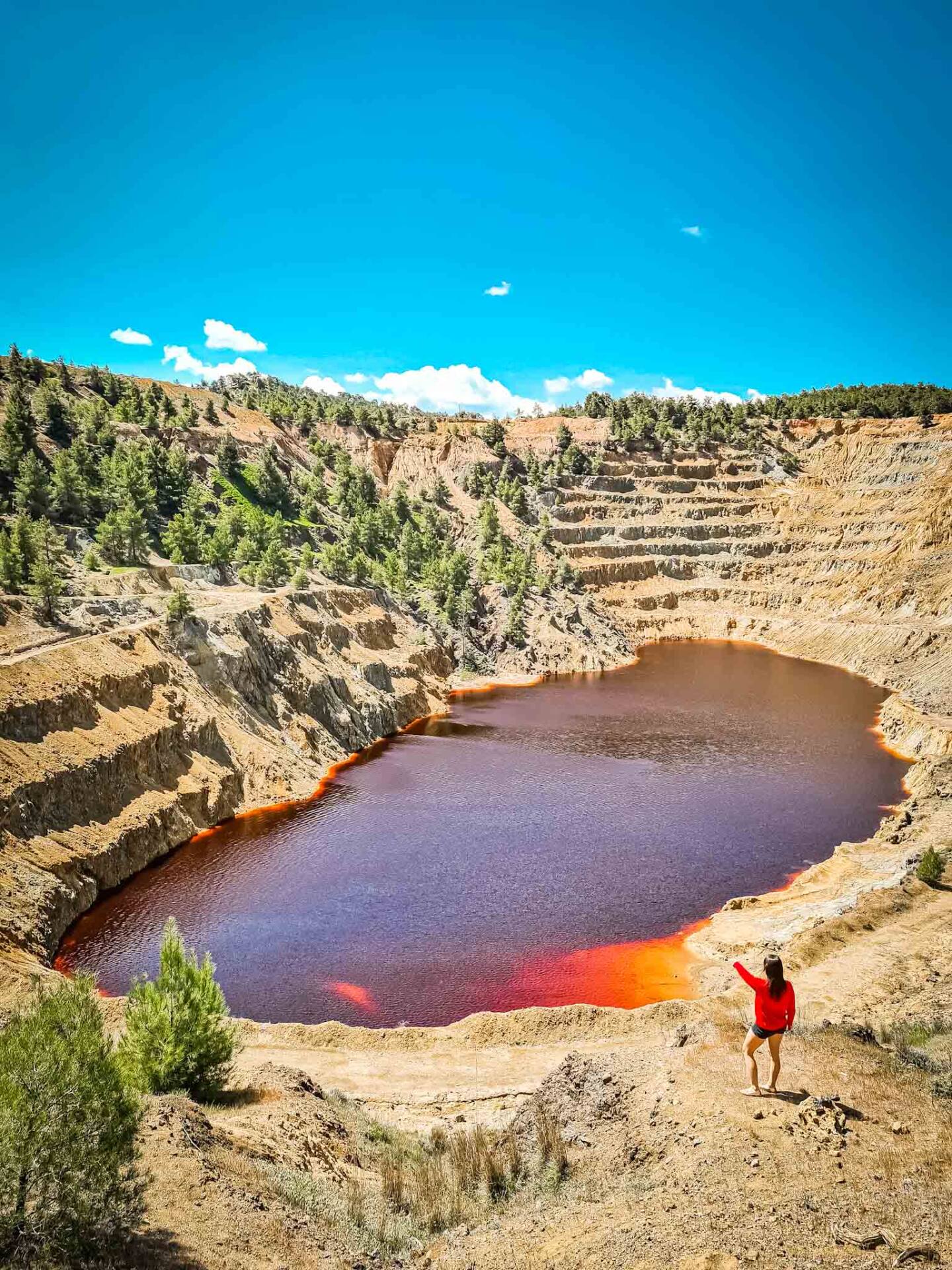 This very unusual and adventurous place is located in the central part of the island. How often do you get to see an actual red lake?
Although the lake is toxic due to high acidity levels and no life lives there, people love to use the opportunity to explore the area and take some pictures at this lake.
There is a fence, but you can easily access the area and walk around. I would not suggest getting too close to it. You can park your car at the end of the road, which leads to the lake.
Location: OPEN MAP!
8. Hike unique hiking trails in Cyprus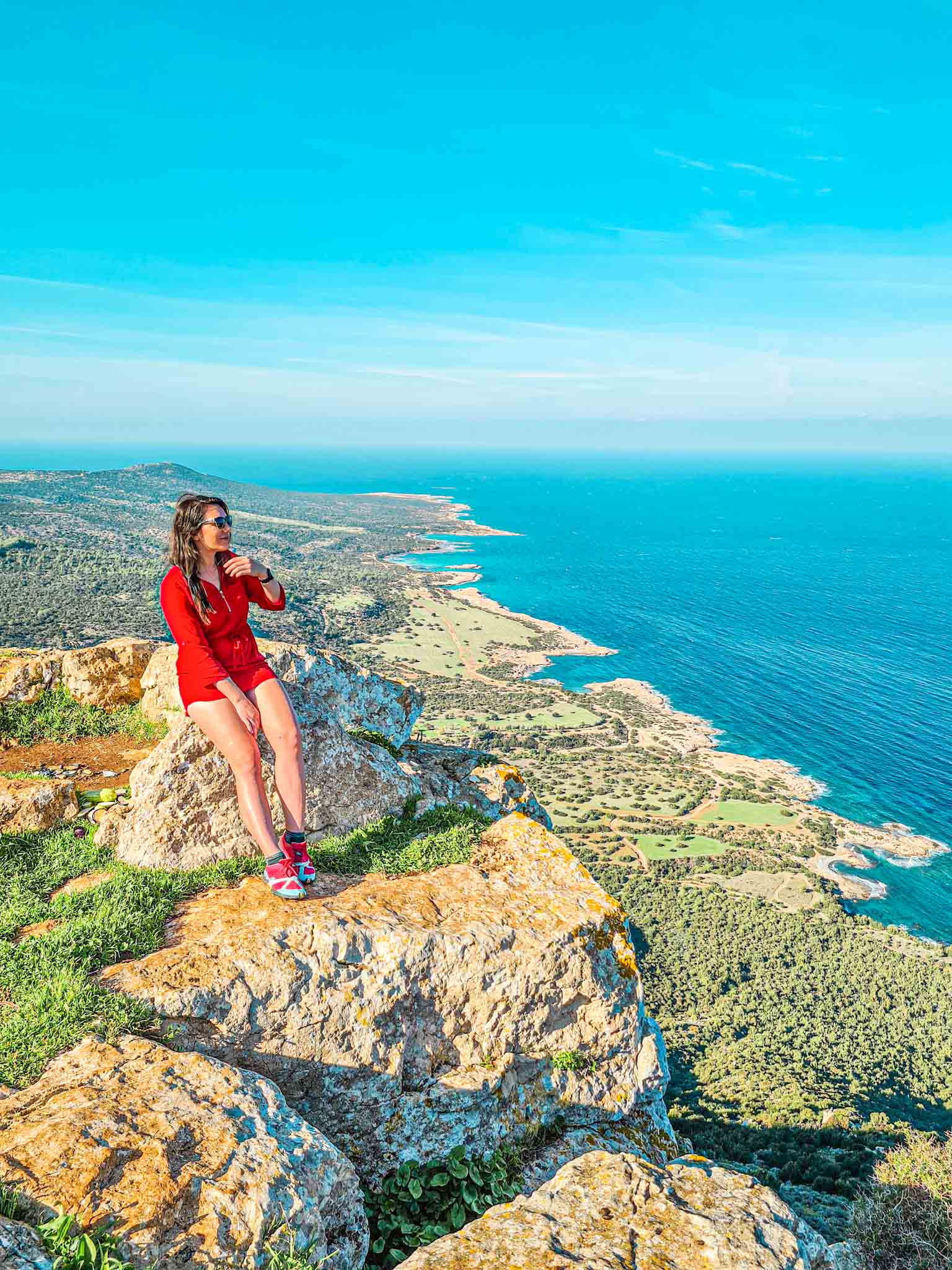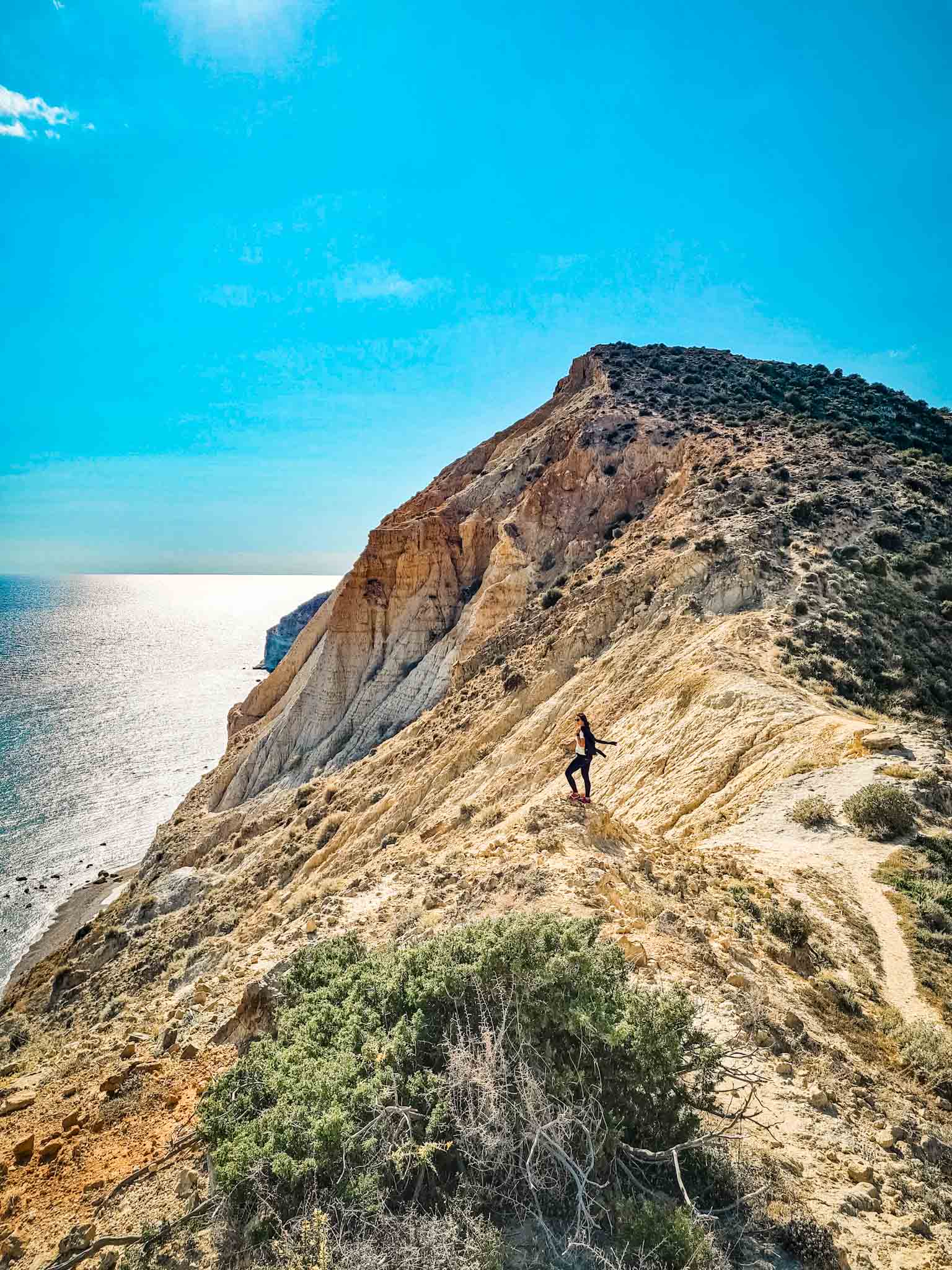 When we hear about hiking, some of us usually think about mountains, but this is not it! There are unique and adventurous hiking trails in Cyprus located at the sea.
For example, you can hike this unforgettable Aphrodite's Nature trail at the Westernmost part of the island, and from the top of the Moutti tis Sotiras peak, you can observe the Akamas peninsula many kilometers away – till the land runs out!
Or you can have a breathtaking hike from Protaras beach along the cliffside and experience these white and rugged cliffs at the coast. Read more about these trails here: Wow! Check out these 7 beautiful rock formations in Cyprus!
9. Have a picnic and watch the sunset in the Troodos mountains
This particular bench is on the Madari Circular Trail near the Madari Fire lookout station building. Can you imagine yourself having a picnic on this bench and waiting for the sunset? Just an idea.
To me, it sounds like a great plan for an evening – nice views, some exercise, some comforting food, and an amazing end of the day with the sunset over the mountaintops.
Happy exploring!
Have you been to Cyprus? What kind of adventures would you suggest? The island is so diverse and beautiful, so my suggestion to you is – do not limit yourself to beach resorts only! Unexpected adventures and going outside your comfort zone sometimes give us the best memories for life! Go out and explore!
PIN FOR LATER!