Troodos mountains are 'the pride and joy' of Cyprus island, in my opinion. They occupy about a fourth of the islands' territory and there is so much to do there!
When you get tired of frying and cooking yourself at the beach, there is always an escape – to the mountains. The temperature drops when going higher in the mountains and it can be a great escape during summertime temperatures down at the beach.
Besides, the mountains are the best place to explore Cyprus' history, and nature, buy local goods, and explore some of the most beautiful places on the island! Here are my top 9 things to do in the Troodos mountains!
1. Hike nature trails and climb mountains!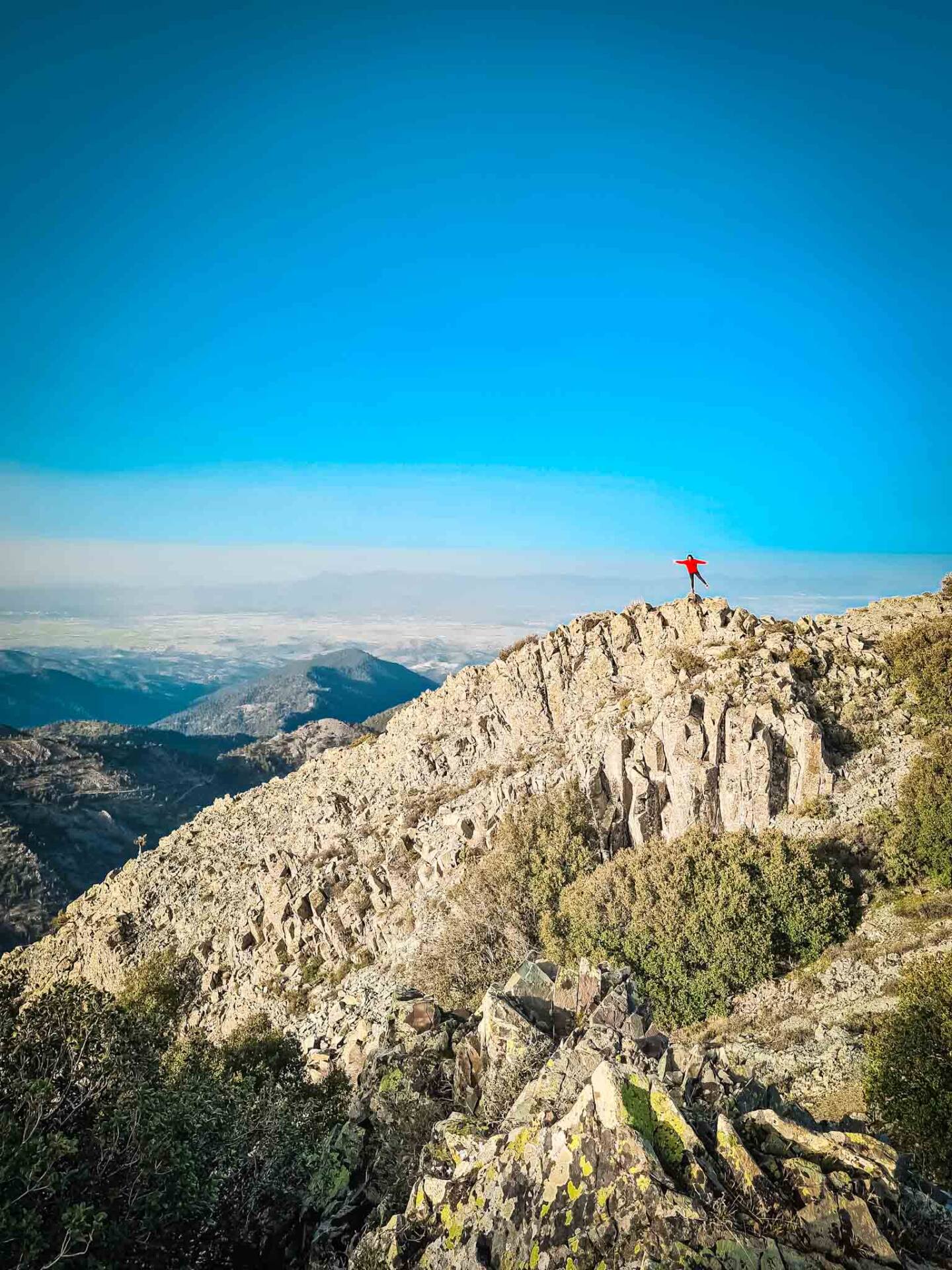 Probably the best way to explore the mountains – go hiking! Troodos mountains are extremely suitable for hiking and climbing. There are nature trails everywhere with many benches along the path to relax and take in the view.
If you are interested in the highest mountain – mount Olympus (1952m above sea level), then my suggestion would be the Artemis nature trail around mount Olympus just 100 meters from the top. It is flat and easy (just 8 kilometers/5 miles), but the views are stunning!
Another 100 meters lower is another trail – the Atalanti nature trail, which is longer (13.5 kilometers/8.4 miles), but nevertheless very picturesque!
However, the photo is from the Madari Circular trail – another very impressive hike over the mountaintops. If you are interested in the best walking trails in Cyprus, go to my post HERE!
2. Admire waterfalls!
Some of the most beautiful, well, practically all of the waterfalls in Cyprus are located in the Troodos mountains. And the biggest and most noteworthy ones are actually quite close to each other.
Beware, that some of them are extremely popular and can be quite crowded if you go there during the peak hours (midday, afternoon). My favorite ones are Caledonia waterfall, Millomeris waterfall, Chantara waterfall, and Mesa Potamos waterfall. Read more about waterfalls in Cyprus HERE!
3. Look for medieval Venetian bridges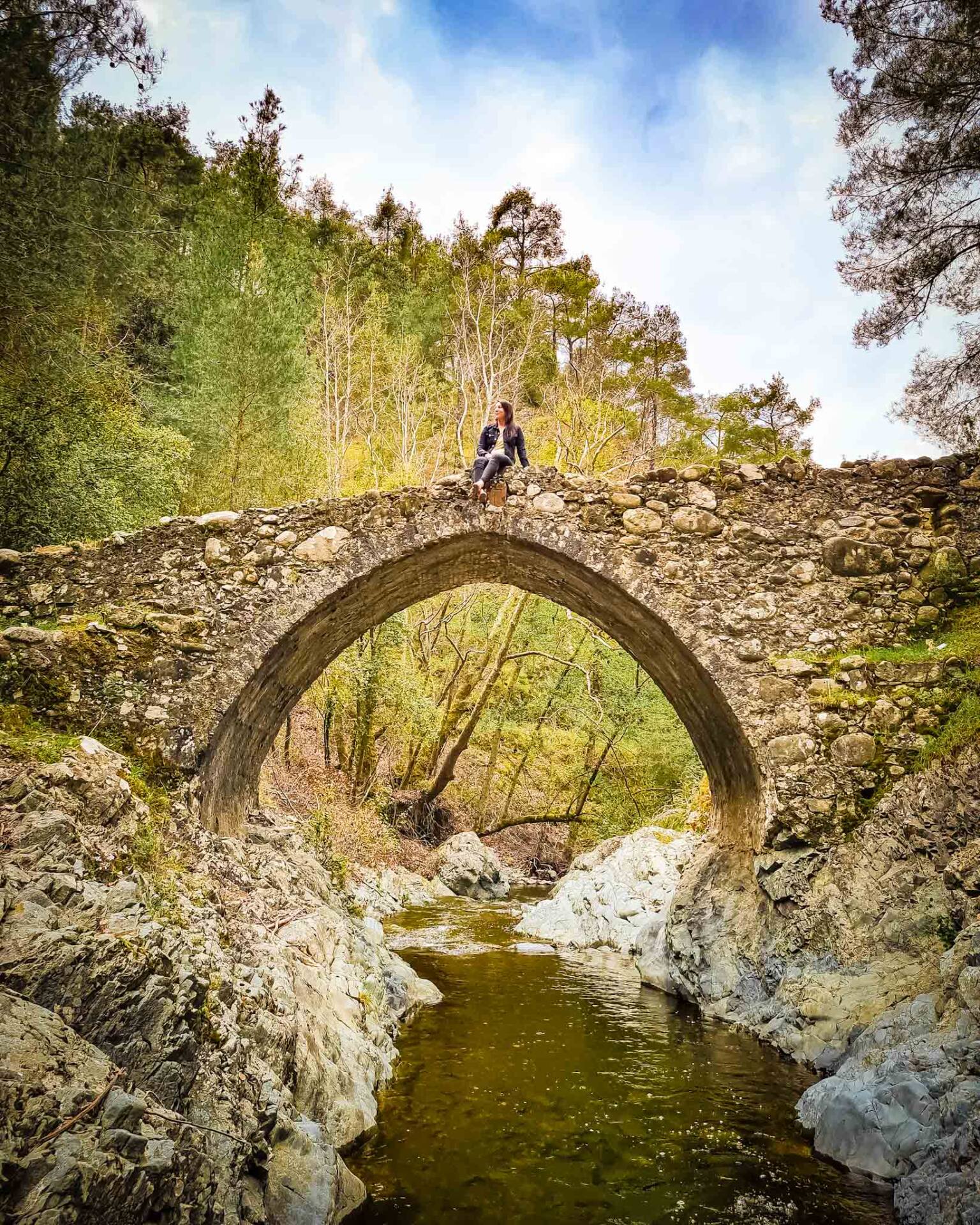 There are many medieval Venetian bridges in the Troodos mountains – a heritage of the Venetian rule on Cyprus island around the 15-16th centuries.
The stone-built bridges are a popular place for a photo for locals as well as tourists. The most popular and biggest of the Venetian bridges in Cyprus is the Tzelefos bridge, however, it is extremely popular.
It is very difficult to catch some alone time. Pictured above is Elias medieval bridge just a couple of minutes drive away from Tzelefos bridge. A bit smaller, but still impressive.
4. Explore mountain villages in the Troodos mountains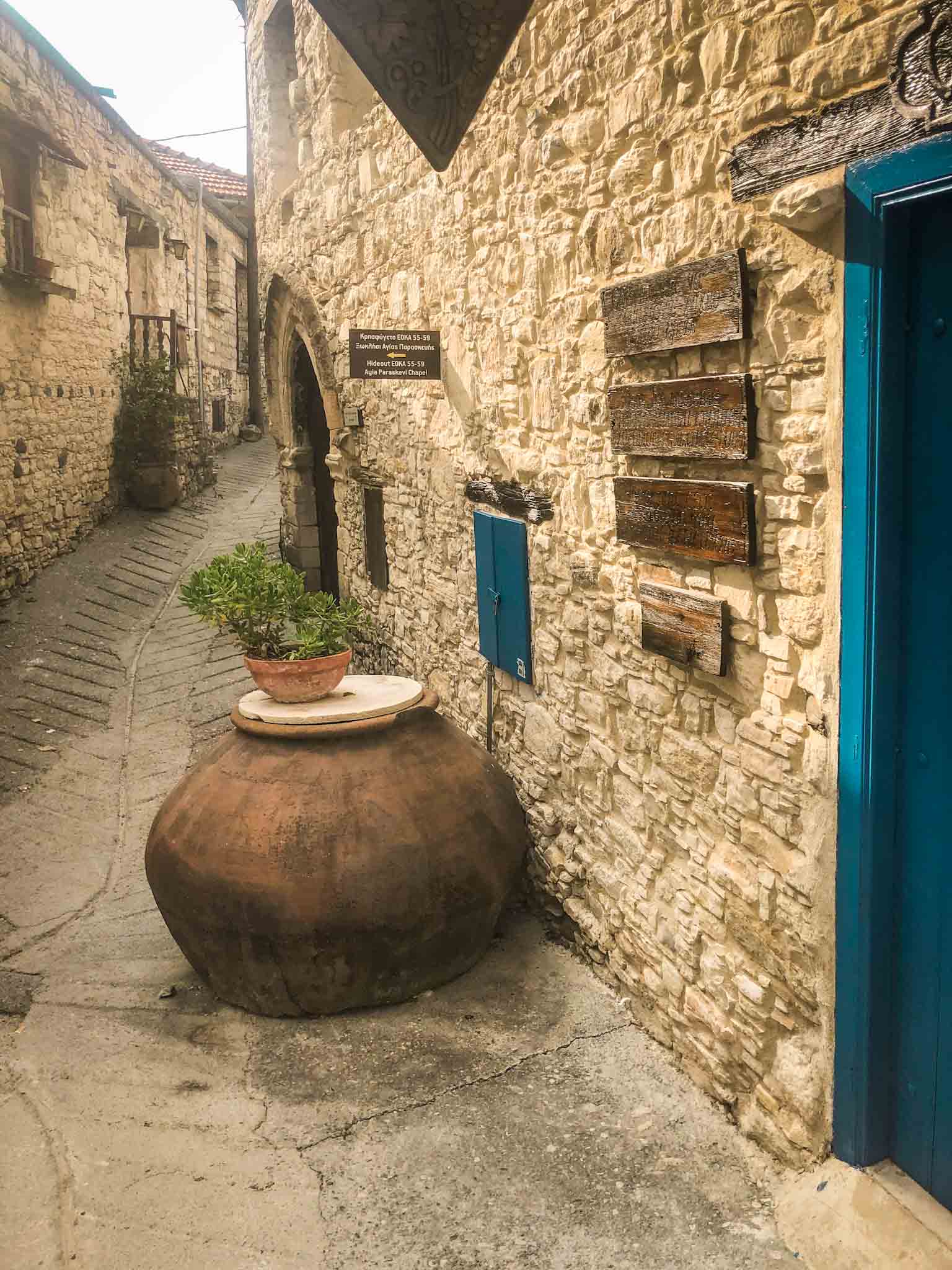 Much more than the big cities, mountain villages hide the authentic lifestyle and history of Cyprus in them. There you can observe some historic buildings, streets, and monuments.
People sell their local goods, crafts, wine, food, fruit, and much more. Some streets are that narrow, you can not even drive there.
My favorite villages are Omodos, Kakopetria, Troodos, Askas, and Prodromos with its abandoned Berengaria hotel. I definitely recommend stopping in a village and having lunch or even staying the night!
5. Buy wine in a local winery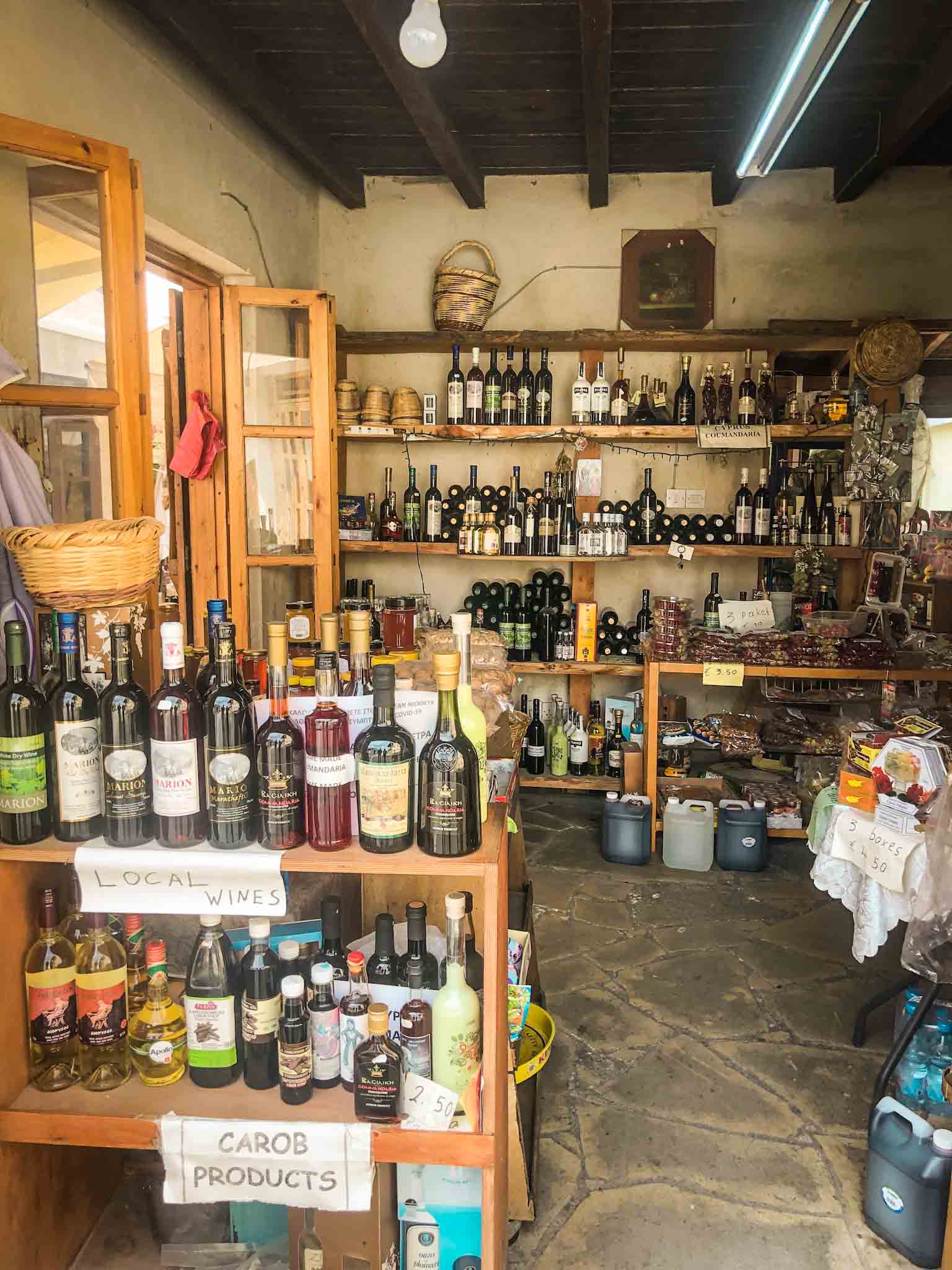 Cypriots are definitely proud of their local produce, especially, wine. If you happen to drive around the mountains, you will notice many grape fields and many road signs pointing to local wineries.
They are so many that at one point it is impossible to keep driving past them and you will be drawn to visit one and buy some local wine. I have to tell you, that is a good idea! We visited Kolios winery and bought some typical 75 cl bottles for 5 EUR each. The best decision!
6. Find the best view and have a picnic
One thing I noticed while traveling around Cyprus, is that they have benches everywhere – ready for sitting in the best places. You will see them at the beach, on a cliff, at the lake, on top of mountains, along the nature trails, etc.
And exactly in the spot, where you would want to stop and think: 'Wow, this is a great view!'
You don't have to look for specific picnic sites! Just look for some viewpoints in the mountains or walk a nature trail and along the way, you will stumble upon many benches. Take some snacks with you and enjoy a picnic with a view!
7. Visit mountain chapels, churches, and monasteries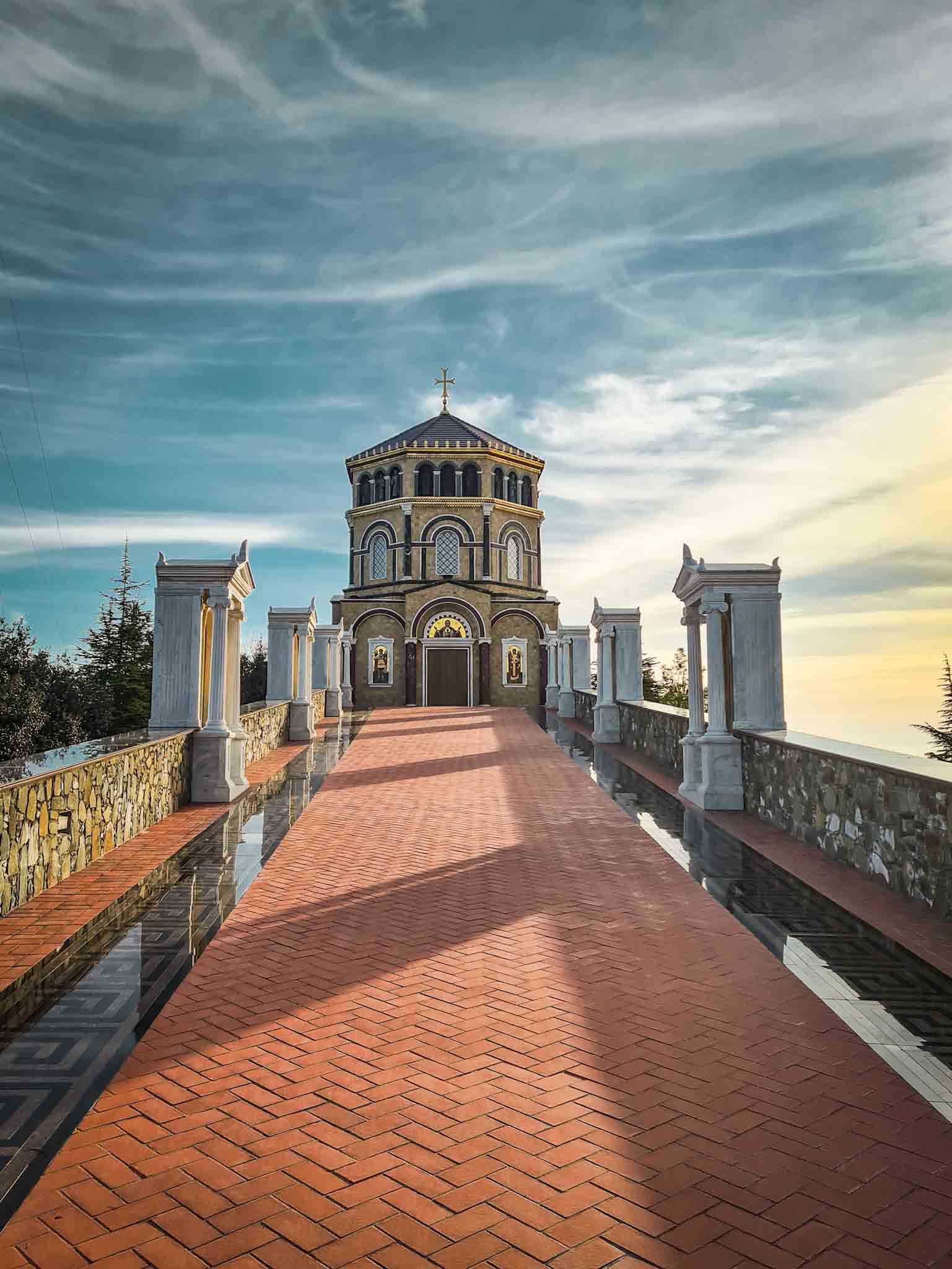 Whether it is Panayia Sto Throni Church at Throni hill with unforgettable views over the mountains, or it is the tiny Trooditissa Church that is sitting under a rock, church exploring is something very exciting to do in Troodos mountains.
There are many churches and chapels scattered around the mountains – smaller and bigger, regular and more unique – and most of them are open. Read HERE to find out the most unique churches and chapels in Cyprus!
You will notice many monasteries in the mountains as well. Some of them are open to the public, but you should definitely check before going. The most well-known is Kykkos monastery, located on the same Throni hill, but lower – at 1318 meters above sea level.
8. Wait for the sunset over the Troodos mountains
There aren't many things that can outdo the beauty of the sunset over the mountains. It is an experience that each and everyone must have. Well, at least once in a lifetime.
Unexpectedly we discovered, that Cypriots also love the sunset in the mountains, as we happened to be at the Madari Fire Station at 1613 meters above sea level during the sunset. The human traffic was like in a shopping mall, but the view – amazing.
You can easily choose a path and walk further away from others if you also go there, but you can choose a different place. This spot is popular due to its easy access – the road leads up to the very mountaintop!
9. Stroll through abandoned villages in the Troodos mountains
Cyprus' history is rather complicated and many different rules have governed the island through the years. The latest – Greek Cypriot and Turkish Cypriot – conflict has left visible 'footprints' over the island.
One of them is abandoned villages. There are a couple of them around the Troodos mountain area. If you are interested in this kind of adventure, search for names such as Fikardou, Foinikas, Ayios Sozomenos, or Skouriotissa, and go explore!
Happy exploring!
I hope this is enough said to convince you to explore the Troodos mountains. Many of these adventures were some of the best experiences I had while in Cyprus! Troodos mountains are THE place to go to explore the local lifestyle, nature, and history.
The mountains are rich and diverse with the best views over the island. By the way, if you can, please, leave a comment below if there are any significant changes to anything that is written in this blog post! Many thanks!
More Cyprus travel inspiration!
PIN FOR LATER!