Explore these 5 amazing waterfalls in Cyprus
Waterfalls in Cyprus are amongst the best places you can explore while staying on the island! If you want to know which are the best waterfalls to explore in Cyprus, how to get there, what to expect, and where to park a car, then read this post to find out! Exploring waterfalls in Cyprus was one of my favorite adventures of all!
Which waterfalls to avoid in Cyprus?
There are waterfalls in Cyprus with entrance fees like the Green Valley waterfall or the Adonis Baths Waterfalls. I would suggest you be careful and read the reviews before going – we were not convinced about either of those places to be worth the money.
We saw the pictures and read the reviews. And we mutually decided that the waterfalls listed below were more impressive than the paid ones mentioned above. Of course, you can decide for yourself! But don't tell me I didn't warn you, haha!
1. Kremiotis (Kritou Terra) waterfall
The exotic Kremiotis waterfall is definitely the most unusual waterfall in Cyprus to explore! Sometimes called as Kritou Terra waterfall, because it is located near Kritou Terra village.
It looks quite interesting and different – green and moss-grown, almost jungle-like, but the stream is coming down the cliff creating a shower-like look and feel. However, the most adventurous part is accessing the waterfall.
The trail leading to the waterfall ends at the backside of it, so you have to go through a small 4-5 meter tunnel which will lead you to the actual front of the waterfall and the best view. This is quite an adventure, but it is definitely worth it!
There is little space for observing so it is best to plan your visit earlier than others. The trail is steep, the tunnel through the waterfall cliff is muddy and the waterfall is wet, obviously. It is best to wear more athletic shoes. If wet hair and clothes bother you, remember to take a jacket or a raincoat with you!
Location: OPEN MAP!
Parking: OPEN MAP!
2. Millomeris waterfall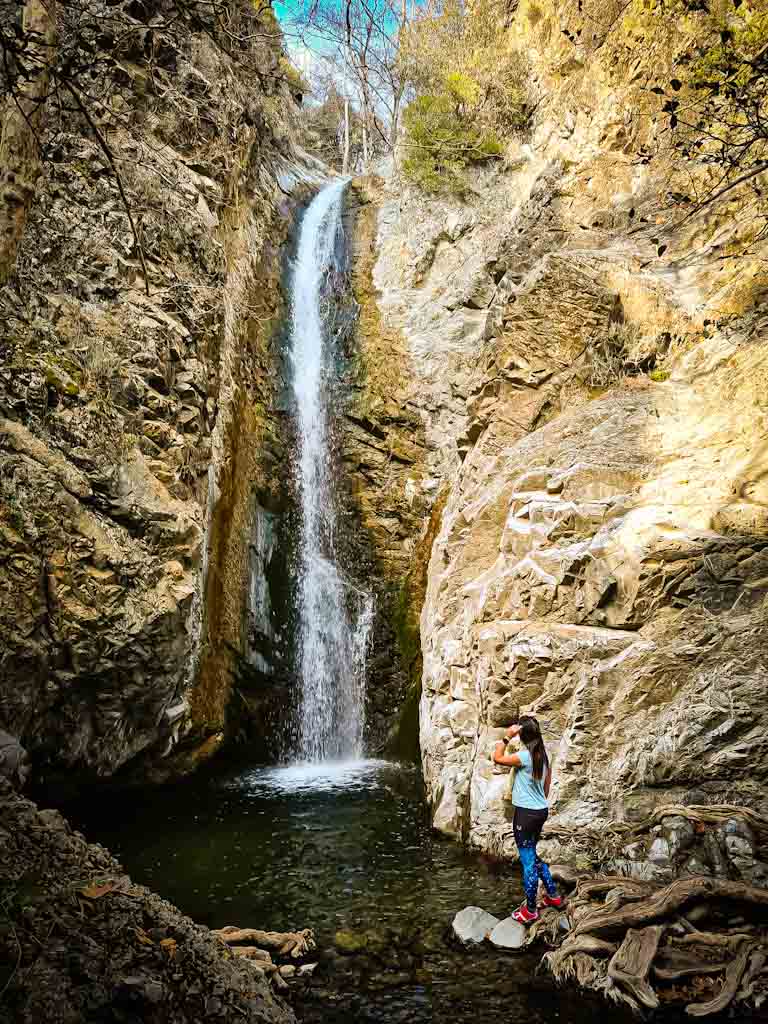 Explore Millomeris waterfall in the heart of Troodos mountains! Located near Pano Platres village inside a cliff, Millomeris waterfall falls from about 15 meters height, and you can easily drive a car as close as about 200 meters from the waterfall.
There are narrow stairs that go down the cliff to the exact place of the waterfall. It is quite beautiful and best enjoyed when alone, so plan a visit earlier than other explorers! It is a popular waterfall and can be quite crowded!
Location: OPEN MAP!
Parking: OPEN MAP!
3. Chantara waterfall
The impressive Chantara waterfall or Hantara waterfall is the one you can drive the closest to and park a car about 50 meters from the waterfall. There goes a road straight up from Foini village that leads to the base of the waterfall.
For the most part, the road is unpaved, but on a good day, it is drivable by most cars. The road can be dangerous during heavy rainfalls, tho. The waterfall itself is not the highest one, but the falling water splits in half and goes down both sides of a big rock formation. It is quite unusual!
Location: OPEN MAP!
Parking: you can park a car right before the waterfall!
4. Caledonia waterfall
The stunning Caledonia waterfall has a picturesque nature trail leading up to the waterfall. This will not be the fastest waterfall viewing of all, because you will have to hike about 1.4 kilometers (0.87 miles) and the trail goes by the river, over the river, and slightly uphill.
You will have to climb some small rocks and tree roots, cross tiny bridges and sometimes jump over muddy puddles to get there. For many, it will take at least 1 to 1.5 hours to visit the waterfall and come back.
On a good and sunny day, it will be a pleasure – bring some snacks and enjoy! On a rainy day, it could prove to be a challenge. This trail and waterfall are very popular, so make sure to visit early to have some alone time at the waterfall. Nothing better than a good morning hike!
Location: OPEN MAP!
Parking: OPEN MAP!
5. Mesa Potamos waterfall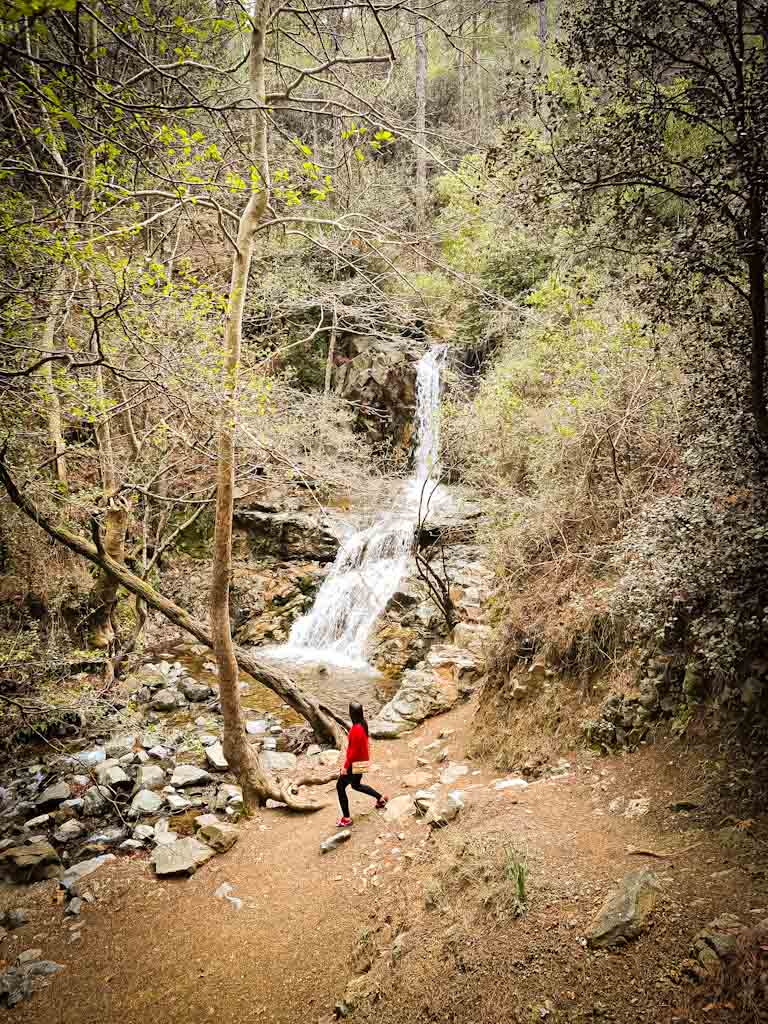 This waterfall is not so high or breathtaking, but definitely enjoyable. You can drive a car up to the Archolachania picnic place, have a relaxed picnic there and then visit the waterfall, which is located just 200 meters down the stream.
Just follow a path along the river from the picnic site! There are some extra benches at the waterfall for a relaxed nature experience. Listening to a running river and falling water can be quite relaxing!

Location: follow a path downhill from the picnic area, in 200 meters you will reach the waterfall
Parking: OPEN MAP!
Happy exploring!
Overall, this is the ultimate waterfall bucket list for Cyprus for anyone! All of the waterfalls were visited during winter/spring. Depending on the weather, there could be a different sight during summer or autumn.
If you visit Cyprus during winter and spring, then this is the time when it rains more often. Rain in the mountains creates new water streams, which then create more new waterfalls, so you could go explore the mountains even more (if it is not dangerous).
More Cyprus travel inspiration!
PIN FOR LATER!