Who doesn't want a good photo when going on a trip or a vacation? After all, photos are some of the best memories you can have after a great holiday! Souvenirs and gifts are great but do not show the joy or adventures you had while traveling.
Having good photos as a keepsake is imperative. It does kind of prove that you were there, right? Read along to find out about 15 places that are famous Instagram spots and instagrammable places in Cyprus and will not leave you without the photo you wanted.
1. Love bridge in Ayia Napa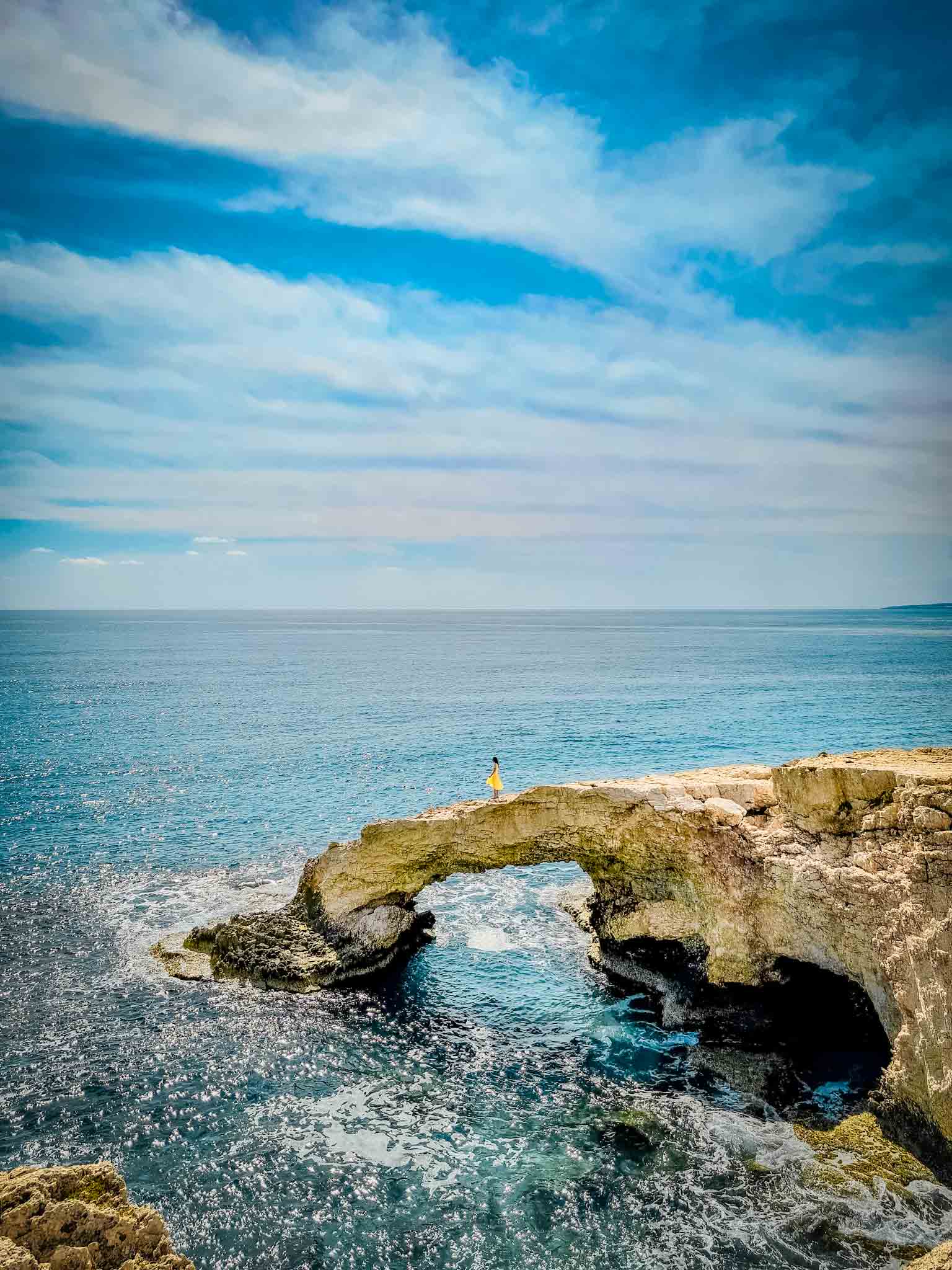 This is probably the most famous rock formation in Cyprus! It has the looks, it has the name, it has the atmosphere! And it is very easily accessible and looks good at any time of the day! You don't have to plan ahead – just go there and enjoy! You can explore more amazing rock formations in Cyprus HERE!
Location: OPEN MAP!
2. Millomeris waterfall in Troodos mountains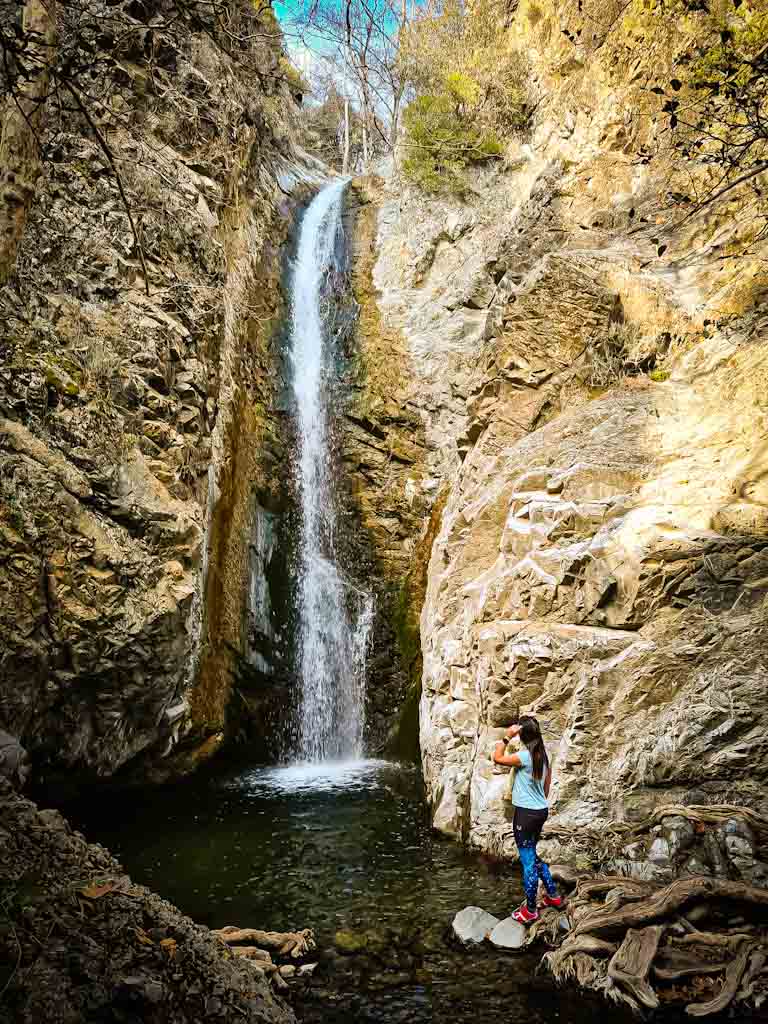 This is the waterfall you can visit any time of the year, any time of the day. It is easily accessible having a parking lot just 150-200 meters from the waterfall. The waterfall itself is inside a mountain and therefore has this mystical atmosphere around it.
If you are brave enough, you can actually have some swimming photos taken here, because it is not too deep and very suitable for such photos. Beware tho, that the waterfall is very popular. To enjoy some alone time, come here early! Explore more amazing waterfalls in Cyprus HERE!
Location: OPEN MAP!
3. Aphrodite's Rock / Petra tou Romiou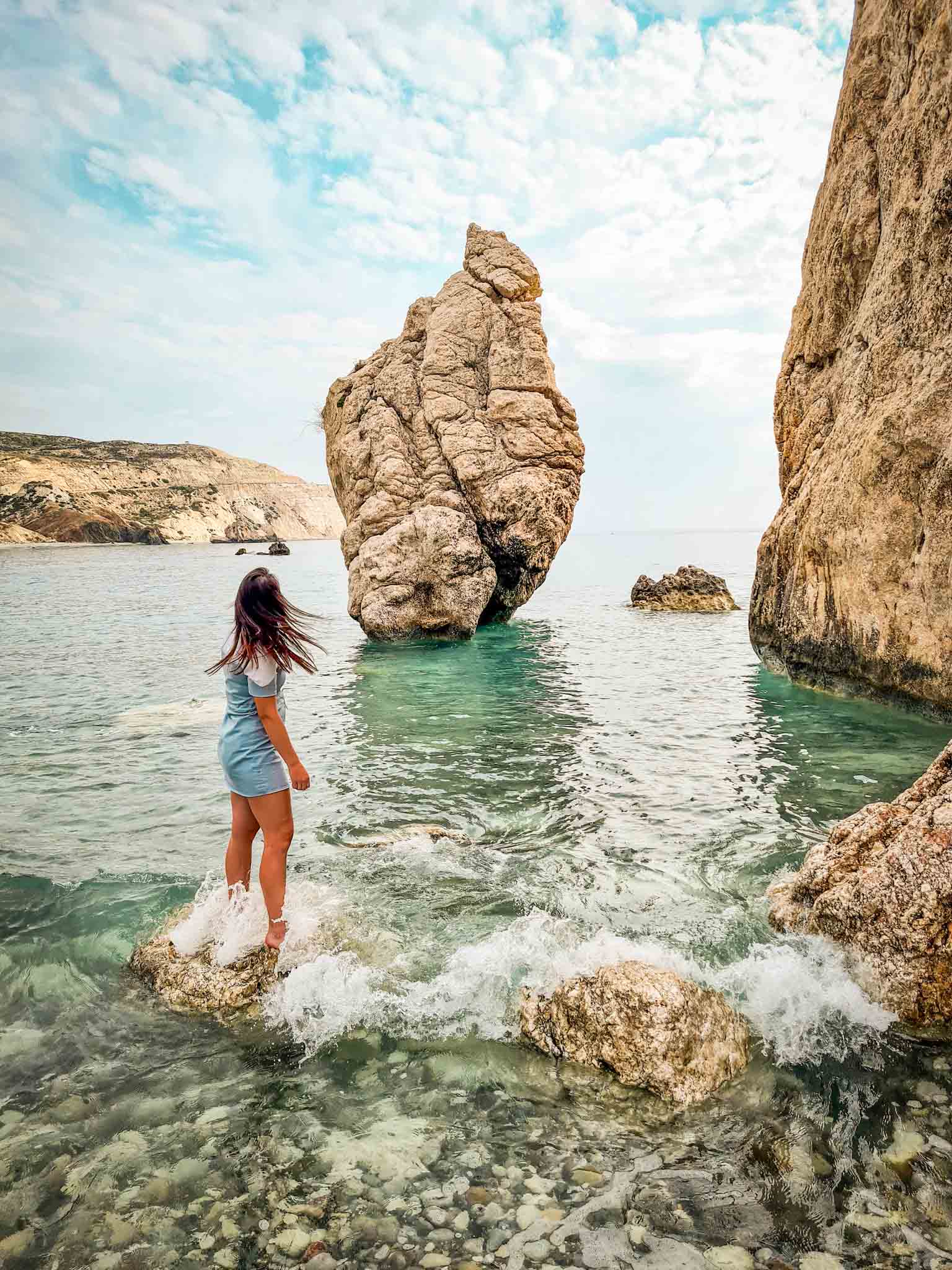 This place doesn't ask for any explanations! Beautiful rocks standing in the sea at the shore. Said to be the birthplace of the goddess Aphrodite, it attracts many tourists. You can actually climb the biggest rock. There is a parking lot next to it as well as a wide beach for everyone to enjoy!
Location: OPEN MAP!
4. Avakas Gorge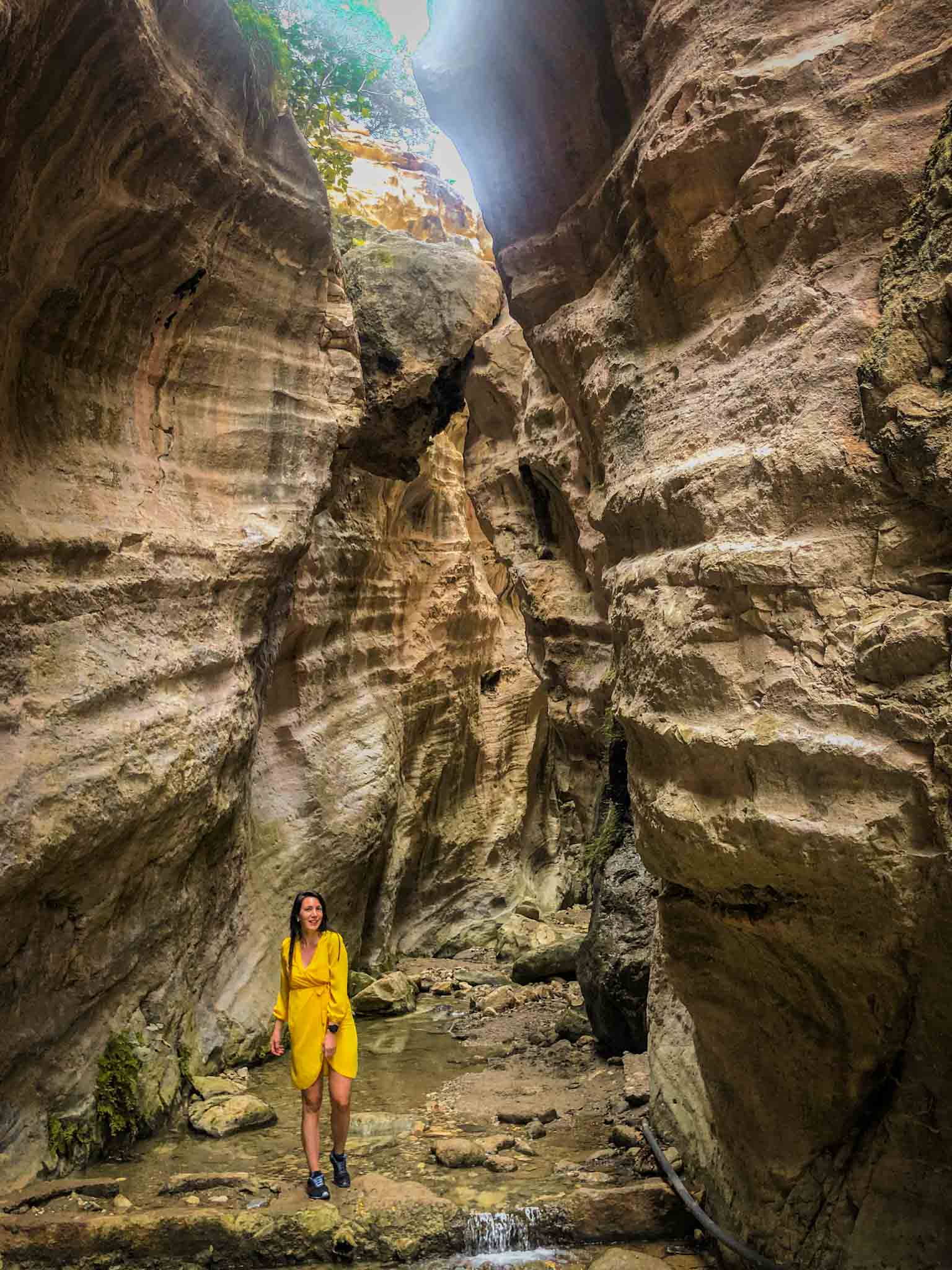 This is one of the most unique places in Cyprus. A deep and narrow gorge that follows a riverbed. This particular spot with a boulder stuck in the gorge above my head is the most popular photo spot.
It is located less than 2 kilometers inside the gorge, so follow the trail and get the photo! You will definitely not miss this spot! However, the accessibility of this place depends on the weather.
During more rainy and harsh weather (usually in winter or spring) the path could be dangerous, so check the weather forecast before heading there. A little rain won't hurt you!
Location: OPEN MAP!
5. Tombs of the Kings in Paphos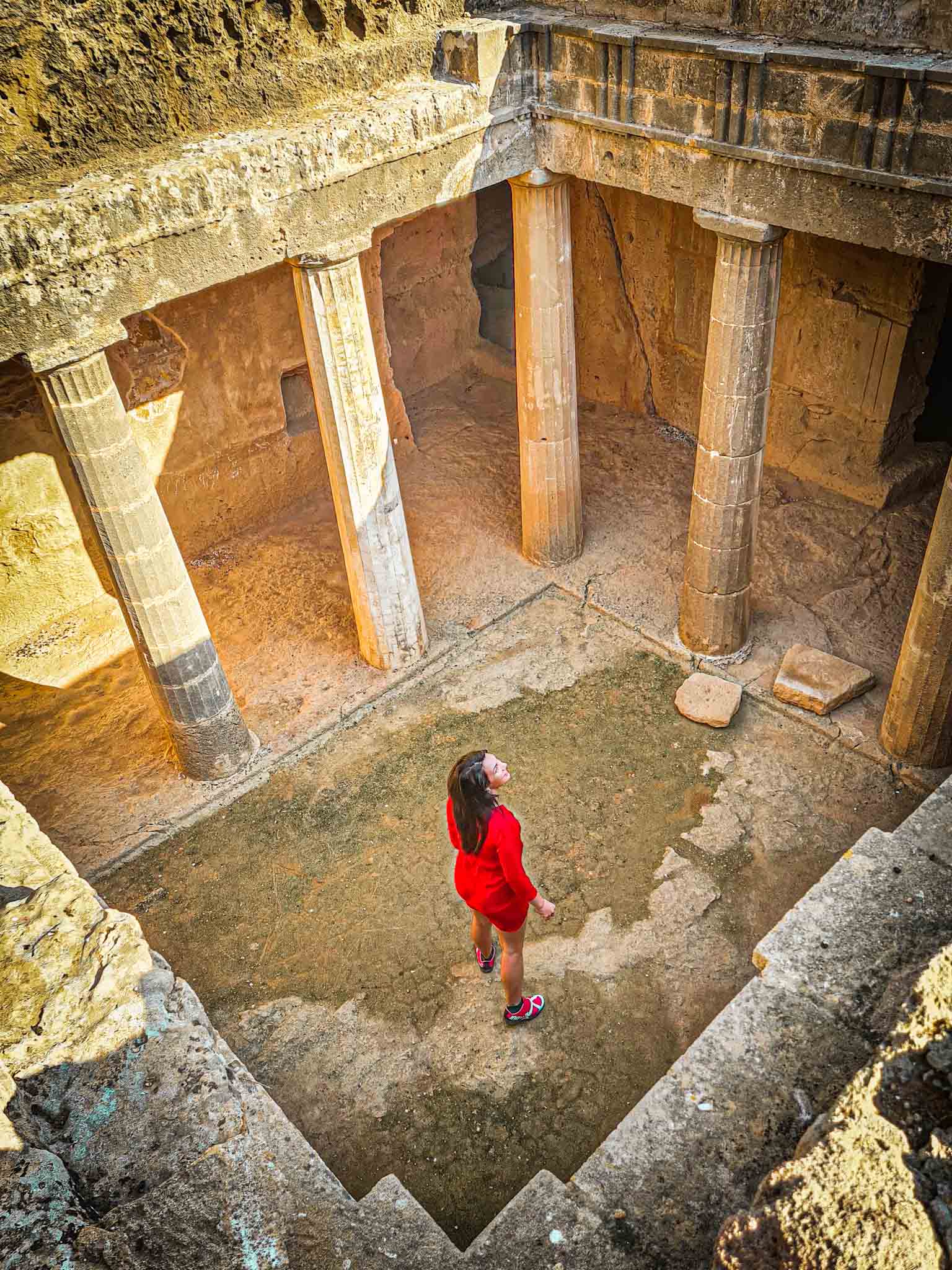 The former underground necropolis sounds like a strange place for sightseeing, but it is just the place to go to get this photo. There is an entrance fee to the territory of the Tombs of the Kings of 2.50 EUR.
The tombs are carved out of solid rock and reminded me of history lessons at school when the teacher showed pictures of ancient Egyptian funeral customs. When entering the territory, you will be given a map (or you can take it yourself at the entrance) with all the tombs marked with numbers.
There are only 3 tombs with columns, so explore them, if you want this particular picture! You can find the opening hours and other information on the 'Visit Cyprus' website HERE.
Location: OPEN MAP!
6. Nissi Beach in Ayia Napa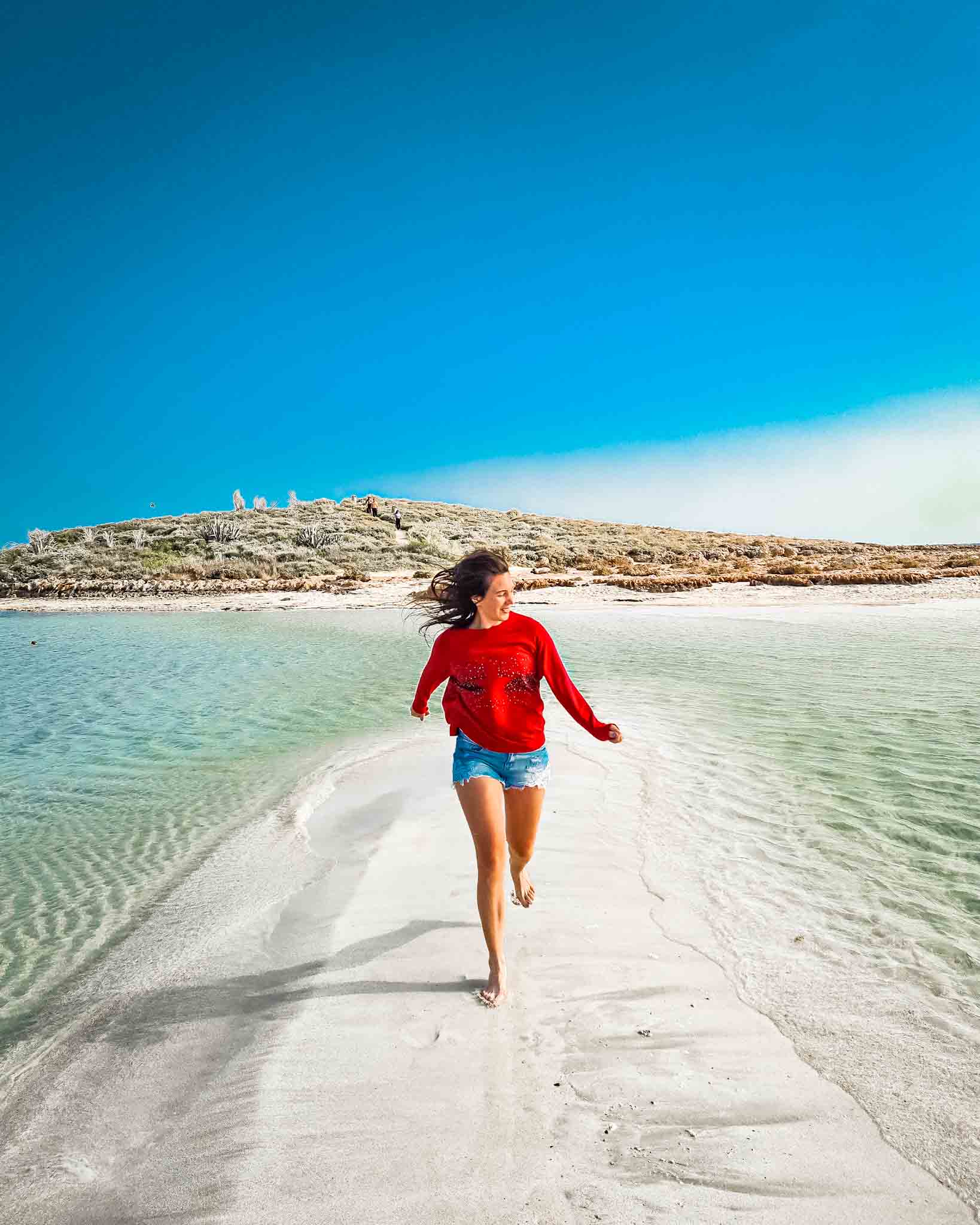 What is so interesting about a beach? Well, if you have been to Cyprus, you will know, that most of the coastline of Cyprus is rocks, cliffs, and stones. Most parts are not accessible.
But only a couple of actual beaches are with sand – some have pebbles, there is Governor's beach with black sand, and some have yellow sand, but there is this unique Nissi beach with white sand and amazingly clear and shallow water.
It is the best place to go with kids or if you don't want to fight waves while swimming. Besides, there is a small island next to the beach, where you can walk to. Although the beach is in a resort and normally is very popular, I still recommend going there. Outside the most crowded hours at least.
Location: OPEN MAP!
7. Sea caves in Cape Greco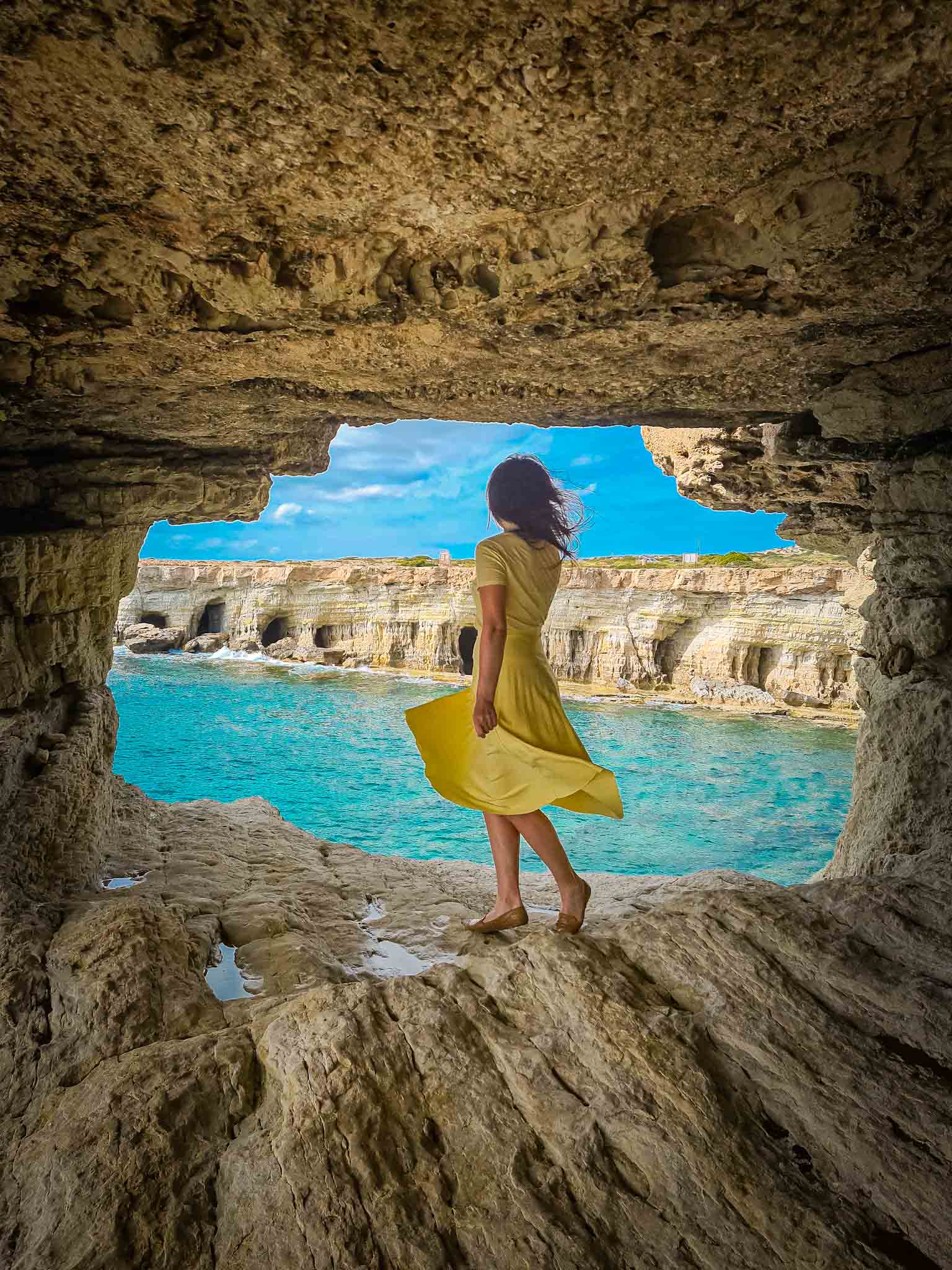 This is probably the most famous hole in the rock in Cyprus. Many people take pictures inside it and it can be very crowded, but you can always go there in the morning to get some alone time.
You will see many sea caves in Cyprus, but most of them are at sea level and are difficult to access. This spot is actually above sea level and you can easily access it without getting wet. A nice place for some unusual photos!
Location: OPEN MAP!
8. Edro III shipwreck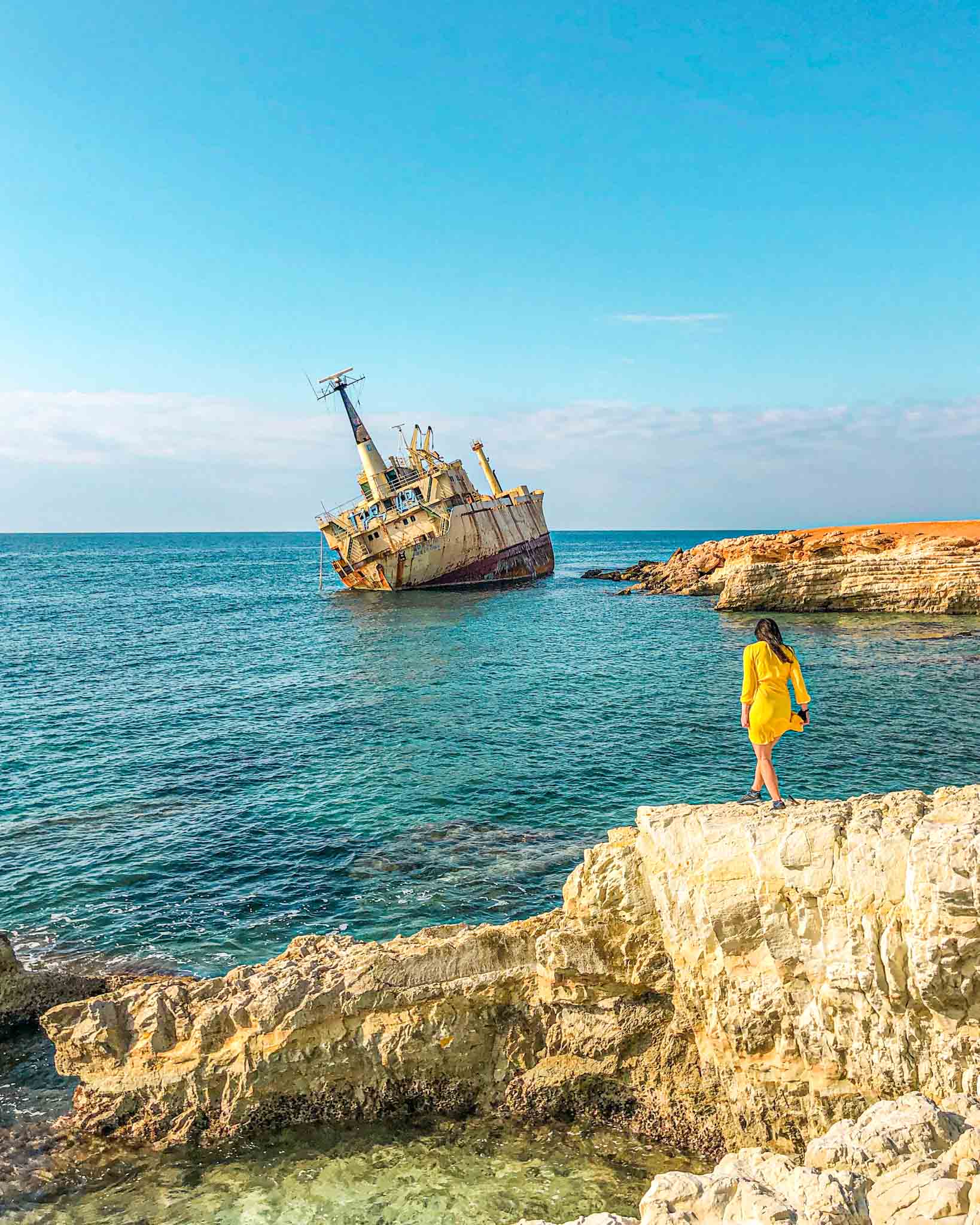 Probably the most famous shipwreck in Cyprus. Other shipwrecks are either on the bottom of the sea or further into the sea.
Although it is not allowed to go inside the ship, it is so close to the shore, that you can see everything. How often do you get to see a shipwreck so up close? This place is very easily accessible, as you can park your car next to the beach.
Location: OPEN MAP!
9. Mitsero Red lake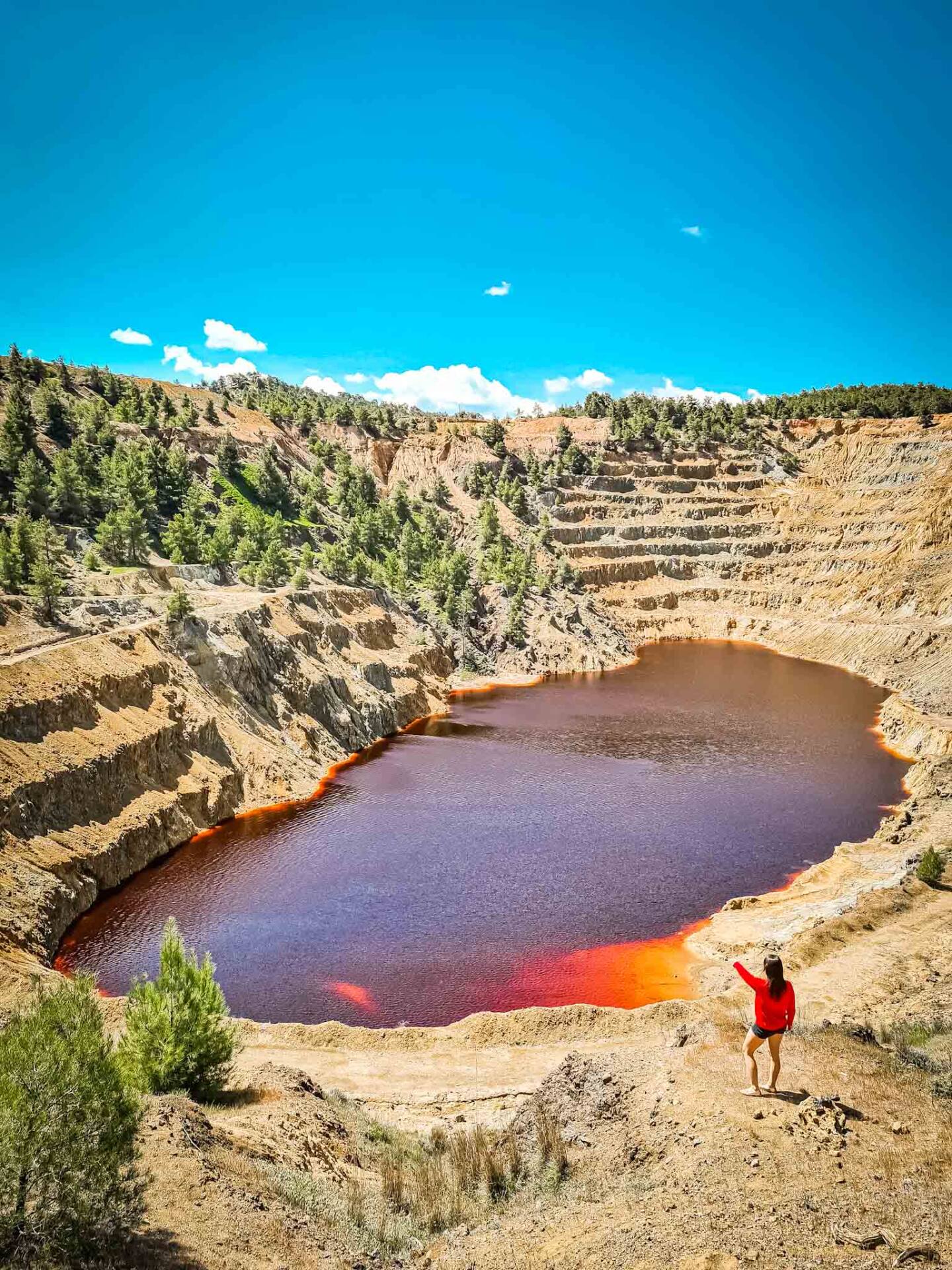 This very unusual place is a popular Instagram spot in Cyprus. How often do you get to see an actual red lake? Although the lake is toxic due to high acidity levels and no life living there, people love to use the opportunity to take pictures at this lake.
There is a fence, but you can easily access the area and walk around. I would not suggest getting too close to it. You can park your car at the end of the road, which leads to the lake.
Location: OPEN MAP!
10. Venetian bridges in Troodos mountains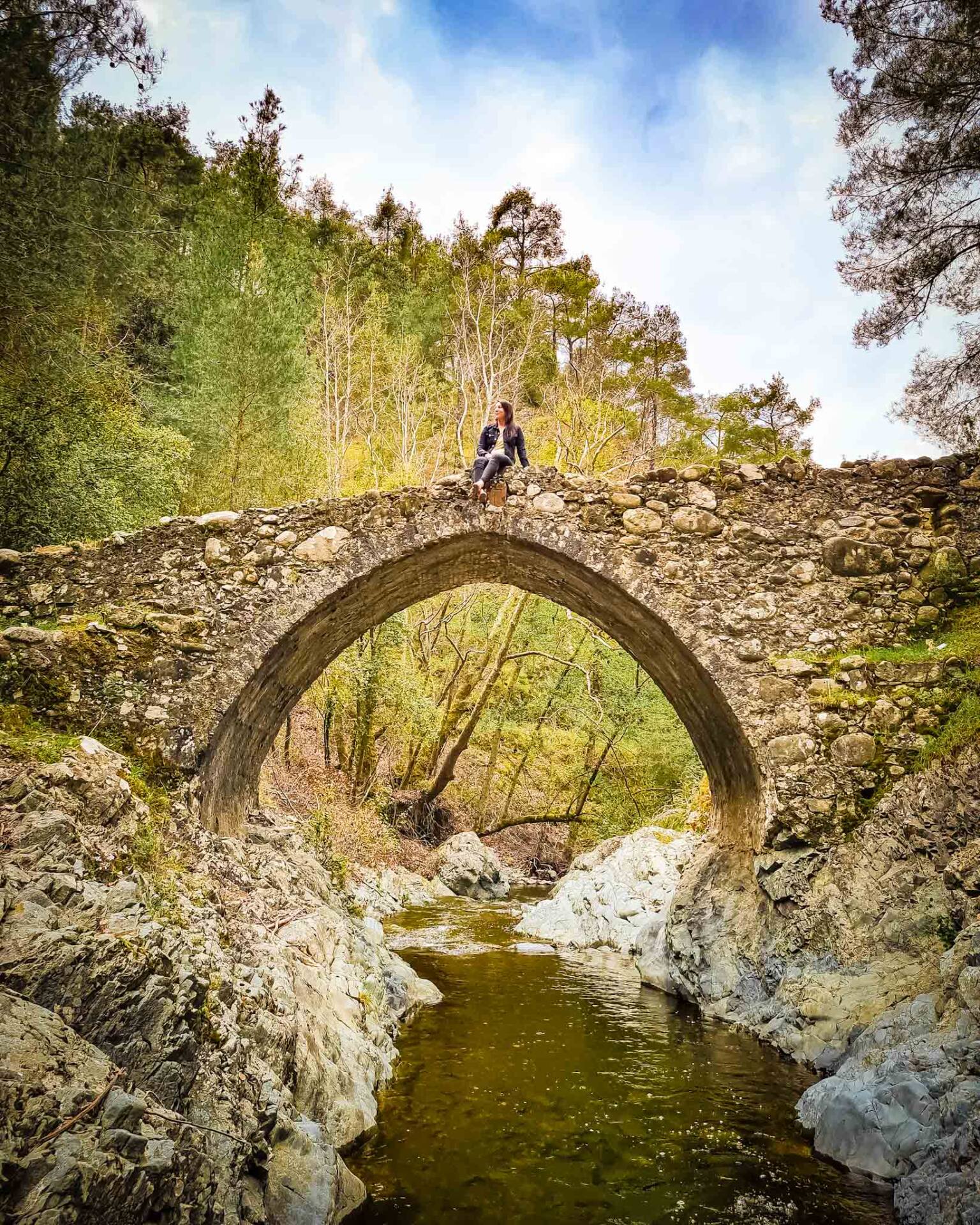 Sitting alone on a medieval stone-built Venetian bridge is a popular photo on Instagram. There are many Venetian bridges in Cyprus' Troodos mountains.
The bridges were built during the Venetian rule in Cyprus island in the 15-16th century and today they serve for…well, some nice photos and for a place to relax in nature.
The biggest of the bridges is the Tzelefos bridge, however, it is extremely popular among locals and tourists. It is very difficult to catch some alone time there. But some 3.5 kilometers away from this bridge is another Venetian bridge – smaller, but impressive nevertheless.
It is called Elias medieval bridge or Gefiri Tis Elias. We went twice to Tzelefos bridge and it was just like we were in a parking lot at a rock concert, to be honest. If you find yourself in a similar situation, go straight to Elias bridge located just a couple of minutes away!
Location: OPEN MAP!
11. Madari Fire lookout station in Troodos mountains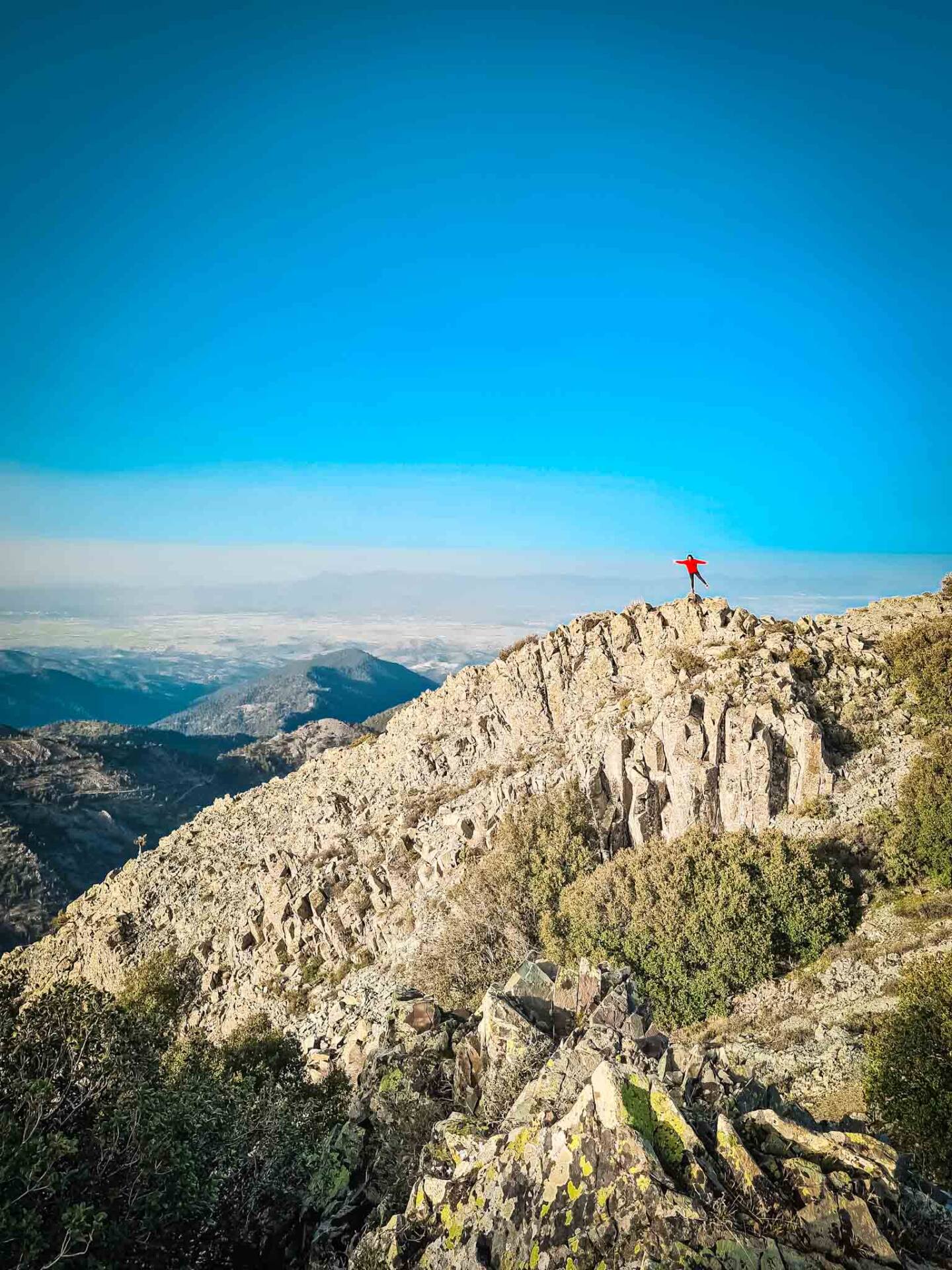 During the day this is one of the most beautiful hiking places in the Troodos mountains, but during the evening it turns into the most special place for watching the sunset you can have.
Madari Fire lookout station is a building on a 1613-meter mountain and offers you amazing views over the Troodos mountains as well as a glimpse of Northern Cyprus and its Kyrenia mountain range.
There are a couple of other peaks around the station, so you can explore them as well. There are many benches to sit on and have a picnic with unforgettable views. And there are trails in every direction to walk to and get some nice photos.
Probably the best part is that you can actually drive your car up to the top and park it a couple of meters from the station. You can read more about some amazing nature hiking trails in Cyprus HERE.
Location: OPEN MAP!
12. Akamas peninsula, top of Moutti tis Sotiras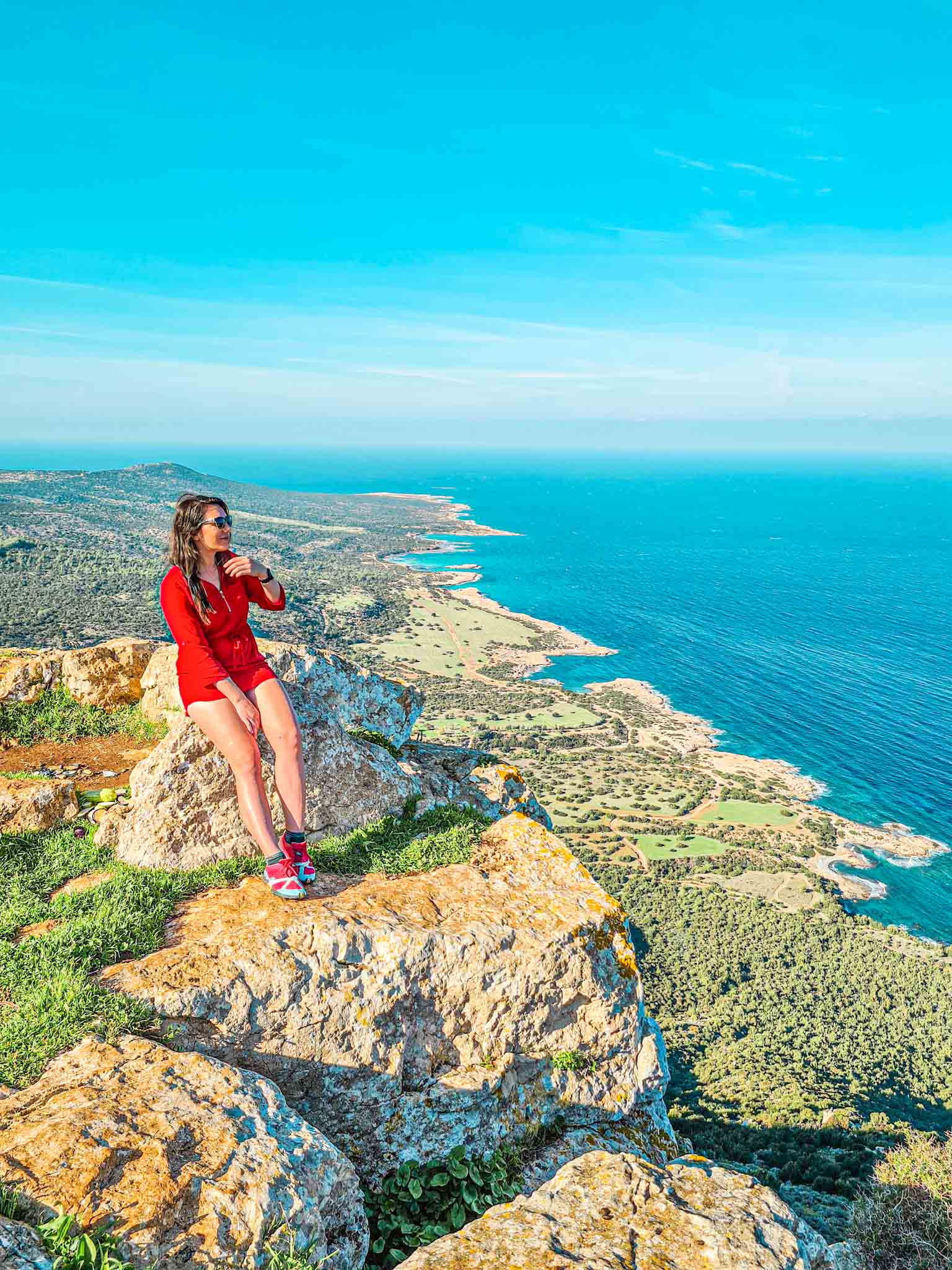 This is the highest you can get at the Westernmost part of Cyprus – the Akamas peninsula. There are many nature hiking trails like Aphrodite's trail, which leads to the top of Moutti tis Sotiras peak.
It is a 370-meter cliff with amazing views over the whole peninsula, the sea, and the Troodos mountains behind you. A perfect picturesque place to have a picnic and enjoy nature. The climb to the top can be demanding, but it is worth the effort!
And you will get the desired picture from the trip as well as some unforgettable memories. It is a 7.5-kilometer (4.6-mile) trail, so be prepared to dedicate a couple of hours to this adventure!
Location: OPEN MAP!
13. Aiva natural arch in Peyia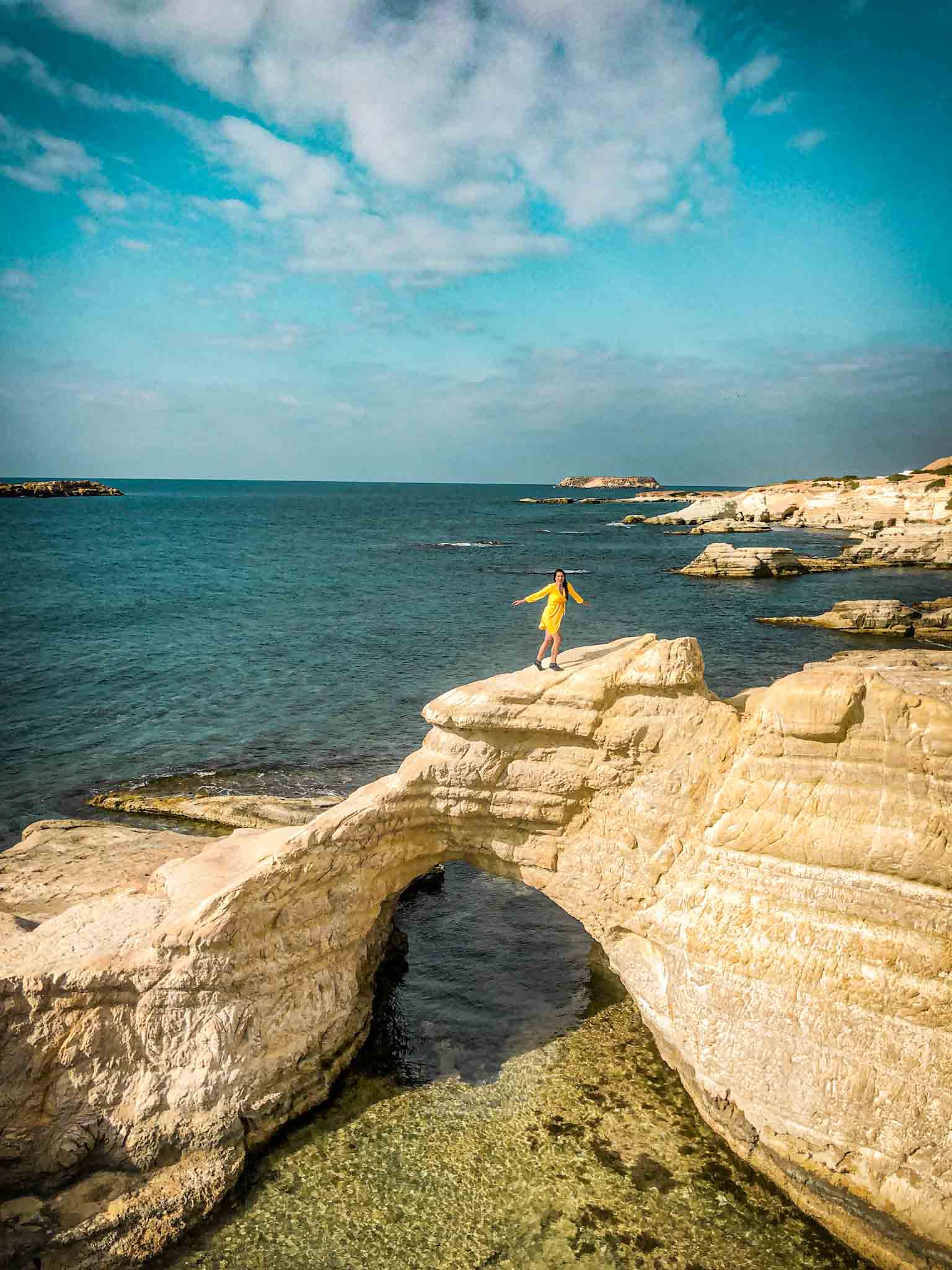 Who else is a fan of natural arches? Isn't it amazing how nature can form them in such a beautiful way? Prestos beach and Aiva natural arch are some of the most stunning seaside areas in Cyprus. Sometimes it felt like I was on another planet!
The rock formations there are crazy and I really recommend you to explore this area. There is a parking lot at the end of the street uphill from Prestos beach and a trail down to the shore.
The walk downhill can be quite steep, but take your time, because it is worth it! And grab some snacks, because you will probably want to sit there and take in what you have seen!
Location: OPEN MAP!
14. Abandoned airplane in Tseri
This place has become more popular on Instagram recently. Although the airplane has been lying there for quite some time, people started to post more and more pictures of it and it became more popular.
There is absolutely nothing else to see around, but if you are into airplanes or have never seen an abandoned aircraft, then follow the link to find its exact location!
Location: OPEN MAP!
15. Stairs of Love in Lympia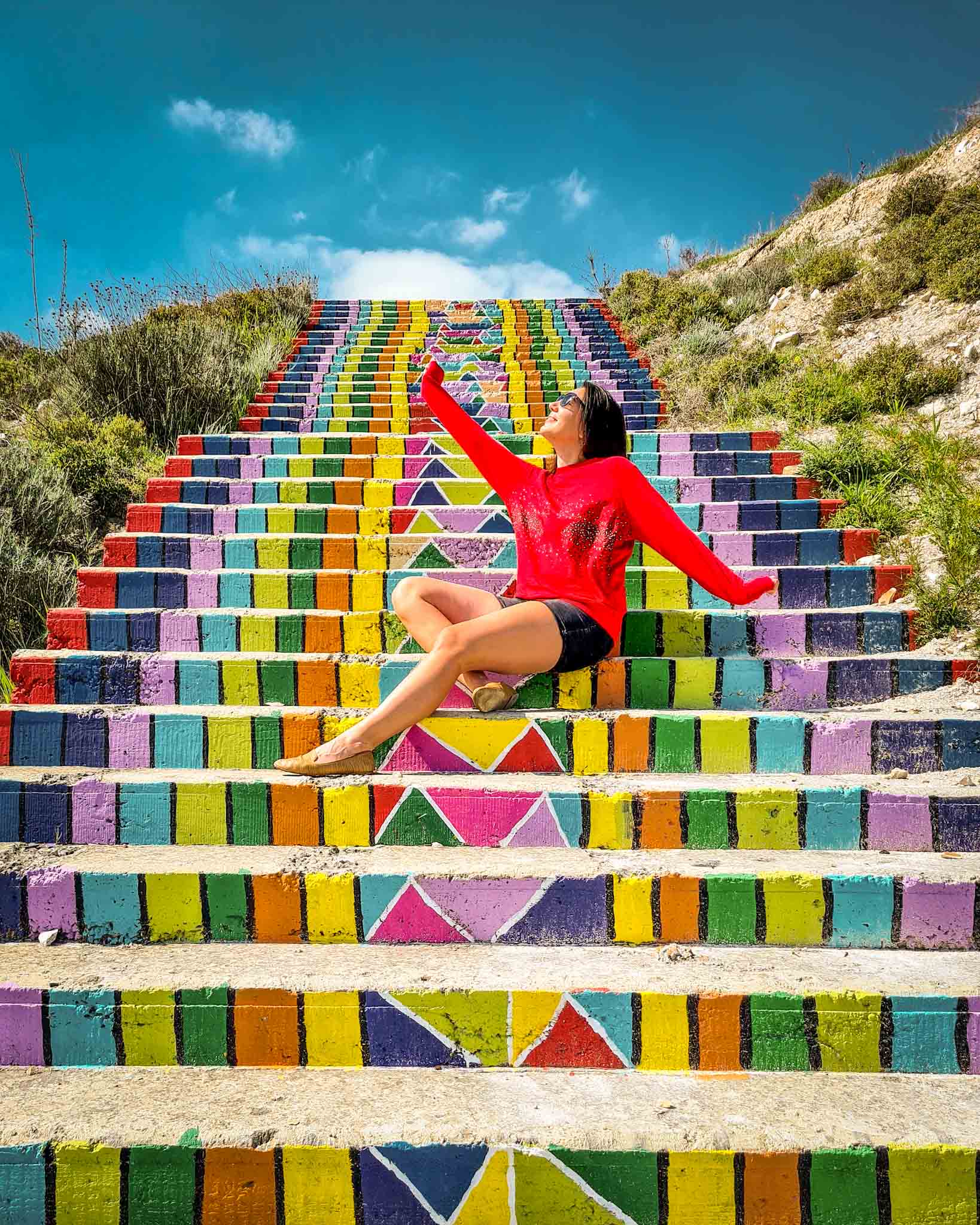 Stairs of Love sound just wonderful, right? And they look even more wonderful. These colorful stairs are a popular Instagram photo spot for locals because not many tourists stop in Lympia and not many tourists know about the stairs. However, if you are a local and haven't been there, here is the link to the exact location of the stairs.
Location: OPEN MAP!
Happy exploring!
I hope at least some of these places and photos gave you a wanderlust to explore more about this beautiful island. We stayed there for a couple of months and lived in different cities, so we got to explore it as tourists as well as locals.
Most of the treasures in Cyprus are located outside the cities, so I would highly recommend you to rent a car and drive around the island. By the way, if you can, please, leave a comment below if there are any significant changes to anything that is written in this blog post! Many thanks!
More Cyprus travel inspiration!
PIN FOR LATER!