Best of the best! 11 must-see places in Cyprus
From someone, who has spent 3 months living and traveling around Cyprus, I have to tell you, that the cities in Cyprus are a nice place to stay, walk around, and visit some restaurants.
However, the best and must-see places are mostly outside the cities. So my number one piece of advice is to rent a car and leave the cities behind! There is so much to do and so much to see around the island! Go and explore!
1. Love bridge in Ayia Napa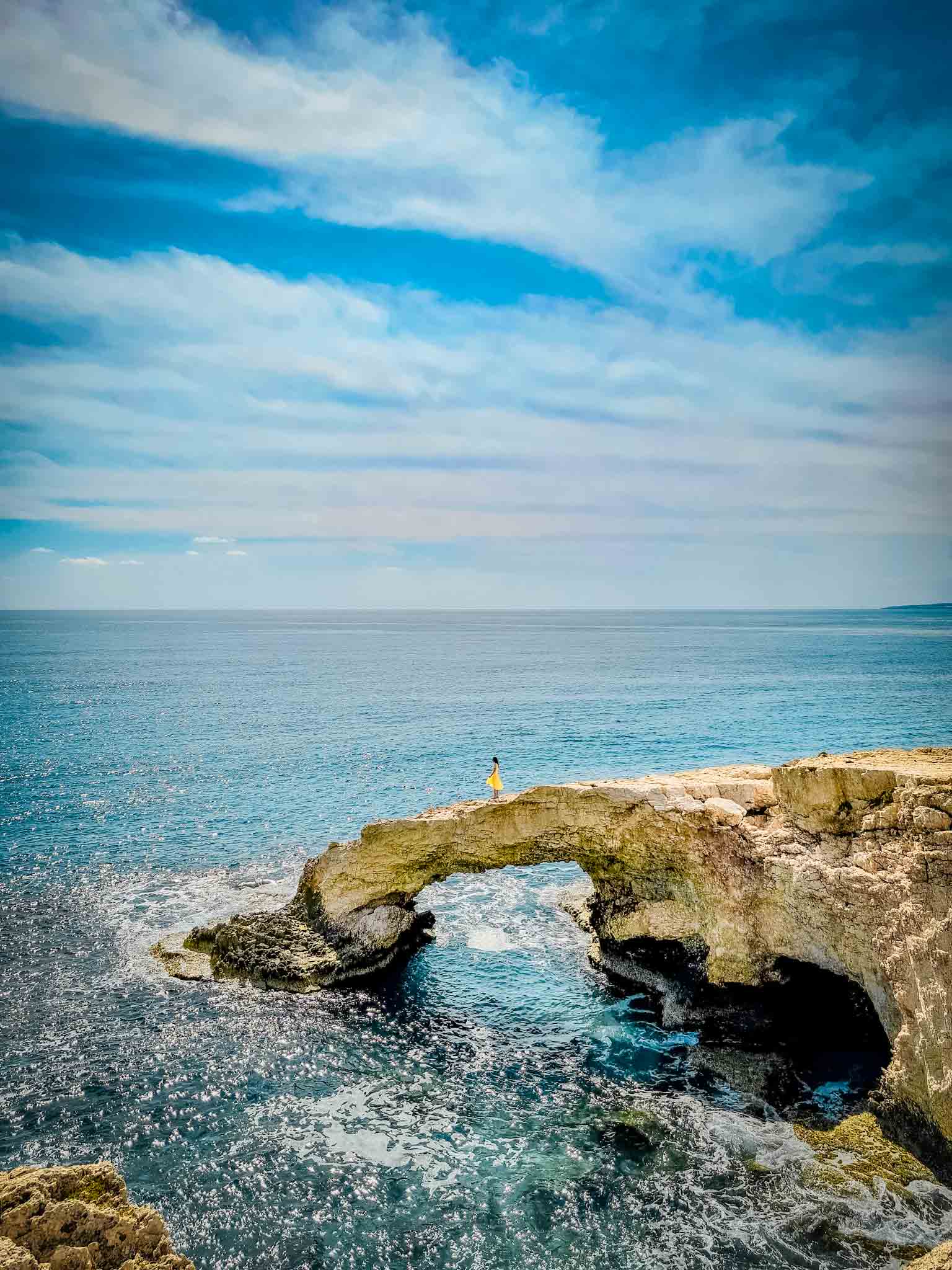 This is probably the most famous rock formation in Cyprus and is amongst the top must-see places in Cyprus! Located near Ayia Napa, it has the looks, it has the name, and it has the atmosphere!
And it is very easily accessible and looks good at any time of the day! You don't have to plan ahead – just go there and enjoy! You can explore more amazing rock formations in Cyprus HERE!
Location: OPEN MAP!
2. Millomeris waterfall in Troodos mountains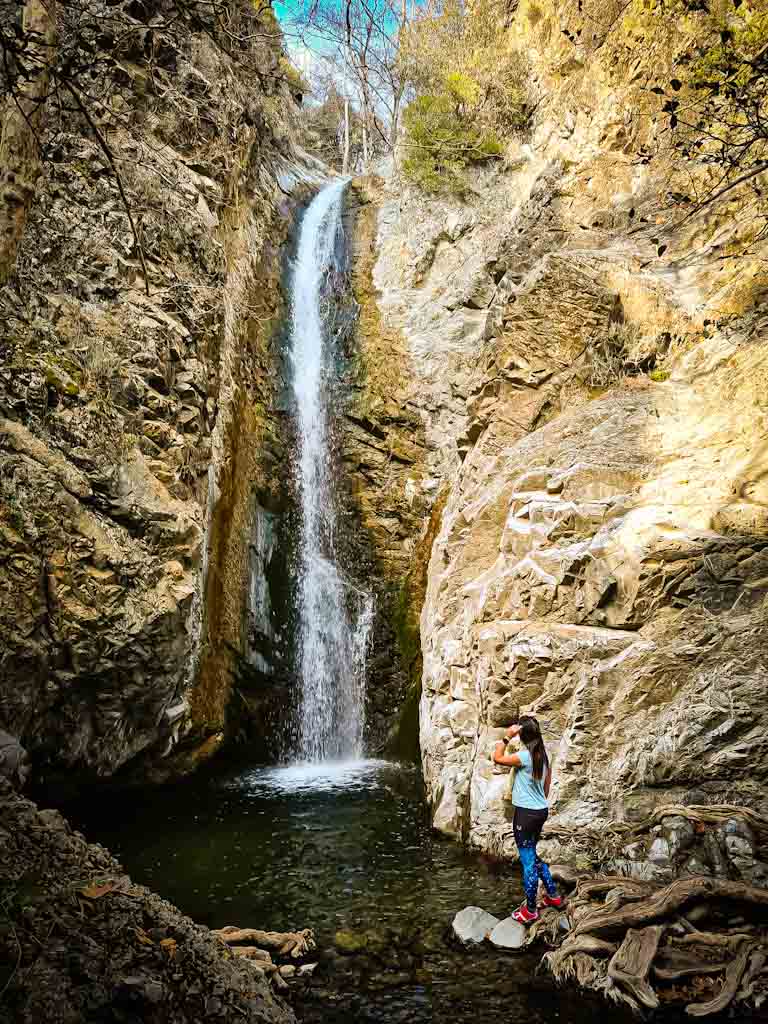 This is the waterfall you can visit any time of the year, any time of the day. It is easily accessible having a parking lot just 150-200 meters from the waterfall. The waterfall itself is inside a mountain and therefore has this mystical atmosphere around it.
If you are brave enough, you can actually have some swimming photos taken here, because it is not too deep and very suitable for such photos. Beware tho, that the waterfall is very popular. To enjoy some alone time, come here early! Explore more amazing waterfalls in Cyprus HERE!
Location: OPEN MAP!
3. Aphrodite's Rock / Petra tou Romiou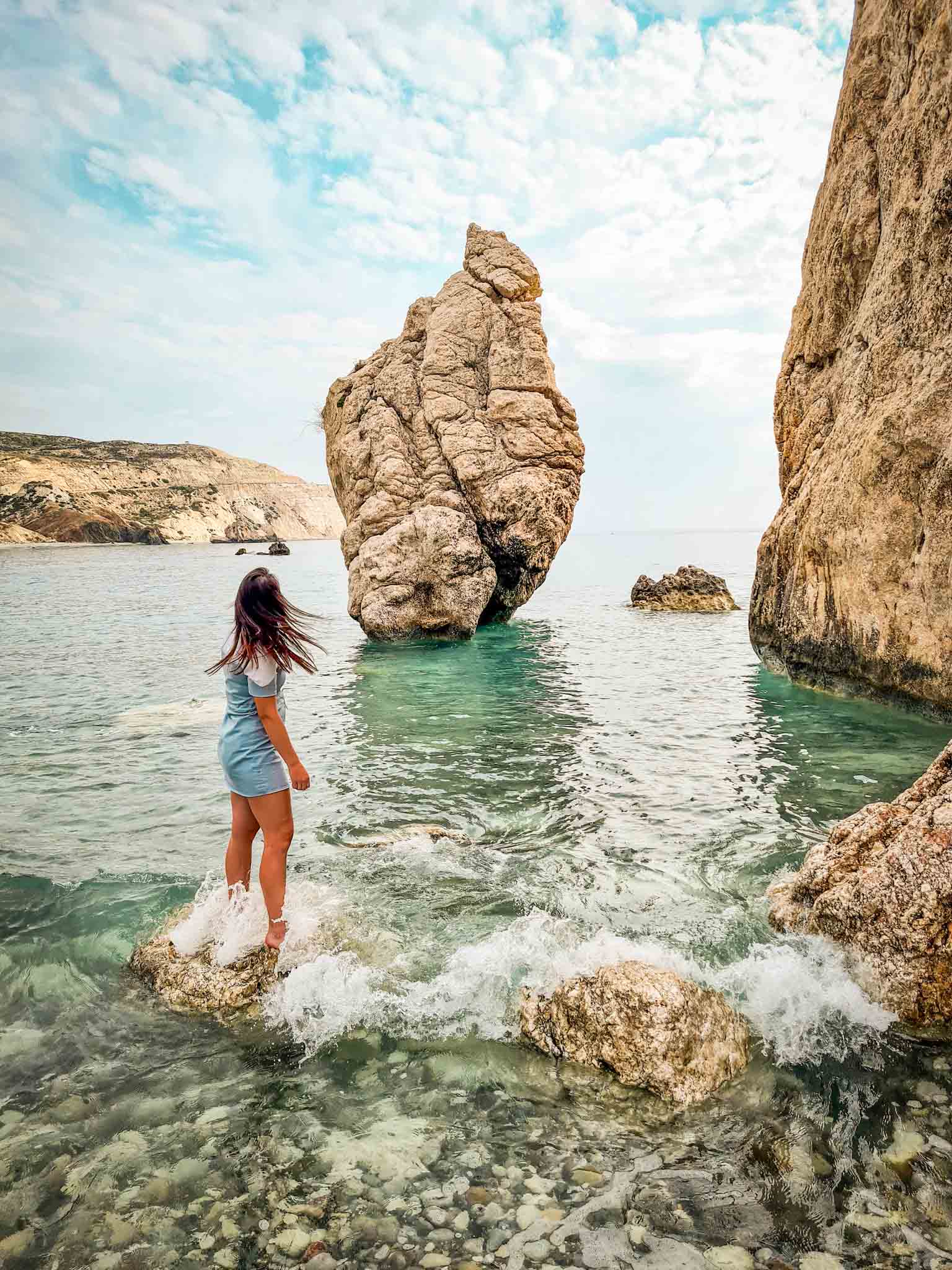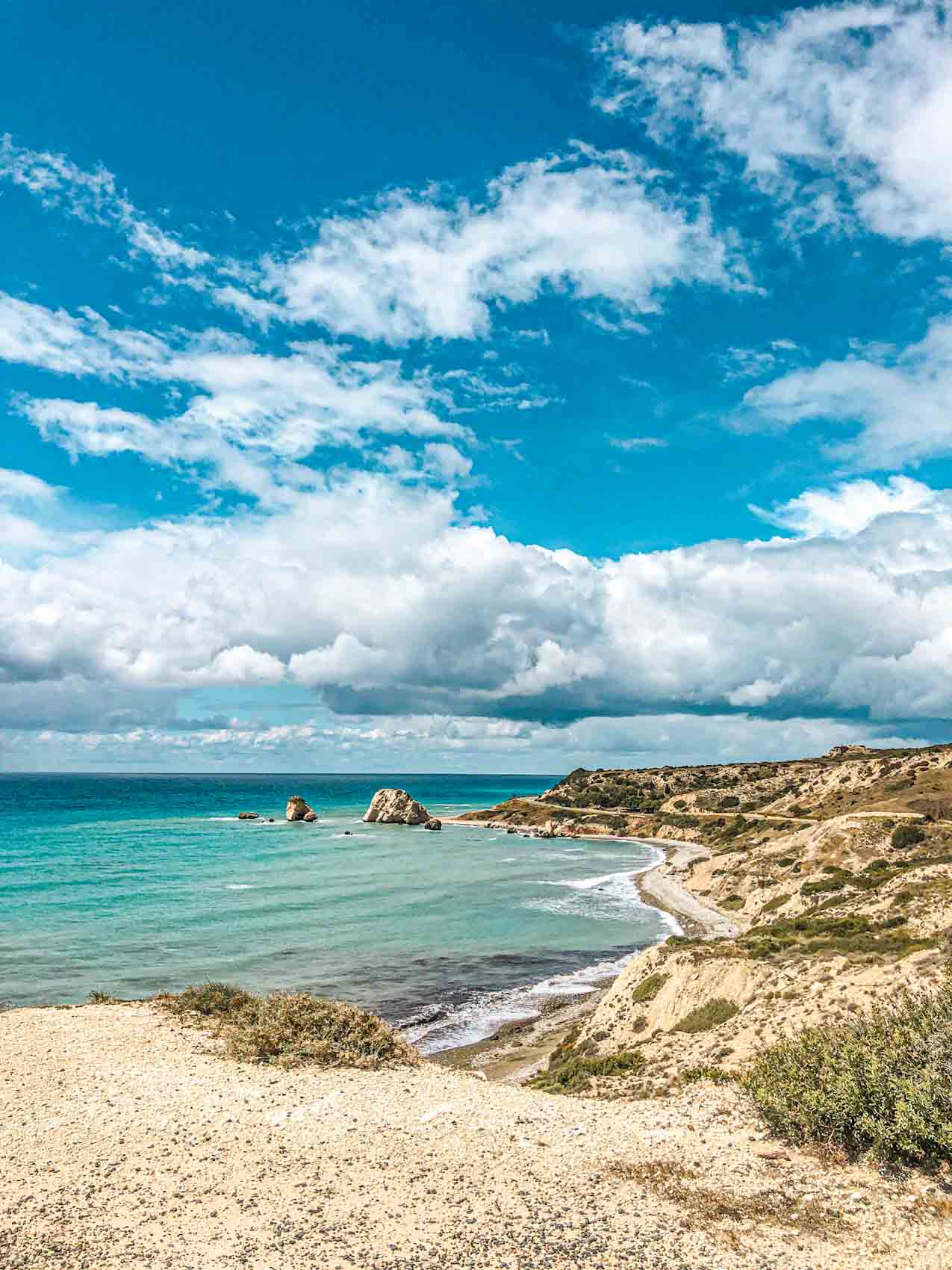 This place doesn't ask for any explanations! Beautiful rocks standing in the sea at the shore. Said to be the birthplace of the goddess Aphrodite, it attracts many tourists. You can actually climb the biggest rock.
There is a parking lot next to it as well as a wide beach for everyone to enjoy! Grab some snacks and have a picnic here, go for a swim, take some photos for Instagram or wait for the sunset. This place is THE place for it all!
Location: OPEN MAP!
4. Avakas Gorge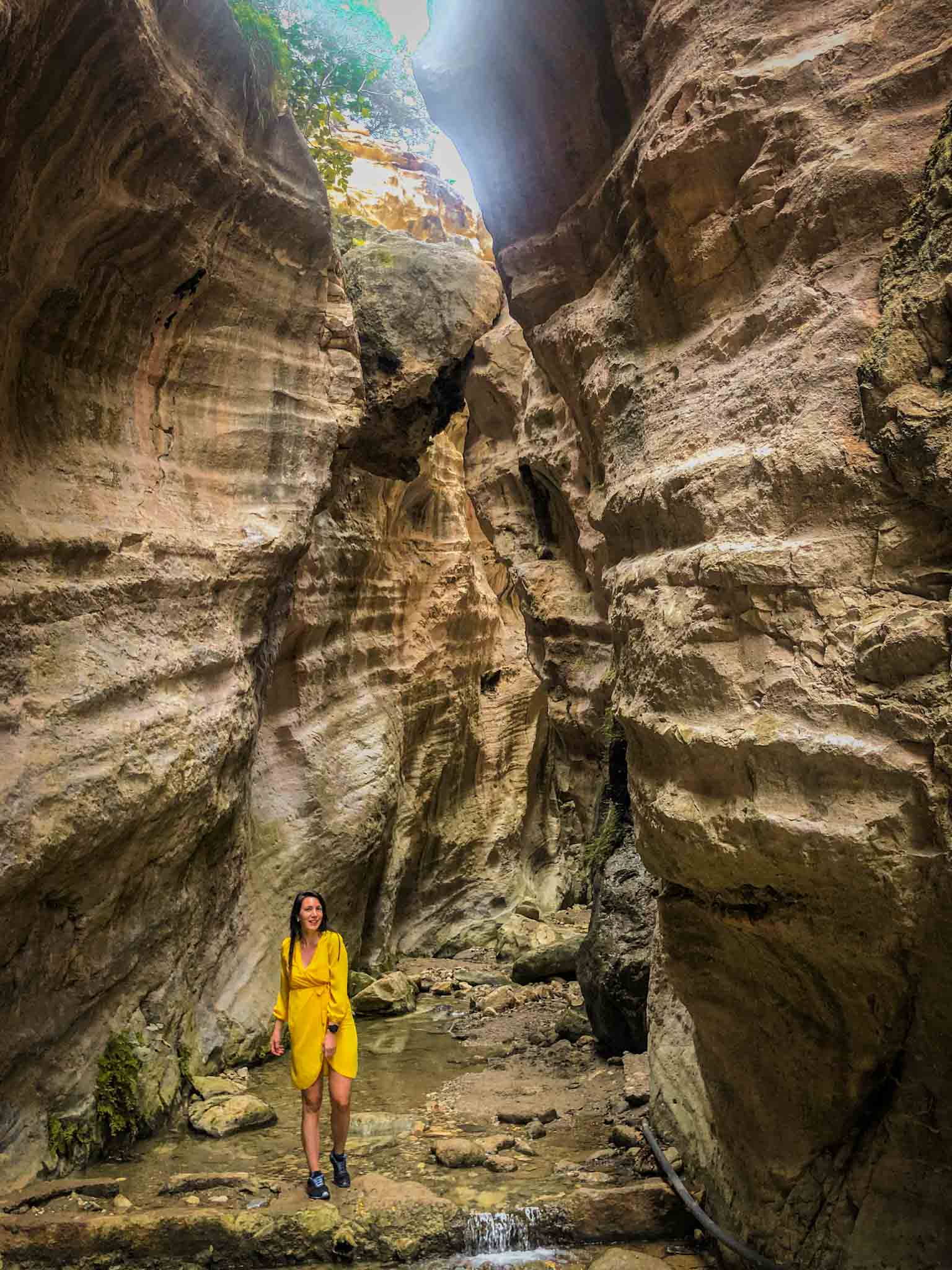 This is one of the most unique places in Cyprus. Of all the places, this is definitely a must-see! A deep and narrow gorge that follows a riverbed.
This particular spot with a boulder stuck in the gorge above my head is the most popular photo spot. It is located less than 2 kilometers inside the gorge – you will definitely not miss this spot! However, the accessibility of this place depends on the weather.
During more rainy and harsh weather (usually in winter or spring) the path could be dangerous, so check the weather forecast before heading there. A little rain won't hurt you!
Location: OPEN MAP!
5. Tombs of the Kings in Paphos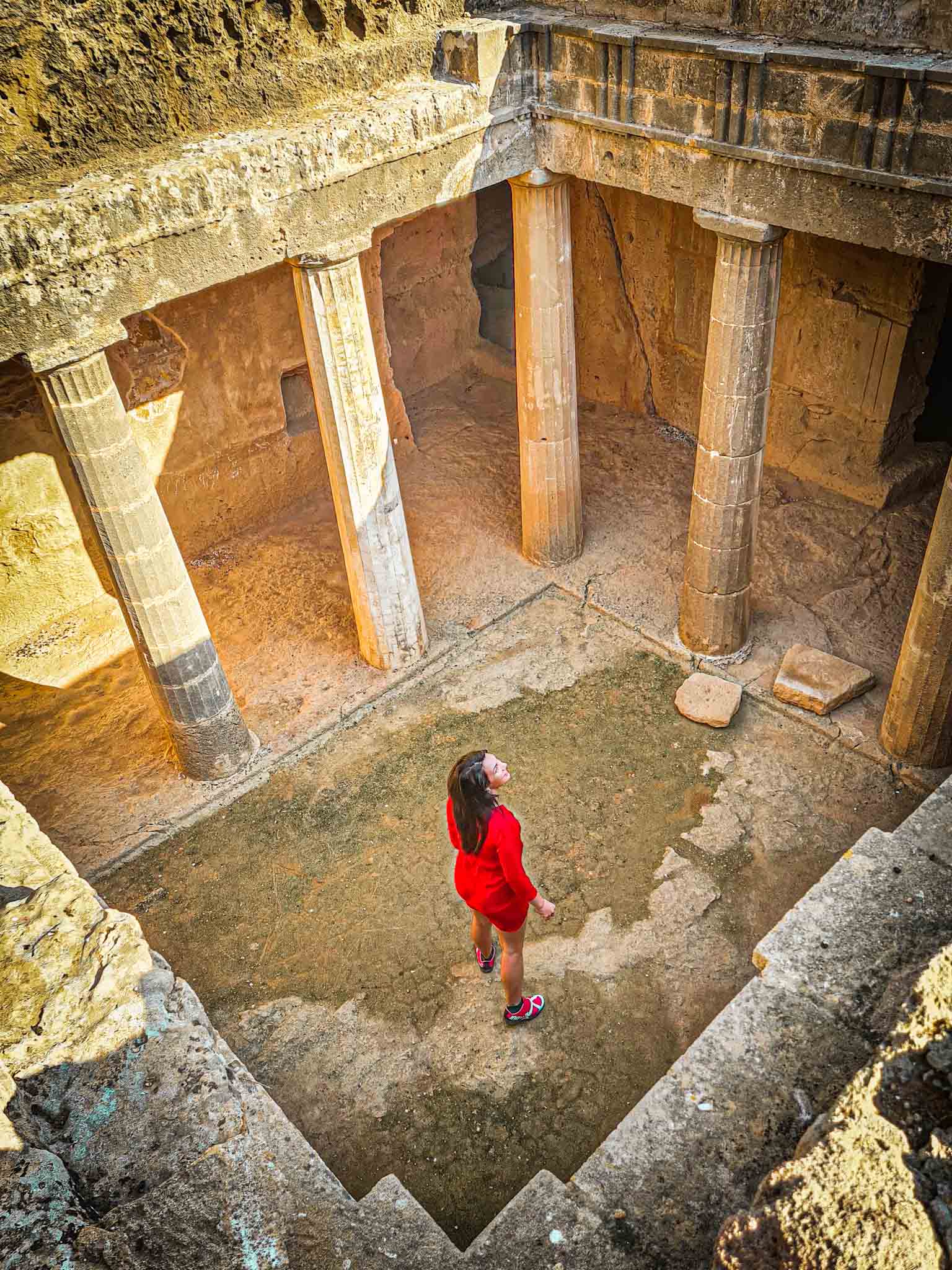 The former underground necropolis sounds like a strange place for sightseeing, but it is just the place to go to experience some history of Cyprus. If you are a fan of history, then this is definitely one of the must-see places.
There is an entrance fee to the territory of 2.50 EUR. When entering the territory, you will be given a map (or you can take it yourself at the entrance) with all the tombs marked with numbers. There are only 3 tombs with columns, so definitely explore them, if you want this particular picture!
But the whole area is big, so you can spend a couple of hours exploring it. You can find the opening hours and other information on the 'Visit Cyprus' website HERE.
Location: OPEN MAP!
6. Nissi Beach in Ayia Napa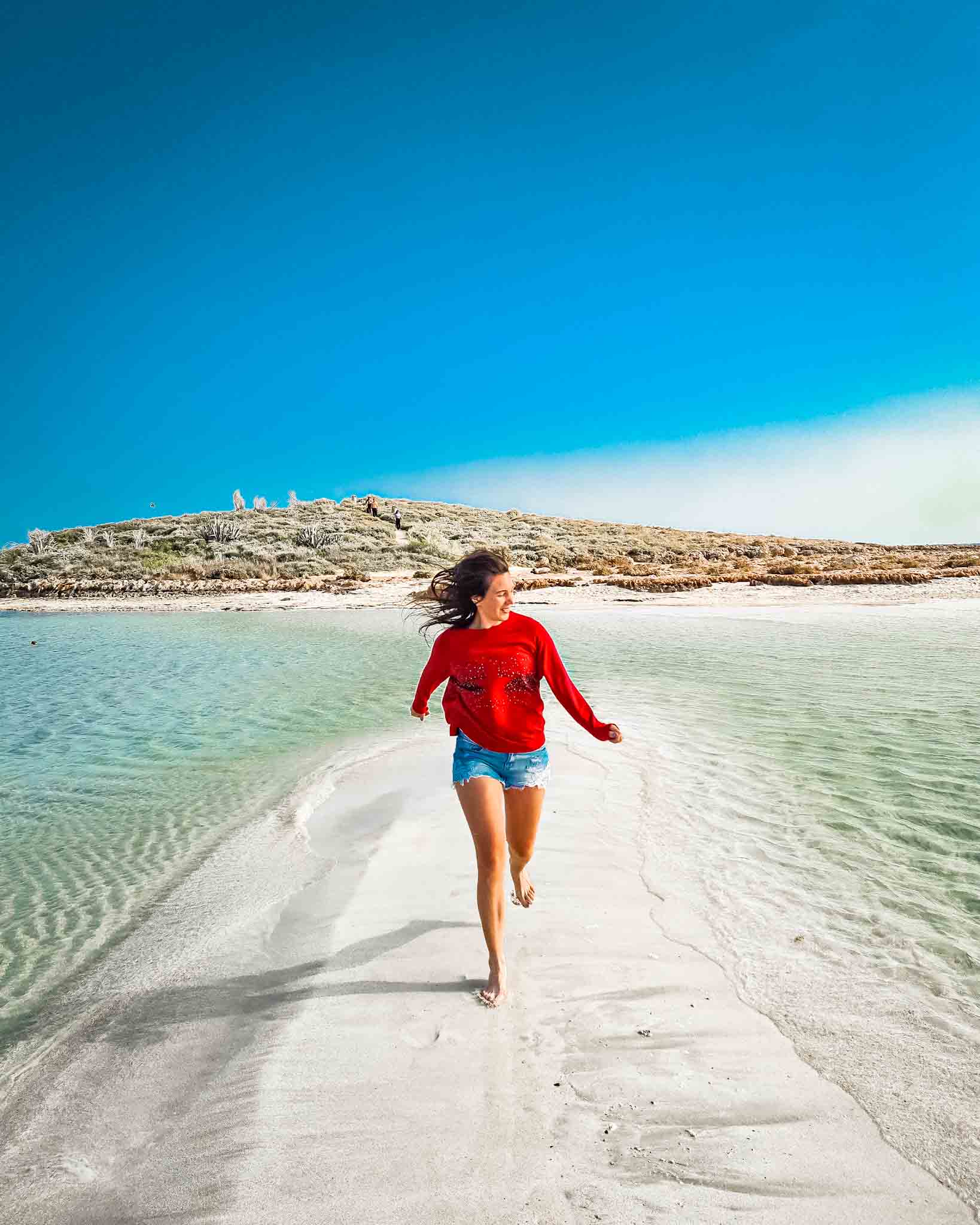 What is so interesting about a beach? Well, if you have been to Cyprus, you will know, that most of the coastline of Cyprus is rocks, cliffs, pebbles, and stones. Most parts are not accessible.
But only a couple of actual beaches are with sand – some have black, some have grey or yellowish sand, but there is this unique Nissi beach with white sand and amazingly clear and shallow water. It is the best place to go with kids or if you don't want to fight waves while swimming.
Besides, there is a small island next to the beach, where you can walk to. Although the beach is in a resort and normally is very popular, I still recommend going there. Outside the most crowded hours at least.
Location: OPEN MAP!
7. Sea caves near Cape Greco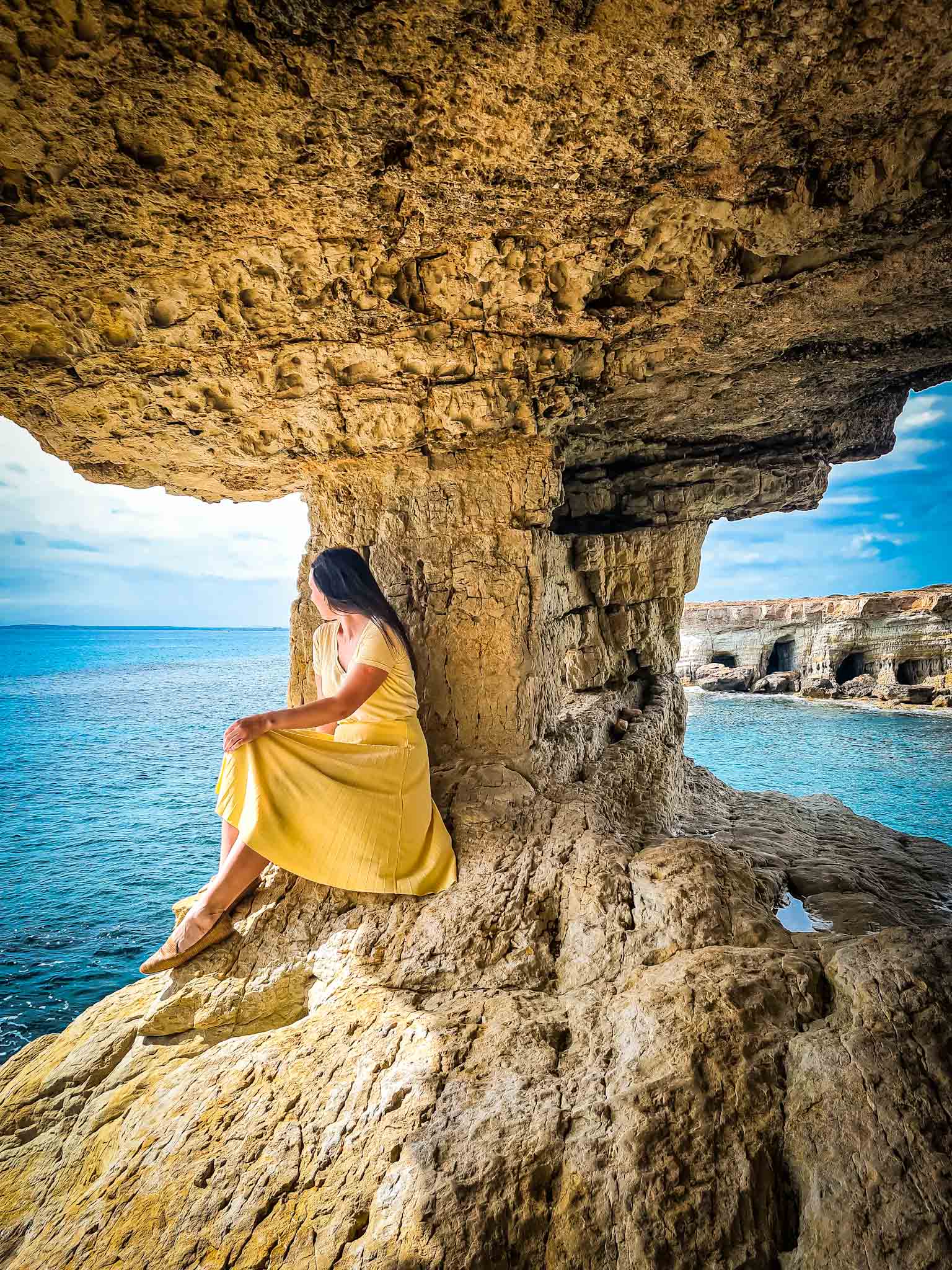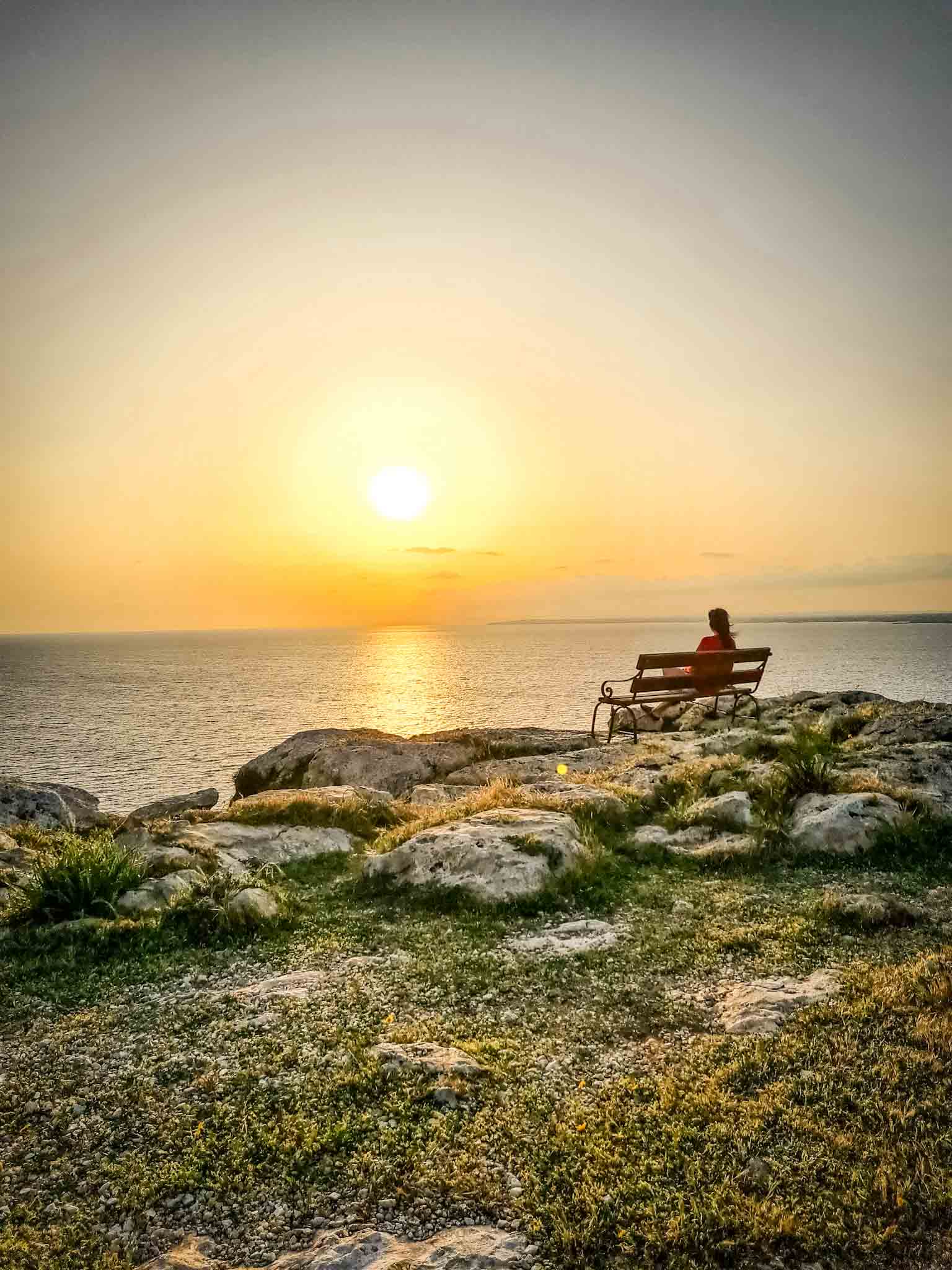 Not far from Ayia Napa there is this area full of sea caves with a special spot – a hole in the rock, where you can actually climb inside and observe the sea caves. It is unique and a must-see place if you like something unusual.
However, it can be very crowded, but you can always go there in the morning to get some alone time. Just one kilometer from it you will see a cliff of Cape Greco, which is a popular place for watching the sunset and observing the East side of Cyprus. Grab a snack and have a picnic on the hill!
Sea caves: OPEN MAP!
Cape Greco: OPEN MAP!
8. Salt lakes in Limassol and Larnaca (with flamingos!)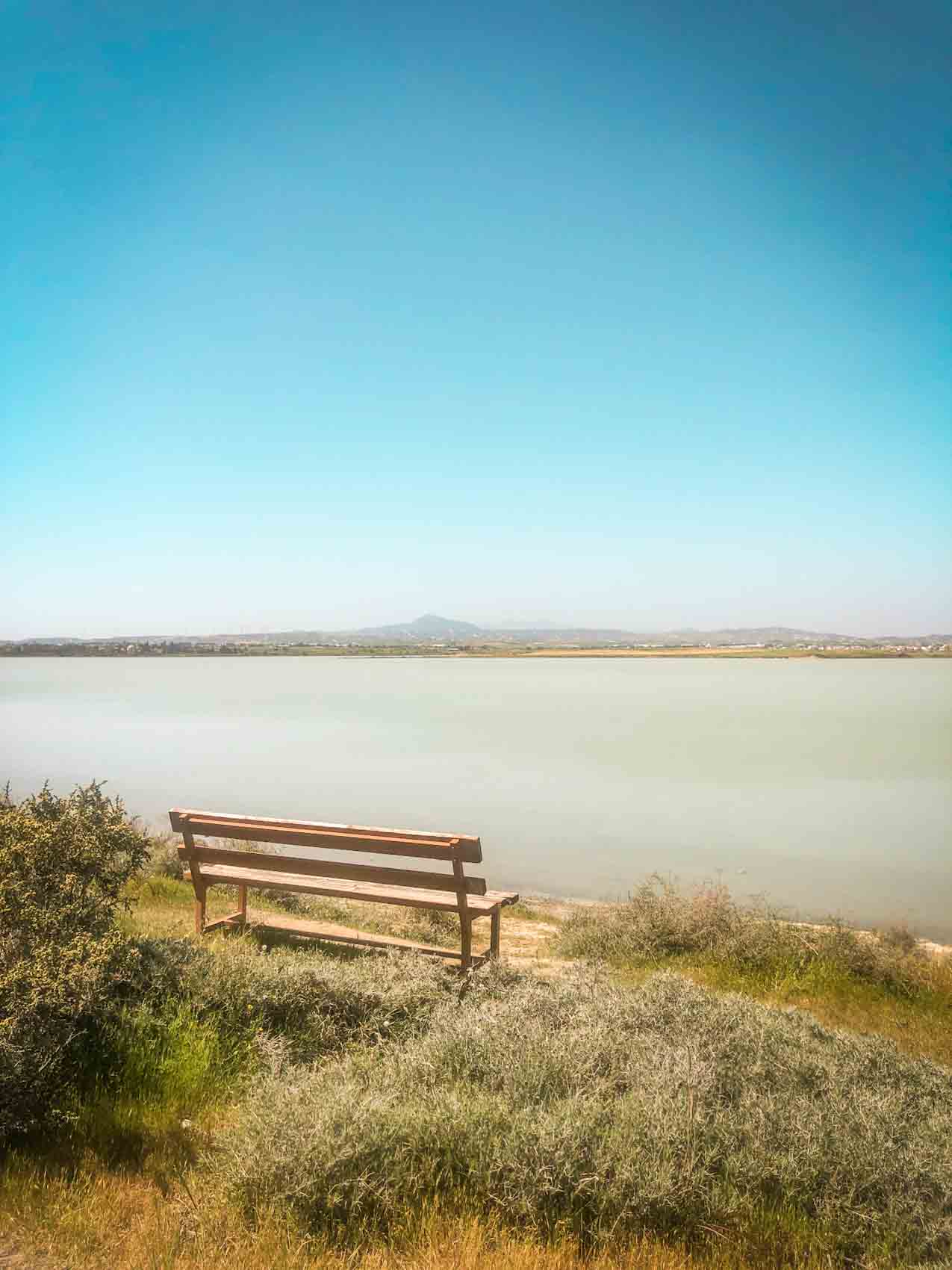 Cyprus has two large salt lakes – one near Limassol and another near Larnaca. We were lucky to be in Cyprus during wintertime when the flamingos love to spend time here.
They love eating seafood that lives in these salt lakes, so the birds spend time walking around the lakes with their heads under the water. Did you know that flamingos are pink because of what they eat?
However, when we visited Limassol salt lake in December we did not see a single flamingo, but Larnaca salt lake at the end of January was full of birds – thousands of pink flamingos! I do not know, why they preferred the Larnaca salt lake, but if you want to see them, make sure to visit both lakes!
Most of them fly away during the spring, but there may be a couple of birds that stay here, but not guaranteed. However, the salt lakes are a nice place to experience without the birds as well!
Limassol salt lake: OPEN MAP!
Larnaca salt lake: OPEN MAP!
9. Edro III shipwreck and sea caves in Prestos beach near Peyia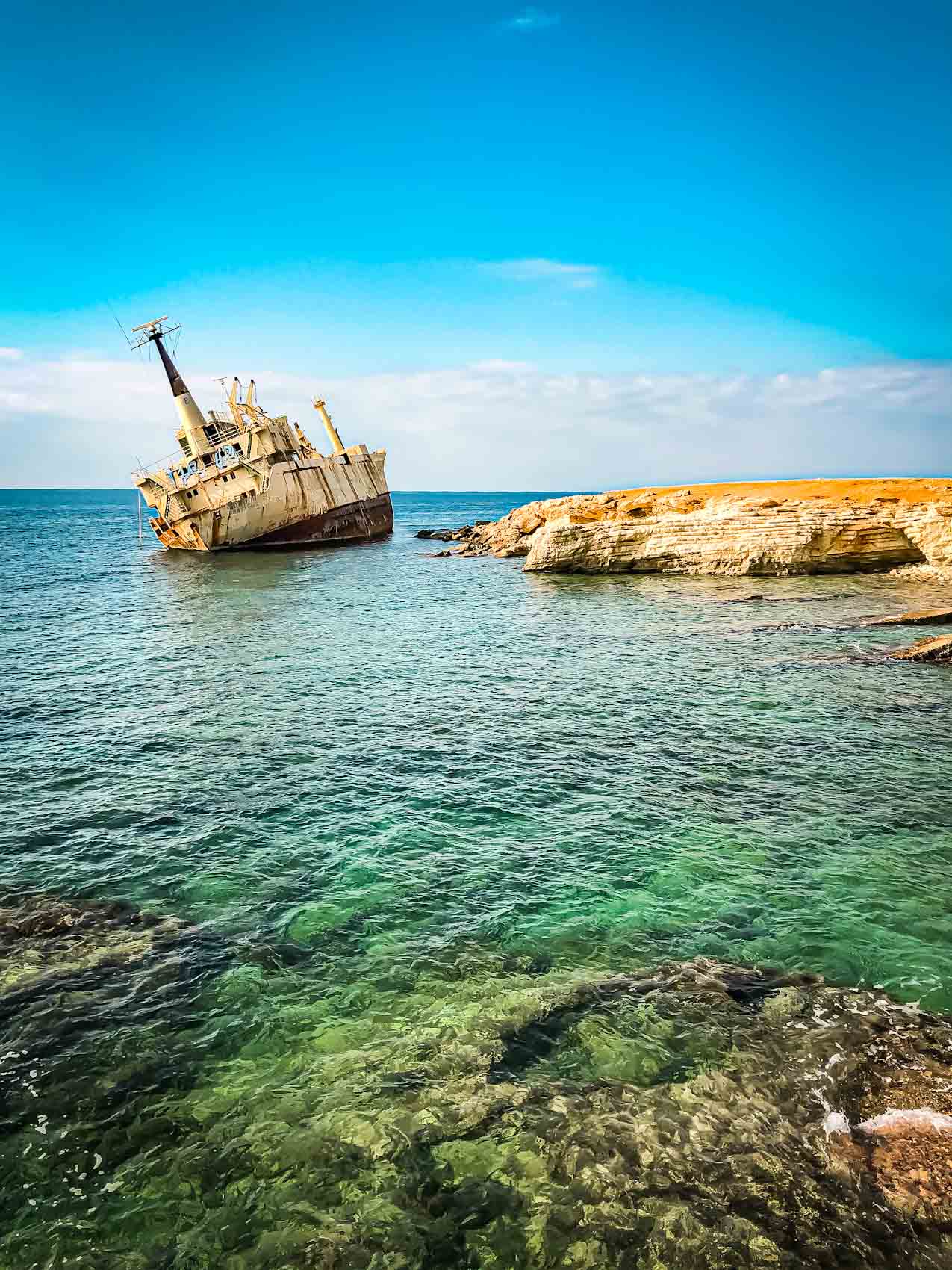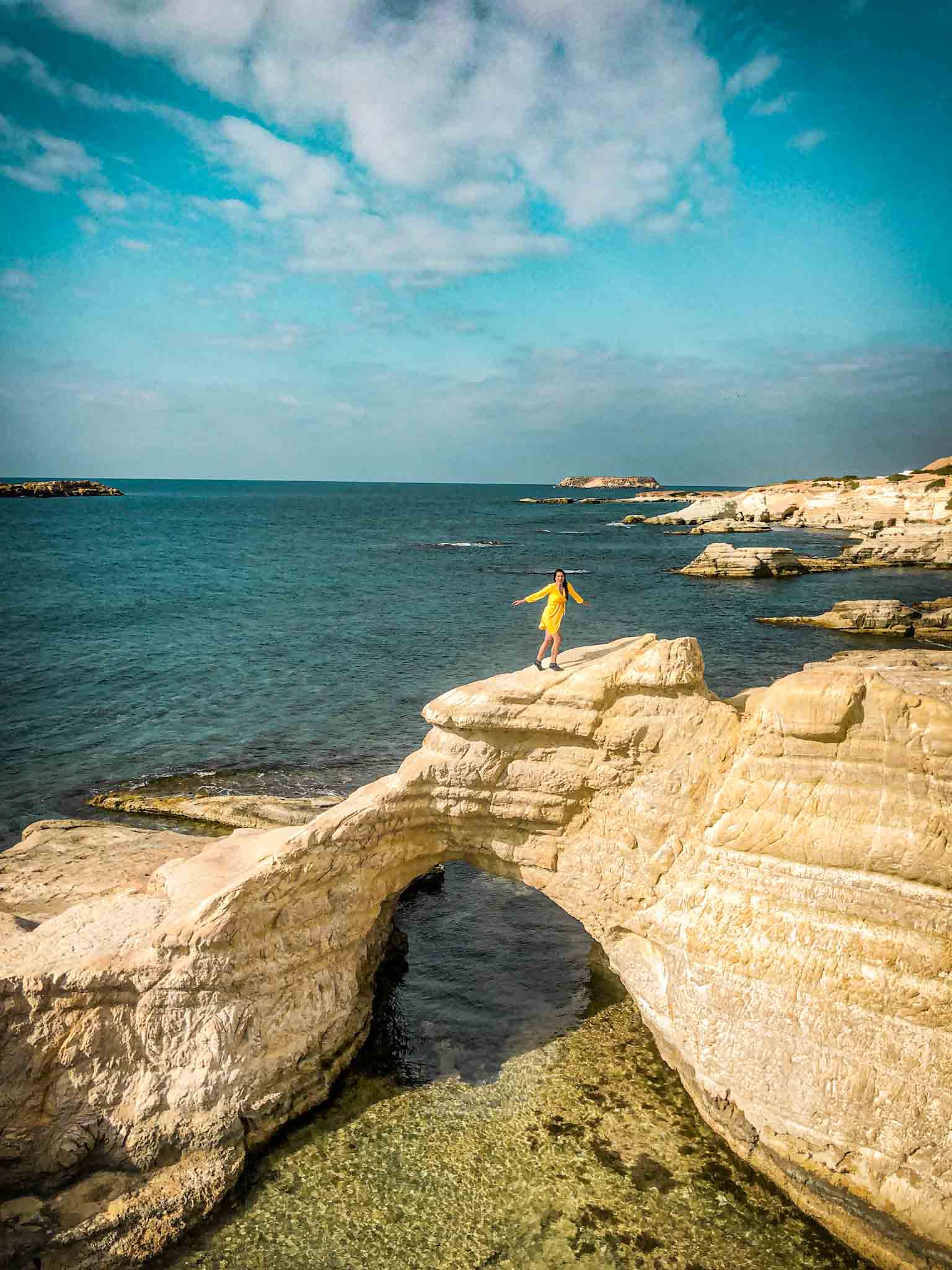 Edro III shipwreck is probably the most famous shipwreck in Cyprus. Other shipwrecks are either on the bottom of the sea or further into the sea. Although it is not allowed to go inside the ship, it is so close to the shore, that you can see everything.
This place is very easily accessible, as you can park your car next to the beach. Although you can observe some sea caves near the shipwreck, I would highly recommend you to take a short drive to Prestos beach. It is somewhat of another planet!
Huge and weird rock formations and a few people make this unique place one of the top must-see places in Cyprus! There is a steep climb down to the beach and then up the rock, but after that – just walk around and enjoy!
Edro III shipwreck: OPEN MAP!
Prestos beach: OPEN MAP!
10. Visit Troodos mountains and walk around Mount Olympus
Troodos mountains occupy about a fourth of the islands' territory and there is so much to do there! From hiking nature trails with beautiful views to exploring waterfalls, visiting Venetian bridges, strolling around mountain villages, and buying local wine – the possibilities are endless.
However, if you are tight on schedule, I would highly recommend the easiest hiking trail that leads around Mount Olympus (1952m) just mere 100 meters below the summit – the Artemis nature trail.
It is flat and easy, 8 kilometers (5 miles) long, and full of amazing views and benches along the way for a quick picnic. But if you are committed to fully exploring the Troodos mountains, here are 9 special ideas to do in the Troodos mountains in Cyprus!
Artemis trail start: OPEN MAP!
11. Explore the beautiful Akamas peninsula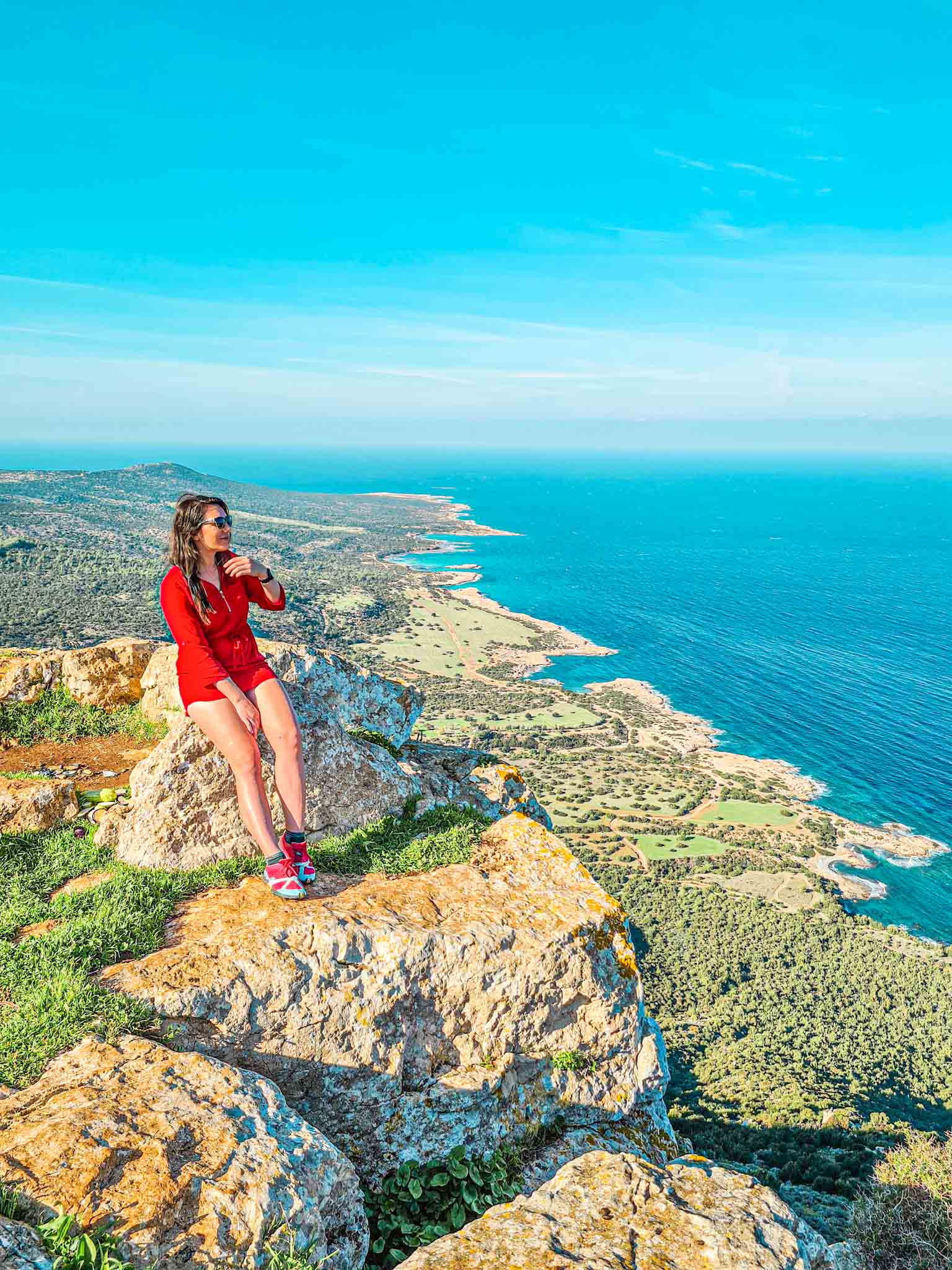 This is the highest you can get at the Westernmost part of Cyprus – the Akamas peninsula. There are many nature hiking trails like Aphrodite's trail, which leads to the top of Moutti tis Sotiras peak.
It is a 370-meter cliff with amazing views over the whole peninsula, the sea, and the Troodos mountains behind you. A perfect picturesque place to have a picnic and enjoy nature.
The climb to the top can be demanding, but it is worth the effort! It is a 7.5-kilometer (4.6-mile) trail, so be prepared to dedicate a couple of hours to this adventure and bring plenty of water and snacks!
Location: OPEN MAP!
Happy exploring!
If you ever go to Cyprus, I would highly recommend renting a car and not limiting yourself to beach resorts only. The island is very diverse and beautiful with so much to do and so much to see. I hope you can draw some inspiration from this list and make your vacation full of adventures!
More Cyprus travel inspiration!
PIN FOR LATER!