17 most beautiful castles and palaces in Andalusia, Spain
Andalusia has seen many kings and kingdoms so there are a lot of beautiful castles and palaces in Andalusia. Whether they served as residences for monarchs or played a defensive role, it is definitely worth exploring some of them!
We spent more than two months driving around the South of Spain and exploring all the best places it had to offer. From the big cities and royal buildings to little villages far off-the-beaten-path, I believe we discovered the essence of Andalusia!
In this blog post, you will find all the most beautiful castles and palaces in Andalusia with descriptions, photos, and locations where they can be found on Google Maps. We did see a lot of them and tried to find the best ones to visit! Happy exploring!
Read more >>> 27 hidden gems and secret places you should see in Andalusia
1. Comares Palace in Alhambra, Granada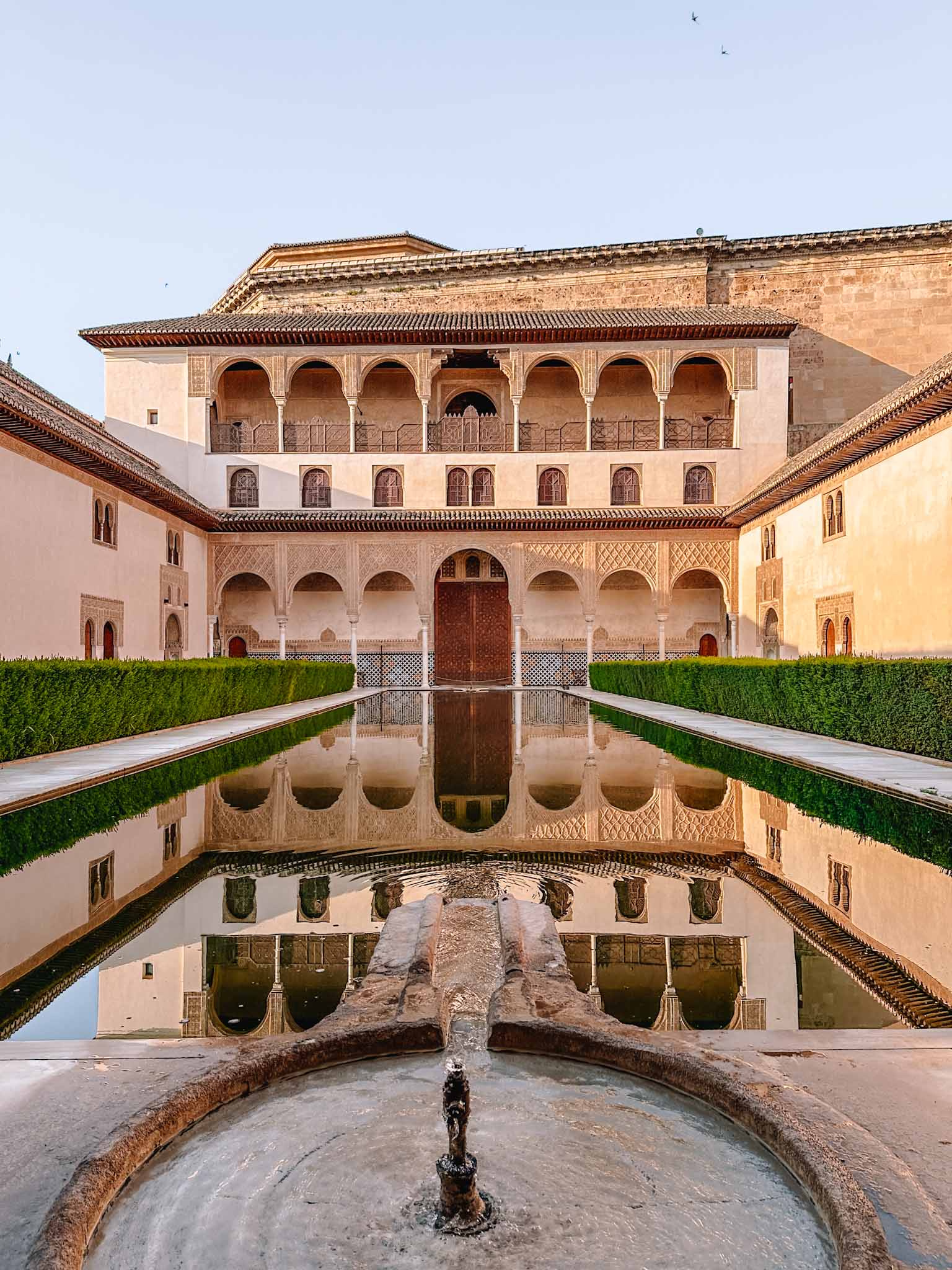 Alhambra is arguably the most famous tourist attraction in Granada, Andalusia, and possibly in Spain. It is a massive fortress on a hill in Granada.
Inside the citadel, there are multiple palaces and residences built for kings, expansive gardens, and other infrastructure made for Alhambra to be a self-contained city.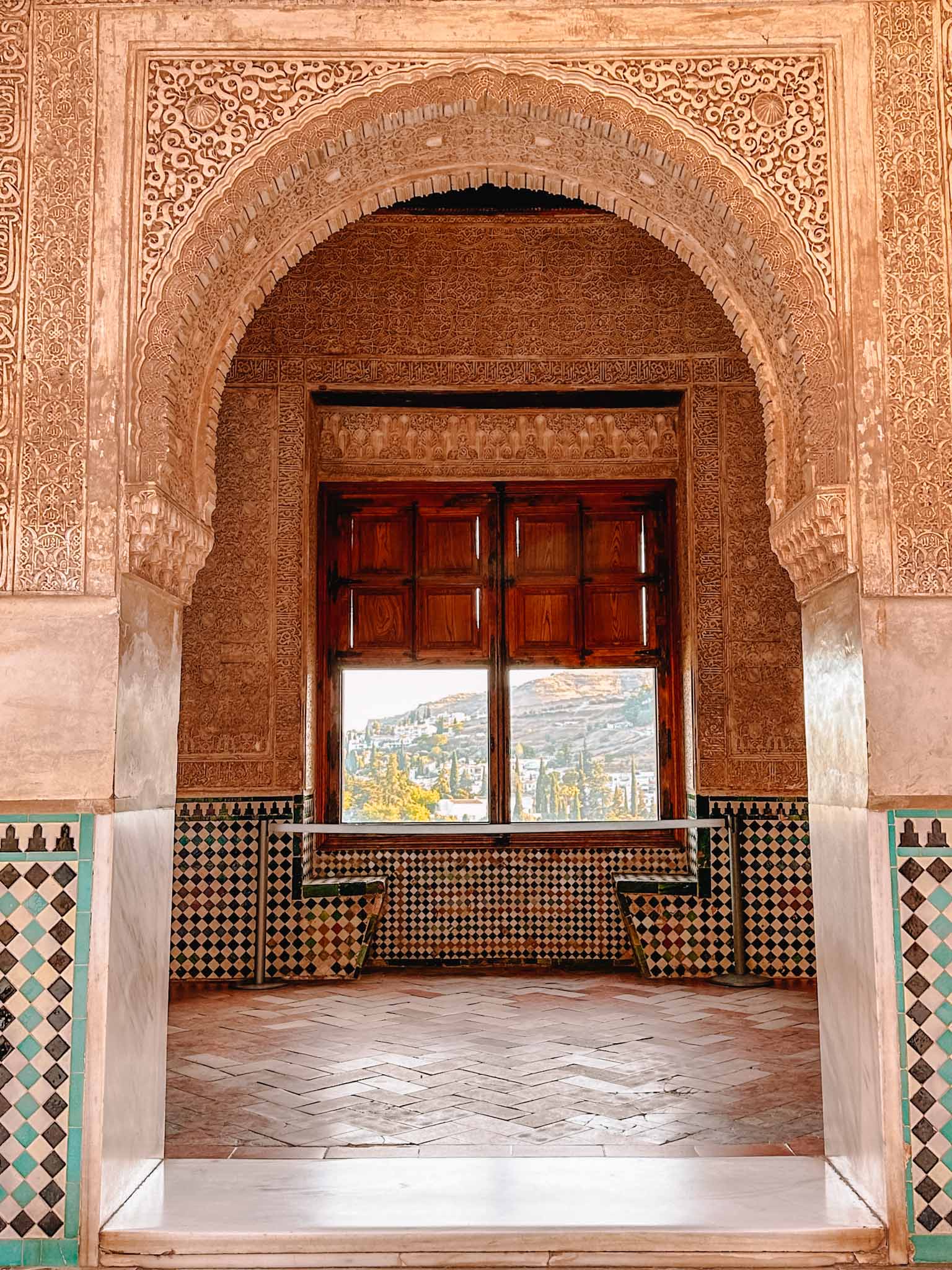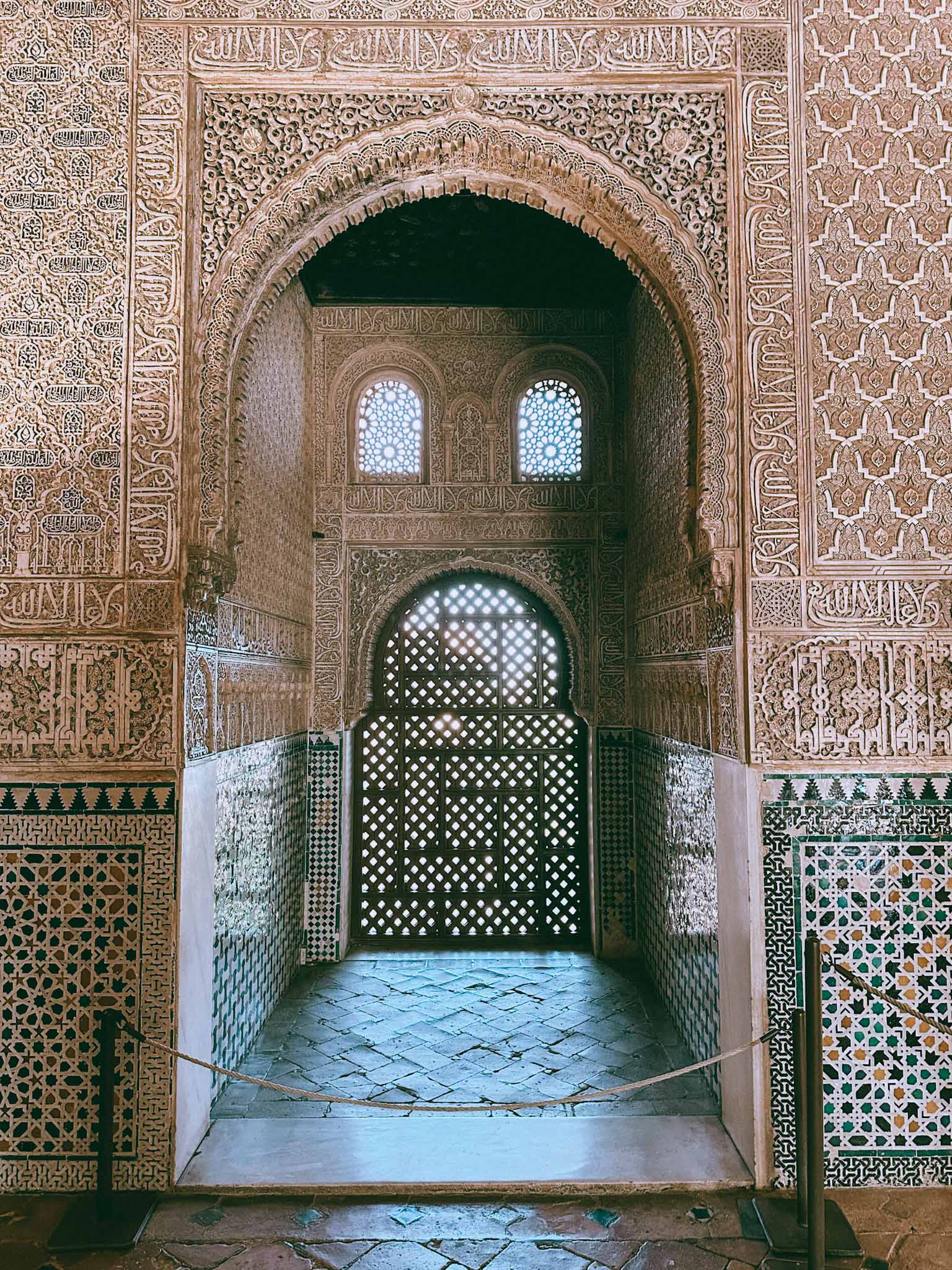 The Nasrid palaces – multiple royal palaces built by different Arab kings from the Nasrid dynasty – are the crown jewel of Alhambra. If you don't visit the Nasrid palaces, then you haven't seen Alhambra!
One of the most beautiful of the Nasrid palaces is the Comares Palace – one of the first palaces you will see during your visit. There is the famous Patio de los Arrayanes – an inner courtyard with a long rectangular reflective pool typical of Moorish architecture.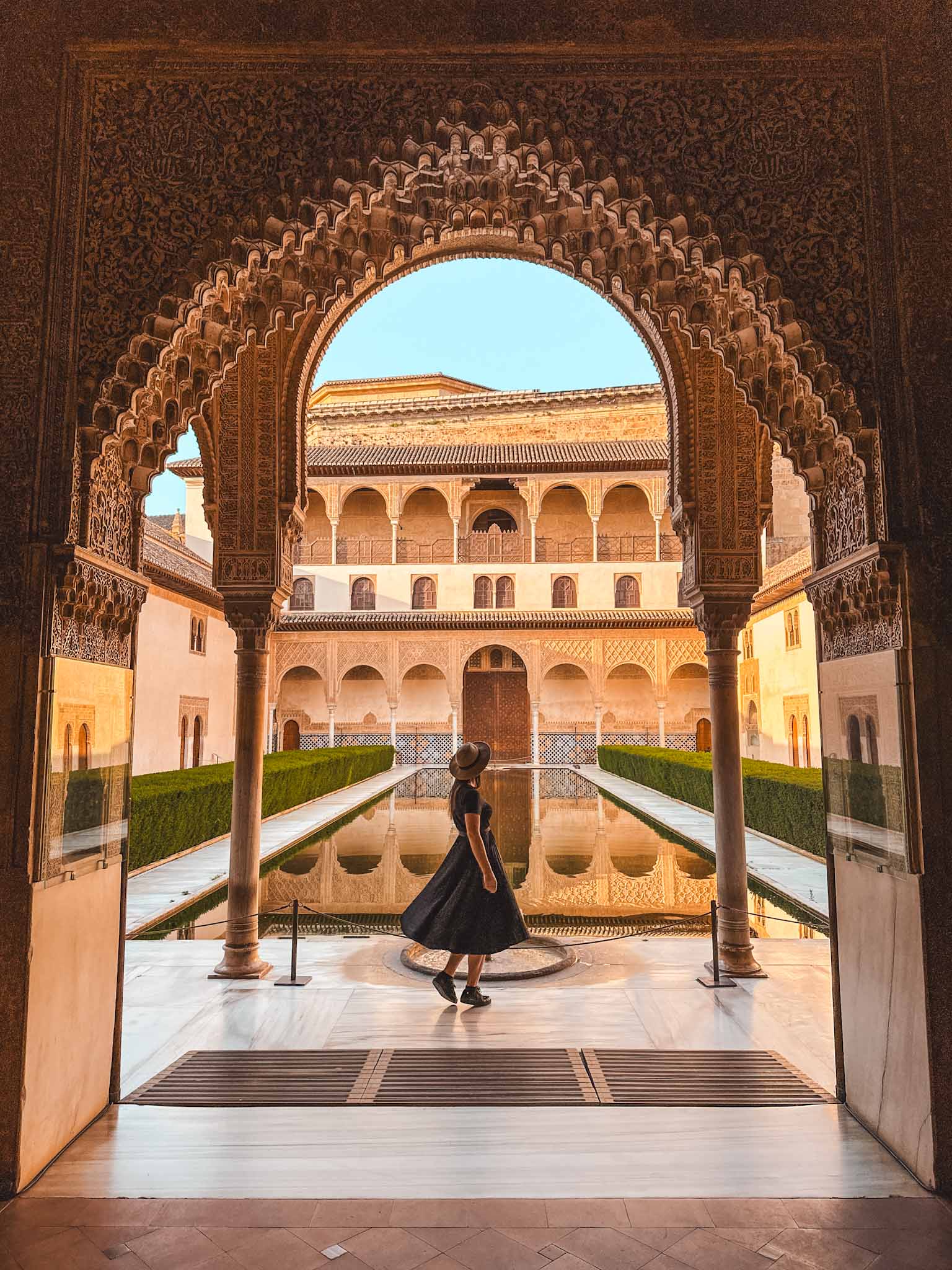 Back then the courtyard typically was a central space around which other rooms were organized. Somehow we got a beautiful peaceful moment inside the courtyard as we arrived 30 minutes before the opening and were the first in line to enter.
The beautiful Comares Palace in Alhambra was built for a king and it does live up to the expectations. From the beautiful arches, detailed carvings above the archways, and the peaceful fountain next to the pool – all of this makes this place so serene and magical!
Location: Comares Palace in Alhambra
2. Palace of the Lions in Alhambra, Granada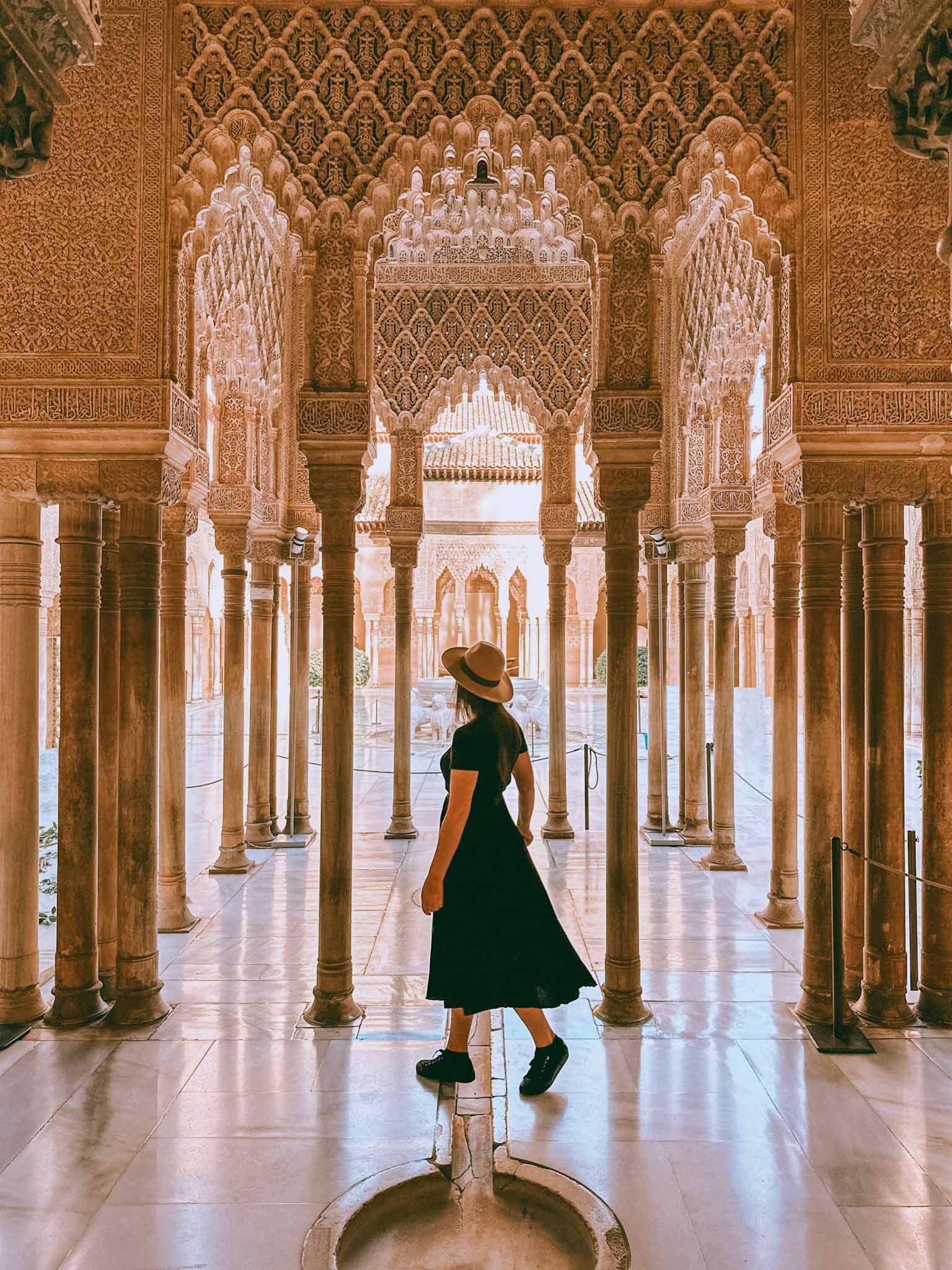 As you walk to the next palace in the Nasrid palace complex you will find yourself inside the Palace of the Lions – one of the most famous palaces in Islamic architecture in the world.
Again the central element here is the courtyard – Patio de los Leones or the Courtyard of the Lions. There is a wide rectangular courtyard surrounded by a stunning forest of columns that have these ornately carved decorations and Arabic inscriptions.
In the middle of the courtyard, there is a magnificent marble fountain that is being held by twelve sculpted lions – thus the name of the palace. This whole setting is just breathtaking!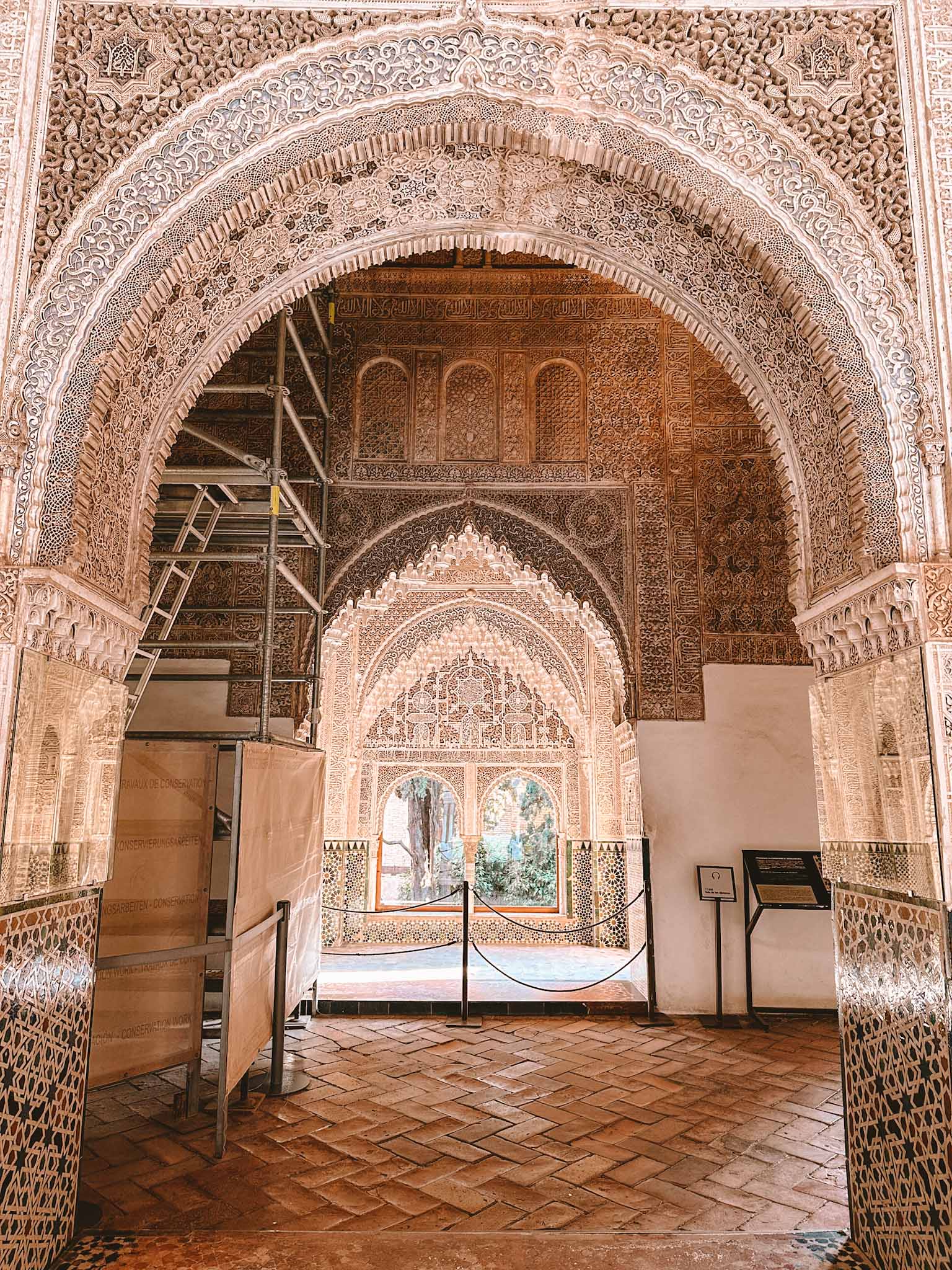 This was without a doubt my favorite place in Alhambra. The architecture and design are somewhat out of this world, especially the stalactite-like carvings in the ceiling of the vaults (known as muqarnas).
Definitely don't forget to look up and pay attention to the ceilings when you are visiting the Palace of the Lions! I cannot even comprehend the work that has been put into creating this marvel!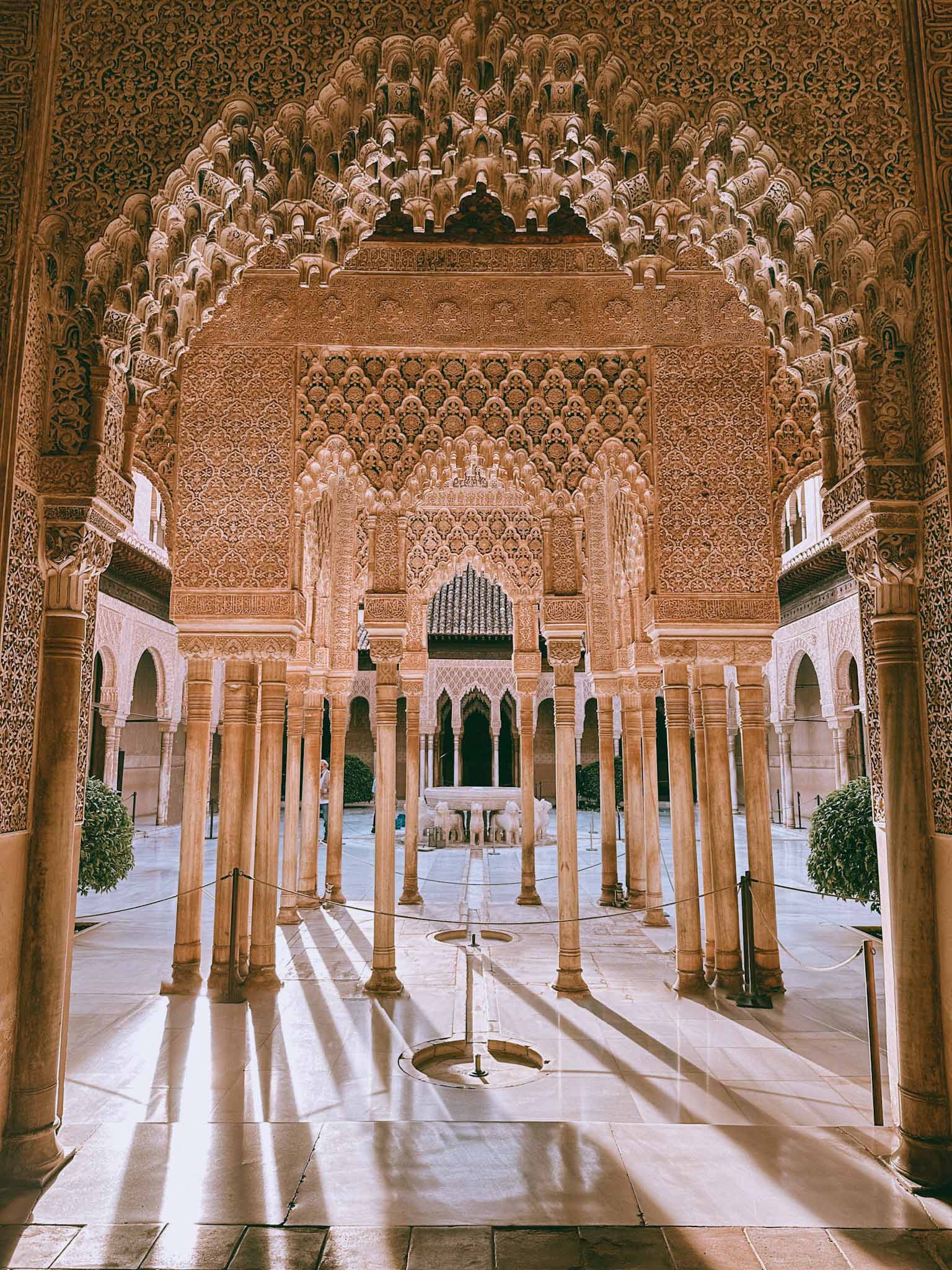 However, my favorite spots were those column forests at each end of the Courtyard of the Lions. The ornate carvings are incredible and definitely make this one of the most beautiful palaces in Andalusia!
No wonder Alhambra was amongst the finalists at the New 7 Wonders of the World voting contest! If you ever go to Andalusia then this is definitely one of the top bucket list places to visit in Andalusia and in Spain!
Location: Patio de los Leones
3. Royal Alcázar of Seville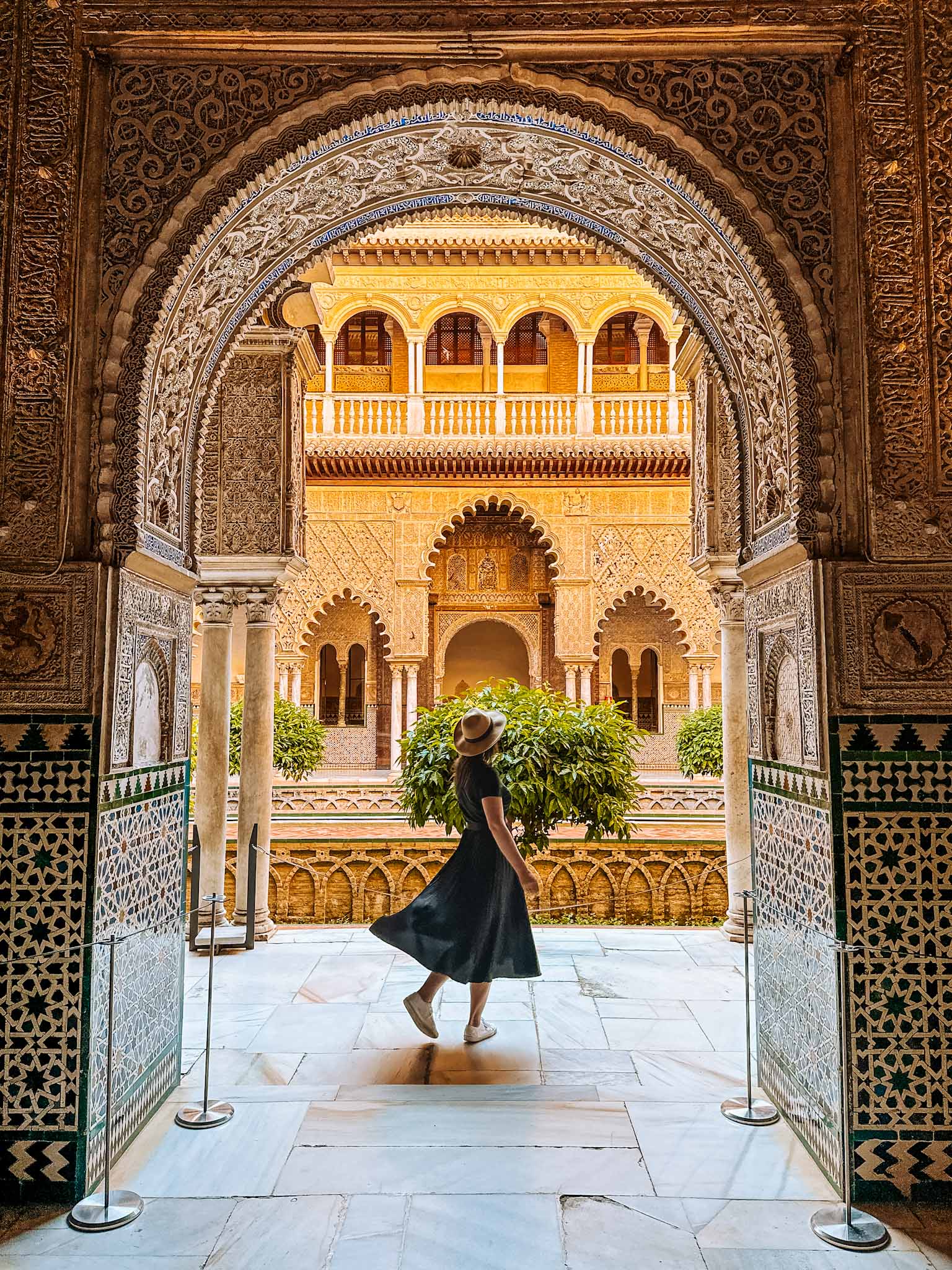 Royal Alcázar of Seville – a royal palace in Seville has to be the crown jewel of the city. And quite literally, because it was built as a house for kings and still is the house of kings – the upper floors of Alcázar still host the royal family when they visit Seville!
Royal Alcázar of Seville is a complex that consists of palaces, patios, courtyards, staterooms, unique bathing rooms, and massive gardens with pathways, ponds, fountains, trees and flowers, benches, pavilions, and even a maze.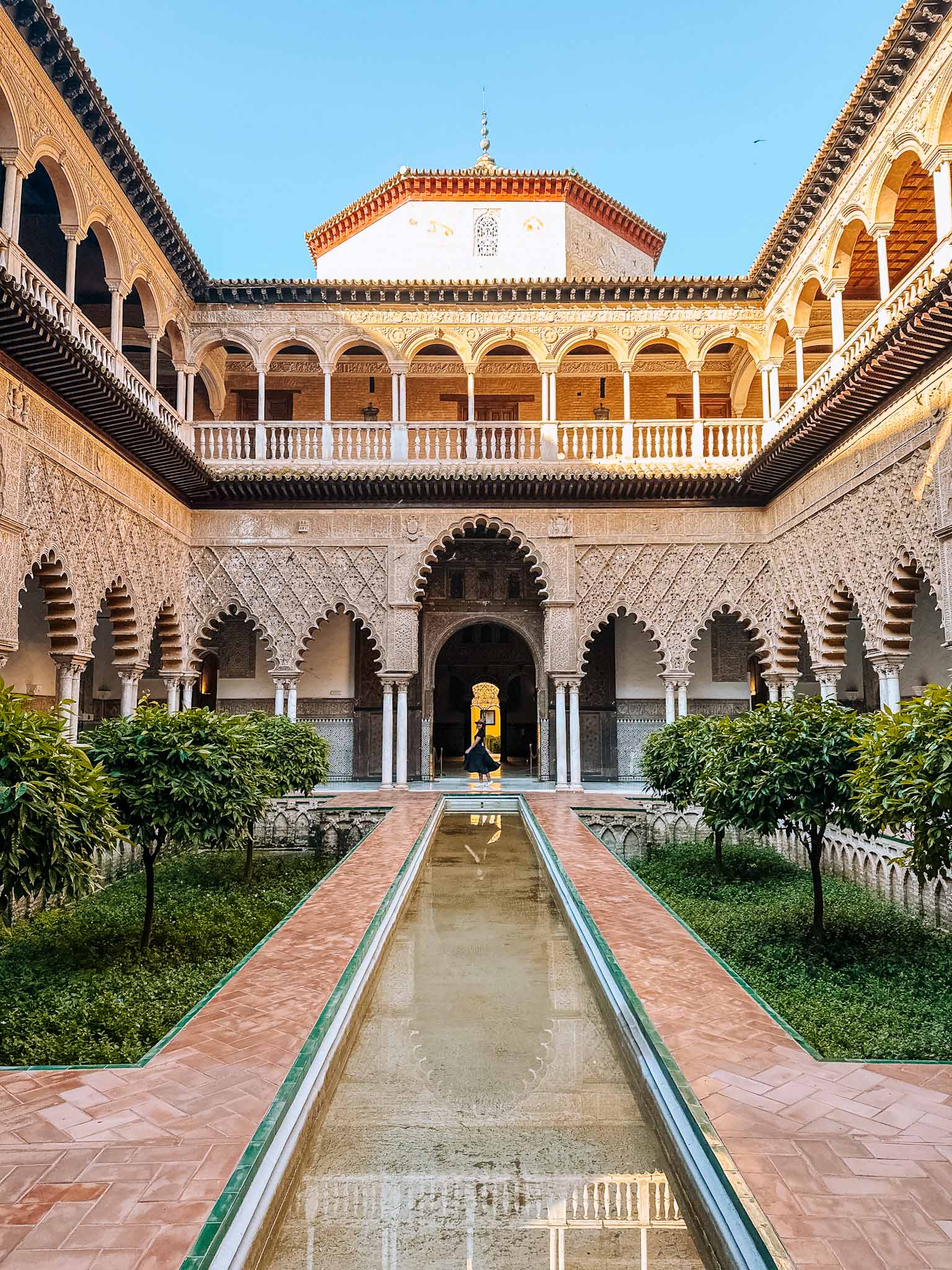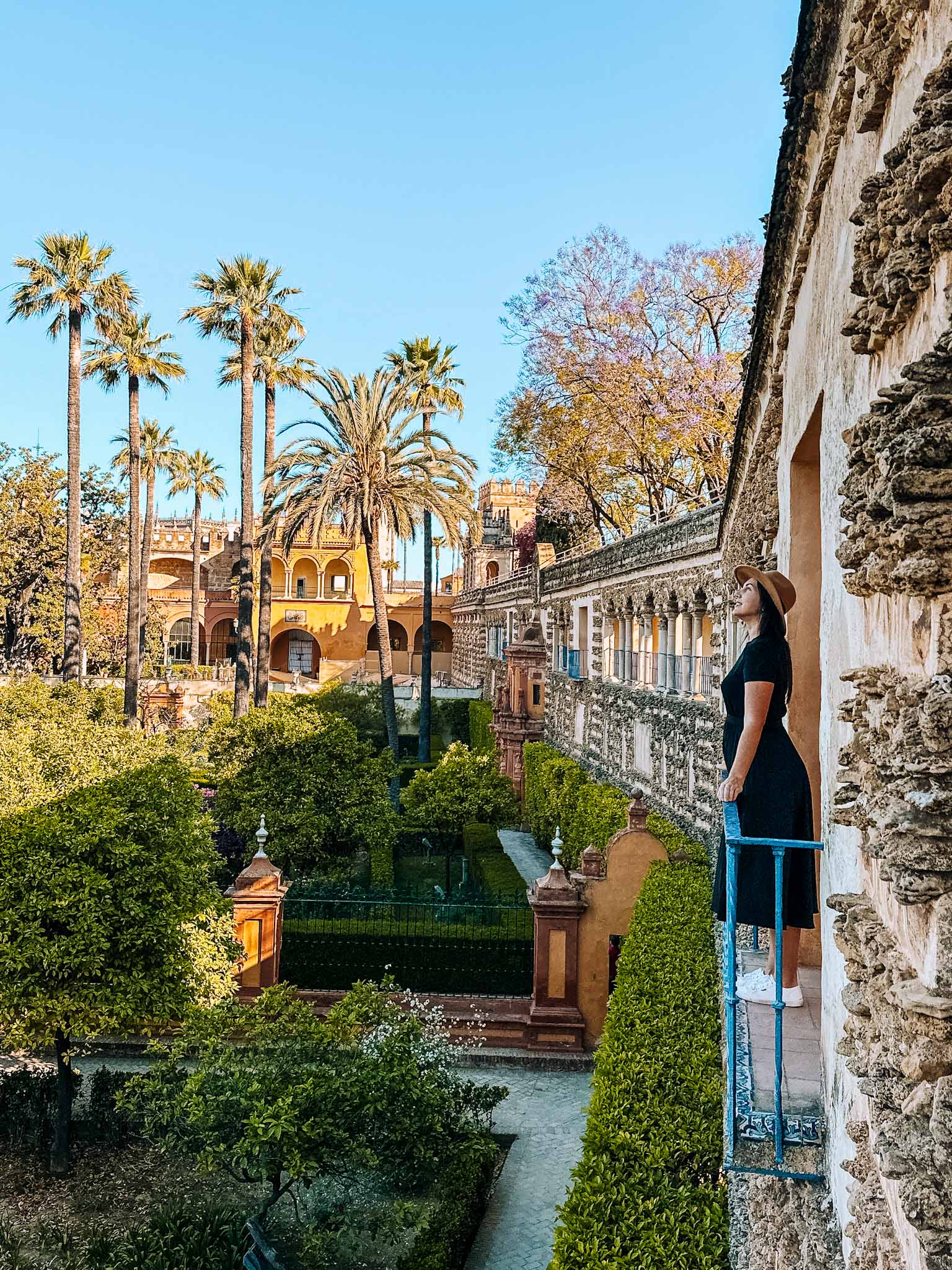 Royal Alcázar of Seville is a must-visit place for any visitor to Seville and is definitely one of the most beautiful palaces in Andalusia! It is a prime example of the Mudéjar architectural style in Spain!
Especially such places as Patio de Doncellas, which is the main courtyard in the Alcázar, and Salón de Embajadores feature outstanding ornaments and decors in Mudéjar style.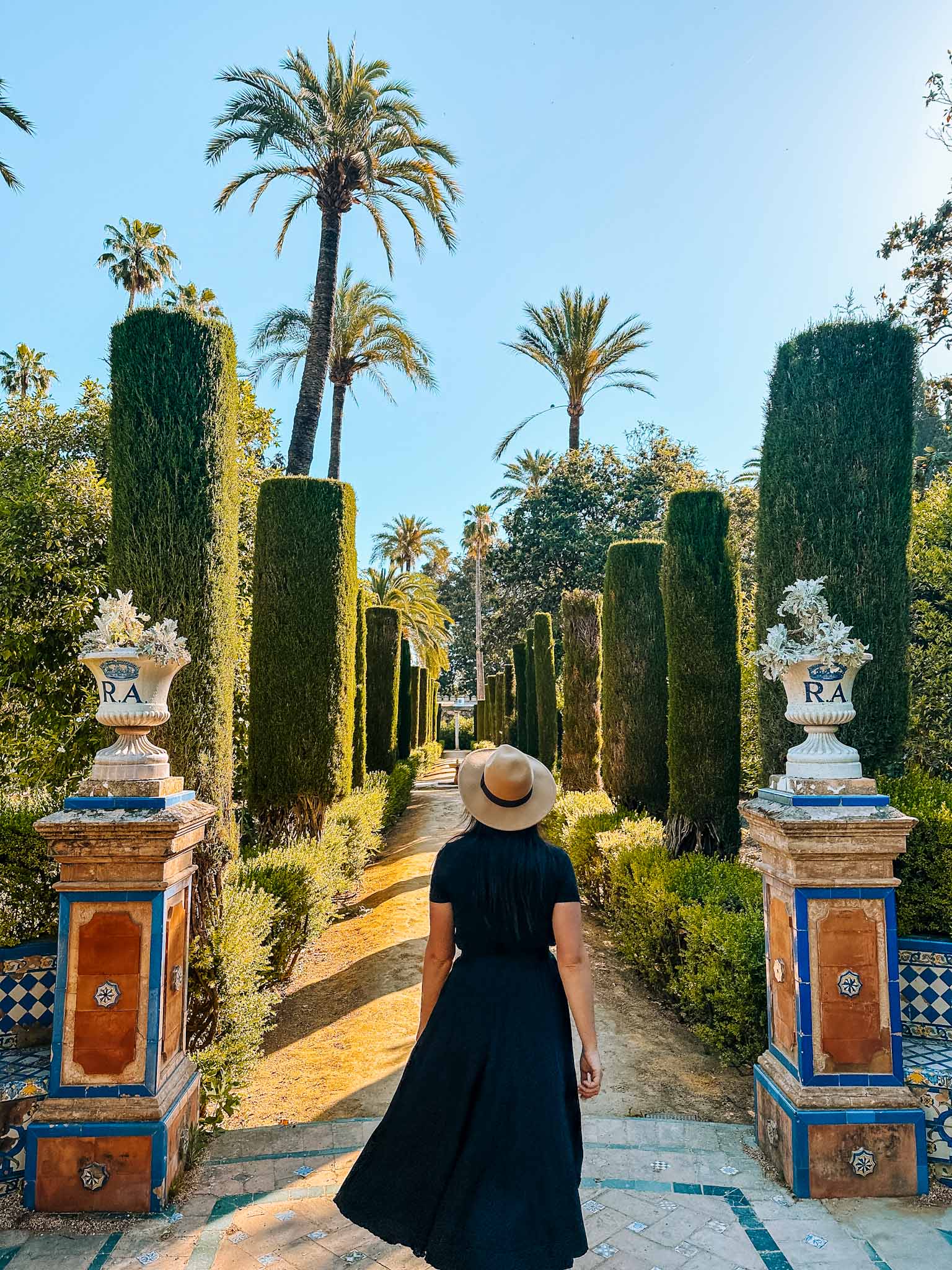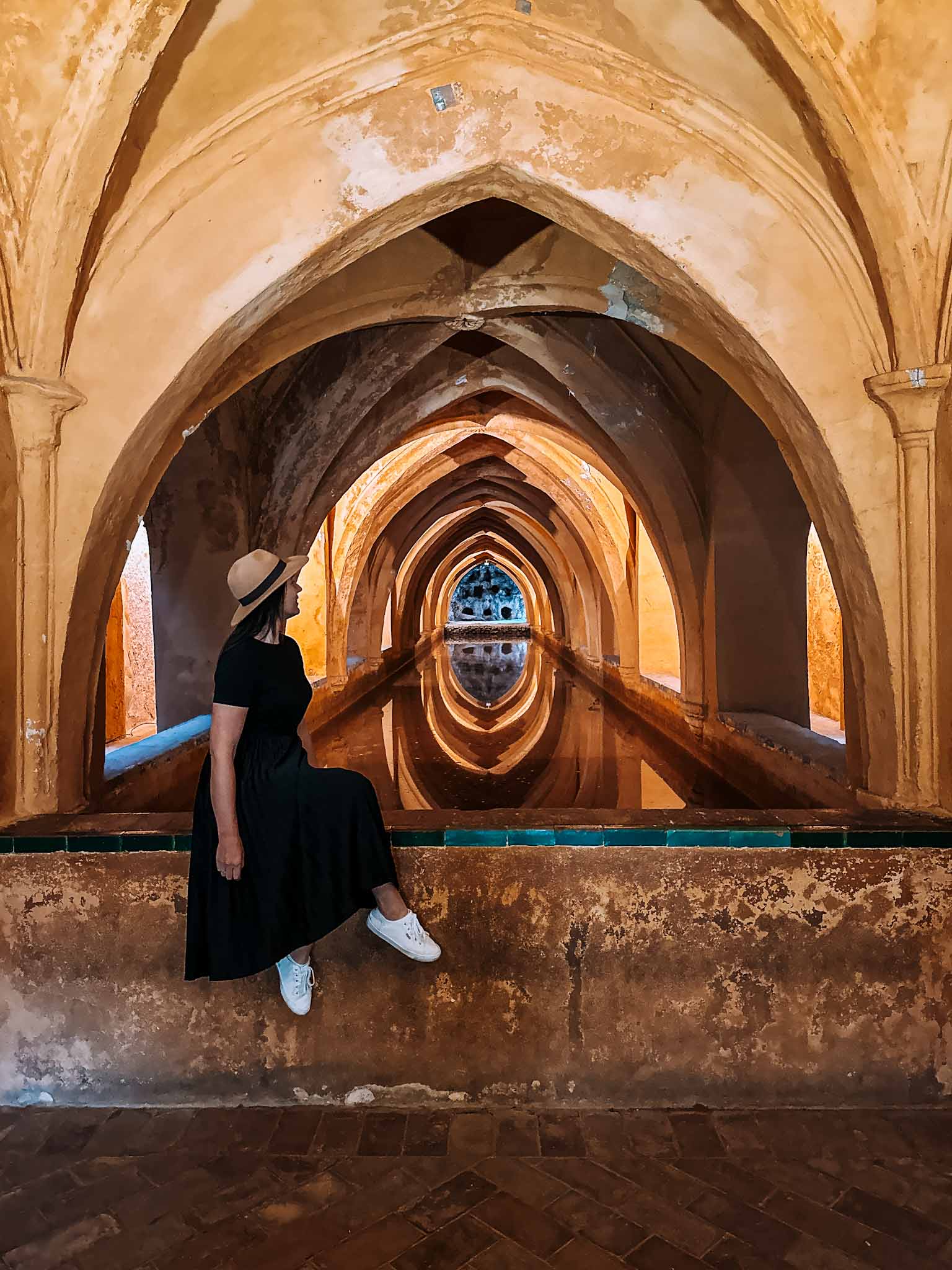 Besides the main courtyard and the Ambassador's Hall, definitely take a look at Baños de Doña María de Padilla bathing house with a pool in an arch-shaped room in the basement. Looks pretty cool!
And don't forget to enjoy the gardens with palm trees and decorative trees along the pathways. I recommend coming to Royal Alcázar of Seville for the earliest time in the morning and buying tickets online before!
Location: Royal Alcázar of Seville
4. Castillo de Colomares – the most unique castle in Andalusia!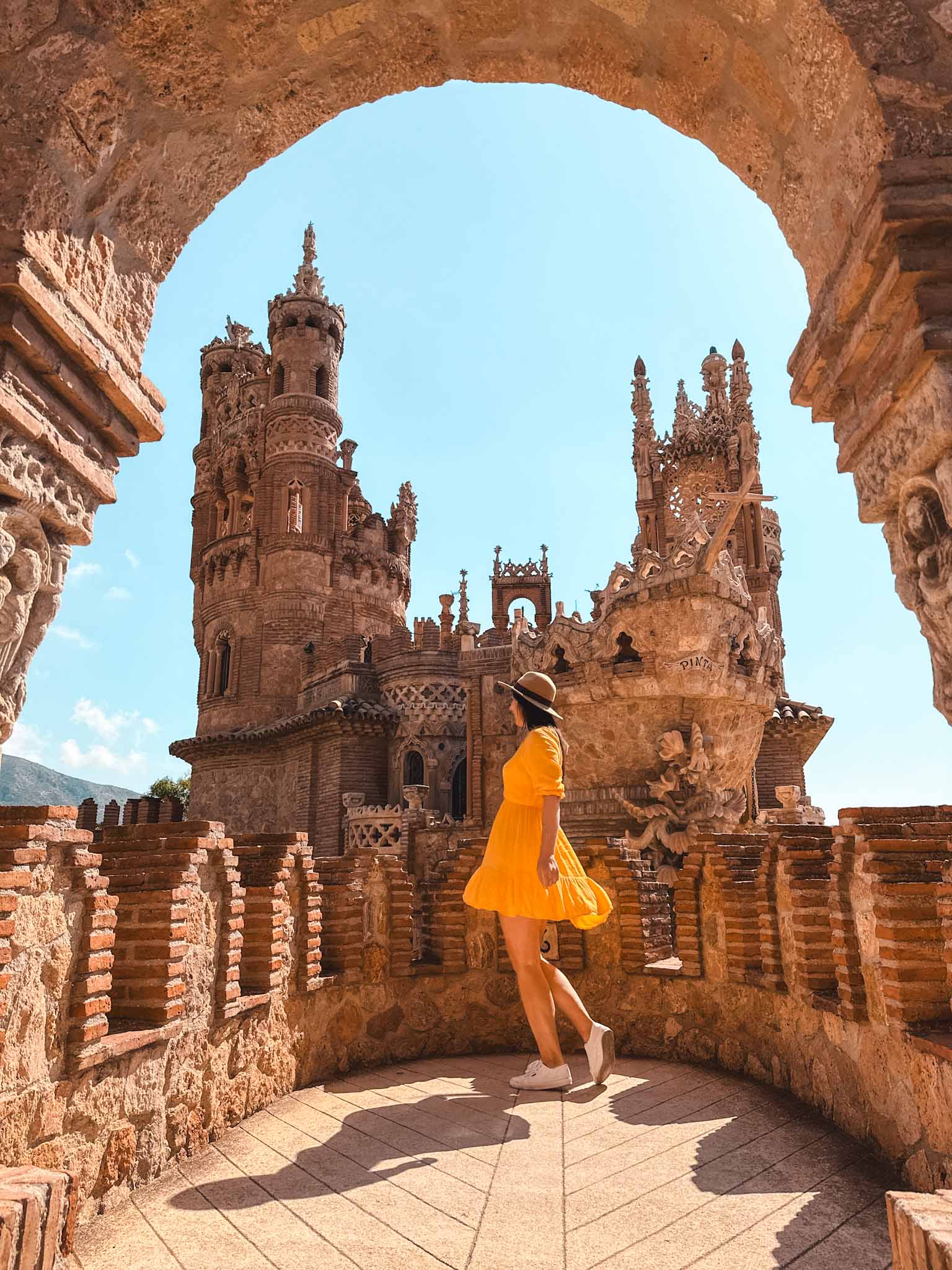 Although it sounds like it is a castle, Castillo de Colomares is actually a monument in a form of a castle dedicated to the life of the explorer Christopher Columbus. It is one of the most unique, but, at the same time, beautiful places in Malaga province.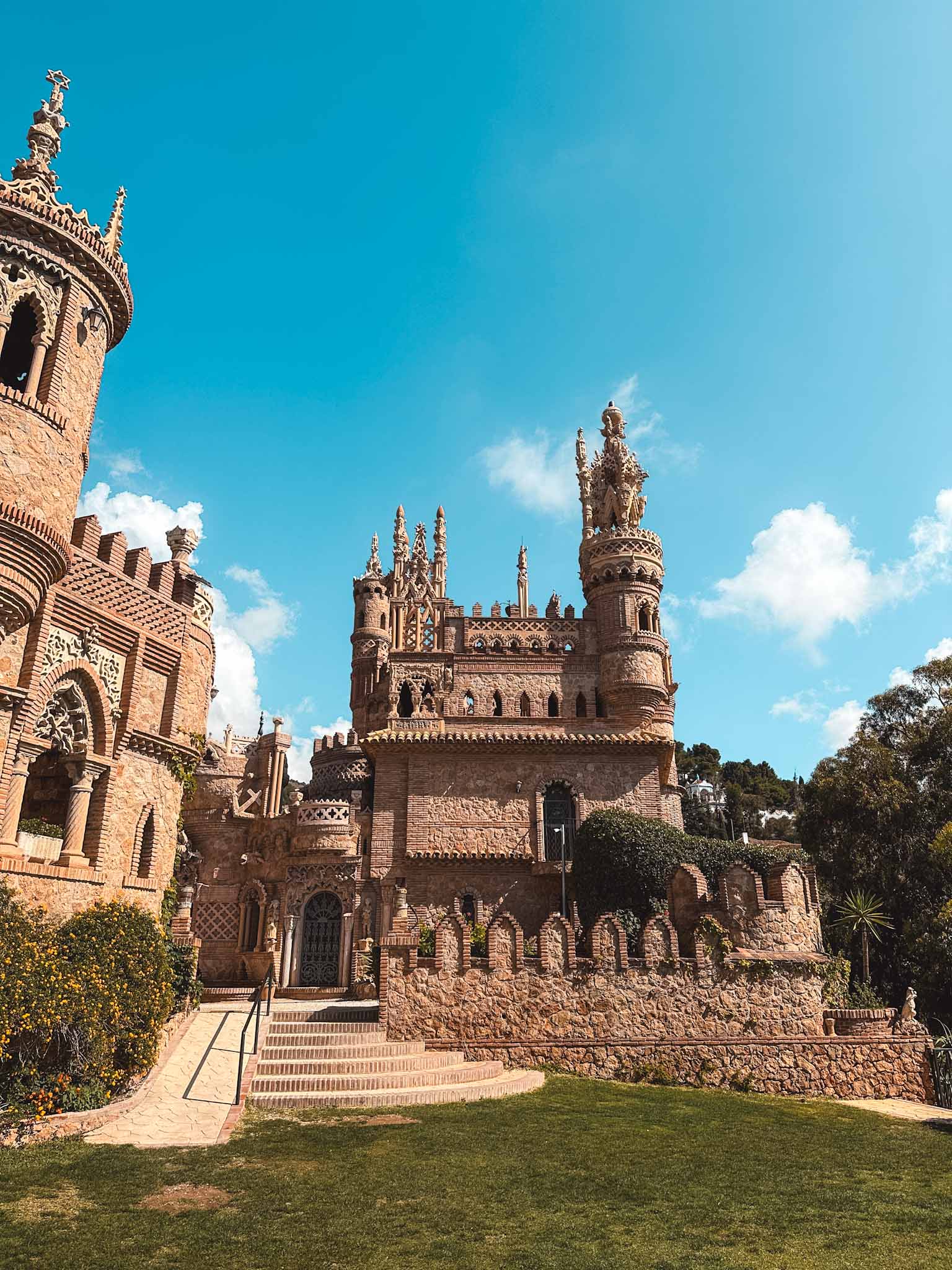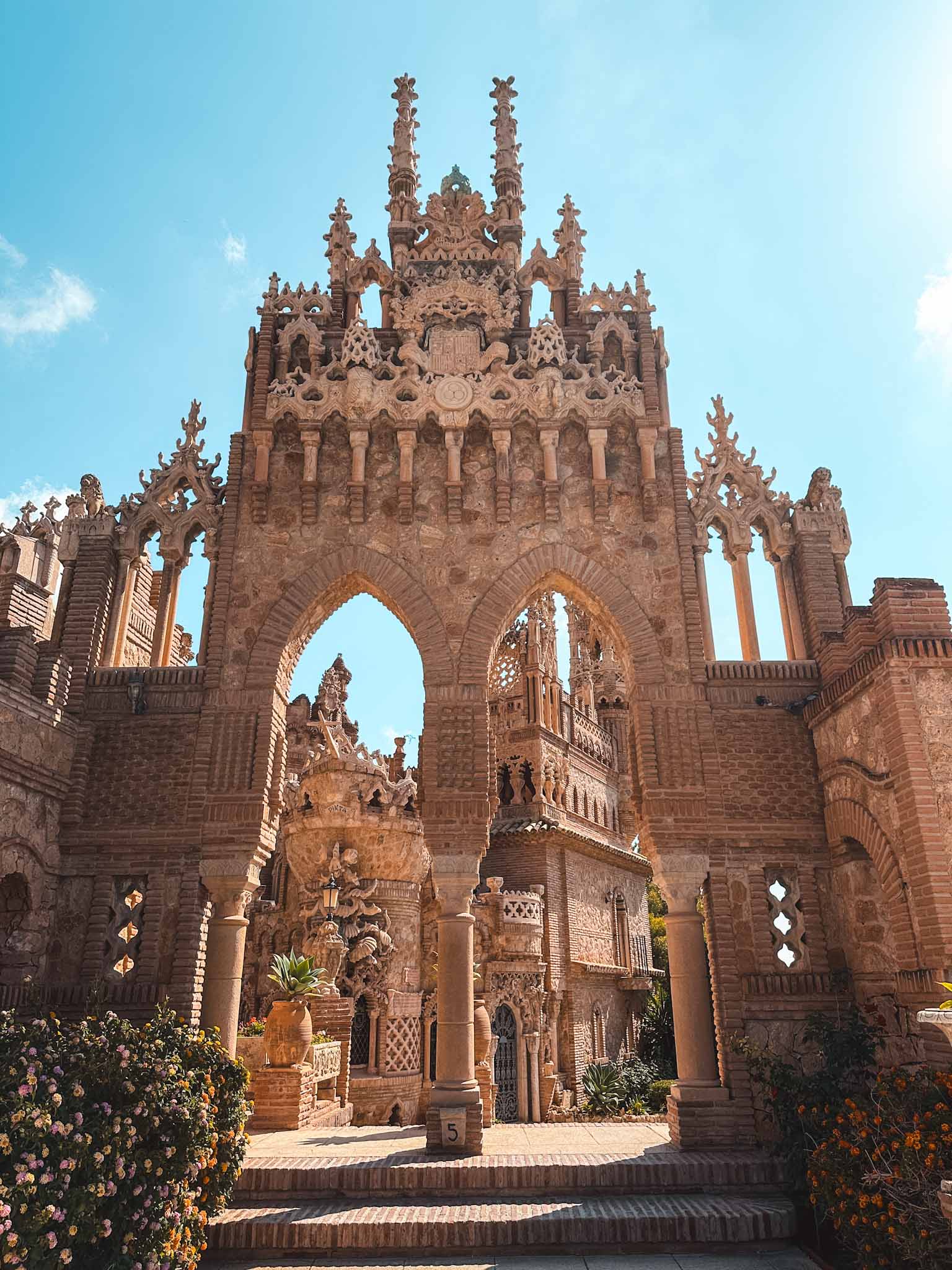 What makes it very unusual is that it does look like a centuries-old castle, but it was actually finished in 1994 after a 7-year-long construction. You can visit this beautiful hidden gem in Andalusia for an entrance fee of 3 EUR.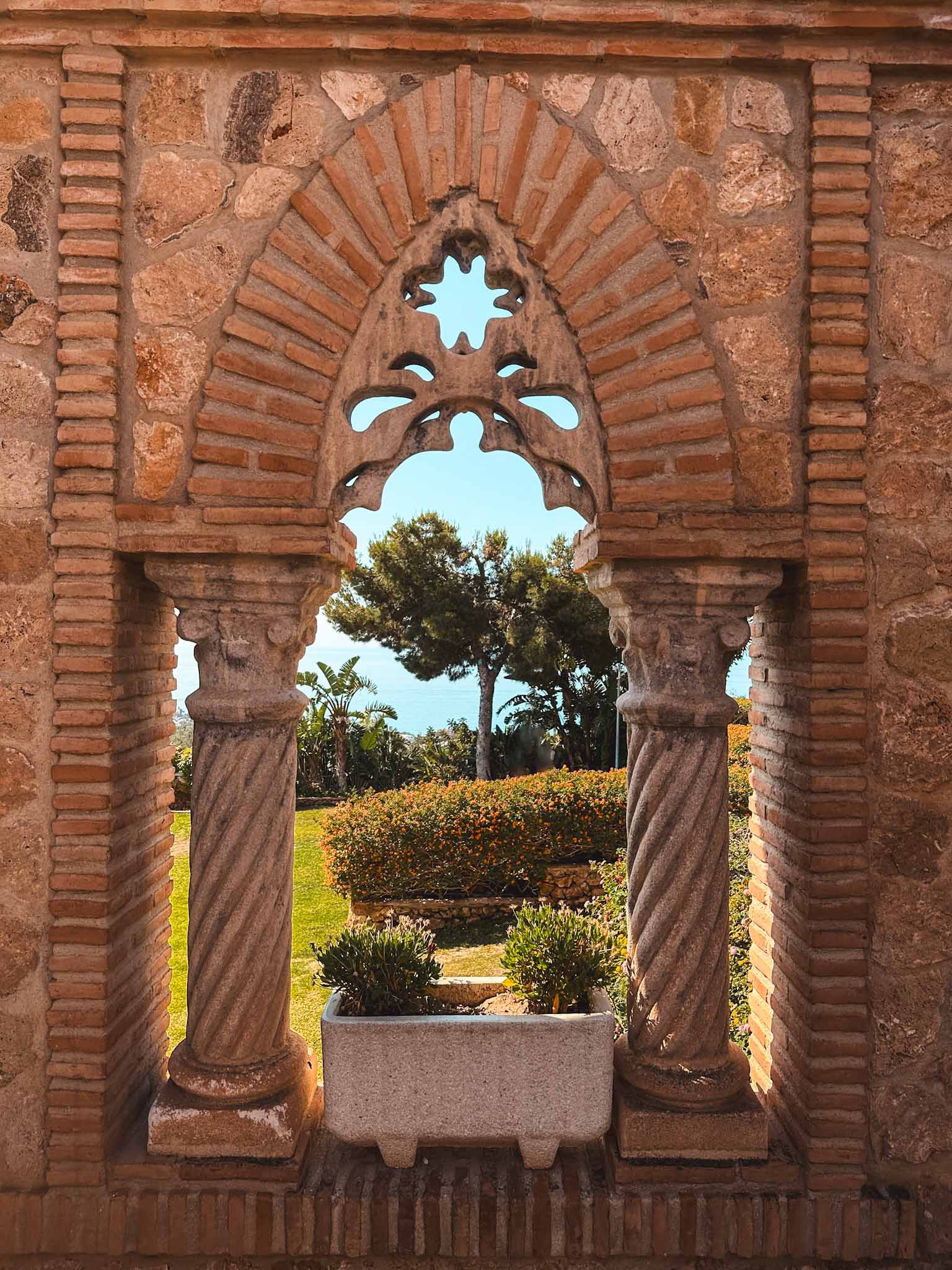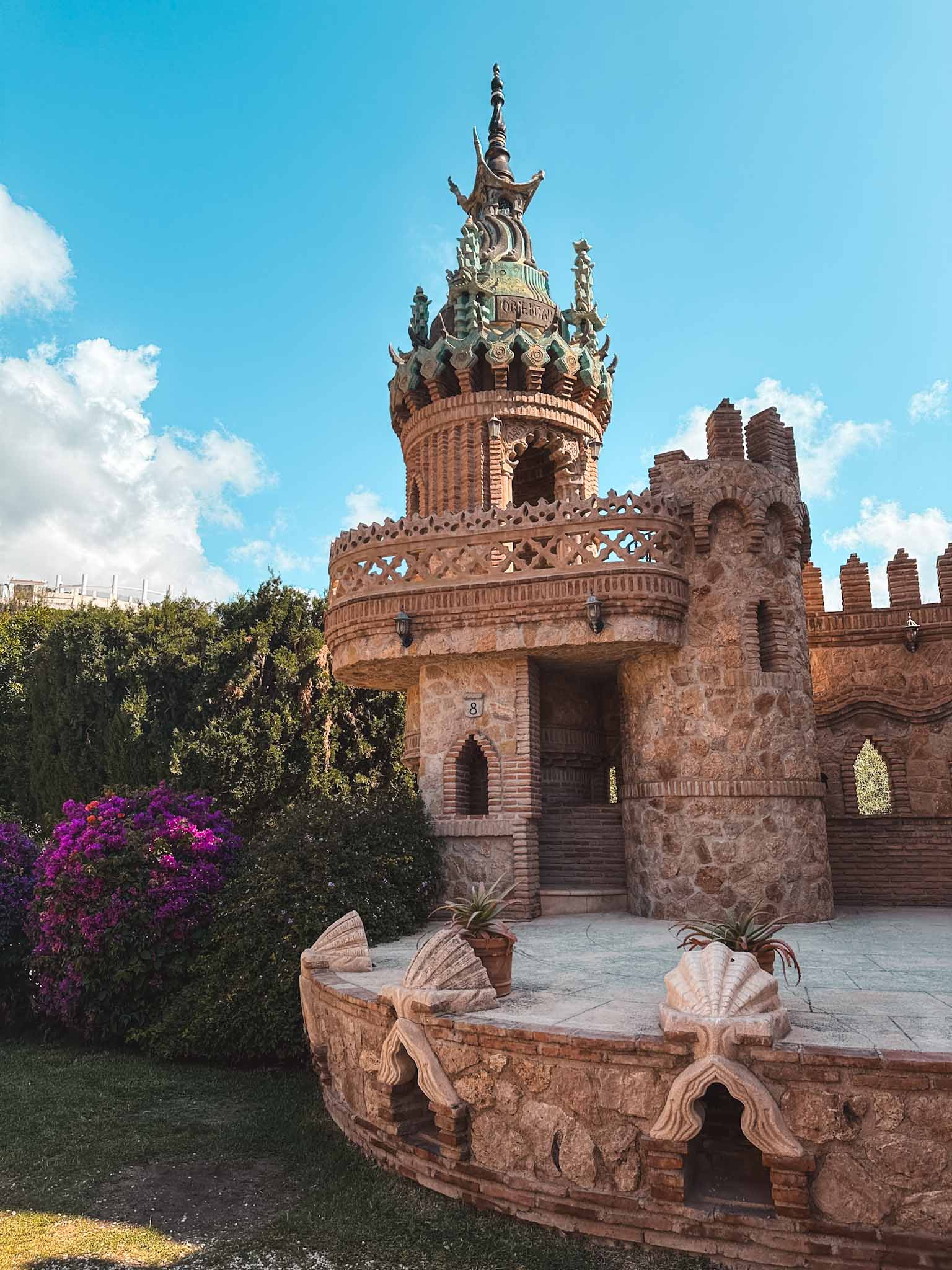 This monument was a work of a private artist so you won't find it in most travel itineraries about the best things to do in Malaga so, unfortunately, many tourists never find out about it.
Besides the beautiful architecture, this monument also houses the smallest church in the world measuring less than 2 square meters! Can you imagine a church that small? I hope you get to visit this place – one of my favorite castles in Andalusia for sure!
Location: Castillo de Colomares
5. Palacio de las Dueñas in Seville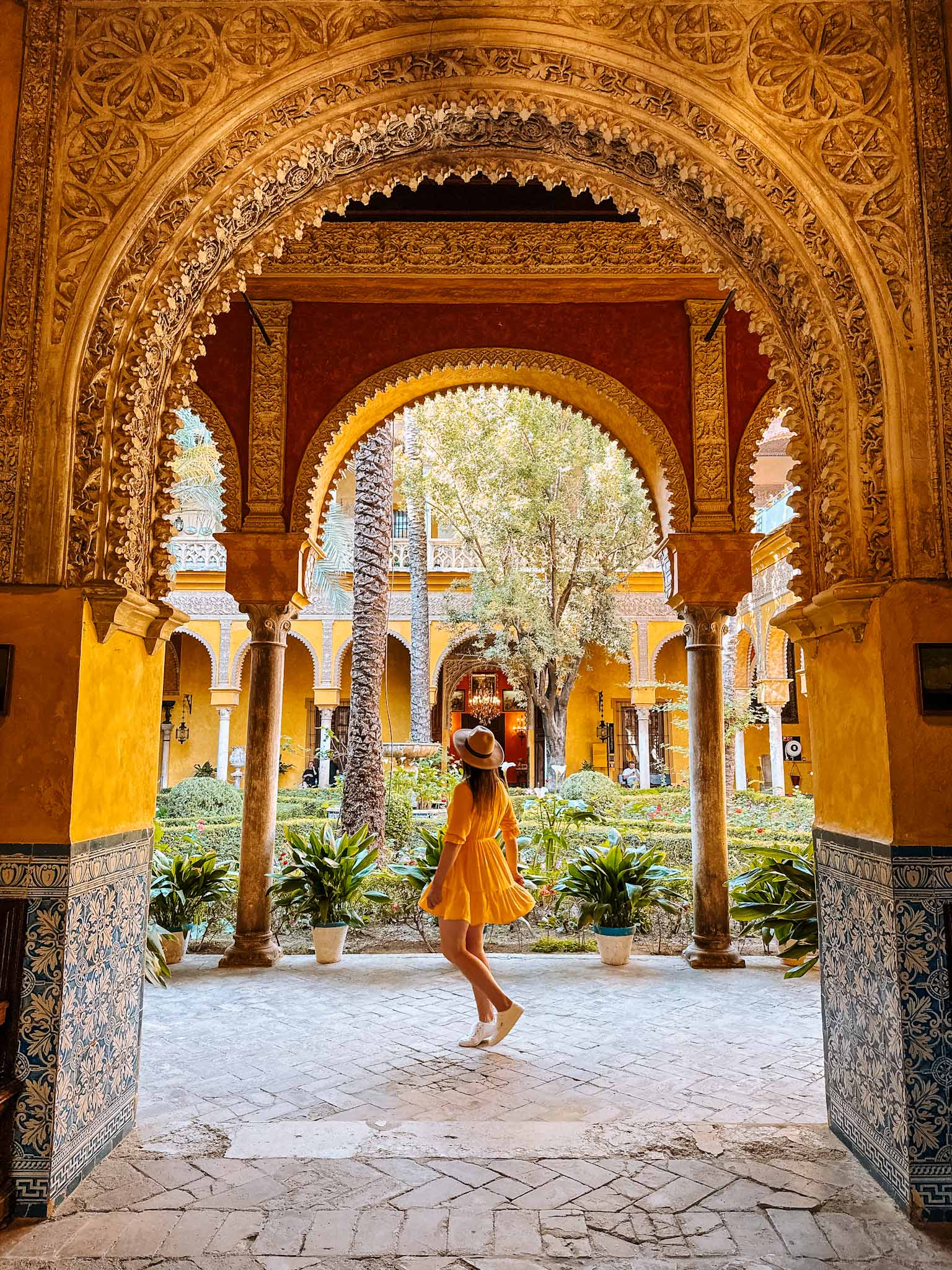 Palacio de las Dueñas in Seville is a 15th-century palace featuring a very rich collection of art pieces from around the world. This massive complex consists of multiple palace buildings, patios, and stunning gardens with blooming trees and water systems.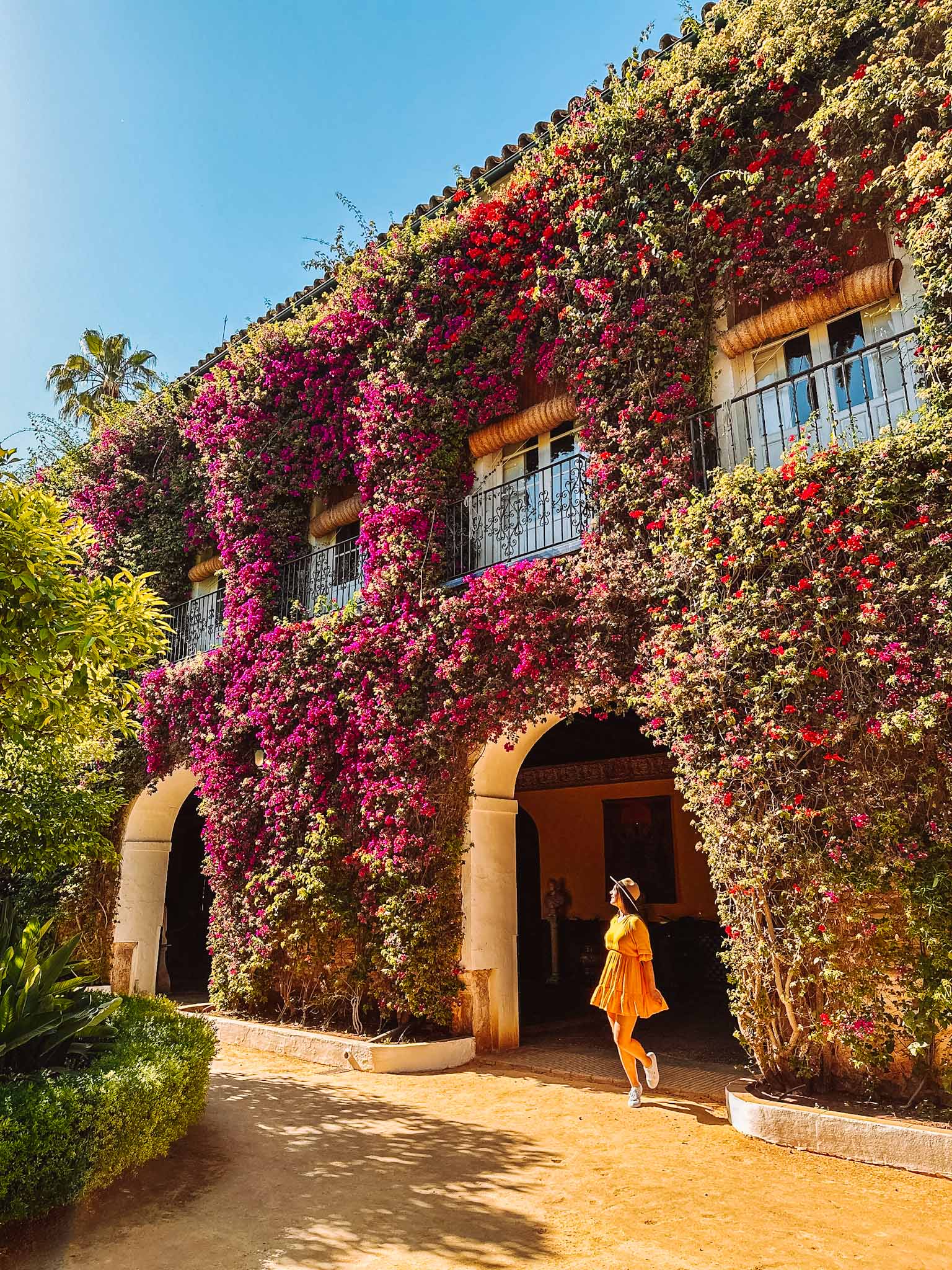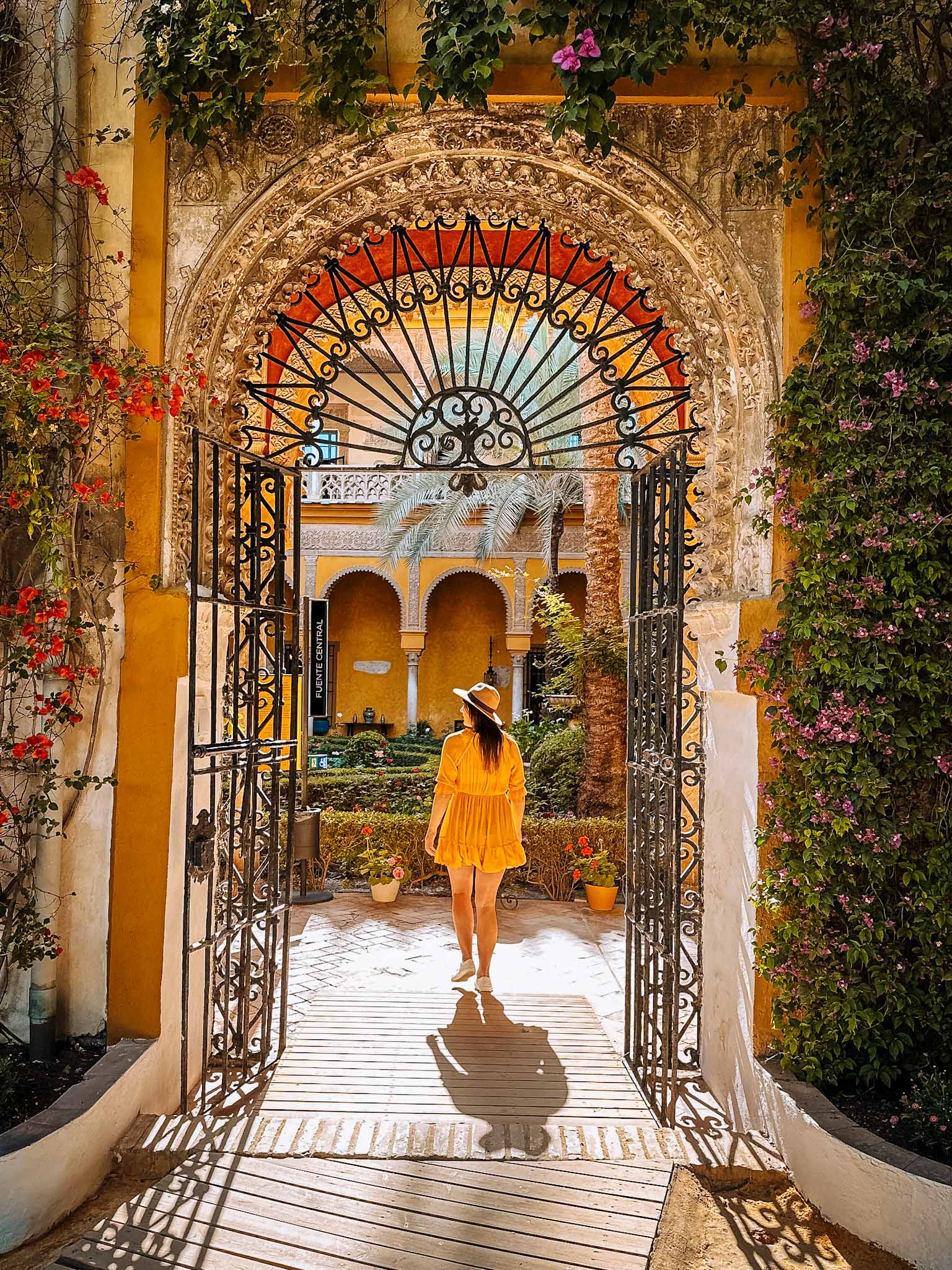 In my humble opinion, this is one of the most beautiful palaces in Andalusia. The architecture, the gardens, the archways around the patios, fountains, sculptures, and endless rooms full of art pieces make this place a must-visit spot in Seville.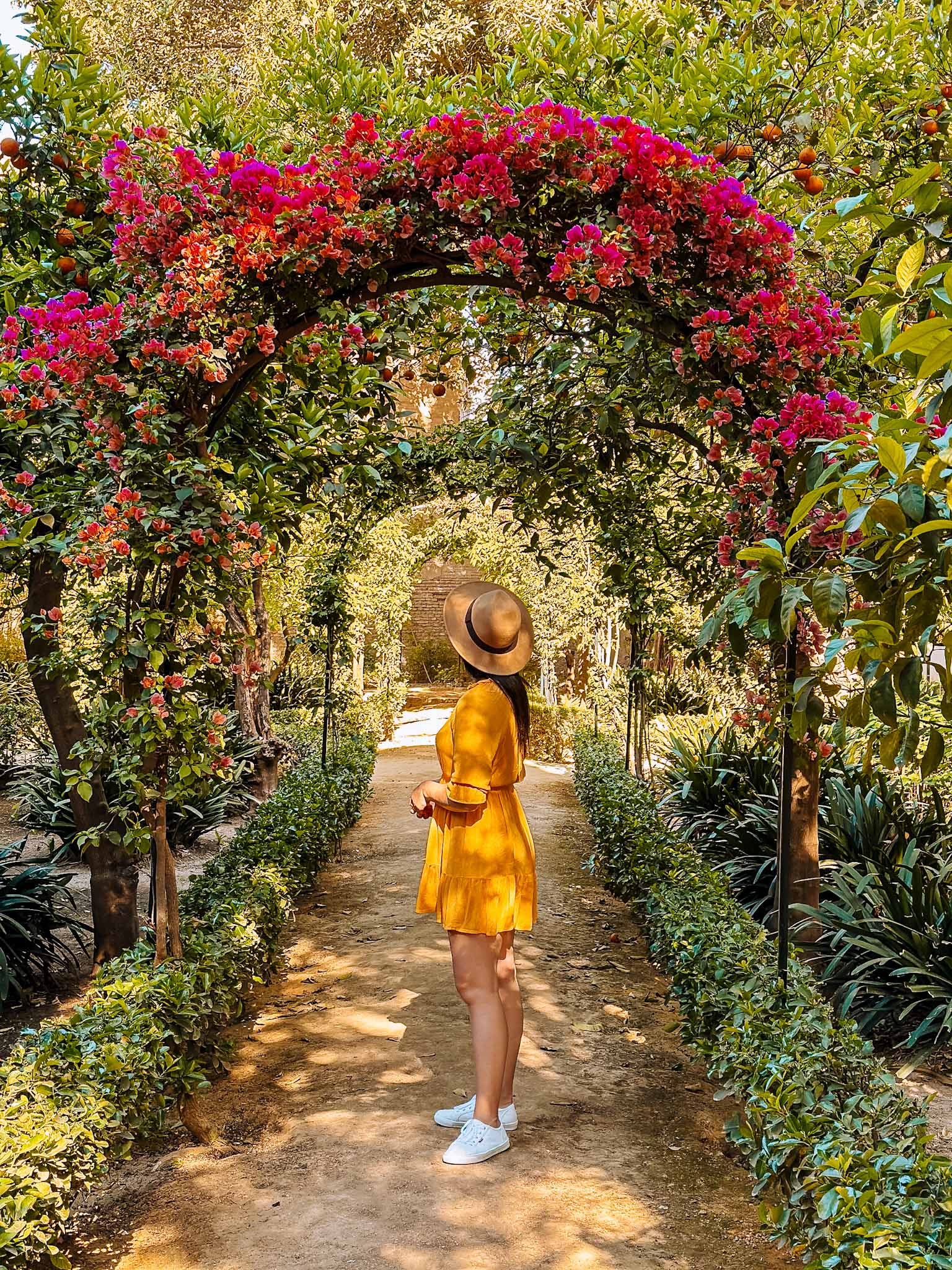 Every corner in Palacio de las Dueñas complex is so beautiful and well-maintained. Makes it hard to choose my favorite place! But I guess the main patio with yellow arches could be THE ONE.
In the 20th century, this palace became a meeting place for the members of many European royal families and international celebrities like Jacqueline Kennedy, Wallis Simpson, and Grace Kelly.
Although it is a bit pricey (we paid 12 EUR each) this is one of those places that I felt was absolutely worth the price! We bought tickets on-site right before entering.
The entrance fee includes audioguides so you can find out more about this beautiful place. Make sure to check their website before coming because quite often they close the whole palace for private events.
Location: Palacio de las Dueñas
6. Casa de Pilatos in Seville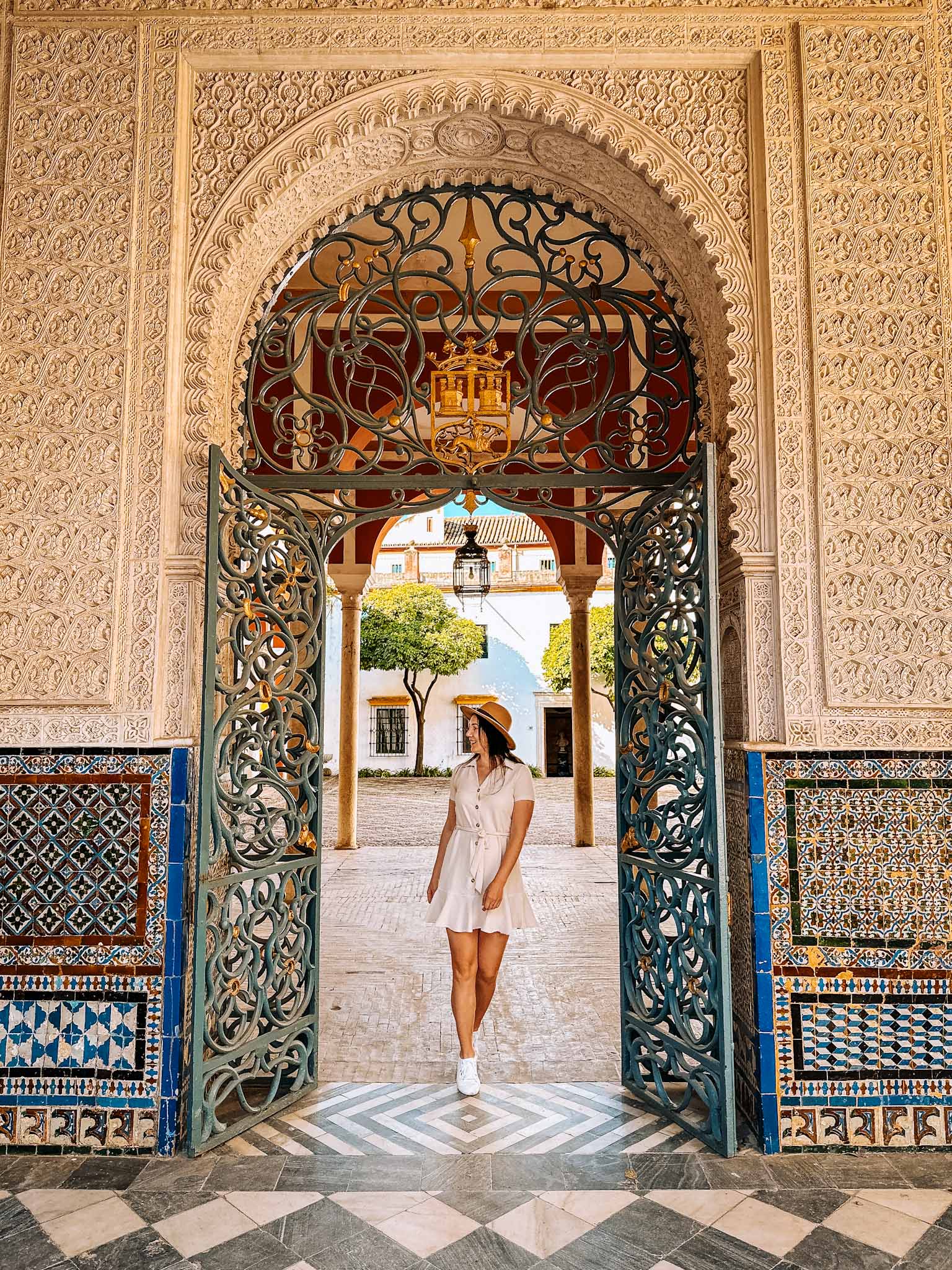 Casa de Pilatos is a 16th-century palace located in the historic part of Seville. The jewel of this place is the main courtyard. It blends together Gothic, Mudejar, Renaissance, and Romantic elements through statues, archways, marble, and colorful tiles.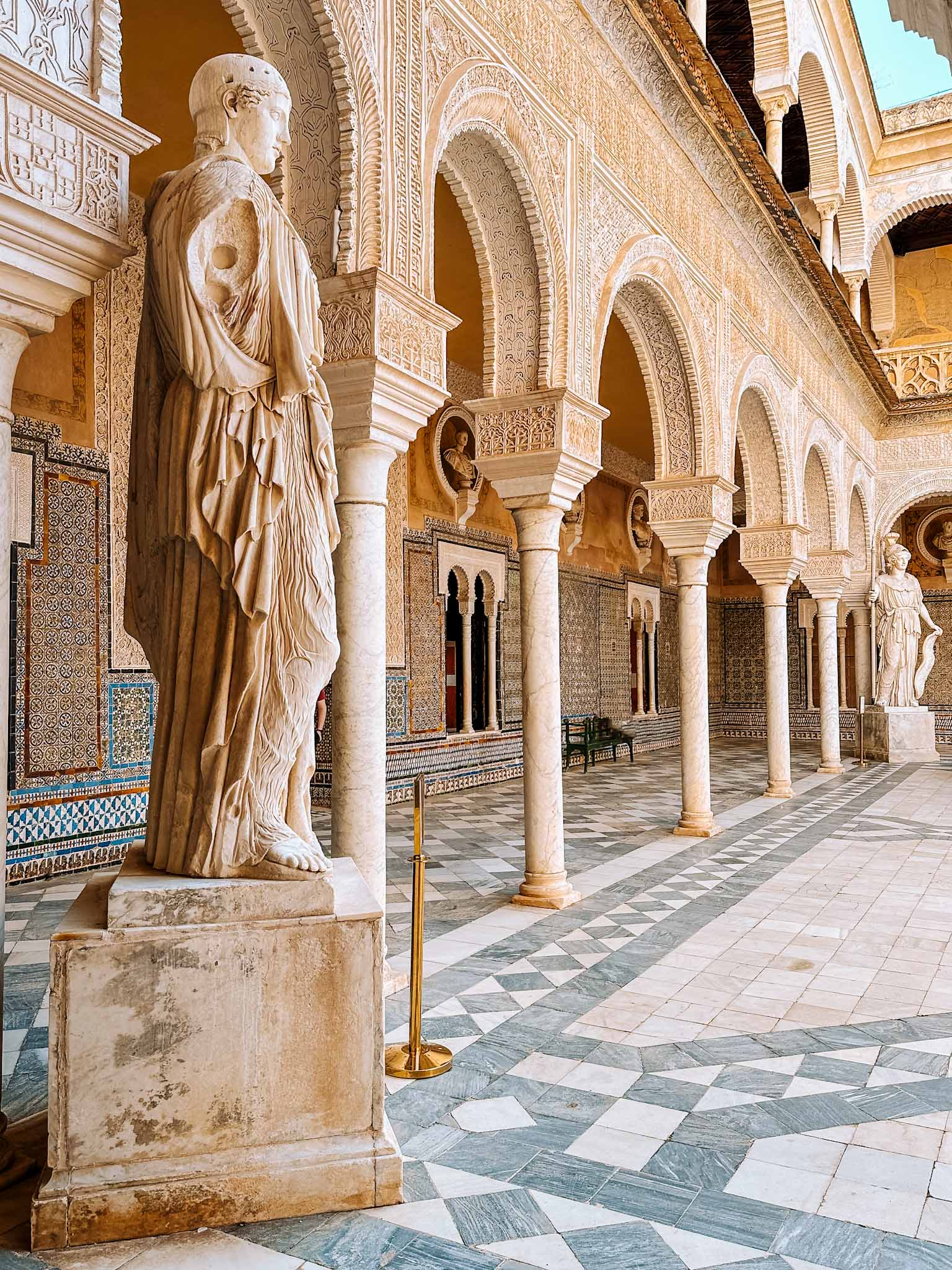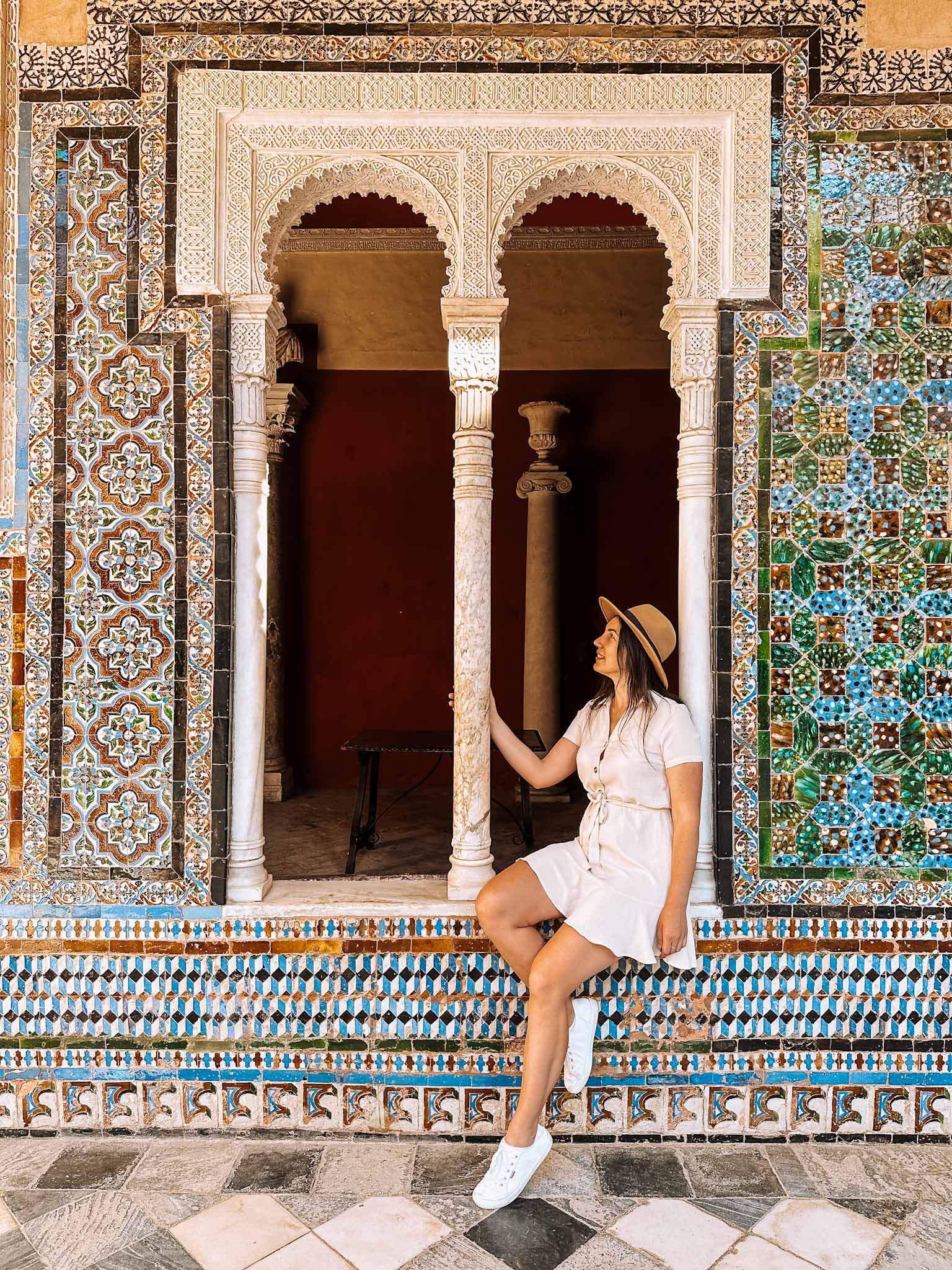 Casa de Pilatos is definitely one of the most beautiful places in Seville. As you walk around the patio you will be amazed by the details, the statues, the windows with columns and arches, the colorful tiles creating delicate mosaics, and so on.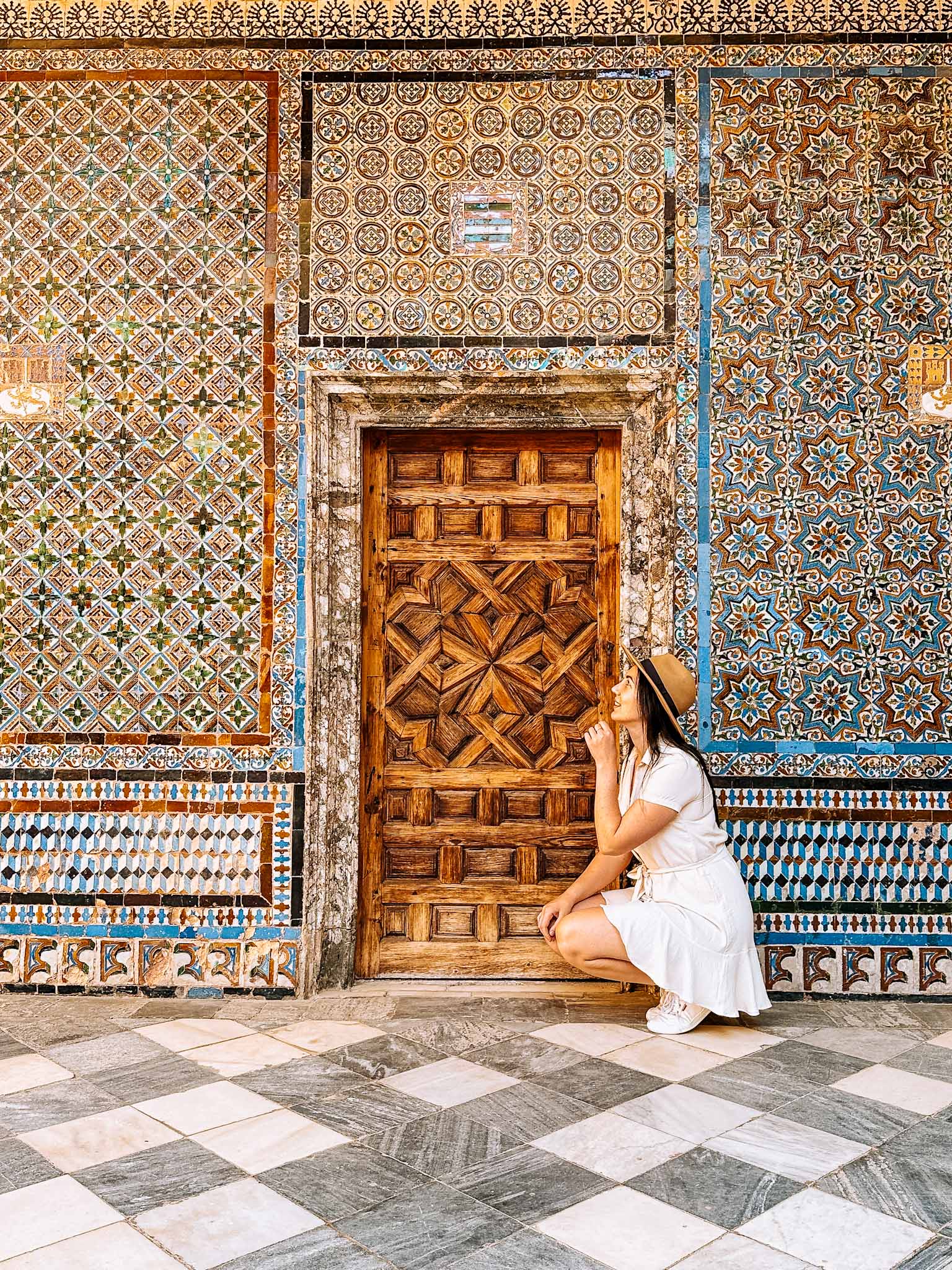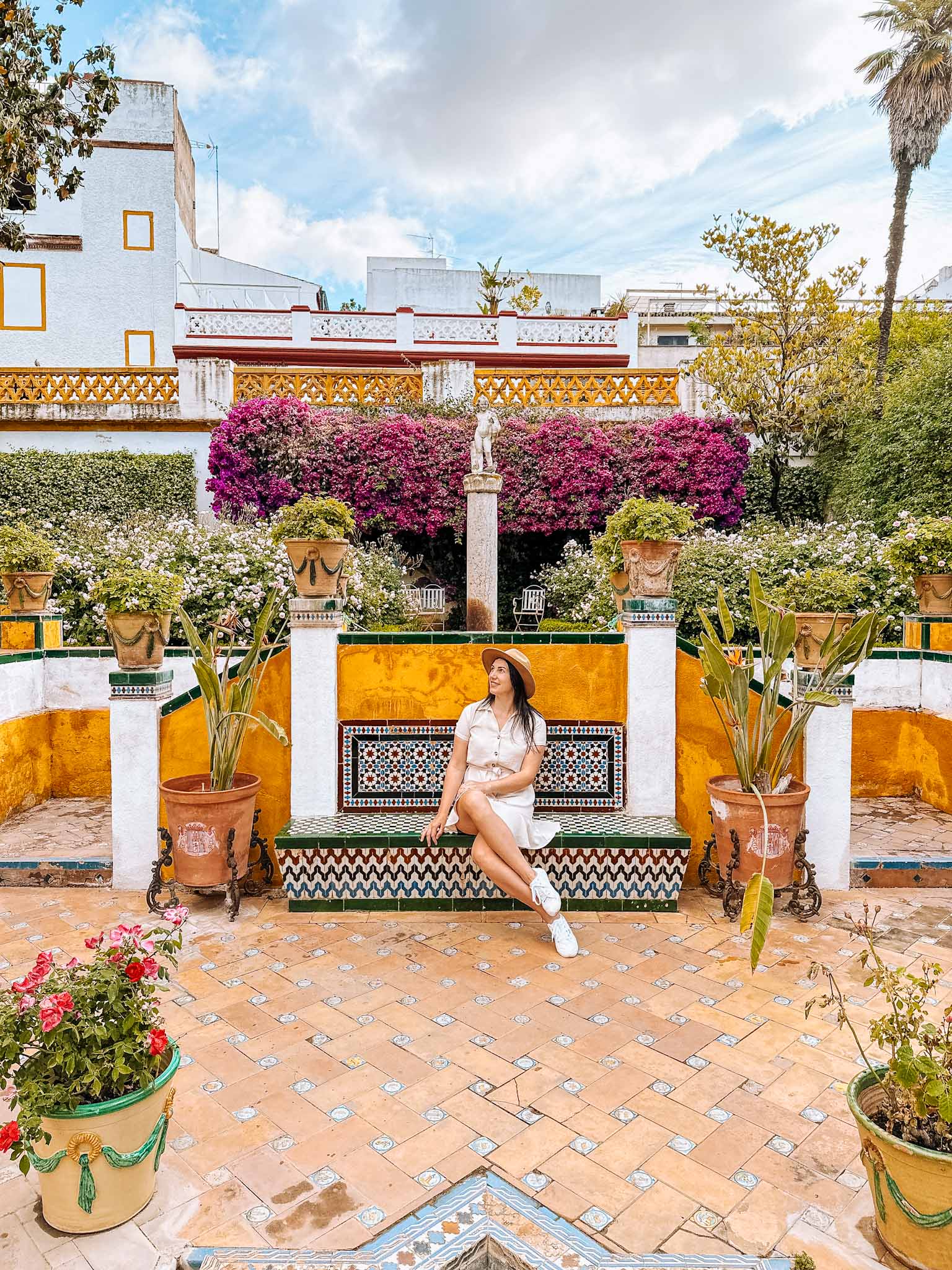 There are two gardens in the palace complex. The gardens in private residences were a sign of wealth. And these ones in Casa de Pilatos are truly the oasis of peace.
They are decorated with lush plants, blooming flowers, colorful benches, fountains, flower pots, and trees. Truly beautiful! One of the best places to visit in Seville for sure!
Location: Casa de Pilatos
7. Castillo Almodóvar del Rio – The Game of Thrones castle in Córdoba!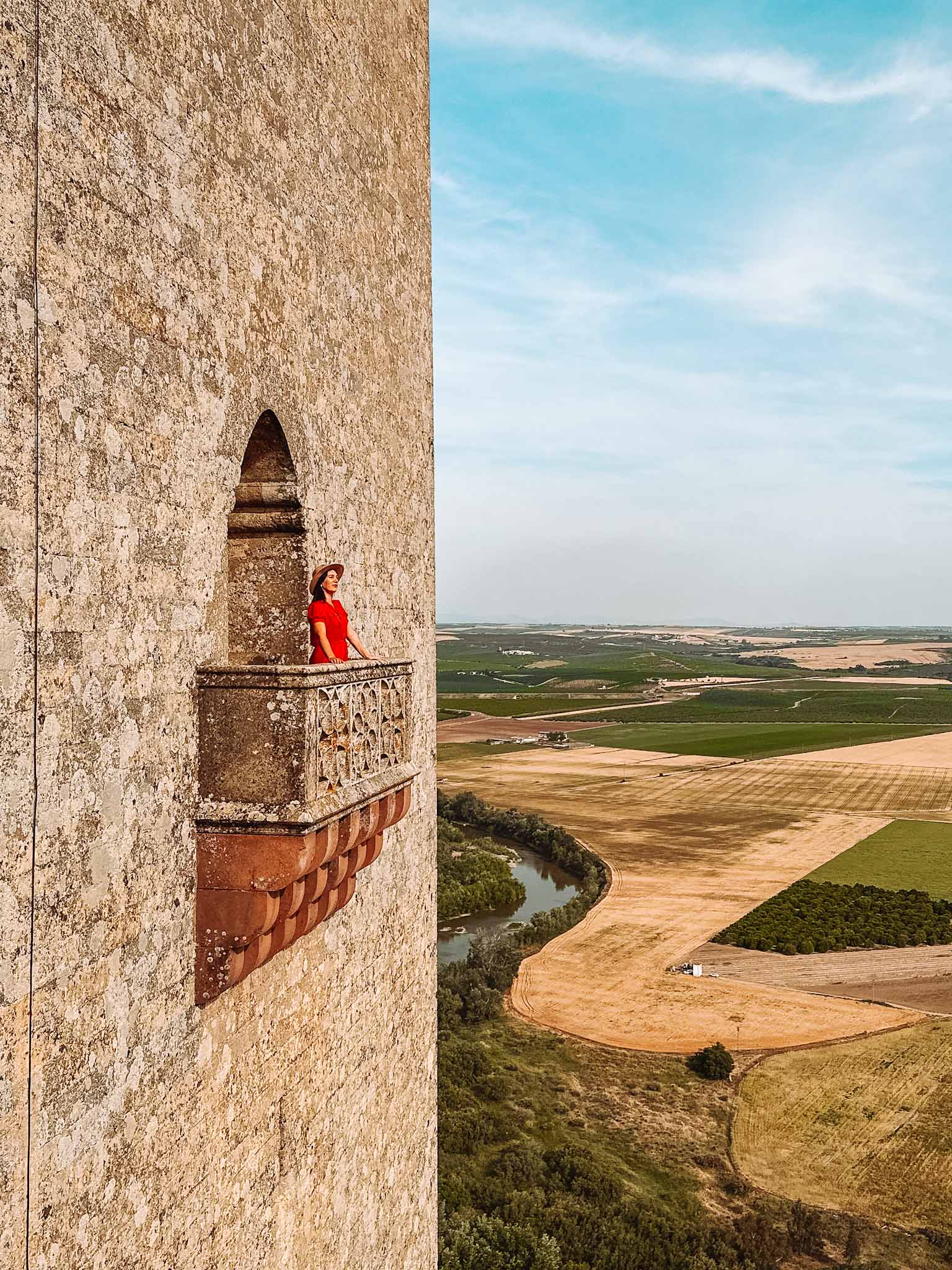 Castillo Almodóvar del Rio is a medieval-time castle dating back to the 8th century. It is located just a 30-minute drive away from Córdoba in a town called Almodóvar del Río and it is one of my favorite castles in Andalusia!
Everything about this castle feels like stepping back in time a thousand years ago. No wonder the Game of Thrones series decided this exact castle was good enough to be included in the series. You should definitely include it in your Córdoba itinerary!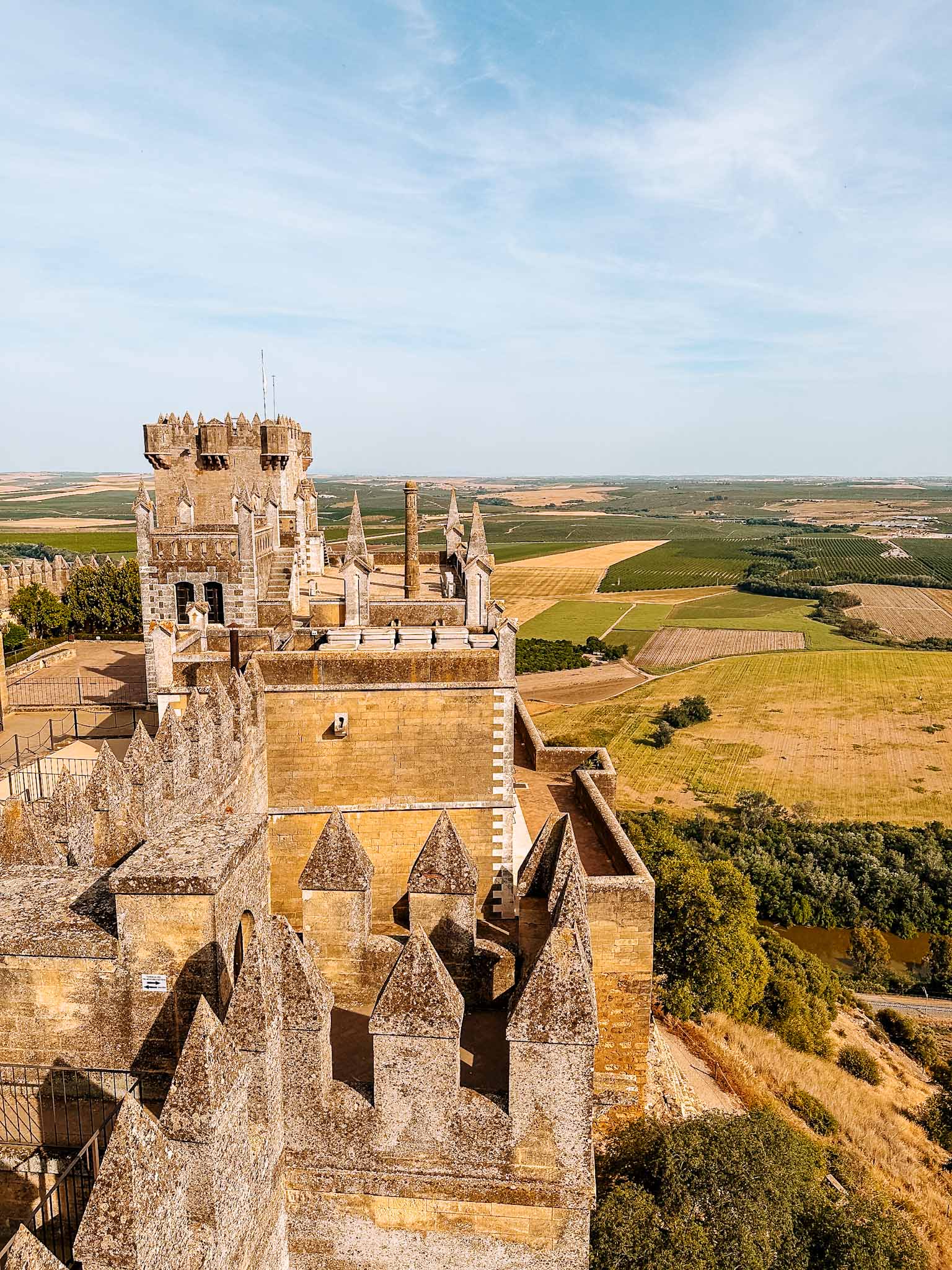 Castillo Almodóvar del Rio castle is located on a hilltop next to the Guadalquivir river and offers fantastic views over the surrounding area. It was a place of the highest strategic importance in Andalusia throughout the centuries.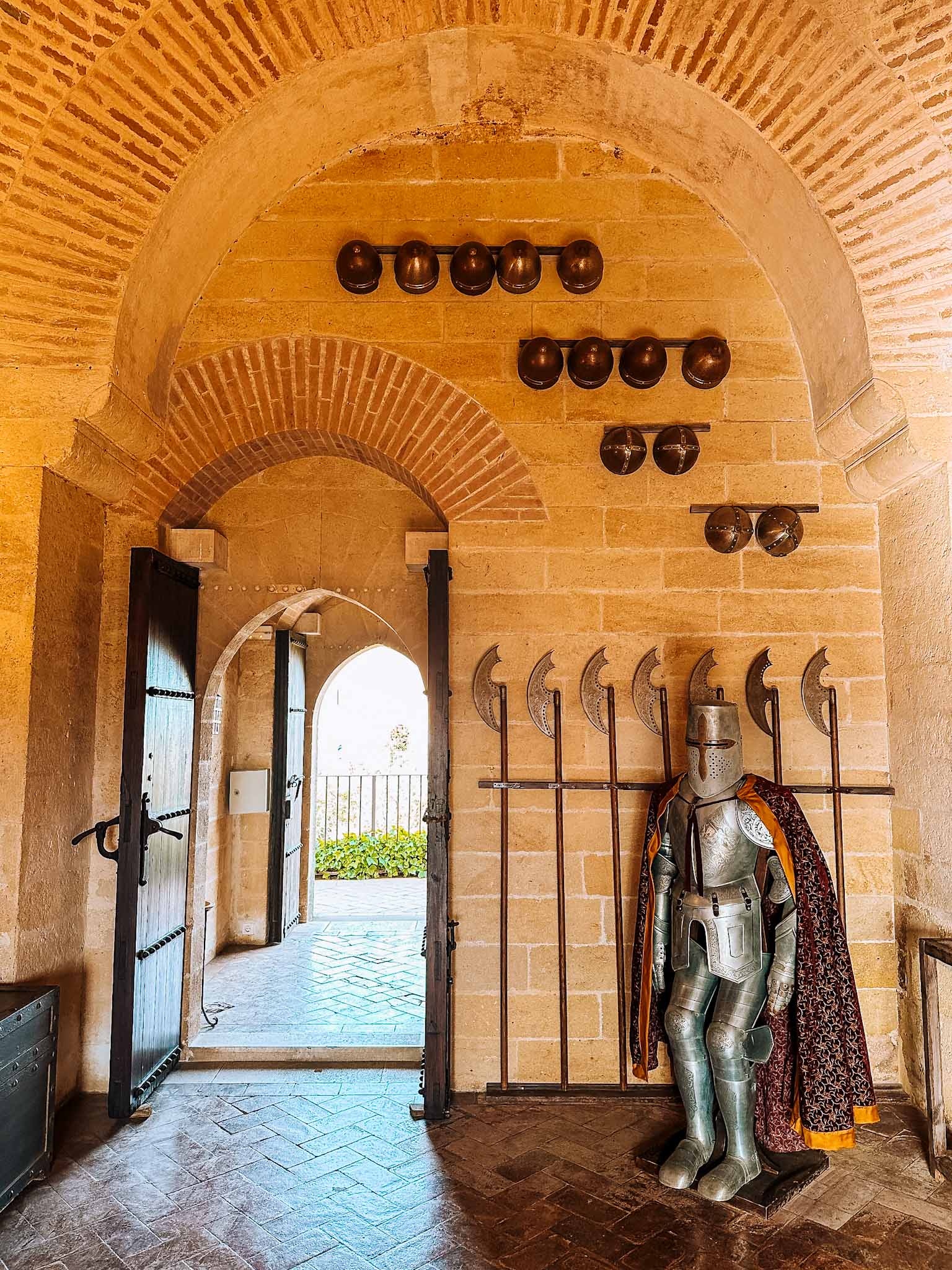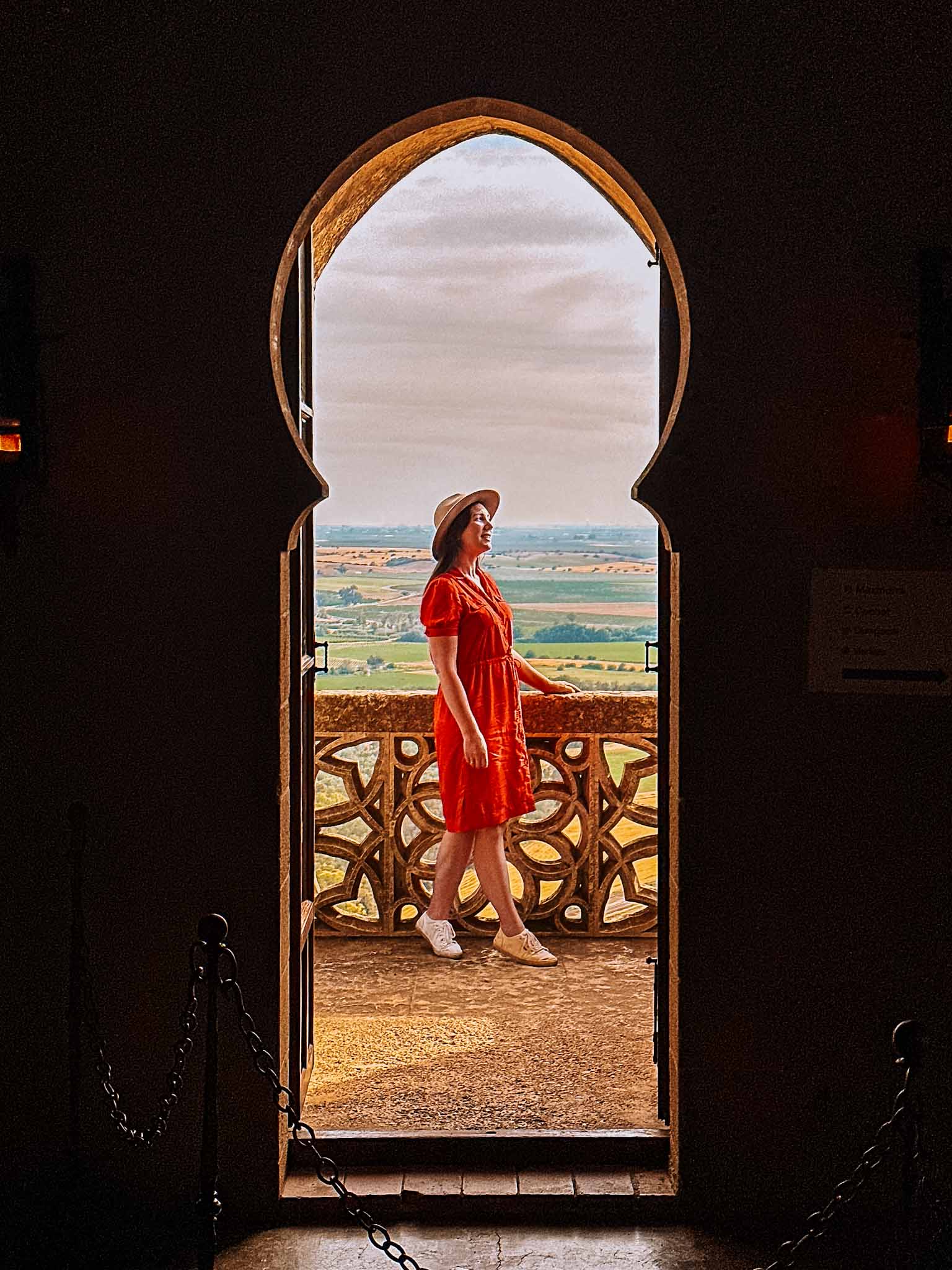 It is hard to fathom the secrets these castle walls are hiding in them. This place was a fortress, a prison, and experienced many battles. If you are looking for some truly unique spots in Córdoba, this is the place to come!
By the way, the photo on the balcony was taken from the Torre del Homenaje tower. It is basically the first tower you see when you arrive at the castle. This exact view as I am posing in the photo (the first photo) featured in the Game of Thrones series!
Location: Castillo Almodóvar del Rio – Torre del Homenaje
8. Palacio de Viana and its flowerful courtyards in Córdoba!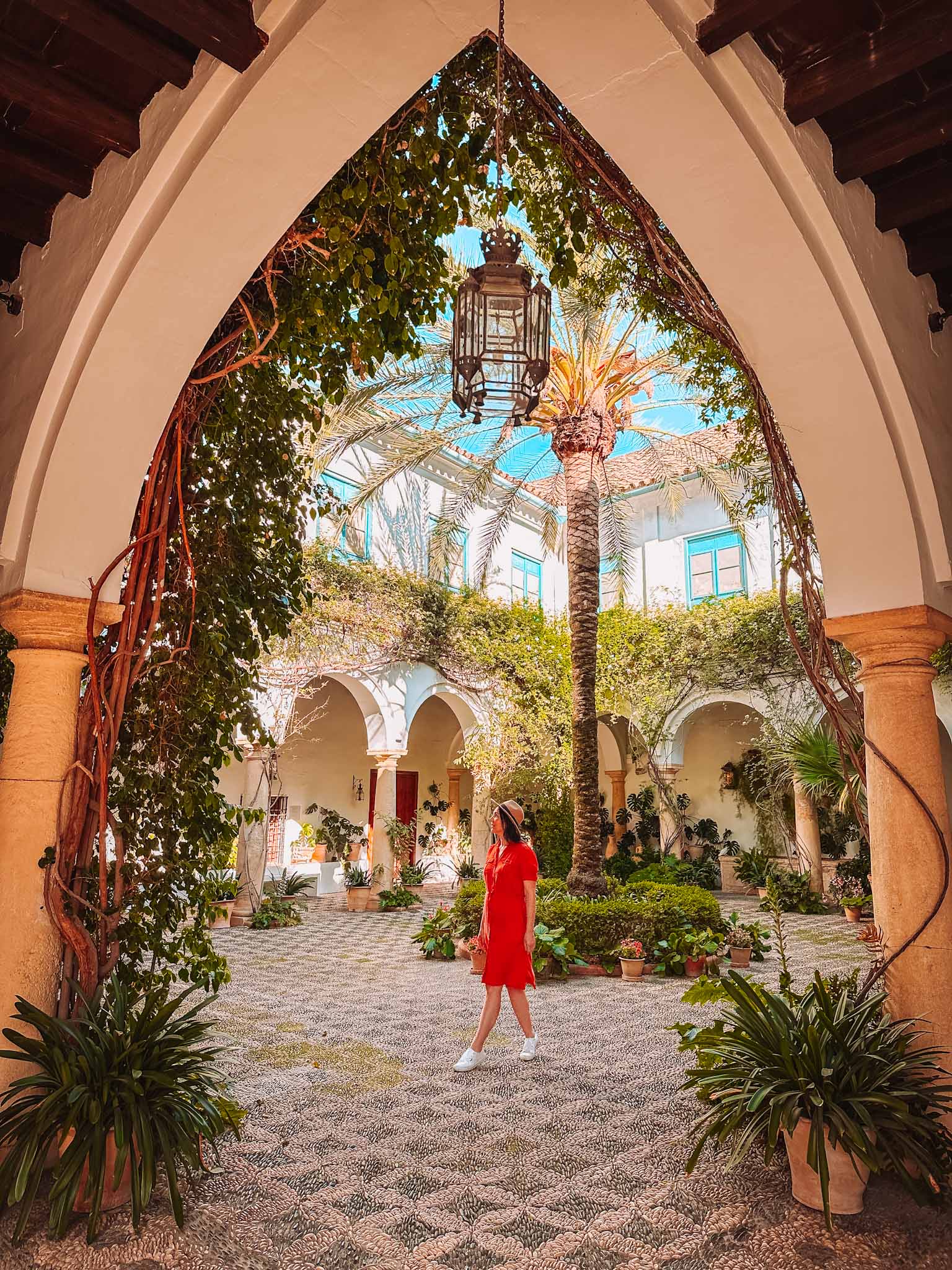 Palacio de Viana is a stunning Renaissance palace with numerous gardens, patios and courtyards, vibrant flowers and blooming bushes as well as rooms full of art collections and artifacts. Every corner around there was very picturesque and beautiful.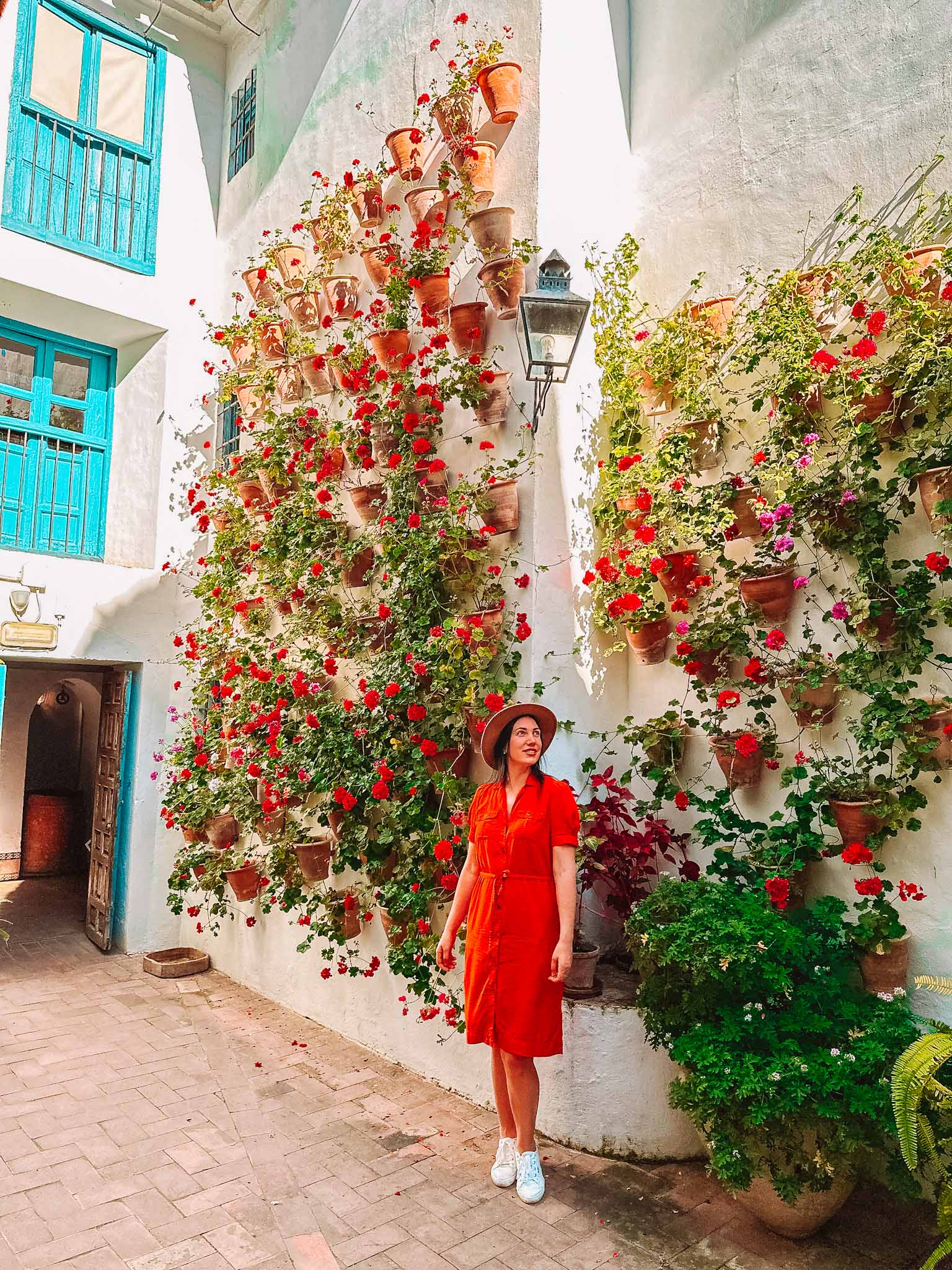 This palace-like house is a real example of how wealthy families lived in Córdoba centuries ago. Every room here is filled with relics and tools that were used in each corresponding room during daily life centuries ago.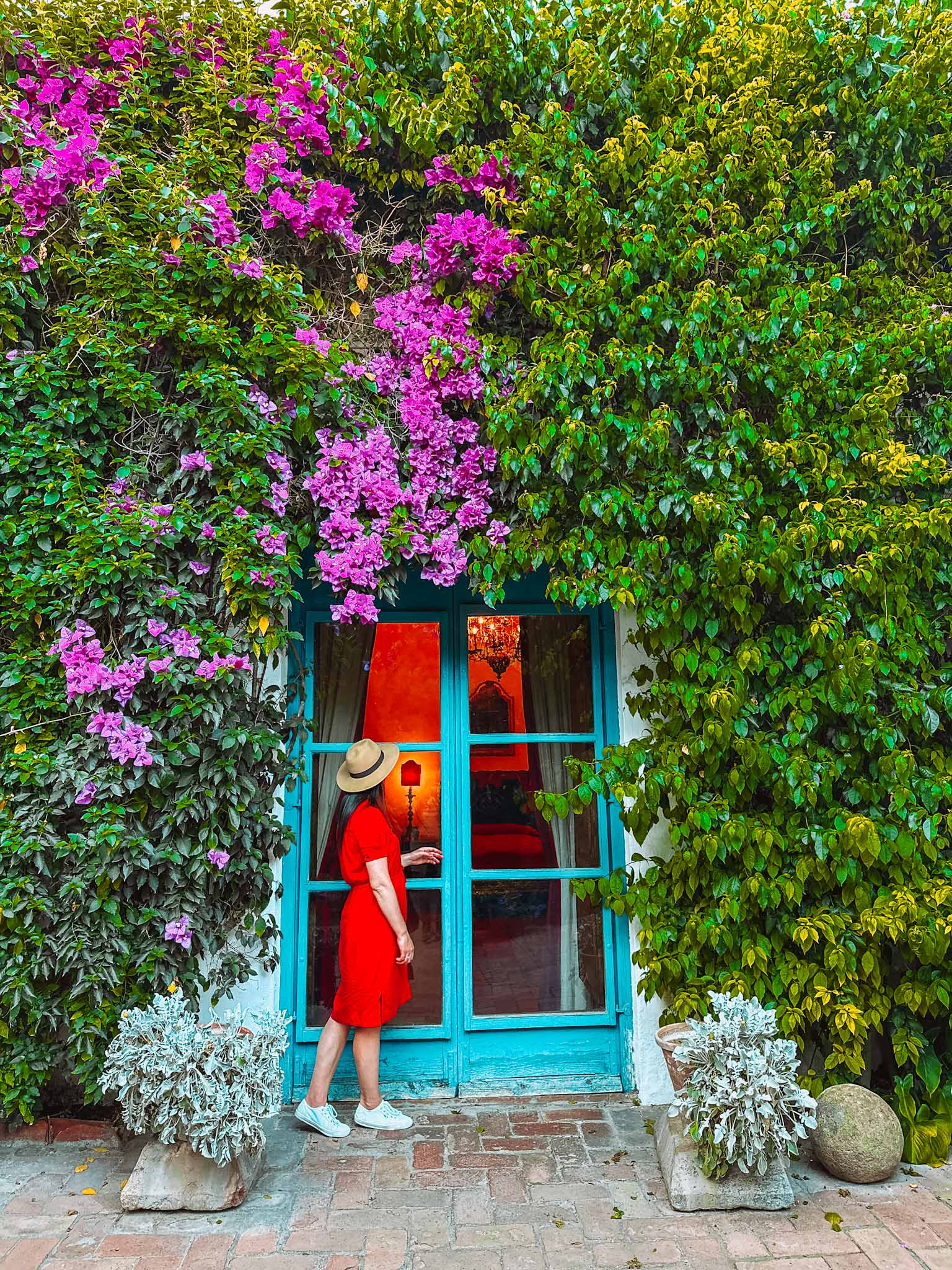 But I have to admit that this place is famous for its' incredible courtyards. There are numerous courtyards and each is unique and well-maintained. There is an entrance fee to see Palacio de Viana, but at certain hours you can visit its courtyards for free.
Palacio de Viana is definitely a must-see tourist attraction in Córdoba! We only had limited time to explore all the rooms and corners, but I was stunned at how beautiful everything was and how big this place was. It felt like a never-ending maze of gardens!
Location: Palacio de Viana
9. Castillo de Gibralfaro and Malaga from above!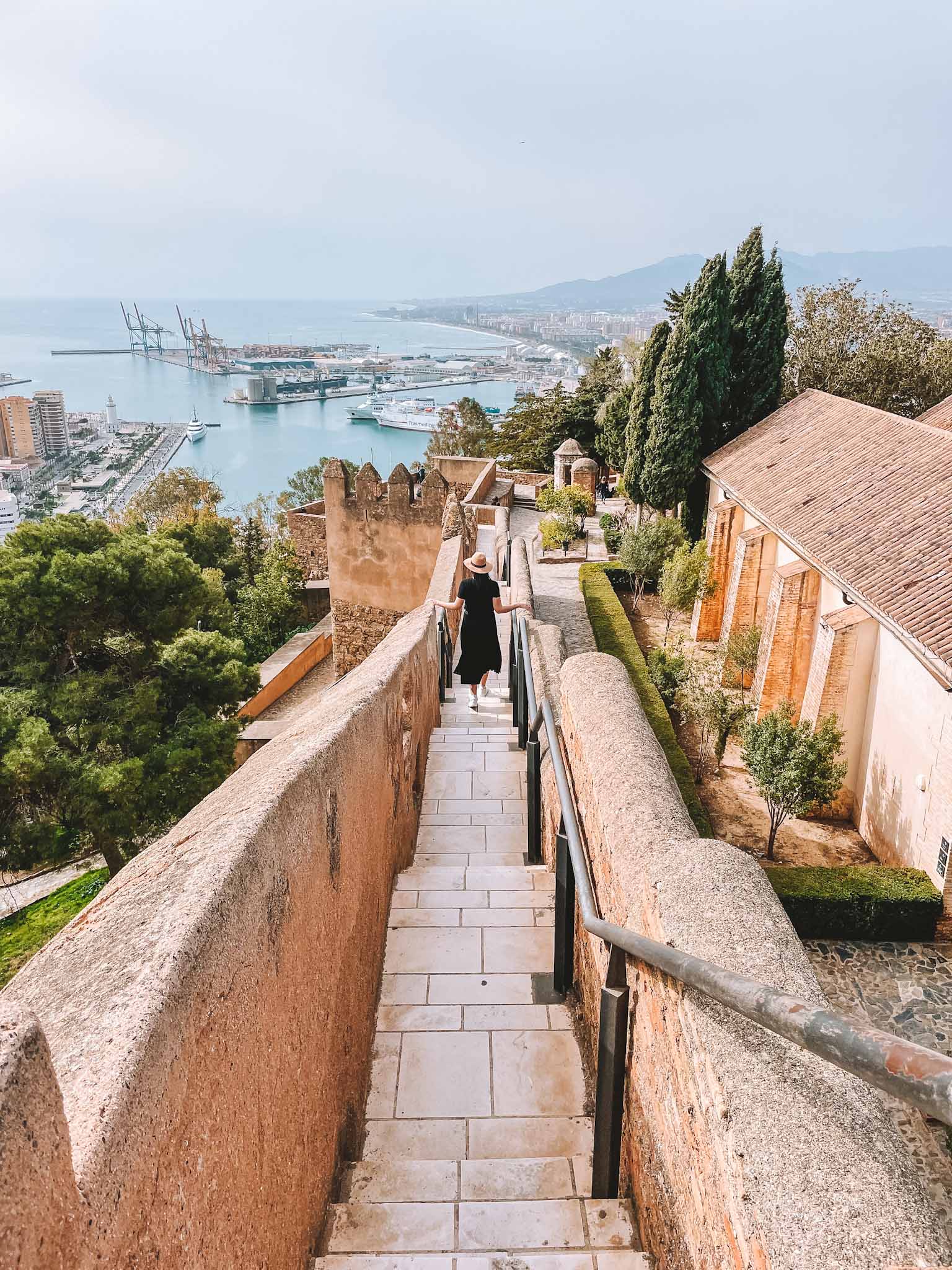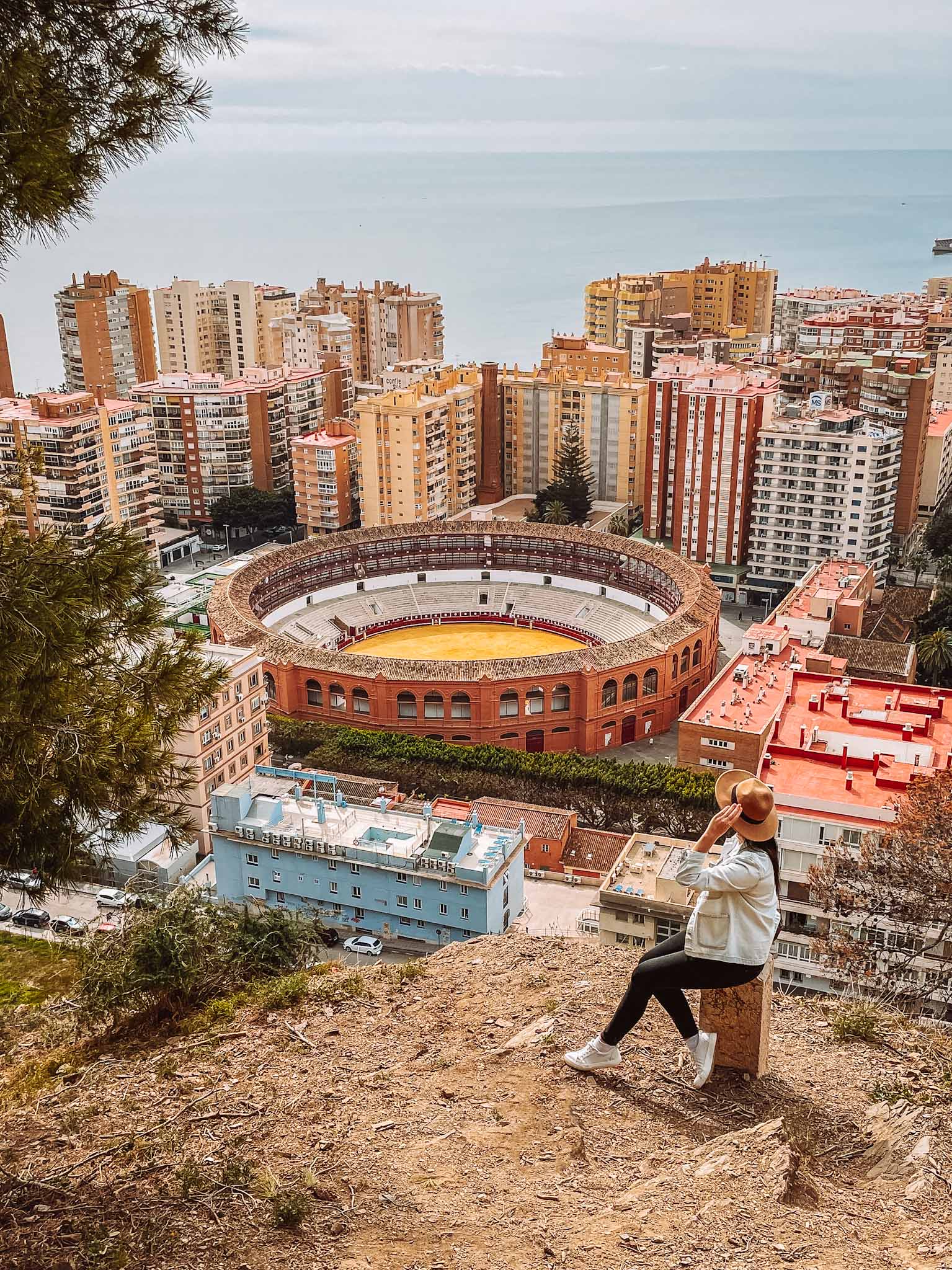 There is one place everyone will notice in Malaga and it is the Gibralfaro mountain that stands next to the city. On top of the mountain, you will see a big castle – Castillo de Gibralfaro. There is no better place to see Malaga from above than from there.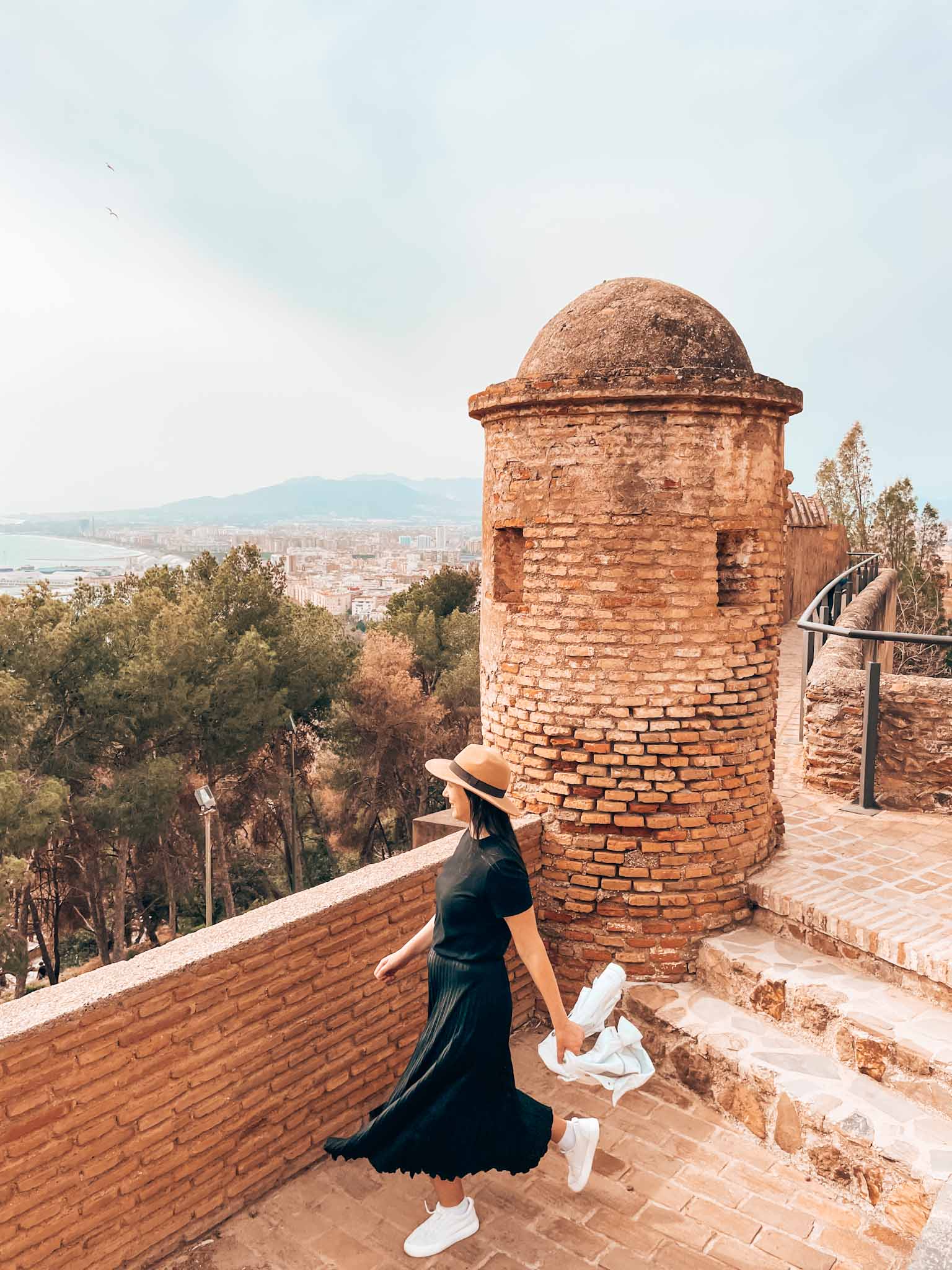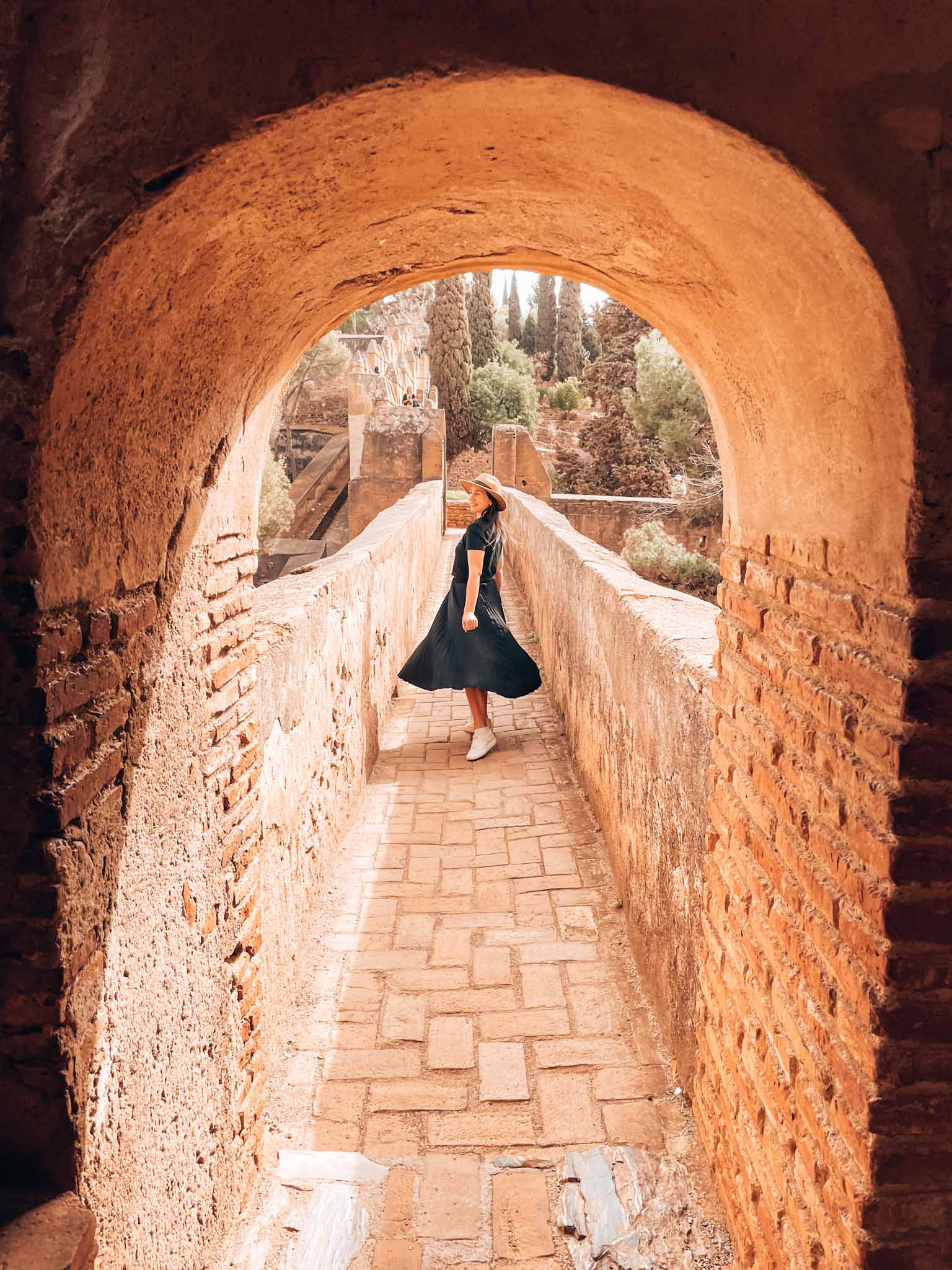 You can see prices and visiting hours for the castle here. There is an entrance fee to the castle, but you can visit it on Sunday afternoons for free. You can reach the castle by car, by bus or by taxi. However, I really recommend hiking up there on foot.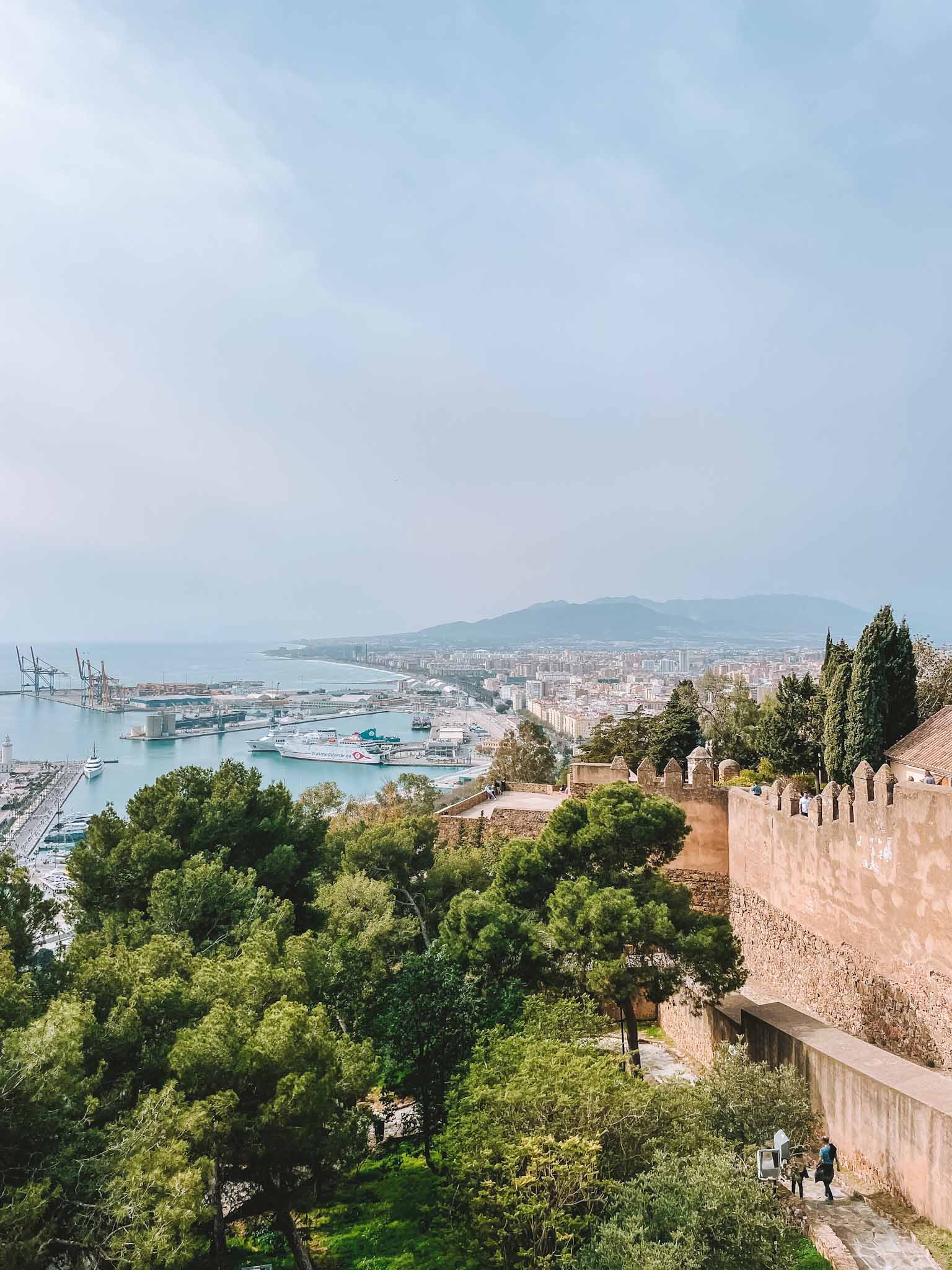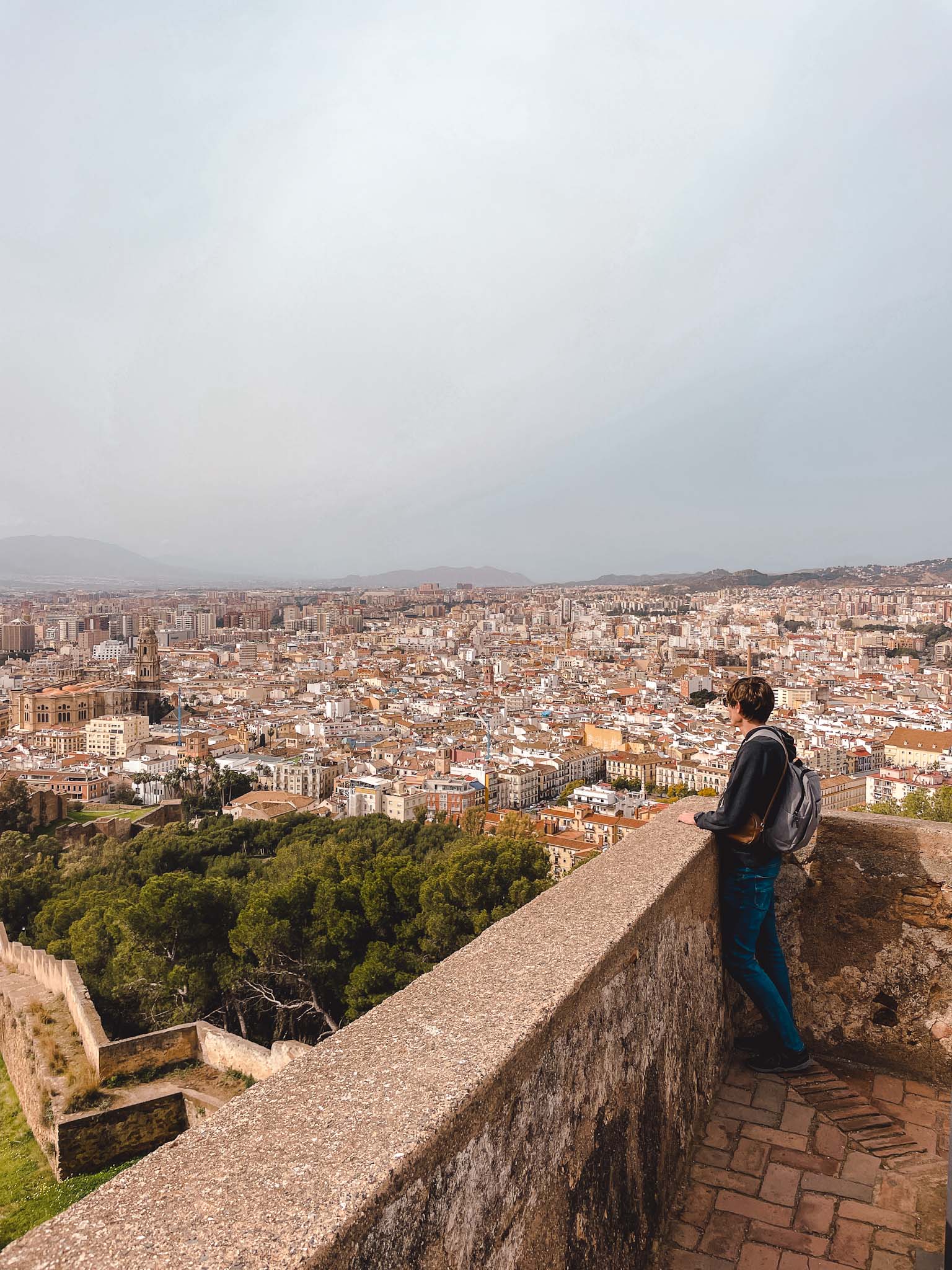 There is a well-maintained and paved path from the city up to the top of the mountain. You can get some fantastic views along the way and there are also benches to sit on. The mountain is probably the best place to watch the sunrise in Malaga as well!
Location: Castillo de Gibralfaro · Mirador de Gibralfaro · Gibralfaro lookout
10. Palace of Charles V in Alhambra, Granada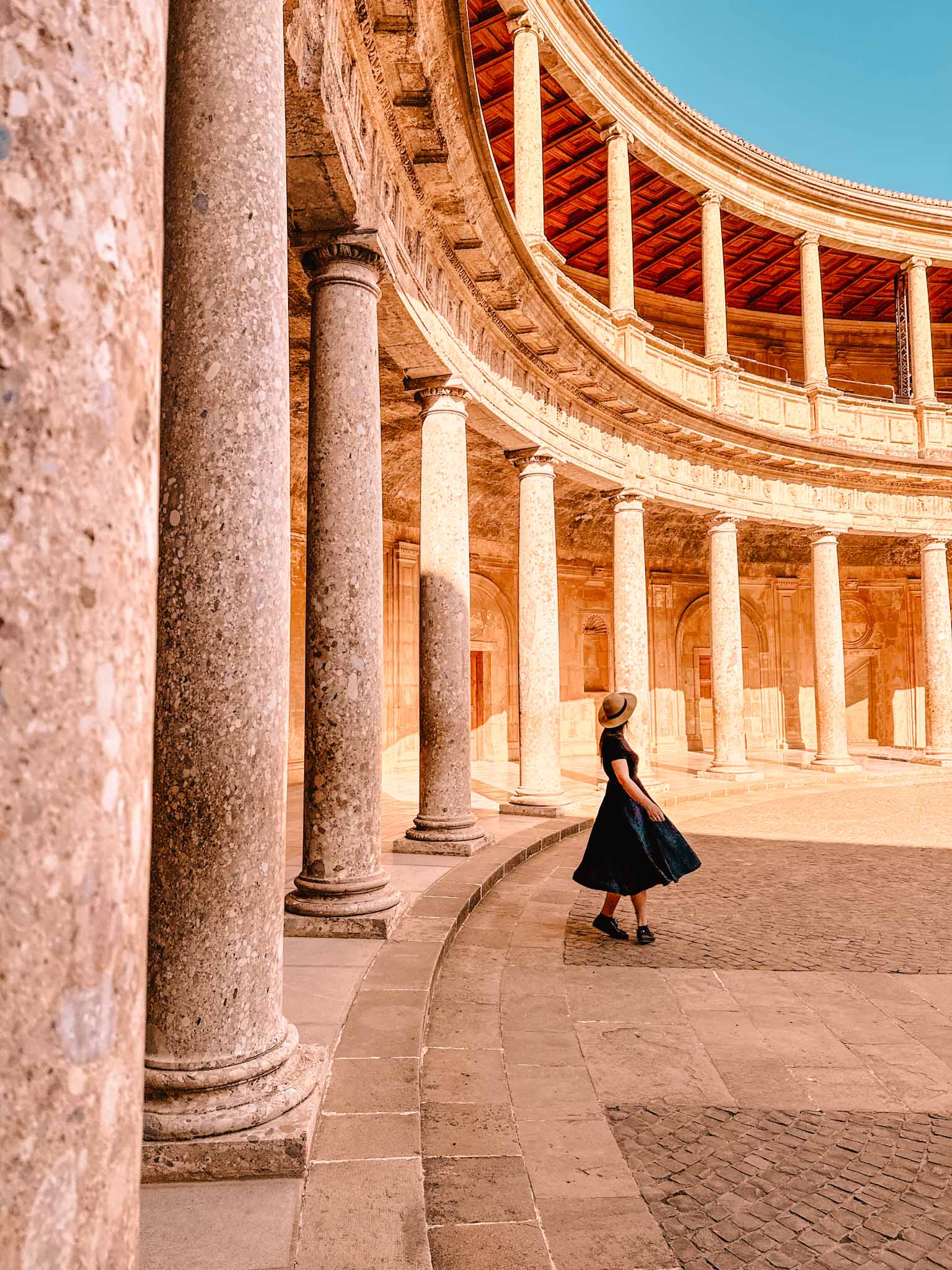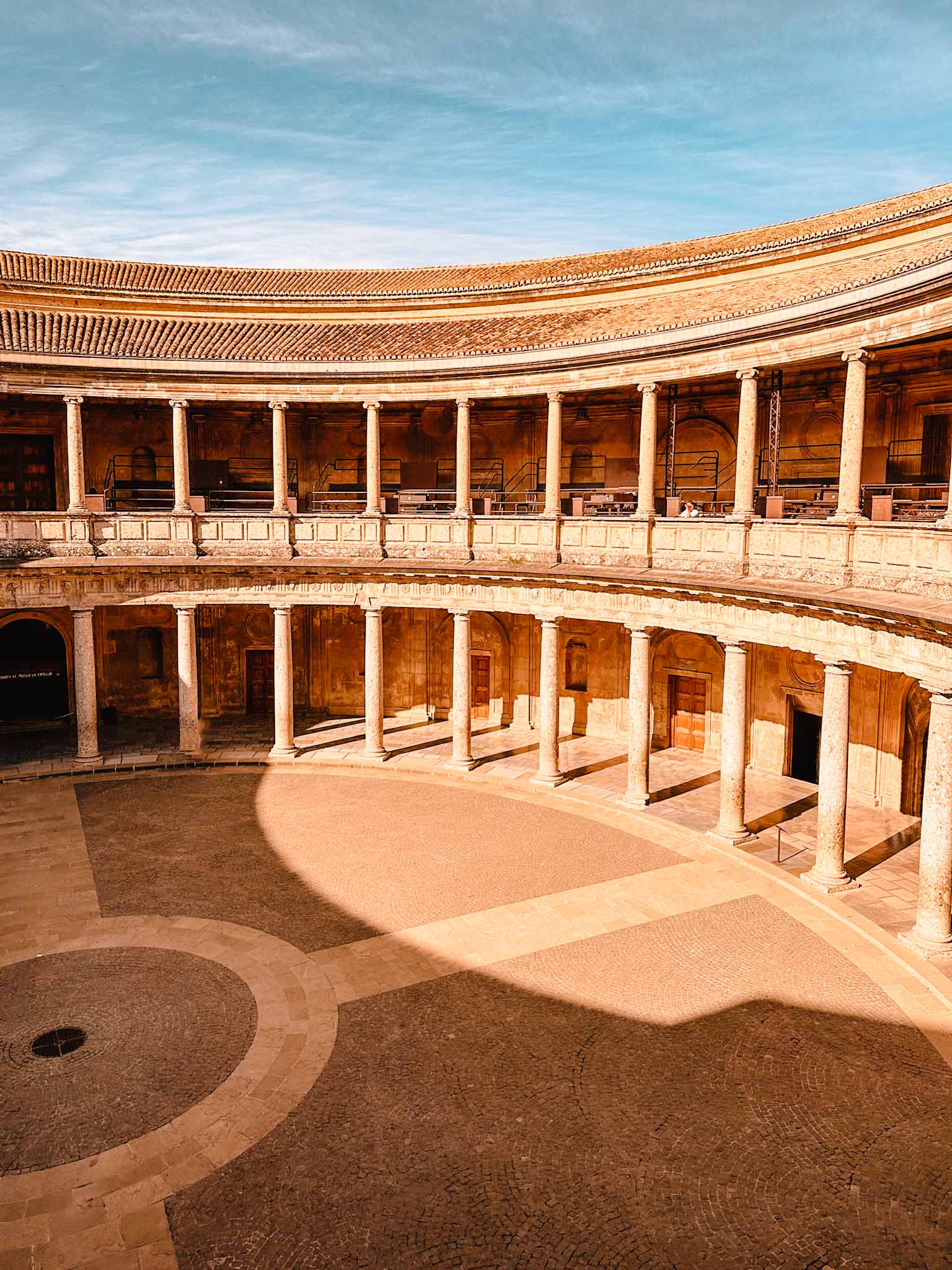 Not many people know that there are places in the famous Alhambra fortress in Granada that you can actually visit for free! Yes, even if you don't have a ticket for Alhambra you can still see some buildings and places around the fortress.
One such building that you can visit for free in the famous Alhambra is this beautiful Renaissance palace – the Palace of Charles V. Construction of this palace inside the Alhambra complex was ordered by King Charles V at the beginning of the 16th century.
It was a project to commemorate his grandparents – the Catholic Monarchs – who conquered Granada. Building a palace of a Christian king inside Muslim kings' citadel – Alhambra – was a symbolic gesture of their victory over the Muslim kings.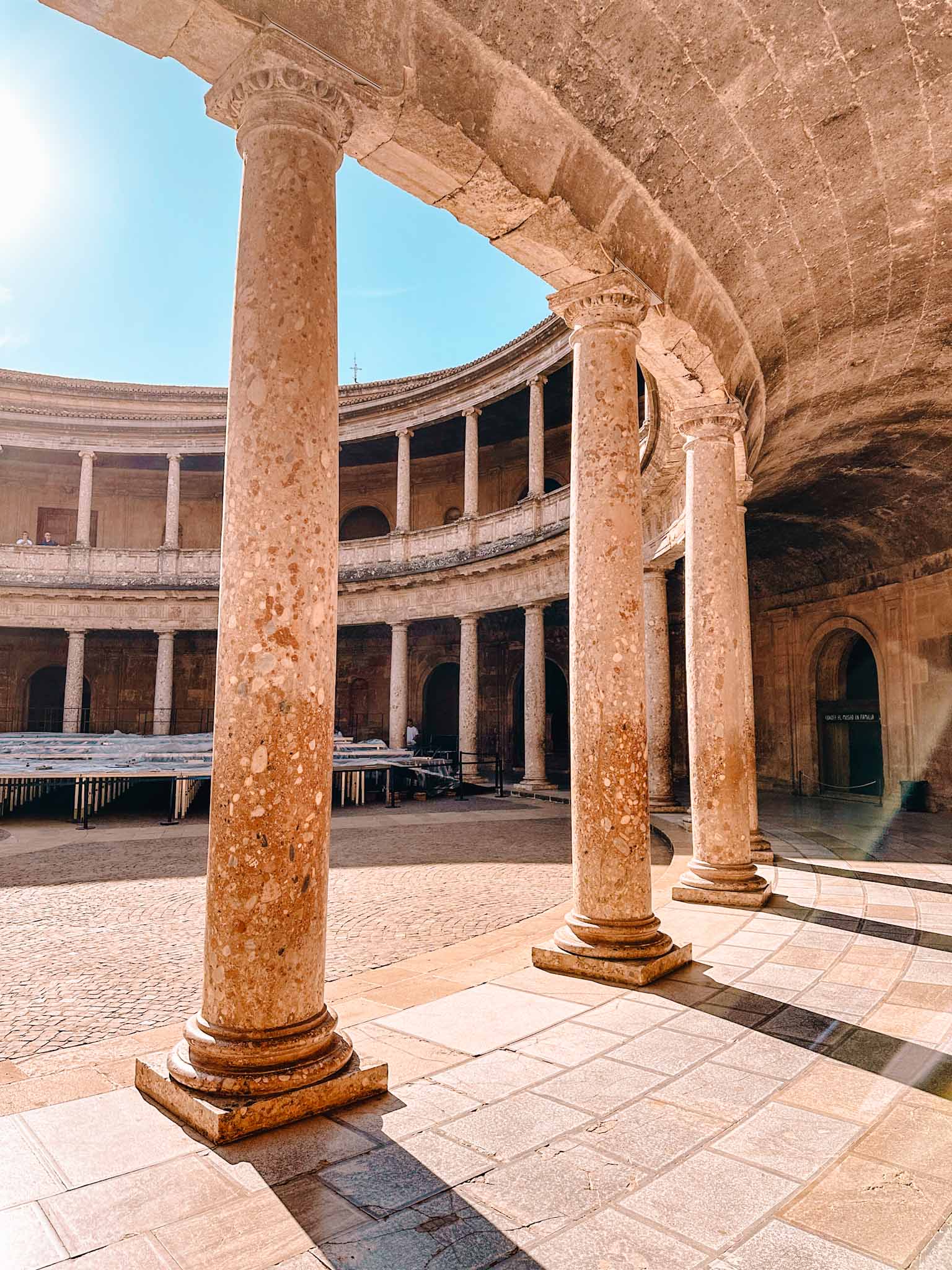 Construction of this Roman-inspired palace with a stunning circular courtyard lined with columns started in the 16th century and lasted for 90 years. The palace never got finished as it was meant to be, but it still looks pretty impressive today.
Now it hosts multiple museums, exhibitions, and occasional events. Often overlooked by the famous Nasrid palaces right next to it, this hidden gem in Granada is a unique spot you should definitely visit in Alhambra!
Location: Palace of Charles V
11. Palacio de la Condesa de Lebrija in Seville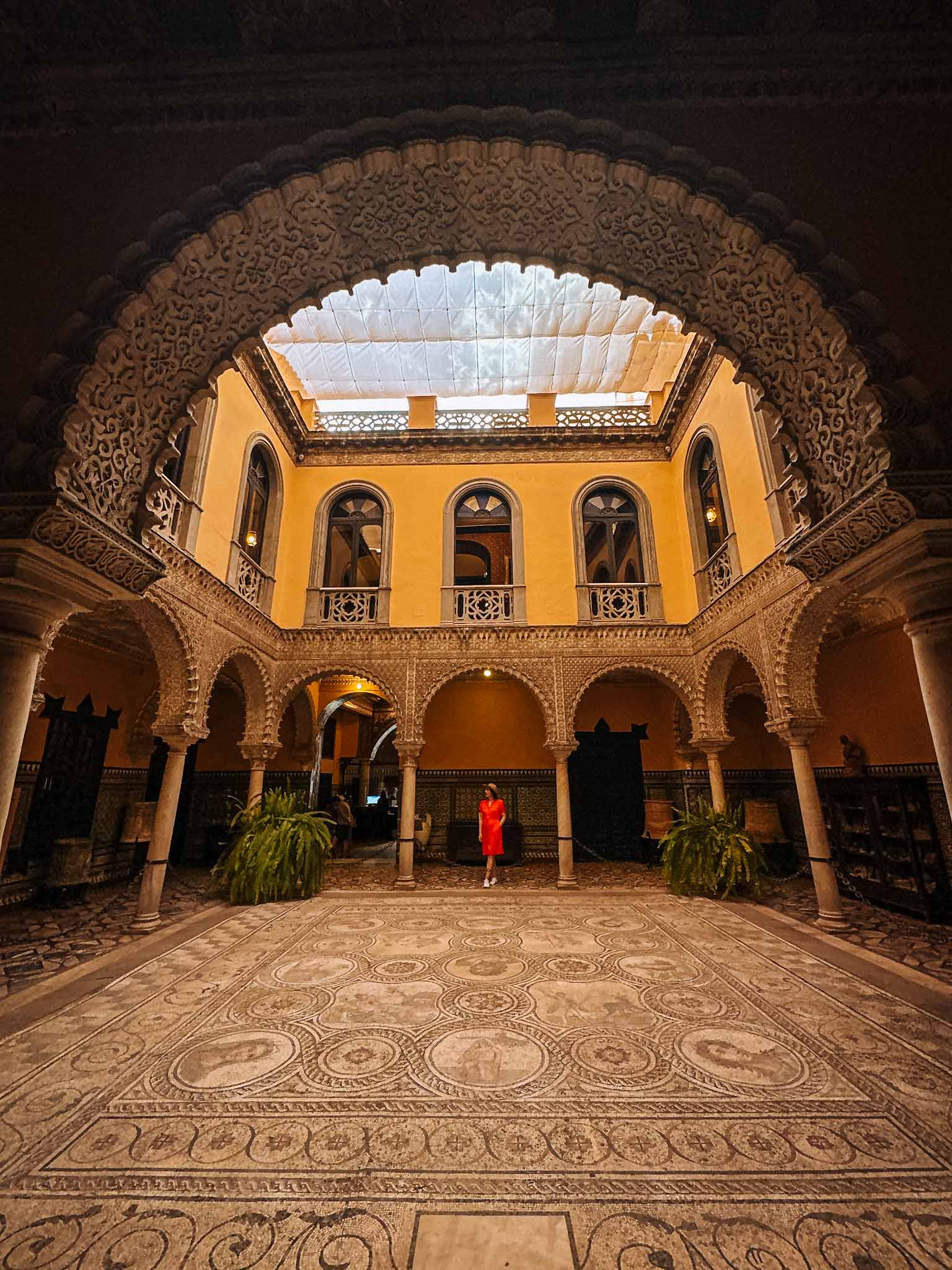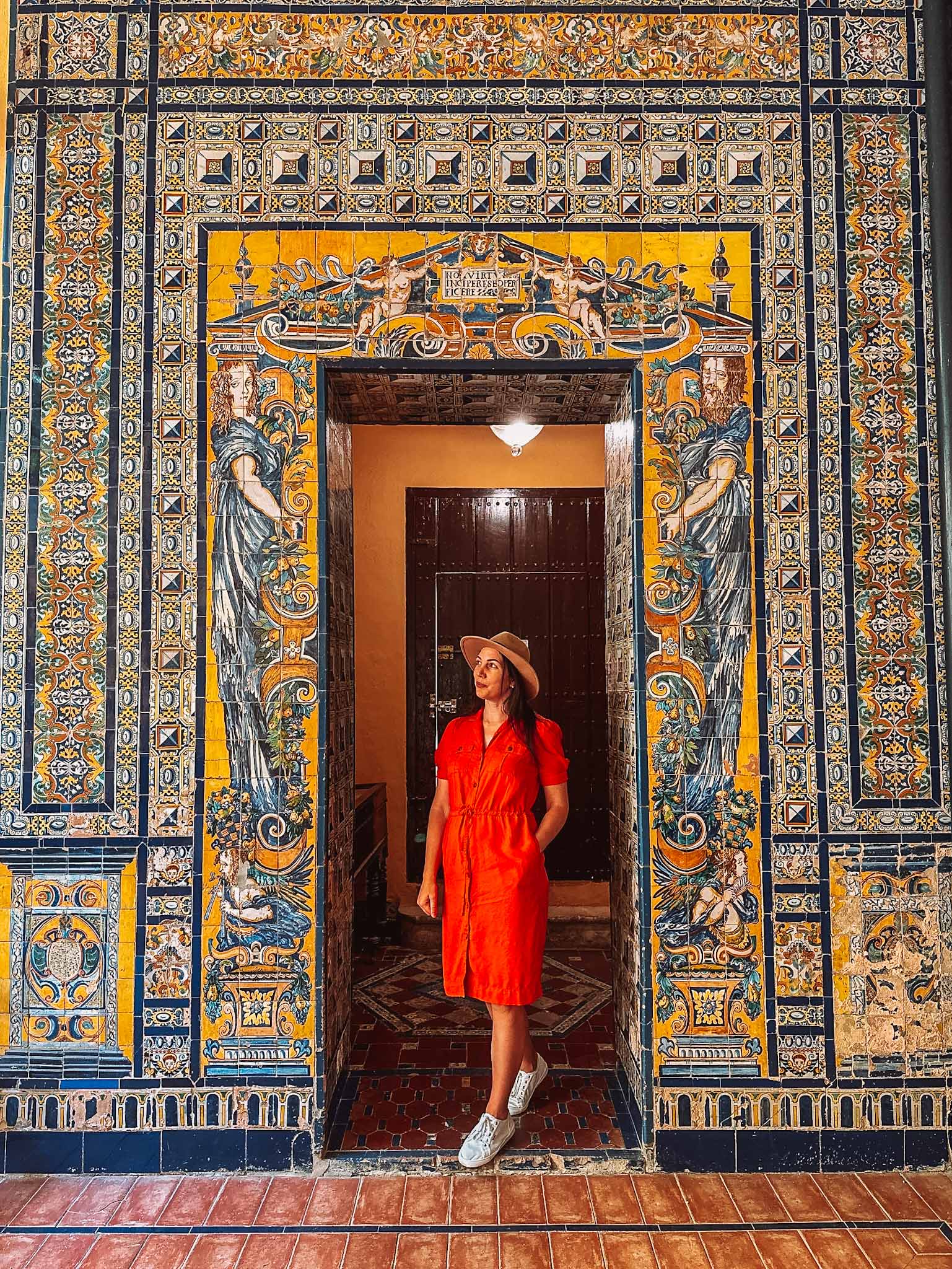 Palacio de la Condesa de Lebrija or Palace of the Countess of Lebrija is one of the most beautiful hidden gems in Seville and amongs the most beautiful palaces in Andalusia!
It is a 16th-century palatial home decorated with Arabic-style arches around the patio, colorful tiles as well as one of the most stunning Roman mosaic collections you will ever see.
The glamorous house is a private home that belongs to an aristocratic family. You can not only visit the ground floor, the patio, and the gardens but also join guided tours around the upper floor that take place on round hours.
The upper floor displays a very rich collection of artifacts from around the world including from China, Japan, and many other countries.
We visited this exquisite home for a fee of 12 EUR, however, there is a certain time when you can visit the palatial home for free. Make sure to check their website.
Location: Palacio de la Condesa de Lebrija
12. Castillo de Santa Catalina in Jaén
Castillo de Santa Catalina or Saint Catherine's Castle sits atop a hill overlooking the city of Jaén. The castle was started in the 8th century as a Moorish fortress, but it was transformed into a castle centuries later – after the Spanish Reconquista.
You can actually drive up to the top of the hill. This is the best place to watch the sunset in Jaén so if you can, try to come here for the sunset! Plus there are nice viewpoints on top of the hill to enjoy panoramic views over the city.
The most unique thing about this castle is that you can spend the night inside it. There is a 4-star hotel – Parador de Jaén – built in one part of the castle. Such a unique experience!
Location: Castillo de Santa Catalina
13. Generalife palace in Alhambra, Granada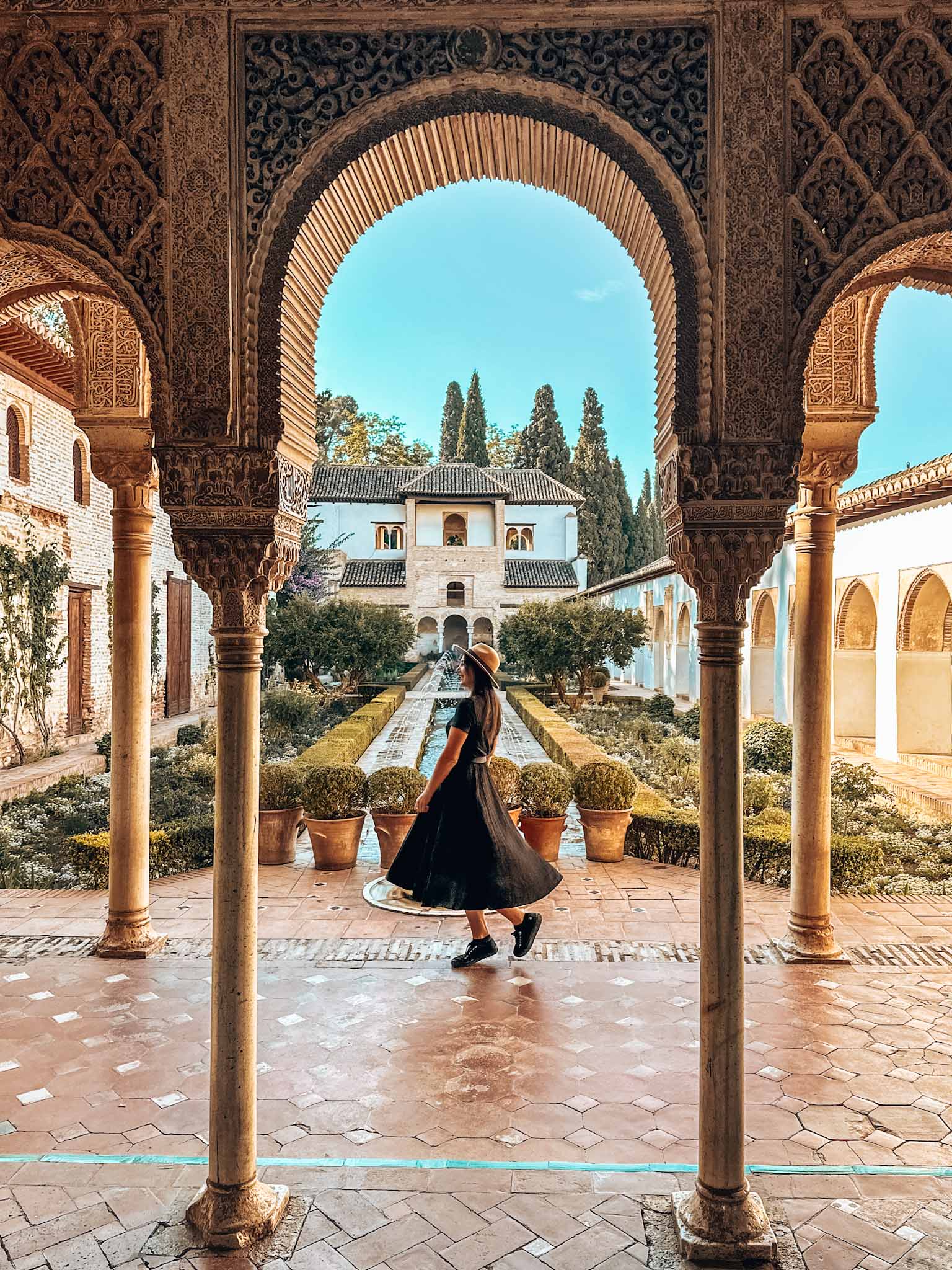 Generalife is the name of a palace complex that was a summer residence for the Nasrid dynasty kings. It has expansive gardens with fountains and lots of greenery.
The most beautiful part of the Generalife palace complex in Alhambra, Granada is Patio de la Acequia courtyard that you will find right next to the palace.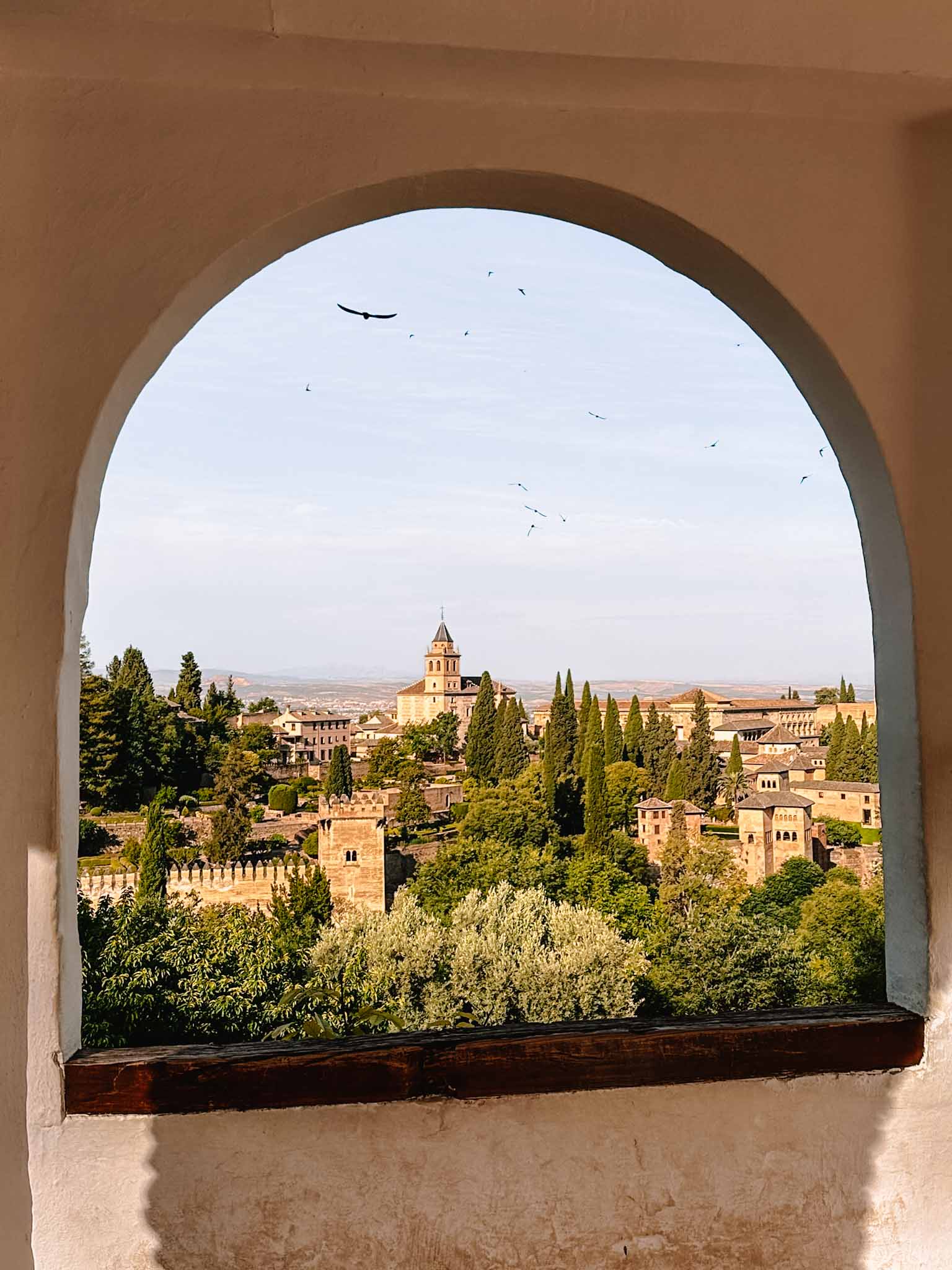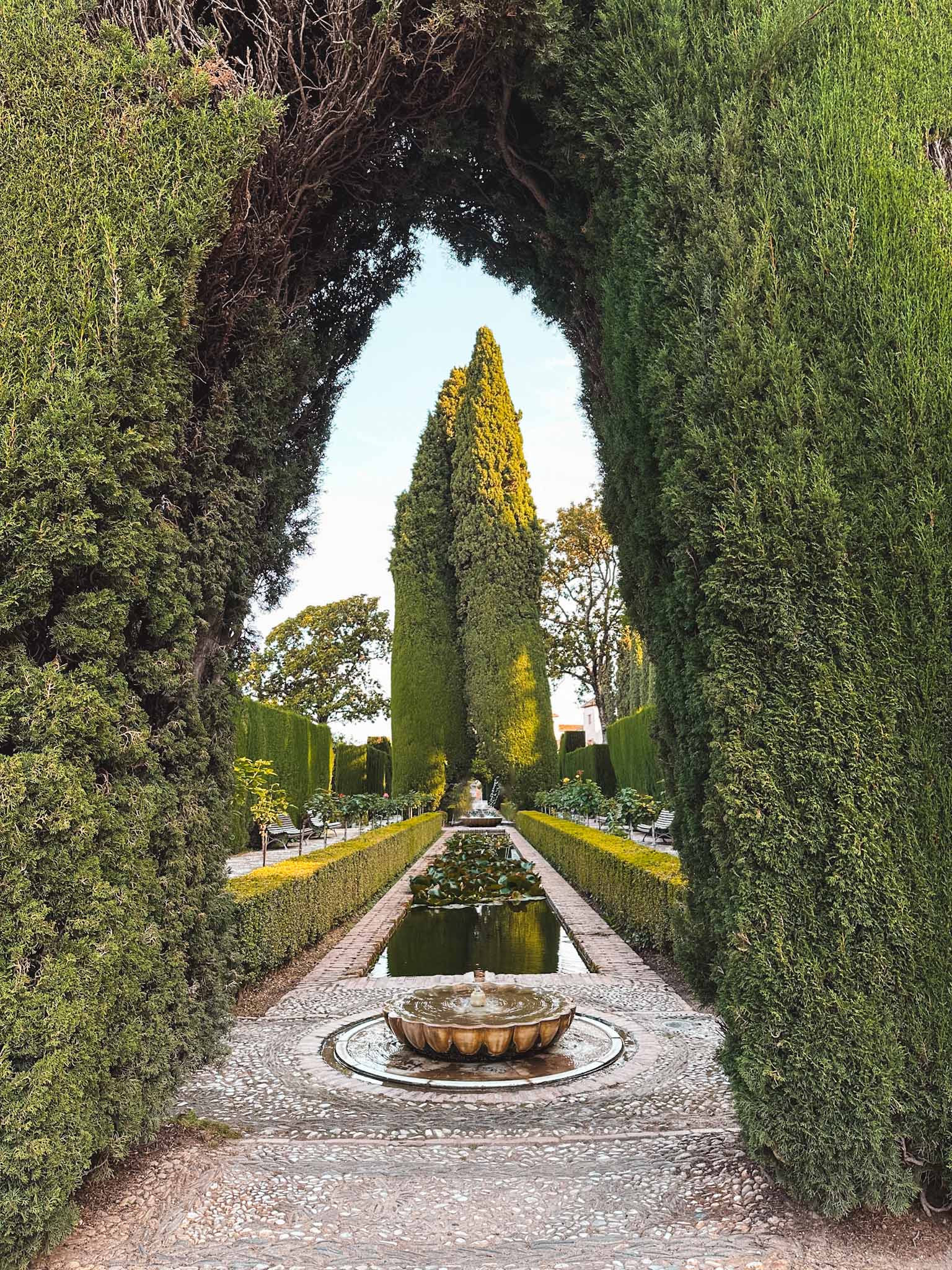 The Patio de la Acequia courtyard is a rectangular area with a long pool and multiple fountains and plants. There is a beautiful pathway along one side of the courtyard that has arch-shaped windows looking out to Granada city.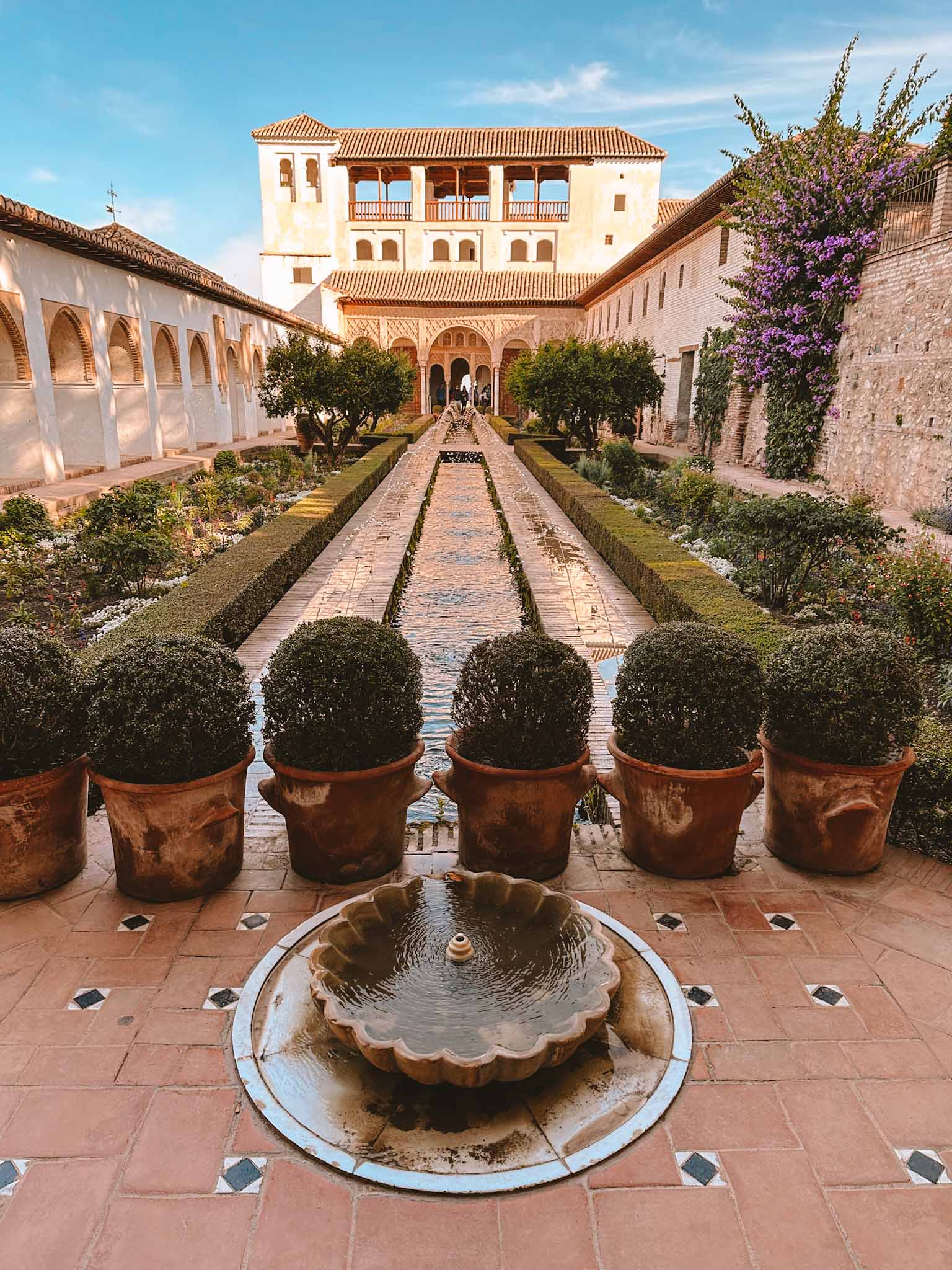 The palace is very well looked after and has many beautiful hidden corners including another courtyard, viewpoints, and halls all decorated with Moorish-style elements. Generalife is the oasis of Alhambra and I do hope you get to visit this palace!
Location: Generalife
14. Alcázar de los Reyes Cristianos in Córdoba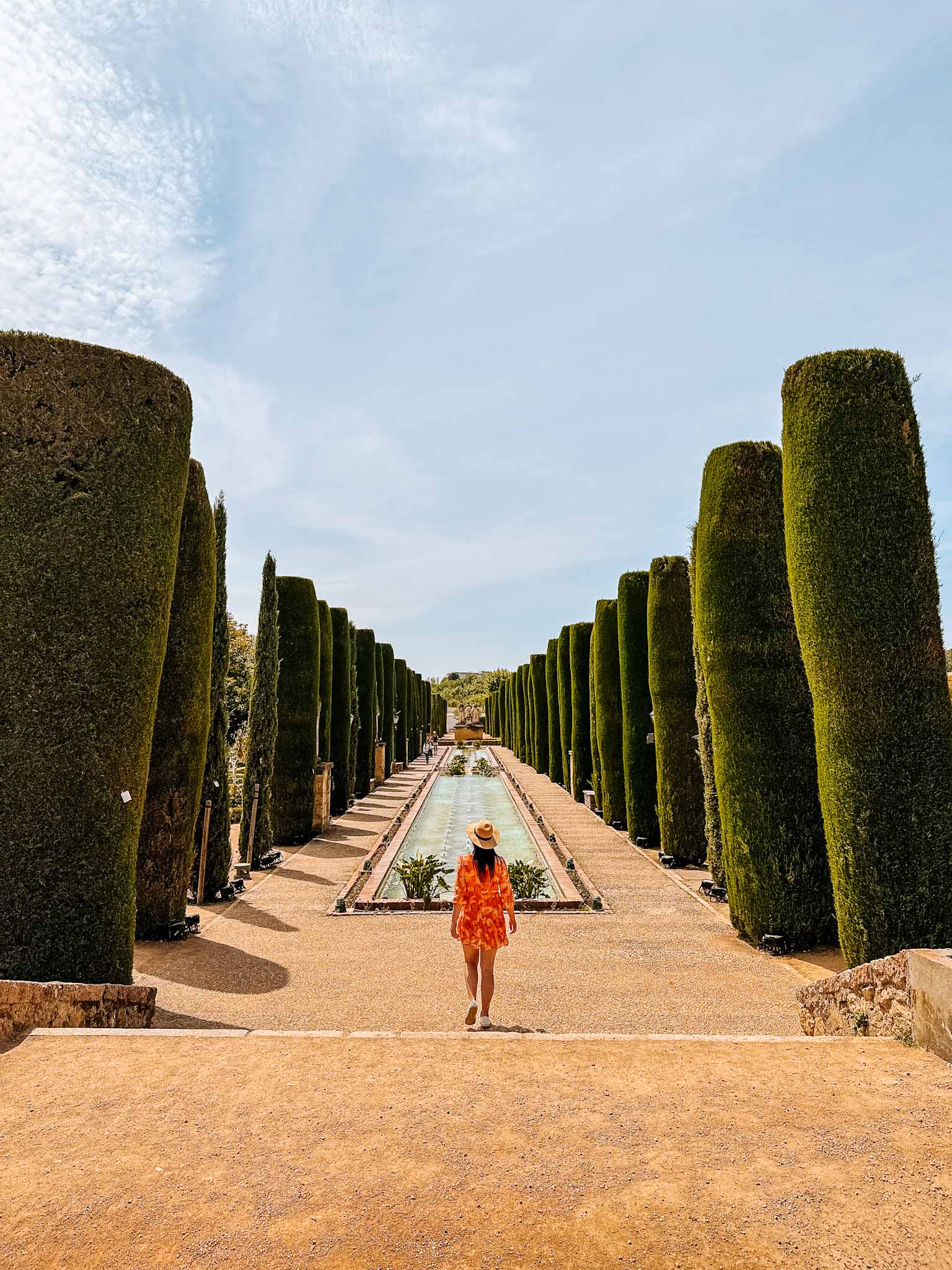 Alcázar de los Reyes Cristianos (Castle of the Christian Monarchs) are premises of a 14th-century palace. There is a palace, courtyards, defensive walls and towers, and extensive decorative gardens with fountains and pools.
Alcázar de los Reyes Cristianos palace-fortress served as one of the main residences for the Christian Monarchs – Isabella I of Castile and Ferdinand II of Aragon. They were called the Christian Monarchs because of their Catholic faith.
The palace itself was not too exciting at least for us. However, we really liked climbing up the defensive walls and towers. There you can get pretty nice views over Córdoba Old Town, the river and the Roman bridge.
Without a doubt, the most beautiful part of Alcázar de los Reyes Cristianos was the extensive gardens. They really take care of the gardens here! So beautiful!
There were multiple rectangular pools with fountains, other fountains with sculptures, and decorative trees cut into different shapes. There were majestic statues of the Christian kings and endless flower fields.
I bet upkeeping the garden takes a lot of effort as Córdoba is the hottest city in Europe! Although this palace was not too impressive, the gardens, on the other hand, were amongst the most beautiful ones we saw in Andalusia.
Location: Alcázar de los Reyes Cristianos (entrance)
15. The impressive Castillo de Guzman el Bueno in Tarifa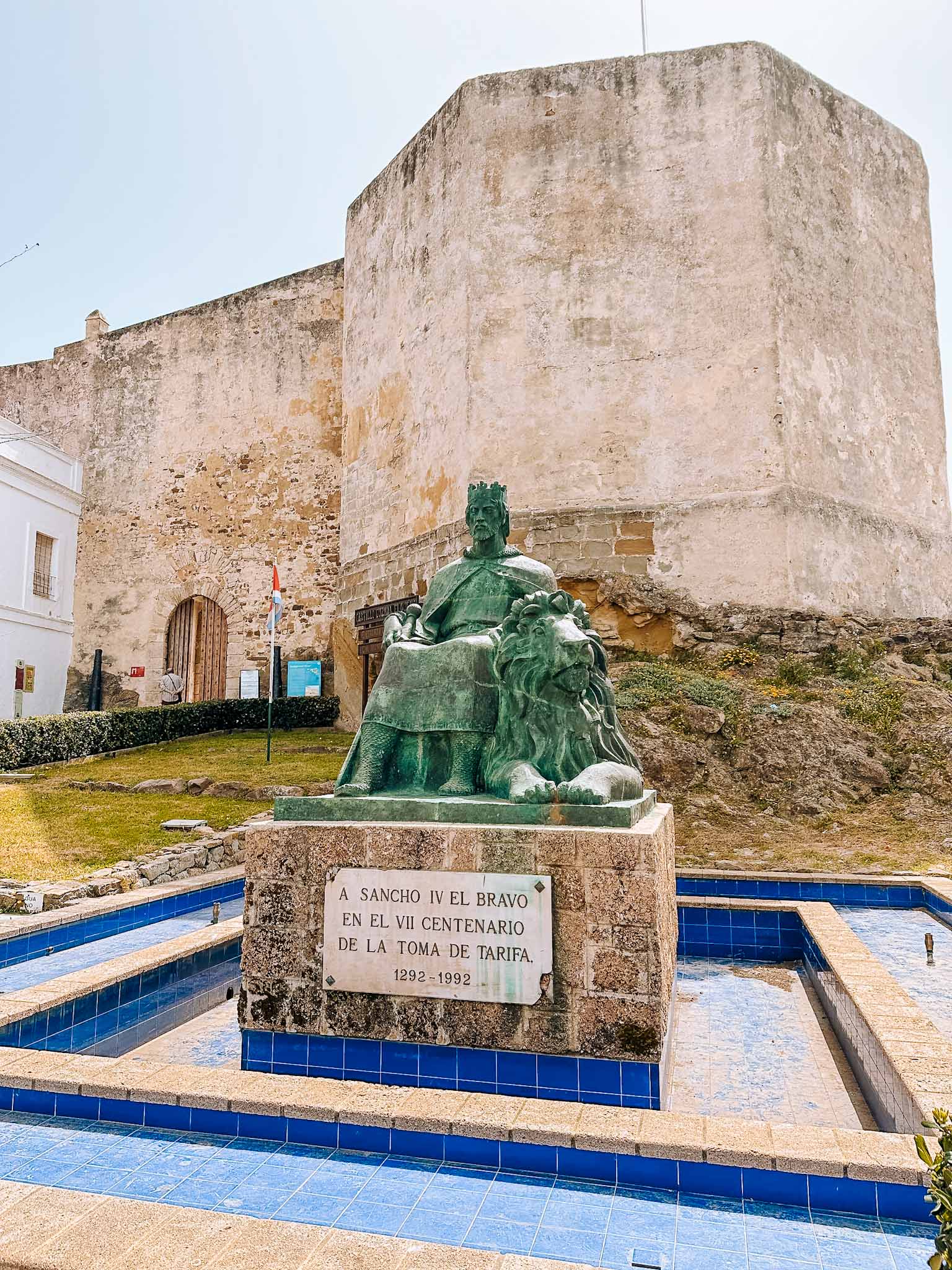 Castillo de Guzman el Bueno castle probably is the main tourist attraction in Tarifa! If you want to know absolutely everything that happened in this town, find out its history and all the legends then you must visit this 10th-century castle!
The entrance fee to the castle is 4 EUR per person. Not only do you get to see thousand-year-old artifacts but you get to know the town's history, and you get some of the best views over Tarifa, the port, and even see the mountains in Africa!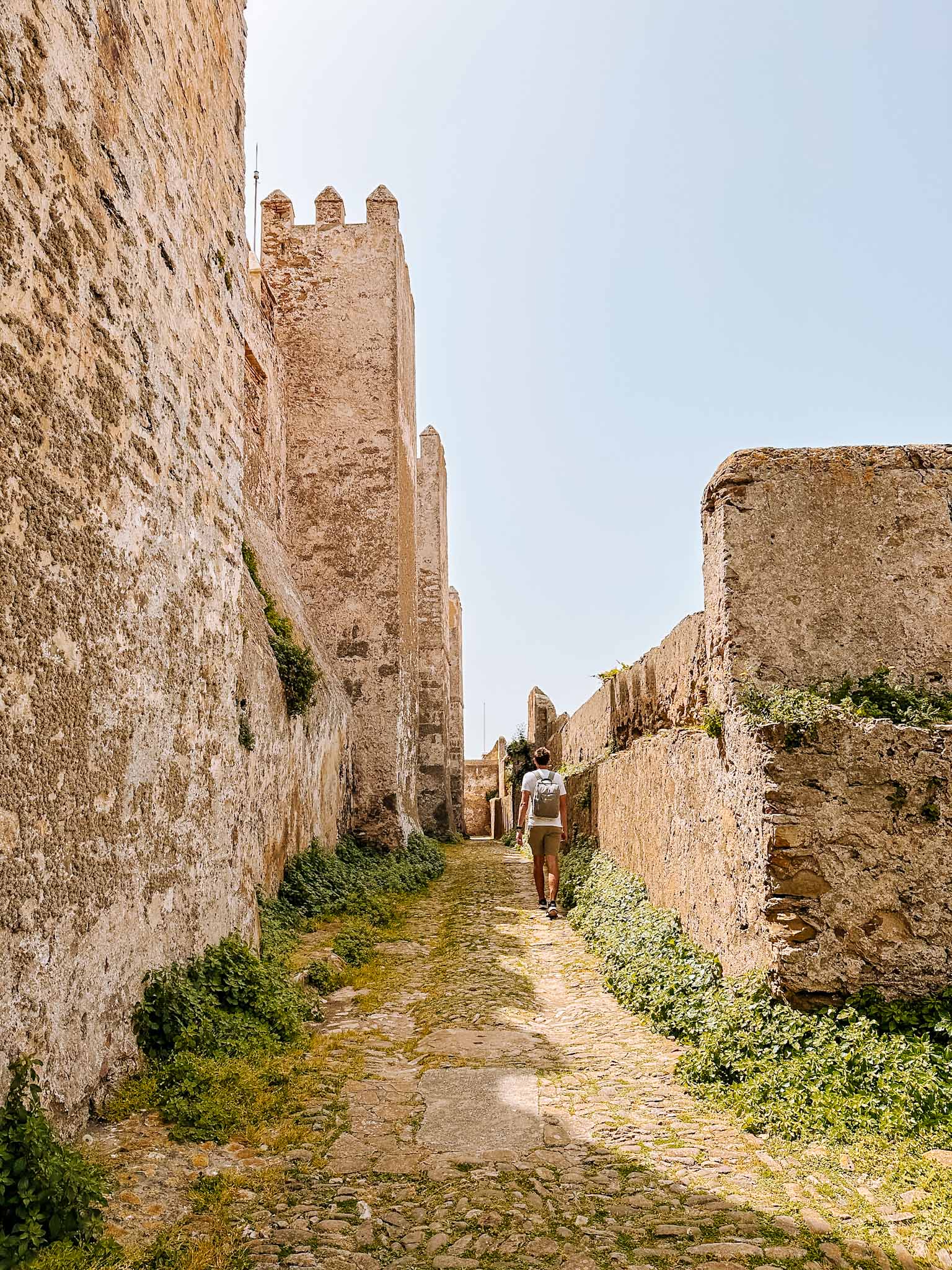 I think we wandered around here for about an hour exploring the impressive defensive walls and watchtowers, the views, and the thousand-year-old castle walls, reading about the history of this town and the most famous figures in the town's history.
The visit to the castle grounds is self-guided and you can do it at your own pace. The only thing is that the whole route is already pre-planned and you only have to follow the directions everywhere you go.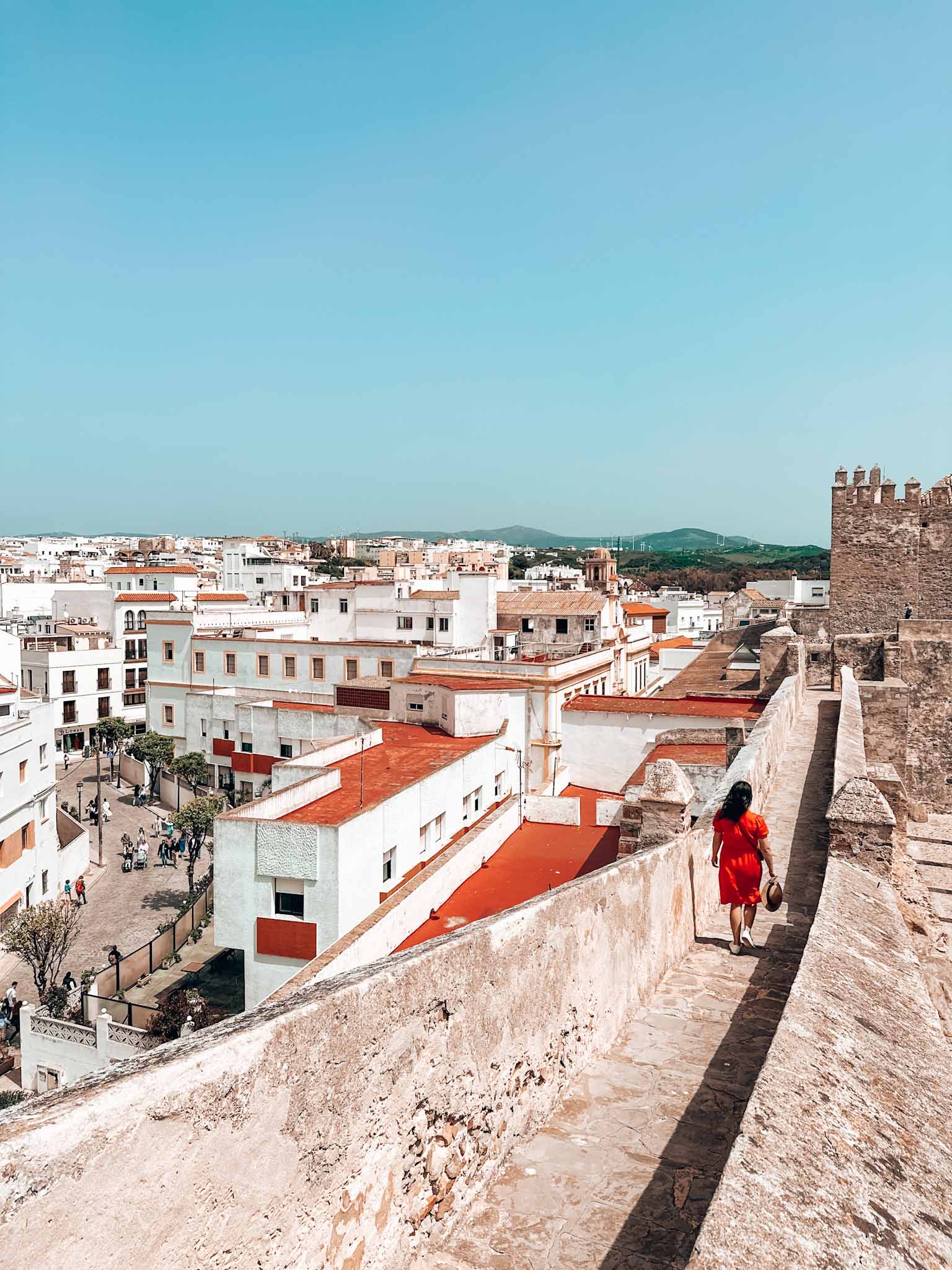 I enjoyed this visit and felt like I got to know everything I need to know about Tarifa here! And the views over the town and the port were amazing! And seeing Africa is a nice bonus when looking over the Strait of Gibraltar from the top of the castle!
Location: Castillo de Guzman el Bueno
16. Castillo de La Calahorra at the foothill of the Sierra Nevada mountains!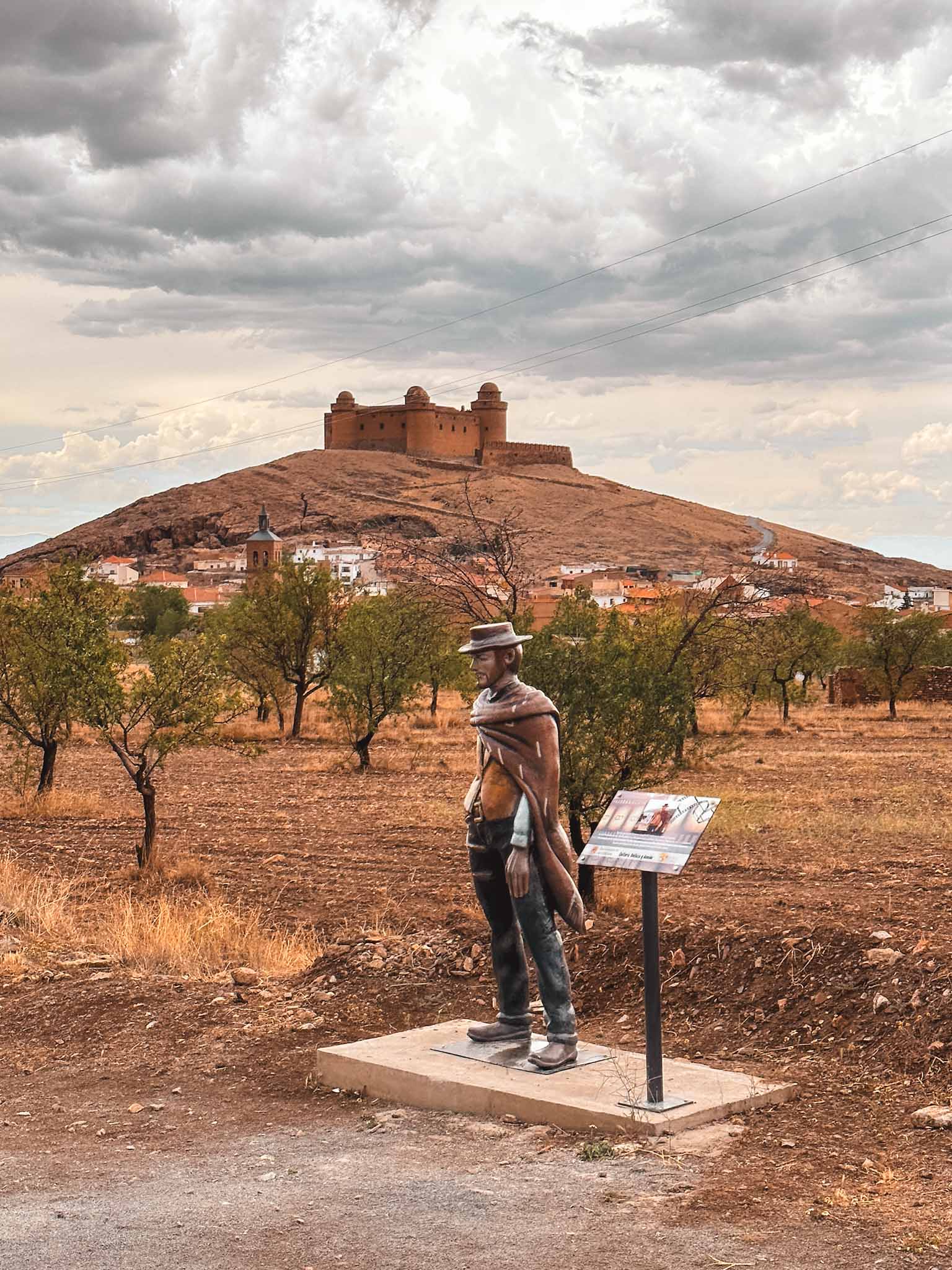 La Calahorra is a tiny village in the foothills of the Sierra Nevada mountains not far from Granada. The iconic village has a hill next to it with a pretty unique castle on top – Castillo de La Calahorra.
Built in the 16th century Castillo de La Calahorra  was one of the first Italian Renaissance castles outside Italy. You can visit the outside of the castle any day, however visits to the inside are only available on Wednesdays.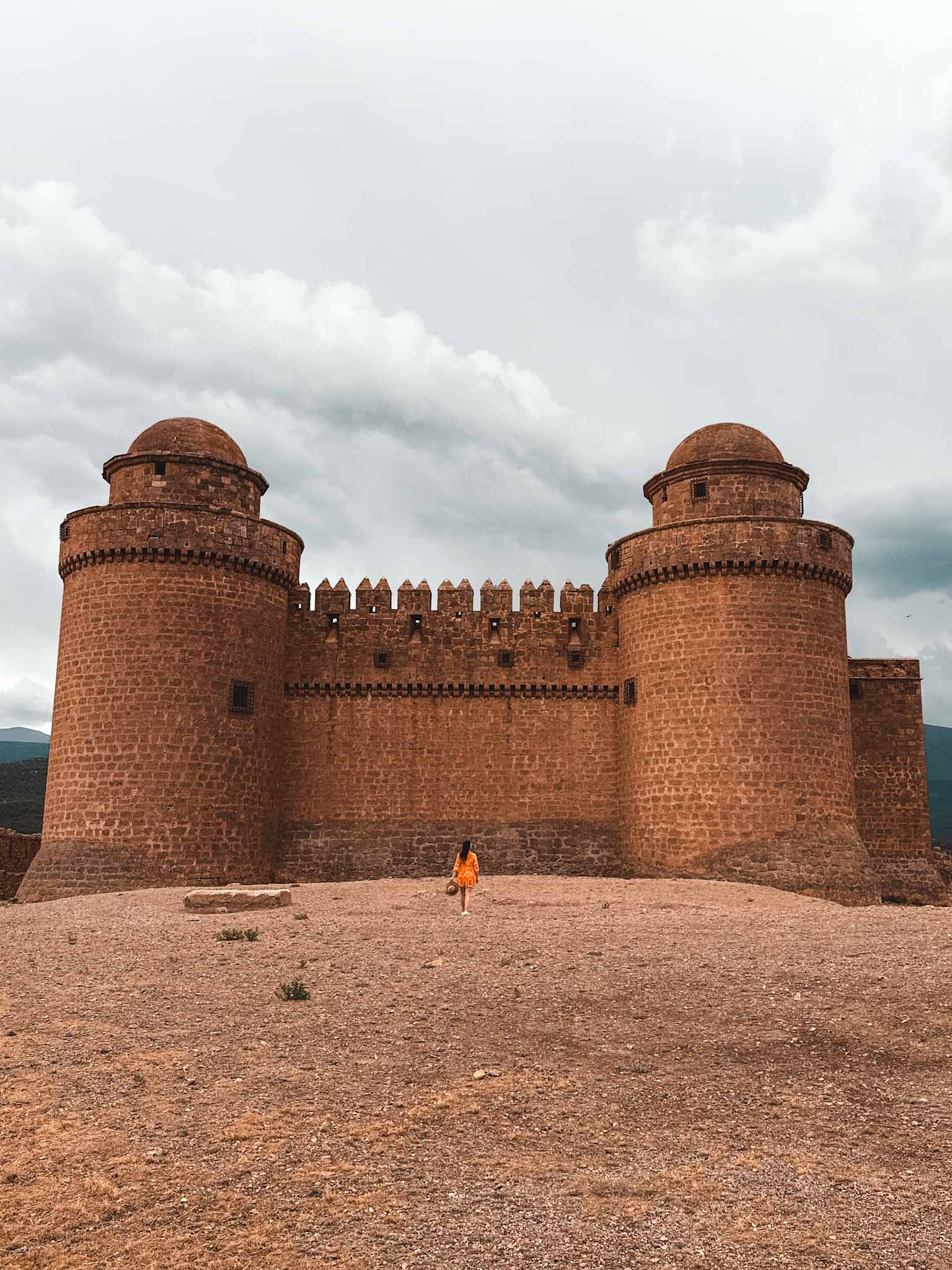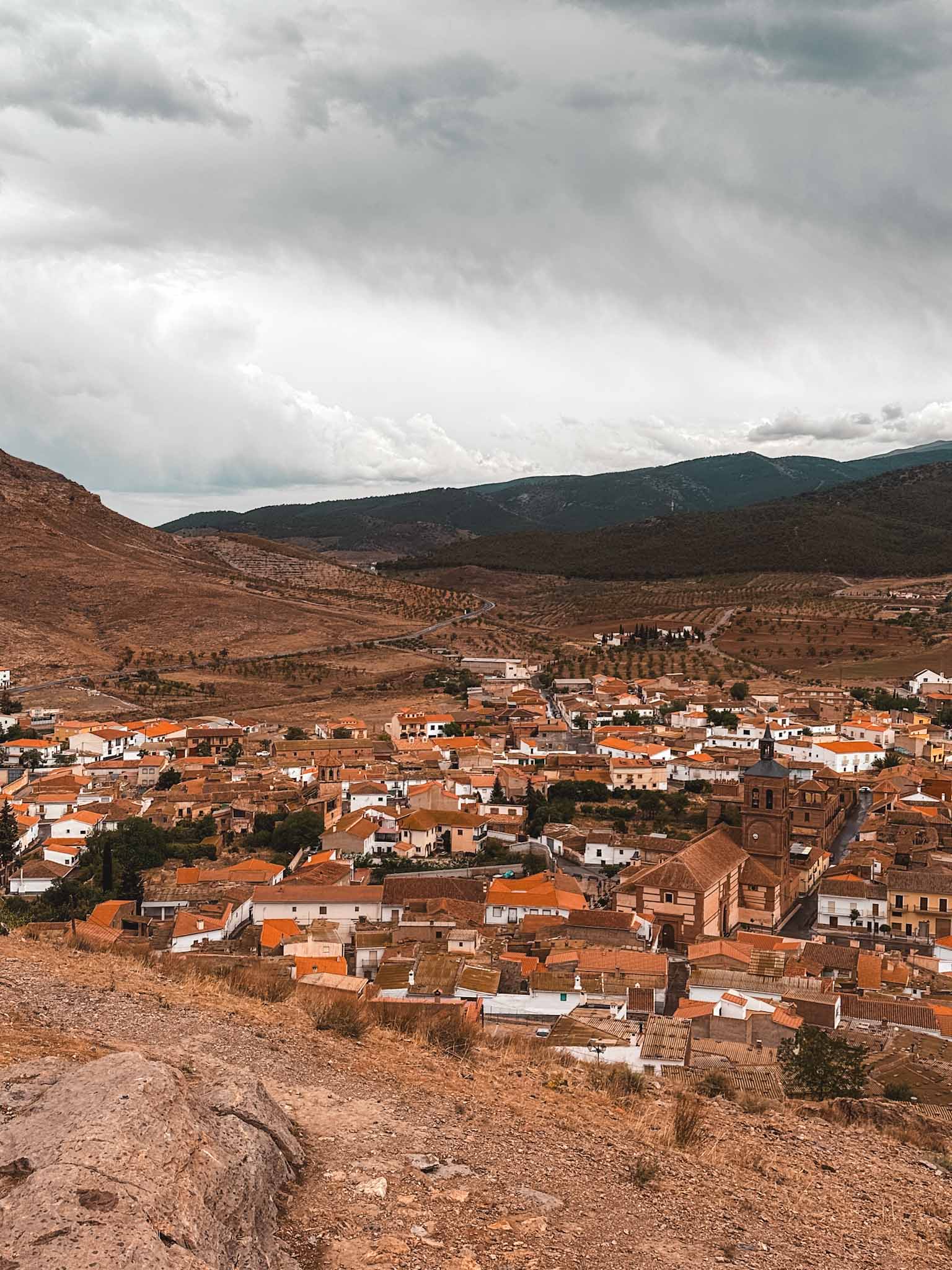 If you are a TV watcher you might find it interesting that this castle was featured in the 2022 television series House of the Dragon – a prequel of Game of Thrones. It played a role of a manse in the city of Pentos.
Location: Castillo de La Calahorra
17. Castillo de Olvera and the most picturesque views!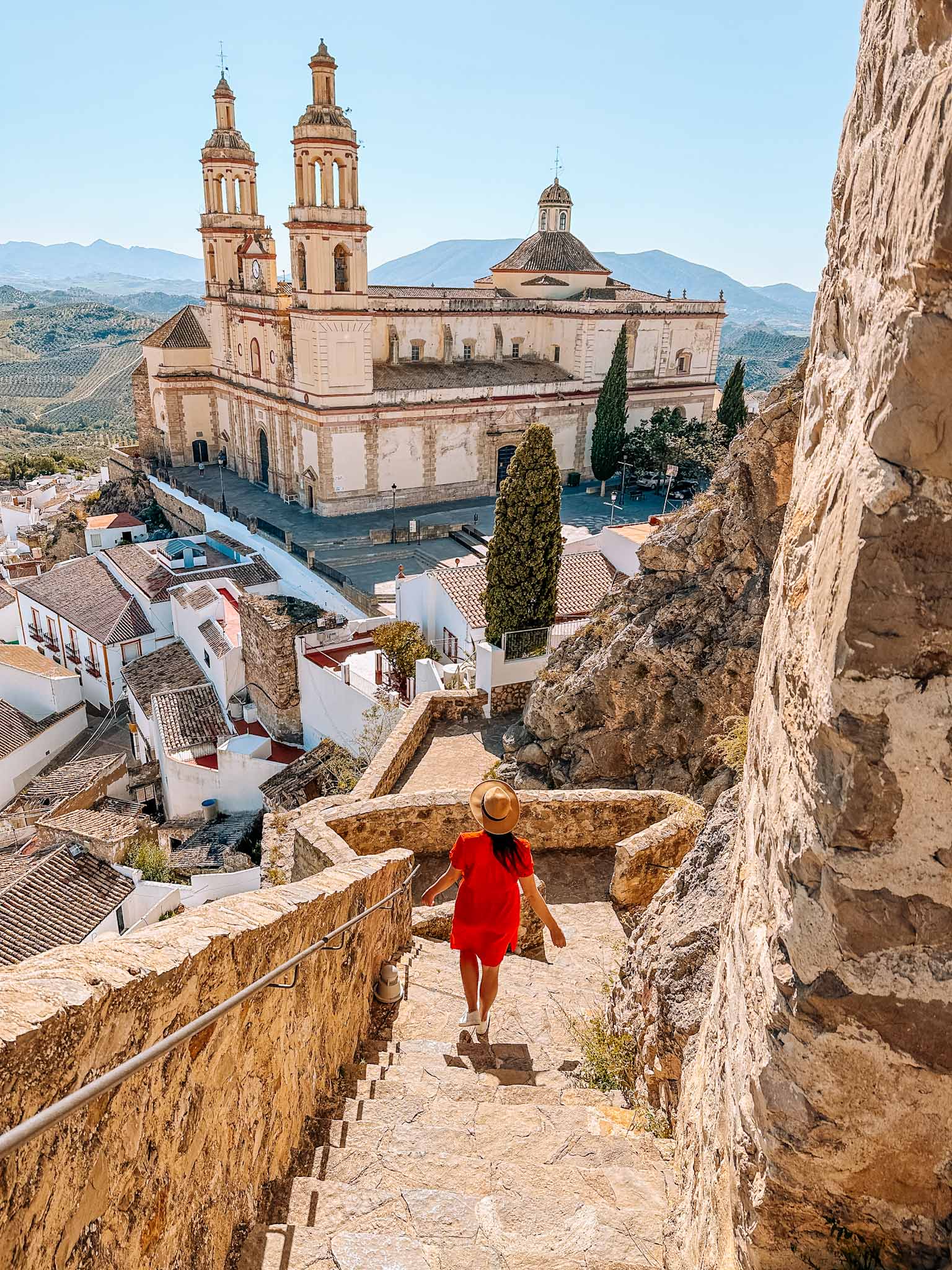 Featuring some jaw-dropping views, Olvera is one of the most beautiful towns in Andalusia with some unmatched picturesque views! It sits on a hilltop with a church and castle standing high above the rest of the town.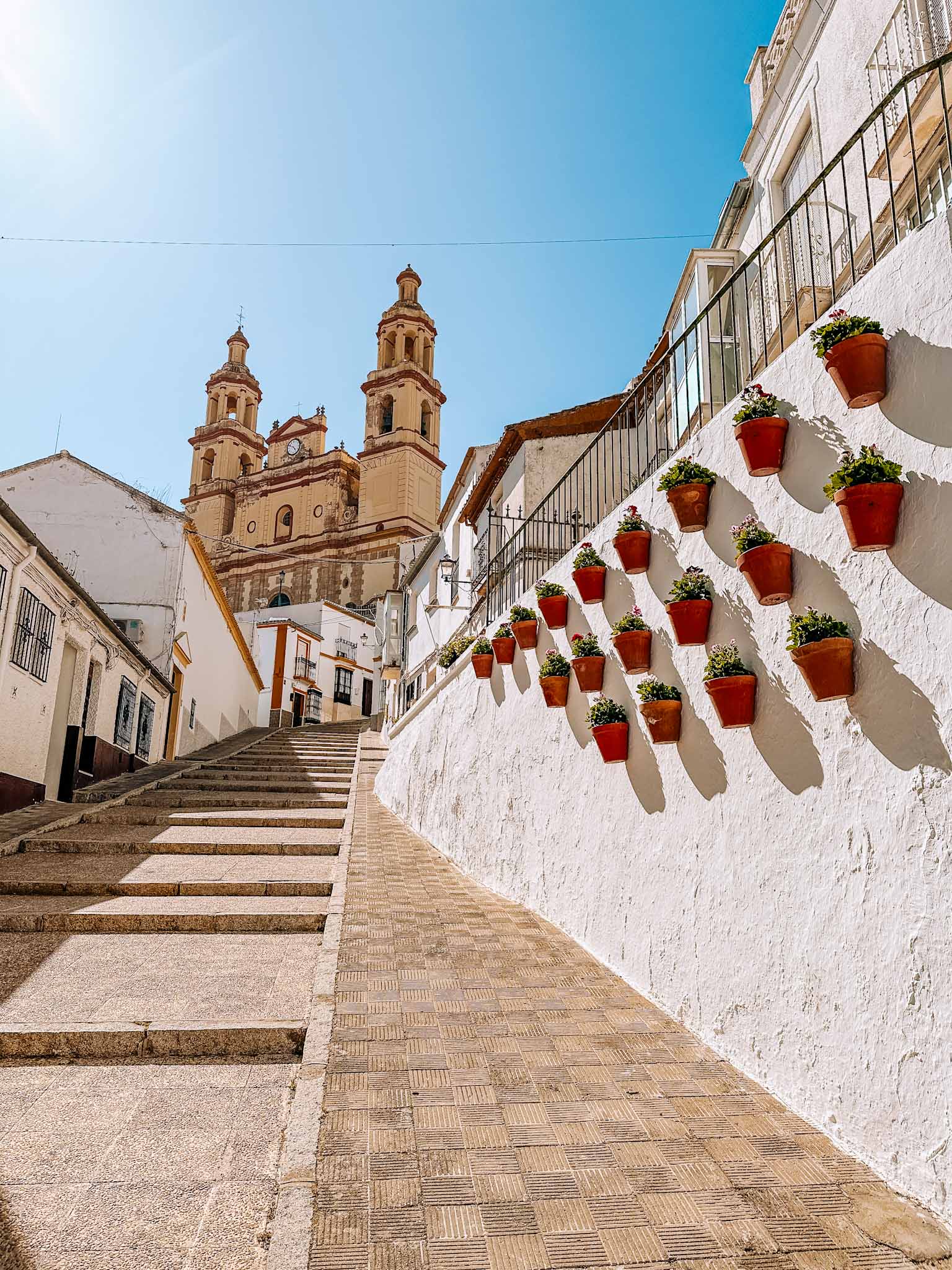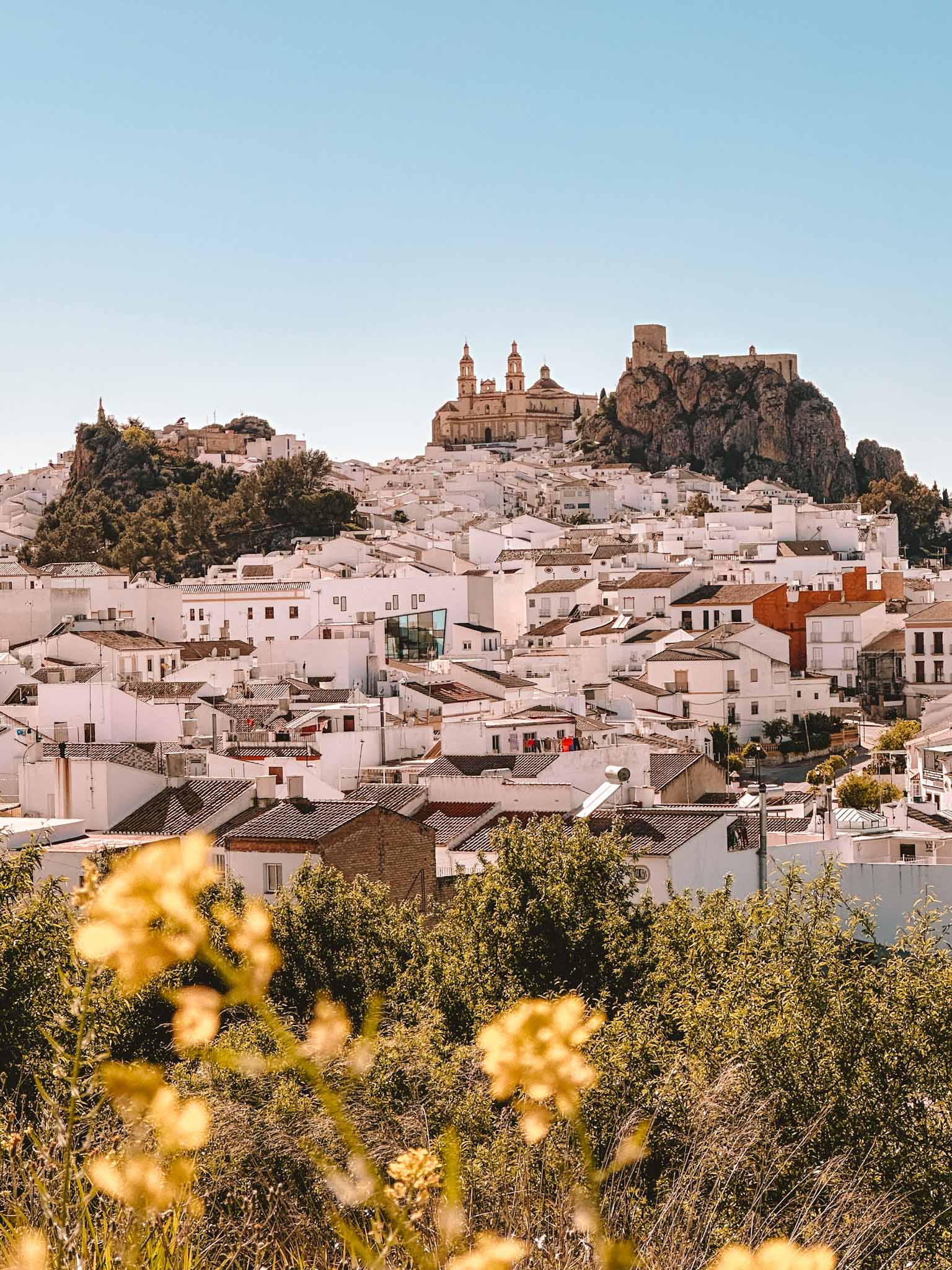 Must-do things in Olvera whitewashed town include exploring the Historic Center of the town and climbing up Calle Calzada street to the scenic Iglesia Mayor Parroquial hilltop church.
The best place to visit – Olvera Castle! The castle was built in the 12th century as part of the defensive system for the Nasrid Kingdom. It sits on a rock at 623 meters above sea level and offers some of the most picturesque views in Andalusia!
Location: Castillo de Olvera
More Andalusia travel inspiration!
Happy exploring!
Andalusia, the Southern region of Spain, is a one-of-a-kind place. It offers the perfect mix of history, architecture, vibrant cities, quiet hidden villages, unique nature, scenic hikes as well as sandy beaches and the perfectly blue water of the Mediterranean Sea.
We spent almost 3 months discovering everything Andalusia had to offer starting from world-famous places like Alhambra, we went underground inside Nerja cave, hanged in the air at the Caminito del Rey hike, and picked up our jaws when we saw Ronda bridge.
I hope you enjoy your time in Andalusia as much as we did! And I hope you will get some inspiration from my blog to make your trip even more adventurous, fun, exciting, and unforgettable! Andalusia is definitely worth it!
PIN FOR LATER!