9 hidden gems and unique spots in Granada, Spain
Here are hidden gems and unique spots in Granada, Spain to make your trip more fun, unique, and memorable! Most travelers go to Granada for Alhambra and the rest of the city gets overlooked, so here are some secret and less-known spots in Granada to include in your travel itinerary!
In this blog post, you will find all the hidden gems in Granada with descriptions, photos, and locations where they can be found on Google Maps. We spent a whole week in Granada exploring everything this vibrant city had to offer, so let's dive in! Happy traveling!
Read more >>> 19 best Instagram photo spots in Granada, Spain
1. Hidden gem in Alhambra – Palace of Charles V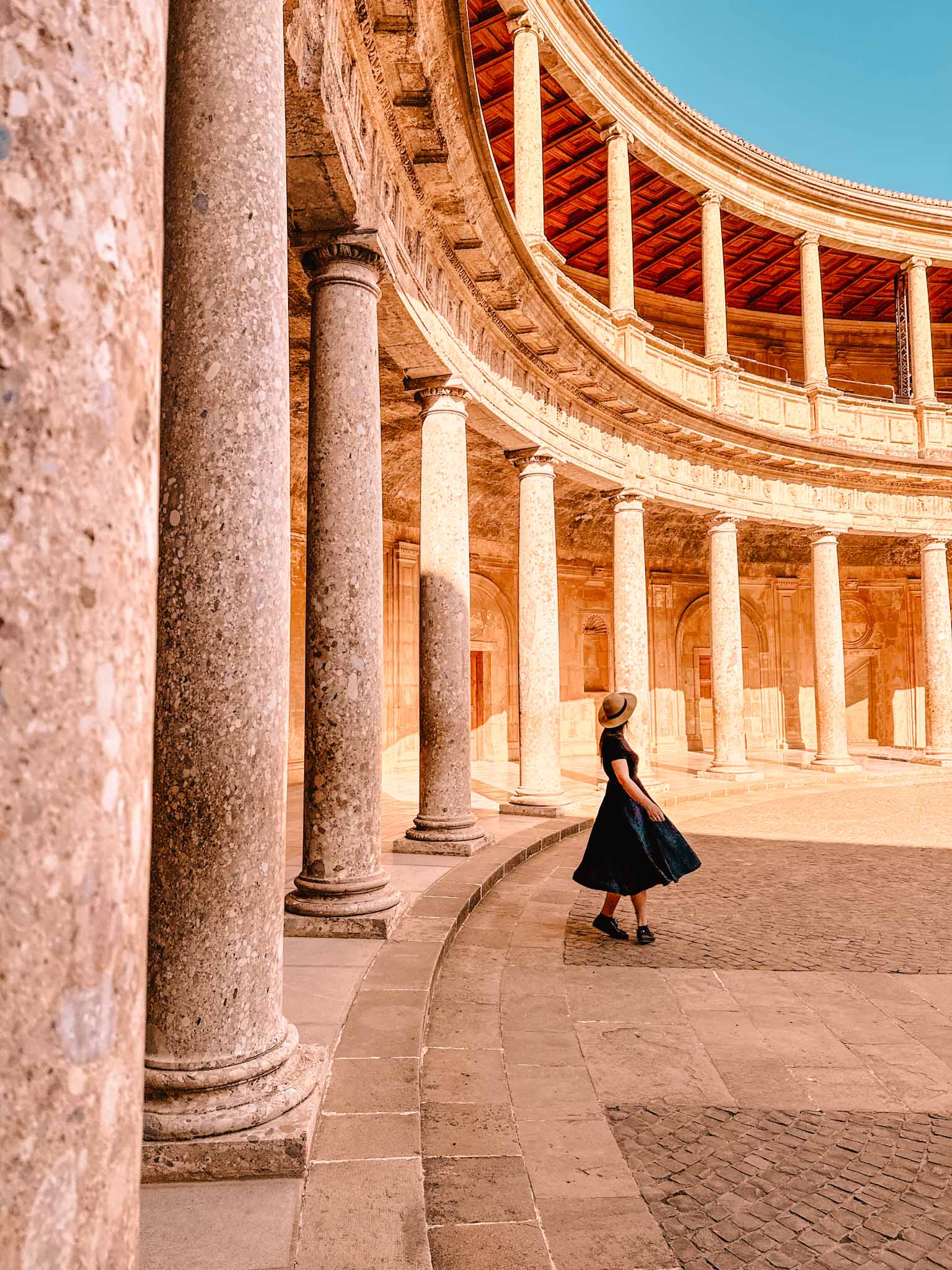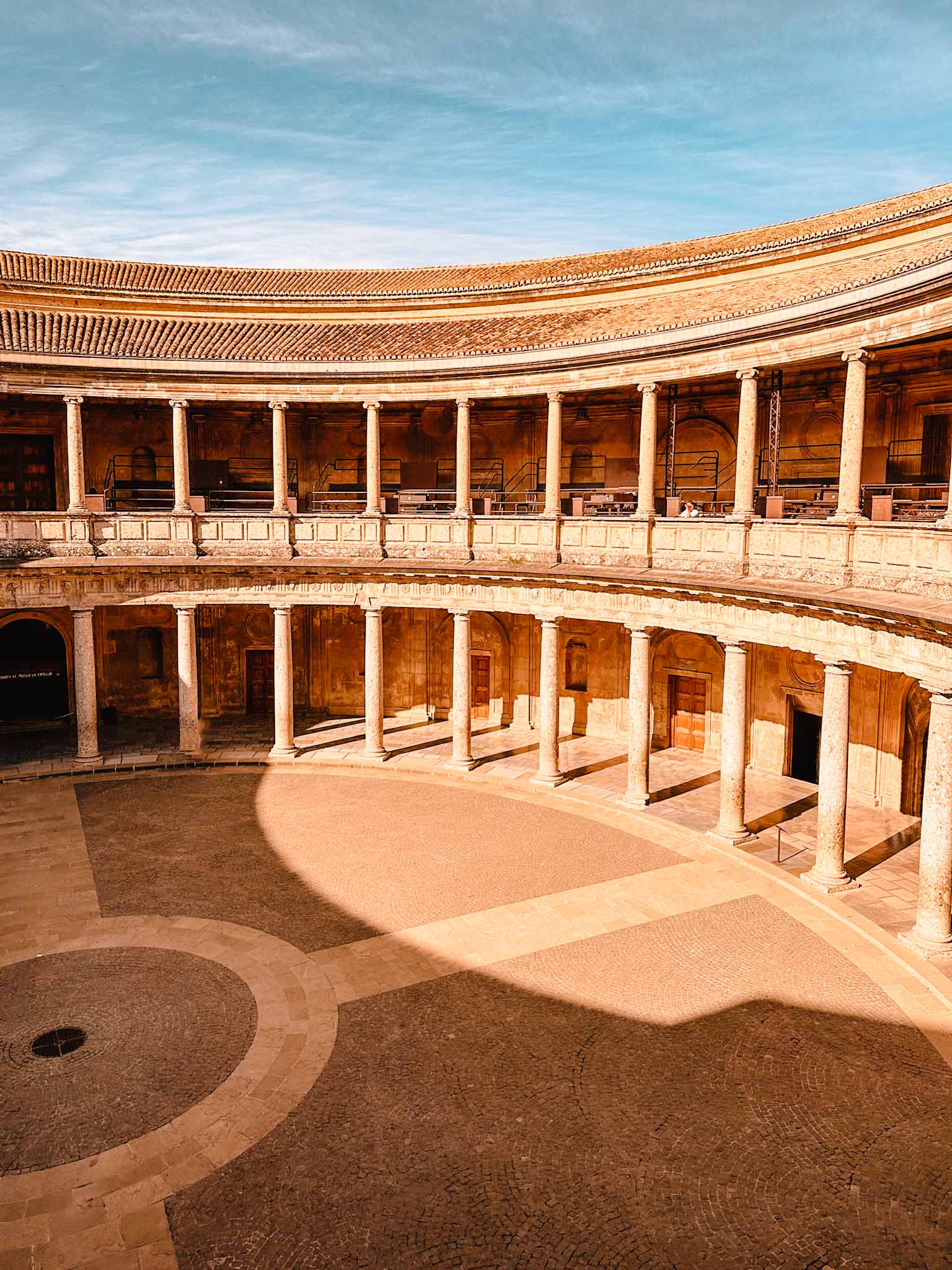 Everybody knows the Alhambra fortress – one of the bucket list places to visit in Granada. But not many people know that there are places in the famous Alhambra fortress that you can actually visit for free!
Yes, even if you don't have a ticket for Alhambra you can see some buildings and places around the fortress. One such building is this beautiful Renaissance palace – the Palace of Charles V.
Construction of this palace inside the Alhambra complex was ordered by King Charles V at the beginning of the 16th century. It was a project to commemorate his grandparents – the Catholic Monarchs – who conquered Granada.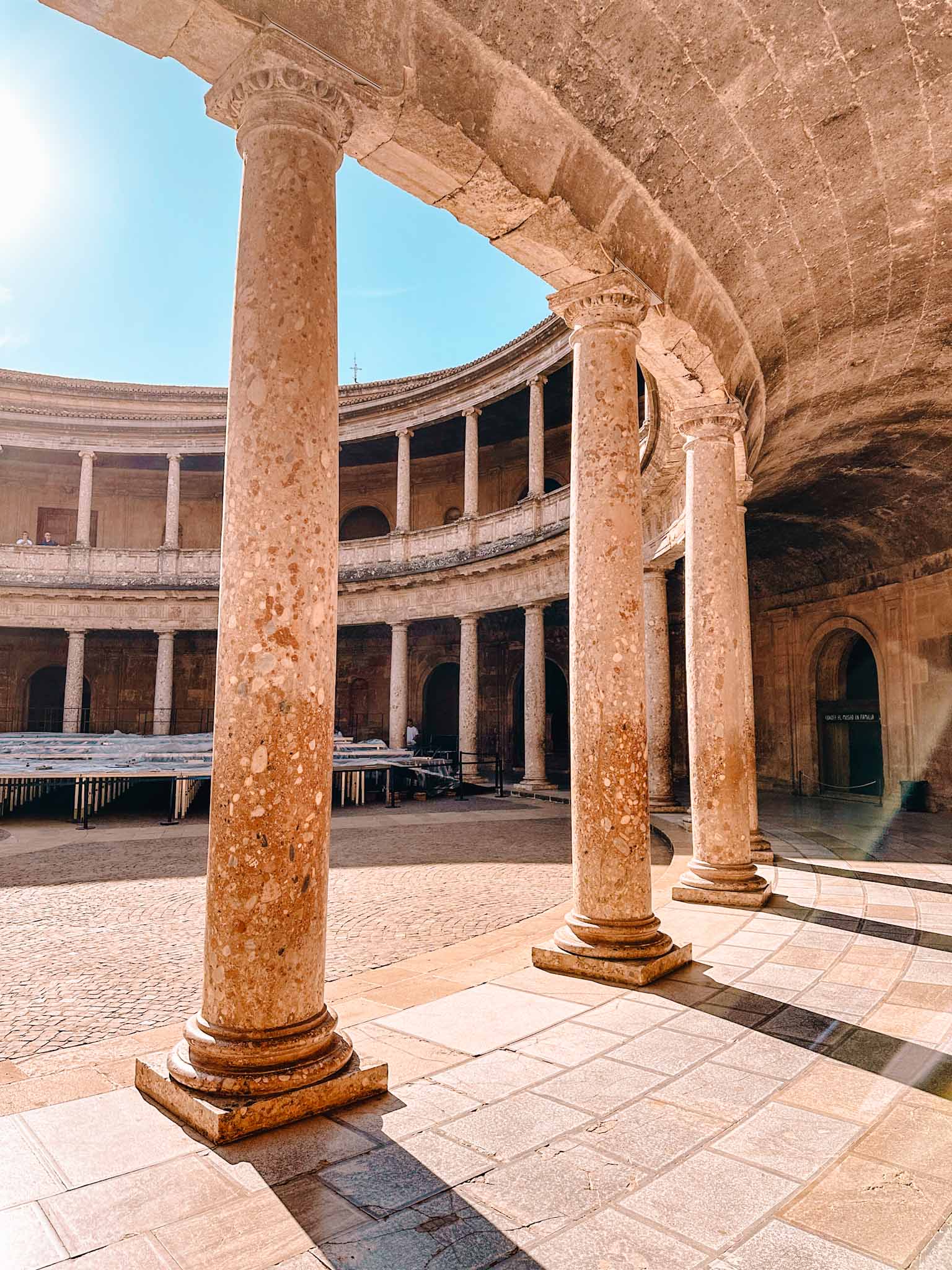 Building a palace of a Christian king inside Muslim kings' citadel – Alhambra – was a symbolic gesture of their victory over the Muslim kings.
Construction of this Roman-inspired palace with a stunning circular courtyard lined with columns started in the 16th century and lasted for 90 years.
The palace never got finished as it was meant to be, but it still looks pretty impressive today. Now it hosts multiple museums, exhibitions, and occasional events.
Often overlooked by the famous Nasrid palaces right next to it, this hidden gem in Granada is a unique spot you should definitely consider visiting!
Location: Palace of Charles V
2. The most beautiful sacristy in the world at Monasterio de la Cartuja de Granada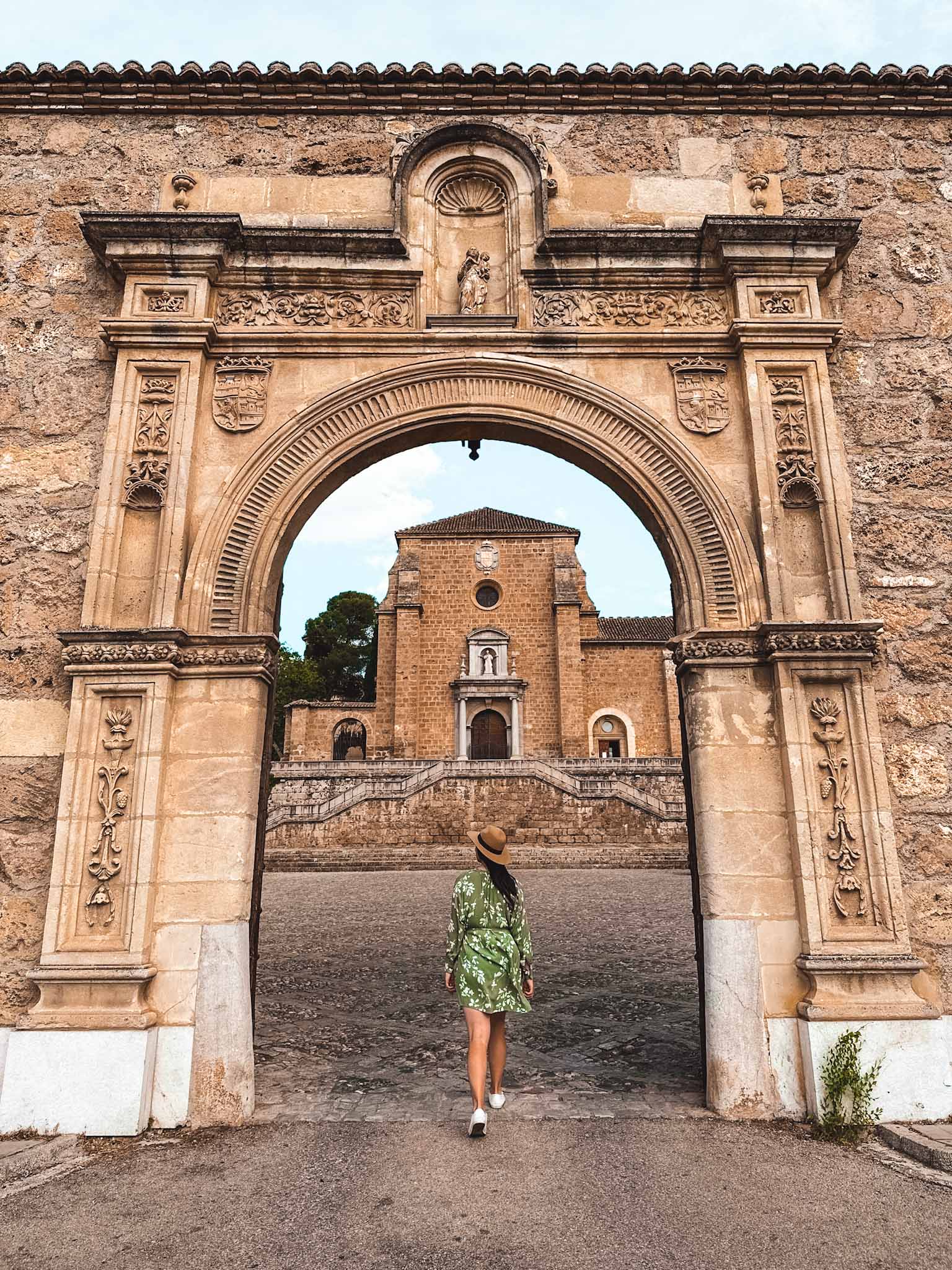 Monasterio de la Cartuja de Granada is a place with indescribable beauty. The plain grayish outside walls hide some of the most beautiful things you will ever see!
Located just on the outskirts of Granada's Old Town (you can get there by bus or taxi), this monastery is a must-see hidden gem in Granada!
The monastery was built in the 16th century and combines many architectural styles. The complex consists of a huge courtyard where you can walk around and enter many different rooms and halls around the perimeter like the church, the sanctum, the sacristy, and common rooms.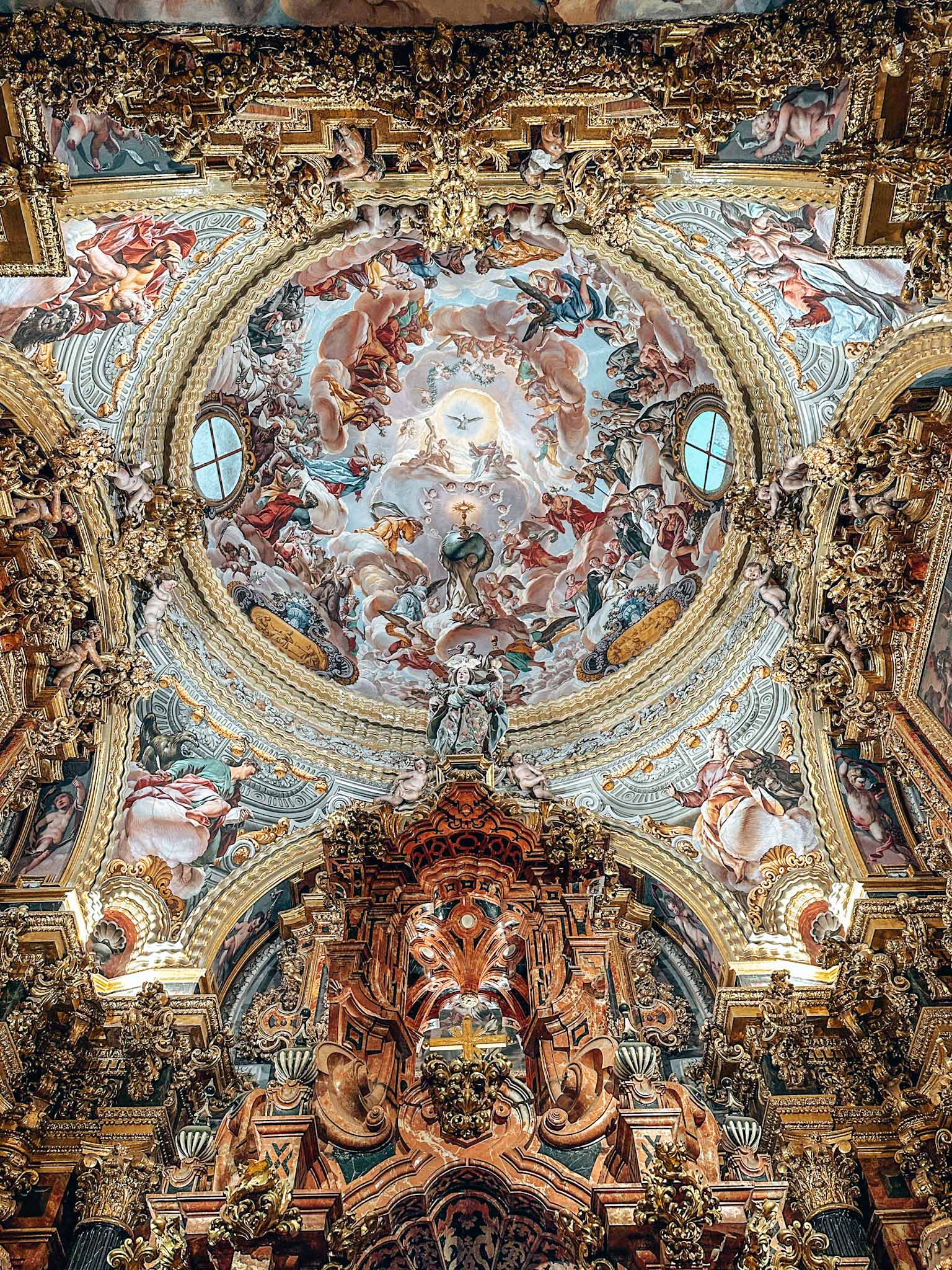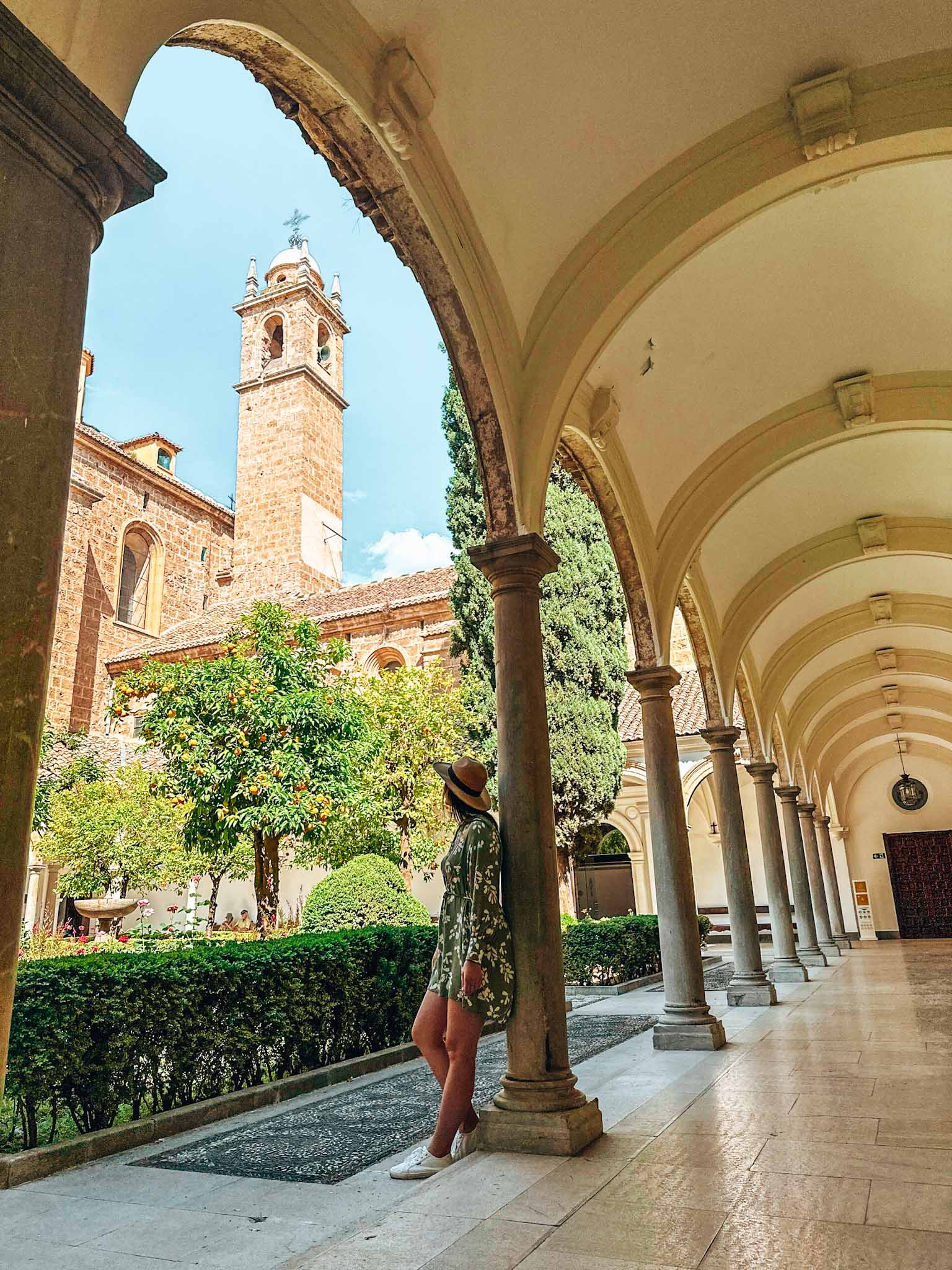 The hidden gem of this place is the sacristy. It is considered to be the most beautiful sacristy in the world and I can attest to that. It completely left me speechless as I entered the room.
The paintings inside the dome, the marble, the exquisite carvings, and the bedazzling art is something I will never forget. The Nasrid palaces in Alhambra have competition here!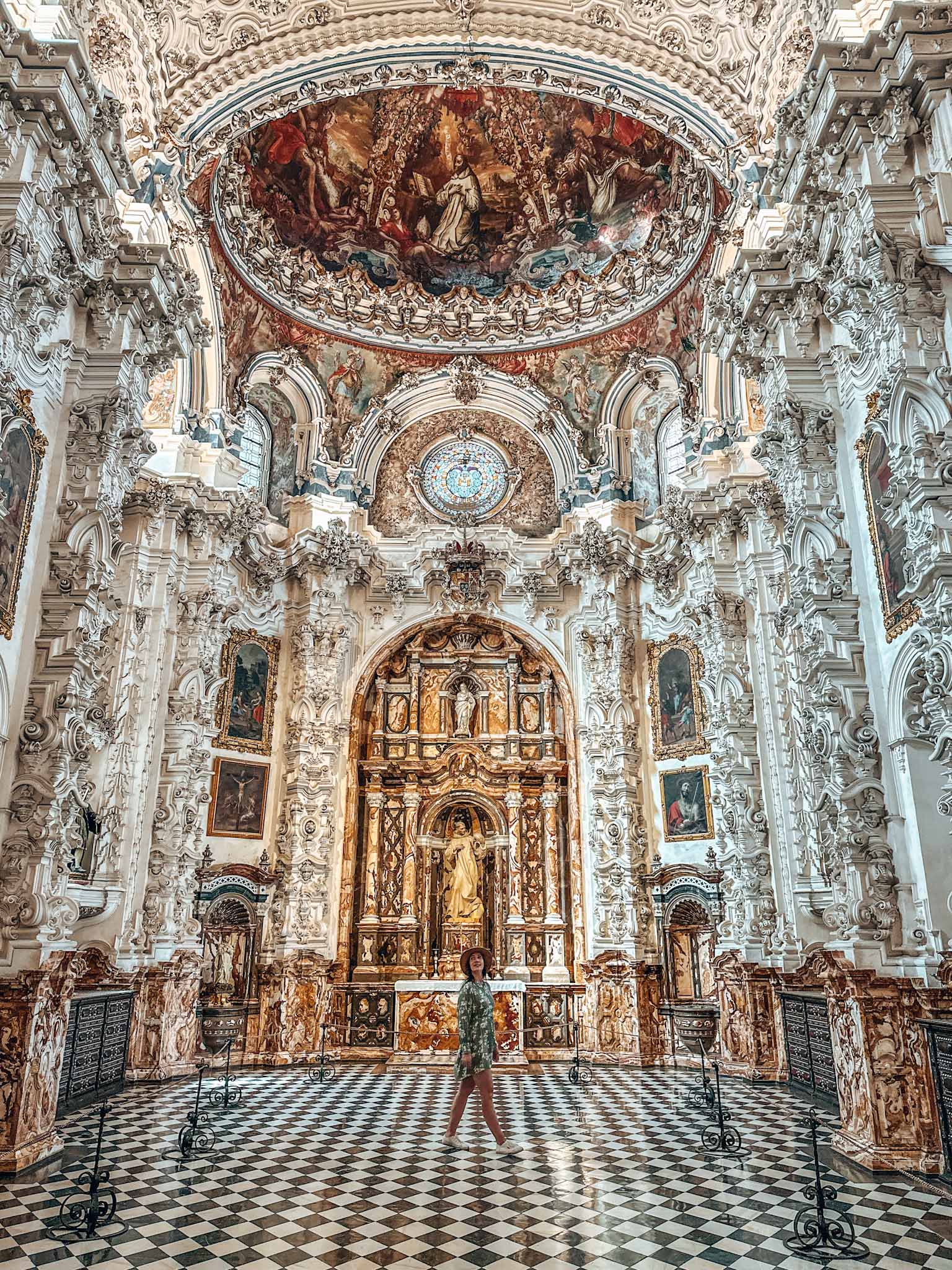 You will find a ton of hidden corners and truly beautiful gems in the monastery – including some of the most beautiful places in Granada!
Definitely, my favorites among them all were the church and the sacristy. The patio was great too for some fresh air and relaxation. I hope you get to visit this place!
Location: Monasterio de la Cartuja de Granada
3. El Bañuelo – the ancient Arab Baths or hammams!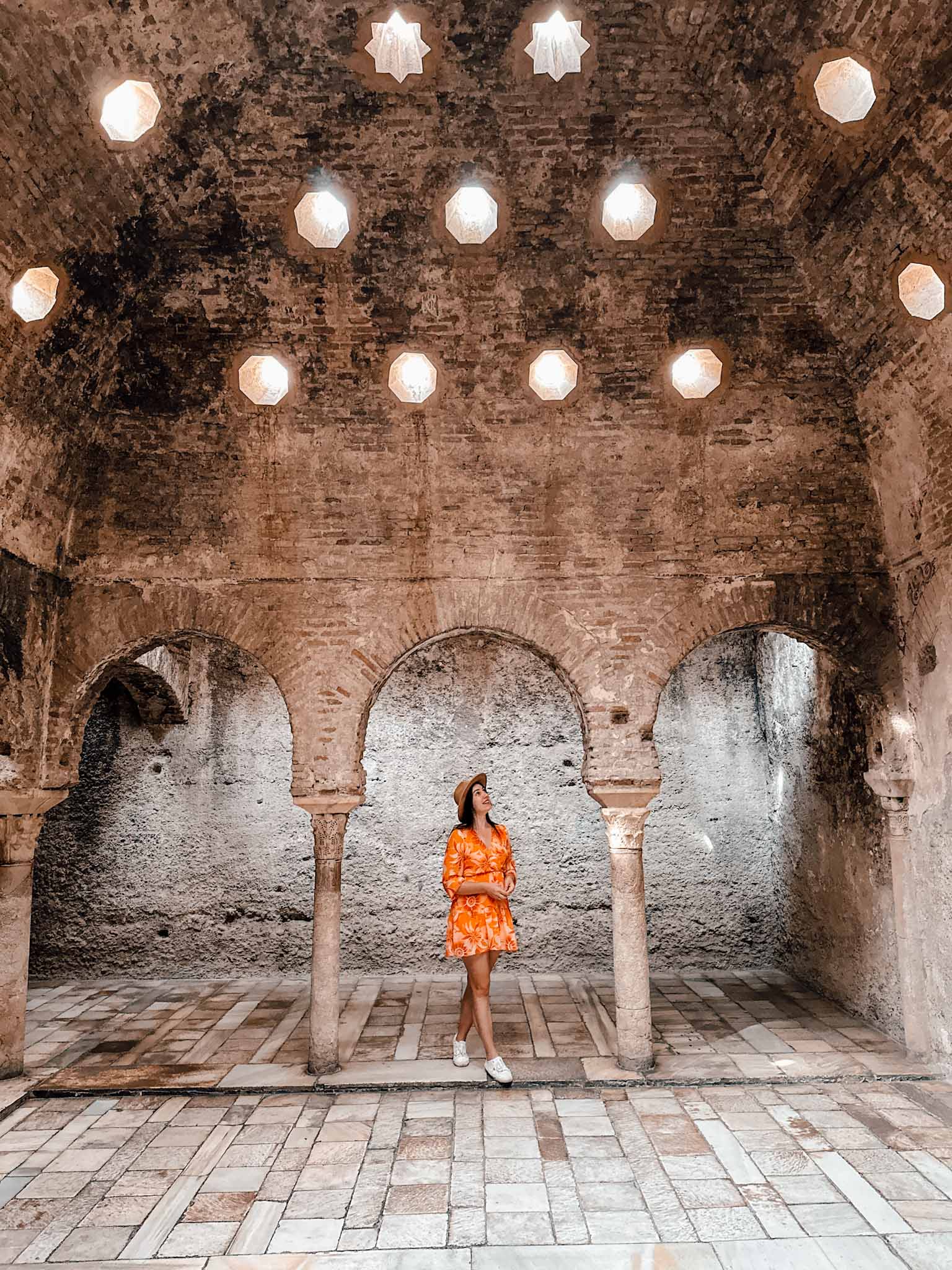 This incredible place with brick vaults, archways, and star-shaped and octagonal holes in the ceiling is El Bañuelo. These are the 11th-century public Arab baths called hammams that feature multiple rooms from cold to hot.
This place is one of the best-preserved hammams in Andalusia and in Spain. It is very interesting to see how people kept good hygiene a thousand years ago.
Bathing in public baths was a form of relaxation, a method of cleansing, and a form of therapy and socialization with others.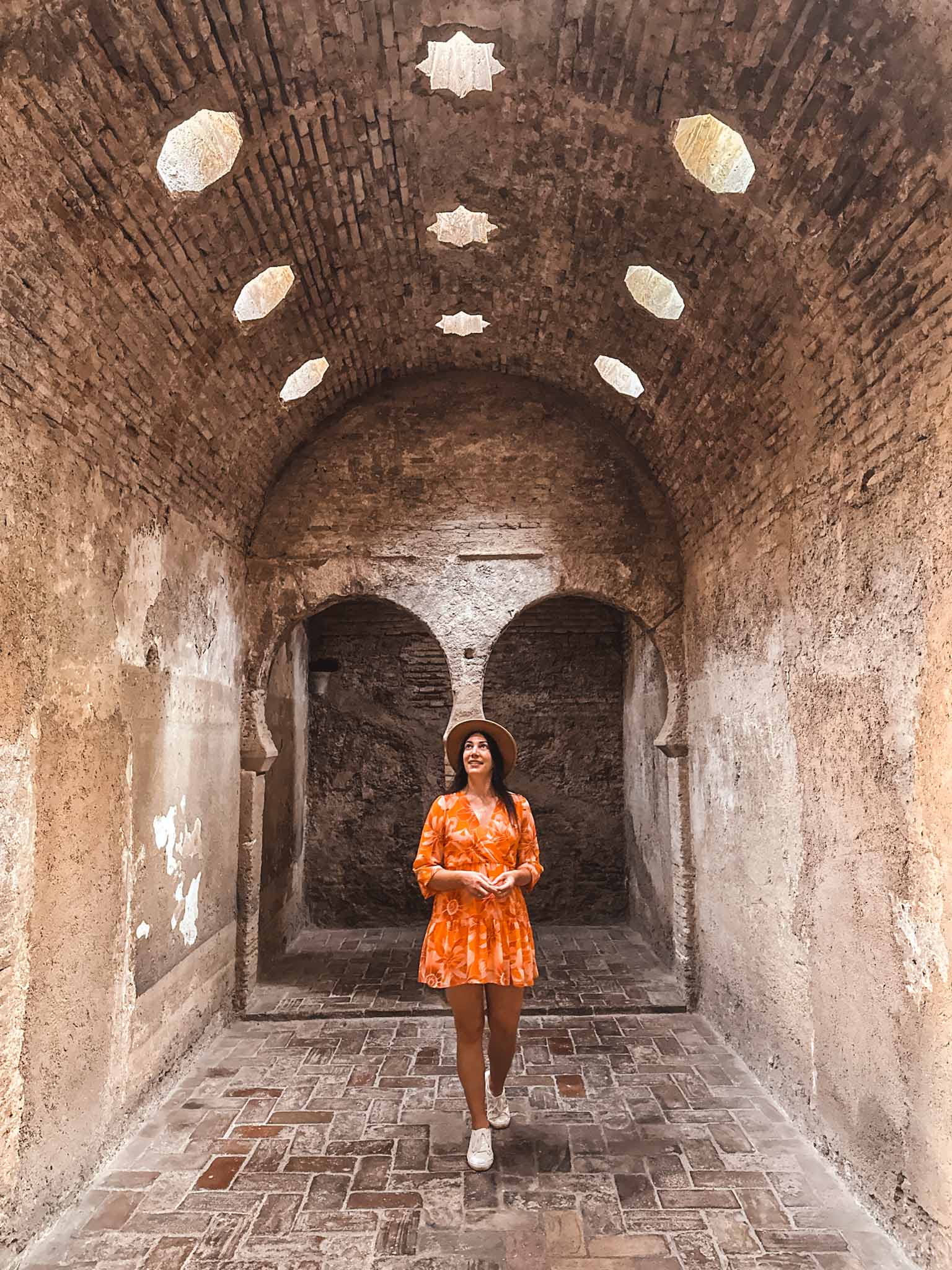 Although the place is quite small, it is a place you should definitely see and experience at least once! Usually, there were 3 rooms inside the public baths – the cold room, the warm room which was the biggest, and the hot room.
There were holes in the ceiling to let in the daylight and let the hot steam out of the baths. This was one of the coolest and most unique hidden gems in Granada!
To visit this site, there was a possibility to buy kind of a complex ticket that includes multiple Moorish monuments around the city. We bought these tickets and visited El Bañuelo Arab baths, Palacio Dar al-Horra palace – the residence of a Nasrid queen – and Casa Árabe de Horno del Oro arab house.
Location: El Bañuelo
4. The secret taste of Granada – pionono!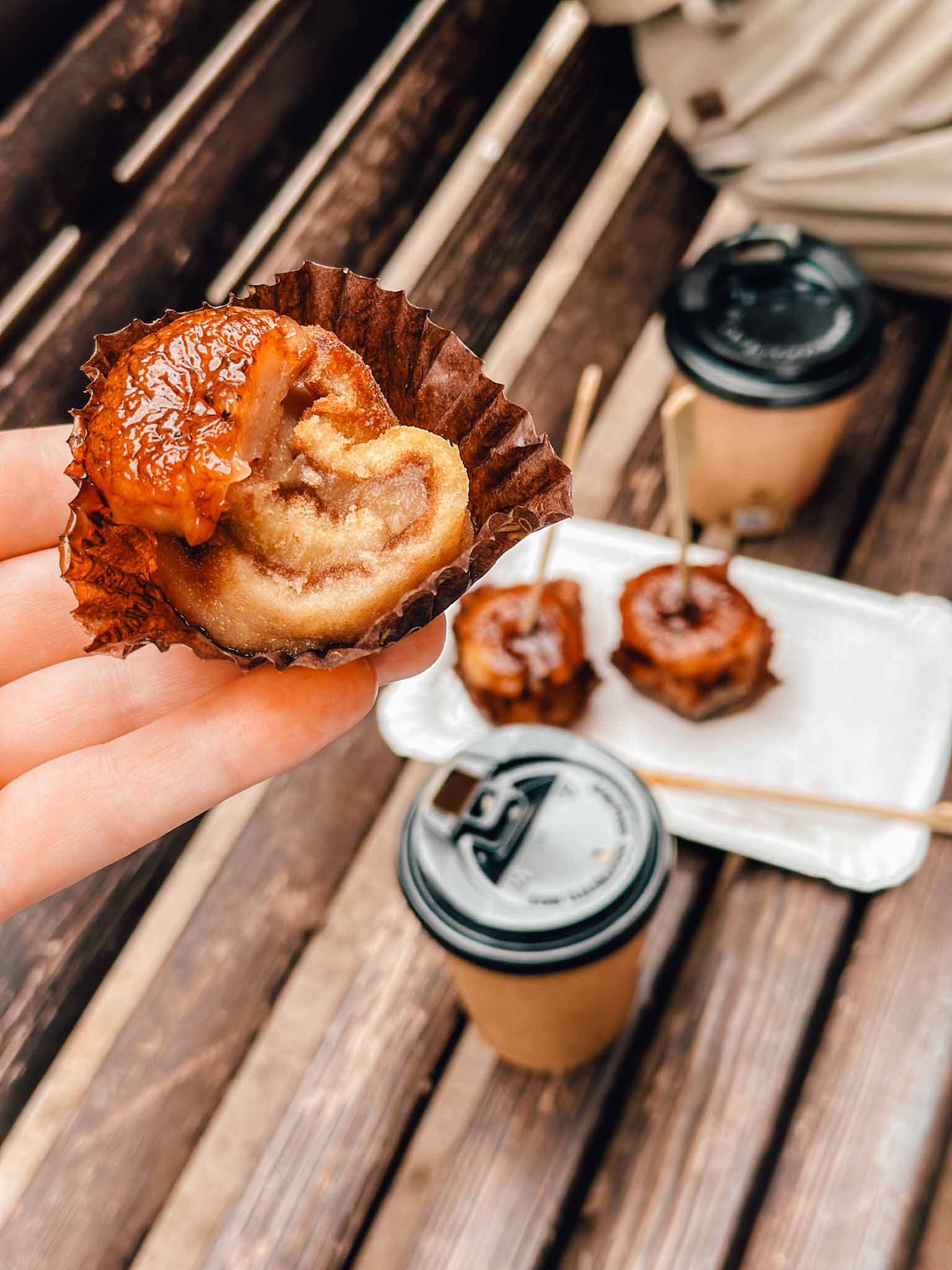 Did you know that Granada has its own sweet pastry called pionono? It is a small two-bite pastry made of a thin layer of rolled pastry that is soaked in syrup. And then topped with toasted cream. Trying this is definitely an interesting experience!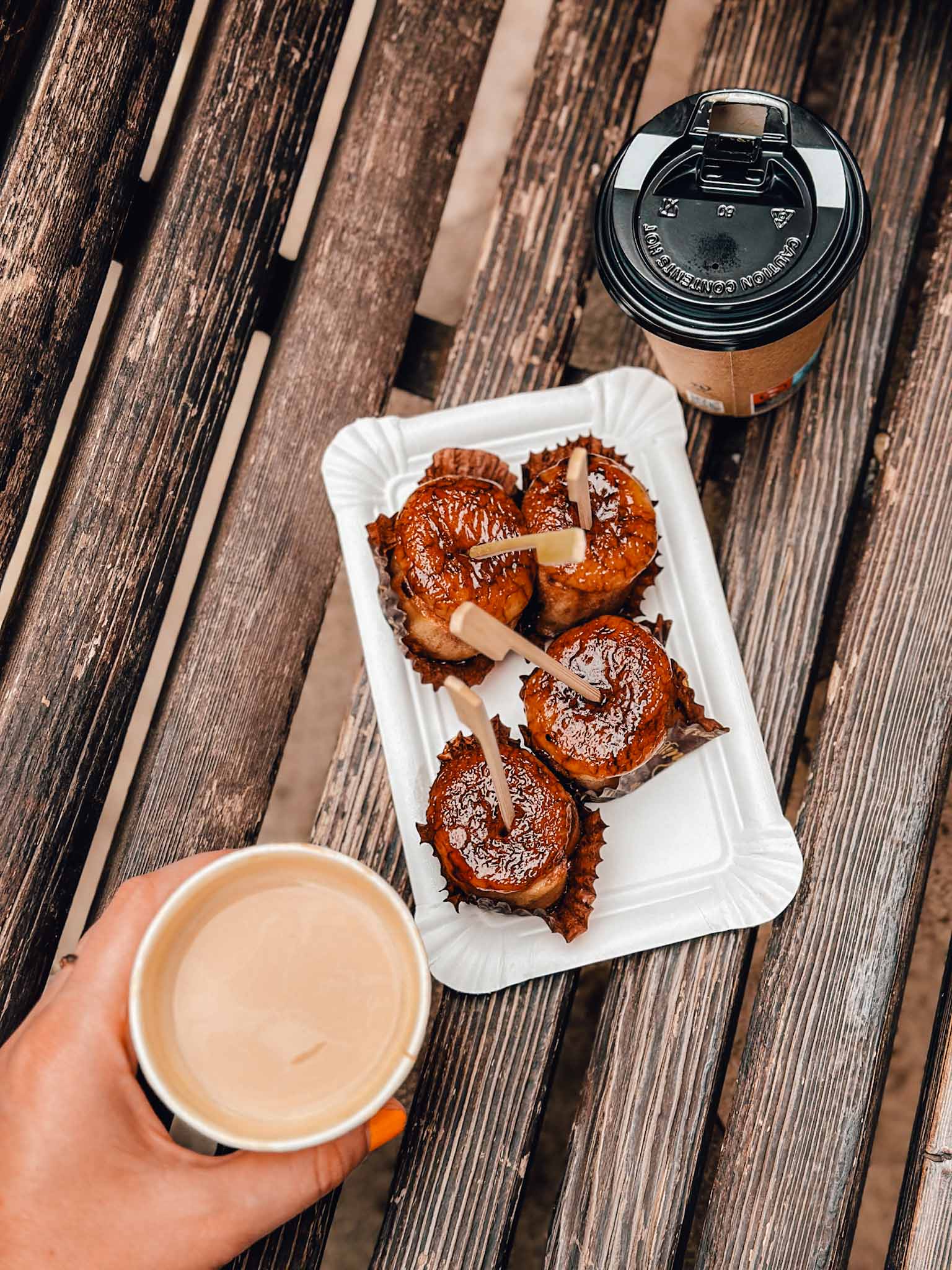 As you walk around Granada Old Town, you will see multiple pastry shops and bakeries with pionono pictures in the windows. They are a popular snack with morning coffee or during the day.
Just be careful during hot days – everything quickly melts and it is not easy to keep it all together intact, haha! You can get authentic piononos in practically every cake shop, bakery, or pastry shop.
We stopped at Casa Ysla 1897 Piononos near the cathedral and at Café Pastelería López-Mezquita. I can also recommend piononos at Croissantería La Blanca Paloma which is right on the way to Alhambra.
Location: Casa Ysla 1897 Piononos – Café Pastelería López-Mezquita
5. Be blinded by the gold at Basílica de San Juan de Dios!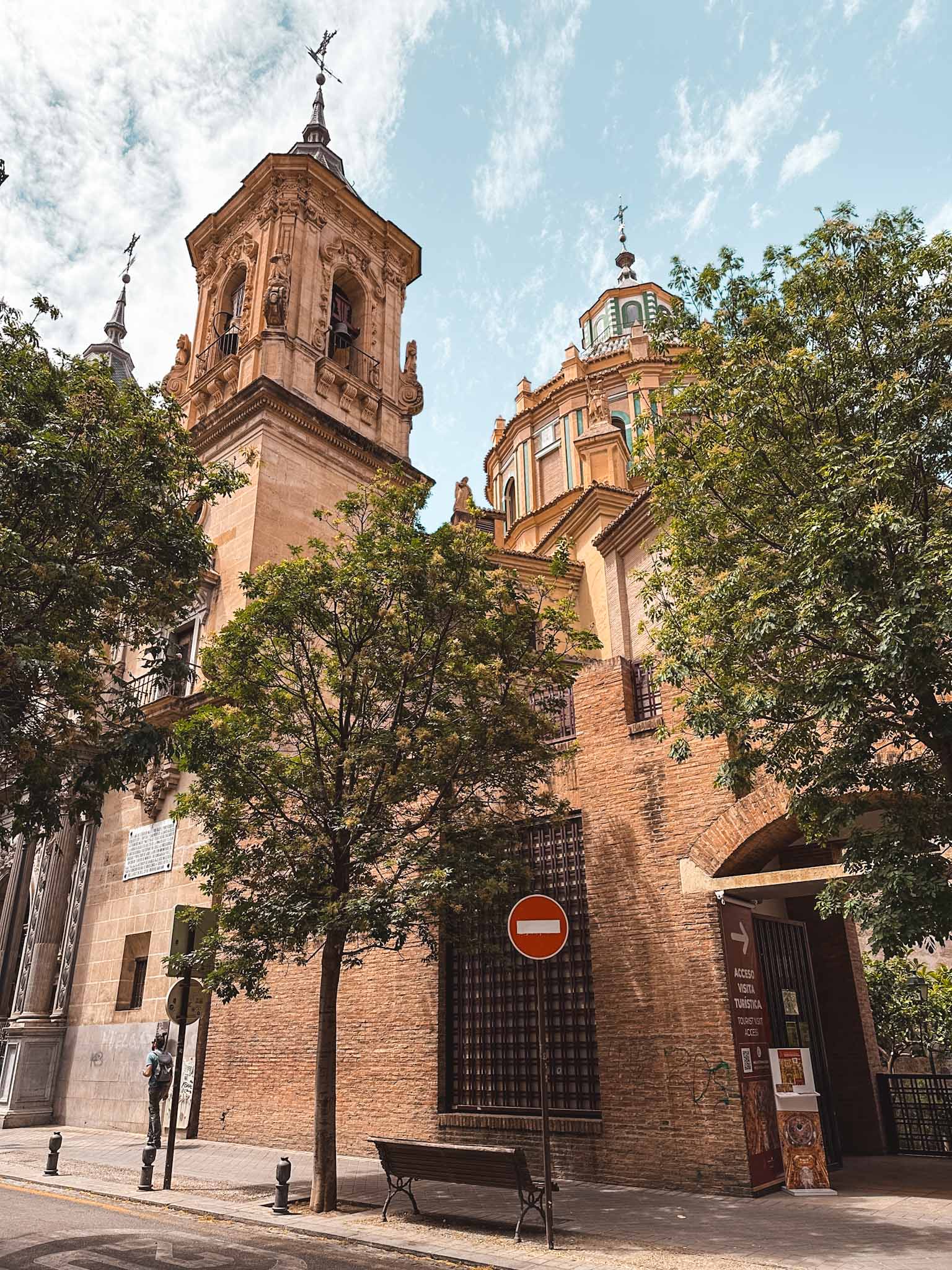 Basílica de San Juan de Dios was one of my favorite hidden gems in Granada. I am definitely not one of those people who always have to visit churches and cathedrals wherever I go, however, sometimes it is worth it and this is one of those times.
This 18th-century Baroque basilica is simply breathtaking. It is as if they tried to compete with the famous Nasrid palaces in Alhambra when they built this place.
Embellished with ornate frescoes, golden altars, and a soaring dome, I was almost blinded by this bedazzling beauty. It was a spectacular place to visit for sure!
There is an entrance fee to see this extraordinary building, but it is so worth it! The best thing is that you can not only visit the big hall of the church but also walk to the secret chambers behind the altar and inside the rooms and halls that are normally reserved for church personnel only.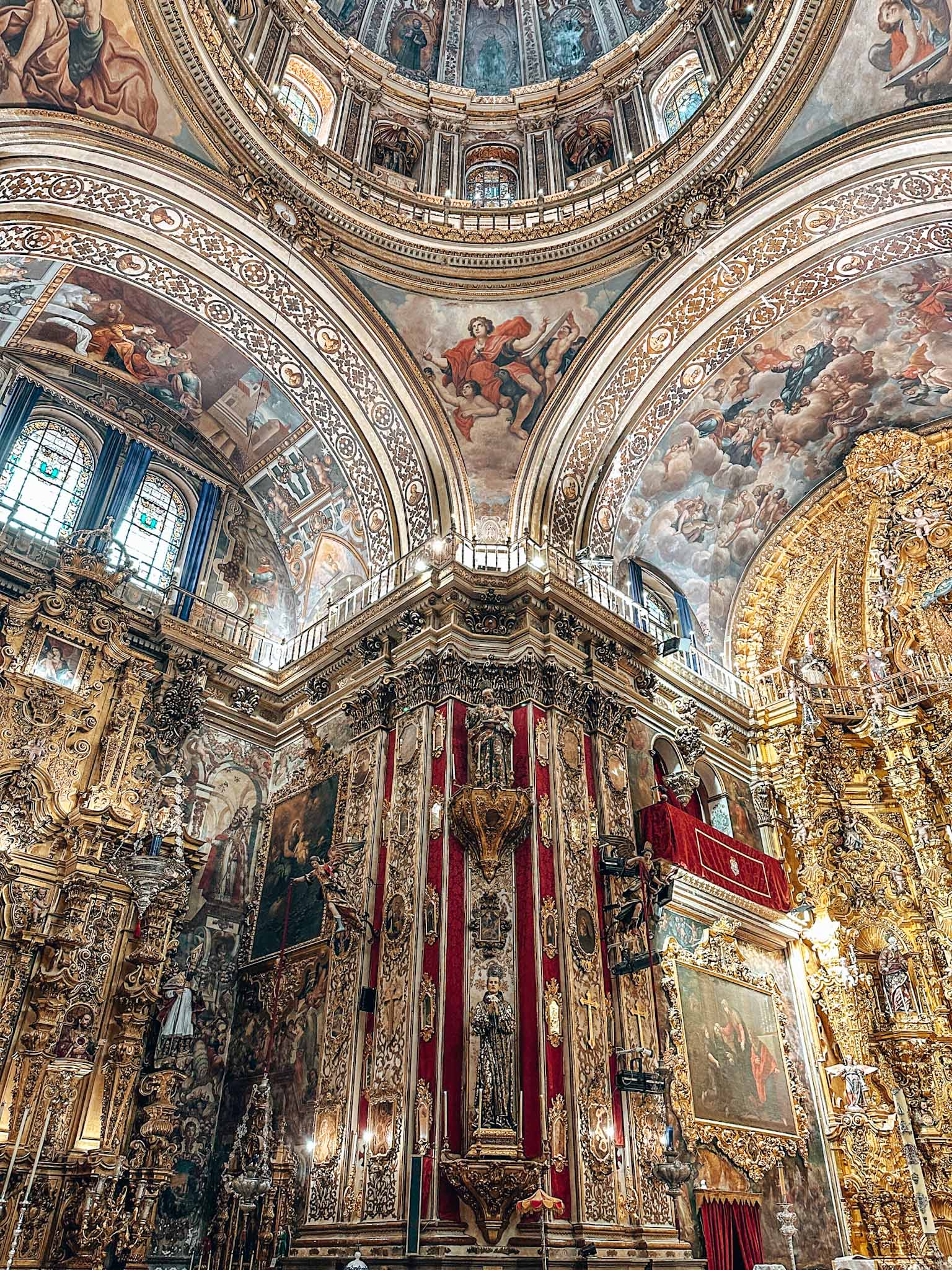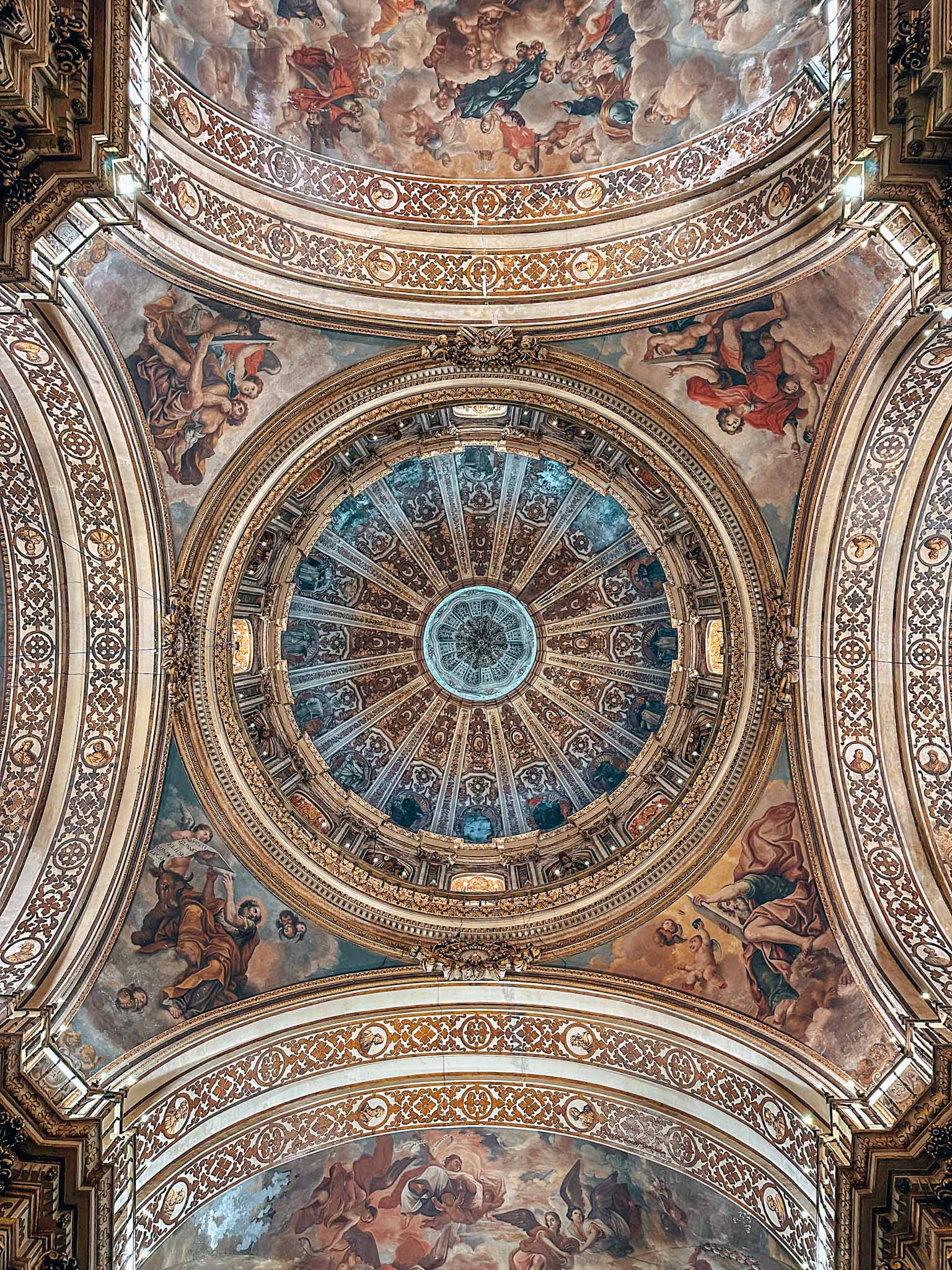 Every room, staircase, and chamber is filled with jaw-dropping Baroque decorations, sculptures, furniture, and art. I thought this would be a relatively quick visit, but this unbelievable beauty left me speechless and unable to take my eyes off the spectacularity of it all.
The visit includes visits to the main hall, behind the main altarpiece, the sacristy, dressing rooms, and side chapels. My favorite spot was up on the upper balcony where you can see everything from above. Definitely stop here to explore some bedazzling hidden gems!
Location: Basílica de San Juan de Dios
6. Get lost in the buzz of La Alcaicería market!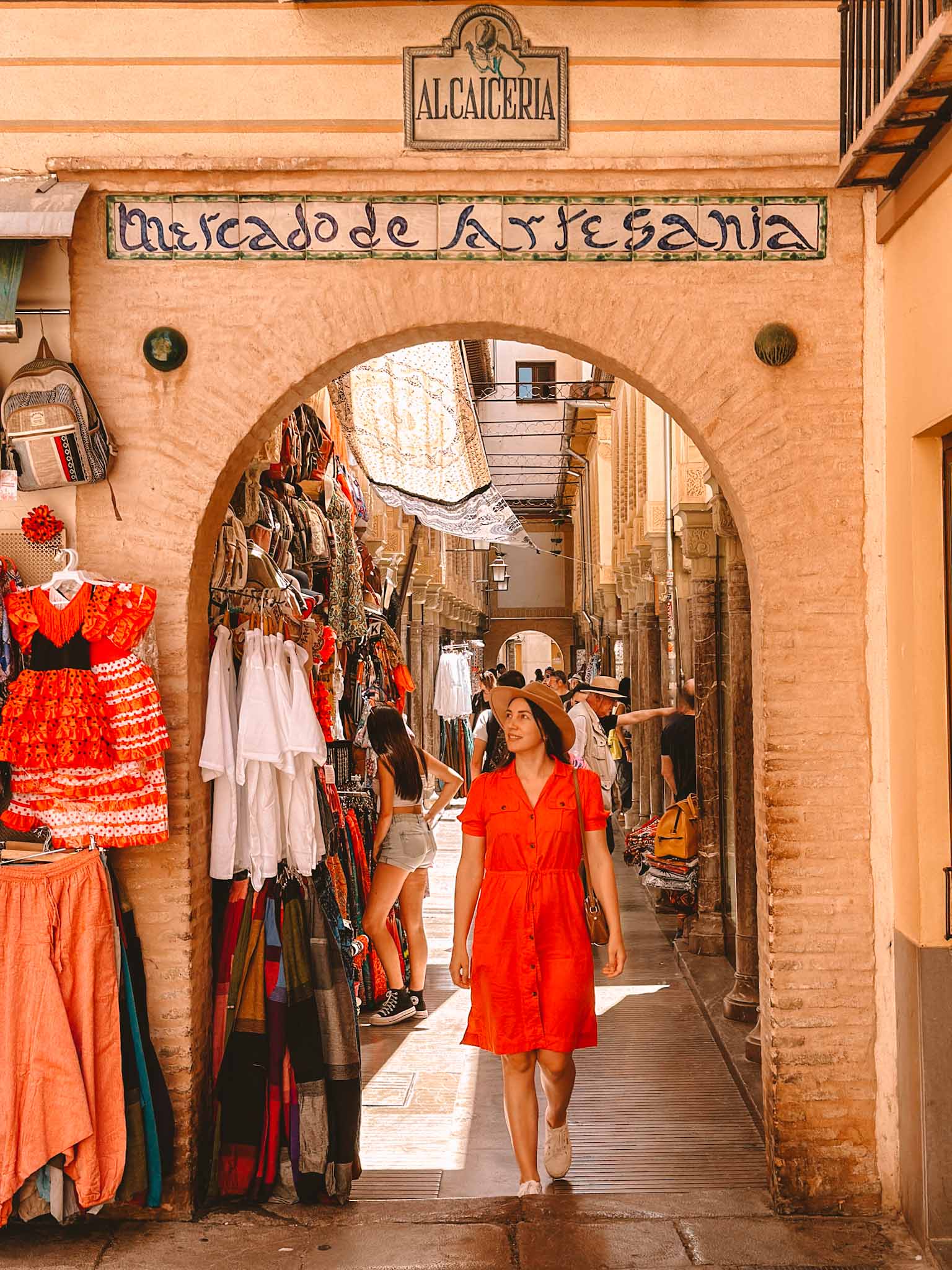 If you are looking for some cool authentic spots then I suggest going to the La Alcaicería market which is actually the place of the old silk market in Granada. This particular market reminds me so much of the 'souks' in Marrakech, Morocco.
The marketplace is not big, so you can easily wander around and see everything in a matter of minutes. There are two charming entrances to the market (exact locations below). Both have these Moorish-style arches – one is a brick arch, another has these beautiful carvings.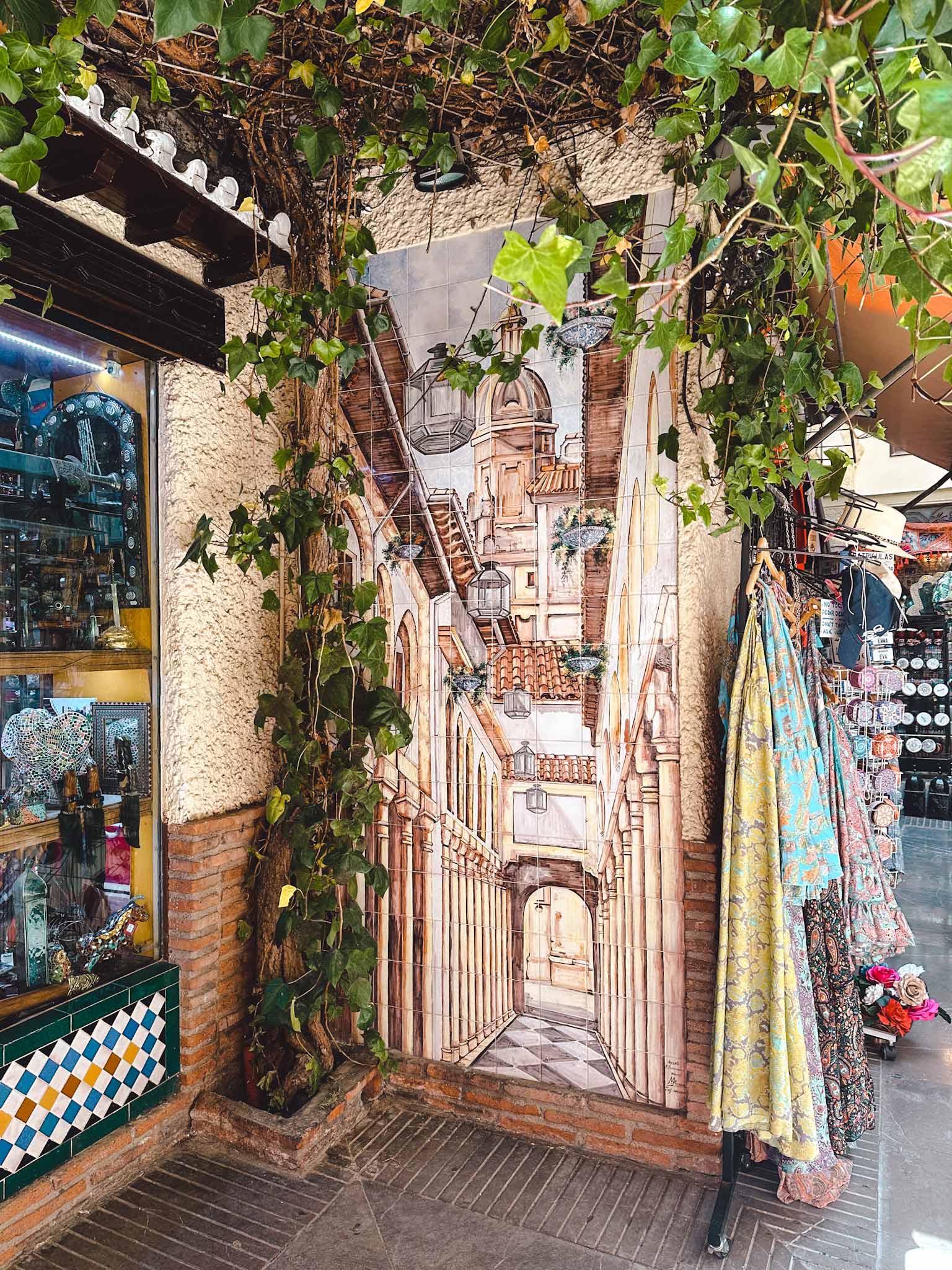 The La Alcaicería market is located right next to the Granada Cathedral, so it is easy to find it. There are narrow streets full of goods and shops.
Parts of the market area are covered. Looks really cool and maybe you can even find some souvenirs there! It is definitely hidden and it is definitely a gem in Granada!
Location: La Alcaicería market (entrance) – Second entrance
7. Explore the secrets of Monasterio de San Jerónimo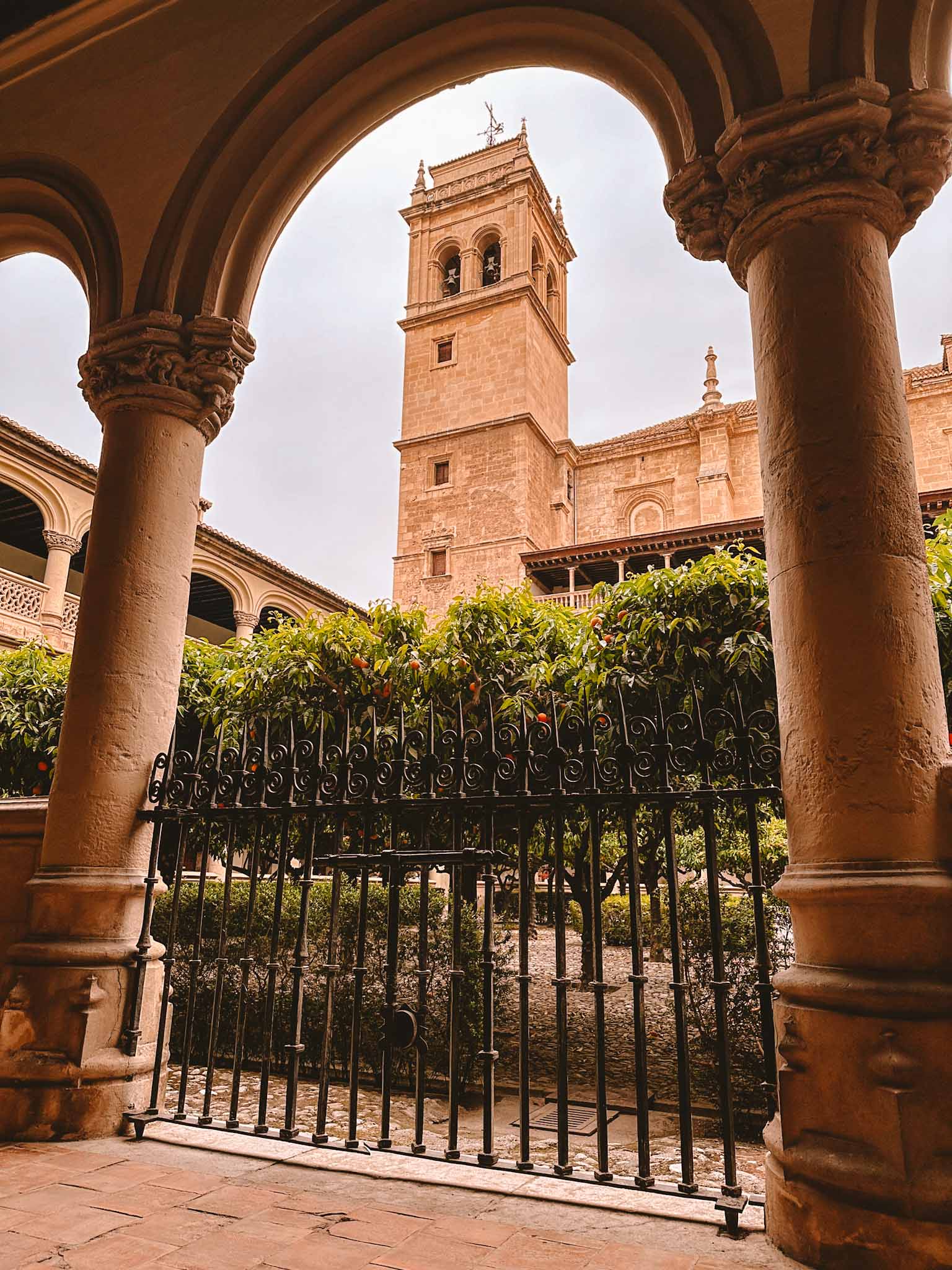 Monasterio de San Jerónimo is a 16th-century monastery located in the heart of the Old Town of Granada. From the outside you won't see anything special, however, the inside hides a lavishly decorated Renaissance-style interior. It is definitely worth a visit!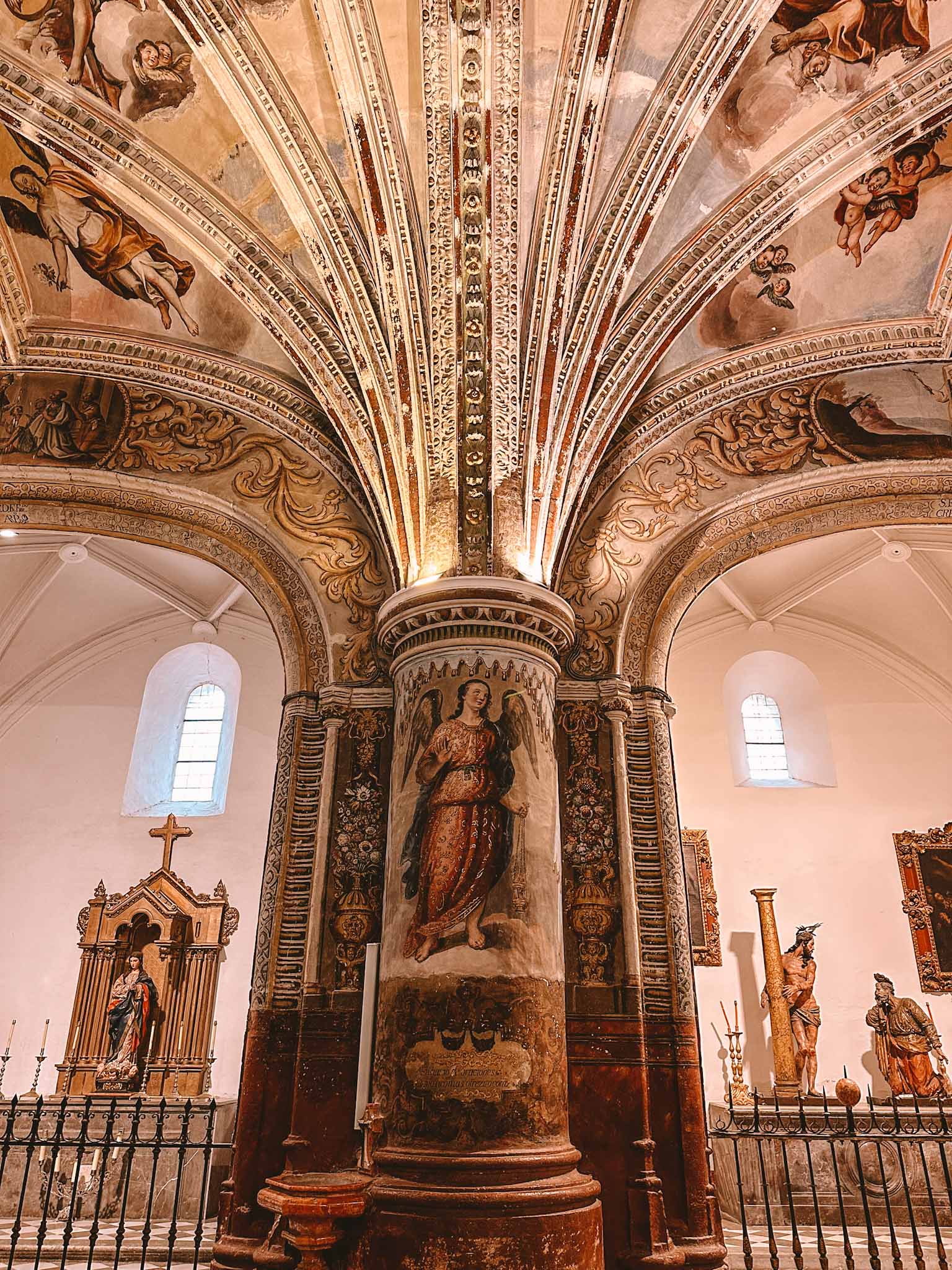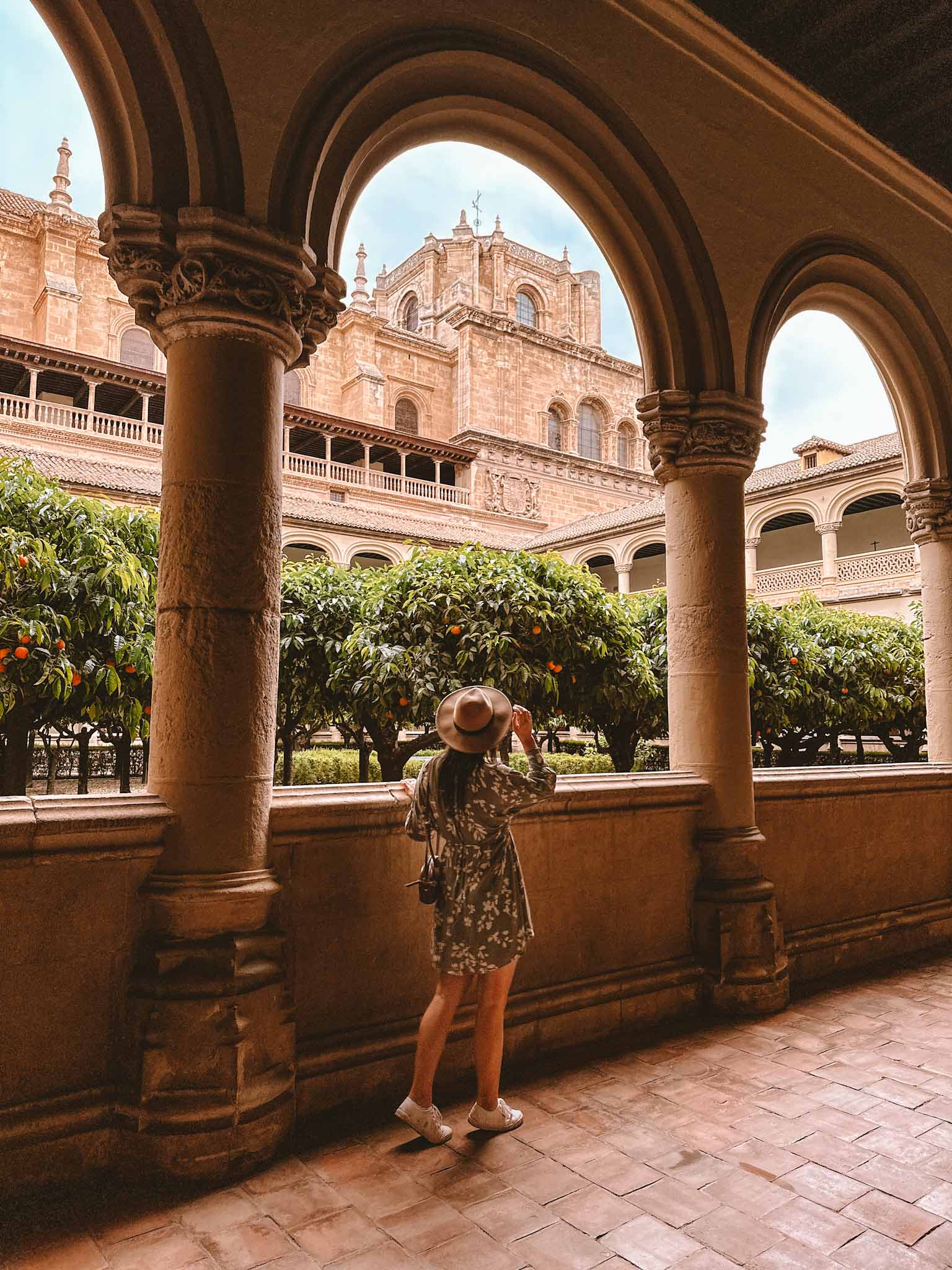 There are two places that stood out to me (my favorite spots). The first is the inner courtyard which is created in a traditional way they built properties here centuries ago.
The courtyard is lined with beautiful archways and columns and full of orange trees in the middle. It was a peaceful and relaxing place to be especially considering the fact that we were in the heart of Granada Old Town!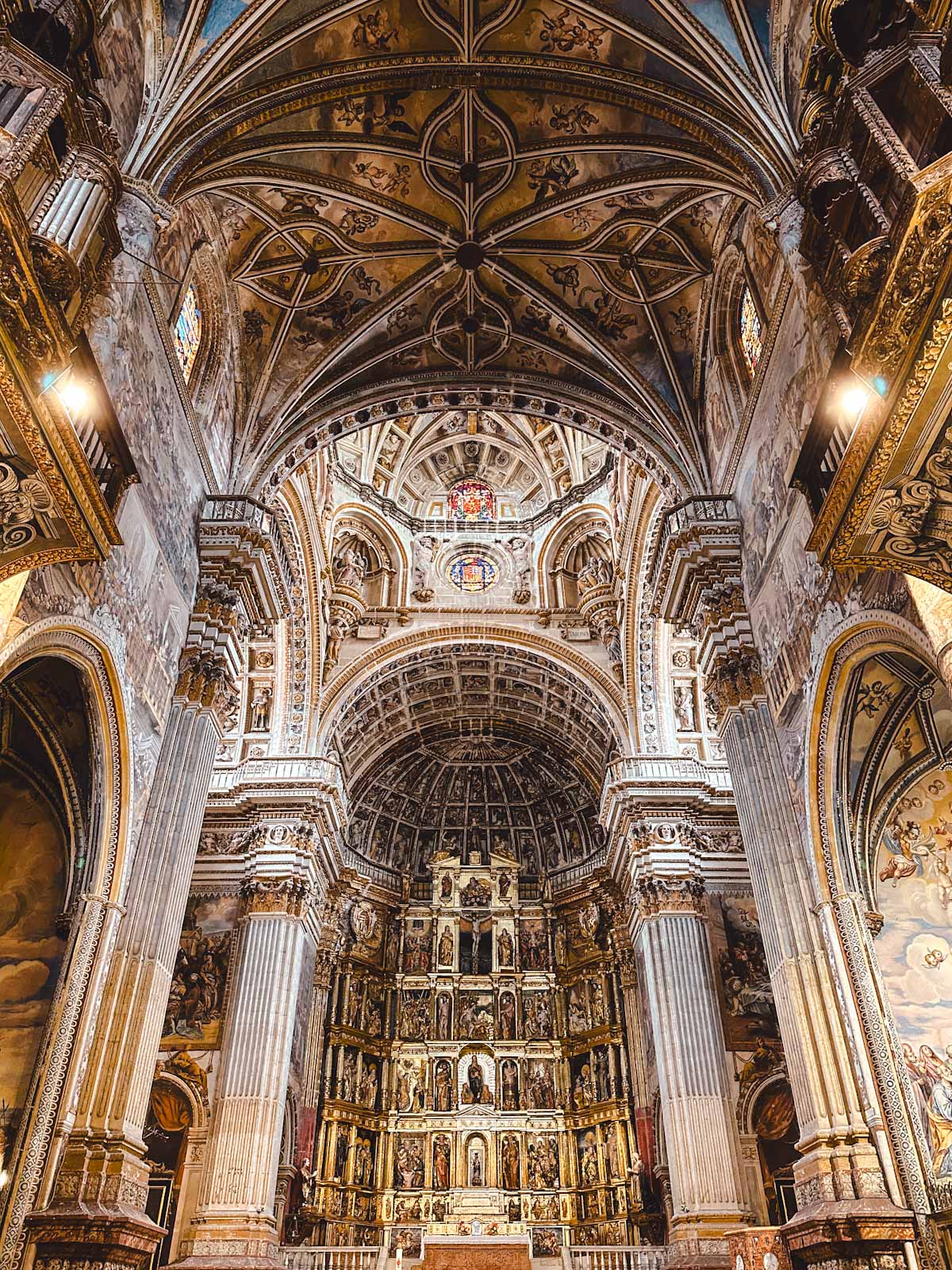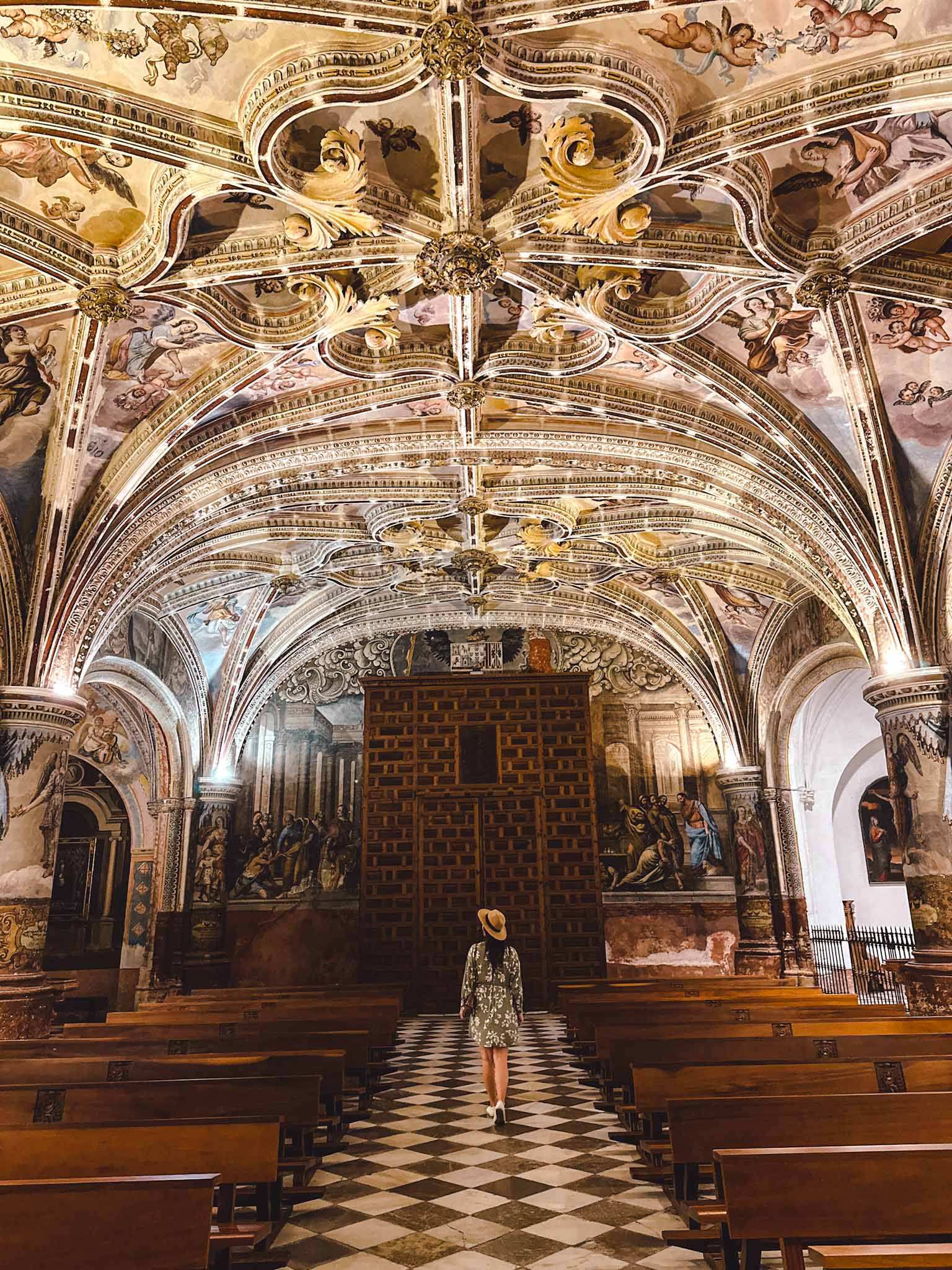 The other one of my favorite spots here was the church. You can enter the church by one of the doors connected to the courtyard – you will easily find it as you walk around the perimeter.
It has stunning sculptures, a bedazzling altarpiece, and fantastic frescoes on the ceilings. Looks simply stunning and I could only admire the beauty of this place! One of my favorite hidden gems in Granada for sure!
Location: Monasterio de San Jerónimo
8. Granada's unique gardens – Carmen de la Victoria and Carmen de los Mártires!
Carmen is a word you will stumble upon frequently when searching for something on Google Maps in Granada. No, Carmen in this case is not a woman. The name actually comes from the Arabic karm which means vines.
Carmen in Granada is a rural property – a house surrounded by expansive gardens with decorative trees as well as fruit trees, pathways, fountains, ponds, and other water features. The garden is a mix of decorative (for relaxation) and practical (for food like fruit trees).
Carmen de la Victoria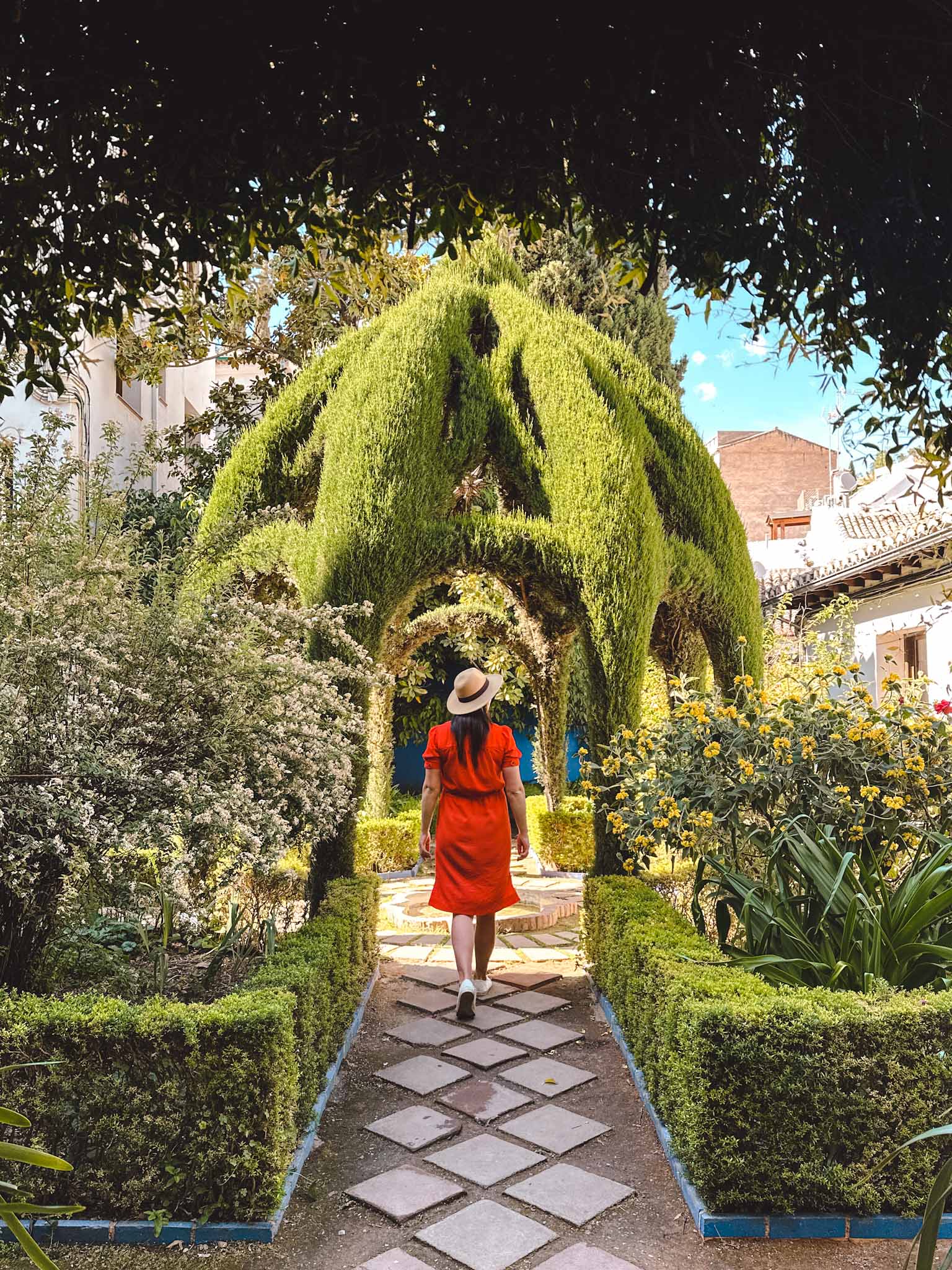 One of my favorite hidden gems in Granada is Carmen de la Victoria garden. It is located inside the premises of the University of Granada right next to student residences. It is a gated territory, however, you are allowed to access the gardens for free.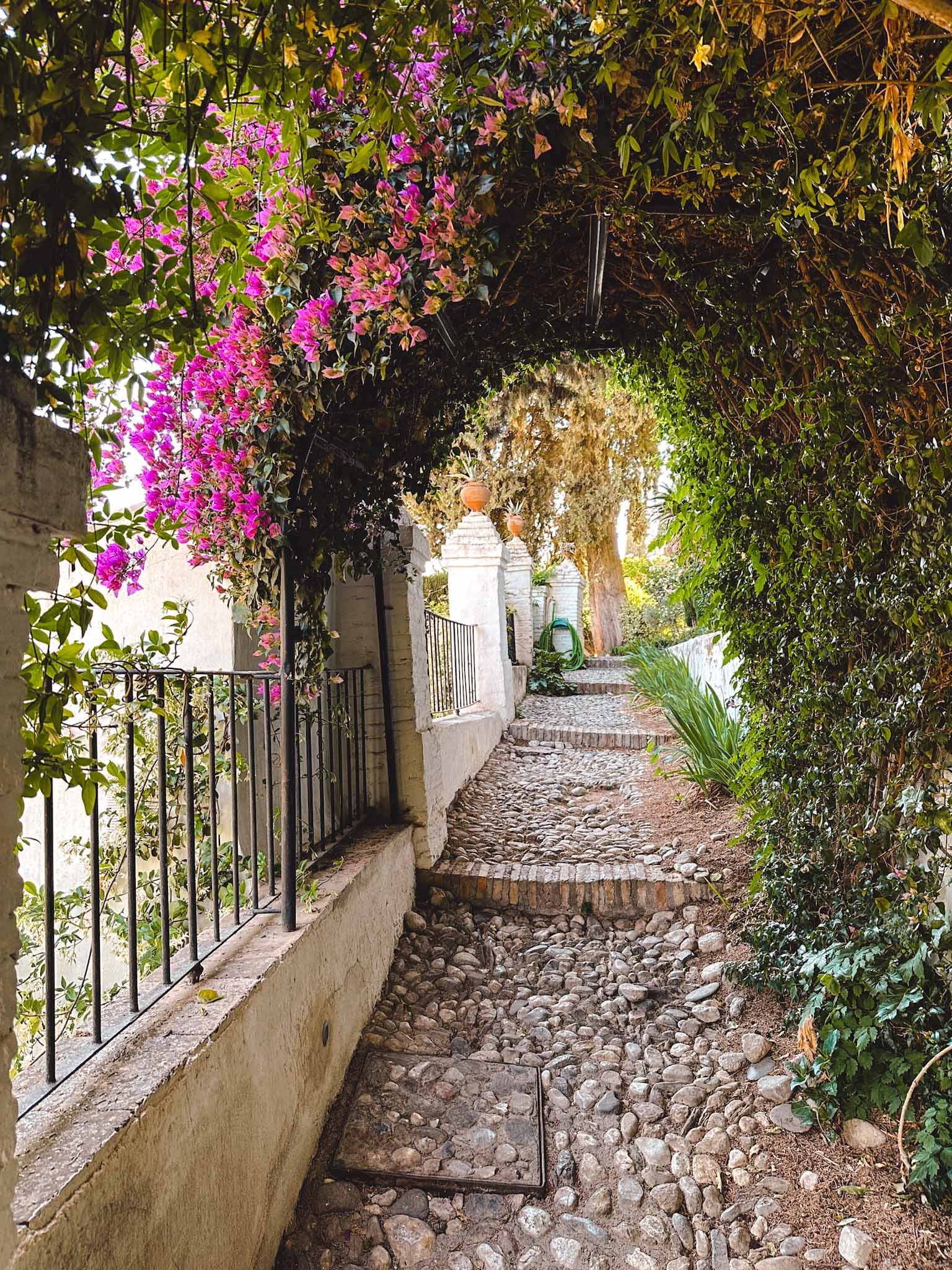 There is a guard next to the entrance gate who let us in when we were sneaking around and trying to understand how to get inside. I saw that others just rang the bell and then the guard let them in. Either way, the garden is available for public access at certain hours.
The garden is very well maintained. There are very scenic views over the city and the Alhambra, there are fountains, pathways, hanging flower bushes, and trees cut into different shapes. Definitely one of the most unique places you will see in Granada!
Carmen de los Mártires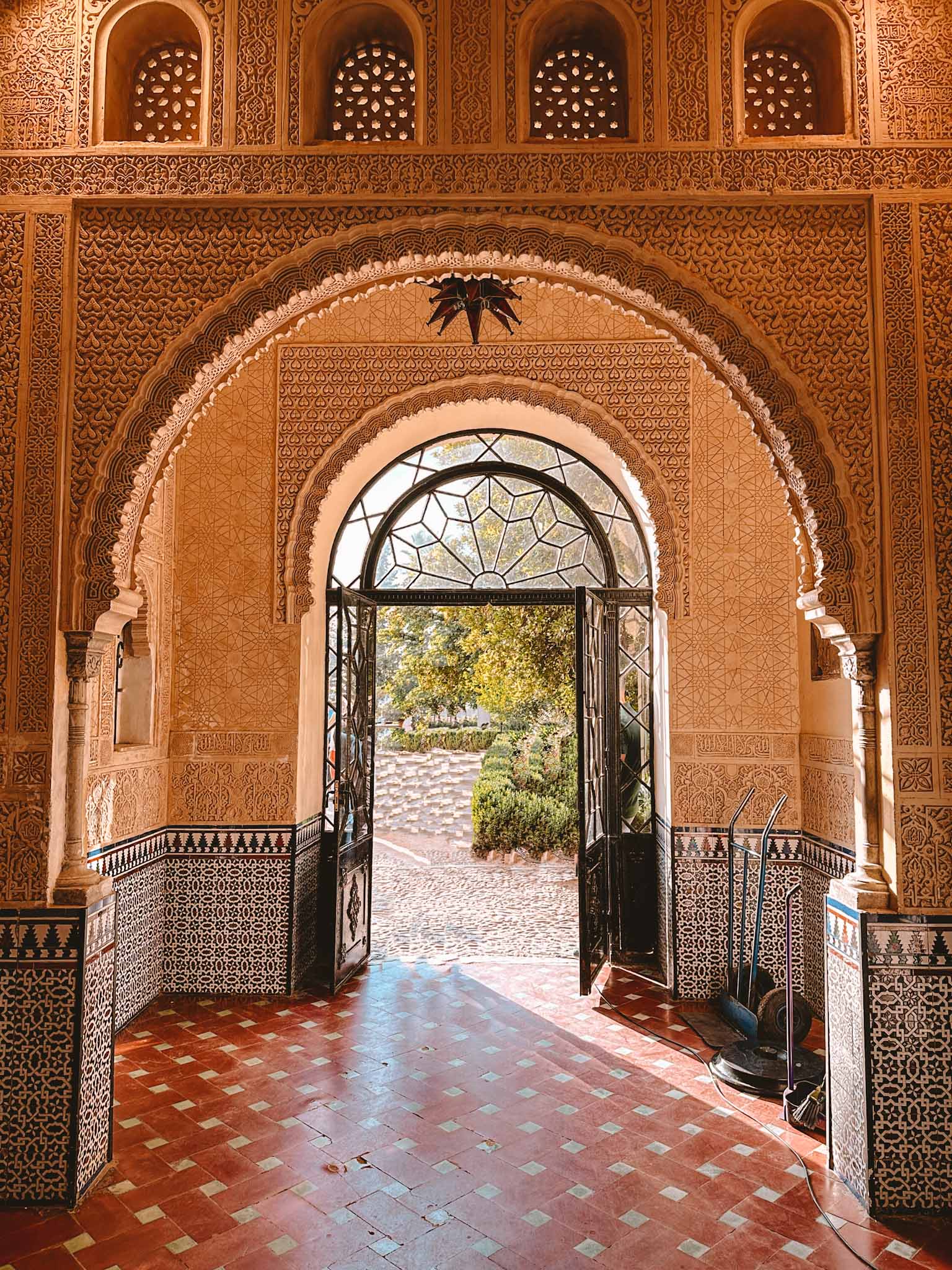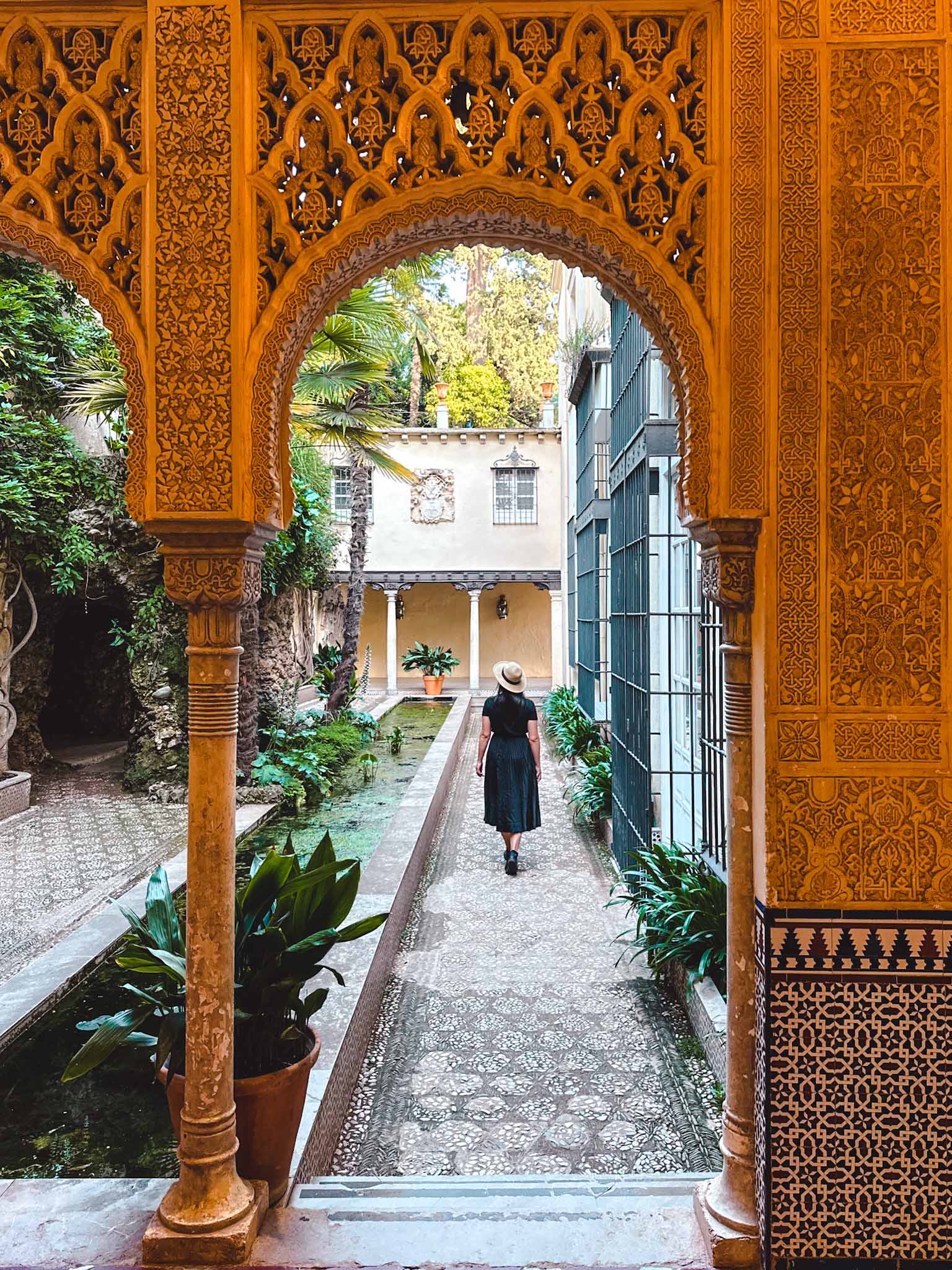 We explored two carmens in Granada – Carmen de la Victoria and also Carmen de los Mártires garden. It is always amazing to see how creative people are and how they try to adapt to the circumstances. The gardens are also great for some shade during hot days in Granada.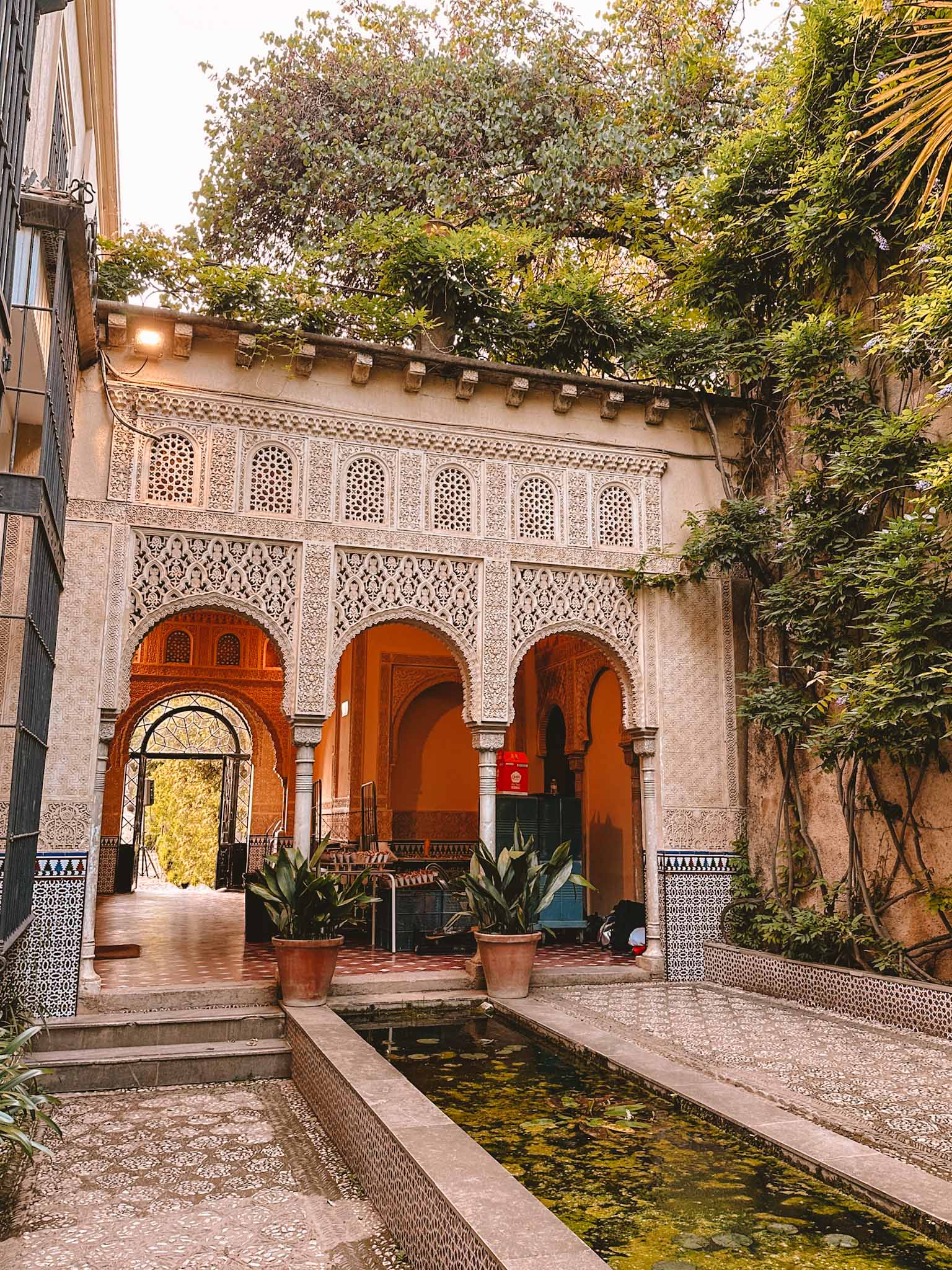 The Carmen de los Mártires garden is located on a hilltop and offers amazing views over the city. The area has working hours, but the entrance is free. It is pretty massive with a whole forest included in the complex. There are ponds, sculptures, and even an aqueduct.
We went there on a day when there was a private event happening in the garden, however, the area is free to visit even during the event, so we mixed around with people dressed in fancy clothes. If you are looking for a shaded place with some nice views to relax or take photos, then this is the spot to come!
Location: Carmen de la Victoria – Carmen de los Mártires
9. Discover the secret viewpoints of Granada!
Granada is a city at the foot of the famous Sierra Nevada mountains where you can see the highest peak in the Iberian Peninsula and in mainland Spain. And, quite often, walking around Granada means hiking uphill or downhill. I hope you are ready for that!
But they also say that the best view comes after the hardest climb! Granada is definitely famous for its viewpoints ('mirador') – especially the ones where you can see the Alhambra fortress sitting atop a hill. And, of course, the ones where you can watch the sun go down.
Here are some amazing viewpoints in Granada:
Mirador de San Nicolás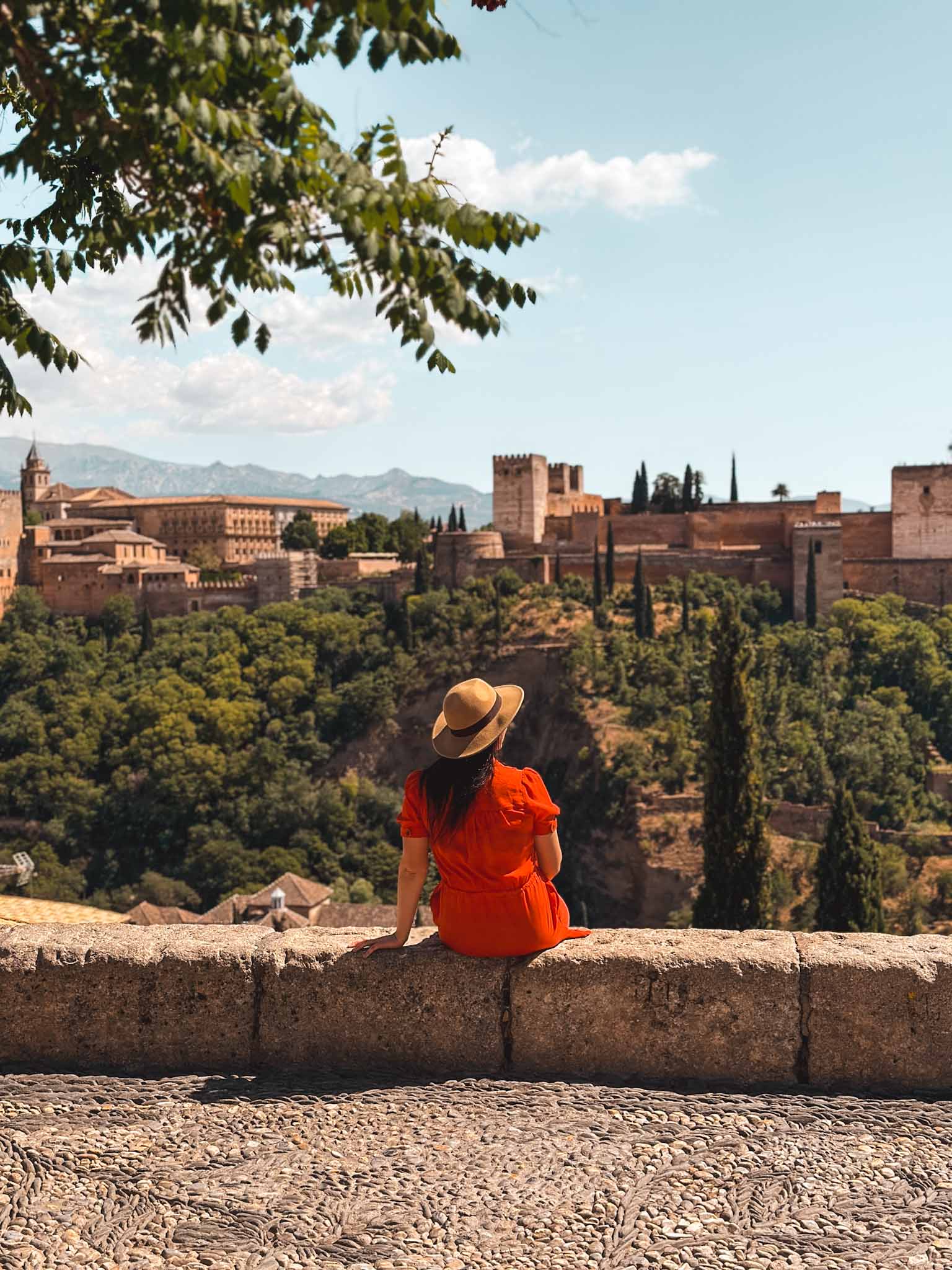 Probably the most famous viewpoint in Granada is the Mirador de San Nicolás viewpoint. It is a picturesque square on an elevated hillside where you can get the famous view of the Alhambra and amazing sunset views.
It is very popular and can get very crowded! However, it is totally worth a visit and should be included in your Granada travel itinerary!
Mirador Sacromonte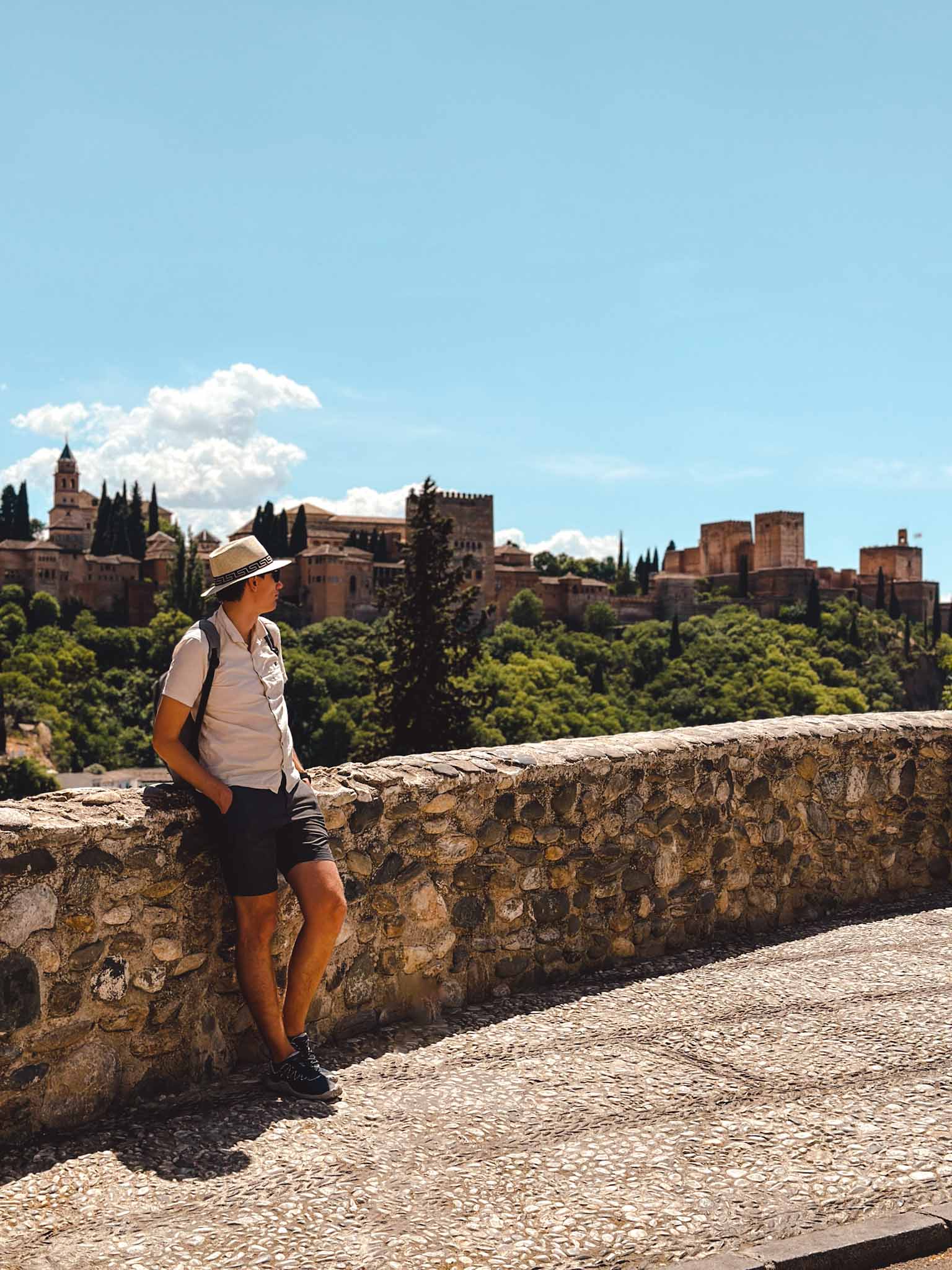 We got this amazing view at Mirador Sacromonte viewpoint while hiking up to the cave museum in the hilly neighborhood of Sacromonte. The walk up to the cave museum is challenging, but it can be very rewarding.
If you decide to visit the Sacromonte Caves Museum, then definitely pay attention to the map and don't miss this viewpoint! We got some of the best views of Alhambra right here along the way to the museum. Quite impressive!
El Mirador de Tato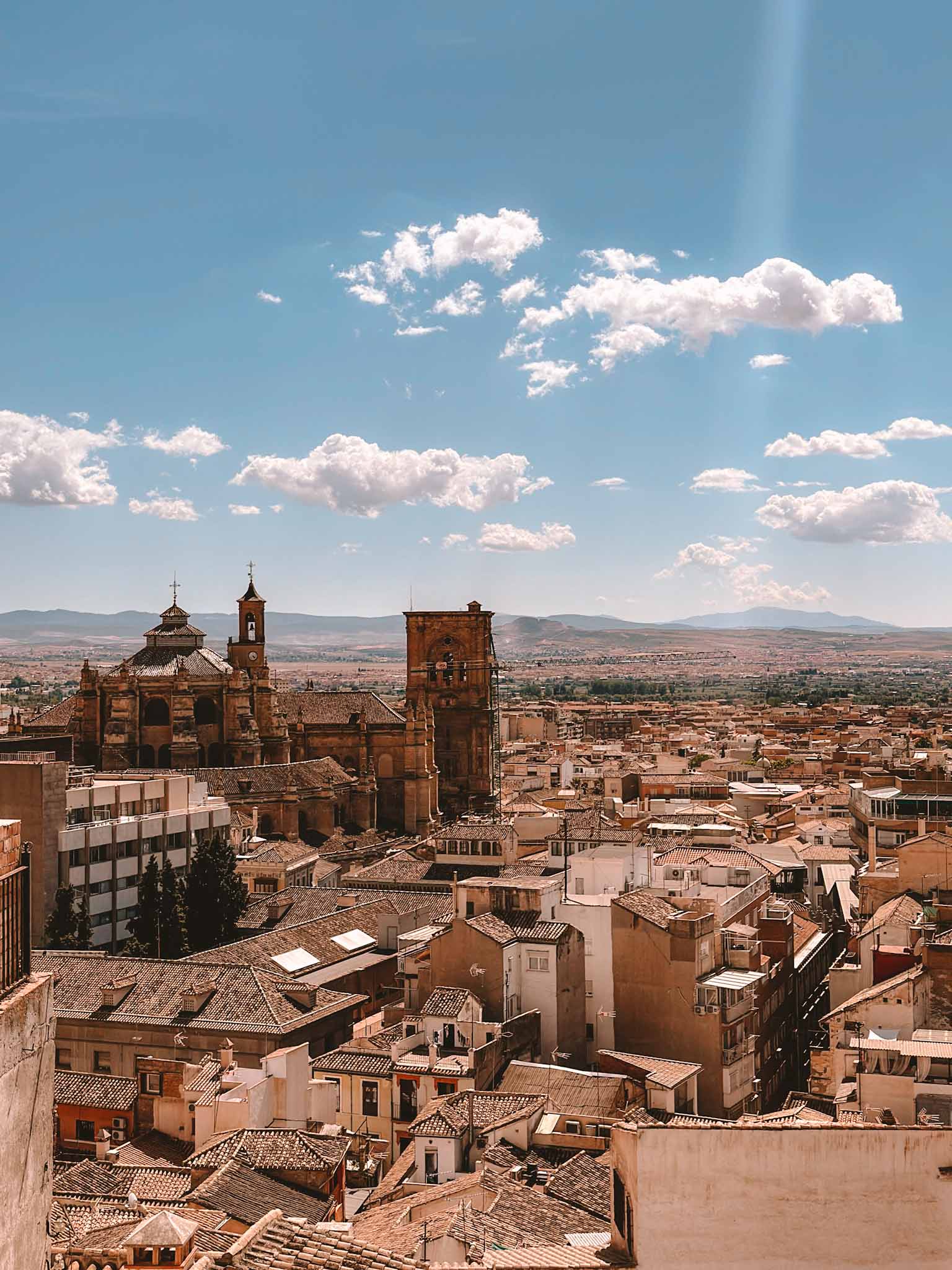 There is a beautiful viewpoint of Granada located on Plaza Maria Santisima de la Aurora square with a really nice restaurant right next to it where you can enjoy some quality dishes on the terrace and observe the views.
We did not have time to enjoy food, but we spent some time enjoying the scenery. it is a super relaxing place and a bit less crowded than other viewpoints. But you can't really see the Alhambra from here.
View from Saint Helen's Castle or The Moor's Chair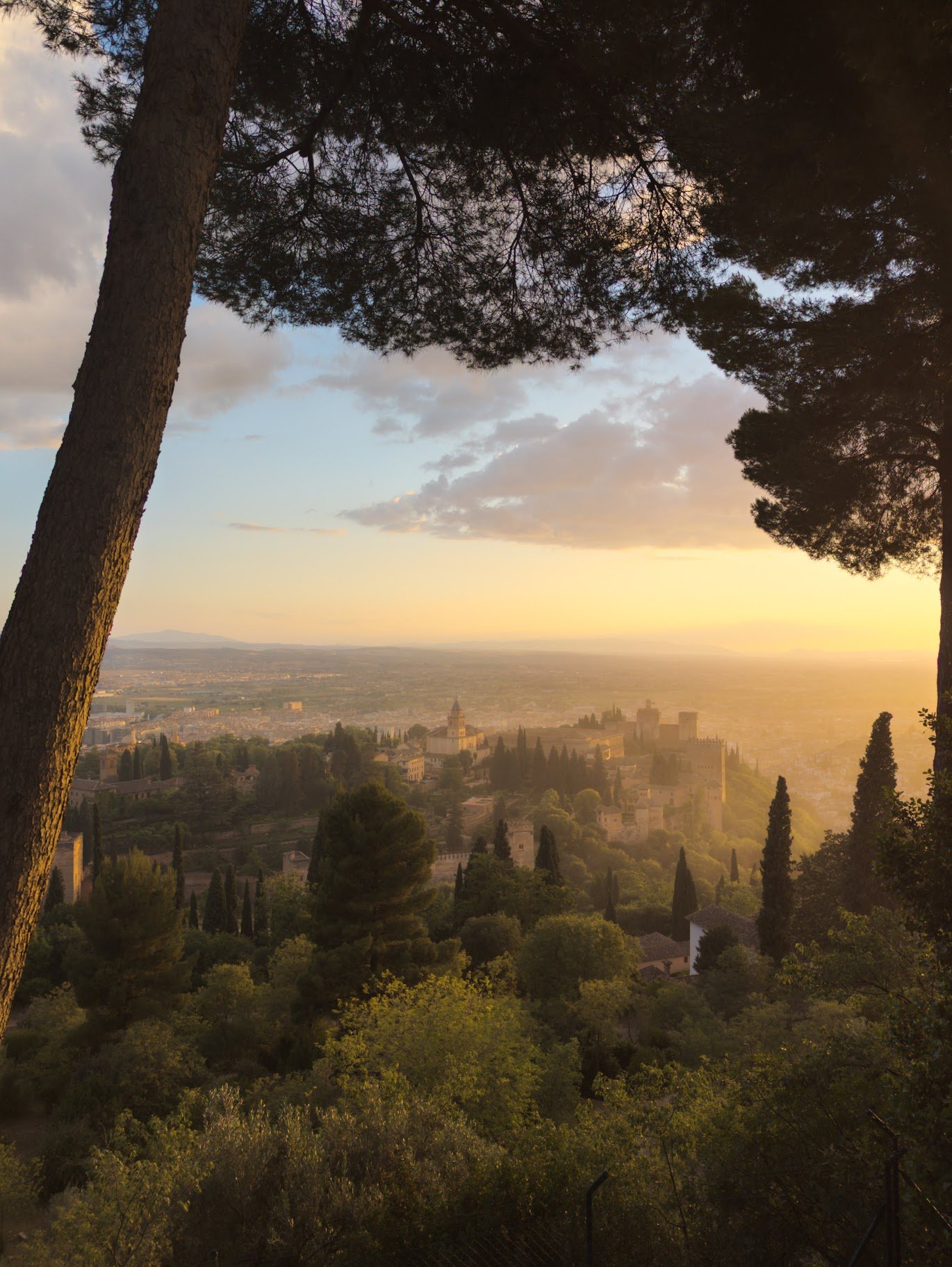 If you are into hiking or just wandering around, then maybe you have time to wander up to Saint Helen's Castle (The Moor's Chair). There are hillside ruins of a 13th-century castle – a place that is known for its scenic views of the iconic Alhambra. And during sunset hours it was just mesmerizing!
Location: Mirador de San Nicolás – Mirador Sacromonte – El Mirador de Tato – Saint Helen's Castle
Other amazing viewpoints in Granada:
More Andalusia travel inspiration!
Happy exploring!
Granada offers some of the most beautiful architectural marvels this world has to offer – starting with some jaw-dropping examples in secret churches and monasteries and ending with the Nasrid palaces in the world-famous Alhambra fortress.
I hope you enjoy your time in this charming city as much as we did! And I hope you will get some inspiration from this blog post to make your trip even more adventurous, fun, and exciting! Granada was truly captivating in all its glory and we will never forget the stunning sites we explored in this city!
PIN FOR LATER!