7+ best rooftops and cool places to see Malaga from above!
Malaga is a prominent city to visit in the famous Costa del Sol area in Spain. People have lived in Malaga for almost 3000 years so it is full of history, art, and unique places. Here are some of the best places to see Malaga from above and some of the best rooftops in Malaga you should visit during your trip!
In this blog post, you will find all the places with descriptions, photos, and locations where they can be found on Google Maps. I hope you enjoy Malaga as much as we did! Happy exploring!
Read more >>> Malaga Bucket List: 11 best things to do in Malaga, Spain
1. Alcazaba de Malaga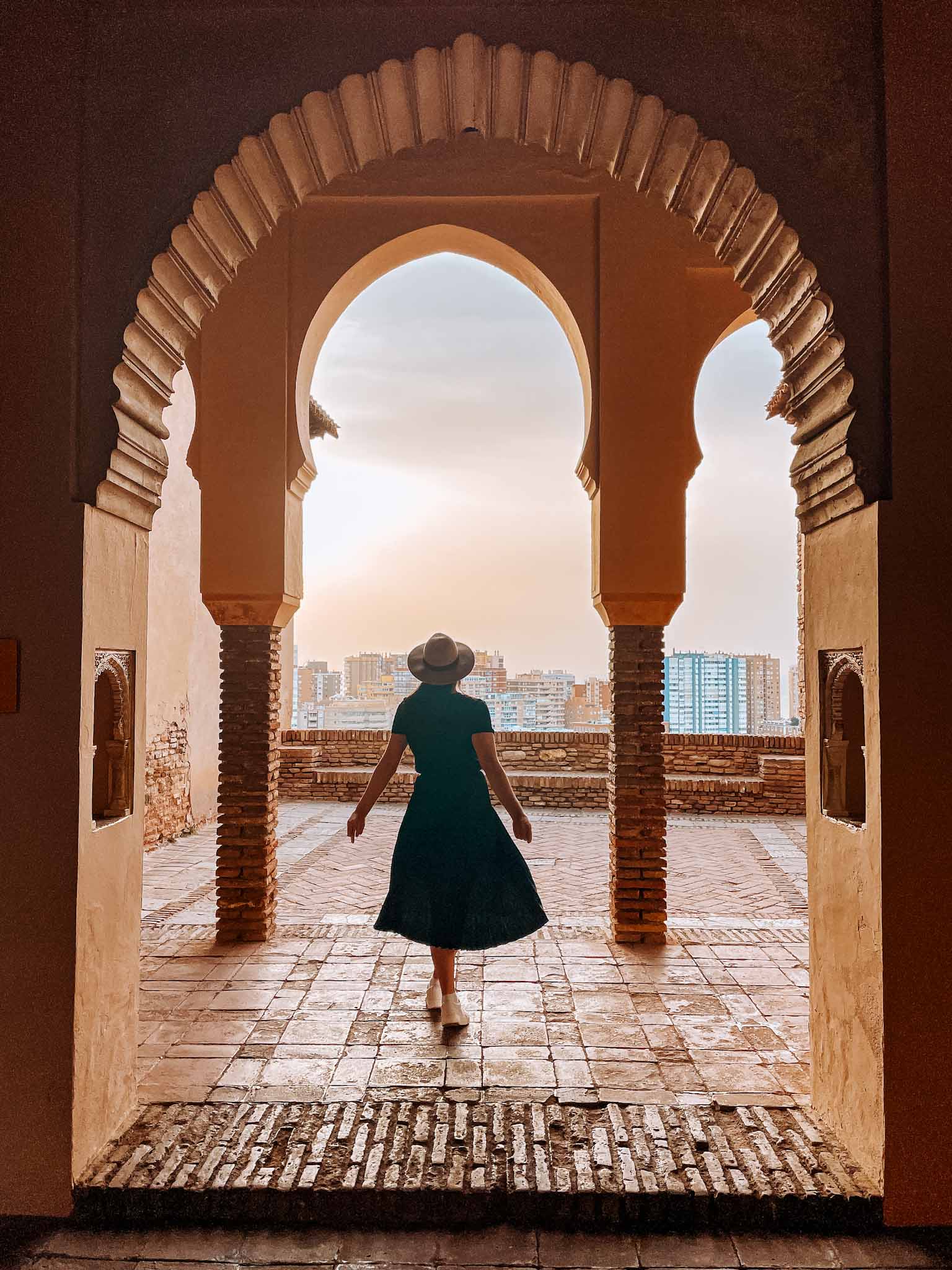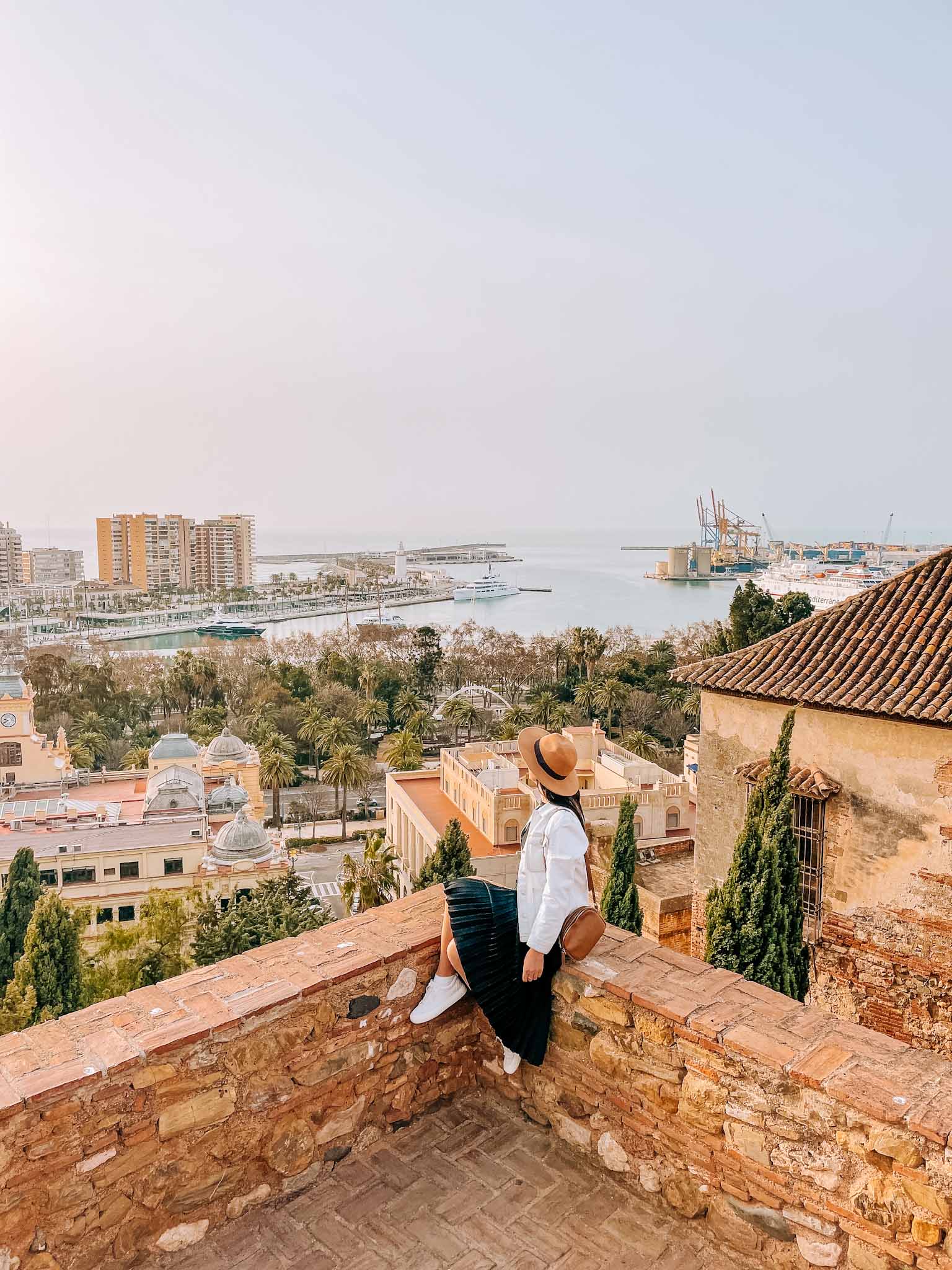 Alcazaba is a fortress built by Muslims during the Islamic period in Spain. It is one of the most prominent tourist attractions in Malaga and is a must-see place for any visitor.
It stands on the slopes of Gibralfaro mountain and is very well visible from the city. The entrance fee is about 2.5 EUR, but you can visit for free on Sunday afternoons.
This is definitely one of the best places to see Malaga from above – the fortress stands above the rooftops of Malaga and offers some amazing views over the port and the city.
Location: Alcazaba · Entrance to Alcazaba
2. Rooftop of Catedral de la Encarnación de Málaga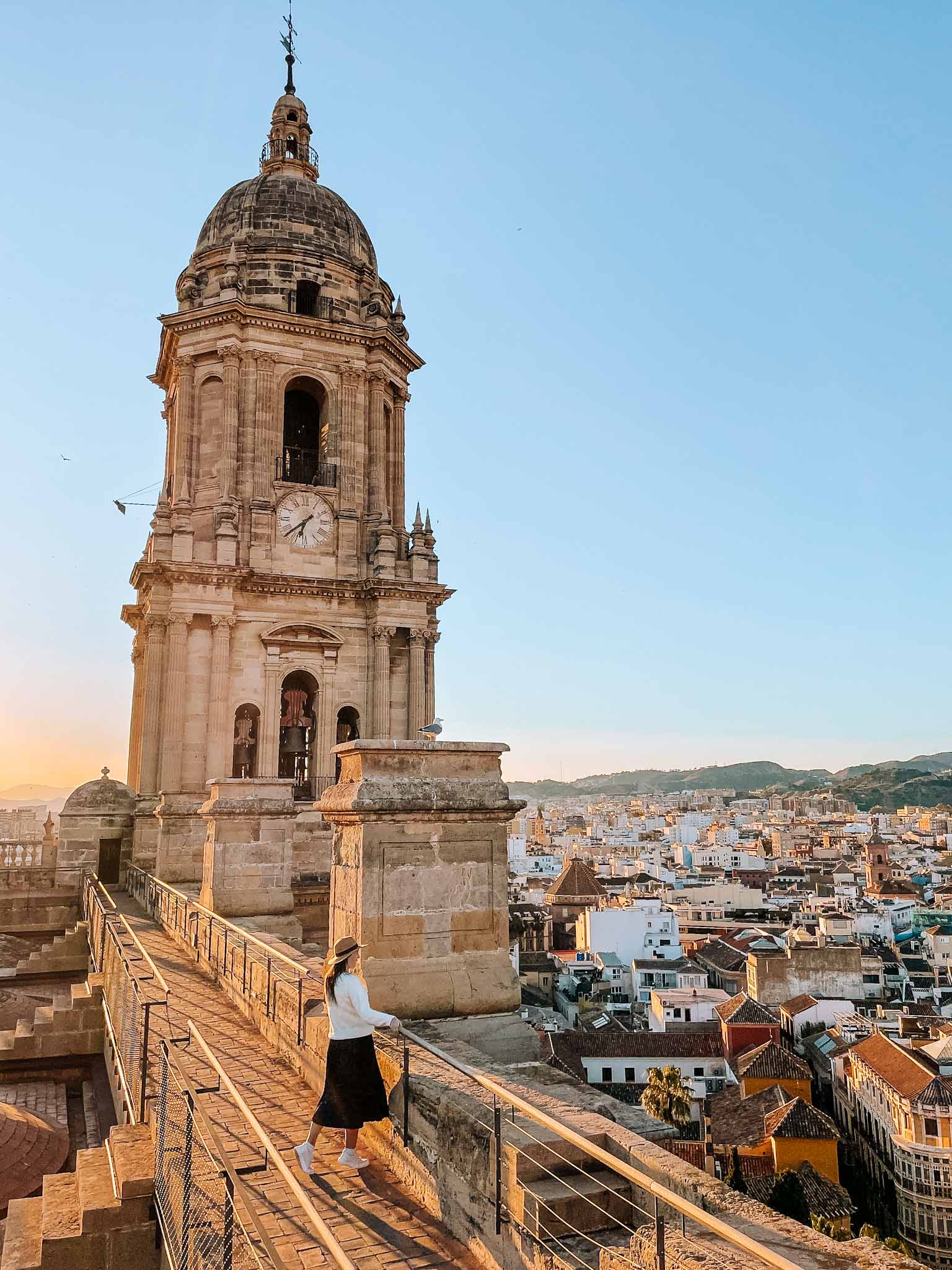 The Cathedral of Malaga is one of the most prominent buildings in the city and also one of the most beautiful ones. It was built in the Renaissance architectural style. It is impossible to walk around Malaga Old Town and miss the cathedral.
Not many people know that you can buy tickets to visit the roof of the cathedral as most people just visit the inside of it. Visits to the roof happen in groups at certain times. You can buy tickets at the cathedral or online where you can see the timetable for the visits.
The roof is not too easily accessible as you can only get there by ascending ~200 steps through a narrow staircase. The group is accompanied by two guides who will let you walk around the perimeter of the roof.
The views of the city and the port of Malaga are quite magnificent! I would recommend going there for the morning sun or for the sunset if possible. This was for sure one of my favorite rooftops in Malaga!
Location: Catedral de la Encarnación de Málaga · Entrance
3. Castillo de Gibralfaro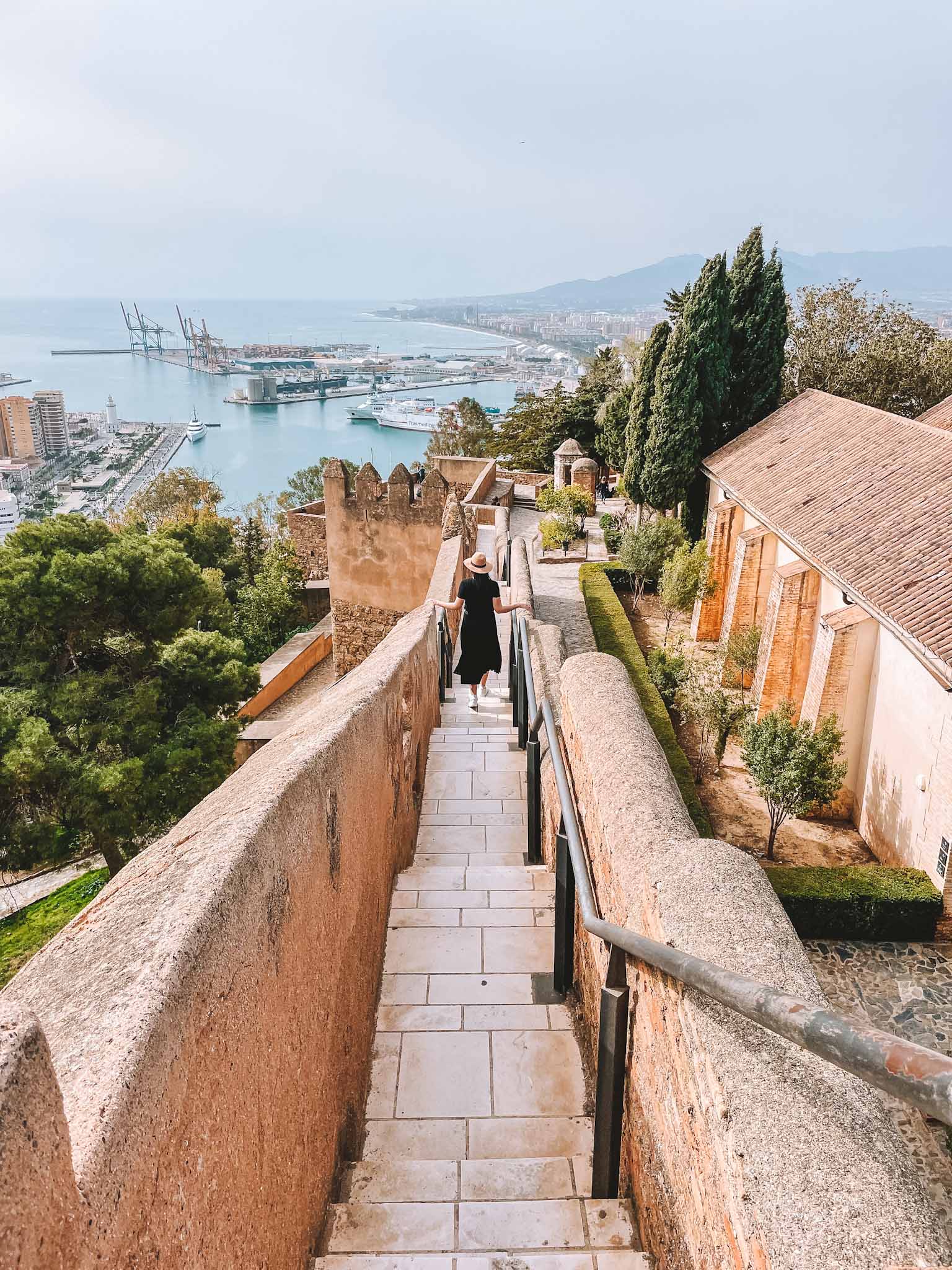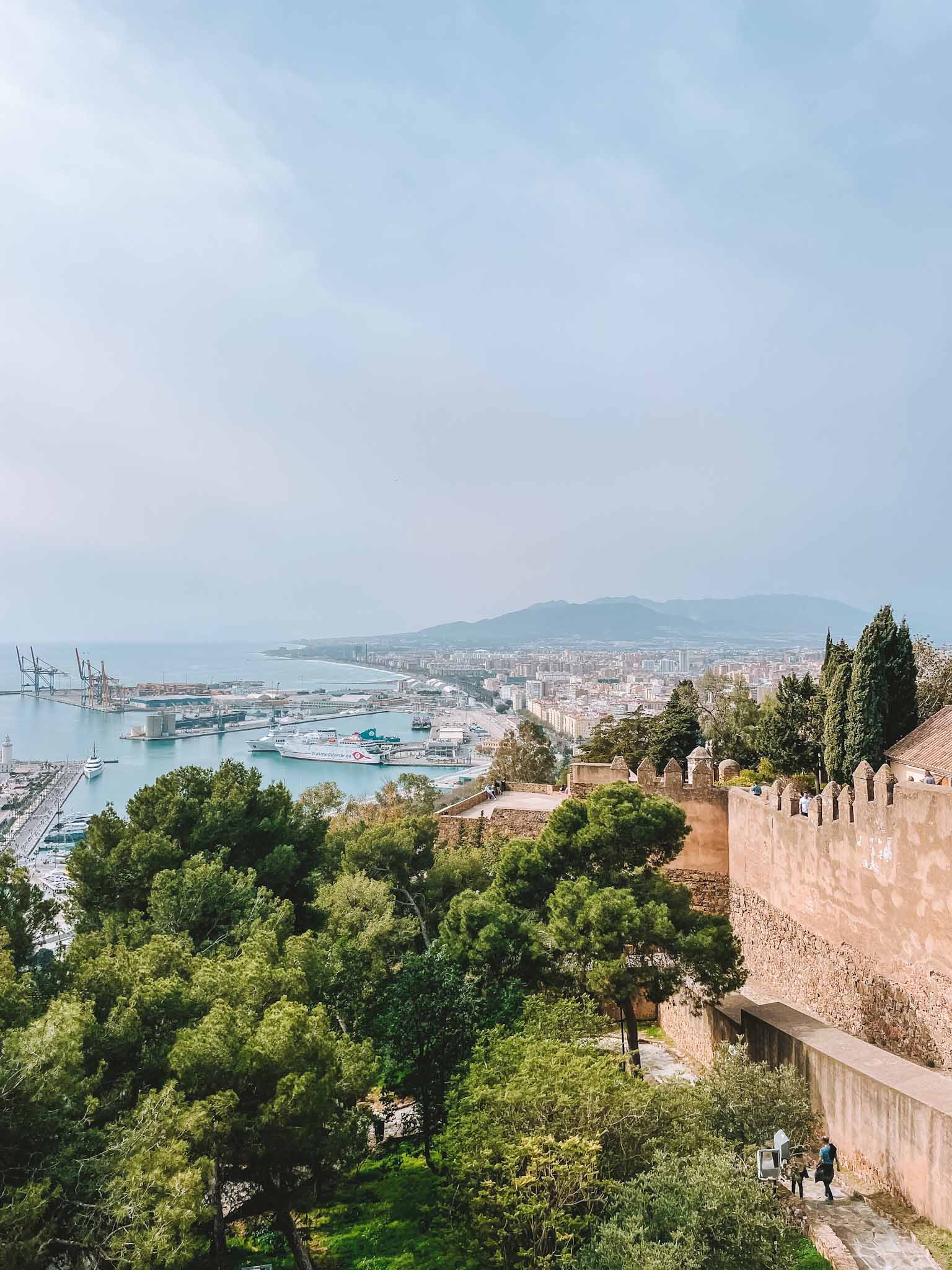 Another one of the landmark places to visit in Malaga is Castillo de Gibralfaro castle. It is located on the top of the Gibralfaro mountain and overlooks the whole city. You can definitely get the best views here!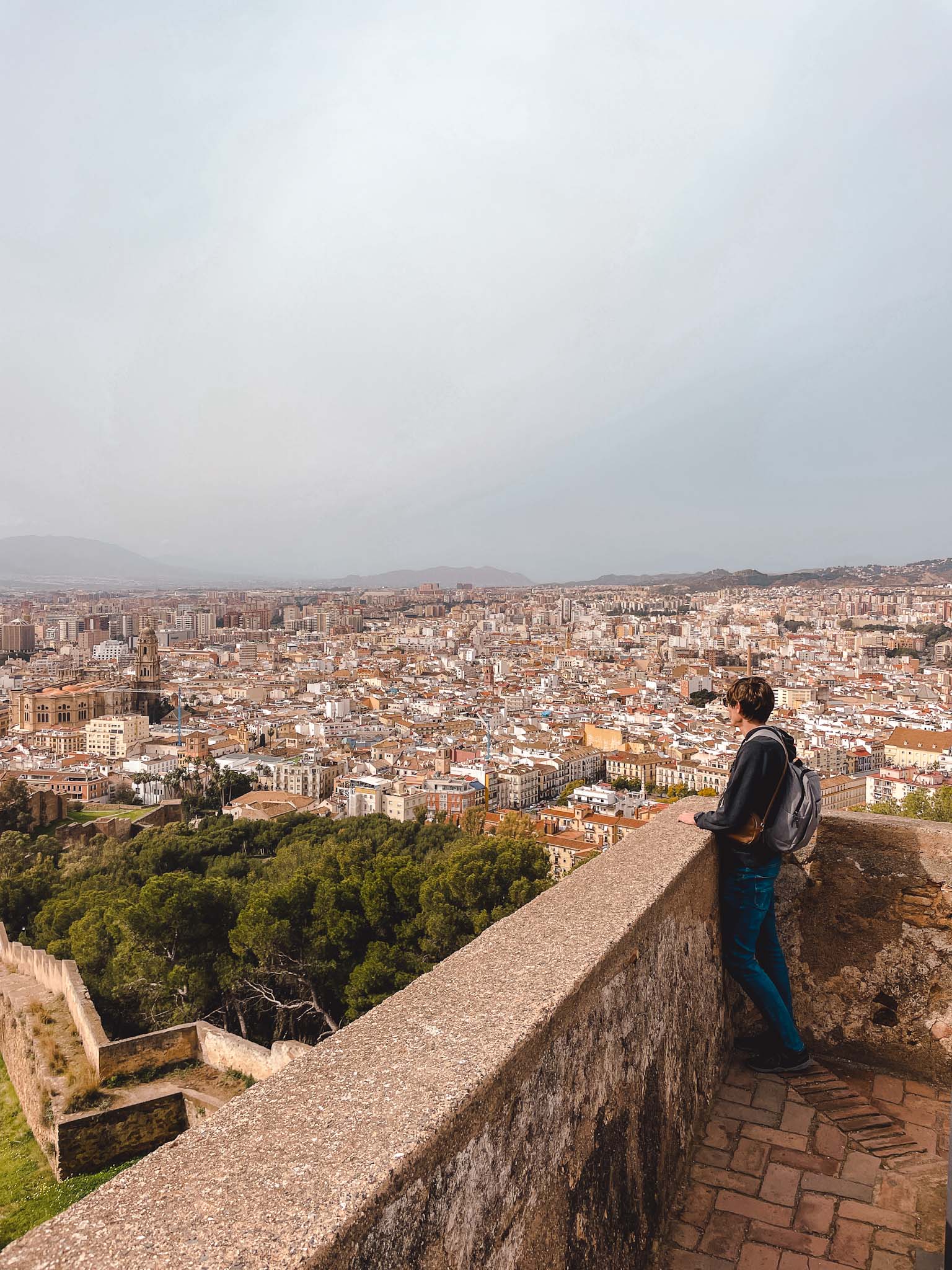 Either in Alcazaba or in Castillo de Gibralfaro you can buy a combined ticket for a cheaper price to visit both of these places than it would cost if you bought the tickets separately. The combined ticket costs 5.50 EUR.
You can get to the top of the mountain either by car (there are parking places on the top), by public transportation (bus #35), or by hiking up on foot! It is one of the best places to watch the sunset (or sunrise) in Malaga!
Location: Castillo de Gibralfaro
4. Mirador de Gibralfaro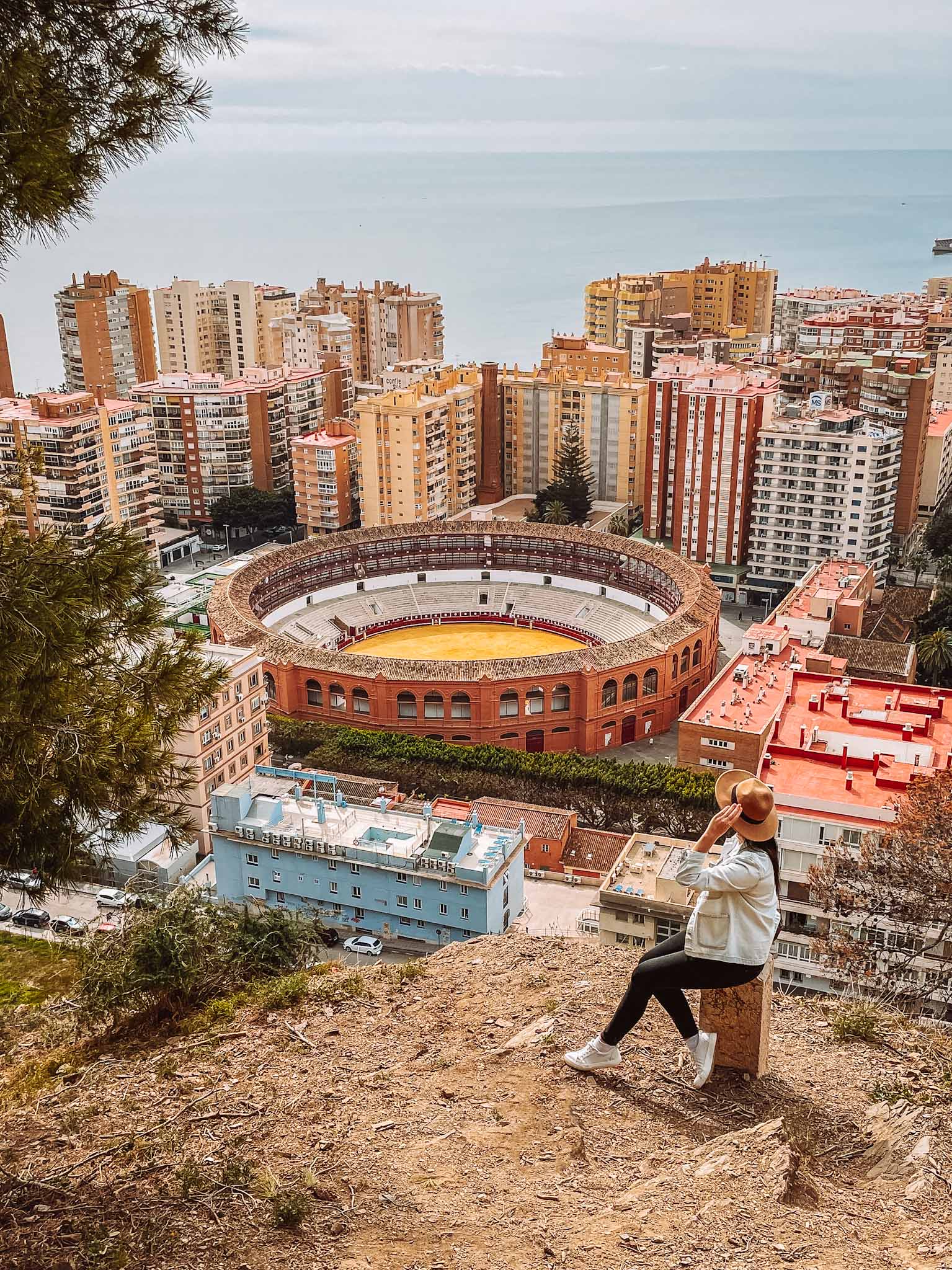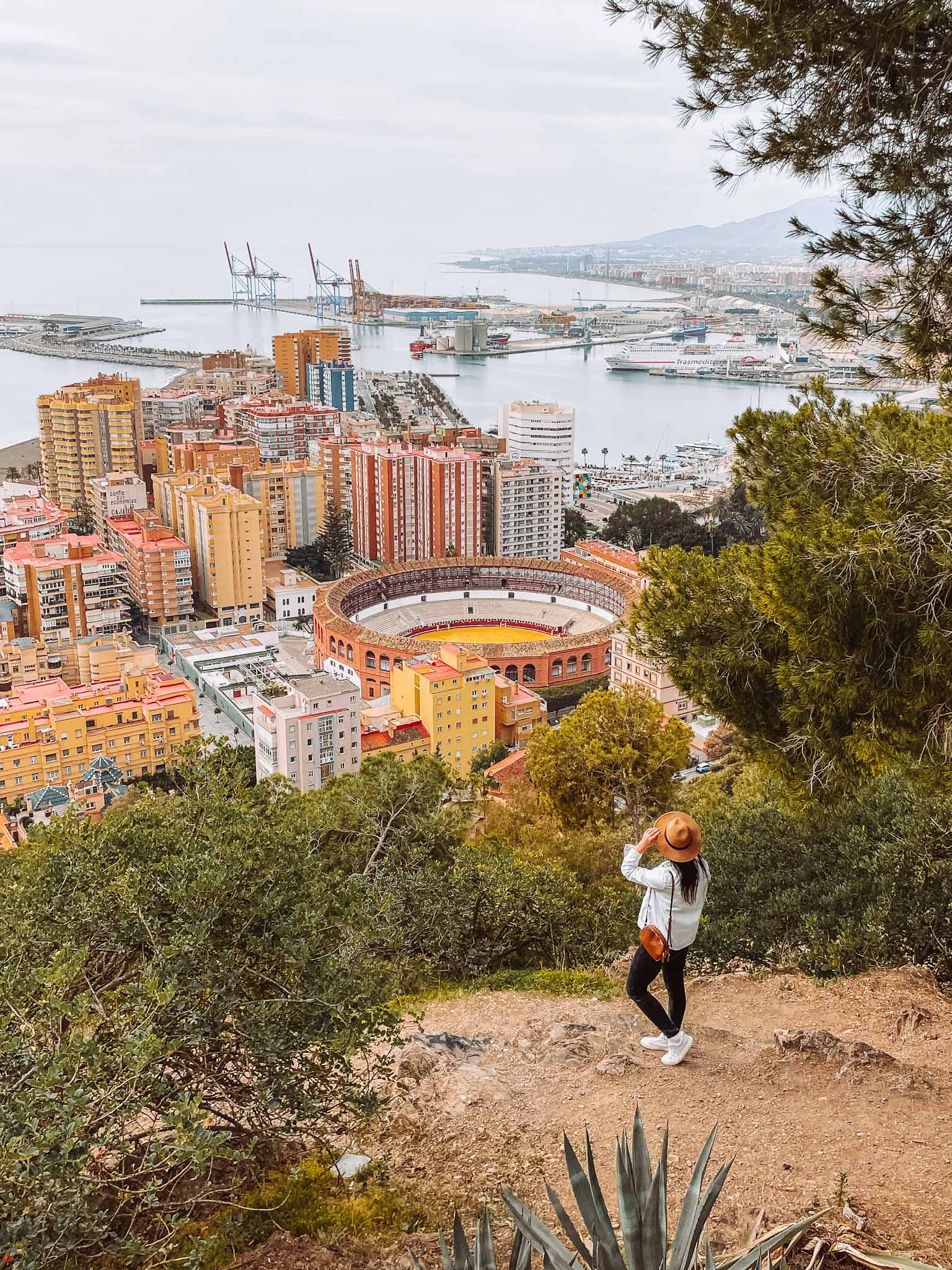 Obviously, the Gibralfaro castle on the top of the mountain is a well-known tourist attraction. However, you do not have to pay for the entrance in order to get great views of the city! There is definitely more to the mountain you should explore.
There is a narrow walking path that starts near Alcazaba and continues uphill. This path will give you the best views of the city for free! Especially the port and the distinctive bullring.
The hike starts on this street, then through a tunnel and uphill. There are two viewpoints to get the best views and even some benches and places to sit along the way. You can grab some snacks, and drinks and have a small picnic if you like.
You will definitely get the best sunrise and sunset views here on this mountain! Both photo locations are below. They were taken right next to the two most popular viewpoints on the Gibralfaro mountain.
Location: First photo location · Second photo location
5. Highest rooftop restaurant in Malaga – AC Hotel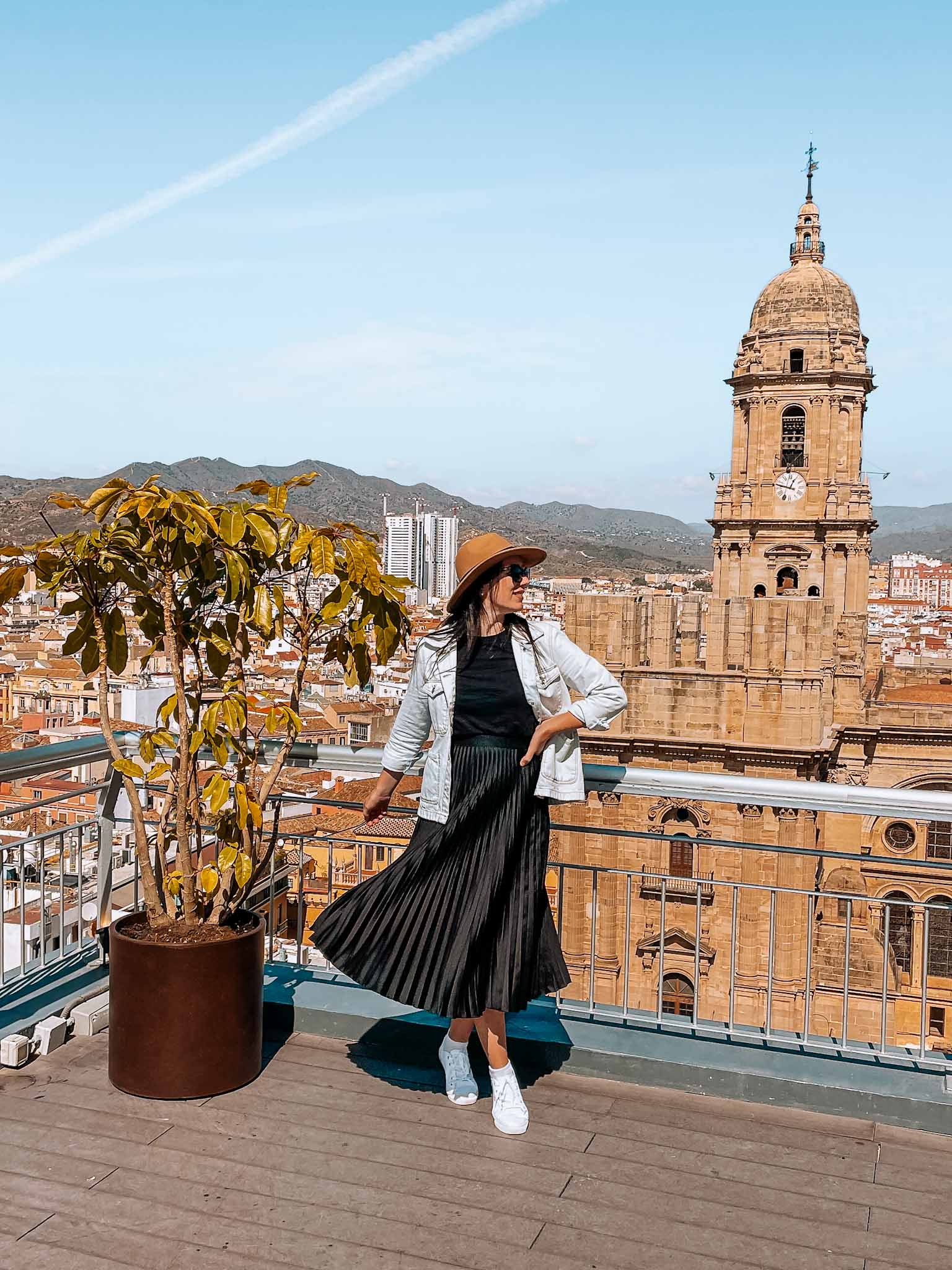 Did you know that any visitor to Malaga can have dinner or drinks on the highest rooftop in Malaga with a 360-degree view of the city and the Mediterranean sea? I know that it sounds too good to be true, but it is true.
The highest rooftop in Malaga is the building of the AC Hotel Malaga Palacio by Marriott. If you want to have dinner or drinks there, then you don't have to book a room at the hotel. We just went to the hotel and told them at the reception that we wanted to go to the rooftop.
There are tables inside (with glass windows) and also outside on the roof. The drinks bar is only outside. You can walk around the roof and snap photos of the cathedral, the port, and the city.
The food was fantastic and we really enjoyed the experience of seeing the city from the highest rooftop restaurant in Malaga! If you don't have much time to spend visiting rooftop bars and restaurants, this is definitely one of those rooftops in Malaga that are worth including in your travel itinerary!
Location: Restaurante Roof top AC Hotel
6. Jardín Botánico Histórico – La Concepción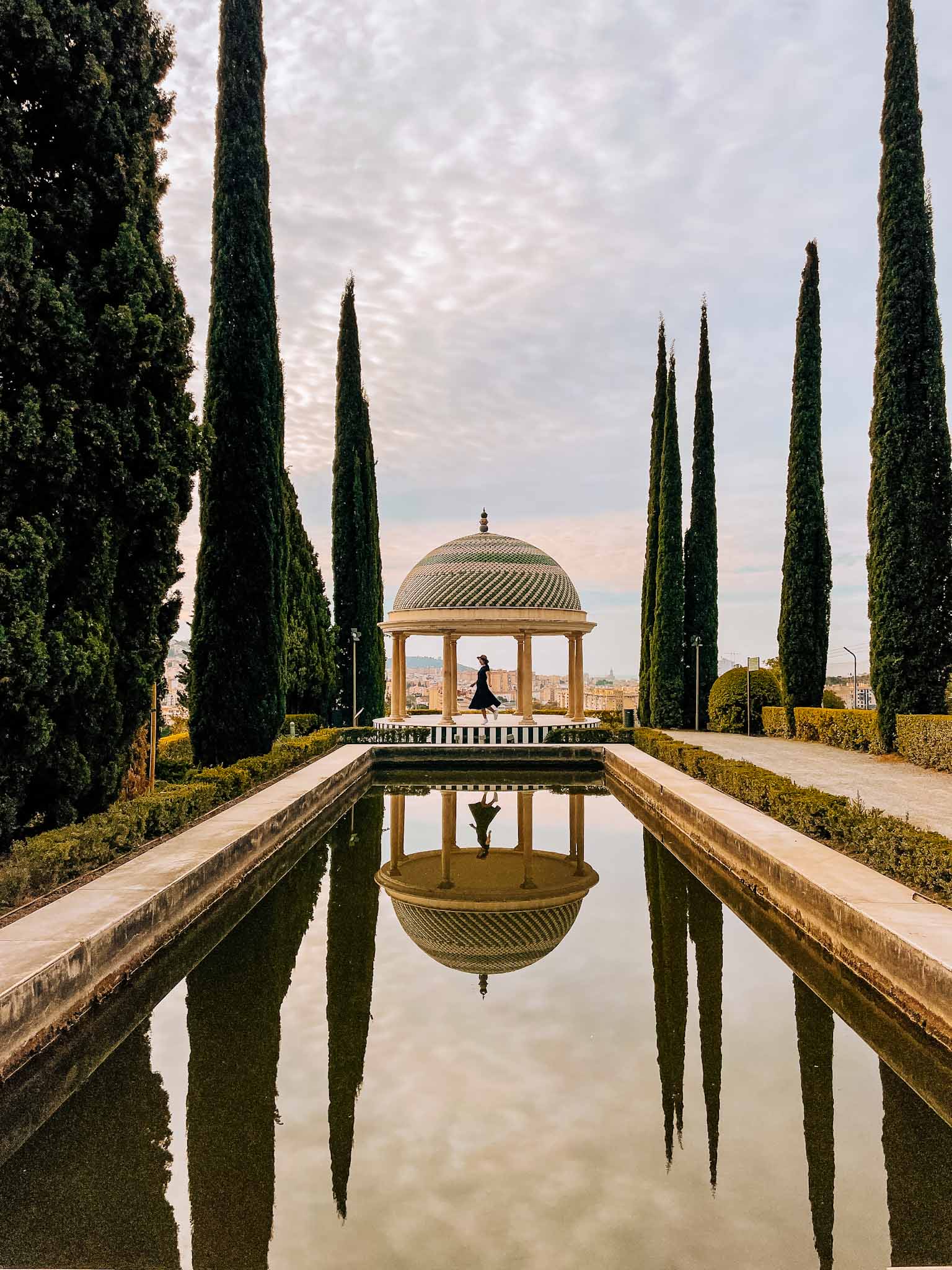 One of my favorite places to see Malaga from above is definitely La Concepción. It is a historic botanic garden on the outskirts of Malaga city. There is an entrance fee of 5.20 EUR to visit this garden and it is open every day except on Mondays. You can visit it for free on Sunday afternoons (see here).
The botanic garden is not only full of historic, exotic, and unique plants, but also historic buildings (this was a family home once), museums, and charming corners – waterfalls, sculptures, ponds, gardens, and greenhouses. This place was a beautiful estate of an aristocratic family.
There is one particular place you should go to see Malaga city – the historic viewpoint (location below). There is a beautiful setting with a square pond surrounded by trees and a round gazebo at the end of the pond and benches to sit on. Quite dreamy and the views are just as good!
Location: Jardín Botánico Histórico – La Concepción · Historic viewpoint with a gazebo
7. Breakfast on the roof at Café Gallery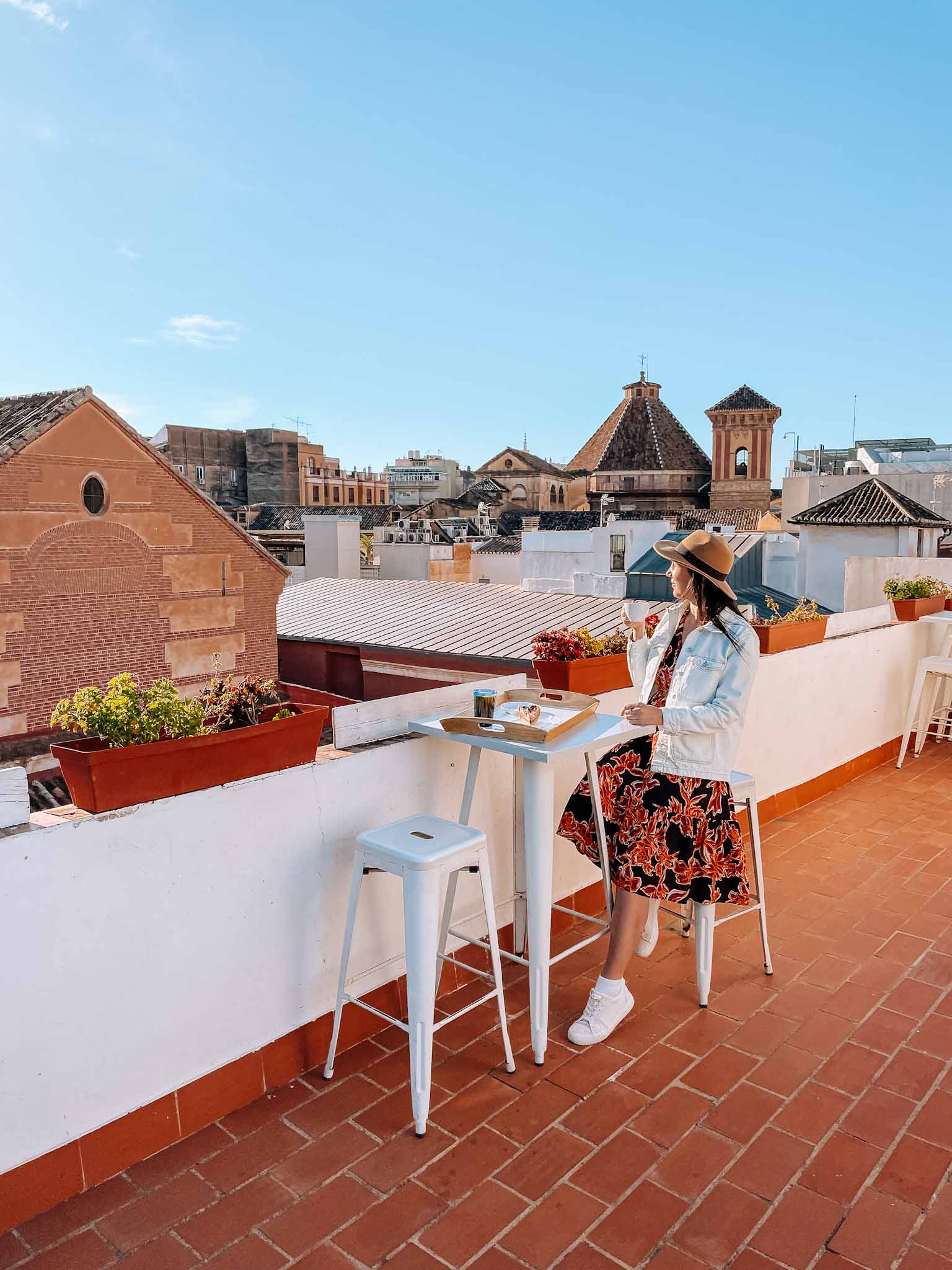 Having breakfast on the rooftop in Malaga sounds as dreamy as possible. Did you know that you don't have to book an expensive room at a luxury hotel to have breakfast on a rooftop terrace in Malaga? Yes, it is true!
Café Gallery is located on the ground floor of Dulces Dreams Boutique Hostel. It is a very nice café serving different options for breakfast and is open to everyone. You can ask the waiter to make a tray so you can bring your breakfast up the stairs to the roof (there is no elevator)!
They have about 5 tables there for you to have an unforgettable breakfast experience overlooking the city of Malaga! Breakfast on the roof was definitely one of my favorite memories from Malaga! See more amazing breakfast cafés and coffee shops in Malaga here.
Location: Dulces Dreams Boutique Hostel & Café Gallery
Bonus! Other rooftop bars and restaurants in Malaga!
Rooftops in Malaga and in Andalusia in general are flat. It means that people utilize rooftops for their own interests. Many of the houses and especially hotels in Malaga have rooftop bars and restaurants that you can visit.
Here are other Malaga rooftops you might want to check out – La Terraza De Valeria, San Juan Terrace, La Terraza de La Alcazaba, Vincci Rooftop Terrace, Hotel Molina Lario Rooftop bar, Room Mate Larios Hotel, H10 Rooftop Bar, Bar Terraza Áurea, and Terraza Chinitas.
More Malaga travel inspiration!
Happy exploring!
Malaga is a must-visit city in Andalusia, the Southern region of Spain. It is a year-round destination known for its palm-lined sandy beaches, Castle of Gibralfaro, Alcazaba of Malaga fortress, and also as the birthplace of the famous painter and sculptor Pablo Picasso.
Malaga is the best place to go to catch some sun as well as embark on a road trip around Andalusia. I hope you enjoy your time in Malaga as much as we did and get some inspiration from my blog to make your trip even more adventurous, fun, and unforgettable!
PIN FOR LATER!