15 best breakfast cafés and specialty coffee shops in Malaga, Spain
Malaga is truly the best if you are looking for those trendy cafés with avocado toasts and specialty coffee! I am one of those people who could eat breakfast toasts all day long so I was very pleased to try out as many breakfast, brunch, and specialty coffee spots as I could here in Malaga.
If you are like me and don't really enjoy regular Spanish coffee then this blog post will save your Malaga trip as I have covered basically every place that serves 'good' coffee! Here you will find all the cafés with photos, descriptions, and exact locations where they can be found on Google Maps. Happy travels!
Read more >>> Malaga Bucket List: 11 best things to do in Malaga, Spain
1. Next Level Specialty Coffee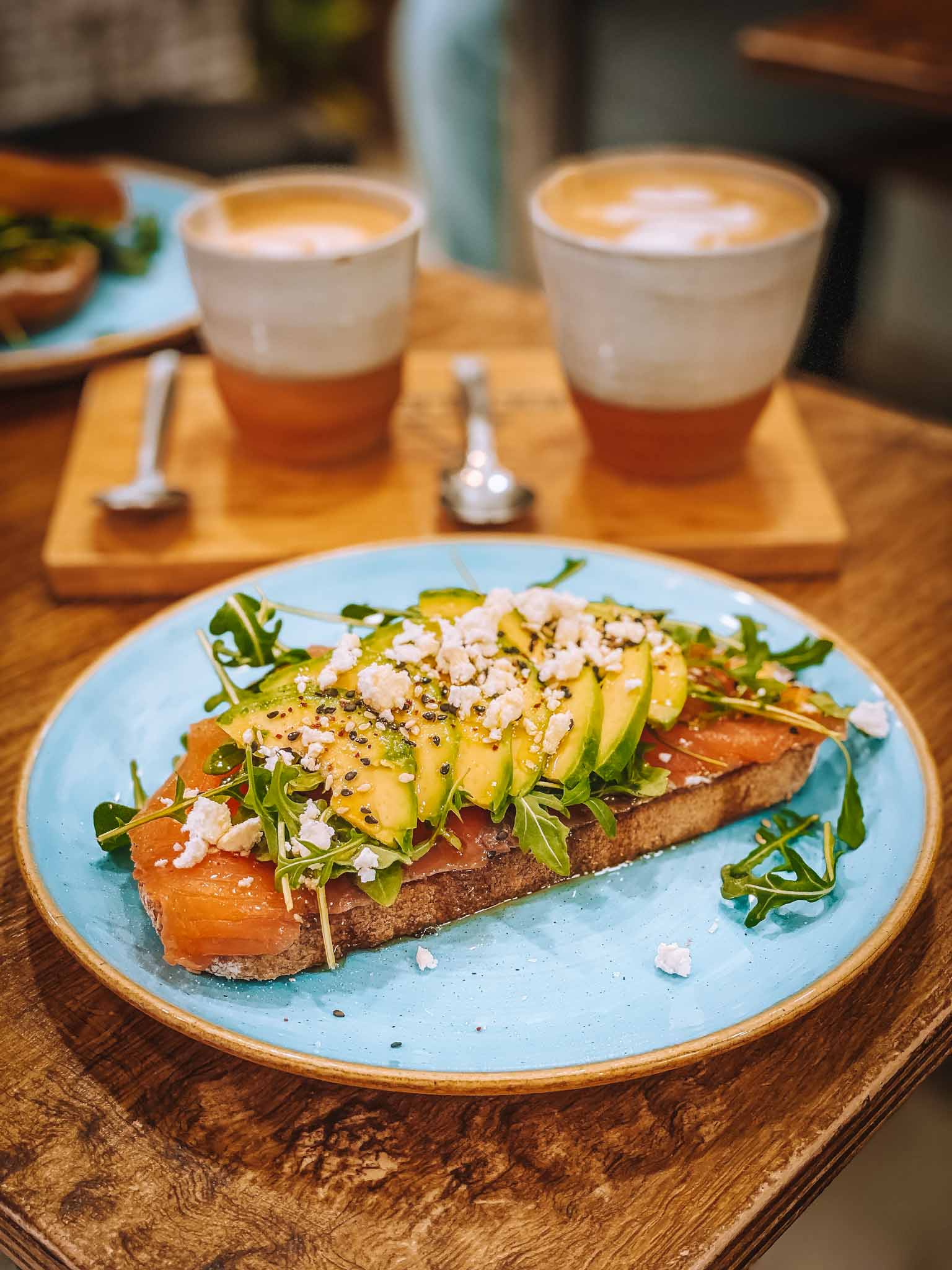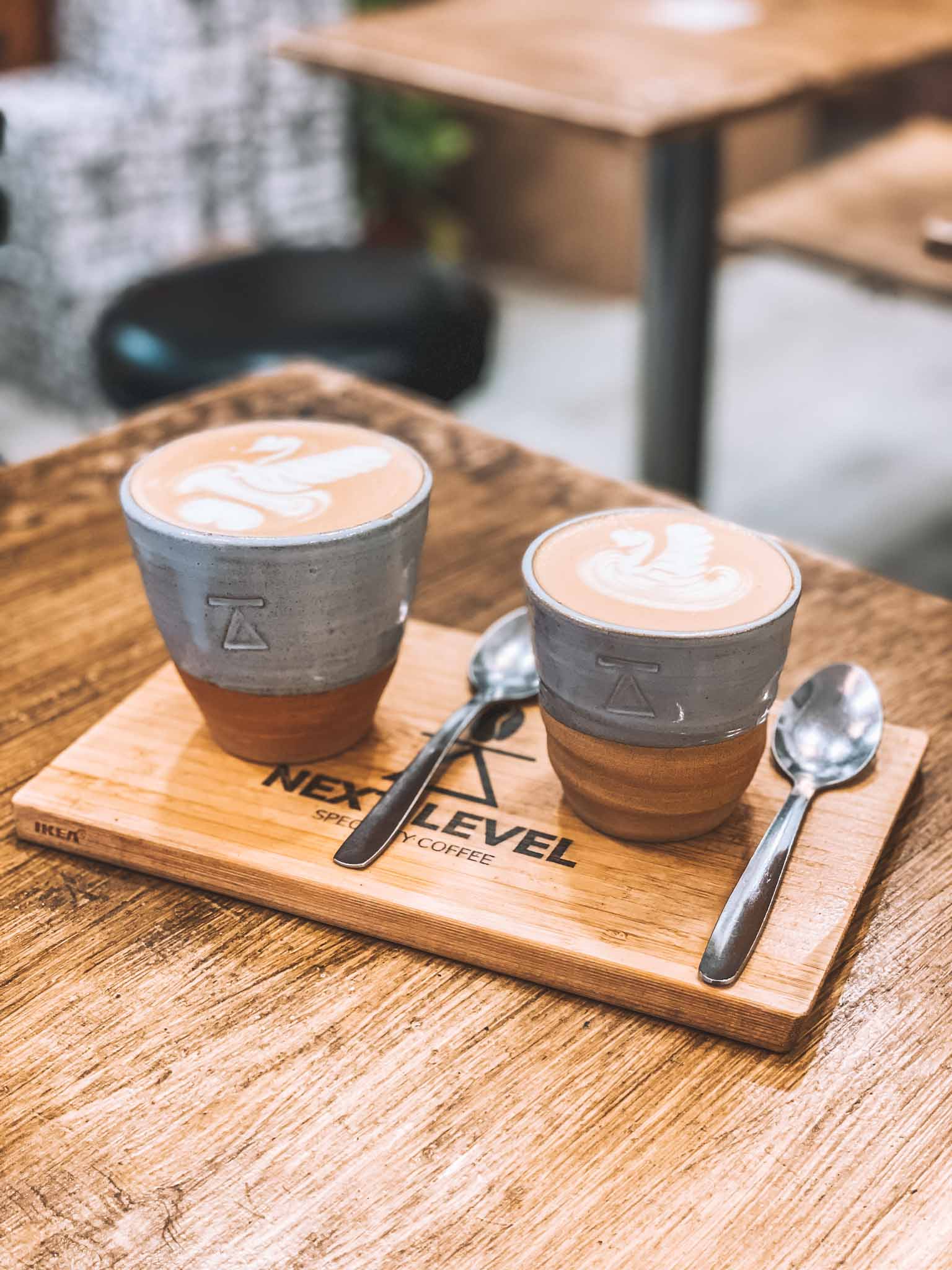 This specialty coffee shop and breakfast place in Malaga is truly next level. First of all, this is a top spot to get specialty coffee, and, secondly, they have the most delicious and good-looking breakfast options as well. This includes different toasts with toppings, tasty bagels, colorful bowls, as well as some pastry options.
The only thing that this place lacks is space. They have tiny tables both – indoors and outdoors. You have to be friendly to have a meal here, haha. But it should not discourage you from trying out this place. One of my favorite breakfast and coffee places in Malaga for sure!
Location: Next Level Specialty Coffee
2. BYOKO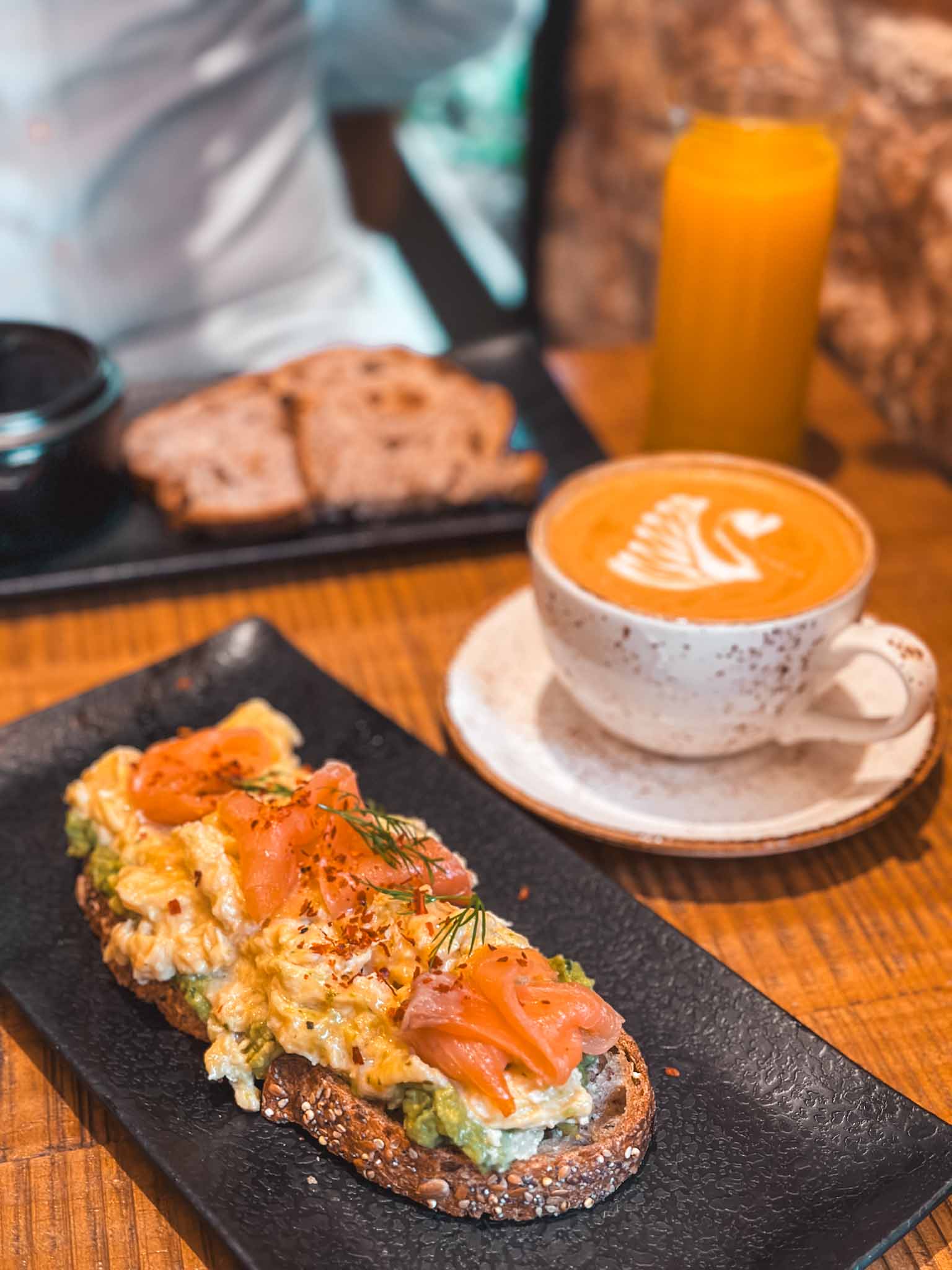 BYOKO is another trendy place with specialty coffee and a fantastic breakfast restaurant in Malaga. They not only serve breakfast, but also brunch, lunch, and dinner. This restaurant presents itself as a bio and zero-kilometer restaurant (ingredients are sourced locally) if that is important to you.
For us, we appreciated their delicious specialty coffee and very tasty toasts. Everything was on spot and I would definitely return here as they have an extensive menu with beautifully made dishes to try throughout the day! This was my personal favorite breakfast and specialty coffee place in Malaga!
If you choose to check out this restaurant then you should know that there are two BYOKO restaurants in Malaga. The one at Plaza de la Merced is much bigger and has many tables indoors, but the one on Calle Strachan street is smaller with a few tables indoors and a couple outdoors.
Location: BYOKO (Plaza de la Merced) · BYOKO (Calle Strachan)
3. Santa Coffee Catedral / Santa Coffee Soho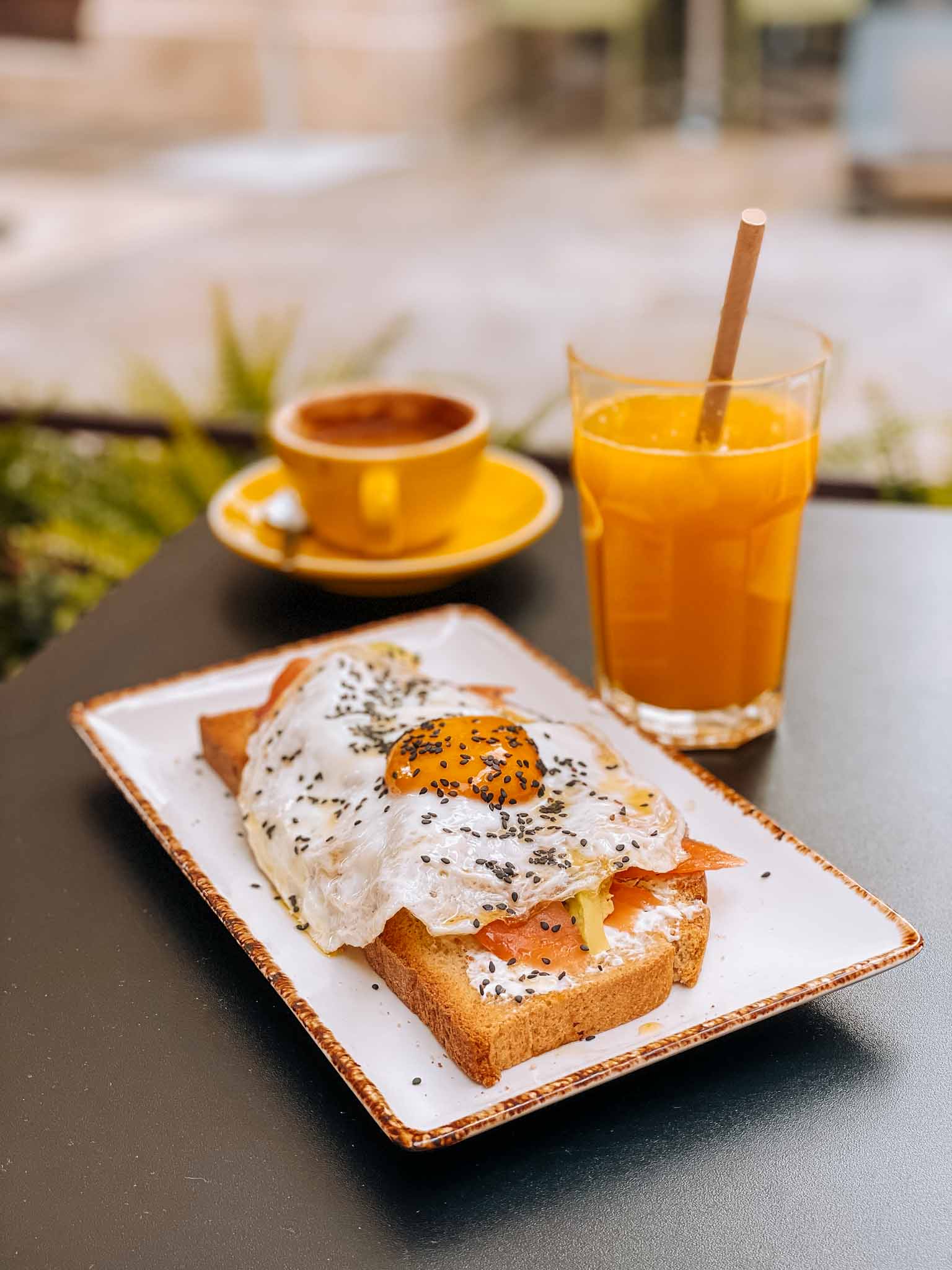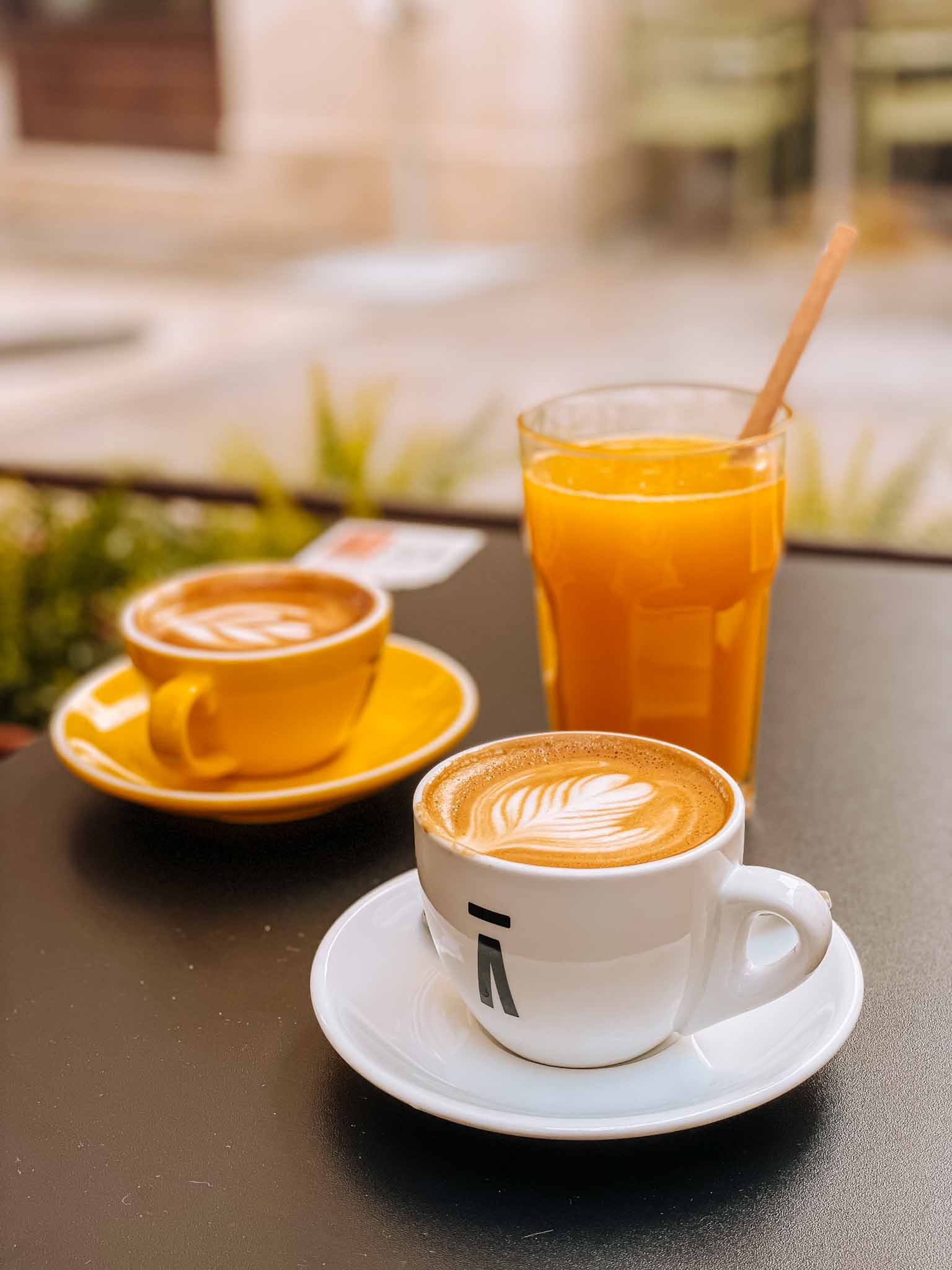 This cute Old Town cafe with tasty specialty coffee and a few breakfast and brunch options on the menu is a true gem in Malaga. There are two Santa Coffee spots – one next to the cathedral, but the other one – closer to the sea.
They offer crepes, toasts, sandwiches, and sweets to your perfect breakfast coffee. This is definitely a place to visit and have a great breakfast and brunch. I loved it! You should know that there are no places to eat inside – all the tables are outside. They do offer blankets if needed.
Location: Santa Coffee Catedral · Santa Coffee Soho
4. La Flor Negra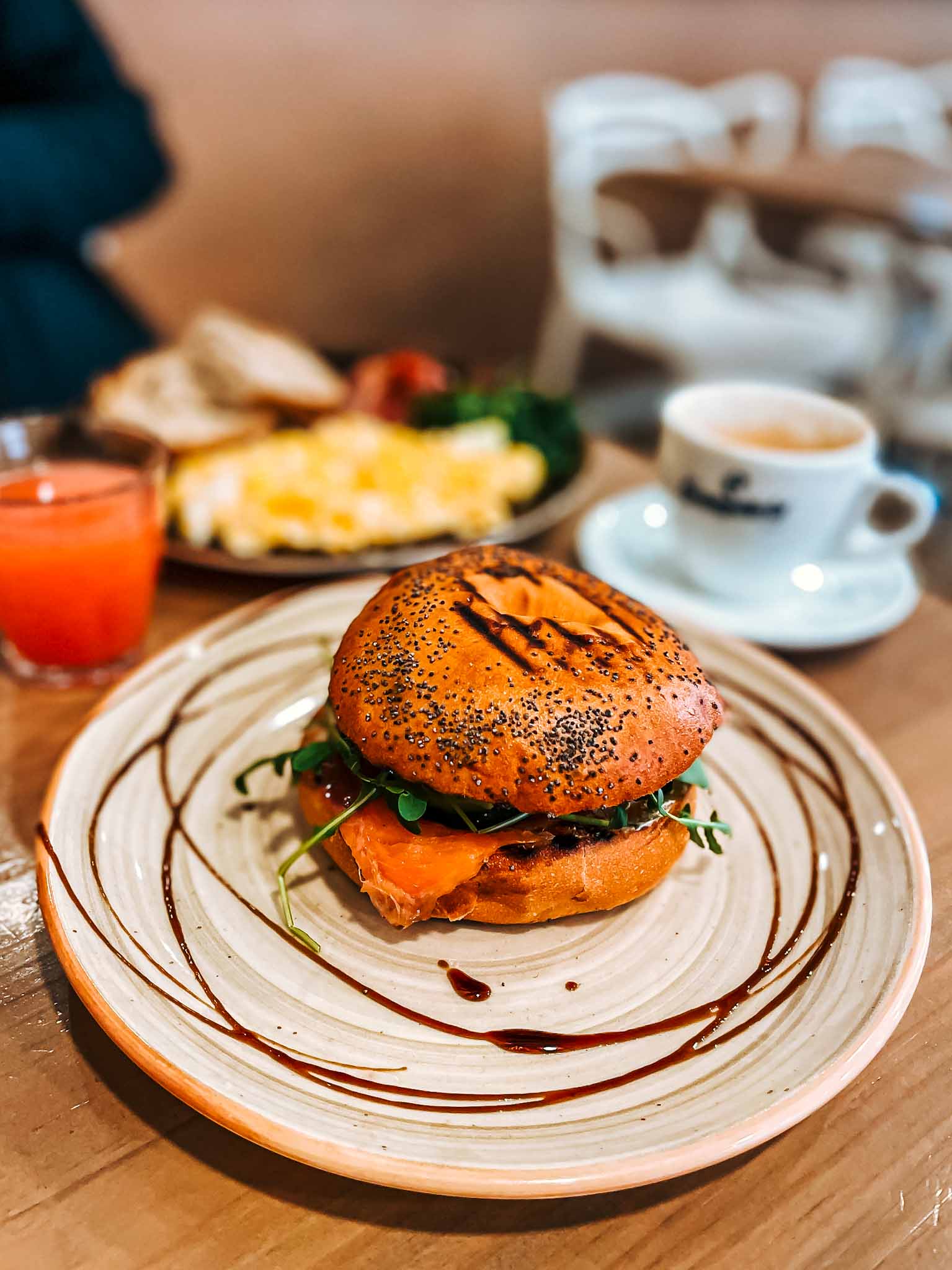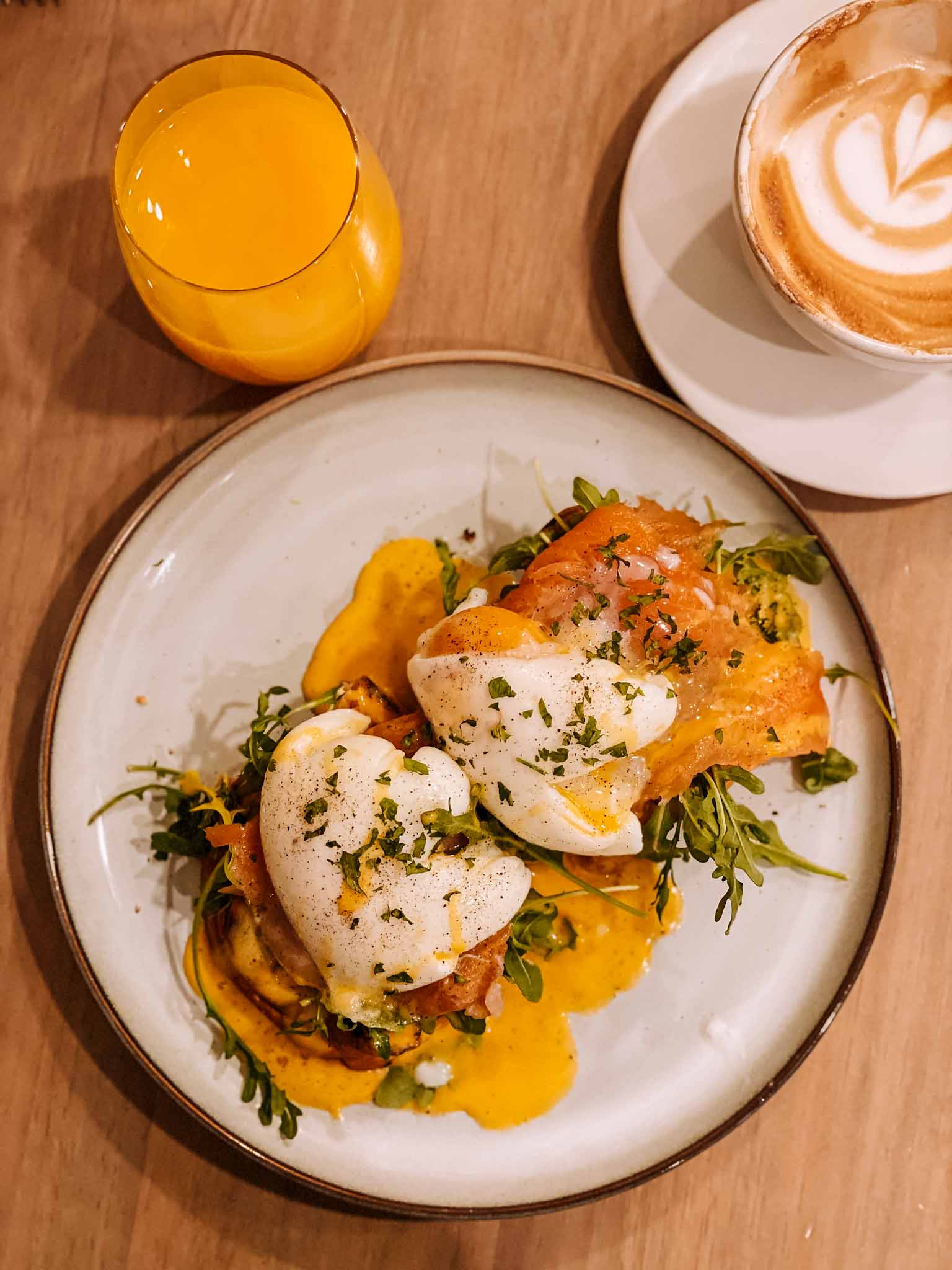 Because La Flor Negra is categorized as a pastry shop on Google Maps I almost clicked away and didn't visit this place. But describing this place as a pastry shop couldn't be more wrong. It is a full-blown restaurant and one of the best breakfast and specialty coffee spots in Malaga!
Yes, there are beautiful cakes and pastries. But there are also many tables and an extensive breakfast and brunch menu. Starting from traditional Spanish breakfast and also including some international breakfast and brunch choices. And their specialty coffee was top-notch! Highly recommended!
Location: La Flor Negra
5. Caramello Salato café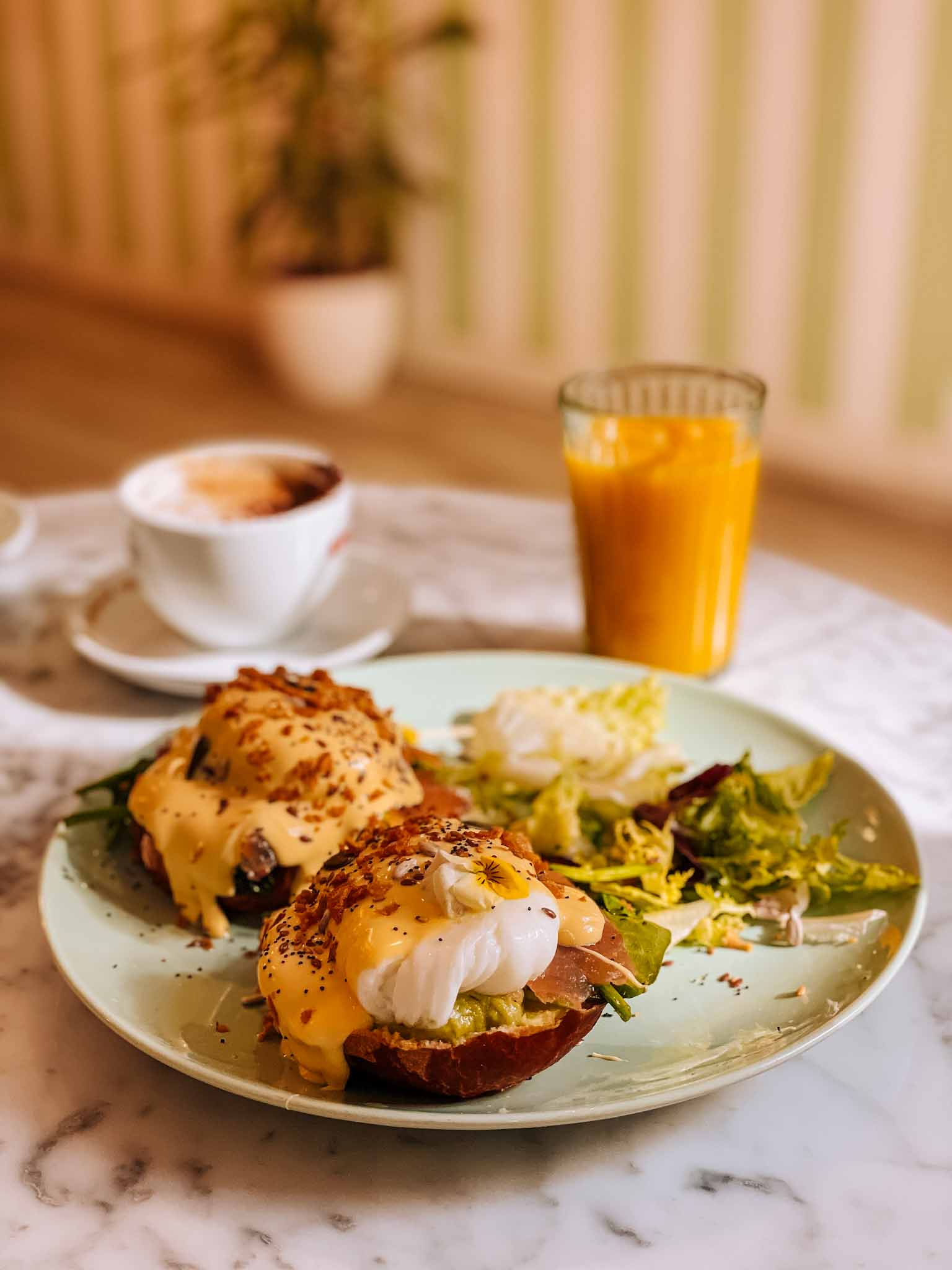 Caramello Salato café is a trendy coffee shop and pastry shop in Malaga. It was definitely one of the most popular places we went to in Malaga as there were people waiting in line almost all the time we were there.
They have an extensive breakfast and brunch menu to choose from – anything you wish to eat for breakfast, they probably have it! And they also have different Italian pastries to have together with your Italian coffee or to take home for takeaway.
Location: Caramello Salato café
6. Kima Coffee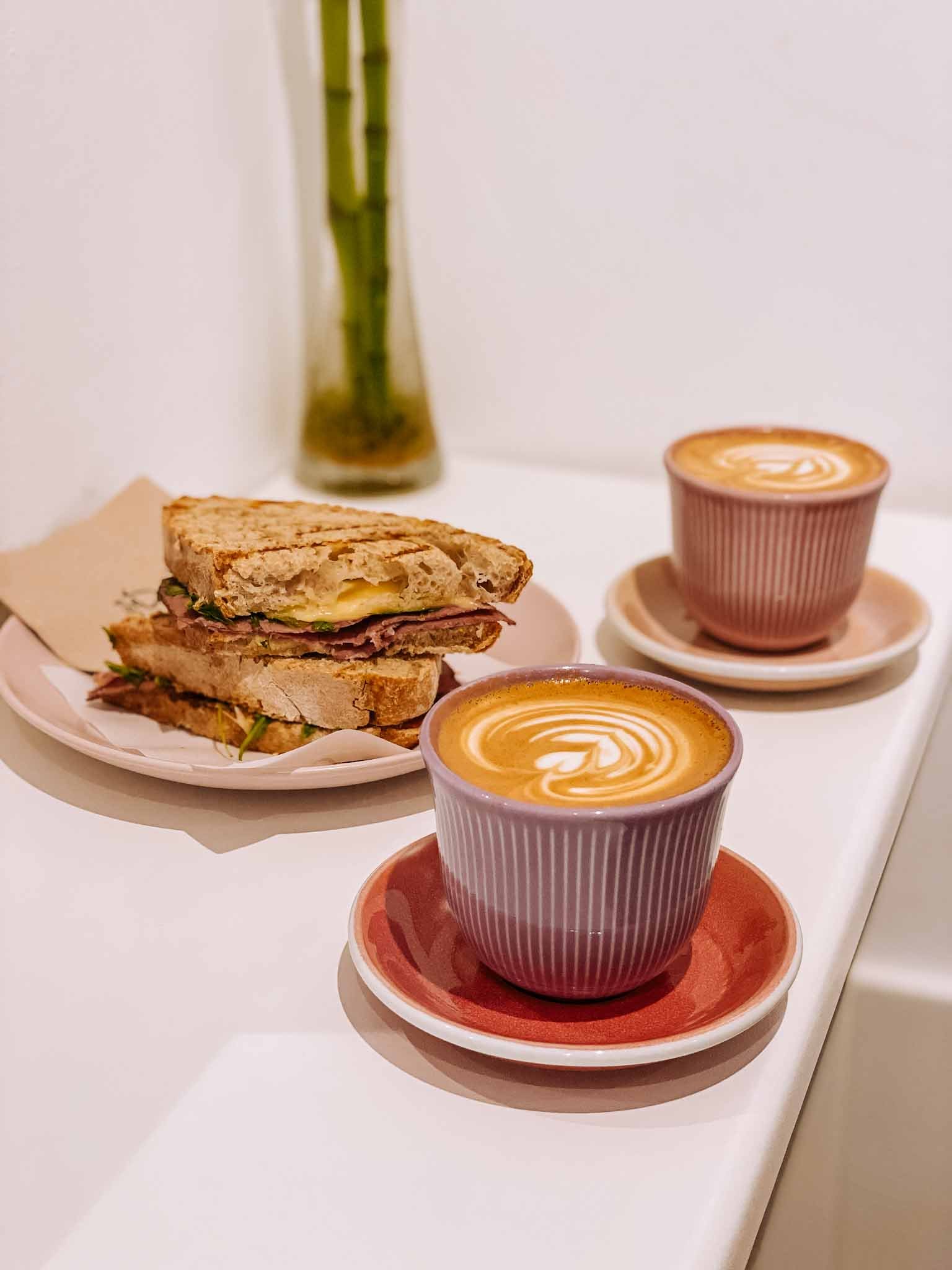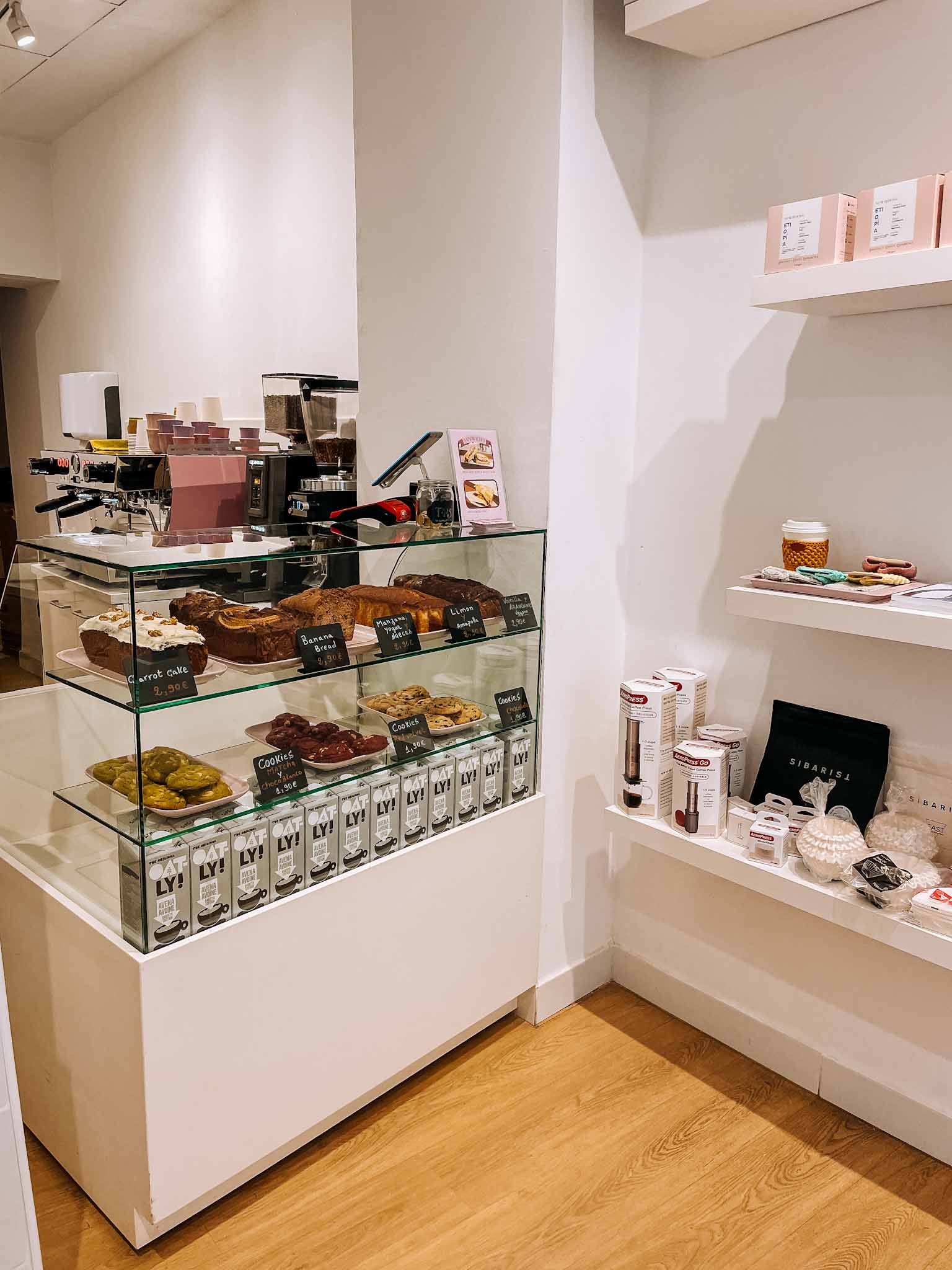 I was very excited to go to Kima Coffee for breakfast and a delicious cup of cafe latte. All because I saw very inviting photos of avocado toasts in their reviews on Google Maps. However, when we got there they only offered two types of sandwiches and a couple of different cakes.
Although this is not a place to have a relaxed breakfast, still this is definitely the place to go for a top specialty coffee in Malaga. They know how to make it and this is definitely one of the best places to go.
The place is rather small with a bar-counter-type table and three bar stools to sit on. All in all, coffee is 10/10, and it is also a 10/10 for coffee for takeaway with a piece of cake or a quick sandwich, but not the best place to sit or have a relaxed breakfast at a table. 🙂
Location: Kima Coffee
7. Mia Coffee House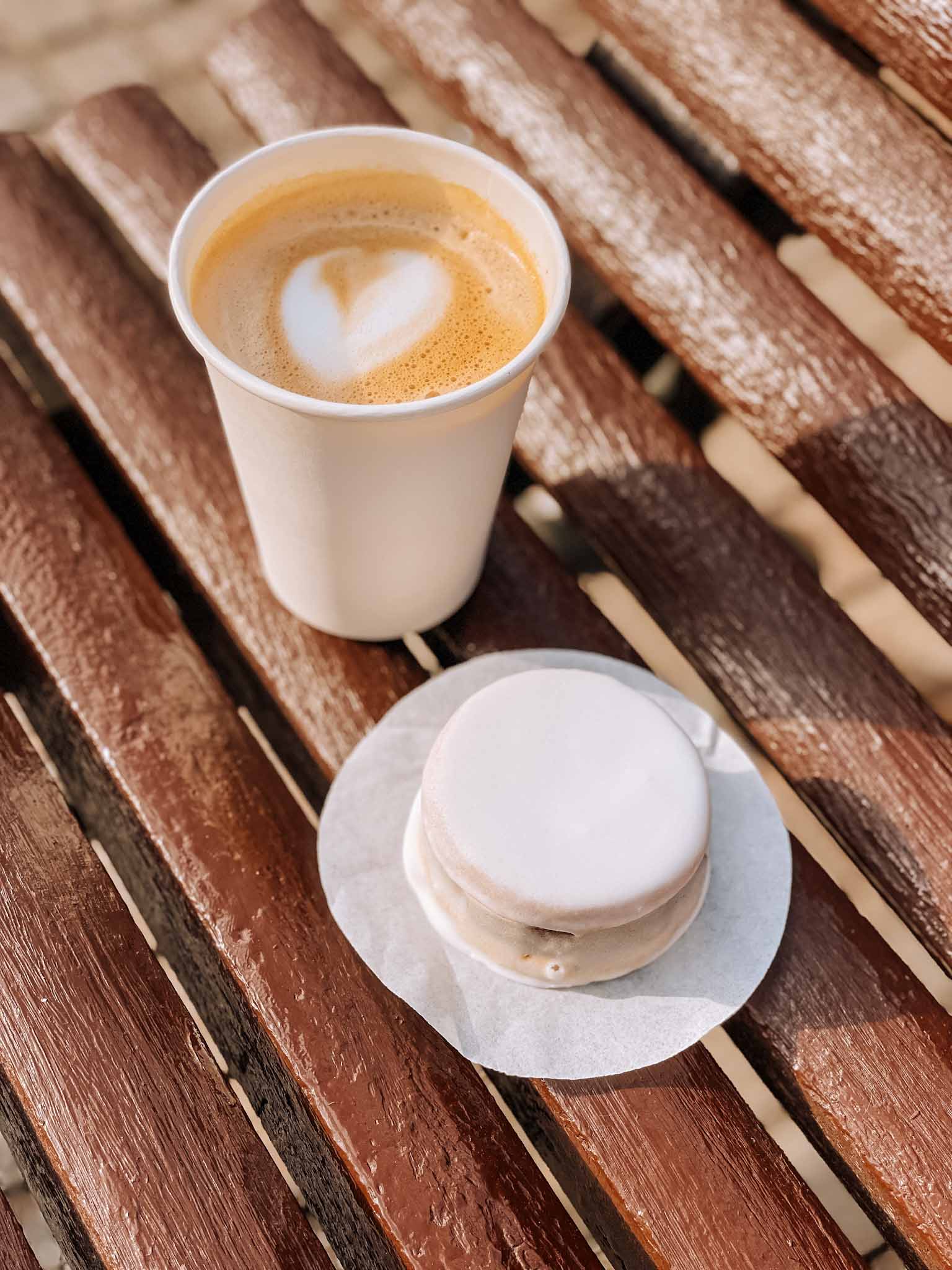 Mia Coffee House is another popular specialty coffee spot in the Old Town of Malaga where you can get high-quality coffee (one of the best in Malaga!) and some pastries. This time we didn't get to sit there because there were only a few places to sit and all were occupied.
We took coffee for takeaway and actually went to the nearby Astrid bakery for a piece of cake and enjoyed both of them while walking around the old town of Malaga. I highly recommend both of these places!
Location: Mia Coffee House
8. Bun and Coffee
There is one place to go in Malaga if you are looking for a fantastic donut and specialty coffee – Bun and Coffee. They have a long list of delicious-looking glazed donuts, specialty coffee, and some extra drinks you can choose from. It is a small place but has a couple of places to sit inside at the table. Recommend!
Location: Bun and Coffee
9. Delicotte Speciality Coffee & Tea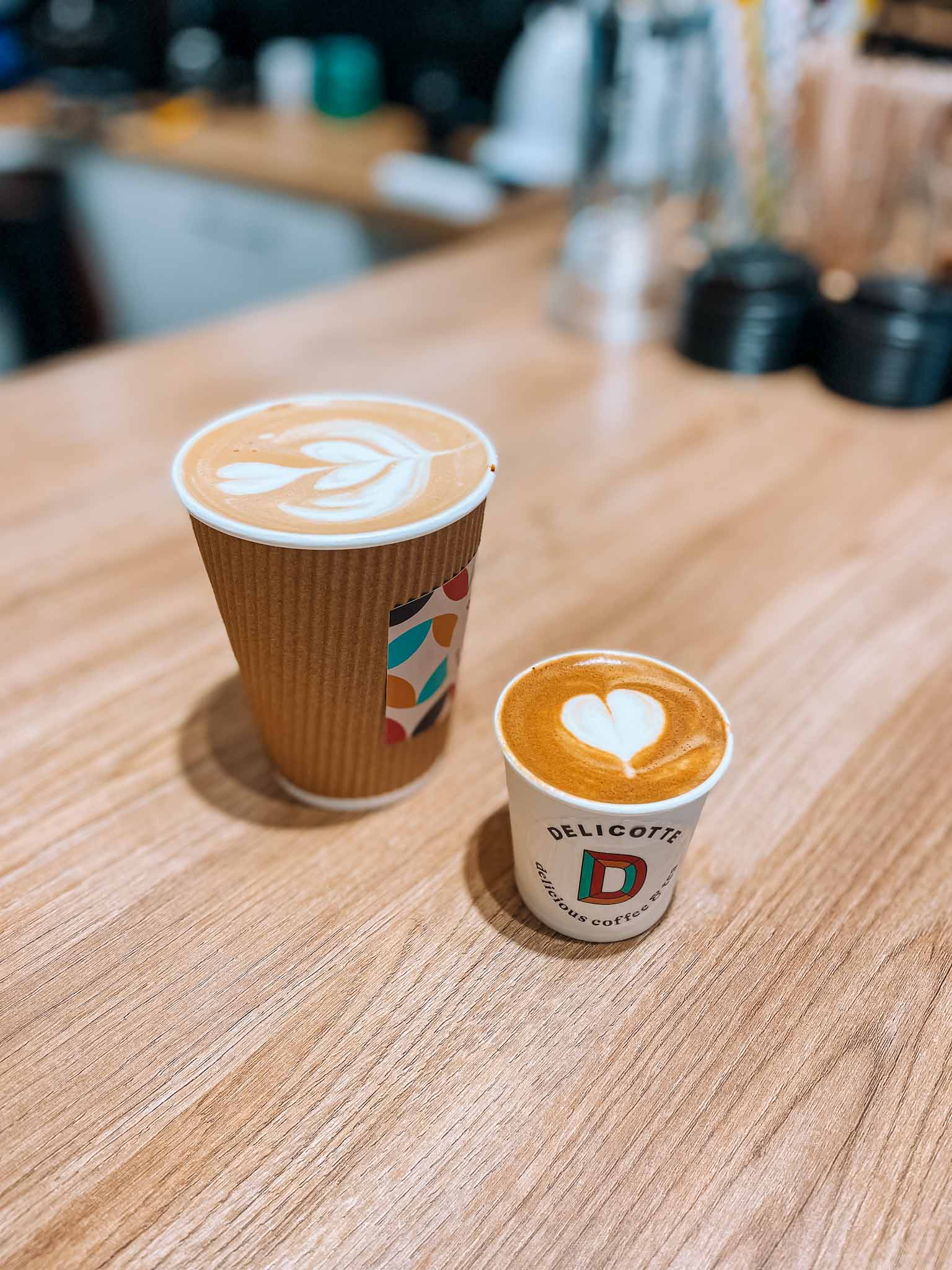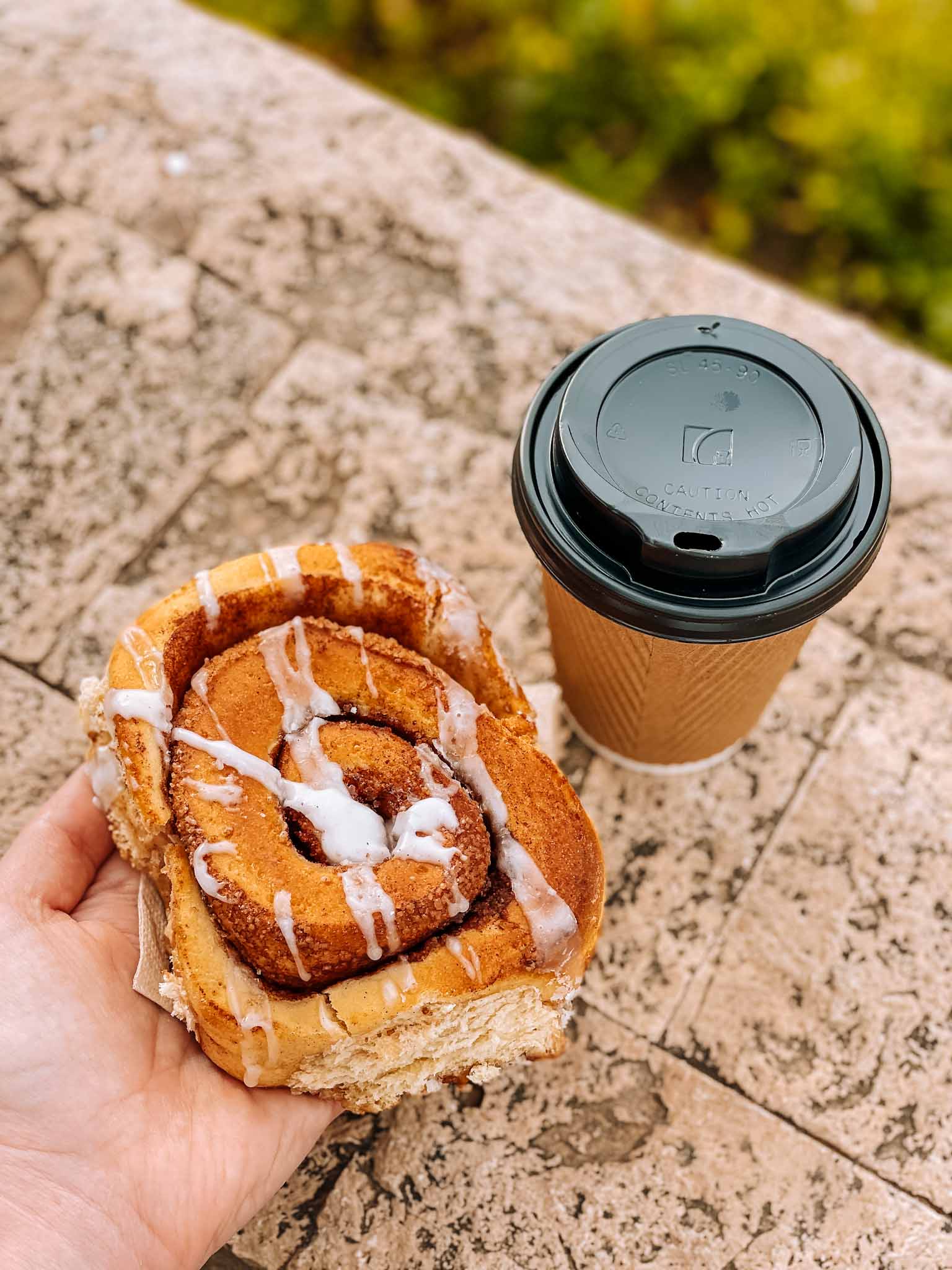 Delicotte is a tiny specialty coffee and tea place in the heart of Malaga Old Town. They can be very proud to serve one of the best specialty coffees in Malaga. This place will not disappoint you for sure! Their drinks are top-notch and high quality.
As it is just a coffee shop you won't find anything else to order here except for a few cakes and pastries. There aren't too many places to sit down too, so this is not the place to go if you are looking for a brunch spot. However, do stop here to take their coffee and enjoy it for takeaway! Worth it!
Location: Delicotte Speciality Coffee & Tea
10. El Último Mono Juice & Coffee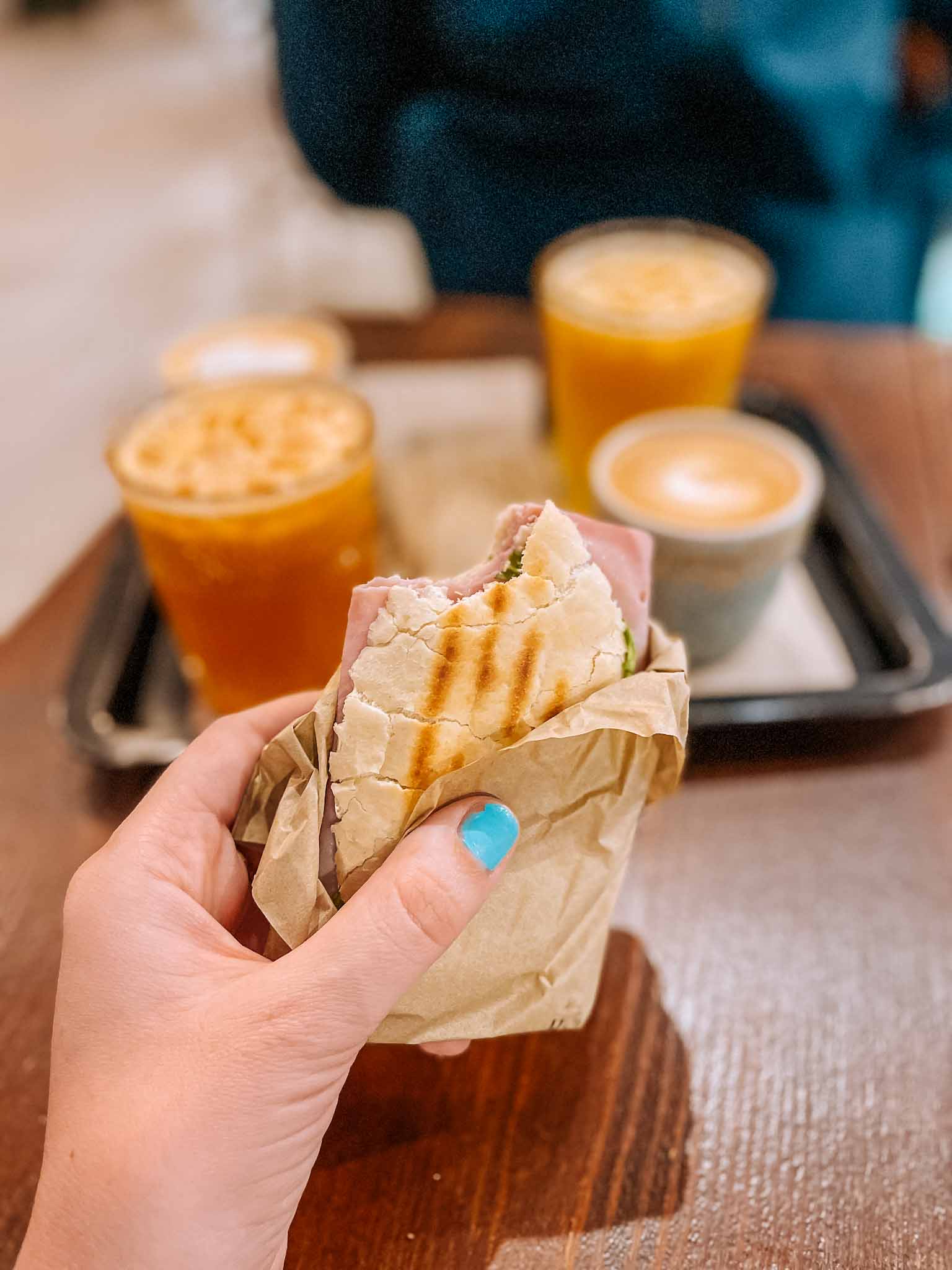 El Último Mono Juice & Coffee is a great place in Malaga Old Town to get fresh juices, smoothies, and a cup of specialty coffee. They also have some muffins, cookies, sandwiches, and wraps to eat.
Although they don't have a breakfast menu and your breakfast options are very limited, we enjoyed our visit to this coffee shop! Coffee was great and, ultimately, sometimes that is enough for your day to start on a good note! 🙂 The best part? They allow working on laptops here!
Location: El Último Mono Juice & Coffee
11. Bertani Café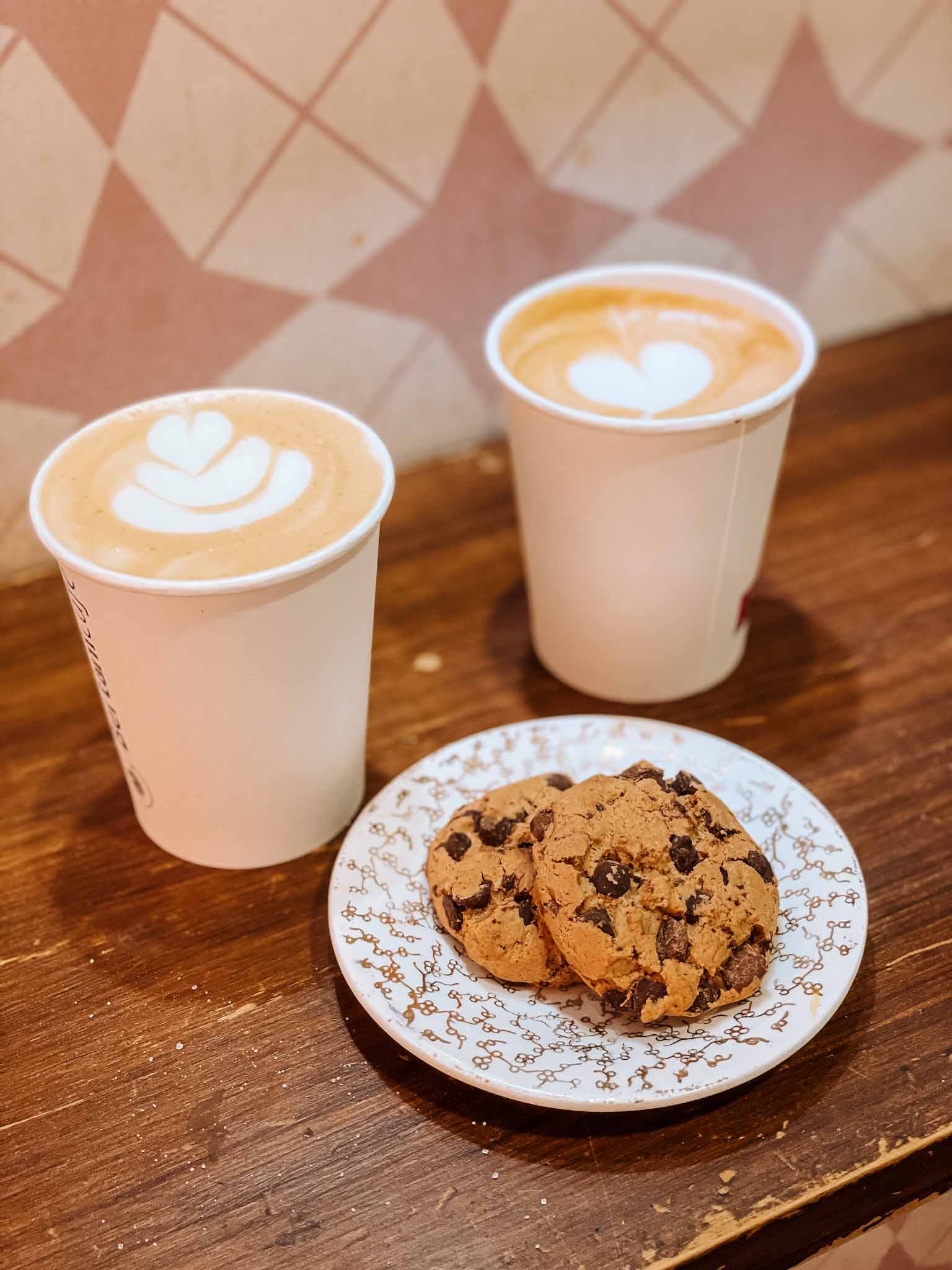 Sometimes you don't want much for breakfast. Bertani Café is a tiny place that offers specialty coffee for takeaway and some cookies to have with your coffee. If this is all you need, don't miss this coffee spot right in the Old Town of Malaga!
Location: Bertani Café
12. Dulces Dreams Boutique Hostel & Café Gallery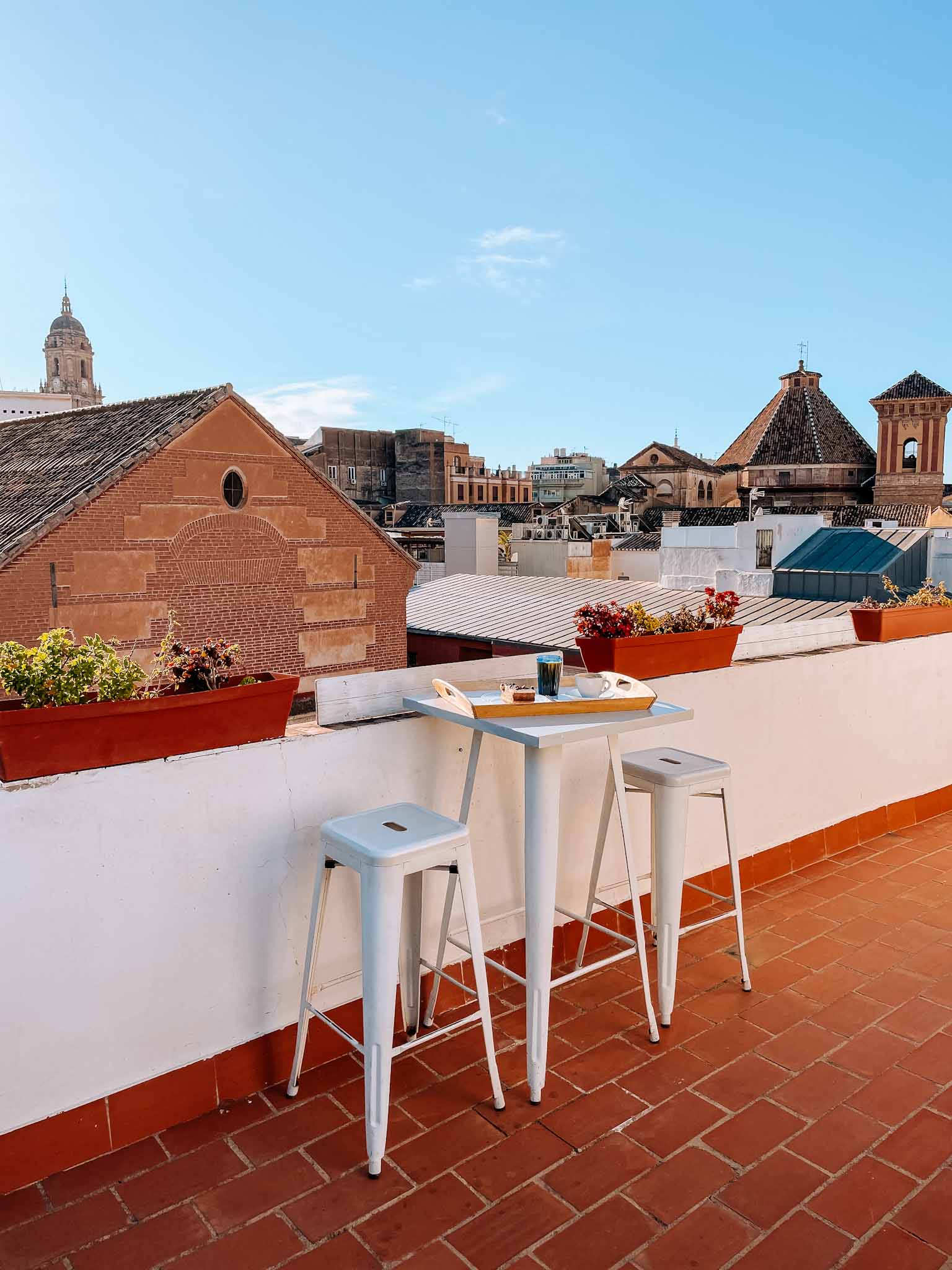 Café Gallery is located on the ground floor of Dulces Dreams Boutique Hostel. I would actually never notice that it is a hostel if it weren't for the name on Google Maps. It is a cute and quite nice café with breakfast and brunch options as well as lunch and dinner. You can check their menu on their website.
This is not a specialty coffee place – they serve regular Spanish coffee (if you know what I mean). But the food is really nice and definitely makes it worth visiting this place. Everyone will find something to eat and drink here for sure! And, after all, their cafe con leche was quite decent enough!
However, the most unique thing about this café is that it has a rooftop terrace. Most of the customers stay on the ground floor and have food inside or outside on the street. But they have about 5 tables on the roof as well.
If you want to go there, you can ask them and they will prepare a tray with your order that you can bring to the roof yourself and then bring it downstairs. They don't serve tables on the roof as it is a long climb and there is no elevator. We actually ate downstairs but took our coffees up to drink them on the roof.
Location: Dulces Dreams Boutique Hostel & Café Gallery
13. Avocate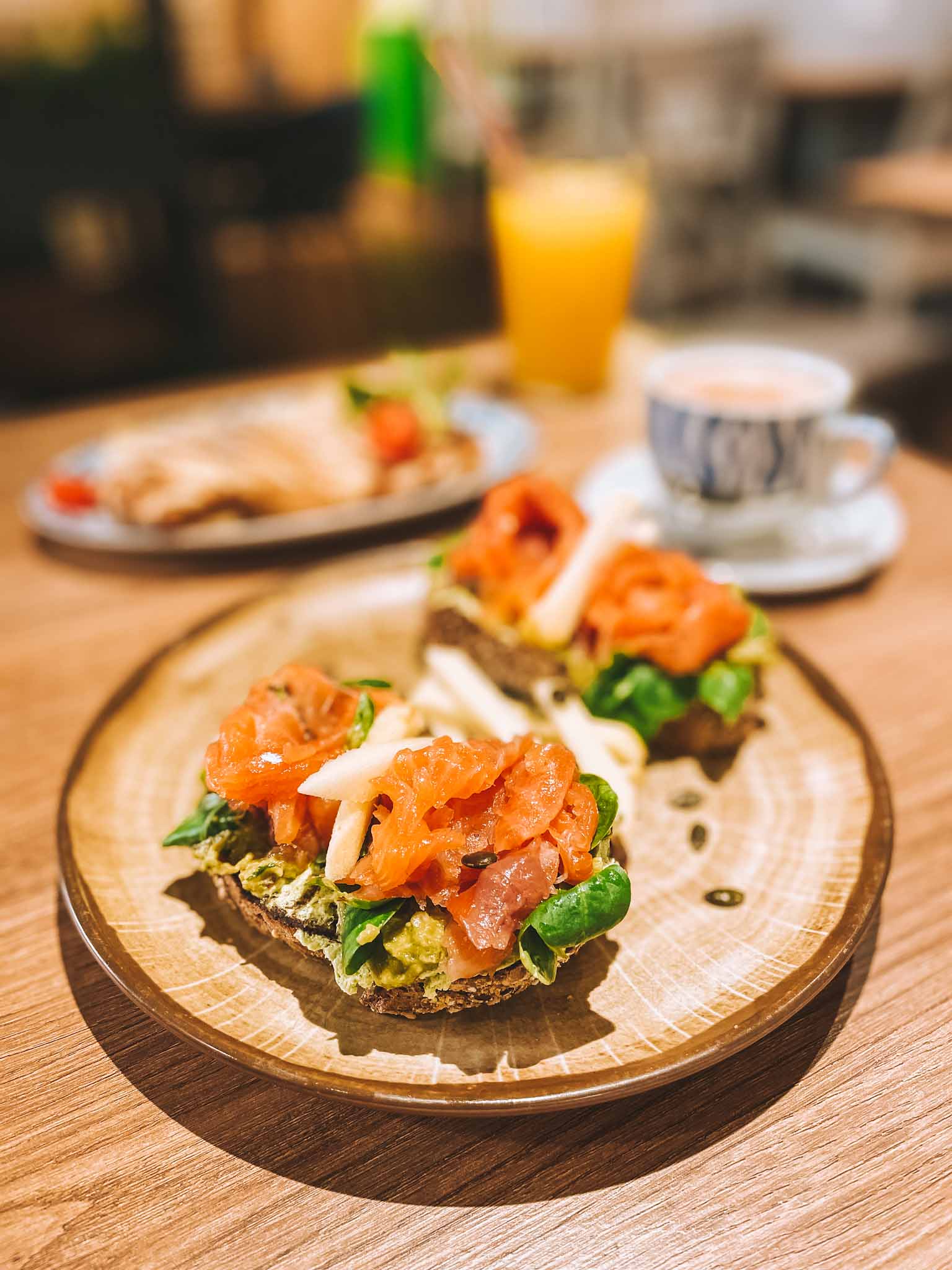 This breakfast, brunch, lunch, and dinner place is hidden in the heart of the Old Town of Malaga. With toasts, crepes, bowls, croissants, and eggs this is a great place for breakfast. They do not have specialty coffee, but the traditional cafe con leche was decent.
I enjoyed their freshly squeezed juices too. And if you still have some free space in your belly, try one of their rich and tasty cakes as well! I thoroughly enjoyed my viking toasts and left quite satisfied and well-fed! You can check their menu on their website!
Location: Avokate
14. Brunchit España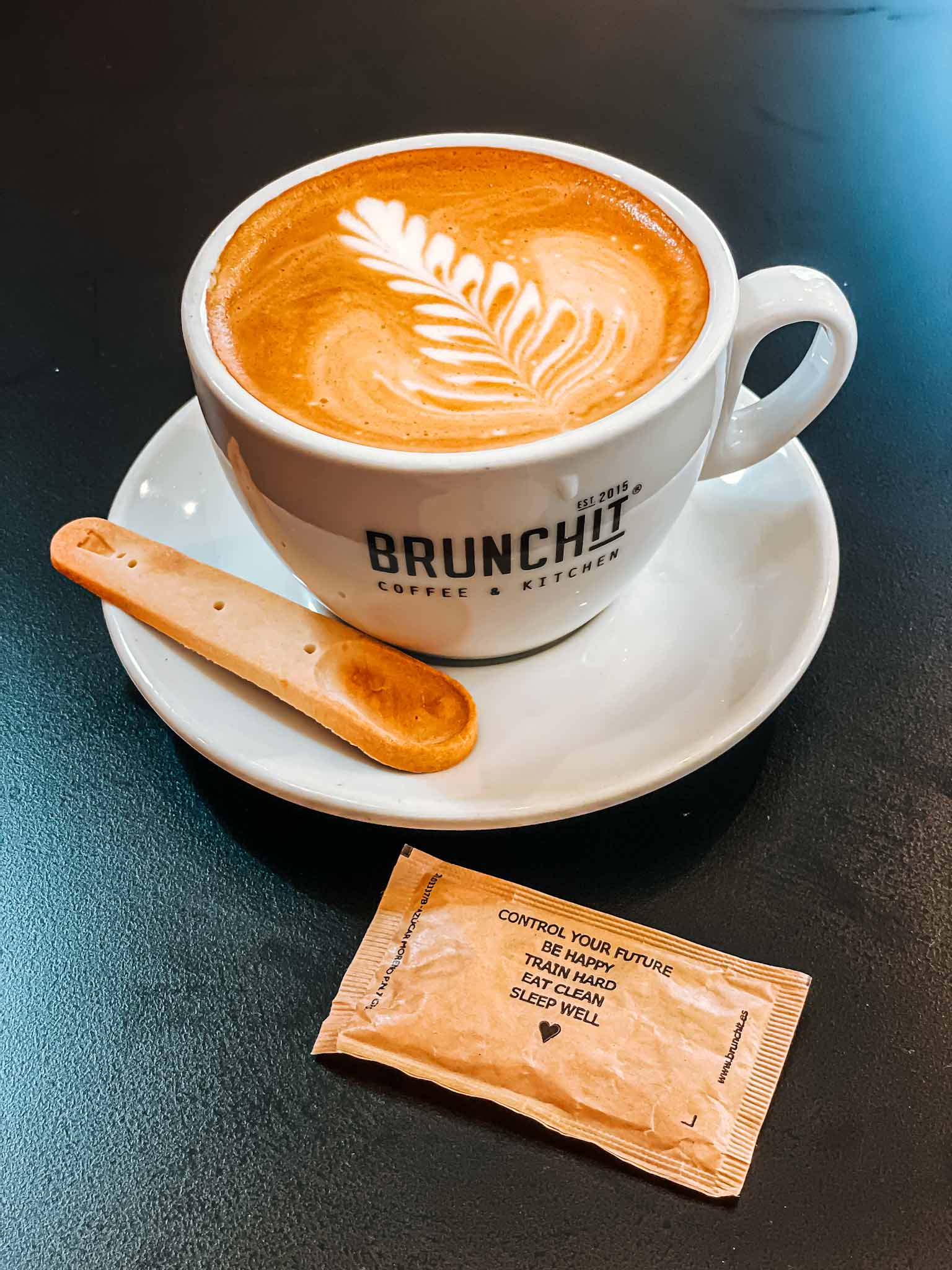 We had mixed feelings after visiting this trendy breakfast, brunch, and lunch spot in Malaga Old Town. And it ultimately came down to what we chose for brunch.
My husband was less impressed by his avocado and tomato toasts, however, I enjoyed my salmon toasts with cream cheese and cucumbers VERY MUCH!
Coffee was not the best we tasted in Malaga (definitely nothing like at those specialty coffee places), but they do have a great vibe with tables inside and outside (where you are allowed to work on your laptop!).
The positive was the QR code on the table that you can scan and pay your bill with your phone – no need to wait for the waiter to come!
You should know that this restaurant is a franchise and Brunchit spots are located in many places around Malaga Old Town. The location of the place we went to is located below.
Location: Brunchit España
15. The Cereal Boom Coffee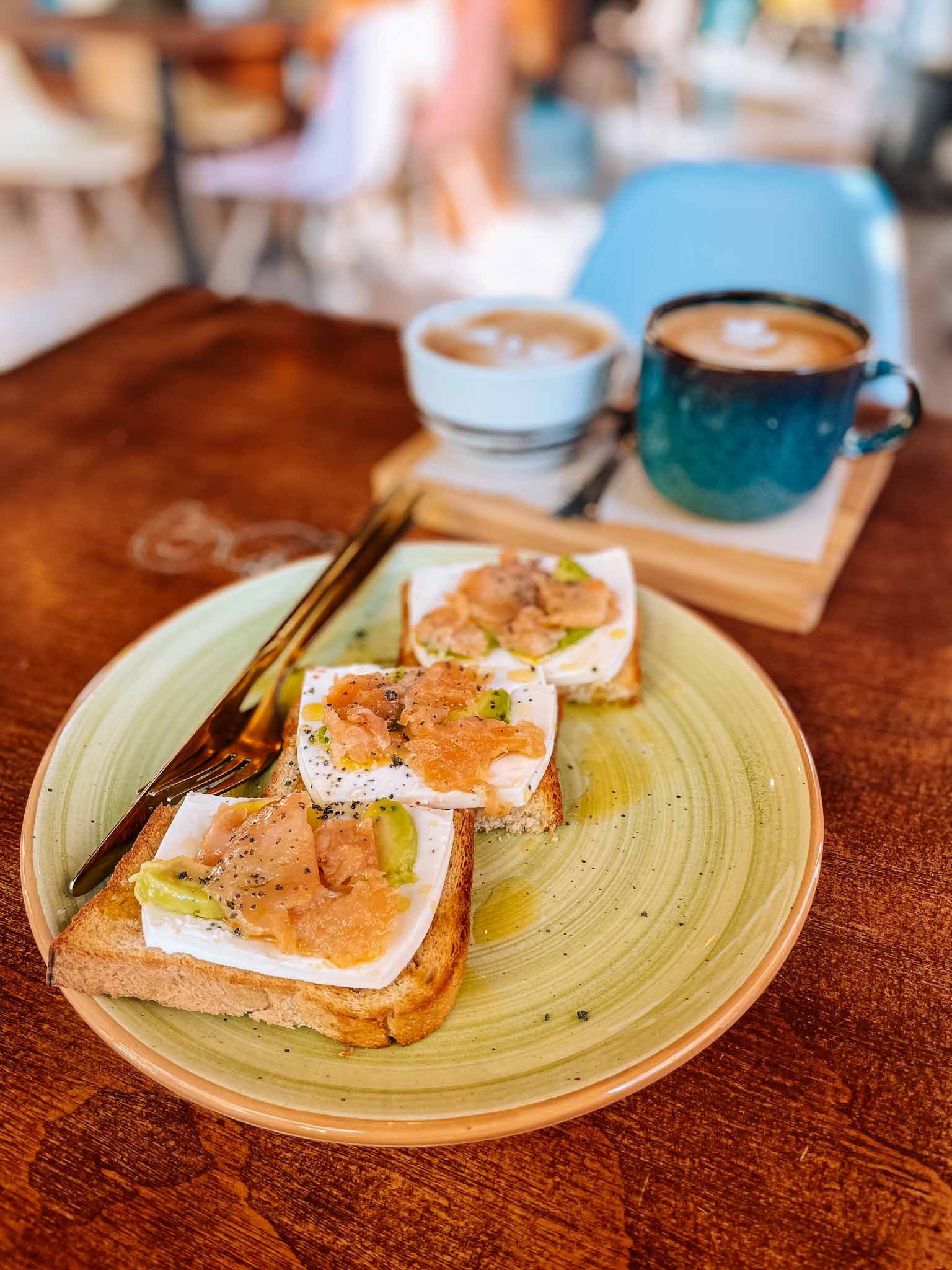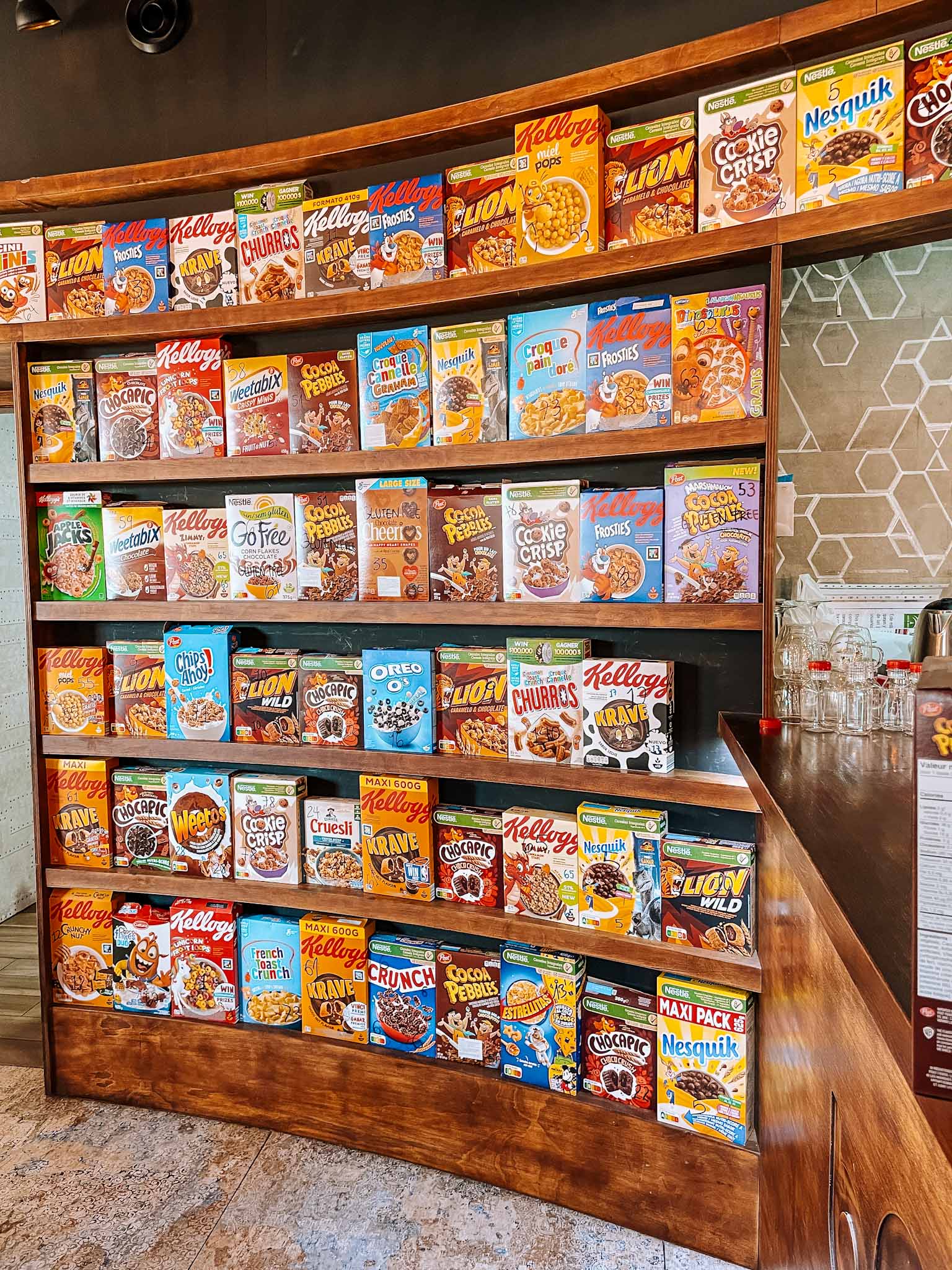 Although this breakfast restaurant did not offer us specialty coffee, nevertheless this was one of the most unique breakfast spots in Malaga. Their unique thing is offering what seemed like more than a hundred options of breakfast cereals that you can mix in a bowl. A kid's dream!
You don't need to be a breakfast cereal fan to go there because they have an extensive breakfast menu to choose from. We got breakfast toasts with different toppings. Overall it was a really decent place.
The best part? It was much cheaper than the other places! Excellent for cereal lovers (a place to visit if you are traveling with kids!), but not for specialty coffee lovers.
Location: The Cereal Boom Coffee
Bonus! Artisan Coffee Roaster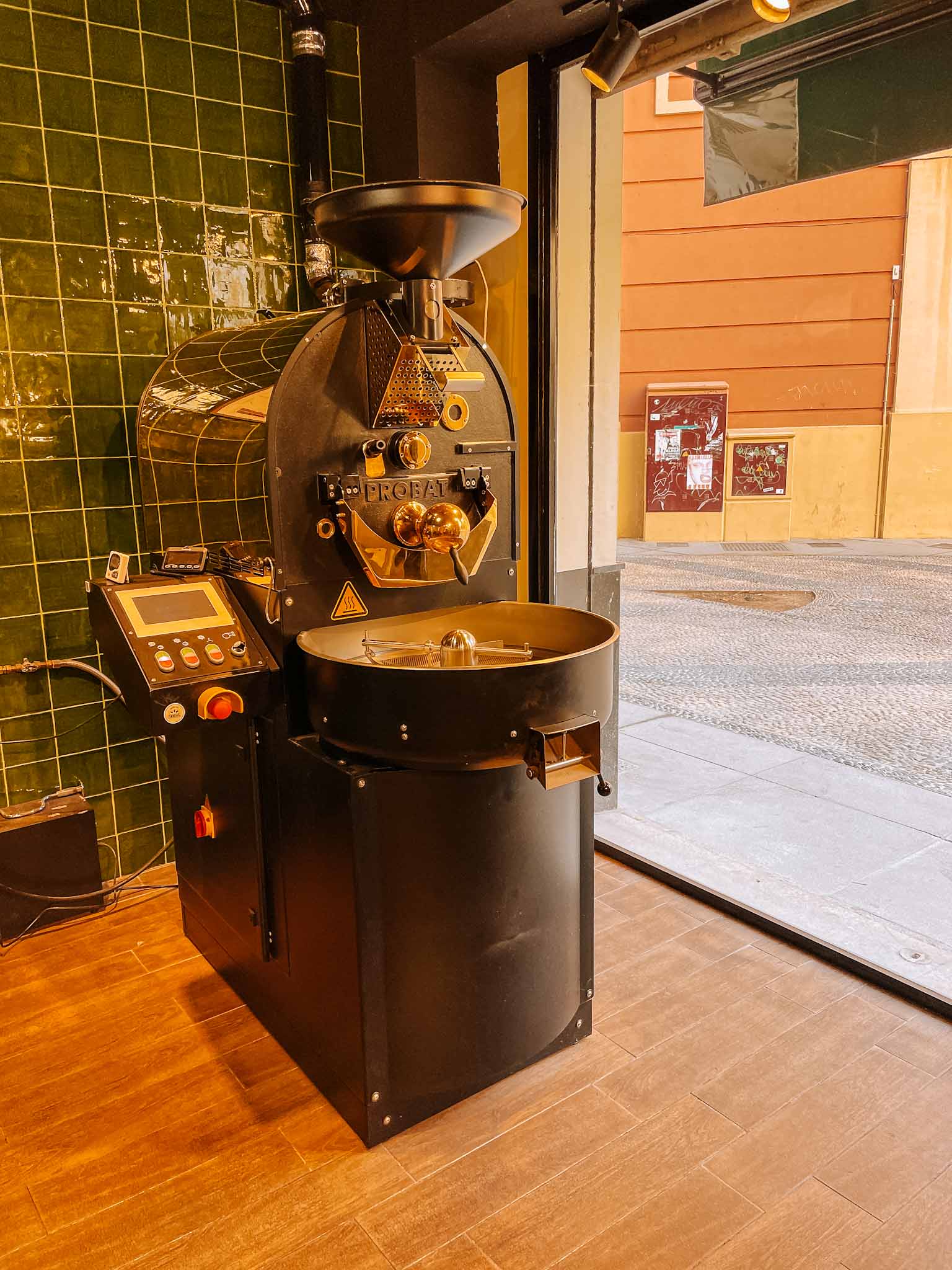 I have to mention Artisan Coffee Roaster place in Malaga. That is not a breakfast restaurant and not even a coffee shop, but simply a coffee bean roastery. It means – you can't get any meals or drinks here, but you can get quality coffee to make it yourself at home!
You can buy not only coffee beans here but they also sell coffee-making accessories like moka pots, grinders, and more. They even do different courses that they offer on their website including a barista course, latte art course, and others.
Location: Artisan Coffee Roaster
More Malaga travel inspiration!
Happy exploring!
Malaga is a must-visit city in Andalusia, the Southern region of Spain. It is a year-round destination known for its palm-lined sandy beaches, Castle of Gibralfaro, Alcazaba of Malaga fortress, and also as the birthplace of the famous painter and sculptor Pablo Picasso.
Malaga is the best place to go to catch some sun as well as embark on a road trip around Andalusia. I hope you enjoy your time in Malaga as much as we did and get some inspiration from my blog to make your trip even more adventurous, fun, and unforgettable!
PIN FOR LATER!