13 hidden gems and unique spots you should see in Malaga, Spain
Malaga is a prominent city to visit in the famous Costa del Sol area in Spain. People have lived in Malaga for almost 3000 years so it is full of history, art, and unique places. Here are some hidden gems and unique spots you should visit in Malaga during your stay!
In this blog post, you will find all the places with descriptions, photos, and locations where they can be found on Google Maps. I hope you enjoy Malaga as much as we did! Happy exploring!
Read more >>> 13 best day trips from Malaga, Spain
1. Rooftop of Catedral de la Encarnación de Málaga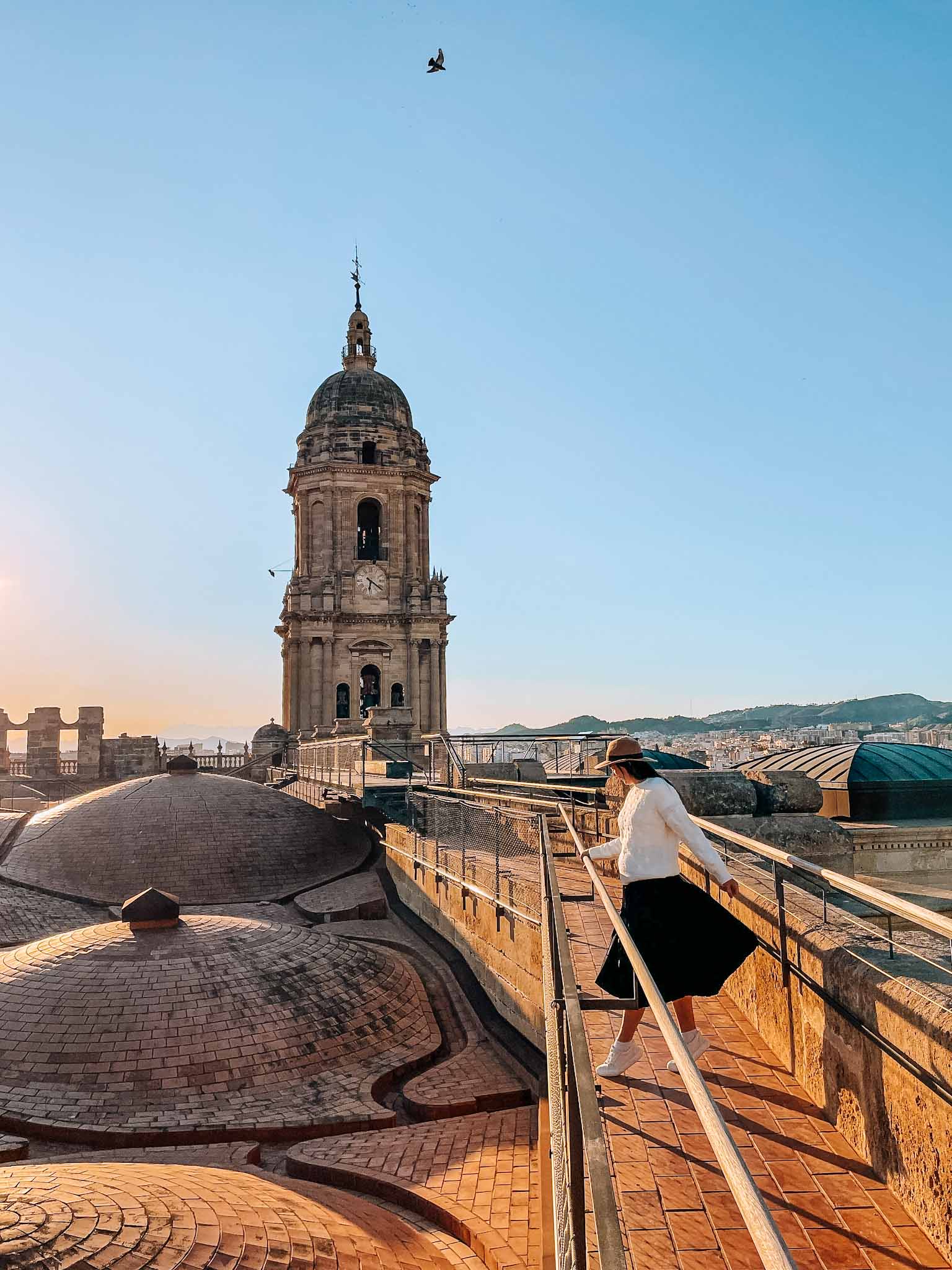 The Cathedral of Malaga is one of the most prominent buildings in the city and also one of the most beautiful ones. It was built in the Renaissance architectural style. It is impossible to walk around Malaga Old Town and miss the cathedral.
You can buy tickets to visit the interior of the cathedral and there is usually a line in the morning to get inside it. I am sure that visiting it is a beautiful experience, but not many people know that you can buy tickets to visit the roof of the cathedral, too!
Visits to the roof happen in groups at certain times. You can buy tickets at the cathedral or online where you can see the timetable for the visits. The roof is not easily accessible as you can only get there by ascending ~200 steps through a narrow staircase.
The group is accompanied by two guides who will let you walk around the perimeter of the roof. The views of the city and the port of Malaga are quite magnificent! I would recommend going there for the morning sun or for the sunset if possible.
Location: Catedral de la Encarnación de Málaga · Entrance
2. Mirador de Gibralfaro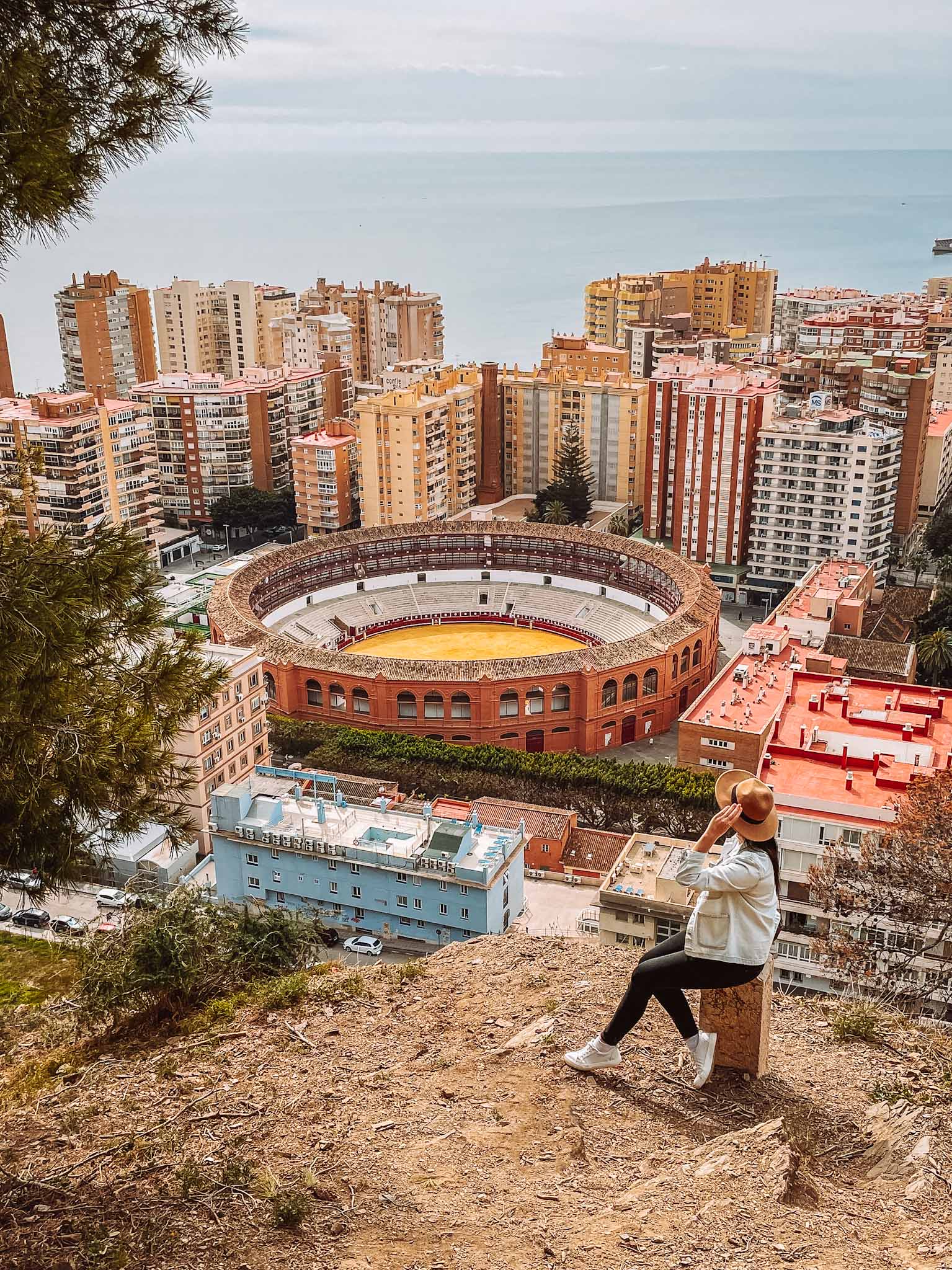 It is impossible to miss Gibralfaro mountain when visiting Malaga. The mountain stands right by the city and is one of my favorite hidden gems in Malaga. Obviously, there is a castle on the top of the mountain as well as the Alcazaba fortress on the slopes of it. However, there is more to the mountain.
There is a narrow walking path that starts near Alcazaba and continues uphill. The best part of this walking path is the views over the city. Especially the port and the bullring. The hike starts on this street, then through a tunnel and uphill. There are two viewpoints to get the best views.
There are even benches and places to sit along the way. You can grab some snacks, and drinks and have a small picnic. You will definitely get the best sunrise and sunset views here on this mountain! The photo was taken next to the Lookout One (location below).
Location: Lookout One · Mirador de Gibralfaro
3. Pasaje Chinitas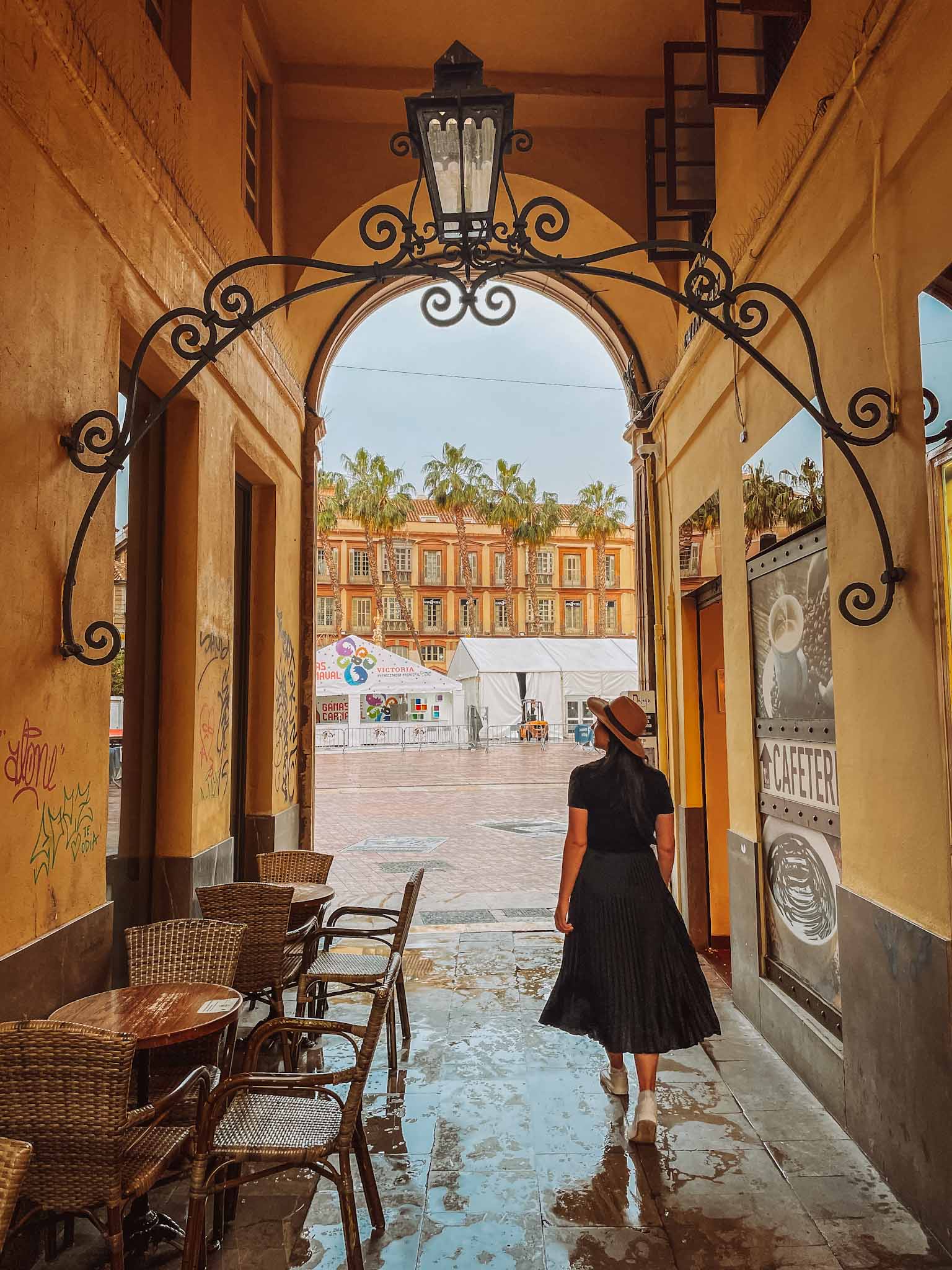 Chinitas passage is a narrow street in the heart of the Old Town of Malaga that is connected to the main square – Plaza de la Constitución. This narrow arch-shaped portal with arched metal lanterns above your head has historically been a place to meet up for artists, poets, and bullfighters.
Today there are small cafes in the passage to sit and watch the busy life in the square pass by. A hidden place to disappear from the crowds. The passage gained popularity after a popular Spanish poet mentioned it in one of his poems. Don't miss it during your trip!
Location: Pasaje Chinitas
4. Poem stairs and Malaga letters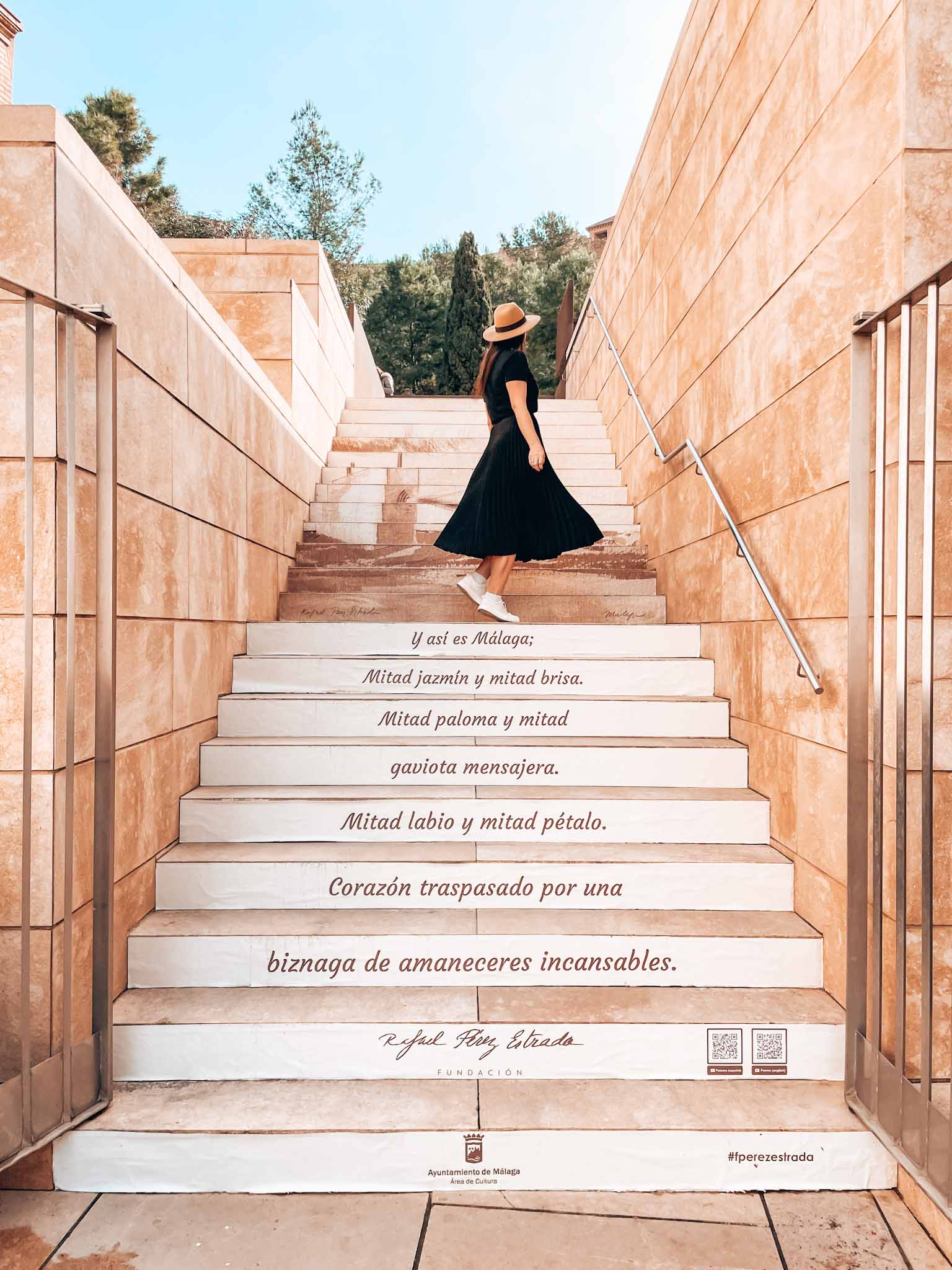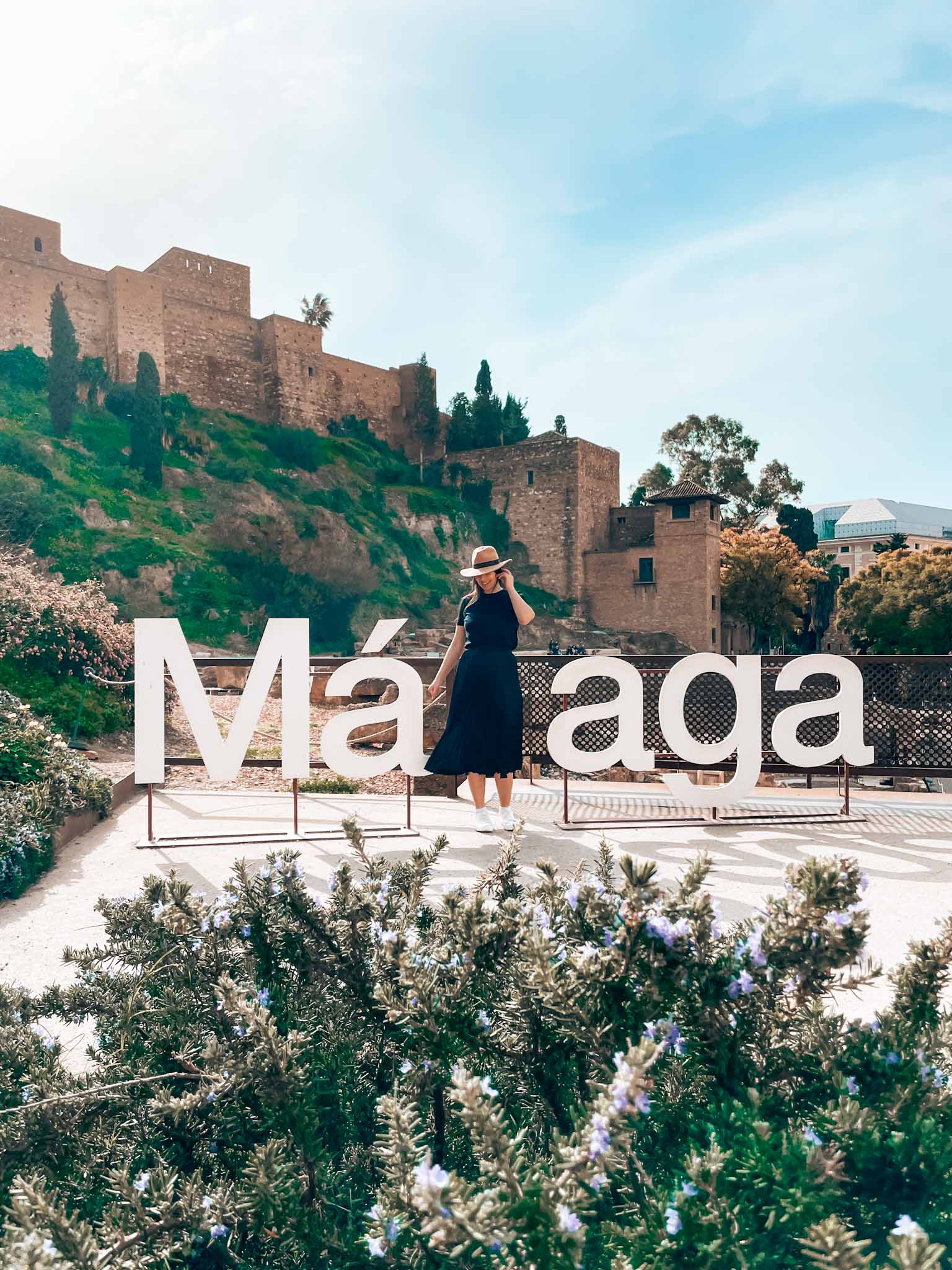 One of my favorite hidden gems in Malaga is the poem stairs. They are located next to the ancient Roman theatre near Alcazaba. However, not many people ever go there because the stairs only lead to the Mirador de la Alcazaba viewpoint and nowhere else.
I have to mention that the stairs are located behind a gate that usually only opens at 10 AM. Once you ascend the stairs you will see the Malaga letters with a background of Alcazaba. If you climb higher you will get to the Mirador de la Alcazaba viewpoint that overlooks the Roman theatre and the city.
The poem on the stairs with each line written on a separate step is called 'And so is Málaga'. It was written by Rafael Pérez Estrada. It is a short beautiful poem in Spanish about the city of Malaga. I will not translate it for you and I hope you will do it yourself when you get there! 🙂
Location: Poem stairs · Malaga letters · Mirador de la Alcazaba
5. Dinner on the highest rooftop in Malaga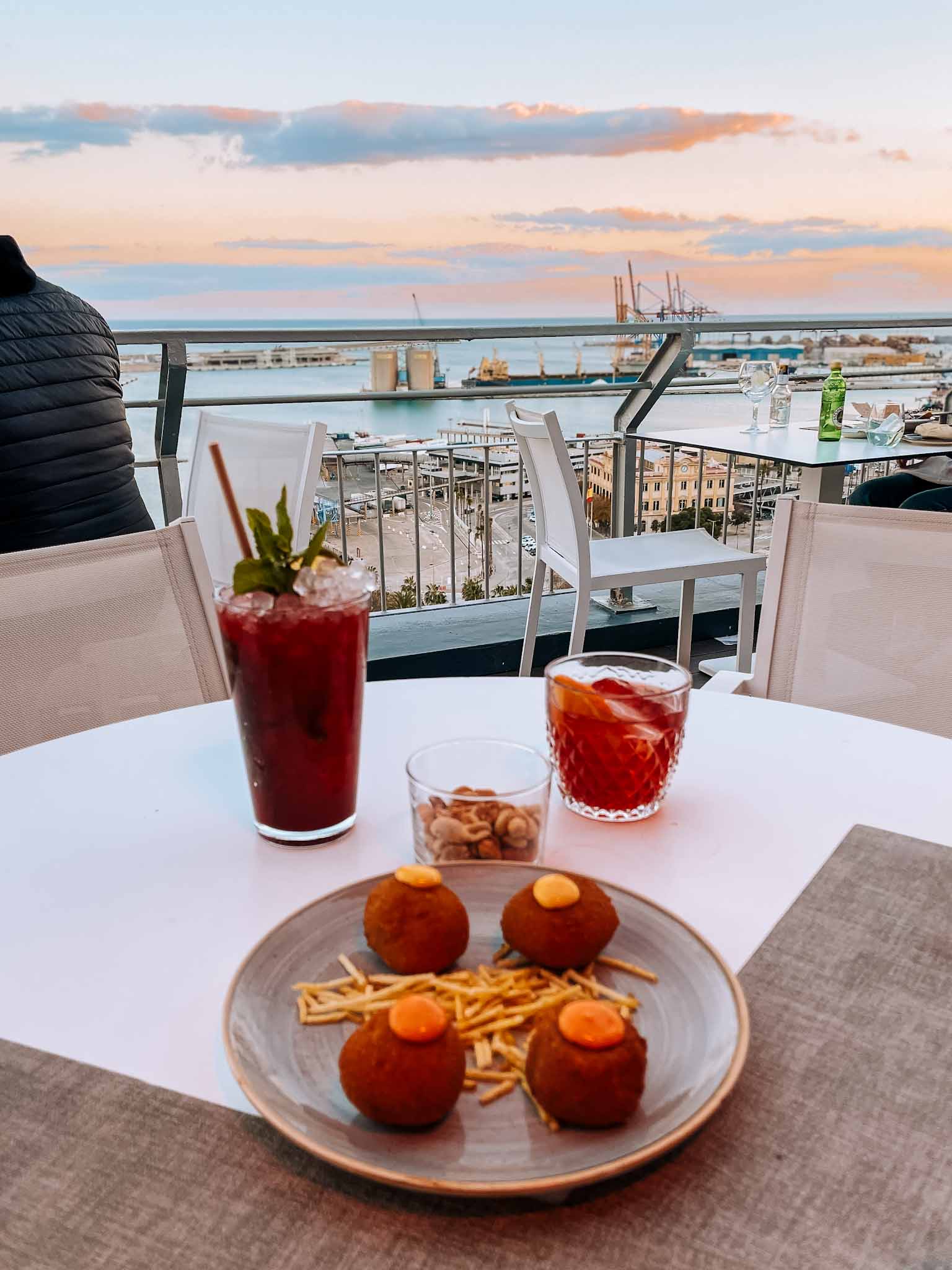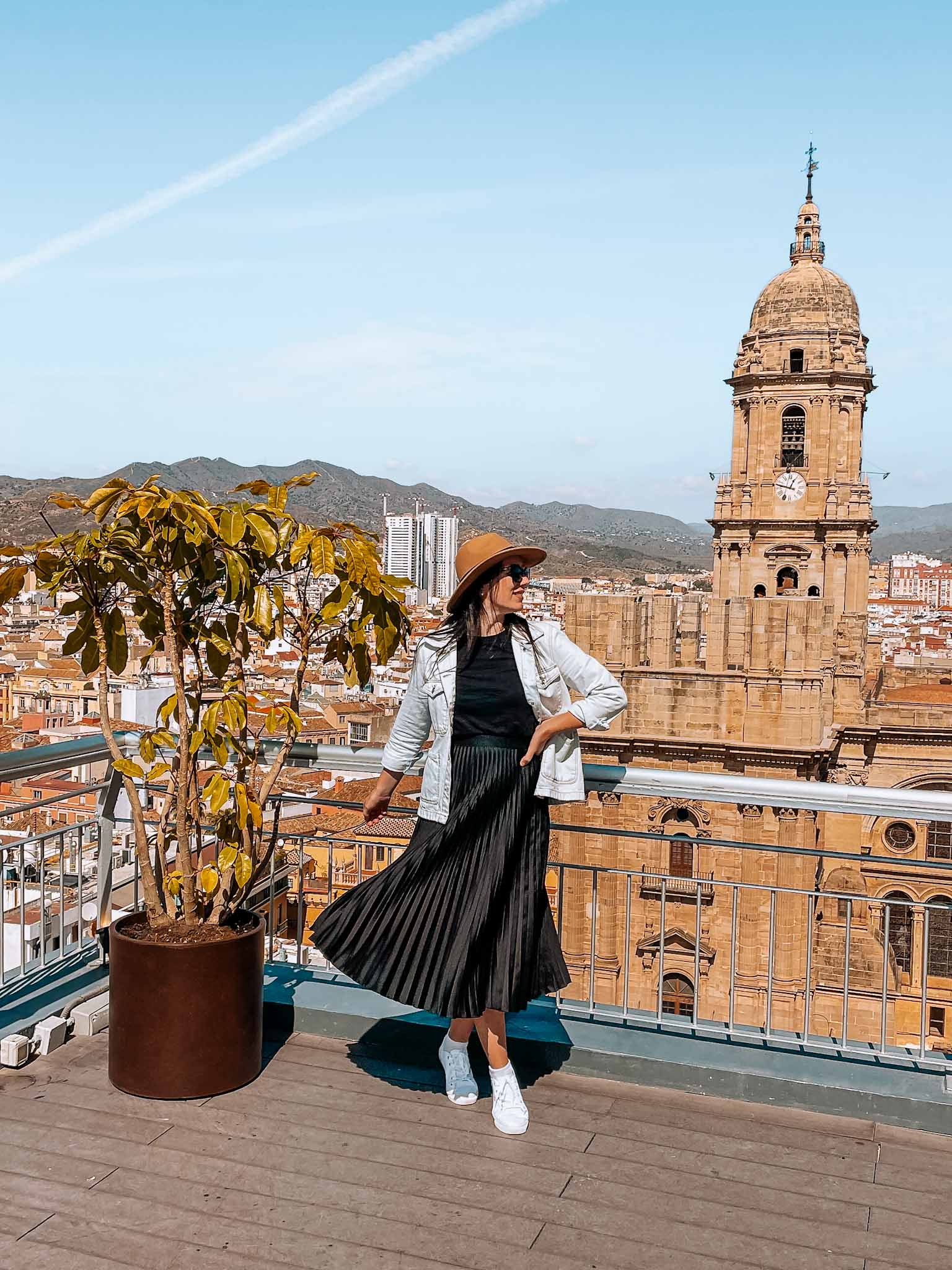 Did you know that any visitor to Malaga can have dinner or drinks on the highest rooftop in Malaga with a 360-degree view of the city and the Mediterranean sea? I know that it sounds too good to be true, but it is true. This is among my favorite hidden gems in Malaga and we went there multiple times!
The highest rooftop in Malaga is the building of the AC Hotel Malaga Palacio by Marriott. If you want to have dinner or drinks there, then you don't have to book a room at the hotel. We just went to the hotel and told them at the reception that we wanted to go to the rooftop.
There are tables inside (with glass windows) and also outside on the roof. The drinks bar is only outside. You can walk around the roof and snap photos of the cathedral, the port, and the city. The food was fantastic and we really enjoyed this experience!
Location: Restaurante Roof top AC Hotel
6. Street art wall at Plaza de la Judería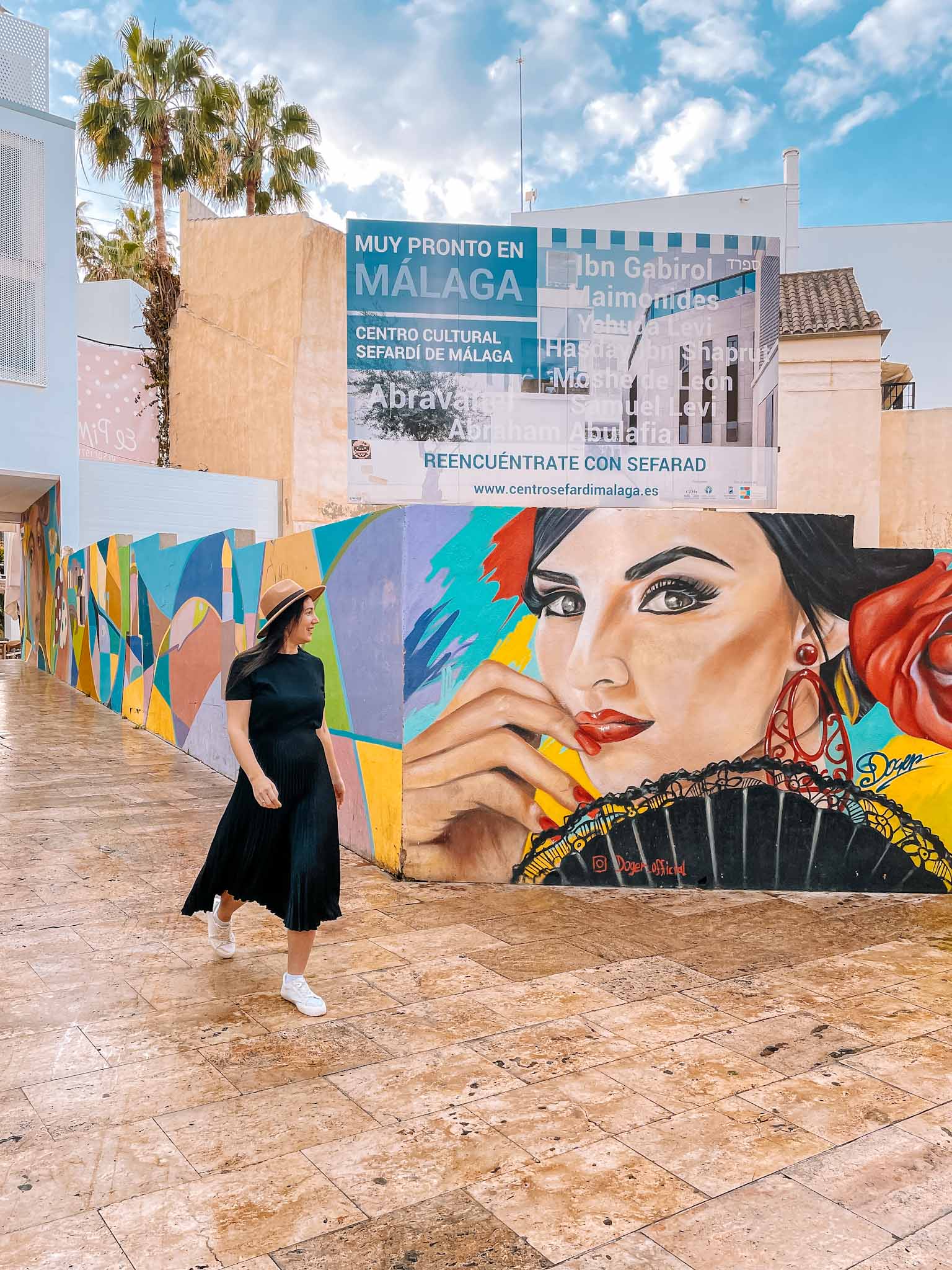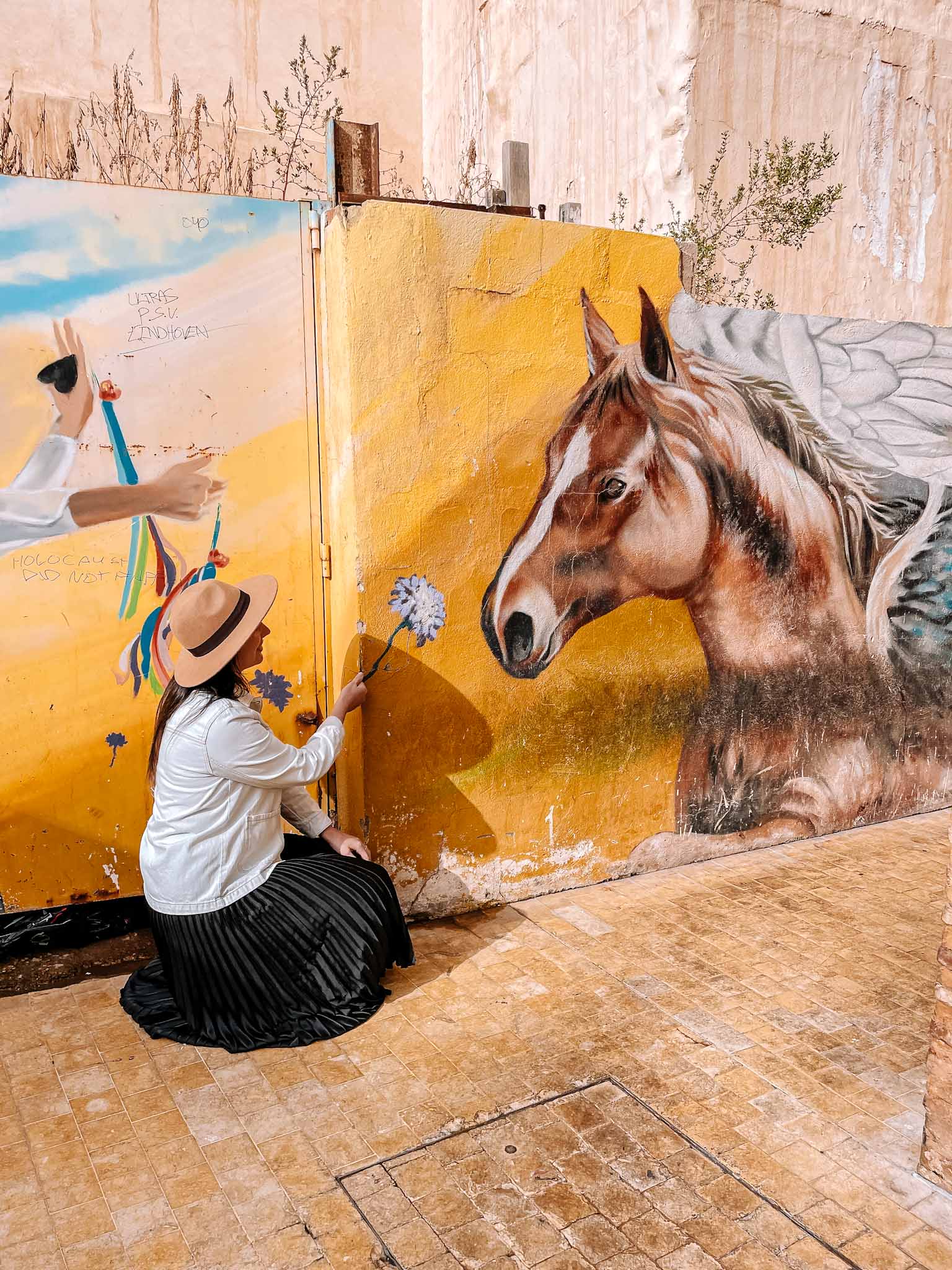 One of the hidden gems in Malaga Old Town is a street art wall at Plaza de la Judería. It is a place that most tourists would not even notice and stroll by. However, there is a nice square with a tree, a fountain, and a long wall of different street art paintings to check out.
Location: Plaza de la Judería
7. Mercado Central de Atarazanas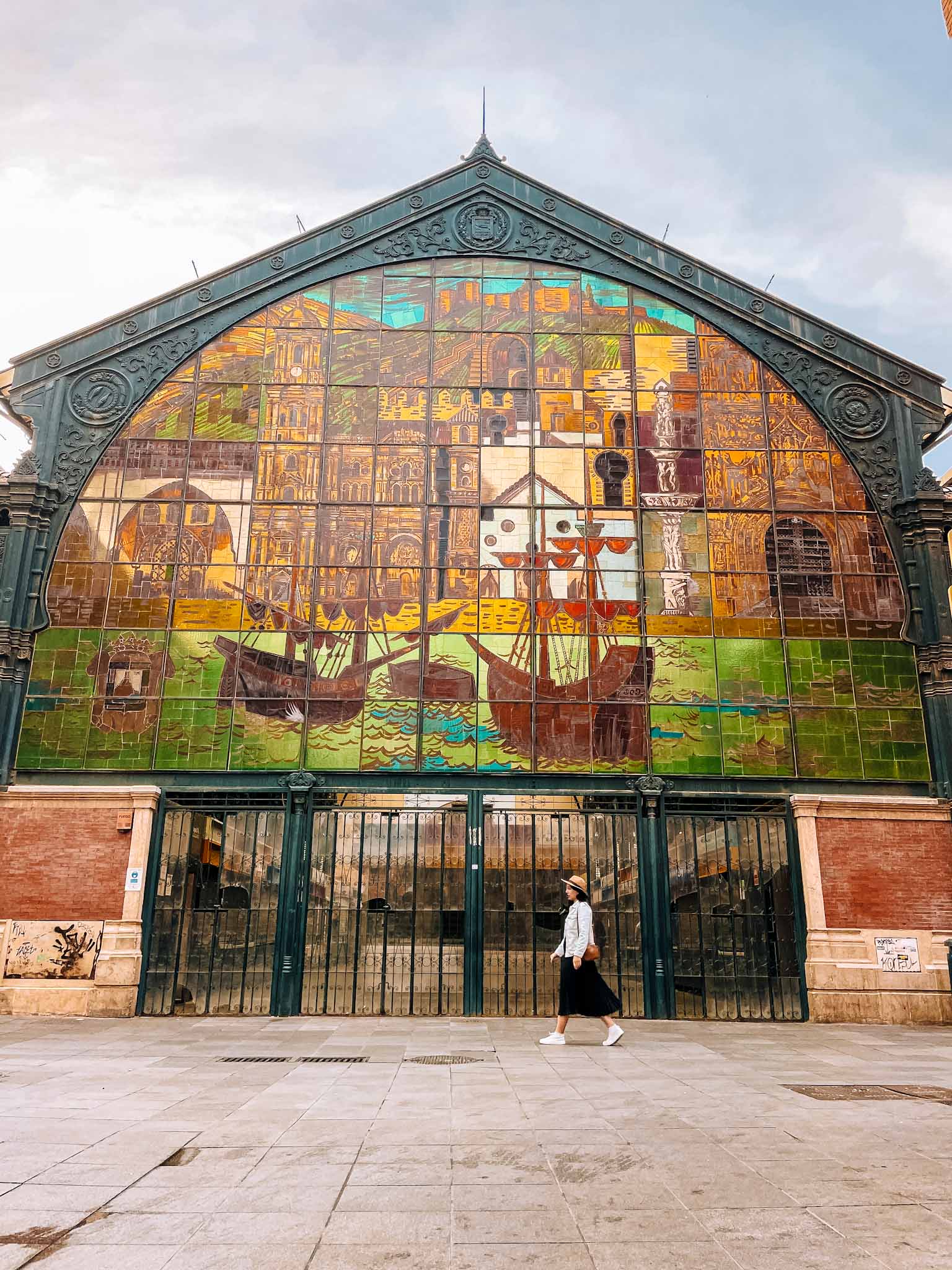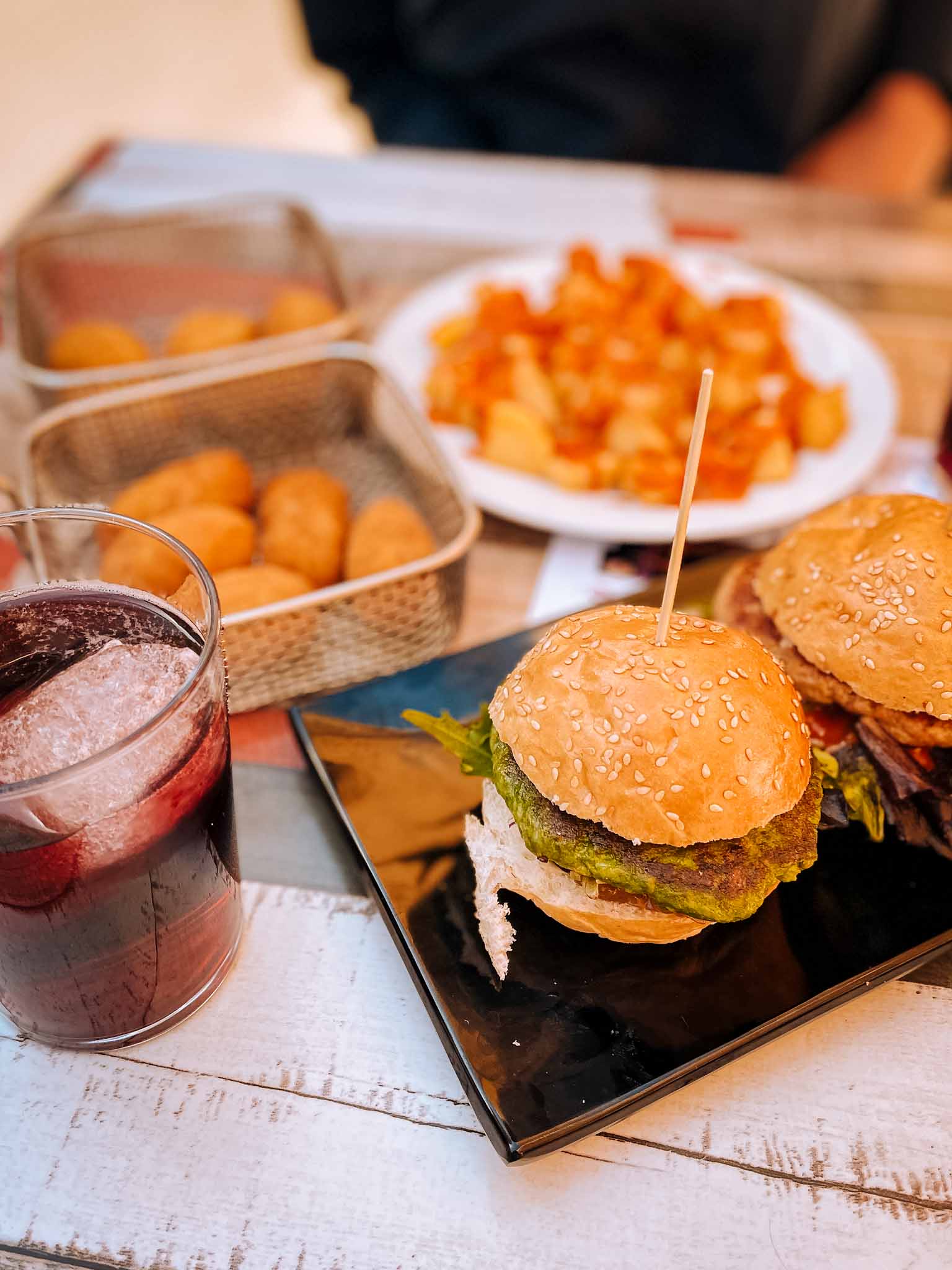 One of the most unique buildings and hidden gems in Malaga is Mercado Central de Atarazanas. It is a huge covered marketplace divided into multiple parts where you can find all kinds of fresh produce. The building is quite impressive with huge glass paintings on one side of it.
The best part that not many people know is that there are multiple tapas bars where you can get drinks and freshly made tapas from the products they sell in the market! We had lunch here at Medina Bar and really enjoyed it! You should know that the market is only open until 3 PM.
Location: Mercado Central de Atarazanas
8. Jardín Botánico Histórico – La Concepción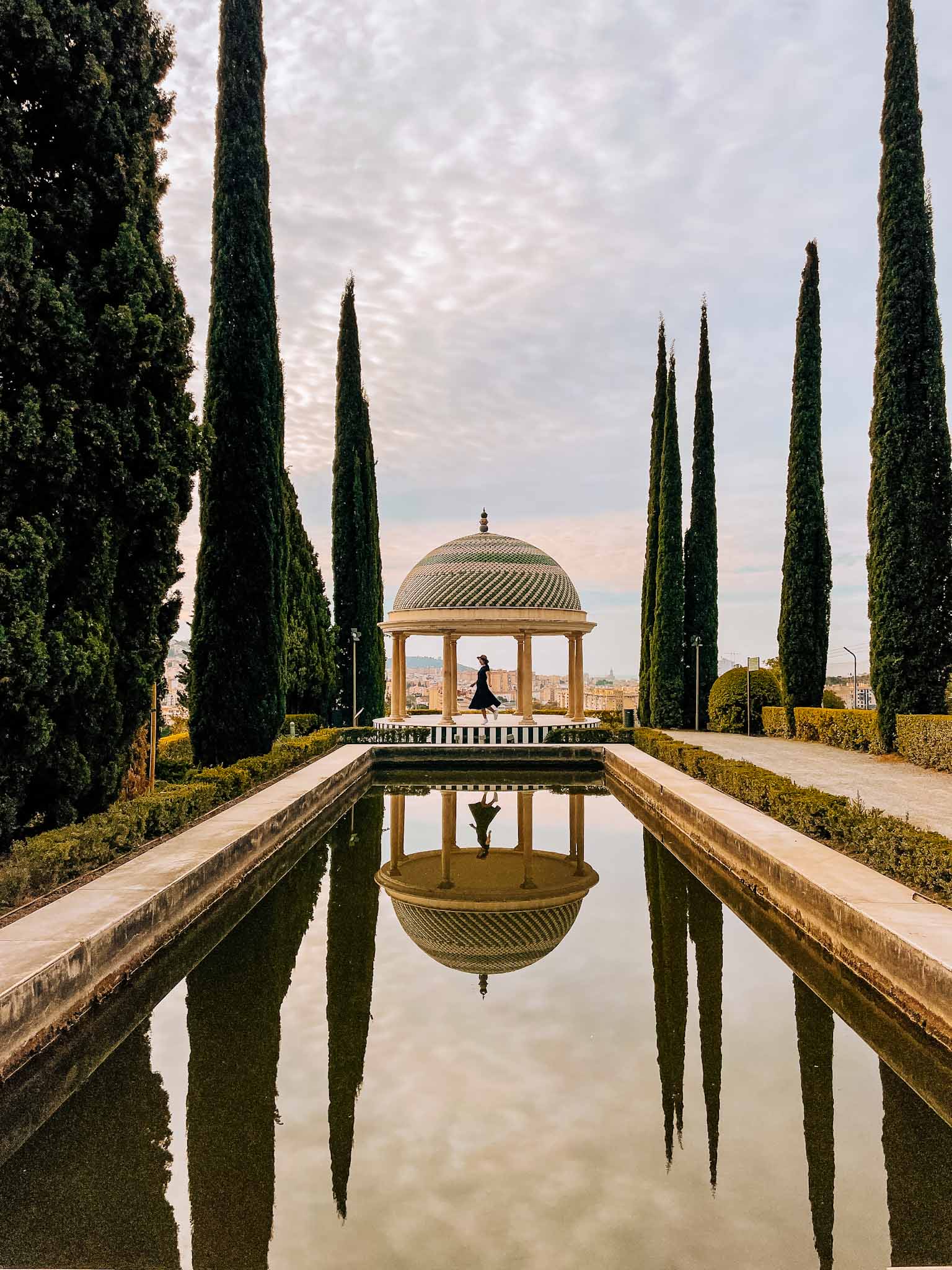 La Concepción is a historic botanic garden on the outskirts of Malaga city. There is an entrance fee of 5.20 EUR to visit this garden and it is open every day except on Mondays. You can visit it for free on Sunday afternoons (see here).
The botanic garden is not only full of historic, exotic, and unique plants, but also historic buildings (this was a family home once), museums, and charming corners – waterfalls, sculptures, ponds, gardens, and greenhouses. This place was a beautiful estate of an aristocratic family.
We enjoyed our visit very much and I suppose it could be a very nice escape from the summer heat in Malaga – there is plenty of shade behind trees and plants. Most importantly – you can get some of the best views over Malaga city from here! Highly recommend! You can get there by taxi or by bus.
Location: Jardín Botánico Histórico – La Concepción
9. Breakfast on the roof at Café Gallery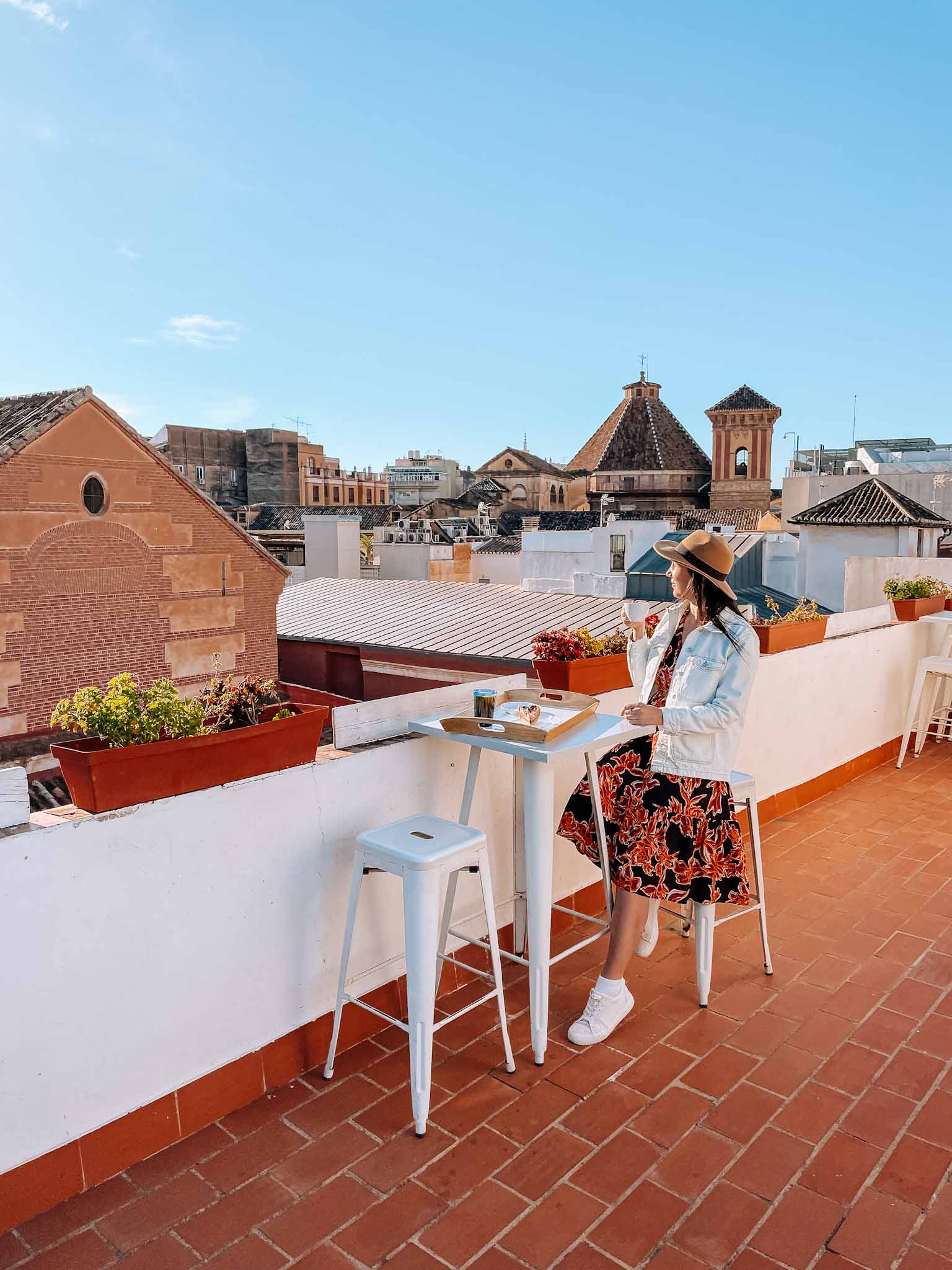 Having breakfast on the rooftop sounds as dreamy as possible. Did you know that you don't have to book an expensive room at a luxury hotel to have breakfast on a rooftop terrace in Malaga? Yes, it is true!
Café Gallery is located on the ground floor of Dulces Dreams Boutique Hostel. It is a very nice café serving different options for breakfast and is open to everyone.
Most of the people stay downstairs, but you can ask the waiter to make a tray so you can bring your breakfast up the stairs to the roof (there is no elevator)! They have about 5 tables there for you to have an unforgettable breakfast experience overlooking the city of Malaga!
This was one of my favorite memories from our trip! The waiters don't serve food there, so you will have to bring your tray downstairs yourself after you finish eating. Check their website to see their opening hours!
Location: Dulces Dreams Boutique Hostel & Café Gallery
10. Acueducto San Telmo Ciudad Jardín
Due to the growing population and booming trade in the second half of the 18th century, Malaga was becoming a hotspot place for living. So it was decided to build an 11-kilometer-long aqueduct in order to transport water to the expanding city.
Today this aqueduct is considered one of the most important hydraulic engineering works of the 18th century in Spain. You can see this well-preserved structure up close if you have the means to get to one of the suburbs of Malaga – Ciudad Jardín.
The aqueduct is located inside a park and is free to visit. You can even climb a hill next to it to peek inside the upper part of the aqueduct where the water would usually flow. Obviously, it is not functioning anymore but it is interesting to see especially if you haven't seen an aqueduct before.
Location: Acueducto San Telmo Ciudad Jardín
11. Málaga Urban Park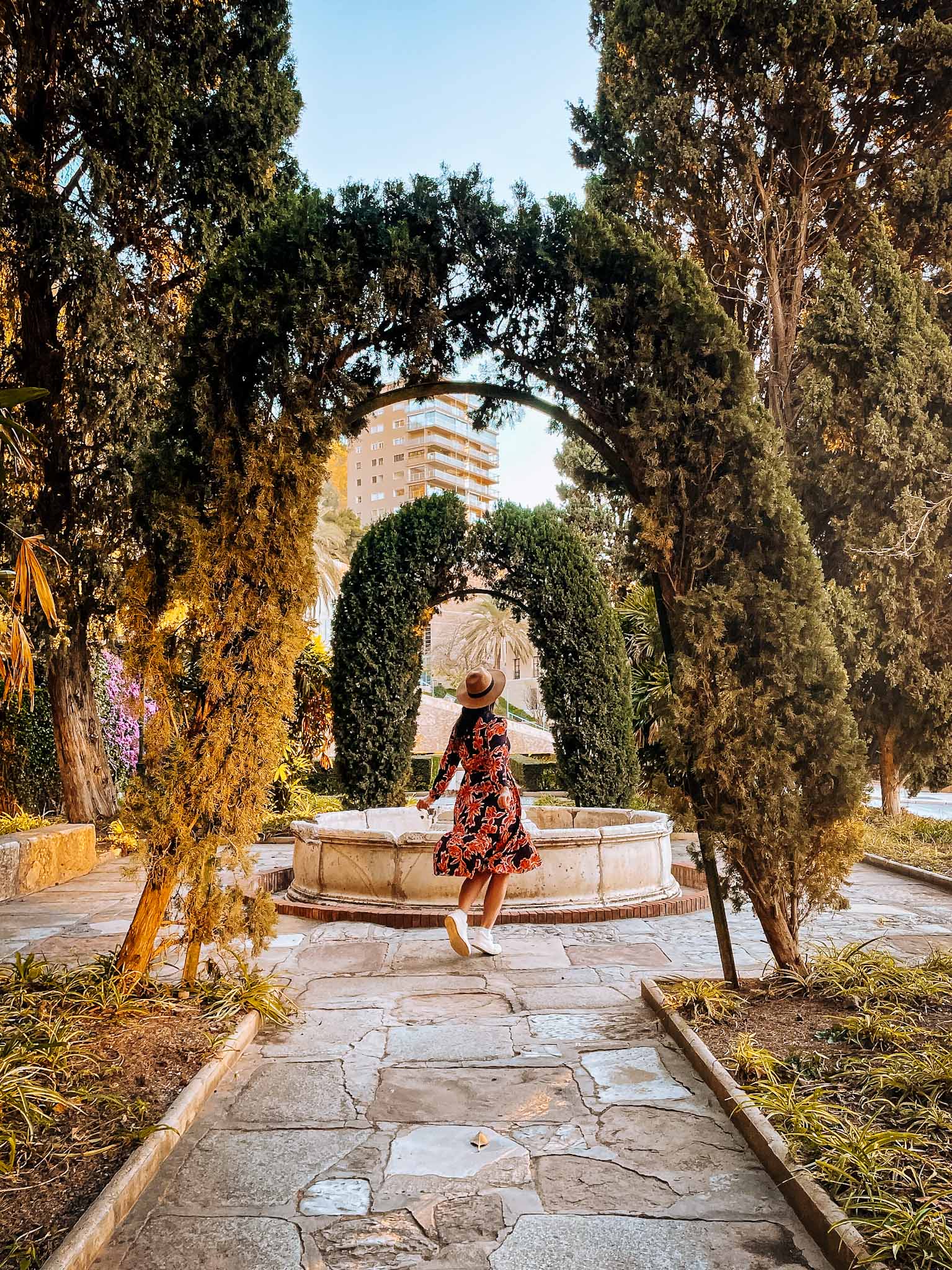 Visiting a park doesn't sound too exciting, right? What could be so interesting in a park? Malaga parks are something different. They are a combination of arches, fountains, orange trees, and a jungle! They must be a TOP spot during the summer heat, haha! You can really find the darkest shade here!
I especially enjoyed Malaga Urban Park (which is jungle-like and has fountains), but this part of the Jardines de Puerta Oscura was one of my favorite hidden gems in Malaga. There are arches and flower walls and fountains and it is a more quiet corner of the gardens.
However, if you are looking for a walk under the orange trees then Jardines de Pedro Luis Alonso will be the one for you. It is more decorative and well-maintained with walkways and benches scattered throughout it.
12. Coffee shops in Malaga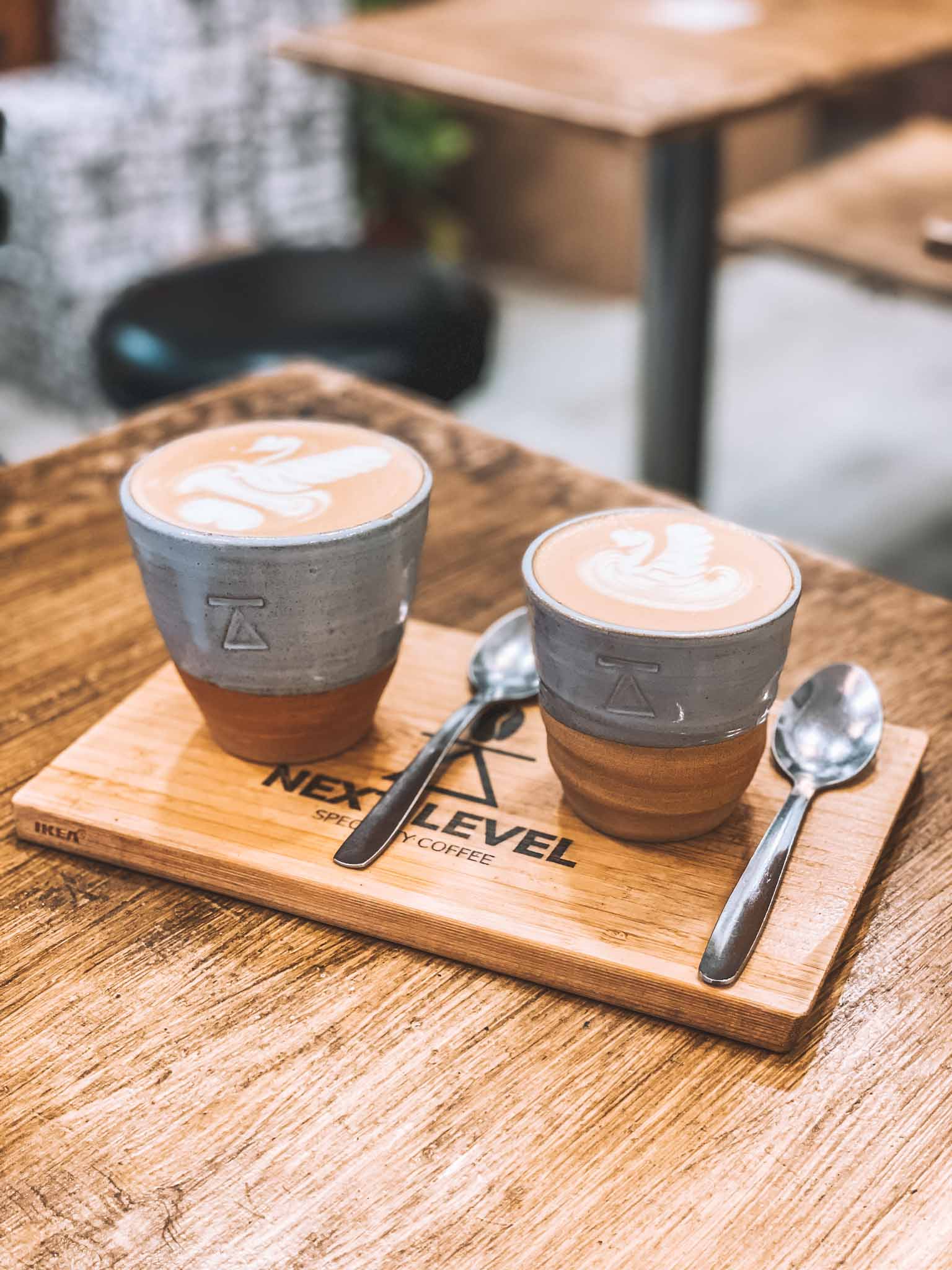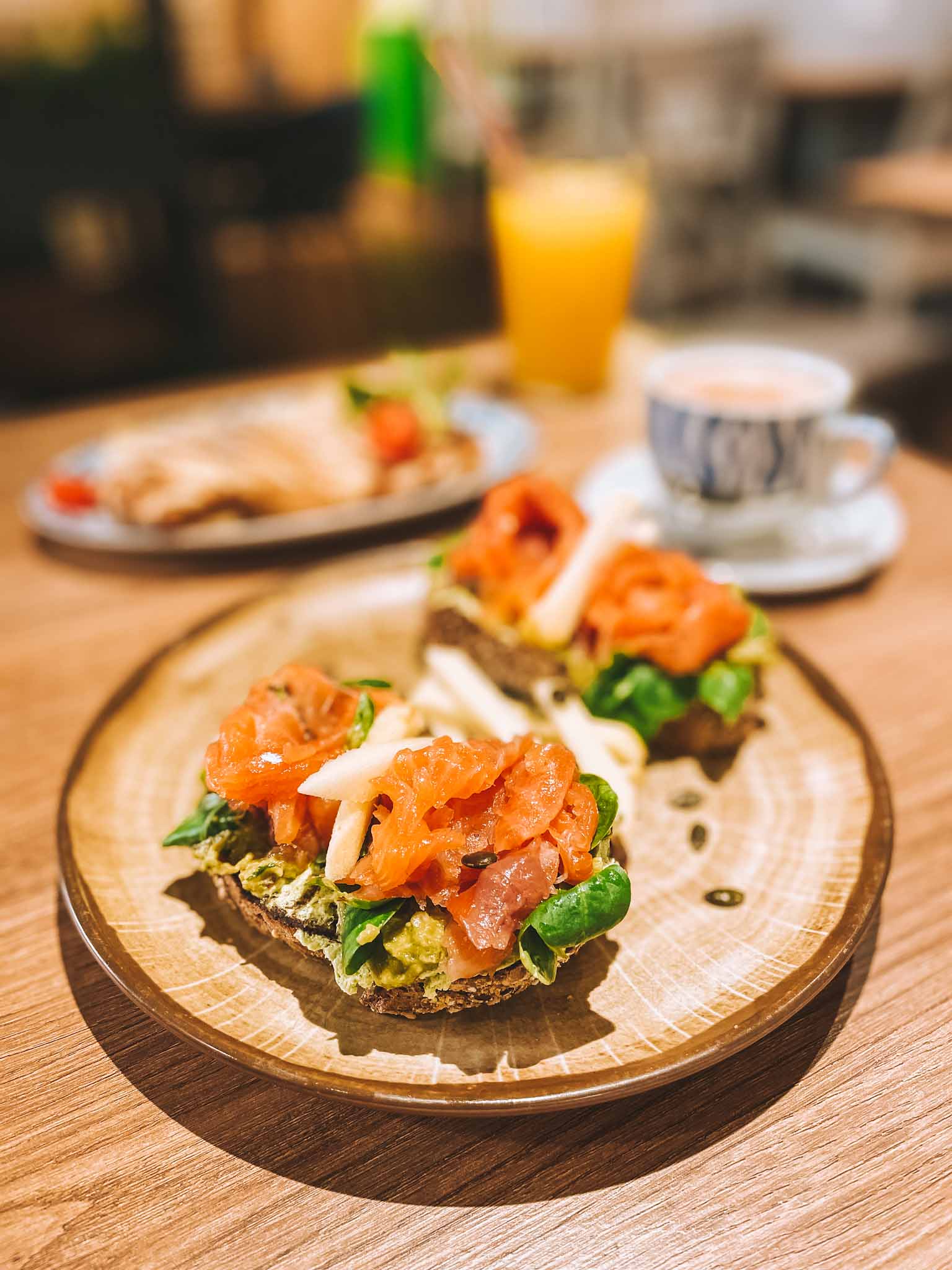 I am one of those travelers who always look for specialty coffee shops anywhere I am traveling. It is not always possible to find one. Especially in Spain! However, I was very surprised by how many specialty coffee shops are there in Malaga Old Town!
I even wrote a blog post about the best breakfast and specialty coffee places in Malaga because there are so many! My favorite coffee shops are – Next Level Specialty Coffee, Delicotte Speciality Coffee & Tea, Kima Coffee, Mia Coffee House, Bertani Café, Santa Coffee Catedral, Bun and Coffee, as well as El Último Mono Juice & Coffee. There are more so check out my blog post!
13. El Peñón del Cuervo
If you have a car (you can also take a taxi!) and you are looking for a more quiet place to relax at the beach then try this unique hidden gem near Malaga – Playa Peñon del Cuervo. It is a sandy beach with a palm-lined promenade along it – perfect for walks or running.
However, the most unique thing about this beach is the prominent rock formation with a big hole in the side of it – El Peñón del Cuervo. This is a beautiful and more remote place where you can get away from the buzz of the city. Perfect for a beach picnic or waiting for the golden hour.
Location: El Peñón del Cuervo
More Malaga travel inspiration!
Happy exploring!
Malaga is a must-visit city in Andalusia, the Southern region of Spain. It is a year-round destination known for its palm-lined sandy beaches, Castle of Gibralfaro, Alcazaba of Malaga fortress, and also as the birthplace of the famous painter and sculptor Pablo Picasso.
Malaga is the best place to go to catch some sun as well as embark on a road trip around Andalusia. I hope you enjoy your time in Malaga as much as we did and get some inspiration from my blog to make your trip even more adventurous, fun, and unforgettable!
PIN FOR LATER!