Malaga bucket list: 11 best things to do in Malaga, Spain
Malaga is a prominent city to visit in the famous Costa del Sol area in Spain. People have lived in Malaga for almost 3000 years so it is full of history, art, and unique places. Here are all the bucket list things to do and places to see in Malaga!
Malaga is the perfect place for a weekend getaway as you can visit all the places in about 2-3 full days. In this blog post, you will find all the places with descriptions, photos, and locations where they can be found on Google Maps. I hope you enjoy Malaga as much as we did!
Read more >>> 19 best Instagram spots of the coolest places in Malaga, Spain
This post contains some affiliate links. If you use these links to buy something I may earn a small commission at no additional cost to you!
1. Visit Castillo de Gibralfaro and see Malaga from above!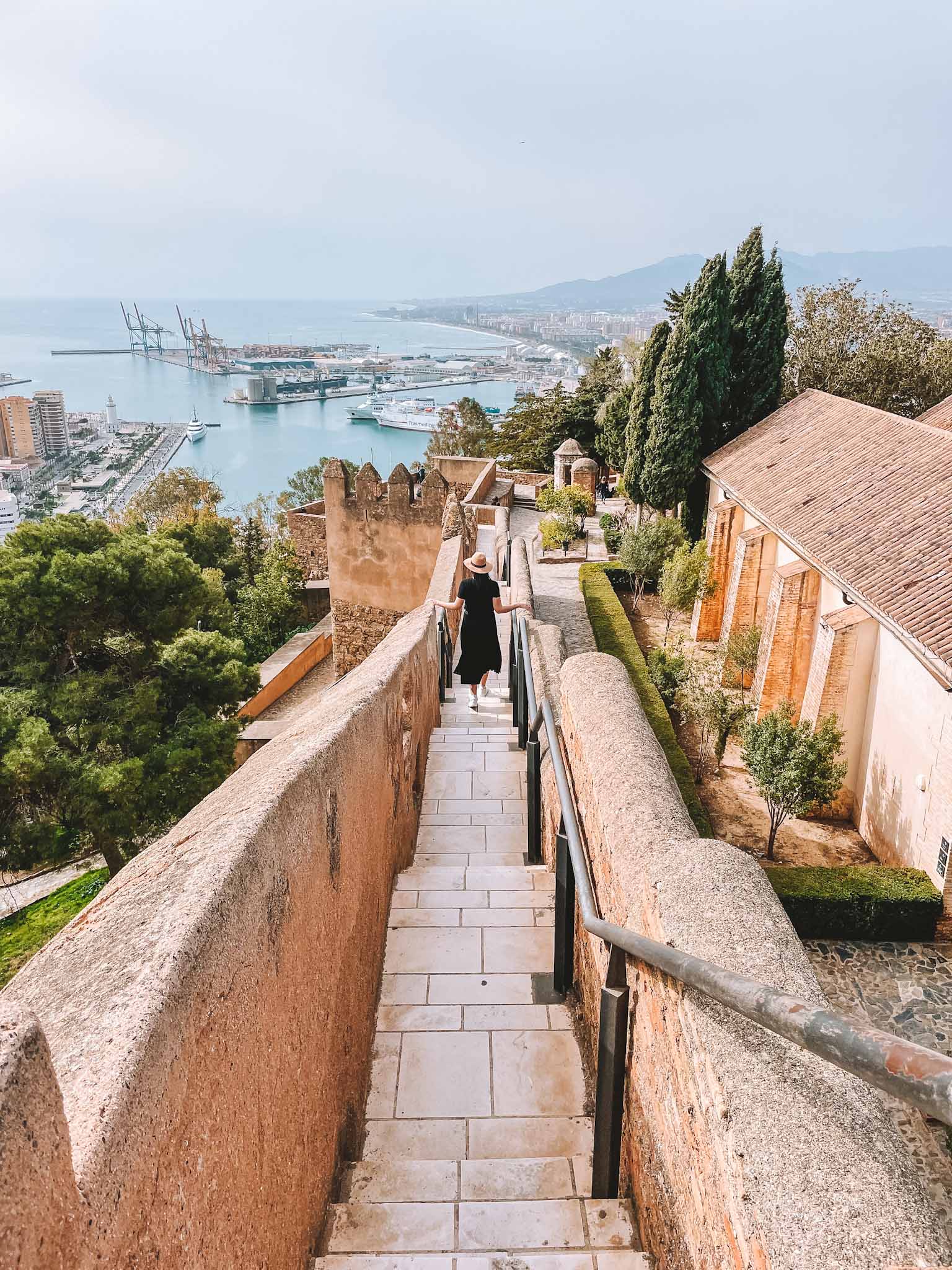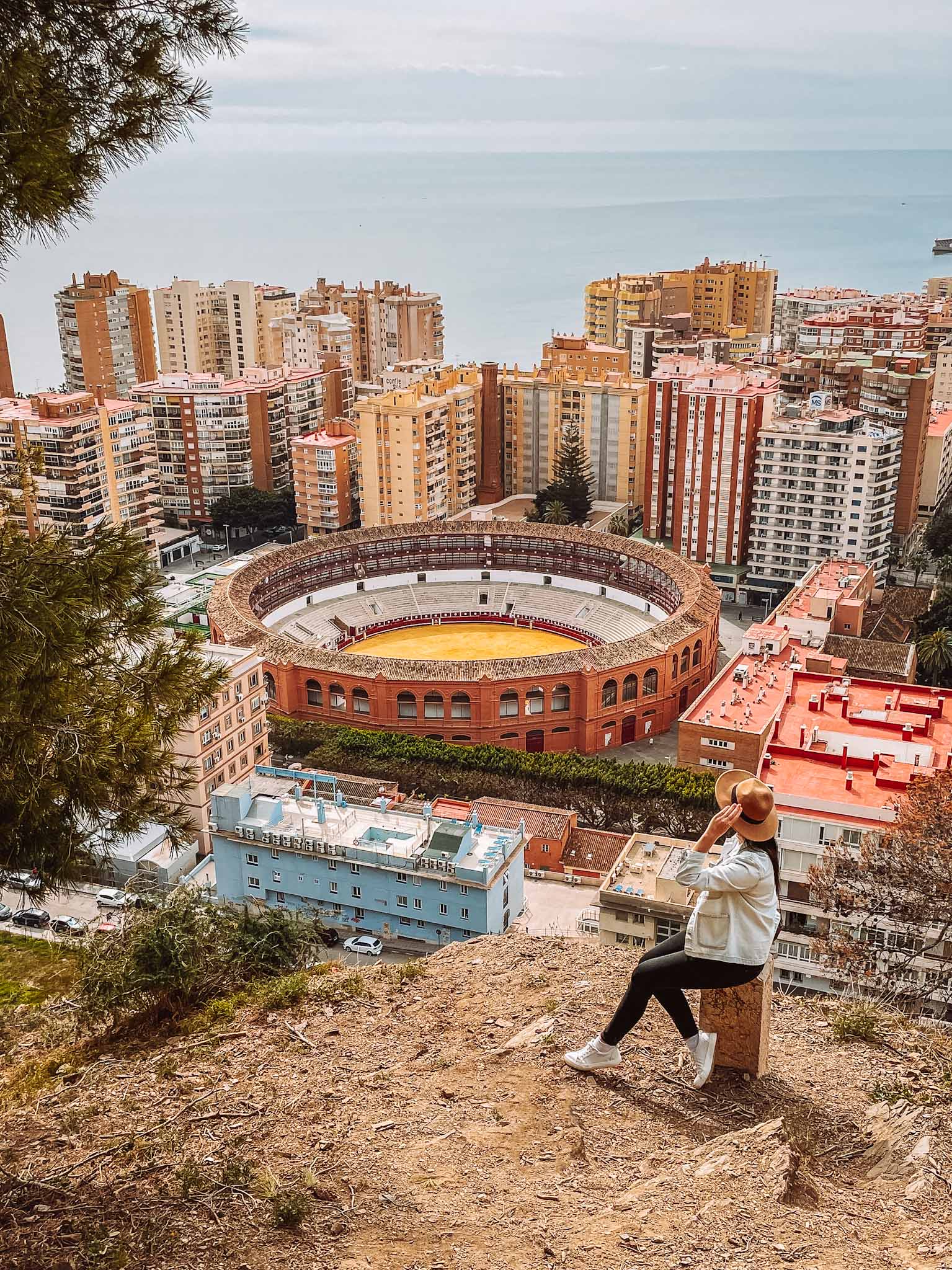 There is one place everyone will notice in Malaga and it is the Gibralfaro mountain that stands next to the city. There is no better place to see Malaga from above than from the Gibralfaro mountain.
On top of the mountain, you will see a castle – Castillo de Gibralfaro. The castle dates back to the 10th century when it was built by the emir Abd al-Rahmān III who founded the Caliphate of Córdoba – the medieval Islamic kingdom in the territory of Andalusia.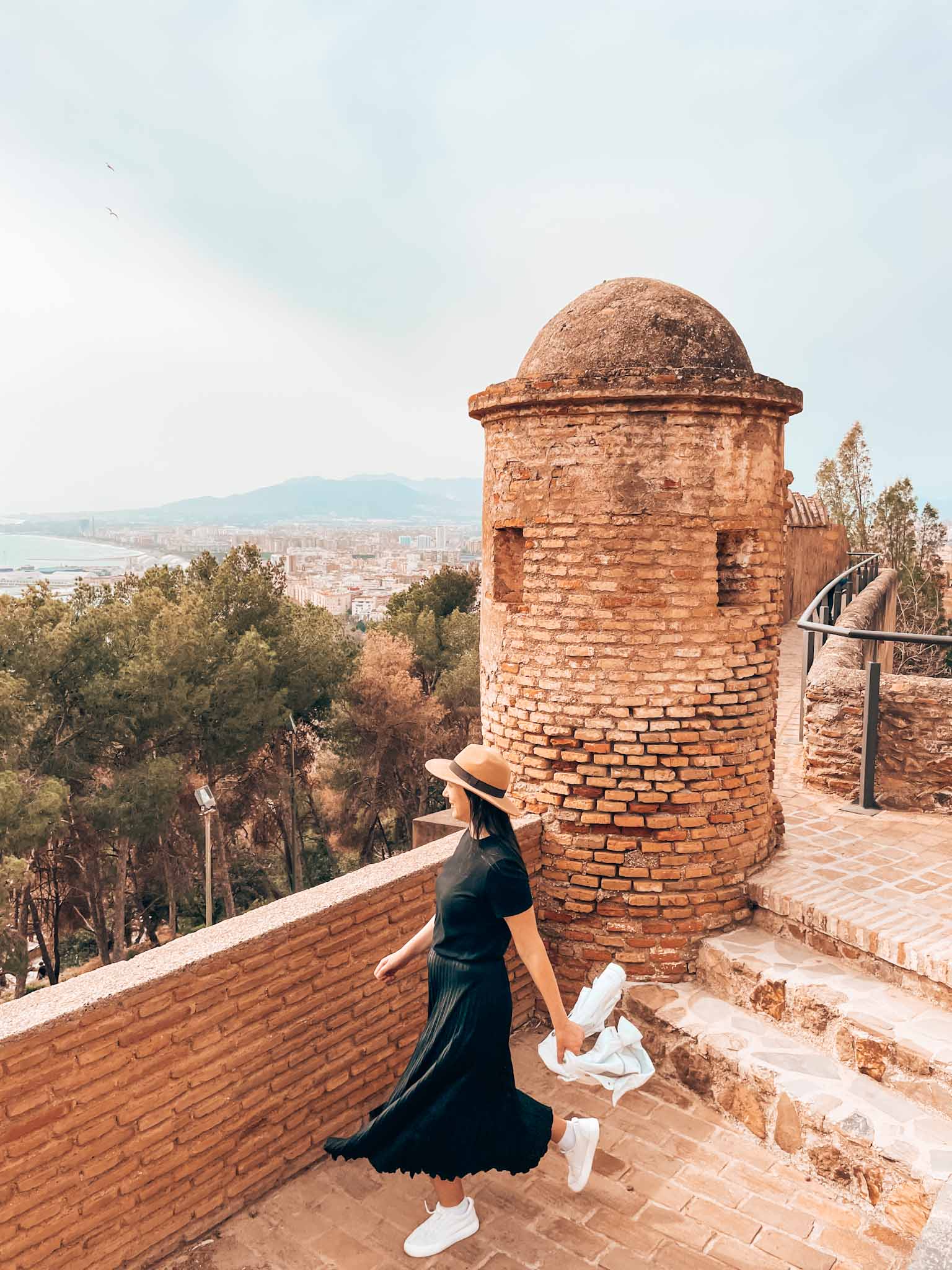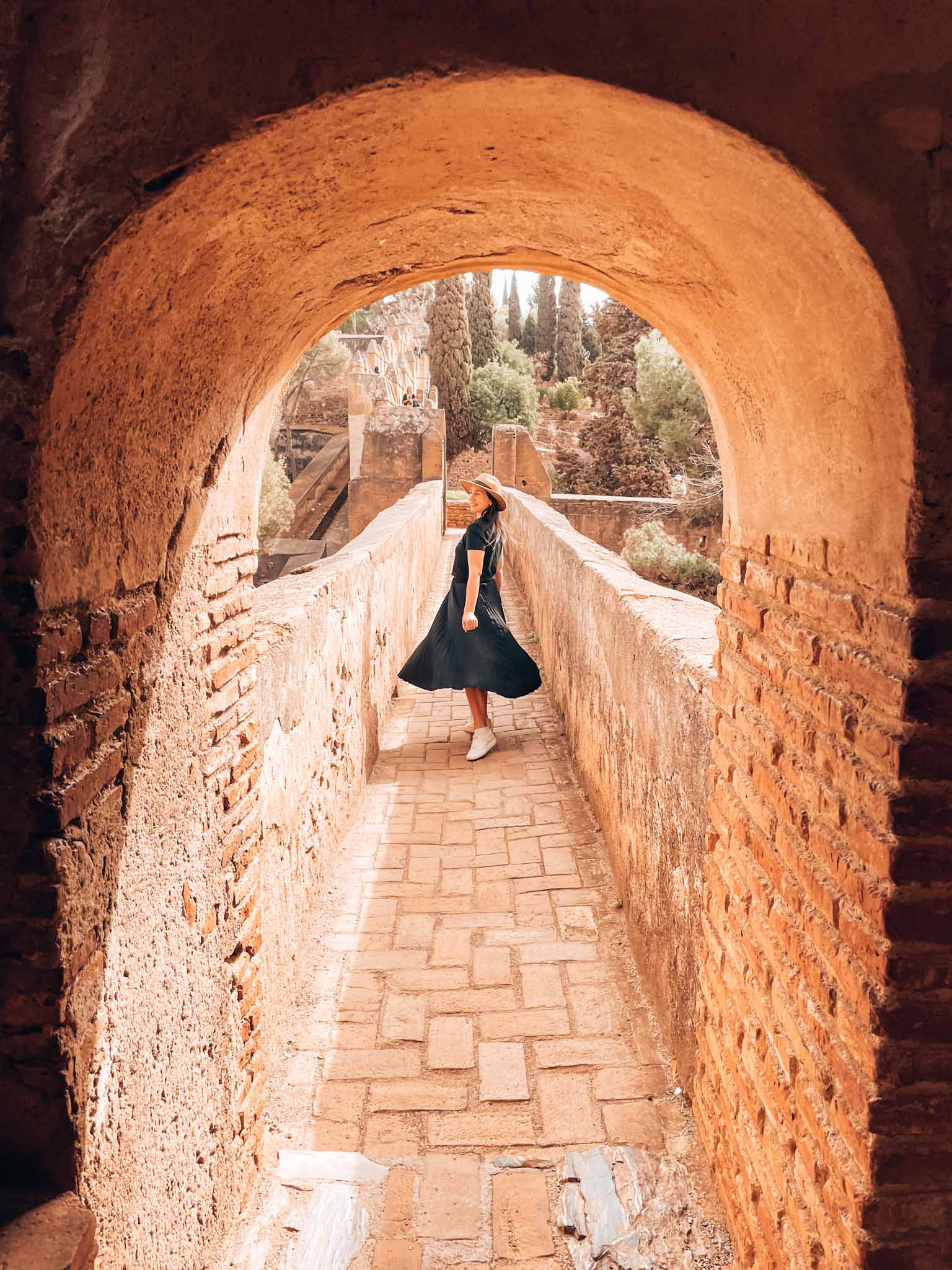 You can see prices and visiting hours for the castle here. There is an entrance fee to the castle, but you can visit it on Sunday afternoons for free. You can reach the castle by car, by bus or by taxi. However, I really recommend hiking up there on foot.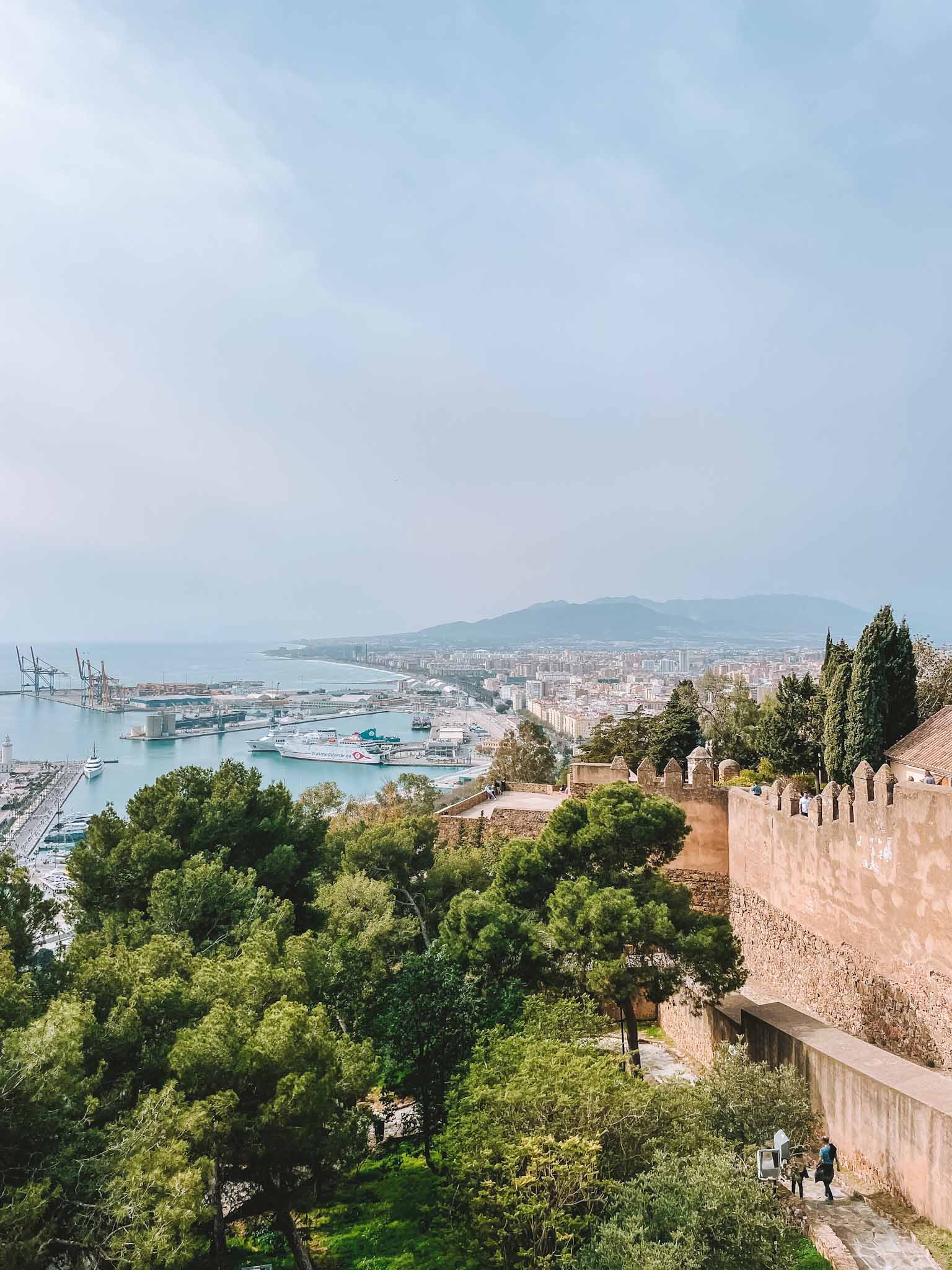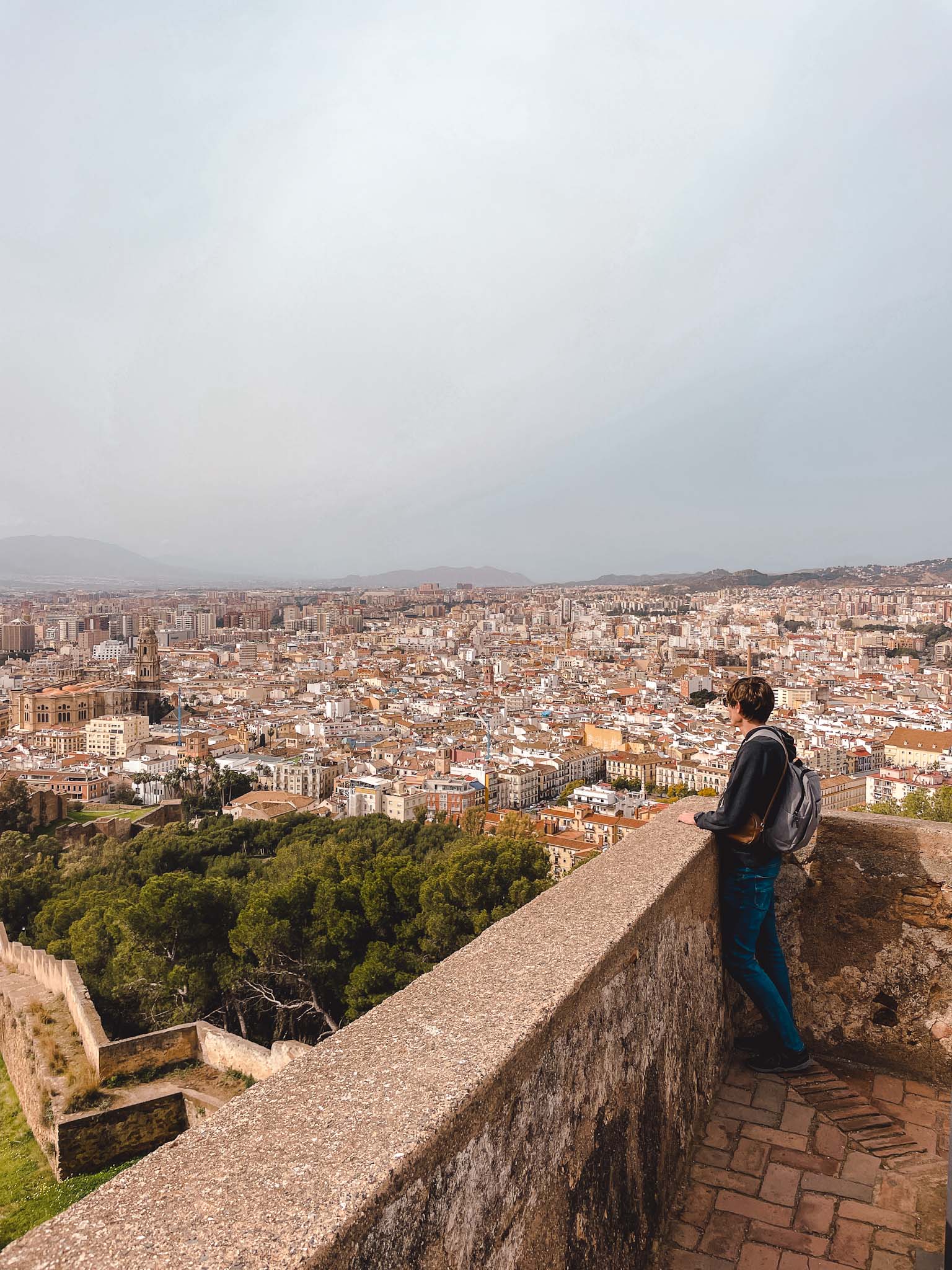 There is a well-maintained and paved path from the city up to the top of the mountain. You can get some fantastic views along the way and there are also benches to sit on. The mountain is probably the best place to watch the sunrise in Malaga as well!
Location: Castillo de Gibralfaro · Mirador de Gibralfaro · Gibralfaro lookout
2. Try local tapas and go on a food tour in Malaga!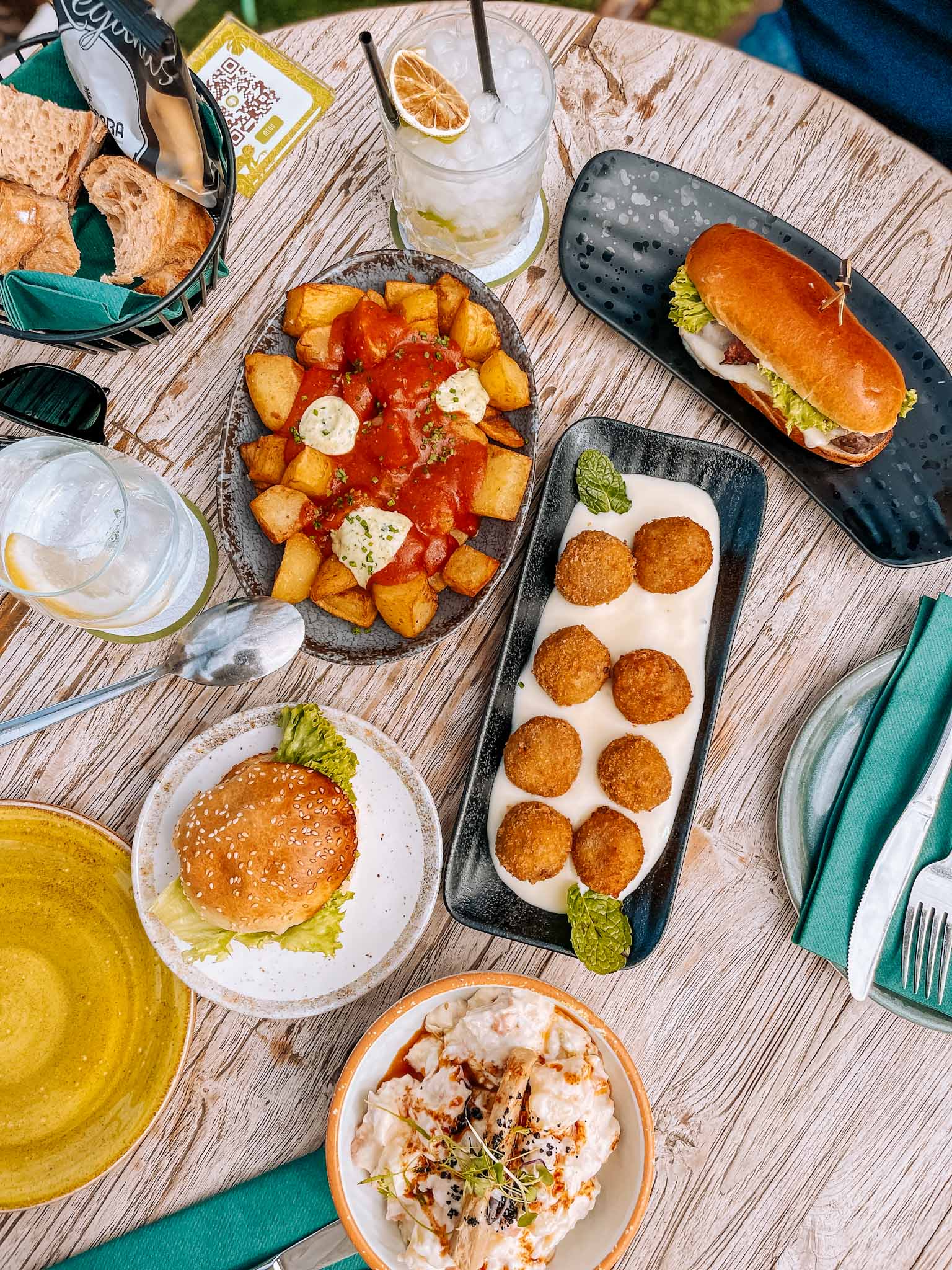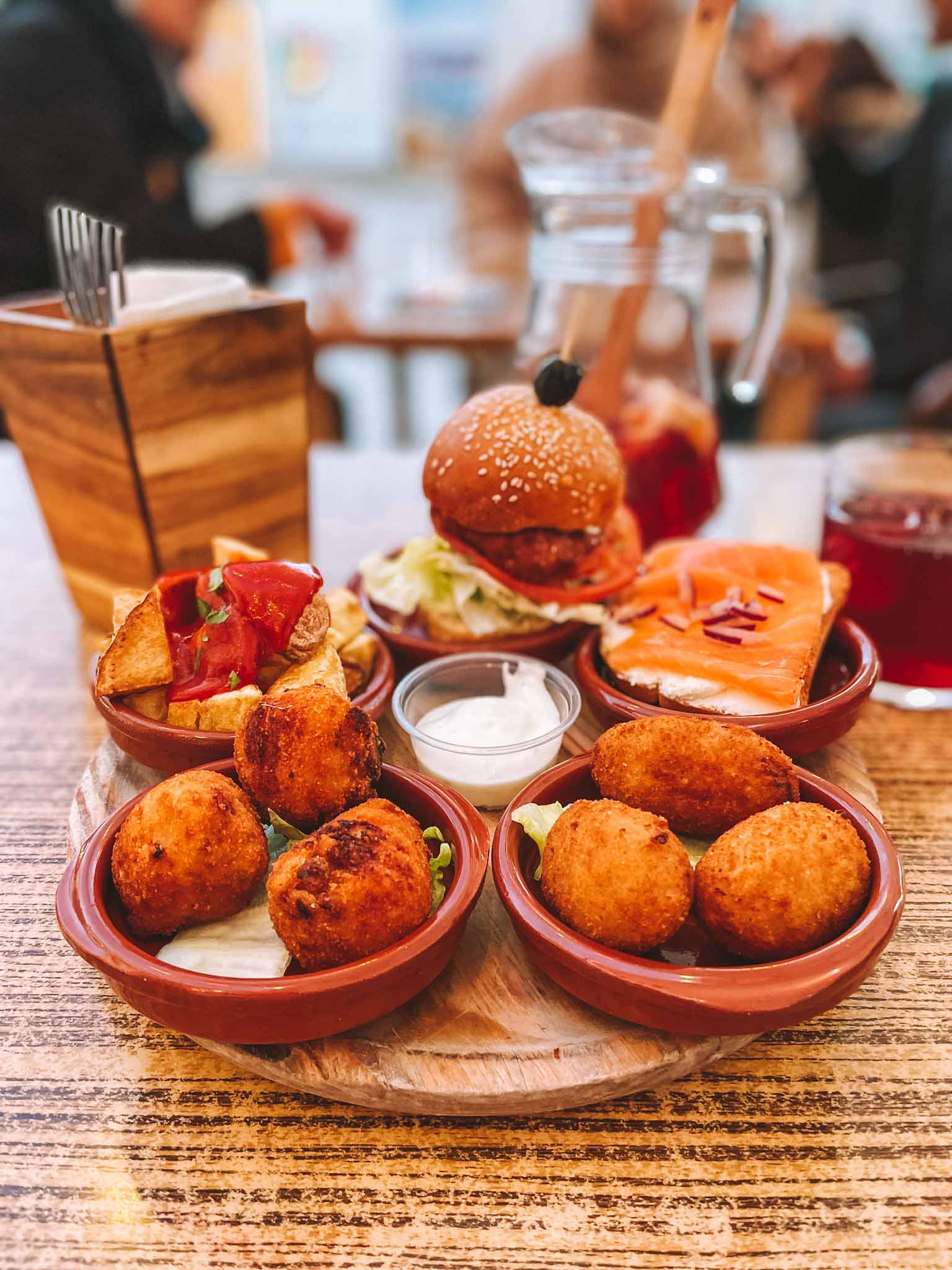 Food is one of the main reasons people go to Spain (apart from the obvious – the sunny weather!). Besides, every Spanish region has some authentic and traditional dishes. Spain tastes different in every region so you definitely have to explore the local taste of Malaga!
The easiest way is, obviously, to go on a tapas-tasting tour in Malaga. You will visit the market where the guide tells you about the local gastronomy and different Andalusian tastes. After that, you get to visit multiple spots around the Old Town and try up to 7 different tapas and 4 drinks.
Another great authentic Andalucian tapas tour will take you around the Old Town. You will eat like a local while visiting 5 different tapas bars and trying up to 10-12 delicious local specialties in each one. This is an amazing tour for foodies!
Tip! Take in mind that Spanish cuisine is typically meat and seafood oriented. These food tours might not really be suitable for vegans and vegetarians!
3. Visit famous tourist attractions – Alcazaba, Picasso museum…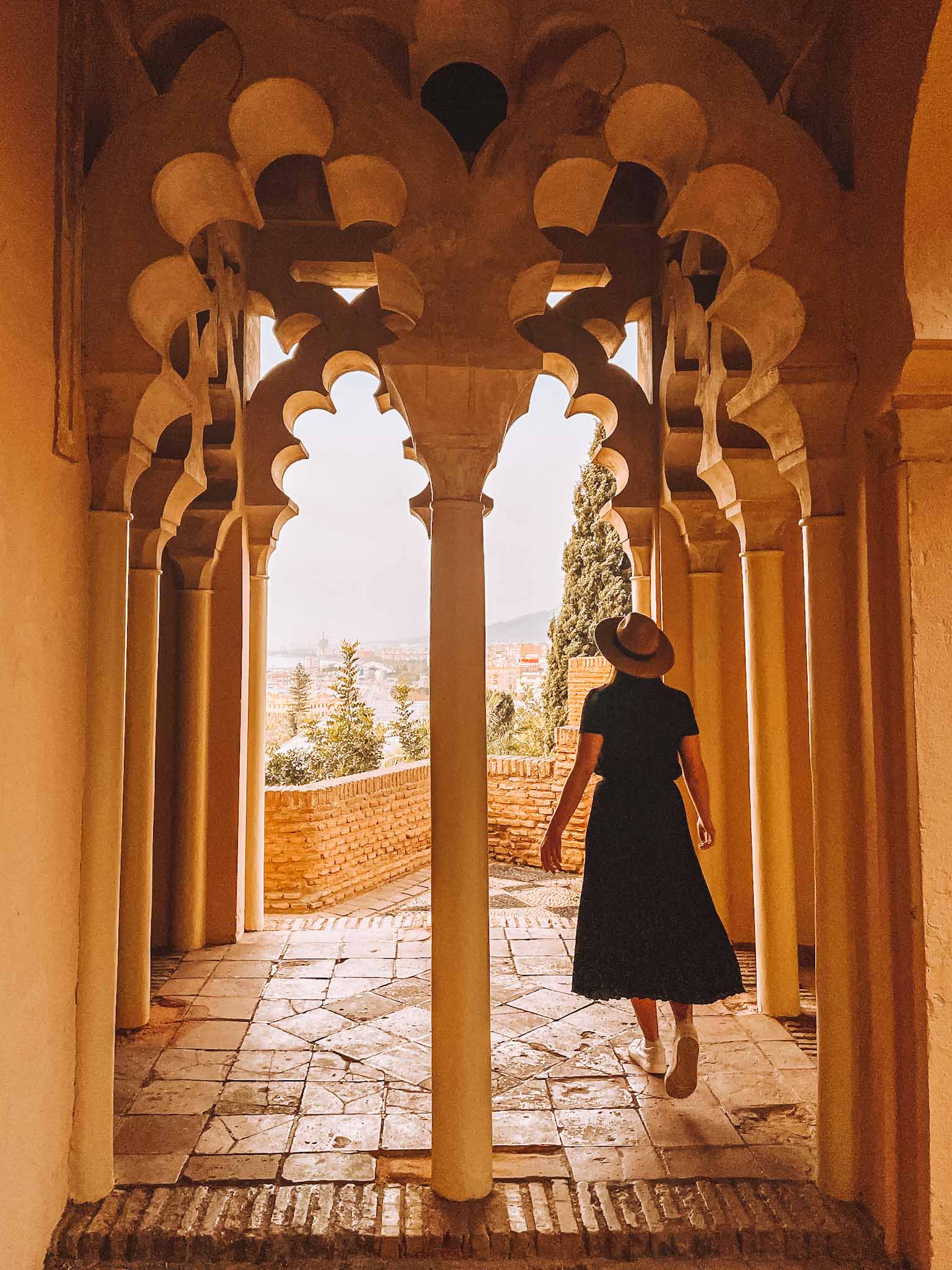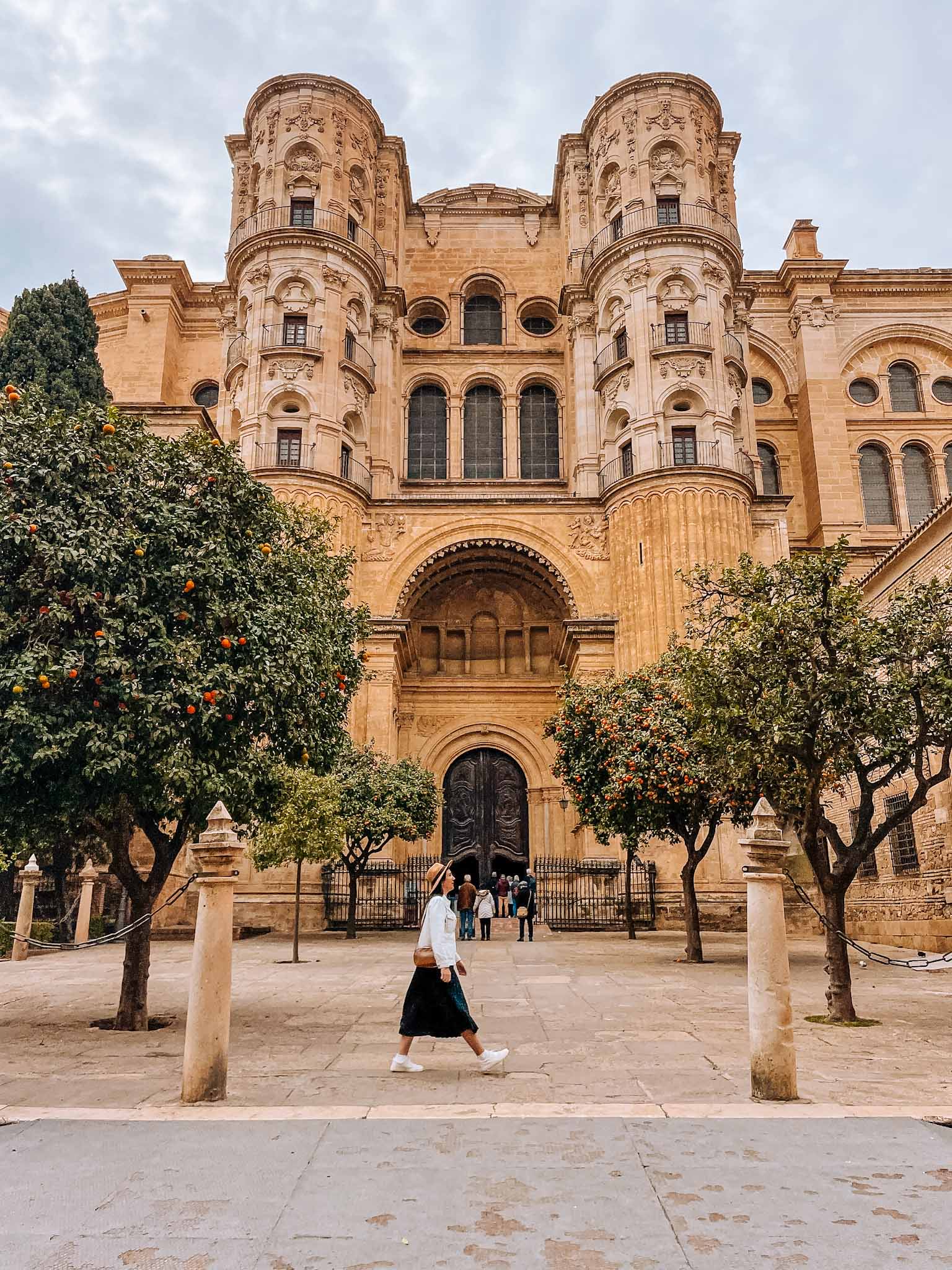 There are always places in every city that are the top tourist attractions. Although that usually means that there might be a lot of people, however, it also means that there is something worth seeing. Apart from the Gibralfaro castle, there are a couple more famous tourist attractions in Malaga.
The first is definitely the Alcazaba of Malaga. It is a fortress that was built during the Islamic period in Malaga and you will see some beautiful examples of Islamic architecture there like the unique arches. Alcazaba is located on the slopes of Gibralfaro mountain and there are great views over the city!
Other famous tourist attractions in Malaga include the museum of the famous painter and artist Pablo Picasso. He was born in Malaga, by the way. There will always be a line next to the entrance of the museum – it is a tourist hotspot!
Another must-visit place is the Catedral de la Encarnación de Málaga. The cathedral is a massive building with a huge tower that you will see from every possible place in Malaga. It was built in the Renaissance style and is truly beautiful. You can walk around it or buy tickets to go inside or even climb on the roof!
Tip! Visit Alcazaba Fortress and Picasso Museum for free on Sunday afternoons! Make sure to check the exact hours before going because they might differ!
Location: Alcazaba · Pablo Picasso museum · Catedral de la Encarnación de Málaga
4. Have a drink on the rooftop bar in Malaga!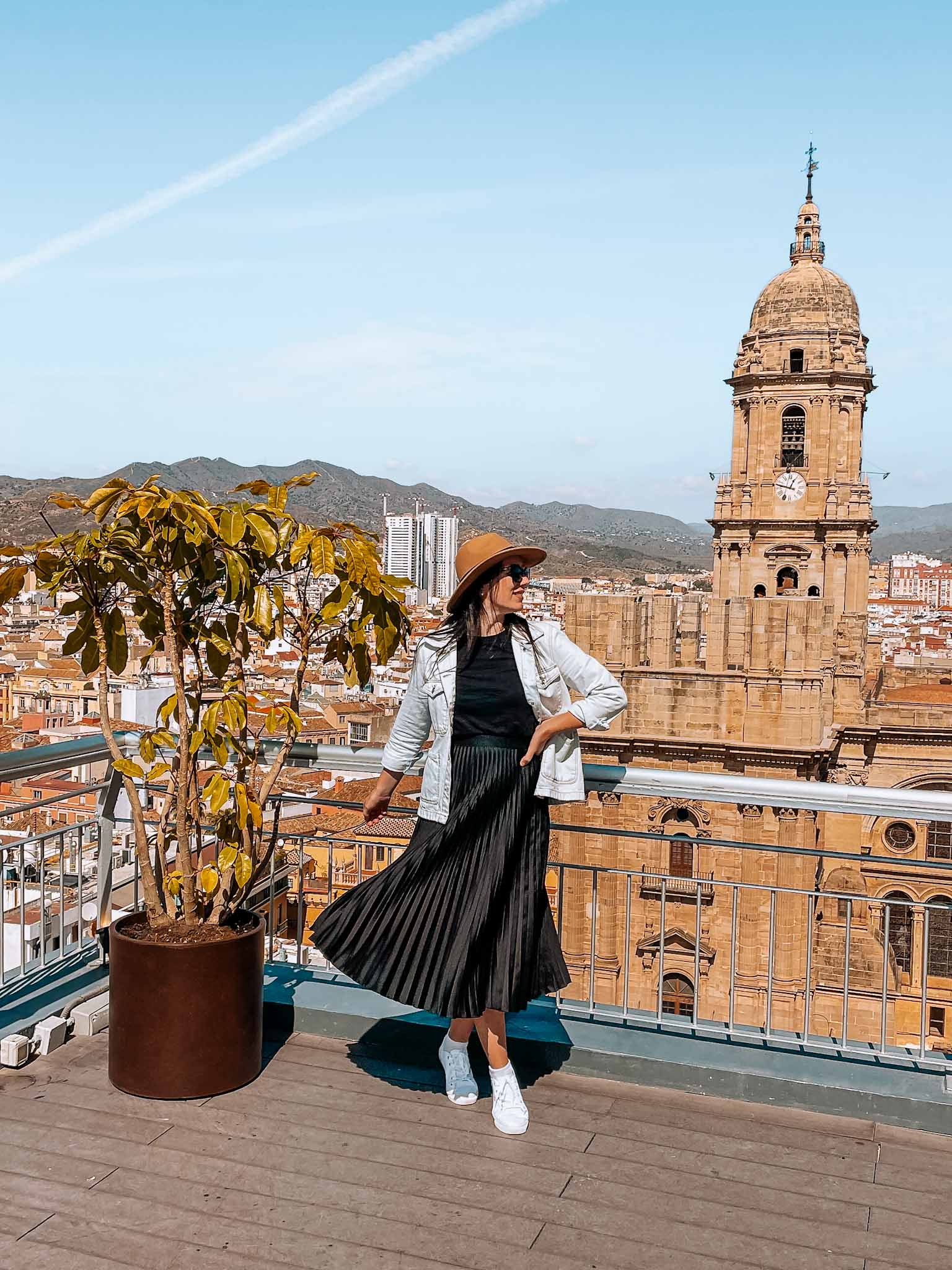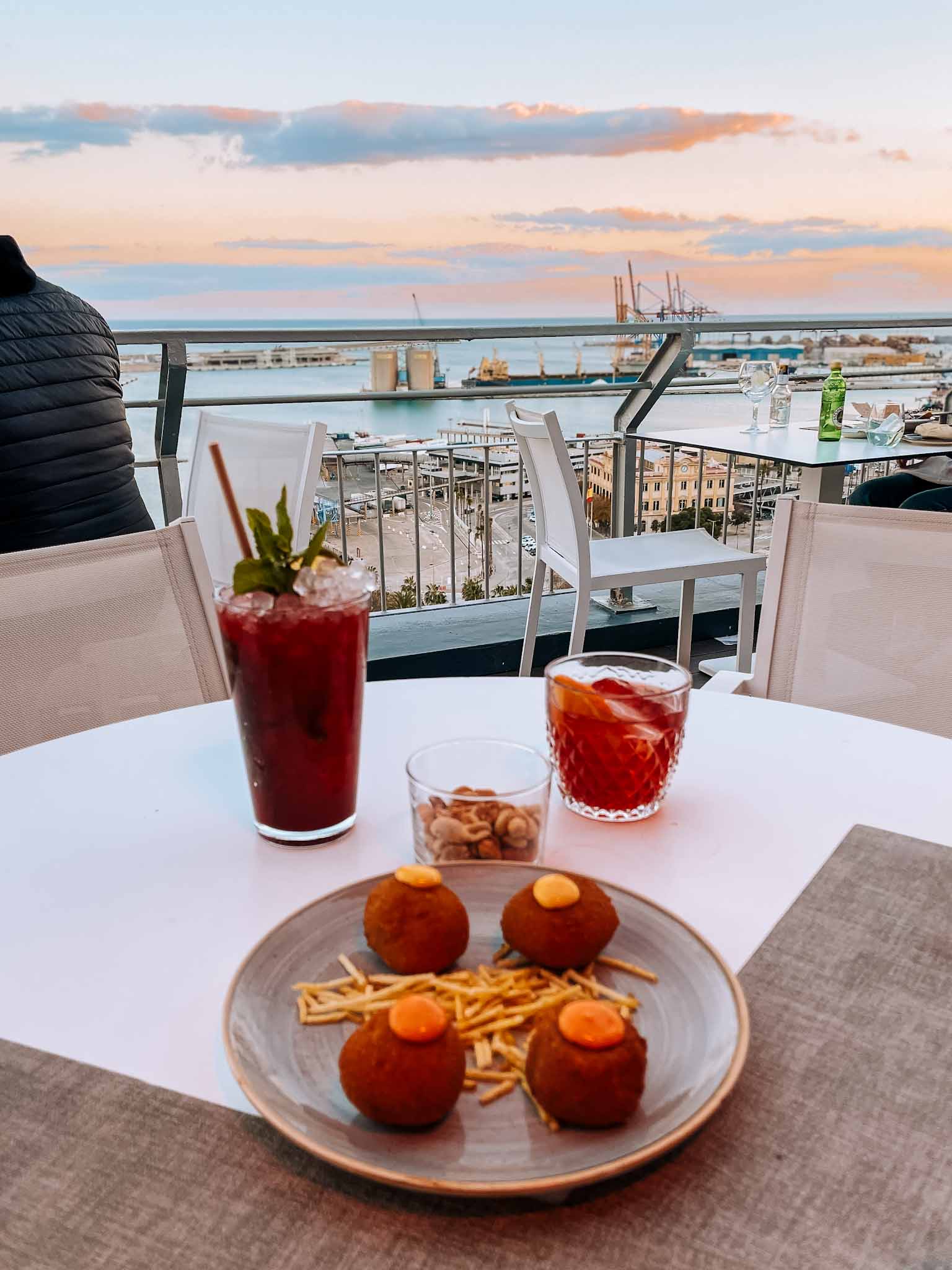 Malaga, and basically the whole of Andalusia, is famous for flat roofs which means they can be utilized as rooftop bars, restaurants, and terraces for restaurants. I love rooftop bars because you can get away from the city buzz and you also get the views over the city!
My favorite rooftop bar and restaurant was AC Hotel Malaga Palacio by Marriott. It is actually the highest rooftop in Malaga! The best part about it is that you don't need to book a room at their hotel in order to have a drink or dinner on the roof! Read here to find out more about the best rooftop spots in Malaga!
Location: Restaurante Roof top AC Hotel
5. Walk the promenade and visit Malaga beaches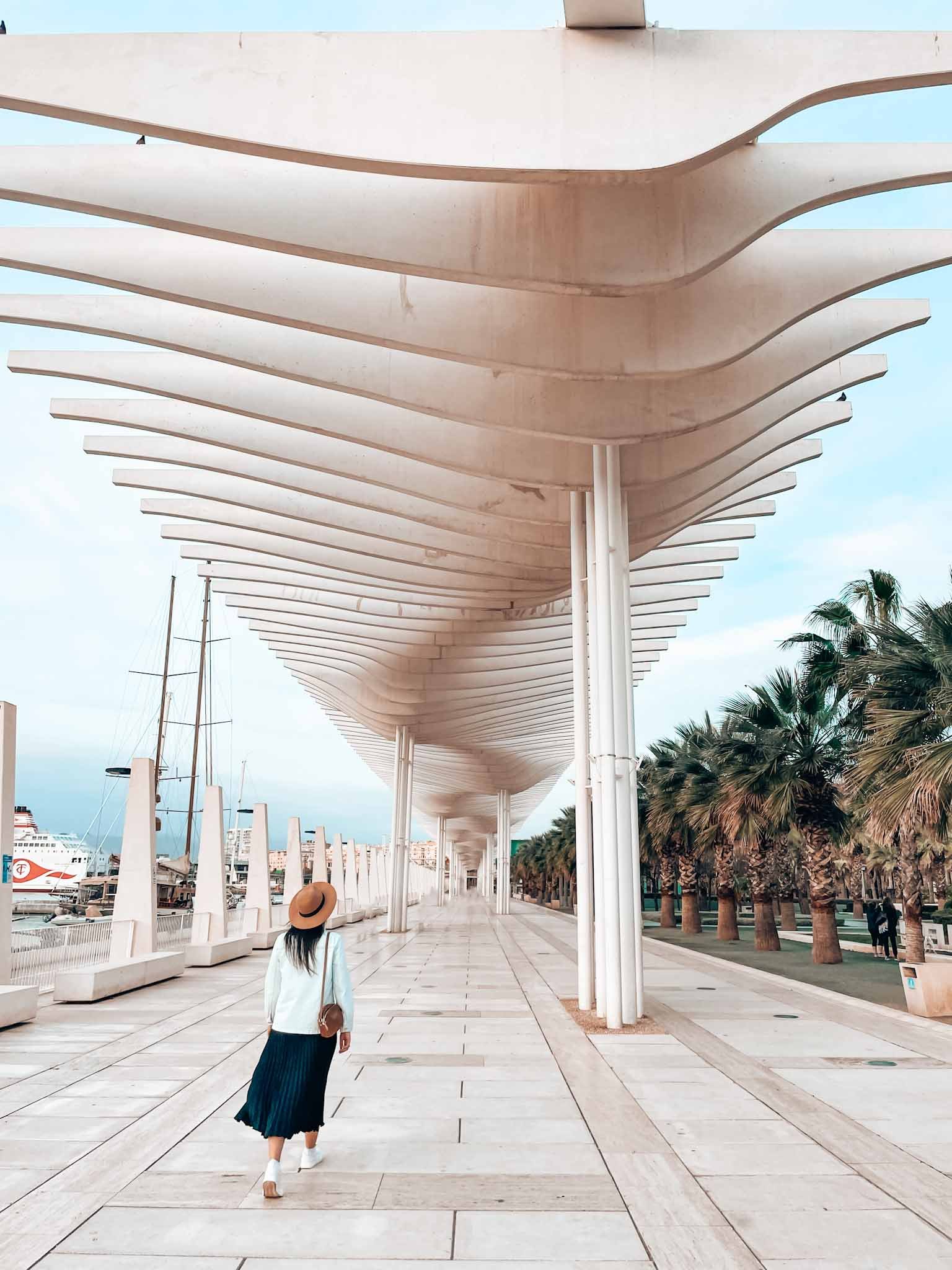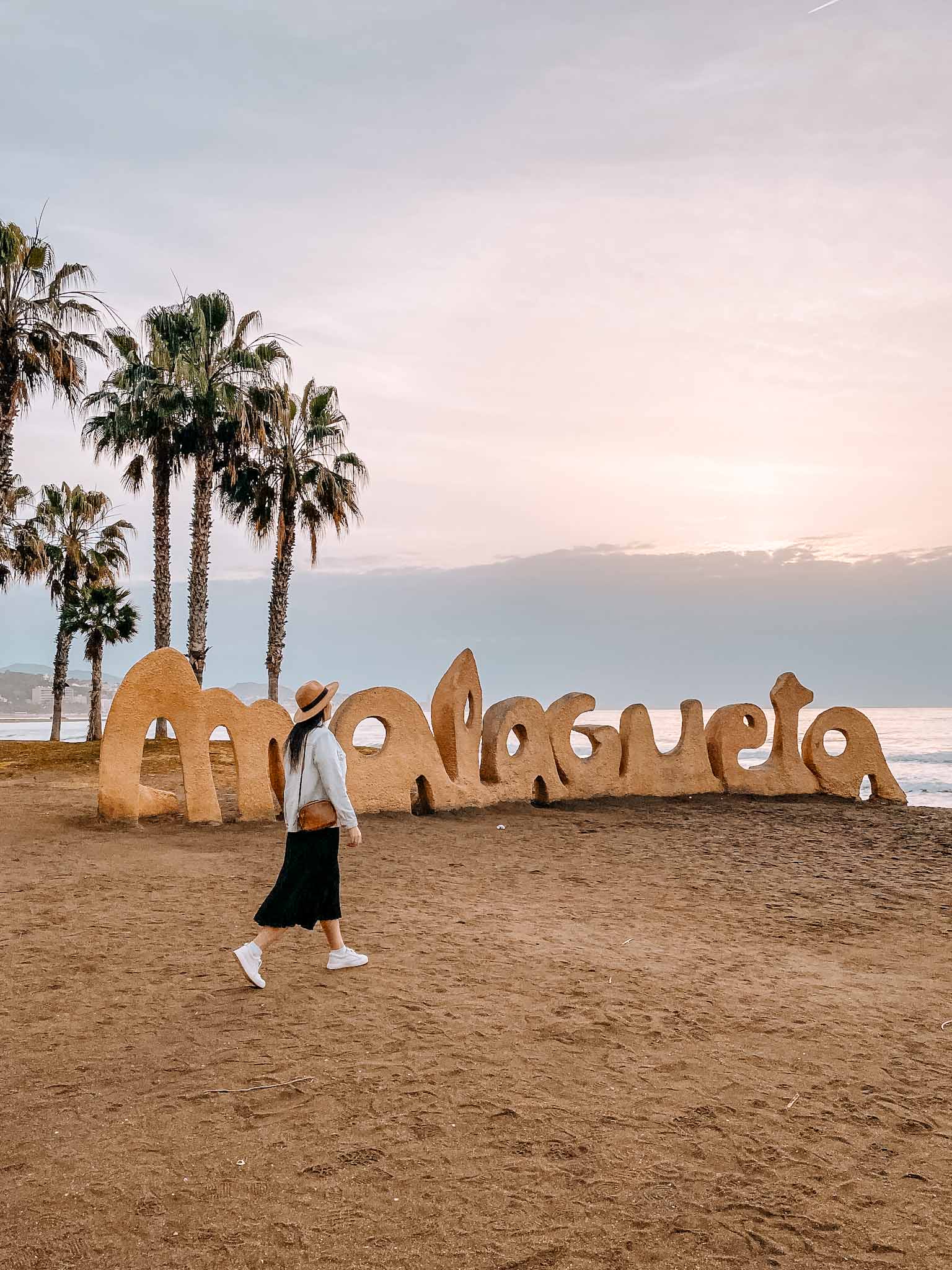 Malaga is a city next to the Mediterranean Sea so it is definitely a beach destination as well. There is a beautiful promenade along the port called Palmeral de las Sorpresas which is an amazing place for a morning workout or a picnic.
If you are looking for a spot to relax from the city buzz then you can go to Playa la Malagueta which is a beautiful sandy beach in Malaga. Here is an idea – wake up early, go for a morning walk along the promenade, and watch the sunrise on the beach!
Location: Palmeral de Las Sorpresas · Letras de La Malagueta
6. Get lost in the streets of Malaga Old Town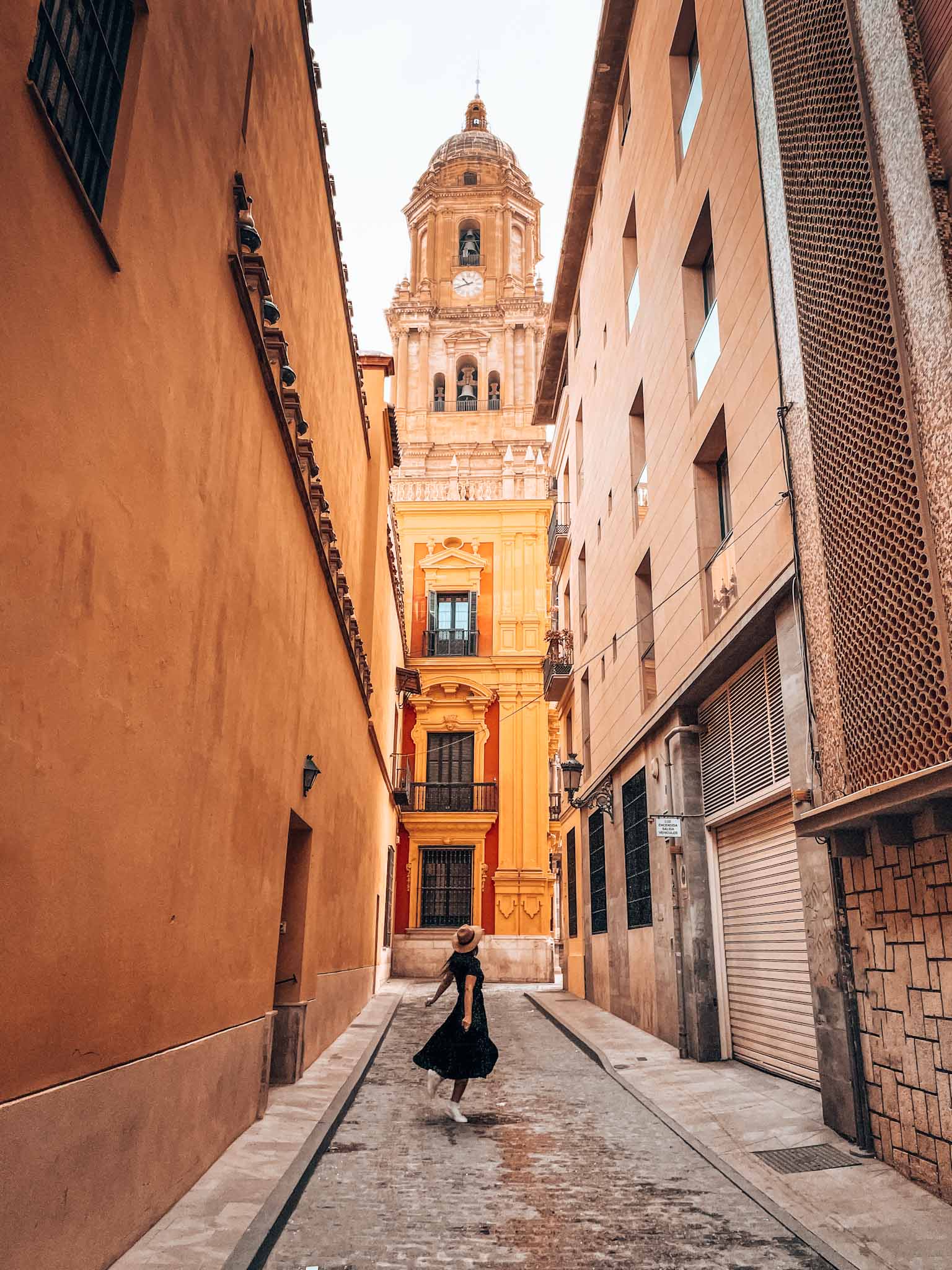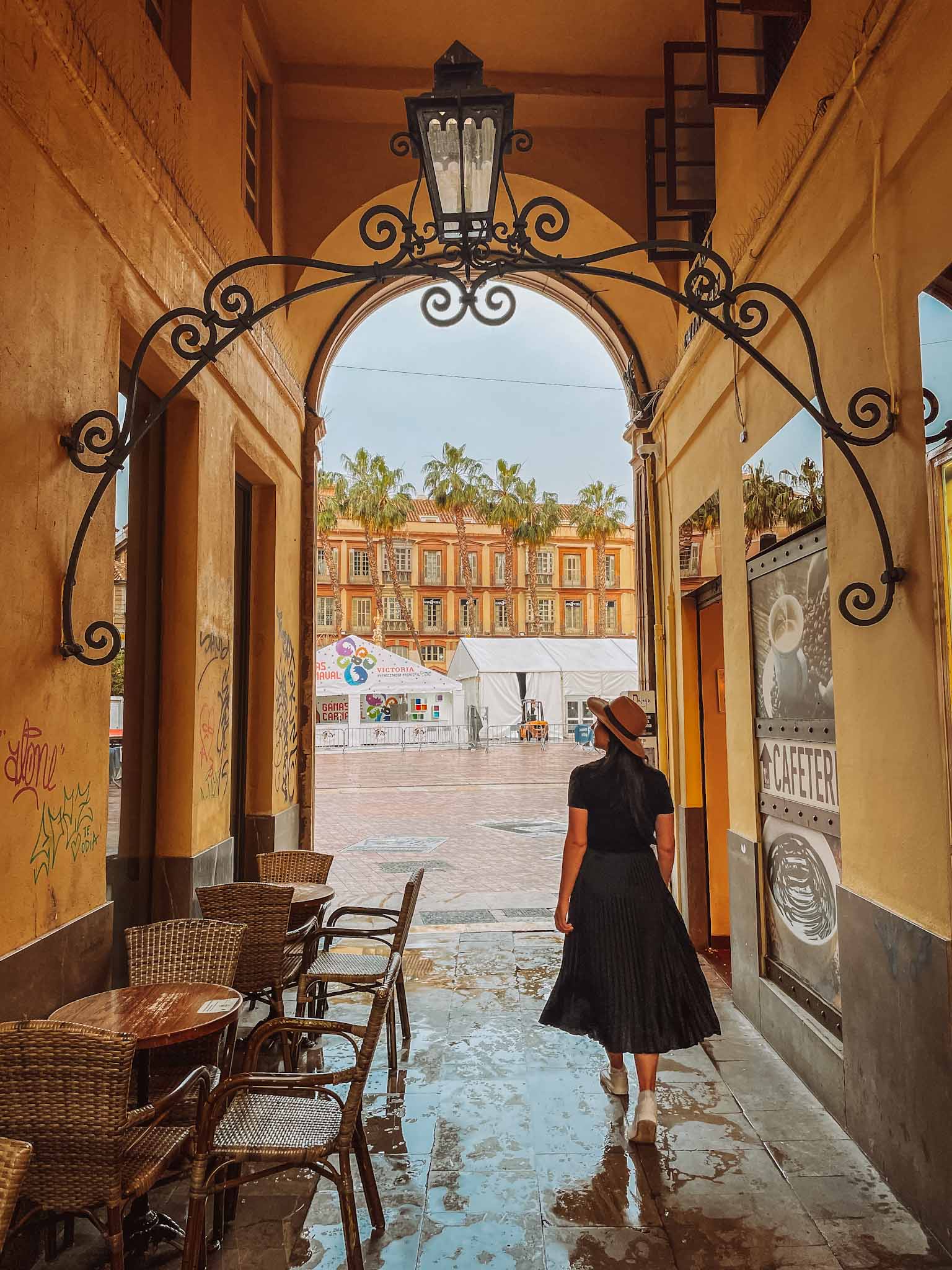 Getting lost (not literally) in the streets of Malaga Old Town was one of my favorite things to do in Malaga. You can find a lot of hidden gems in Malaga right in the Old Town.
There are beautiful squares with blooming trees, narrow streets, tunnels, fountains, and more. Read more about hidden gems in Malaga in this blog post.
My favorite spots were definitely Paisaje Chinitas tunnel-like passage next to the main square – Plaza de la Constitución. Another hidden gem was the street art wall at Plaza de la Judería as well as the Poem stairs next to the Roman theatre.
However, my absolute favorite places in the Old Town were the narrow streets where you can see the tower of the cathedral at the end of the street. The best spots you can find on Calle Salinas street, Calle San Agustín, and Calle Moreno Monroy.
7. Climb to the roof of Catedral de Málaga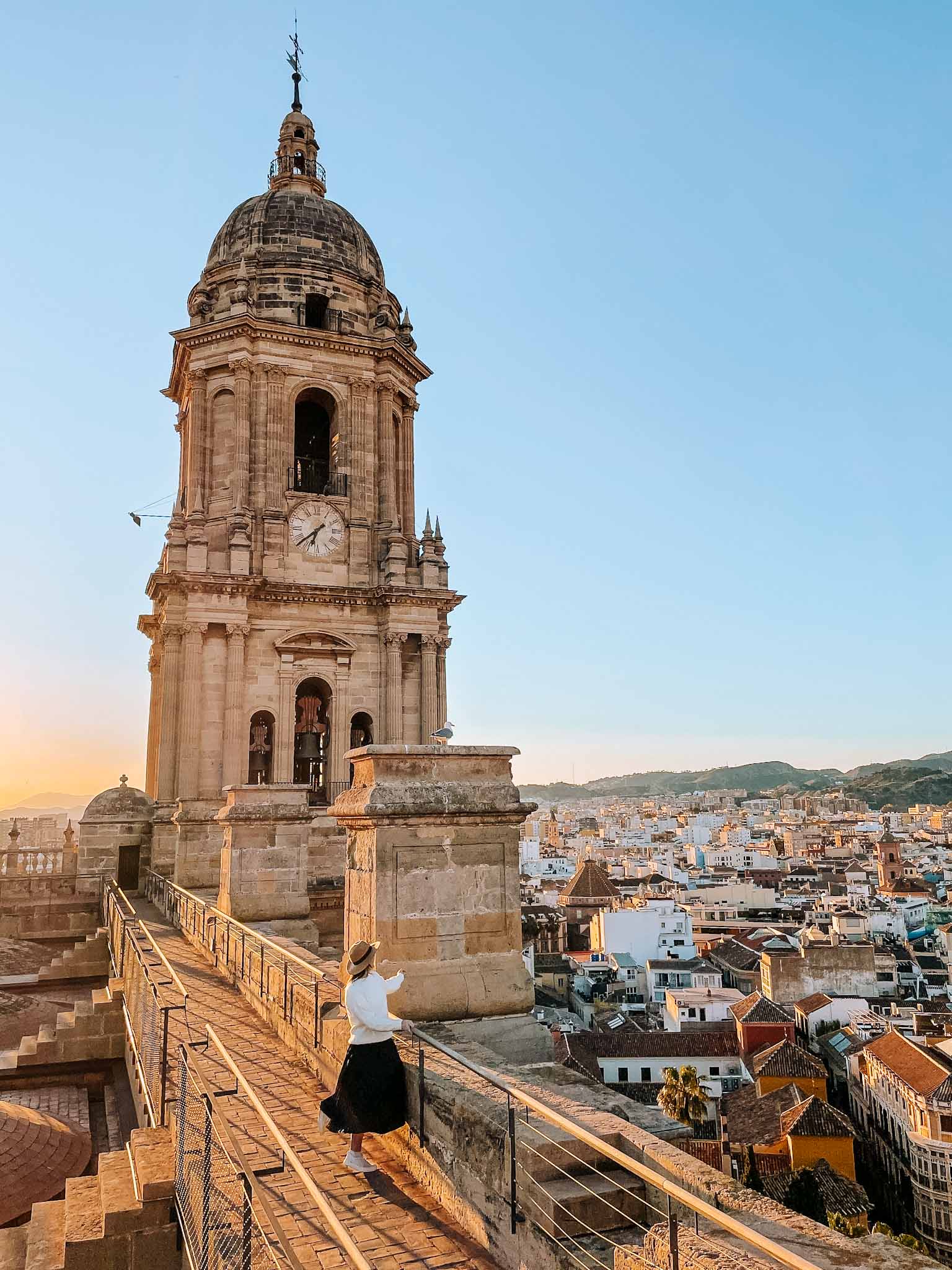 The Cathedral of Malaga is one of the most prominent buildings in the city and also one of the most beautiful ones. I am sure that visiting it is a beautiful experience, but not many people know that you can buy tickets to visit the roof of the cathedral, too!
Read more >>> 9 most beautiful places to visit in Malaga, Spain
Visits to the roof happen in groups at certain times. You can buy tickets at the cathedral or online where you can see the timetable for the visits. The roof is not easily accessible as you can only get there by ascending ~200 steps through a narrow staircase.
The group is accompanied by two guides who will let you walk around the perimeter of the roof. The views of the city and the port of Malaga are quite magnificent! I would recommend going there for the morning sun or for the sunset if possible.
Location: Catedral de la Encarnación de Málaga · Entrance
8. Have tapas at Mercado Central de Atarazanas market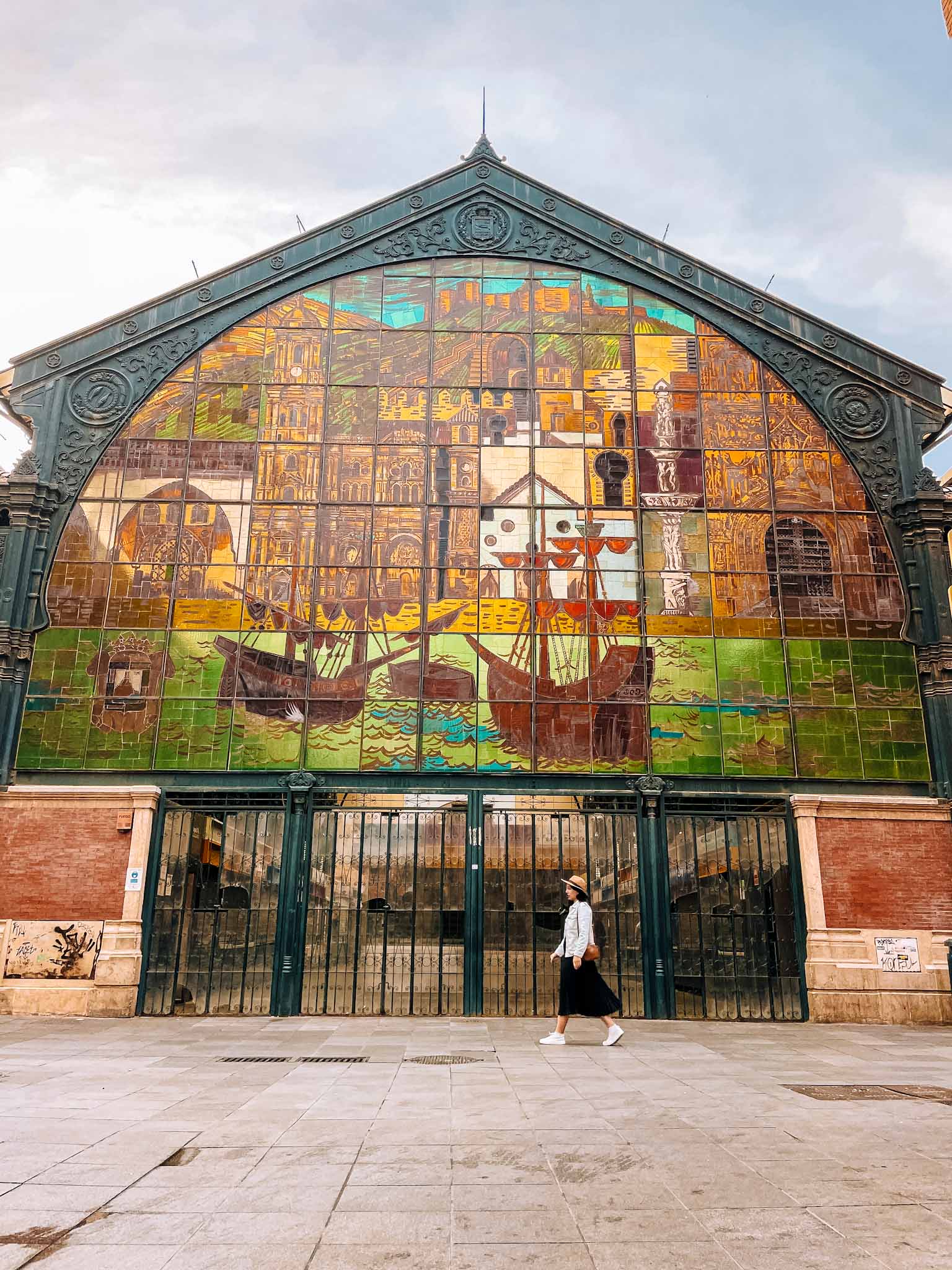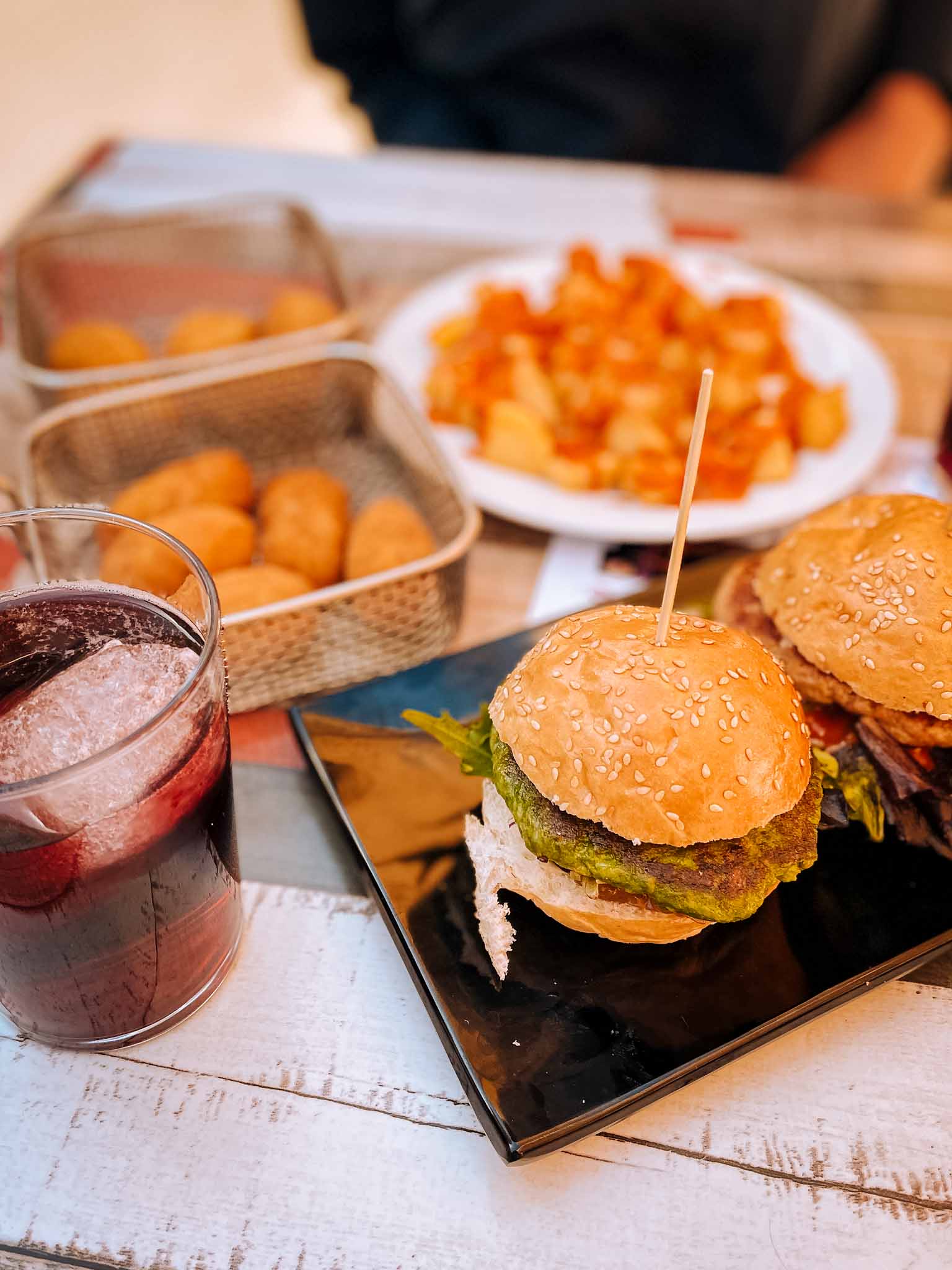 One of the most unique buildings and hidden gems in Malaga is Mercado Central de Atarazanas. It is a huge covered marketplace divided into multiple parts where you can find all kinds of fresh produce. The building is quite impressive with huge glass paintings on one side of it.
The best part that not many people know is that there are multiple tapas bars where you can get drinks and freshly made tapas from the products they sell in the market! We had lunch here at Medina Bar and really enjoyed it! You should know that the market is only open until 3 PM.
If you want to eat like a local then definitely go to the market and get some freshly made Spanish tapas. There are other great places for tapas in Malaga. One of our favorites was Picasso Bar Tapas with a lot of super tasty tapas to choose from as well as the famous Bodega Bar El Pimpi tapas spot.
Location: Mercado Central de Atarazanas
9. Get shade in the jungle-like Malaga parks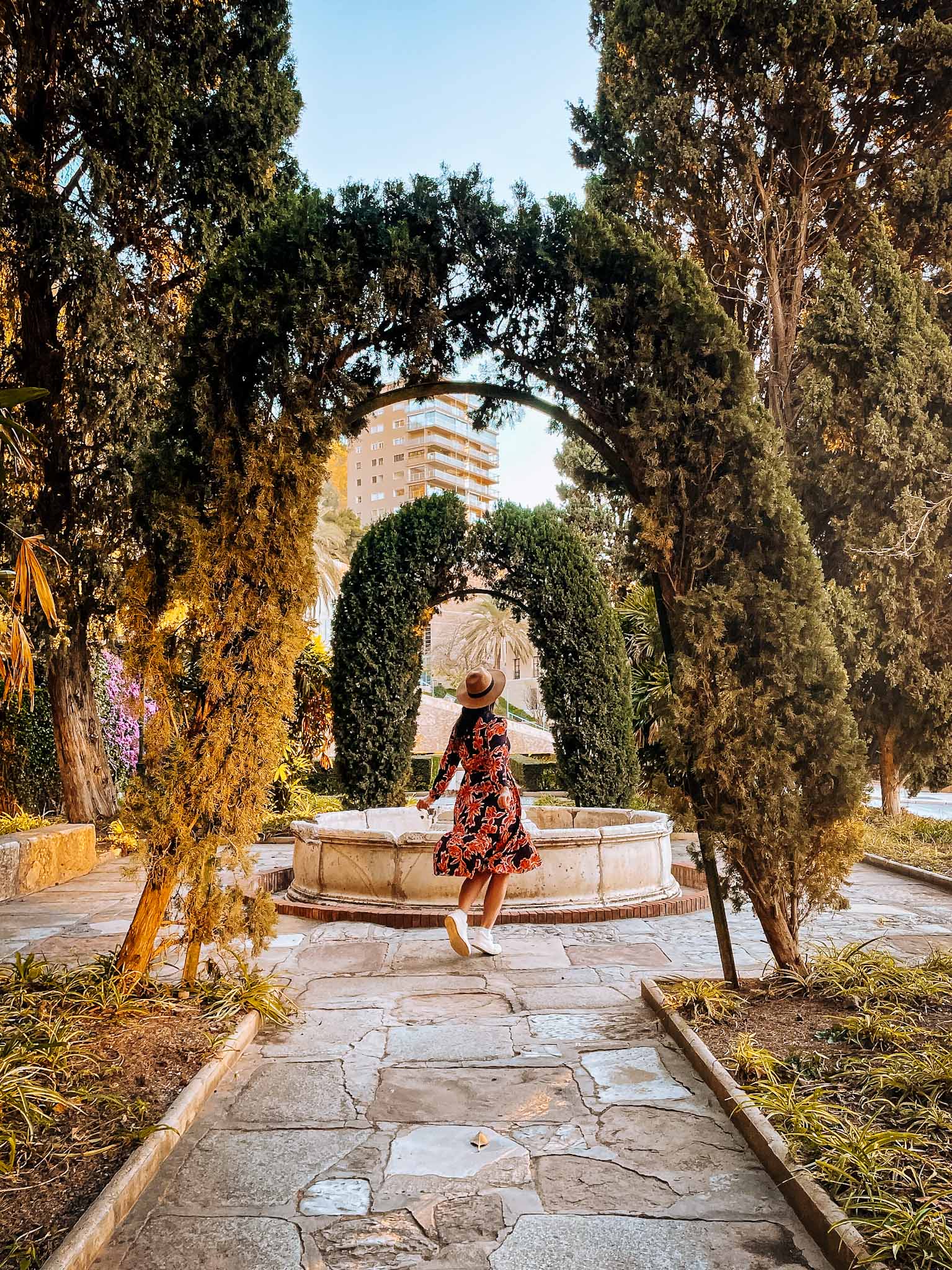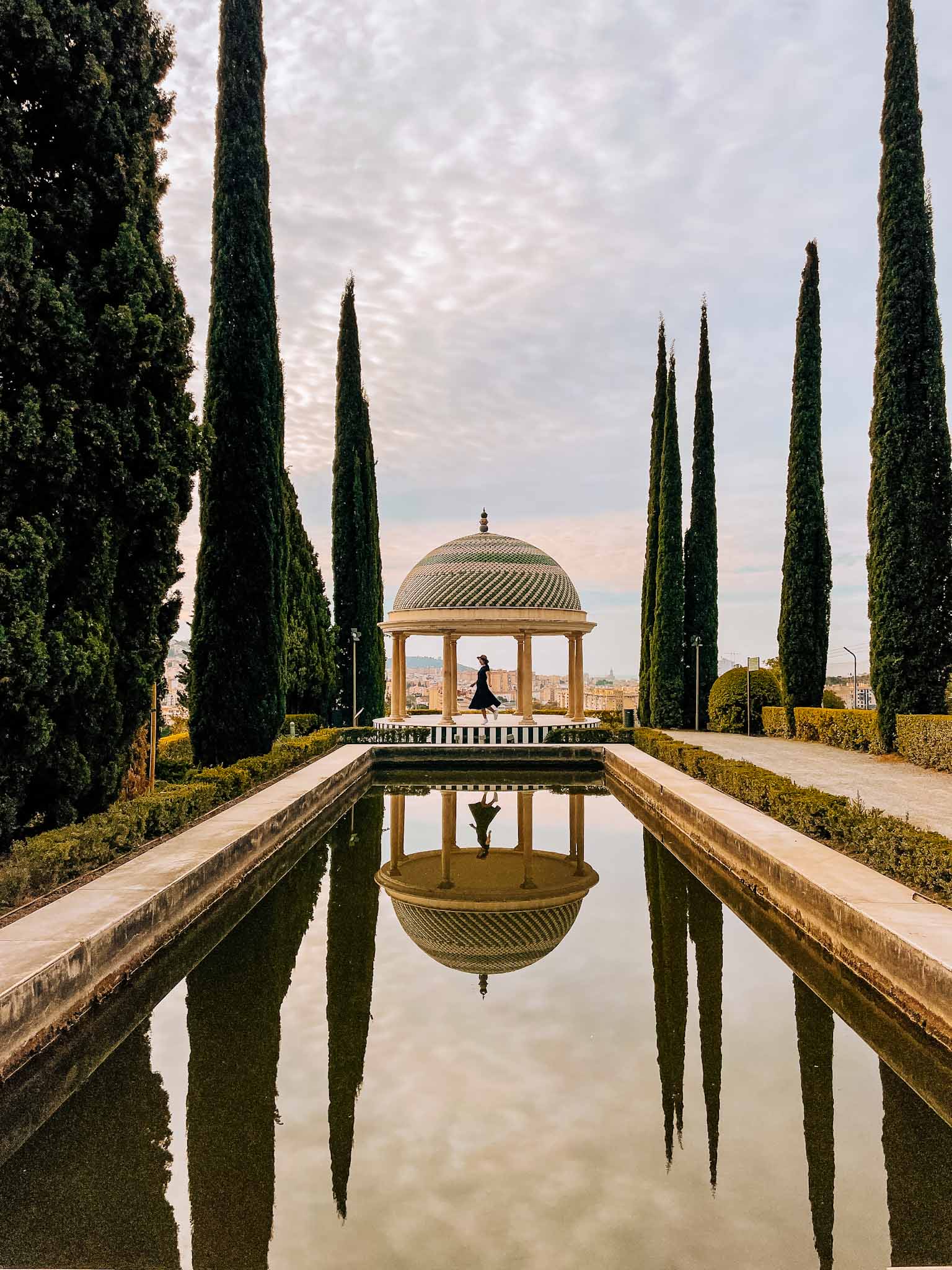 Malaga has beautiful and very diverse urban parks. There is a huge jungle-like park called Malaga Urban Park where you can get lots of shade and get lost among the gigantic trees. There are fountains and benches to sit on along the walking paths.
Then there are beautiful garden-like parks – Jardines de Puerta Oscura with beautiful flower walls and tree arches (photo above). However, Jardines de Pedro Luis Alonso is the one you should go to if you are looking for a relaxing walk under the orange trees!
There is one special place to go in Malaga – Jardín Botánico Histórico – La Concepción. It is a botanical garden on the outskirts of Malaga. It is a full-blown forest with ponds, waterfalls, fountains, museums, as well as viewpoints with an amazing view over Malaga (photo above).
Read more >>> 7+ best rooftops and cool places to see Malaga from above!
All the gardens and parks are free except for La Concepción botanical garden. There is an entrance fee of 5.20 EUR to the botanical garden, but you can visit on Sunday afternoons for free.
10. Take a day trip from Malaga to famous spots in Andalusia!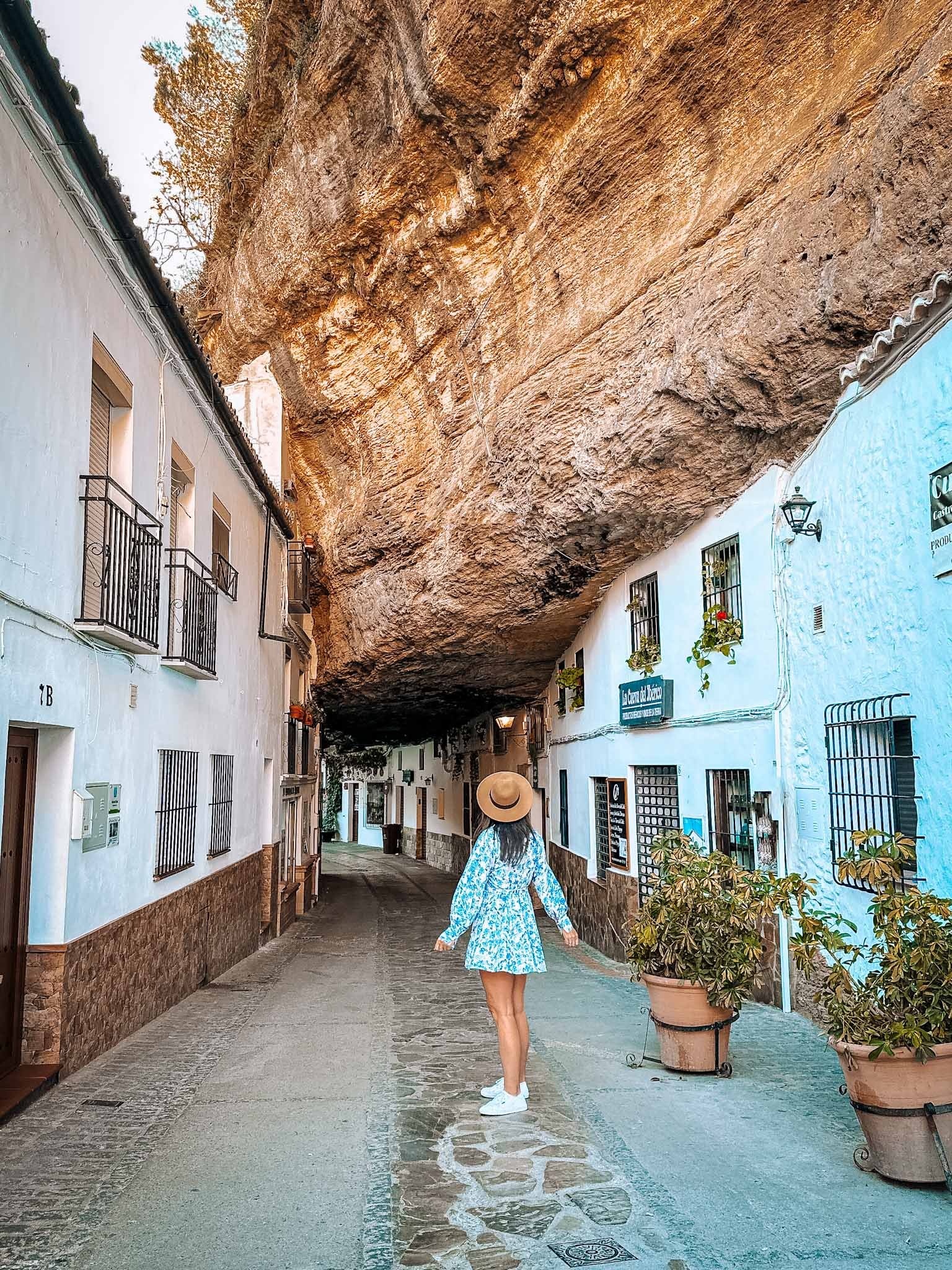 If you have an extra day to spare, take a look at my list of the best day trips from Malaga to some of the most famous places in Spain! The iconic Ronda bridge, cave village Setenil de las Bodegas, or even the Blue Village – many hidden treasures are just a short drive from Malaga!
Malaga is excellently positioned to discover most of the bucket list destinations in Andalusia. From caves deep underground to hikes above the ground, from grand royal palaces to hidden villages in the mountains – everything is a short drive away from Malaga.
Obviously, it is great if you can rent a car, however, don't worry if you can't – there are fantastic group tours to join that will take care of you and get you exactly where you want and then back to Malaga!
11. Visiting Malaga in winter? Go see the famous Christmas lights!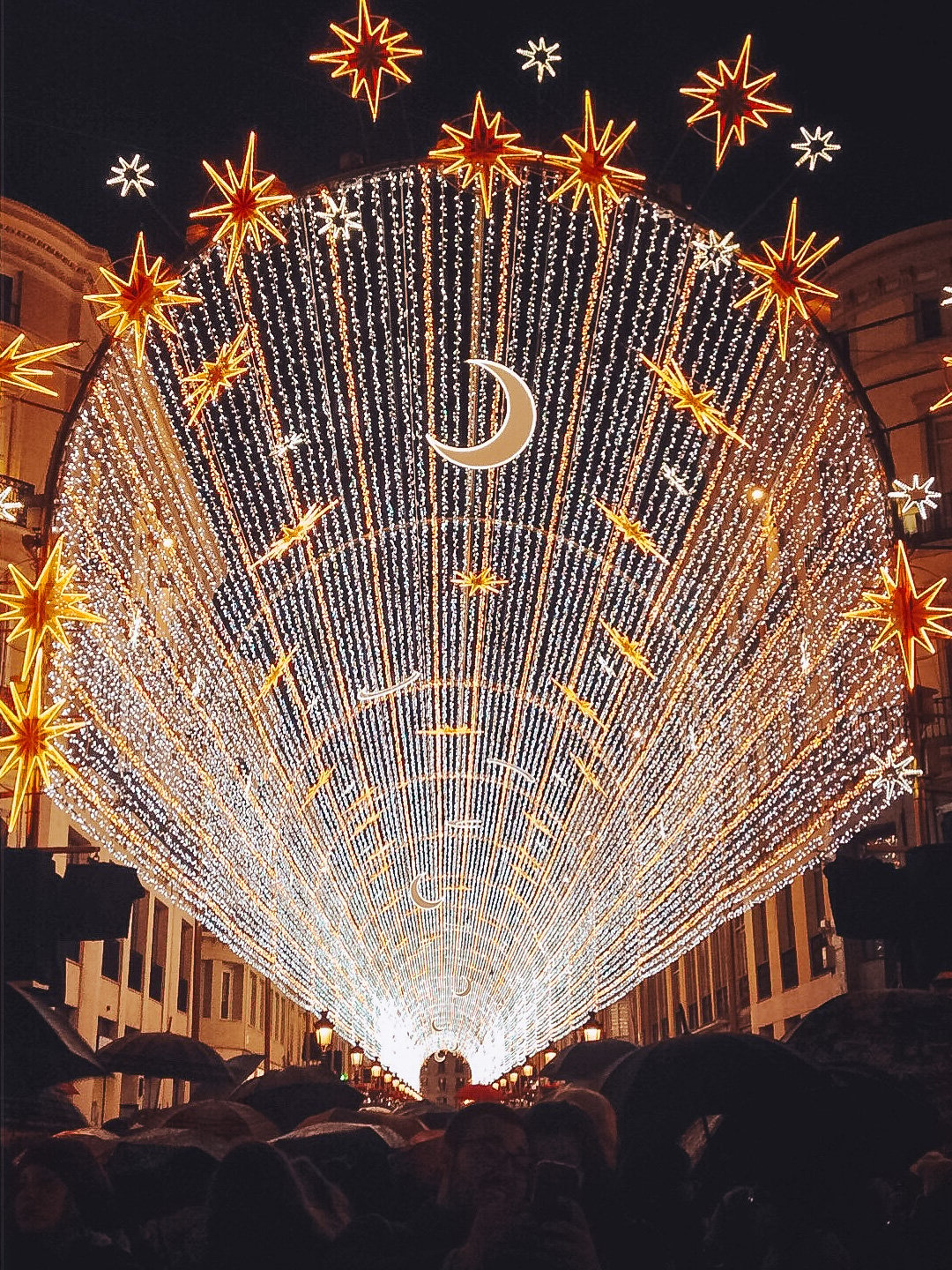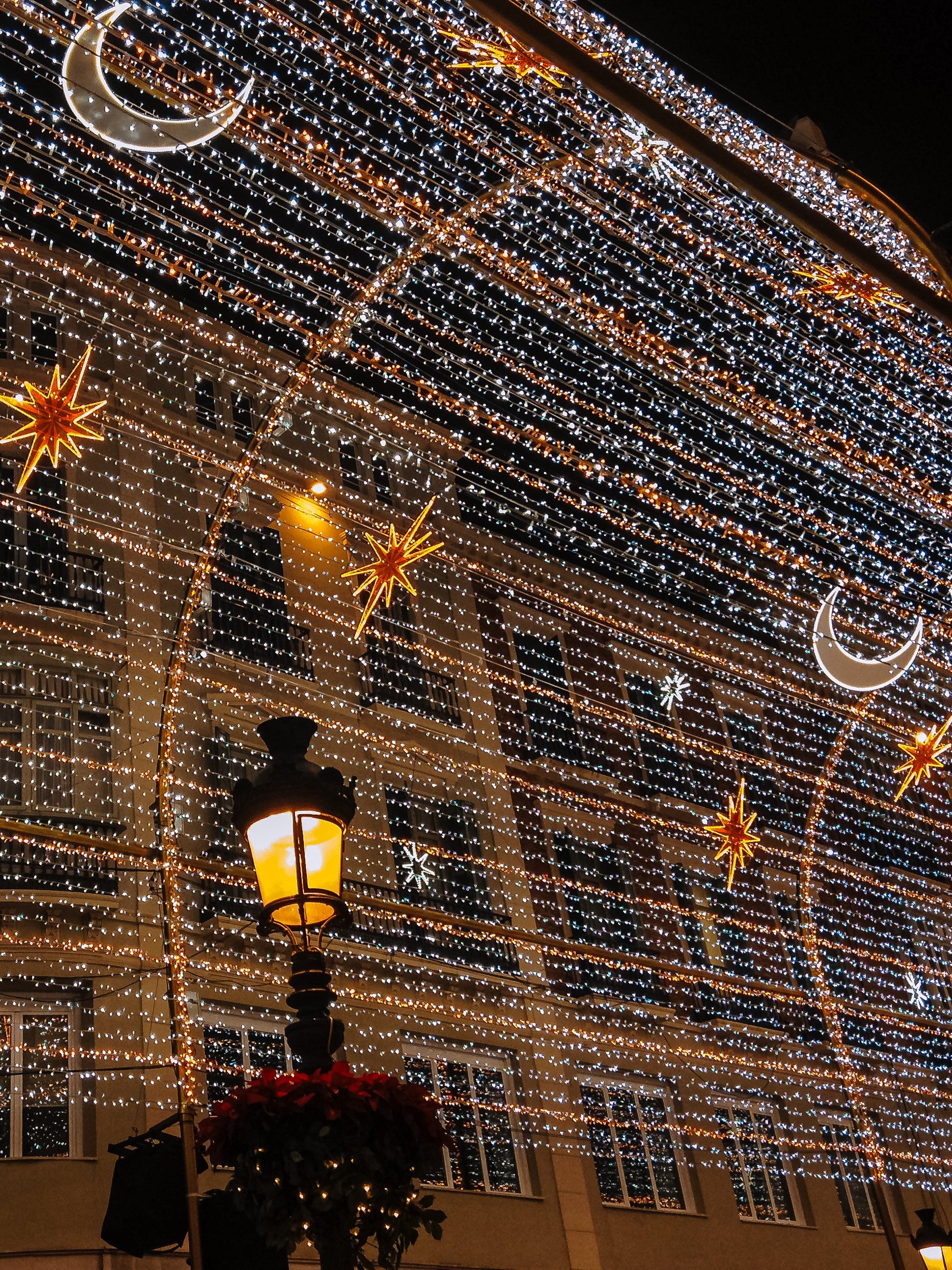 Malaga has to be one of the most famous places to go for Christmas lights in Spain! There is a whole street covered with incredible lights and at certain hours (usually, they start around 7 PM) you can see a big spectacle of lights.
There is a whole show – music coordinating together with lights and creating a beautiful 'dance'. Shortly before the show starts the street fills up full of people who are waiting to see this Christmas 'miracle'.
We found ourselves right in the middle of it when we visited Malaga at the beginning of December and it was an incredible sight to see! The show happens on Marqués de Larios street.
Location: Calle Marqués de Larios
More Malaga travel inspiration!
Happy exploring!
Malaga is a must-visit city in Andalusia, the Southern region of Spain. It is a year-round destination known for its palm-lined sandy beaches, Castle of Gibralfaro, Alcazaba of Malaga fortress, and also as the birthplace of the famous painter and sculptor Pablo Picasso.
Malaga is the best place to go to catch some sun as well as embark on a road trip around Andalusia. I hope you enjoy your time in Malaga as much as we did and get some inspiration from my blog to make your trip even more adventurous, fun, and unforgettable!
PIN FOR LATER!