13 best Instagram spots of the most beautiful places in Nerja, Spain
Nerja is a coastal town in the famous Costa del Sol area in Spain. It is a 50-minute drive away from Malaga city and offers more authentic experiences in a more relaxed atmosphere. Here are some of the most famous Instagram spots in Nerja of the most beautiful and coolest places in the town!
In this blog post, you will find all the places with descriptions, photos, and locations where they can be found on Google Maps. We loved the chill small-town atmosphere in Nerja and I hope that you will too! Happy exploring!
Read more >>> Malaga Bucket List: 11 best things to do in Malaga, Spain
1. Balcón de Europa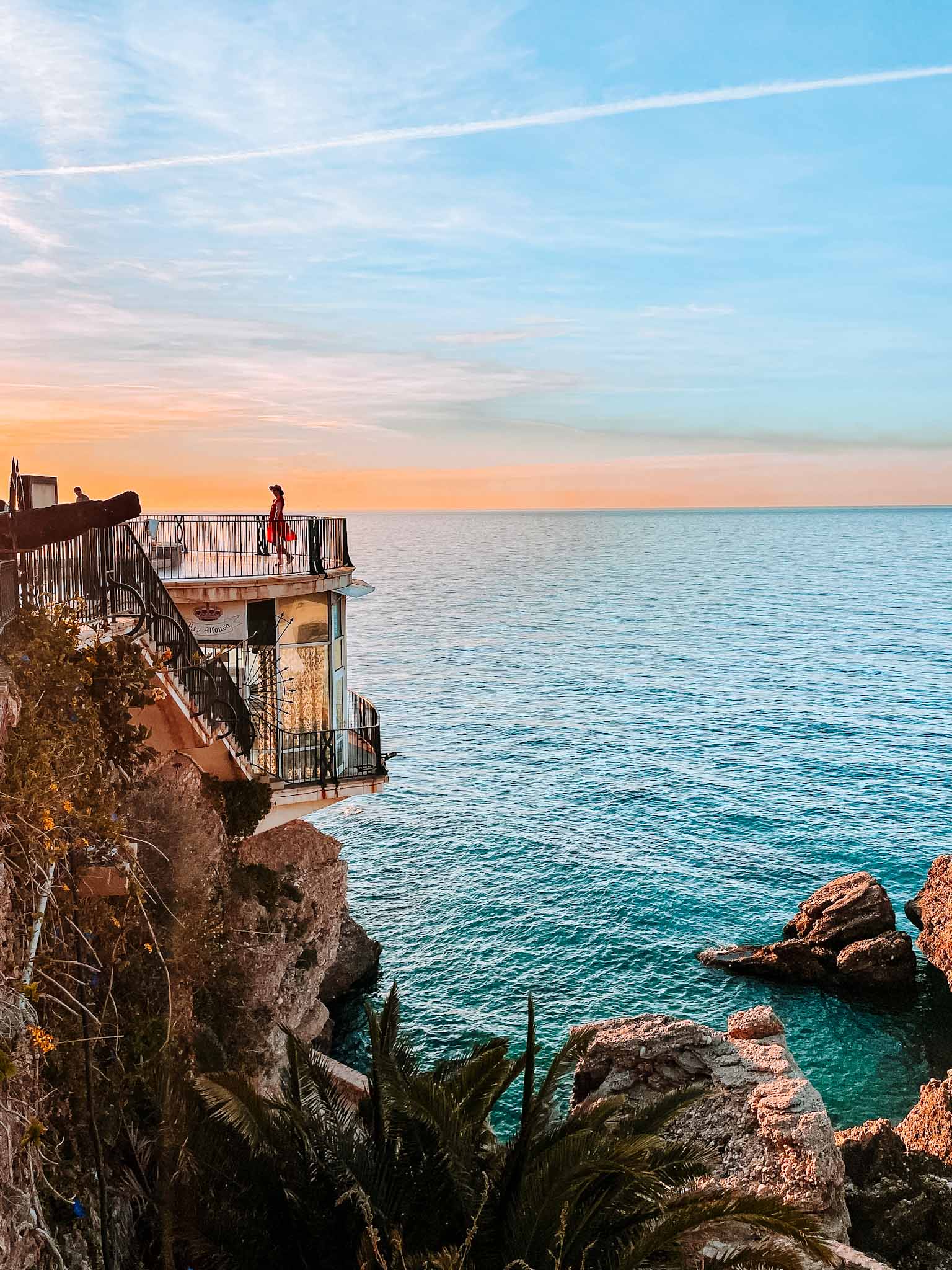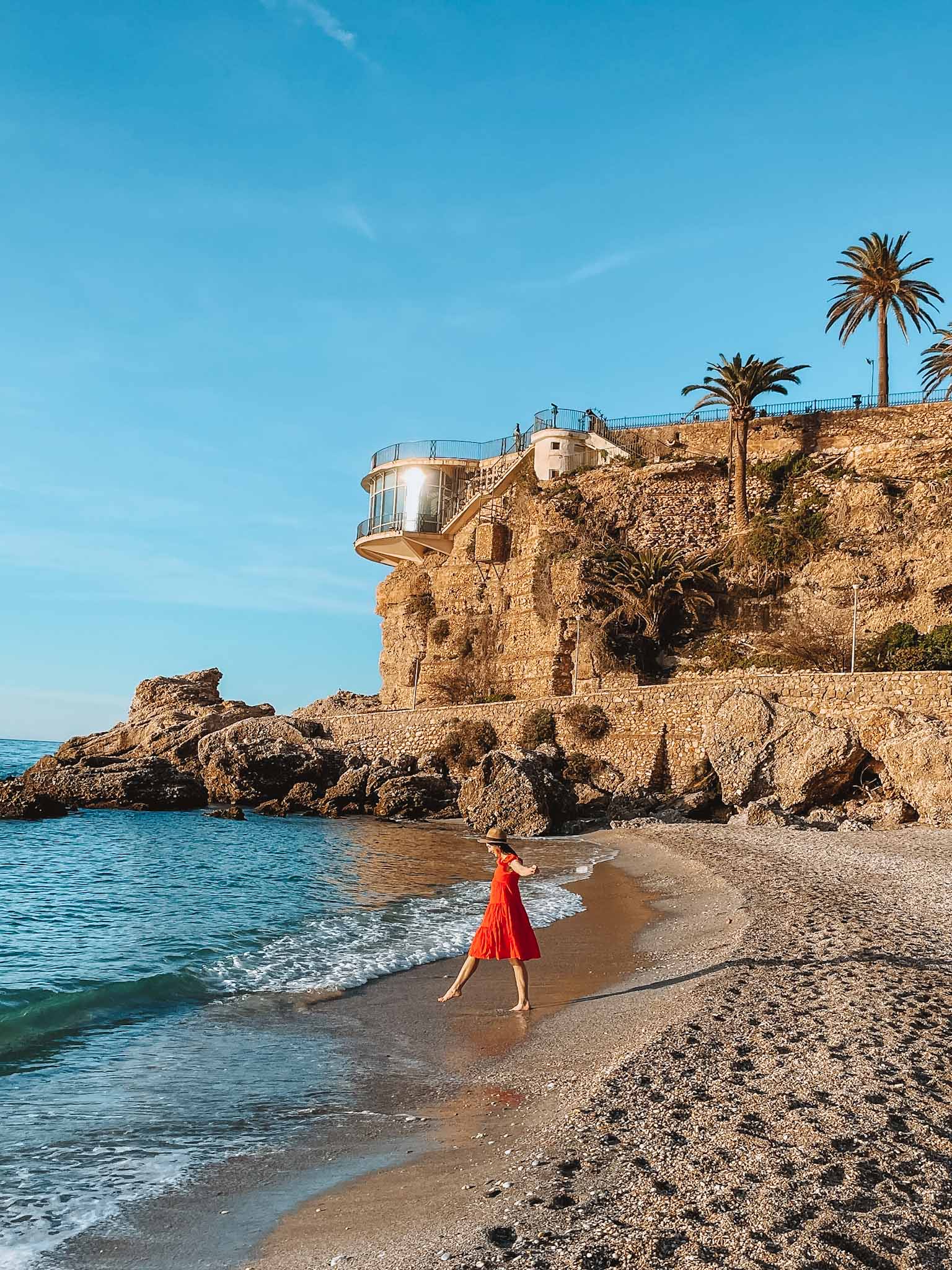 Obviously, the most famous place in Nerja is the Balcony of Europe. There is a viewpoint built above a cliff that has been named Balcón de Europa. You can get some fantastic views here over the Mediterranean sea, the mountains, and the coastline.
This has to be the busiest place in Nerja as there are benches to sit on, restaurants, ice-cream shops, and a beautiful palm-lined promenade. People just come here to relax and socialize. It is a great place to watch the sunrise and sunset as well!
The Balcony of Europe is amongst the must-visit Instagram spots in Nerja, so definitely take a photo here! You can get a great shot on the balcony, from the side, or from the beach next to it (photo inspiration above!).
Location: Balcón de Europa
2. White arches at Plaza Balcón de Europa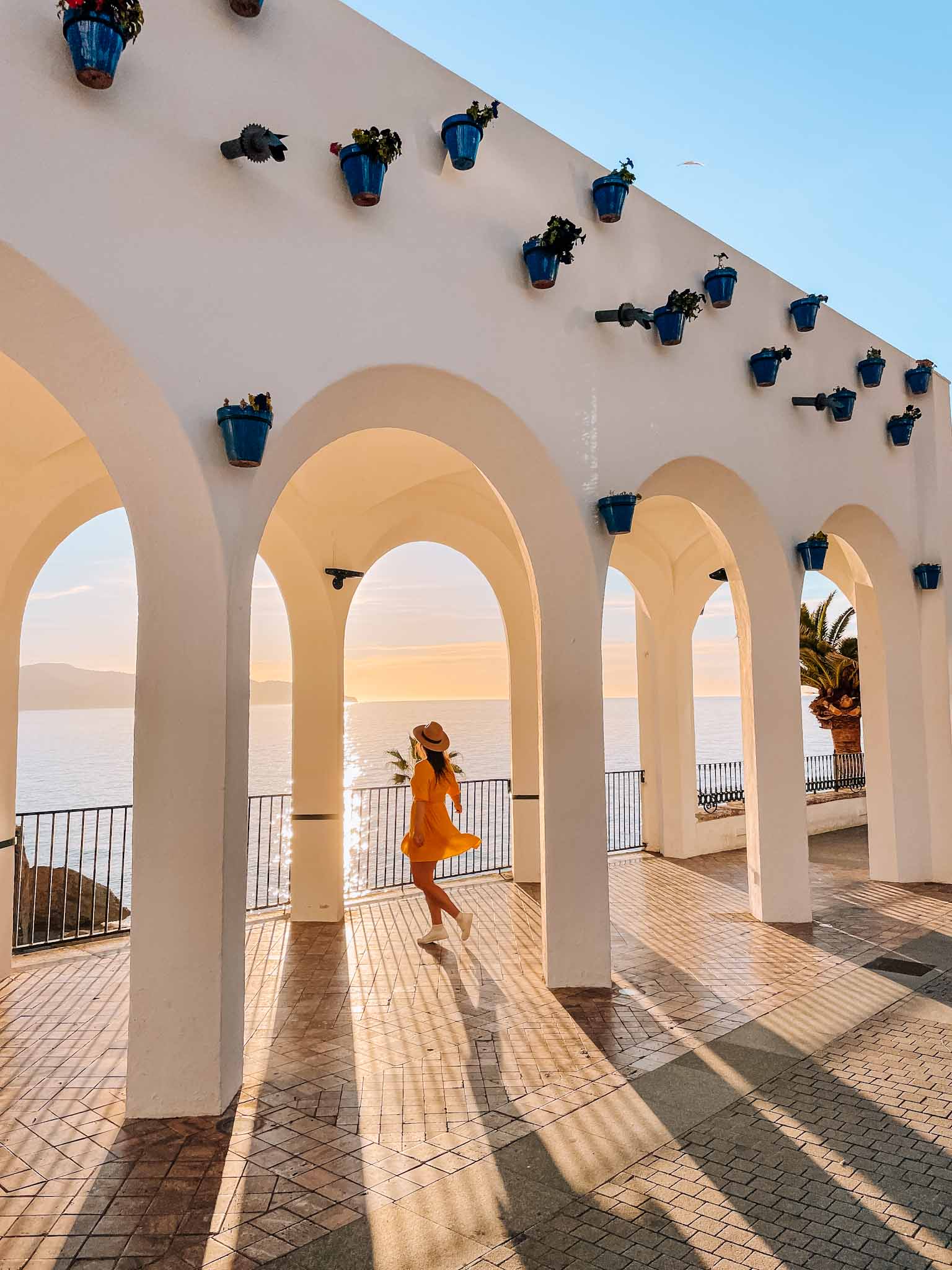 While you are enjoying the views from the Balcony of Europe don't forget to check out the square as well. There are many cool spots and unique corners around you!
The first unique spot you will definitely notice in the square is the white archways with beautiful blue flowerpots attached to them. I love how they look and it is a great spot to take some pictures in Nerja.
Location: White arches at Plaza Balcón de Europa
3. Window to the mountains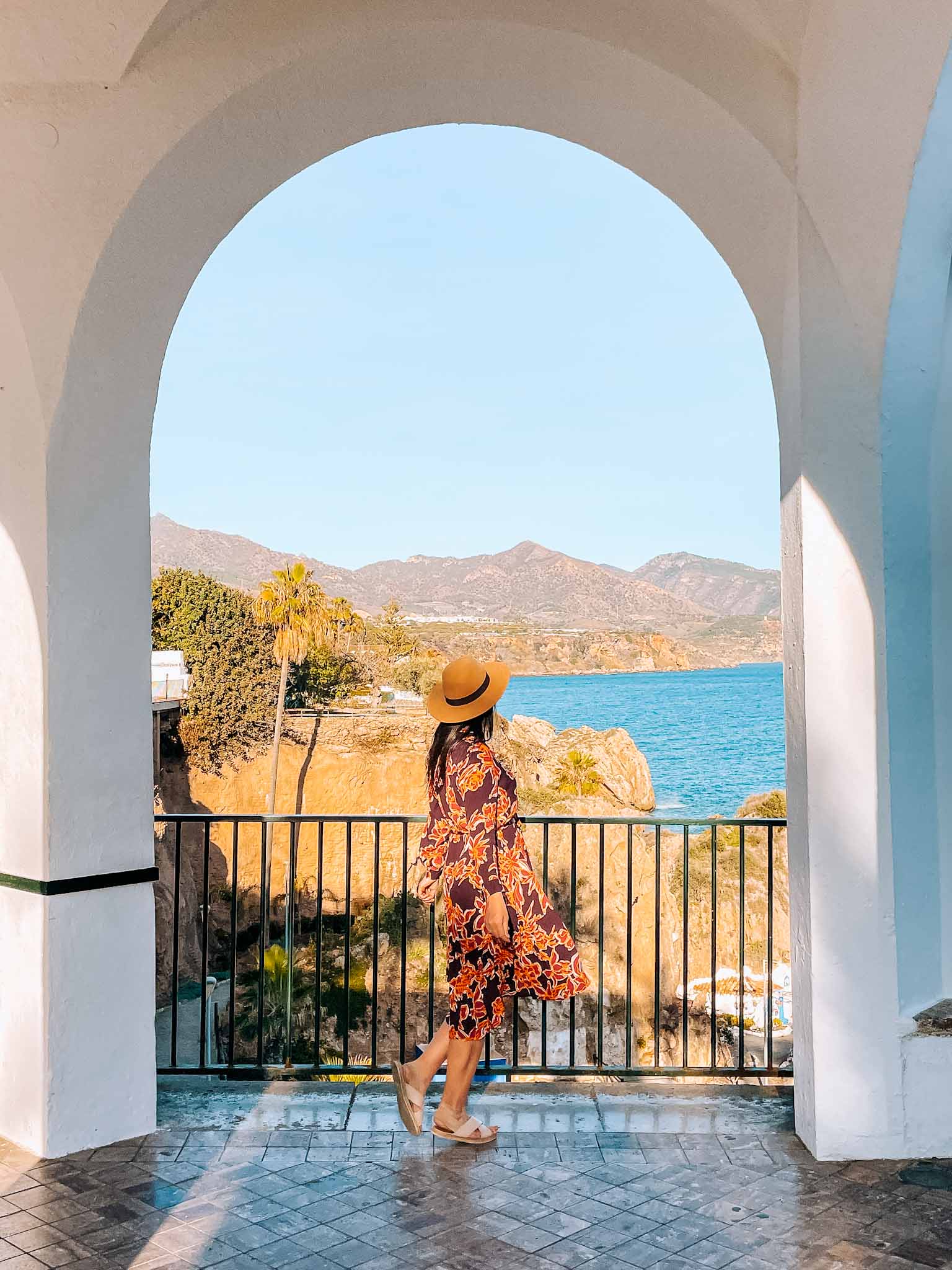 Another great photo idea at the white arches is to take a photo through an arch so that you can see the mountains in the background. I was quite surprised at how rugged the area around Nerja actually is. And it looks super cool in the photos!
Don't be too mesmerized by the cute flower pots or ice cream shops and don't forget to take a photo of the breathtaking view, haha! It is very beautiful!
4. Boquete de Calahonda passage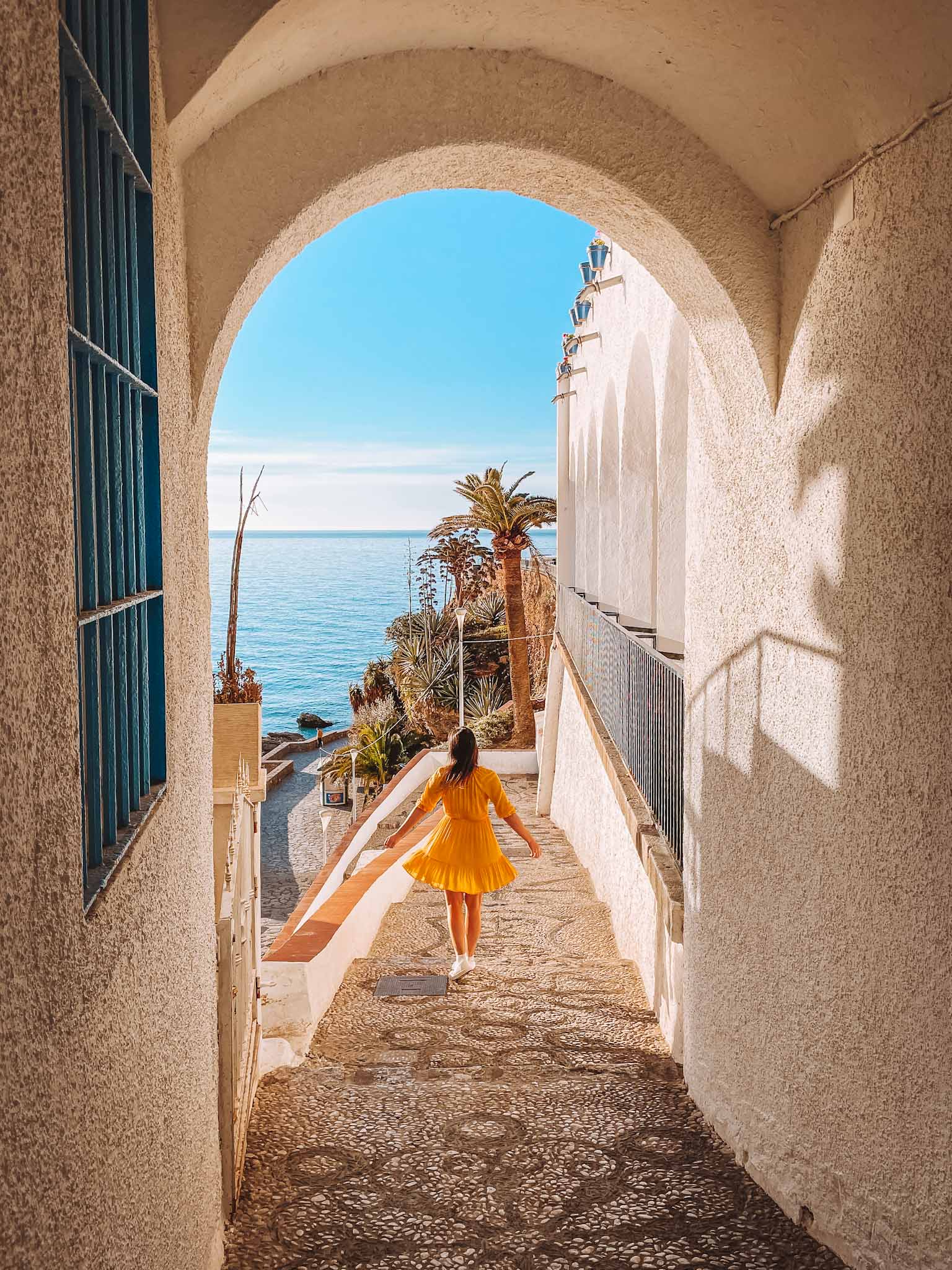 Hidden around the corner of the square (behind the white archways) is a tunnel-like pedestrian passage that leads to the beach. This passage is called Boquete de Calahonda.
Before rushing to the beach to enjoy the Mediterranean sea, stop for a minute to take a photo here! It is one of my favorite Instagram spots in Nerja for sure! You can see palm trees, the blue sky and the sea through the tunnel – looks really nice!
After that, go down to the beach or enjoy a walk on the promenade along the sea! It is a really nice and relaxing place away from the busy square upstairs. We loved walking here before the sunset while eating an ice cream that we bought at the square!
Location: Boquete de Calahonda
5. Casa De Don Ducano fisherman's house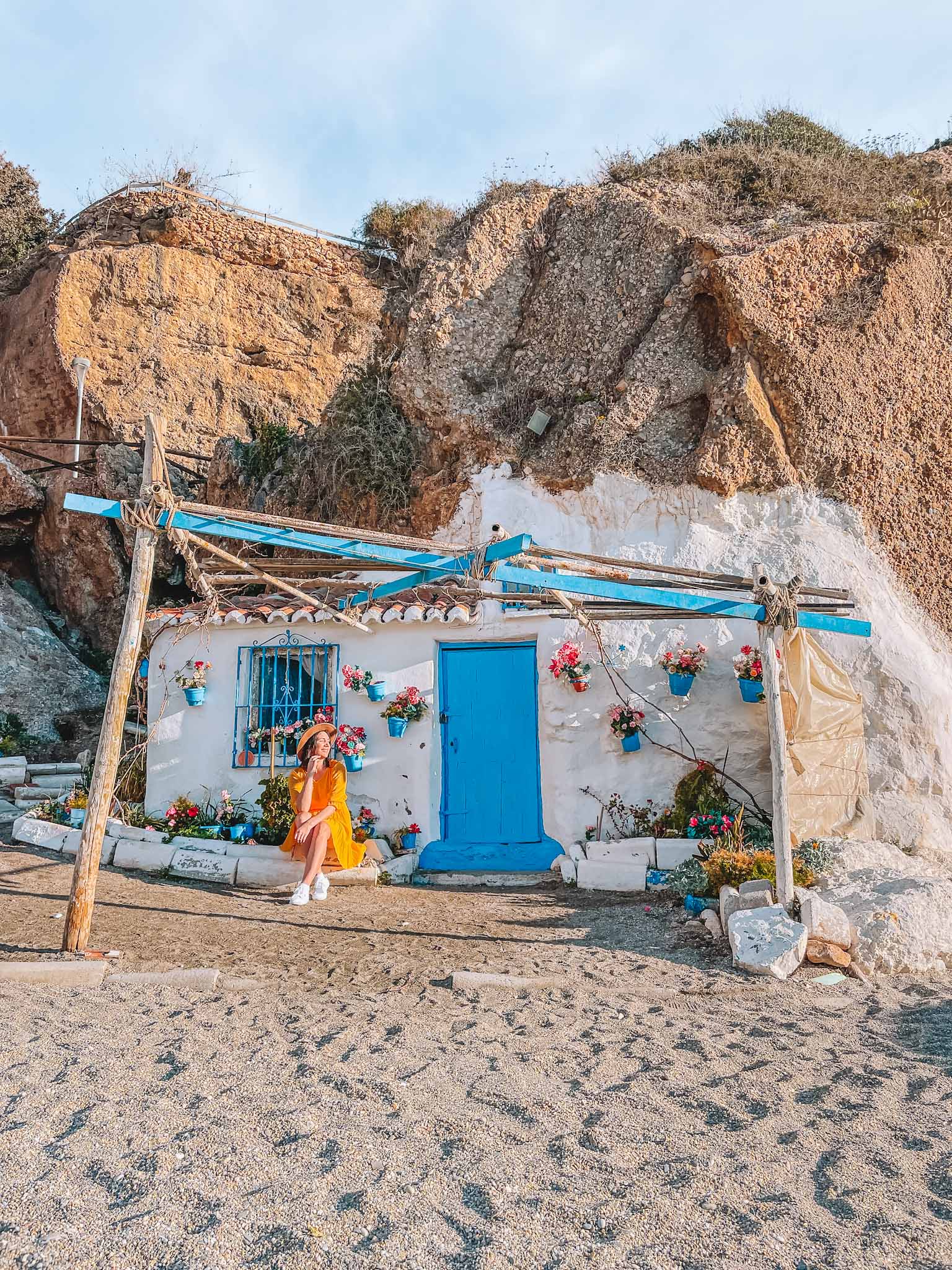 Once you walk down from the square of the Balcony of Europe to the Playa Calahonda beach, you will notice a tiny fisherman's house in the corner of the beach.
It is a cute little house with white walls and blue doors, and many flower pots around it. The house is built partly inside the coastal cliff and looks really unique! This tiny house is a great photo spot in Nerja, so definitely consider visiting it!
Location: Casa De Don Ducano
6. Cliffs at Playa Calahonda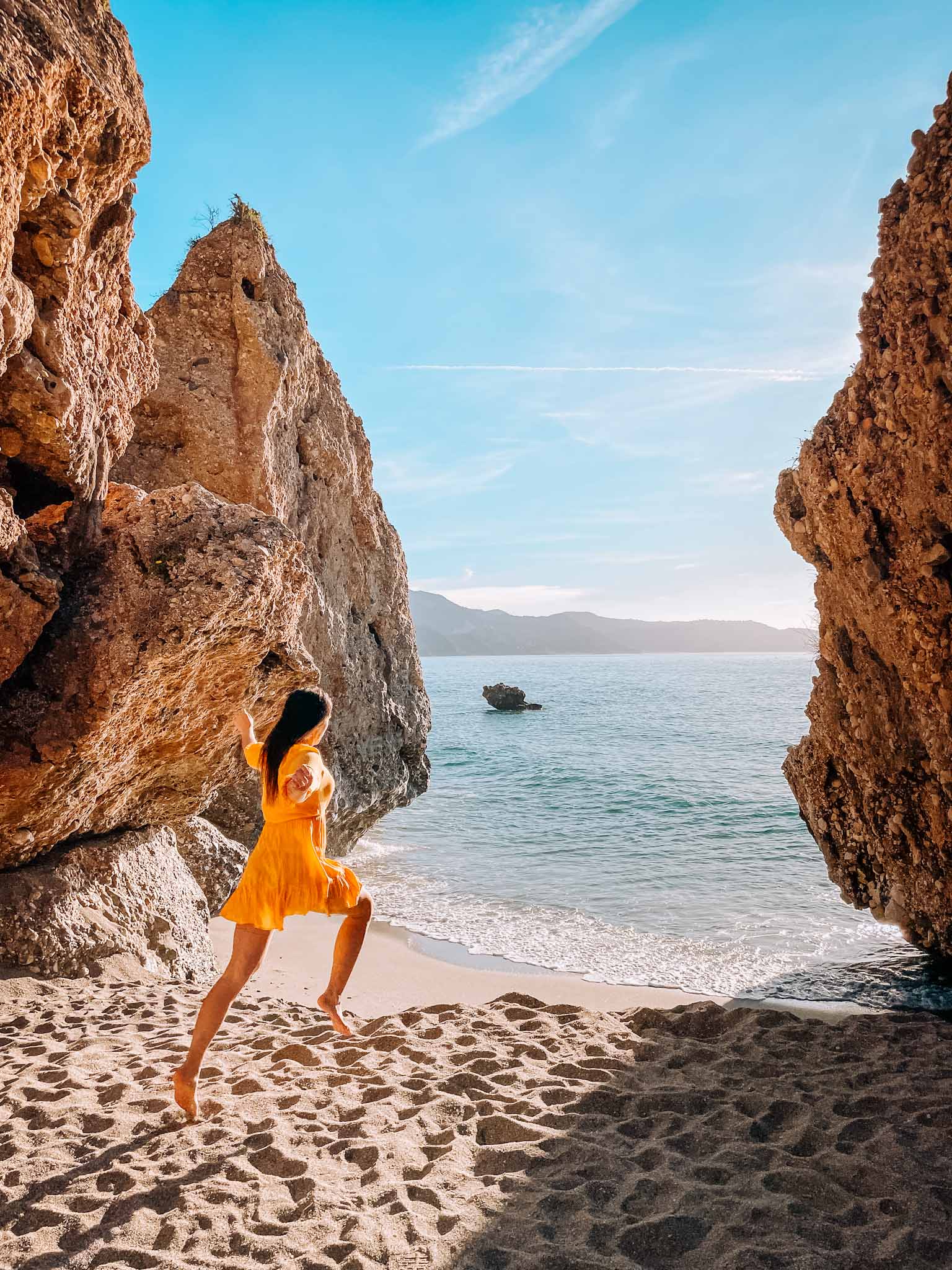 As you continue walking along Playa Calahonda you will reach huge boulders that have fallen on the beach. Somewhere there among the boulders, you will have another great and unique photo spot in Nerja (photo location below)!
This beach tends to get crowded as it is one of the central beaches in Nerja, so if you are looking for a photo opportunity then better try to come here in the morning. Perhaps you are ready for a sunrise on the beach?
Locations: Photo location
7. Stone arch in Playa el Salón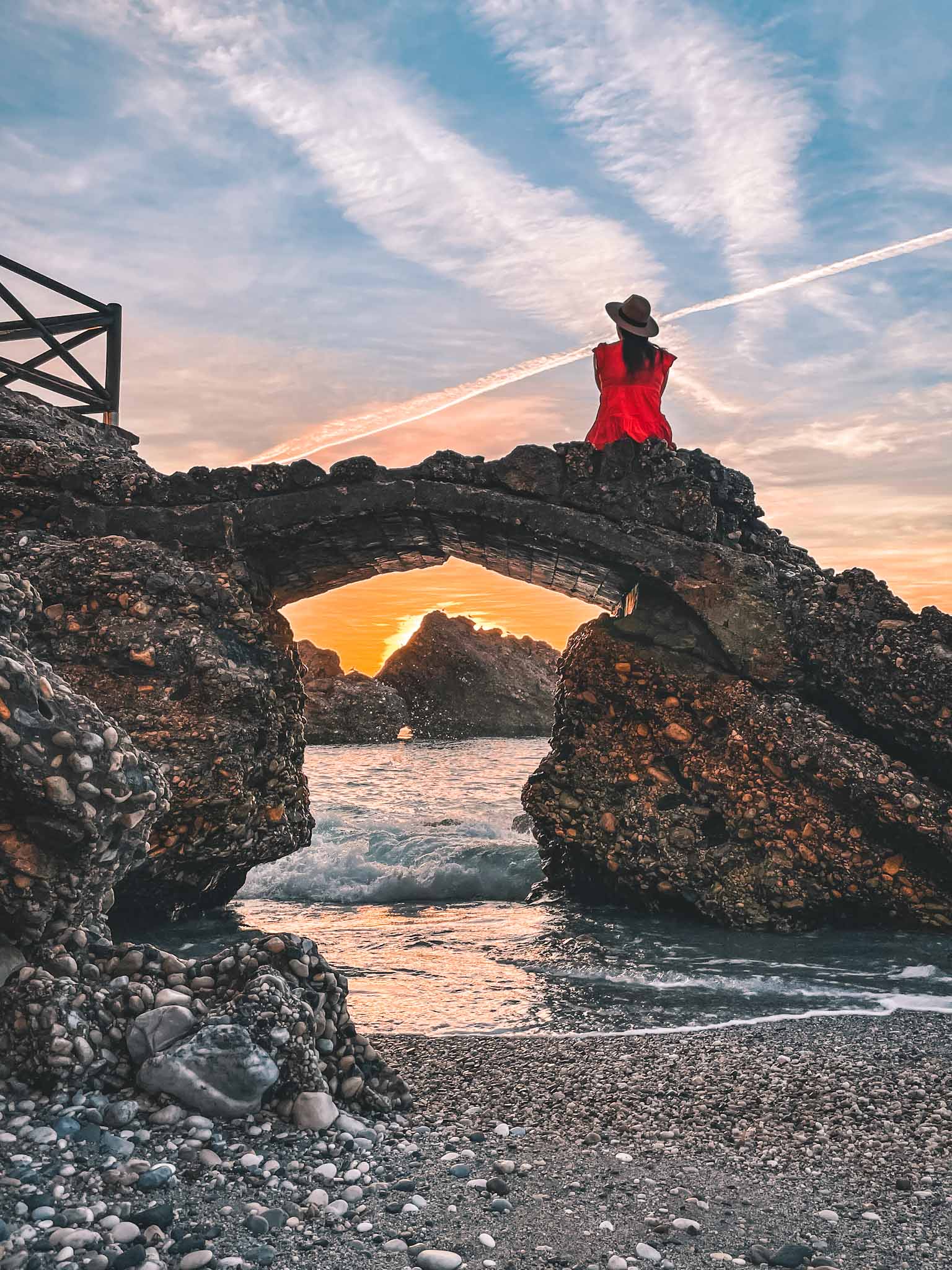 On the other side of the Balcony of Europe, you will find Playa el Salón beach which is another popular sandy beach in Nerja. The beach is quite small, however, there is a hidden gem on this beach and it is also one of the most unique Instagram spots in Nerja!
There is a stone arch (or it even looks like a small stone bridge) among the rocks (location below). We reached the arch from the side of Playa la Caletilla beach and got there with dry feet. We visited in the morning during the sunrise which was quite beautiful.
Location: Photo location
8. Rainbow steps
A bit further away from the Old Town of Nerja but still just a short walking distance away you will find one of the most colorful Instagram spots in Nerja – the Rainbow steps! There are stairs at this location and each of the steps is painted in a different color. Makes for a cool and fun photo!
Location: Rainbow steps
9. Famous fishing boat "La Dorada"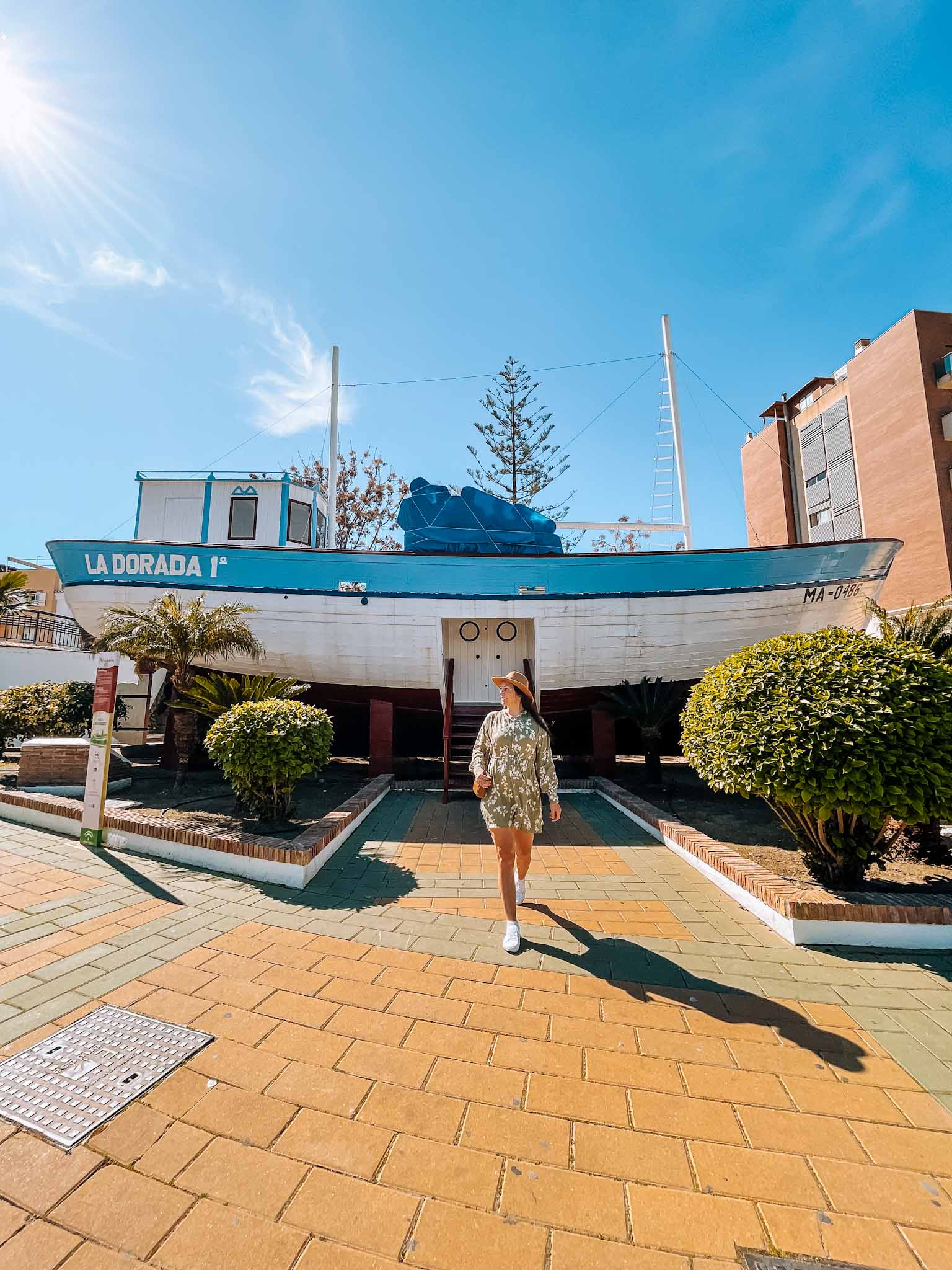 Nerja is known as the filming place for the famous TV series "Blue Summer" (Verano Azul). It was a very popular show in Spain and also abroad. Located on the outskirts of Nerja there is a life-size replica of a fishing boat featured in the series. It is a must-see spot especially if you have seen the series!
Location: Fishing boat "La Dorada"
10. Flower street Calle Tajillo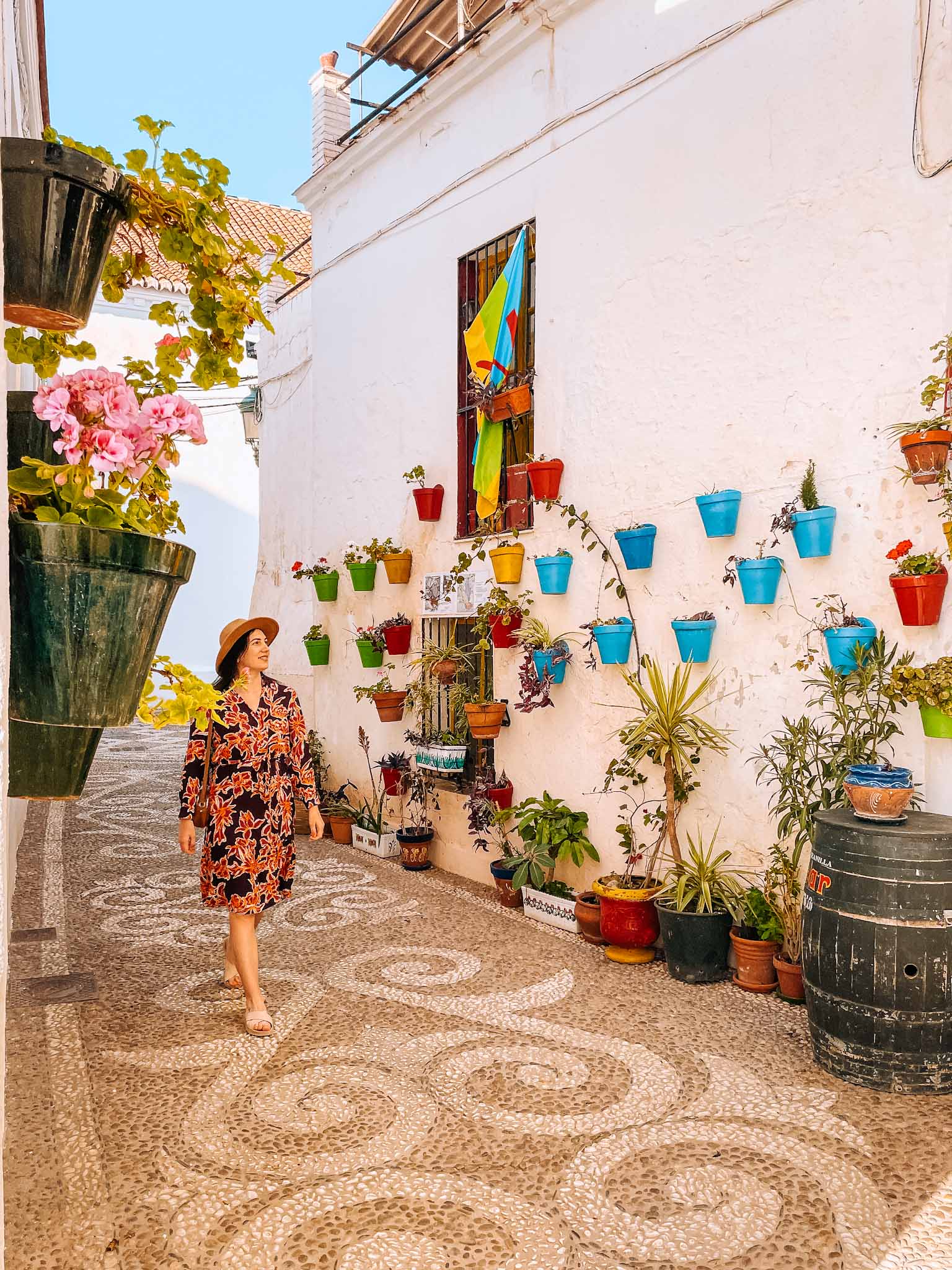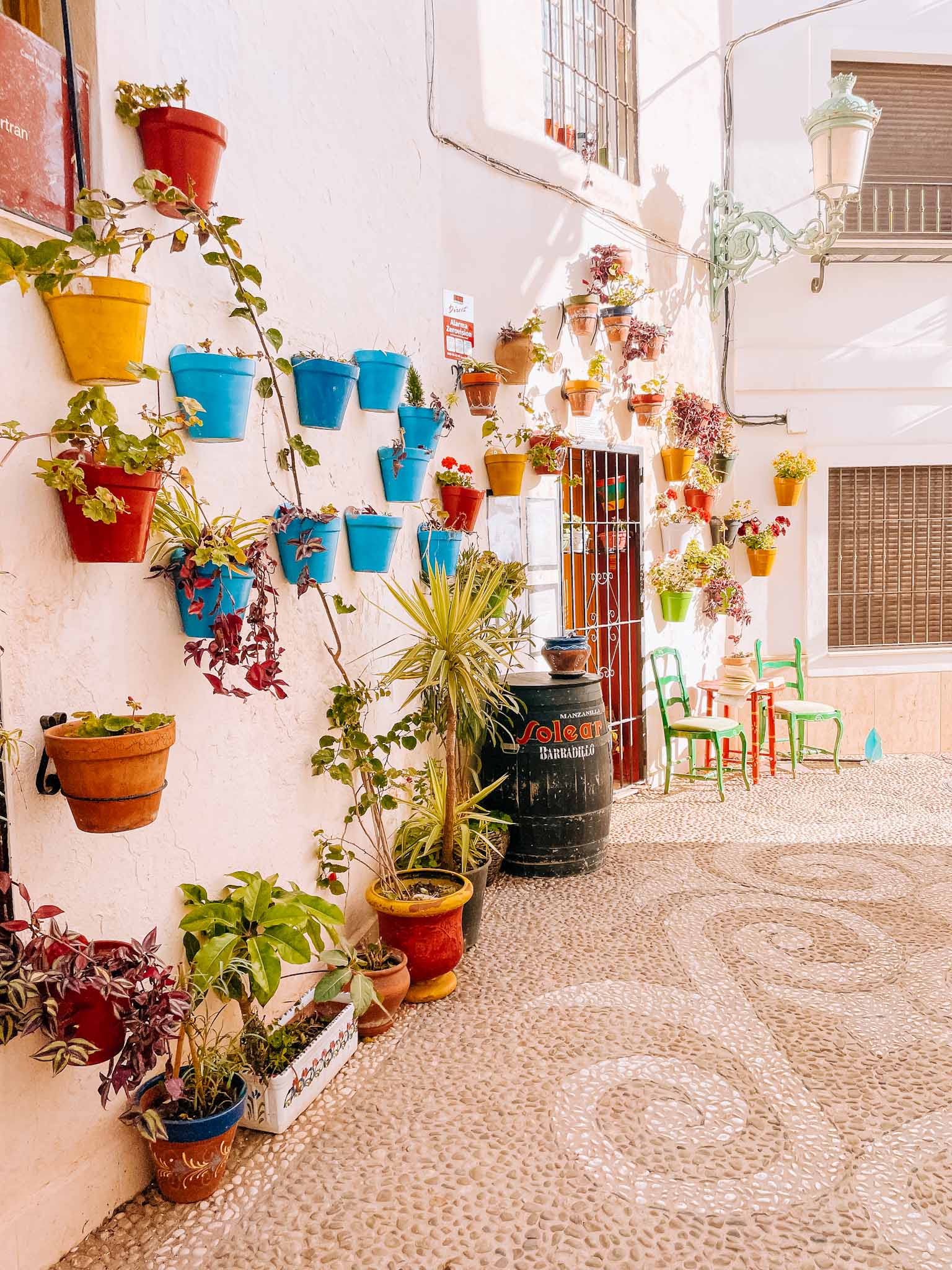 Calle Tajillo is a tiny street behind the El Salvador church in the Old Town of Nerja. It is probably the most flowerful street in Nerja. There are flower pots on the walls, around windows, and on the ground.
Just walk around the church and you definitely won't miss it (location below, if you need it)! Calle Tajillo ends with a beautiful viewpoint overlooking the coastline – Mirador de Calle Tajillo!
Location: Flower street Calle Tajillo
11. Archway of the Old Town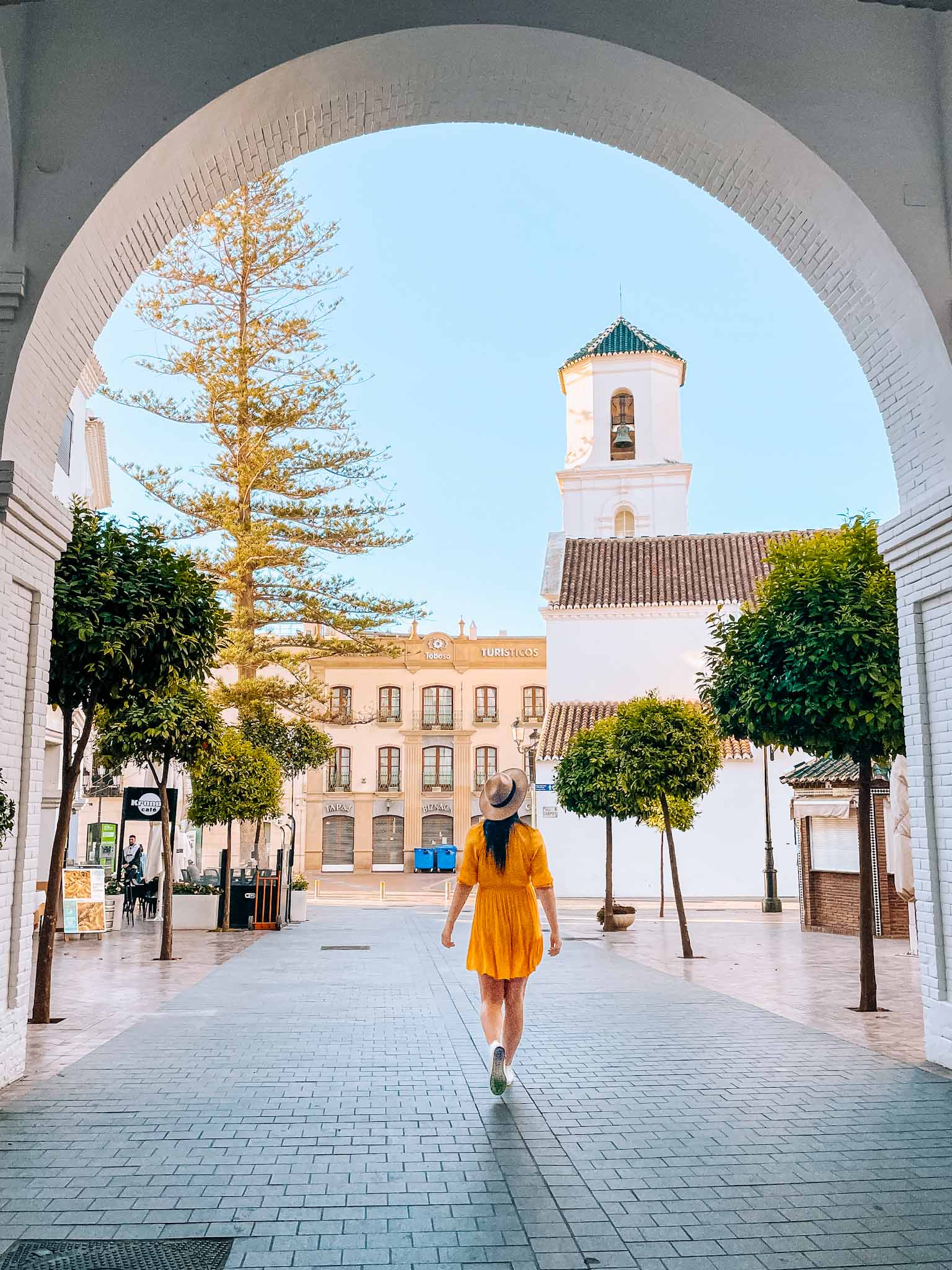 There is a beautiful archway or tunnel connecting the main square – Plaza de España – and another hotspot in Nerja – Plaza de Balcón de Europa and a square next to El Salvador church.
This spot is called the archway of the Old Town which is another cool Instagram spot in Nerja. It is located right next to many other famous must-see spots in Nerja so don't miss it!
Location: Archway of the Old Town
12. Cueva de Nerja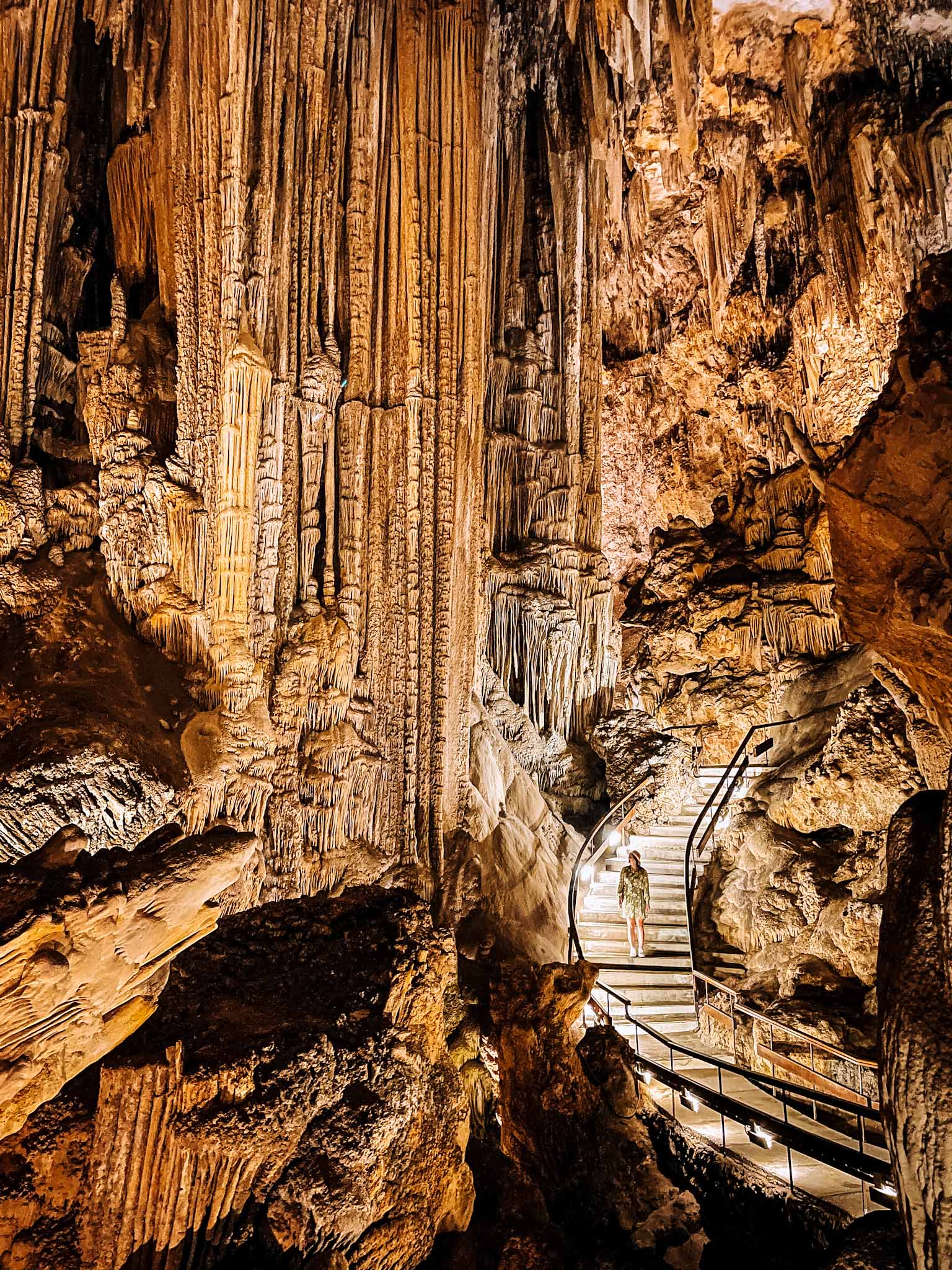 One of the best Instagram spots in Nerja is definitely the famous cave! Cueva de Nerja is a popular tourist attraction in Nerja and a must-visit for any visitor here. The entrance to the cave costs 13 EUR and can be bought online for the exact time you wish to visit.
The cave is pretty huge and full of stalagmites and stalactites. You can get there by taxi, a car, or a special tourist train that goes from Nerja center to the cave and back. The cave is full of different and unique photo possibilities!
Location: Cueva de Nerja
13. Aqueduct Eagle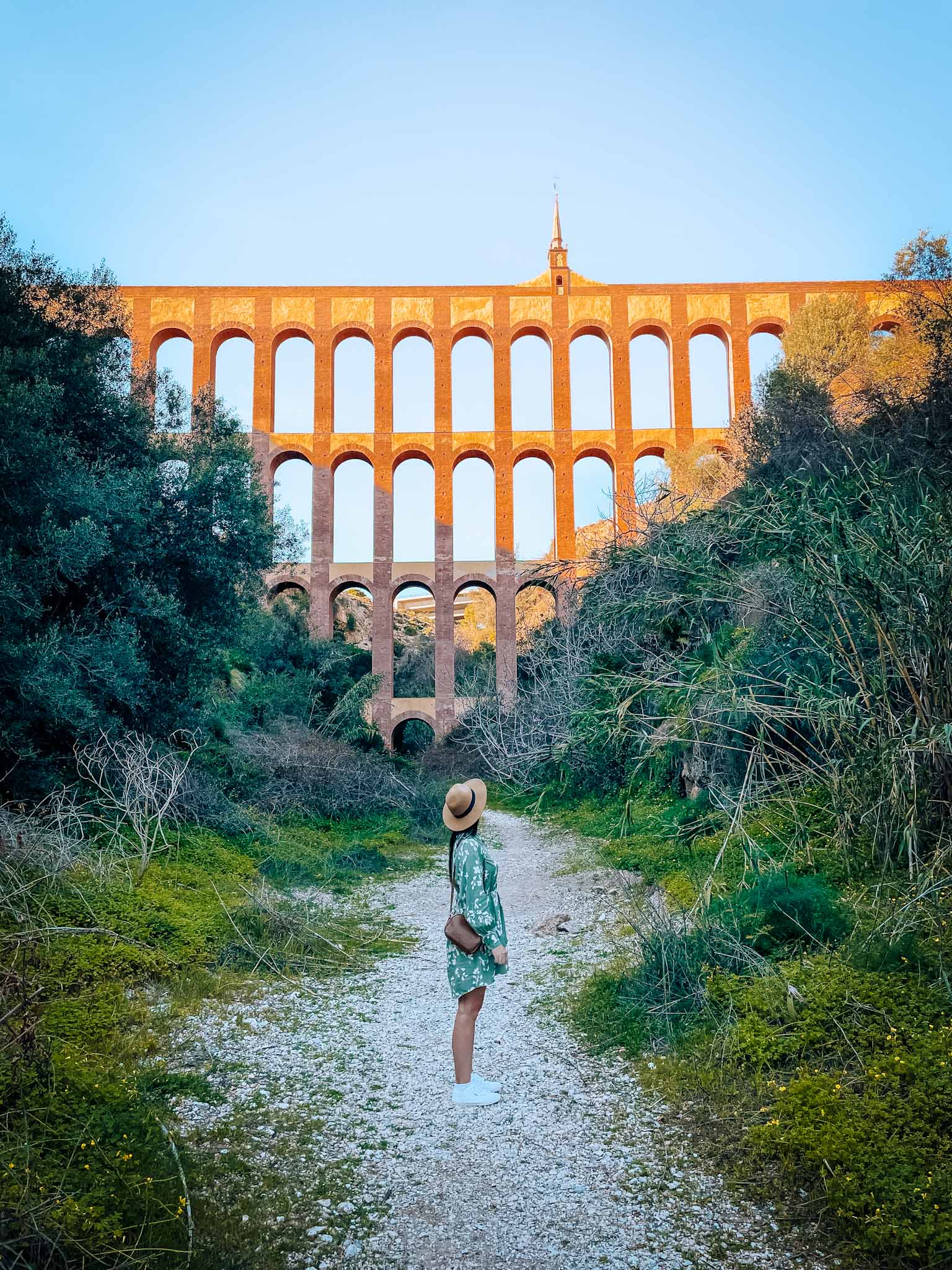 Just a short trip outside the center of Nerja is a huge hidden gem – Aqueduct Eagle or El Acueducto del Águila. It is a beautiful aqueduct that is quite different from others that I have seen around Spain as it has super long and impressive arches on 4 levels! Quite a sight and one of my favorite Instagram spots in Nerja!
The best part – you can access it up close. There are a couple of accessing roads to see it from the top, however, I think the best view of the aqueduct is from the bottom. If you want to get there, then drive to this place, park your car, and then it is a very short walk (300 meters) to the bottom of the aqueduct.
Location: Aqueduct Eagle
Bonus! Mirador Del Bendito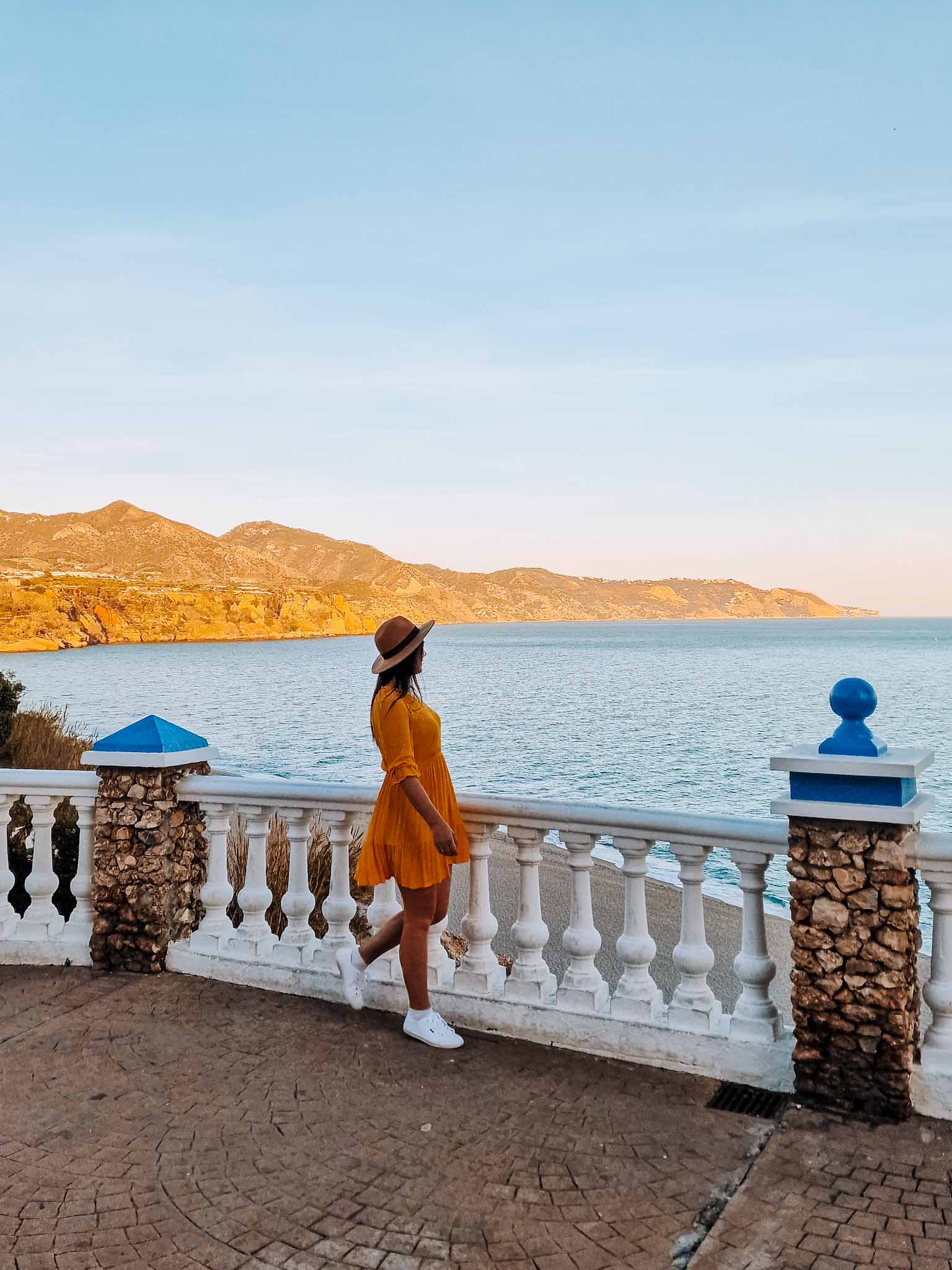 Nerja has such a beautiful coastline! Sandy beaches with rocks and mountains in the background. I could sit by the cliff and watch the surroundings for a long time if not the whole day, haha!
One of my favorite chilling spots for this, and a great photo place too, was Mirador Del Bendito. It is located on one end of the longest sandy beach in Nerja – Playa de Burriana. It is a beach hotspot in Nerja! Go to the viewpoint to see everything from above!
Location: Mirador Del Bendito
More Andalusia travel inspiration!
Happy exploring!
Nerja is a cool seaside town near Malaga in the Southern region of Spain – Andalusia. Although the most famous tourist attractions here are Nerja caves and the Balcony of Europe, it was those relaxed small-town vibes that I enjoyed the most.
Eating ice cream and sitting on the Balcony of Europe? Or waiting for the sunrise on the balcony with a coffee cup in your hand? Such a bucket list thing to do! If you can, please, leave a comment below if there are any significant changes to anything that is written in this blog post! Many thanks!
PIN FOR LATER!