Nerja Bucket List: 9 best things to do in Nerja, Spain (in 1 day)
Nerja is a coastal town in the famous Costa del Sol area in Spain. It is located just a 50-minute drive away from Malaga city and offers more authentic experiences in a more relaxed atmosphere. Here are some of the best things to do in Nerja that you can manage to visit in 1 day.
In this blog post, you will find all the places with descriptions, photos, and locations where they can be found on Google Maps. We loved the chill small-town atmosphere in Nerja and I hope that you will too! Happy exploring!
Read more >>> 13 best Instagram spots of the most beautiful places in Nerja
This post contains some affiliate links. If you use these links to buy something I may earn a small commission at no additional cost to you!
1. Wait for the sunrise on the Balcony of Europe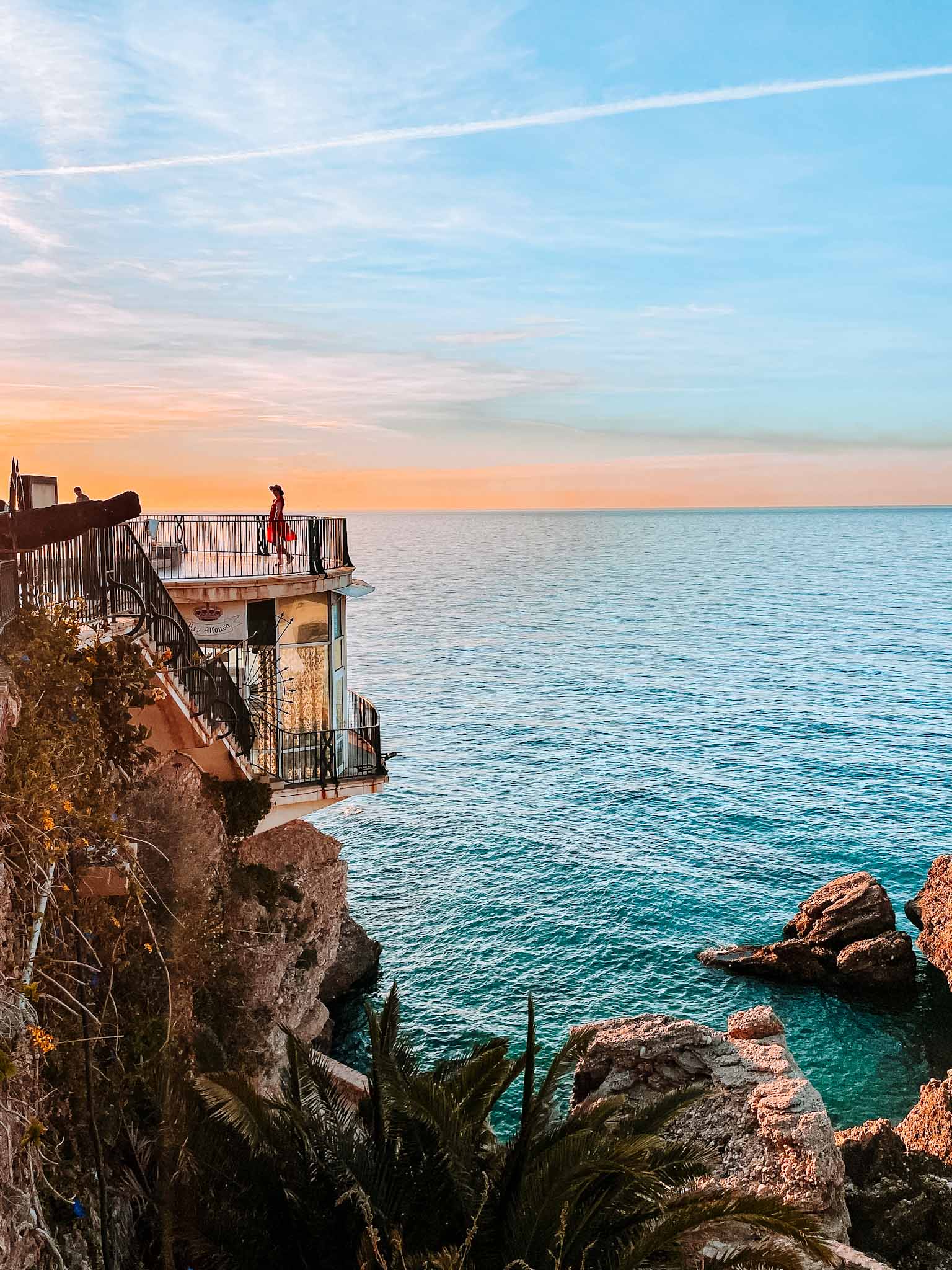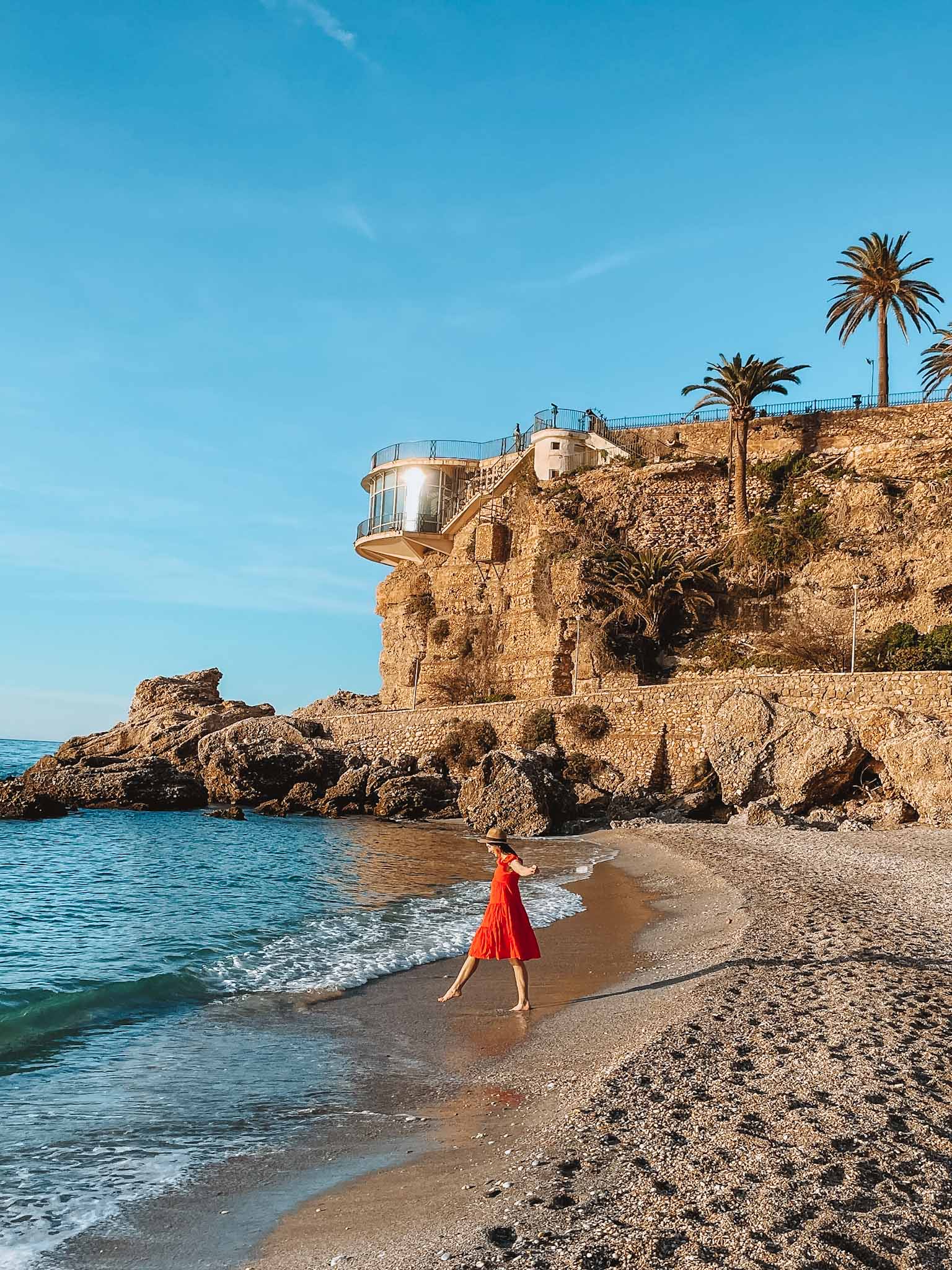 The most famous place in Nerja is the Balcony of Europe. There is a viewpoint built above a cliff that has been named Balcón de Europa. You can get some fantastic views here over the Mediterranean sea, the mountains, and the coastline.
This has to be the busiest place in Nerja as there are benches to sit on, restaurants, ice-cream shops, and a beautiful palm-lined promenade. For this reason, we came here for the sunrise when there were just a couple of people around and the atmosphere with the rising sun in the sea was quite special!
Location: Balcón de Europa
2. Explore Calahonda beach and the fisherman's house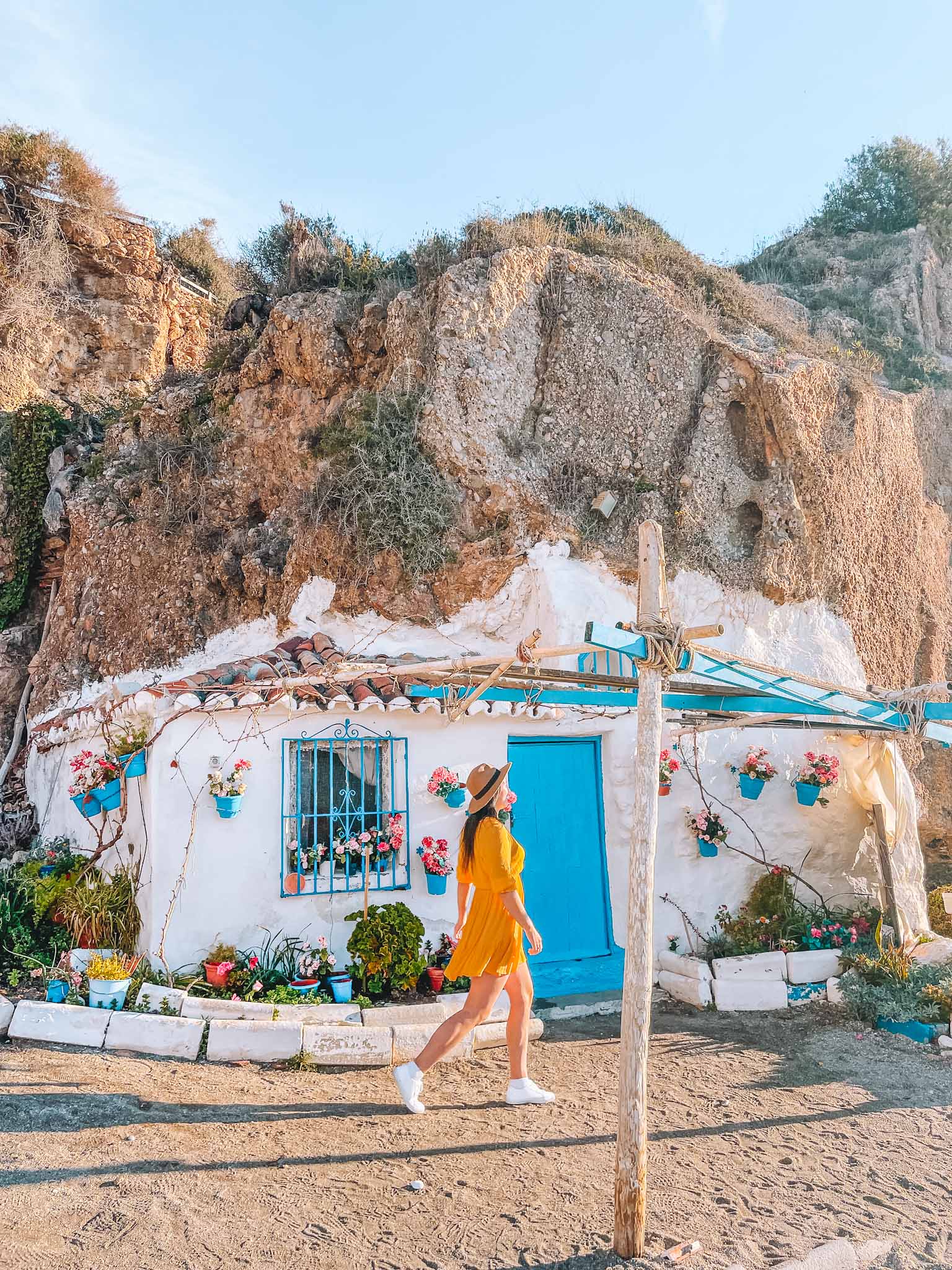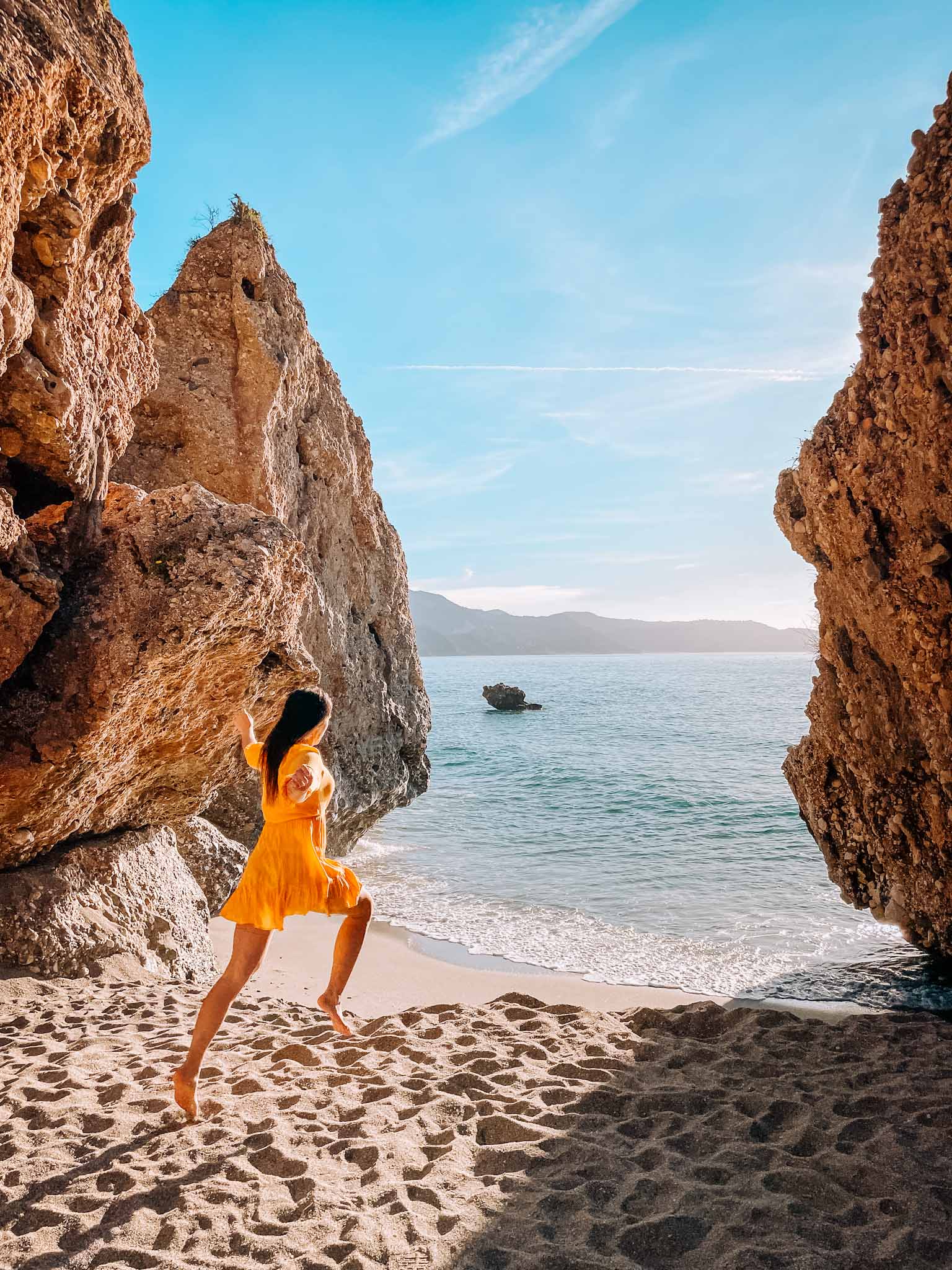 A cool place to visit at the beginning of the day before the sun gets too hot is Playa Calahonda beach. It is located right next to the Balcony of Europe. It is a beautiful sandy beach with big rock formations and boulders. A great place to explore and relax at the beach for a while!
You can get to the beach through a small tunnel called Boquete de Calahonda that starts at the Balcony of Europe square and then continues as an easy walkway down the cliff to the beach. The walkway actually continues as a promenade around the Balcony of Europe. A nice place for a morning walk!
Another interesting feature of the Playa Calahonda beach is the Casa De Don Ducano fisherman's house. It is a cute little house with white walls and blue doors, and many flower pots around it. The house is built partly inside the coastal cliff and looks really unique!
Locations: Playa Calahonda · Casa De Don Ducano
3. Stop at the white arches and have ice cream at the Balcony of Europe square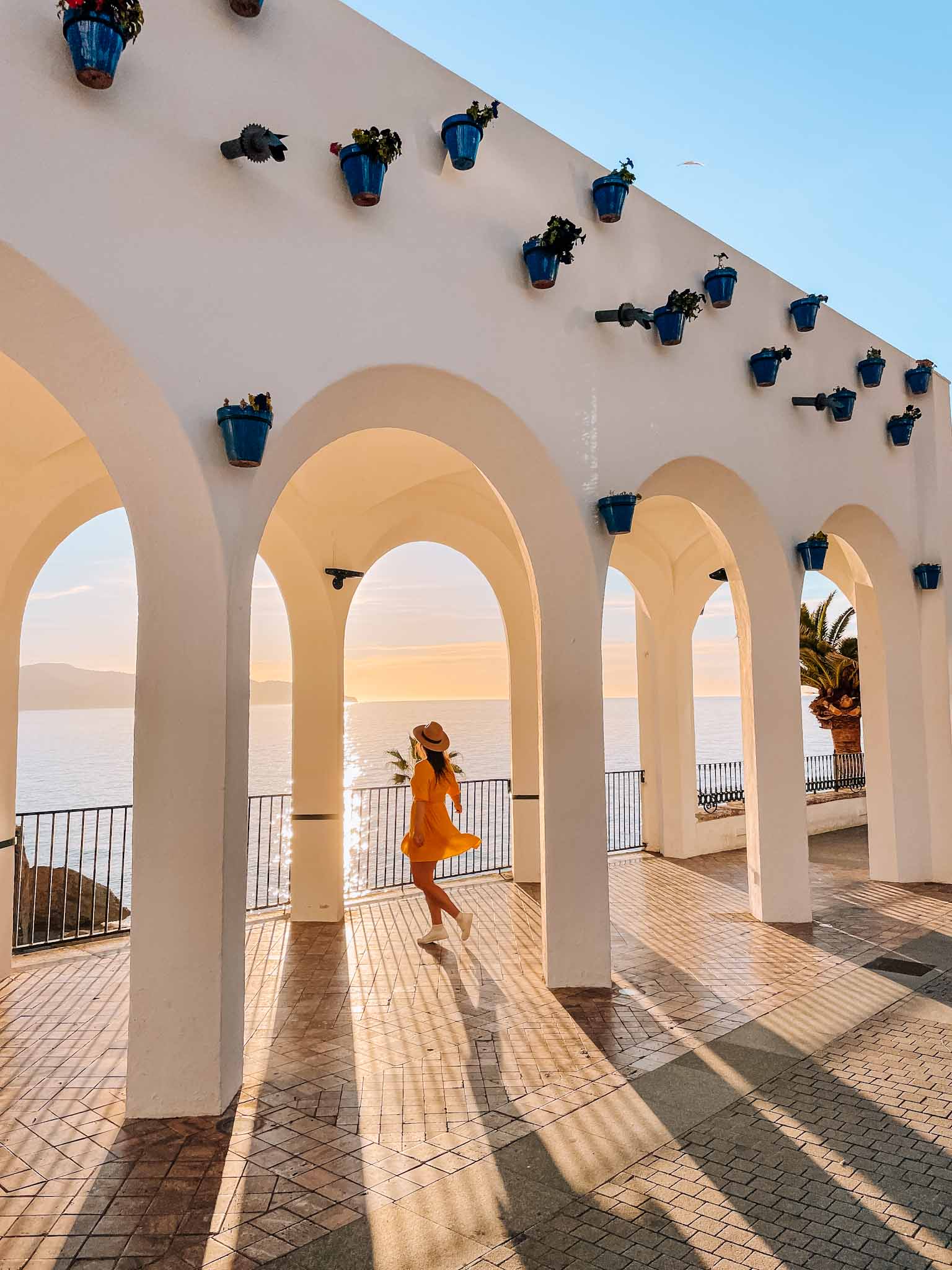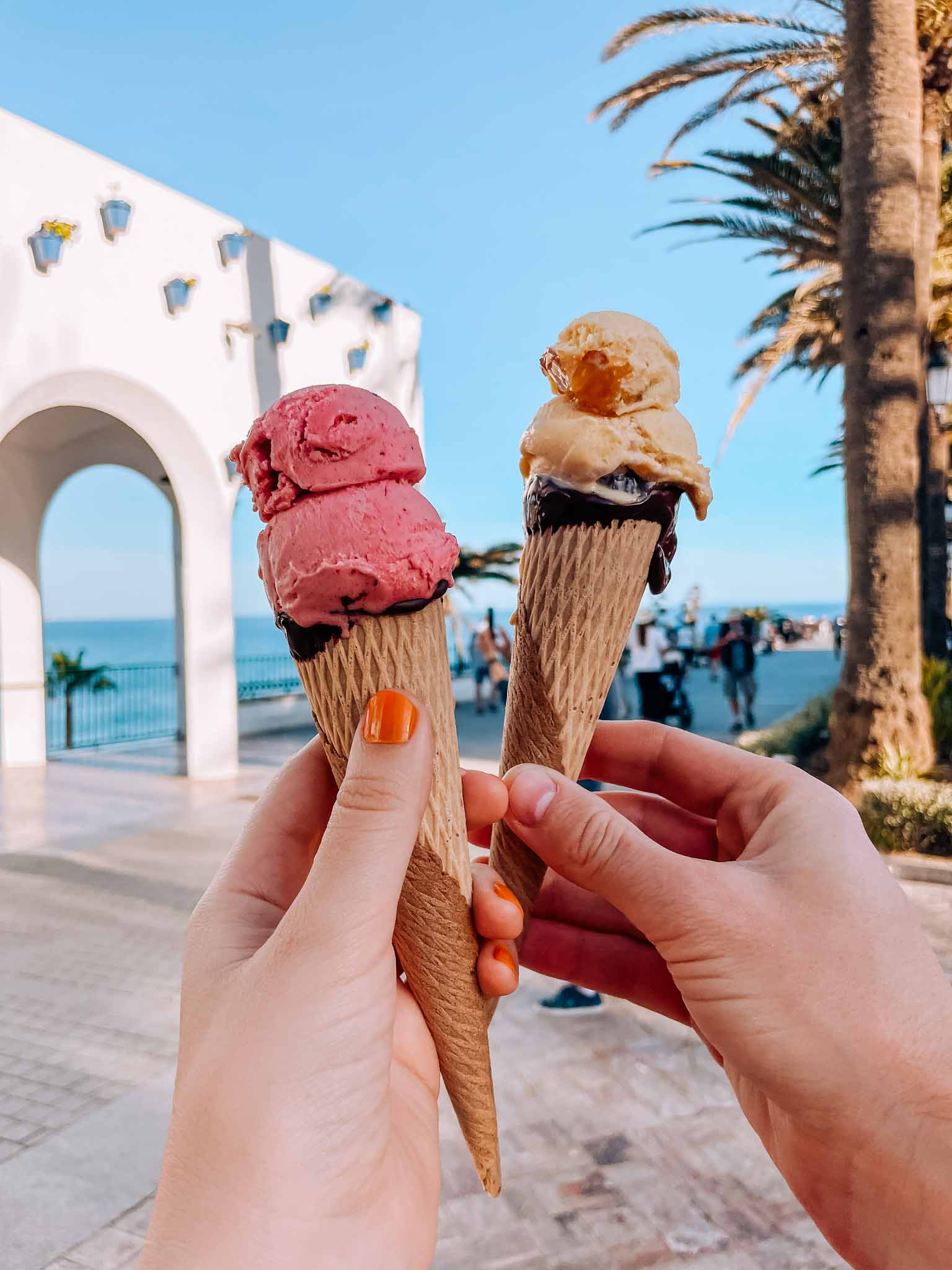 While you are enjoying the views from the Balcony of Europe don't forget to check out the square as well. There are many cool spots and unique corners around you!
The first unique spot you will definitely notice in the square is the white archways with beautiful blue flowerpots attached to them. I love how they look and it is a great spot to take some pictures in Nerja. If you look through the arches you will get a great overview of the mountainous coastline!
A must-do thing in Nerja is buying an ice cream next to the Balcony of Europe square (there are 3 ice cream shops right next to it) and eating the ice cream while enjoying the views of the beach, sea, and mountains.
Location: White arches at Plaza Balcón de Europa
4. Walk the most flowerful street in Nerja – Calle Tajillo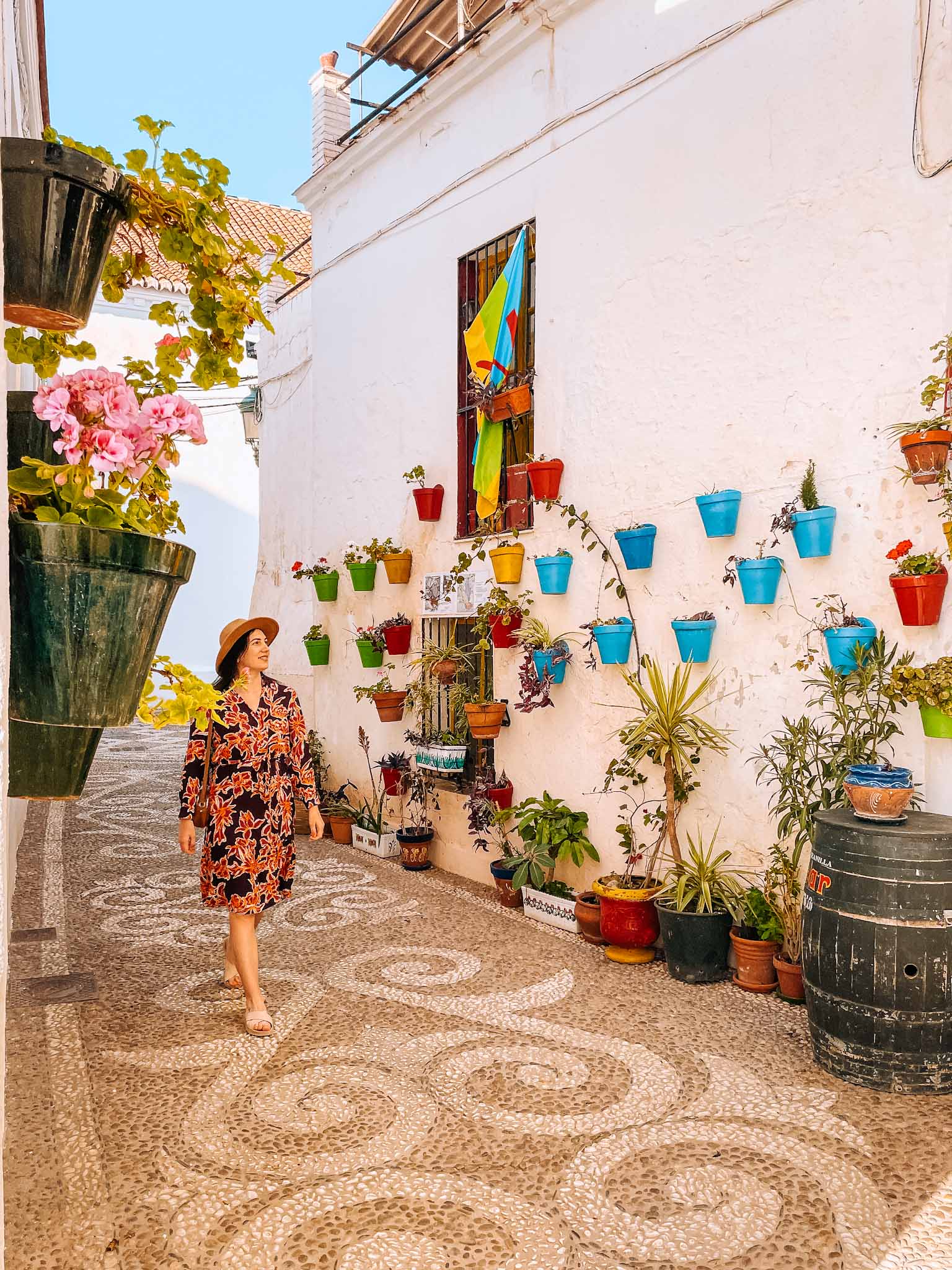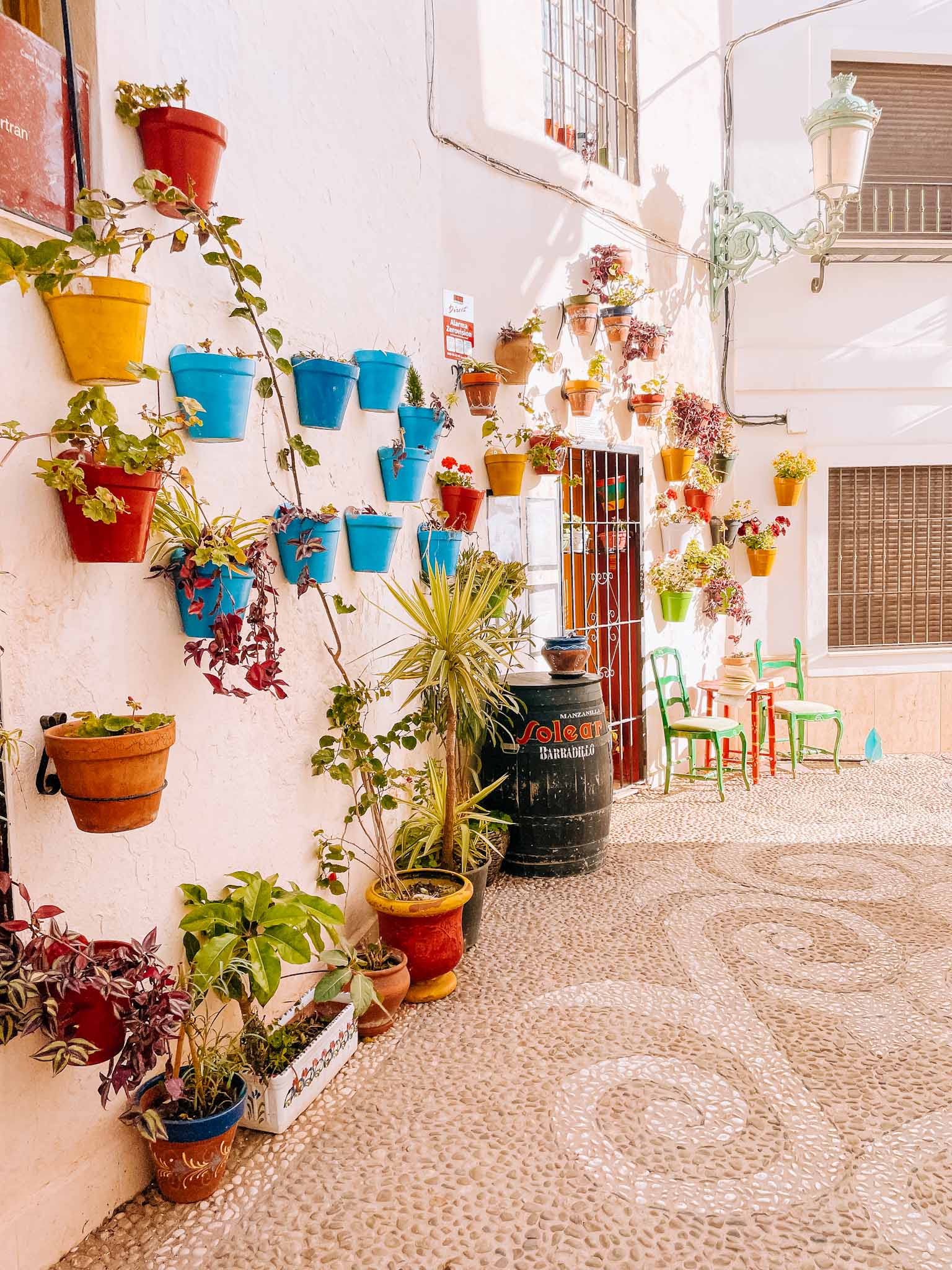 A beautiful hidden gem in the Old Town of Nerja is Calle Tajillo. It is a tiny street behind the El Salvador church very close to the Balcony of Europe.
It is probably the most flowerful street in Nerja. There are flower pots on the walls, around windows, and on the ground.
Just walk around the church and you definitely won't miss it (location below, if you need it)! Calle Tajillo is very short and it ends with a beautiful viewpoint overlooking the coastline – Mirador de Calle Tajillo!
Don't skip this hidden gem and unique corner in Nerja! It will only take a couple of minutes for you to visit this spot!
Location: Flower street Calle Tajillo
5. Climb the Rainbow steps and visit the famous 'La Dorada' fishing boat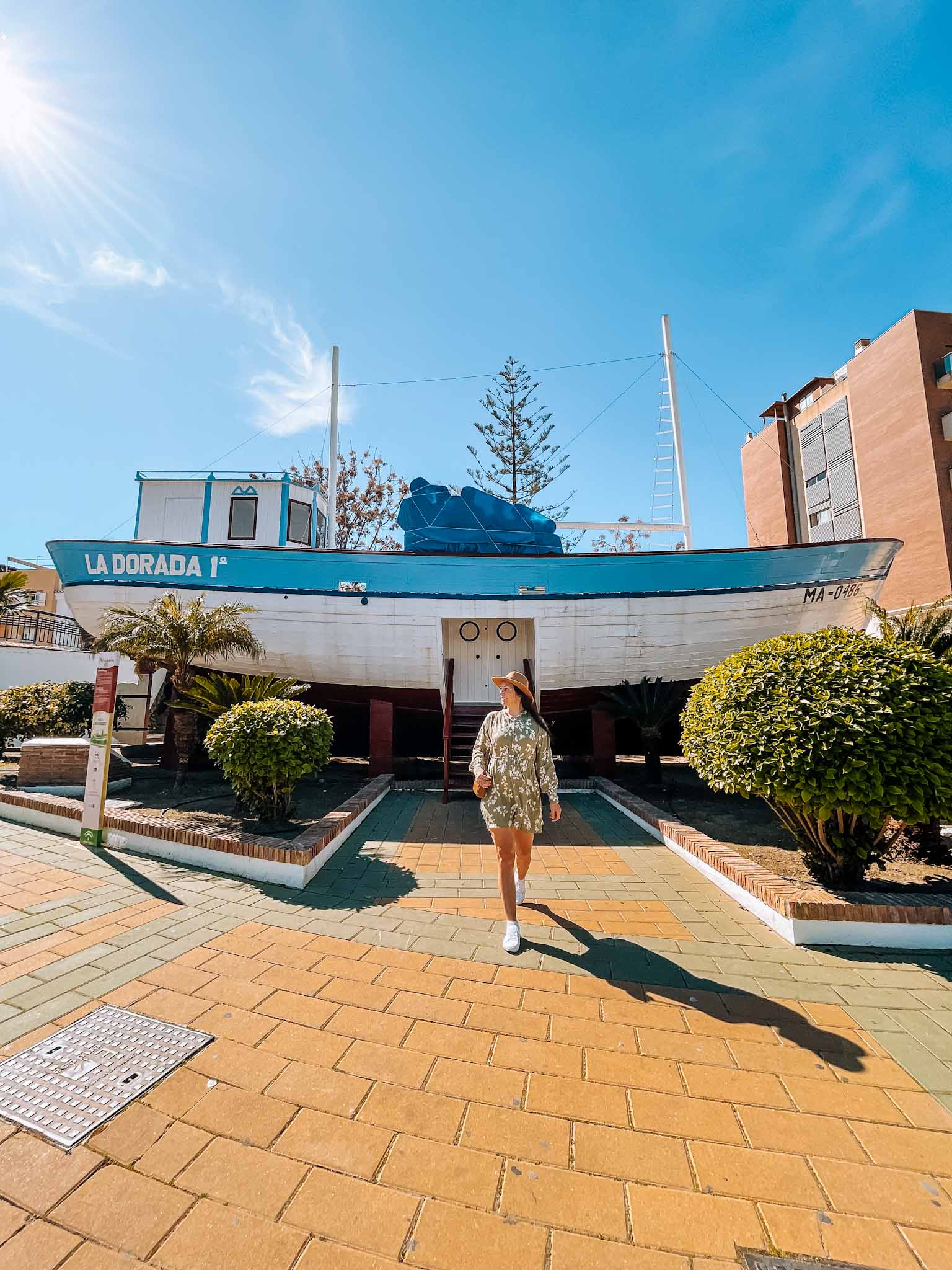 After visiting the Balcony of Europe square it is time to see more of Nerja. After a short walk along the promenade, you will find one of the most colorful places in Nerja – the Rainbow steps!
There are stairs at this location and each of the steps is painted in a different color. Makes for a cool photo spot!
Then a short walk inside the city you will find the iconic life-size fishing boat 'La Dorada'! If you didn't know, Nerja is known as the filming place for the famous TV series "Blue Summer" (Verano Azul).
It was a very popular show in Spain and also abroad. Located on the outskirts of Nerja there is a life-size replica of a fishing boat featured in the series. It is a must-see spot especially if you have seen the series!
Location: Rainbow steps · Fishing boat "La Dorada"
6. Eat local tapas and shop in the market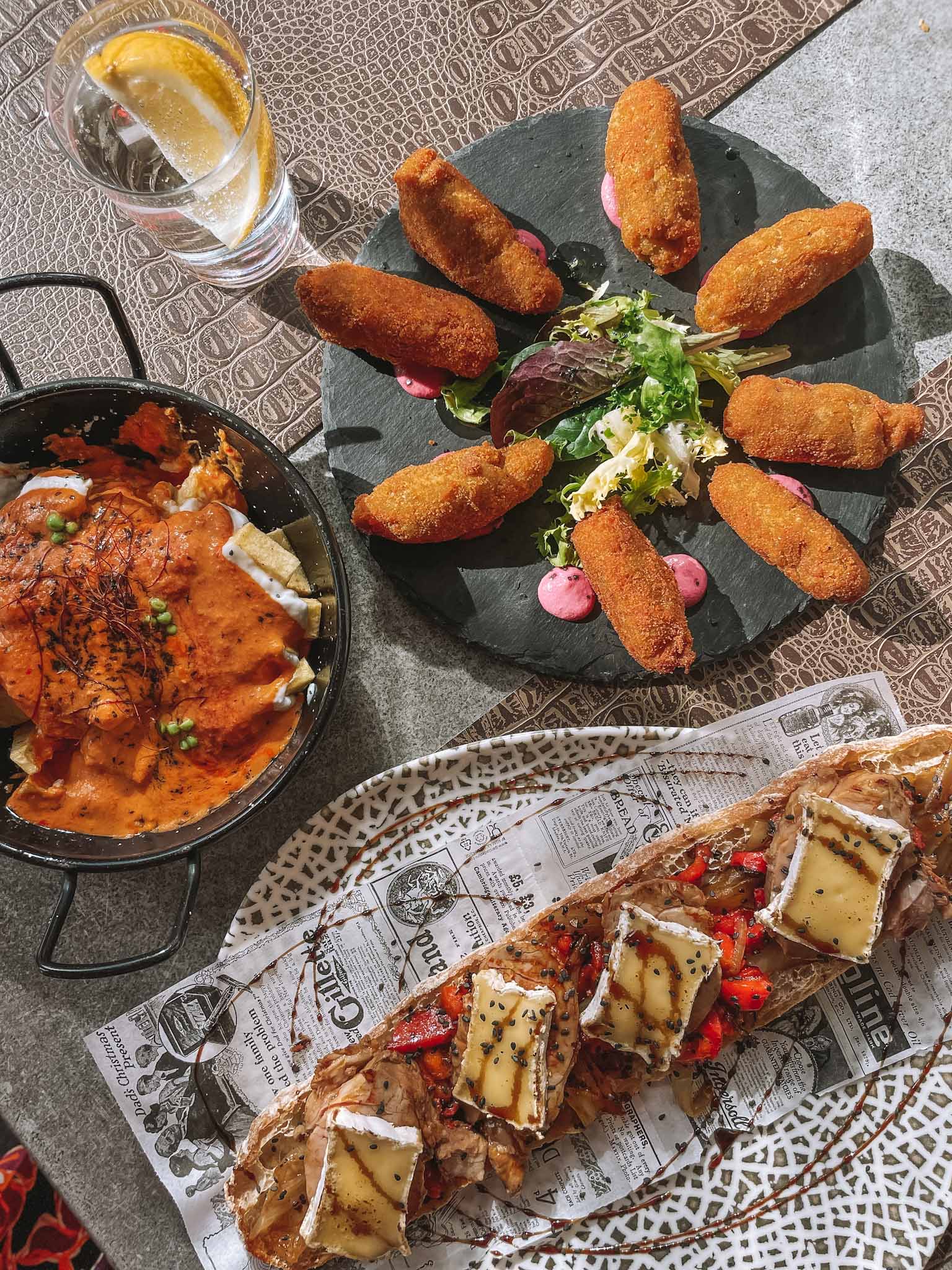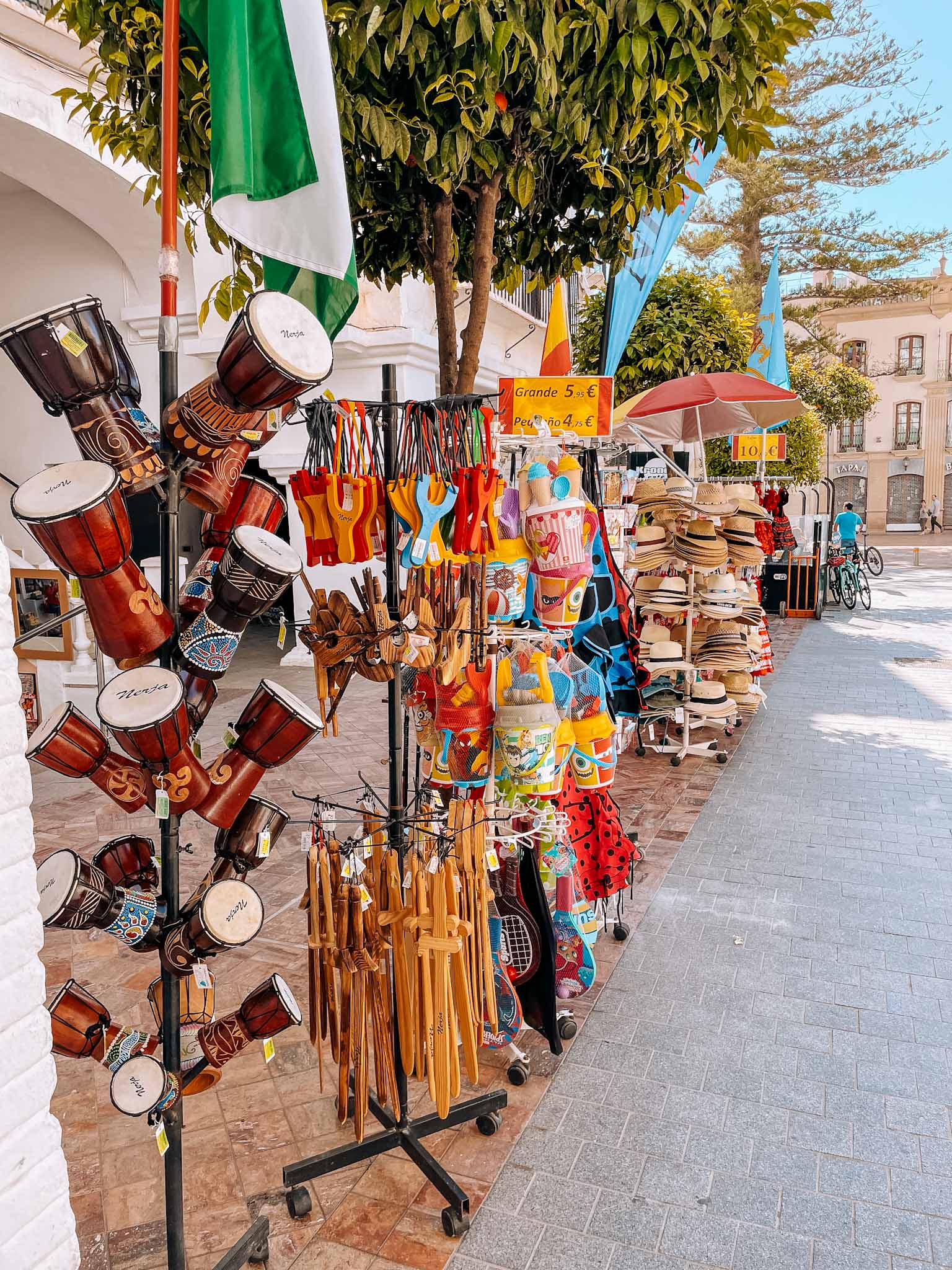 Now it is time to sit down and enjoy some local food! There are many great restaurants in Nerja – we enjoyed this gourmet tapas place right in the main square – Plaza de España – called Restaurante La Piqueta Plaza.
However, if you are looking for great views then you can go back to the Balcony of Europe square and have some tapas at the Restaurante El Náutico Beach Club – they have tables right outside on the Balcony of Europe square where you can see the buzz of tourists pass by.
One of the best meals we had in Andalusia was in Nerja's restaurant – La Bottega Food & Wine – which is a laid-back Mediterranean restaurant. While it focuses on Italian cuisine, you can still get some high-quality tapas and other Spanish dishes.
After a good lunch, I suggest checking out some local markets – there are nice local shops with souvenirs on Calle El Barrio street, but if you visit Nerja on Saturday, there is a traditional local outdoor market at Plaza de España with local vendors and handmade goods.
7. See the impressive Aqueduct Eagle from below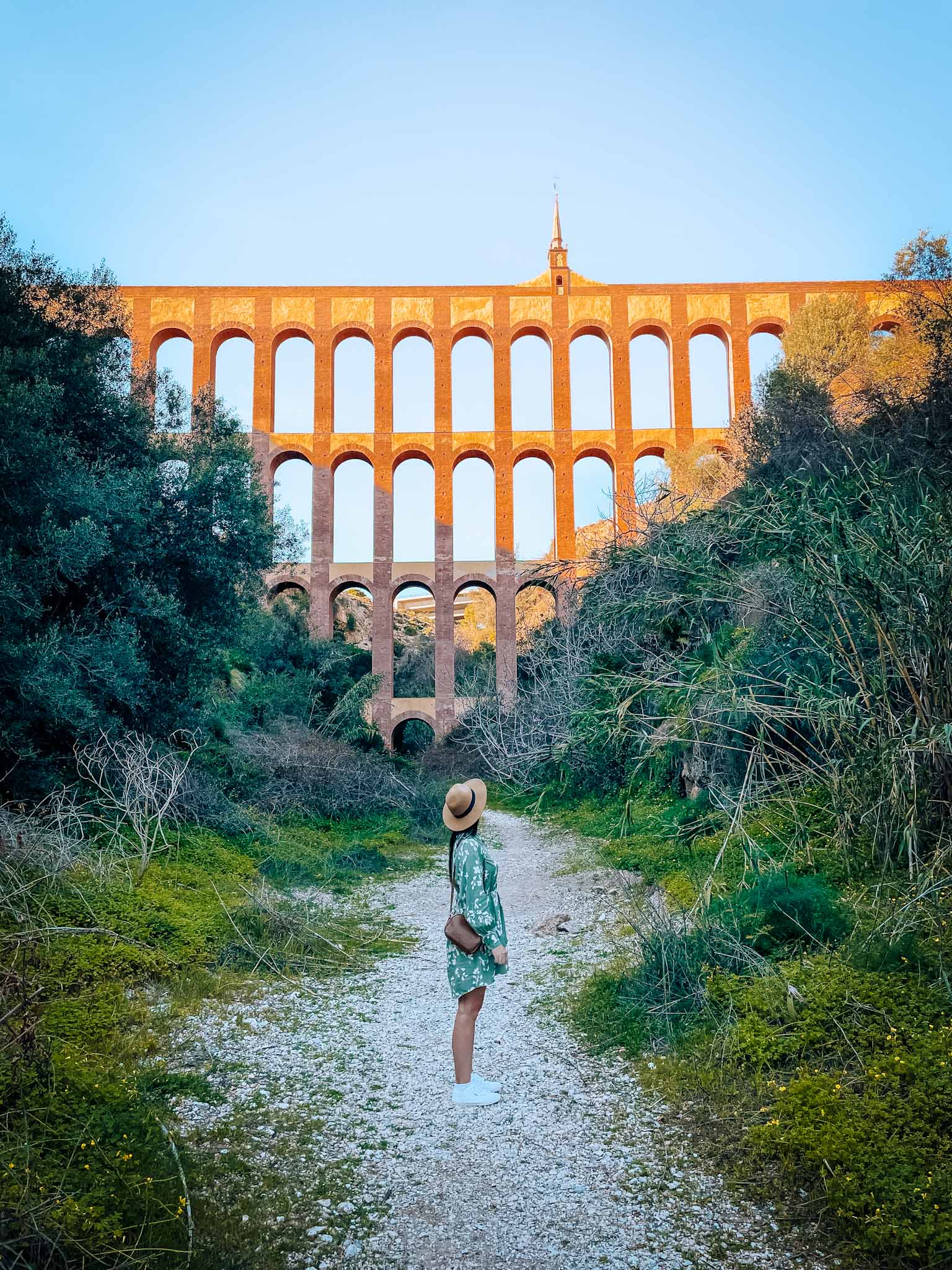 Just a short trip outside the center of Nerja is a huge hidden gem – Aqueduct Eagle or El Acueducto del Águila. It is a beautiful aqueduct that is quite different from others that I have seen around Spain.
There are super long and impressive arches on 4 levels! The aqueduct is massive and is quite a sight! The best part – you can access it up close.
There are a couple of accessing roads to see it from the top, however, I think the best view of the aqueduct is from the bottom.
If you want to get there, then drive to this place, park your car, and then it is a very short walk (300 meters) to the bottom of the aqueduct. If you don't have a car, you can take a taxi. It is super close to the city center.
Location: Aqueduct Eagle
8. Explore the famous Cueva de Nerja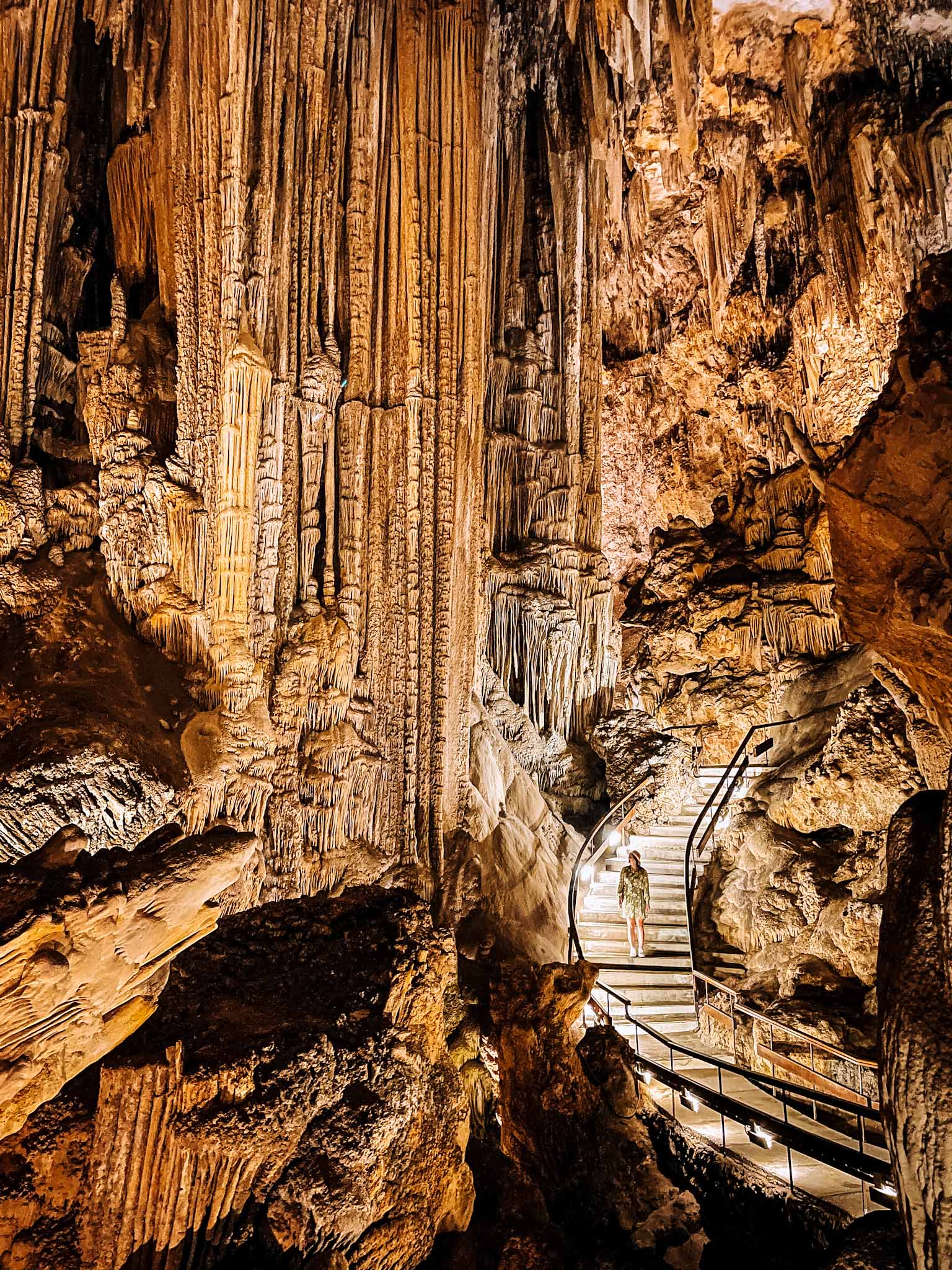 Nerja caves are probably amongst the most impressive caves I have visited (and I have visited many!). Obviously, it is a popular tourist attraction in Nerja and a must-visit for any visitor here. The entrance to the cave costs 13 EUR and can be bought online for the exact time you wish to visit.
The cave is pretty huge and full of stalagmites and stalactites. You can get there by taxi, a car, or a special tourist train that goes from Nerja center to the cave and back. If you only have time for one thing in Nerja, then this is THE ONE!
Location: Cueva de Nerja
9. Take a fun day trip or water activity from Nerja!
Nerja is the perfect place to embark on a day trip or to do some half-day activity in the water or mountains. There are activities you can do for free like hiking the famous Río Chillar river trail (the water is shallow!) or hiking up to Pico del Cielo peak to see Nerja from above (the hike starts near Nerja caves).
However, there are a couple of day trips and activities that are worth spending some money on. These are the most popular water activities and day trips from Nerja:
More Andalusia travel inspiration!
Happy exploring!
Nerja is a cool seaside town near Malaga in the Southern region of Spain – Andalusia. Although the most famous tourist attractions here are Nerja caves and the Balcony of Europe, it was those relaxed small-town vibes that I enjoyed the most.
Eating ice cream and sitting on the Balcony of Europe? Or waiting for the sunrise on the balcony with a coffee cup in your hand? Such a bucket list thing to do! If you can, please, leave a comment below if there are any significant changes to anything that is written in this blog post! Many thanks!
PIN FOR LATER!