9 most beautiful streets and charming places in Frigiliana, Spain (+map!)
Frigiliana is considered one of the most beautiful whitewashed villages in Andalusia, Spain. With narrow cobblestone streets, houses, and stairs decorated with flowerpots and plants, this is a charming destination in the South of Spain. Here are the most beautiful streets, stairs, and charming places in Frigiliana!
In this blog post, you will find all the places with descriptions, photos, and locations where they can be found on Google Maps. We loved staying in Frigiliana for a couple of days and truly enjoyed the laid-back vibes and mountain village lifestyle! Happy exploring!
Read more >>> 15 best Instagram spots for the most amazing photos in Frigiliana
1. Calle Zacatin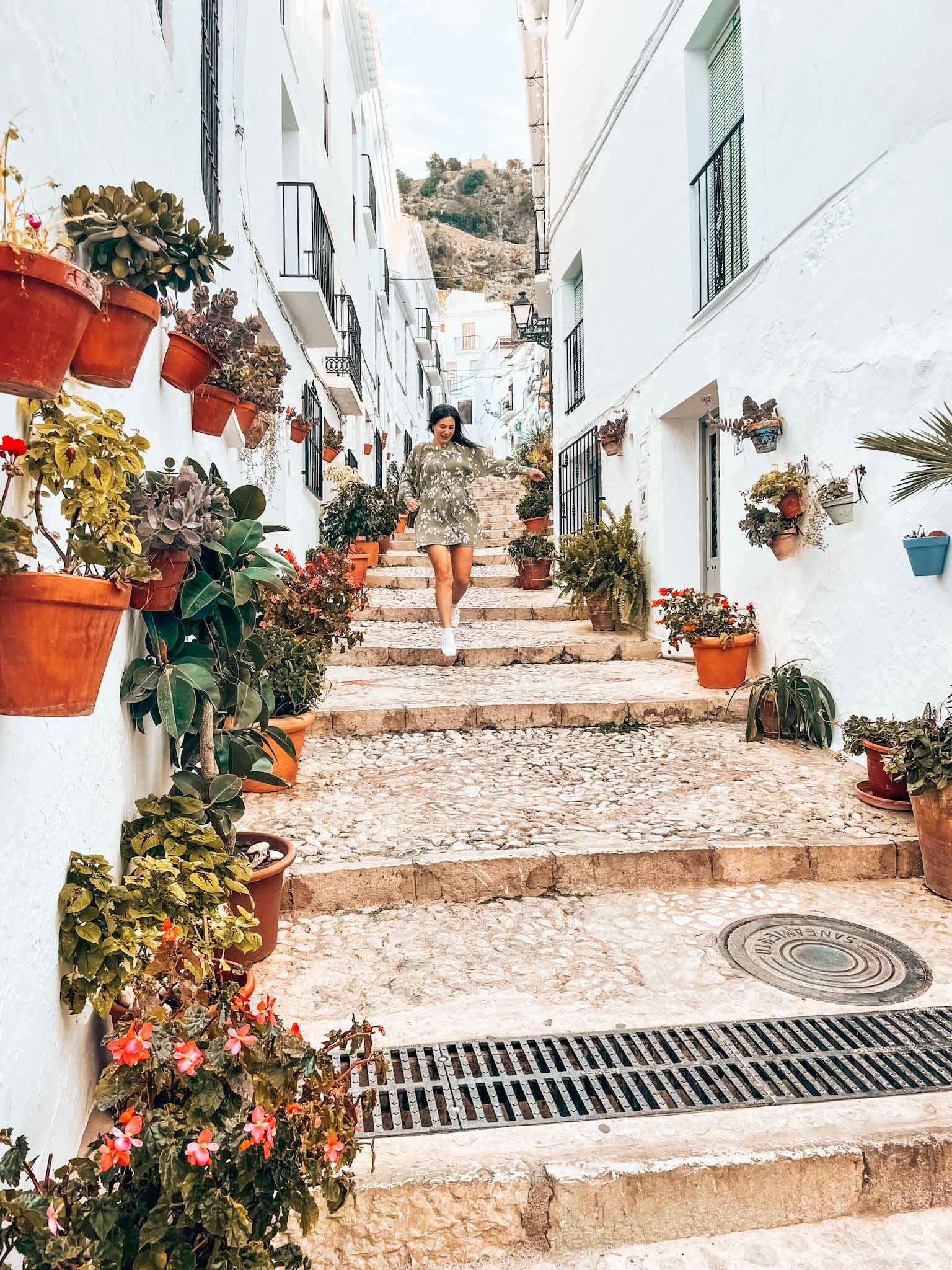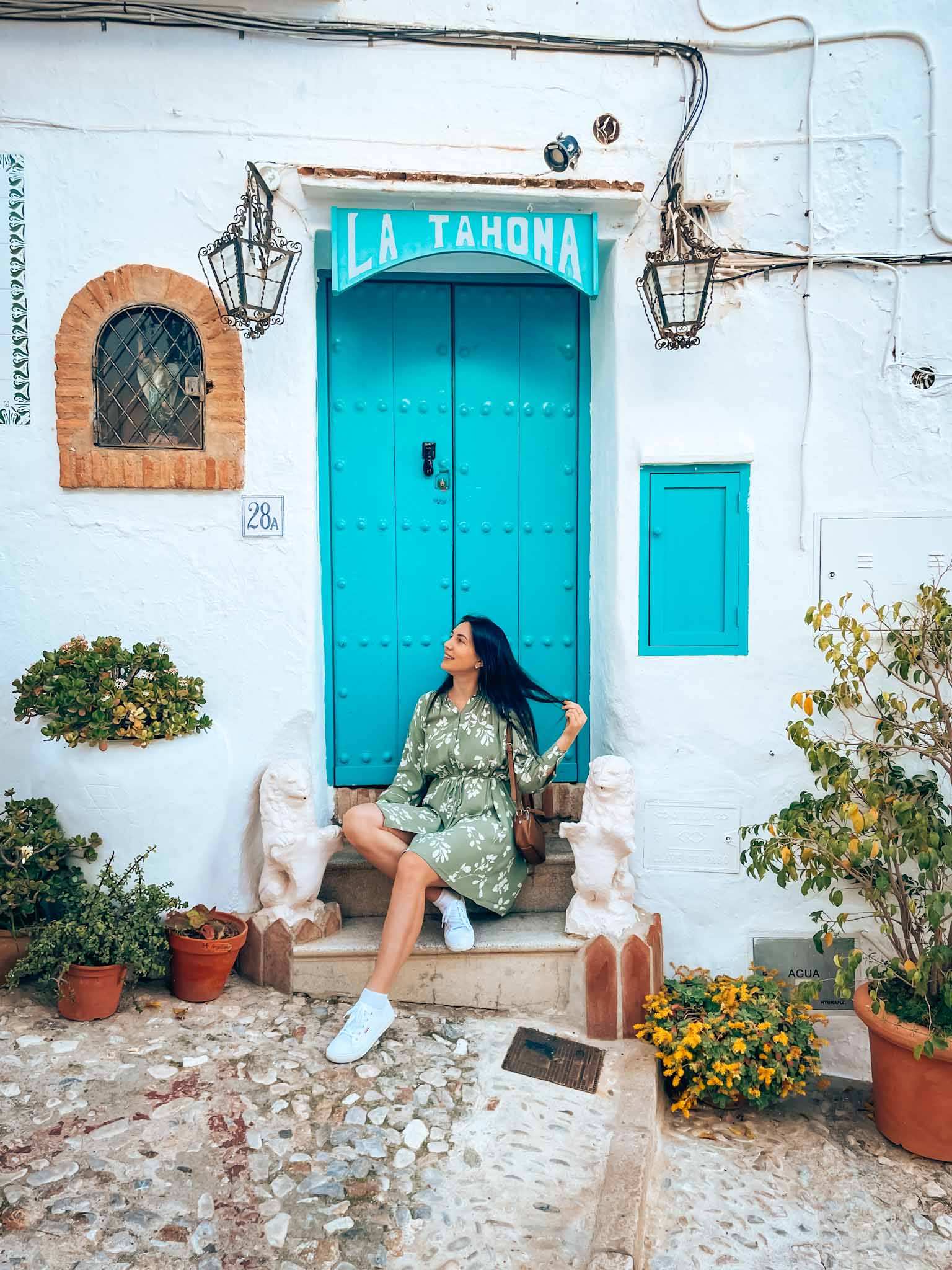 One of my favorite streets in Frigiliana is Calle Zacatin. Although it is considered a street, there are actually stairs connecting two main streets on different levels of the village.
This street in Frigiliana is very charming – decorated with flower pots and plants on the ground and on the walls, it looks like a little fairytale. There are many colorful and beautiful doors that are also decorated with flower elements and lanterns.
Calle Zacatin is definitely one of the most beautiful places and streets in Frigiliana. It is a must-see for any visitor here as it is very easily accessible. We came here in the morning and got this street all to ourselves (meaning – there were no people around!).
Location: Staircase at Calle Zacatin
2. Calle Hernando el Darra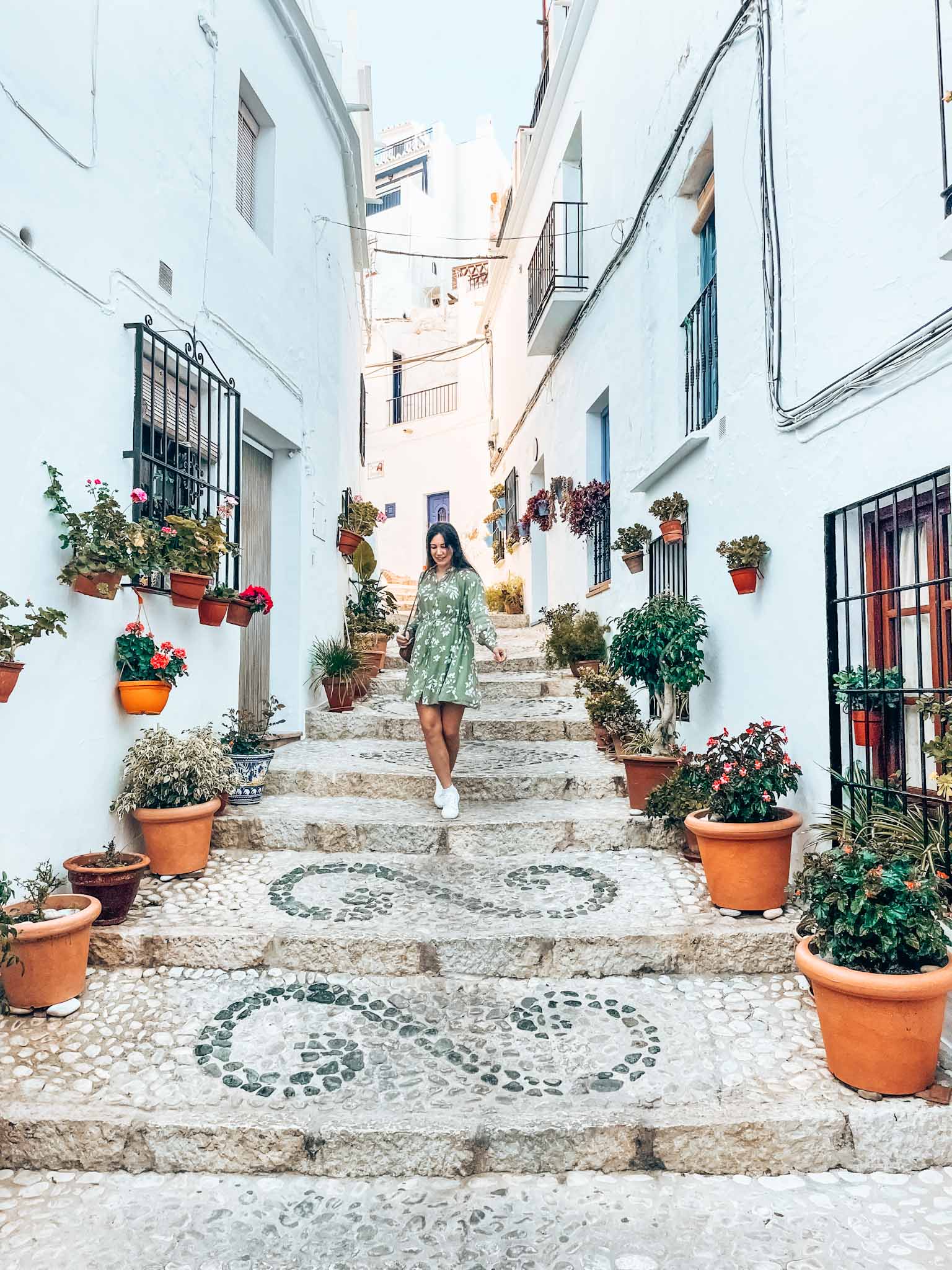 Another beautiful place with flower and plant pots you will find on Calle Hernando el Darra. It is located just a few steps away from Calle Real – one of the main streets for exploring the village.
With flower and plant pots not only sitting on the stairs but also hanging on the walls this is definitely one of the most beautiful places in Frigiliana. Those flower pot stairs are just something special, right?!
Location: Flowerpot stairs at Calle Hernando el Darra
3. Calle El Garral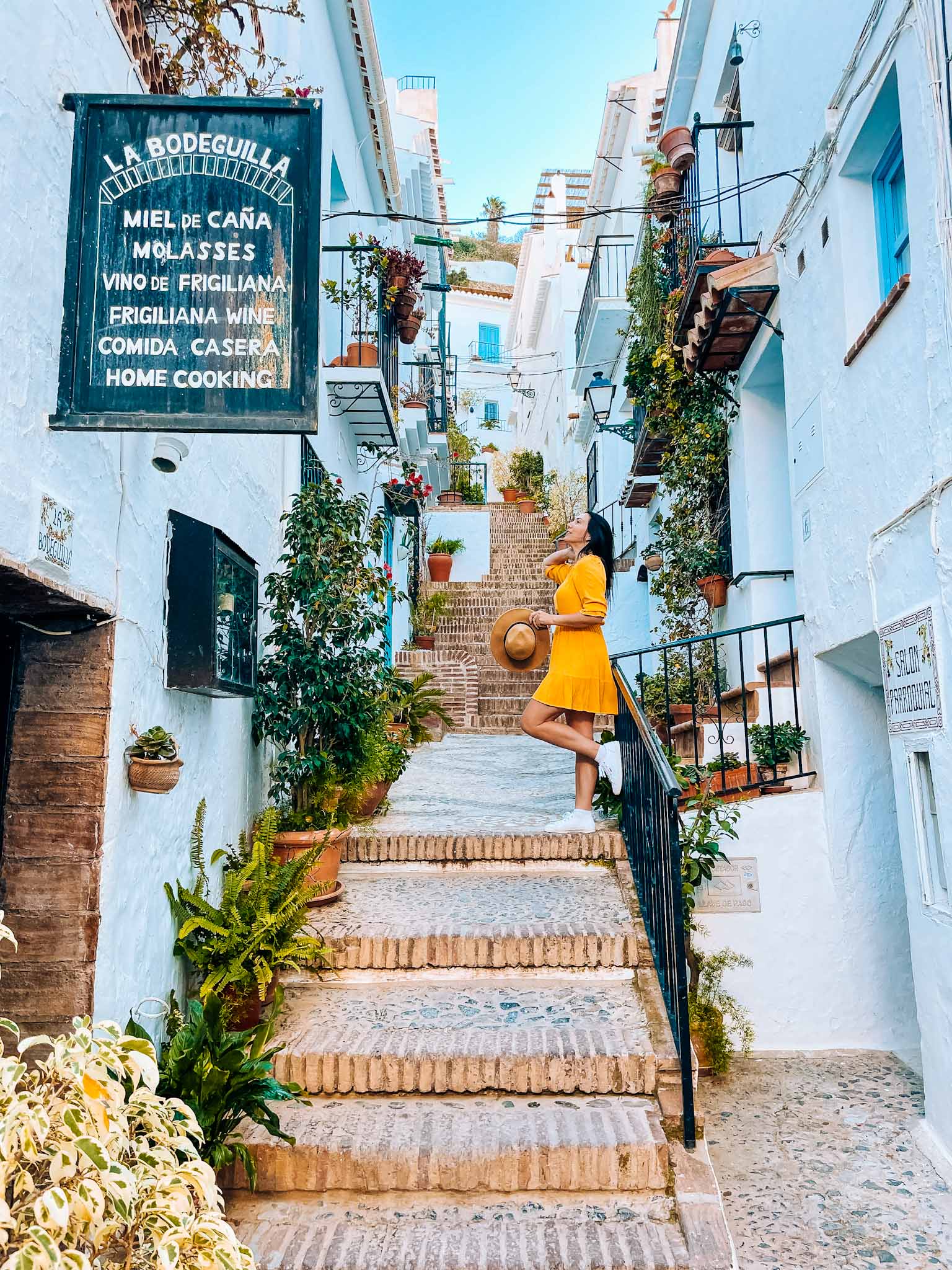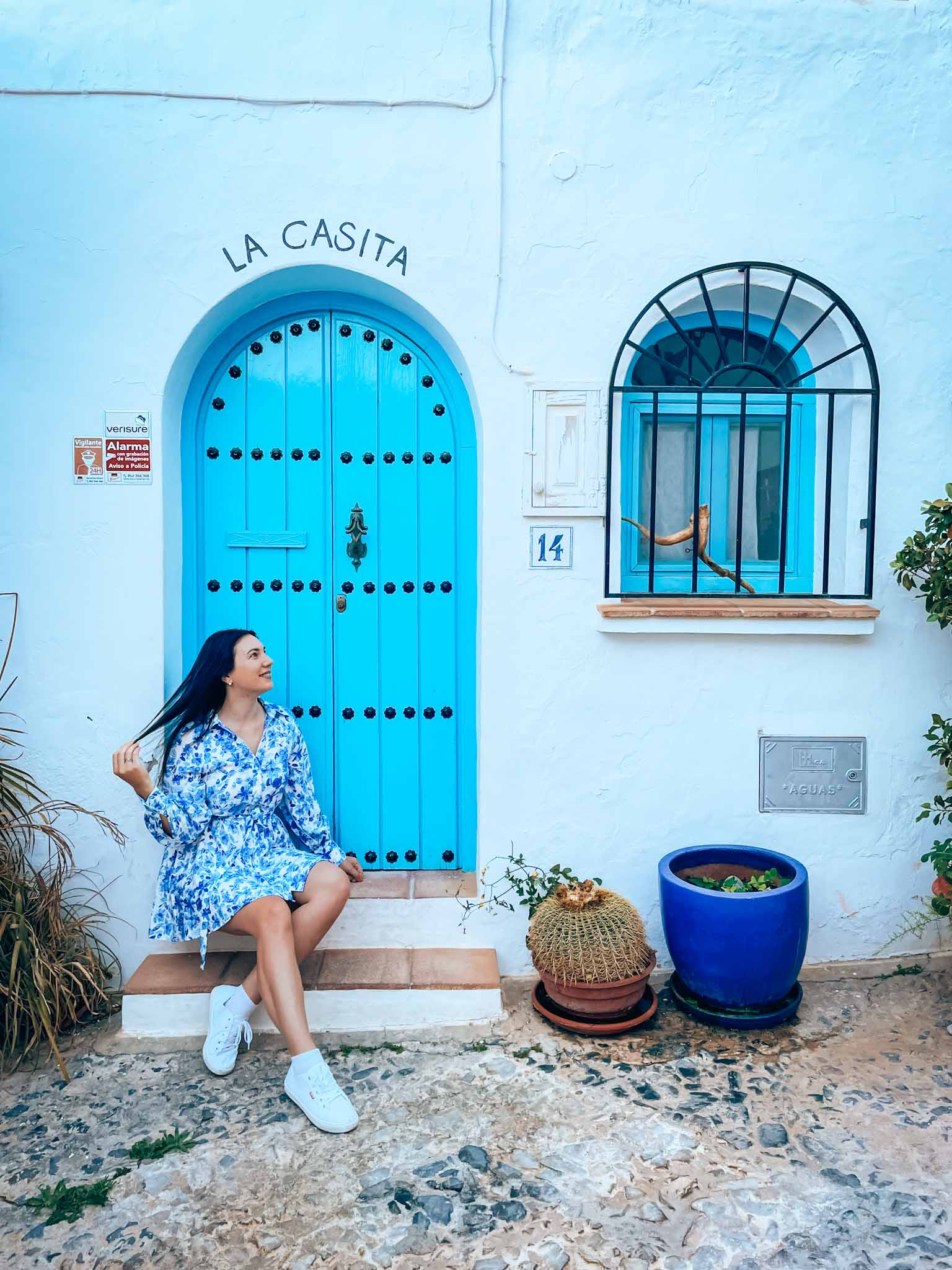 One of the most special and beautiful places in Frigiliana is Calle El Garral. It is probably my favorite place in the village! This street is actually stairs that connect Calle Santa Teresa de Avila which goes higher uphill to Calle Real which goes lower down the slope.
At the bottom of the staircase, you will find a local tourist attraction – Fuente de las Tres Culturas, or the Fountain of Three Cultures. There is also a charming hidden gem next to the fountain – bright blue doors of La Casita house with a beautiful cactus and blue arch-shaped window.
Location: Stairs at Calle El Garral
4. Calle Real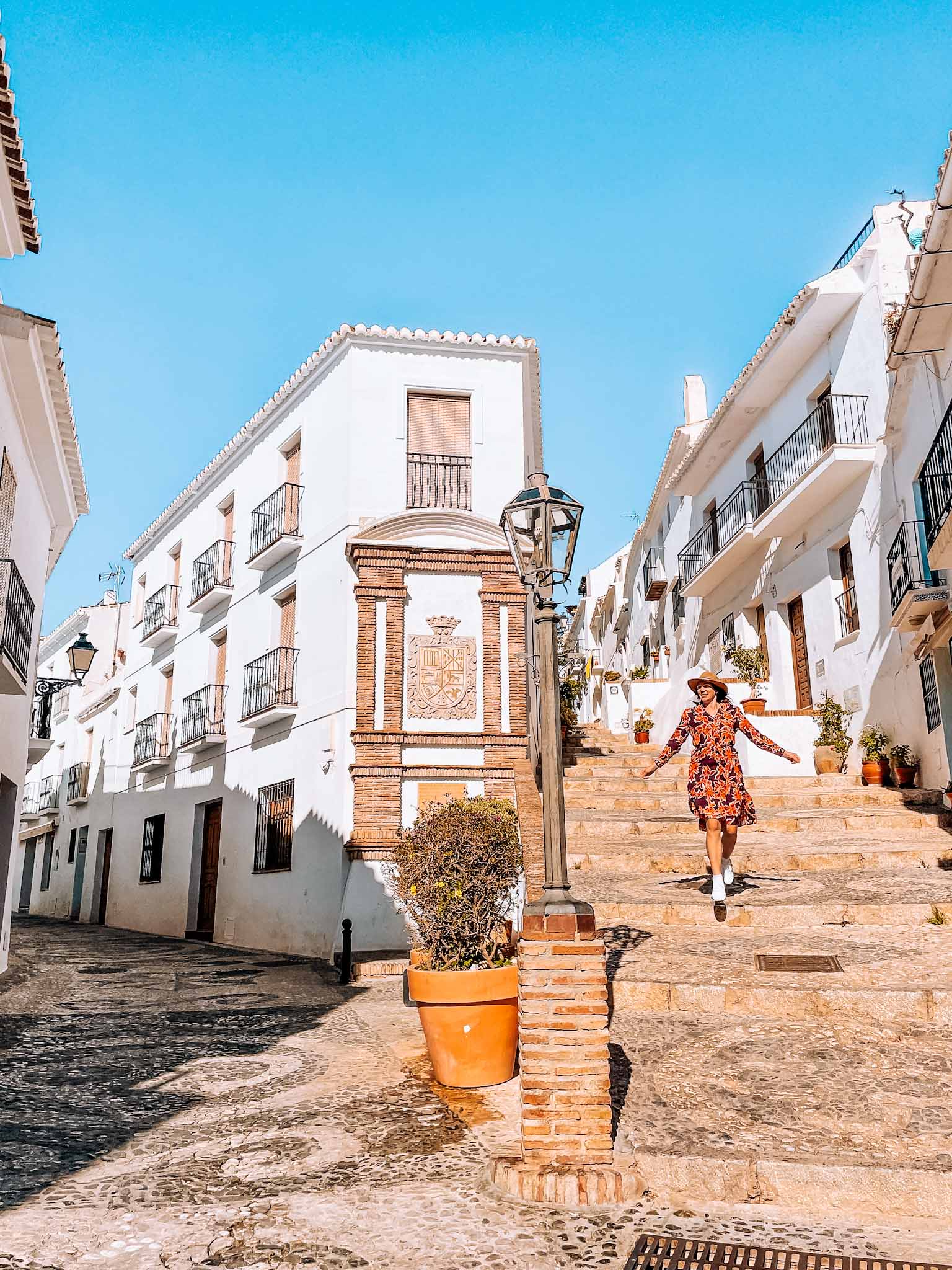 Definitely one of the most famous and beautiful streets in Frigiliana is Calle Real. It is the main street going through the Old Town of Frigiliana and is a must-see for any visitor.
While walking the Calle Real street you will see many charming corners, tunnels, stairs, local shops, churches, and more. It is full of life and has many tourist attractions. Definitely stop at the beginning of the street to take a photo of the gigantic coat of arms above a fountain.
It indicates the entrance to the Old Town of the village and is a great photo place in Frigiliana (photo location below). The other photo was taken at the crossroads of Calle Real and Callejón de las Ánimas
Location: Coat of arms at Calle Real
5. Calle Santo Cristo/Calle Alta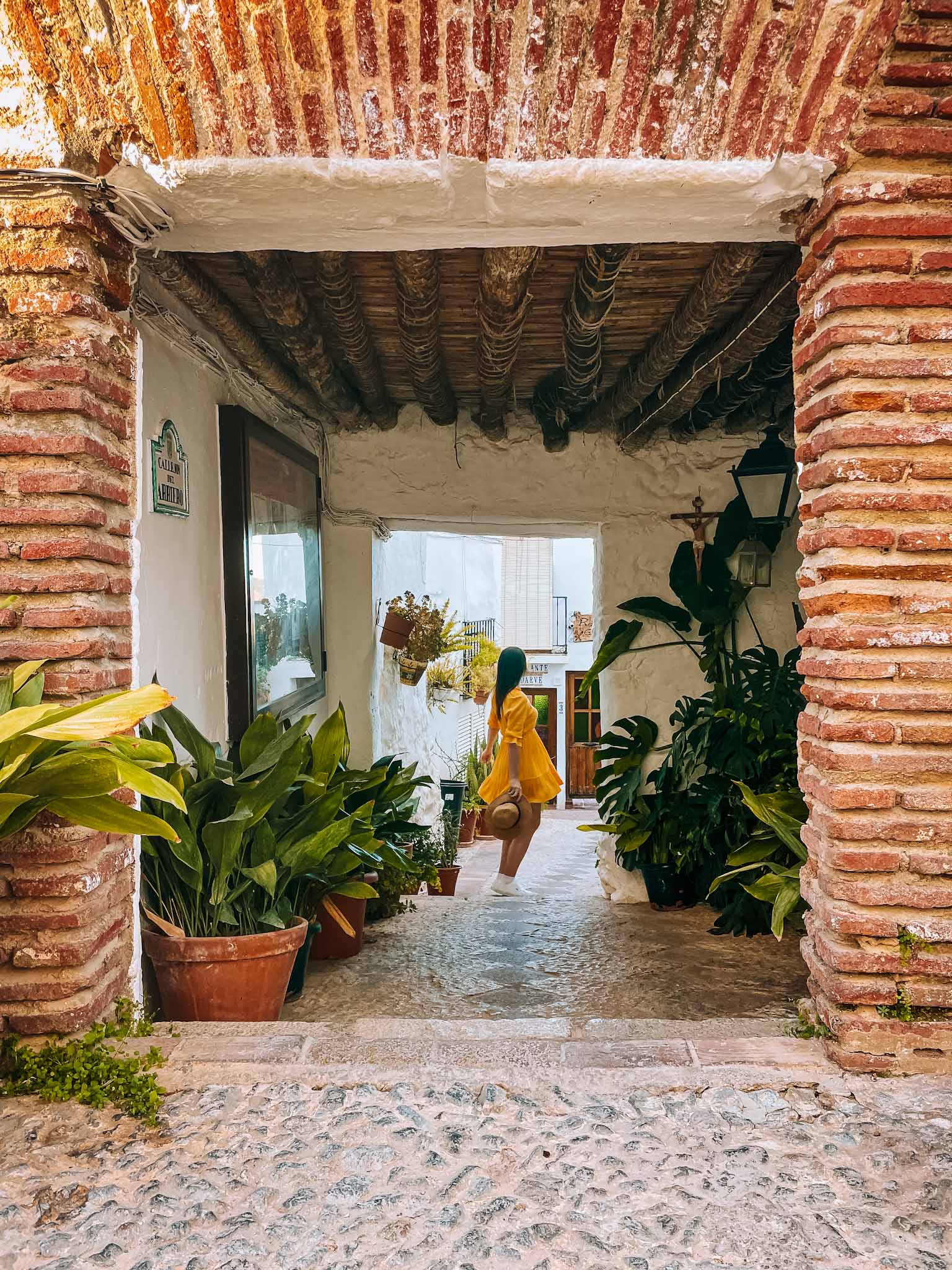 One of the must-visit streets in Frigiliana is Calle Santo Cristo. It is located on the upper level of Frigiliana Old Town and it means you will have to climb some stairs in order to get there.
However, the climb will be worth it because there are amazing views over the village and many beautiful hidden corners along the street like tunnels, flower pot corners, viewpoints, and unique doors (photo locations below).
Calle Santo Cristo street continues into Calle Alta and then it turns into Calle Santa Teresa de Avila. In reality, it is the same street just changing names.
I really recommend walking along from Calle Santo Cristo up to the crossroads with Calle El Garral (or in the other direction) – the beautiful staircase street that I mentioned above.
Location: Tunnel to Restaurante El Adarve · Blue doors with brick archway
6. Mirador de Frigiliana viewpoint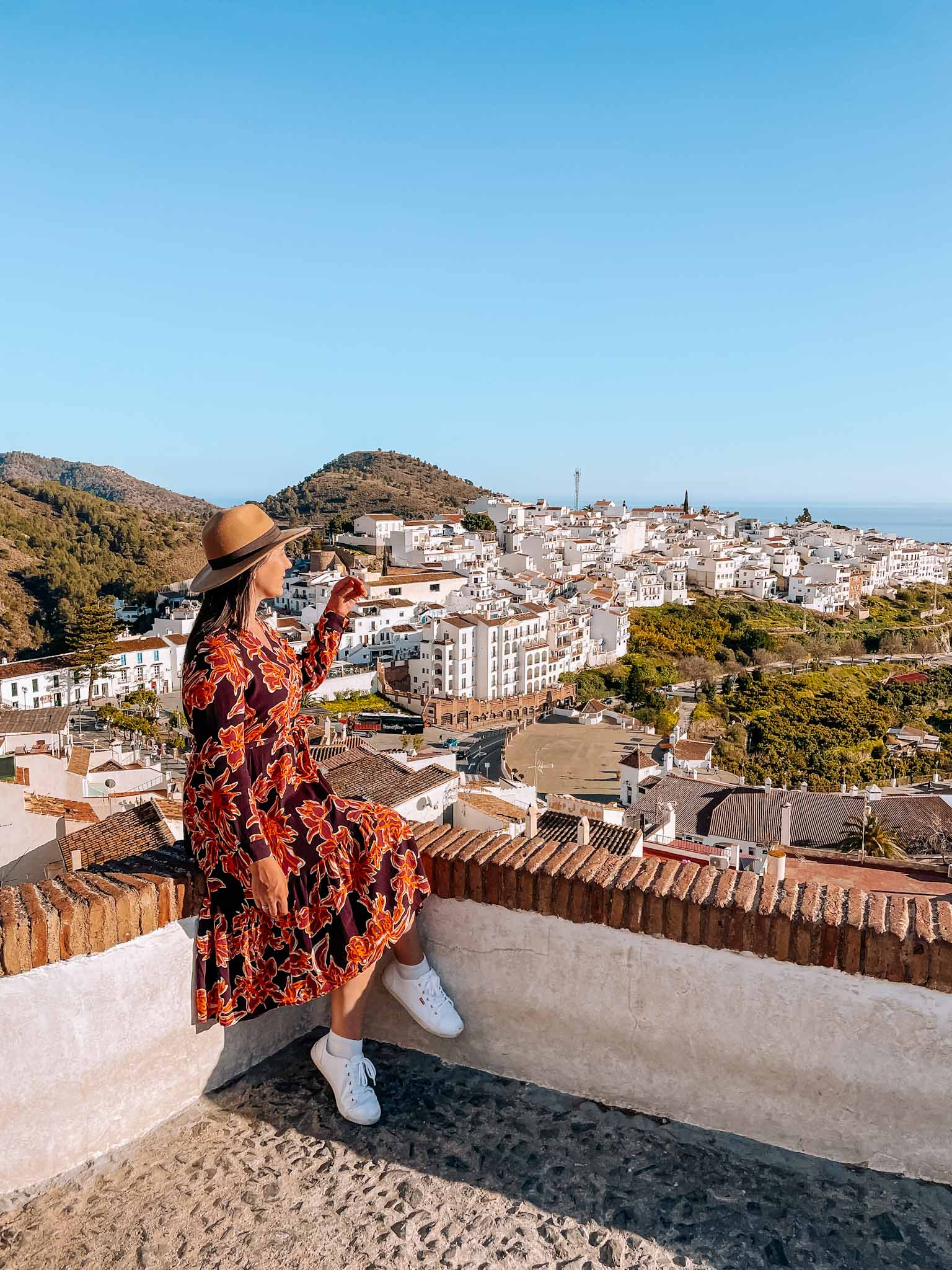 As I mentioned above, there are many beautiful viewpoints on the upper-level street – Calle Santo Cristo. You can get some amazing views overlooking the whitewashed village.
One of my favorite places and charming spots in Frigiliana was the Mirador de Frigiliana viewpoint. There is a huge flower bush and a platform overlooking Frigiliana. You can get great views and beautiful photos in this spot.
I also recommend finding a nice restaurant or tapas bar with a terrace and a good view overlooking the village. We stopped at Restaurante El Mirador-Frigiliana, but it was a bit average. You can check out Restaurante El Adarve or La Tahona del Zacatin which seem to be a better choice and are located nearby.
Location: Mirador de Frigiliana
7. Charming corner at Restaurant El Mesón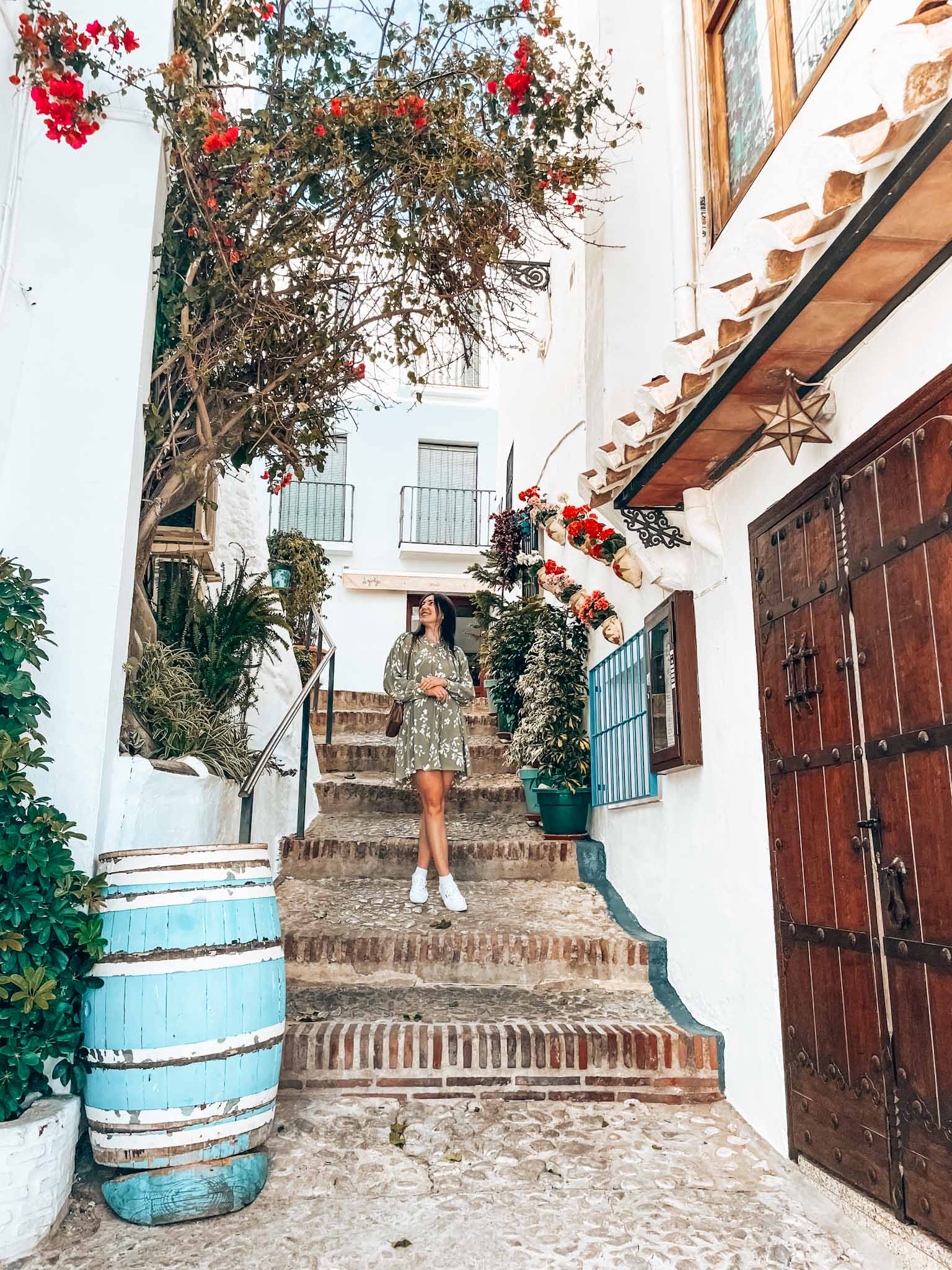 One of the most charming and beautiful places in Frigiliana was this little corner next to Calle Real hidden between two restaurants. There is a small brick staircase with a beautiful flower plant hanging over it.
We visited this place at the end of March so the flowers were not in full bloom yet, but it looks beautiful anyways. The staircase is lined with plant pots and a unique blue barrel.
We tried to come here for tapas but they were not accepting customers that day due to the low tourist season. If you come here at a more popular time of the year, you can get to sit at the tables outdoors and enjoy the surroundings.
Location: Charming corner at Restaurant El Mesón
8. Secret tunnels at Callejon del Peñon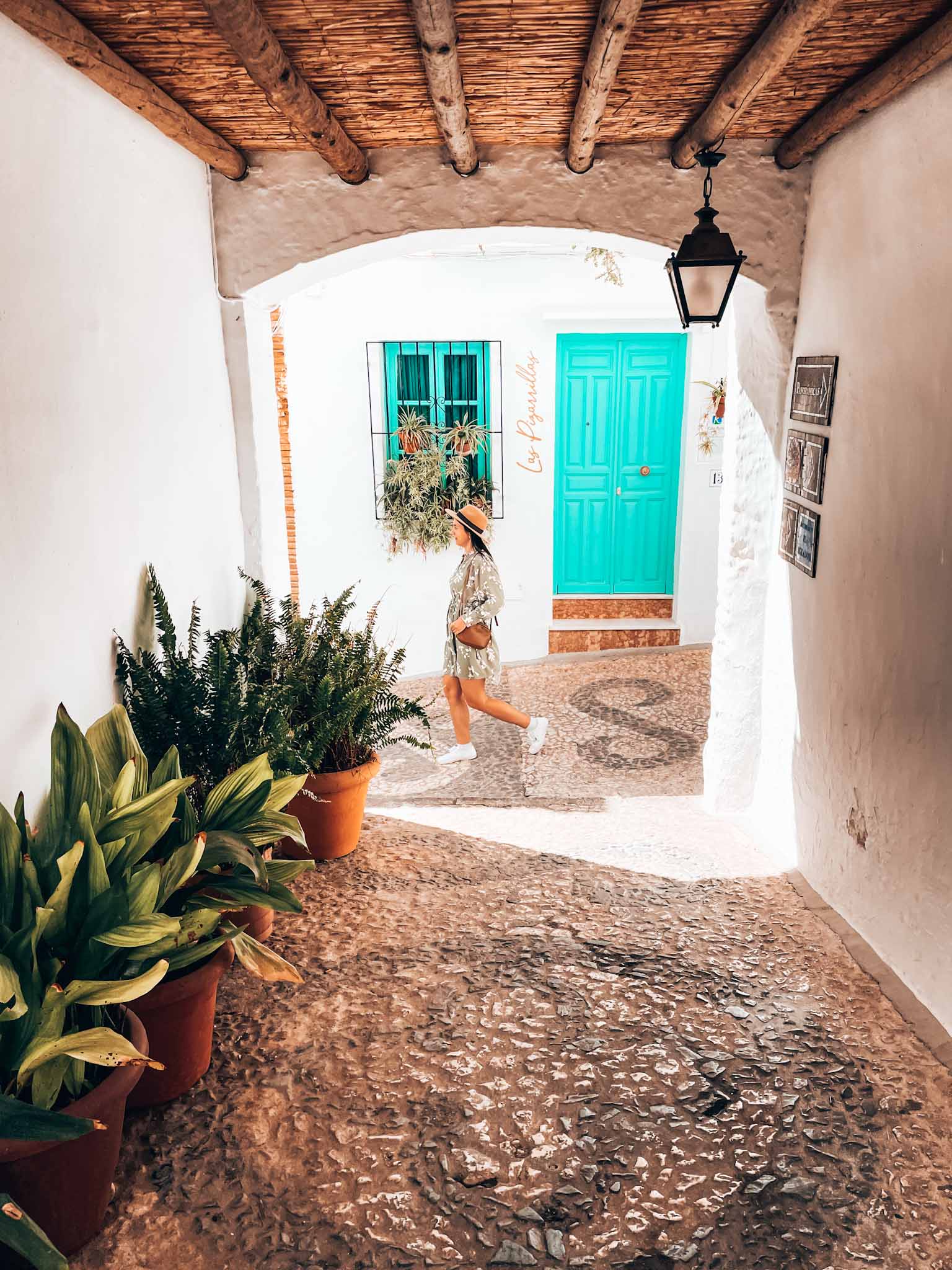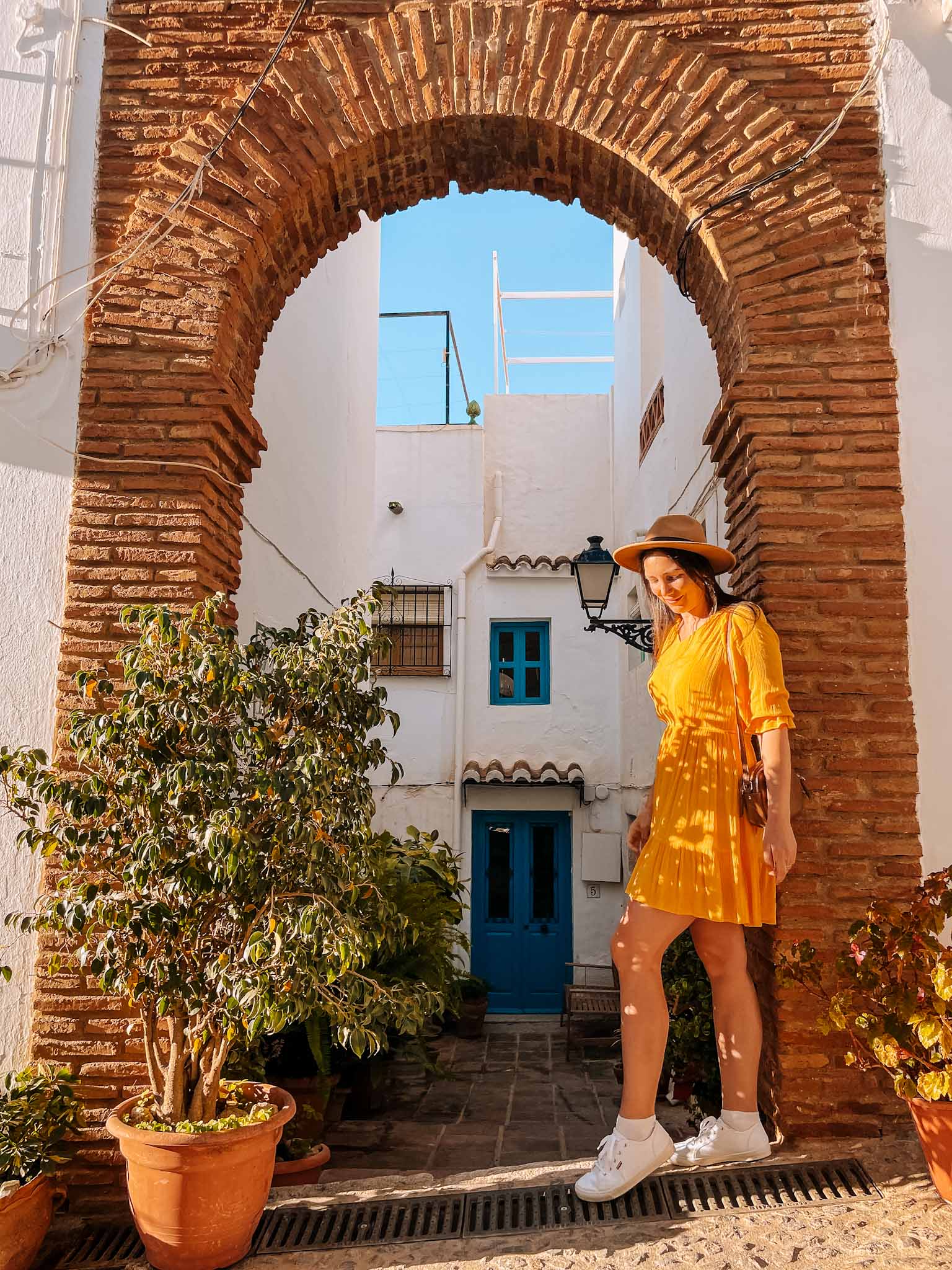 Callejon del Peñon is a tiny street leading uphill. It is the exact street if you want to go to the Mirador de Frigiliana and the upper-level street of Frigiliana.
If you choose to go on this street then pay attention because there are two charming corners right on this tiny street. One is a wooden tunnel right in front of Las Pizarrillas rural house and the other one is this unique red brick archway.
If you pay attention when walking around Frigiliana then, from time to time, you will notice that some streets are connected through the tunnels and some houses can be accessed through the tunnels.
There are more tunnels on Calle Real next to the Church of Saint Anthony of Padua, in case you are interested. One of them is located on Callejon de la Iglesia street. But I saw two more on Calle Real between the church and La Fuente Vieja fountain. Just pay attention!
Location: Wooden tunnel at Callejon del Peñon · Red brick archway
9. La Fuente Vieja and Fuente de las Tres Culturas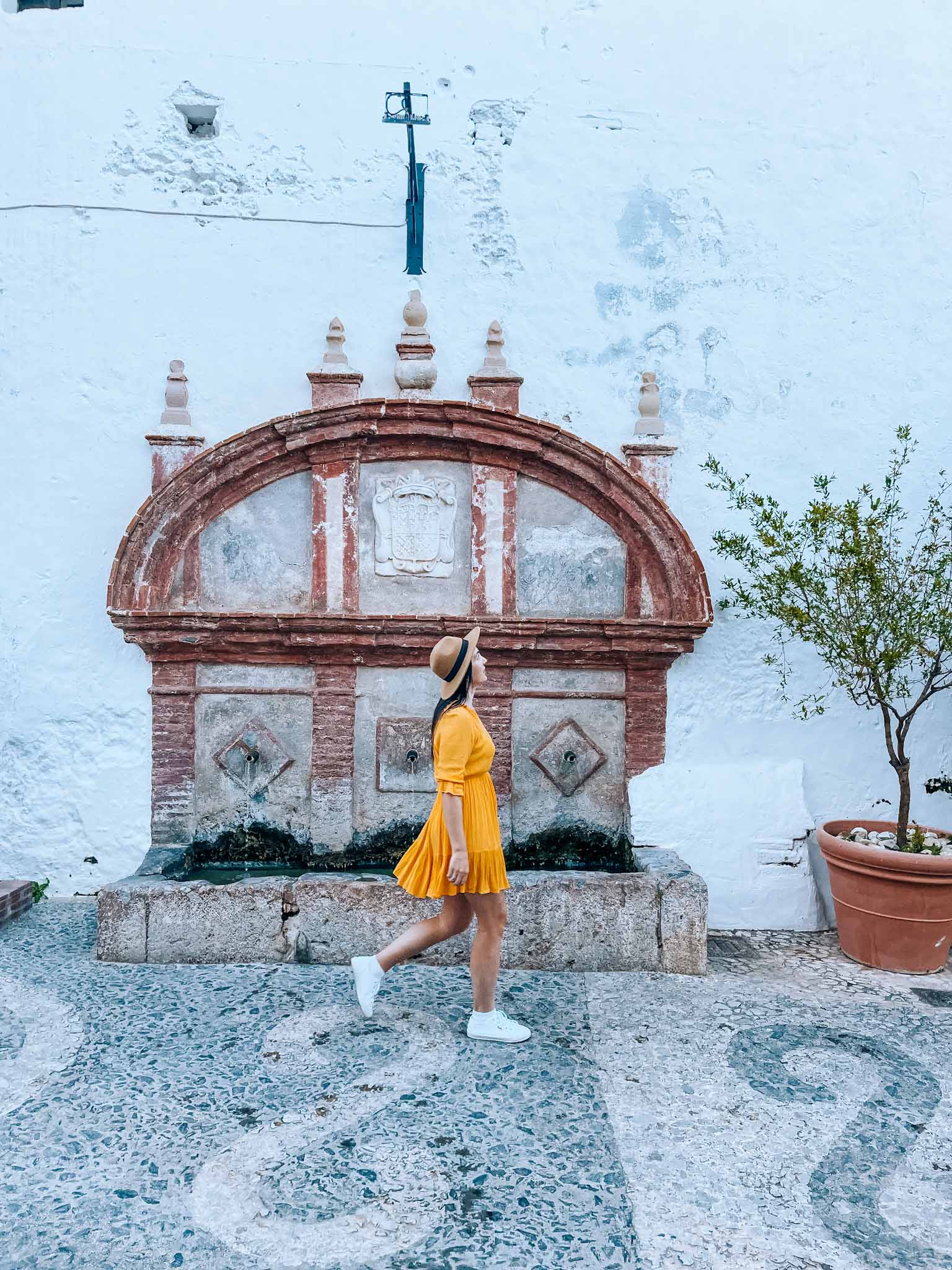 This unique and beautiful three-part fountain – La Fuente Vieja – hidden in a small square is considered the oldest fountain in Frigiliana village.
It was built in the 17th century in order to supply the population of the village as well as cattle with water. The fountain still works today and is a beautiful reminder of the past days.
Another unique fountain can be found at the bottom of the Calle El Garral stairs – Fuente de las Tres Culturas or the Three Cultures Fountain. There is a hidden corner with a water basin and three symbols above it.
The symbols are the Jewish Star of David, the Christian cross, and the Muslim crescent. These symbolize the coexistence of these three cultures that have had a great influence on Frigiliana over the centuries.
Location: La Fuente Vieja · Fuente de las Tres Culturas
More Andalusia travel inspiration!
Happy exploring!
Frigiliana is considered one of the most beautiful villages in Andalusia and Spain. The typical whitewashed houses, all shades of blue doors, narrow cobblestone streets, and stairs all decorated with flowers and plants in beautiful clay pots. This is Frigiliana in a nutshell. We absolutely enjoyed exploring Frigiliana and I hope you do too!
PIN FOR LATER!