15 hidden gems and unique places in Seville, Spain
Discover the hidden gems of Seville, Spain! Beyond the well-known landmarks, Seville holds secret spots and lesser-known places that are waiting for you to be discovered. Get ready to be amazed by the untold wonders of this beautiful city. Let's dive in!
In this blog post, you will find all the places with descriptions, photos, and locations where they can be found on Google Maps. Join us on a journey through Seville as we explore everything that this historical city has to offer! Happy exploring!
Read more >>> 19 awesome bucket list things to do in Seville, Spain
1. Archivo de Indias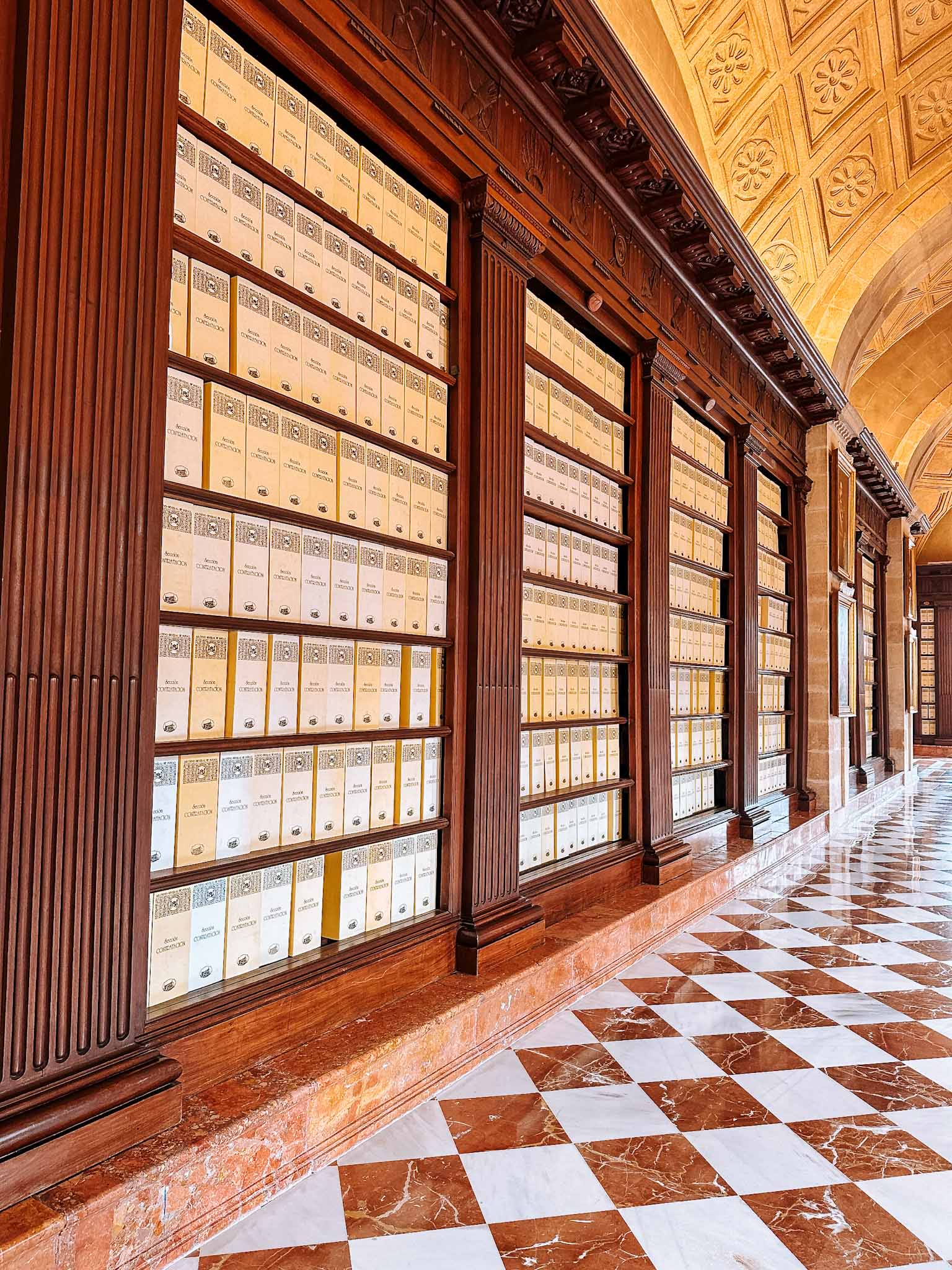 If you are looking for a unique place to explore right in the heart of Seville Old Town then Archivo de Indias is the place to go. It is a national archive housing documents about the colonization times and the New World era. The best part – it is free to visit!
Obviously, you are not allowed to search the documents as a visitor, however, there are a couple of original letters from explorers, like Columbus, put on display. Although everything is in Spanish it was really cool to see such artifacts. Definitely one of those unique hidden gems in Seville!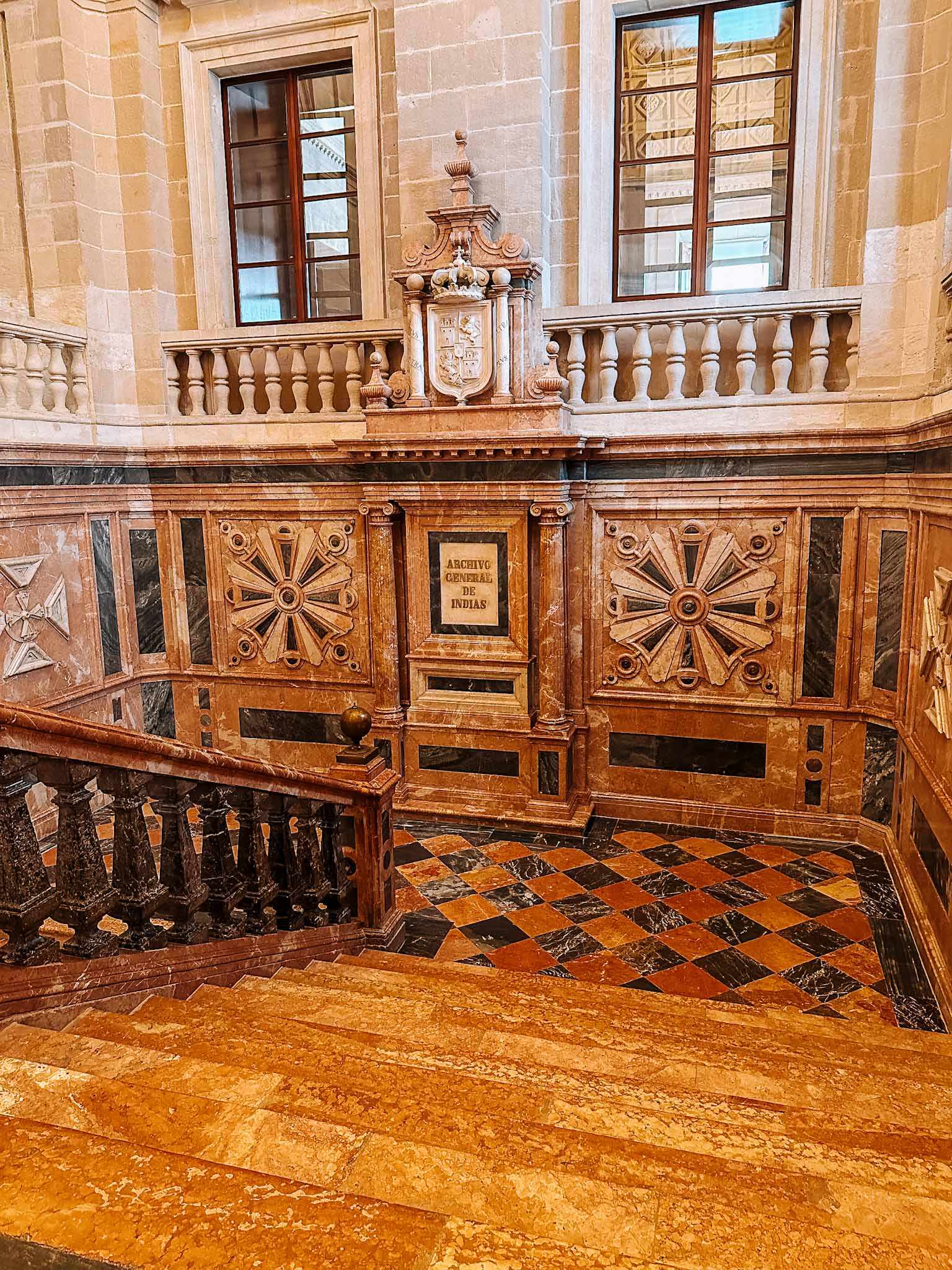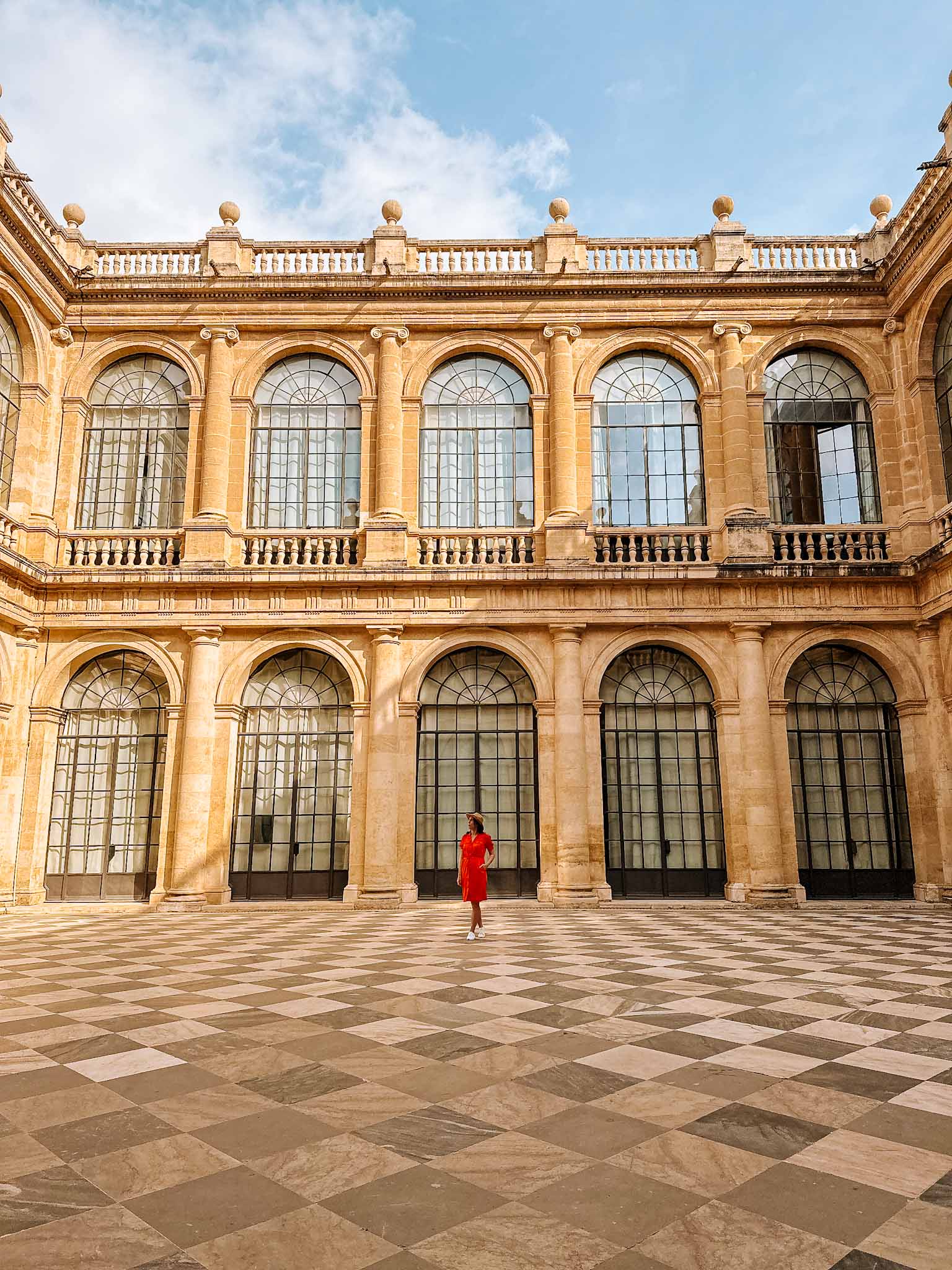 The building itself is very beautiful. Built in the Renaissance architectural style it is now listed as a World Heritage Site. I especially loved the big hallway with all the shelves of documents lined along the walls as well as the symmetrical patio in the middle of the building. If you have 30 minutes to spare, come here!
Location: Archivo de Indias
2. Plaza del Cabildo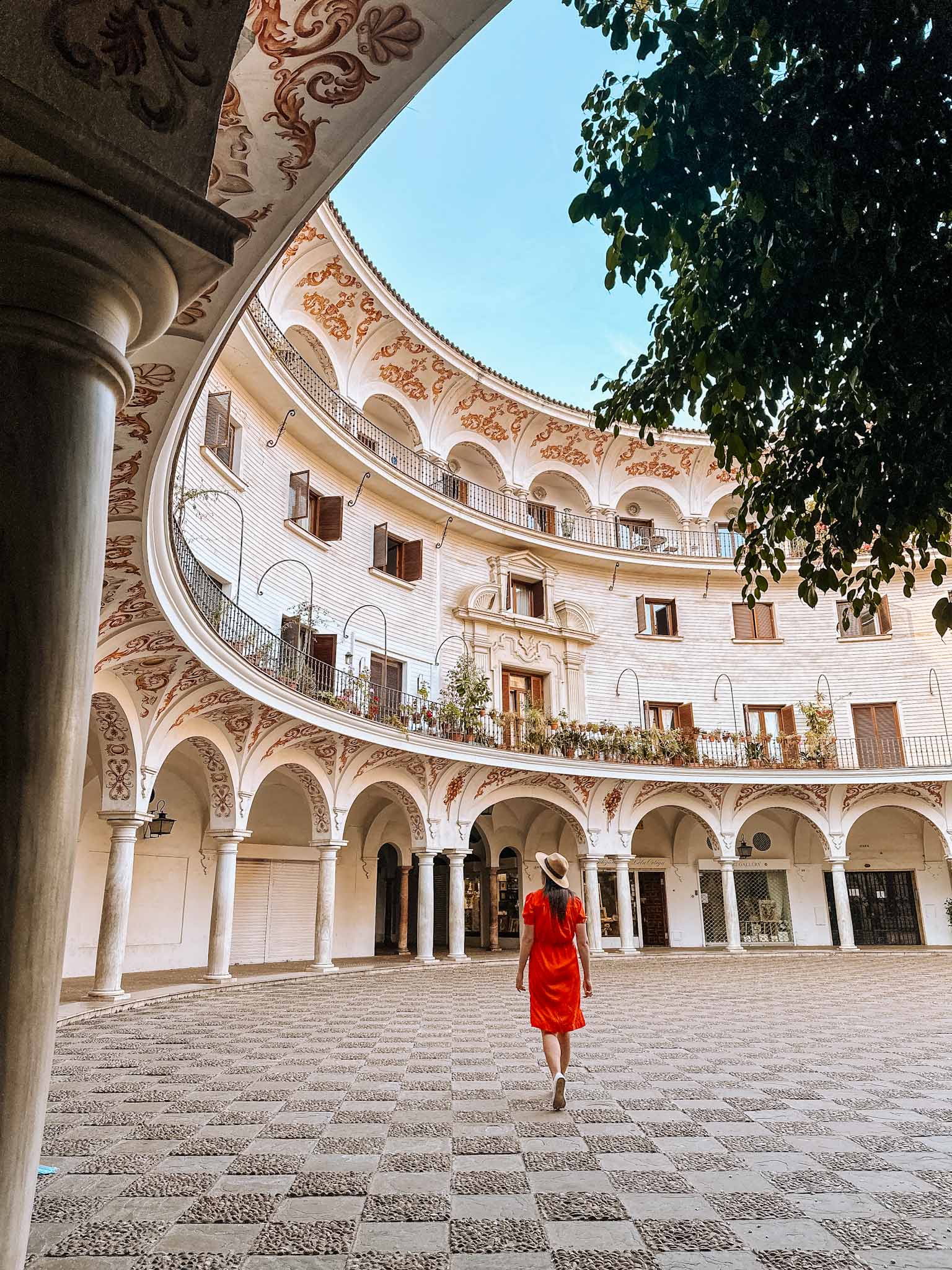 Plaza del Cabildo was one of my favorite hidden gems in Seville city. It is a beautiful semicircular square with painted arches and a fountain just a few meters away from the Cathedral of Seville (there is a tunnel leading to this square).
Although there is nothing else to do in the square besides admiring its beauty, this is a great spot to hide away from the busyness of the streets around the cathedral. We came here in the morning when there were just a few people around.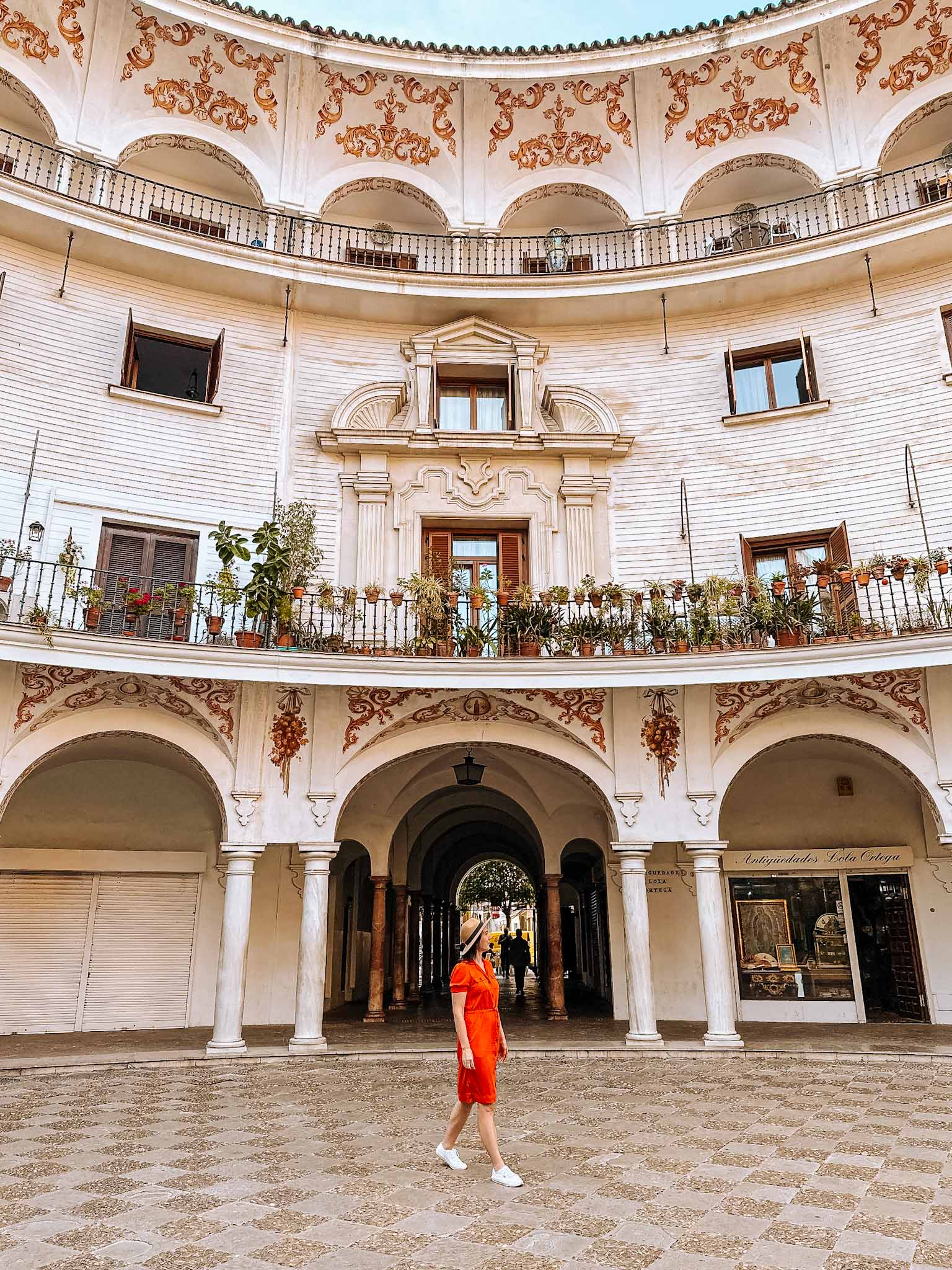 It is my understanding that from time to time this square hosts flea markets or other events so in that case it would be a more interesting spot to visit. But if not then come here to get away from the crowds, take a beautiful photo, sit by the fountain, relax, and admire the beautiful architecture.
Location: Plaza del Cabildo
3. Rosina's Balcony from The Barber of Seville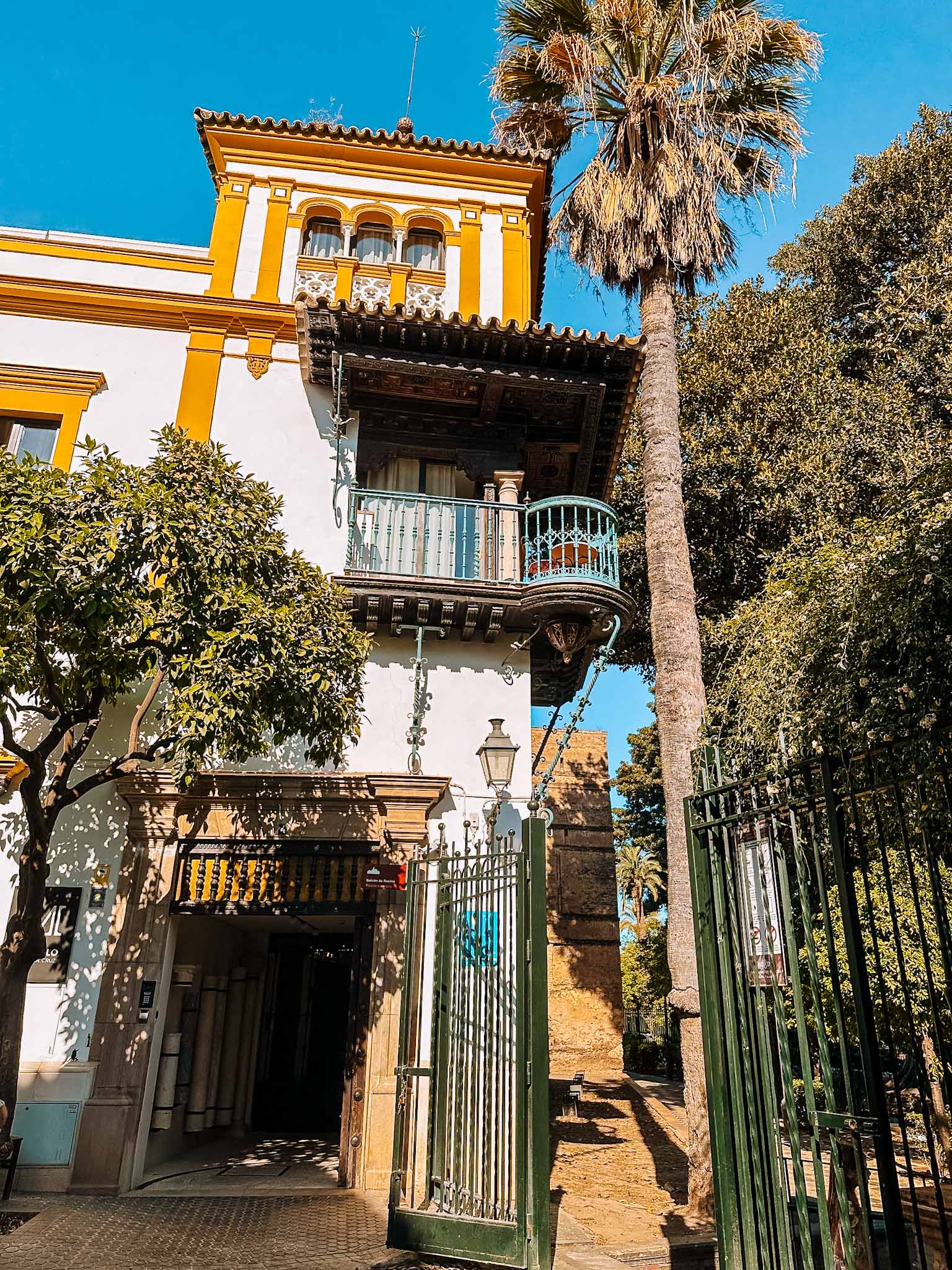 If you have heard about the famous opera The Barber of Seville then visiting this unique hidden gem in Seville is a must. Besides, it is located in the heart of the city so it is very central and easy to access. So here it is – Rosina's Balcony.
According to a legend, this exact balcony in Seville inspired the popular opera about the Barber of Seville written by the Italian composer Gioachino Rossini at the beginning of the 19th century.
It is supposed to be the balcony where Figaro encourages the Count of Almaviva to climb up in search of his true love Rosina. And the balcony where Rosina is looking out and sings her aria of love for the Count of Almaviva.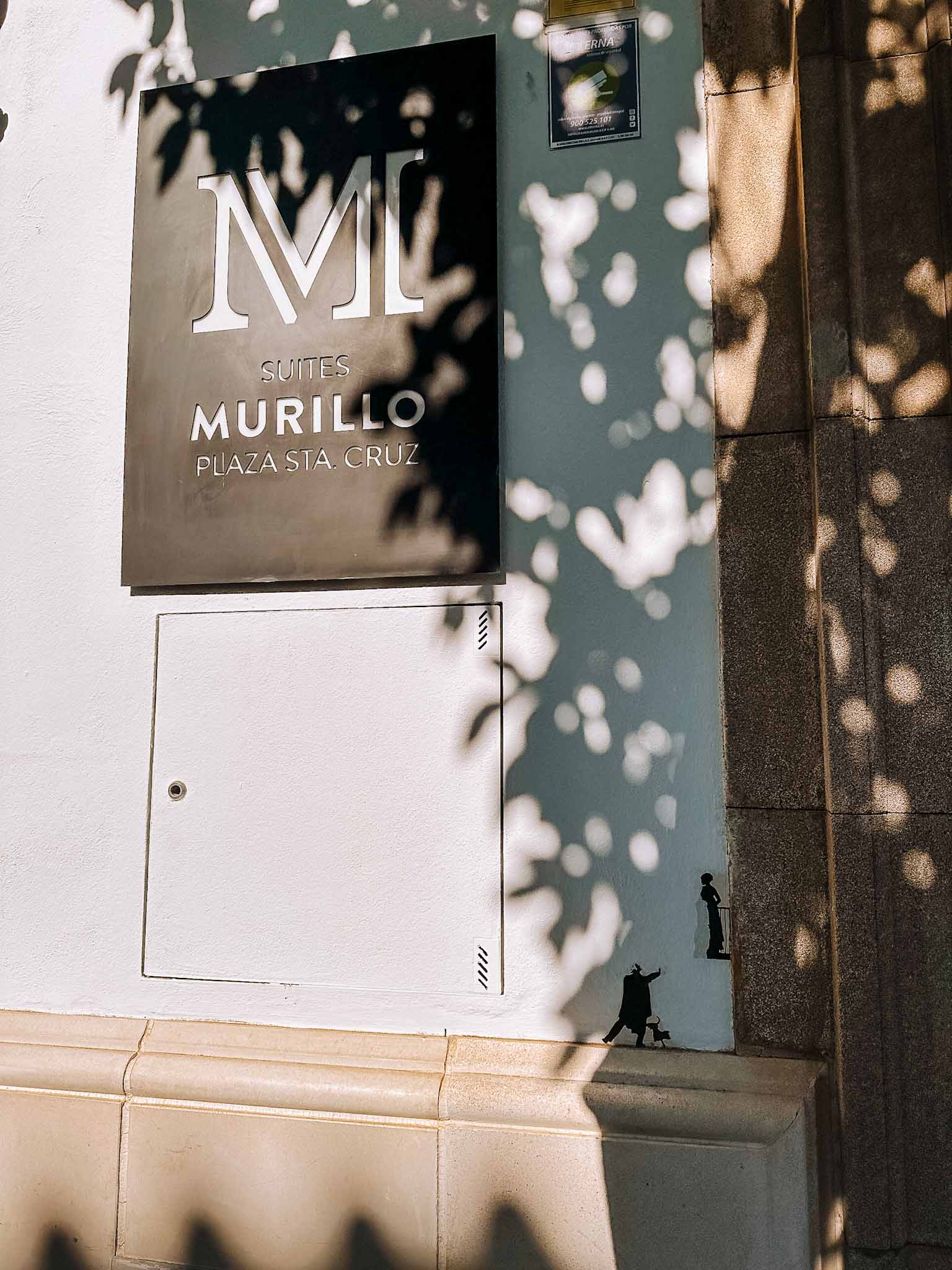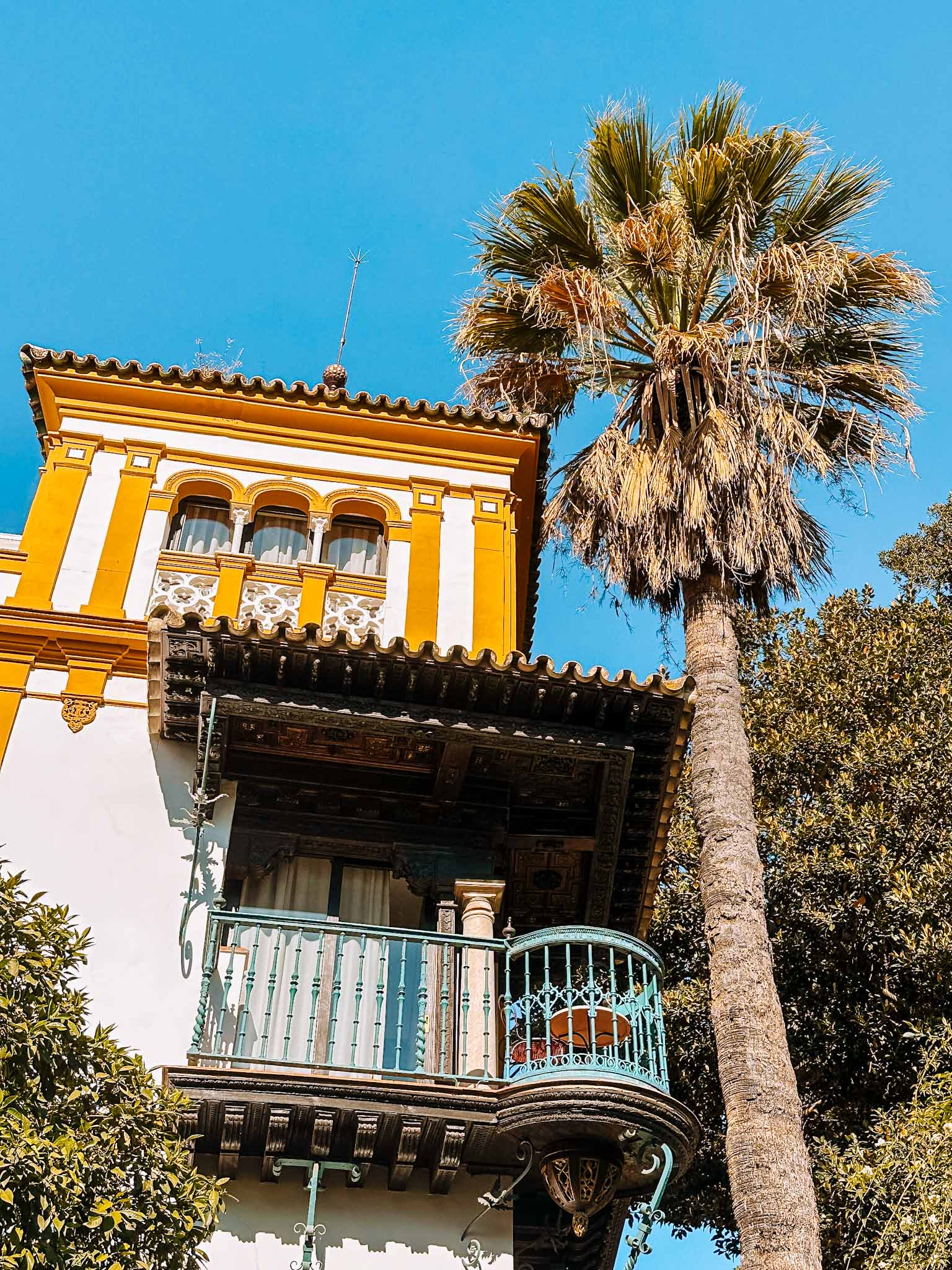 Obviously, there are some truths to the legends, but there is a reason why it is just a legend. It is known that the building as it looks today was constructed many years after the world-famous opera was already created. So this is definitely not the exact look of Rosina's balcony. But who knows…?
Location: Rosina's Balcony
4. La Terraza del EME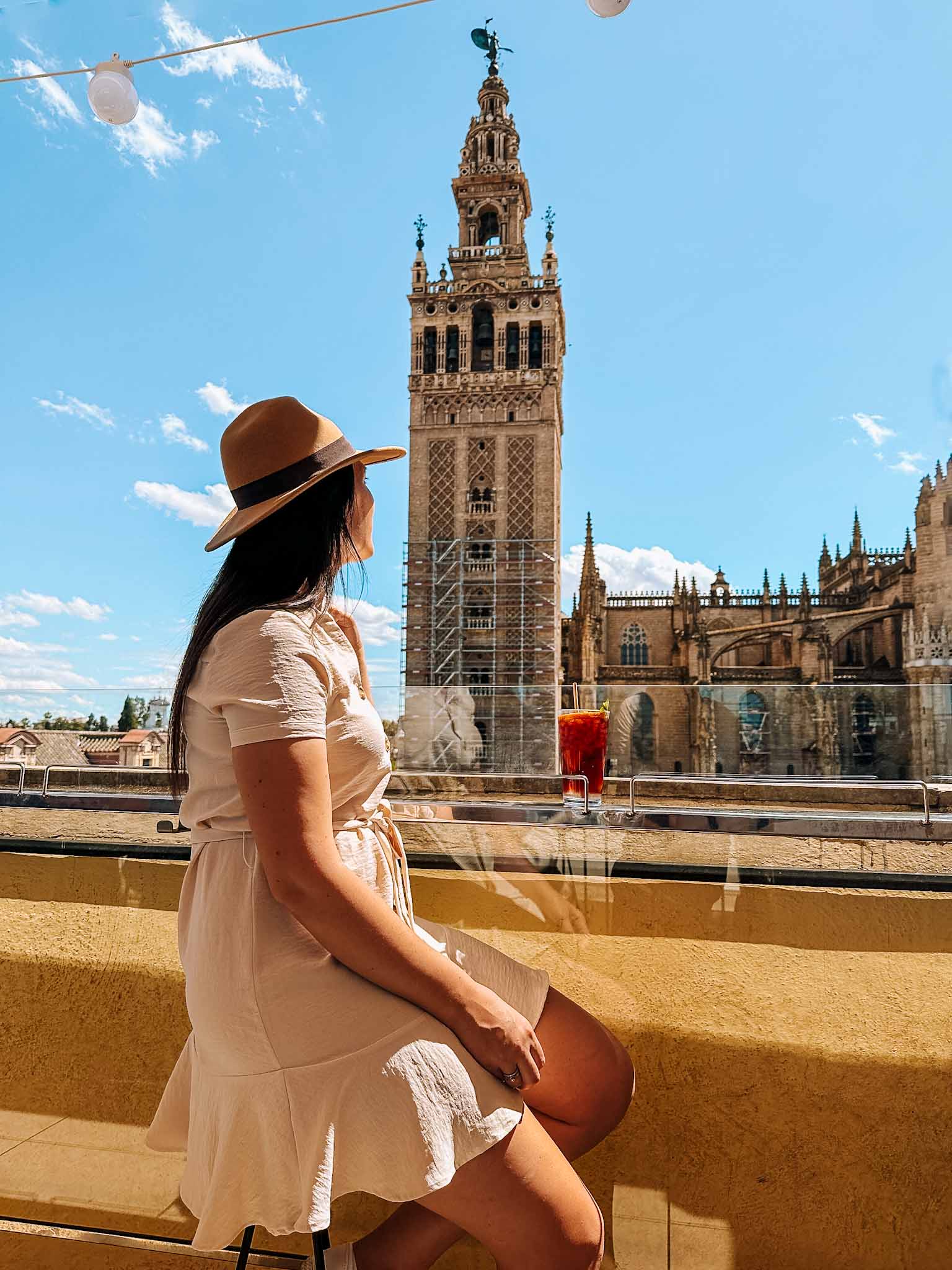 One of my favorite spots and a real hidden gem in Seville was La Terraza del EME – a rooftop lounge just a few meters away from the Cathedral of Seville. We went there right after visiting the cathedral to have some refreshing cocktails after the visit.
Obviously, the best part of this spot is the view of the cathedral and La Giralda tower. Although we went during the day, this is an amazing place to be during sunset hours when the city and the tower shine in golden shades. But we loved it anyway!
In order to get there you need to go to the EME Catedral Mercer Hotel and tell that you want to go up to the rooftop bar. You will be instructed to go to the elevator to get to the roof. After exiting the elevator there will be a couple of more stairs to climb up to the very top.
As you probably have guessed, this is not a budget bar and the drinks will be a bit pricey. Like 10 EUR per cocktail or more. And the rooftop lounge is relatively small, however, the best thing is that you can get amazing views from every single place in the bar.
Location: La Terraza del EME
5. Patio de Banderas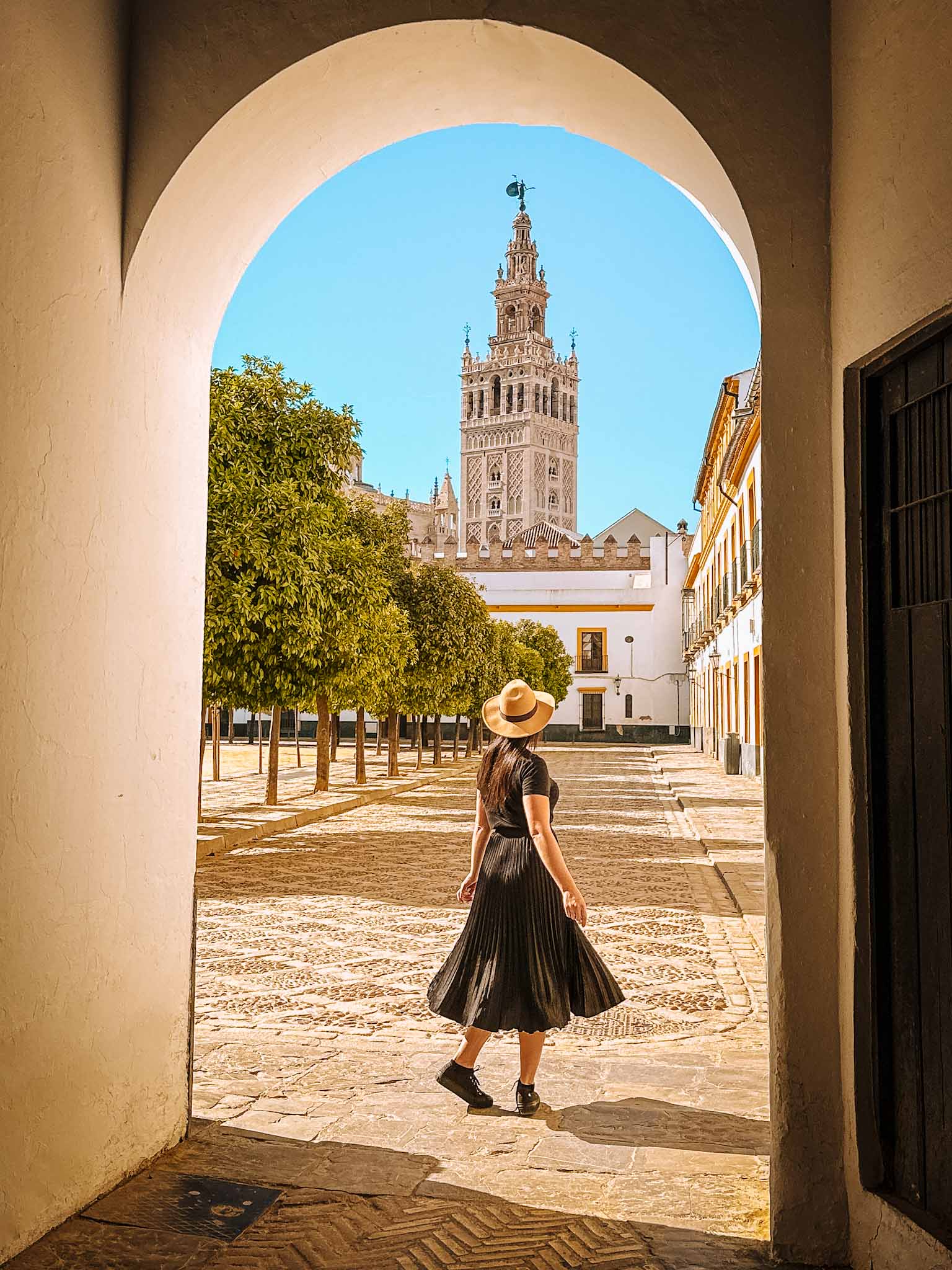 Patio de Banderas is a historic square in the heart of Seville Old Town. Despite the central location, there is nothing special about the simple tree-lined square with a few lanterns. Unless you know where to look and pay attention when walking around.
This square is also the exit point of the famous Royal Alcázar of Seville, so most people are just busy thinking about the Royal Alcázar of Seville or the next tourist attraction and simply miss the hidden gems this square in Seville hides inside.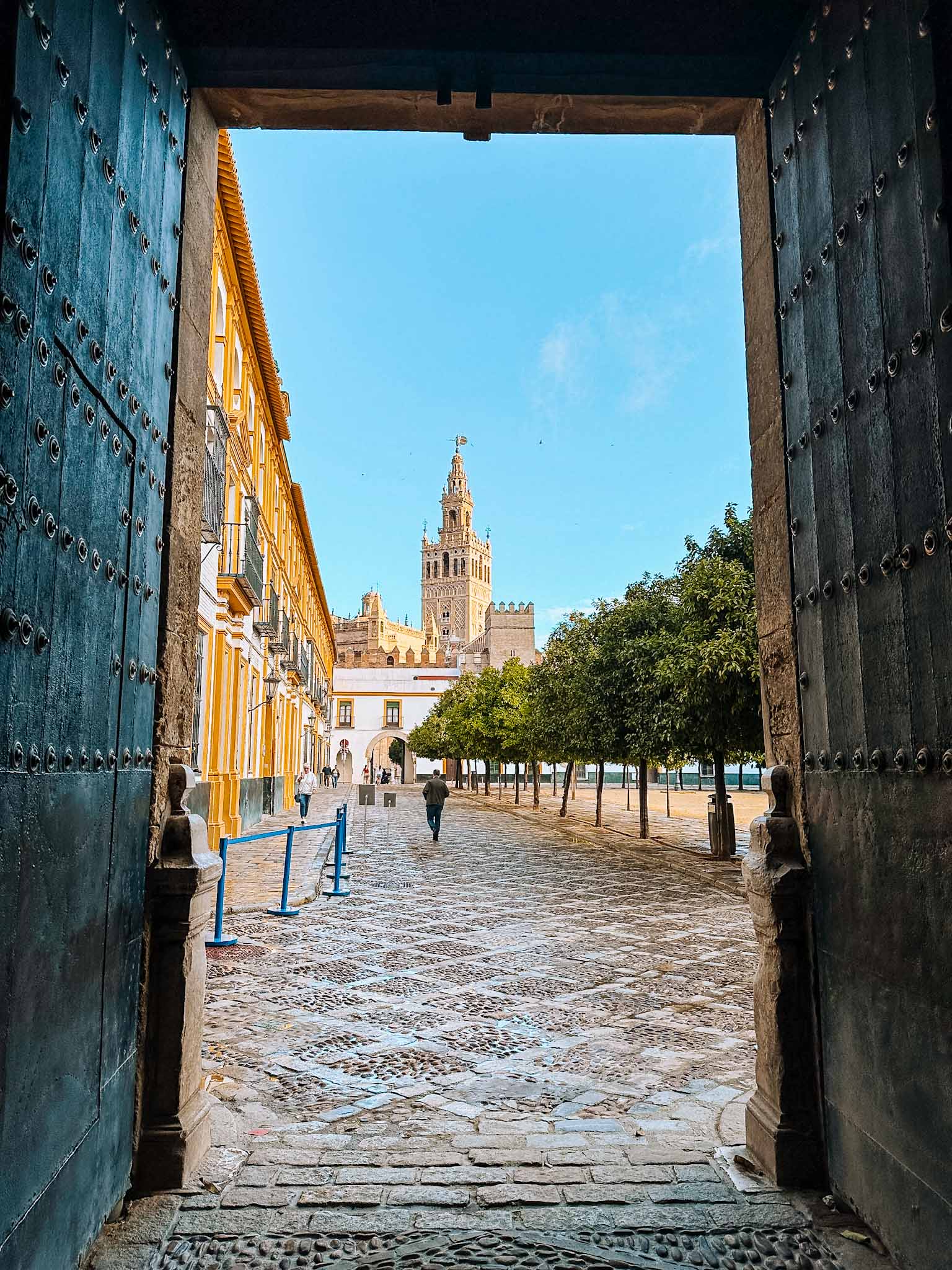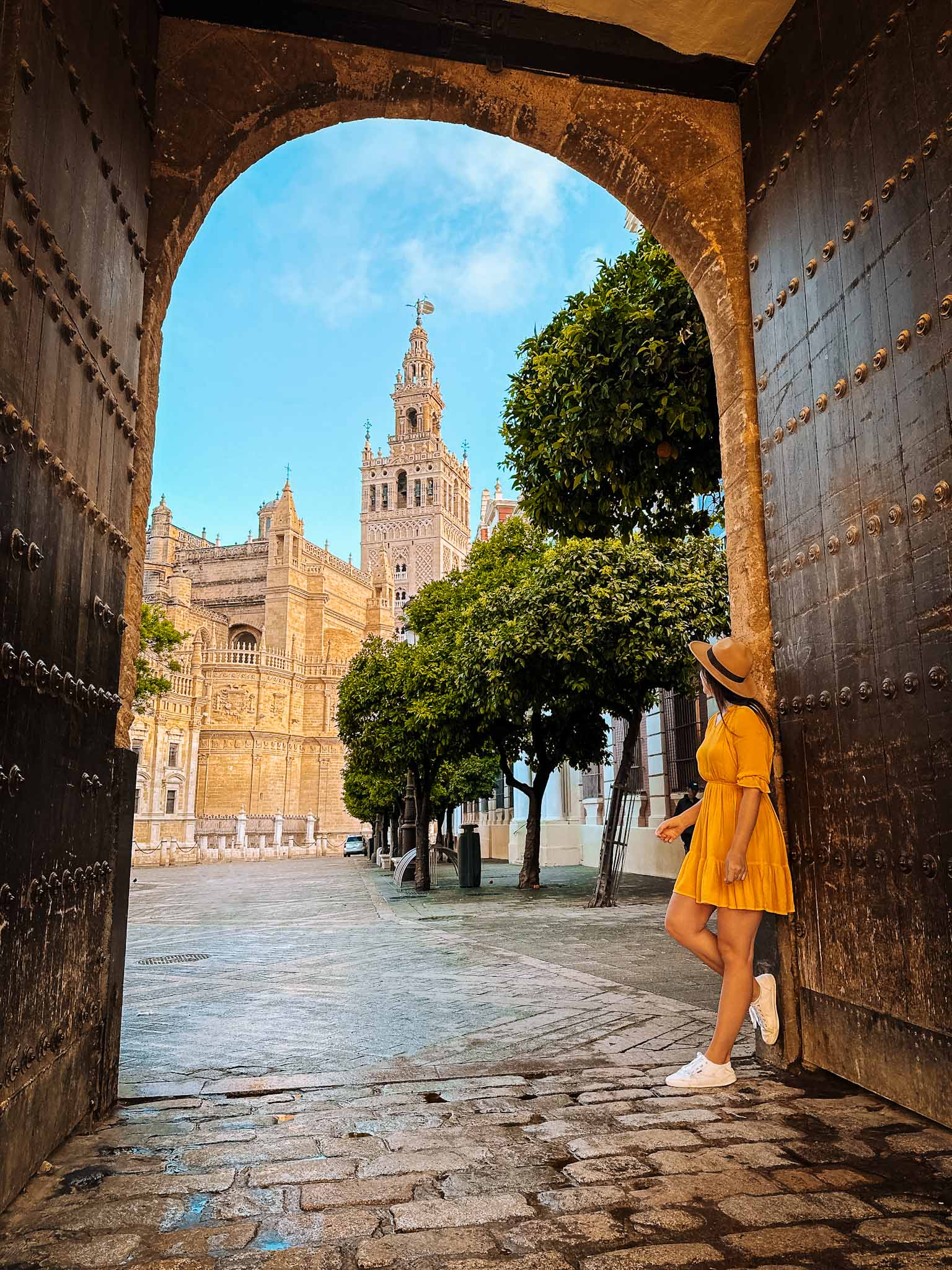 There are overall three portals and doors connected to the square in a unique way. If you look through the portals and doors you can see the famous Cathedral of Seville and the striking La Giralda tower next to it. Makes for a fantastic photo as a keepsake from your trip to Seville!
If you arrive early in the morning (before 9 AM) all of these doorways and portals will be very much available for a photo. But because two of these doors are used as exits from Royal Alcázar of Seville there will be a sea of people walking through them and a photo will not be as good.
However, the first photo taken from a portal is located in the far corner of the square (around here). It is a secret tunnel-like pathway between the square and a street that not many people actually know about or use. If you happen to be here later in the day, come to this spot as there won't be as many people!
Location: Patio de Banderas
6. Museo de Bellas Artes de Sevilla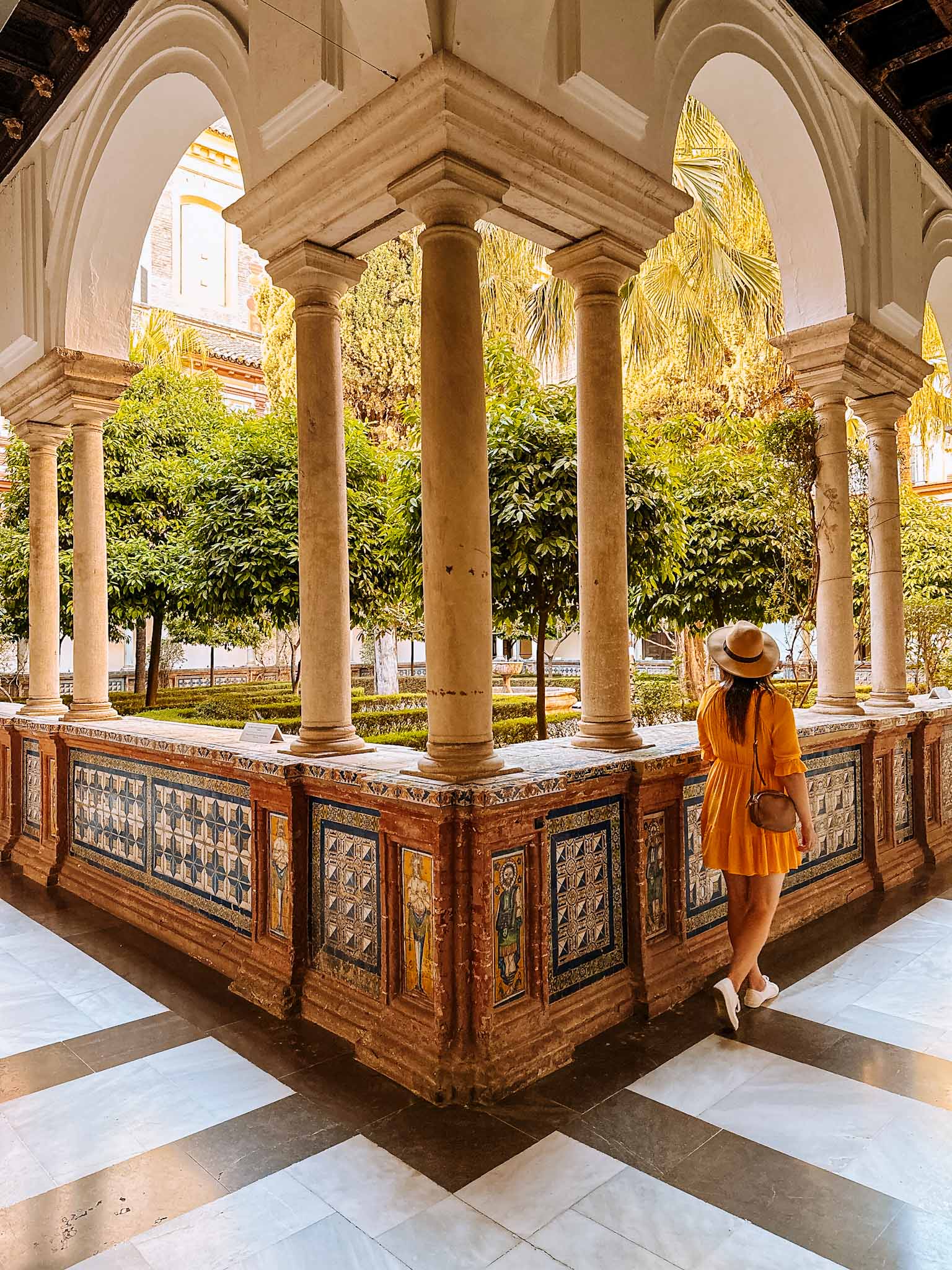 I have never been a museum kind of person. Well, with some very rare exceptions, of course. However, Museo de Bellas Artes de Sevilla or Seville Museum of Fine Arts grabbed my attention.
I will tell you the best part about it right away – the Seville Museum of Fine Arts is free to visit for EU citizens and only 1.5 EUR for travelers from the rest of the world. Basically – nothing!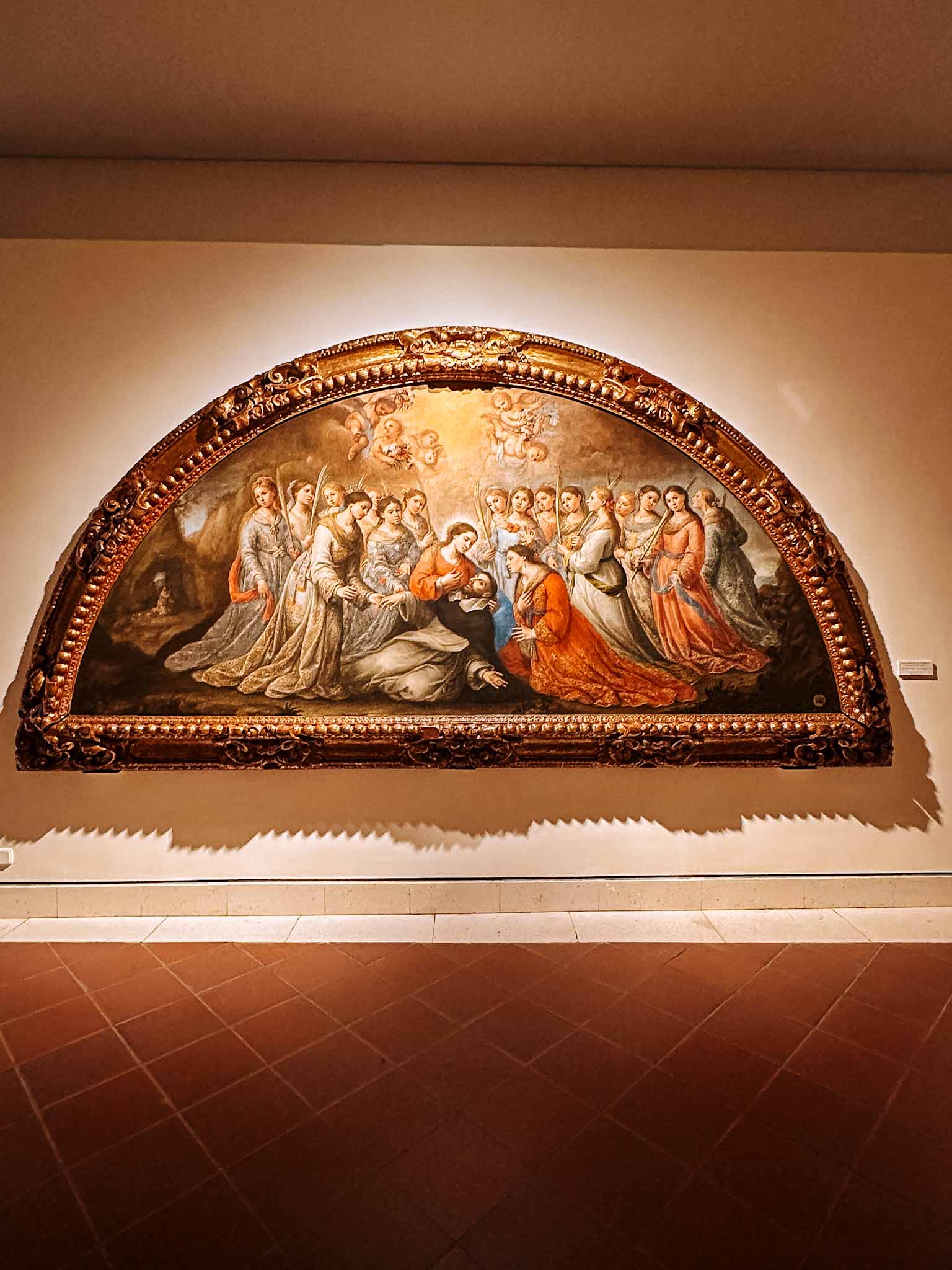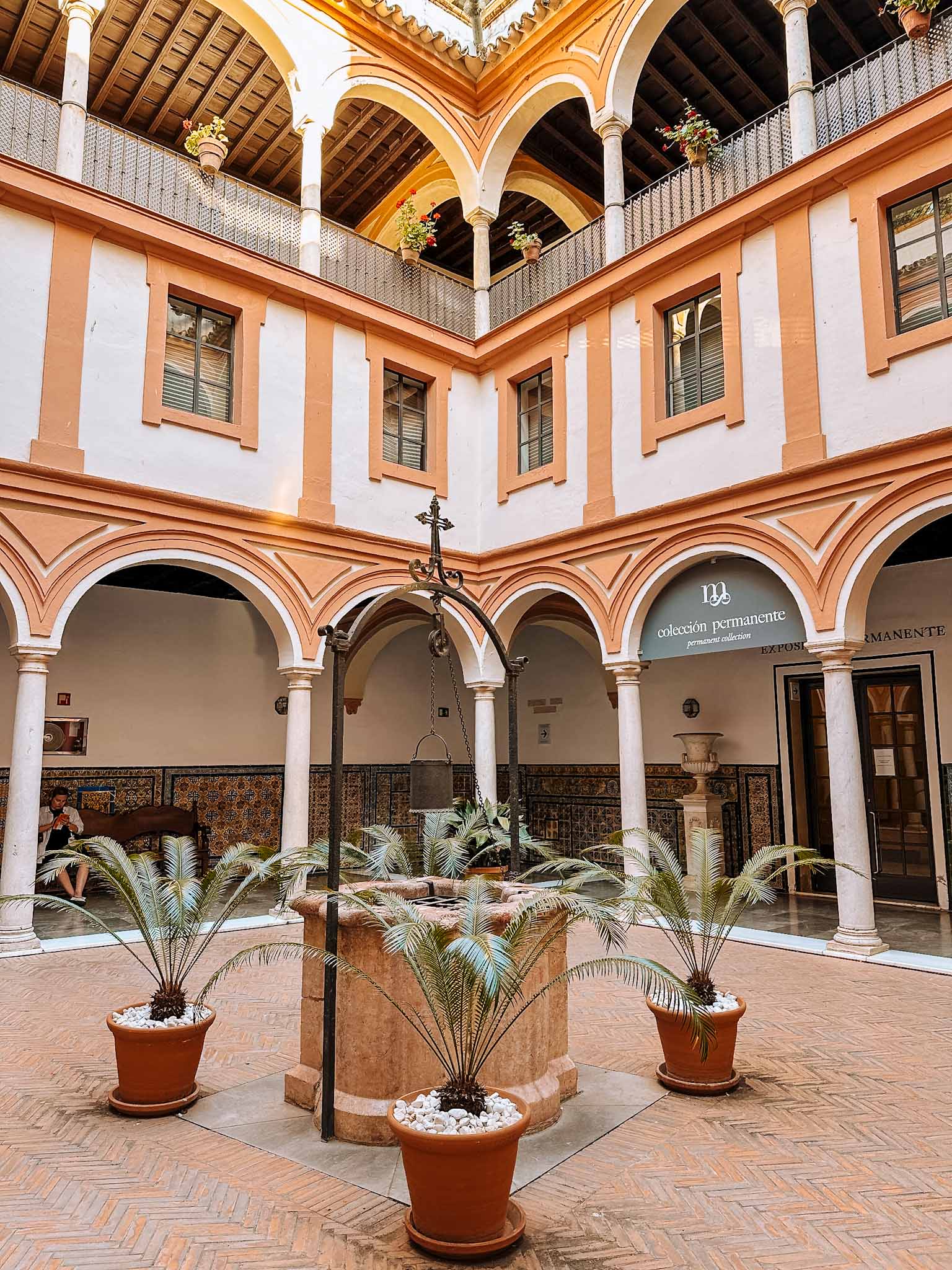 For this non-existent entrance fee, you get to visit two floors in this 17th-century palace. There is a large collection of sculptures and paintings, including some of the famous Diego Velázquez and El Greco dating back to the Middle Ages.
Aside from the art, there are three beautiful courtyards and patios where you can enjoy the architecture or sit down and enjoy the fresh air. The patios are lined with ceramic mosaics and arches which make for some beautiful and unique photos.
Location: Museo de Bellas Artes de Sevilla
7. Plaza de San Francisco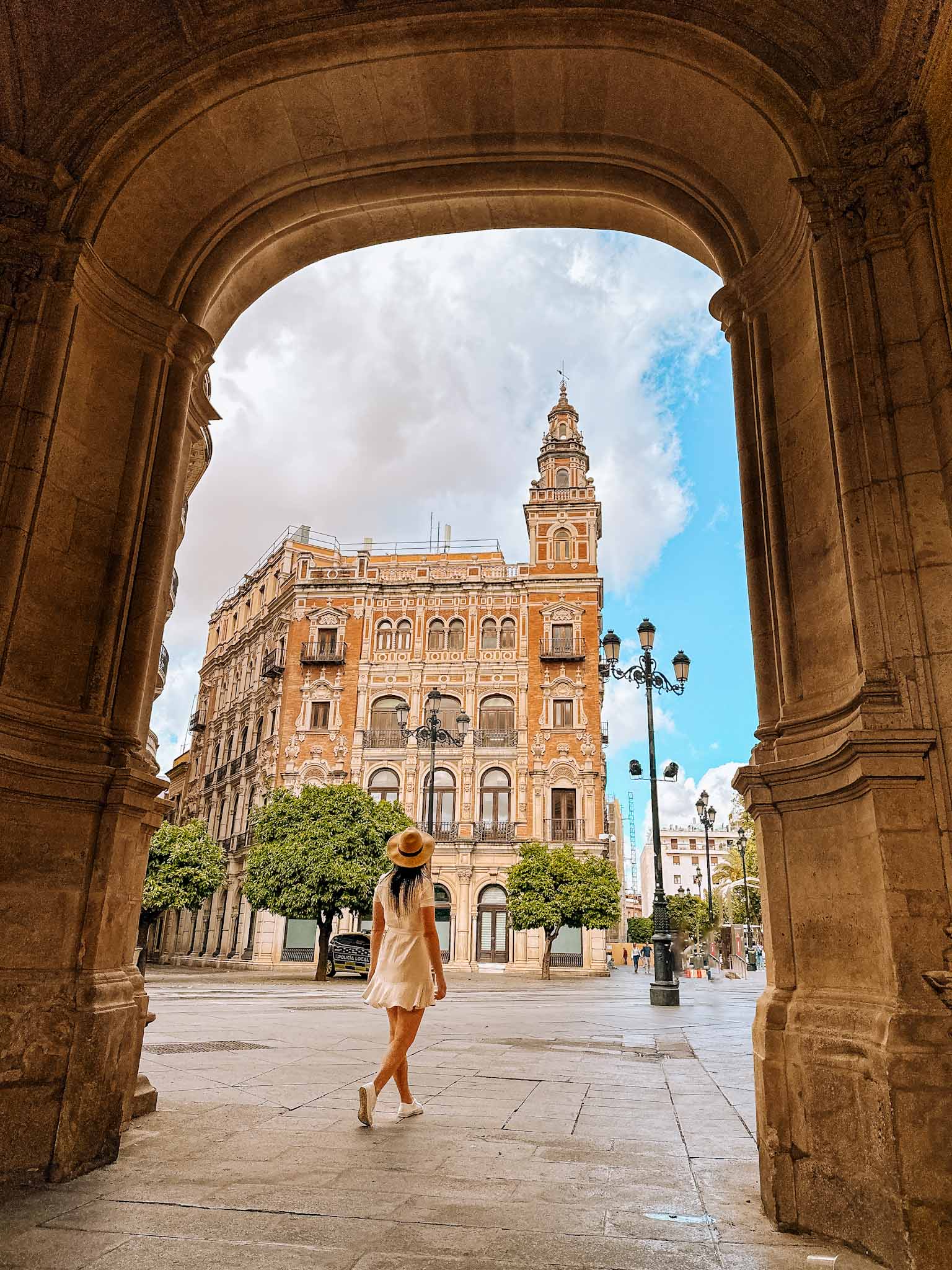 Plaza de San Francisco square was one of my favorite hidden gems in Seville! It is a massive buzzing square right in front of the Town Hall and next to one of the main streets in Seville – Avenida de la Constitución.
The square is very lively with shops, restaurants, and businesses lining along the central square. You will see people walking in every direction, cars, taxis, and trams driving by and people sitting at the tables outside enjoying their meals. But there is a hidden gem in this square that not many will notice.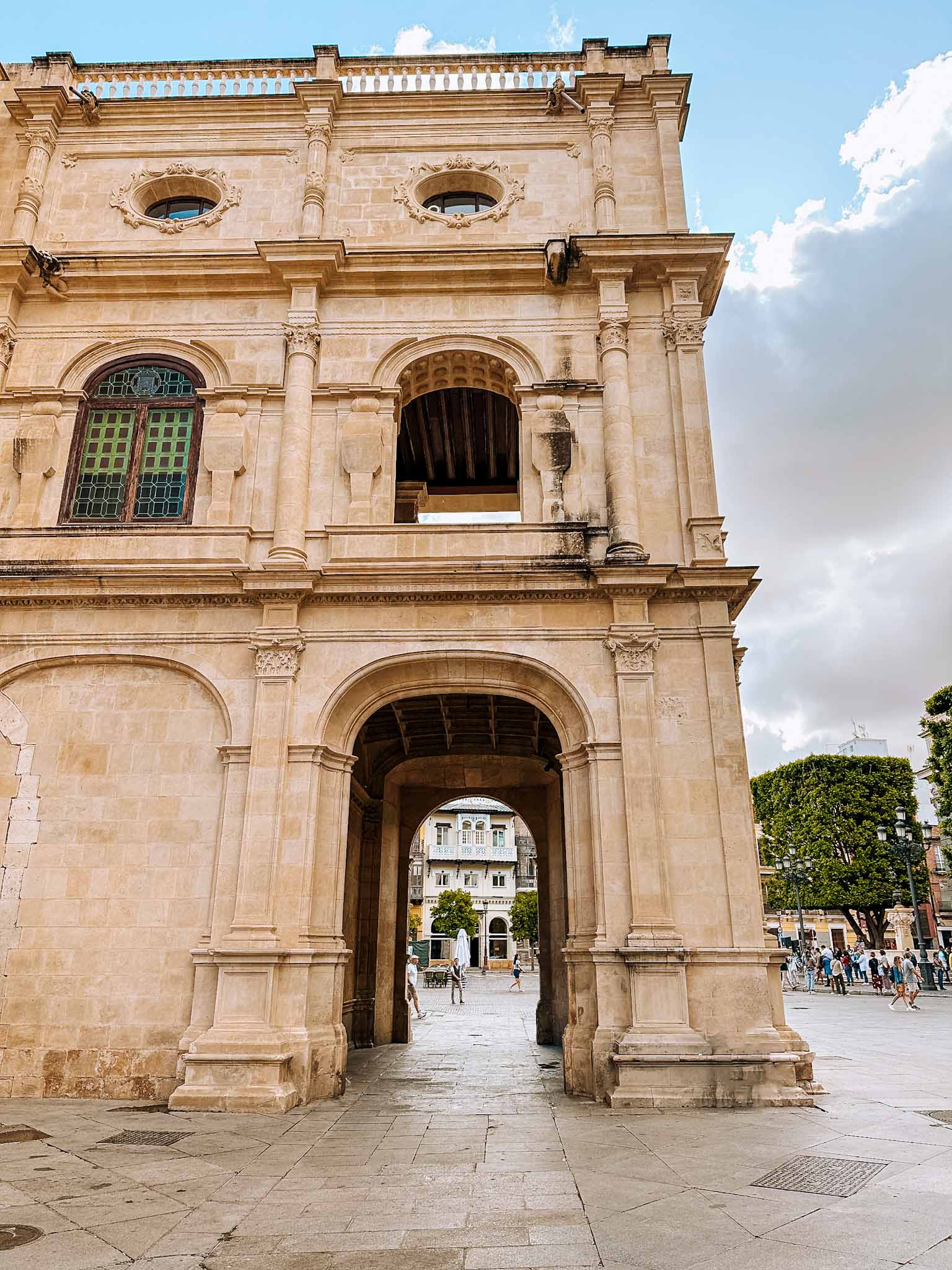 Right at the South end of the Town Hall building, there is a small portal going through the building. I wonder about the functionality of this portal because you can easily walk past the building and there is no need to use this tunnel-like passage.
However, the architecture looks amazing and it makes for a very cool photo spot. In case you are nearby, definitely stop here to take a photo. If you take a photo of the arch you will see beautiful architecture with sculptures.
But if you take a photo from the inside of the portal you will get a cool shot of the nearby building with a striking tower. Either way, this is a cool hidden gem to visit in case you are in the area (we walked there to visit one breakfast spot!).
Location: Plaza de San Francisco – Photo location
8. Parque de María Luisa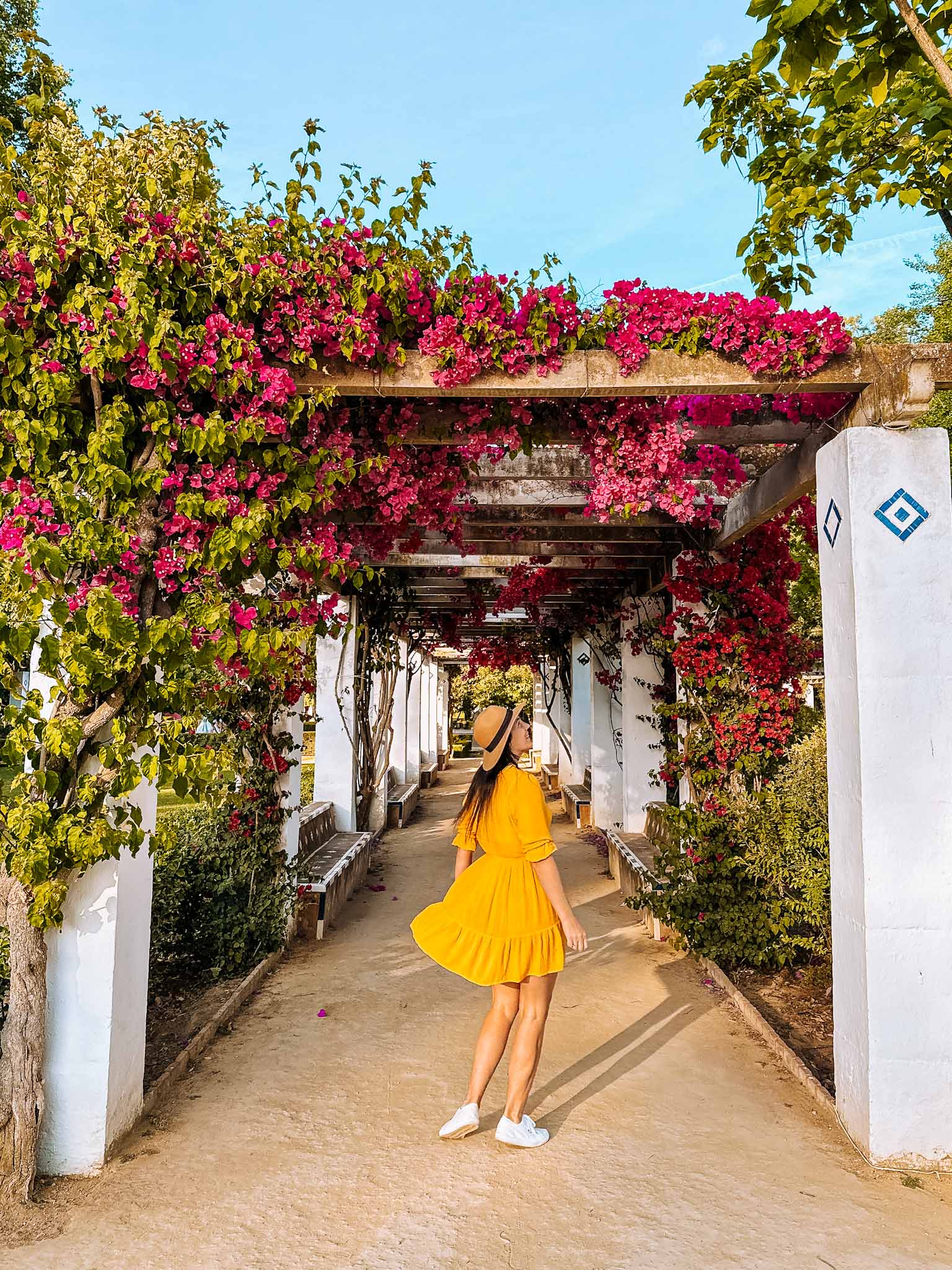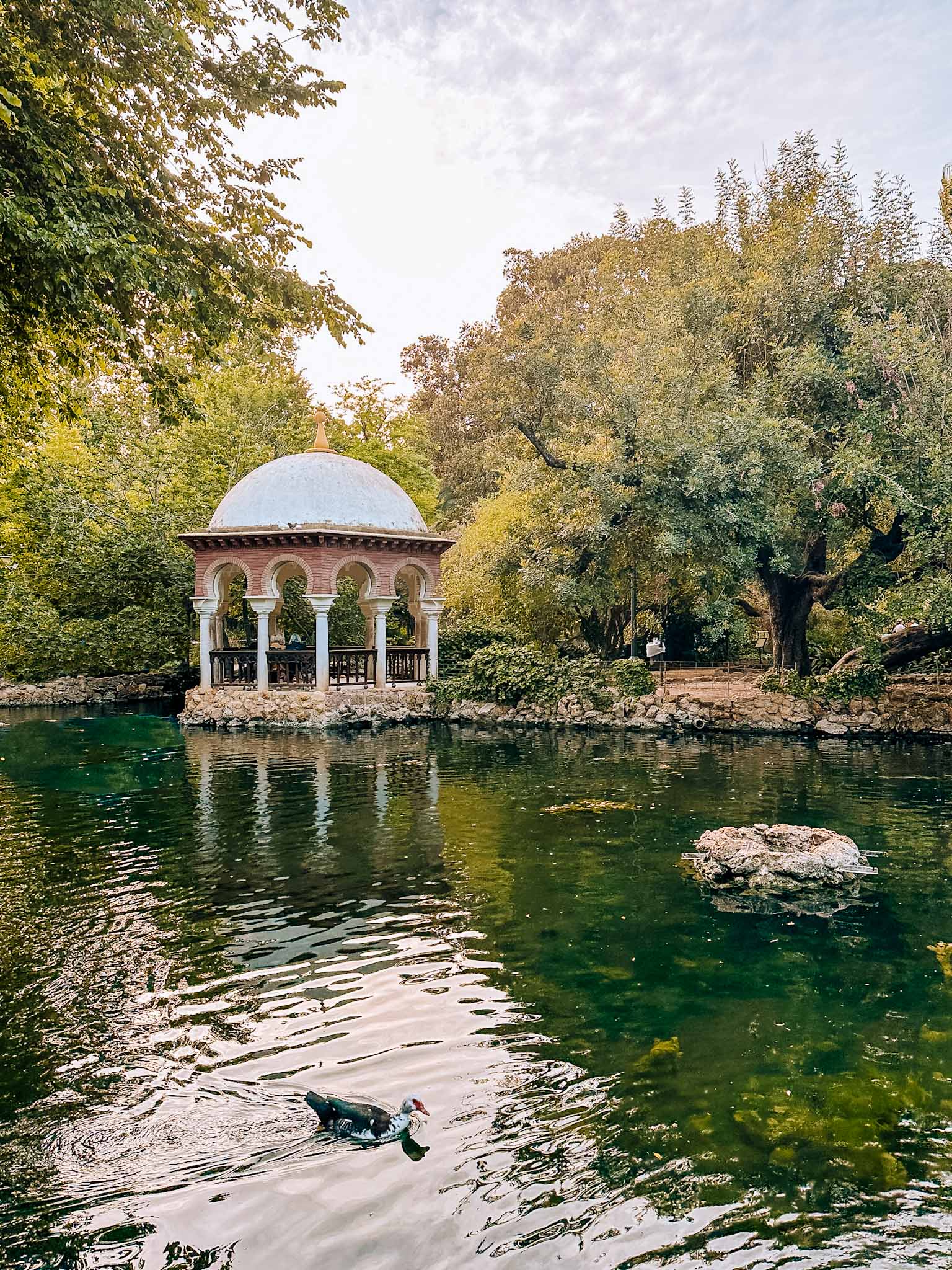 María Luisa is a large park in the center of Seville right next to the famous landmark square Plaza de España. At first, you might think there can't be anything too special about a park, however, this one hides some very beautiful hidden gems in Seville.
Starting from statues, monuments, fountains, unique and massive trees, beautiful ceramic benches, playgrounds for kids, and beautiful overgrown flower bushes. This park has a bit of everything. But there is something even more special about it.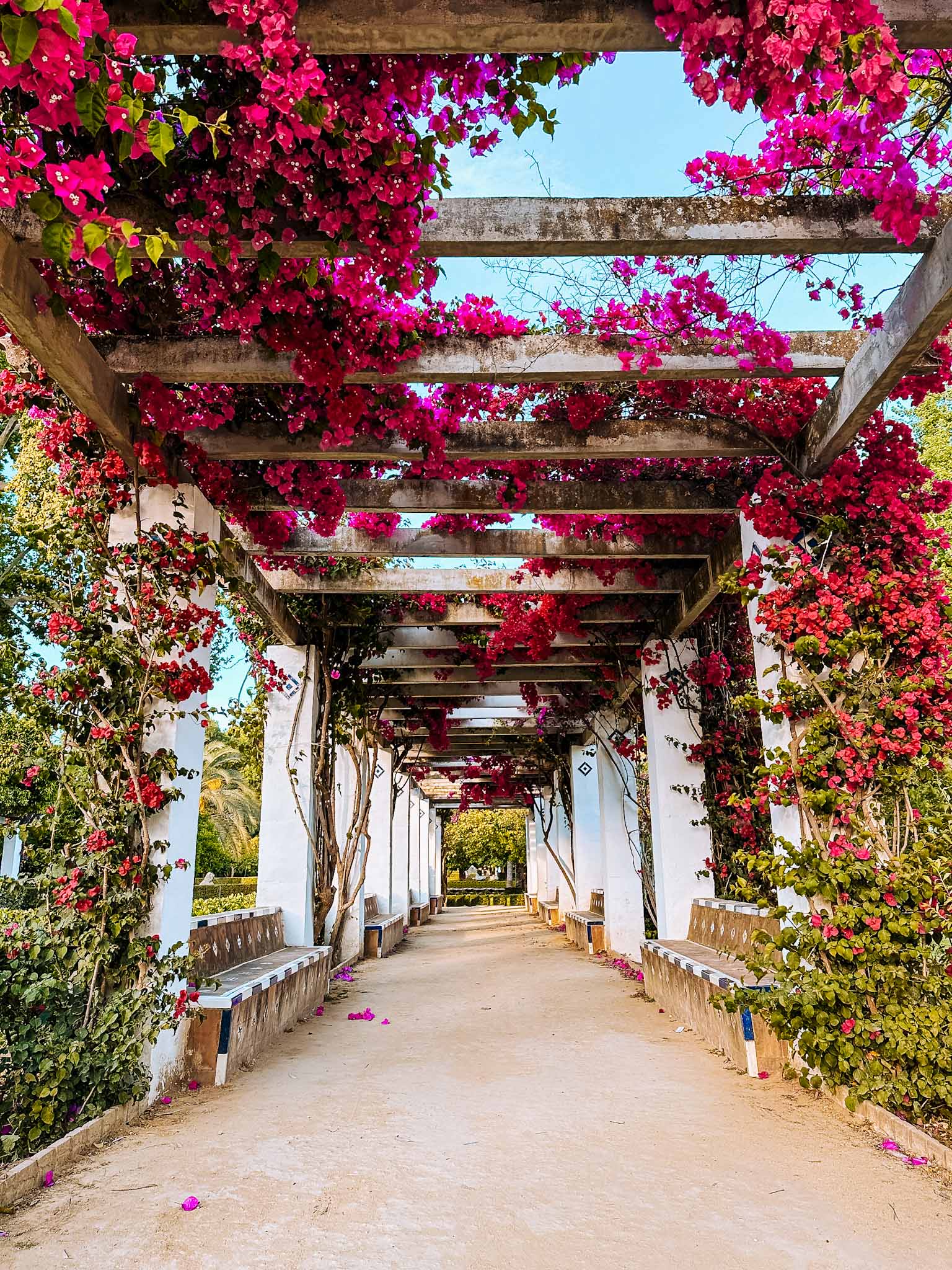 The park also hides a couple of ponds and one of them – located right in the middle of the park – is full of swans, ducks, and geese. There is a ton of waterbirds who are thoroughly enjoying life there and socializing on their own and with people.
There is a small island (kind of) in the middle of the pond (Isleta de los Pájaros or Bird Island) with a beautiful and scenic pavilion (gazebo) where you can freely walk on and relax. We did not have time to do that but we saw people sitting there and reading books. So cool!
Location: Parque de María Luisa – Isleta de los Pájaros – Flower bushes
9. Plaza de América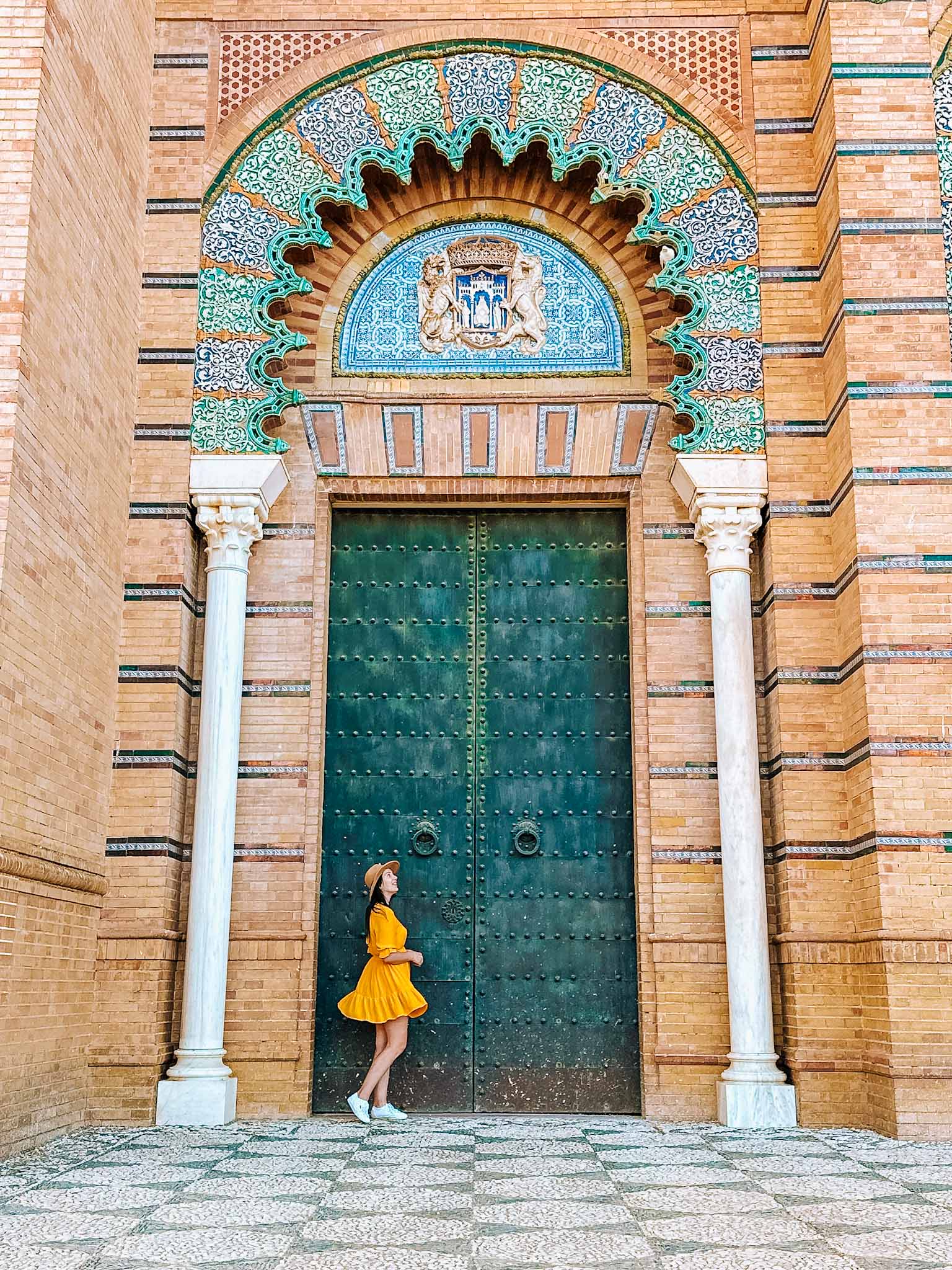 Another unique corner connected to María Luisa park is Plaza de América. As you will notice with many places around Seville, a lot here was created for the Ibero-American Exhibition in 1929 to make the city more beautiful and full of picturesque places. This place is one of them.
Plaza de América features picturesque ponds, ornate gardens, and pavillions around it that make a beautiful reflection in the water if you look at it from the right angle. With palm trees, blooming flower pots, and sculptures this is a charming place to visit.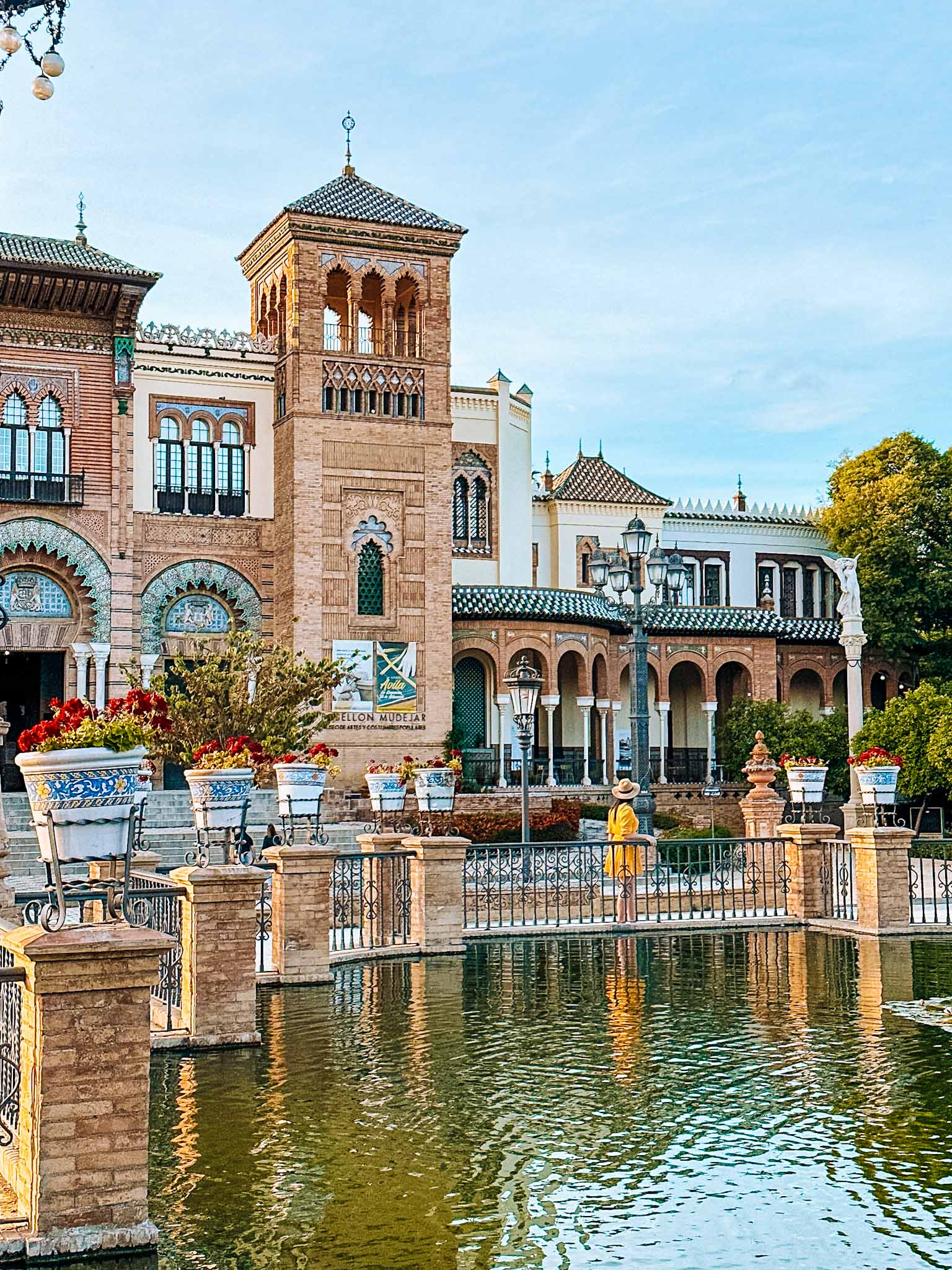 I especially enjoyed the architecture of the building surrounding the Plaza de América. The most beautiful was the building of the Museum of Popular Arts and Traditions next to the plaza.
Although we did not visit the museum, the outside of it was very picturesque with big doors and detailed arches surrounding them. Stop by if you are in the area!
Location: Plaza de América – Museum of Popular Arts and Traditions
10. Discover Seville's local food markets!
With all the restaurants and bars this city has to offer Seville's markets may go unnoticed. However, they deserve everyone's attention because they are true hidden gems in Seville! They are not only great shopping places but amazing for any meal of the day offering fresh produce right from the food stalls!
Mercado de Triana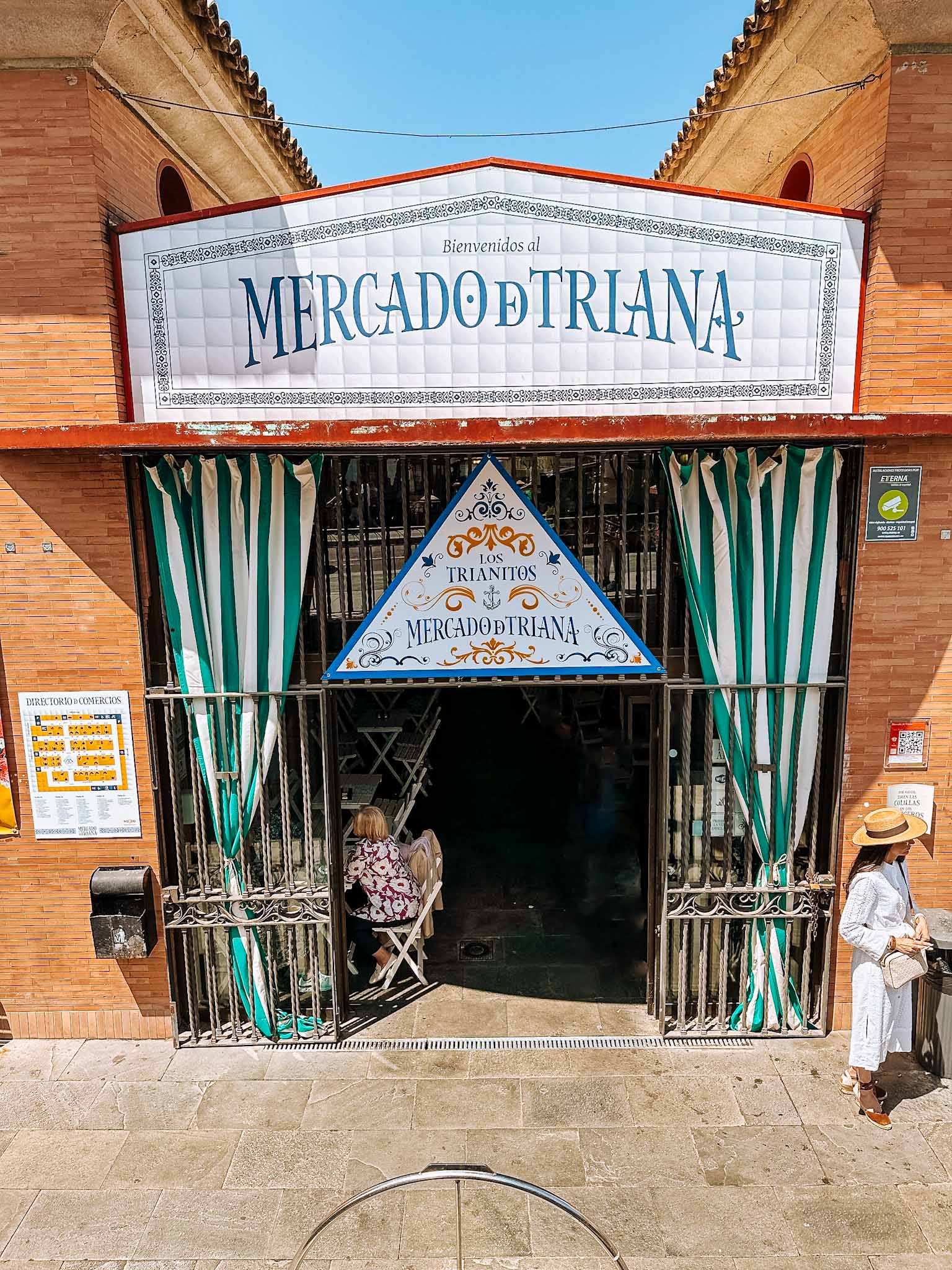 One of the most famous markets in Seville is Mercado de Triana. It is located in the Triana neighborhood on the left side of the river. This is where you should go to get an authentic market experience in Seville.
Triana market is full of fresh produce and tapas bars. You can not only buy all the things you can typically find in the market (not just food!), but you can choose a table at one of many tapas bars inside the market and order freshly prepared food right from the food stands. Pretty cool!
Mercado Lonja del Barranco
Mercado Lonja del Barranco is another cool market in Seville! This is a more modern market or I should say – a gourmet food court. The market is housed inside a beautiful 19th-century iron building that was once a fish market.
Today you can go there and choose one of their many restaurants, take a seat inside or on their terrace, and enjoy a meal. This was more suited for us so we chose this one for a quick lunch. We opted for some Argentinian empanadas. Anyone can find something they like here!
Mercado del Arenal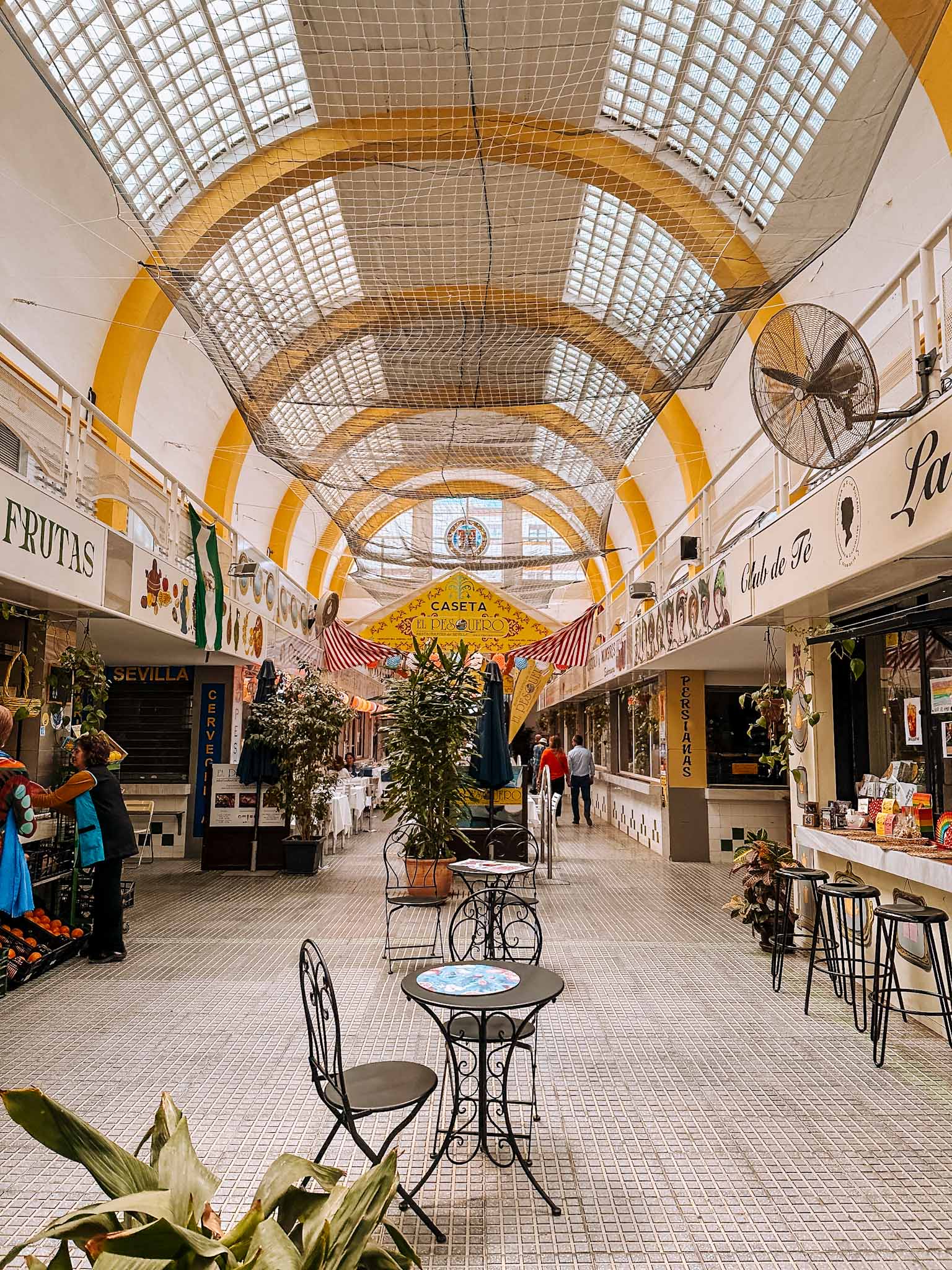 Mercado del Arenal is another great choice for lunch. Some of the marketplaces are dedicated to product stands where you can go shopping. However, other parts are restaurants where you can go and choose something you would like to eat and drink and have lunch right in the market.
When we visited many of the stalls were closed and this market was not too visited, so we only explored it for a couple of minutes. However, it definitely looked like it would be worth a visit so don't skip it! This market is the closest to the center of the city and is definitely worth checking out!
Location: Mercado de Triana – Mercado Lonja del Barranco – Mercado del Arenal
11. Hospital los Venerables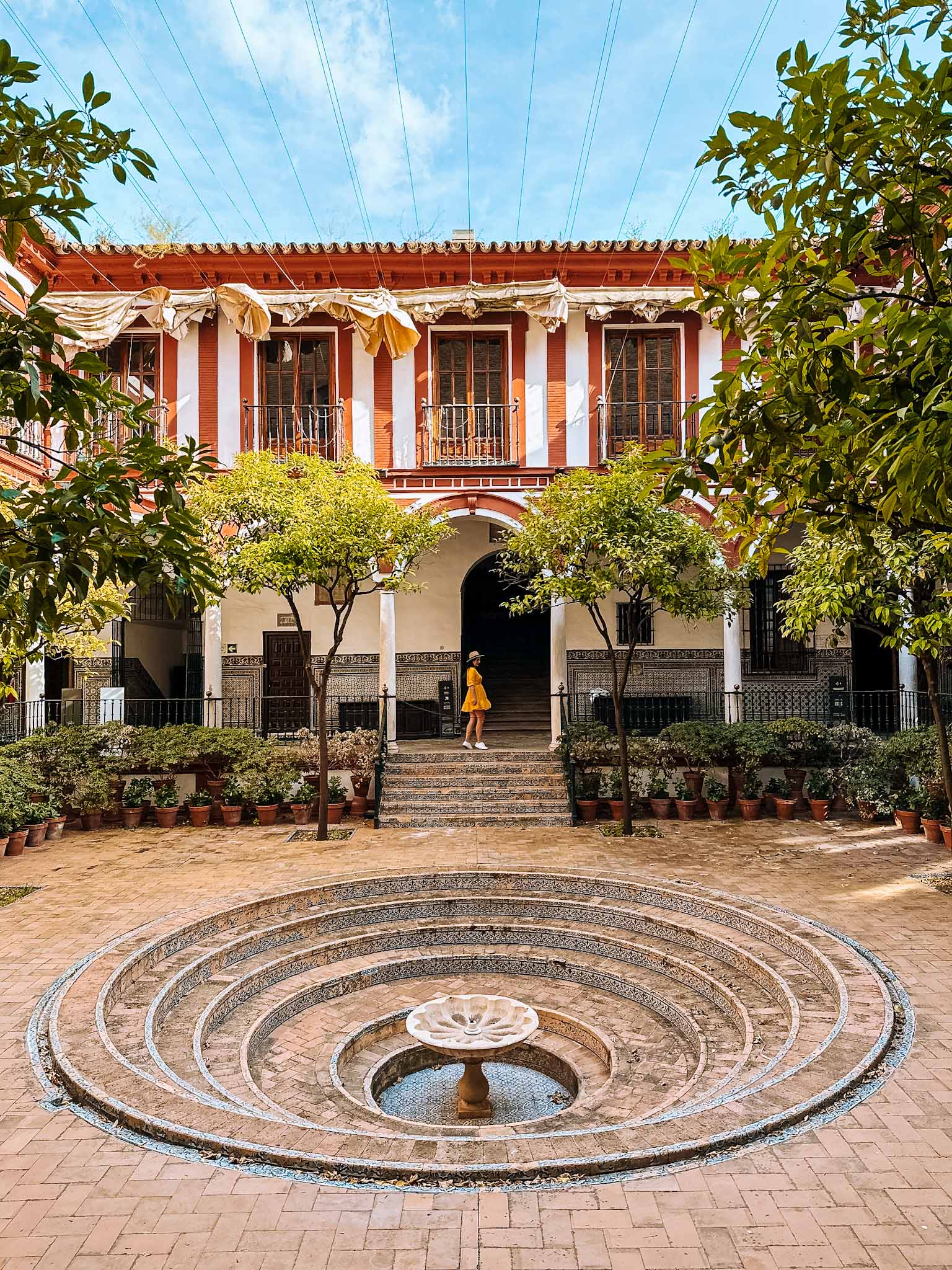 Although Hospital los Venerables has a very central location with the Cathedral of Seville and the Royal Alcázar of Seville located nearby, this is a much more quiet place and not too well known among tourists.
This 17th-century baroque building has a lot to offer, including art by the famous Spanish painter Diego Velázquez. While exploring around the arched patio you will be able to visit many expositions and rooms in this palace-like building.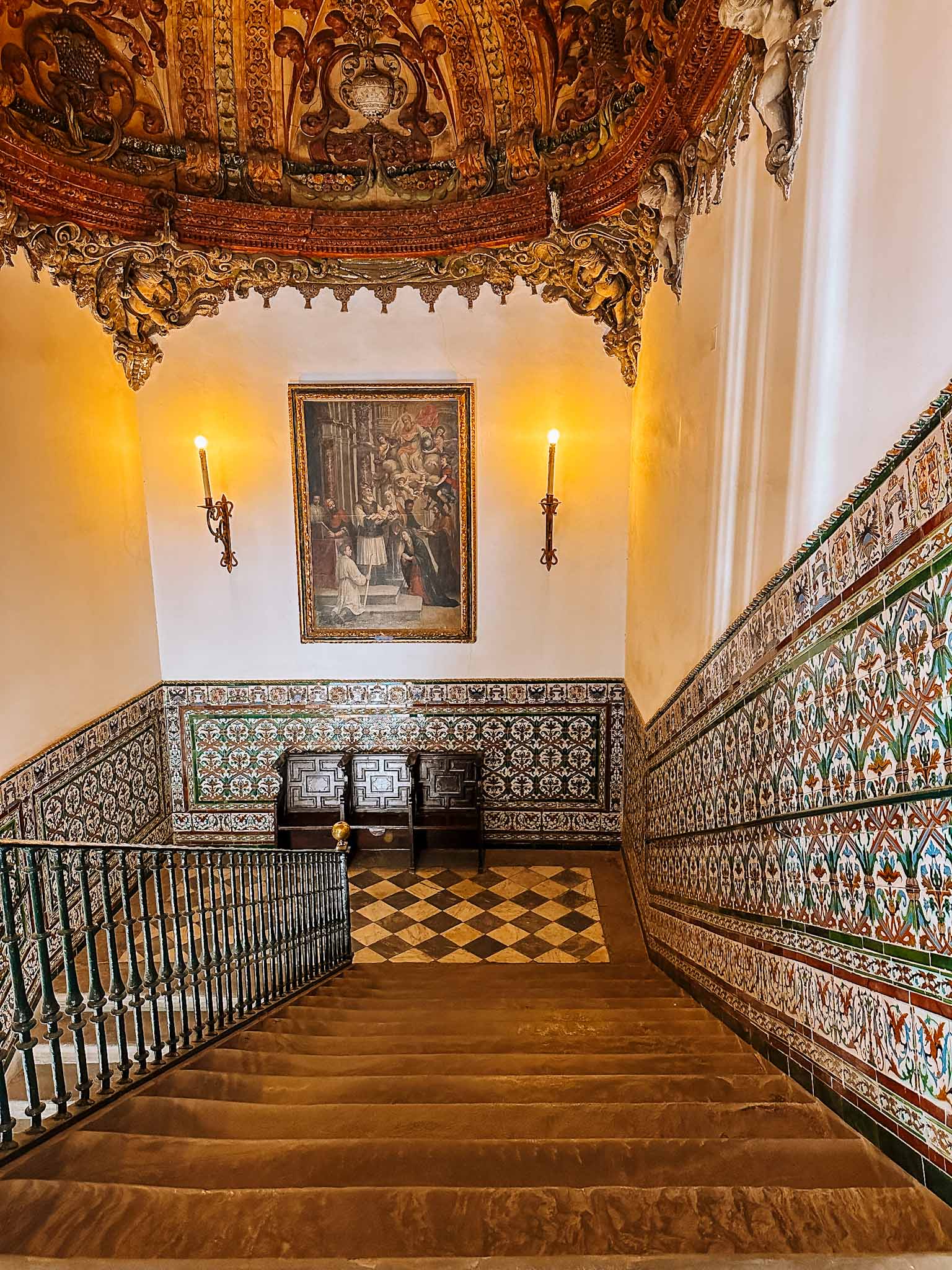 The walls and staircases of the patio are decorated with beautiful ceramic tiles and ornaments. It is a rather peaceful place because of it being less known among visitors to Seville. But here comes the best part of this picturesque place – the chapel and the sacristy.
There is a church and a sacristy located inside the Hospital los Venerables with pretty striking fresco paintings on the vaults and the dome. There is much to be admired in this place especially the detailed work of painters. Feels like stepping back in time for sure.
If you are not one of those who can appreciate art and history, then this hidden gem in Seville isn't for you. The entrance fee for us was 12 EUR per person which is not a small fee (it includes audioguide). Although you get to see Velázquez and spectacular frescoes, the price is something to consider before visiting.
Location: Hospital los Venerables
12. Murillo Gardens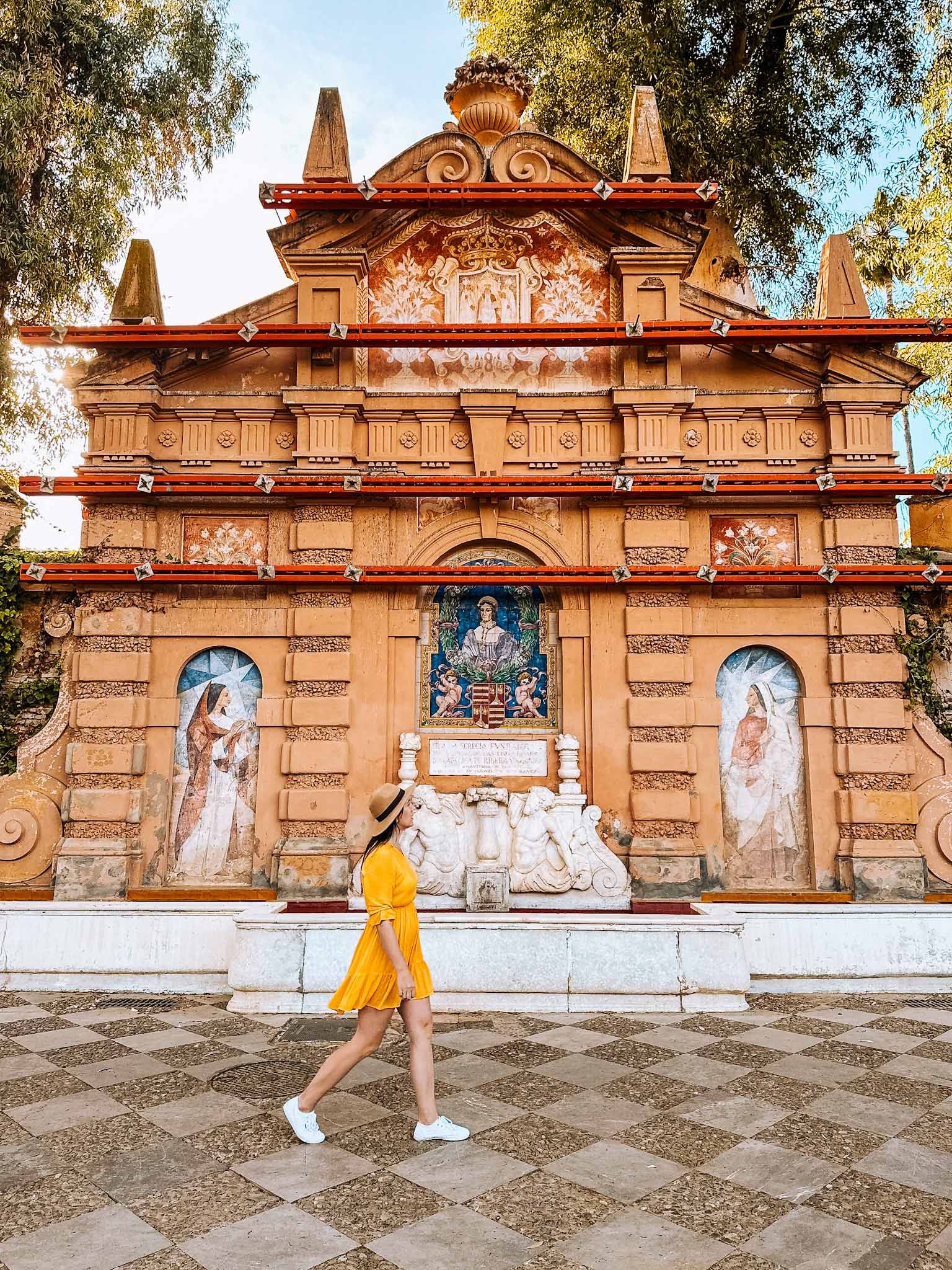 With such stunning and vast gardens nearby as those in the Royal Alcázar of Seville, the Murillo Gardens often get overlooked. If you have seen the Alcazar, it may seem you have seen the most beautiful spots in Seville, however, I beg to differ.
Murillo Gardens is a long stretch of gardens with fountains, beautiful trees, benches hiding in the shade, and other architectural ornaments hidden in the lush green area. And exactly because it is located right next to the Royal Alcázar of Seville I recommend at least walking through this scenic place.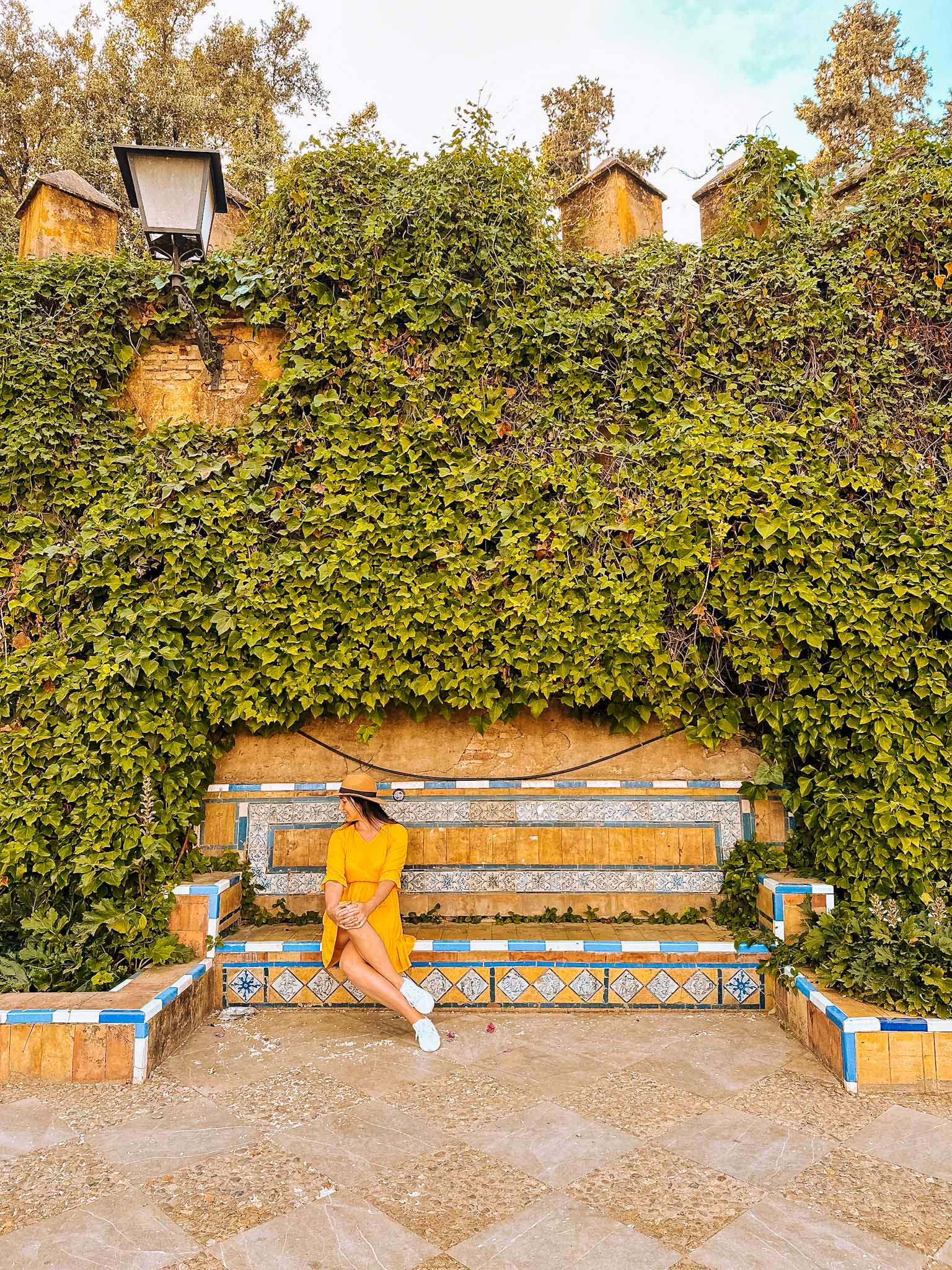 My favorite hidden gems in Murillo Gardens of Seville were the Fuente De Catalina De Ribera fountain with a spectacular background (although it looked like it could fall over one day soon) and the circular 'glorieta' dedicated to the Sevillian painter José García Ramos.
Location: Murillo Gardens – Fuente De Catalina De Ribera – Glorieta
13. Palacio de la Condesa de Lebrija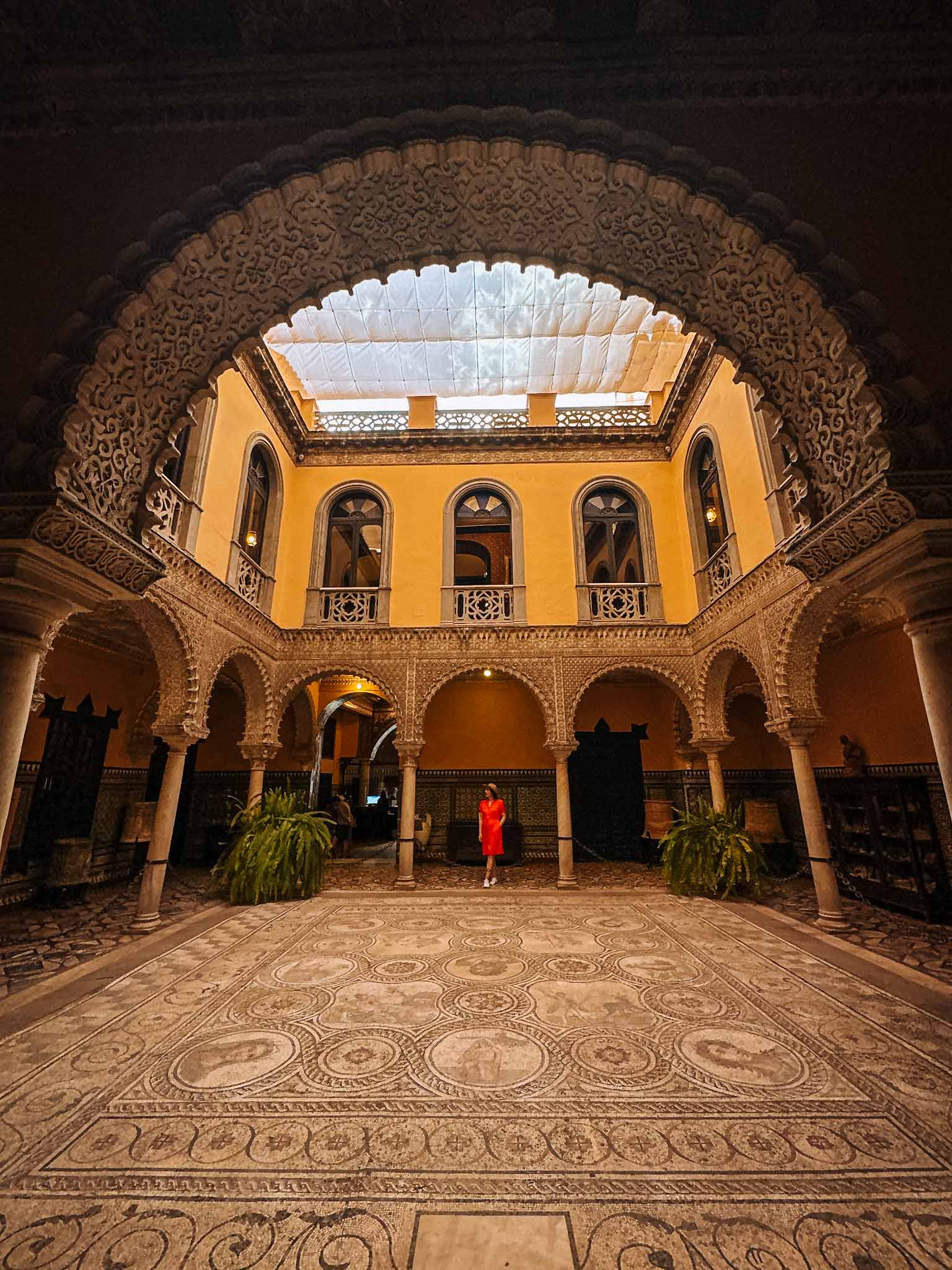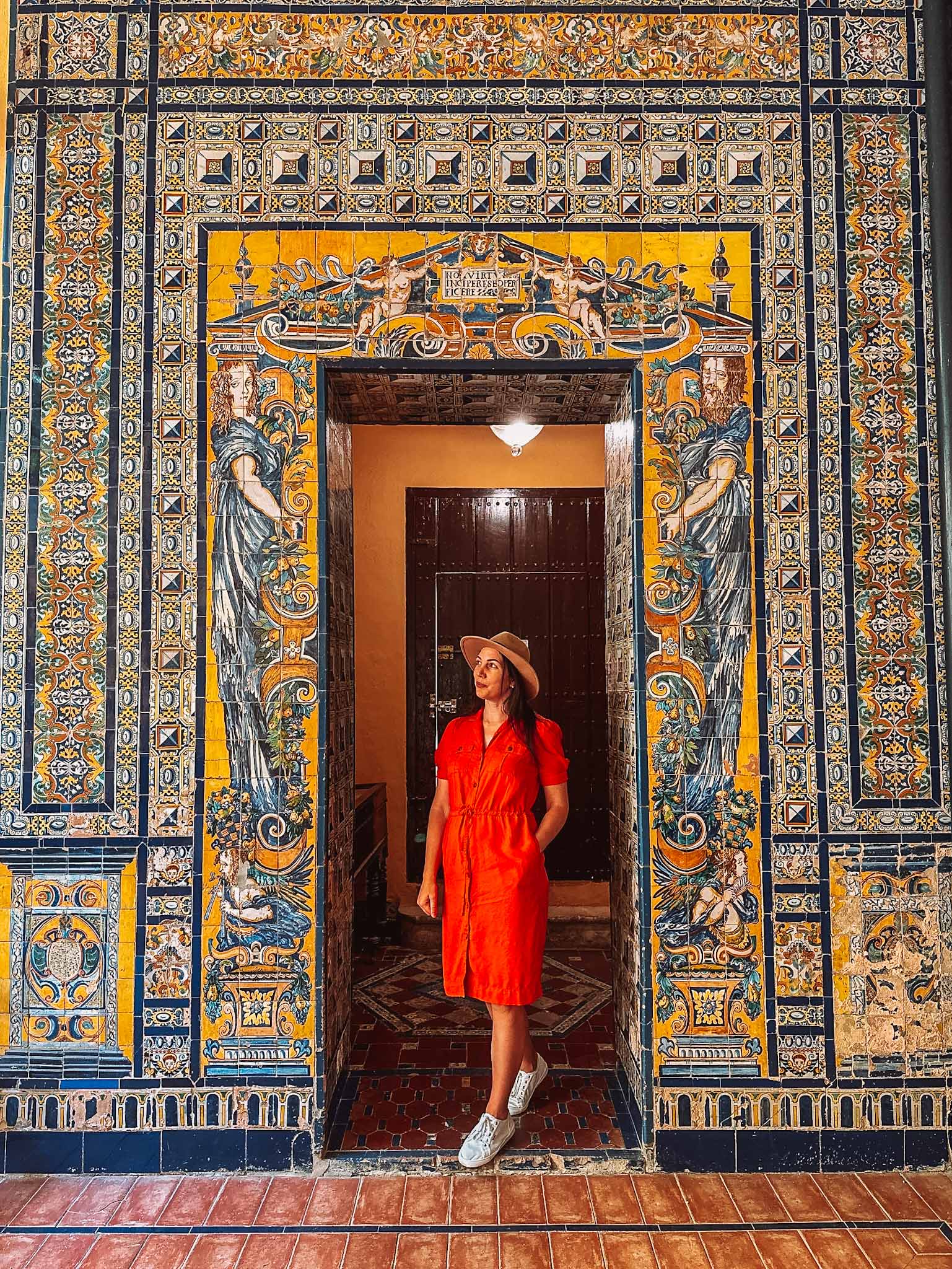 Palacio de la Condesa de Lebrija or Palace of the Countess of Lebrija is one of the most beautiful hidden gems in Seville. It is a 16th-century palatial home decorated with Arabic-style arches around the patio and one of the most stunning Roman mosaic collections you will ever see.
The glamorous house is a private home that belongs to an aristocratic family. You can not only visit the ground floor, the patio, and the gardens but also join guided tours around the upper floor. The tours take place on round hours so plan your visit accordingly!
The upper floor displays a very rich collection of artifacts from around the world including from China, Japan, and many other countries. We visited this exquisite home for a fee of 12 EUR, however, there is a certain time when you can visit the palatial home for free. Make sure to check their website to find out more!
Location: Palacio de la Condesa de Lebrija
14. Palacio de Los Marqueses de Salinas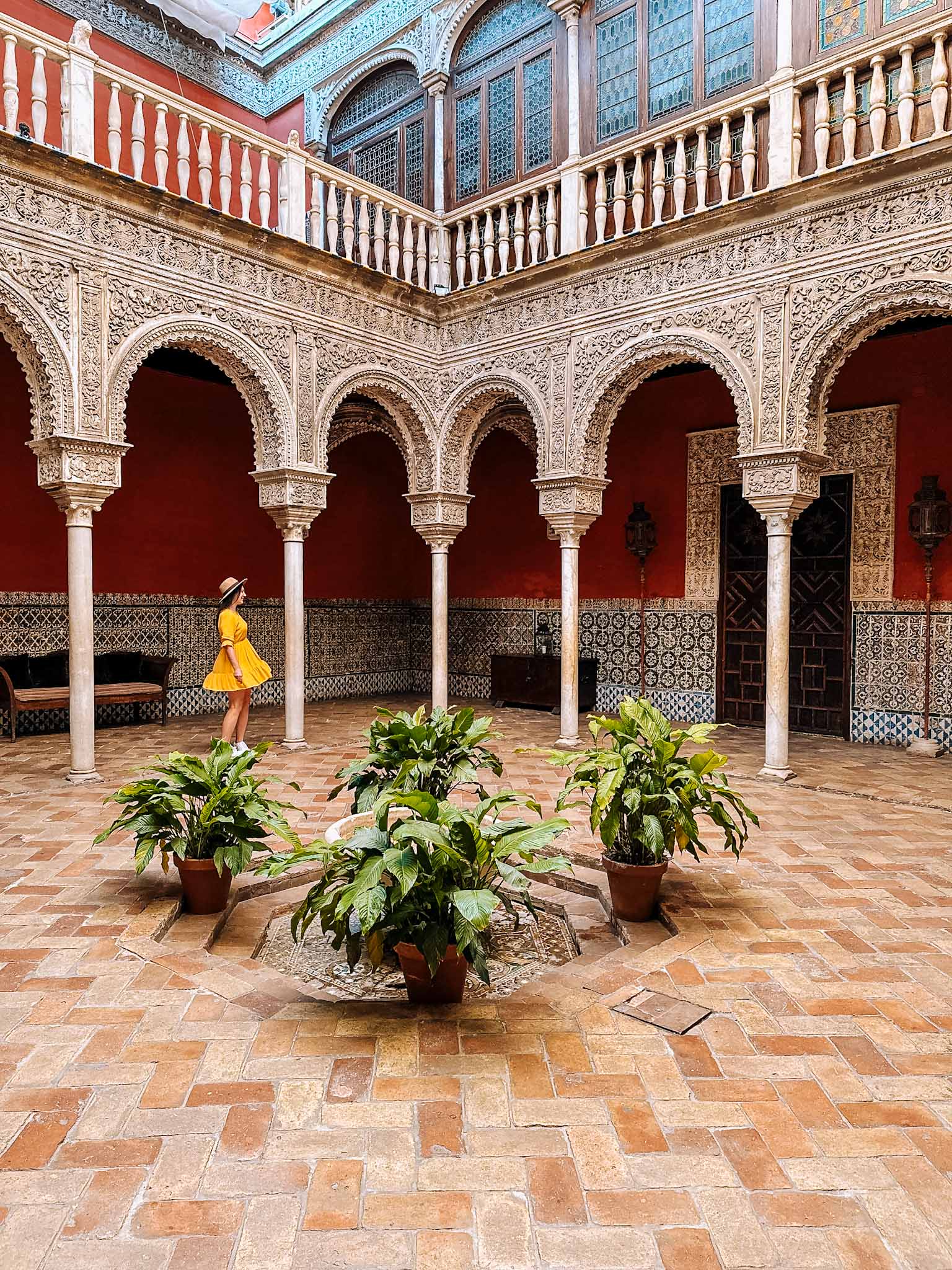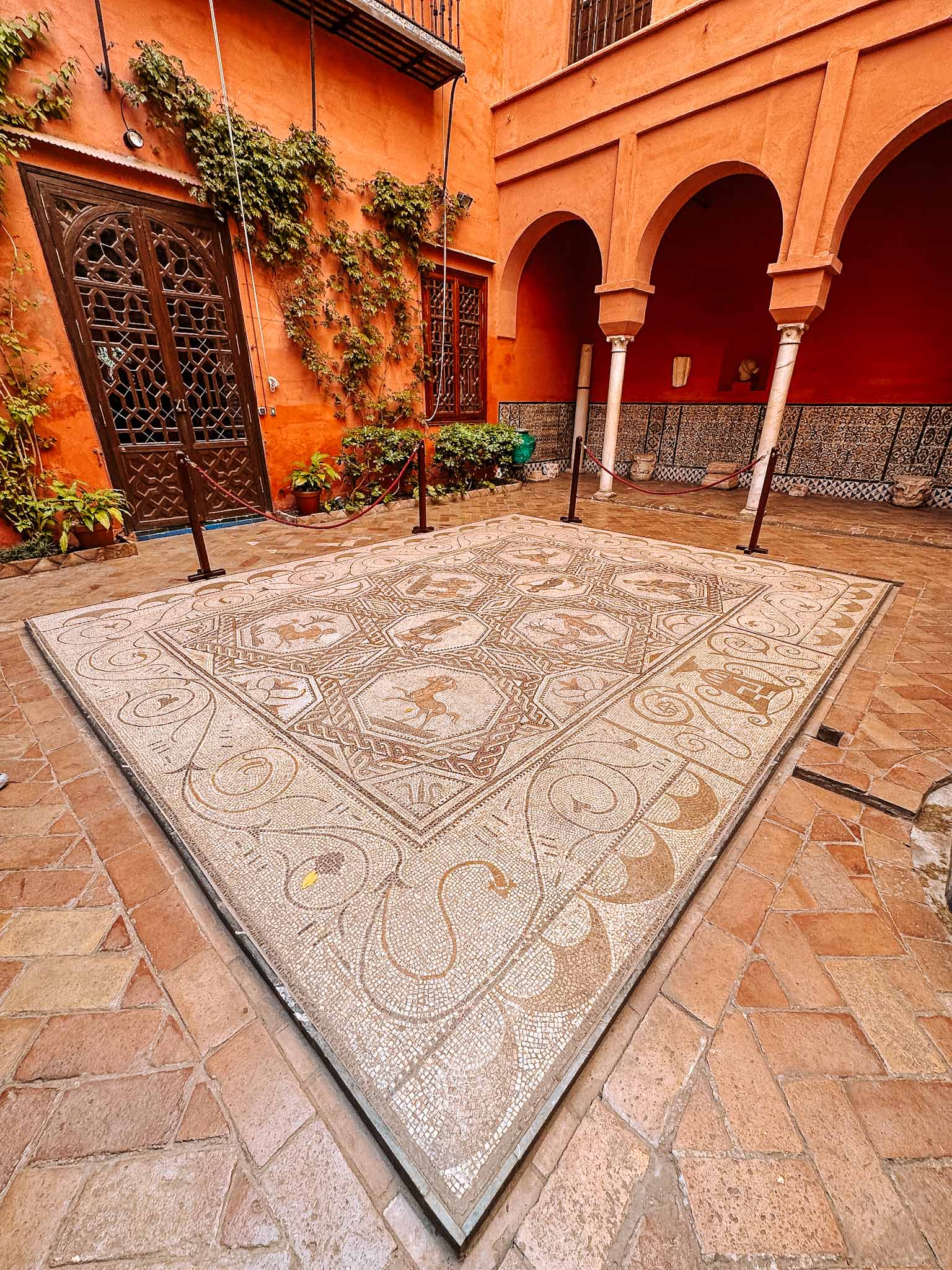 Palacio de Los Marqueses de Salinas or Casa de Salinas is a 16th-century palatial home that was built in the Renaissance architectural style by a wealthy family during the time Seville was one of the most important cities in Europe.
During those centuries Seville benefited from the new trading routes that were established around the world and especially with the Americas. The city received many goods from around the world and you can see it all on display in many different aristocratic homes in Seville, including here.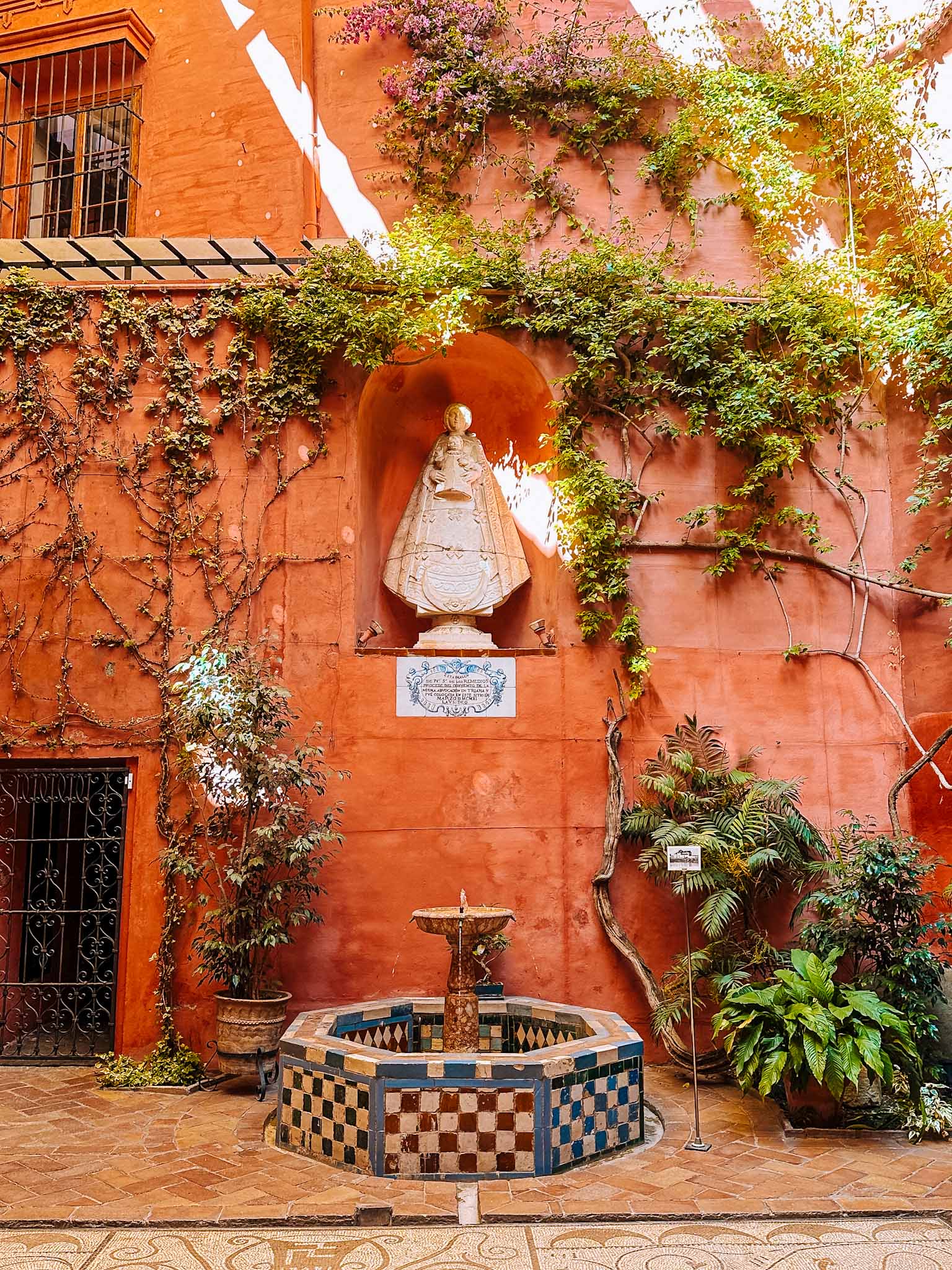 For a fee of 8 EUR, we joined a tour around the house that was considered a modern home during the 16th and 17th centuries. With marble columns and delicate decorations, it truly is something to be admired. In 1930, the property was acquired by Don Manuel de Salinas Malagamba.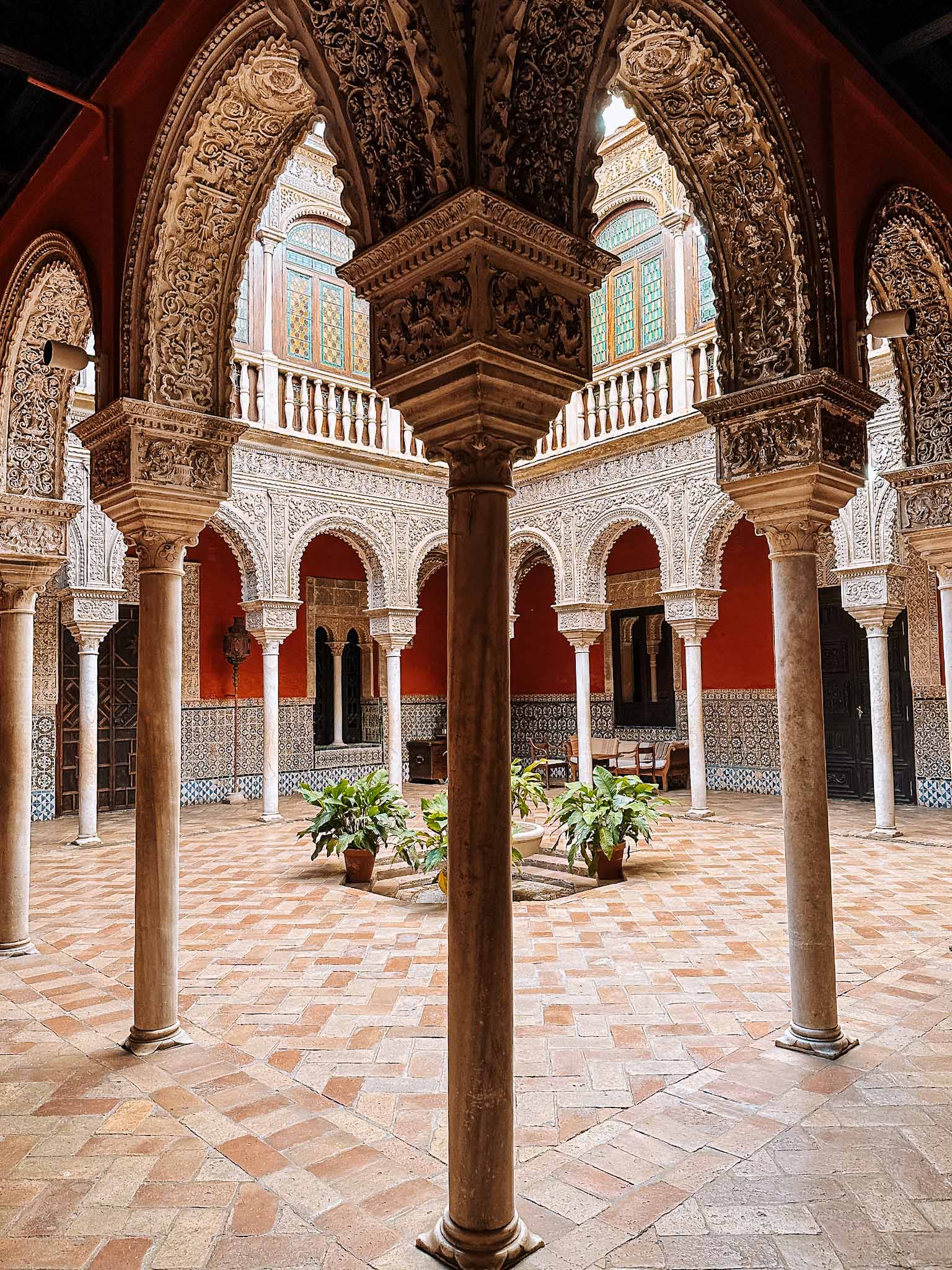 As a complete surprise to us, it turns out that the family still lives here on the upper floors. We only got to visit the ground floor – the main patio with columns, a small outer patio with a fountain, and multiple rooms around the perimeter of the big patio. This is definitely one of those hidden gems in Seville!
Location: Palacio de Los Marqueses de Salinas
15. Dulcería Manu Jara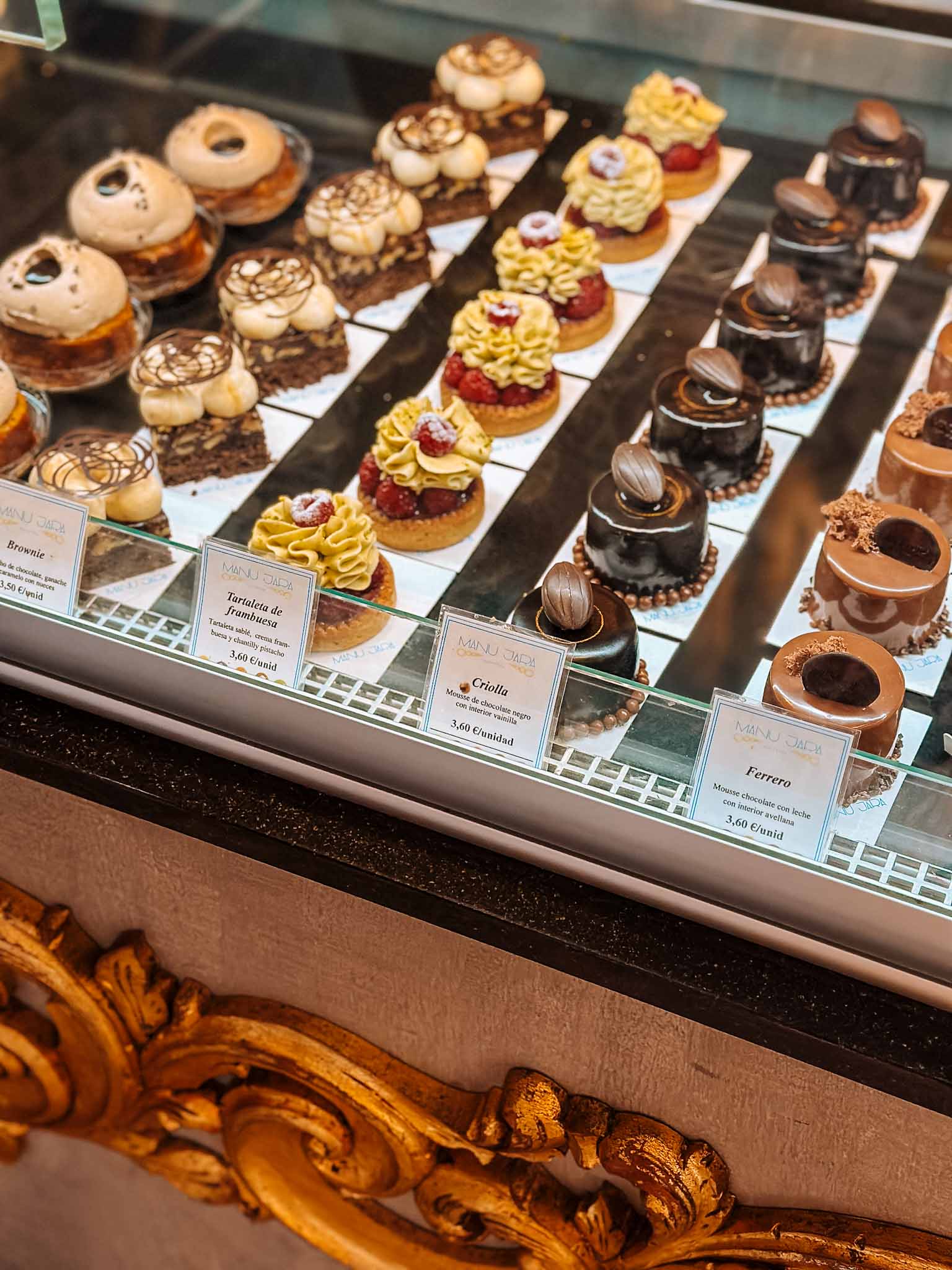 I thought it would be nice to conclude this list with something sweet. In case you are wandering around the Triana neighborhood (especially if you are visiting the Triana market), then definitely check out this very tasty hidden gem in Sevilla – Dulcería Manu Jara.
This is a fantastic patisserie with original gourmet cakes and pastries. I wish we could taste everything they had but it was not possible, haha. However, we chose some cakes for takeaway and were truly mesmerized by everything.
You can pack some sweets to-go and choose a spot at the riverside to enjoy some well-deserved sweets. Every cake is a unique piece of art. Enjoying food in Seville including these cakes definitely was one of my favorite memories from our trip to Seville city!
Location: Dulcería Manu Jara
More Andalusia travel inspiration!
Happy exploring!
Seville is the perfect place if you are looking for a unique and exciting travel destination! With its stunning architecture, rich history, and vibrant culture, the so-called Pearl of Andalusia is a must-see destination for any traveler.
I hope you enjoy your time in this landmark city in Spain as much as we did! And I hope you will get some inspiration from this blog post to make your trip even more adventurous, fun, and exciting! Seville truly is a city full of wonders waiting to be discovered! Happy exploring!
PIN FOR LATER!