How to visit the charming Frigiliana and all the best places to see in 1 day
Frigiliana is considered one of the most beautiful whitewashed villages in Andalusia, Spain. With narrow cobblestone streets, houses, and stairs decorated with flowerpots and plants, this is a charming destination in the South of Spain. Here are the best places to see in Frigiliana in 1 day!
In this blog post, you will find all the places with descriptions, photos, and locations where they can be found on Google Maps. We loved staying in Frigiliana for a couple of days and truly enjoyed the laid-back vibes and mountain village lifestyle! Happy exploring!
Read more >>> 15 best Instagram spots for the most amazing photos in Frigiliana
This post contains some affiliate links. If you use these links to buy something I may earn a small commission at no additional cost to you!
Which area has the best places to see in Frigiliana?
If you look at the map, you will see that Frigiliana is divided into two parts – the new part and the old part, or the Old Town. You will only want to see the old part of the village which is located more North and called – Centro Histórico de Frigiliana.
In Google Maps the area has a light yellow background. This is also the best place to stay in case you want to spend more time here. Just know that the village is built in levels. Make sure to check before booking where the hotel is located – uphill or downhill.
How to visit the village to see the best places?
You will want to start at the Plaza de las Tres Culturas square. There is a public parking place if you plan to arrive by car (you can park at the side of the street as well), but there is also a bus stop in case you arrive by bus.
After leaving the car or exiting the bus you will have to walk the rest of the way on foot as the streets are super narrow and there are no parking places inside the historic center.
You will start at Calle Real street and take a 1-2 kilometer route throughout the old part of the village visiting all the most beautiful and charming corners of Frigiliana village. Read further to find out the best route and see all the photos of places you will see along the way!
Start your walk through Frigiliana historic center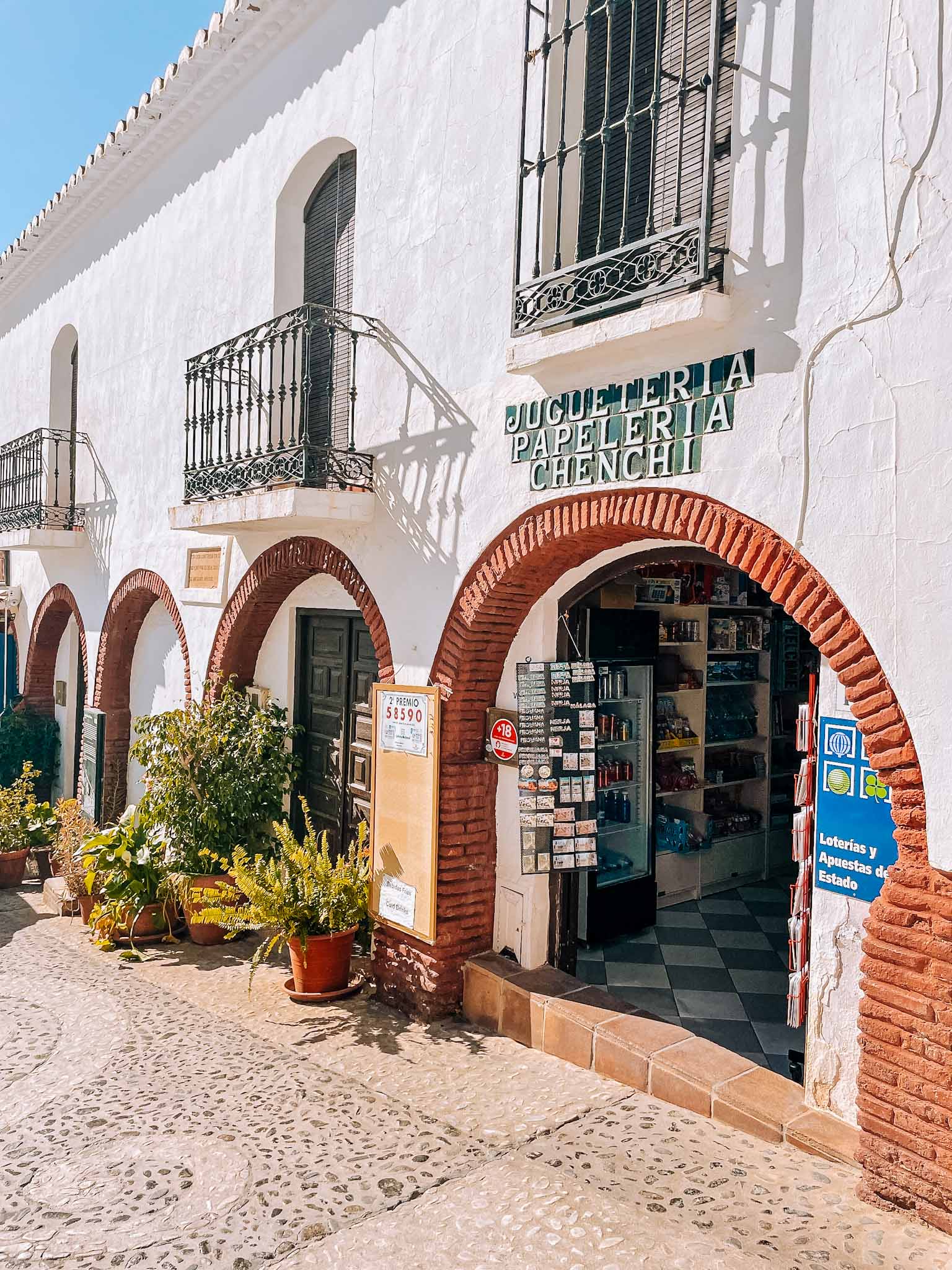 Starting at Plaza de las Tres Culturas you will have to find Calle Real and climb up passing a huge building – Palacio de los Condes de Frigiliana which is currently a molasses factory built in a 16th-century manor.
After you pass this building, continue straight on Calle Real uphill. The street will take you past a building with multiple arch-shaped entrances.
This is Reales Pósitos from the 18th century – the old granary where the surplus of the harvest was stored in order to be distributed when needed.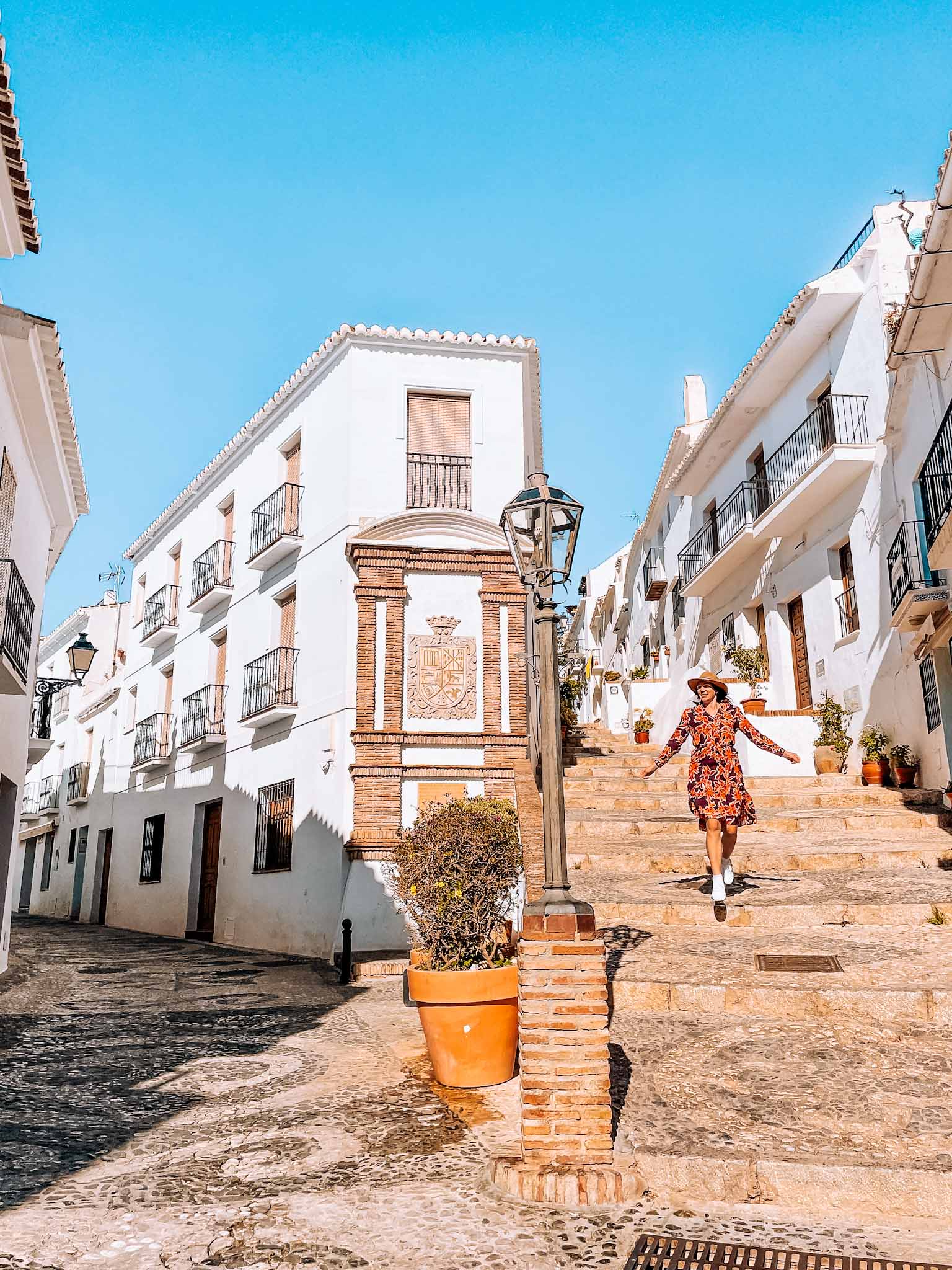 A couple of meters later you will reach the famous entrance to Frigiliana Old Town. There will be crossroads of Calle Real which will continue left and Calle Hernando el Darra which goes to the right and uphill. I would recommend walking uphill.
You will notice a huge coat of arms above a fountain located on the building at the crossroads of the streets (photo above). Don't forget to take a photo here – this is one of the most iconic views in Frigiliana village.
Next to the crossroads, there are also some souvenir shops to check out but don't get too excited – you will have time to check them out later! You will come back here!
Continue uphill on Calle Hernando el Darra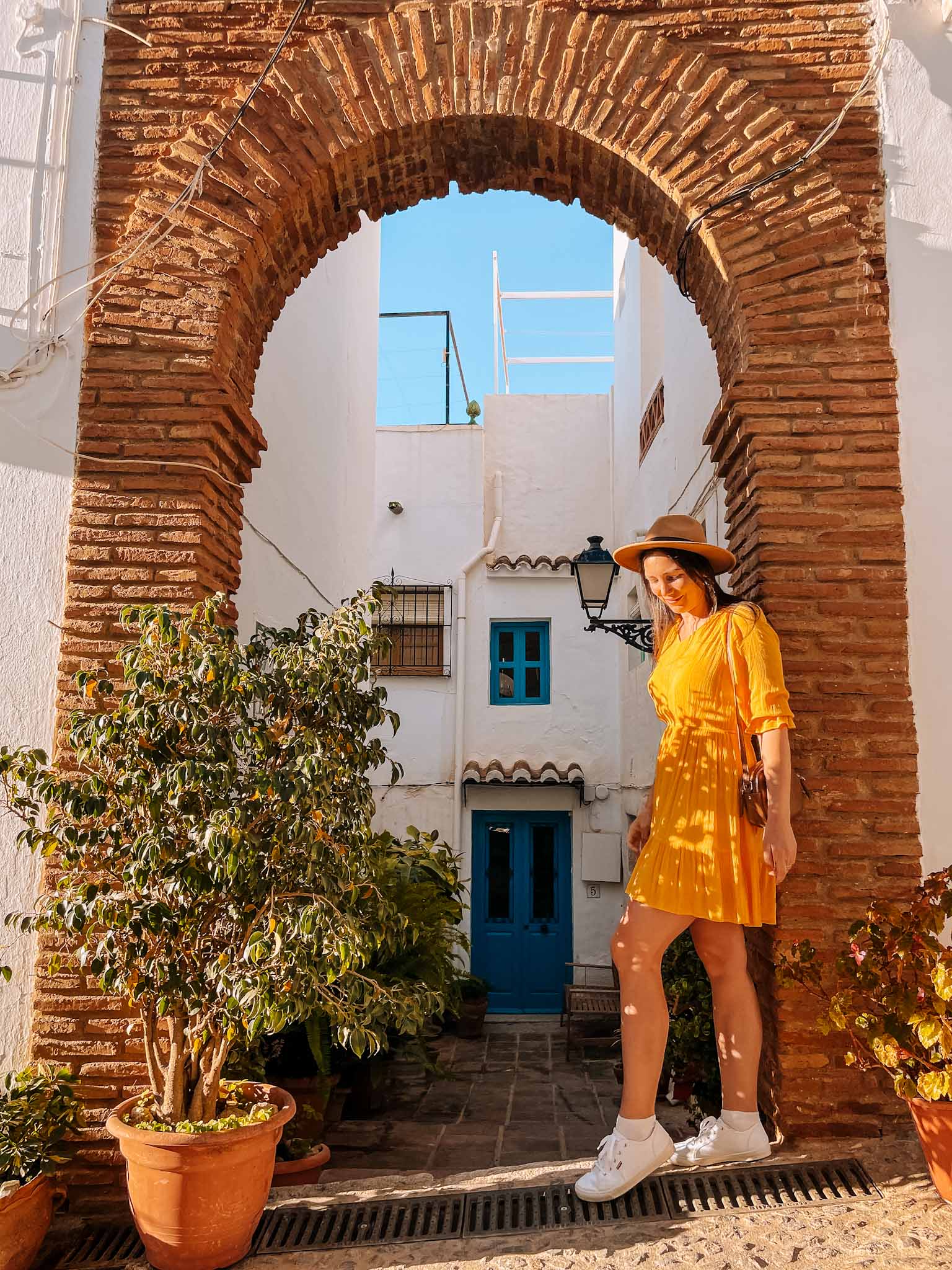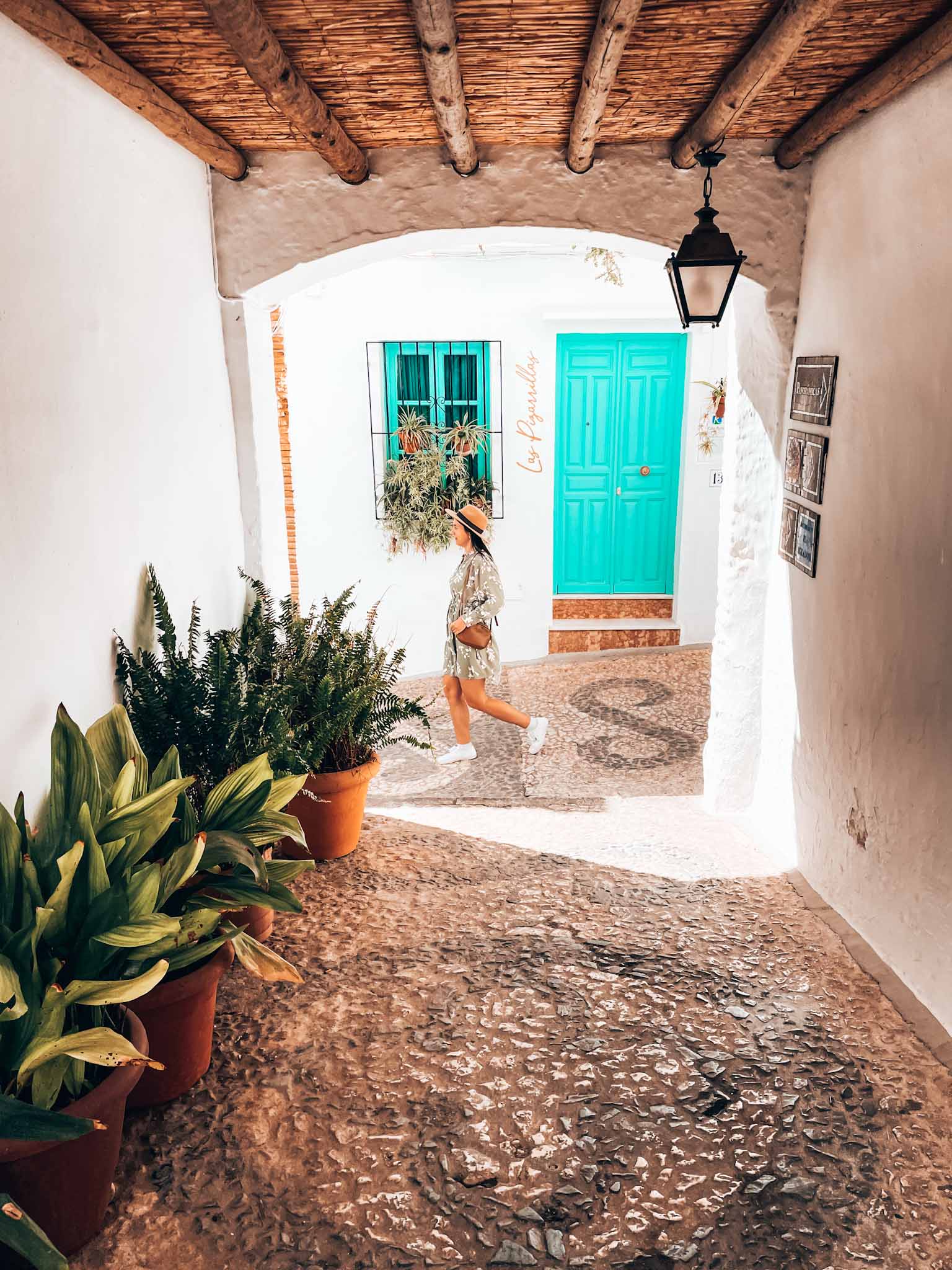 After the crossroads, you will climb uphill on Calle Hernando el Darra. Pay attention because, in a short while, you will notice an interesting tunnel on your right and a brick archway on your left.
While the brick archway is just a cool photo spot, the tunnel on your right is a shortcut that you can use to get to the necessary street – Callejon del Peñon. You can either walk the normal way following the street or you can use this tunnel to get uphill quicker.
Stop at Mirador de Frigiliana to see Frigiliana from above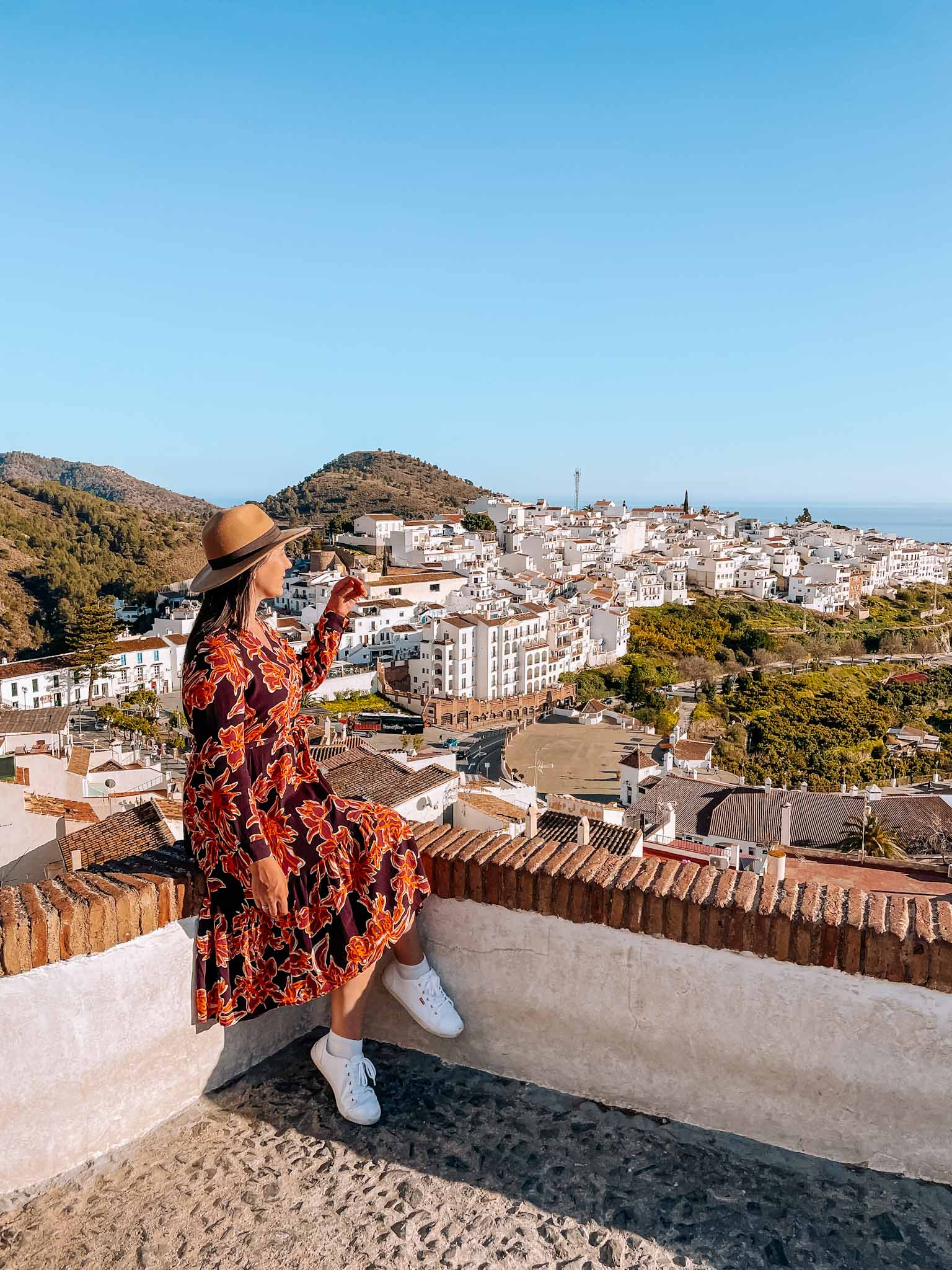 Soon after you will see the street bending where Callejon del Peñon turns into Calle Santo Cristo. At this street bend you will see a platform with a beautiful flower bush and an amazing view of the village.
This is Mirador de Frigiliana viewpoint. Definitely stop here to catch a breath and take a photo of the village from above!
After the viewpoint, continue on Calle Santo Cristo. This is a beautiful street with great views because you have now reached the upper level of the village.
There will be more places with viewpoints (like this one or this Mirador de Santo Cristo) if you wish to see some more angles of the village. However, I think that Mirador de Frigiliana has the best view.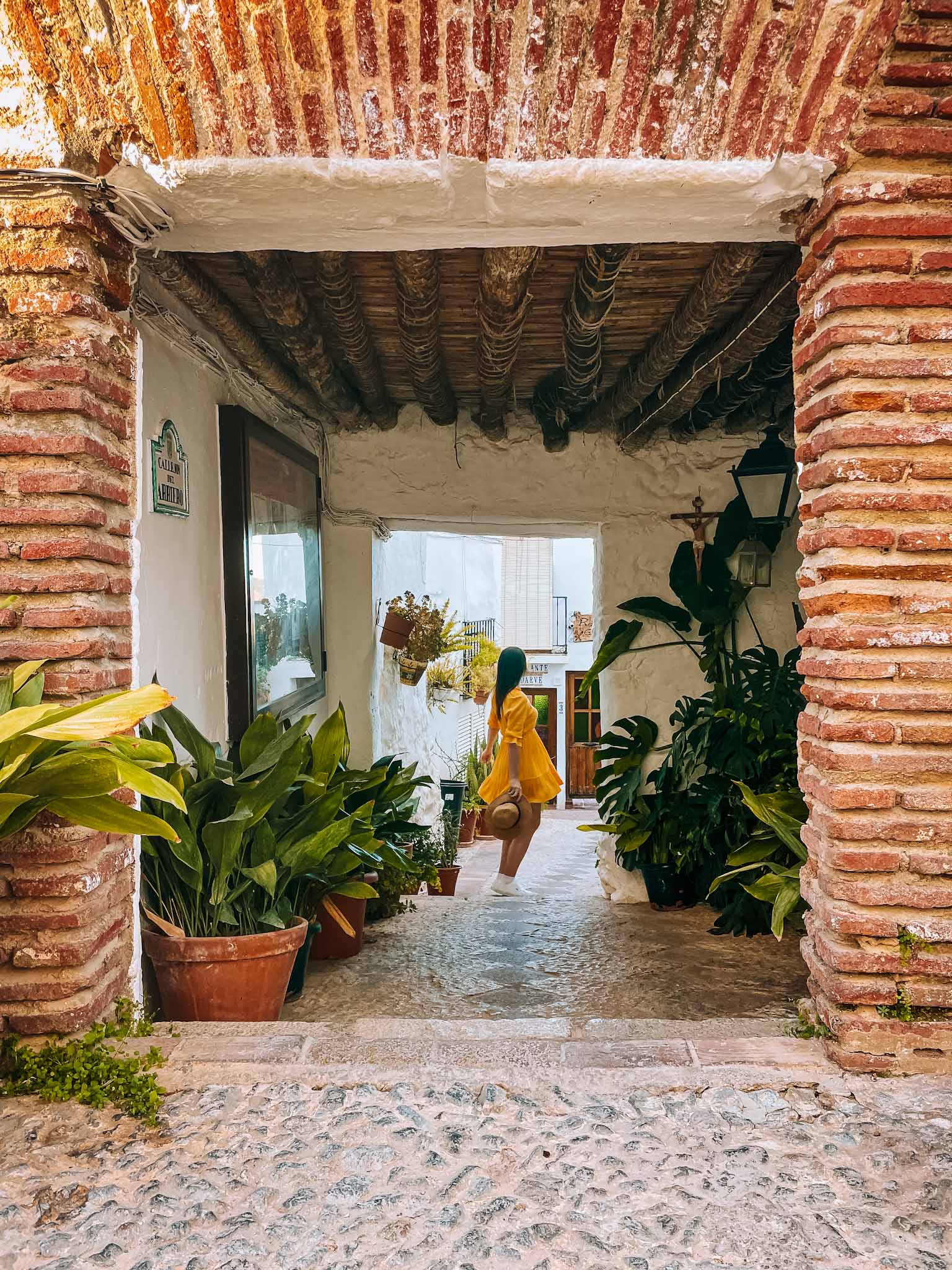 Then continue from Calle Santo Cristo to Calle Alta – it is basically the same street. It just changes its name. There are cool spots along the way like many beautiful blue doors and this unique brick tunnel with a wooden ceiling that leads to Restaurante El Adarve. It is a nice restaurant with a terrace, by the way.
Reach the stairs at Calle El Garral and climb down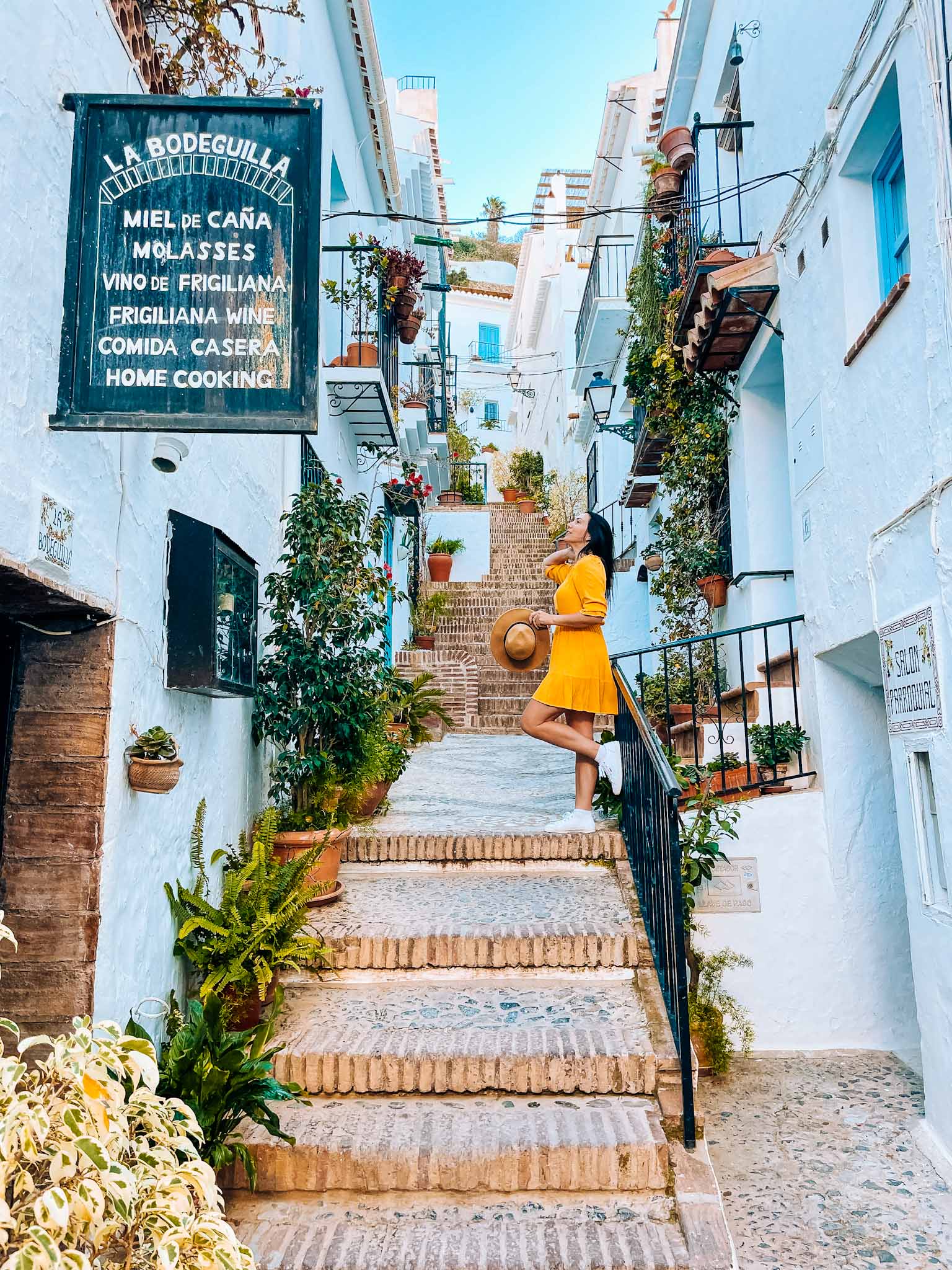 The upper-level street will once again change its name from Calle Alta to Calle Santa Teresa de Avila. However, it is still the same street.
In a short while you will reach the crossroads of Calle Santa Teresa de Avila and Calle El Garral – a beautiful narrow staircase street.
This is the place to climb down the stairs to the lower level. Calle El Garral street is one of the most beautiful places in the village! It is decorated with plants and flower pots, lanterns, and colorful doors. Quite a beautiful sight!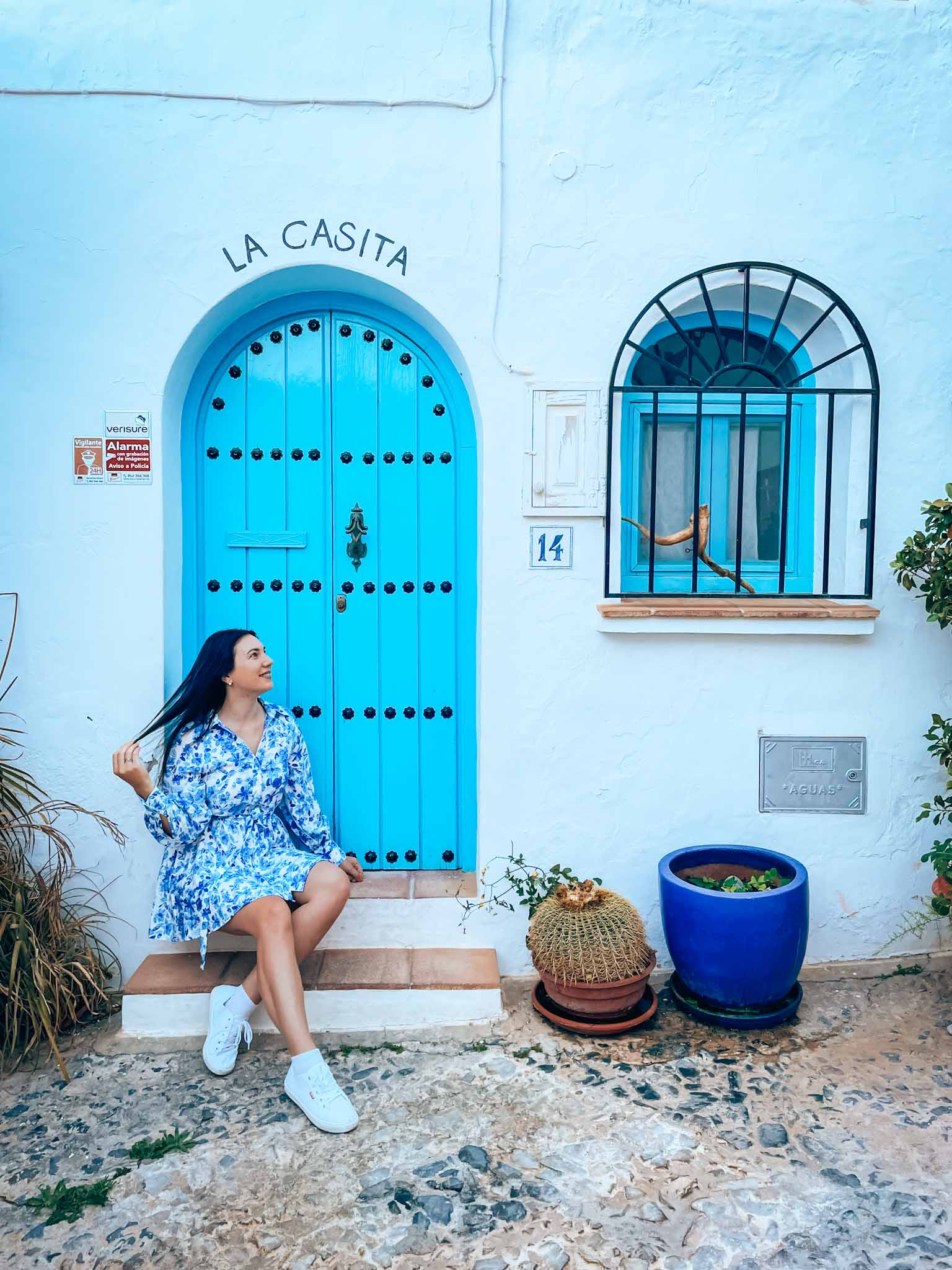 Climb down and don't forget to take a photo from below! At the foot of the stairs, there will be a small square.
Here you will find one of my favorite places in Frigiliana! Guess what? It is the blue La Casita doors with a beautiful blue arched window and a cactus. One of the best Instagram spots in Frigiliana!
There is also a unique tourist attraction –  Fuente de las Tres Culturas or the Three Cultures Fountain. The fountain is in a hidden corner with a water basin and three symbols above it.
The symbols are the Jewish Star of David, the Christian cross, and the Muslim crescent. These symbolize the coexistence of these three cultures that have had a great influence on Frigiliana over the centuries.
Walk through a tunnel to Calle Real
After exploring the small square with the fountain and after taking many photos of the beautiful stairs and La Casita blue doors, it is time to head back to Calle Real.
There is a short tunnel in the corner of the small square. It will lead you to Parroquia de San Antonio de Padua – the Church of Saint Anthony of Padua. Walk through the tunnel and get to Calle Real!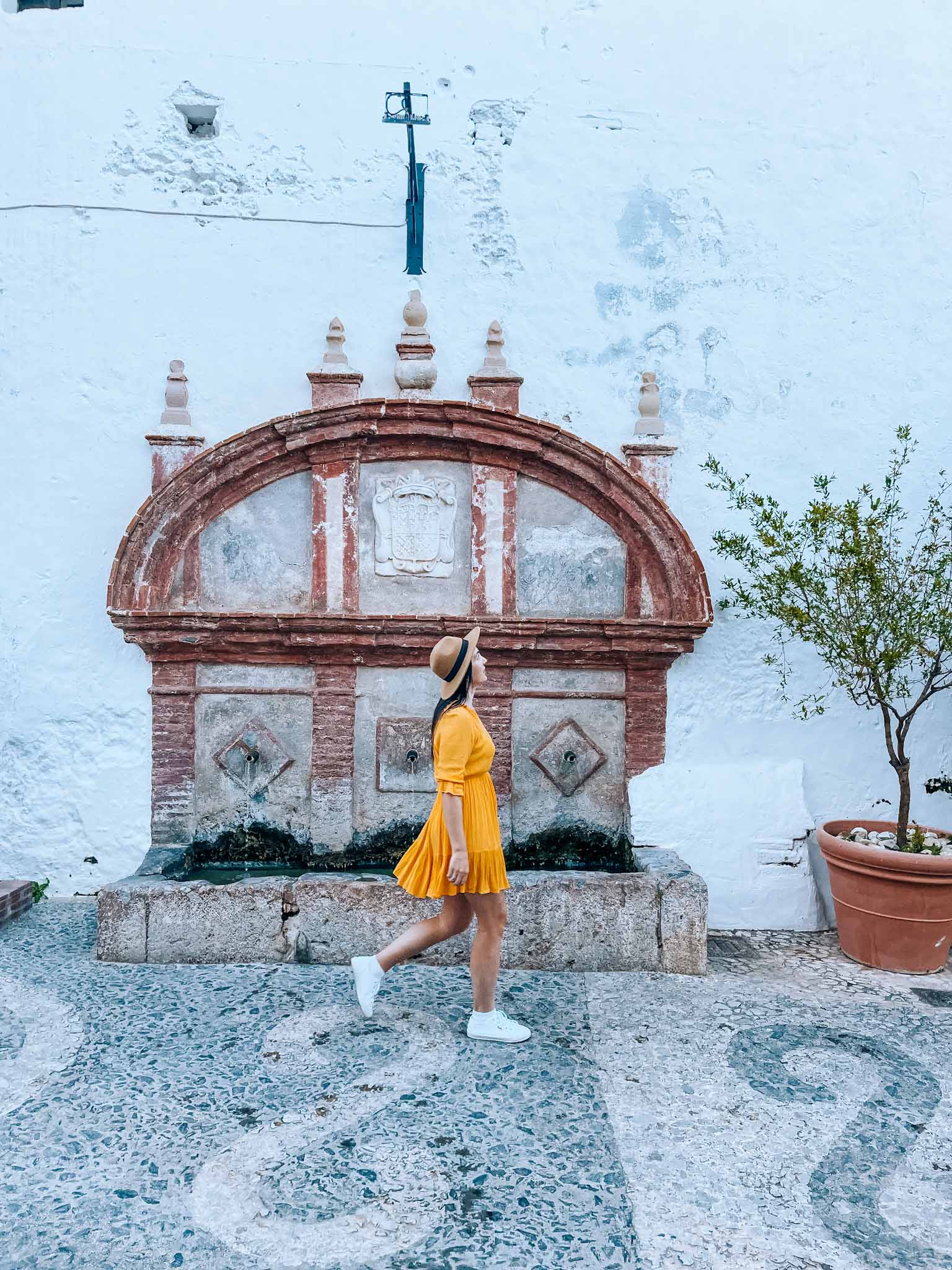 You will now want to turn right to continue further away downhill to visit one of the most notable tourist attractions here – La Fuente Vieja.
It is the oldest fountain in the village. The fountain dates back to the 17th century when it was built to provide the village with water. And it still works today!
Turn around and walk on Calle Real back to the starting point
Once you visit La Fuente Vieja fountain it is time to turn around and head straight back on Calle Real to the starting point.
But this time you will head all the way back on Calle Real – the street that goes on the lower level of the village. Many of the best places in Frigiliana are still in front of you!
Once you head back from La Fuente Vieja to the Church of Saint Anthony of Padua pay attention – there are some tunnels you might want to take a look at!
It is so interesting that some houses and streets in this tiny village are connected by tunnels with wooden ceilings. One of the tunnels is located around here.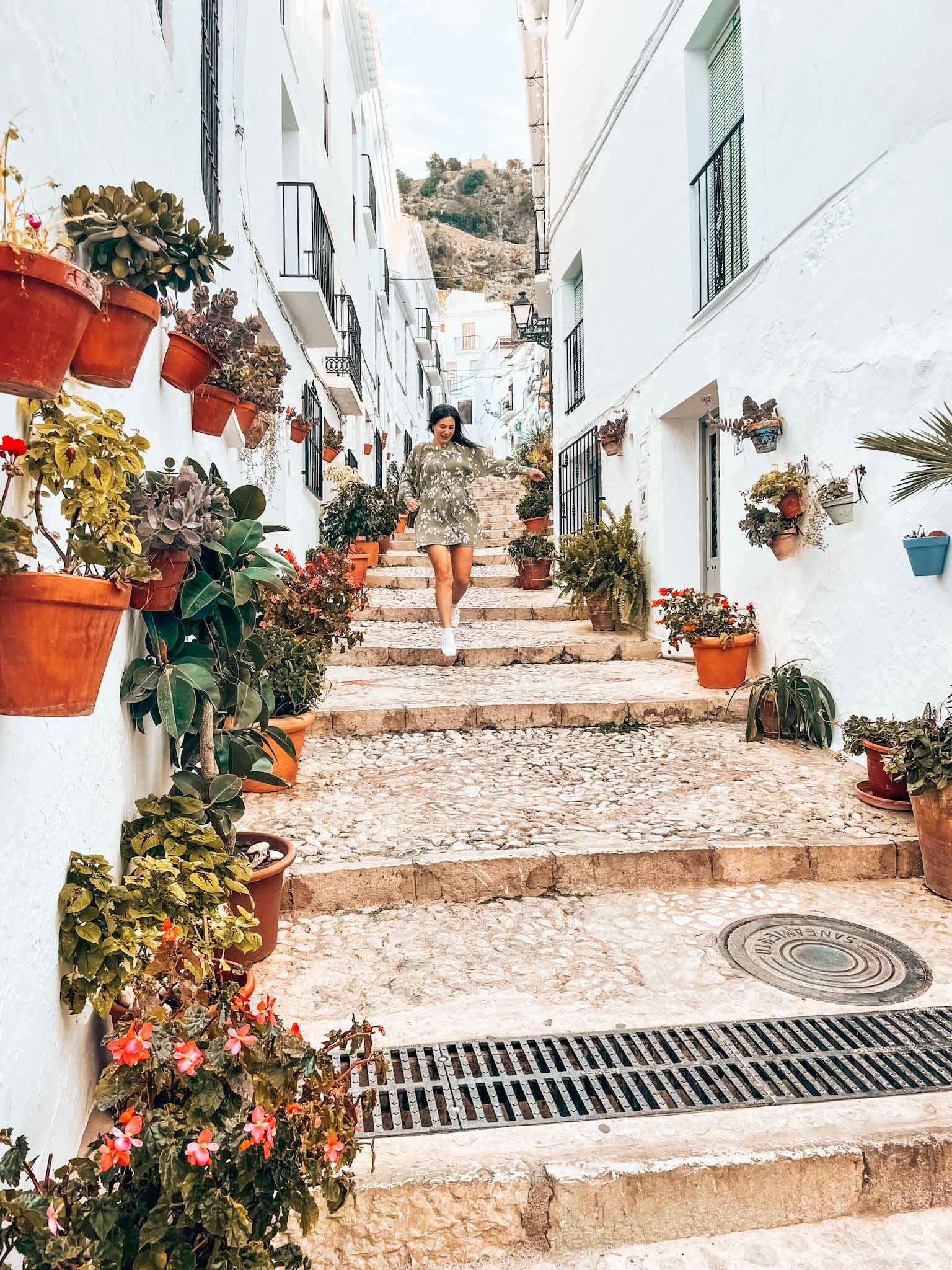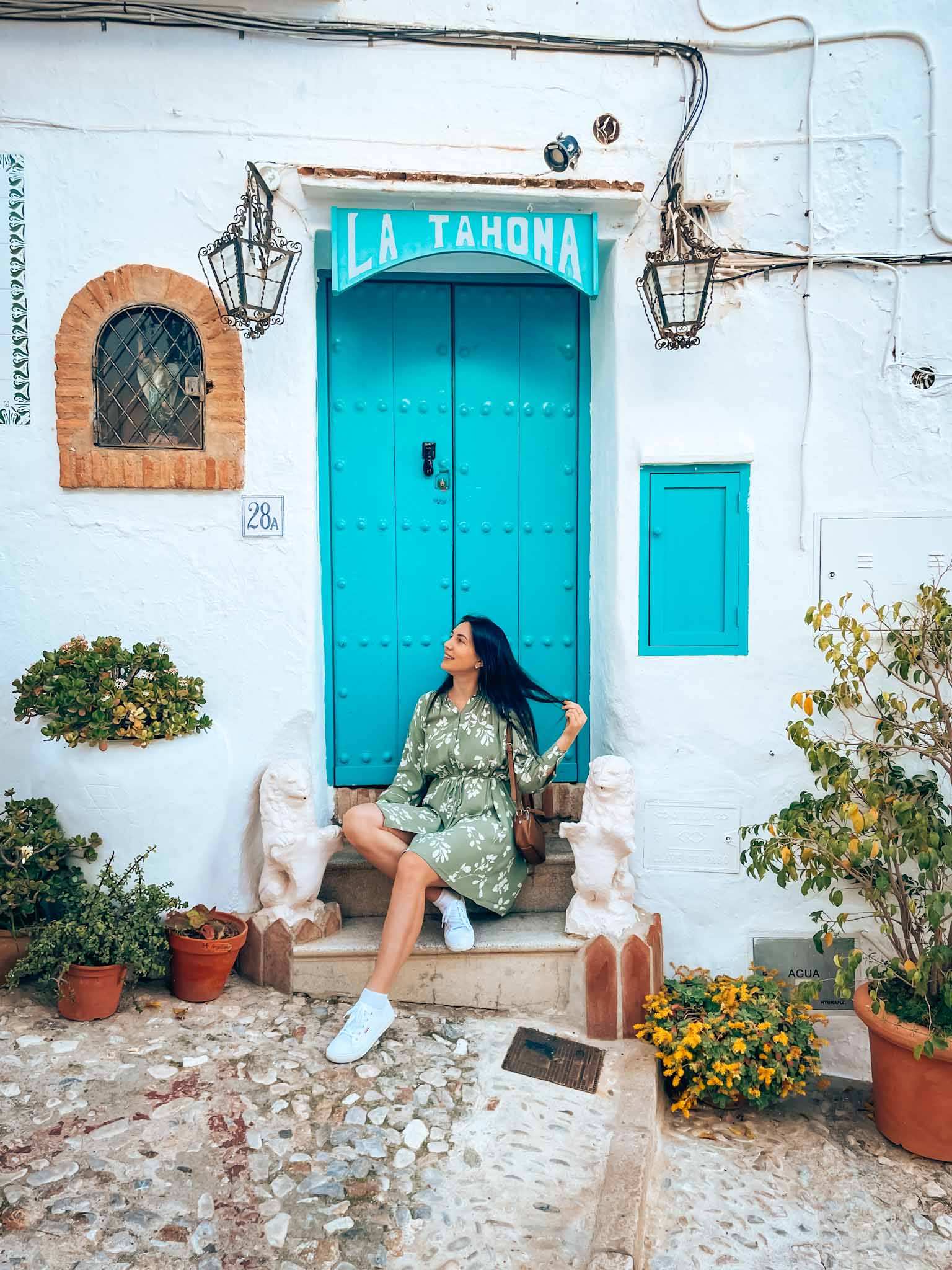 After you pass the Church of Saint Anthony of Padua you will soon reach one of the most beautiful streets in Frigiliana – Calle Zacatin.
It is a street with steps covered with pots of plants and flowers. Definitely one of the most beautiful places in the village! The best view of the street is from below – from Calle Real.
But I recommend walking up and down these stairs. There are beautiful doors for you to admire and many beautiful photo corners along the way.
One of my favorites is the doors of La Tahona restaurant (photo above). It is a very decent restaurant with a terrace overlooking the village, by the way. In case you are hungry! 🙂
Stop at the crossroads with Calle Hernando el Darra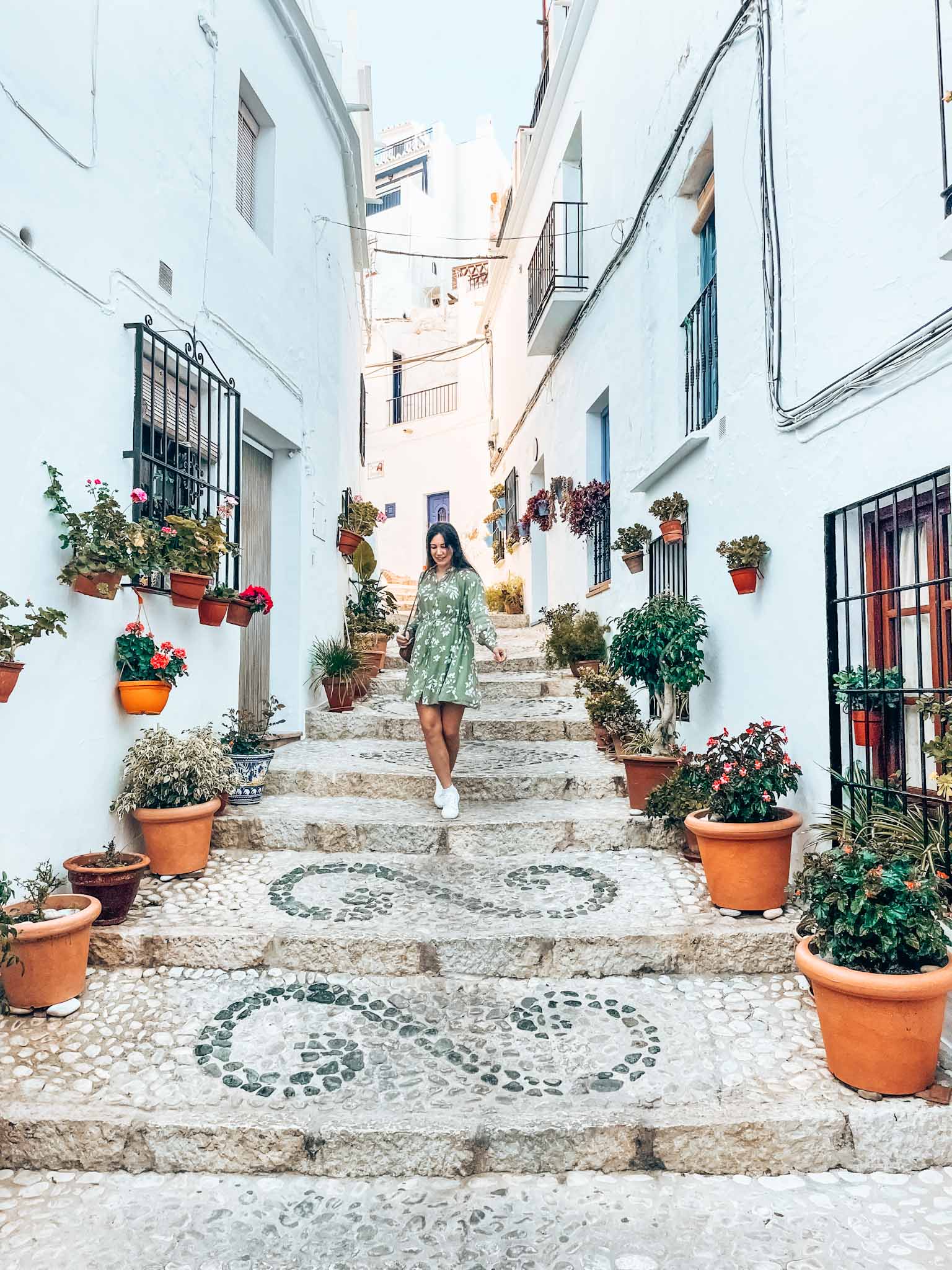 While you continue heading back to the starting point and admire all Calle Real has to offer, make another stop at yet another beautiful staircase street – Calle Hernando el Darra.
These stairs are located next to Punto de Encuentro bar. It is a nice spot for some drinks and tapas, by the way. Calle Hernando el Darra street takes a turn and looks great in photos. Don't miss it!
With flower and plant pots not only sitting on the stairs but also hanging on the walls this is definitely one of the most beautiful places and streets in the village. Those flower pot stairs are just something special, right?!
Buy souvenirs and homemade goods at local shops
After checking out Calle Hernando el Darra continue on Calle Real. It takes a slight turn and then it is the time you have been waiting for. There are many local shops for you to check out in this part of the street.
I suggest visiting Frigiliana Chocolates Artesanos chocolate café, El Colmao or Lola la de Los Vinos wine stores, Artesania de Frigiliana souvenir shop, and many clothing and jewelry stores that are right nearby.
All the best shopping places are located between Frigiliana Chocolates Artesanos and Reales Pósitos – the old granary that you saw at the beginning of your walk. You can now walk this part of the street back and forth to fill all your shopping bags!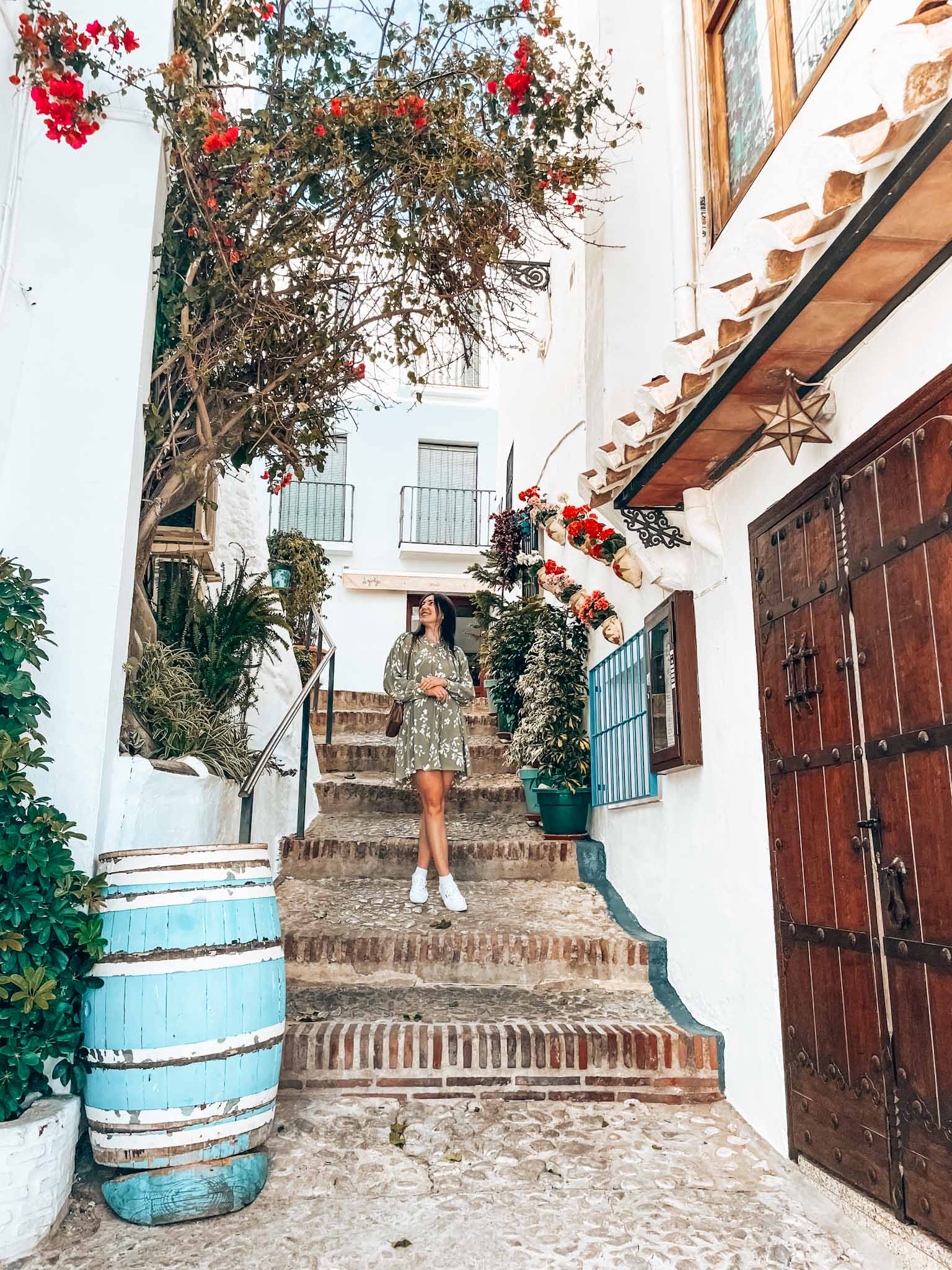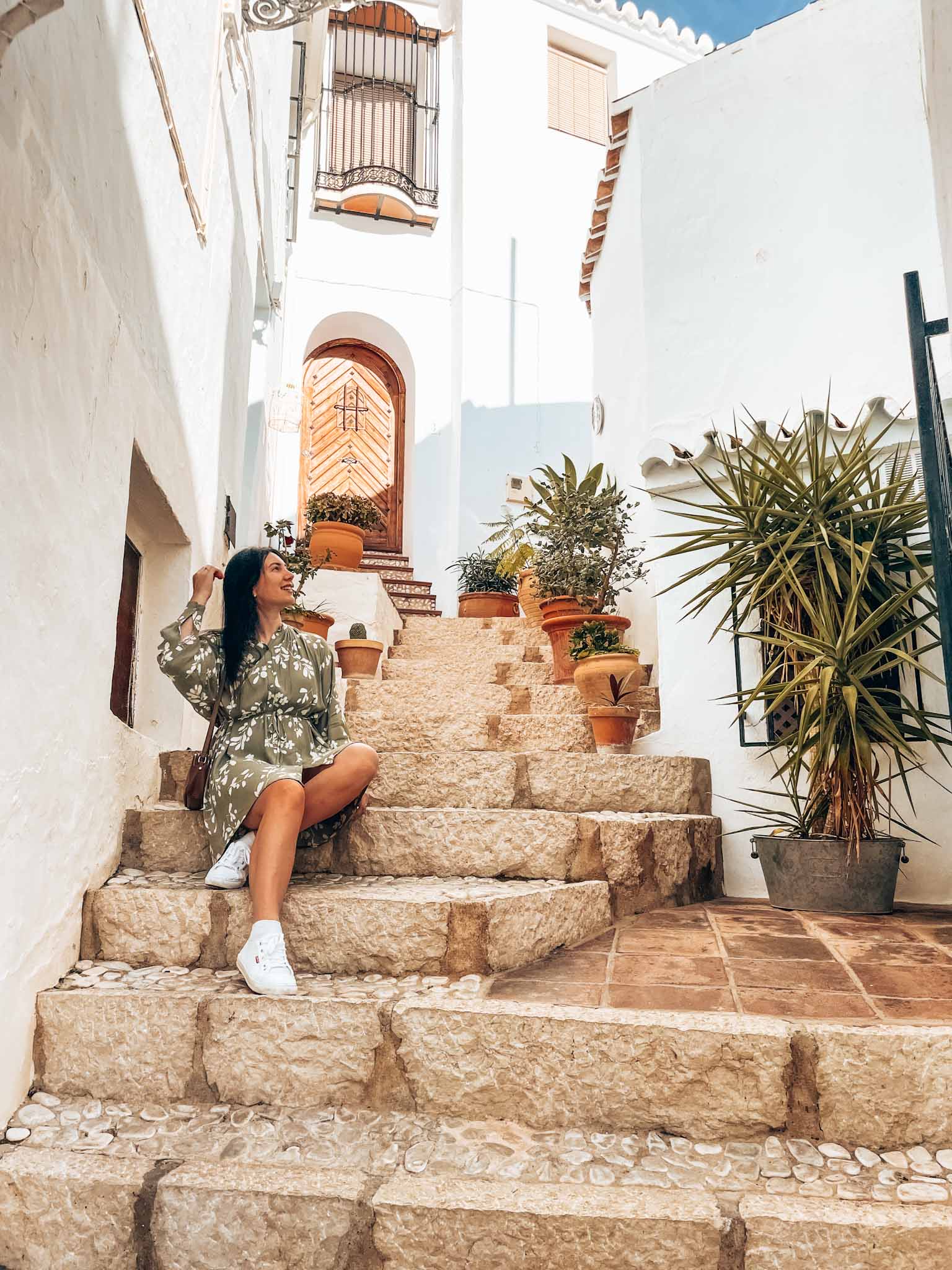 There are two more cute corners right nearby. One of them is a small staircase with a blooming bush above it and a beautiful blue barrel at the bottom of the stairs. It is located next to the restaurant El Meson – a great spot with great views from the terrace.
Another is a small corner next to El Colmao wine store. There are stairs leading to wooden doors. If I don't tell you this, you might not even notice this interesting spot, so there you go. 🙂
As you continue walking on Calle Real you will have reached the starting point of your walk – Palacio de los Condes de Frigiliana and the Plaza de las Tres Culturas.
Finish your visit with lunch or stay for the sunset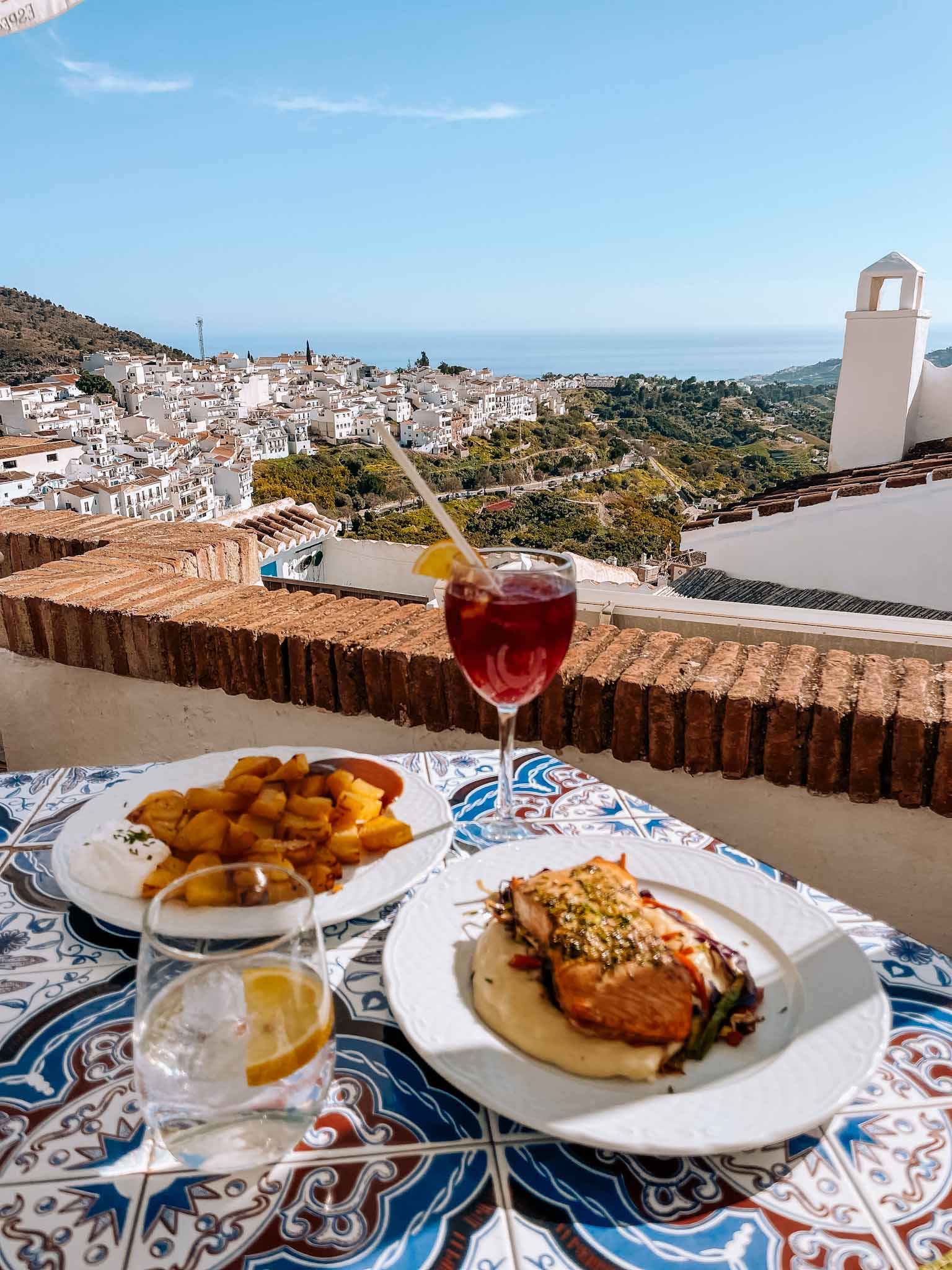 If you haven't still eaten then now is the time to choose a place to eat. There are many places at the Plaza de las Tres Culturas with great views from the terraces.
Or you can always go back to some of the places with beautiful terraces that you walked past during the route through the village.
And with that, your walk through one of the most beautiful villages in Spain has come to an end! We were lucky to spend more days in this beautiful village, so we got to experience beautiful sunrises and sunsets in this place.
If you decide to stay the night, definitely plan to watch the sunset or wake up for the sunrise the next morning! You will not regret this!
We stayed in Algarabí Holiday Home – a traditional Andalusian apartment on the upper-level street that had a roof terrace to watch sunrises and sunsets! Magical!
More Andalusia travel inspiration!
Happy exploring!
Frigiliana is considered one of the most beautiful villages in Andalusia and Spain. The typical whitewashed houses, all shades of blue doors, narrow cobblestone streets, and stairs all decorated with flowers and plants in beautiful clay pots. This is Frigiliana in a nutshell. We absolutely enjoyed exploring Frigiliana and I hope you do too!
PIN FOR LATER!