How to climb Puig de Massanella in Mallorca: all you need to know!
Puig de Massanella (1364 m) mountain is the highest publicly accessible mountain in Mallorca making it a bucket list thing to do for all hikers who travel to Mallorca. In this blog post, I am sharing all the things you need to know before you start the hike!
With the highest mountain – Puig Major – in the Serra da Tramuntana mountain range in Mallorca being closed down for military purposes, Puig de Masanella – the second-highest peak in Mallorca, becomes the highest target to reach on the island!
Read along to find out where to start the popular hike, what to expect, and how to prepare for this adventure! It is not the easiest hike, but when you know all the details, the target becomes more familiar and more easily achievable.
What is the best route to climb Puig de Massanella?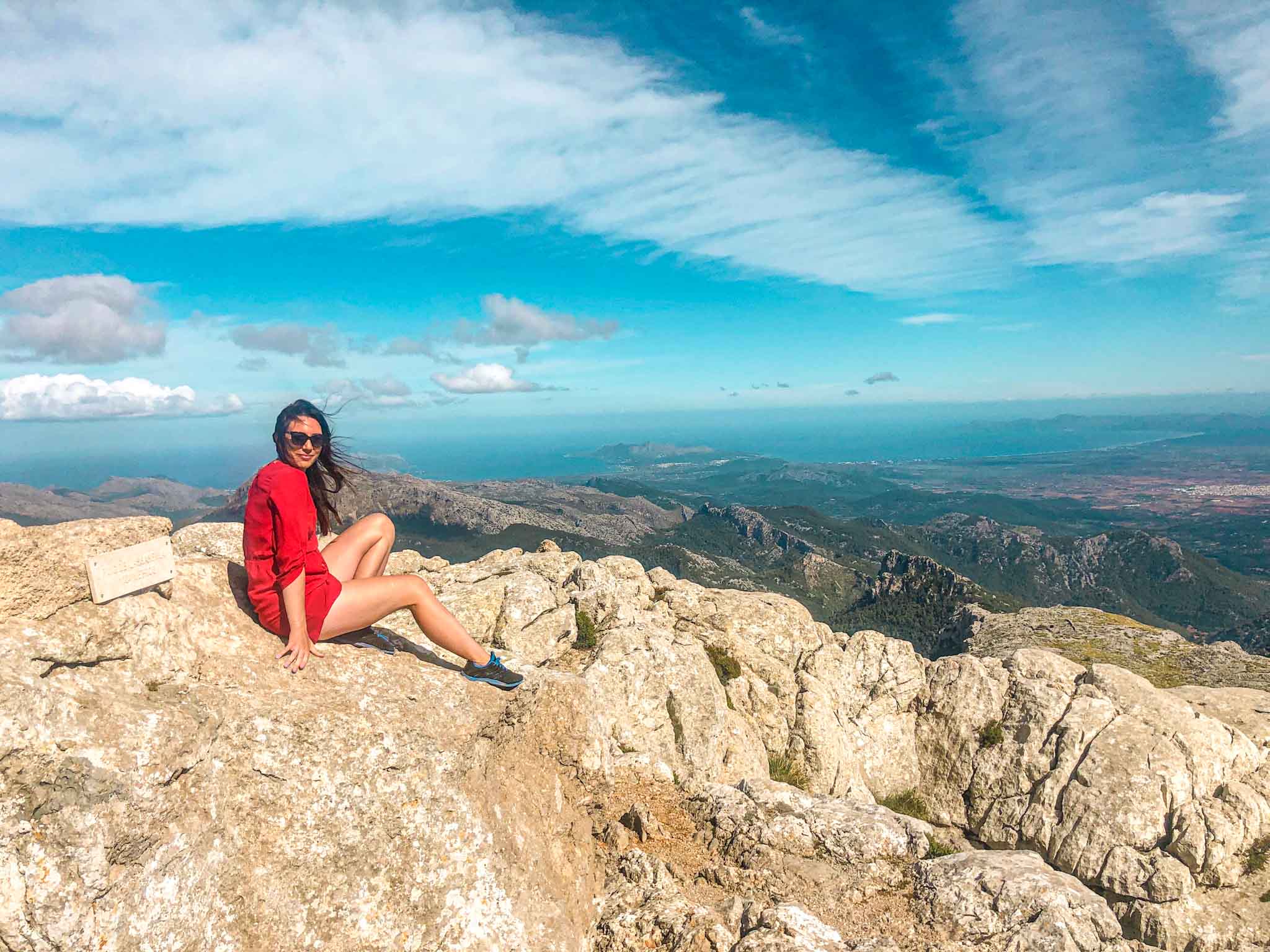 The most popular route for climbing the Puig de Massanella mountain starts at Lluc municipality – in front of Santuari de Lluc (13th-century Lluc monastery). The monastery (start of the trail) sits at a height of 525 meters above sea level.
If you want to get there by public transportation, then check out the public transportation network map in Mallorca. There are two bus lines that go through Lluc – bus #312 and bus #231.
We went there by car and parked our car at the side of the road in front of Ca'n Gallet restaurant – there are about 12 parking places where you can park your car for free. By parking there we were able to skip a couple of boring asphalt kilometers.
How long and how difficult is the Puig de Massanella hike?
Before hiking, I recommend you to download the Puig de Massanella hiking route on your phone so that it is available to you when offline. The round-trip hike is about 15.5 kilometers long with 840 vertical meters.
The hike is of moderate difficulty with paved roads at the beginning, dirt paths and forest trails in the middle, and climbing over and up granite stones at the final part of the trail. No extra climbing equipment is necessary.
If you drive there by car and manage to park where we did and start the hike there, it will be a 12-kilometer round trip hike gaining and losing about 700 vertical meters. However, parking places there are limited! Arrive early!
Just hiking took us about 3 hours (not counting any of our many stops), however, we did run some parts downhill on our way back. For a rush-free experience, you should prepare yourself for a 5 to 6-hour adventure.
If you notice on the Puig de Massanella hiking route, a small part on the way down follows a different path than uphill. We also went the alternate route, however, that part was much more technical with jumping, crawling, and climbing boulders.
There was a cool spot on this alternate route where we found a hole in the ground next to the path with steps leading inside the mountain. There was a small shelter with a fountain. Other than that it wasn't anything special. It is up to you which route to go.
Other things you need to know about the Puig de Massanella hike!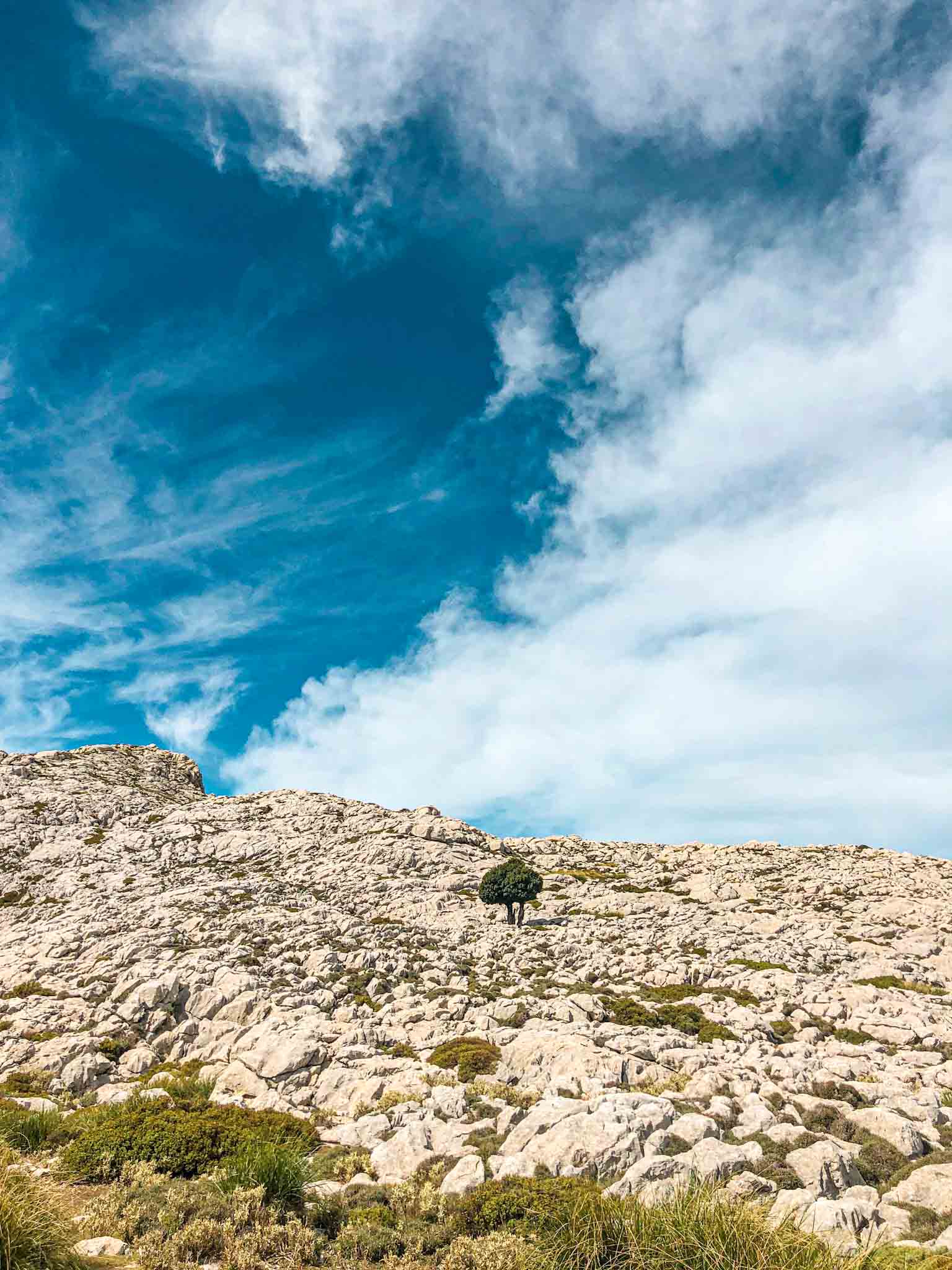 As I said, I recommend you to download the Puig de Massanella hiking route, so that you have an offline map and know where to go at all times. You might really need it! And remember to charge your phone!
The trail markers sometimes are simply NOT THERE! most of the times you will see orange dots on stones or trees. But sometimes we followed stone pyramids. Often there are a couple of trails together and you should just follow a general direction.
But you will very likely meet some super friendly goats along the way!
The first part of the hike goes through the woods with trees and bushes that offer some shade. However, the last kilometers are through open terrain. Be sure to check the weather forecast before climbing and prepare accordingly!
The whole trail is quite rocky – bigger boulders, smaller stones, sharp rocks – it is all there. The last part of the path leads over a field of big boulders, where you will sometimes have to navigate on both hands and feet.
No alpine climbing is necessary, but be sure, that the last part is no path – just a big field of boulders, where you have to find the best route through it. It is not too difficult, but take your time and be careful anyway.
The top of the mountain is marked with a plaque and the name of the mountain and height above sea level written on it. That's your photo spot! The top of the mountain can get very windy, but the most impressive thing is the view! You can easily see over Mallorca!
What to bring to the Puig de Massanella hike?
1. I highly recommend you to download the Puig de Massanella hiking route on your phone so that it is available to you when offline. At times there are no trail marks and no distinct trails so you will need the map to navigate!
2. This will be a couple of hours hike, so no matter where you start, you will need some supplies to bring you comfortably to the top and back. A backpack is necessary.
3. Cash – just in case! This route to the summit crosses a private property. As you start walking uphill, you will stumble upon a booth where the owner collects a couple of EUR per hiker for using his property (like 5 or 6 EUR).
We were ready to pay, but no one was there on a late September day, so we went for free. But somebody might be there on working days during the high season. Who knows?!
4. The hike will take about 5 to 6 hours, so plenty of food and drinks! Especially during summertime when the sun is out and the hike will be challenging and hot! The sun is strong around there and you will get thirsty!
Bring something sweet for a quick energy boost in case you need it! Also – a nice picnic on the top of the mountain could be great! Bring something tasty, so that you have an extra motivation to climb!
5. Comfortable shoes are an absolute necessity. Either hiking boots, trail running shoes, or other comfortable shoes for hiking will do. The terrain changes from dirt to rocks and the climb can be very steep from time to time!
6. Sunscreen, sunglasses, and a hat! A big chunk of the distance is without any shade – just naked stone fields without trees, which means you will be exposed to the sun quite a lot. A hat will protect you from hours and hours of direct sun rays!
7. We climbed the mountain in late September and it got very windy and chilly on the top part of the mountain! It got to a point where I wished I had a jacket. In case you are climbing during the autumn, spring, or winter months, bring proper clothing!
Happy exploring!
Mallorca is a pearl of the Mediterranean Sea offering opportunities for all kinds of travelers. With pristine beaches, charming villages, lovely and diverse nature, and picturesque mountains there is an exciting adventure for everyone in Mallorca!
I hope you enjoy your visit to Mallorca and get inspired by what you see! We came back to Mallorca for the second time and right now are already planning the third visit to this magical island! It truly is one of a kind!
More Mallorca travel inspiration!
PIN FOR LATER!