9 unique must-see places in the beautiful Mallorca island
You would be surprised how diverse is Mallorca! Beautiful hidden beaches, mystical caves, impressive natural arches as well as amazing mountains and rugged coastline – this is what Mallorca is all about. So here are the best must-see places and experiences you should have in Mallorca to fully enjoy this island.
1. Visit Palma city and Catedral de Mallorca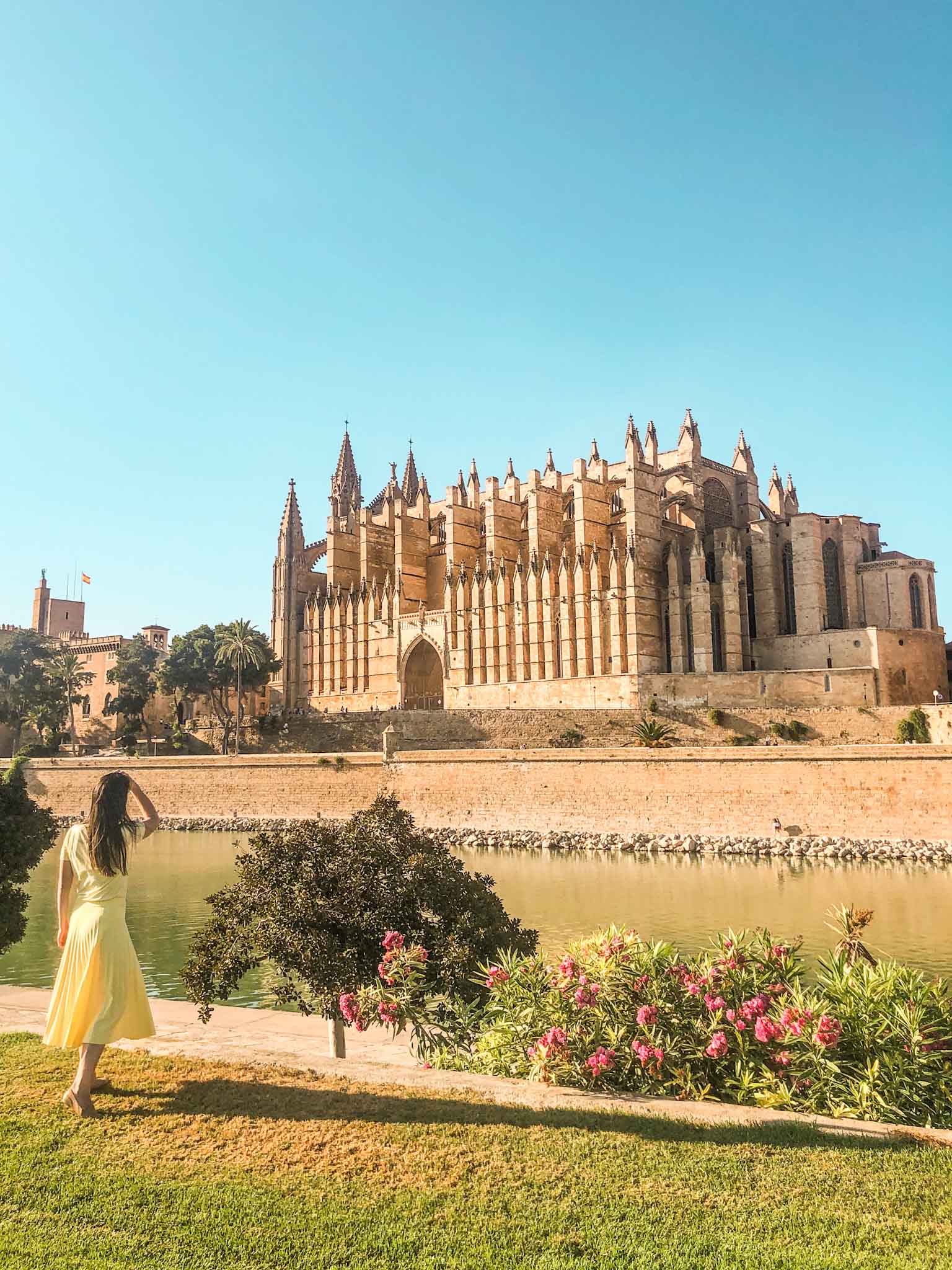 Palma is the capital city of Mallorca island and the Balearic islands. Although I am not too into city life and this is the spot where you will see a lot of tourists, partying and loud streets, I do think you should pay it a half-day or day visit to see the incredible Catedral de Mallorca and its surroundings. Grab a coffee and a local ensaïmada and enjoy the view!
Location: OPEN MAP!
2. Explore Caló des Moro beach and enjoy cliff jumping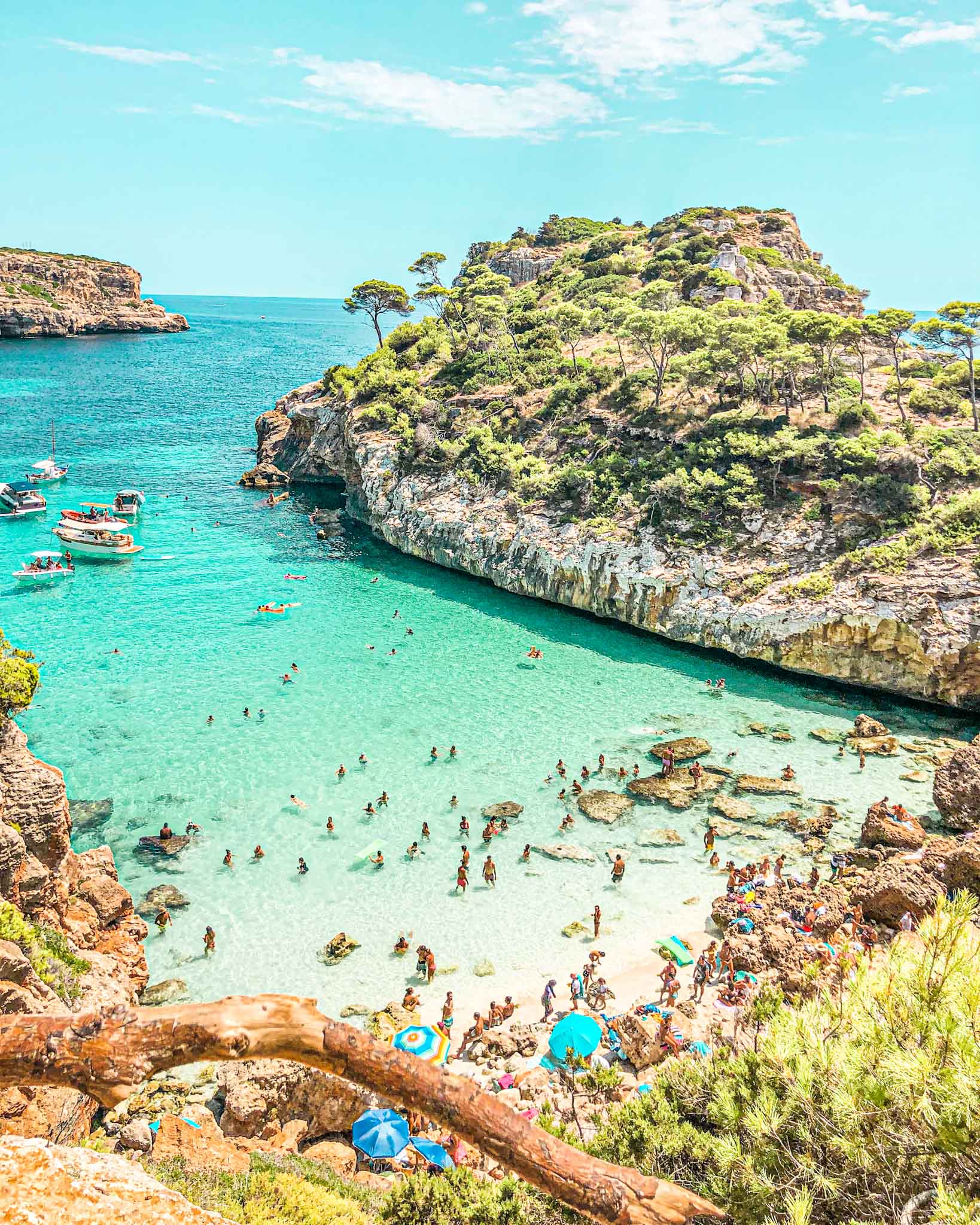 Mallorca is famous for its paradise beaches! The secret to visiting them is driving away from the city proximity, big resorts, and finding remote difficult-to-get-to beaches plus arriving early in the day.
This beautiful beach is probably the most beautiful beach on Mallorca island, but it is a bit hidden – 20 minute walk away from the closest parking lot, there are no toilets or showers – just this corner of beauty!
Very close next to it is another beautiful beach – Cala s'Almunia – which is even better if you are up for some cliff jumping activities. You can walk between them on foot – they are a couple of minutes away from each other.
Caló des Moro: OPEN MAP!
Cala s'Almunia: OPEN MAP!
3. Listen to a concert underground at Drach caves
How many times in your life do you get to experience a concert underground? When the artists are floating in a boat in an underground lake? Yes, you heard me.
This is an almost once-in-a-lifetime experience, so do not miss this opportunity – it is definitely one of the must-see places in Mallorca for sure!
You should check their website and book your visit in advance: www.cuevasdeldrach.com This was definitely one of the best highlights of the trip!
Location: OPEN MAP!
4. Have a picnic and observe Es Pontàs natural arch
Es Pontàs natural arch is one of the most beautiful sights and natural wonders in Mallorca! The natural bridge or arch is huge and perfectly shaped.
You are just left breathless at how amazing nature is and how beautiful formations it can make over the course of thousand and million years. Just a stunning sight!
Plus it is very easy to get to – just some 300 meters from the closest spot you can park your car. Grab some snacks and drinks and enjoy the view!
Location: OPEN MAP!
5. The amazing Cap de Formentor and Es Colomer viewpoint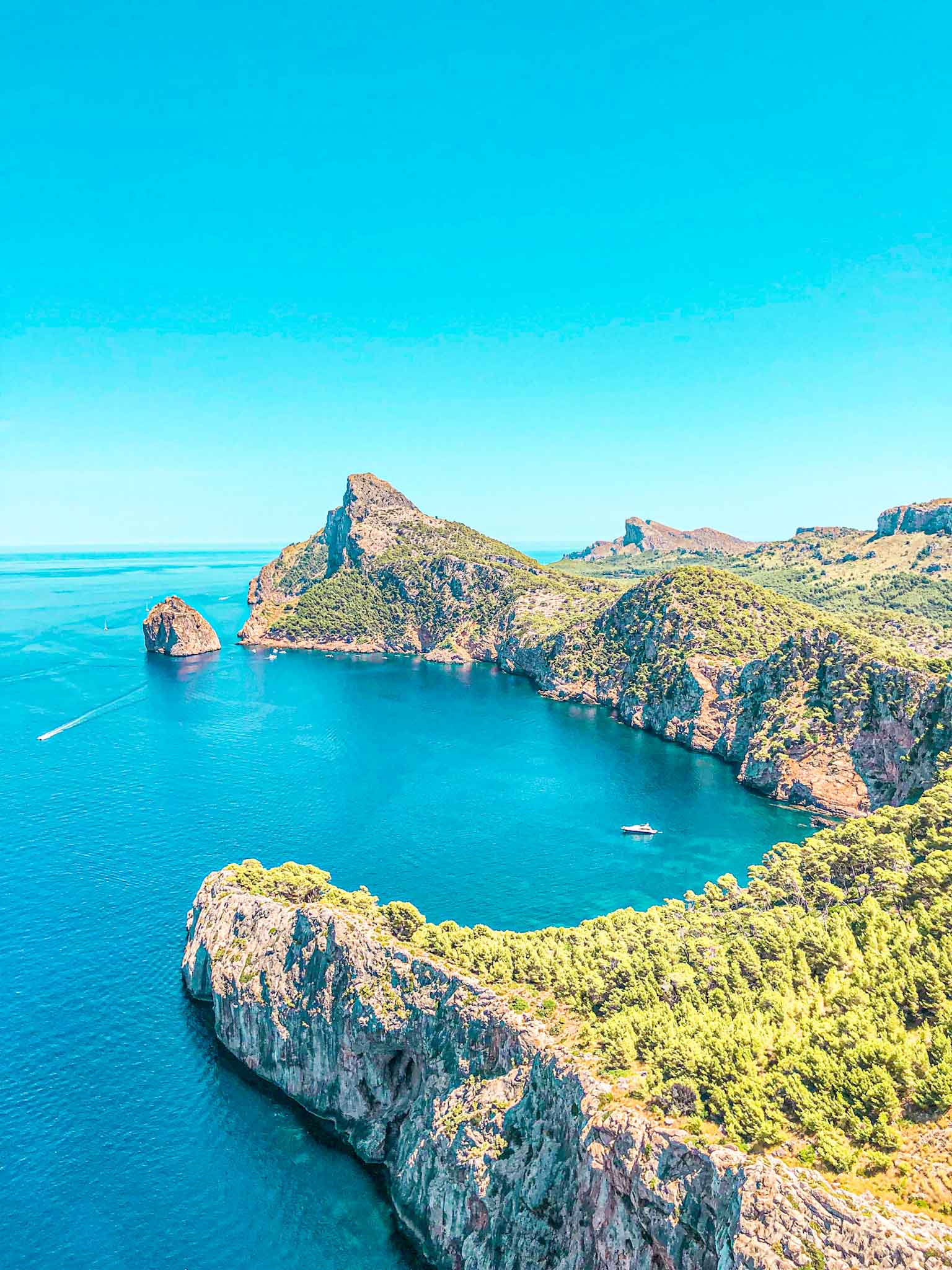 The North part of Mallorca island – Cap de Formentor – is probably the most picturesque area on the island. The whole peninsula is full of beautiful cliffs, rugged terrain, blue water, and scenic coves.
The must-see spots around here are definitely Es Colomer viewpoint, Formentor lighthouse, and Albercutx Watchtower which is one of the best places to watch the sunset. This area is a must-see!
Es Colomer: OPEN MAP!
Formentor lighthouse: OPEN MAP!
Albercutx Watchtower: OPEN MAP!
6. Beautiful Sant Elm town and Sa Dragonera islet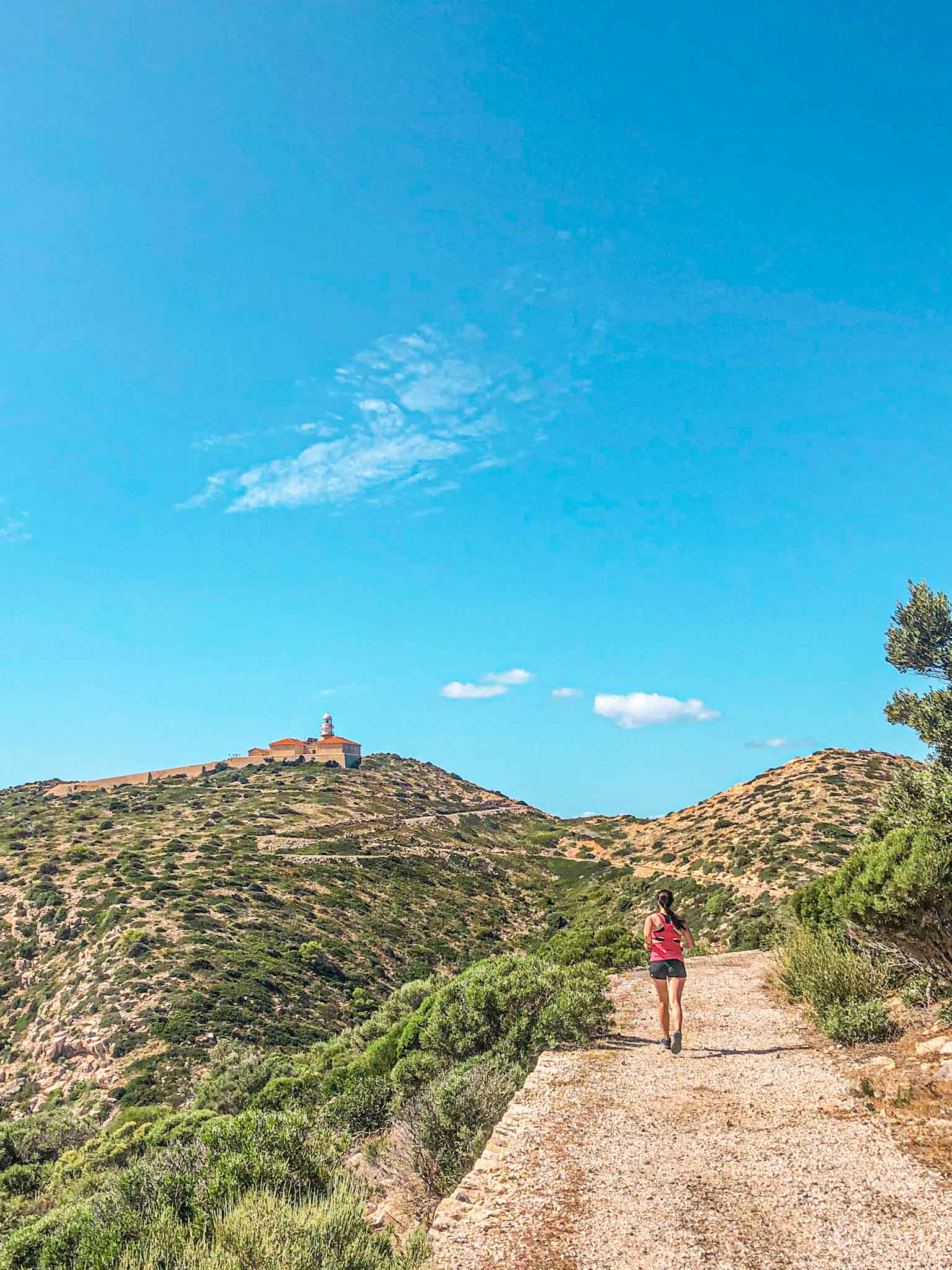 Sant Elm on the Western part of the island is such a vibe. It is a beautiful town with a wide sandy beach and shallow water, where you can devote yourself to different water activities.
But the beauty of the town is the long seaside, where you can dine at many seaside restaurants while watching the most beautiful sunset in the Mediterranean sea.
But the adventurous part of the town is that there goes a ferry from the port to the nearby uninhabited islet Sa Dragonera.
You can take a 20-minute drive there and suddenly be in a place where there are no tourists, crowds, or loud streets. There are 3 hiking trails you can choose from and soak in nature and beautiful views over the island and the sea. Read more about visiting Sa Dragonere HERE!
Sant Elm: OPEN MAP!
Ferry to Sa Dragonera: OPEN MAP!
7. Explore Serra de Tramuntana mountains and local villages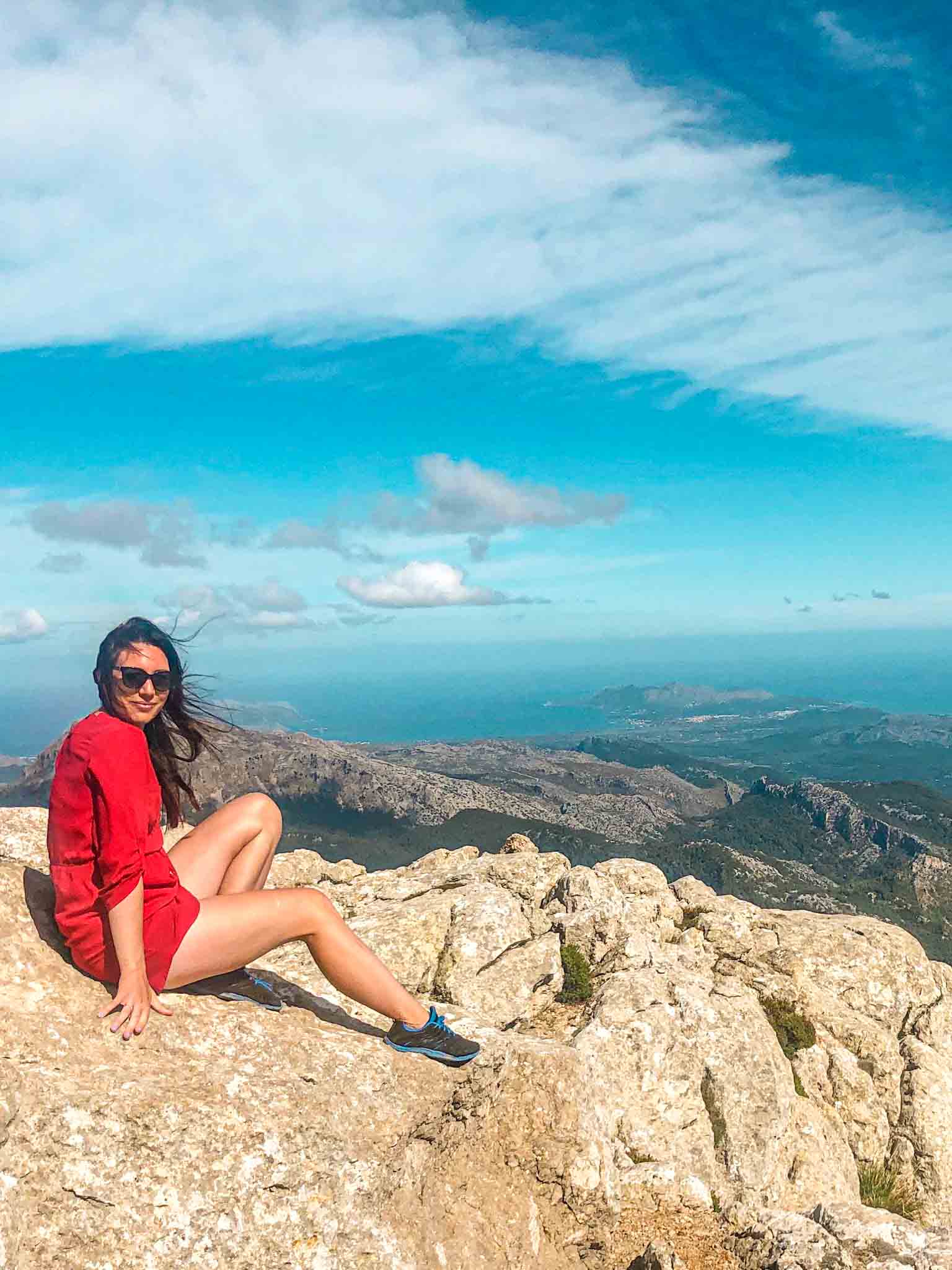 Serra de Tramuntana mountains are the pride and joy of Mallorca! You will definitely notice them if you drive to the West part of the island, and there is so much to do there!
You can go hiking in the mountains, have a picnic at the artificial lake Gorg Blau, explore the best viewpoints as well as discover authentic life in some mountain villages. Probably, the most popular ones are Valldemossa and Deià villages.
They truly have this authentic vibe around them – take a stroll around, have breakfast, drink some coffee or have lunch and soak it in! If you are truly interested in hiking, you can consider hiking up the second-highest mountain in Mallorca – Puig de Massanella! Read more about it HERE!
Valldemossa: OPEN MAP!
Deià: OPEN MAP!
8. Drive the crazy Sa Calobra road and swim at Torrent de Pareis beach
Sa Calobra road is probably the most famous road in Europe, if not – in the world, so it is definitely on my list of must-see places in Mallorca! Locals call it 'the Snake' because it bends just like one!
It is truly a crazy experience to drive this route. But the destination – Sa Calobra village – is a unique place! There goes a path along the beach through a mountain (there is a narrow, a couple of hundred meters long tunnel) to Torrent de Pareis – a place where a torrent goes into the sea.
It is a small opening at the sea between huge and steep cliffs all around you. A very impressive sight! I would highly recommend you to go there and enjoy some time at the beach! If you happen to arrive later in the day, then you can even stay for the sunset!
Sa Calobra road: OPEN MAP!
Torrent de Pareis beach: OPEN MAP!
9. Visit Sóller and take the historic tram to Port of Sóller
This is a very fun experience! The tram is very small and cute and Port of Sóller is such an amazing place – the street where the tram goes, is right next to the beach and is full of restaurants. You can hop off and have dinner at a restaurant while watching the sunset in the sea.
A great idea for a magical end of the day with some fun activities included! Make sure to make a hotel reservation nearby, so that you can have some sangria during the sunset as well and don't need to rush somewhere further away.
Sóller: OPEN MAP!
Port of Sóller: OPEN MAP!
Happy exploring!
Mallorca is truly not for party people, but for adventurers! It deserves more because it has so much to offer, however many people think this island is for partying and going to bars!
If you go to Mallorca and don't explore the island and the many wonderful places it has, then you haven't seen anything of this island! I have been there a couple of times and will definitely return to explore it even more!
More Mallorca travel inspiration!
PIN FOR LATER!