Vícar, Almería: 11 things to do in the most colorful village in Andalusia
Vícar village in Almería province in Spain is a true hidden gem in Andalusia! This tiny village at the foothills of the Sierra de Gador mountains is probably the most colorful village in the South of Spain!
In this blog post, you will find all the things to do and places to see in Vícar village with descriptions, photos, and locations where they can be found on Google Maps. I loved walking around Vícar and finding beautiful corners of this village!
Read more >>> Almería bucket list: 13 best things to do in Almería, Spain
Where is Vícar village?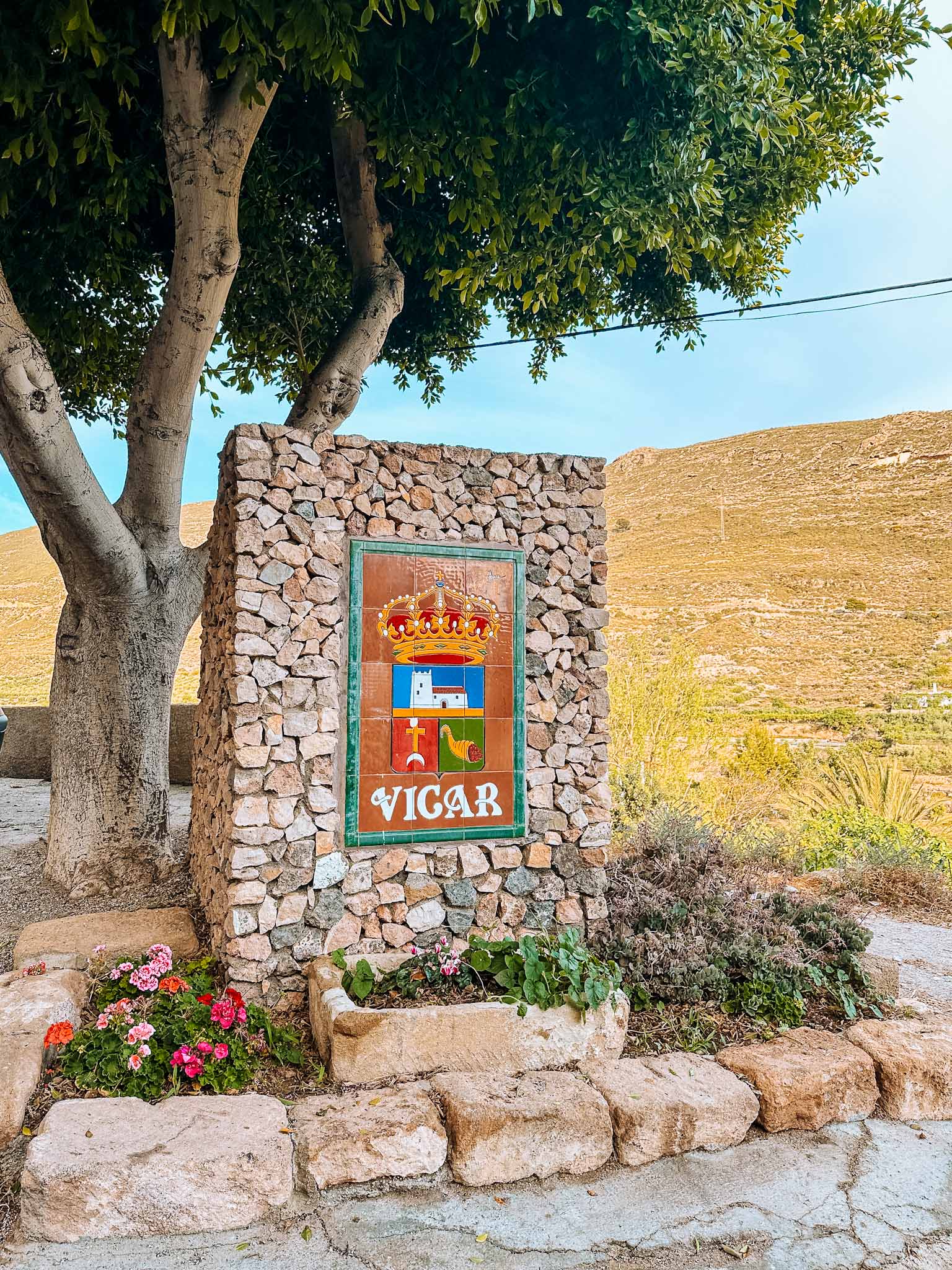 Vícar is a small village that sits on the foothill of the Sierra de Gador mountains almost 300 meters above sea level in Almería province, Spain. It is only a 20-minute drive away from Almería city.
Where to park your car and how to visit Vícar?
Assuming you would come here by car (although you can also come here by taxi!) you will need a place to park your car. Luckily it was quite easy to find a parking space right in the village.
The best place to park your car is the main square on Calle Buena Vista street. There is a wide area where people gather and sit around the square as well as park their cars.
If the square seems busy, you can drive further and park your car at the side of the street around here. There is a wider street where you can safely leave your car.
Once you park your car it is time to explore on foot. There is no reason to try to drive around because the village is very small and there are just a couple of streets to see and a few spots to visit.
1. Main square on Calle Buena Vista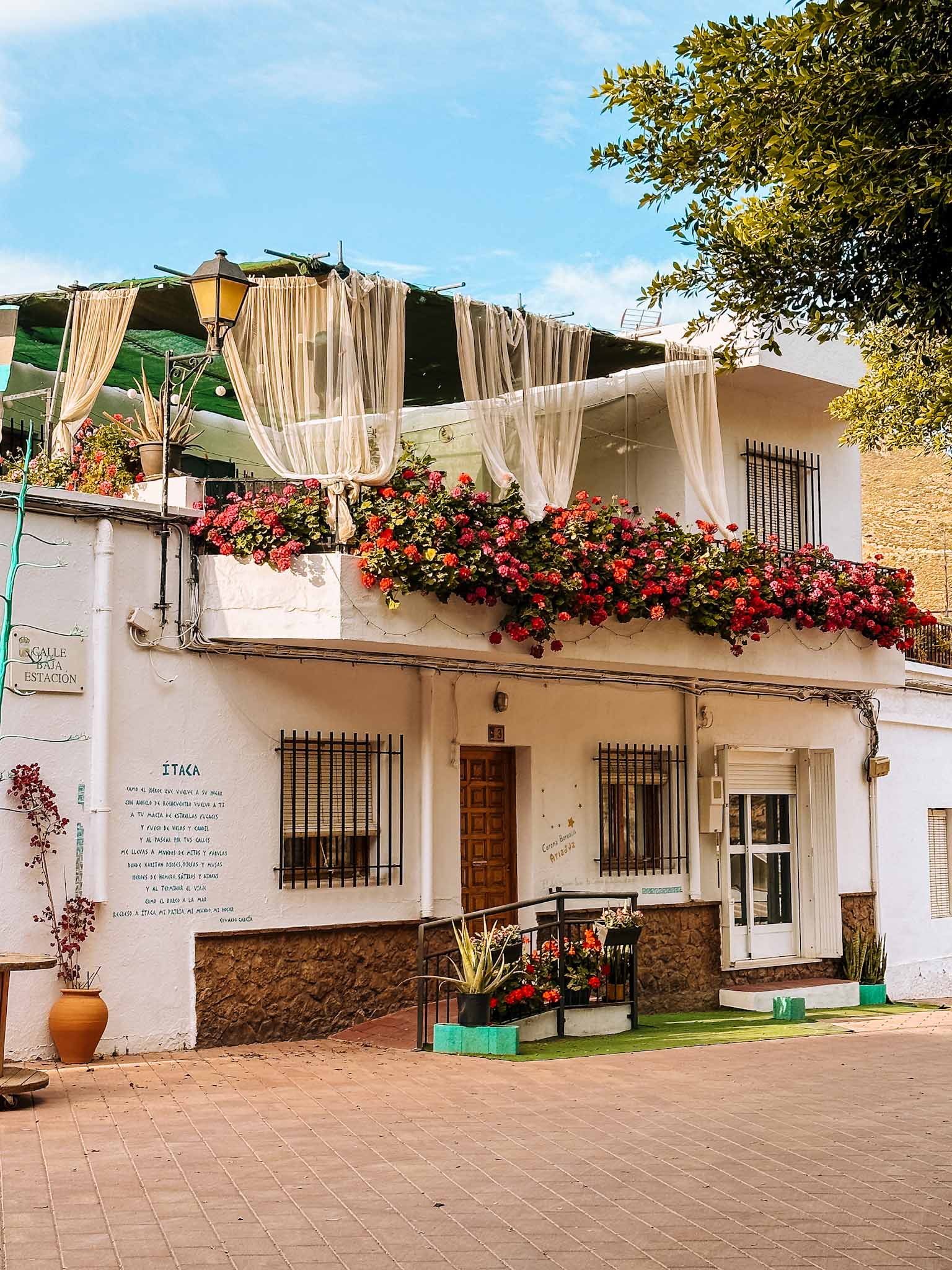 You can start your visit to the village in the main square on Calle Buena Vista street as it is the place you probably parked your car. The square is the place to gather for locals so it might be a bit busy.
There is a beautiful fountain and a couple of street art murals. We did not spend much time here but rather walked through it. Next to the square, there is the only restaurant in the village where you can have lunch – Restaurante Villanueva.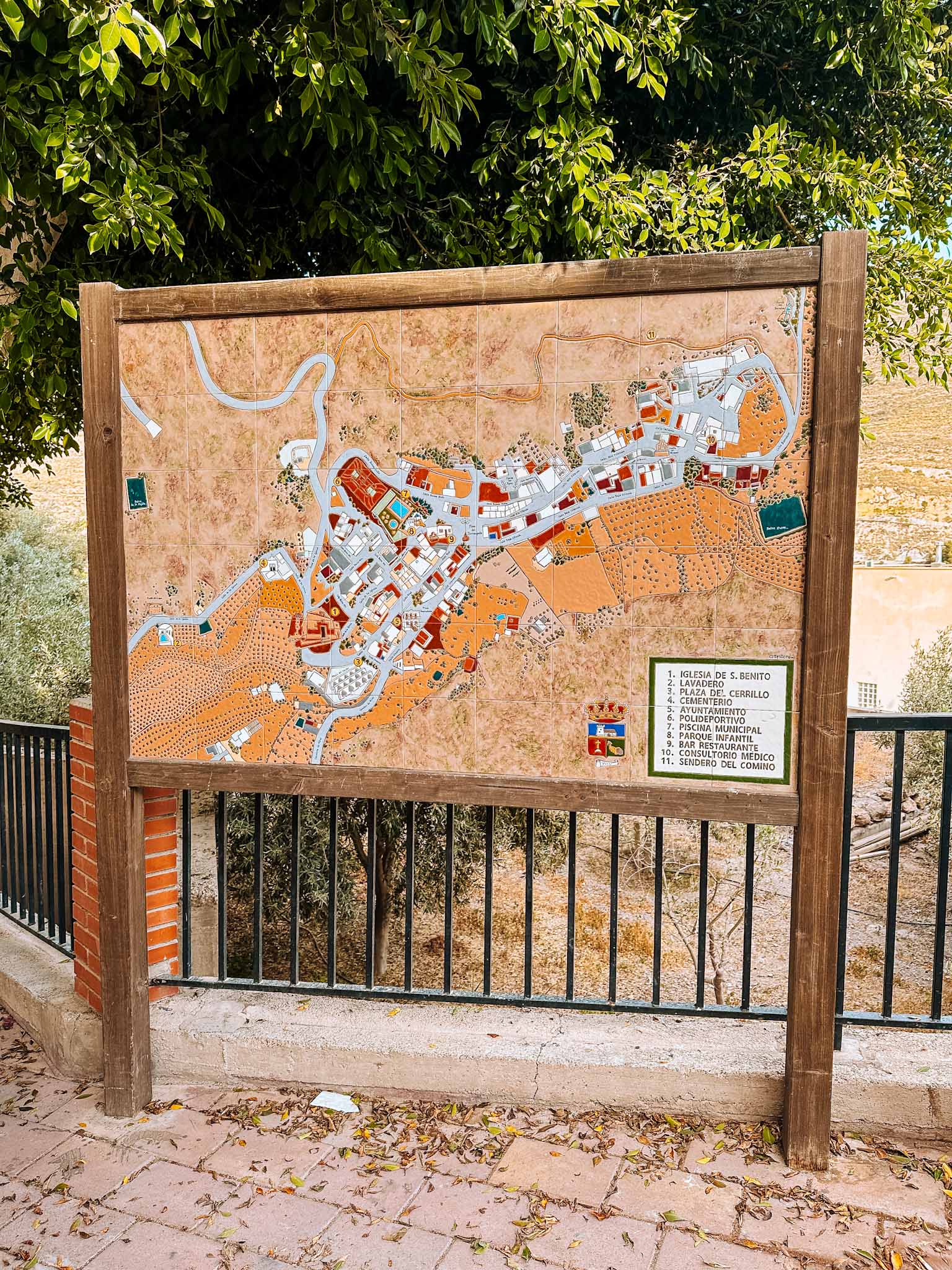 Once you are in the square head to the corner in the direction of Calle Granero street. You will find this map of the village right in this corner of the square. The map won't help much as there are no street art murals marked on it, so stick to this blog!
Right in this corner you need to find Calle Granero and start your walk around the village along that street. There are cars driving down the street so be careful, but there aren't too many of them as this is a small village.
Location: Main square in Vícar
2. Calle Granero street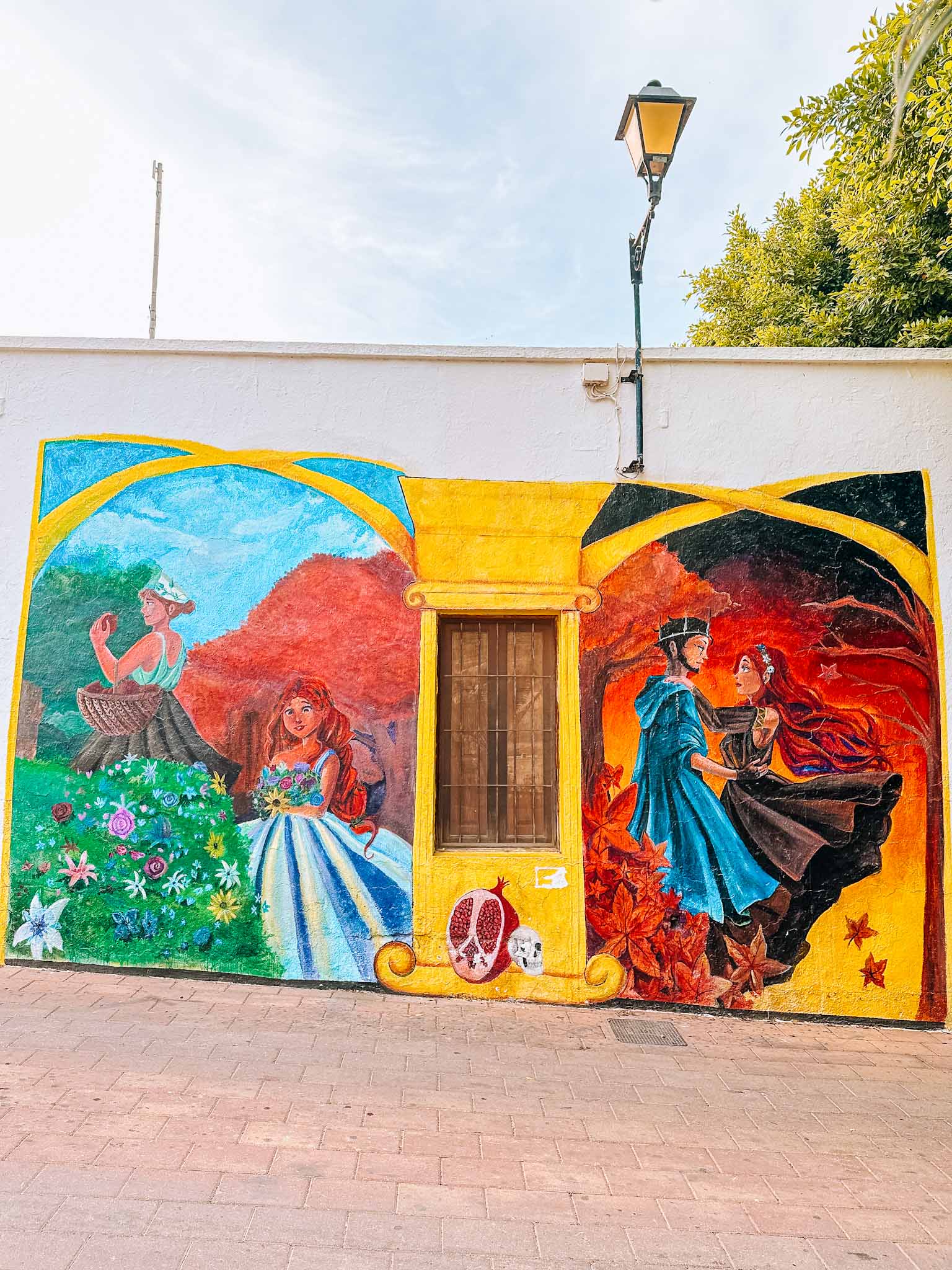 Calle Granero street is one of the main streets (and also one of the few streets) in Vícar village. As you start your walk at the beginning of the street you will already see the first painting. Looks like it comes from a fairytale.
As you walk down the street take a look at connecting streets as one of them had these round artworks hanging above it like a blanket. Looked like something handmade, but I'm not sure.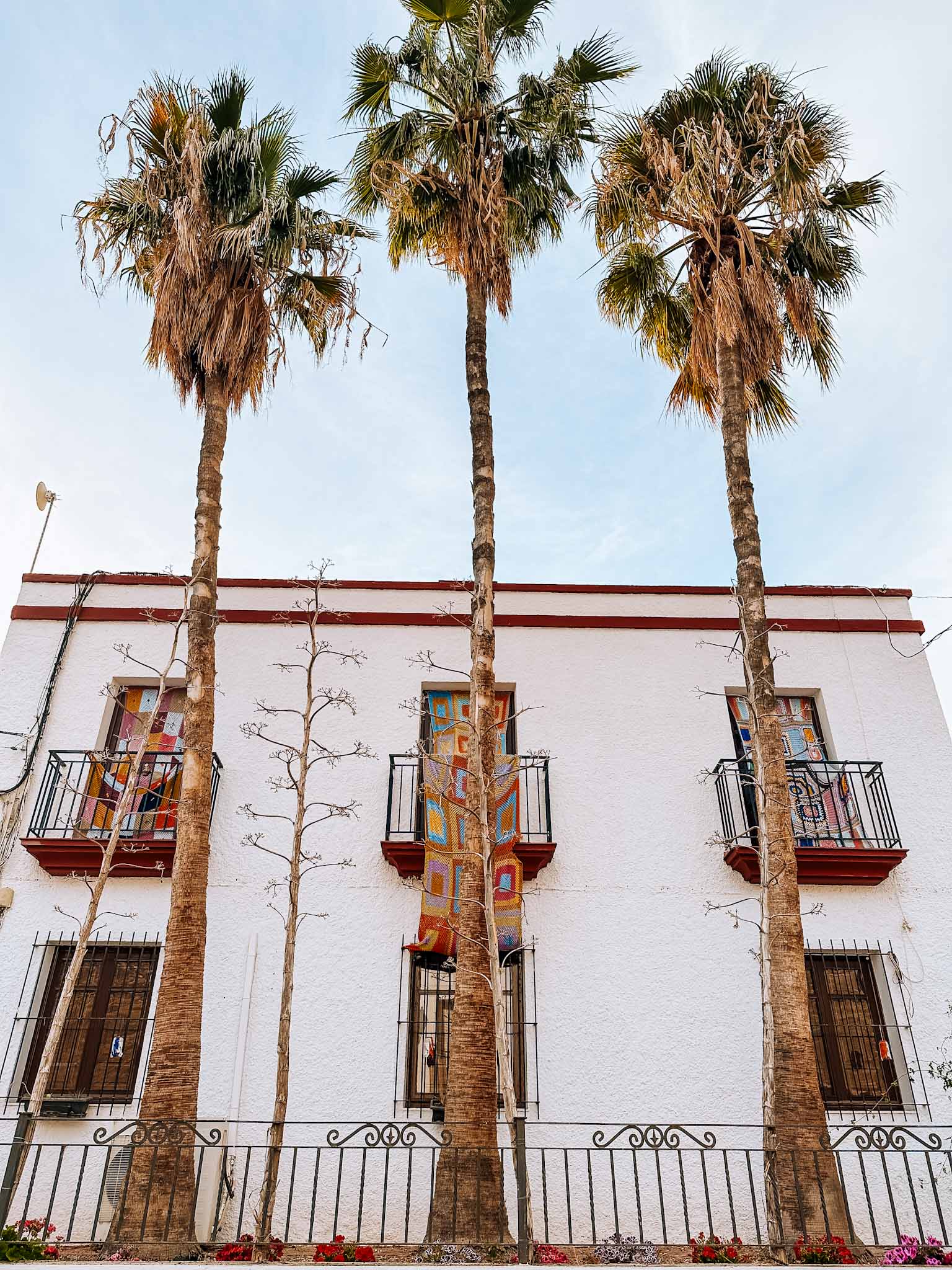 Continue walking down the street and check out other street art murals and decorations. You will only have to walk about 100 meters or so. Once you reach the last building next to the street you have to walk up to the next spot – Plaza del Cerrillo.
Location: Calle Granero street
3. Plaza del Cerrillo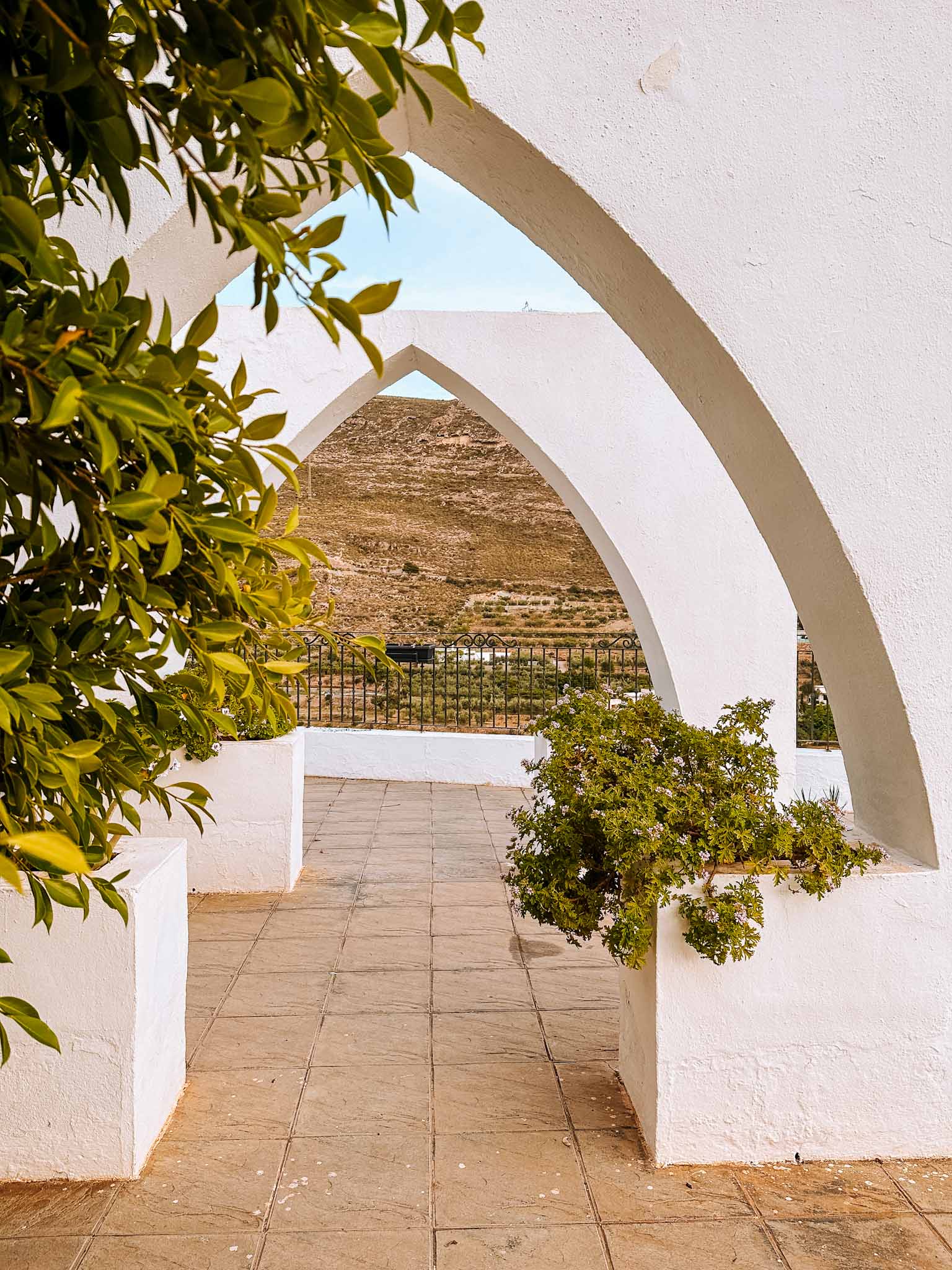 Plaza del Cerillo is one of my favorite places in Vícar village. It is a beautiful square with great views over the surrounding area. The square has pretty flower bushes, palm trees, and white archways with colorful decorations. Definitely check it out!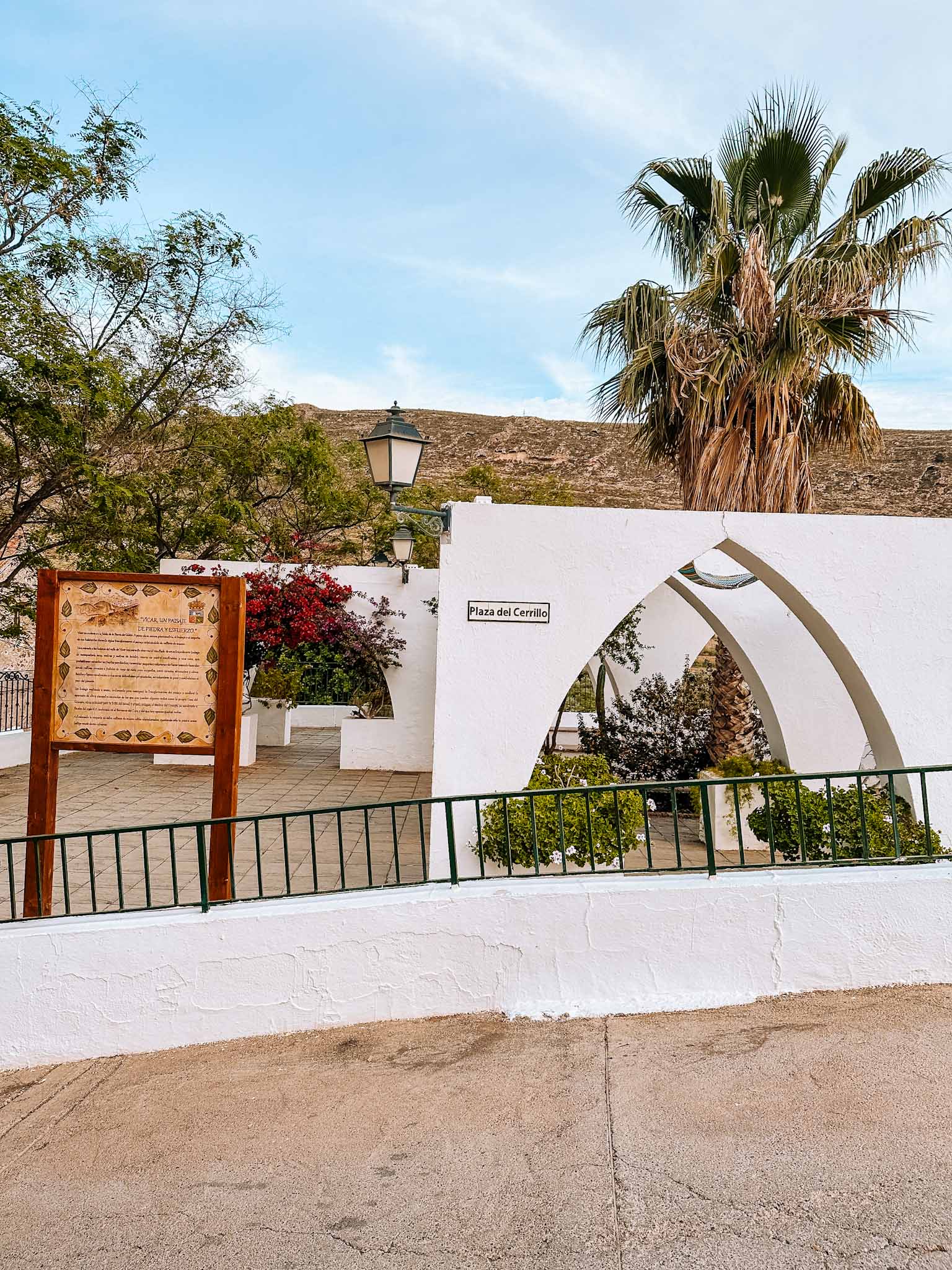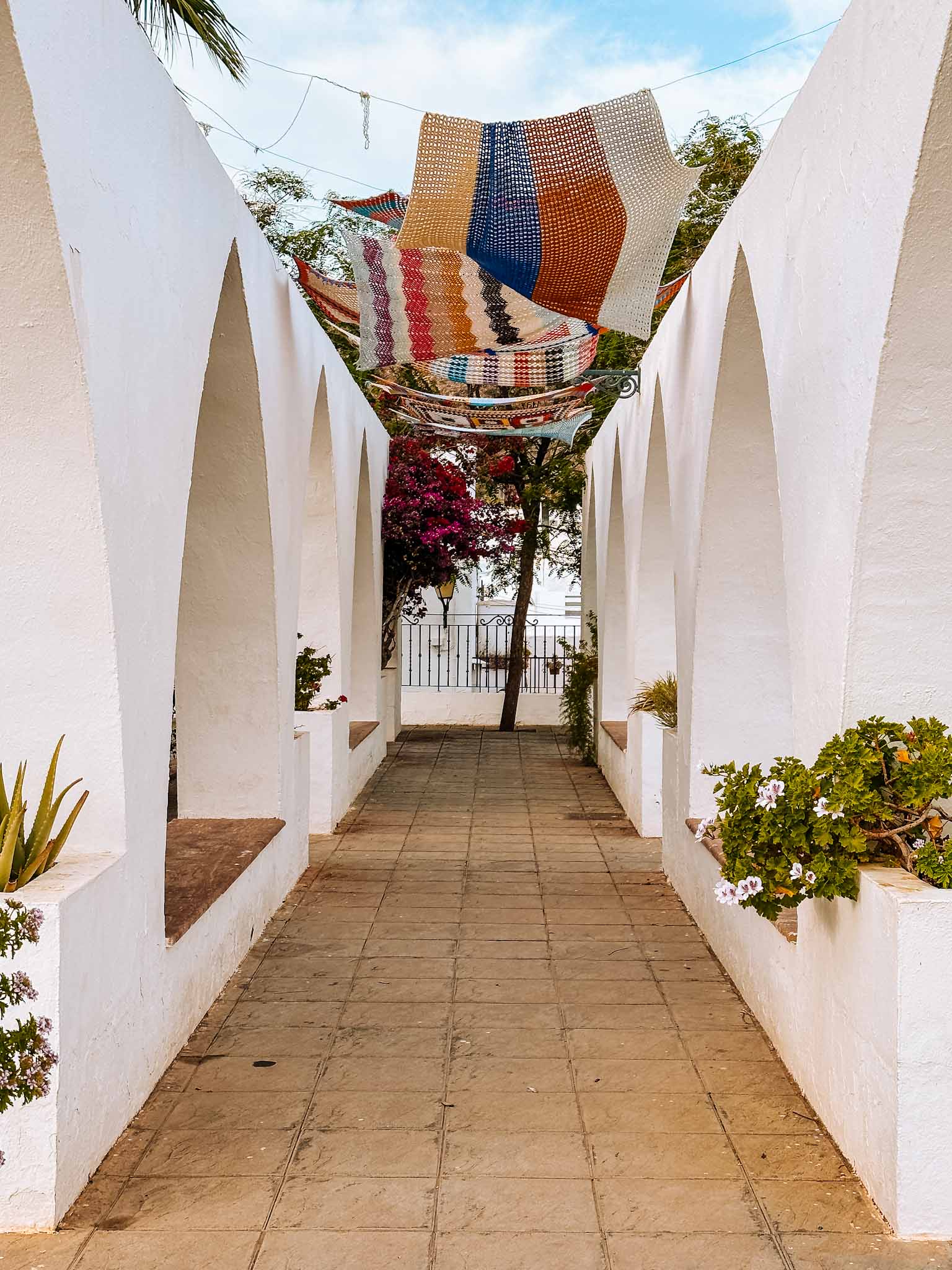 In case you are a bit tired of walking, this is a great place to sit down and take a breath. You can definitely have a nice and scenic picnic here! There are four walls and each of them has four archways with stone benches to sit on.
After visiting Plaza del Cerrillo square it is time to head back to the main square, but this time choose another street stat goes parallel to Calle Granero street – this time let's walk on Calle Real street.
Location: Plaza del Cerrillo
4. Angel's wings street art
Basically, the first cute spot you will see as you start walking from Plaza del Cerillo square along Calle Real street is the painted angel's wings on the wall. This is a cool spot to take a photo!
They are located at the very beginning of the street on the wall at the intersection of Calle Real street and Calle Granero street. See the location below. Once you take a photo here, continue walking down the Calle Real street.
Location: Angel's wings
5. Calle Real street
Calle Real street is another one of the main streets in Vícar village. This was probably the most colorful street, so definitely pay attention around you. I noticed that many street arts were dedicated to Greek mythology.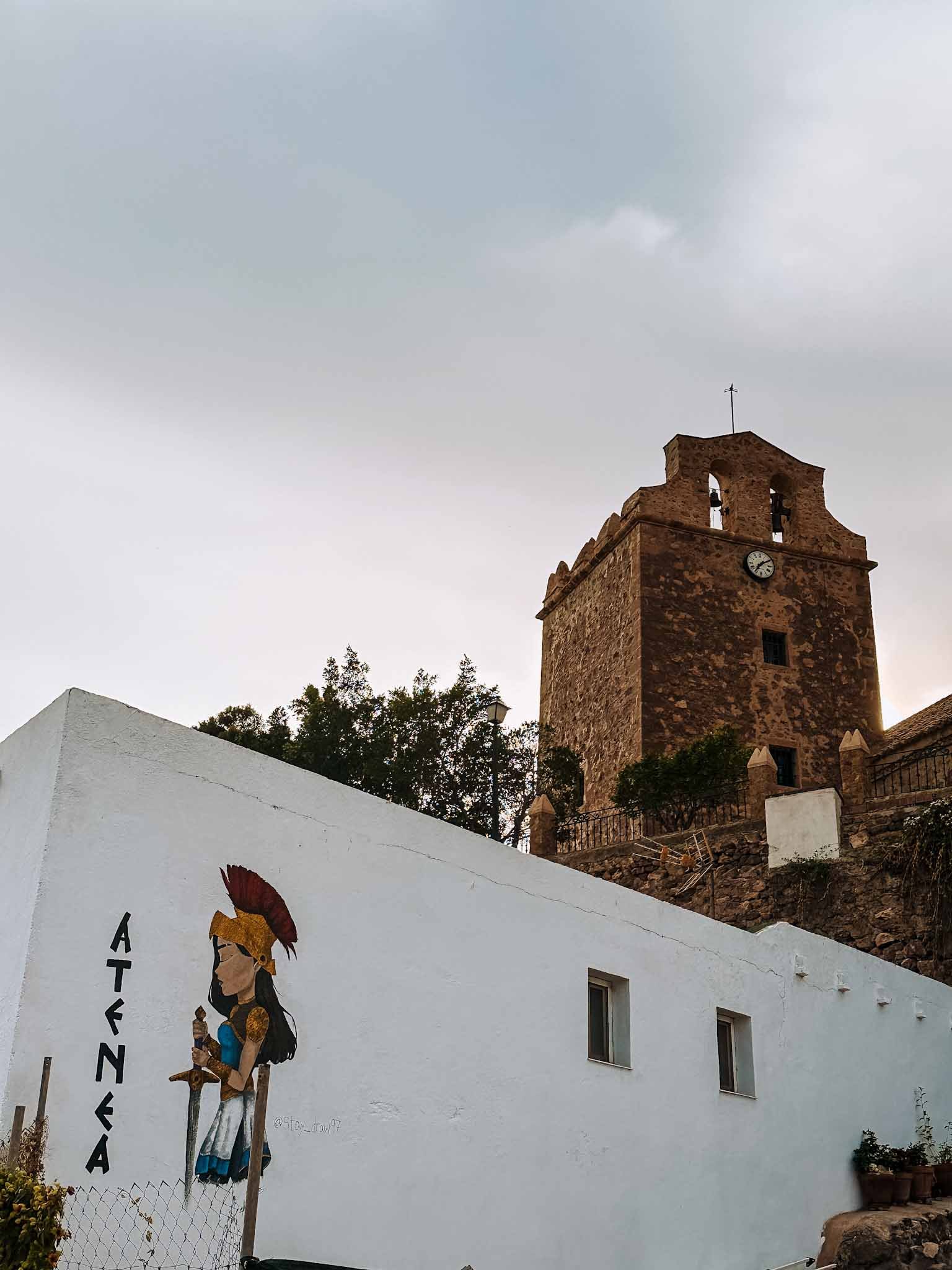 Besides the street art, there were also some beautiful houses decorated with colorful flower pots and plants. The whitewashed houses in this village only help the decorations and paintings to stand out! Looks so cool!
Location: Calle Real
7. Rainbow stairs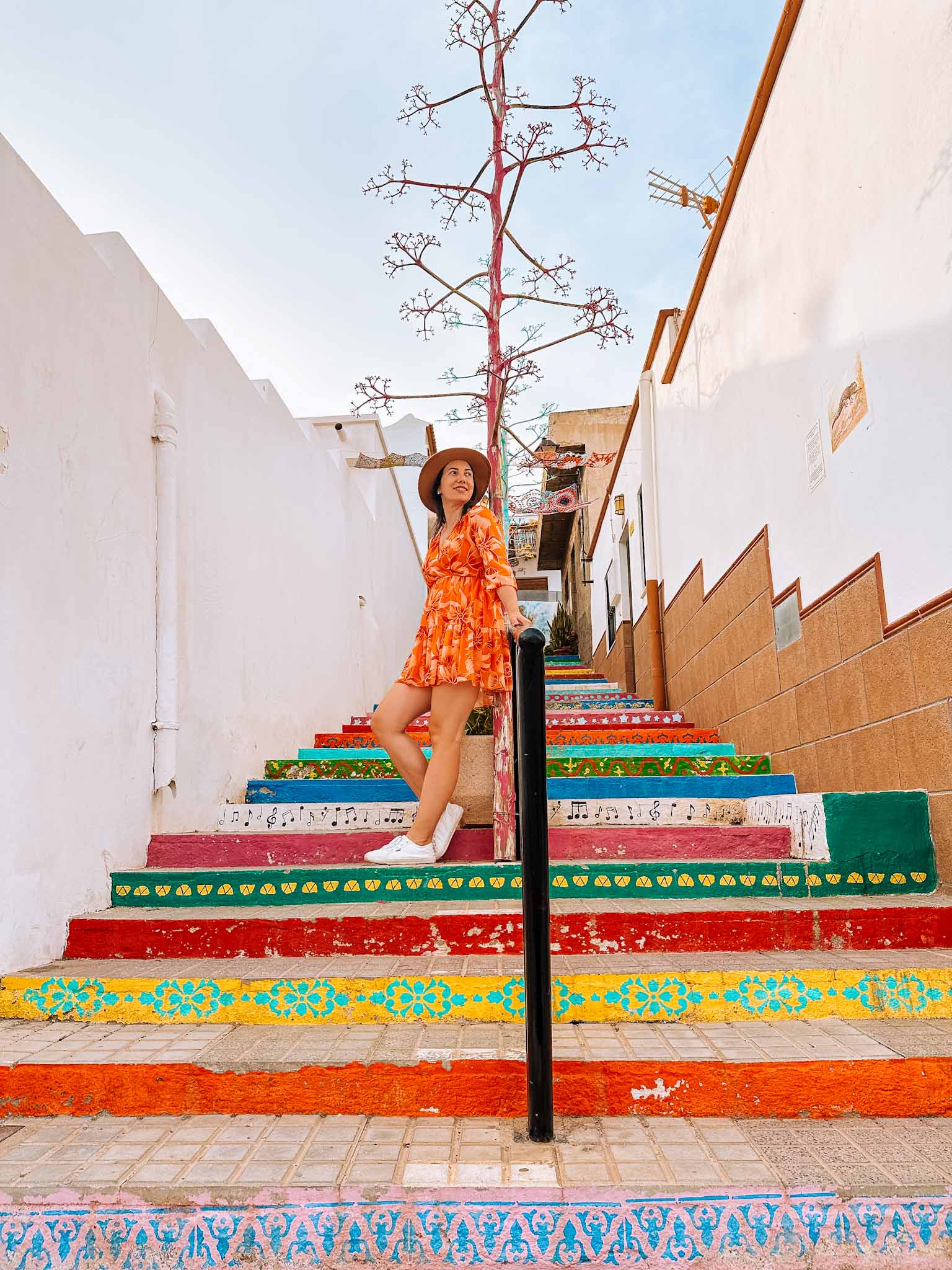 One of my favorite places in Vícar is this little corner you will find in the middle of Calle Real street. There are these beautifully painted rainbow stairs leading up to the next street.
Each step of the stairs has a different color and different ornaments painted on it. Definitely one of the prettiest streets and photo spots in the village! I do hope that the color gets renewed from time to time so that the stairs stay bright and beautiful!
Once you walk all the way down the Calle Real street to the main square it is time to take the next and last parallel street – Calle Iglesia. This street is the next one that starts at the main square and will take you back to the church of Vícar.
Location: Rainbow stairs
8. Visit Calle Iglesia and Church-Fortress of San Benito
As you walk again away from the main square along Calle Iglesia street there are many cute and beautiful corners to notice along the way. But my favorite was the colorful 'blanket' above the street (photo above).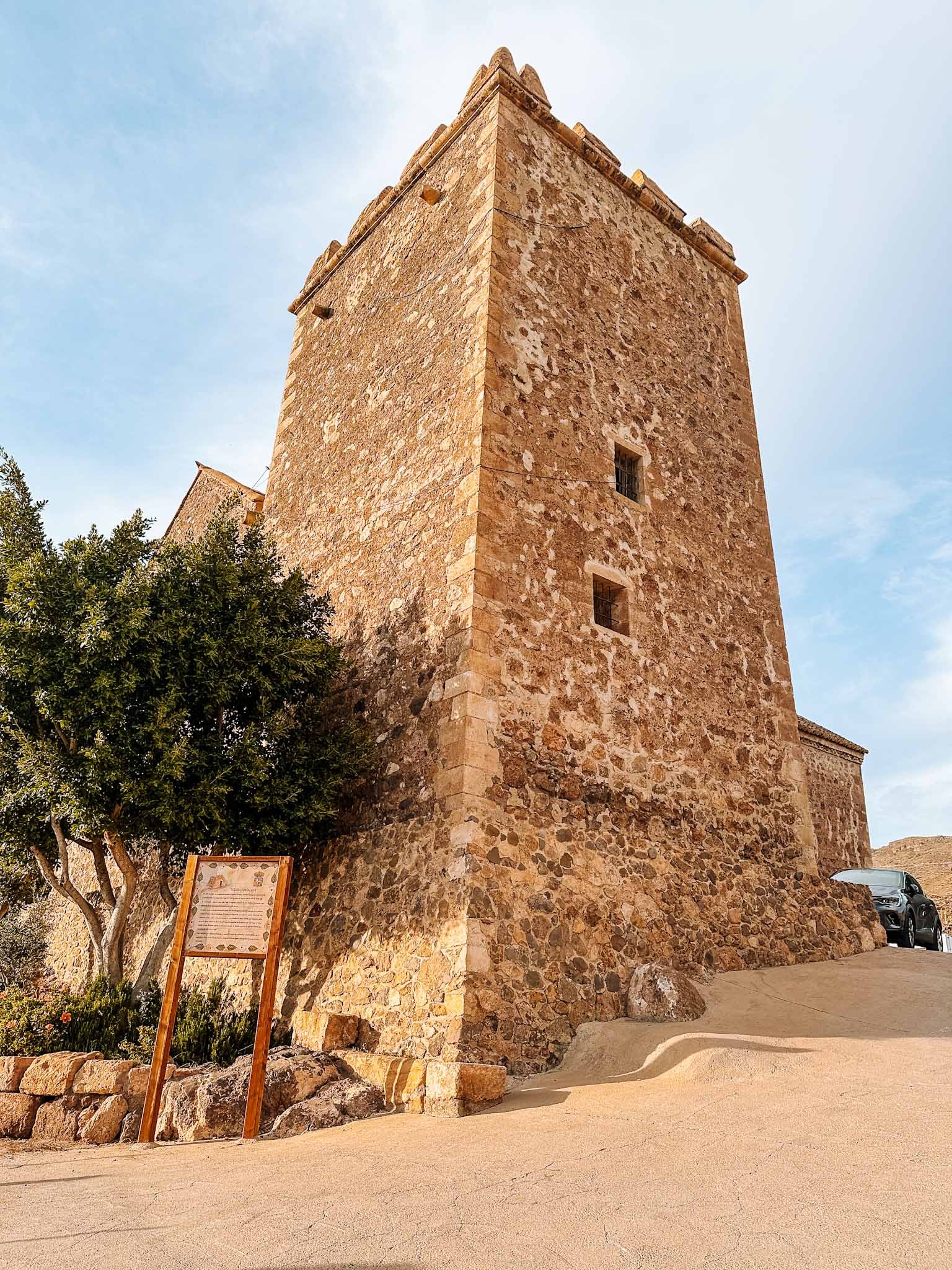 At the end of the street, you will see the unique church (although you have probably seen it already!) of Vícar. This is a very unique church because it is actually a church-fortress built in the 16th century.
Although it is a religious building, it was built with defensive elements in order to use it also as a fortress. The most obvious element is the massive stone tower with high walls and narrow windows only made for the use of defensive weapons.
Location: Calle Iglesia – Church-Fortress of San Benito
9. I LOVE YOU street art wall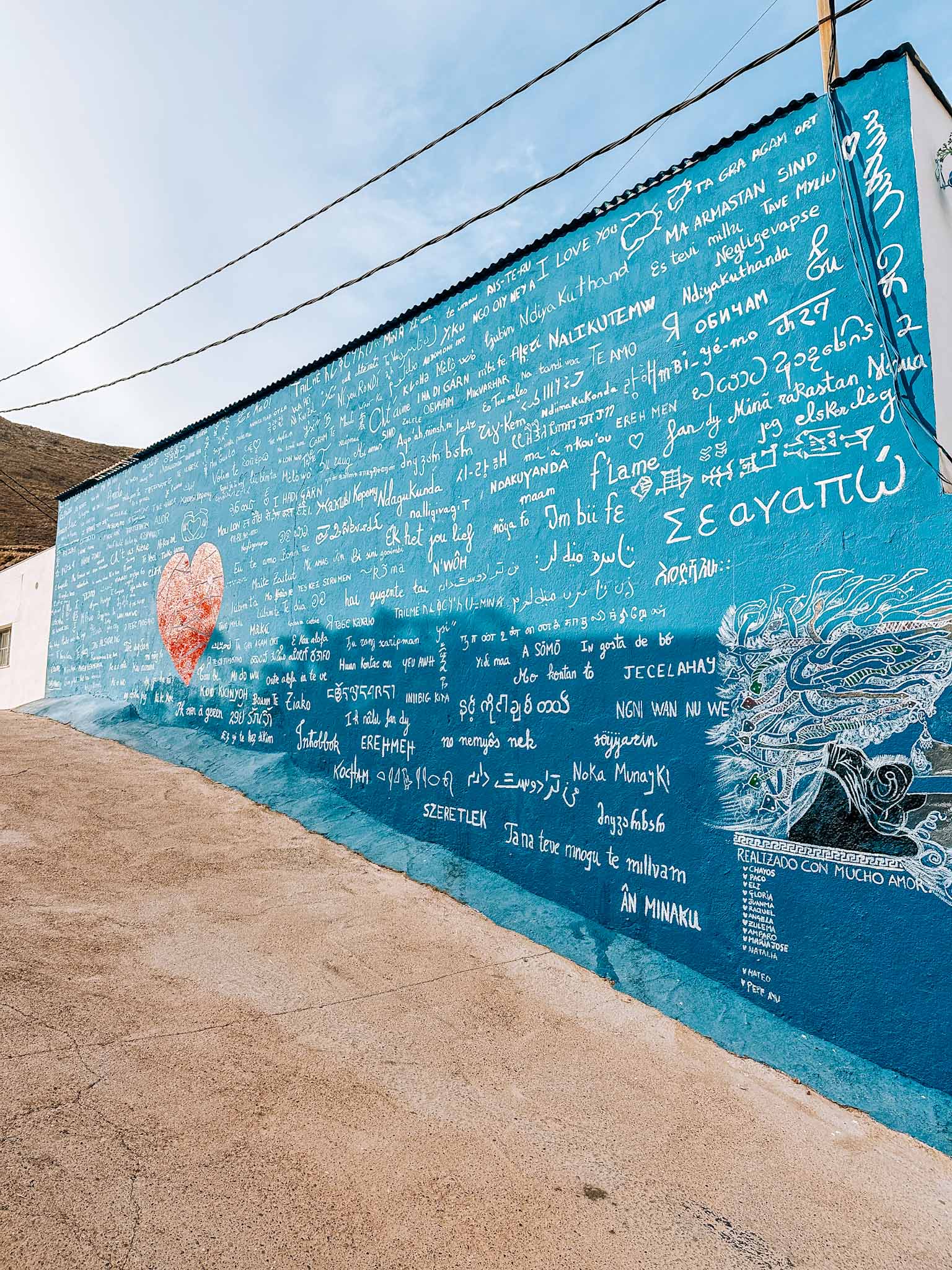 As you walk away from church there is a cool house with one of the walls painted in blue. The wall has inscriptions of 'I love you' in countless different languages and a red heart in the middle with 'I love you' in Spanish. Find your language!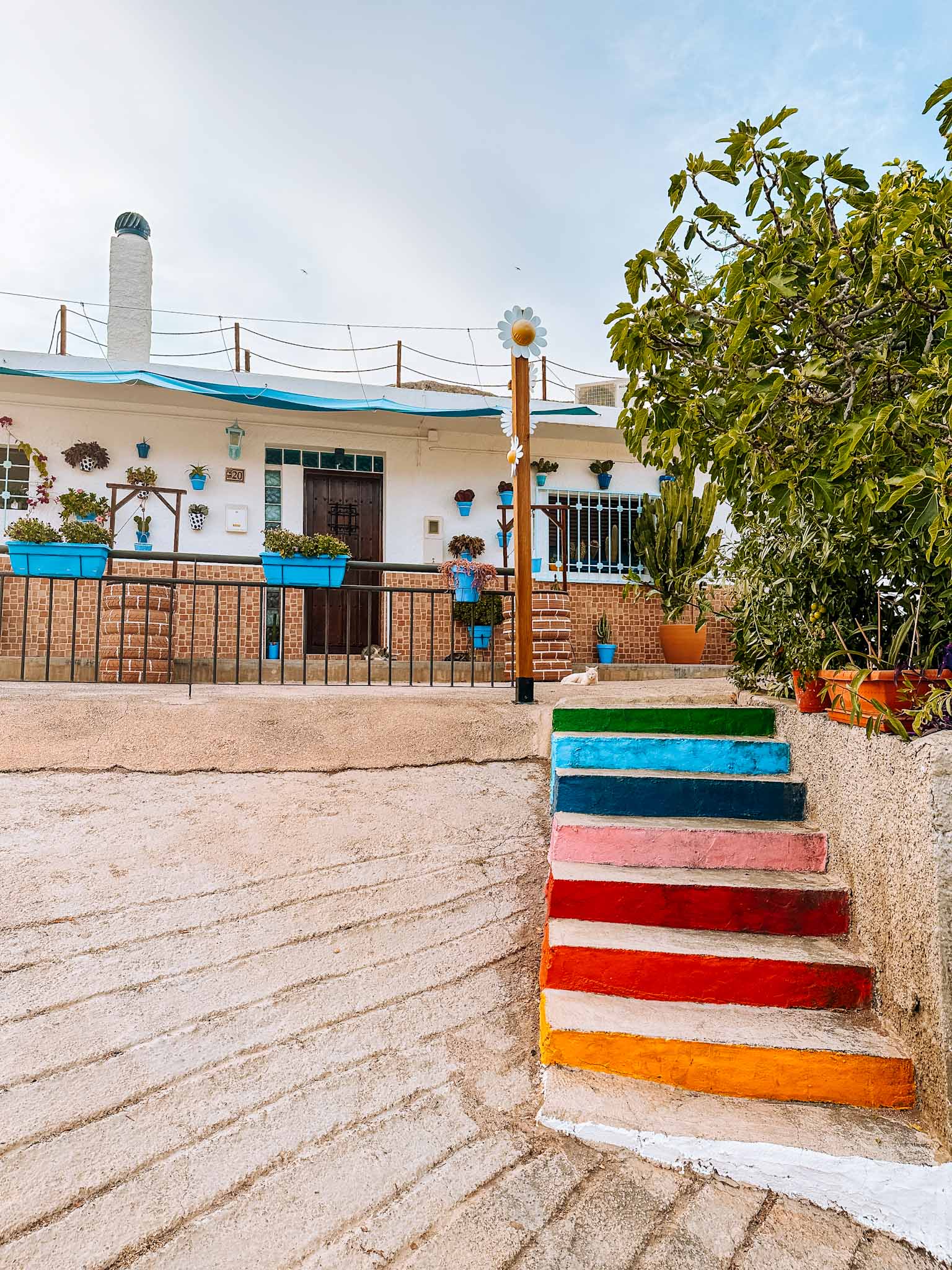 The blue I LOVE YOU wall is not the only pretty sight here. The house itself is also decorated very beautifully. It has blue flower pots and mini rainbow stairs in front of it. I love how they pay attention to details. So pretty!
Location: I LOVE YOU wall
10. Walk up to Mirador de Vícar
The perfect way to end your visit to Vícar village is by hiking up to the viewpoint – Mirador de Vícar. It is not a long hike, but in some places it is steep. And, no, you can't drive up there by car, it is not allowed.
At the viewpoint, you will find a cool bench located on the slope of a nearby hill. It has an inscription of 'No me acuerdo de olvidarte' written on it. As a reward for the hike, you will get some of the most amazing views from the bench!
There is another cool street art that you can spot right at the beginning of your hike to the viewpoint (or when returning back). It is painted on the wall of a building at the start of the hike. One of the most striking street arts in Vícar for sure!
Location: Mirador de Vícar – Street art
11. Explore scenic views and benches around Vícar!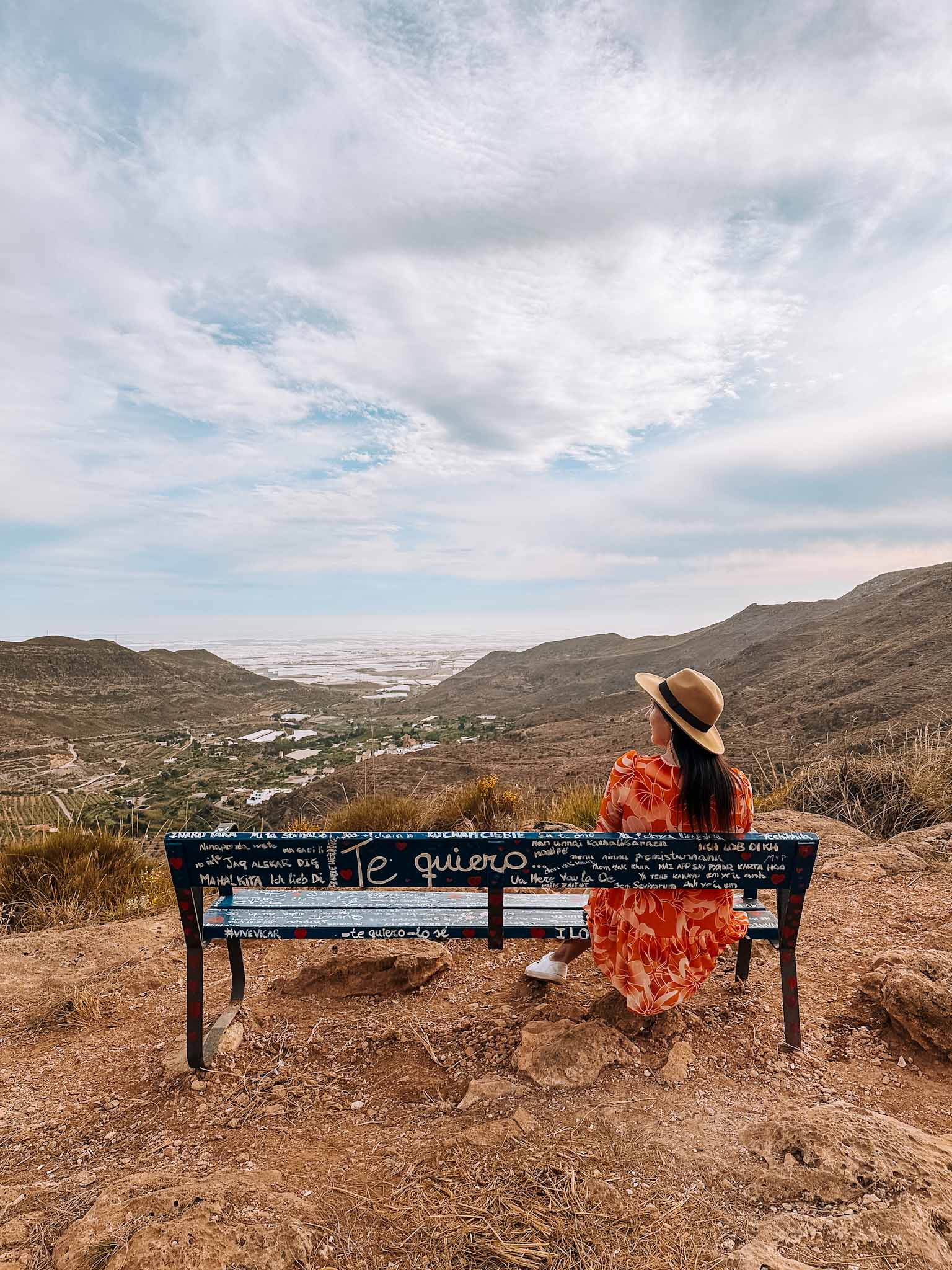 In case you are driving by car to Vícar it is worth checking out other scenic benches in the surrounding area of Vícar! For example, this very picturesque 'I love you' bench with amazing views over the mountains.
The bench (and also a big red heart) is located at a viewpoint of Mirador del Amor just a couple of kilometers up in the mountains from the village. It is a short drive to get there! If you have time, check it out!
Location: Mirador del Amor
Just 1.5 kilometers from the ' I love you' bench even more further uphill you will find one of my favorite benches. It says 'I was born in the Mediterranean' in Spanish and has the best views over the mountains and the Mediterranean Sea.
Location: I was born in the Mediterranean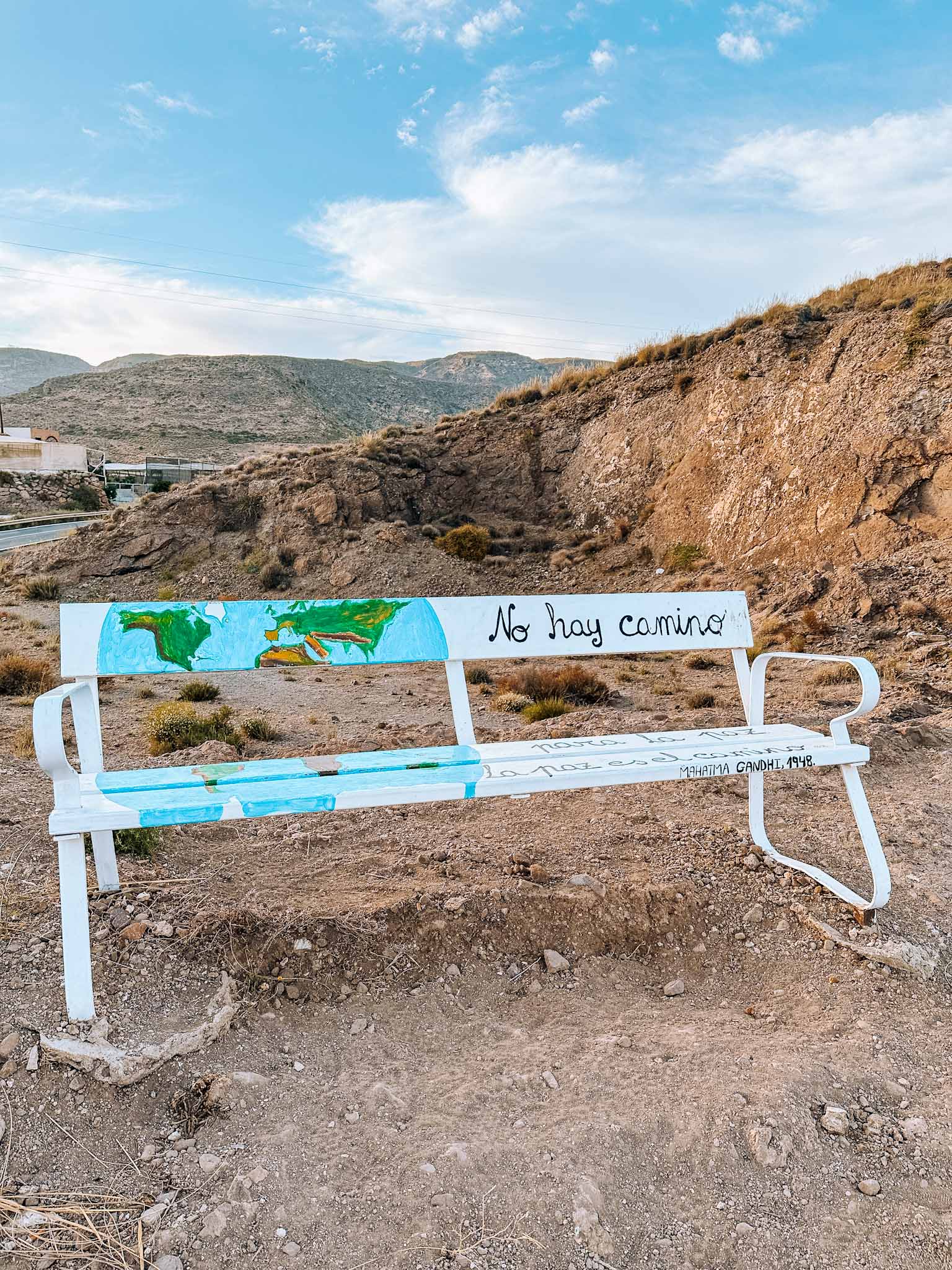 If you drive from Vícar village in the direction of the sea, then soon after you will find the next bench at Mirador de la Paz viewpoint. This is a bench of peace and friendship as it is written on it in Spanish.
Location: Mirador de la Paz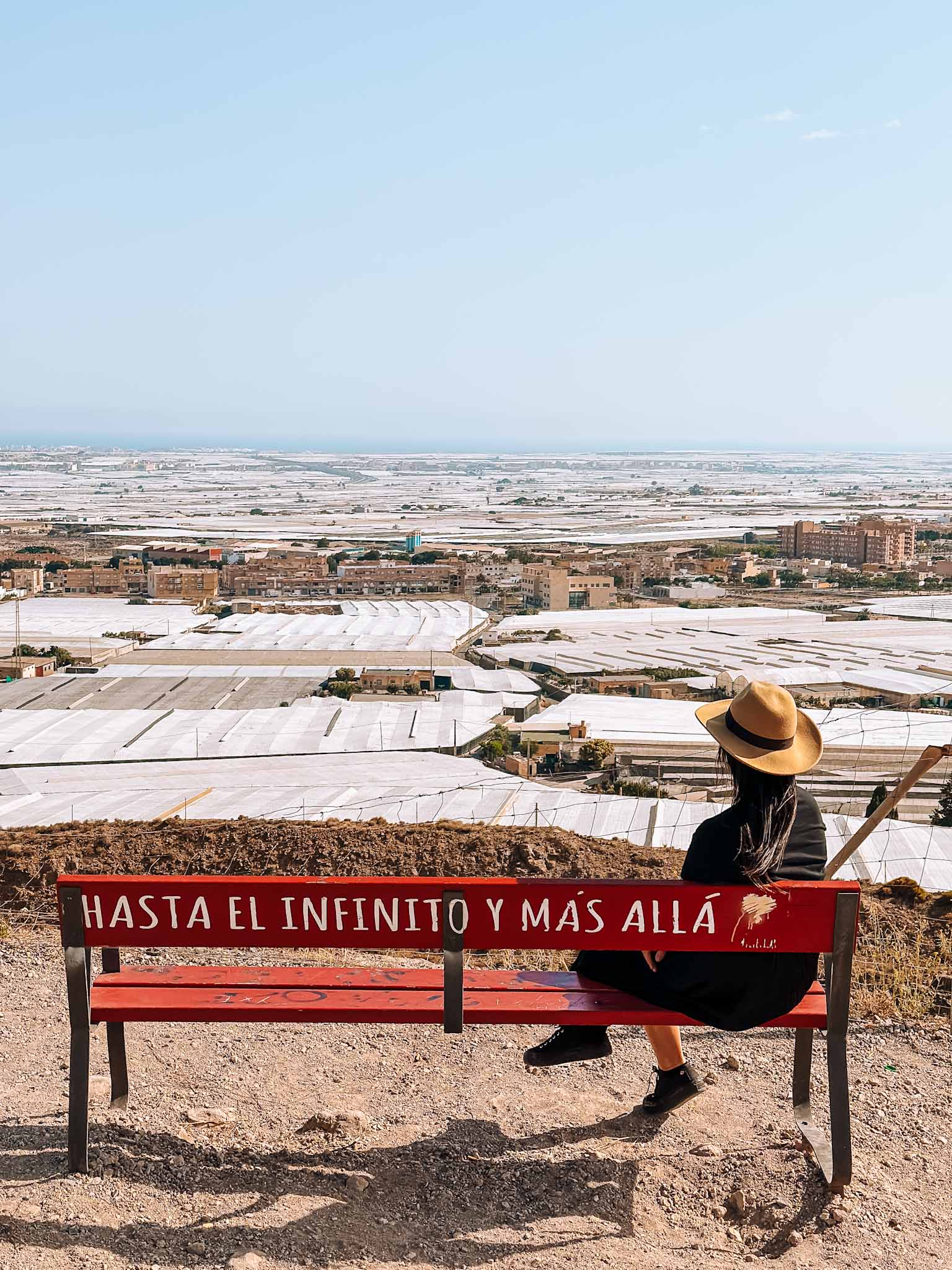 The final bench is located at a viewpoint overlooking the 'cellophane sea' – greenhouses made for growing fruits and vegetables. If you are a European, most likely you have eaten something that grew here in these greenhouses.
The bench at this viewpoint says 'to infinity and beyond'. I am not sure if this is about the greenhouses or the Mediterranean Sea that you can spot in the background. Nevertheless, it is a cool spot, but very noisy with the highway right below.
Location: Banco Mirador Mar de Plástico
More Andalusia travel inspiration!
Happy exploring!
We loved finding hidden gems in Almería province like Vícar village. It is a typical mountainous Andalusian village with whitewashed houses, however, locals have decided to put some color into their lives.
Now it pleases all of us with some colorful street art murals and scenic benches! I hope you enjoy your time in this picturesque village and in Almería province as much as we did! Happy exploring!
PIN FOR LATER!