Here are 7 exciting adventures you should do in Lanzarote
When you go to Lanzarote staying only at the beach is a crime, haha! This small island has a lot to offer so you should definitely let yourself live a little and give yourself at least a couple of adventures in Lanzarote!
Go and explore because that is when the magic moments happen! Here are 7 adventures you should include in your Lanzarote itinerary!
1. Experience Timanfaya National Park and all it has to offer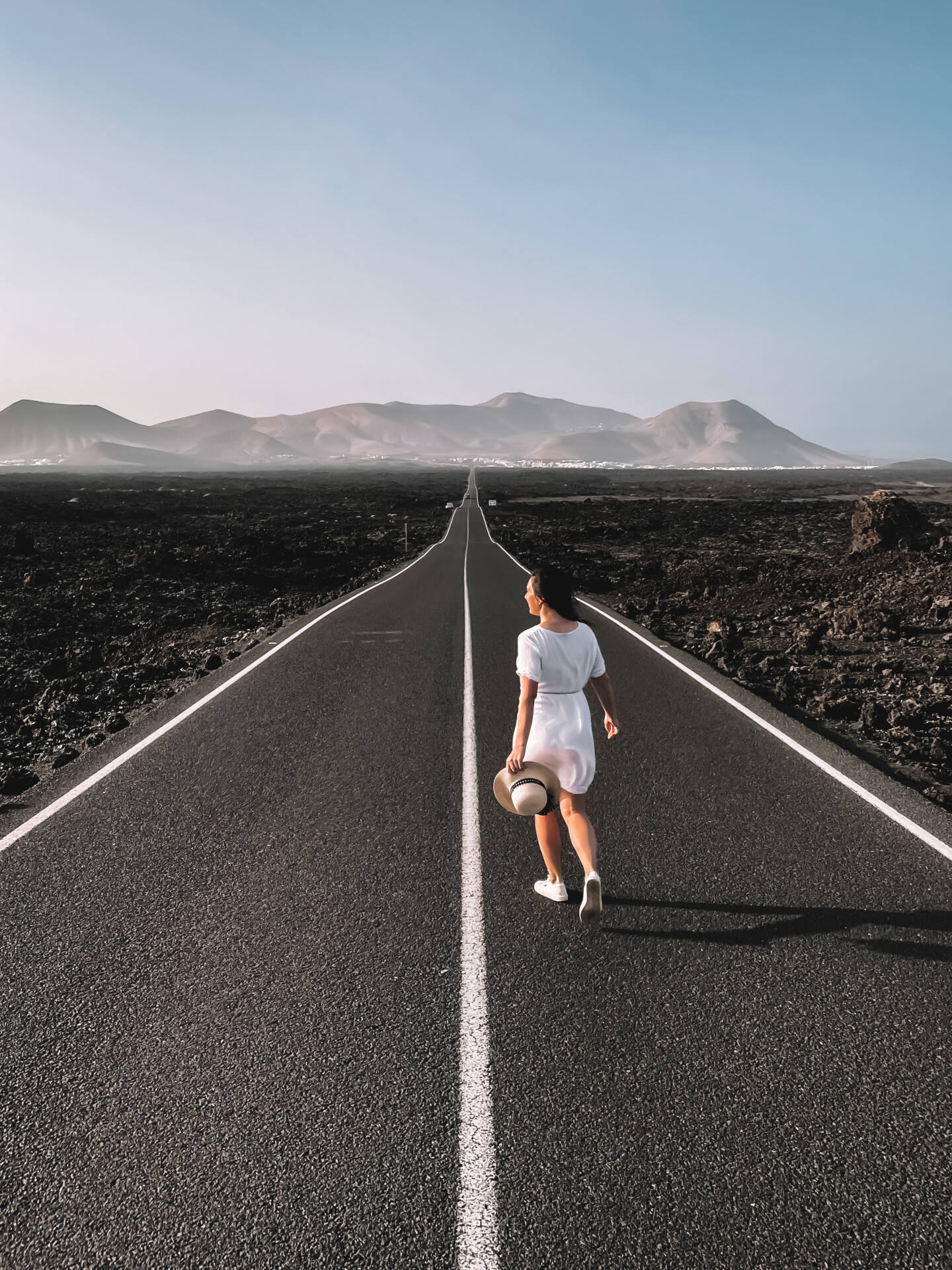 Timanfaya National Park is a protected place in Lanzarote – it is an area where the recent volcanic activity took place and you can see raw and fresh volcanos there.
It is an apocalyptic sight for sure and a must-see adventure in Lanzarote. The easiest way to see the area is to drive the road number LZ-67 which goes from Yaiza to Mancha Blanca or another way round.
There is an extra way to explore the park – you can buy a ticket for a guided tour on cactlanzarote.com and drive to the visitor center next to the restaurant El Diablo.
There you will park your car and get on a bus for a guided tour around the Fire mountains – an area where the recent volcanic activity took place and the ground is still active.
After the bus tour, they will show demonstrations of how around 13 meters below the ground surface it is still 100 to 600°C hot (212 to 1112°F).
We did the tour and although it is very touristy, we saw places and sights we have never seen before and maybe never will, so it was definitely one of the most interesting adventures in Lanzarote. I really recommend it!
2. Explore different caves in Lanzarote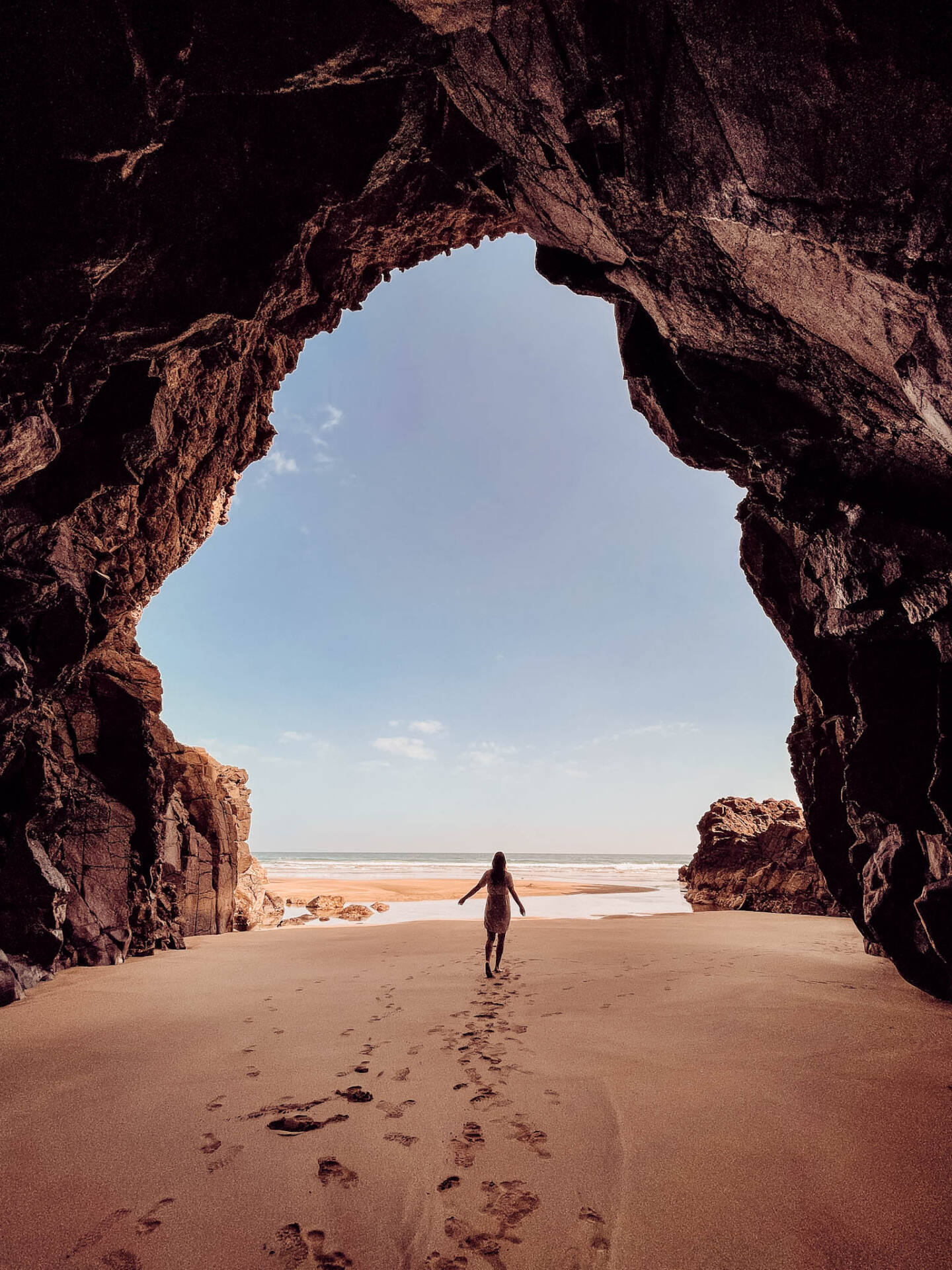 Caves in a volcano, sea caves, or lava tubes – Lanzarote has all of them. Exploring different caves was probably one of my favorite adventures in Lanzarote. Read further to find out what we had to overcome to even get to these caves, haha!
Cueva de los Verdes
'Cueva de los Verdes' is an underground lava tube where you can participate in guided tours (for an entrance fee) and explore the underworld.
This lava tube is one part of the lava tube that stretches into the Atlantic Ocean and has a 1.5-kilometer-long underwater section called 'Túnel de la Atlántida' – the world's longest known volcanic submarine lava tube!
You can only visit the underground part, but it was an exciting adventure for sure! I highly recommend taking this tour! If you go there, do that early in the morning (they open at 10 AM) to be in the first group and skip waiting in long lines!
Location: Google Maps
Cueva de Montaña Cabrera
A secret cave inside the volcano Montaña Cabrera with an open ceiling is a must-visit for sure. There are no tourist trails, no road signs, no parking areas nearby – just Lanzarote wilderness.
We searched the mountain for 45 minutes before we even found this cave, however, there are a couple of other caves in the same area of the volcano, so you can be like an explorer and see them all.
Searching the volcano was one of the coolest adventures I had in Lanzarote, haha! If you open Google Maps and switch to satellite view, then you will see that there are big holes on the West side of Montaña Cabrera volcano.
This cave is marked at the right location in Google Maps (other caves are not). Just drive your car to the bottom of the volcano (you can park near the houses) and hike up.
It is a bit of an uphill hike, but nothing extreme. The entrance to the cave looks cut out almost like a letter T, so it stands out very well.
Location: Google Maps
Jameos del Agua lava tube
'Jameos del Agua' is a masterpiece of local artist César Manrique, who created a beautiful oasis inside a lava tube. There is a restaurant, a coffee shop, a museum, an auditorium as well as an inside pool (inside the lava tube).
The pool is the only place on this planet where you can see an endemic local species of blind crabs – the whole pool is full of tiny, white, and, apparently, blind crabs. All in all, it is a place for entertainment and relaxation.
There is an entrance fee to this place, and you can buy tickets on their website cactlanzarote.com The oasis and the pool are amazing places for some Instagram photos, but remember to arrive early to get them before the tourist masses arrive!
Location: Google Maps
Cueva De Los Suecos
One of the places you should definitely include in your Lanzarote itinerary is Famara cliffs. If you drive up to the top you will get some of the best views over the Atlantic Ocean, La Graciosa island as well as the coastline of Lanzarote.
Many people go there to watch the sunset or just have a picnic. One place you can include in your Famara trip is Cueva de los Suecos cave. It is located just a few careful steps down the cliff – it is not too extreme, but you should be careful when climbing down.
There is a place for multiple people inside the cave and it gives a different perspective of the island. By the way, you can park your car at the official parking lot or you can even drive to the very cliffside – it is possible, but the road is bumpy.
Location: Google Maps
Official parking: Google Maps
Cueva de Órzola sea cave
If you happen to be in the North part of Lanzarote and visit Órzola town then this sea cave would be a nice addition to your trip.
I have to warn you that it is only accessible during low tide, so you should definitely google it before going. There is no point in trying to go there during high tide because the cave will be full of water.
You can access the cave by walking along the Playa de Órzola beach – the cave is located behind the dark rocks that stretch into the ocean.
You will notice them on the beach. Exploring the sea area during low tide is one of my favorite adventures any time in Lanzarote!
Location: Google Maps
Cueva Paloma
This simple yet unique sea cave is located on the East coast of Lanzarote. It is very easily accessible, as it has a side entrance from the coast side. It might not be the best idea to visit it during high tide just as any sea cave.
You can go inside and explore it as well as make some beautiful photos. It looks like a big lava tube and is a nice addition to your trip if you happen to be nearby!
Location: Google Maps
3. Visit 'La Geria' – the unique wine-producing area of Lanzarote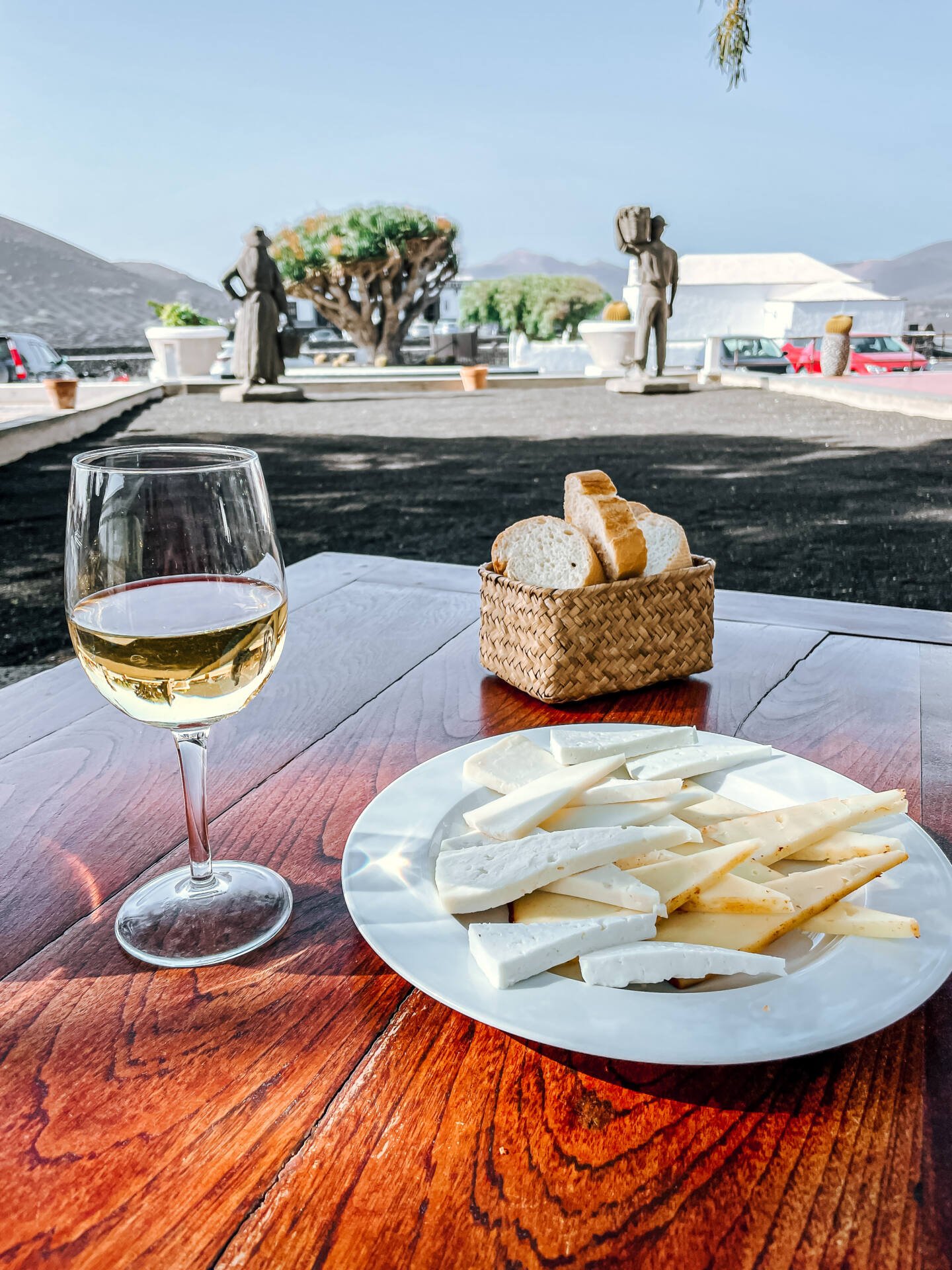 How awesome and unique do these grape fields look? Have you seen anything similar anywhere else in the world? Sometimes I wonder who invented the idea to dig deep pits and plant grapes inside such volcanic pyroclast 'bowls', haha?
The volcanic situation has forced locals to adapt to reality, so agriculture looks very different in Lanzarote. La Geria is an area where you will find endless grape fields that have been planted in such unique cones.
Digging pits helps the crops develop roots more easily and protect them from strong winds. I really recommend you to choose a 'bodega' in this area, go there for some local wine and tapas and then take a walk through the fields and make some nice photos.
In some 'bodegas' they offer tours around the area just in case you are interested to find out something more about this special tradition!
4. Wander the West – find the best volcanic pools in Los Charcones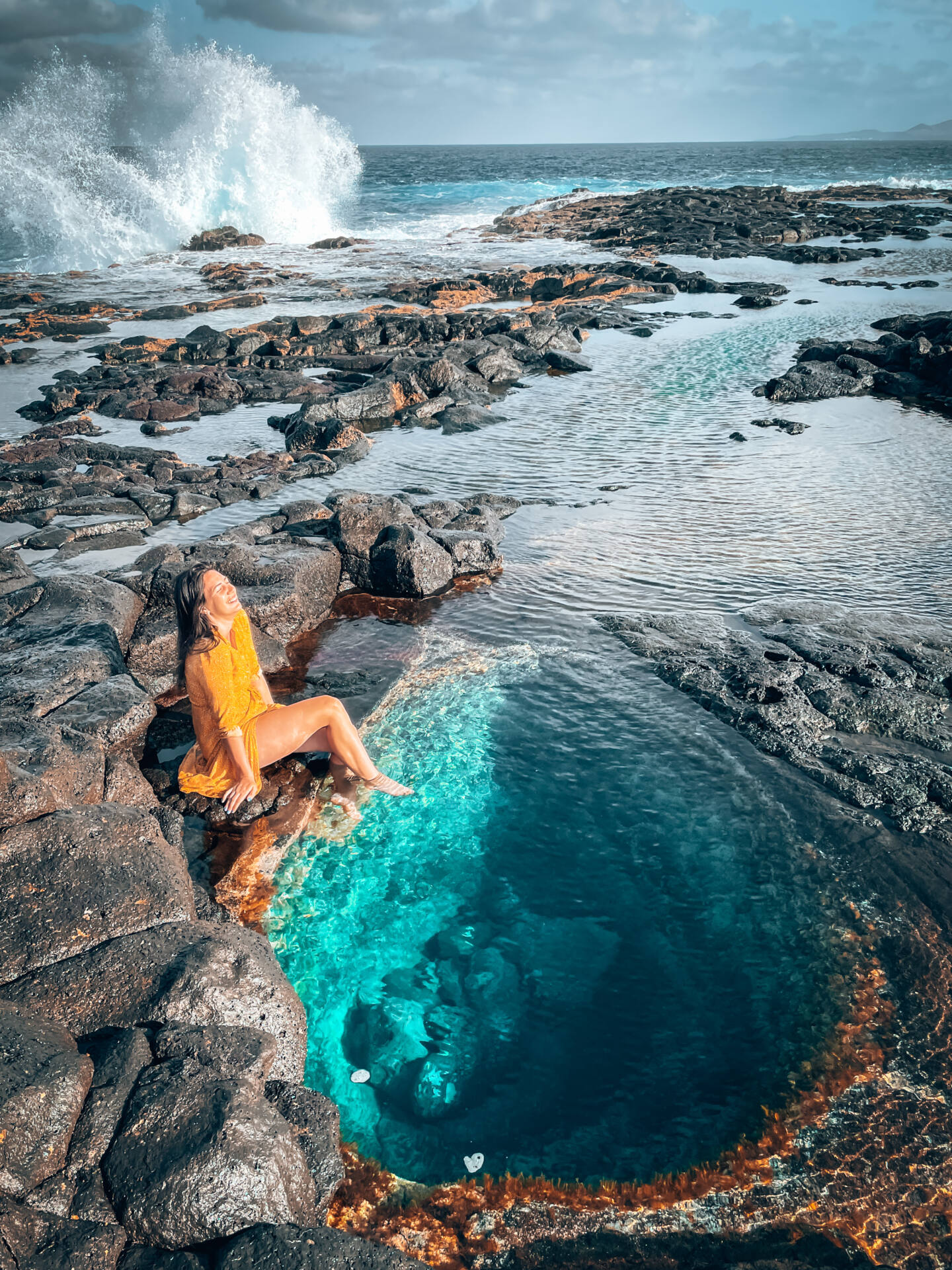 One of the coolest adventures in Lanzarote especially if you love water is exploring the natural volcanic pools on the South-West coast of Lanzarote.
The area where you will find the pools is called Los Charcones and if you search for them in Google Maps it will show you various places where to find them. To be honest it is true – it is a long stretch along the coast where you can spend the whole day exploring and looking for the best pool you like the most.
The area is not very well accessible – there are only a few bumpy gravel roads leading to the coast that many people don't even try to drive! If you have a 4×4 then it is easy!
However, the majority of explorers use the available roads and just leave their cars as close as they can and then walk on foot for the remaining kilometers. If you have free time – don't hesitate to explore more of this area on foot!
Also, it is important to check the tide – it is best to go there during low tide because it is not possible to safely enjoy the 'charcos' during high tide! The waves can get crazy high and dangerous. Exploring the coastline – the 'charcos' and the sea caves was one of the best adventures for us in Lanzarote.
Photo location: Google Maps
5. Definitely hike the volcanoes!
Lanzarote is all about the volcanos! Because of the recent volcanic activity, the volcanic situation is very fresh in people's minds and visible on the island! So exploring volcanos is a must-do in Lanzarote!
You can observe different unique volcanic rock formations in Lanzarote and you can do some easy and moderate hiking to observe the most iconic volcanos of the island with your own eyes. Here are some famous and quite easy volcanic hiking routes.
1. Caldera Blanca hiking trail
Caldera Blanca is one of the most breathtaking volcanos in Lanzarote! It has an epic white-colored crater with a diameter of 1200 meters. The highest point of the crater is at a height of 458 meters.
There is a hiking route that goes up the volcano and around the crater. The views are incredible and unforgettable. The hike will be about 10 kilometers long altogether and there will be no shade, so be prepared for that.
Start of the Caldera Blanca trail and parking lot: Google Maps
2. A giant volcanic bomb and the Montaña Colorada hiking trail
One of the must-see objects in Lanzarote is a giant volcanic bomb that is located next to a red-colored volcano Montaña Colorada. You can not drive there, so hiking is an option to go.
The trail goes around the red volcano and on the way, you will notice a giant volcanic bomb. There are signposts along the route with extra information about the area. The trail is completely flat and around 3 to 4 kilometers long, so easily doable for most people.
Start of the Montaña Colorada trail and parking lot: Google Maps
3. Caldera de Los Cuervos hiking trail around and inside the landmark volcano
The volcano El Cuervo (pictured above) is one of the landmark views in Lanzarote. It represents the huge volcanic activity that took place here between 1730 and 1736 when 36 new volcanos were formed and lava covered one-fourth of the island.
This was the first volcano that emerged and started the transformation of the island. You can walk around it and also hike inside the crater. The official hiking route is about 4 kilometers long and is easily doable for most people.
Start of the El Cuervo trail and parking lot: Google Maps
6. Go to La Graciosa – the smallest Canary island next to Lanzarote
Did you know about La Graciosa island? It is the smallest of the Canary Islands and is located just 1 kilometer off of Lanzarote shores! Obviously, that means you should definitely dedicate a day to exploring this small island whenever you come to Lanzarote!
The only way to get to La Graciosa is by ferry from a town called Órzola in the North of Lanzarote. There are two ferry companies who operate on this route – Lineas Romero and Biosfera Express Lines – and they provide transportation to and from the island basically every hour throughout the day!
A round trip for adults will cost around 50 EUR and you can book it online on their websites. The trip one way is about 25-30 minutes. Remember – you can't take your car over there!
La Graciosa is known for its beautiful sandy beaches, untouched nature, and peace. There are only about 700 people living on the island in two settlements.
You can find a couple of restaurants and shops there, but people go there just to relax and switch off from the rest of the world. We did some decent hiking (28 kilometers in total) around the island, went for a swim, ate ice cream, and soaked in the sun.
There are a couple of bike rental companies as well as taxis to take you somewhere around the island. Of course, you can enjoy some water activities as well, but there is not much else to do and I think that is the biggest adventure of all – to feel the remoteness all around you!
They even don't have maintained roads or tarmac – only sandy streets and paths! Are you ready for this level of remote?
Photo location: Google Maps
7. Be brave and try some sports!
There are a couple of sports adventures you can try in Lanzarote! Lanzarote has water, strong winds, and high cliffs, so that makes it a very suitable place for such sports/activities as surfing, paragliding, and also parasailing! Just search for local companies or schools and they will definitely set you up for a great adventure in Lanzarote!
Happy exploring!
I hope you have a great trip to Lanzarote and that you get to enjoy the island to the fullest! It really is a unique island with lots of special places! If you can, please, leave a comment below if there are any significant changes to anything that is written in this blog post! Many thanks!
PIN FOR LATER!