15 amazing rock formations in Lanzarote that will surprise you
Lanzarote is full of beautiful and unique rock formations due to the massive volcanic activity it has experienced not only while the island was created but in recent centuries as well.
Here are some of the must-see places and rock formations in Lanzarote you should see with your own eyes! Let's discover this beautiful island together!
1. Las Grietas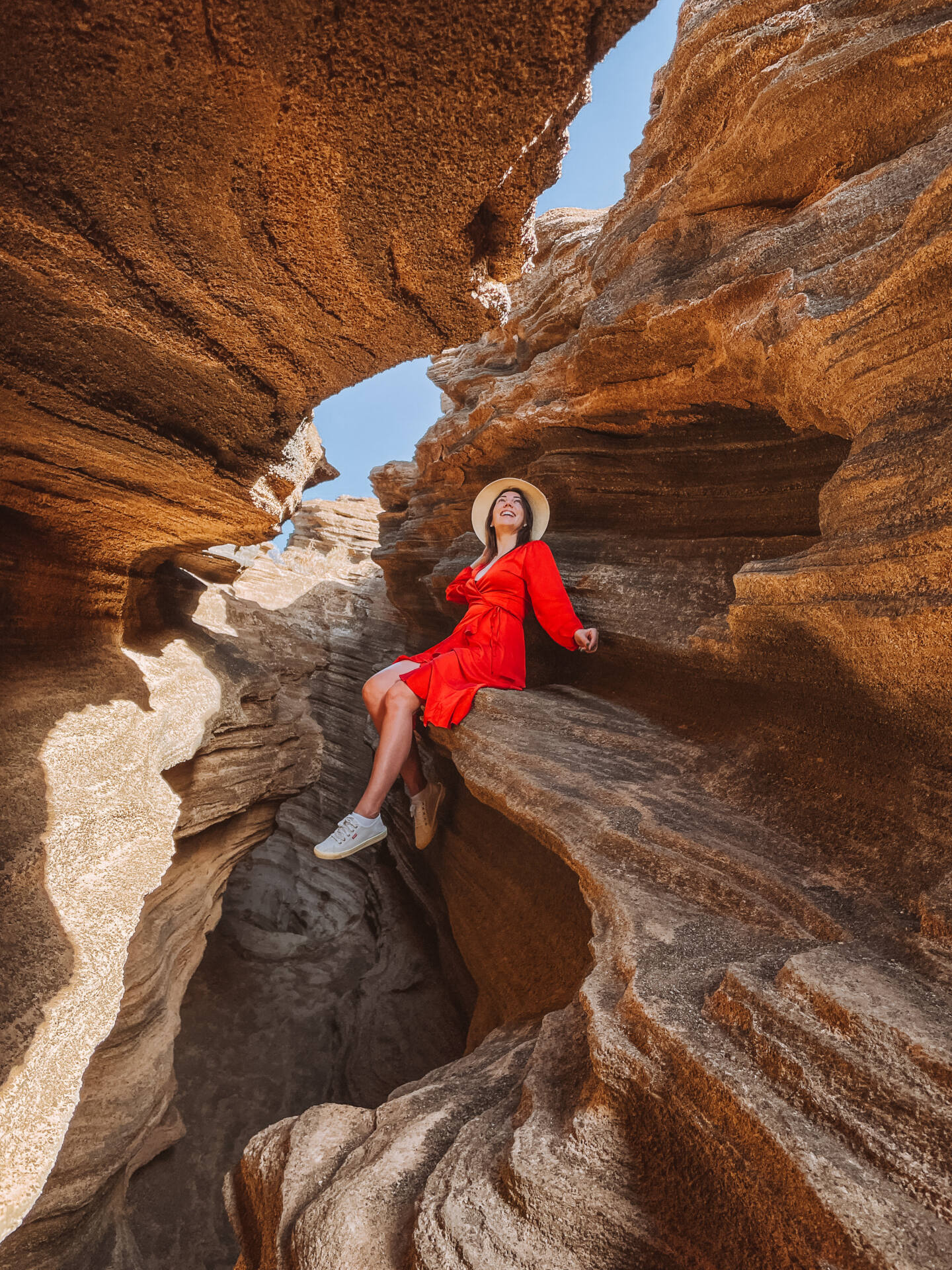 Las Grietas from Spanish means 'the cracks' and that is exactly what you will find here – narrow and curved openings at the side of a volcano that have formed due to erosion.
As you walk from the road you will already see the first opening – it is the most popular one and a bit wider than the others. The cracks are quite short (you can go maybe 30-50 meters deep), so it won't be a long walk to check them out.
Don't stop at the first, but follow the path uphill and see some others as well – there are more narrow and also some wider ones. You can visit this place any time of the day really, and can easily park at the side of the road.
There will be no signs pointing to them, but they are easy to find – just check Google Maps to be sure. This is one of the most picture-friendly places in Lanzarote!
Location: Google Maps
2. Giant volcanic bomb at Montaña Colorada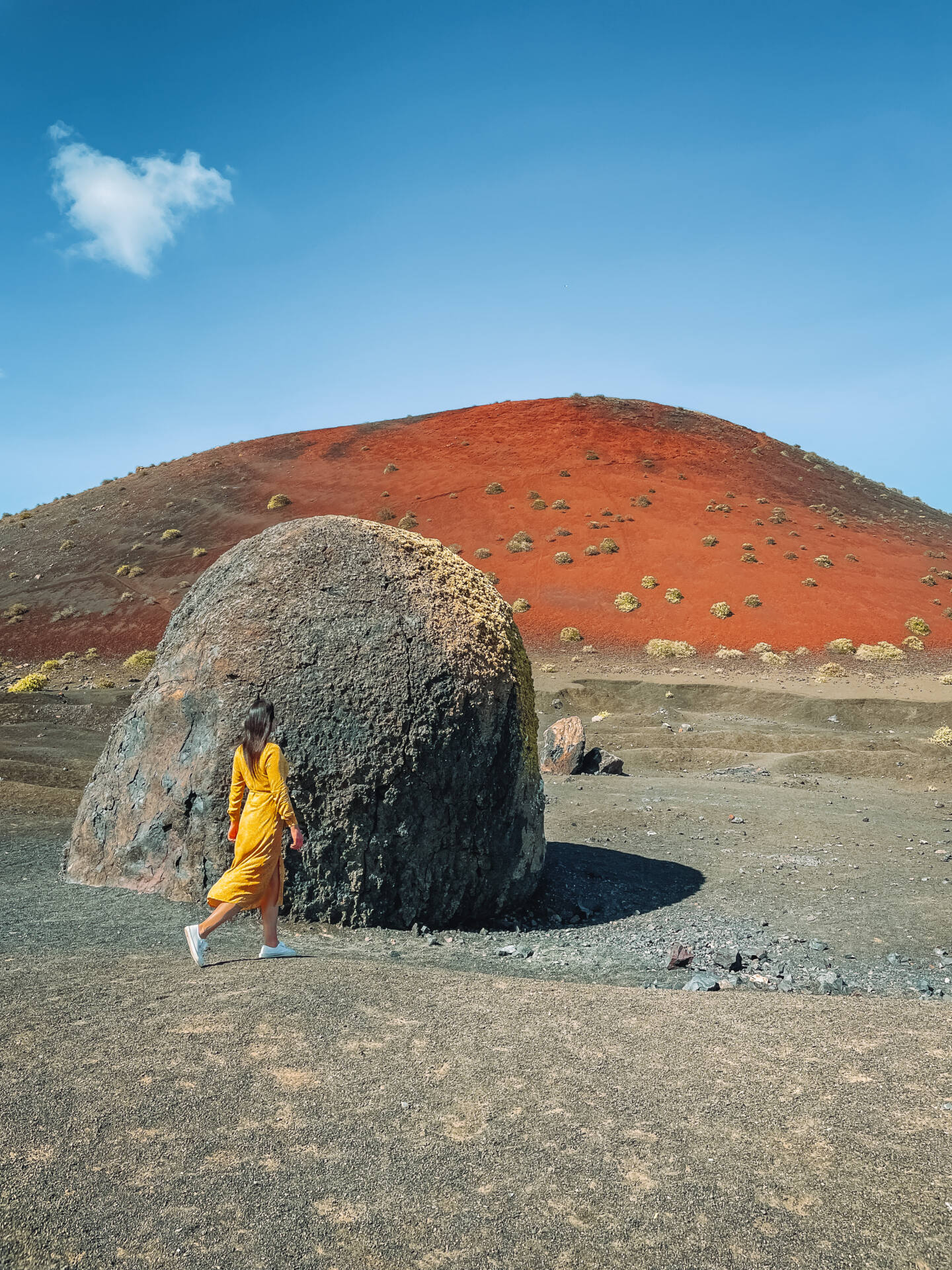 Lanzarote is all about volcanos and lava so obviously, you will see lots of rock formations related to volcanos and lava. A special object that will catch your eye is a giant volcanic bomb next to a red-colored volcano – Montaña Colorada.
A volcanic bomb is a piece of rock that has been spat out of a volcano during an eruption and this particular bomb is a huge one. What makes it extra attractive is a red volcano in the background. You can get there on foot when walking the trail around the mountain.
The bomb is located about 800 meters from the parking lot if you go the shortest way, but you can definitely hike all the way around the volcano (the trail around it is about 3-4 kilometers long).
Location: Google Maps
3. Natural volcanic pools Los Charcones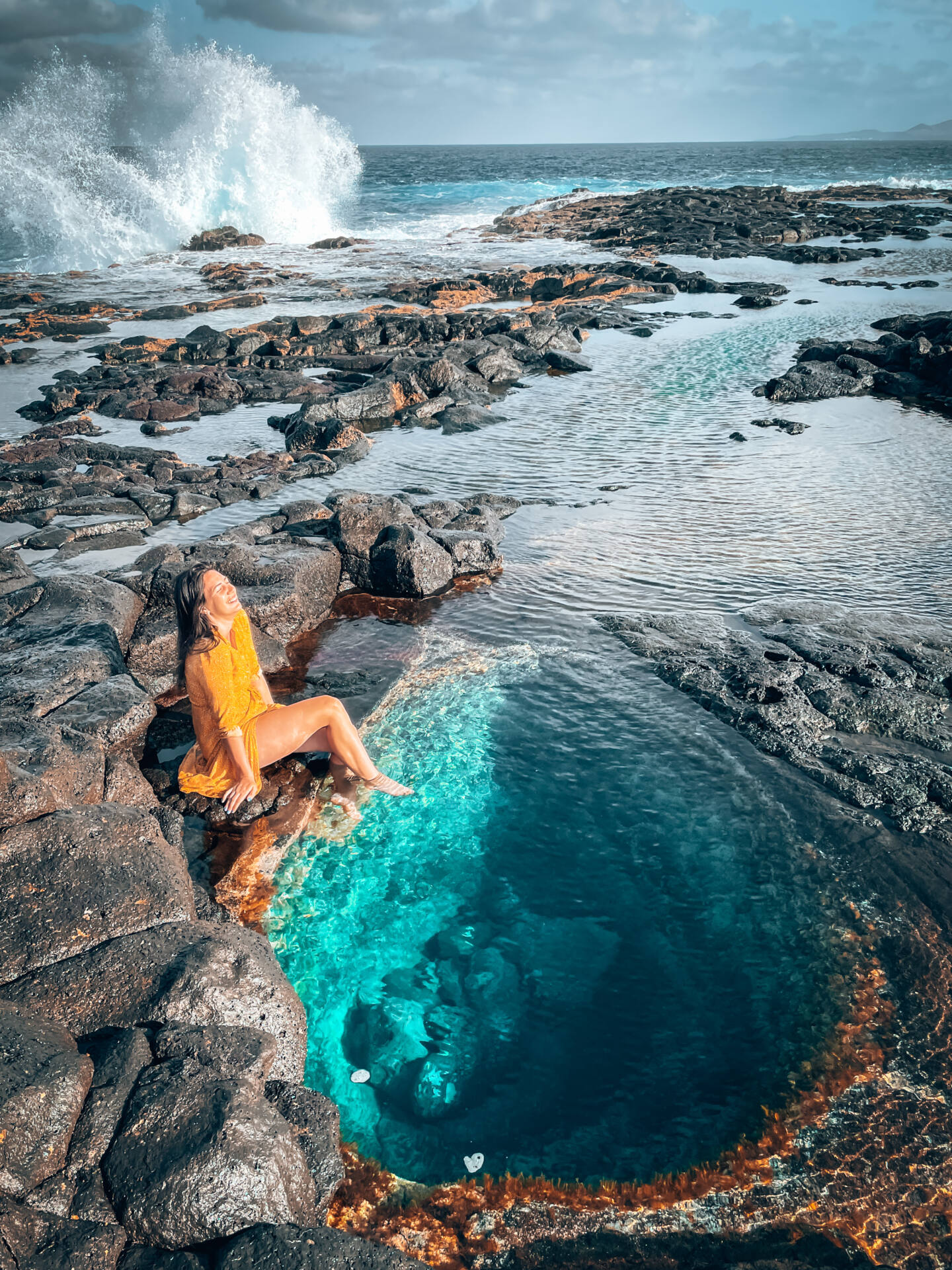 These natural volcanic lava pools are some of the most beautiful rock formations in Lanzarote! Los Charcones is a rocky coastal area in the Southwest corner of Lanzarote.
If you try to find them on Google Maps you will find multiple places marked on the map. To be honest it is true – you could spend all day just walking along the coast and exploring the natural volcanic pools.
The area is not very well accessible – there are only a few bumpy gravel roads leading to the coast that many people don't even try to drive! If you have a 4×4 then it is easy!
However, the majority of explorers just leave their cars as close as they can and then walk on foot for the remaining 2-3 kilometers. We somehow managed to drive our Fiat 500 almost to the Hotel Atlante del Sol.
Hotel Atlante del Sol is an abandoned and unfinished building next to the coast and then walked a couple of hundred meters to this beautiful 'charco'. If you have free time – don't hesitate to explore more of this area on foot!
Photo location: Google Maps
4. Floating rock at Risco de Famara
Famara cliffs located in the North of Lanzarote is the highest place in Lanzarote! Although the official Risco de Famara viewpoint is nearby, this is the time when the unofficial photo spot will offer you more dramatic and exclusive material!
There is a flat rock pillar that is separated from the main cliff and looks like you are sitting on a piece of rock that is floating in empty air. It is quite wide so there were no worries from my side about any risks however it will be a challenge for those who don't particularly enjoy heights!
The location in Google Maps for this 'floating' rock formation is the same as the next spot – Cueva de las Cabras cave because they are located right next to each other. By the way, it is possible to drive a car to the very end and park it next to the cliff.
The road is quite bumpy but doable even for smaller cars! This is one of the most unique rock formations in Lanzarote but definitely with the most impressive view!
Location: Google Maps (same as the next photo spot – the cave)
5. Cueva De Las Cabras / Cueva de los Suecos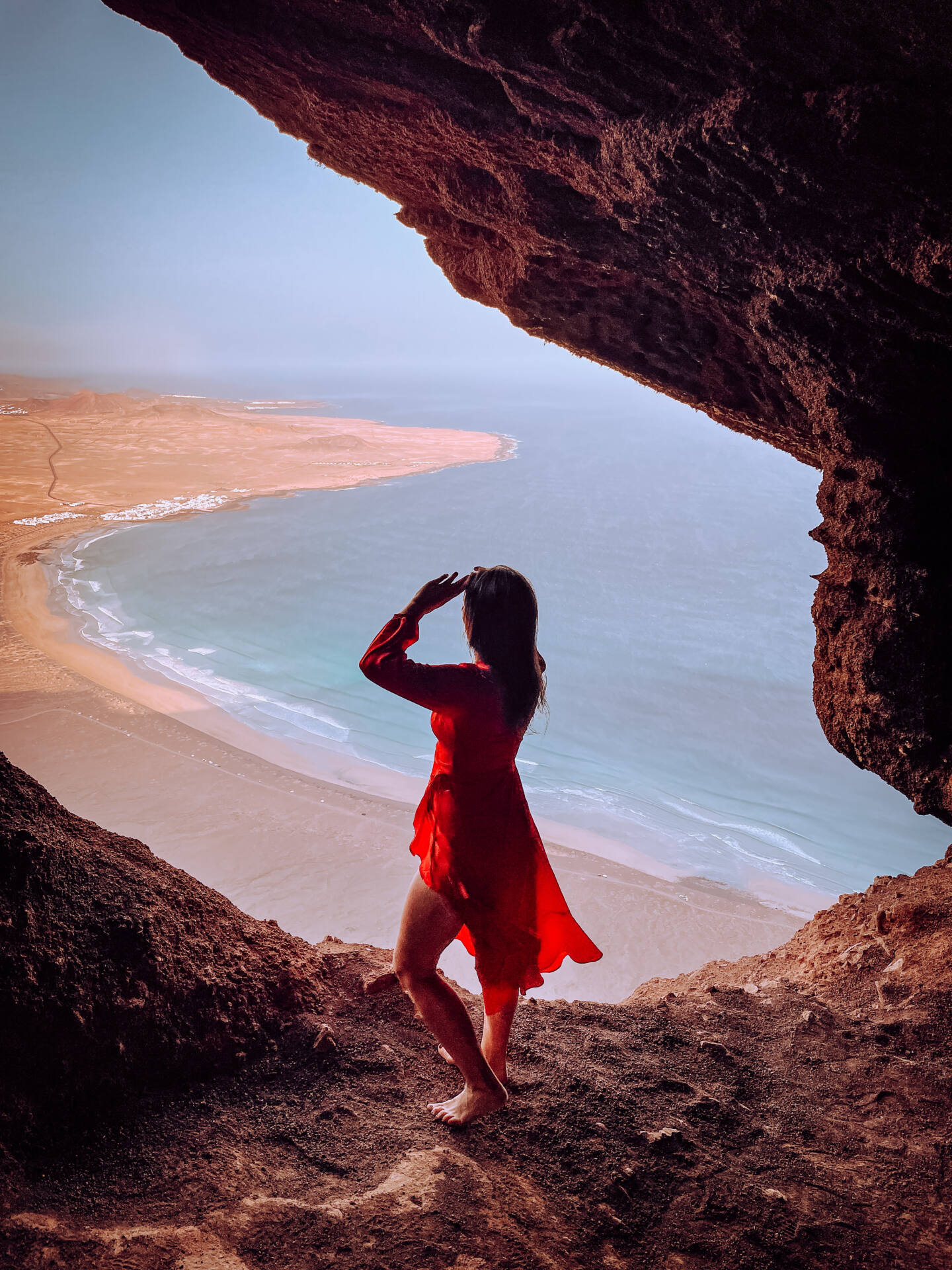 Just a few careful steps down the cliff from the unofficial Risco de Famara viewpoint there is a cave overlooking the same view but here you can get a different angle of the island below.
No special skills are necessary to access it, just move slowly and carefully. This cave is a popular place for watching the sunset and it is big enough for multiple people!
Location: Google Maps
6. La Rofera rocks
One of the most unique rock formation areas in Lanzarote is La Rofera – volcanic rocks in interesting shapes and colors that make this place very photogenic. You can leave your car just at the side of the road and take a walk around.
There is a wider area full of these rocks and you can find the one you like the most. Don't stop at the first rocks, because the area is quite wide and you can find some gems further from the road! Happy exploring!
Location: Google Maps
7. Playa de Papagayo cliffs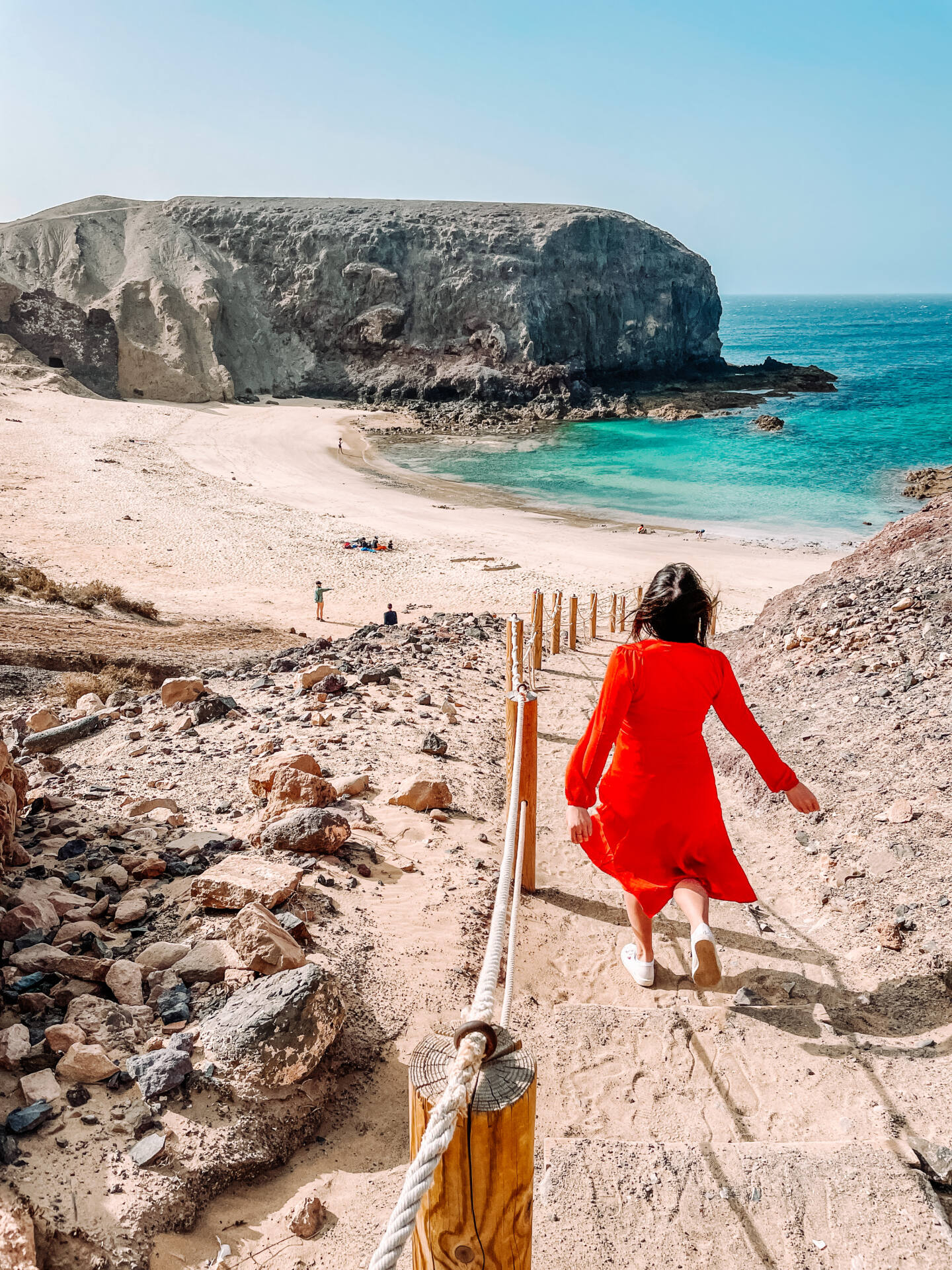 Playa de Papagayo is one of the most scenic beaches in Lanzarote. It is a small cove surrounded by huge cliffs which makes it a great escape from the strong winds as well as gives this place a unique look.
These tens of meters high cliffs are what make this beach unique and attractive, don't you agree? Getting to the beach is a bit of a challenge – it is a 7-8 kilometer drive on poorly maintained bumpy roads plus there is an 'entrance fee' to the area where the beach is located.
At the beginning of the road, there is a small hut where you will be asked to pay 3 EUR per car for entrance. You can only pay by card! To be honest it is not too expensive for this adventure and for the amazing views.
Location: Google Maps
8. Montaña Cabrera cave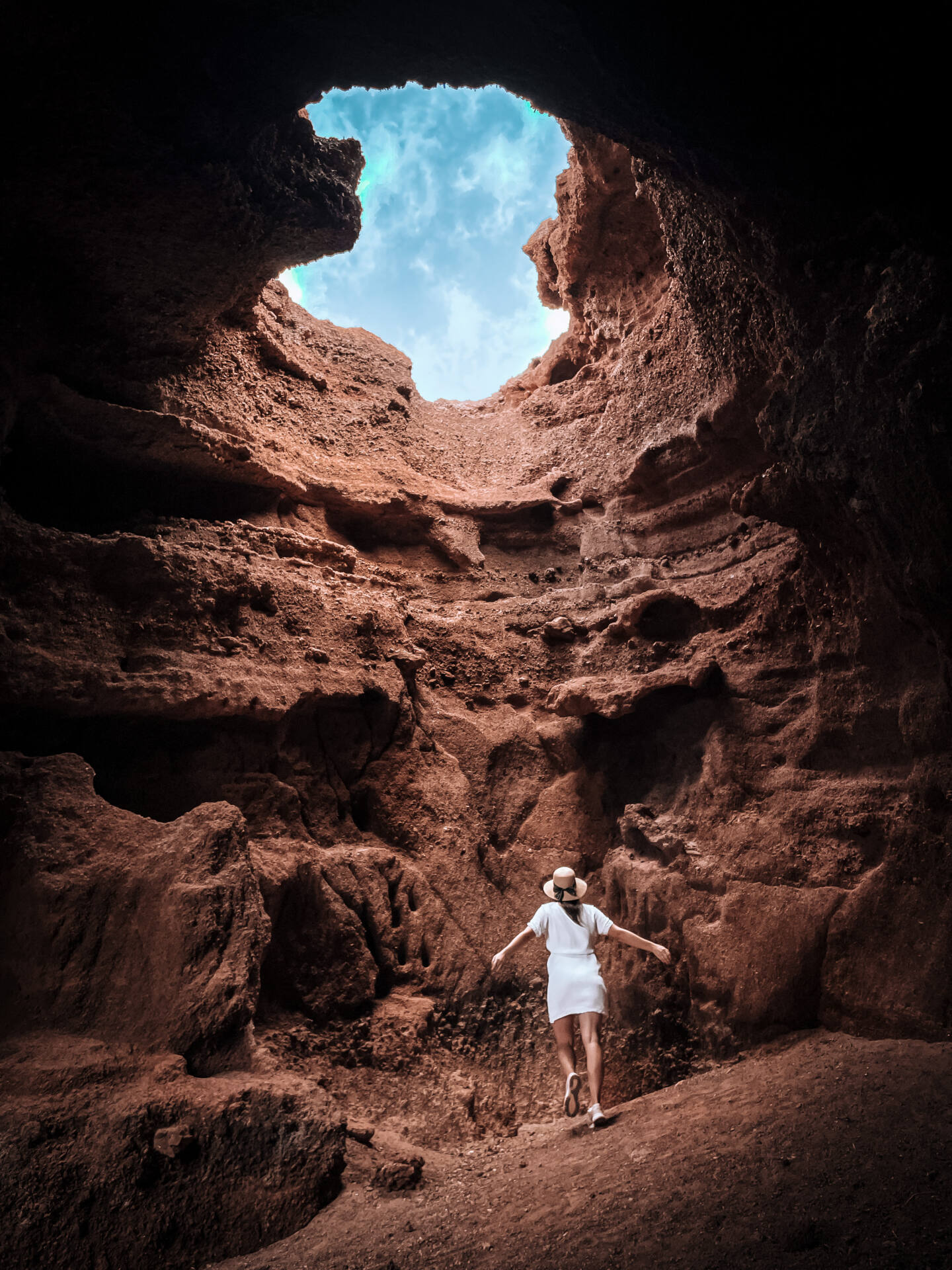 Off the beaten path hides a treasure – a secret cave inside a volcano Montaña Cabrera. There are no tourist trails, no road signs, no parking areas nearby – just Lanzarote wilderness.
However, there is also nothing holding anyone back from simply climbing a volcano and exploring caves in it. If you open Google Maps and switch to satellite view, then you will see that there are big holes on the West side of Montaña Cabrera volcano.
You are aiming for a hole that is to the South. You will have to drive a gravel road (it is decent for small cars), leave your car near a group of houses and choose a path uphill the mountain.
The cave entrance looks cut out like a letter T, so it stands out very well. This cave is an extra adventure if you have time to spare on your Lanzarote trip! Volcanic rock formations are so diverse and unique in Lanzarote!
Location: Google Maps
9. El Cuervo volcano
El Cuervo volcano is one of the landmark views of Lanzarote island. It represents the huge volcanic activity that took place here between 1730 and 1736 when 36 new volcanos were formed and lava covered one-fourth of the island. This was the first volcano that emerged and started the transformation of the island.
You can either walk around it and also hike inside the crater (there is an official hiking path) or you can climb a volcano on the opposite side of the road – Montaña Negra – like we did and get this overview of the volcanic landscape of Lanzarote. This volcano looks like a model from an apocalyptic movie, isn't it?
Location: Google Maps
Photo location: Google Maps
10. Cueva de los Verdes underground lava tube
The Cueva de los Verdes is a rock formation in Lanzarote like no other! It is an underground lava tube where you can participate in guided tours (for an entrance fee) and explore the underworld.
This lava tube is one part of the lava tube that stretches into the Atlantic Ocean and has a 1.5-kilometer-long underwater section called 'Túnel de la Atlántida' – the world's longest known volcanic submarine lava tube!
You can only visit the underground part, but it was an adventure for sure! I highly recommend taking this tour! If you go there, do that early in the morning (they open at 10 AM) to be in the first group and skip waiting in long lines!
Location: Google Maps
11. Caldera Blanca volcano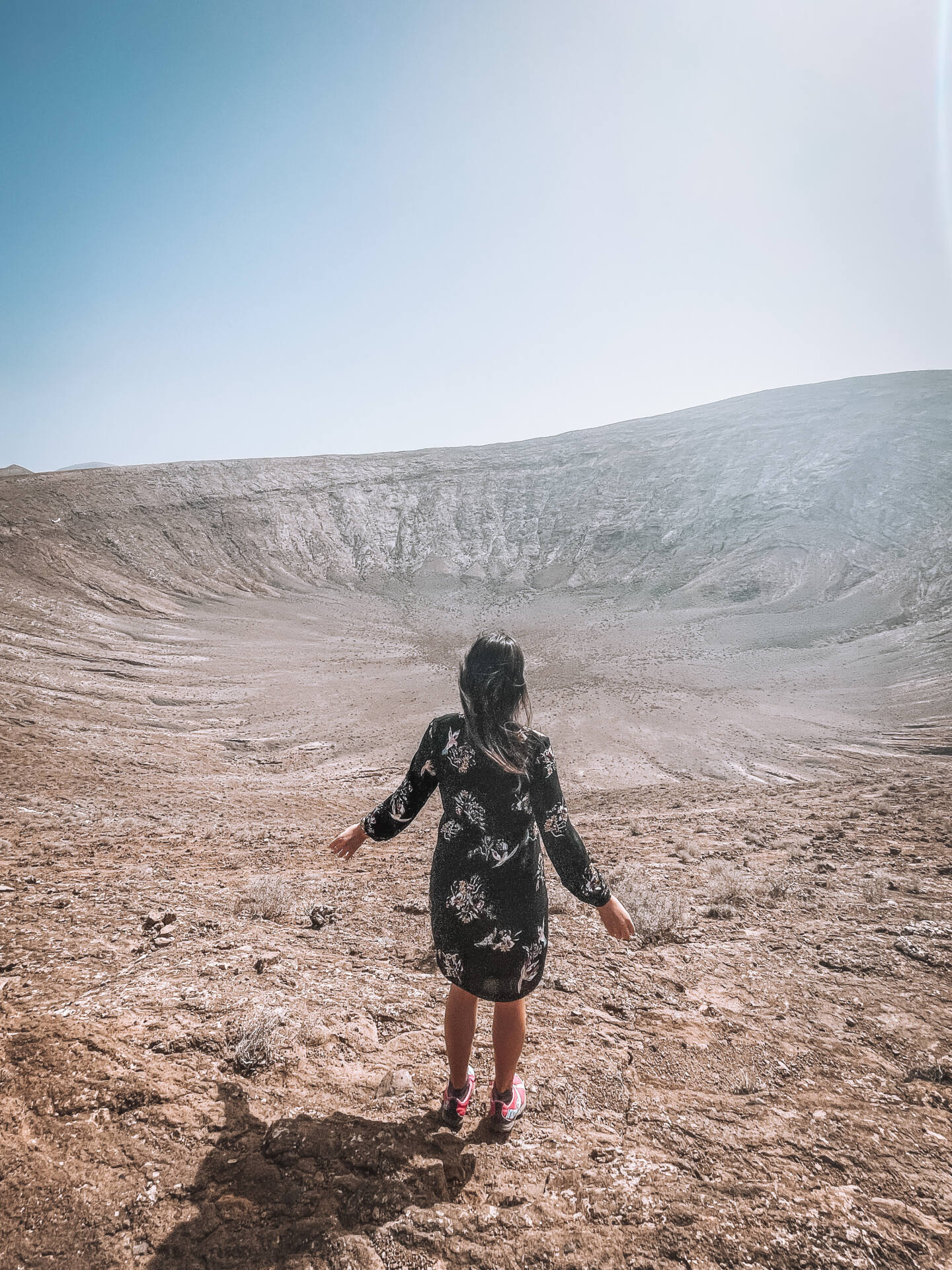 Caldera Blanca or the White cauldron is one of the most eye-pleasing volcanos in Lanzarote! It is not specifically a rock formation but it is a creation of nature!
This is also one of the most popular hiking places on the island – many people desire to hike to the top of a volcano and how can you not want to do that when the volcano looks this beautiful? It is approximately a 10-kilometer hike (5 kilometers one way) with no shade, so be prepared for that.
The top of the crater is located at about 458 meters above sea level, so there will be some climbing involved as well! Just leave your car in a parking lot and then follow the path.
There are many trails to the top of the volcano and either of them works. Beware that there might be some strong wind on top! The diameter of the crater is about 1.2 kilometers wide and it is a mighty view to see with your own eyes!
Parking location: Google Maps
Location: Google Maps
12. Cueva de Órzola sea cave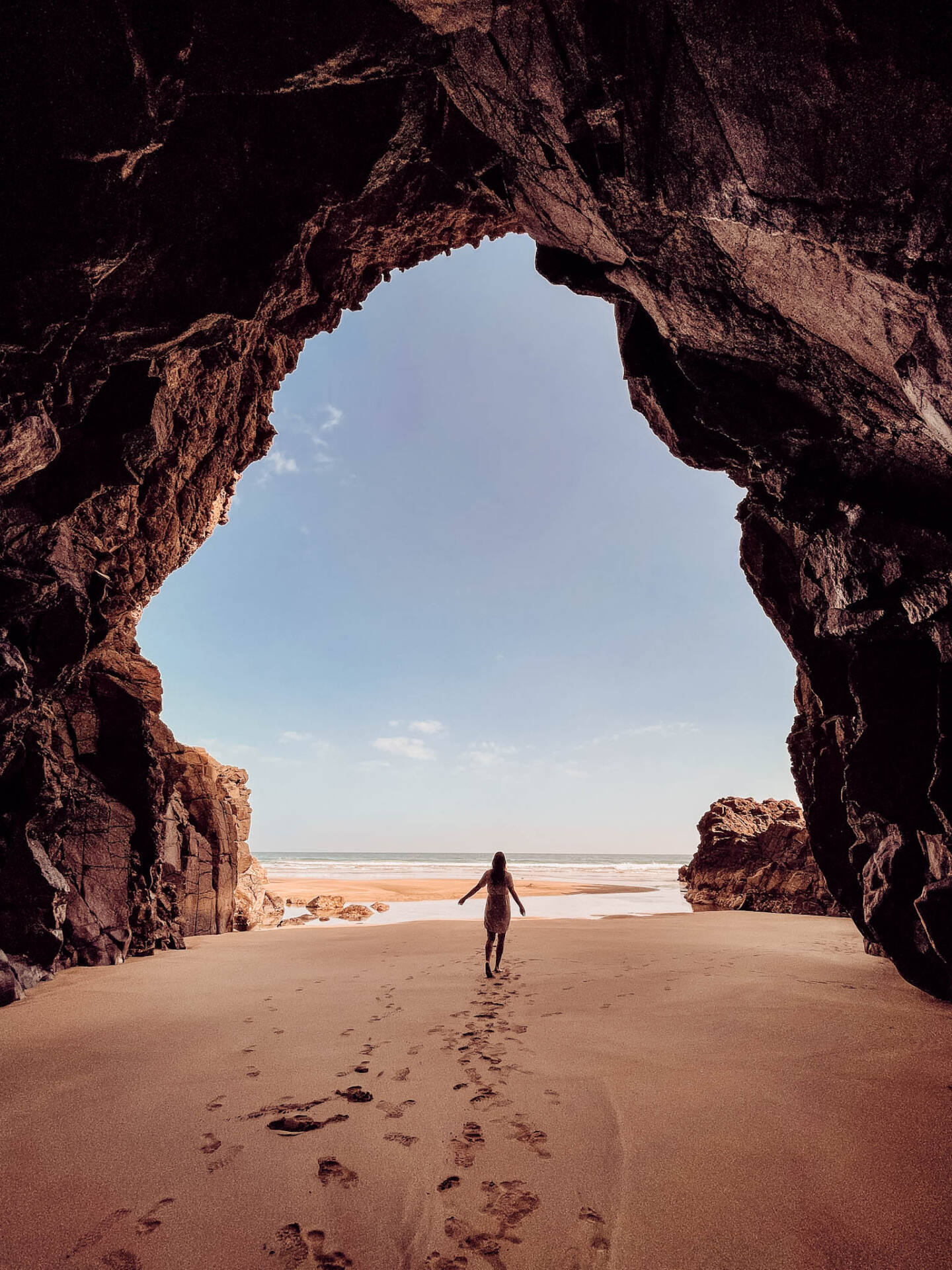 If you happen to be in the North part of Lanzarote and visit Órzola town then this sea cave would be a nice addition to your trip.
I have to warn you that it is only accessible during low tide, so you should definitely google it before going. There is no point in trying to go there during high tide because the cave will be full of water.
You can access the cave by walking along the Playa de Órzola beach – the cave is located behind the dark rocks that stretch into the ocean. You will notice them on the beach. Also, if you are looking for a photo like this, then a wide-angle setting on your phone will be necessary 🙂
Location: Google Maps
13. Los Hervideros
Los Hervideros is a coastal area on the West coast of Lanzarote. Those are coastal rock formations created when the hot lava met the ocean and rapidly solidified.
Due to the waves and erosion now we can observe different forms and shapes of lava rocks, many sea caves, holes, and water paths. Many suggest going there during high tide when the water comes crashing into the coast producing magnificent views!
Looks like the sea is bubbling and boiling which is how the name 'Los Hervideros' was created (by describing the process of the boiling sea).
Location: Google Maps
14. Red quarry in Tinamala Mountain
This red quarry is one of those secret places that only true adventurers will discover. It is not a natural rock formation however it is truly worth visiting! It is private property but has long been forgotten and abandoned.
Once it was a mining place for building materials, but now – only two big empty quarries are left unattended and not maintained. You can leave your car at the bottom of the mountain and hike up there on foot. When we visited, there were no signs and no fences prohibiting entering the quarry.
Location: Google Maps
15. Cueva Paloma cave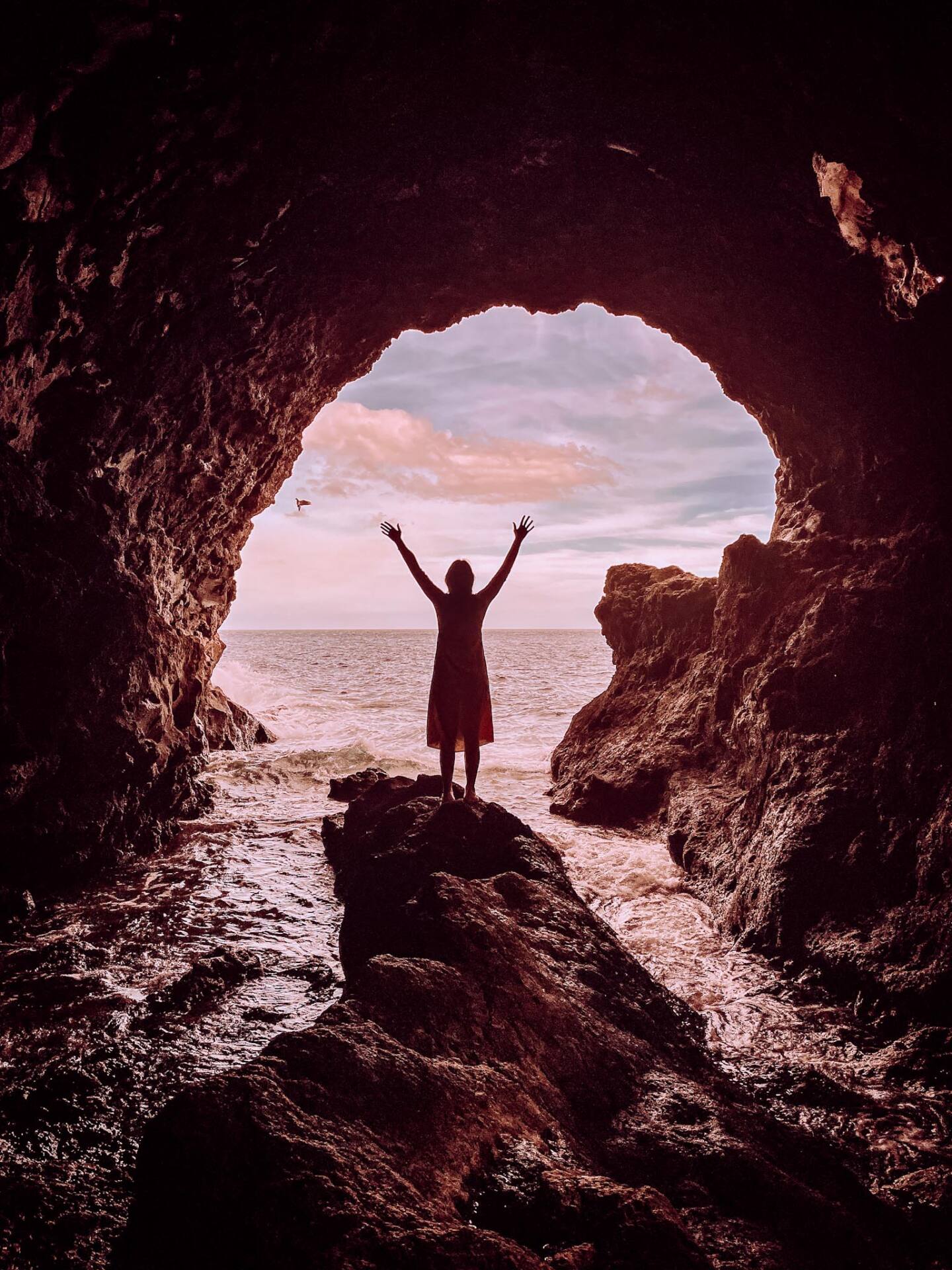 This simple yet unique sea cave is located on the East coast of Lanzarote. It is very easily accessible, as it has a side entrance from the coast side. It might not be the best idea to visit it during high tide just as any sea cave. It looks like a big lava tube and is a nice addition to your trip if you happen to be nearby!
Location: Google Maps
Happy exploring!
Lanzarote is all about lava and volcanos so obviously, these rock formations have a volcanic origin. Going out and discovering the island is the only way to experience these beautiful places with our own eyes! If you can, please, leave a comment below if there are any significant changes to anything that is written in this blog post! Many thanks!
More Lanzarote travel inspiration!
PIN FOR LATER!