Here are 7 ultimate caves you should visit in Lanzarote
Caves in a volcano, sea caves, or lava tubes – Lanzarote has all of them. Exploring different caves was probably one of my favorite adventures in Lanzarote.
Nature in Lanzarote is special due to its volcanic origin and also recent volcanic activity. Exploring nature and the different shapes of volcanic formations should be on your Lanzarote bucket list!
Read more >>> 19 most famous Instagram spots in Lanzarote
1. Cueva de los Verdes underground lava tube
About: 'Cueva de los Verdes' is an underground lava tube where you can participate in guided tours (for an entrance fee) and explore the underworld.
This lava tube is one part of the lava tube that stretches into the Atlantic Ocean and has a 1.5-kilometer-long underwater section called 'Túnel de la Atlántida' – the world's longest known volcanic submarine lava tube!
You can only visit the underground part, but it was an exciting adventure for sure! I highly recommend taking this tour! This is a must-visit cave in Lanzarote!
When to go? The cave is open from 10 AM till 4 PM, but you should check that on their website here. When we went there in the afternoon we still saw a big queue of people outside.
However, when we arrived in the morning at 10 AM we got to be in the first group that started the tour. Going in the morning is my recommendation!
Location: Cueva de los Verdes
2. Jameos del Agua lava tube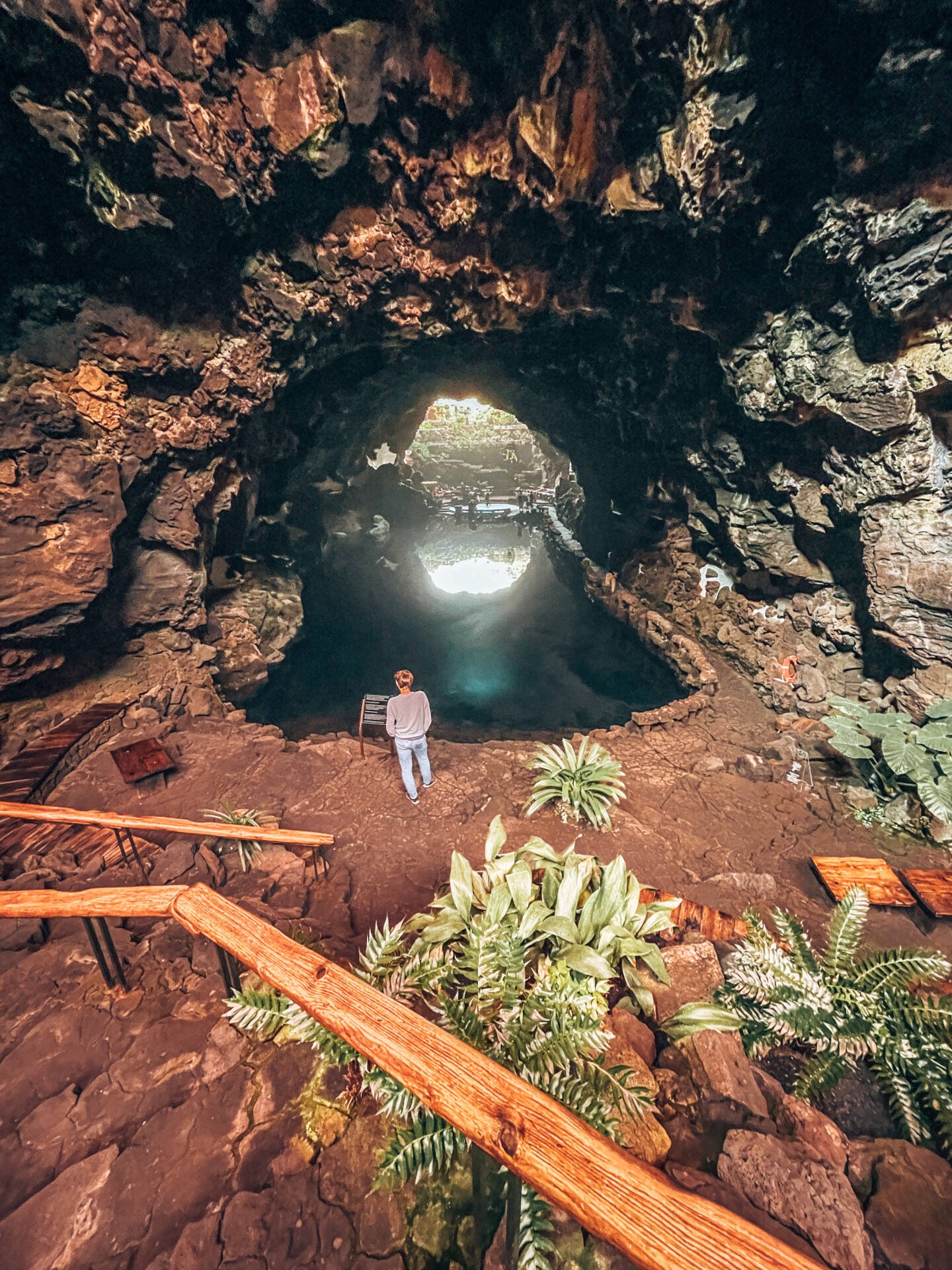 About: 'Jameos del Agua' is a masterpiece of a local artist César Manrique, who created a beautiful oasis inside a lava tube. There is a restaurant, a coffee shop, a museum, an auditorium as well as an inside pool (inside the lava tube).
That inside pool is the only place on this planet where an endemic local species of blind crabs live. The pool is full of tiny, white, and, apparently, blind crabs! There is an entrance fee to this place, and you can buy tickets on their website cactlanzarote.com.
When to go? This is one of the most popular tourist objects on the island, and it can get extremely busy during the day. If you want to enjoy relative silence and loneliness then go early in the morning.
Their opening hours are from 10 AM to 6 PM (last entry 5:15 PM) plus they have special opening hours on Fridays from 7 PM  to midnight. We went in the morning and had a chance to enjoy the place, get a table at the café inside the lava tube and enjoy some breakfast coffee and muffins.
Location: Jameos del Agua
3. Cueva De Los Suecos / Cueva de las Cabras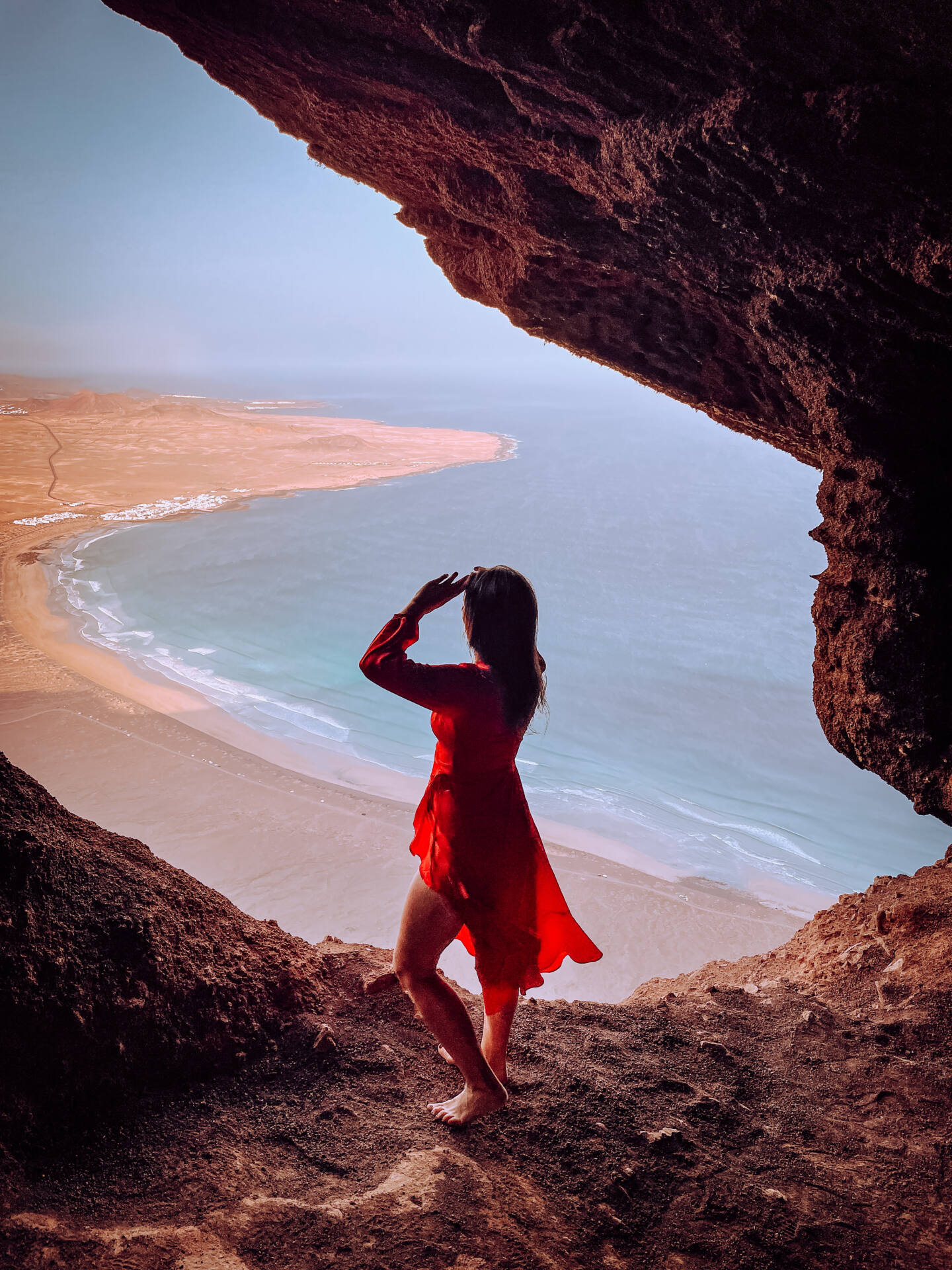 About: One of the places you should definitely include in your Lanzarote itinerary is Famara cliffs – from the top, you will get some of the best views over the Atlantic Ocean, La Graciosa island as well as the coastline of Lanzarote.
Located just a few steps down the Famara cliffs there is a cave called Cueva de los Suecos, but in many places, it is called Cueva de las Cabras. This is one of the coolest 'secret' caves in Lanzarote!
When to go? It is a popular place for watching the sunset, but the views are amazing at any time of the day really. We went early in the morning and had the cave to ourselves.
Sometimes the clouds on the island are extremely low and cover the cliffs. That is definitely not the time to go, because you won't see anything from the view, haha!
How to get there? You definitely need a car. There is a bumpy road leading up to the cliffs, but it is doable even for small cars – just drive slowly and carefully.
There is a parking lot on top of the cliffs where you can leave your car. Then follow a dirt path that leads in the direction of the cave. It is about 200 meters from the parking lot.
When you approach the cliff you will notice a standalone piece of rock formed almost like a square platform. Next to it is a path down the cliff – go carefully down the path, the cave is just a few meters from there.
Location: Cueva de los Suecos
4. Cueva de Montaña Cabrera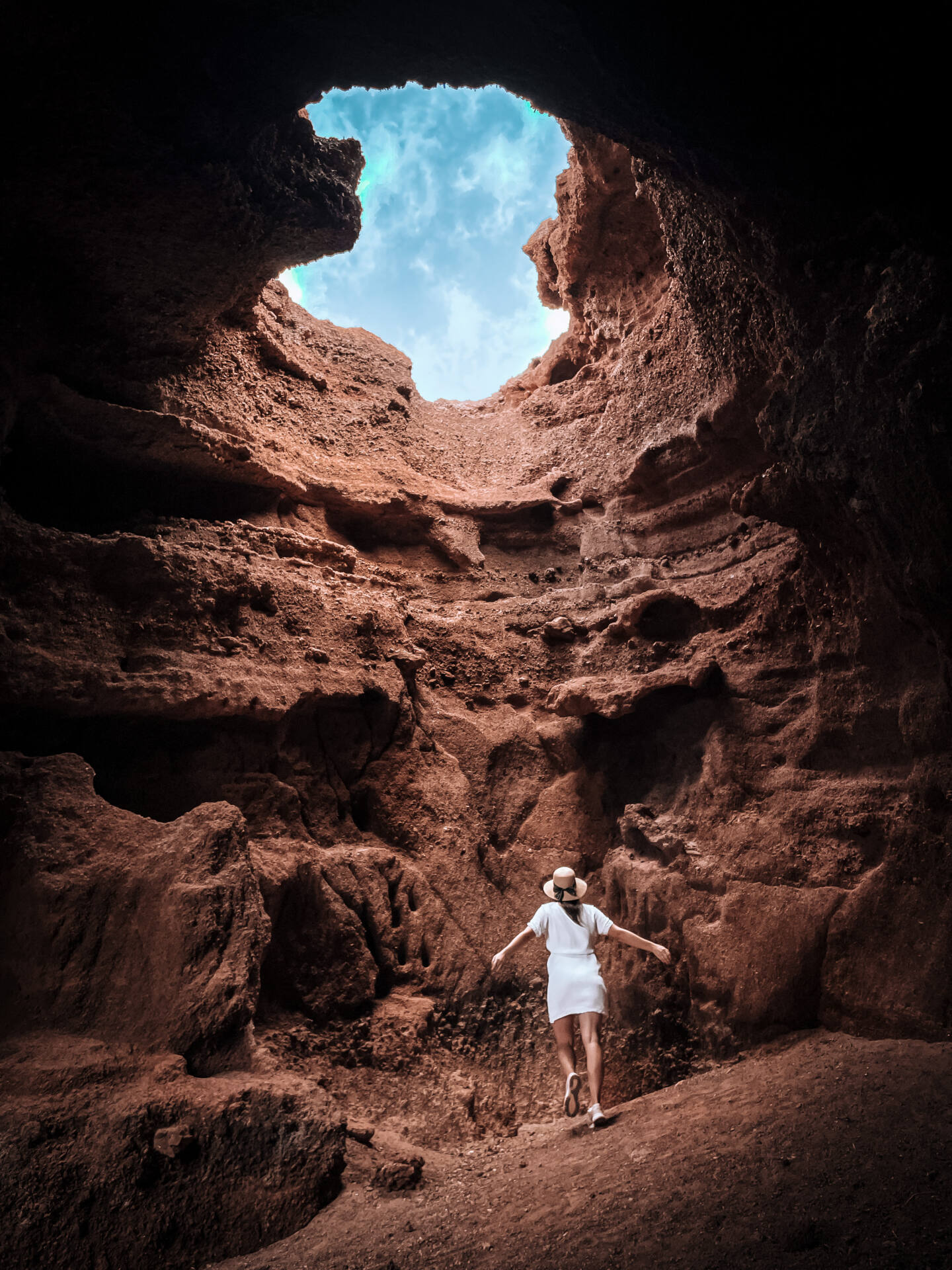 About: A secret cave inside a volcano Montaña Cabrera with an open ceiling is a must-visit for sure. There are no tourist trails, no road signs, no parking areas nearby – just Lanzarote wilderness.
We searched the mountain for 45 minutes before we even found this cave, however, there are a couple of other caves in the same area of the volcano, so you can be like an explorer and see them all.
How to find it? If you open Google Maps and switch to satellite view, then you will see that there are big holes on the West side of Montaña Cabrera volcano.
This cave is marked at the right location in Google Maps (other caves are not). Just drive your car to the bottom of the volcano (you can park near the houses) and hike up while following the location on Google Maps.
It is a bit of an uphill hike, but nothing extreme. The entrance to the cave looks cut out almost like a letter T, so it stands out very well. This was amongst my absolute favorite caves in Lanzarote!
Location: Cueva de Montaña Cabrera
5. Cueva de Órzola sea cave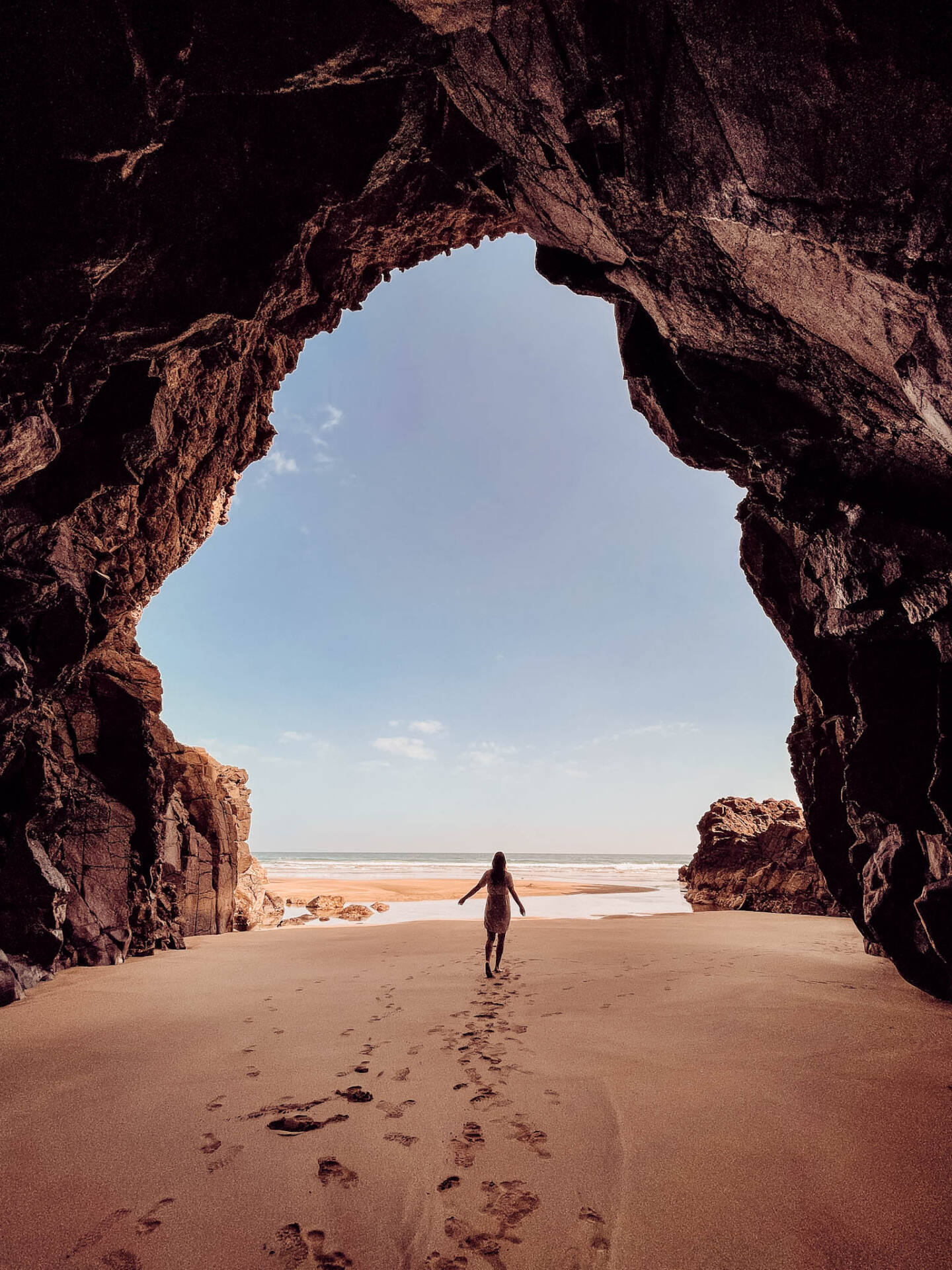 About: If you happen to be in the North part of Lanzarote and visit Órzola town then this sea cave would be a nice addition to your trip.
There isn't anything special about this cave except that you can get a nice photo memory from this place. The cave is not too deep actually and you will need to use a wide-angle setting to get such a photo as above.
How to get there? The cave is only accessible during low tide, so you should definitely google it before going. There is no point in trying to go there during high tide because the cave will be full of water.
You can access the cave by walking along the Playa de Órzola beach (you can drive to it by car) – the cave is located right after the dark rocks that stretch into the ocean. You will notice them on the beach.
Location: Cueva de Órzola
6. Cueva Paloma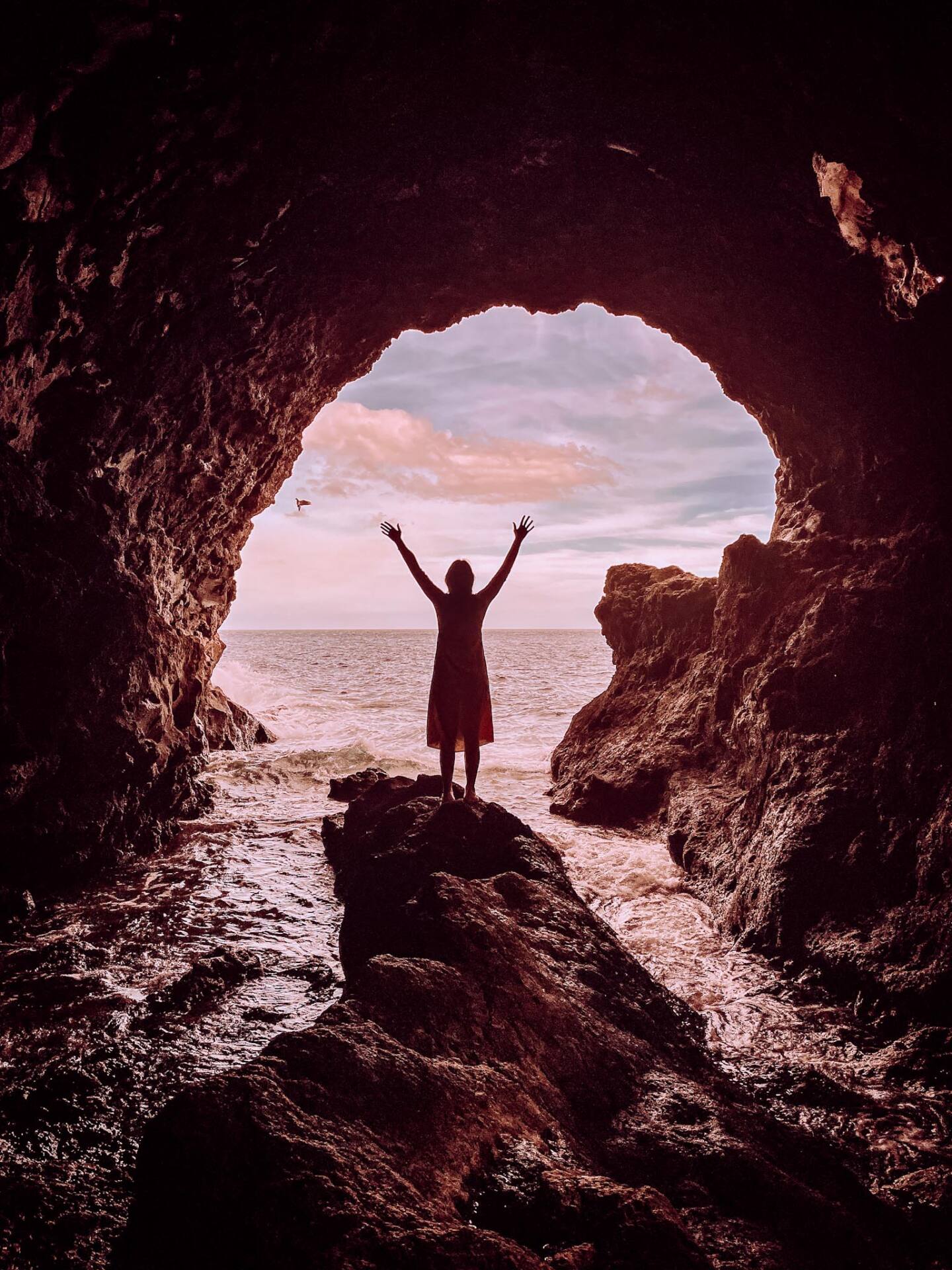 About: This simple yet unique sea cave is located on the East coast of Lanzarote. It is not really a popular tourist place however, you can get a nice photo for your Instagram plus caves are always fascinating places, right?!
How to get there? Drive to the coast and park your car at the side of the street – there are parking places. The cave is very easily accessible – it has a side entrance from the coast side and you can enter it with dry feet.
The opening is quite easily visible. It might not be the best idea to visit it during high tide just as any sea cave. It looks like a big lava tube and is a nice addition to your trip if you happen to be nearby!
Location: Cueva Paloma
7. Cueva de Agua
About: Cueva de Agua is a sea cave next to Playa Mujeres beach in the South of Lanzarote. If you happen to visit Playa Papagayo or any other beach in the area, it is a nice addition to the trip.
If you go by car, then you should know that there is an entrance fee to the area. Along the road, there will be a hut where you will be asked to pay an entrance fee of 3 EUR per car.
You can only pay by card. Use this opportunity to visit the beautiful Playa Papagayo and other beaches in the area as well as this sea cave!
How to get there? First of all, you can only visit this cave during low tide, so you should google it before going there. You can either get to the beach by car and park right next to the beach or you can walk. There is a hiking route from the city starting HERE. The hike from the city to the cave is about 1 kilometer one way.
Location: Cueva de Agua
Happy exploring!
Exploring caves in Lanzarote was one of my favorite adventures there. Somehow caves always seem so exciting and interesting! If you can, please, leave a comment below if there are any significant changes to anything that is written in this blog post! Many thanks!
PIN FOR LATER!