19 most famous Instagram spots in Lanzarote
Lanzarote is definitely a unique island! You probably won't find anything that is world-famous here however there are many places around the island that are incredibly unique and surprised me in a positive way!
So here is the list of the best Instagram spots in Lanzarote plus I have added some more activity recommendations that you might enjoy while exploring the beautiful island of Lanzarote!
Read more >>> 15 amazing rock formations in Lanzarote
1. Las Grietas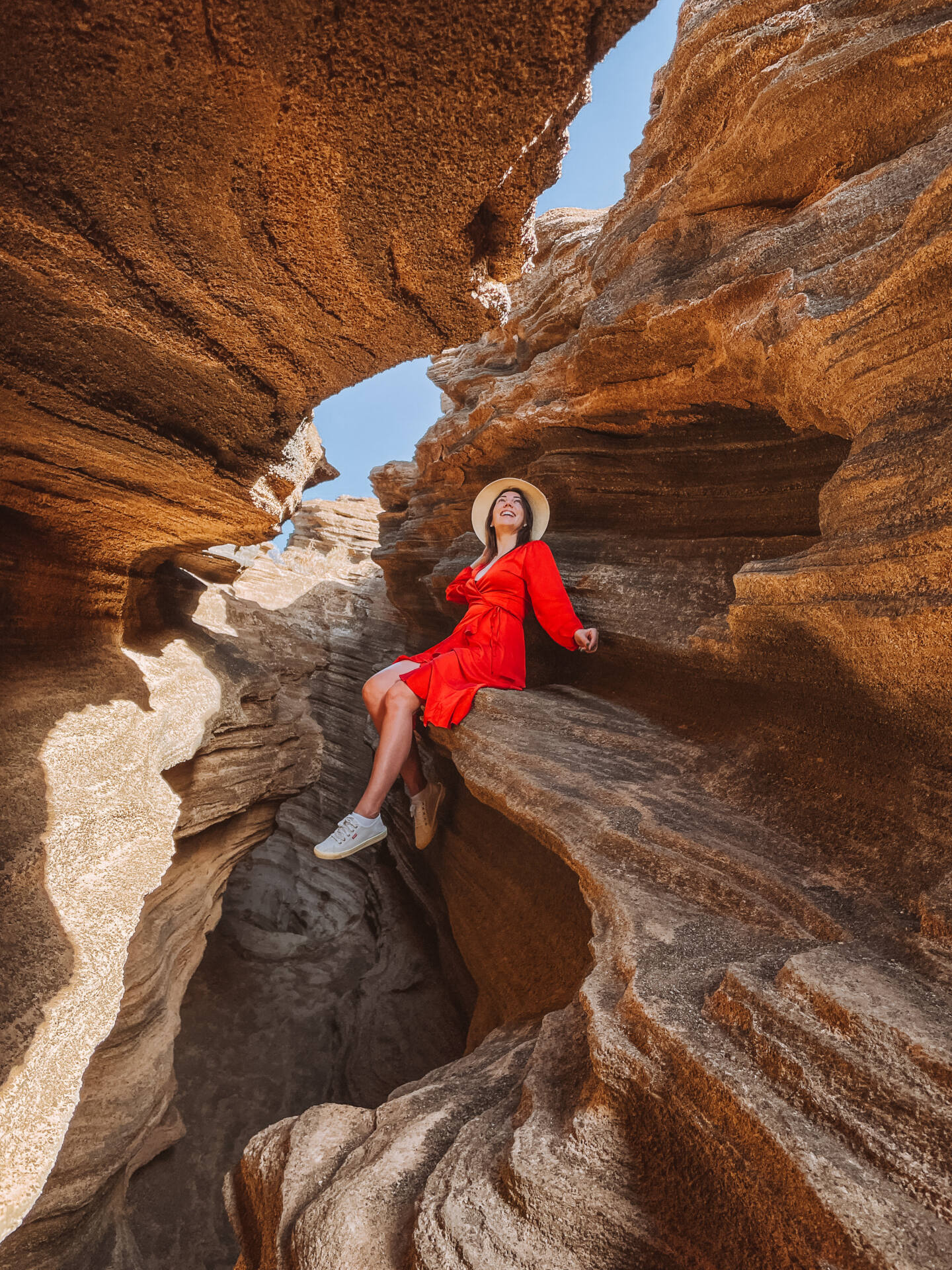 Las Grietas from Spanish means 'the cracks' and that is exactly what you will find here – narrow and curved openings at the side of a volcano that have formed due to erosion.
As you walk from the road you will already see the first opening – it is the most popular one and a bit wider than the others. The cracks are quite short (you can go maybe 30-50 meters deep), so it won't be a long walk to check them out.
Definitely don't stop at the first, but follow the path uphill and see some others as well – they will be more narrow and interesting! You can visit this place any time of the day really, and can easily park at the side of the road.
There will be no signs pointing to them, but they are easy to find – just check Google Maps (links below) and follow in the direction of those locations. It will be easier if you switch to the satellite view. This is definitely one of the most beautiful Instagram spots in Lanzarote!
Location: Las Grietas · Parking places · Photo location
2. Mirador del Río viewpoint of La Graciosa island
Did you know that there are eight Canary Islands and the smallest of them – La Graciosa – is located just off Lanzarote shores? Exactly! – only about one kilometer off the North coast of Lanzarote lies La Graciosa.
You can get some amazing views over the whole island from Mirador del Río – an artistic building with a coffee shop inside. You can sit at the table and drink coffee while observing the view through a glass wall.
It is one of the best views and viewpoints in Lanzarote. There is an entrance fee to the building (and café!) and you can buy it prior to your arrival on cactlanzarote.com website.
Location: Mirador del Río · Parking lot
3. El Cuervo volcano
El Cuervo volcano is one of the landmark views of Lanzarote Island. It represents the huge volcanic activity that took place here between 1730 and 1736 when 36 new volcanos were formed and lava covered one-fourth of the island.
This was the first volcano that emerged and started the transformation of the island. So this is one of those symbolic Instagram spots in Lanzarote for sure!
You can either walk around it and also hike inside the crater (there is an official hiking path) or you can climb a volcano on the opposite side of the road – Montaña Negra – like we did and get this overview of the volcanic landscape of Lanzarote. Isn't it majestic and dramatic at the same time?
Location: El Cuervo volcano · Parking lot · Photo location from Montaña Negra
4. Playa de Famara beach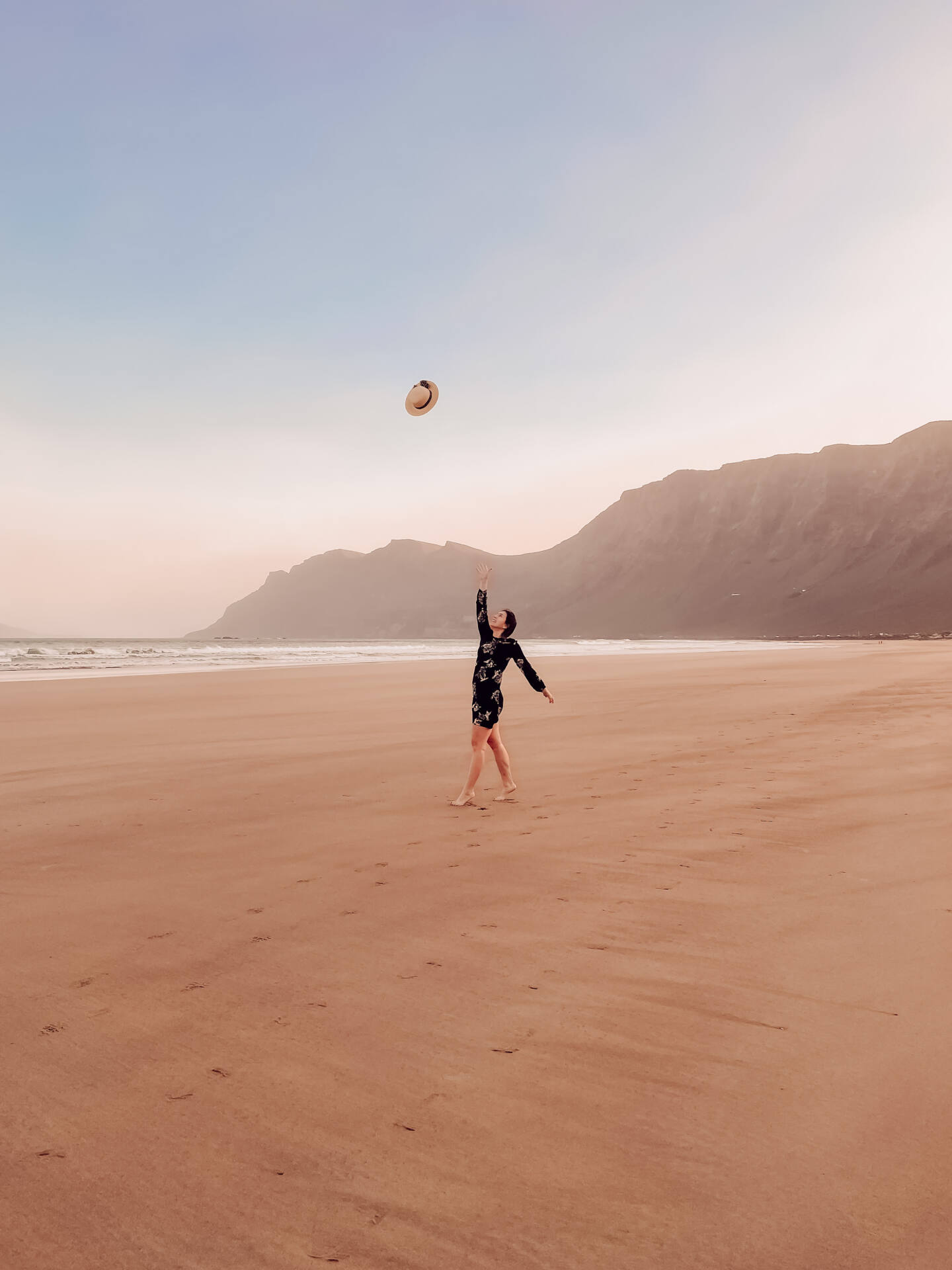 Famara Beach is one of the most famous and Instagrammable beaches in Lanzarote and I guess you can tell why! It is a beautiful and very wide sandy beach with a breathtaking background – a 600-700 meters high cliff behind it. Including the highest peak in Lanzarote – Peñas del Chache (671m).
The thing that is guaranteed for you there is the wind which makes this beach very popular amongst surfers. You will see a lot of them! Pay a visit to this beach in the morning and you will get the emptiness. Go there in the evening and you might get some sunset rays on the cliffs if you are lucky!
Location: Playa de Famara · Parking places along the road
5. Floating rock at Risco de Famara
Although the official Risco de Famara viewpoint is nearby and it also is a must-see place, however, this is the time when the unofficial photo spot will offer you more dramatic and exclusive material.
It is amongst the most impressive Instagram spots in Lanzarote! There is a flat rock pillar that is separated from the main cliff and looks like you are sitting on a piece of rock that is floating in empty air.
It is quite wide and stable so there were no worries from my side about any risks however it will be a challenge for those who don't particularly enjoy heights!
My recommendation – do NOT come here to take a photo during sunset, as this place will be jam-packed. This area is amongst the most popular sunset-watching spots in Lanzarote! If you are not interested in a photo, sunset is the perfect time to come! The views will be stunning!
Location: Floating rock · Parking lot · Mirador de El Risco de Famara
6. Cueva De Las Cabras / Cueva de los Suecos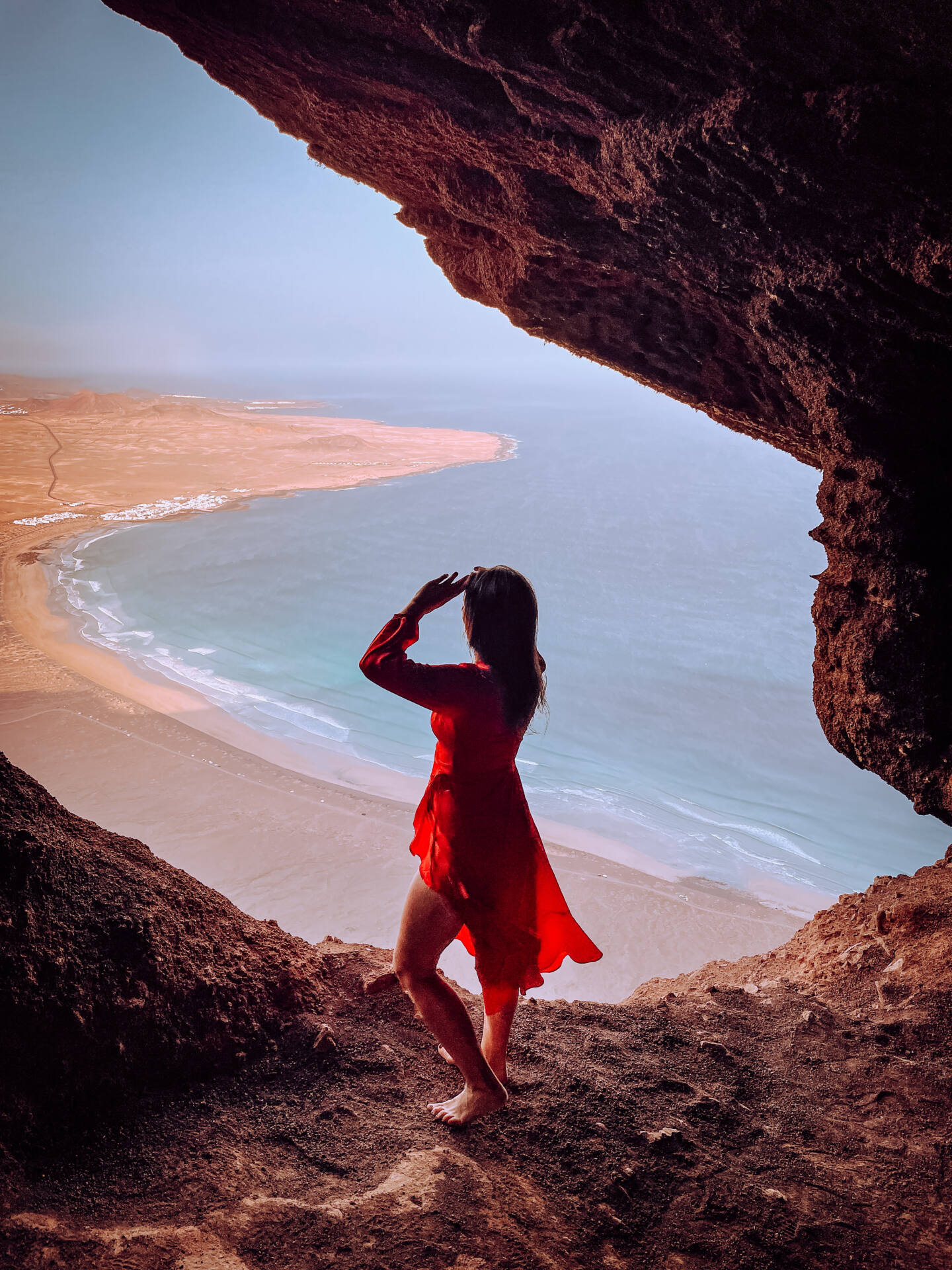 Just a few careful steps down the cliff from the floating rock in Risco de Famara there is a popular cave overlooking the same view of Famara beach.
It is called either Cueva de las Cabras or sometimes Cueva de los Suecos. Definitely one of the most unique Instagram spots on the island! Here you can get a different angle of the same beach and the town many hundreds of meters below you.
No special skills are necessary to access it – just climb slowly and carefully down – the cave is just a few meters from the clifftop and the floating rock. And again – this will be a popular place during sunset.
Location: Cueva De Las Cabras (Suecos) · Parking lot
7. La Geria volcanic wine fields
How awesome and unique do these grape fields look? Have you seen anything similar anywhere else in the world? The volcanic situation has forced locals to adapt to reality, so agriculture looks different in Lanzarote.
La Geria is an area where you will find endless grape fields that have been planted in such unique cones. Digging pits helps the crops develop roots more easily and protects them from strong winds.
I really recommend you to choose a 'bodega' in this area, go there for some local wine and tapas and then take a walk through the fields to take some nice photos. Those perfect Instagram spots of Lanzarote are all around you in this area!
Location: La Geria · Photo location
8. Montaña Cabrera cave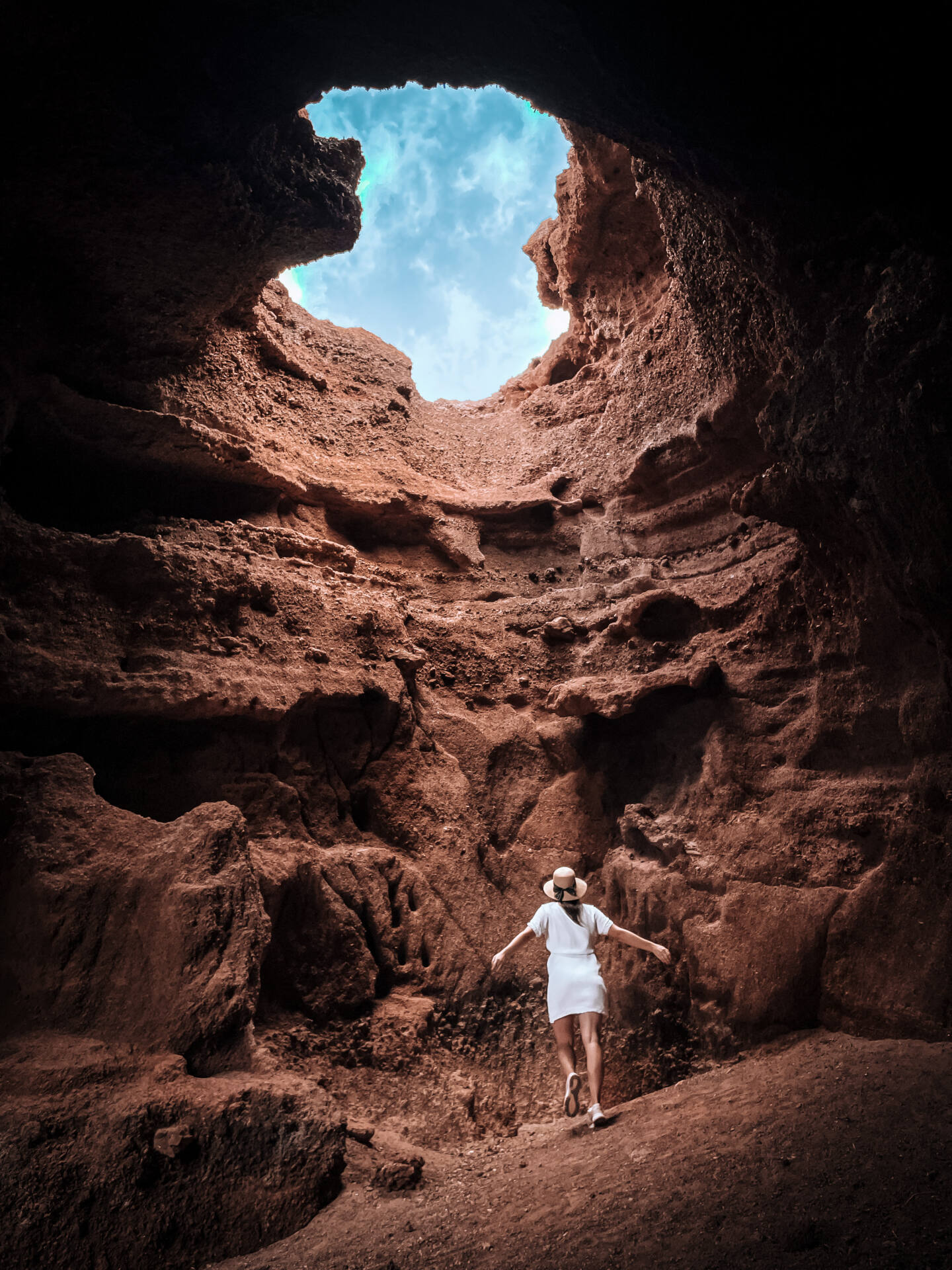 Off the beaten path hides a treasure – a secret cave inside a volcano Montaña Cabrera. There are no tourist trails, no road signs, and no parking areas nearby – just Lanzarote wilderness.
However, there is also nothing holding anyone back from simply climbing a volcano and exploring caves in it. If you open Google Maps and switch to satellite view, then you will see that there are big holes on the West side of Montaña Cabrera volcano.
You are aiming for a hole that is to the South (or too far right if you are looking at the mountain from below). You will have to drive a gravel road (it is decent for small cars), leave your car near a group of houses, and choose a path uphill the mountain.
The cave entrance looks cut out like a letter T, so it stands out very well. This cave is an extra adventure if you have time to spare on your Lanzarote trip! Make sure to have good hiking shoes as it is a steep climb uphill!
Location: Cueva de Montaña Cabrera · Parking places
9. Natural volcanic pools Los Charcones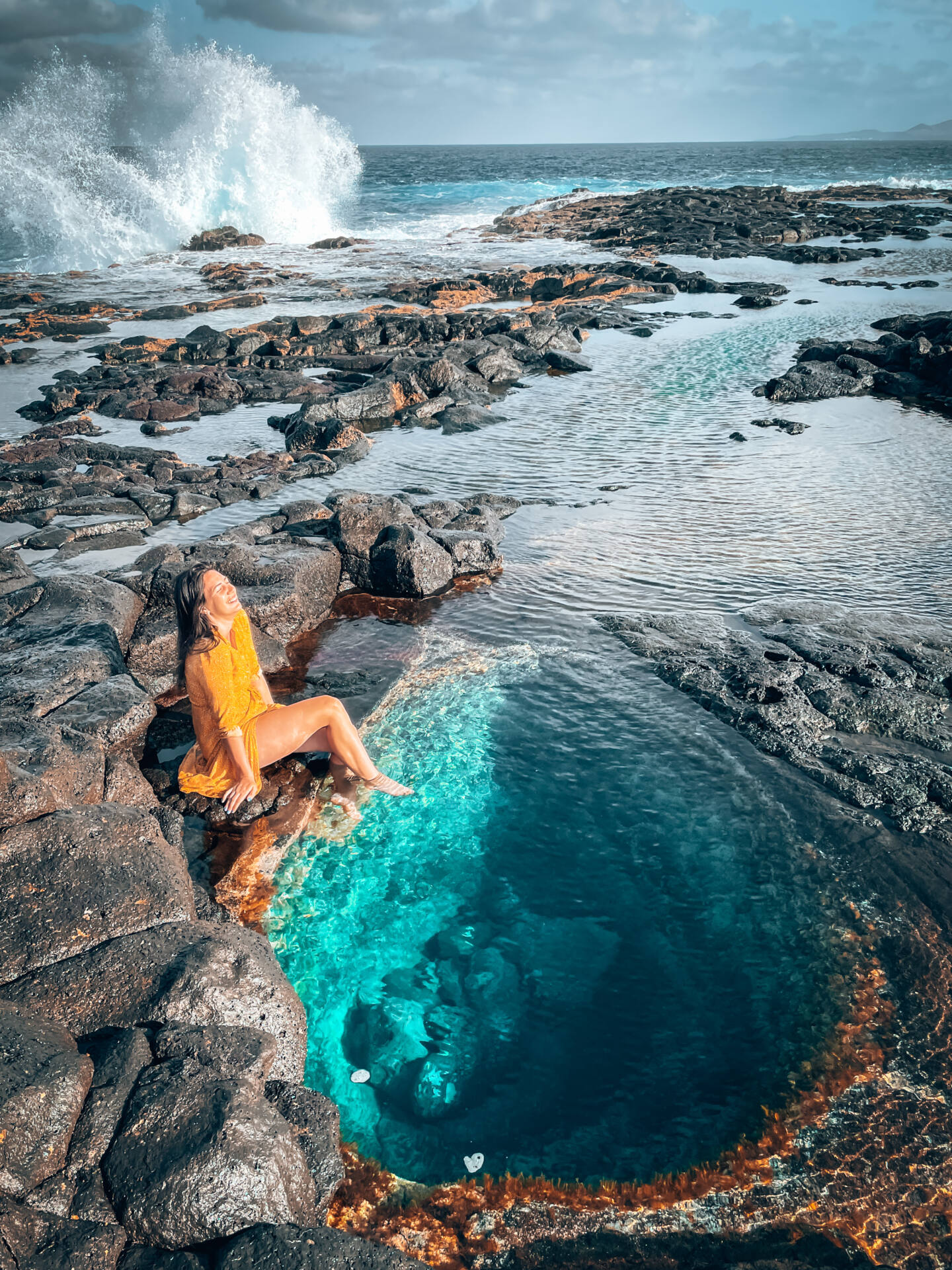 Los Charcones is a rocky coastal area in the Southwest corner of Lanzarote. If you try to find them on Google Maps you will find multiple places marked on the map.
To be honest it is true – you could spend all day just walking along the coast and exploring the natural volcanic pools. The area is not very well accessible – there are only a few bumpy gravel roads leading to the coast that many people don't even try to drive!
If you have a 4×4 then it is easy! However, the majority of explorers just leave their cars as close as they can and then walk on foot for the remaining 2-3 kilometers. We somehow managed to drive our Fiat 500 almost to the Hotel Atlante del Sol.
Hotel Atlante del Sol is an abandoned and unfinished building next to the coast and then walked a couple of hundred meters to this beautiful 'charco'. If you have free time – don't hesitate to explore more of this area on foot! Remember to come during low tide!
Location: Photo location · Parking places · Los Charcones
10. Playa de Papagayo beach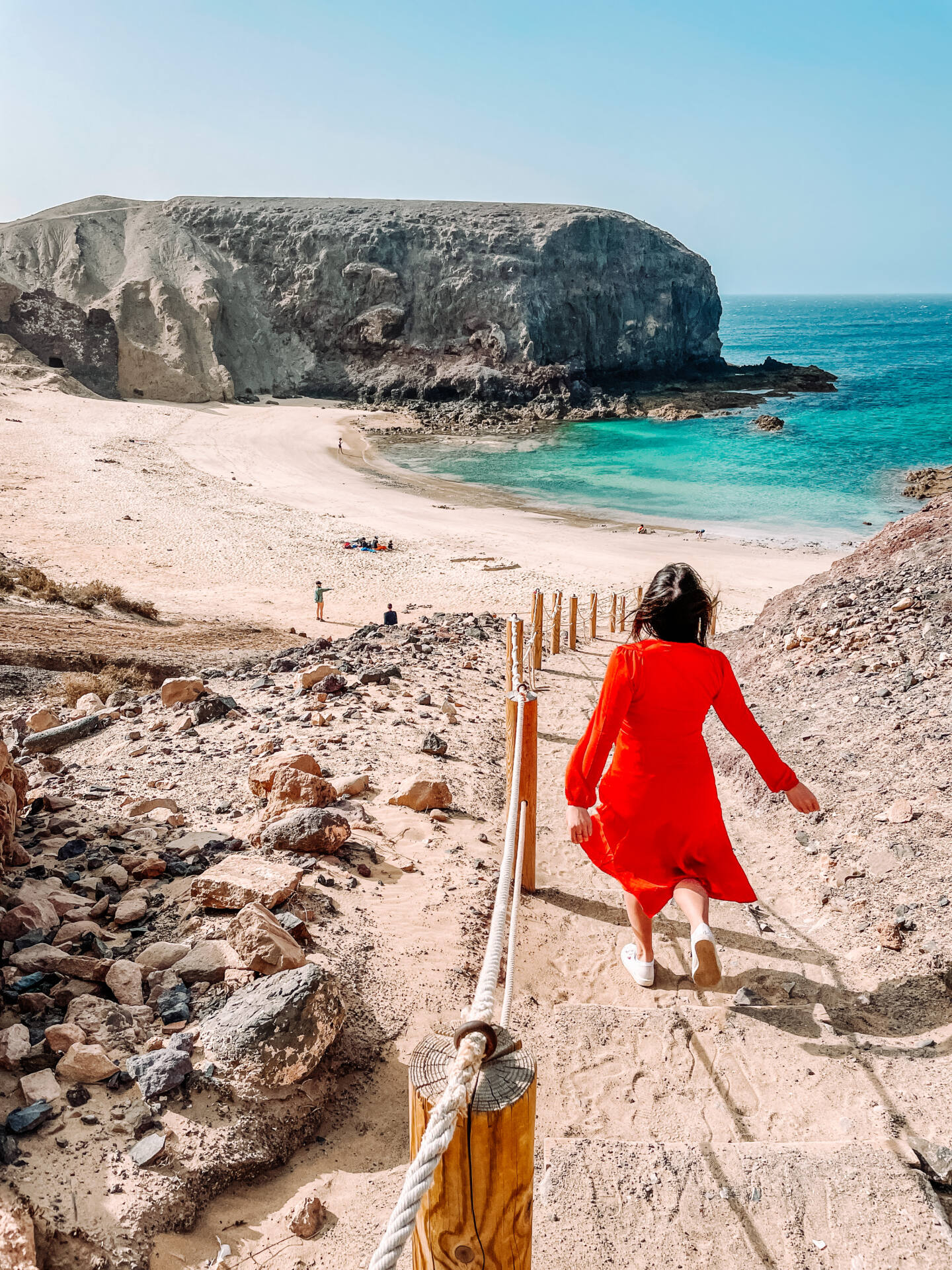 Playa de Papagayo is one of the most scenic beaches in Lanzarote. It is a small cove surrounded by huge cliffs which makes it a great escape from the strong winds as well as gives this place a unique look. This is one of those beaches you want your Instagram photo from!
Getting to the beach is a bit of a challenge – it is a 7-8 kilometer drive on poorly maintained bumpy roads plus there is an 'entrance fee' to the area where the beach is located. At the beginning of the road, there is a small hut where you will be asked to pay 3 EUR per car for entrance. You can only pay by card!
To be honest it is not too expensive for this adventure and for the amazing views. There are also some restaurants at the beach where you can have some lunch and enjoy the surroundings!
Location: Playa de Papagayo · Parking lot
11. The oasis in Jameos del Agua
'Jameos del Agua' is a masterpiece of local artist César Manrique, who created a beautiful oasis inside a lava tube. There is a restaurant, a coffee shop, a museum, an auditorium as well as an inside pool (inside the lava tube).
The inside pool is the only place on this planet where an endemic local species of blind crabs live. The pool is full of tiny white, and, apparently, blind crabs. All in all, Jameos del Agua is a place for entertainment and relaxation.
There is an entrance fee to this place, and you can buy tickets on their website cactlanzarote.com The oasis and the pool are amazing places for some Instagram photos, but remember to arrive early to get them before the tourist masses arrive! This is a very popular place to visit!
Location: Jameos del Agua · Parking lot
12. Giant volcanic bomb at Montaña Colorada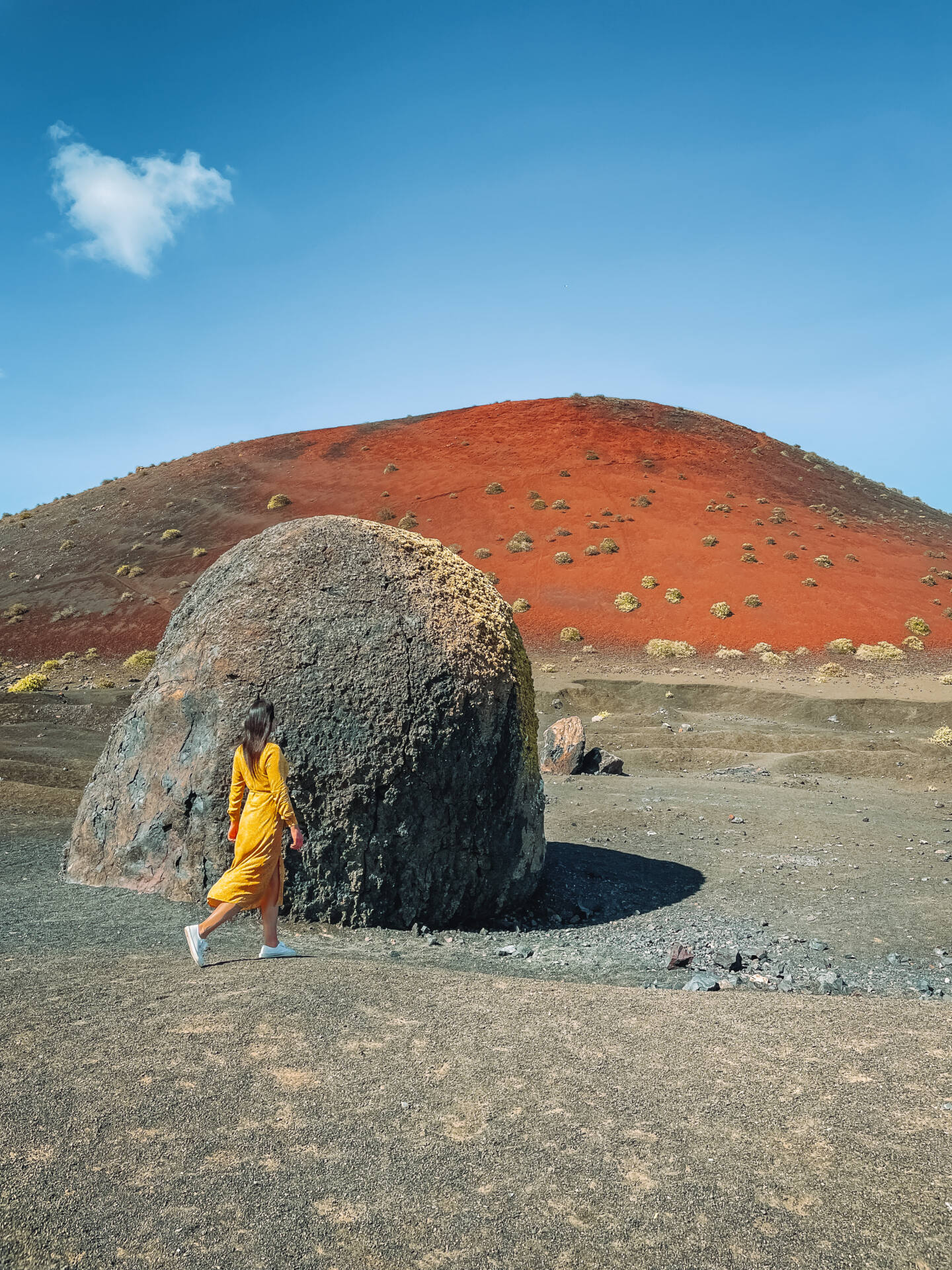 Lanzarote is all about volcanos and lava so obviously, you will see lots of it. A special object that will catch your eye is a giant volcanic bomb next to a red-colored volcano – Montaña Colorada.
A volcanic bomb is a piece of rock that has been spat out of a volcano during an eruption and this particular bomb is a huge one. What makes it extra attractive is a red volcano in the background.
You can get there on foot when walking the trail around the mountain. The bomb is located about 800 meters from the parking lot if you go the shortest way. Remember – do NOT touch the bomb as it destroys this wonderful creation!
Location: Volcanic bomb · Parking lot
13. Road LZ-67 going through Timanfaya National Park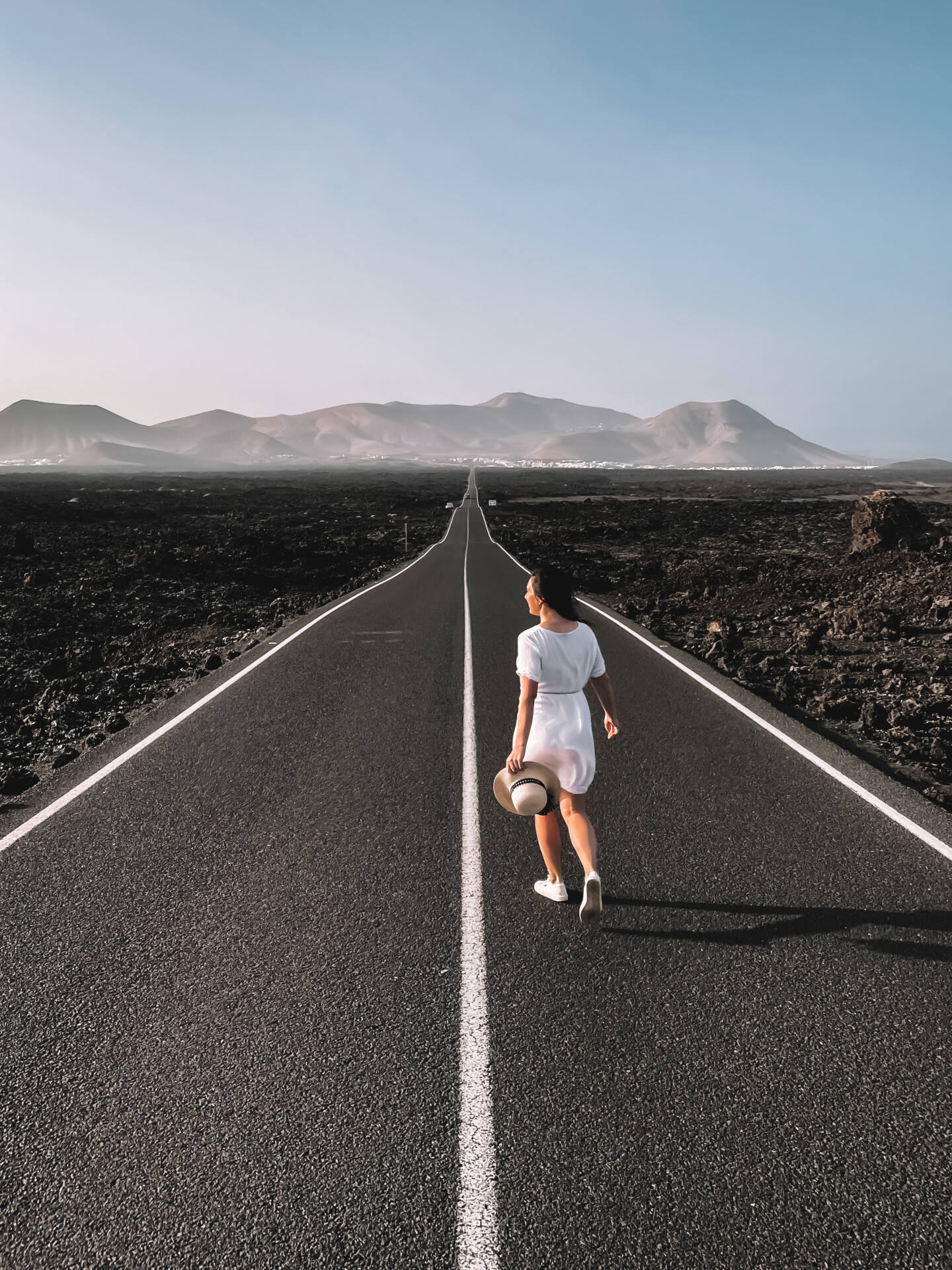 Maybe you have seen those impressive shots on Instagram on a long straight road from Lanzarote? They are from the LZ-67 road that goes from Yaiza to Mancha Blanca (or another way round) and leads you through Timanfaya National Park.
This park is a protected area where you can't wander on your own – only on guided tours. When you drive the road, there will be two long straights for you to take your photo.
There are volcanos all around on both sides of the road and that creates a feeling you are actually driving on another planet. Even if you are not looking for a photo, driving this road is a must when visiting Lanzarote!
Location: Timanfaya National Park · Photo location
14. La Rofera rocks
One of the most unique rock formation areas and Instagram spots in Lanzarote is La Rofera – volcanic rocks in interesting shapes and colors that make this place very photogenic.
You can leave your car just at the side of the road and take a walk around. There is a wider area full of these rocks and you can find the one you like the most. This area has also been featured in multiple movies and series! Happy exploring!
Location: La Rofera rocks · Photo location · Parking places
15. Cueva de Órzola sea cave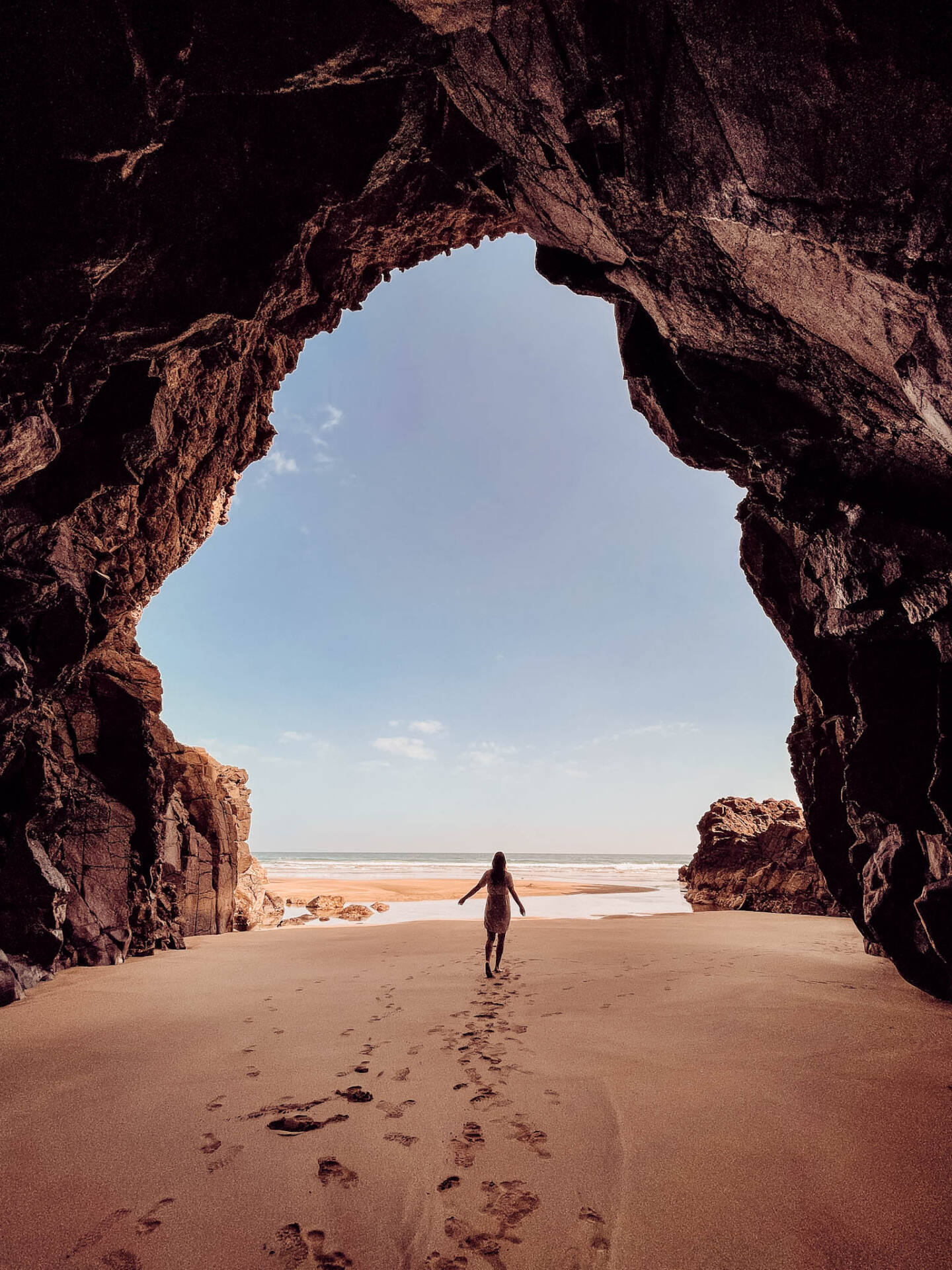 If you happen to be in the North part of Lanzarote and visit Órzola town then this sea cave would be a nice addition to your trip. I have to warn you that it is only accessible during low tide, so you should definitely google it before going.
There is no point in trying to go there during high tide because the cave will be full of water. You can access the cave by walking along the Playa de Órzola beach – the cave is located behind the dark rocks that stretch into the ocean.
You will notice them on the beach. Also, if you are looking for a photo like this, then a wide-angle setting on your phone will be necessary! This is one of those places where 'Instagram vs reality' are a bit different, hehe.
Location: Cueva de Órzola · Parking places
16. The leaning palm tree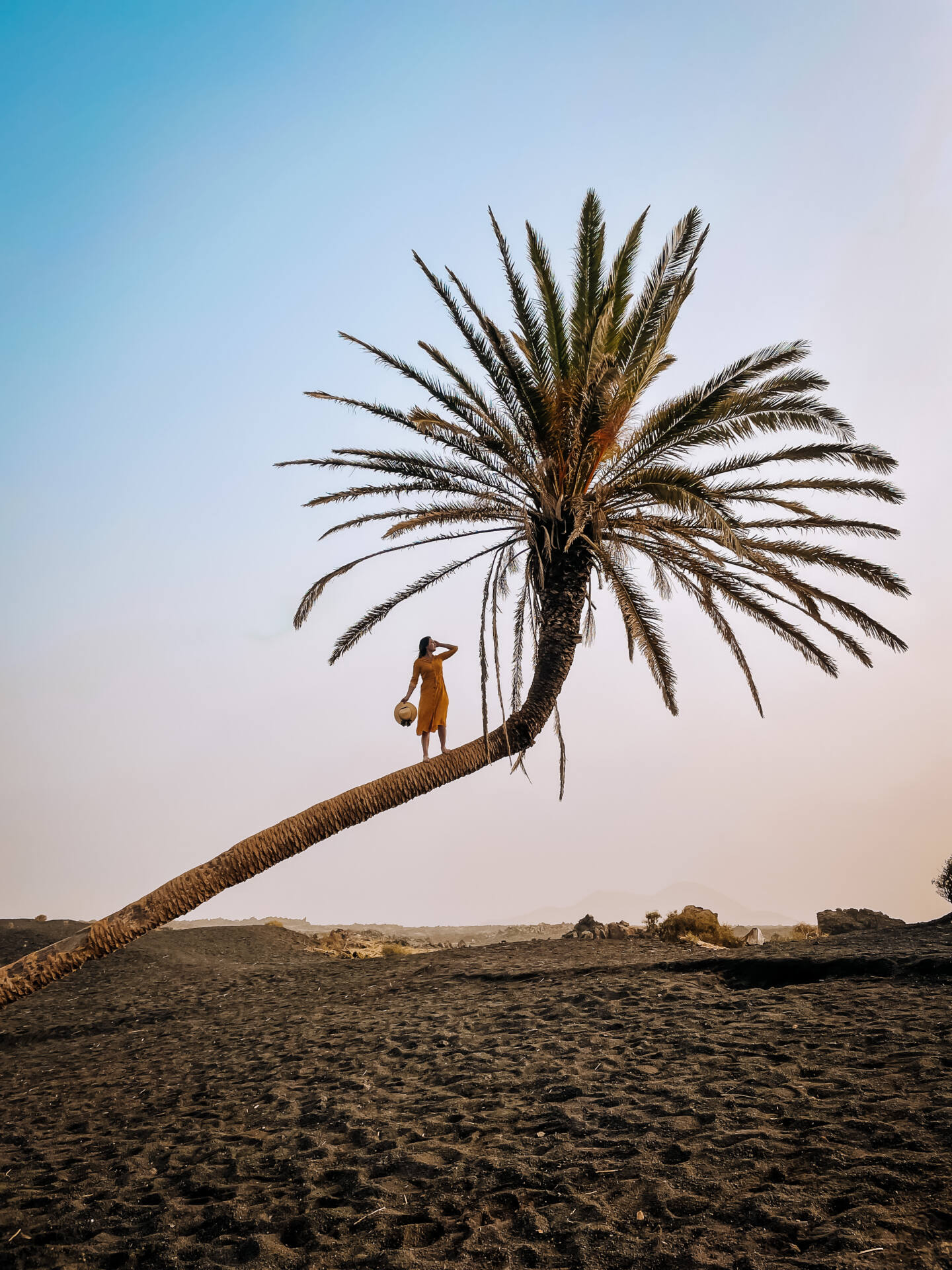 UPDATE (November 2022)!!! I have seen the news that someone has cut down this palm tree with a saw. There is no more palm tree, unfortunately…
This beautiful leaning palm tree is definitely one of the most popular Instagram spots in Lanzarote! And probably the most famous tree in Lanzarote! The palm tree is located next to the volcano Montaña Negra.
You can visit it from either side of a volcano however it will be a shorter walk from the Eastside (about 300-400 meters from parking).
There is no official parking, but you can leave your car at the side of the road, where you will find a couple of parking places. Unless you have a 4×4 you can't drive a car to the tree because of the rocks on the road.
Location: Leaning palm tree · Parking places
UPDATE (November 2022)!!! I have seen the news that someone has cut down this palm tree with a saw. There is no more palm tree, unfortunately…
17. The Green Lake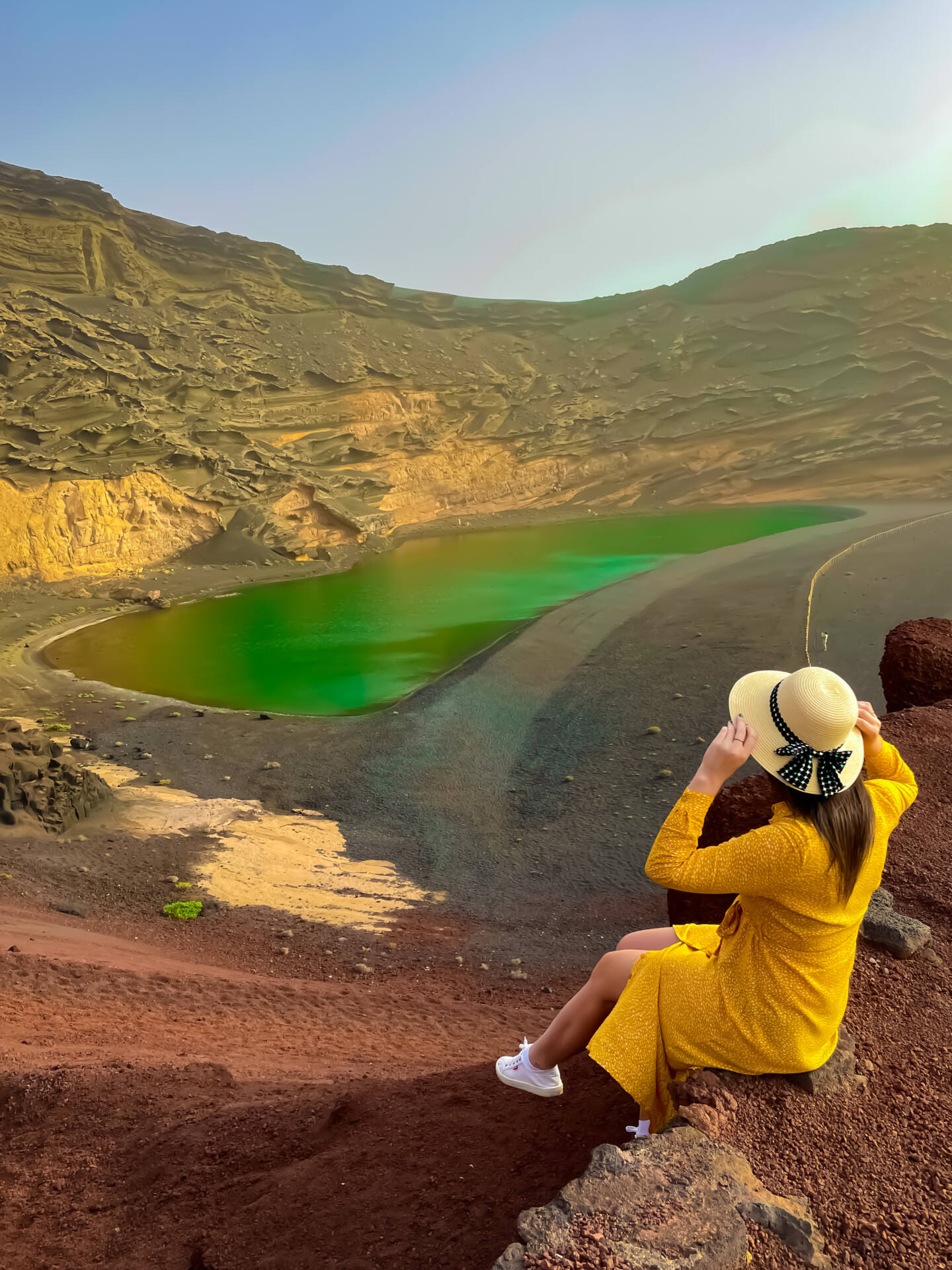 It is not often in life that you get to see a green lake! Lanzarote offers you this opportunity so you should definitely take it! To get there you should park your car on the Northside of the lake next to a coffee shop and then take a path along the coastline.
It is only about 200 meters to walk till you reach the lookout point. From there you will get a nice overview of the lake, however, you can also hike down to the beach from the parking lot and then follow the seashore to see the lake from ground level.
You can't go near it tho – there is a fence protecting it. Also – from ground level, you won't get a nice overview of the lake. The green color is because of algae living at the bottom of the lake. This is definitely one of the most unique Instagram spots of Lanzarote!
Location: Green Lake · Photo location · Parking lot
18. Cueva de los Verdes
Cueva de los Verdes is an underground lava tube where you can participate in guided tours (for an entrance fee) and explore the underworld.
This lava tube is one part of the lava tube that stretches into the Atlantic Ocean and has a 1.5-kilometer-long underwater section called 'Túnel de la Atlántida' – the world's longest known volcanic submarine lava tube!
You can only visit the underground part, but it was an exciting adventure for sure! I highly recommend going there! If you can, try coming here first thing in the morning when there are no crowds yet!
Location: Cueva de los Verdes · Parking lot
19. Airplane landing viewpoint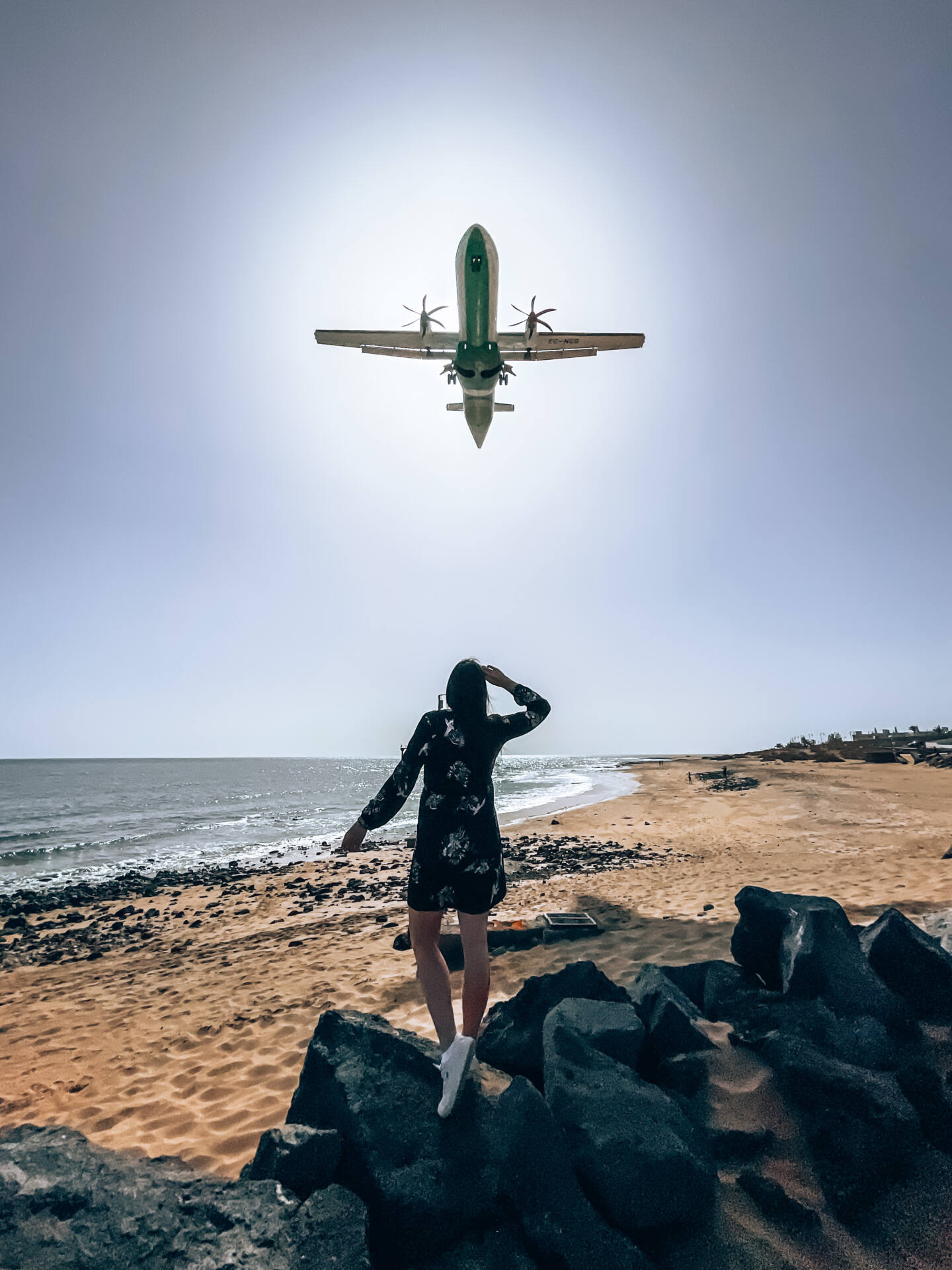 Island life very often offers the opportunity to get closer to the airports and airplanes, because usually the territory is limited and the airports are close to the living areas on the island.
This is just the case in Lanzarote. You can walk just a couple of meters from the airfield and feel the airplanes flying above your head. It is an impressive sight and gives you a big adrenaline rush when the airplane is landing just a few meters above your head!
This place also offers some amazing Instagram photo opportunities! You will have to park your car near the residential area and walk on foot some 500 meters to the right spot.
Use a wide-angle setting to get this photo and check the airport website arrivals or flightradar24.com for incoming and outgoing airplanes. Some airplanes will depart over this viewpoint, but mostly they arrive from the side of the ocean!
Location: Photo location · Parking places
Happy exploring!
I hope you get to see at least some of these amazing Instagram spots in Lanzarote. I definitely enjoyed my stay there! Which place are you looking forward to seeing the most? If you can, please, leave a comment below if there are any significant changes to anything that is written in this blog post! Many thanks!
PIN FOR LATER!