10 ultimate places you should see on La Graciosa island!
La Graciosa is the little sister of other (bigger) Canary Islands, but it deserves some attention! If you are so lucky and you get to visit La Graciosa island, here are 10 places in La Graciosa you should definitely visit during your trip!
Yes, there are no World wonders on the island, but it is rich in many other things – peace, remote places, and untouched nature. Sometimes you don't need more than that for a great holiday!
1. Caleta del Sebo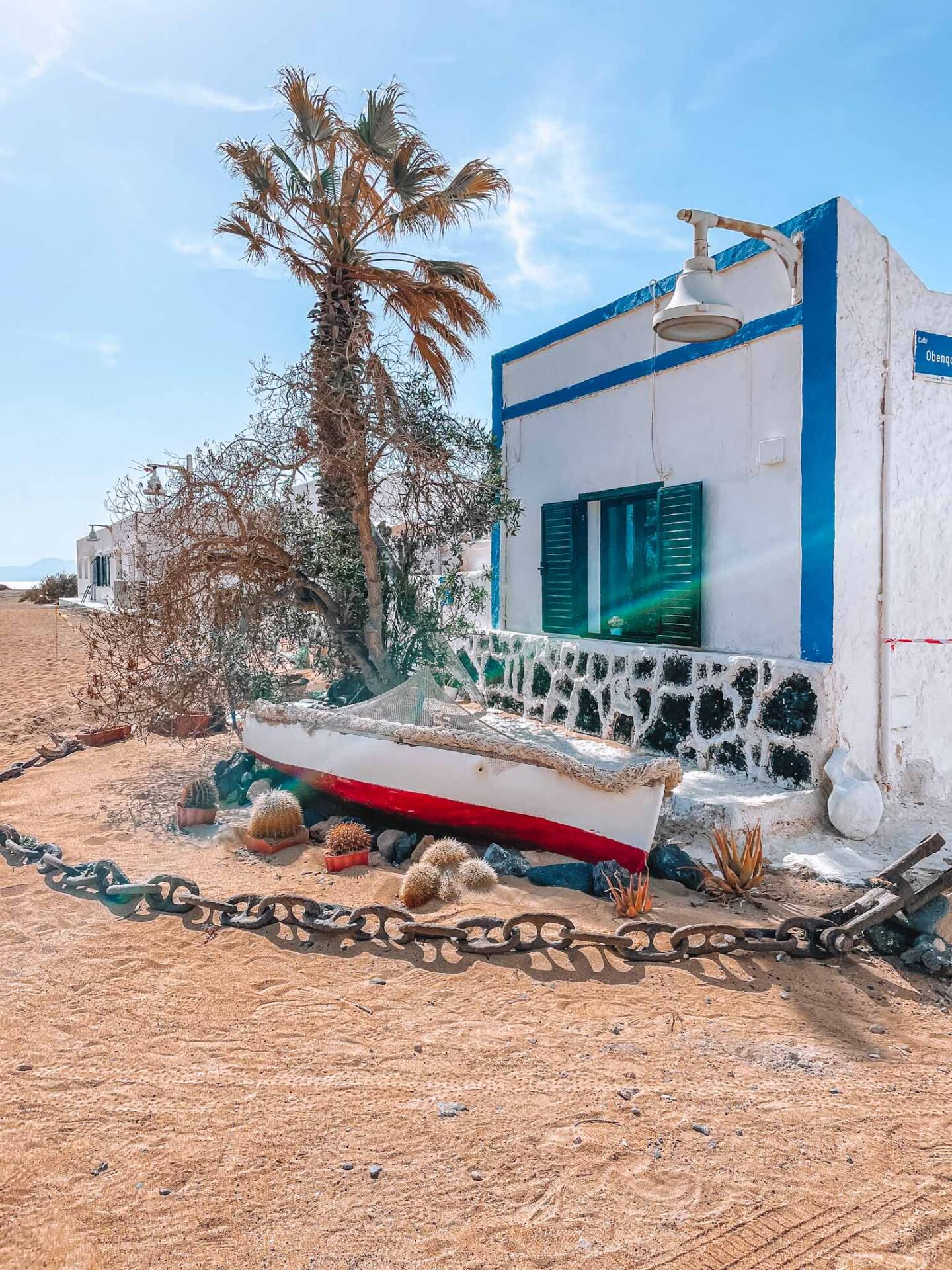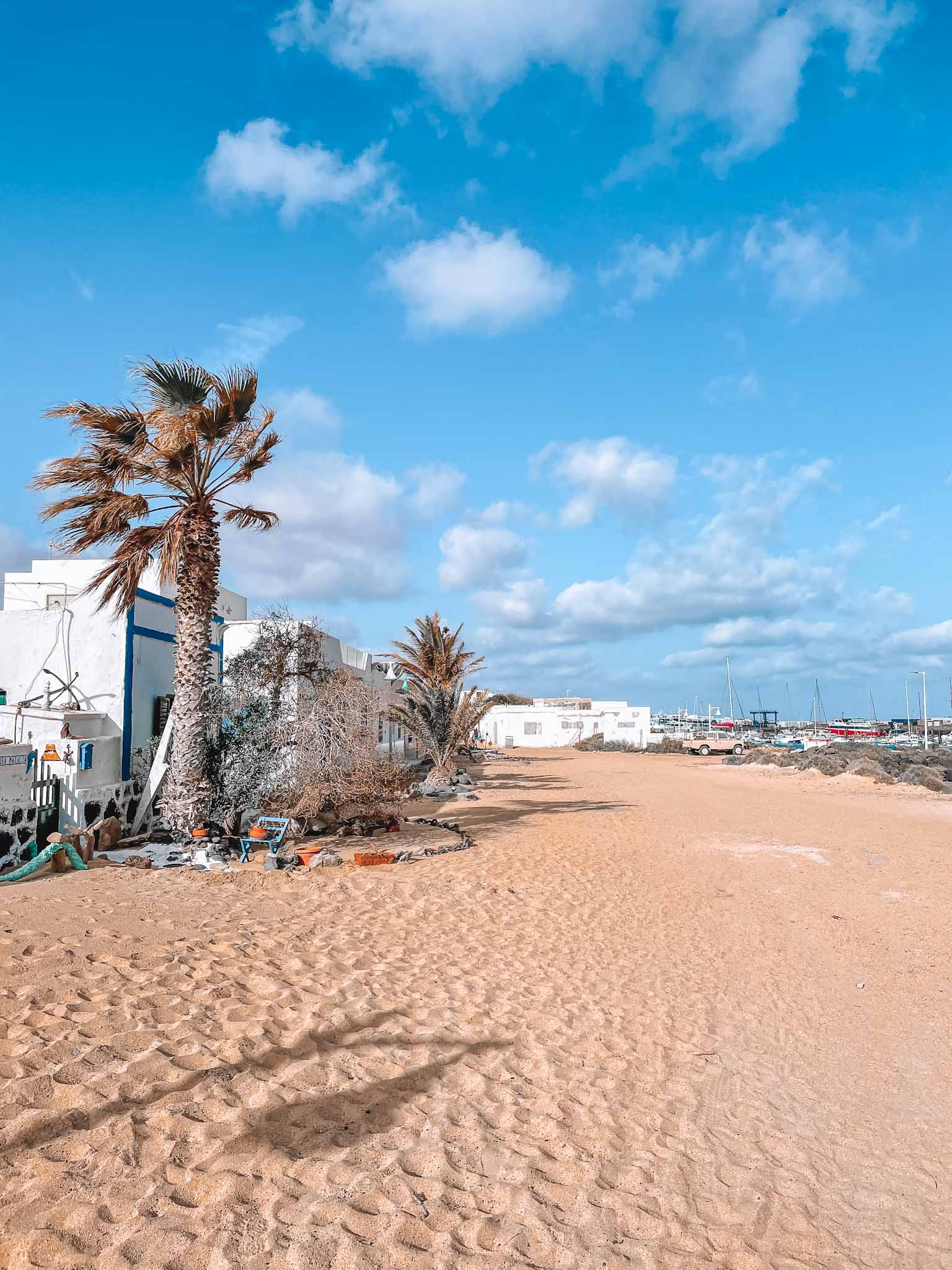 Caleta del Sebo is the capital of La Graciosa island. However, I call it the capital village of the island, because there are only 730 inhabitants in the settlement. Although there are shops, schools, restaurants, banks, and other services, still you won't find any tarmac streets or traffic lights.
There are only a few cars on the island that are mostly for the purposes of tourism – to get tourists around the island. We absolutely loved the port area where you can buy an ice cream or a cake and sit at the waterfront and enjoy the peaceful atmosphere.
People don't come here to party or visit anything world-famous. Although there are a couple of events happening, this place is usually peaceful. Anyway, if there is noise, you can walk 200 meters out of the village and you will be all alone!
Location: Caleta del Sebo
2. Playa de las Conchas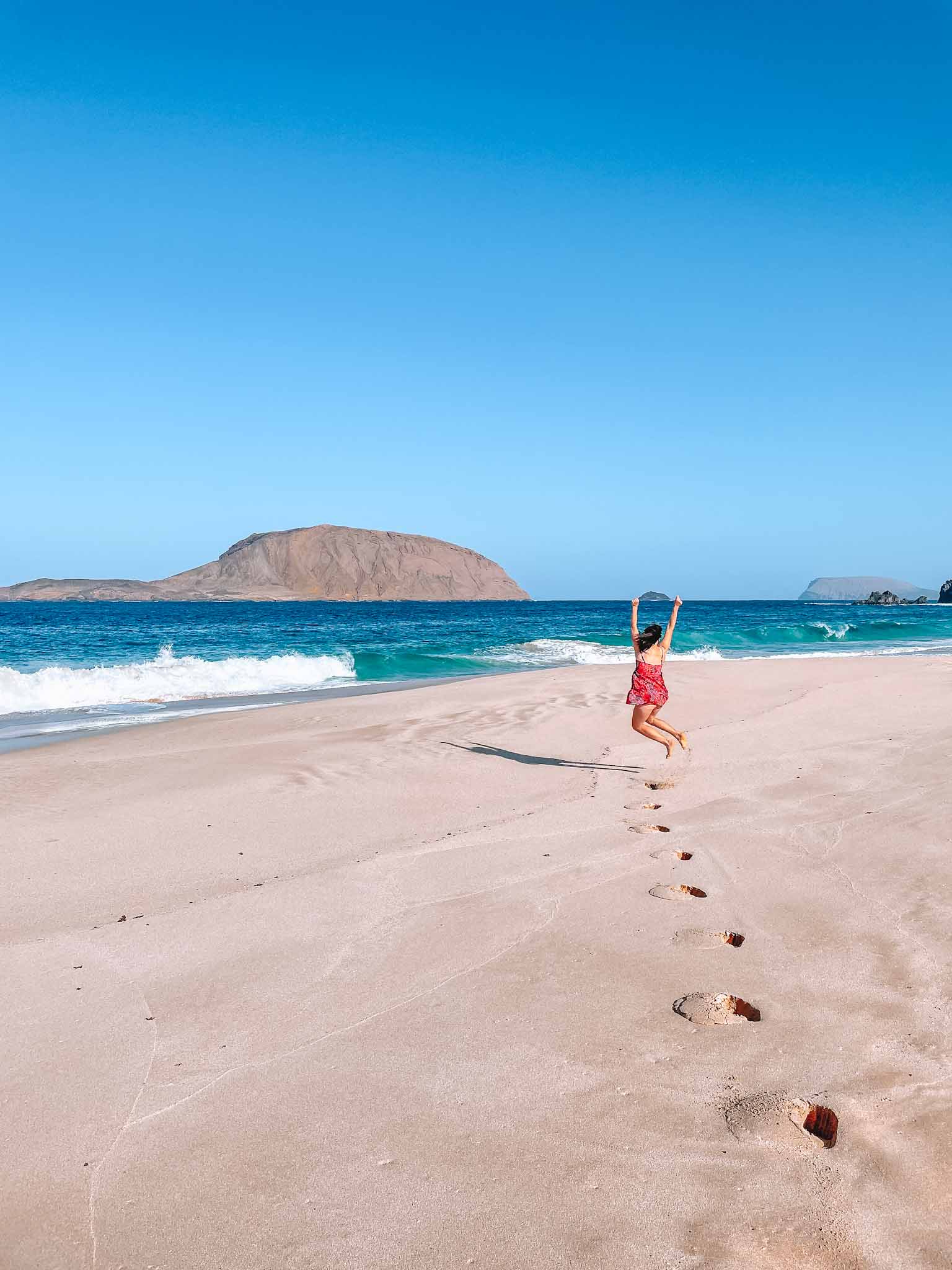 Playa de las Conchas could probably be the most beautiful beach in La Graciosa! It is quite remote and not many people go there. Maybe because it mostly isn't safe for swimming, because of the sneaker waves and underwater currents that are just too dangerous for swimmers.
However, the picture of the beach is breathtaking – it is a long white sand beach against the blue water of the Atlantic ocean. And besides that, you can very well see nearby uninhabited islets of Isla de Montaña Clara and Isla de Alegranza peaking over the horizon.
This beach is the perfect place for a picnic, sunbathing, or just relaxing completely uninterrupted. This is the place you can imagine you have been washed ashore on an inhabited island, as we all did when we were kids, hehe.
Location: Playa de las Conchas
3. Red volcano Montaña Bermeja with stone figures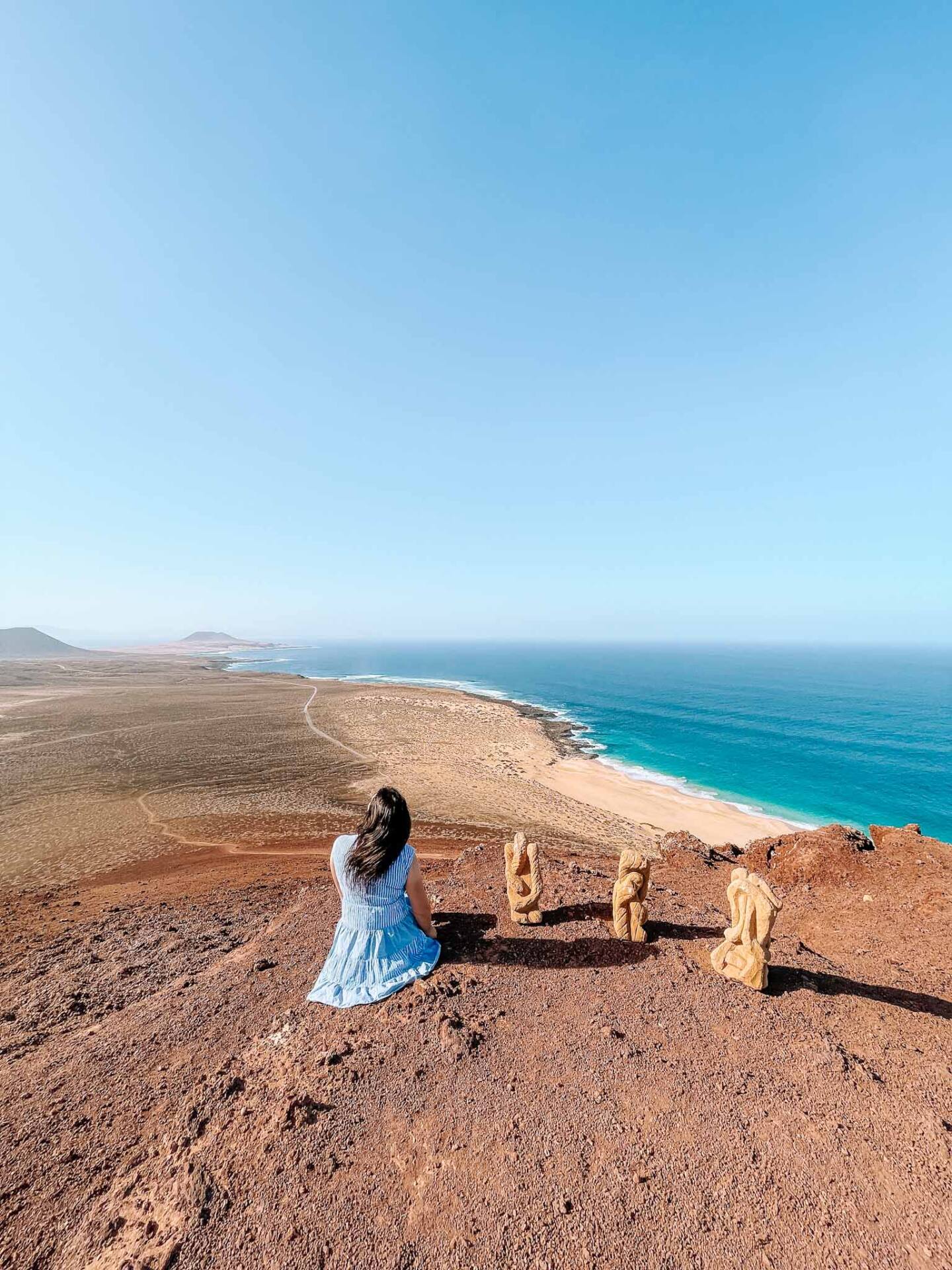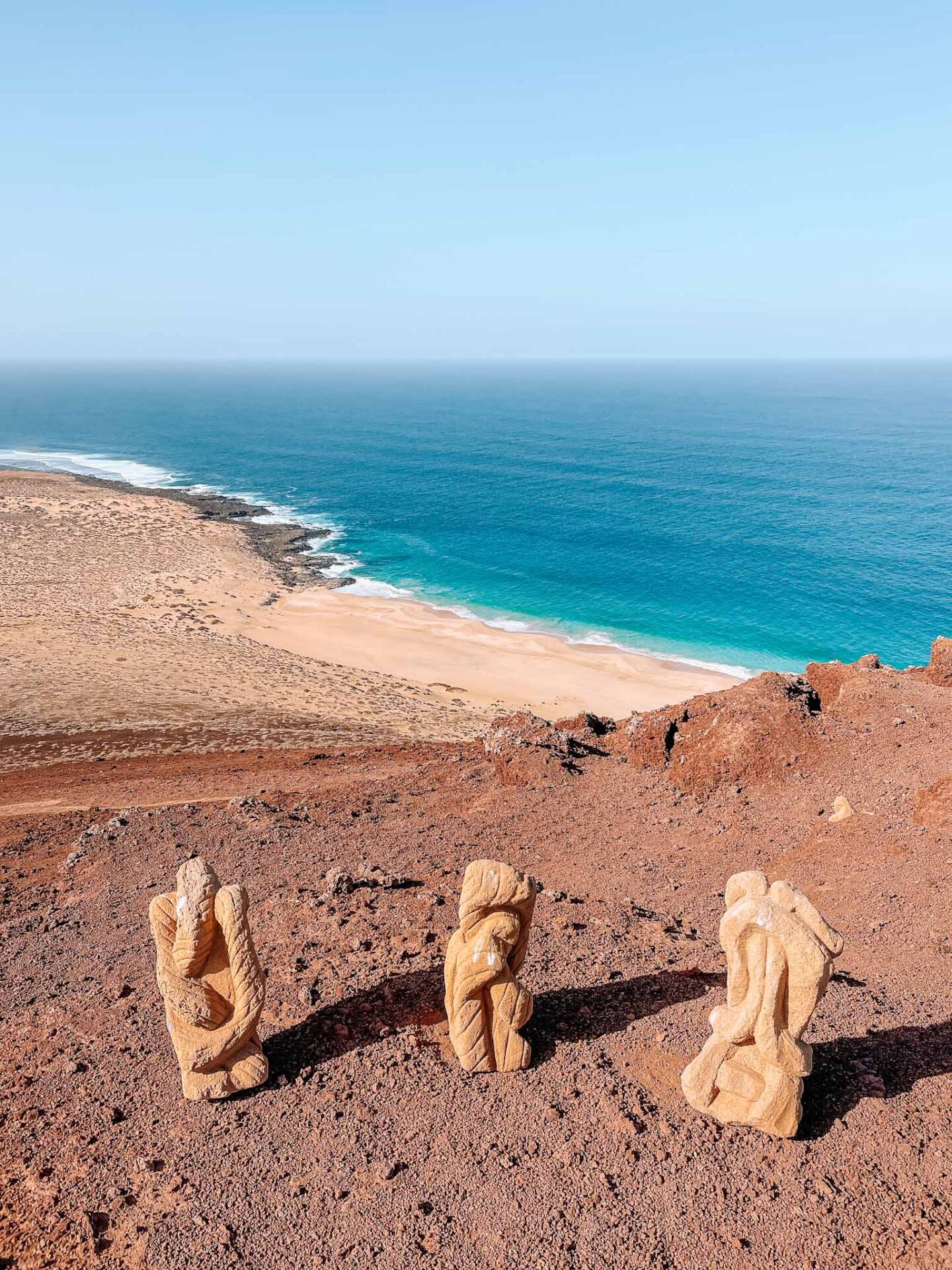 Right next to Playa de las Conchas is another interesting attraction and one of the most unique places in La Graciosa – a red volcano Montaña Bermeja. The volcano stretches up to 157 meters above sea level. So it will not be too difficult, but still a decent climb to the top.
However, the views from the top will be amazing and you will be able to see over the whole East and North side of the island. The most interesting part is that there are four stone 'creatures' living on the top of the volcano.
There are four art pieces – little stone monuments – that somebody has left there and they are an interesting addition to the already interesting red-colored volcano.
The stone monuments were scattered around the top, but we put them together to take a picture (one figure is still hiding!). Maybe they are walking around when nobody is watching them?
Location: Montaña Bermeja
4. El Bufón de Graciosa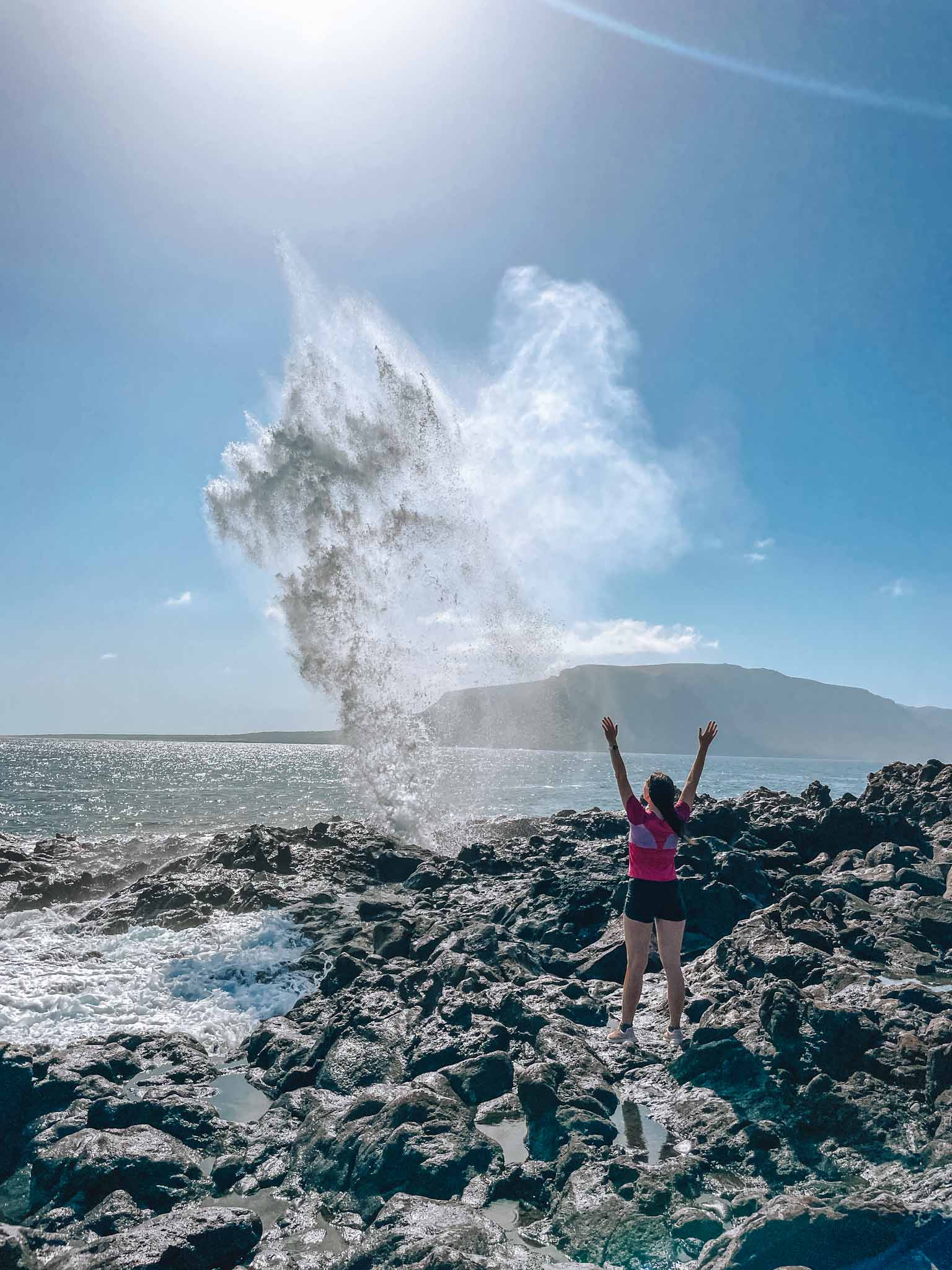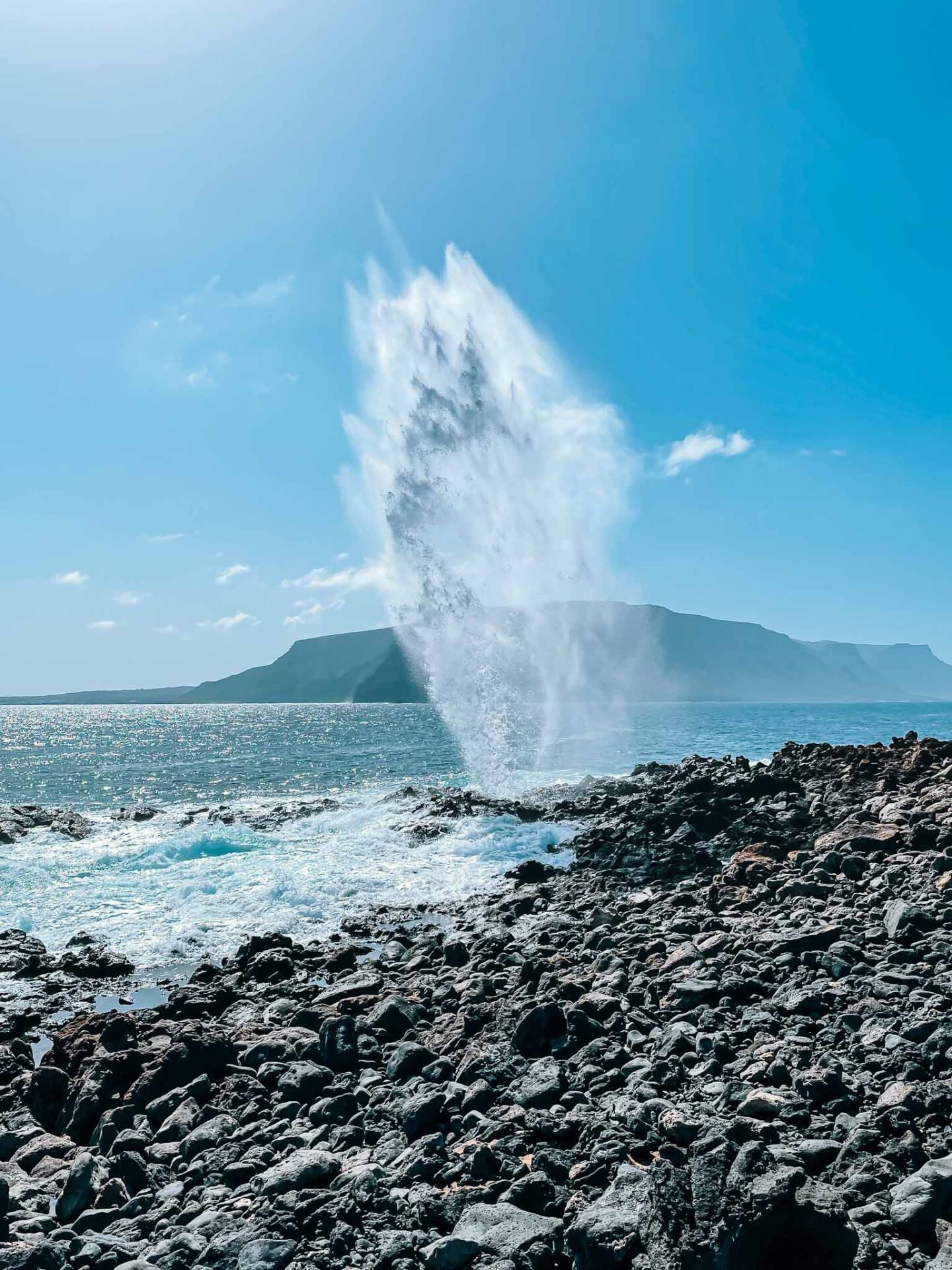 Now, this was probably my favorite spot on the whole island! Basically, it is a rock formation – a small opening in the coastal cliff. When the waves from the ocean flow under it, the mass of water and air have nowhere to go, so it shoots through the small opening with great force in a geyser-like manner.
It looks quite mesmerizing, as we stood there watching for about 15 minutes, haha! Afterward, we observed that you can even see the El Bufón from the ferry that goes between Lanzarote and La Graciosa. It did go up in the air some 20 to 30 meters high at times!
Location: El Bufón de Graciosa
5. Rock bridge 'Dientes del Tigre'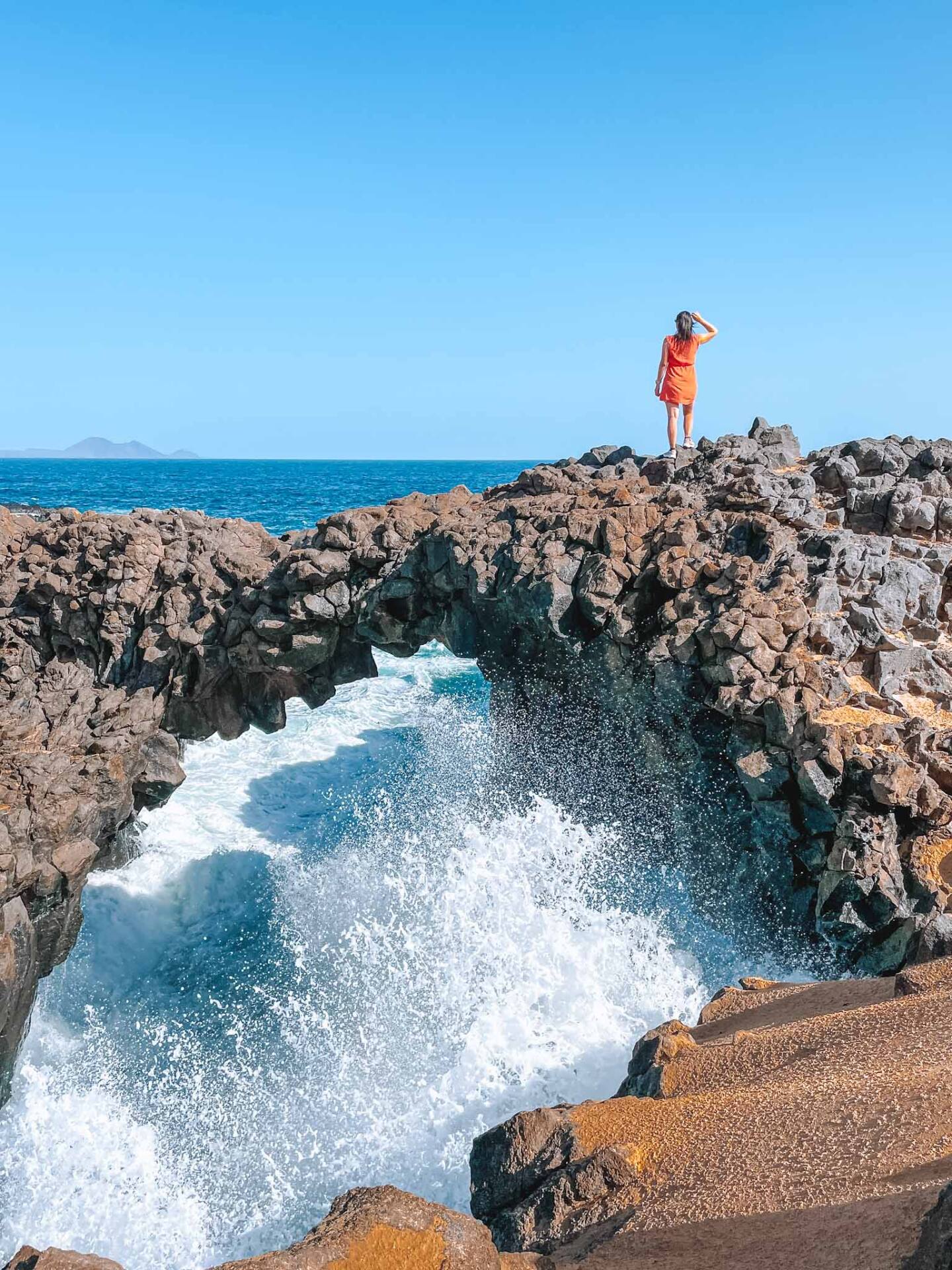 Another fun activity that you can do in the North part of the island is visiting 'Dientes del Tigre' or 'Tiger's teeth'. The view is majestic and captivating!
There is a rock bridge over a narrow water passage that the crashing waves of the ocean have dug out in the coastline. When the high tide or the big waves come, they crash through the passage and splash in the air.
Location: Dientes del Tigre
6. Hidden bay of Playa La Cocina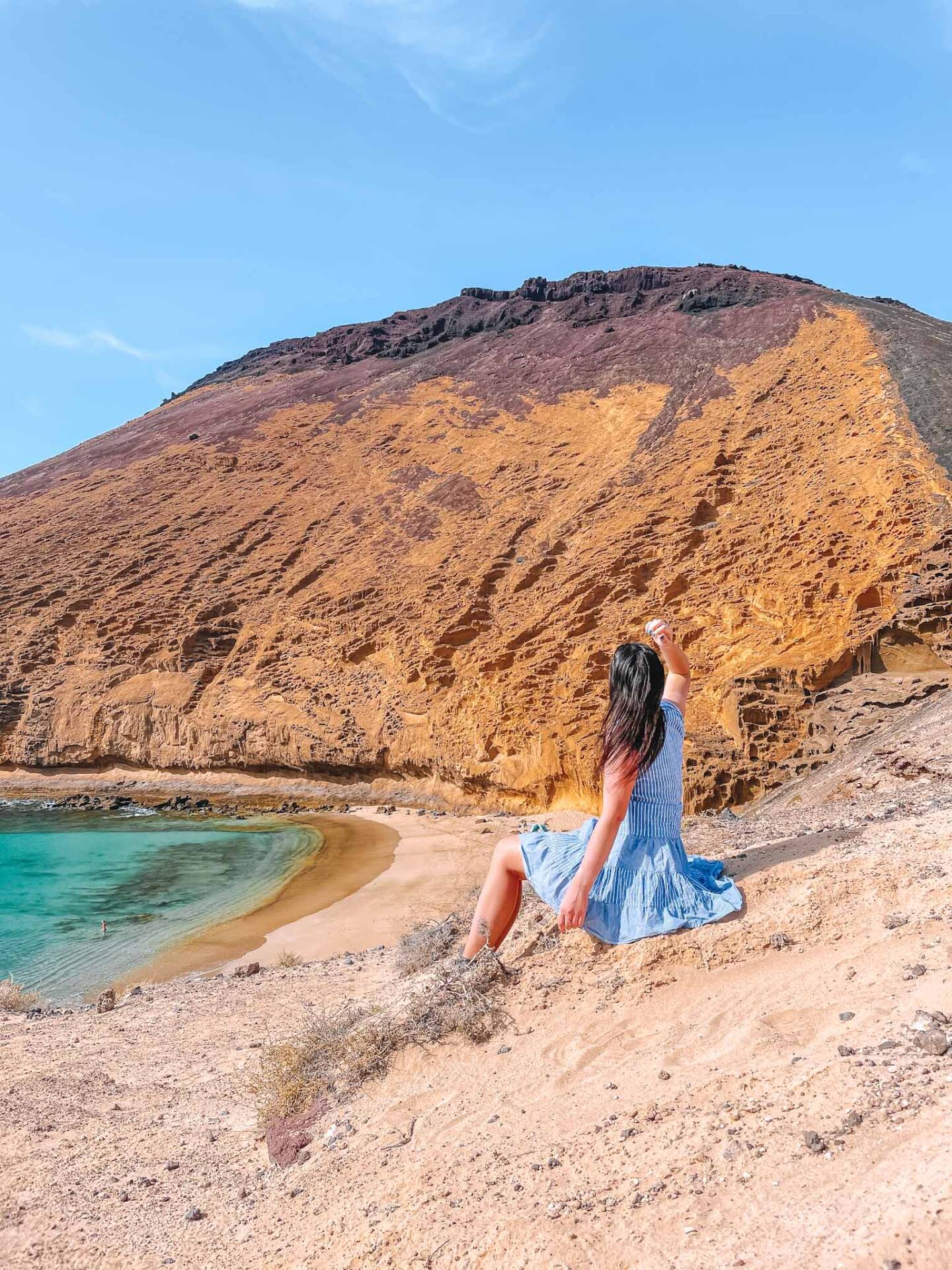 One of the most unique places in La Graciosa is Playa La Cocina – a hidden bay with shallow and turquoise water. It is a little 'paradise' away from the big waves of the West coast and the winds of the open places in La Graciosa.
This is the perfect spot for sunbathing, swimming, and spending time at the beach. What makes it more special is that the bay lies at the side of a yellow-colored volcano. If you are looking for an extra activity, I recommend hiking up to the volcano!
Location: Playa La Cocina
7. Casas de Pedro Barba settlement
When an island only has two settlements I think this is the case when it is worth visiting both places, right? Casas de Pedro Barba is a settlement where there are only three permanent residents officially.
Of course, there will be more people when tourists arrive and stay at the rental houses. It looked a little bit like a ghost town – there are no shops, no restaurants, and the only services are electricity and water. I guess, people come here to relax and escape everything and everyone!
Location: Casas de Pedro Barba
8. Playa Francesa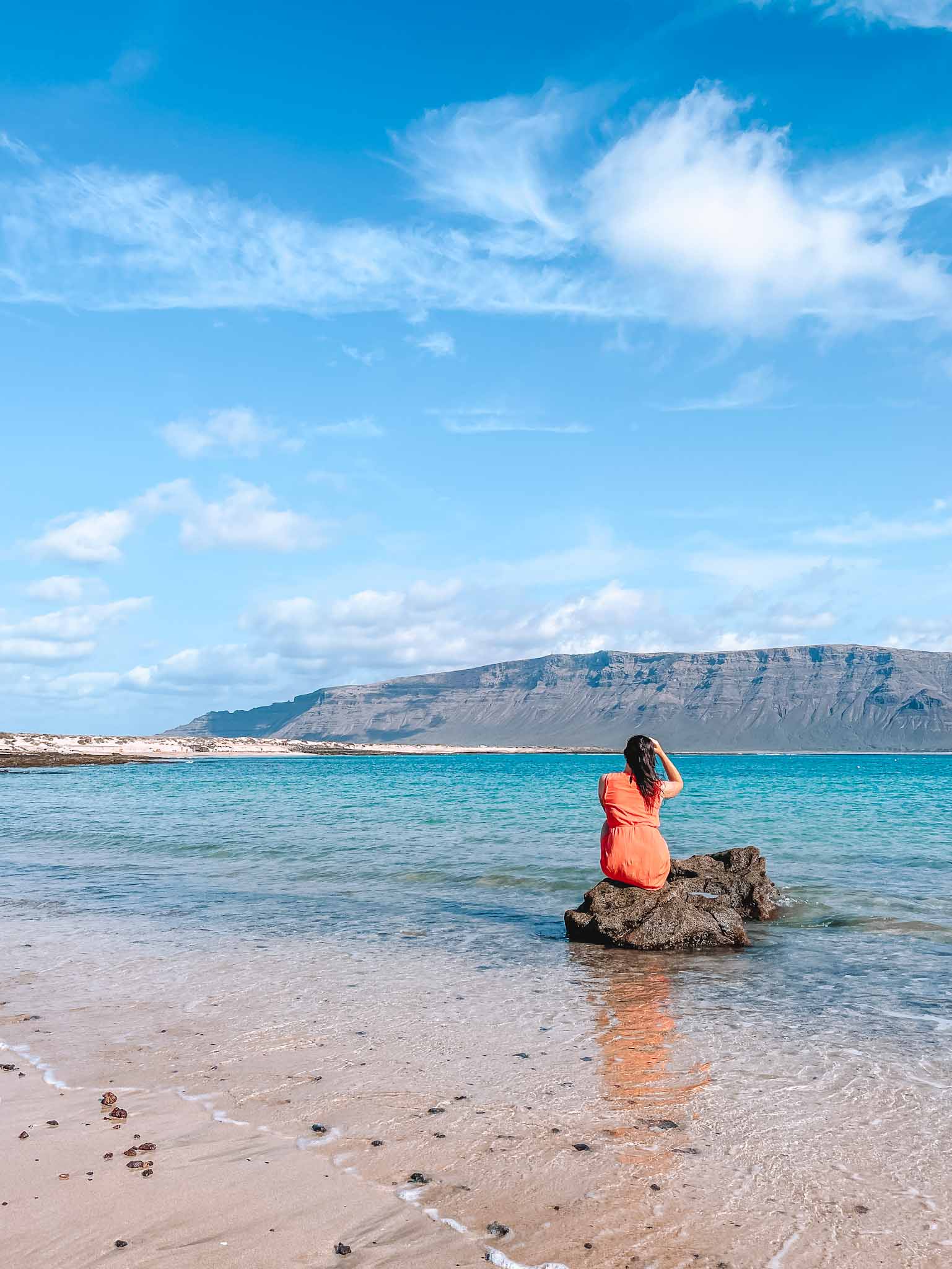 If the very central beach in Caleta del Sebo gets busy you don't have to look too far – Playa Francesa is the one to go to. This long sandy beach is located in a bay about 3 kilometers from Caleta del Sebo.
The water here is clear blue and quite shallow – amazing for swimming. But, in my opinion, the best part of the beach is the view. You get to look right at Famara cliffs on Lanzarote, so it has this huge background wall for your beach pictures. Looks amazing!
Location: Playa Francesa
9. The yellow volcano Montaña Amarilla
One of the most interesting places on the island is definitely the yellow volcano – Montaña Amarilla. It is located at the Southeast end of the island and is a 175-meter-high volcano.
Of course, the most notable thing about it is that it is in yellow color with some red layer on top of it. There is a 1-kilometer-long path that leads up to the top of the volcano from Playa La Cocina beach.
It goes uphill, so it will be a decent climb, but the views over La Graciosa and Lanzarote islands will be rewarding! Open this map to see how the route goes!
Location: Montaña Amarilla
10. La Aguja Grande
It is safe to say that the volcanos in La Graciosa come in different colors. I have already told you about the red volcano and the yellow volcano, but there is another special one.
I should say, that it is the central one because it is the highest volcano in La Graciosa and it stands beautifully right in the middle of the island. The volcano reaches 267 meters above sea level and offers beautiful views over the island and the capital village – Caleta del Sebo.
What is even more interesting – the volcano has a rainbow-type multi-colored ornament on the side of it. To see possible routes to the top of the volcano, you can check this route on the AllTrails.com website. However, there are no official routes to the top and you might as well improvise.
Location: La Aguja Grande
Happy exploring!
La Graciosa is the 'hidden gem' of the Canary Islands. It is the smallest of the islands with beautiful untouched nature and super remote places. I hope you get to visit beautiful La Graciosa island one day! If you can, please, leave a comment below if there are any significant changes to anything that is written in this blog post! Many thanks!
PIN FOR LATER!