9 unique beaches you should see in Fuerteventura
Fuerteventura is the champion of unique beaches! You can find any kind of beach you like – with white sand, with black sand, with pebbles, with sharp rocks, with volcanic pools, with white sand lagoons, with sea caves, long beaches, and short ones.
Here I concluded nine beaches in Fuerteventura that I found to be extra unique! Psst! They are ordered by a location starting from the North of Fuerteventura and going down to the South!
Read also >>> 21 best Instagram photo spots for amazing photos in Fuerteventura
1. Popcorn beach or Playa El Mejillón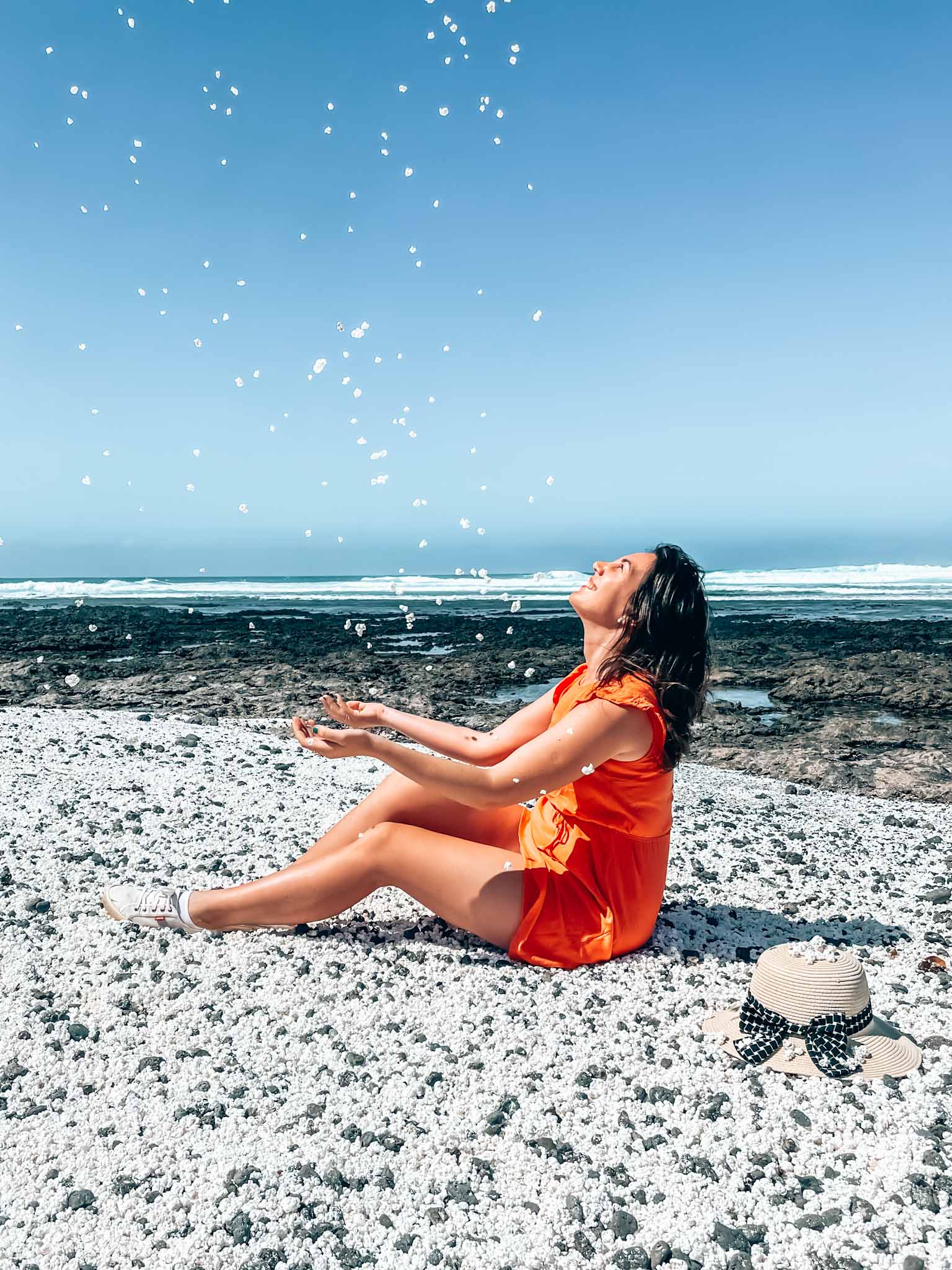 I would definitely put Popcorn beach or Playa El Mejillón amongst the TOP 3 most famous beaches in Fuerteventura! And not because it is a great beach to go for a swim – on the contrary!
It is not a good place for swimming because of the rocks however it is a great place for unique photos. There is a marine algae called rhodoliths that looks almost exactly like popcorn pieces. It has been washed ashore and all the beach is covered with small, white 'popcorn' pieces.
Definitely stop at this place – you can only see something like this once in your life, haha! You can park your car on the side of the road. Please remember that it is forbidden to take rhodoliths with you – their home is at the beach!
Location: Google Maps
2. Grandes Playas de Corralejo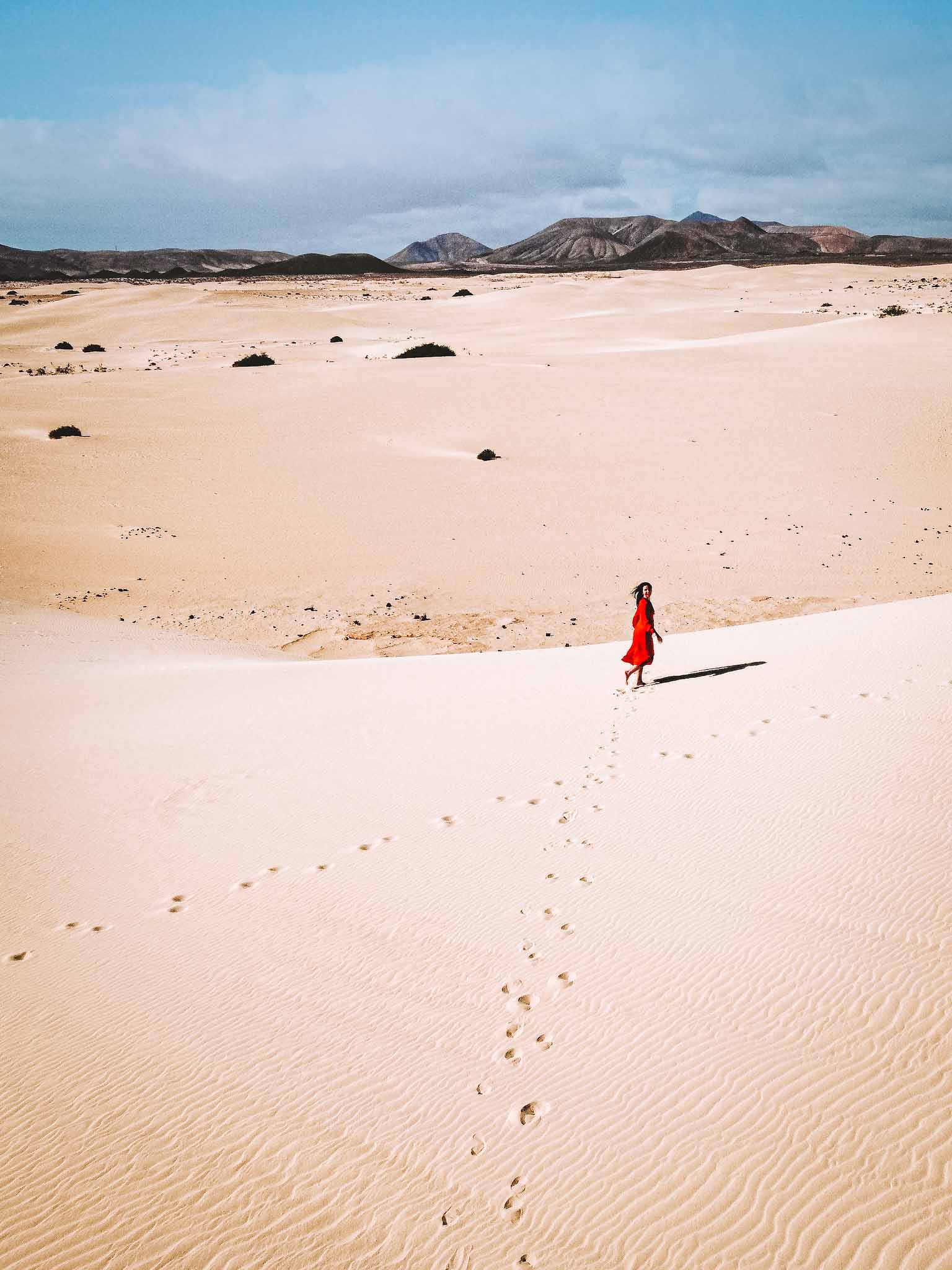 Corralejo beaches are not only famous for being excellent watersports places, but they are also great for spending the day at the beach. There is a long straight of white sand beaches and clear blue water to share amongst everyone – watersports fans and beachgoers.
However, there is one special reason to visit this area and it is the Corralejo sand dunes. On the opposite side of the road, there is a huge area of white sand dunes that cover about 10 kilometers in length.
You can make some incredibly unique photos here because it looks just like being in the desert. Don't miss this spot when visiting Fuerteventura!
Location: Google Maps
3. Playa de la Solapa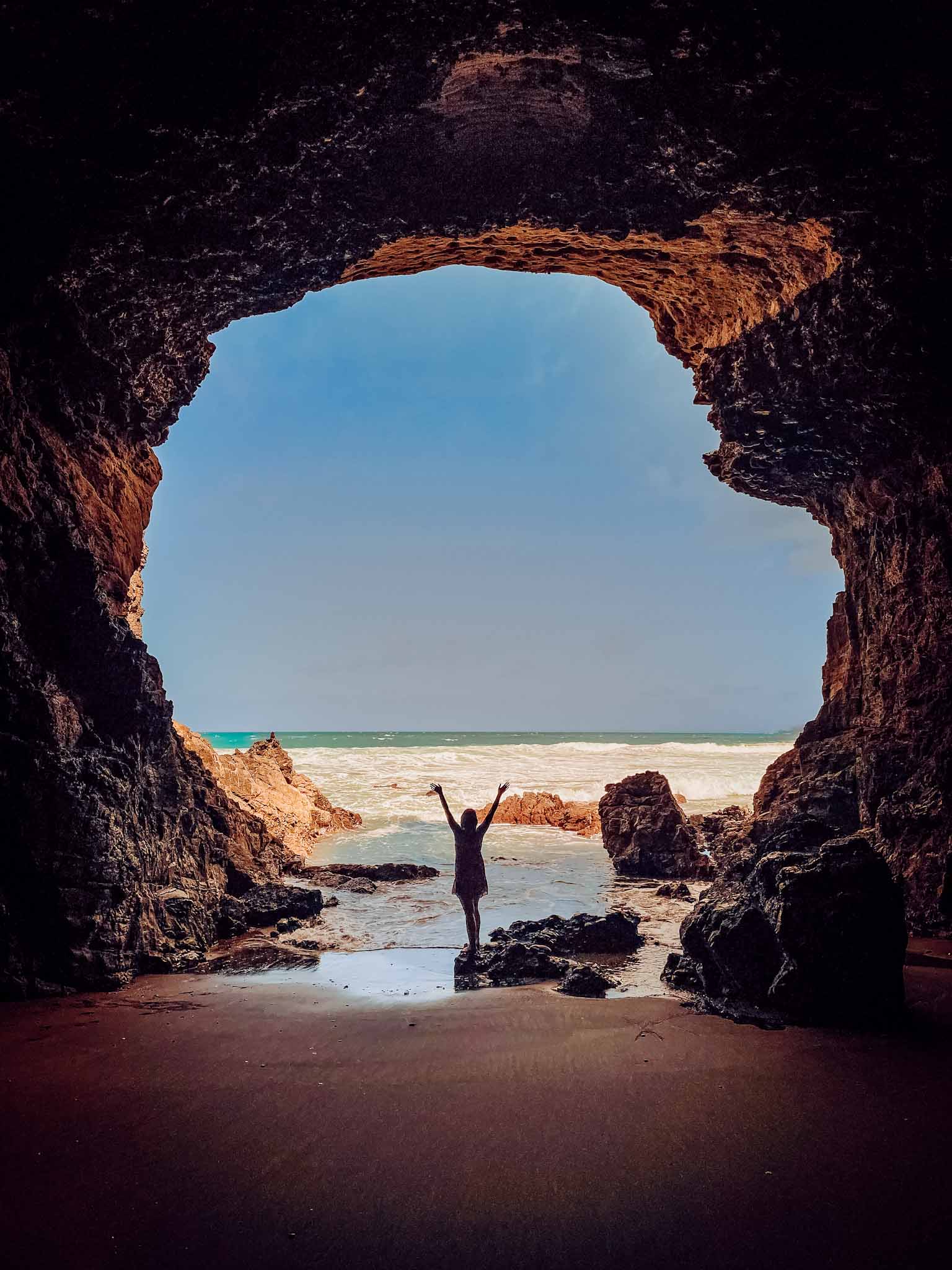 Playa de la Solapa is a beautiful black sand beach on the West coast of Fuerteventura. It stands out from the rest of the beaches with multiple (and huge!) sea caves and big rocks on the beach that make it a good place for exploring and taking photos.
This is THE place to go during low tide when all the sea caves become accessible and safer to explore. I do not recommend visiting during high tide! You can get to the beach by car and park it right on the cliff before the beach.
Then follow a path down to the beach and turn left. If you follow the seashore to the left from the beach you will soon see both – the big rocks and all the sea caves one after another.
The biggest sea caves are located about 250 meters from the beach – around HERE and HERE! No wonder Marvel Studios decided to film some scenes for 'Eternals' on this beach – it is so cool!
Location: Google Maps
4. Playa de Garcey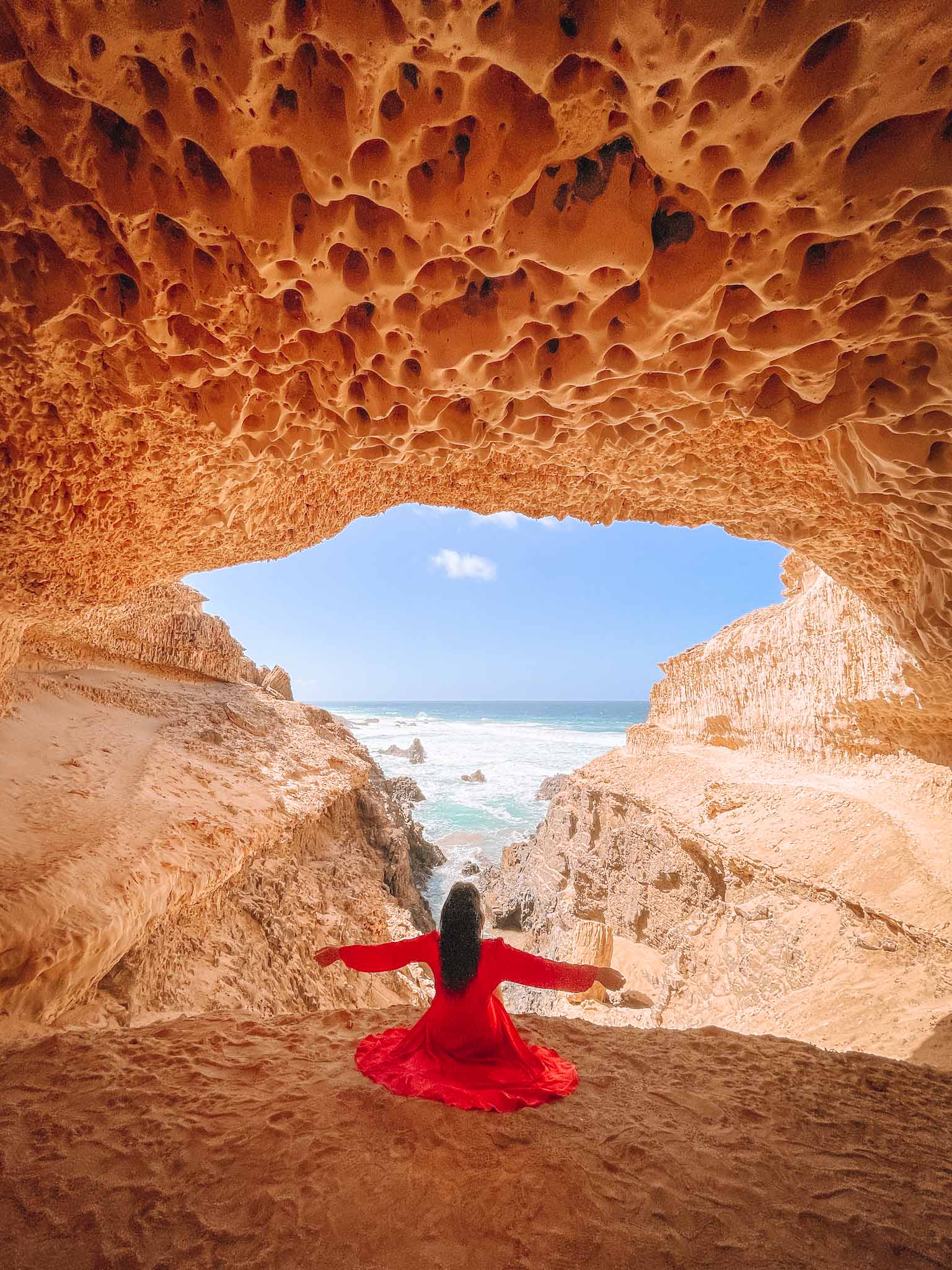 Playa de Garcey is a super remote and secluded beach on the West coast of Fuerteventura. If you look for some information about this beach you will most likely find that there was a shipwreck at the shores of this beach. A ship called the American Star. It still is there but it is not really visible anymore.
However, this beach is unique for another reason as well. If you take a walk from the beach to the South and follow the coastline you will stumble upon some crazy unique rock formations that look like beehive and honey cells.
But the most unique spot is located about 1 kilometer to the South from the beach – I call it the Bee cave. It is a tiny white sand cove with a perforated ceiling that almost looks like honey cells. It is not the most important tourist attraction on the island, but it is a nice adventure if you have time for a walk!
Location: Google Maps
5. Playa de las Hermosas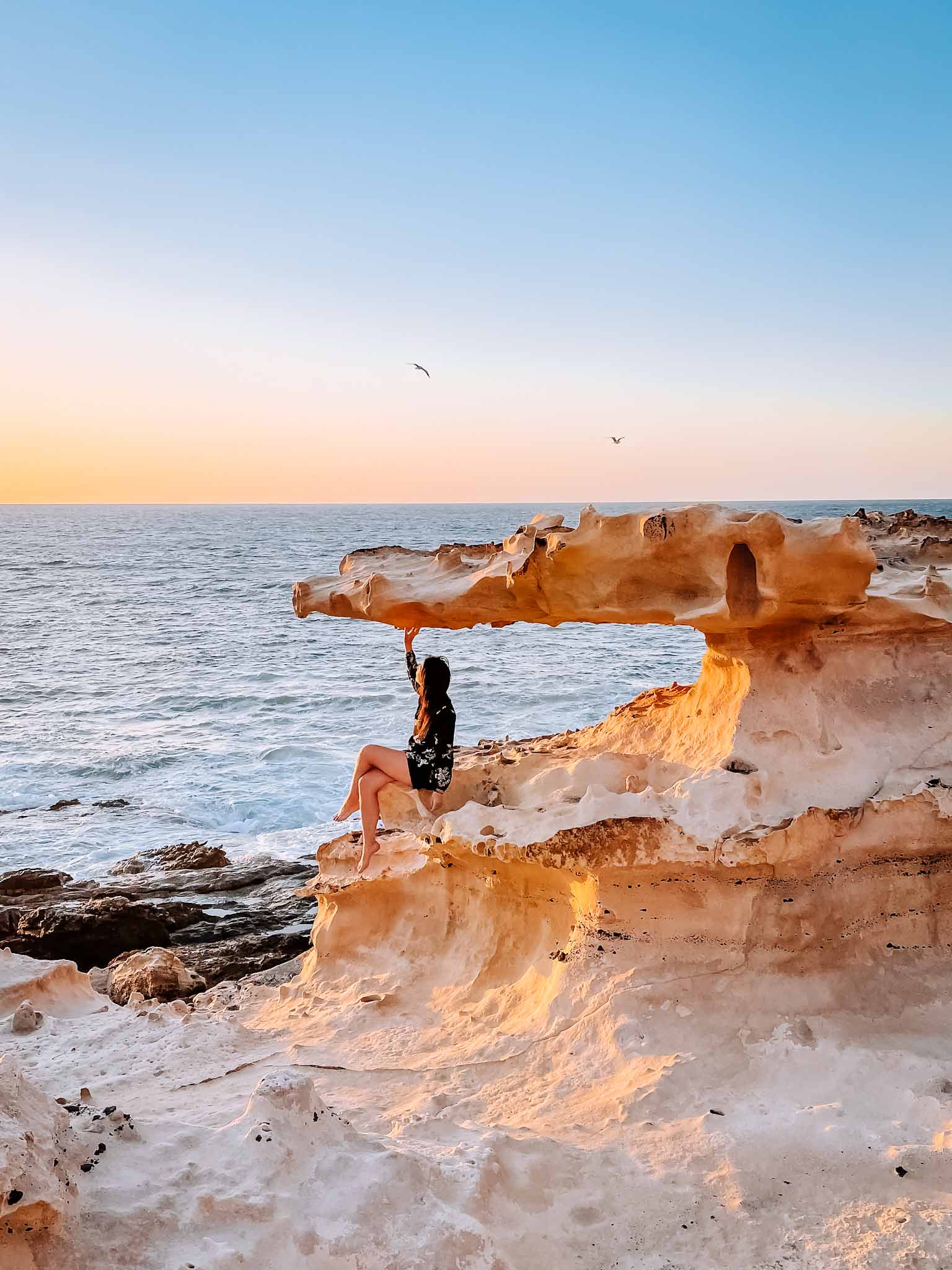 This little black sand and rock beach is great for a quiet getaway. It is surrounded by cliffs from both sides and protects you from the wind. What makes it unique is the Crocodile rock near it.
If you climb up on a cliff and hike along the coast to the North from the beach, then in a couple of minutes' time you will stumble upon a unique rock formation that looks like a crocodile with an open mouth. That whole area is full of interesting rock formations, but the Crocodile rock stands out the most.
Definitely a great photo place, a great place for watching the sunset, having a picnic, and a quiet time away from the crowds as it is a bit remote, but still easily reachable. You can easily drive a car to the beach and park it right there.
Location: Google Maps
6. Playa de Sotavento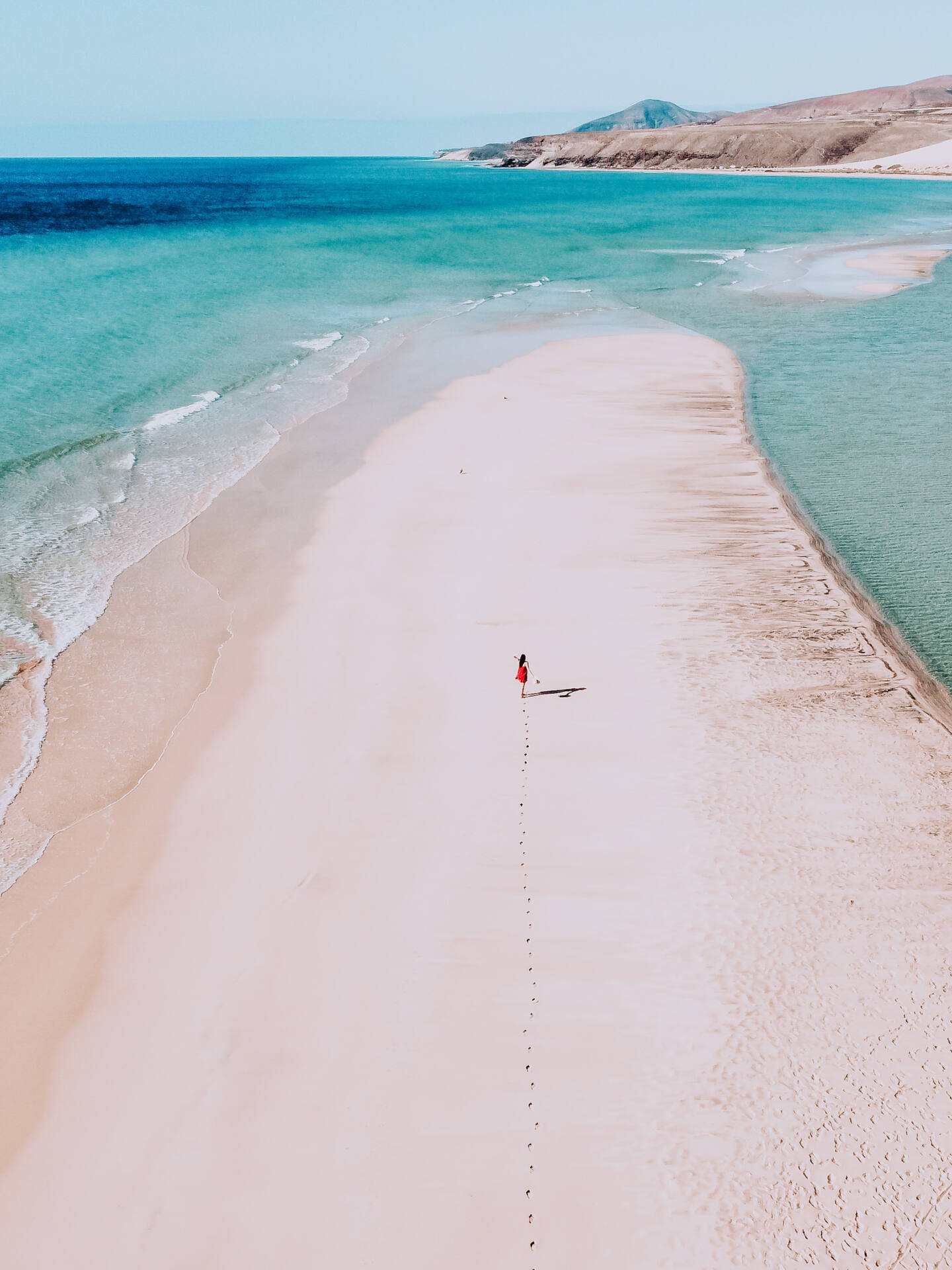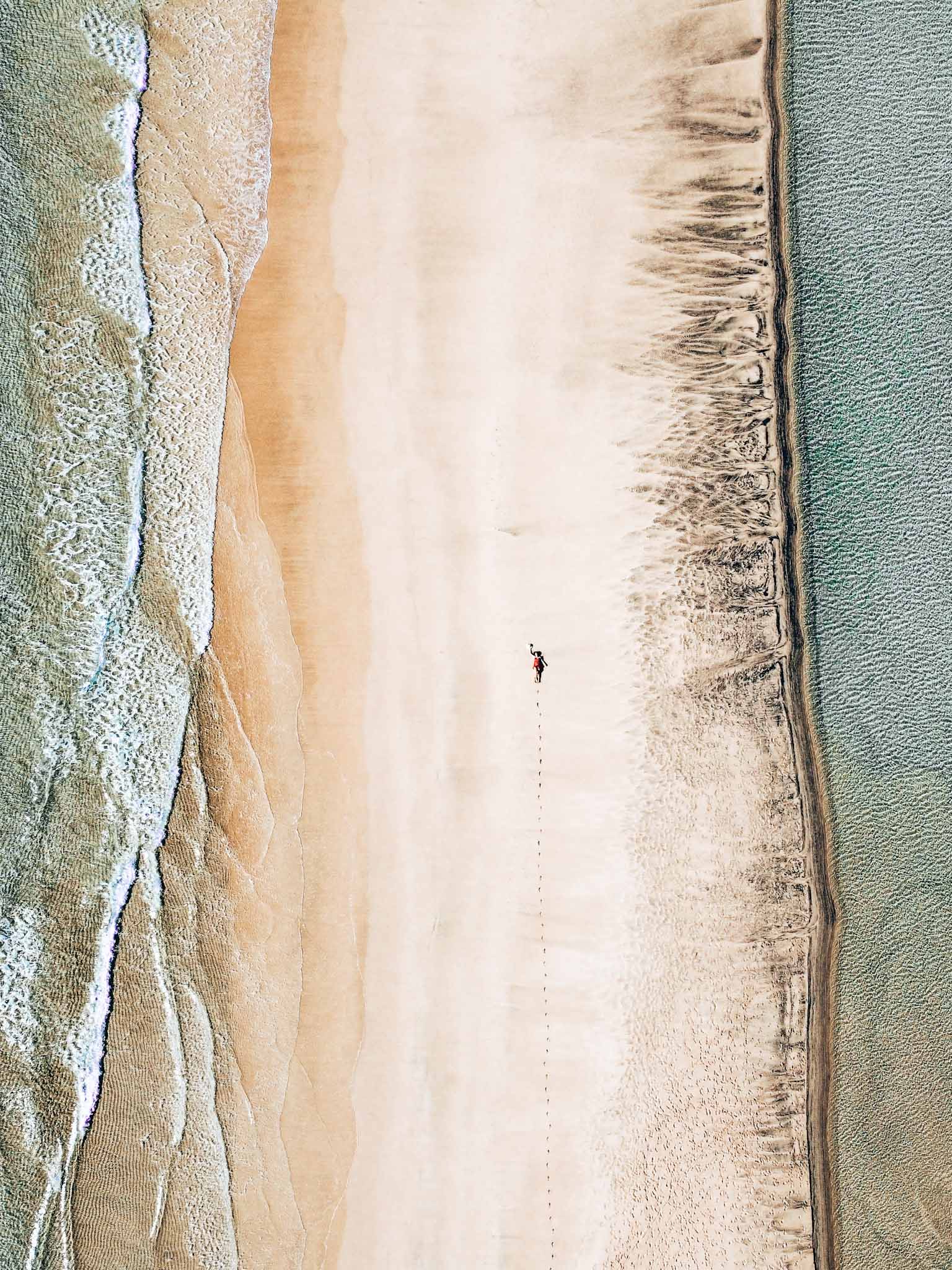 Playa de Sotavento is a chameleon beach and one of the most famous and unique beaches in Fuerteventura. During low tide, it looks like a white-sand desert – an incredible emptiness around you as far as you can see.
However, it comes alive during high tide – when the water comes in, it creates these beautiful and picture-friendly sand strips that stay above the shallow water and are great for taking pictures or just relaxing at the beach.
Beware that not all high tides are the same! It will be more visible during some high tides, but not much visible during other high tides. When we went there we got the not-very-well-visible one, but still, there were places with sand strips in the water that looked really cool from above.
You can park your car right at the beach on both ends of the beach. If it is the not-so-visible high tide, then maybe it would be better to drive to the southern end of the beach – that is where we found these amazing sand strips.
Location: Google Maps
7. Playa del Mal Nombre
This beautiful picturesque beach is a great option if you are staying on the south side of the island and crave some white sand beach with turquoise water! This beach is similar to Sotavento beach – it has a sand strip in the water where people love to take a walk.
If it is high tide it might be under water just like in my photo however the water is super shallow so you can still walk there or go for a swim. There is a café next to it so this is a great choice for a beach day. Shallow water, turquoise colors, and white sand – this is Fuerteventura, this is Playa del Mal Nombre!
Location: Google Maps
8. Playa de Cofete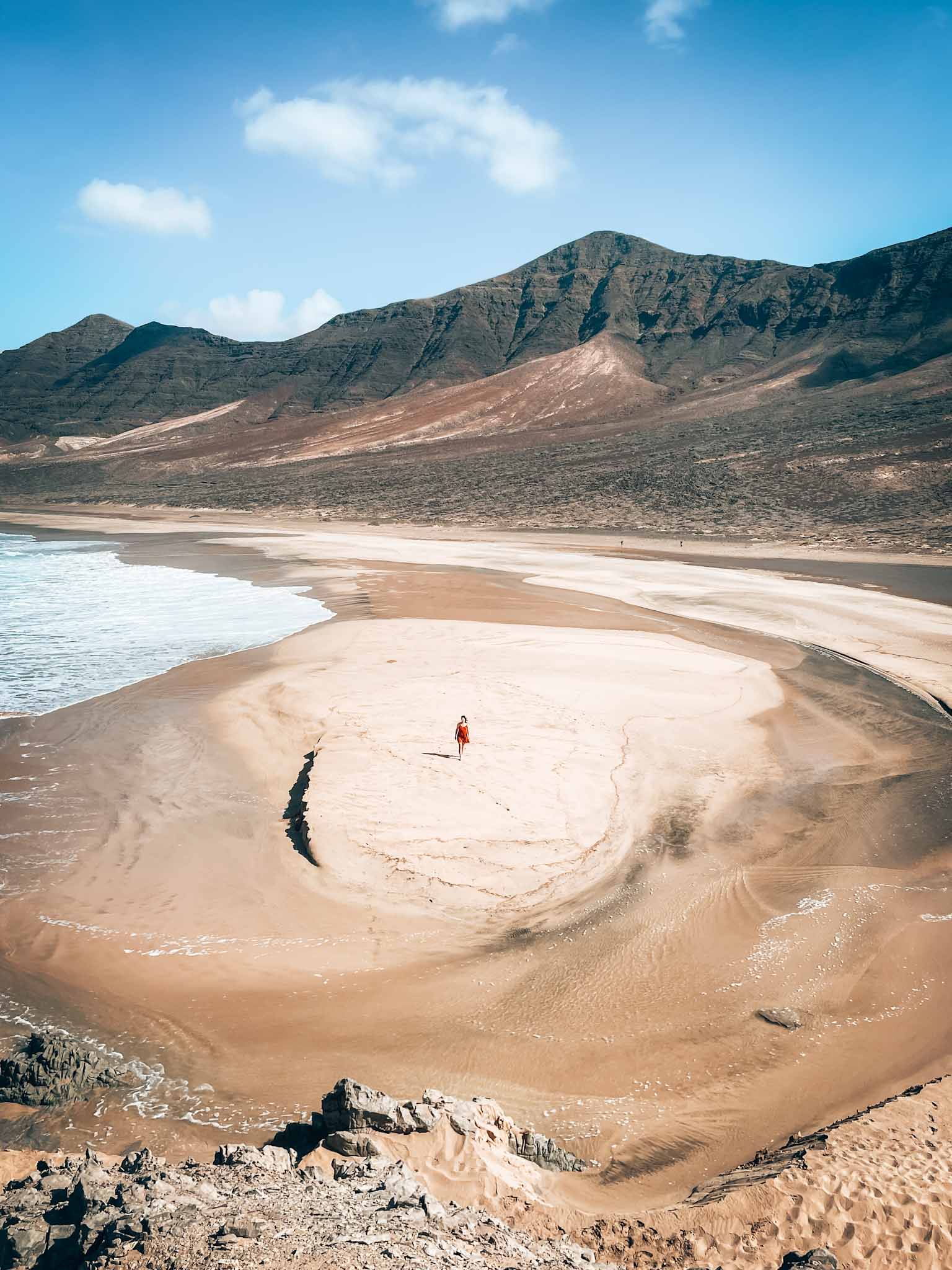 Playa de Cofete is one of those places you have to see to believe it! This endless sandy beach is located in the southwest corner of Fuerteventura and has a beautiful mountain backdrop on one side and the Atlantic Ocean on the other side!
Getting to this 14-kilometer-long beach is a bit of a hassle because it is quite far away from everything else and you will have to survive almost 20 kilometers on bumpy gravel roads, but it is definitely worth it! The views are just amazing!
The beach is so long and all the beachgoers have their own space so it feels like you are the only one there. Besides admiring incredible views of the beach you can visit the huge Roque del Moro cliff or walk all the way to El Islote islet next to the beach. You can get a great view from there and get a photo just like the one above!
Location: Google Maps
9. Playa de los Ojos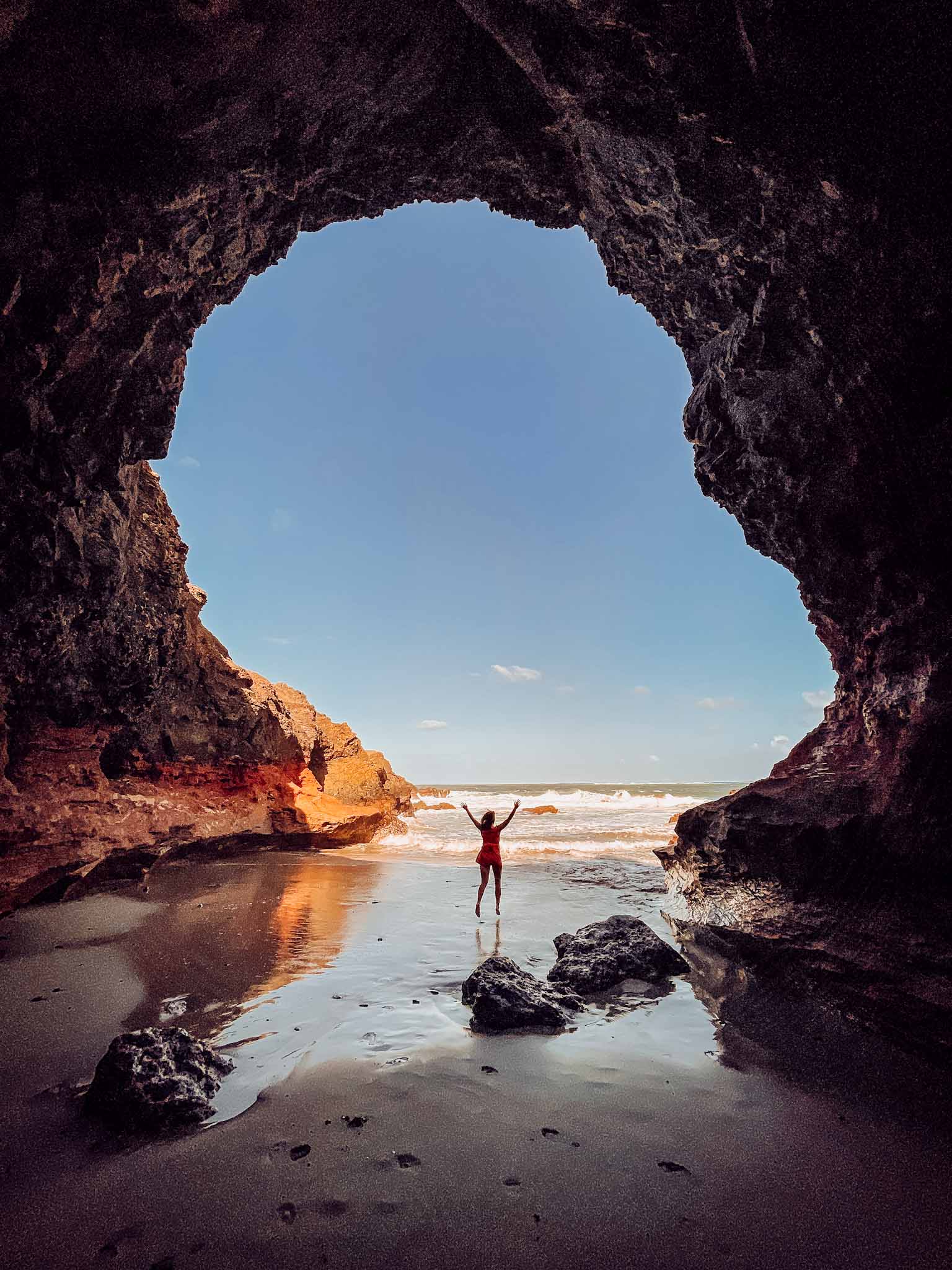 Playa de los Ojos is a sandy medium-size beach on the far southwest end of the island. It is surrounded by a couple of meters high cliffs that protect sunbathers from the wind.
On a calmer day it is possible to enjoy the water as well, but what makes this beach even more unique is not only that it is probably one of the remotest and furthest beaches in Fuerteventura you can get to.
However, there are also two sea caves – a bigger one located HERE where you can get during low tide, and a smaller one HERE that is accessible more or less all the time.
Location: Google Maps
Happy exploring!
Fuerteventura has an abundance of different and unique beaches – you only have to choose from all of them and go see for yourself! If you asked me if it was possible to visit all of them in one day, then the answer is – possibly not!
But if you are determined then this could be done, haha! I hope you get to visit at least some of these wonderful places and remember to keep them clean! If you can, please, leave a comment below if there are any significant changes to anything that is written in this blog post! Many thanks!
PIN FOR LATER!