Here are 9 unique caves you might want to visit in Fuerteventura
Exploring caves in Fuerteventura is probably one of the best adventures you can have on this island. Sea caves will probably win the day however there are also some beautiful and interesting lava caves and beach caves on this list. I hope you get to visit at least some of these beautiful and unique caves in Fuerteventura during your trip!
Read also >>> 21 best Instagram photo spots for amazing photos in Fuerteventura
1. Sea caves at Playa de la Solapa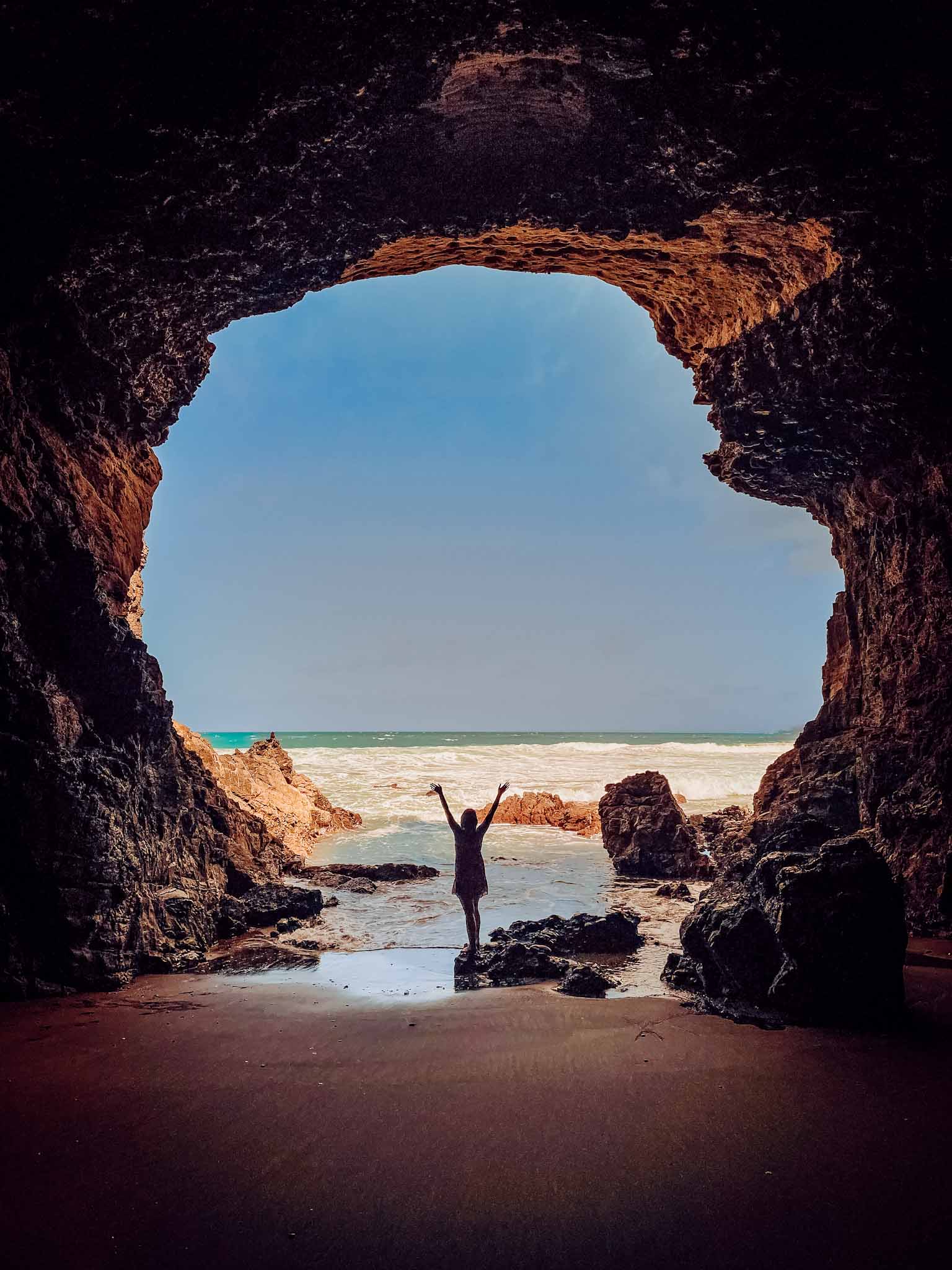 Playa de la Solapa is my favorite place to explore sea caves in Fuerteventura (read more about the most unique beaches in Fuerteventura HERE)! There are numerous smaller and bigger sea caves you can explore and make some pretty photos as a keepsake from your Fuerteventura trip!
At first, you have to drive to Playa de la Solapa – the final kilometers are on a gravel road but it is quite manageable for smaller cars as well. You can park on the cliff right before the road goes down to the beach.
When you get to the beach you will have to turn left and follow the seashore to the South. You will have to go past (and maybe sometimes climb over) some bigger rocks that have fallen on the beach. There are many smaller and bigger sea caves along the coast.
Definitely, the biggest and most interesting sea caves are located about 250 meters from the beach. First will come what I call a reflection cave because there is a small puddle of water inside. You can play with your own reflection when making the photo.
Then the biggest sea cave is located almost next to it – only about 20-30 meters further. It is probably my favorite sea cave in Fuerteventura because of how perfectly round and huge it was (we didn't even see the deep end of it!).
When to go? These are sea caves so you must aim for the low tide. The ocean on the West coast tends to be quite wild some days so even some low tides might be too dangerous to go.
It really depends on the season and winds. When we went we had some average waves and we simply could not walk on the sand as the waves were washing against the rocks.
But we climbed the rocks as close to the cliff as we could and managed to get to the caves. It is up to you to decide what is safe and what is not.
Location: Playa de la Solapa · Reflection cave · Cueva Grande de la Solapa
2. Bee cave near Playa de Garcey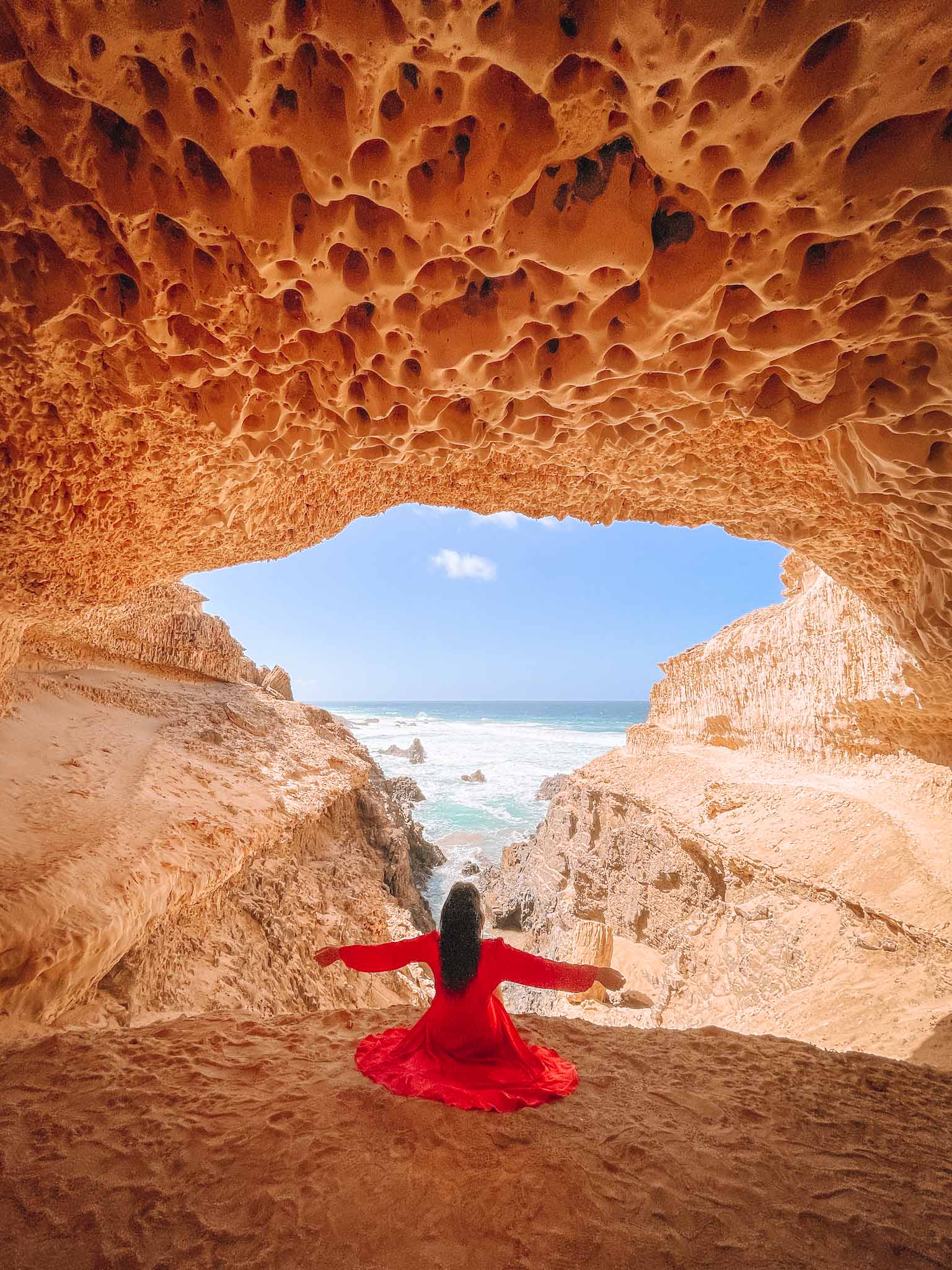 One of the most unique places in Fuerteventura is this so-called Bee cave near Playa de Garcey (see the exact locations in Google Maps below!). It is not the quickest stop to make and will require a little bit of effort however it will be an adventure you will remember from your trip!
I call it a Bee cave because the yellow ceiling of the cave looks like honey cells in a beehive. This is definitely one of the most unique caves and one of the most unique places in Fuerteventura!
First, you have to reach Playa de Garcey and park your car at the beach. It is a gravel road to the beach but more or less manageable even for small cars. Then you will have to climb up the coast and follow a path to the South.
You can either go right along the seashore and explore beautiful rock formations or you can walk a bit off-coast if you want to save time and go straight there. I have to tell you that the coastline is very beautiful!
The cave is located about 1 kilometer to the South from Playa de Garcey beach. When you see a small and narrow cove, find a path that leads down the cliff and follow the sandy trail along the cliff till you reach the deep end of the cove. You will recognize it from the photo.
When to go? This is not a sea cave so your visit will not be affected by the tides and you can really go any time during the day. However, the cave is right by the coast, so I would not recommend going during harsh weather.
Strong winds and huge waves or rain would make this visit dangerous as there is no indicated path, rocks can fall, sand can slide and the place is a bit remote. It is not worth the possible risks!
Location: Playa de Garcey · Bee cave
3. Cuevas de Ajuy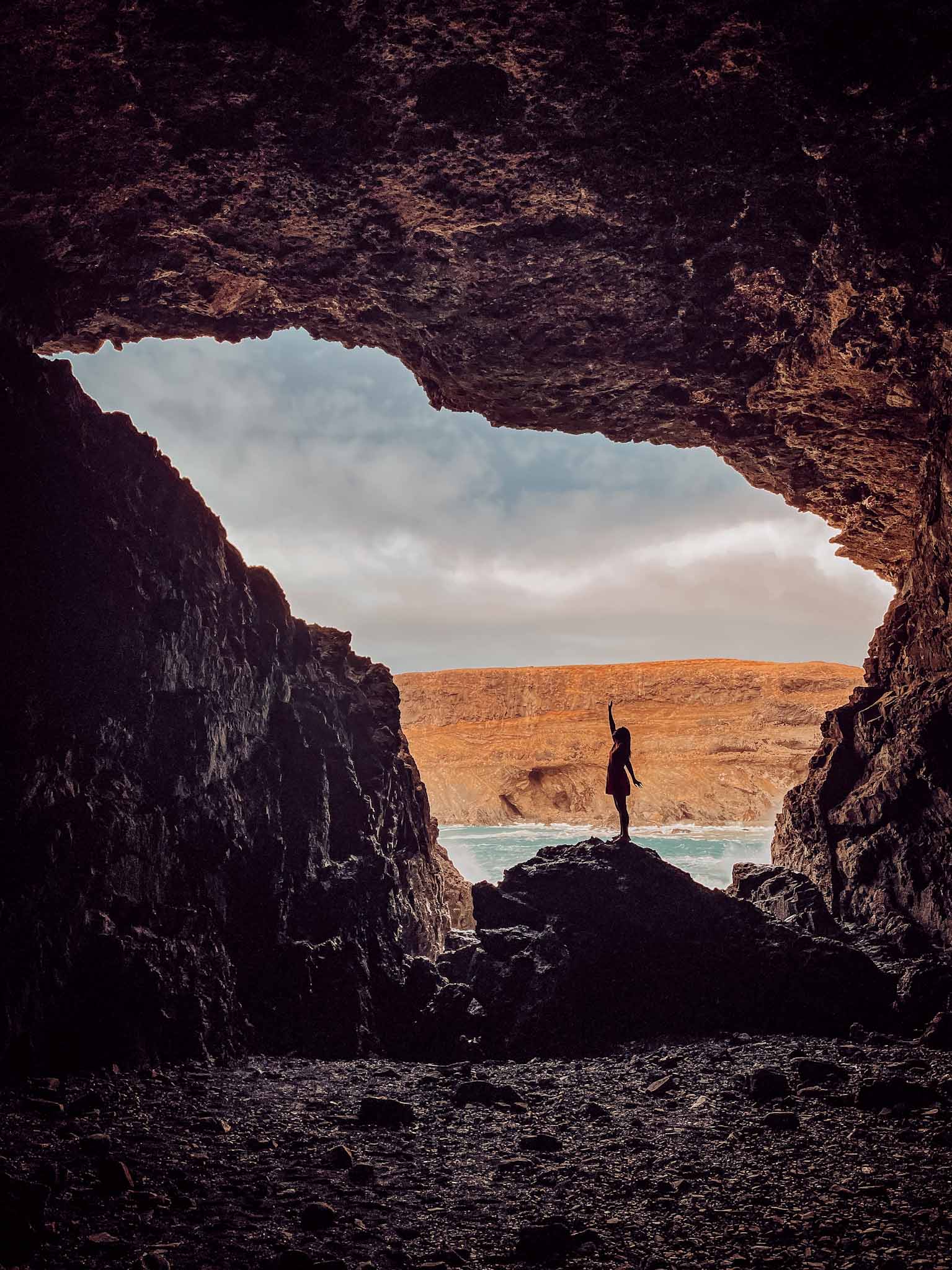 Ajuy caves are probably the most famous caves in Fuerteventura! Out of this list, they are the only ones with special signposts, information boards, and an official path leading to them. It makes them an easy place to visit.
You will have to drive to Ajuy village and park your car in the parking lot next to the beach. Next to the parking lot, you will notice a path leading up the cliff.
The only thing you have to do is follow a path – it is a couple of hundred meters walk to the caves. When you reach the caves you can climb down the stairs and go inside them – they are huge!
There are two caves right next to each other, but if you don't climb down you will not see the second one. You can reach the second one through the wall between the caves so you have to climb there (it is quite easy).
The caves are very deep and were meant to be tunnels connecting the village with the little bay they are located at but the project was abandoned a long time ago.
When to go? This is an official tourist attraction so there will be usual tourist masses. If you wish to avoid them then go in the morning or later in the evening.
We went during the day and there were quite a few people however not all of them climb down and even fewer climbed to the second cave so you can still get some photos and spend some time with very few people around.
Location: Cuevas de Ajuy · Ajuy parking lot
4. Cueva de Playa de los Ojos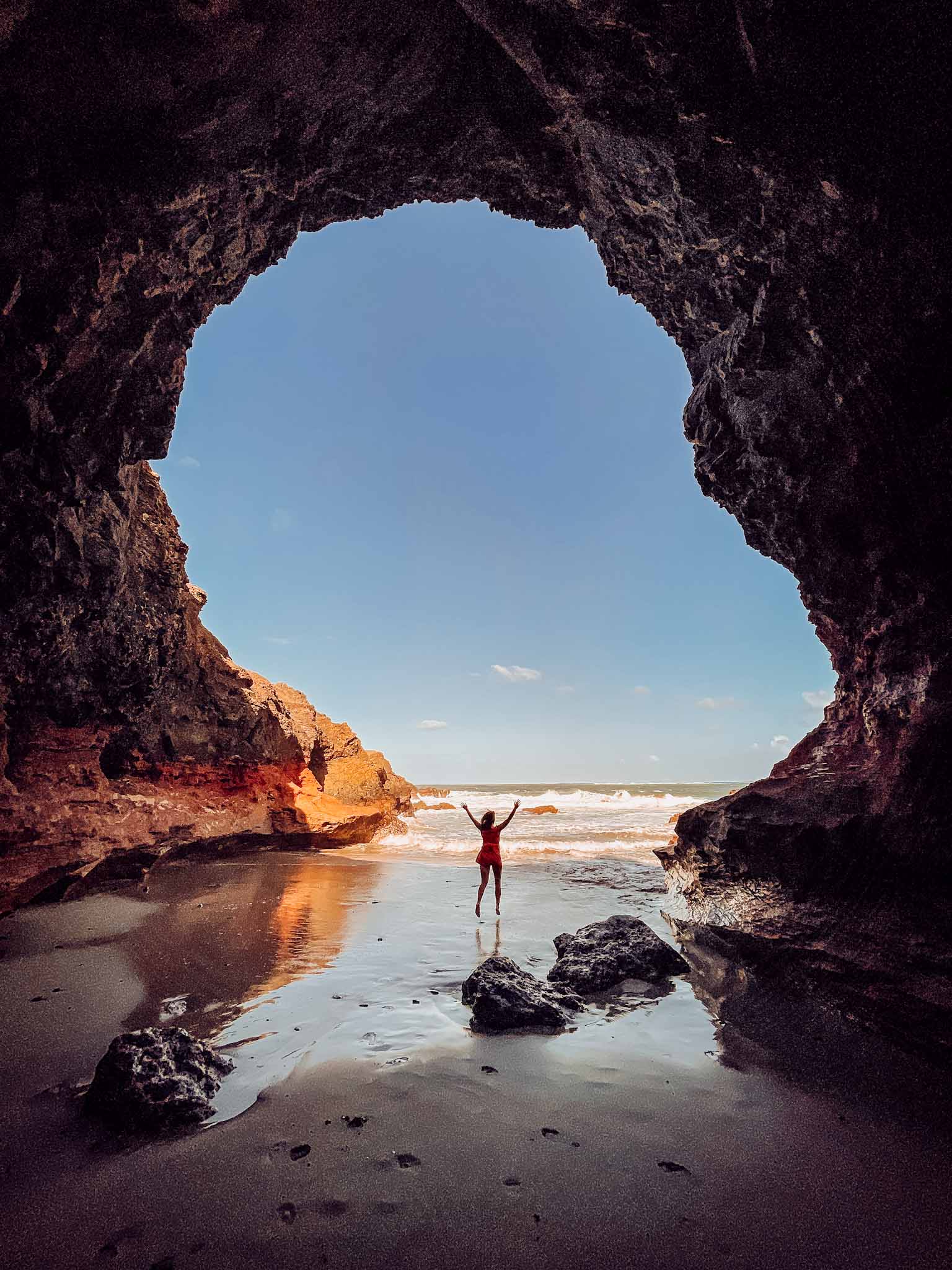 If you ever go to the South end of Fuerteventura you should include Playa de los Ojos in your route and visit one of the biggest sea caves in Fuerteventura that can be easily accessed!
It is the furthest beach to the South-West of Fuerteventura and a beautiful one. Reaching it will be a bit of a hassle as there is only one gravel road starting from Morro Jable till the end of the island. But…why deny yourself a bit of an adventure?
When you reach the beach you can park your car up the cliff. Then find a path that leads down the cliff to the beach. The sea cave is located at the very end of the beach to your left (to the South). You will have to cross some rocks but it is not too difficult. This huge cave is only accessible during low tide.
If you happen to be on the beach during high tide then you can actually visit a small cave that is located about 100 meters to the right from the place where you get down to the beach. It is not big, but you can easily crawl inside it and make some nice photos from the inside of it.
When to go? The bigger sea cave will only be accessible during low tide. It might be actually full of water during high tide, so no point in going there. The small cave might be accessible at any time really because it is located off the shore and the water might not even reach it at any time.
Location: Playa de los Ojos · Cueva de Playa de los Ojos · Small cave
5. Lava caves near Los Estancos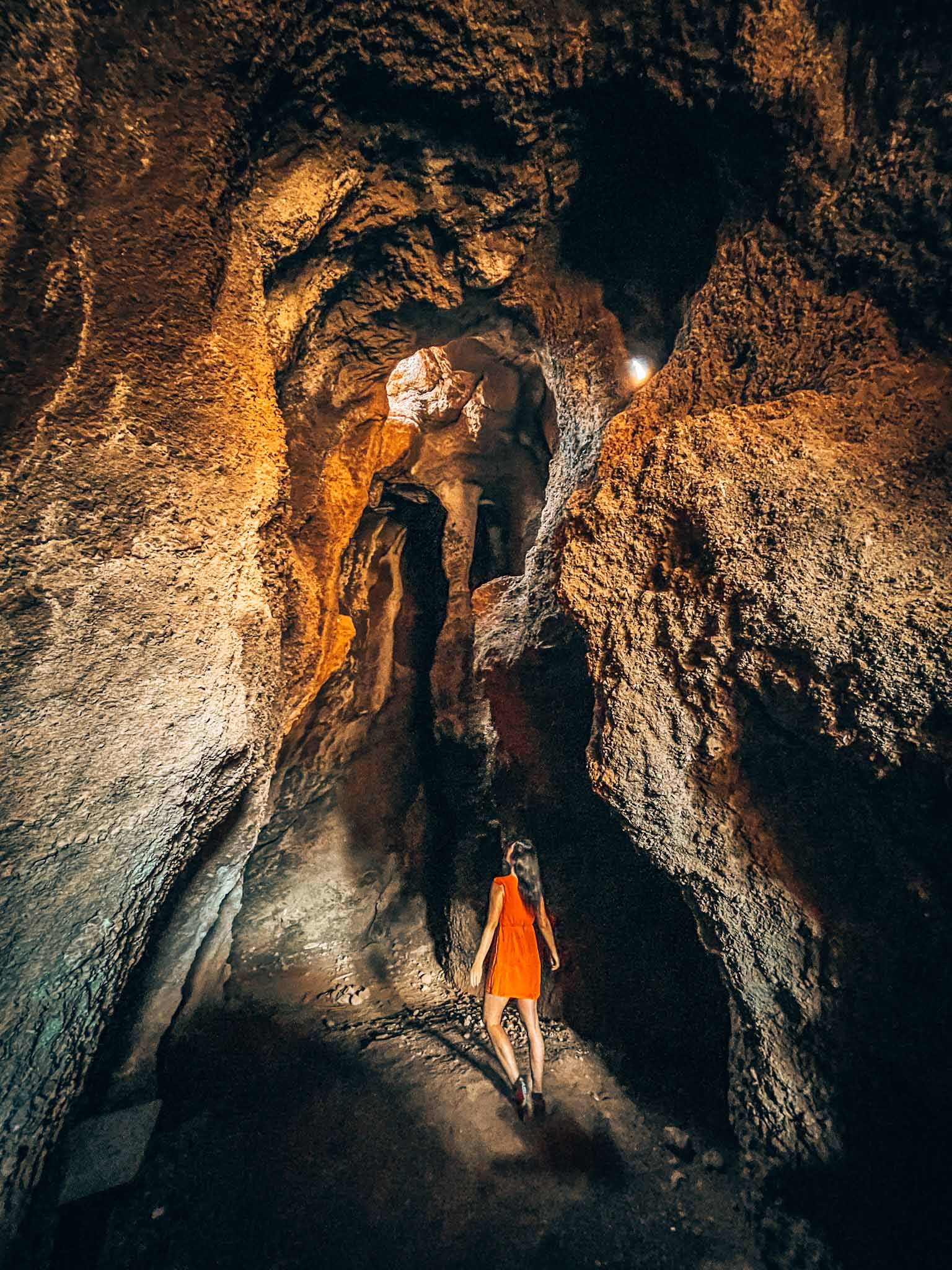 If you are an adventure lover like me you will like to visit these lava caves near Los Estancos town. They are not an official tourist attraction but definitely an interesting place to visit!
They are located at the side of a volcano. You can park your car at the side of the road that goes up the volcano. Then simply follow a path that leads to the caves.
We spent some good 15 minutes just walking around and looking inside every opening discovering even more and more caves. There are bigger cave openings where you can easily go inside and explore.
Just walk around and see for yourself! These are definitely very unique caves in Fuerteventura and you won't find anything like this anywhere else on the island!
When to go? The biggest problem here could be the rain. The soil there consists of tiny pieces of volcanic pyroclasts and it is fragile. During the rain, it might get even more fragile and break so I would not recommend going there when it is wet.
It is also not a place to visit during darker hours. There are big holes in the ground that go almost vertically underground. It would be a difficult task to get out without any climbing equipment. Be careful!
Location: Lava caves · Parking place
6. Cueva de Agua Liques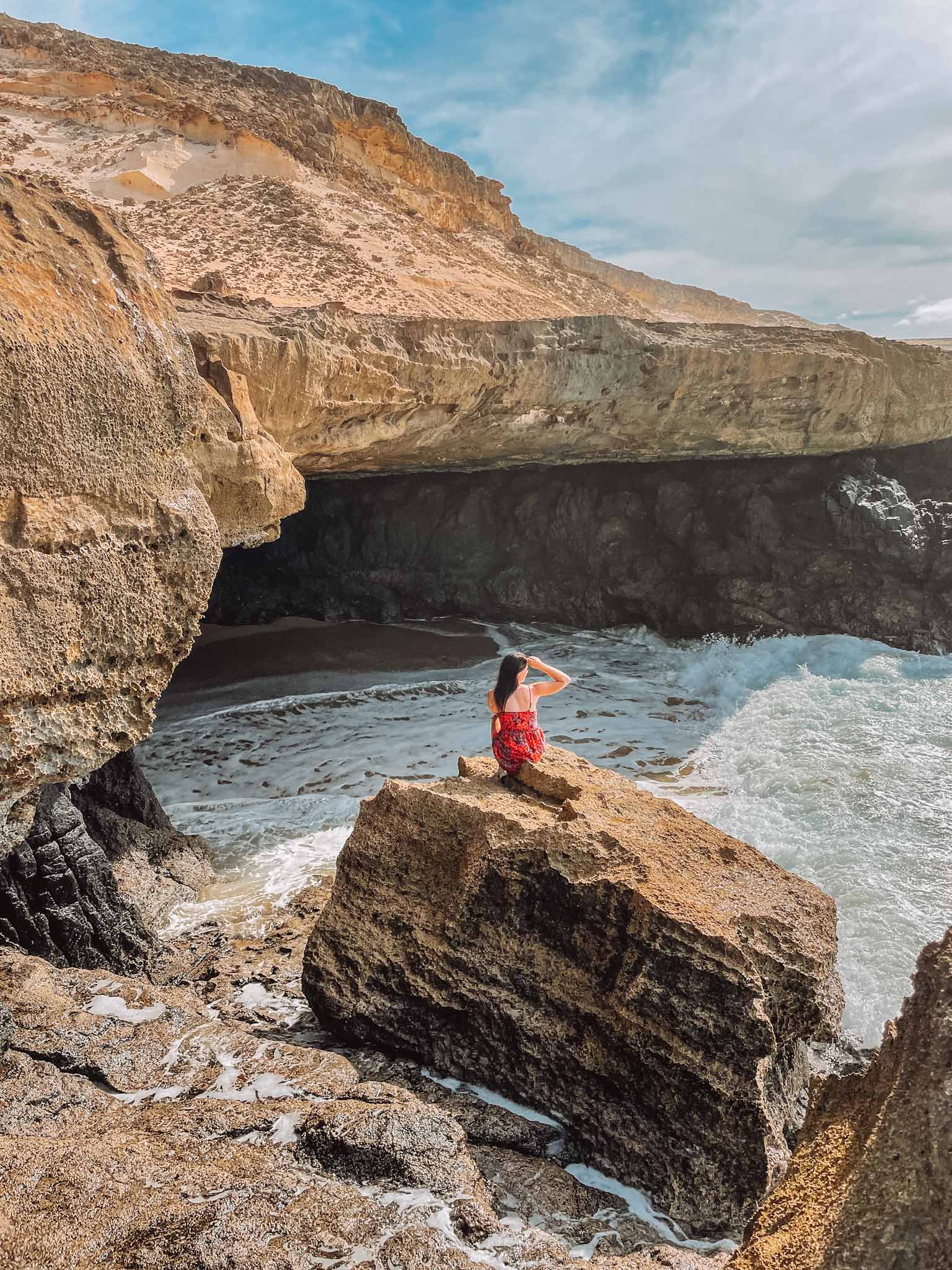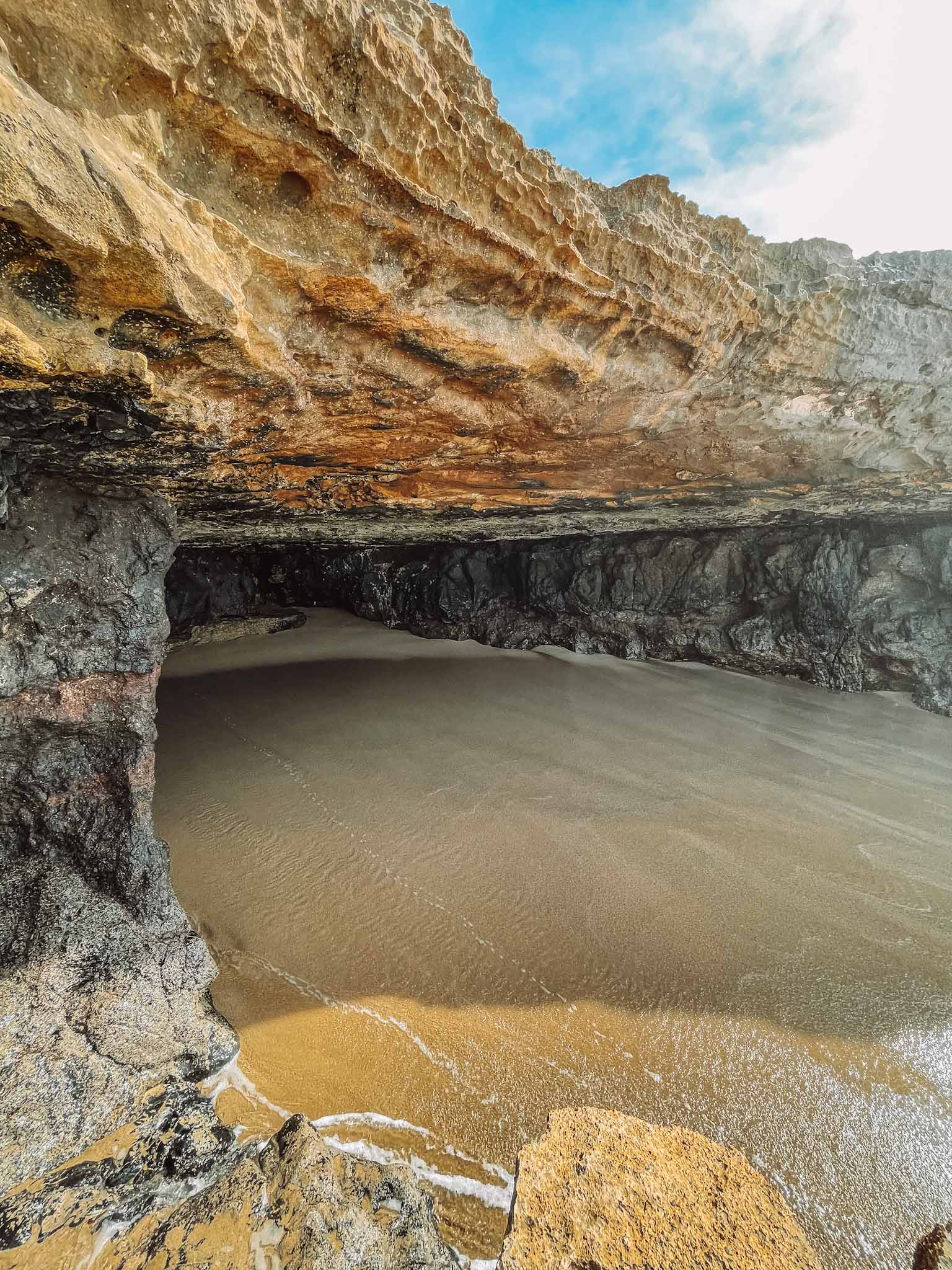 This is a simple yet huge sea cave. If you happen to be in the area and doing the coastal hiking around La Pared to the South then visiting this sea cave might be a great option.
When you reach the place there will be some rocks to climb down the coast to the ocean. They are located on the right side (the Northside) of the cave. See if the waves are not too big and check out the cave!
To get to this place you either have to walk along the coast from La Pared or you can choose an extra-terribly-bumpy road as we did and drive by car. There are two roads – one that goes closer to the ocean (too sandy for our Fiat 500) and one that goes parallel to the coast but further from the ocean.
We chose the second option. The road is terrible but we were too tired to walk anyways. To be honest, I am not sure how we did not get a flat tire… However I would say that it is not worth coming here specifically for the cave – the road is long and the cave is simple.
When to go? As it is a sea cave you should aim for the low tide. The Westside of Fuerteventura is windier and the ocean is wilder so you should take that in mind. We decided to see the cave from the outside as the waves were bigger than we would have liked.
Location: Cueva de Agua Liques
7. Cueva de Playa del Viejo Reyes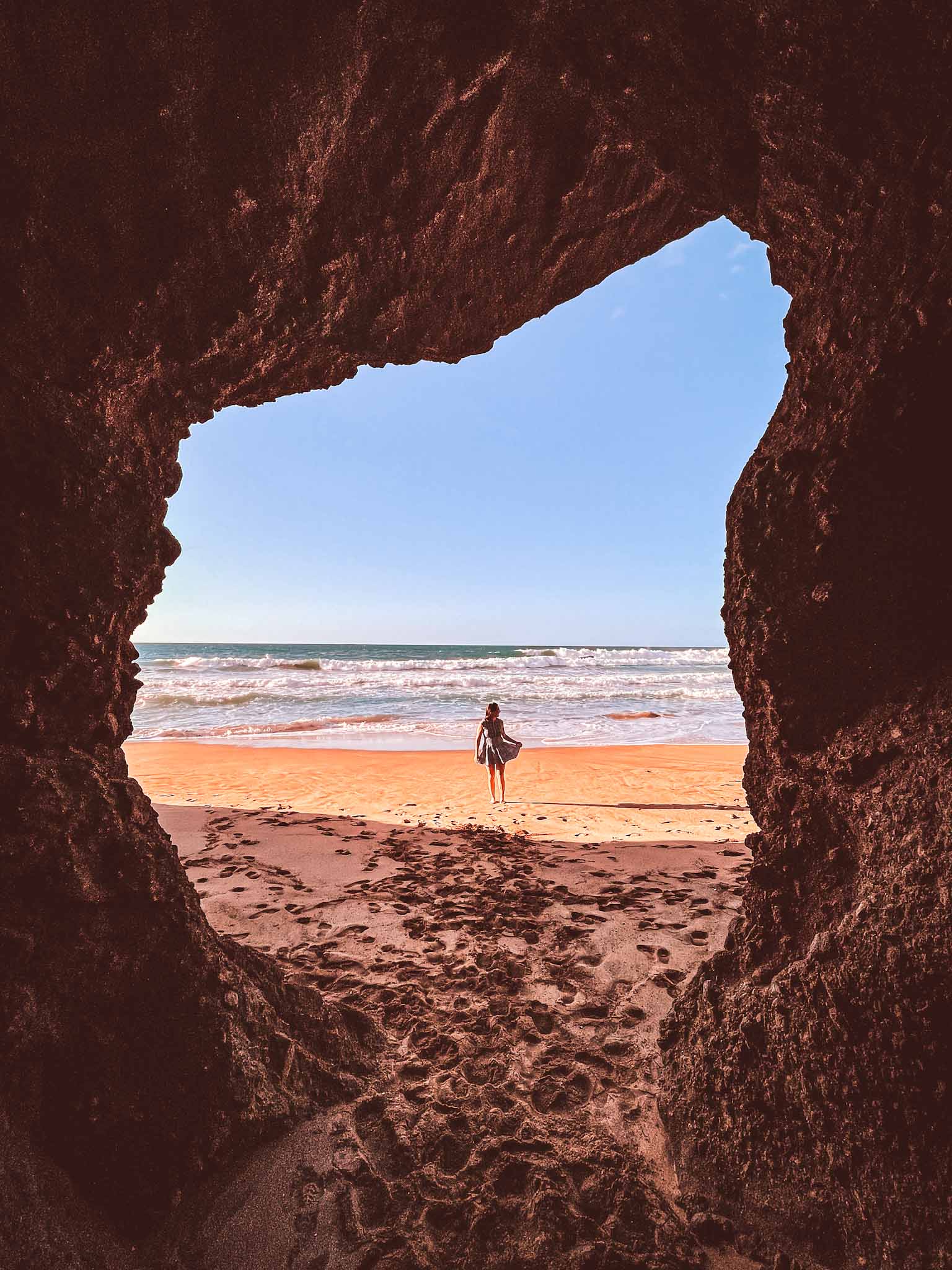 This is a simple beach cave at Playa del Viejo Reyes. If you ever visit La Pared town or do any sightseeing around the area this is a nice addition to your route. It is very simple to find – just drive to the beach, climb down the stairs and go along the beach till you find it. It is not too big but makes a unique photo.
When to go? It is more like a beach cave, not a sea cave. When we went the high tide was coming so some of the waves almost reached the coast however it was quite manageable and we could avoid the waves quite easily. The lower tide is preferable but it might be possible to visit it even when it is not low tide.
Location: Cueva de Playa del Viejo Reyes · Parking at the beach
8. Beach cave at Playa de Tarajalejo
If you are staying or visiting something in the South part of Fuerteventura you can visit Playa de Tarajalejo. It is a beautiful black sand beach and has a beautiful promenade with benches to sit on and enjoy the view.
The waves in the ocean are typically smaller on this part of the island which makes this beach even more appealing. But there is one more attraction to see here – a small beach cave at the South end of the beach.
When to go? This is a beach cave and it is not really affected by the ocean. The waves just don't really reach that far (usually) so you can come any time of the day really. It is not a big cave, but a nice spot to include in your list if you happen to be in the area.
Location: Cave at Playa de Tarajalejo
9. Cueva de Playa del Jurado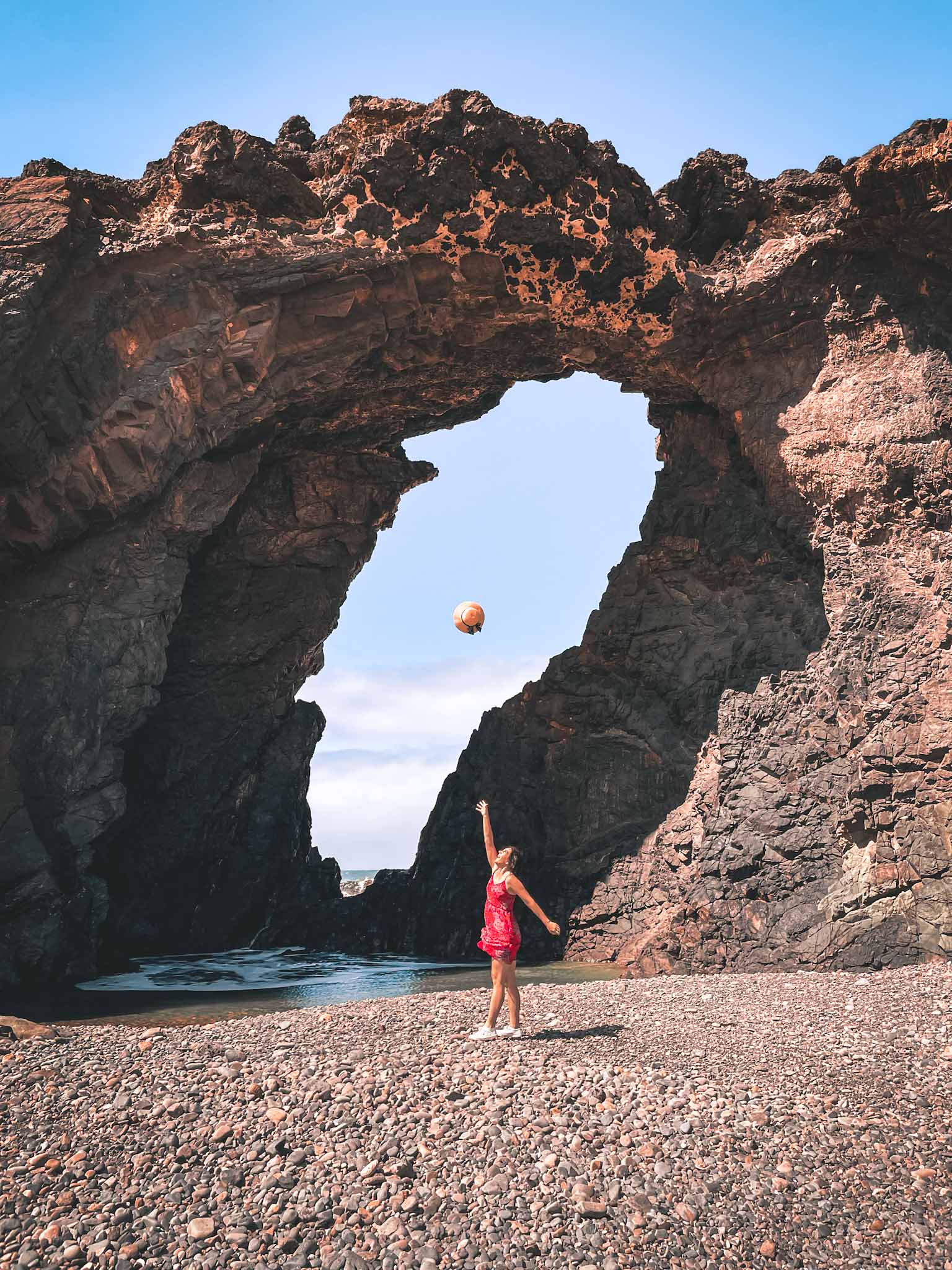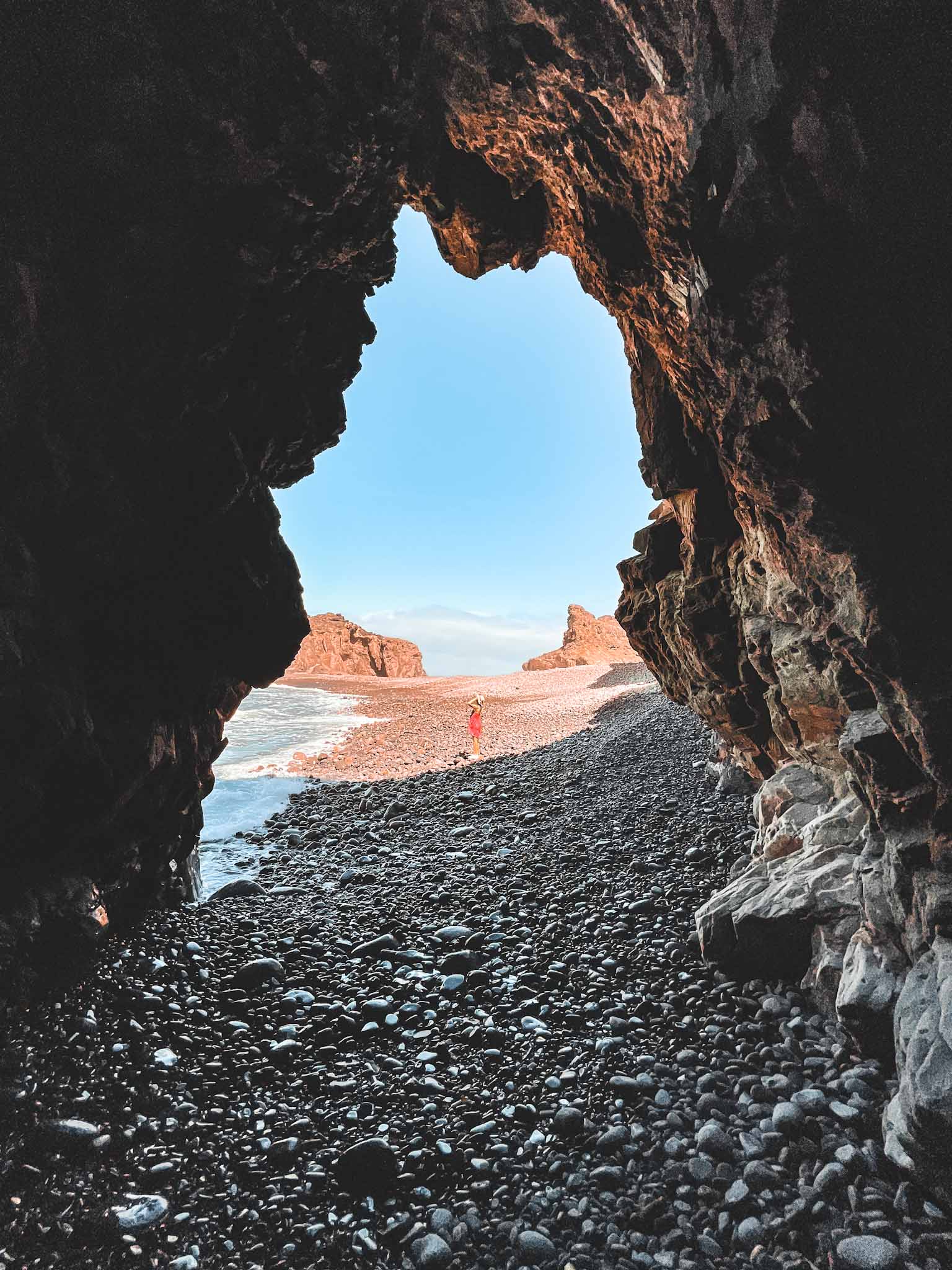 Visiting Playa del Jurado is a must if you like unique rock formations! This beach is famous for Arco del Jurado also called as Peña Horadada. It is a huge cliff with a big oval opening that looks like a gigantic arch.
You can either get to the beach by driving a bumpy gravel road that we managed to drive with our Fiat 500 (but it was stressful) or you can park at Ajuy village where they have the big Ajuy caves and hike along the coast to this beach. It is about 1.5 kilometers from Ajuy village.
Many people are amazed by the gigantic arch that is at the beach and they overlook that there is also a cave. The cave is located at the South end of the beach. It is not the biggest one and not the most impressive one but if you visit this arch you can visit this beach cave too!
When to go? The cave is quite close to the ocean so it might be difficult to get there during high tide. The waves hit pretty far and you would be left with nowhere to go between the ocean and the cliff. Anything around low tide would do just fine, I guess.
Location: Cueva de Playa del Jurado · Arco del Jurado
Happy exploring!
Fuerteventura has some beautiful diversity around the coast and inland. There are not only beautiful and unique beaches all over the island but also some crazy rock formations and caves.
Exploring caves has always made me feel like an adventurer so I hope you get this feeling as well and get to visit at least some of these beautiful caves in Fuerteventura! If you can, please, leave a comment below if there are any significant changes to anything that is written in this blog post! Many thanks!
PIN FOR LATER!