11 exciting adventures in Fuerteventura for a better trip!
There are plenty of adventures in Fuerteventura and many options to go for! Actually, the best and most unique places in Fuerteventura are located off the beaten path! So be prepared for some dirt and gravel roads, some climbing and hiking, and let's explore this island to the fullest!
1. Explore rock formations in Barranco de los Enamorados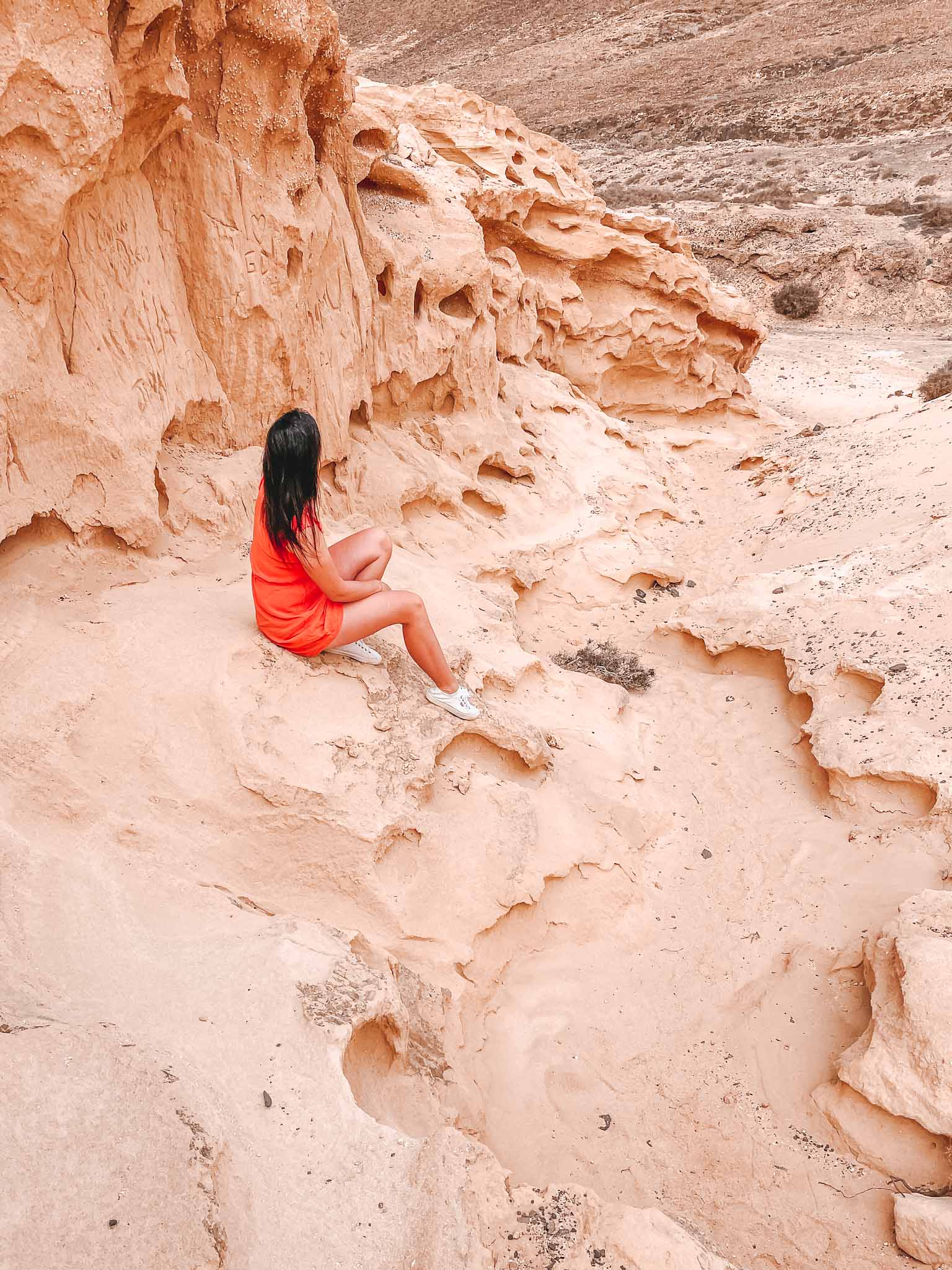 Barranco de los Enamorados or also called as Barranco de los Encantados is an easy hike in the heart of Fuerteventura. This actually might be the most famous hiking route in Fuerteventura. Along the trail, you will discover beautiful rock formations which are actually fossilized sand dunes in crazy shapes.
The trail is about 3 kilometers in one way and the same route back, so 6 kilometers in total. Of course, you can walk more – there is no official indication that the trail ends, just see for yourself when you've had enough, haha!
The most beautiful shapes and formations are located later in the trail, not at the beginning. There are also multiple side ravines to explore. Exploring this 'barranco' was one of my favorite adventures in Fuerteventura.
Location: My photo location · Parking and the start of the trail
2. Climb up and get a photo at Arco de las Peñitas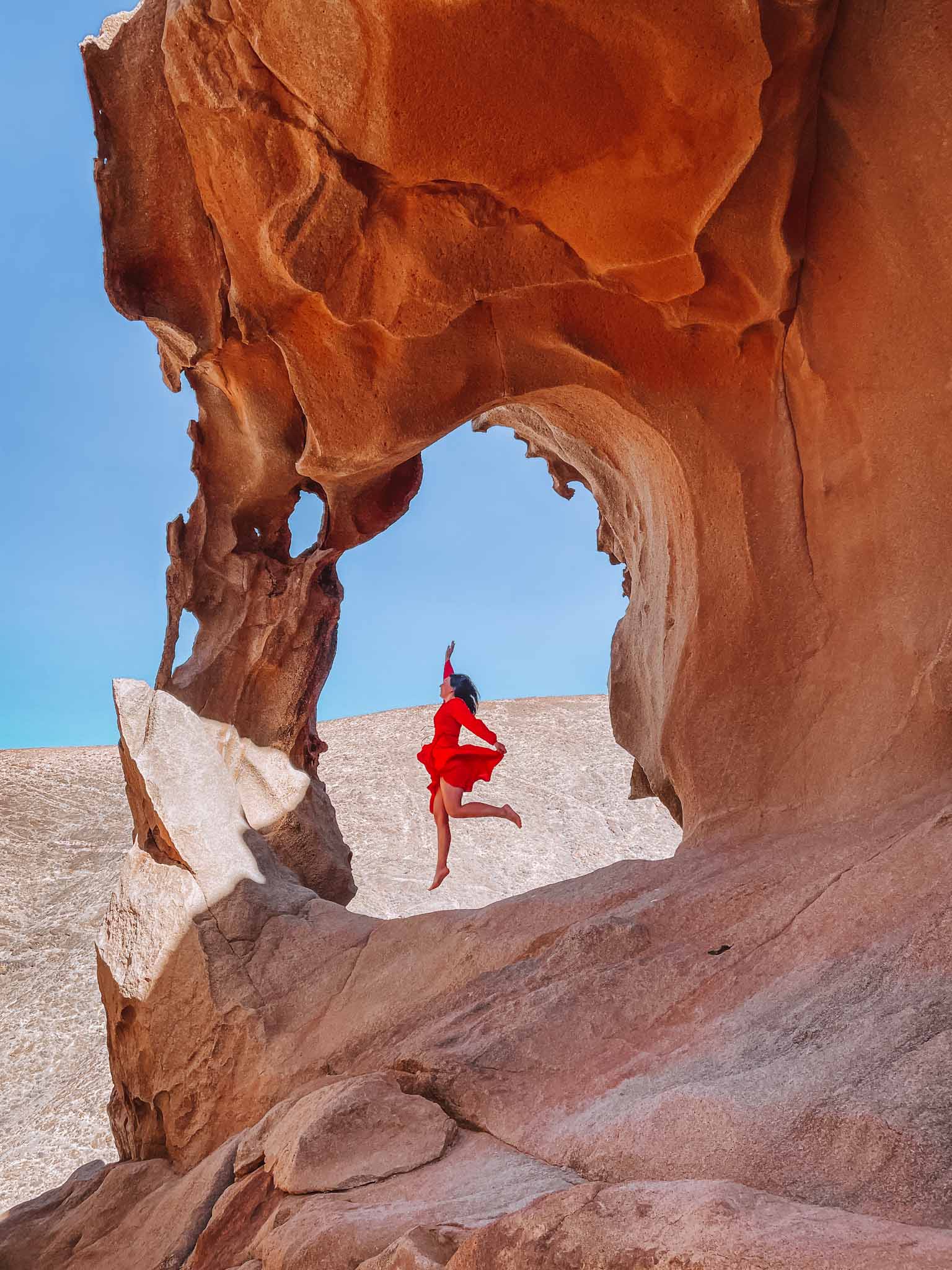 In my mind Arco de las Peñitas is a must-see place for everyone visiting Fuerteventura. Although the climb up there is quite steep in the last part and it takes about 25-30 minutes to get there, it is so worth it!
Arco de las Peñitas is not an official tourist attraction, there will be no signposts or information boards around there, but it has become one of the most visited places on the island for those who are not scared of an uphill hike. This place was one of my favorite places of all in Fuerteventura, we even went there twice!
Exploring this area is definitely one of the most interesting adventures you can have in Fuerteventura! To get there leave your car at the parking place (it is a big gravel area), then head in the direction of a country house and continue on the road past it.
On the right, you will see the Barranco de las Peñitas ravine – also a great place for doing some hiking and exploring. After the ravine, there will be a path uphill in the direction of the arch.
At first, the path will be quite distinct but later on, it will go in many directions, and actually, there are various paths leading up to the arch – just keep your map open and follow the direction. At one point we had to climb up a huge boulder, but it is not too difficult. Right after the huge boulders, you will see the arch on your left.
Location: Parking place · Arco de las Peñitas
3. Hike the Calderón Hondo volcano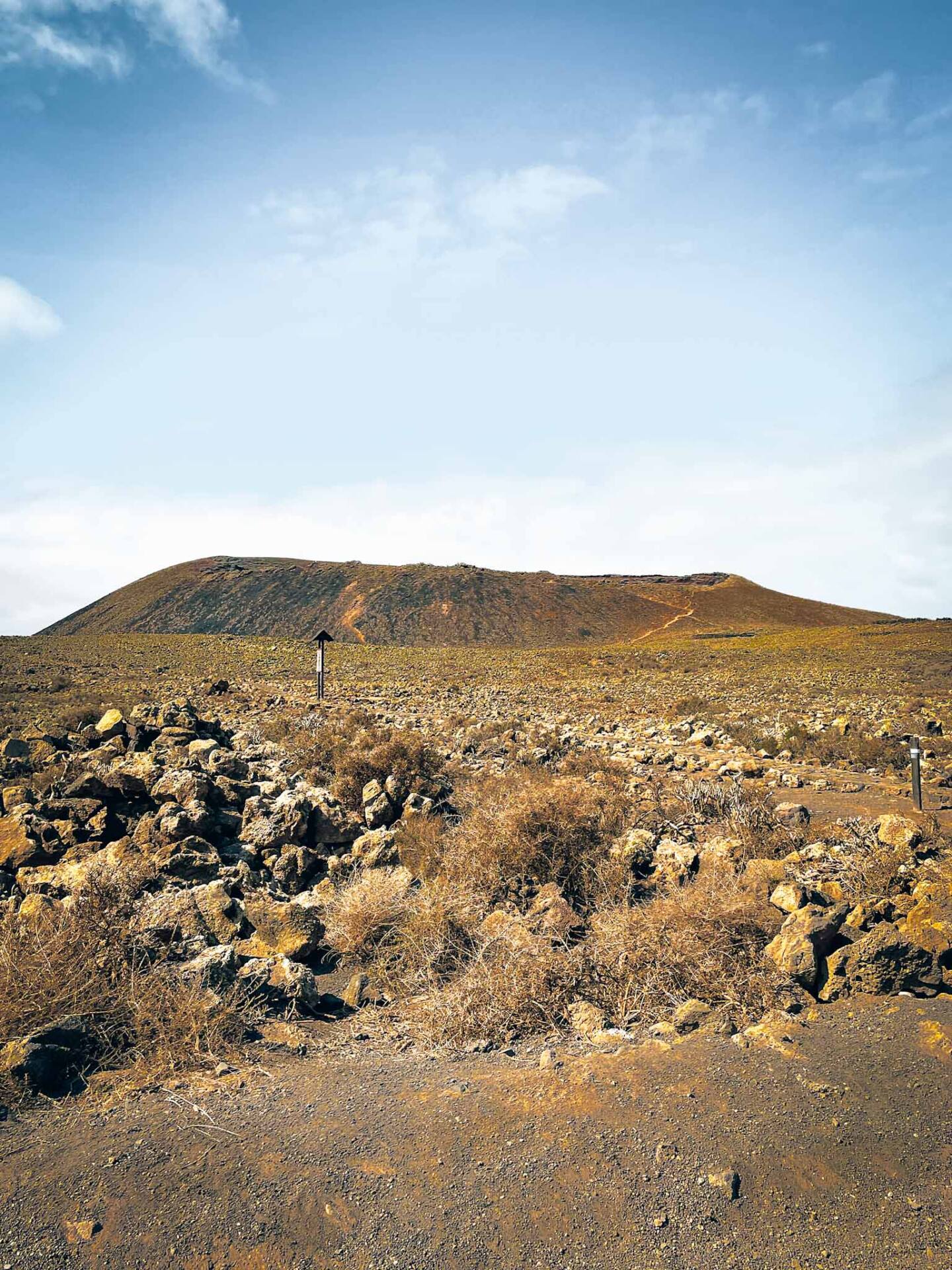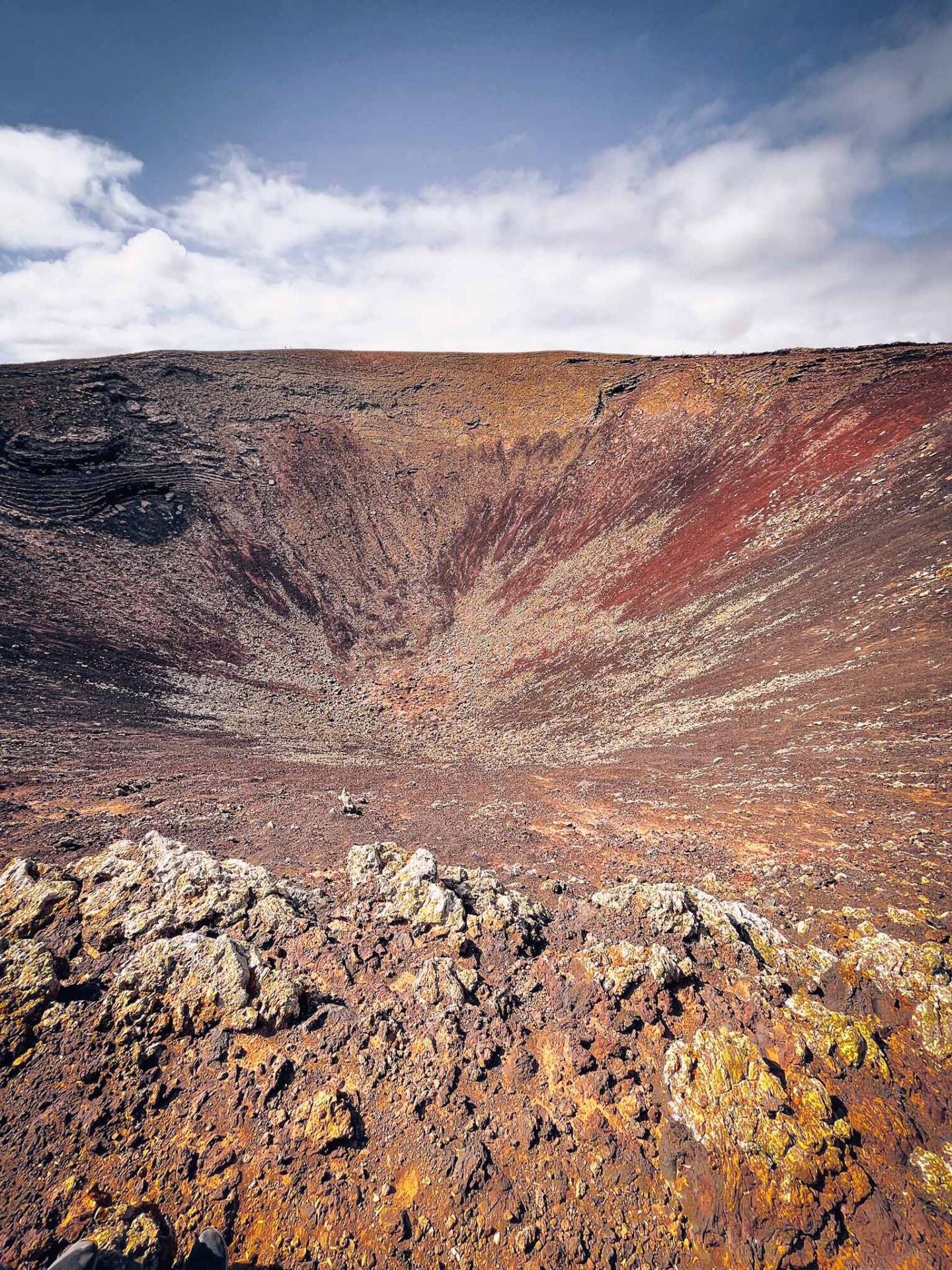 While hiking a volcano may sound like an extreme activity, this is not the case. This beautiful volcano is actually very easy to climb even for kids and you should definitely do that!
It took us about 10 minutes from the parking lot to the rim of the crater. There is a path leading up the volcano and a viewing platform at the top.
If you crave a little bit more action you can walk around the crater – many people actually do that as there is a path going around. The crater is 70 meters deep and is a great sight. However, beware that there could be strong winds!
Location: Calderón Hondo · Parking lot
4. Drive to and explore Cofete beach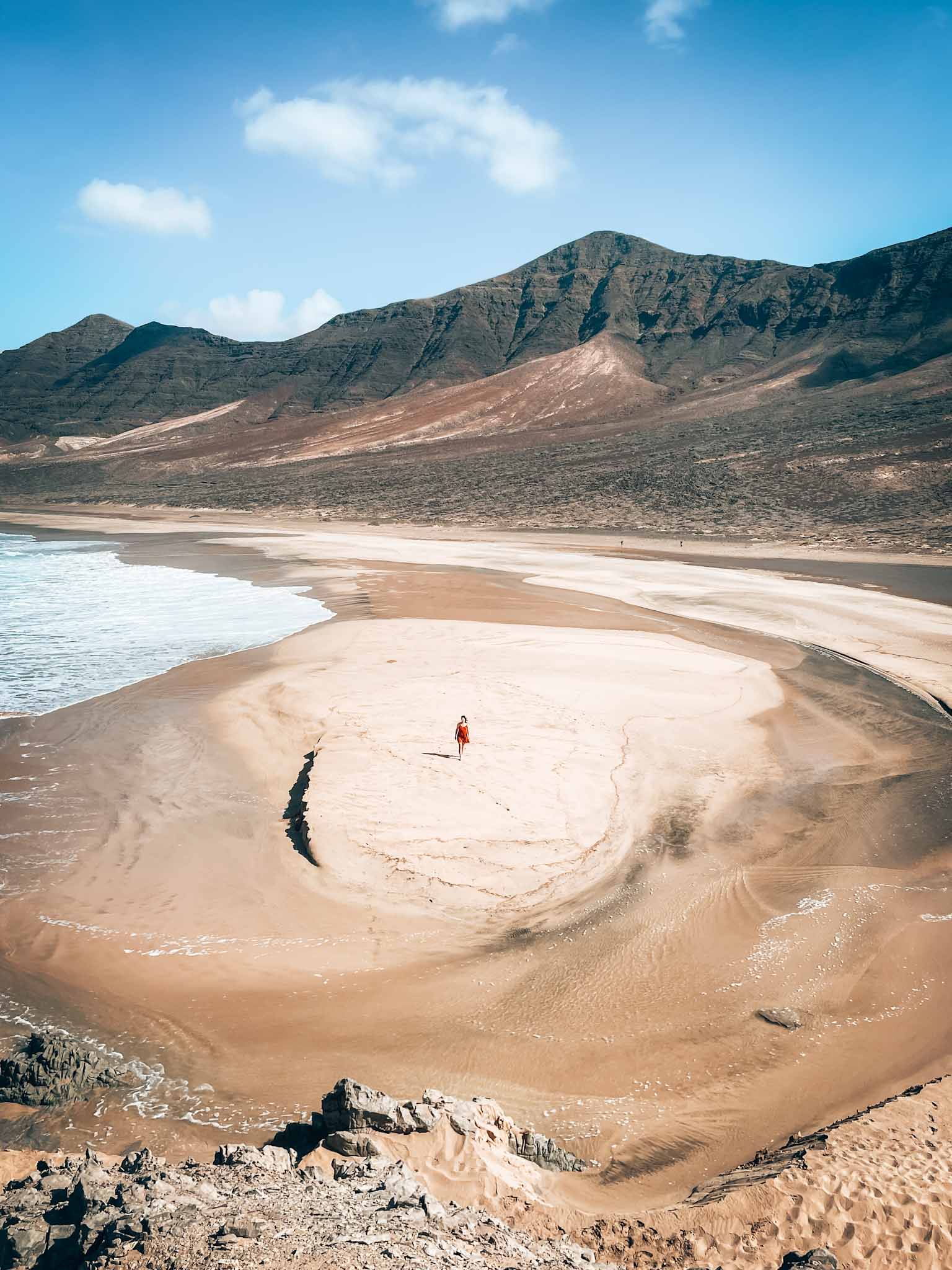 Cofete beach is one of the remotest and most beautiful places in Fuerteventura! It is a 14-kilometer-long sandy beach with beautiful mountains on one side and an endless blue ocean on the other side.
Getting there is an adventure in itself as you have to manage a 20-kilometer drive on gravel roads, but it is so worth it! This is at least a half-day adventure, so plan your time to explore everything!
There are a couple of spots you can include in your Cofete trip like Mirador de Cofete overlooking the beach and the mountains, the huge Roque del Moro rock in the ocean, El Islote islet, the Casa Winter museum, Cofete village, and of course the main Cofete beach.
Tip! If you want to see the Roque del Moro rock in the ocean, you will have to leave your car at the parking places uphill next to the road. There is a rather steep and incredibly bumpy road leading downhill, but it is definitely a no-go for regular cars. If you have a Jeep or something like that you can try to drive down to the beach.
To see the main Cofete beach or walk to the El Islote islet, you can park your car here. Visiting Cofete beach and exploring everything it has to offer will definitely be one of the best adventures you can will in Fuerteventura!
5. Go on a hunt for caves in Fuerteventura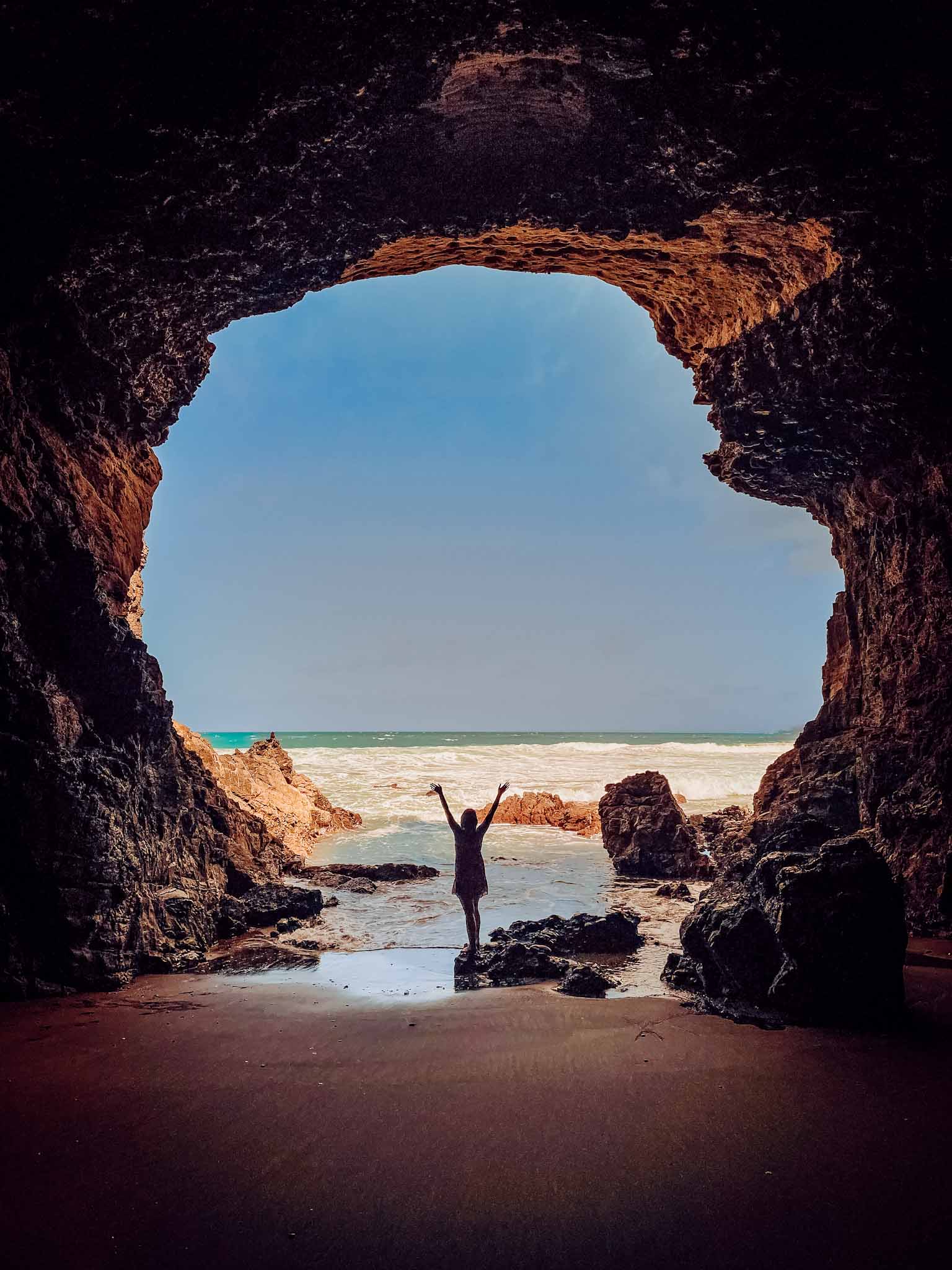 Exploring caves was one of my favorite adventures in Fuerteventura – the island has many beautiful and quite unique caves. There are multiple huge and small, very popular and secret sea caves, lava caves, and beach caves.
The most famous caves in Fuerteventura are the Ajuy caves. If you have only time for one cave, then you should go there as it is a well-maintained official tourist attraction.
But if you have come to Fuerteventura for adventures, then you should read my blog post about 9 unique caves you might want to visit in Fuerteventura and go for a real cave hunt! You can read all about visiting the famous Ajuy caves there as well!
6. See the Corralejo sand dunes with your own eyes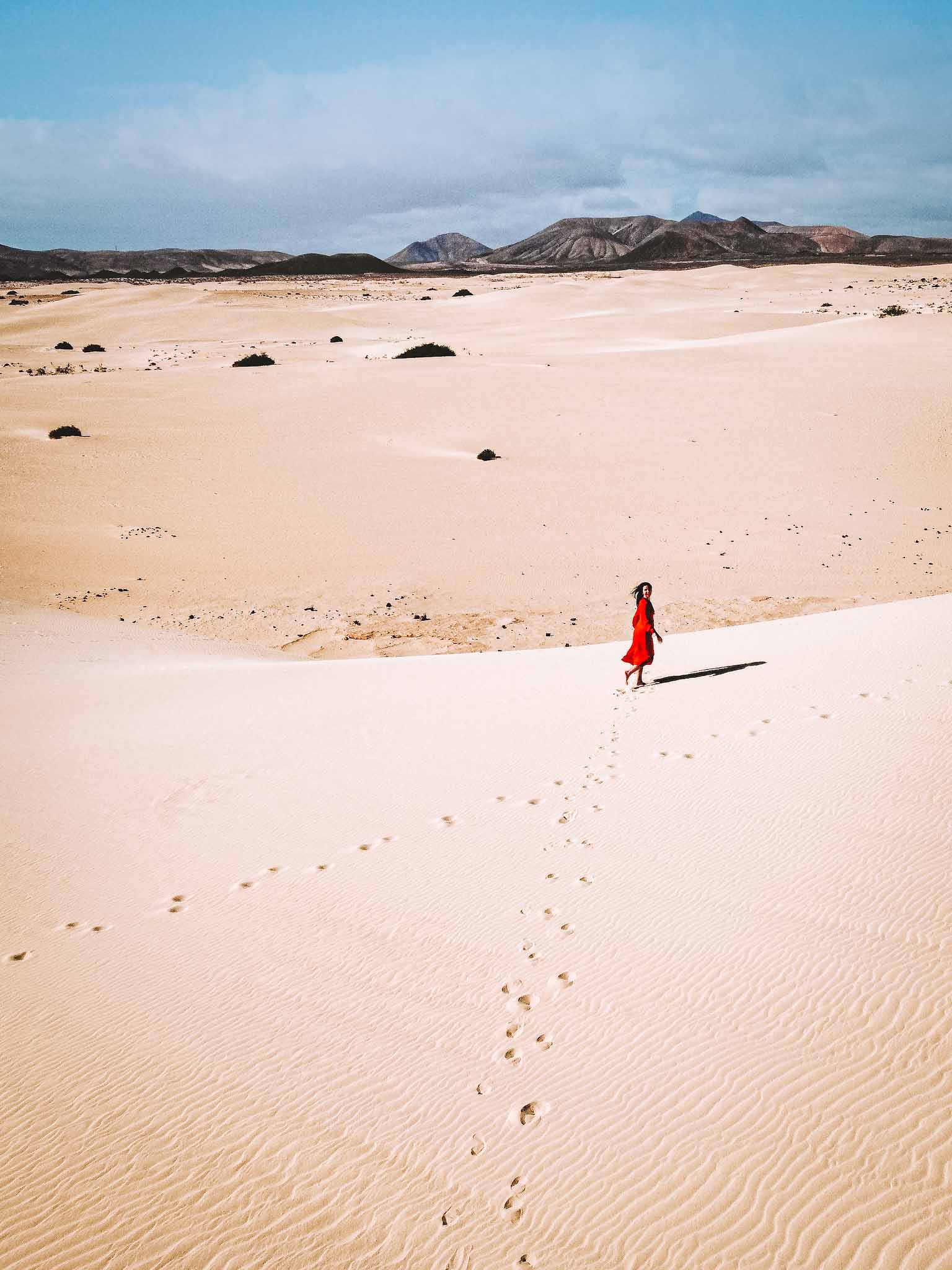 Corralejo sand dunes are a phenomenon! It is a 10-kilometer long and 2.5-kilometer-wide area of white sand dunes. It basically is a local desert!
It is an amazing place for some nice photos or just to have a picnic. On the other side of the road, you will find Grandes Playas de Corralejo beaches. There are 9 kilometers of beautiful white sand beaches and turquoise water to enjoy!
Exploring this area is a must in Fuerteventura – you can take a walk, have a picnic, go for a swim or even learn or do some water sports. It is a great place to simply spend the day at the beach!
Location: Dunas de Corralejo · Grandes Playas de Corralejo
7. Take a trip to Lobos island
Lobos Island is a tiny island just 2 kilometers off the Fuerteventura coast. If you have half a day to spare you can take a ferry or water taxi from Corralejo port and in only 15-25 minutes you will arrive at Lobos island.
Before you go, you need to apply for a free permit to visit this island. It is a requirement in order to limit the number of people that go to the islet and to help preserve nature. You will have 4 hours to spend on this tiny islet.
Once you are there you can hike around the island while visiting some of the spots – the tiny port of Lobos island, the main beach – Playa de la Concha, climb up to Montaña La Caldera to see the whole island from above, visit the Punta Martiño lighthouse, and have lunch at a restaurant on the island.
One of the most important things to note is that there is no shade on the island. If you go on a sunny day for a 4-hour trip, make sure you have sunscreen, a hat, sunglasses, and some way to protect yourself and your skin from the sun!
8. Visit the famous Sotavento beach during high tide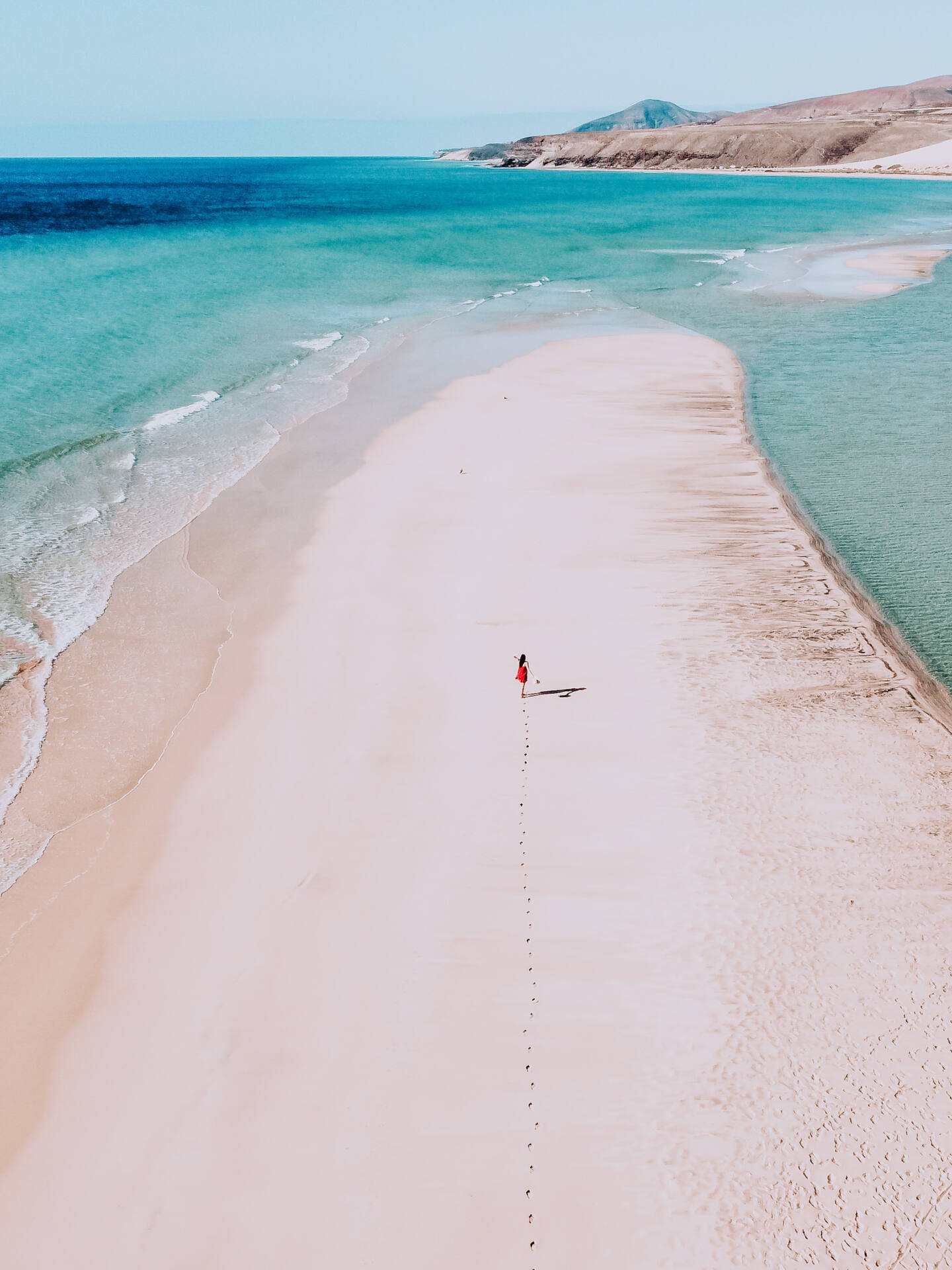 Playa de Sotavento is a chameleon beach and one of the most famous and unique beaches in Fuerteventura. During low tide, it looks like a white-sand desert – an incredible emptiness around you as far as you can see.
However, it comes alive during high tide – when the water comes in, the area turns into water lagoons with these beautiful and picture-friendly sand strips that stay above the shallow water.
It looks like a tropical beach! This beach is many kilometers long and exploring it during high tide was one of my favorite adventures in Fuerteventura!
Beware that not all high tides are the same! It will be more visible during some high tides, but not much visible during other high tides. When we went there we got the not-very-well-visible one, but still, there were places with sand strips in the water that looked really cool from above.
You can park your car right at the beach on both ends of the beach. If it is the not-so-visible high tide, then maybe it would be better to drive to the southern end of the beach – that is where we found these amazing sand strips.
Location: Playa de Sotavento · Parking (Southside) · Parking (Northside)
9. Climb to Pico de la Zarza – the highest mountain in Fuerteventura
If you are a true adventurer and hiker, then climbing to the top of the highest mountain in Fuerteventura – Pico de la Zarza (807m) – is an adventure in Fuerteventura you should not miss!
It is about a 4-hour round trip, so it will require a big portion of your day. Hiking is demanding and there could be either very strong winds, strong sun, or both. A backpack full of snacks and drinks will be much needed on this adventure!
However, the views over the island when you can see both sides of Fuerteventura and a mountain range along Cofete beach are unbeatable! If you choose a day without clouds, hehe!
Location: Pico de la Zarza · Parking and start of the trail
10. Go for a wild coastal hike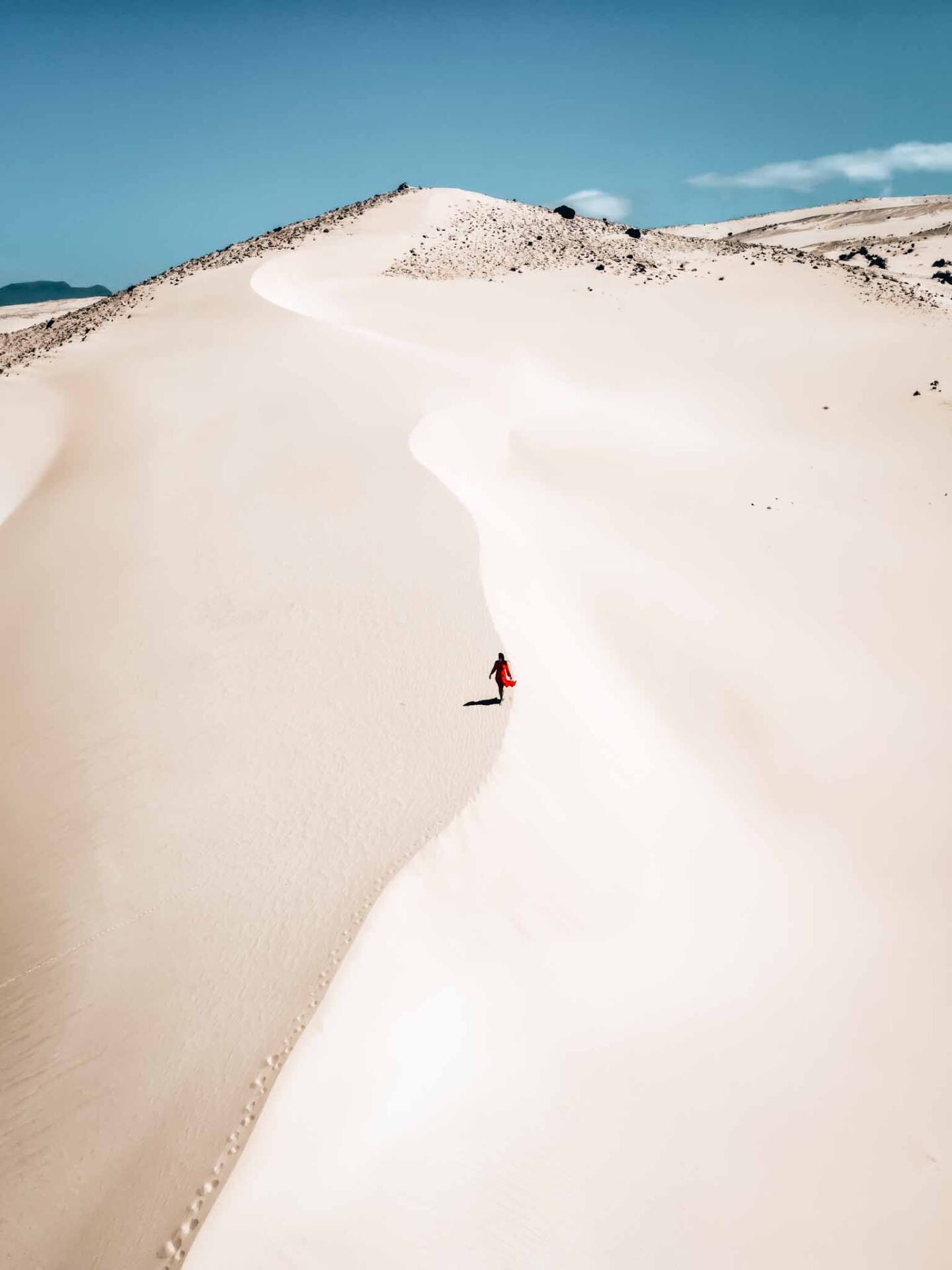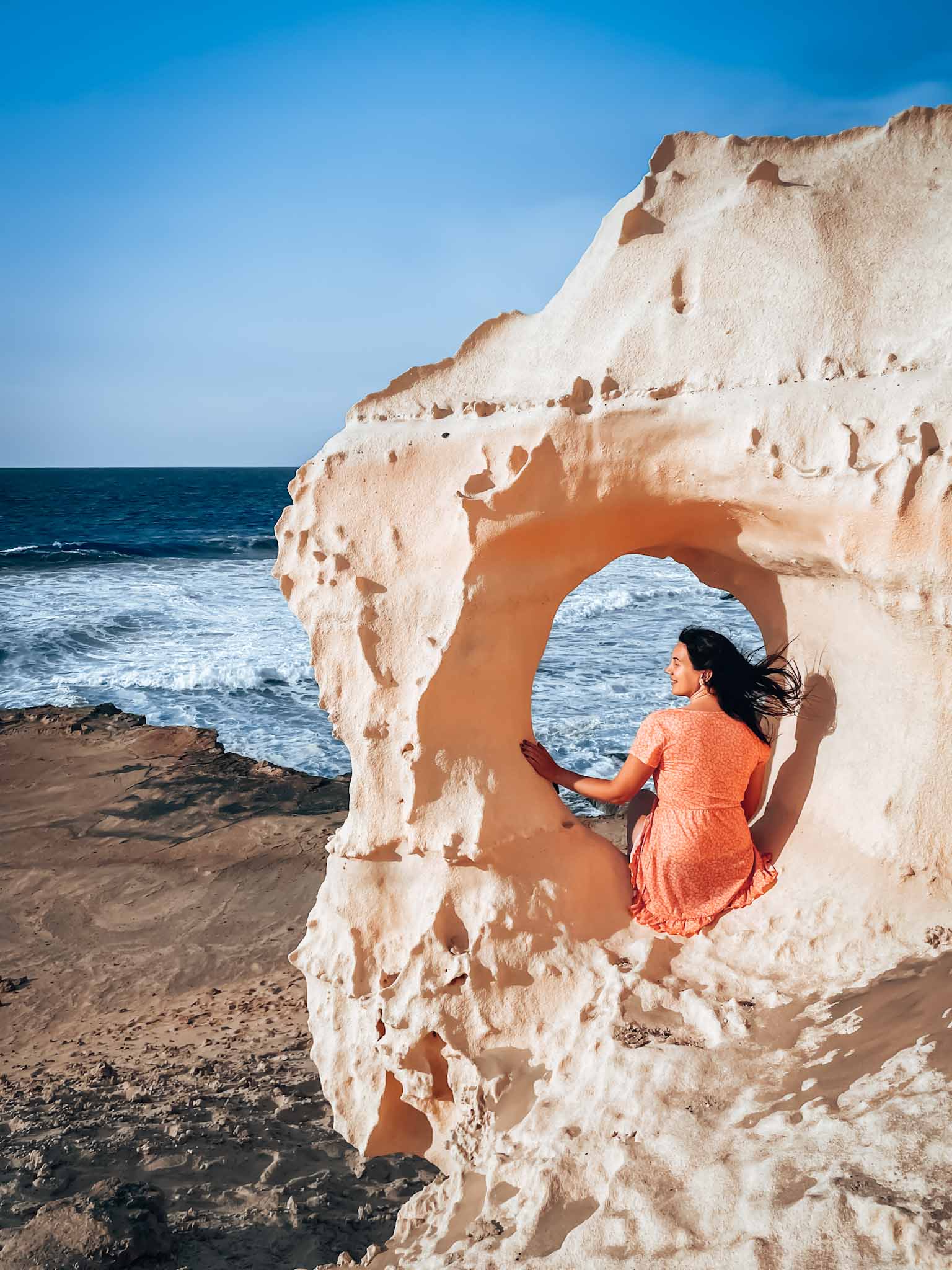 There is a pretty unique area in Fuerteventura starting from La Pared town and heading along the coast to the Southwest. There are no villages or towns, just wilderness, and unique coastal rock formations.
You won't find many tourists here as it is quite inaccessible. Most likely you will meet a couple of adventurers who have decided to go for a longer hike away from the crowds.
There is not an official hike but it is really straightforward hiking along the coast. On your way, you will see beautiful untouched nature, beaches, sea caves, as well as unique coastal rock formations.
If you go as far as Istmo de Jandia en Barlovento you will reach the second white sand desert (after Corralejo sand dunes) in Fuerteventura but even more wild and remote.
We met a hiker who was going from La Pared to Cofete beach. It is a 20-kilometer hike, but at least it is one way because there is public transportation (buses) going from Cofete village.
However, you can always walk as far as you wish and then turn back. Make sure you have enough drinks and food with you as there is absolutely nothing along the way.
Also remember to pre-download a map, because the cell service is not always there. In general, there will be some cell service – if there is none, just continue walking until you have it again.
Location: Parking at La Pared · Istmo de Jandia en Barlovento · Rock with a circle hole
11. Take a dip in the volcanic pools 'charcos'
White sandy beaches and turquoise water sounds really beautiful, but it is something everybody goes for usually. If you want to stand out from the crowd and do something unusual and adventurous, you can try out some volcanic pools.
Although Fuerteventura is full of long sandy beaches, there are multiple places you can enjoy a unique experience and swim in natural volcanic pools. Remember that the best time to enjoy the volcanic pools is a sunny day and during low tide.
During high tide, the waves get quite dangerous and the volcanic pools overflow, so it is not safe at all. If you happen to be on the East coast then a great option would be to try out Caleta de Fuste natural volcanic pool (you can leave your car at the side of the road somewhere here).
If you happen to be on the West coast during low tide in a sunny day then Aguas Verdes volcanic pools is a great option. You can also explore the area just North of El Cotillo village – there are multiple beaches with shallow water and lava rock formations that almost look like volcanic pools.
Happy exploring!
Many people come to Fuerteventura for the beaches and surfing which I understand. But treating yourself to some unique adventures in Fuerteventura means truly understanding and feeling the island for what it is – a piece of art!
Fuerteventura is really an island of adventures! A lot of untouched nature, unique off-road places to explore, and special experiences to enjoy alone! If you can, please, leave a comment below if there are any significant changes to anything that is written in this blog post! Many thanks!
PIN FOR LATER!