17 amazing rock formations in Fuerteventura you won't see elsewhere!
Fuerteventura has an abundance of unique rock formations! Some of the rock formations we saw there were something we had never seen before.
Did you know that rock formations can look like honey cells, popcorn pieces, or even the head of a crocodile? You can see all of this in Fuerteventura if you know where to look! And I have everything you need to know so continue reading!
Read also >>> 21 best Instagram photo spots for amazing photos in Fuerteventura
1. Arco de las Peñitas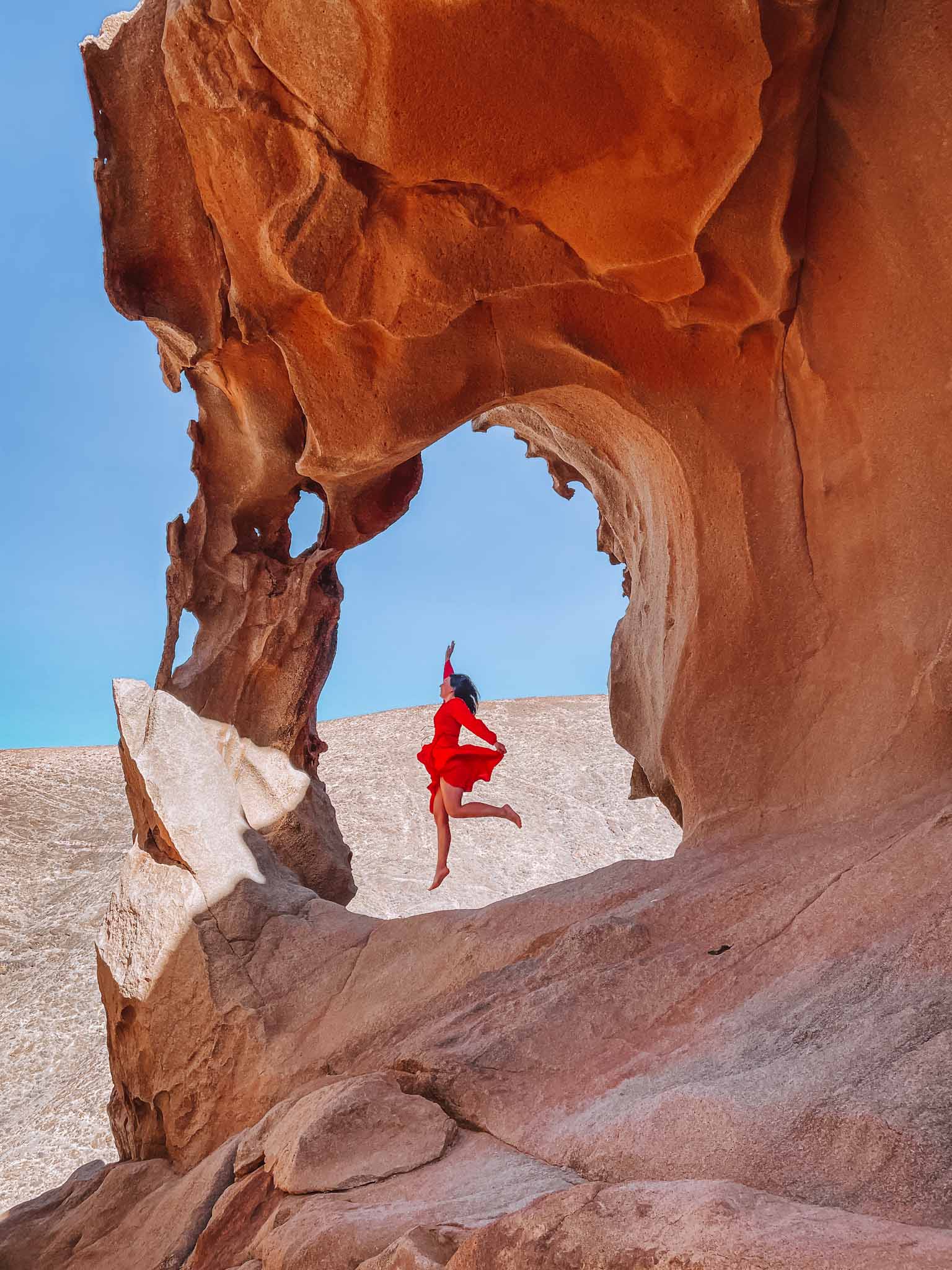 Arco de las Peñitas has to be one of the most famous rock formations in Fuerteventura and rightly so! Although the climb up there is quite steep in the last part and it takes about 25-30 minutes to get there, it is so worth it!
Arco de las Peñitas is not an official tourist attraction, there will be no signposts or information boards around there, but it has become one of the most visited places on the island.
This arch is super unique – you will not find anything like this on the island! Read more about how to get there in my blog post HERE!
Location: Parking place · Arco de las Peñitas
2. Bee cave and honey cell rock formations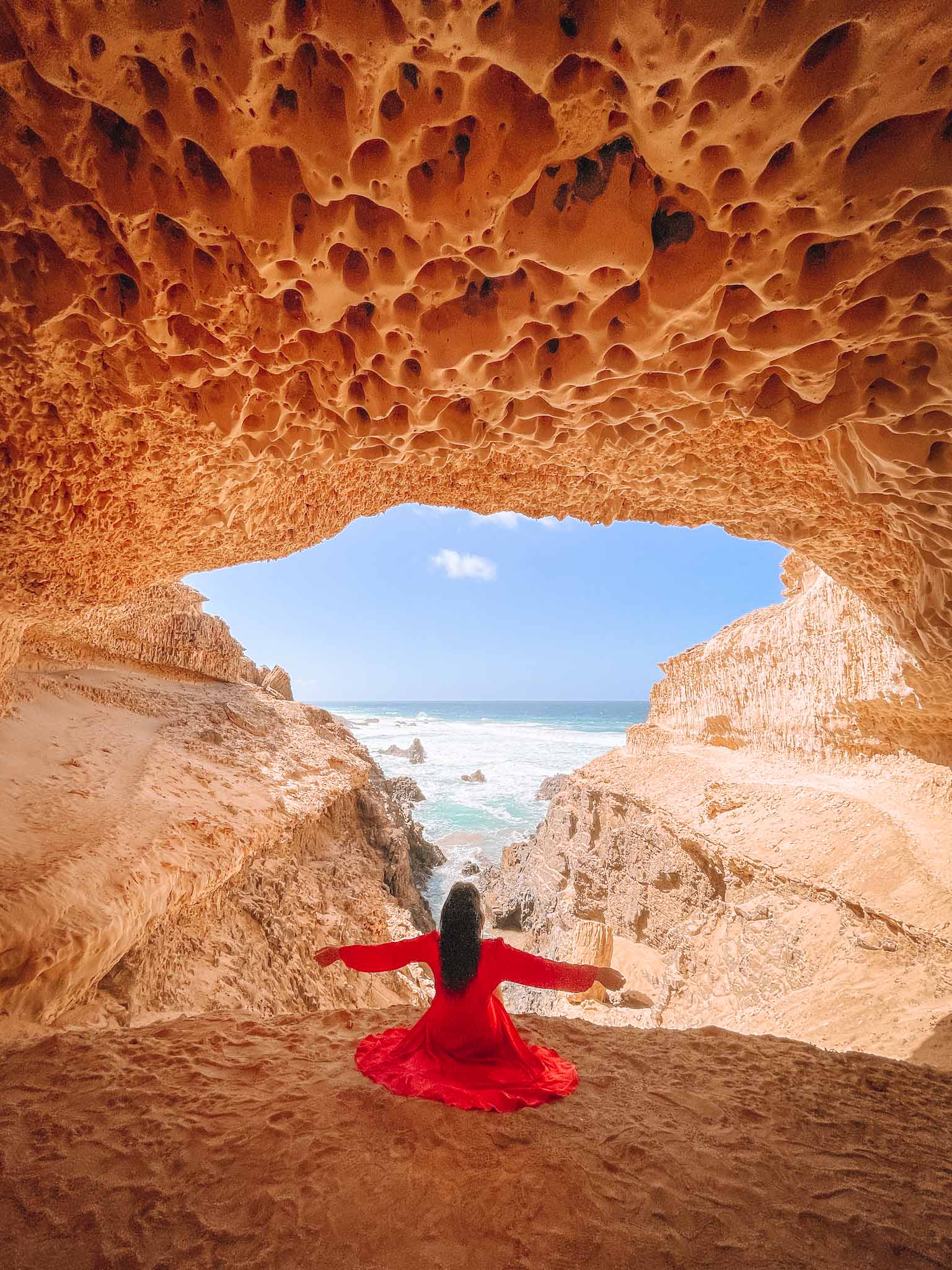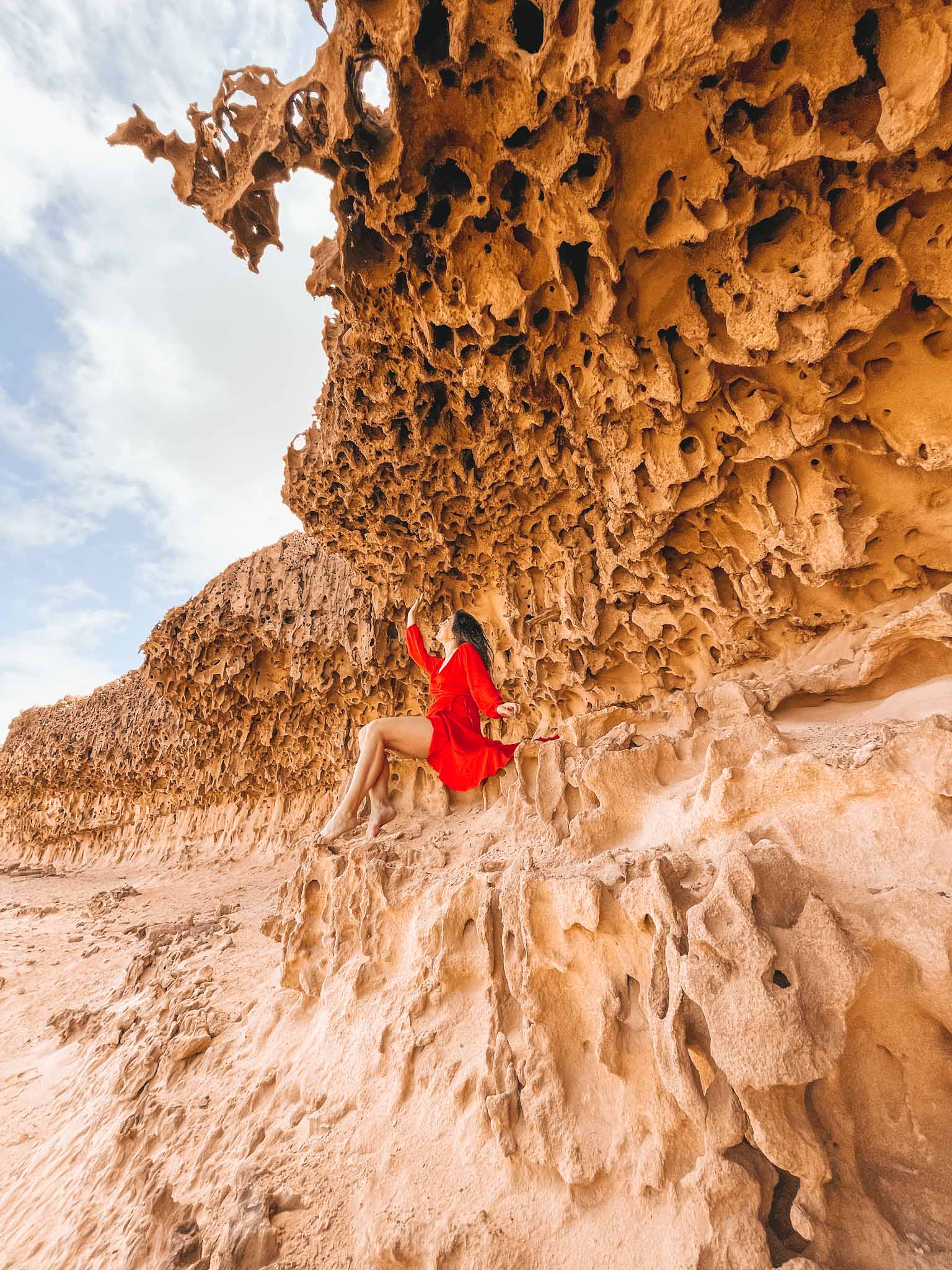 One of the most unique places and some of the most interesting rock formations in Fuerteventura are the Bee cave and honey cell rock formations near Playa de Garcey beach (see the exact locations below!).
There is a whole area full of uniquely perforated yellowish sandstone rock formations that look like honey cells in a beehive. This area is quite remote and secret which makes it even more intriguing.
To get there you have to drive to Playa de Garcey and park at the beach. It is a gravel road there, but manageable even for small cars. Make sure to pre-download the map because the cell service there is bad or even non-existent.
Then climb up the coast and follow the coastline to the south. Around one kilometer to the south of Playa de Garcey, you will arrive at the best spots. Check the links below for exact locations!
Location: Playa de Garcey · Bee cave · Honey cell rocks
3. The Crocodile Rock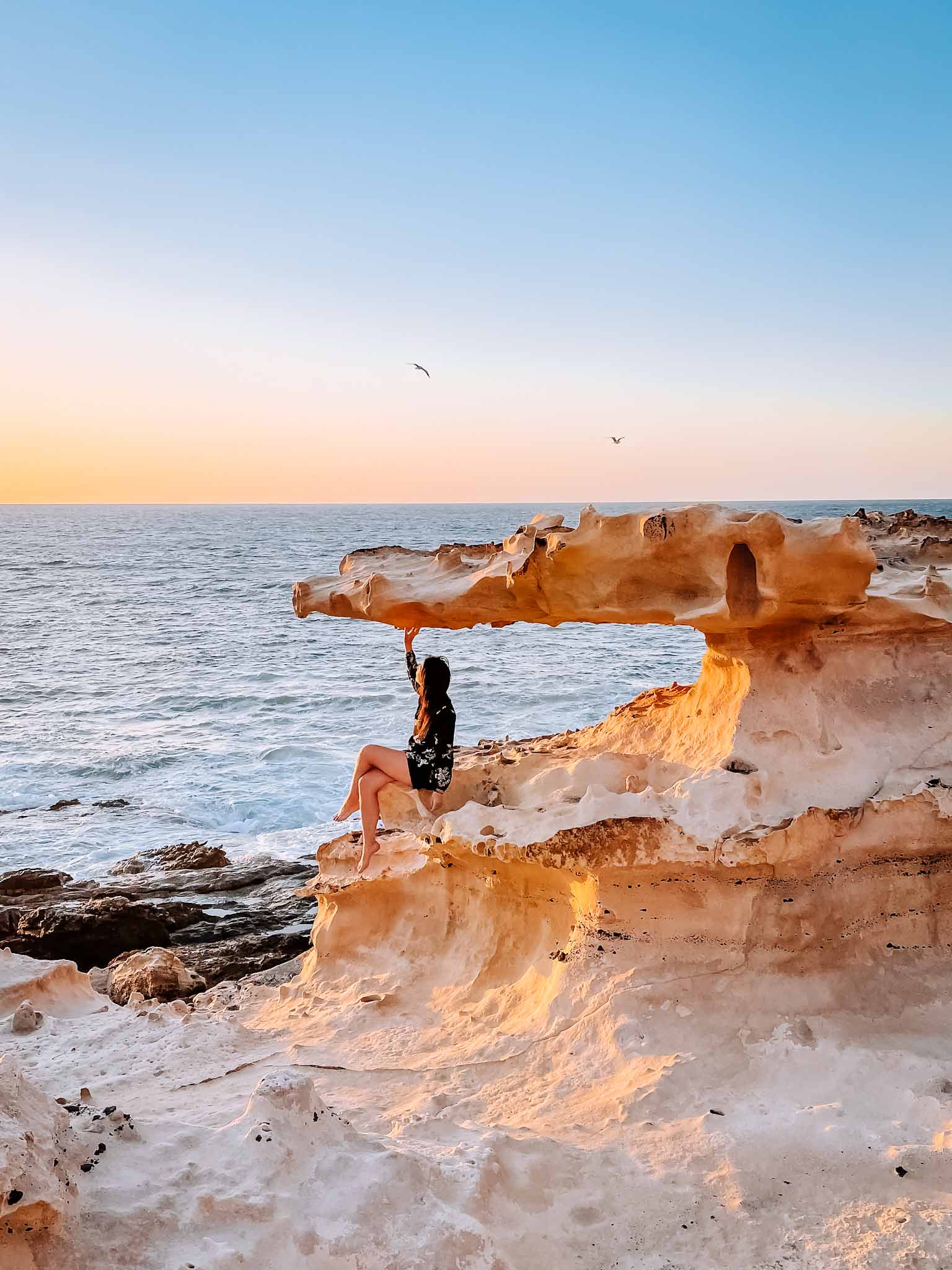 If you are truly on a hunt for some unique and not-so-well-known rock formations in Fuerteventura, then you have to visit the Crocodile rock. It is located about 300 meters north of Playa de las Hermosas.
The best way to get there is to drive to the beach, park your car at the beach and walk along the coast to the rock. It will only take you a couple of minutes to reach it.
The Crocodile rock is a unique rock formation that looks like a crocodile with an open mouth (well, does it?). That whole area is full of interesting spots, but the Crocodile rock stands out the most.
Definitely a great photo place, a great place for watching the sunset, having a picnic, and a quiet time away from the crowds as it is a bit remote, but still easily reachable.
Location: Crocodile Rock · Parking at the beach
4. Rock with a circular hole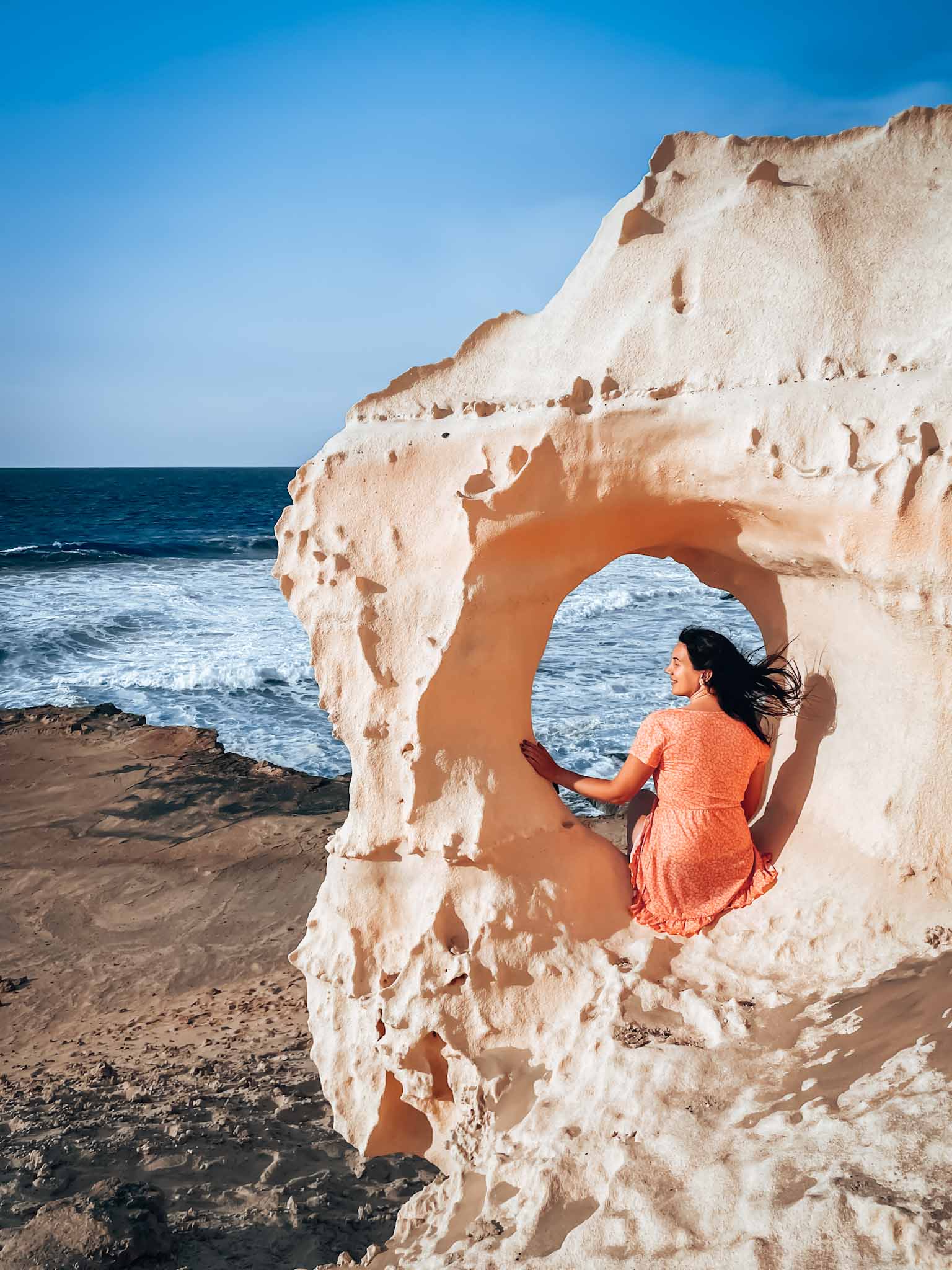 One of the most unique and secret places in Fuerteventura has to be this Rock with a circular hole near La Pared town. It is almost the perfect circle-shaped hole in the cliff next to the ocean.
It almost looks like it is man-made, haha! It is definitely big enough to sit inside it and has a great view of the ocean and the coastline.
Getting there is not easy – you can either walk from La Pared town (it is about 2.8 kilometers from the parking lot) or you can try to drive closer to it by car.
There are no official roads, however, there are some dirt/sand/rock roads that are simply horrendous, but if you have a Jeep or something like that you can try to get closer.
If you switch Google Maps to satellite view and zoom in, you will notice there are a couple of roads going parallel to the coastline from La Pared. However, I would choose to walk, because the coastline is simply beautiful!
Location: Rock with a circular hole · Parking at La Pared beach
5. Giant sea caves of Fuerteventura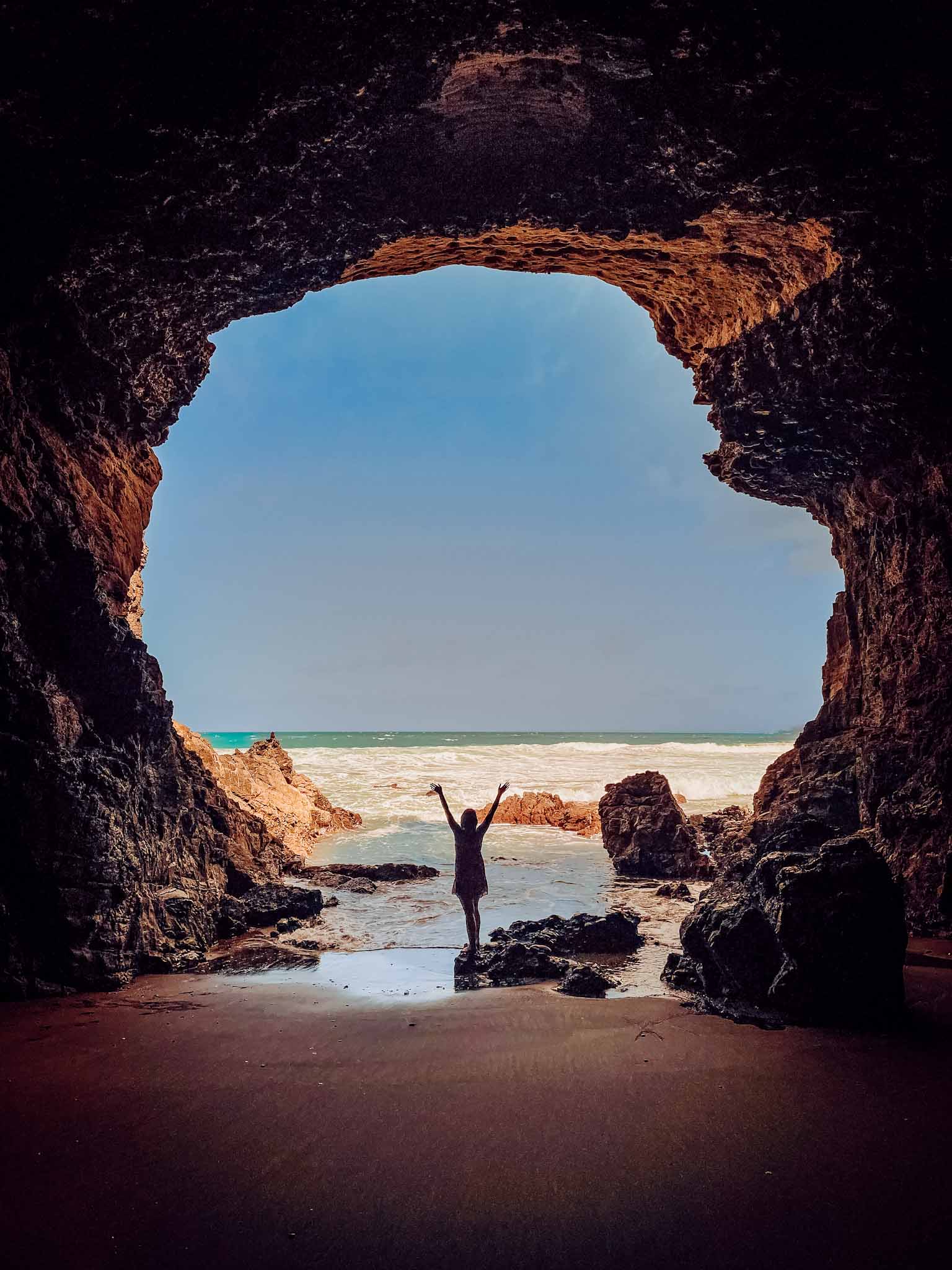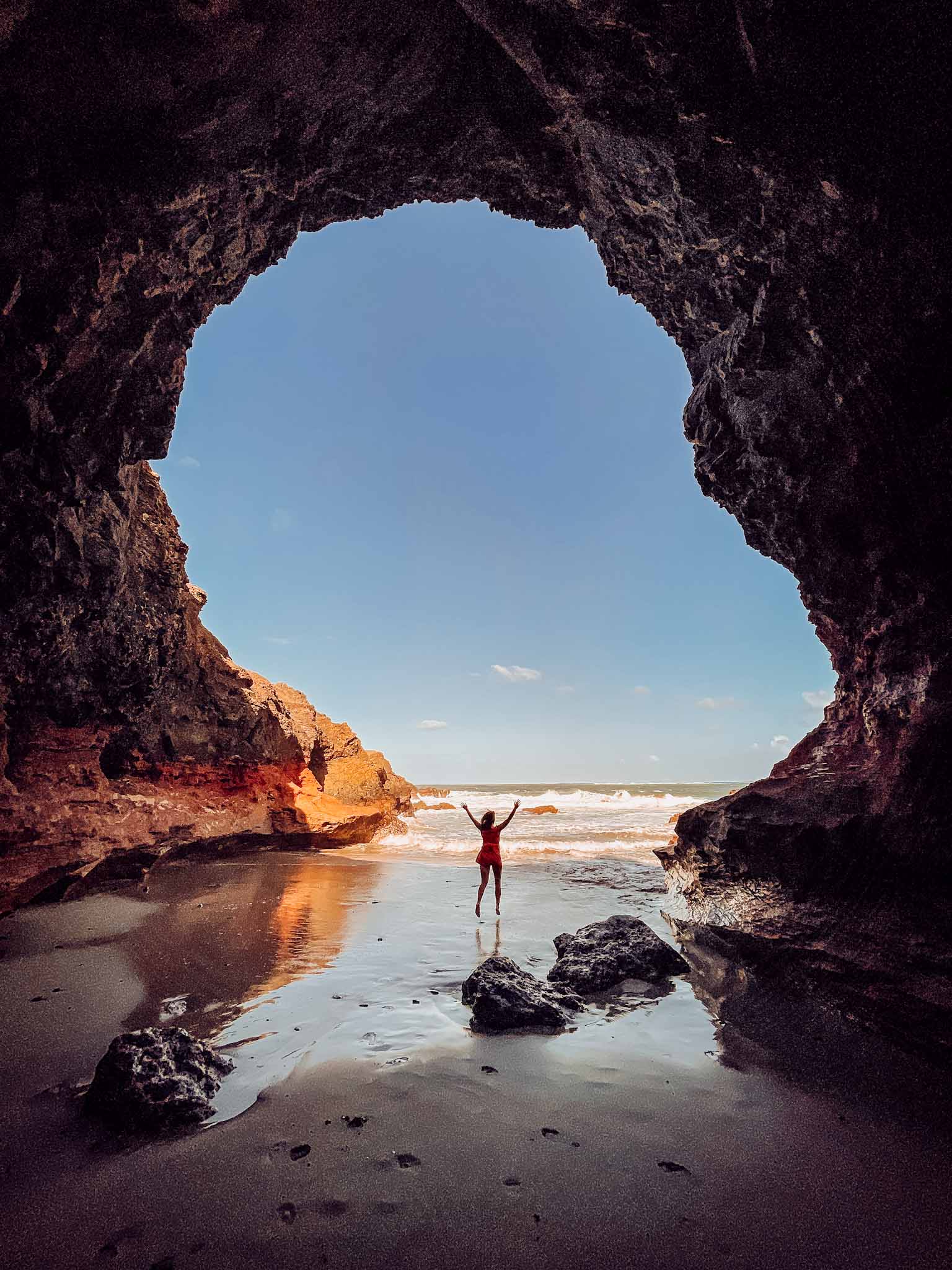 Some of my favorite rock formations in Fuerteventura are sea caves! I absolutely loved exploring the sea caves there and I would definitely recommend you to visit at least one or two of them!
I wrote a blog post about the best and most unique caves in Fuerteventura, so you should check it out! My favorite sea caves were the giant sea caves in Playa de la Solapa (there are three big sea caves!) as well as the Ajuy caves. Make sure you visit them only during low tide!
6. Arco del Jurado or Peña Horadada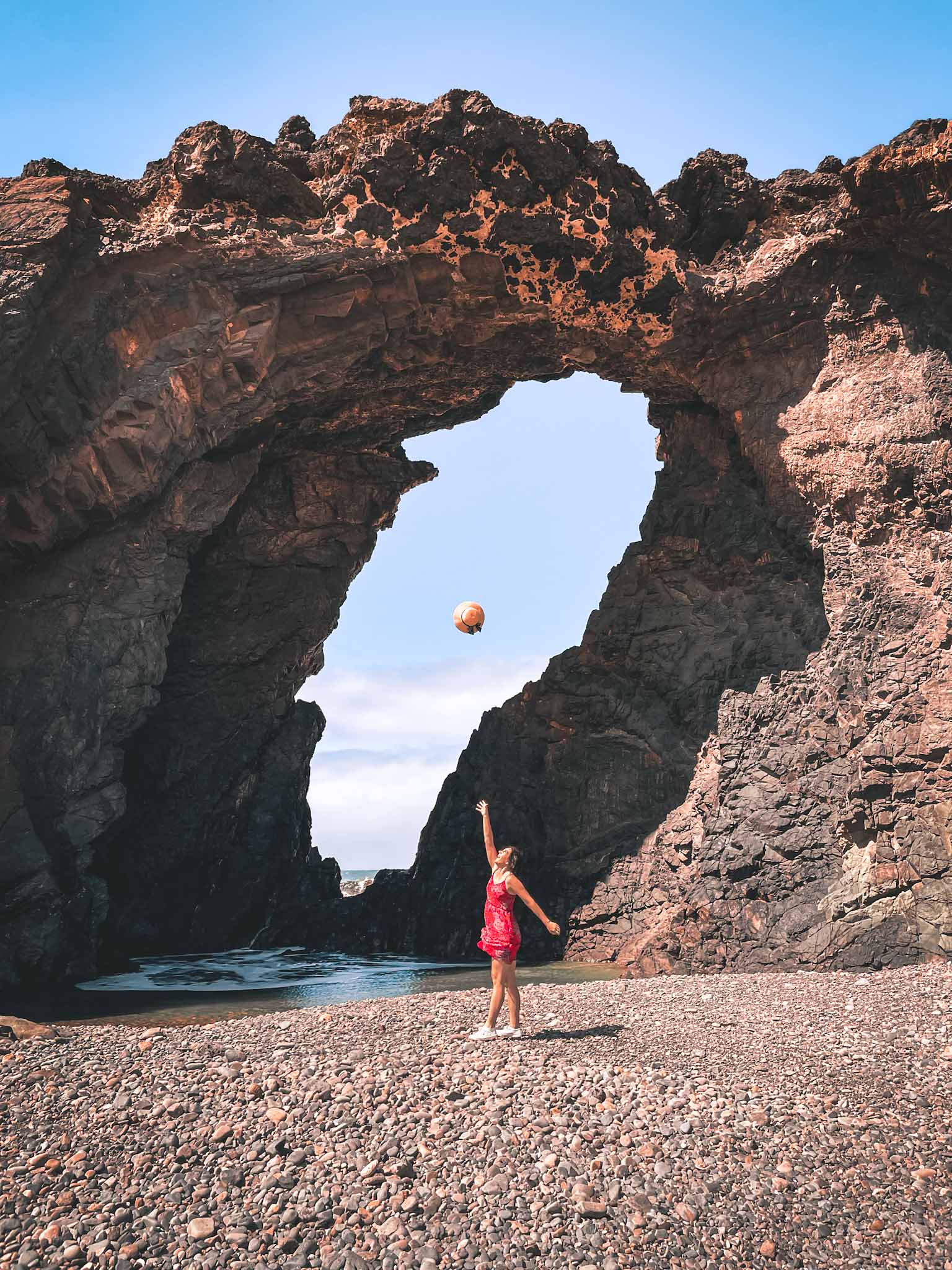 If you happen to visit the famous Ajuy caves, then this Arco del Jurado arch is a spot you have to include in your trip! Arco del Jurado, also known as Peña Horadada is a huge natural arch that rather looks like a giant hole inside a cliff next to the ocean.
To visit this unique place you can either drive a car on a bumpy gravel road to the very beach of Arco del Jurado or you can walk here on foot from the Ajuy village. You have to walk in this direction from the village to visit the Ajuy caves anyway so why not walk only 1 kilometer extra to see this unique arch?
Location: Arco del Jurado · Parking at the beach
7. Popcorn rocks at Playa El Mejillón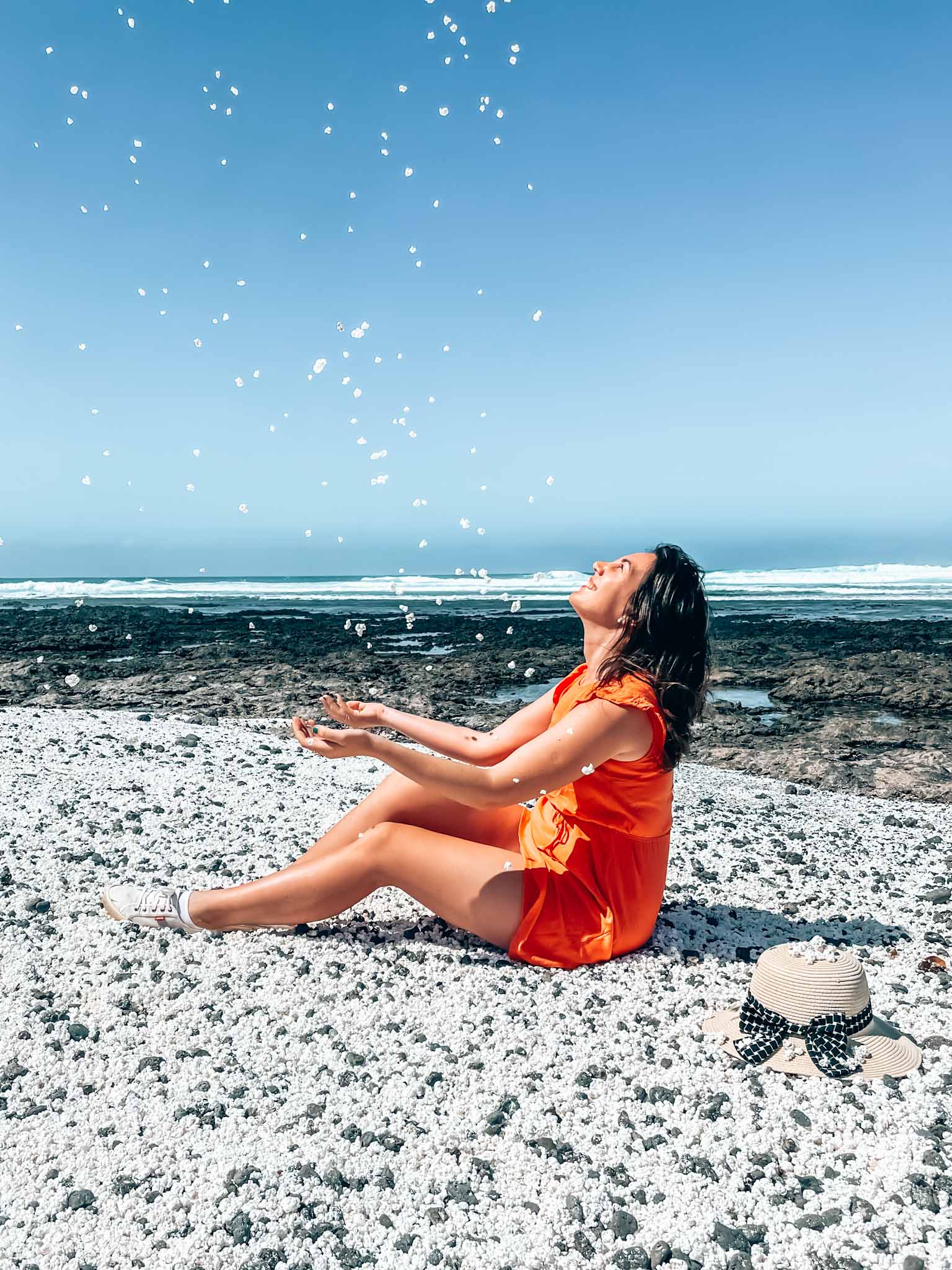 Have you seen a beach full of popcorn? That sounds more like a fantasy rather than a reality, haha! But it is definitely real in Fuerteventura!
Playa El Mejillón or Popcorn beach is full of marine algae called rhodoliths that look almost exactly like popcorn. It has been washed ashore and all the beach is covered with small, white 'popcorn' pieces.
Definitely stop at this place – you can only see something like this once in your life! Please remember that it is forbidden to take rhodoliths with you – their home is at the beach!
Location: Popcorn beach
8. Roque del Moro at Playa de Cofete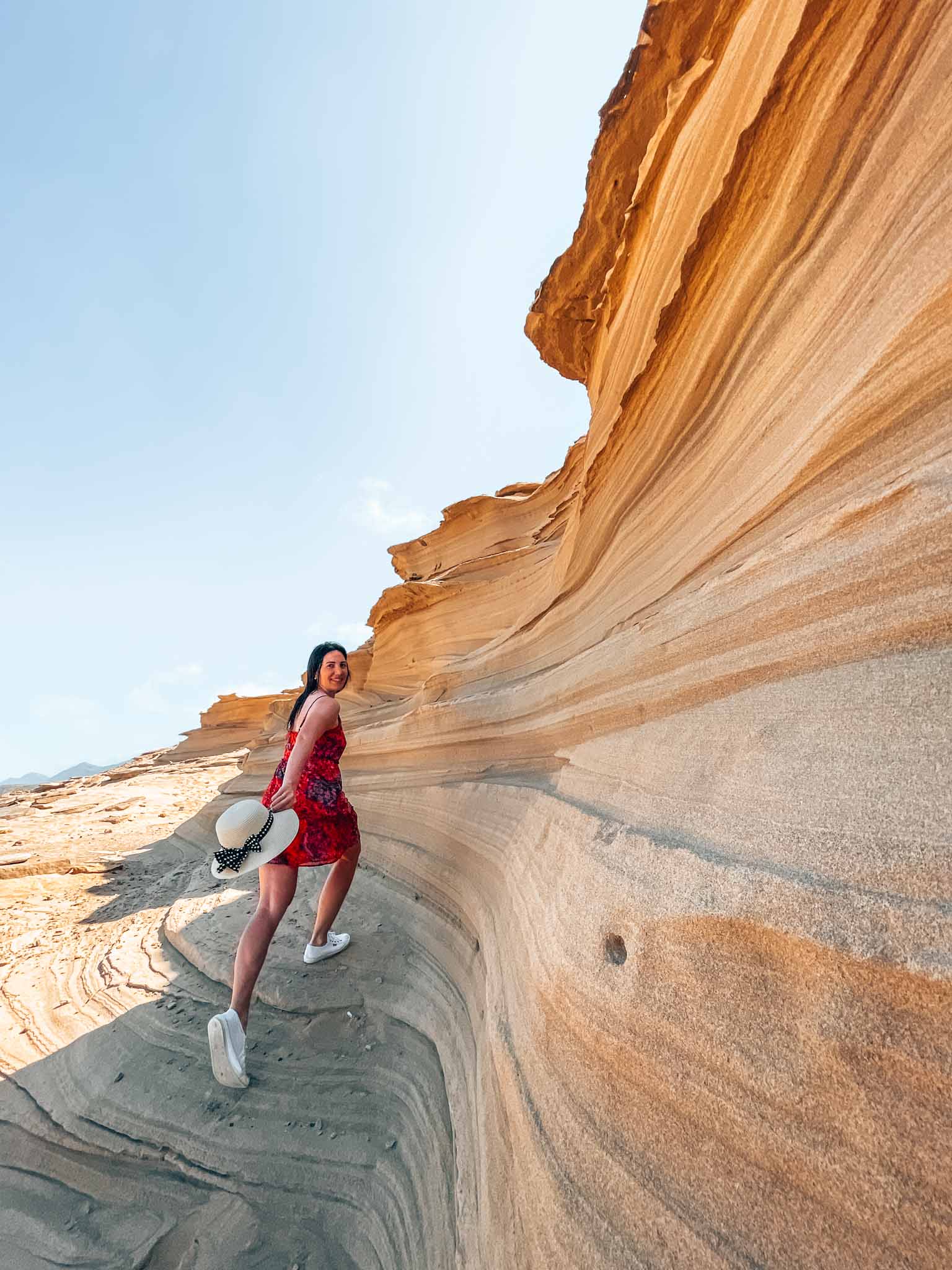 Roque del Moro is a huge monolith rock in the ocean at the famous Playa de Cofete beach. What makes it even more special is that the area is super remote, there are hardly any people there.
If you love some hiking, mountain views, and ocean views, as well as beautiful nature and rock formations then you have to visit this place. Just a couple of hundred meters before you reach Roque del Moro you will find these linear sandstone formations pictured above. How cool are they?
Getting there is a challenge tho! Driving to Playa de Cofete means about 20 kilometers on gravel roads, haha! To go to Roque del Moro, you will have to leave your car at the parking places uphill next to the road.
There is a rather steep and incredibly bumpy road leading downhill, but it is definitely a no-go for regular cars. If you have a Jeep or something like that you can try to drive down to the beach.
If you don't, then it will be a couple of kilometers hike (2.5 kilometers till Roque del Moro from the parking spot) – but a beautiful one!
Location: Roque del Moro · Striped sandstone rocks · Parking places uphill
9. Barranco de los Enamorados or Barranco de los Encantados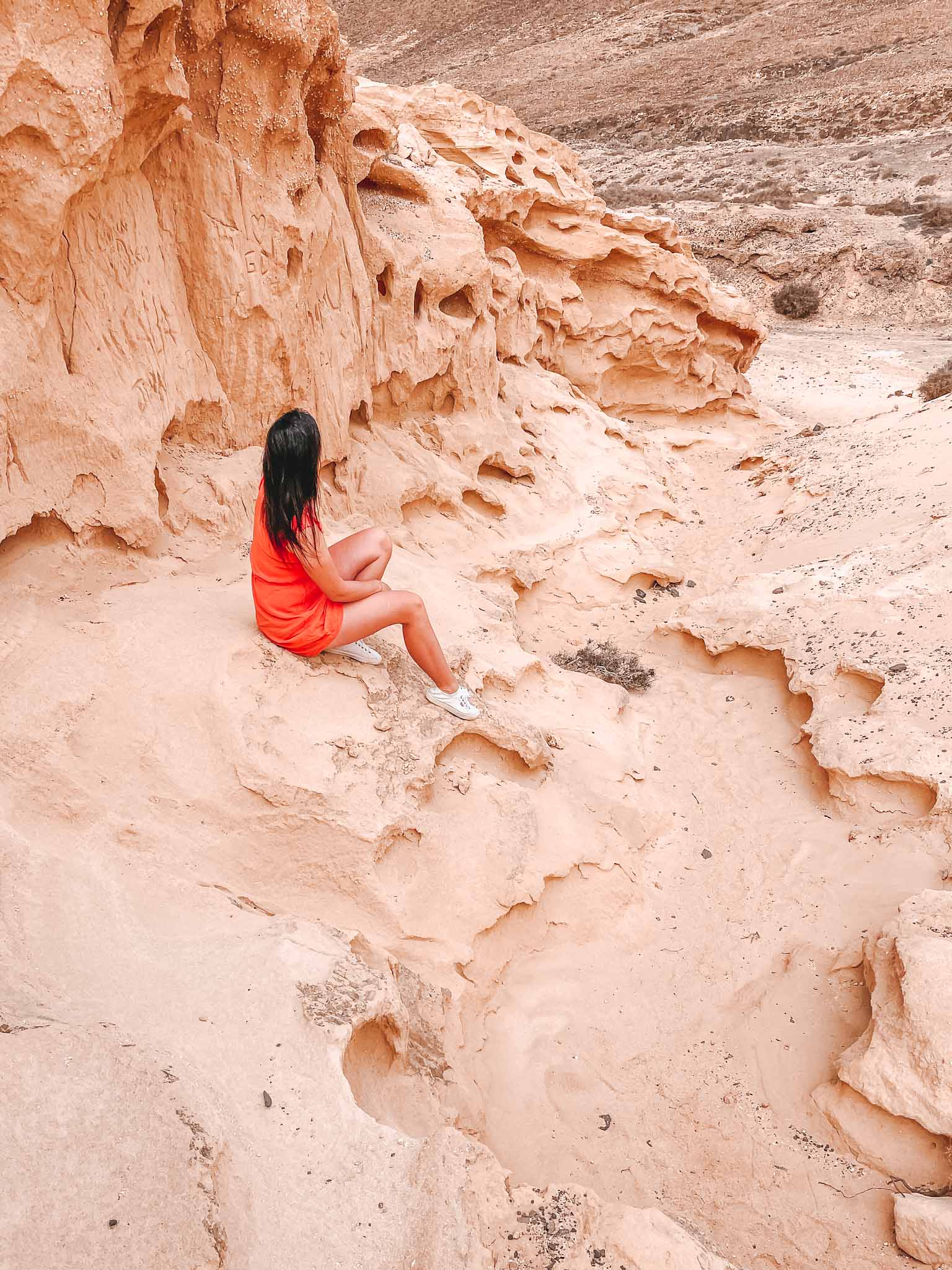 Barranco de los Enamorados or also called as Barranco de los Encantados is an easy hike in the heart of Fuerteventura. Because of its unique rock formations, this hike is probably the most famous hike in Fuerteventura!
In this trail, you will discover beautiful millions and millions of years old fossilized sand dunes in crazy shapes. The trail is about 3 kilometers in one way and, so 6 kilometers in total.
The most beautiful shapes and formations are located later in the trail, not at the beginning. There are also multiple side ravines to explore.
Location: My photo location · Parking and the start of the trail
10. Barranco de Cho Cruz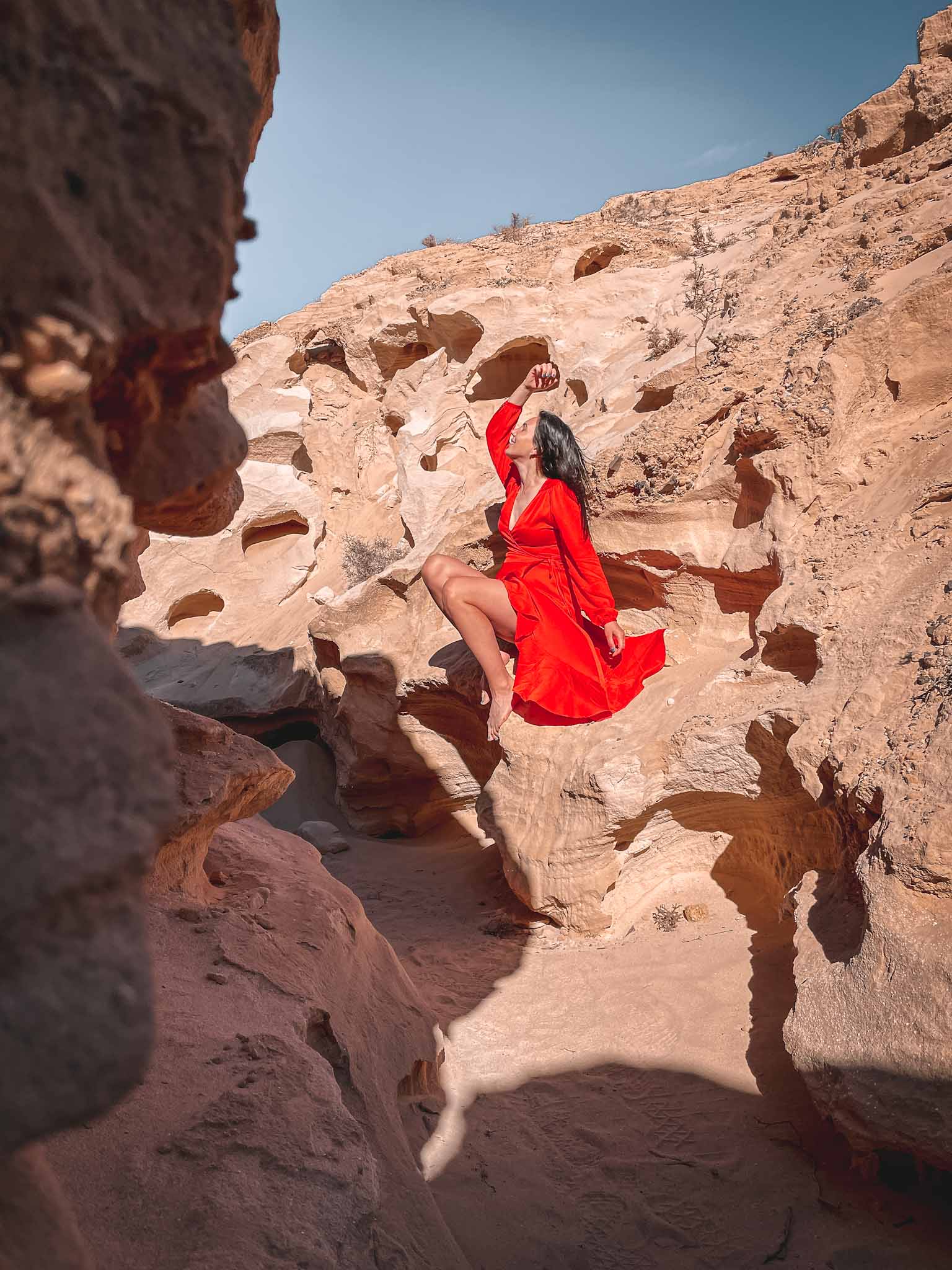 Barranco de Cho Cruz is something similar you will see at Barranco de los Enamorados, however, this one is more unknown and more secret.
If Barranco de los Enamorados is a hike where you are guaranteed a lot of company along the way because of its' popularity, then Barranco de Cho Cruz is a great option to hike into the wilderness with almost no people (and no cell service!) around you.
Barranco de Cho Cruz also offers many narrow side ravines with crazy rock formations to take pictures in and explore. Read more about it HERE!
Location: Barranco de Cho Cruz · Photo location
11. Sandstone columns in Istmo de Jandia en Barlovento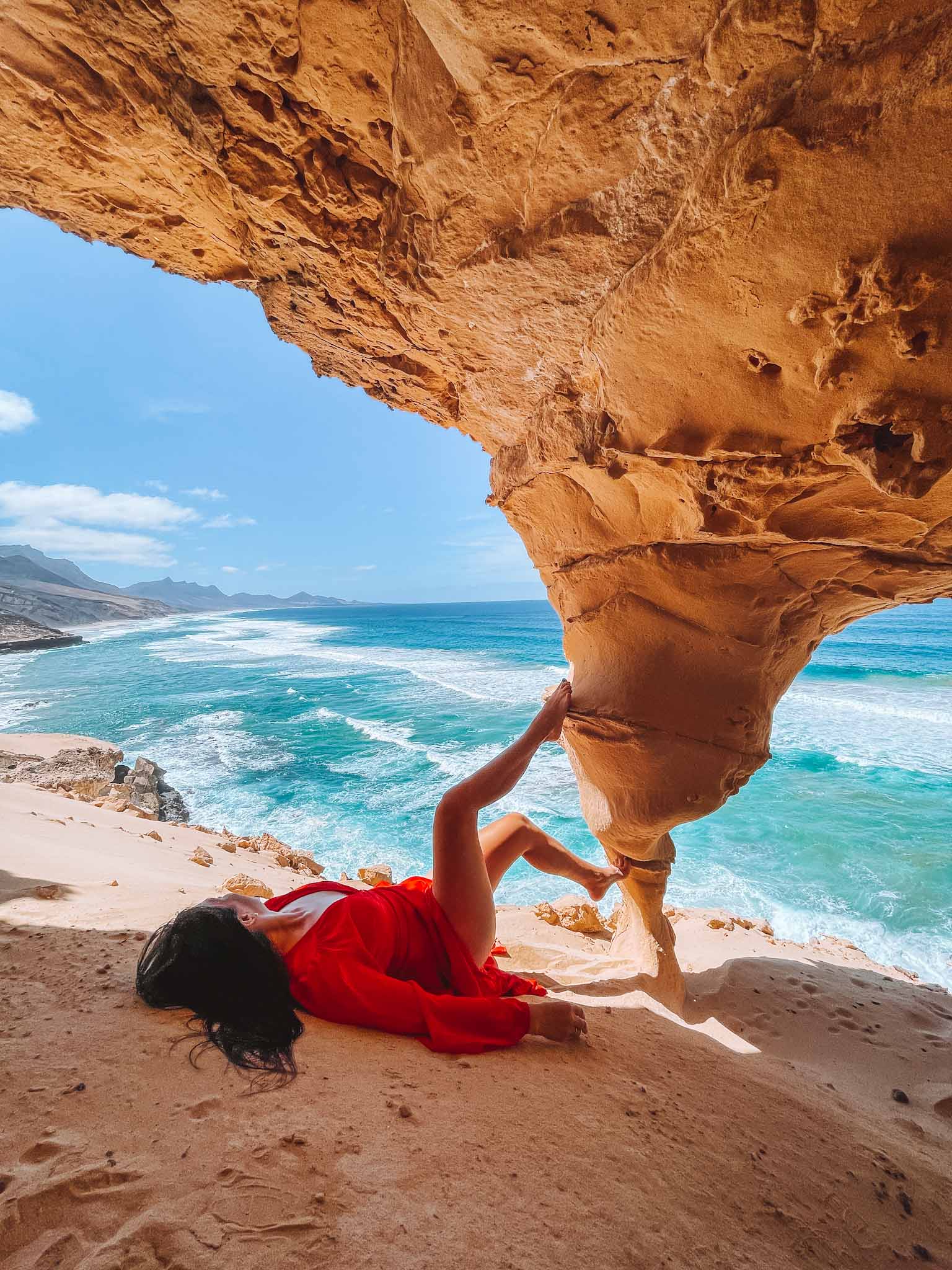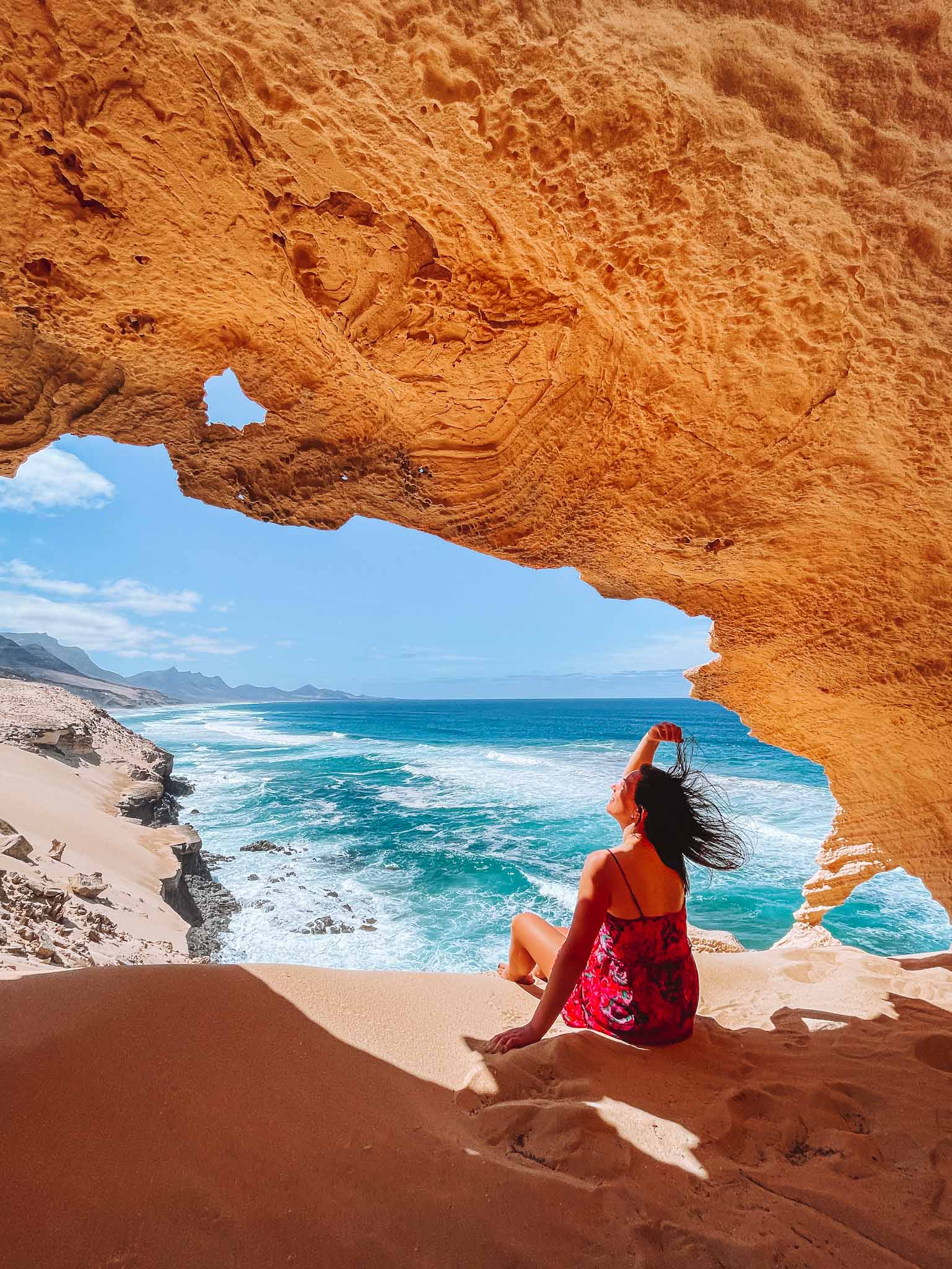 I found Istmo de Jandia en Barlovento to be one of the most unique and secret places in Fuerteventura! It is one of the remotest spots on the island and therefore very few people ever go there.
If you are up for a wilderness adventure with a lot of sand and sand dunes, hard-to-access beaches, no cell service, and no people, then you should check out this place.
There were also two lovely spots with sandstone columns that I found to be really unique. They are just random spots you won't even find on Google Maps, but if you are curious enough you can try to get there.
The first one I would call La Columna de Jandia and the second one I call – La Grieta de Jandia. They are located about 200 meters from each other so it is possible to visit both of these spots.
Something you need to know is that the coastline is quite fragile – we saw many sand slides and also the sandstone is not really resistant and tough, so some places may break or slide if you put too much pressure there.
Just be mindful and keep this place as clean and intact as possible! If you want to know how we got to Istmo de Jandia en Barlovento, then see my blog post about unique places in Fuerteventura HERE!
Location: Istmo de Jandia en Barlovento · La Columna de Jandia · La Grieta de Jandia
12. Arco de Gran Valle
If you happen to visit the famous Faro de la Entallada lighthouse then you might be interested to include this sea arch in your trip itinerary! There is nothing too breathtaking or extraordinary about it but it definitely looks really cool and is a great spot to visit!
To get there you have to drive a gravel road from the direction of Tequital town to Playa de Gran Valle beach. You can leave your car right before the beach. It is a very remote area and we only saw one person there.
To get to the arch you have to go to the beach and climb the rocks at the south end of the beach. Then follow the coastline for about 100 meters until the arch. It is not possible to miss it!
It is not too difficult to climb the rocks, but be sure to choose a calm day with no big waves and go there during low tide. Also, make sure to pre-load the map because there is no cell service at the beach!
Location: Arco de Gran Valle · Playa de Gran Valle
13. Tunnel of Playa de Vigocho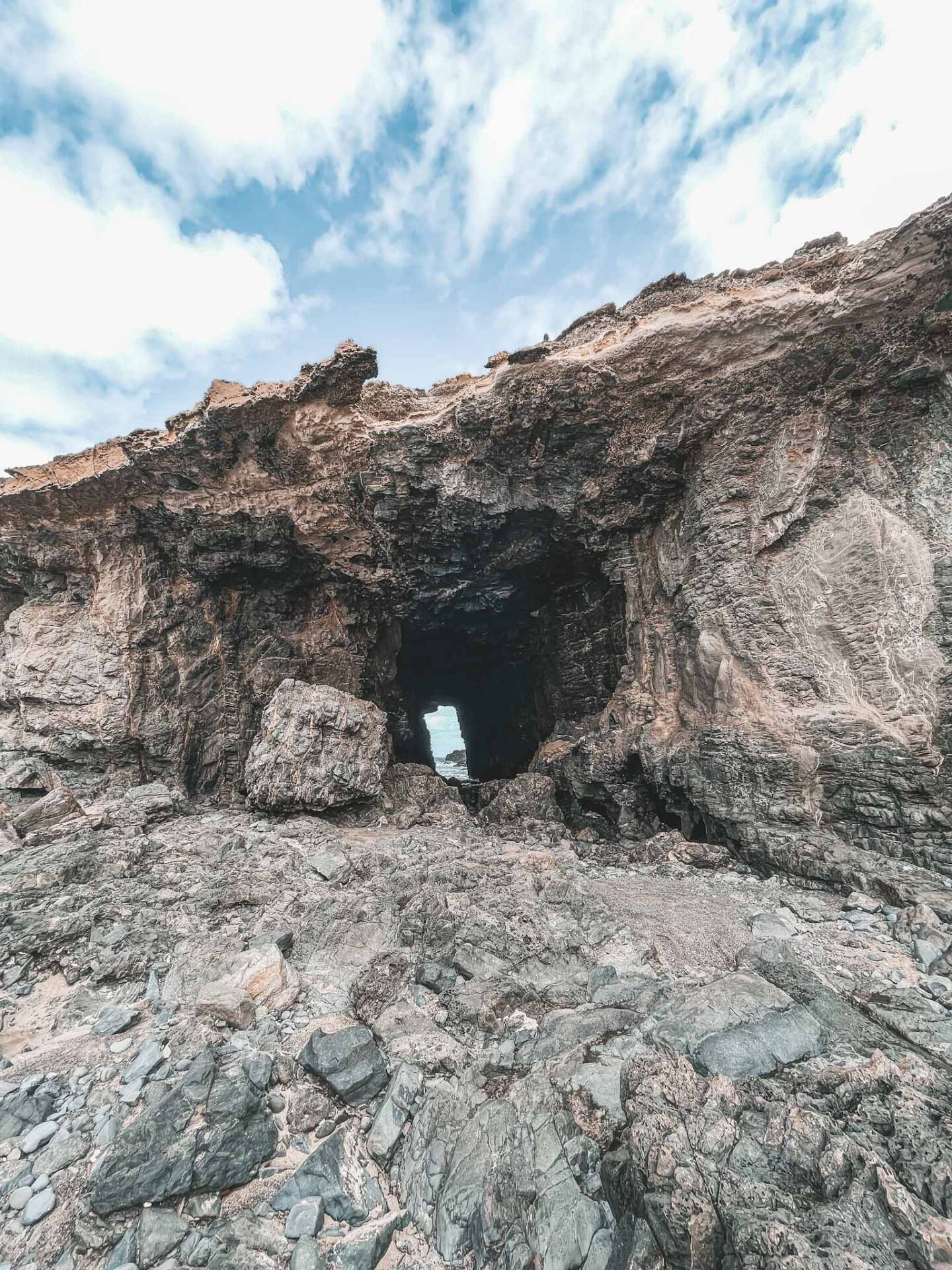 It is difficult to decide, whether it is a tunnel, an arch, or a different rock formation that you can find on Playa de Vigocho. But it is definitely a huge one and an interesting sight to see for sure.
If you decide to visit the Bee cave and honey cell rock formations or sea caves at Solapa beach then you have a great opportunity to visit one more amazing rock formation in Fuerteventura!
Getting here is not too difficult – there is a gravel road leading to this beach. The tunnel itself is located on the north side of the beach and is very easily accessible.
We went there during low tide at the same time we were hunting the sea caves at Playa de la Solapa and it looked like we would be able to visit the tunnel also closer to high tide, but it is not for sure.
Location: Tunnel of Playa de Vigocho · Playa de Vigocho
14. Secret lava caves near Los Estancos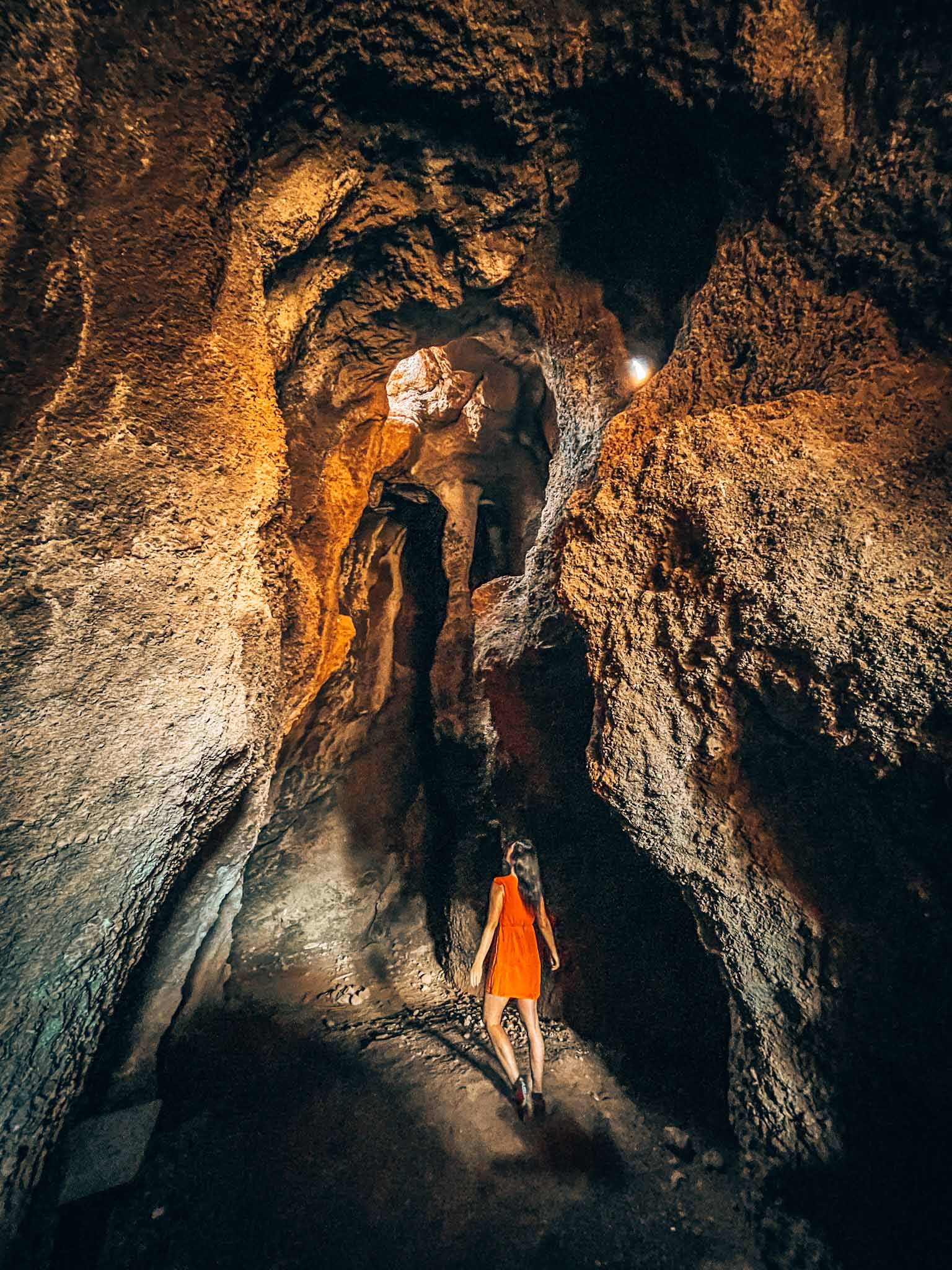 If you are an adventure lover like me you will like to visit these lava caves near Los Estancos town. They are not an official tourist attraction but definitely an interesting and unique place to visit!
The caves are located at the side of a volcano. You can park your car at the side of the road that goes up the volcano and follow a path that leads to the caves.
We spent some good 15 minutes just walking around and looking inside every opening discovering even more and more caves. There are bigger cave openings where you can easily go inside and explore. Just walk around and see for yourself!
These are definitely very unique caves in Fuerteventura and you won't find anything like this anywhere else on the island! Remember that the soil is fragile, so be mindful of where you climb and step!
Location: Lava caves · Parking place
15. Rock formations at Solapa beach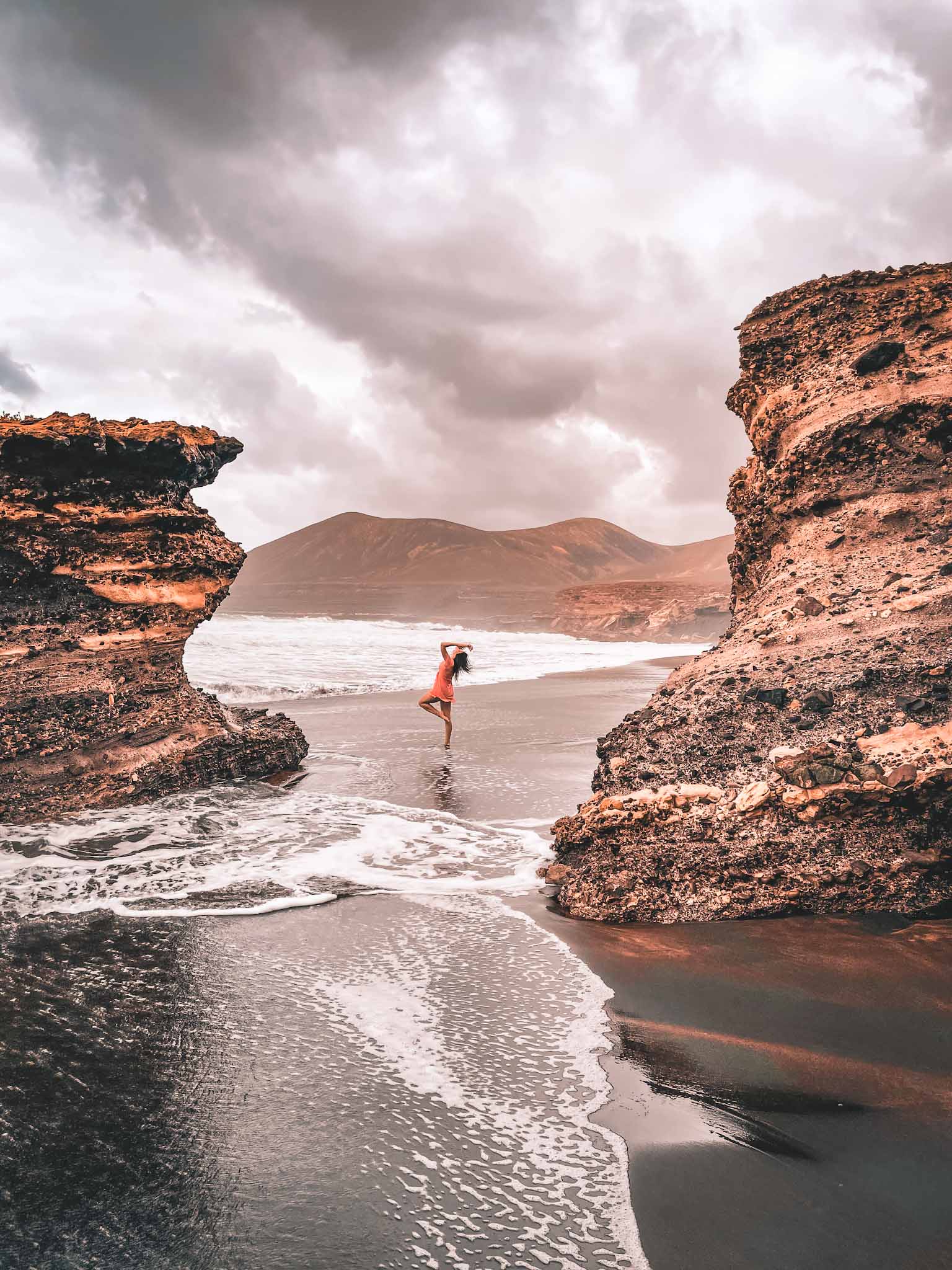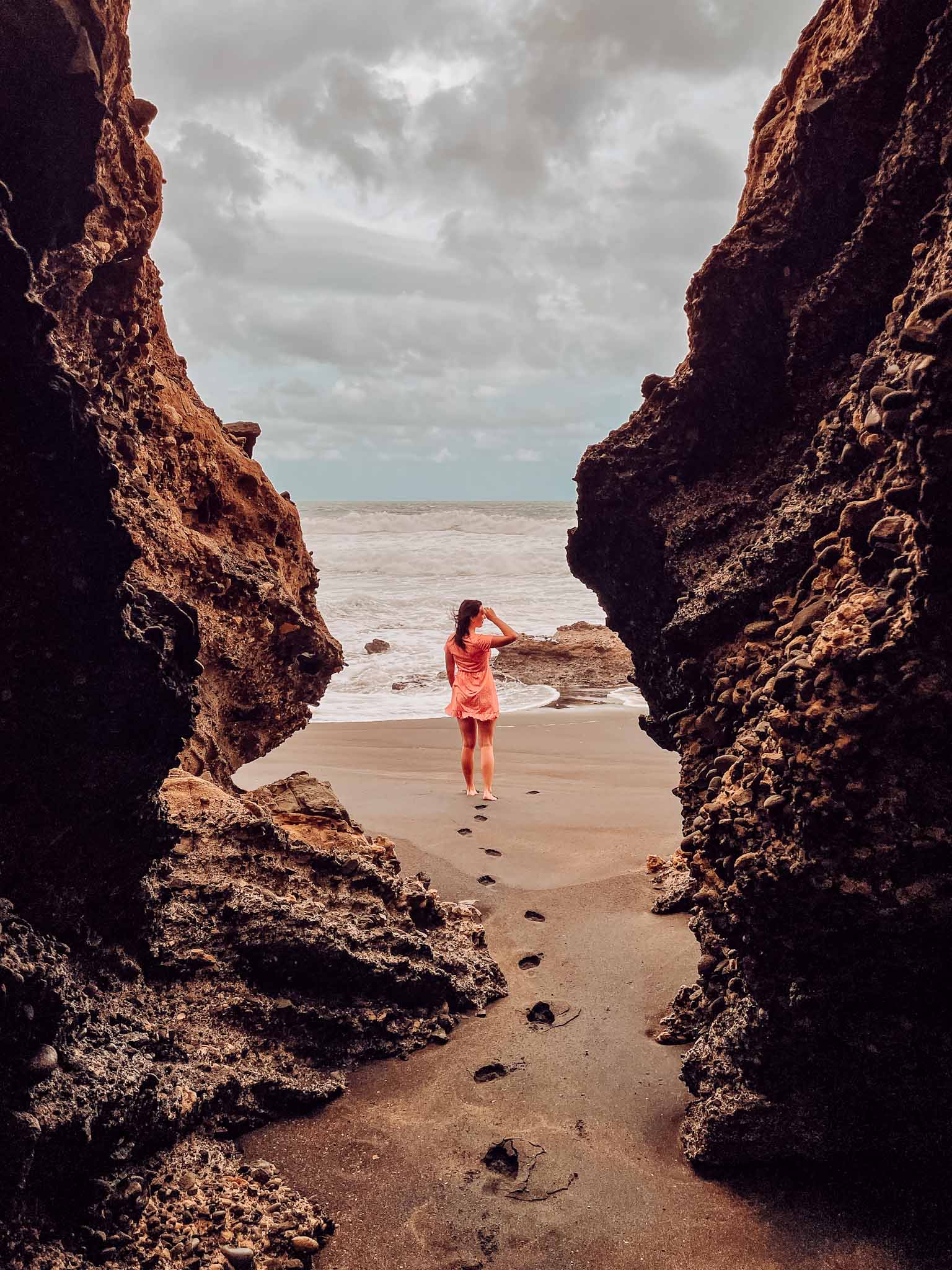 Solapa beach is one of my favorite beaches in Fuerteventura and offers you some of the best rock formations in Fuerteventura as well! If you read the article about sea caves then you probably know that there are three huge sea caves in Solapa beach that are worth visiting during low tide.
But there are also huge rock boulders at the beach itself (on the south side)! They are also better accessible during low tide and you can make some nice photos there.
Fun fact! Solapa beach was one of the locations for Marvel Studios' Eternals movie. Yes, Angelina Jolie was there!! The black sand, the huge boulders, and the vibe is just really cool and wild!
Location: Rock formations · Solapa beach · Parking at the beach
16. Arco de Escanfraga
If there is a place and unique rock formations in Fuerteventura that we didn't visit but I wish we did, then it might be Arco de Escanfraga natural arch. The arch is located on Escanfraga volcano – the highest volcano in Fuerteventura reaching 529 meters above sea level.
If you are up for a 6-kilometer hiking adventure up the volcano, then I would suggest you to check out this route on Wikiloc. There is a route with waypoints and photos – you can download it for yourself and then follow the route.
17. Natural volcanic pools
Although Fuerteventura has many long and sandy beaches, there are multiple places where you can enjoy a unique experience and swim in natural volcanic pools. It is a great way to explore some unique rock formations as well as make your trip more exciting and adventurous!
Remember that the best time to enjoy the volcanic pools is a sunny day and during low tide. During high tide, the waves get quite dangerous and the volcanic pools overflow, so it is not safe at all.
If you happen to be on the East coast then a great option would be to try out Caleta de Fuste natural volcanic pool (you can leave your car at the side of the road somewhere here), but if you happen to be on the West coast during low tide in a sunny day then Aguas Verdes volcanic pools is a great option.
You can also explore the area just North of El Cotillo village – there are multiple beaches with shallow water and lava rock formations that almost look like volcanic pools.
Happy exploring!
Fuerteventura may be famous for its' beautiful sandy beaches and the perfect color of the water. However, there is more to this uniquely beautiful island! Some of the rock formations we saw in Fuerteventura will probably stay in our memories forever – that is how unique and amazing they were.
Exploring these places would be the best unforgettable adventure you could possibly give yourself if you go on a trip to Fuerteventura! If you can, please, leave a comment below if there are any significant changes to anything that is written in this blog post! Many thanks!
PIN FOR LATER!