Here are the most impressive hiking routes in Madeira
You have probably heard that Madeira is a paradise for hikers! There are so many hiking routes, old transportation roads, water canals (levadas), and many other options to choose from! For us it was the hardest choice – where do we go, where do we start, which are the best routes?
We wanted to walk all of them and managed to do more than 10 walking routes while we were there, however, I know that many travelers do not have so much time to do it all and see it all, so here is my top 5 list of the best and must-go walking routes in Madeira island!
1. Vereda do Pico do Arieiro – Pico Ruivo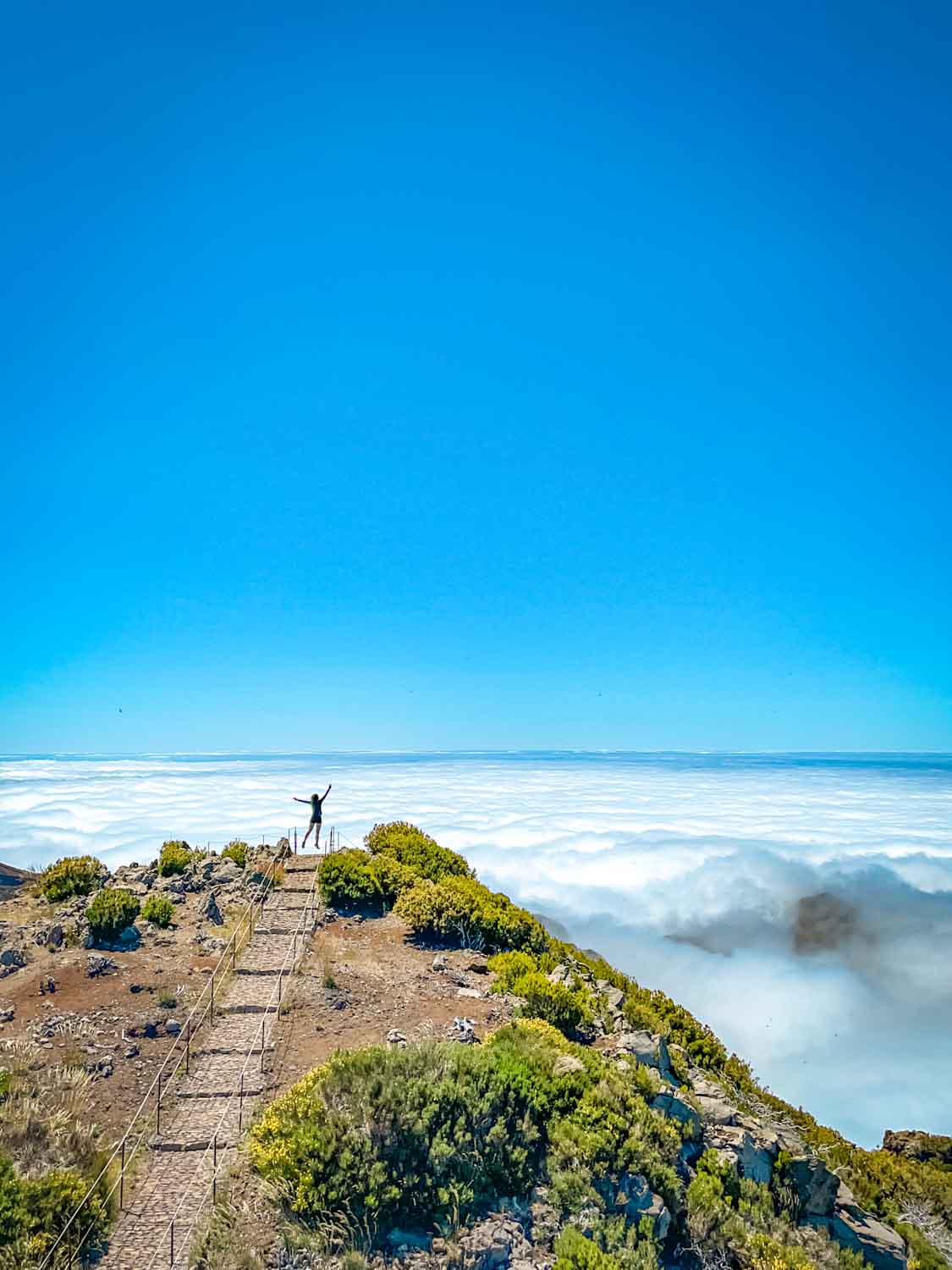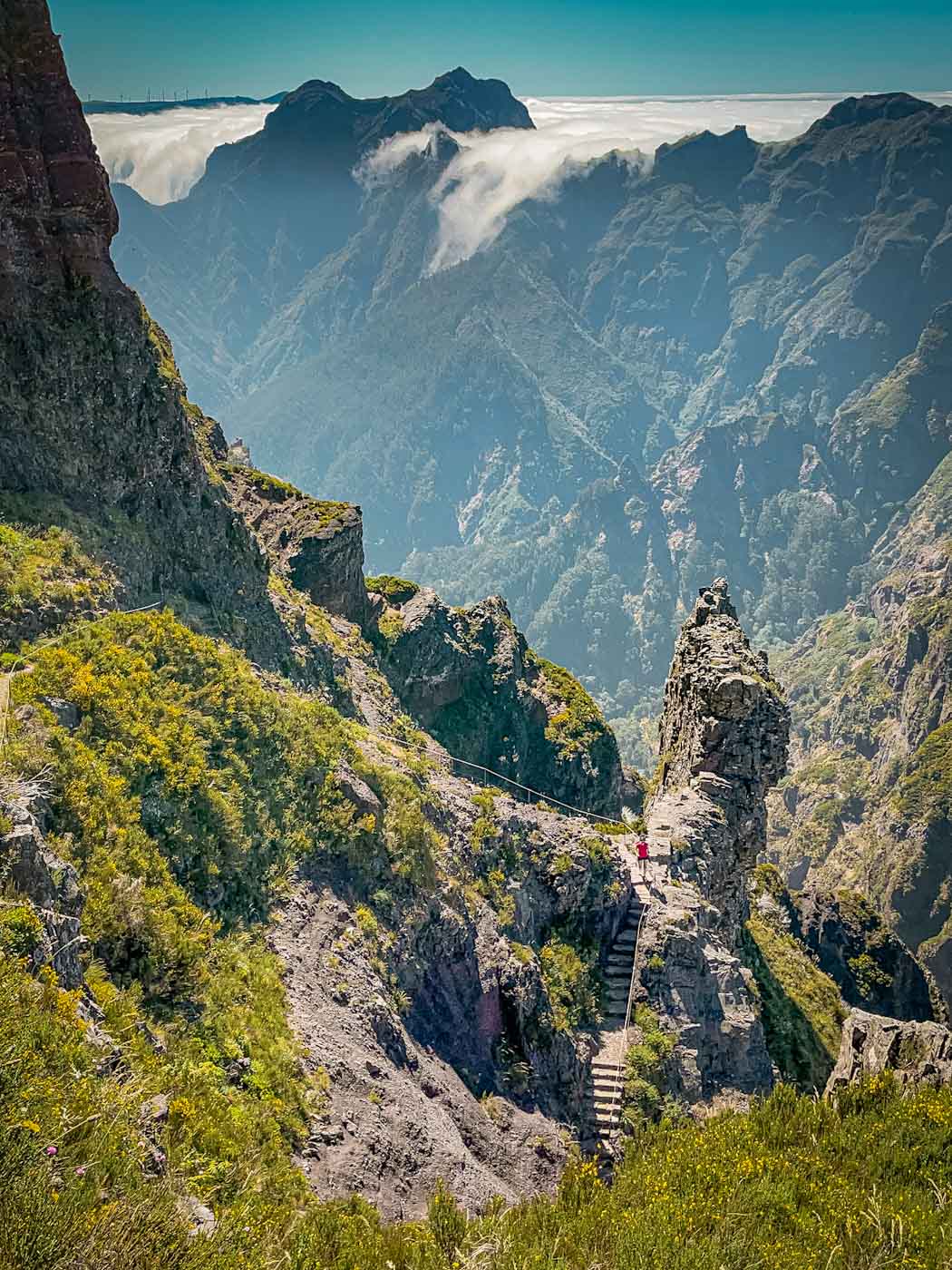 The hiking route from the third highest mountain in Madeira, Pico do Arieiro, to the highest mountain, Pico Ruivo, and back is probably the most known hiking route in Madeira.
This 6-kilometer route one-way conquers uphills and downhills, narrow staircases, and dark tunnels, but it delivers as well. Along the way, you will have some of the most incredible and spectacular views of the island.
This above-the-clouds hiking route is a must! Leave your car HERE, at the top of Pico do Arieiro mountain, bring some snacks and drinks, as well as a flashlight and maybe warmer clothes – it can be very windy in the mountains.
Tip! Before you go, check the weather and the visibility on the mountain in webcams HERE!
Start location: OPEN MAP!
2. Levada das 25 fontes – Levada do Risco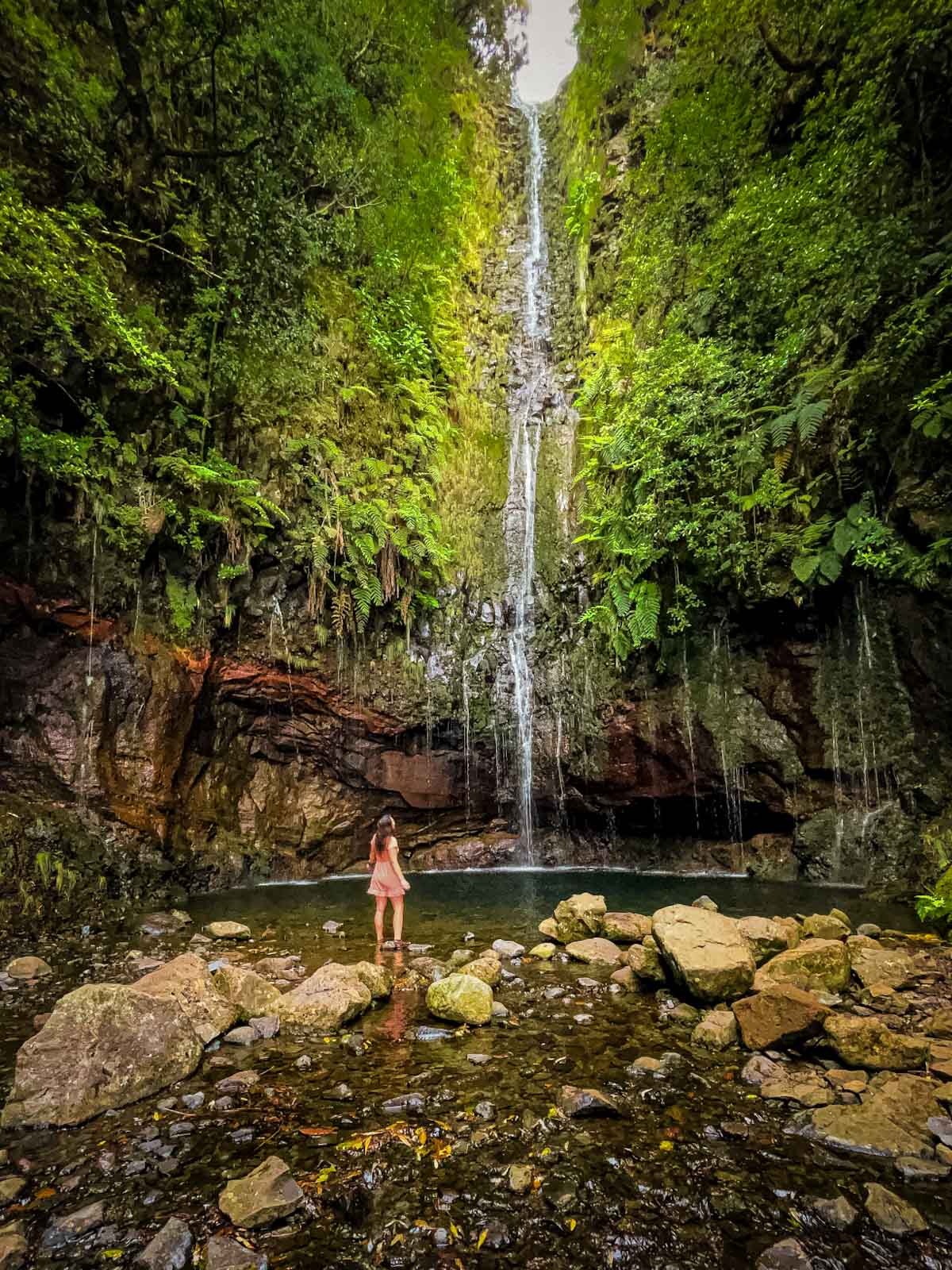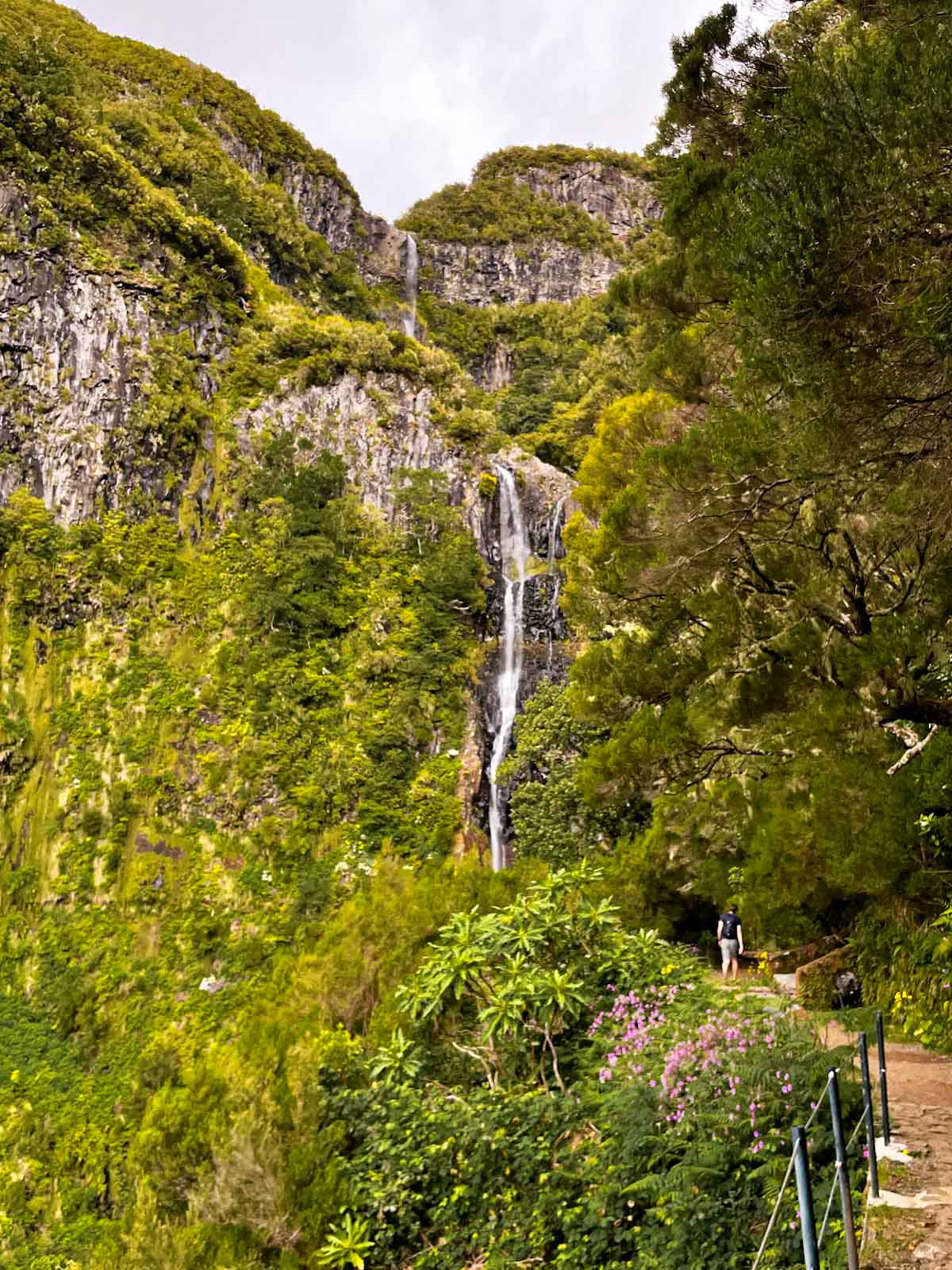 Madeira without jungle-style waterfalls is not Madeira. This walking trail actually consists of two trails and two spectacular waterfalls – the 25 Fontes waterfall and Risco waterfall. It is a bit of a downhill-uphill trail with stairs and levadas, so it is definitely not the easiest walk, but not a difficult one for sure.
Leave your car in a parking lot HERE, then follow a path downhill to the valley. Along the route there will be a sign leading to the 100-meter-high Risco waterfall – it is a bit of a detour, but definitely worth it.
Then you will have to come back and continue the trail to the 25 Fontes waterfall which consists of 25 different streams of water falling into a pond at the bottom of it. Take some snacks and drinks with you, because it will be a couple of hours hike (about 10 kilometers)! No tunnels on this route!
Start location: OPEN MAP!
3. Vereda do Larano coastal hike along the ocean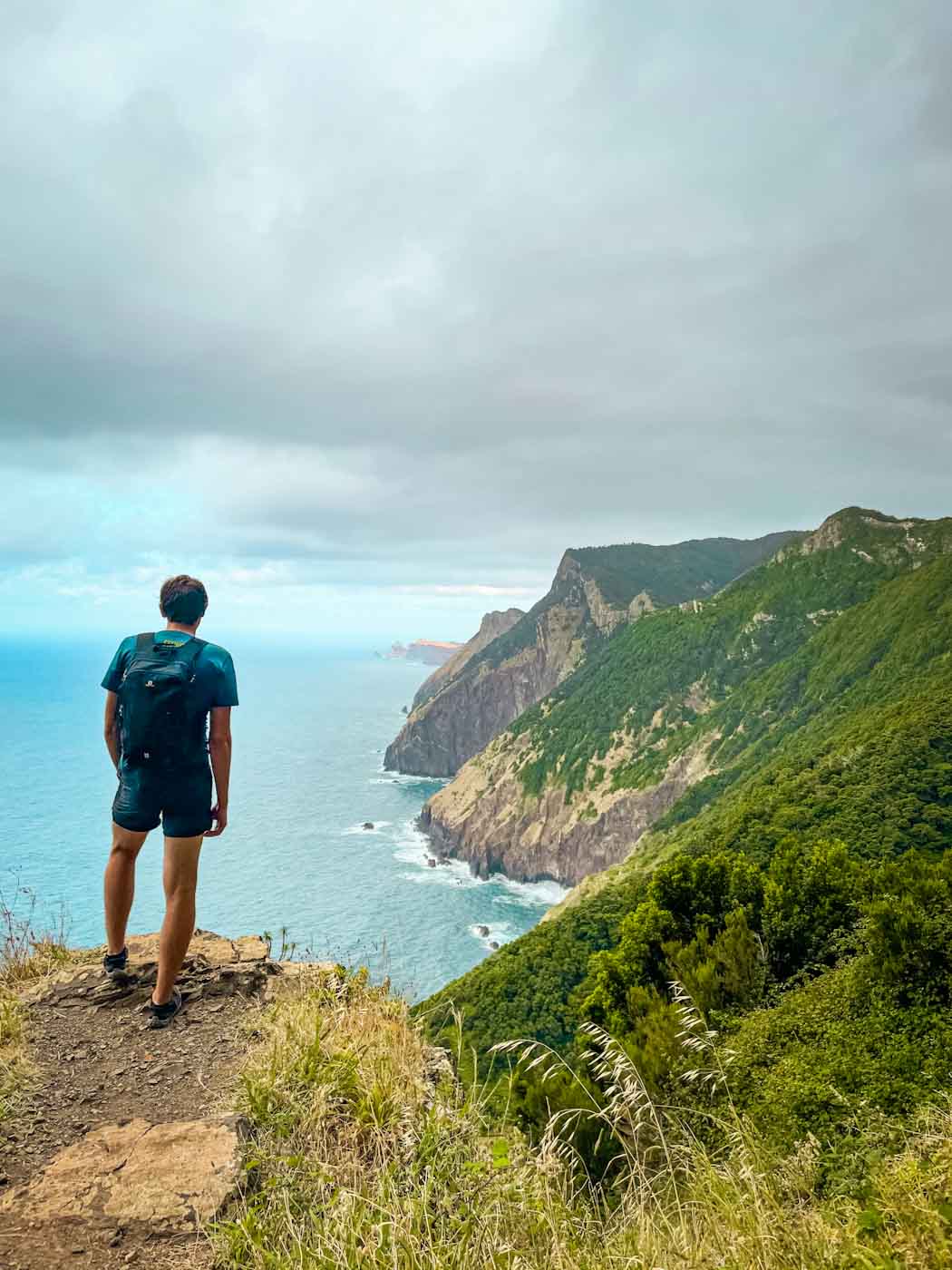 This is a special hiking route and for me personally – my favorite hiking route in Madeira! It is almost completely flat, but exciting and breathtaking at the same time!
It follows a path along the slopes of the coastal cliffs about 300 meters above the ocean. You have incredible views of cliffs and the ocean all the time!
The trail starts near Porto da Cruz town, and you can leave your car at the side of the road – we drove till the very starting point (there is a wider area to park and turn around the car). You can follow the path as far as you like – there is no strict route to follow.
We went 7 kilometers and then turned around. No waterfalls or tunnels along this route! Don't forget some energizing snacks and drinks! This is a narrow path without proper fences, so could be dangerous in harsh weather!
Start location: OPEN MAP!
4. Vereda da Ponta de São Lourenço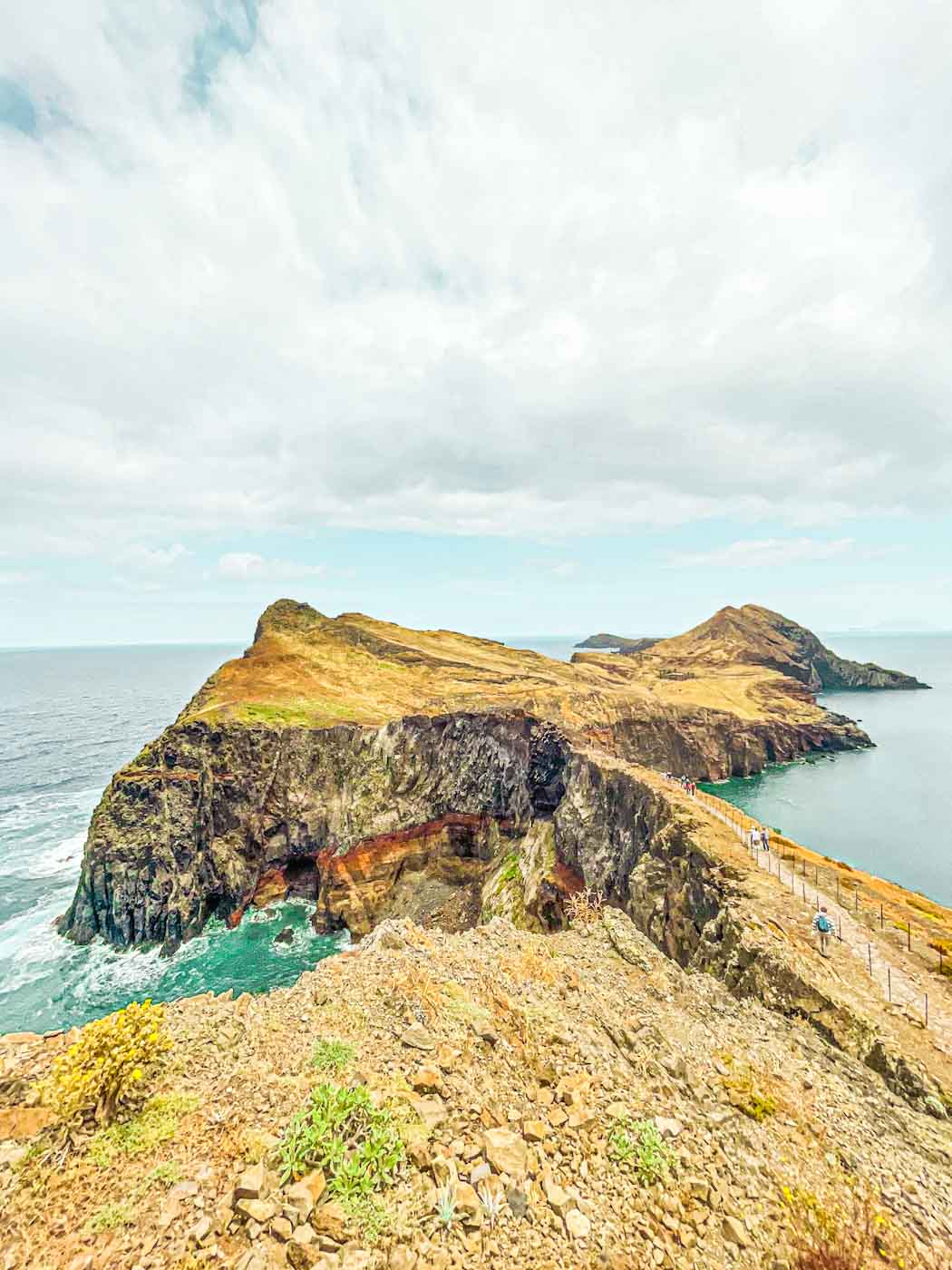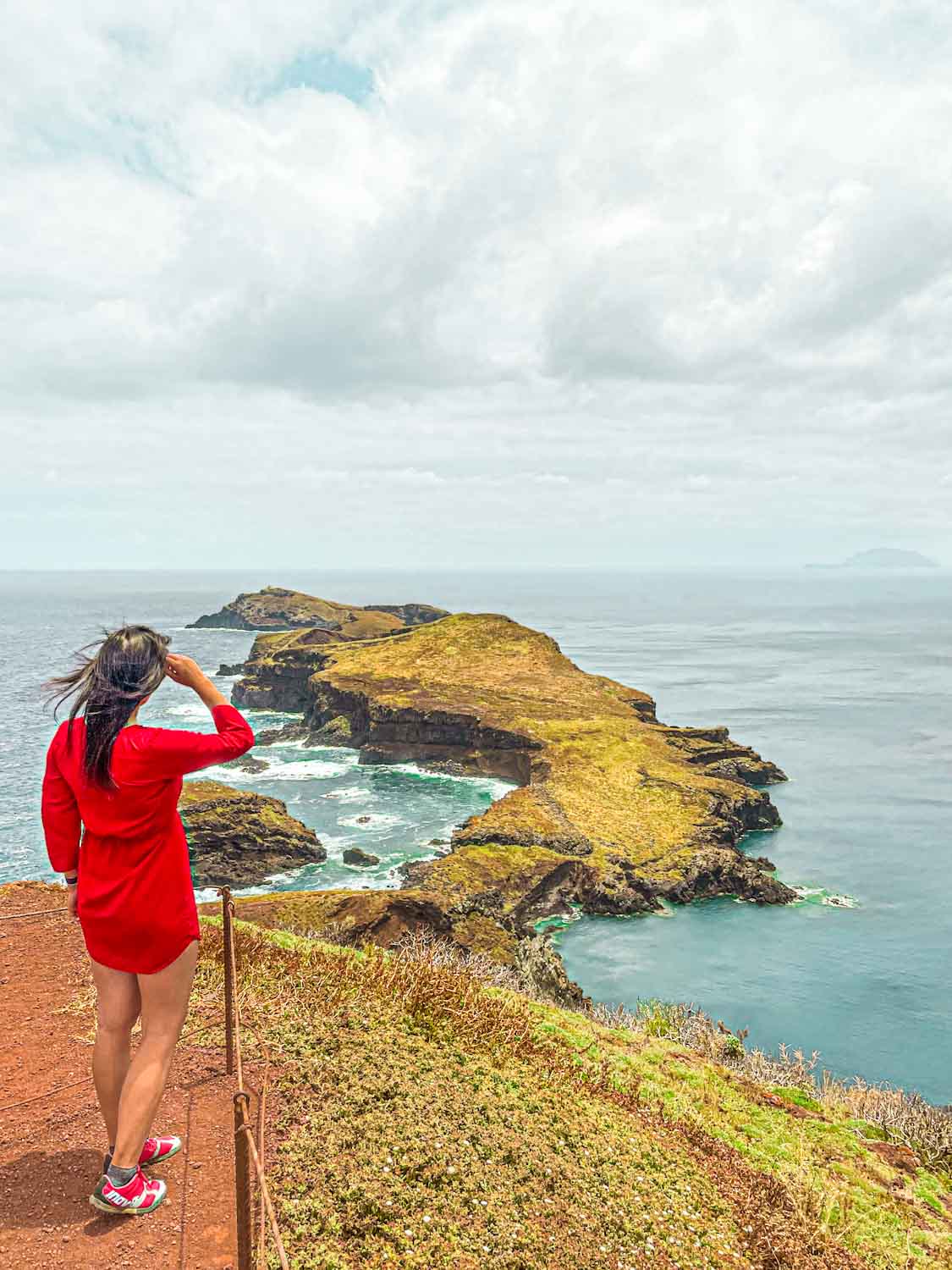 Ponta de São Lourenço hiking route is a unique route at the easternmost part of the island. Typical Madeira is very green, covered with trees and bushes, and more jungle-like, however, this route follows a path through a naked protected area till the very easternmost point of the land.
The hike is 3.5 kilometers one way, but there is no shade whatsoever, which means you will be exposed to the sun on sunny days. Grab some snacks and plenty of energizing drinks with you!
You will want to stop and take photos, so the hike could take even up to 3-4 hours. There are also many uphills and downhills, however, altogether the trail is moderate to easy difficulty. Leave your car in the parking lot HERE!
Start location: OPEN MAP!
5. Levada do Caldeirão Verde – Caldeirão do Inferno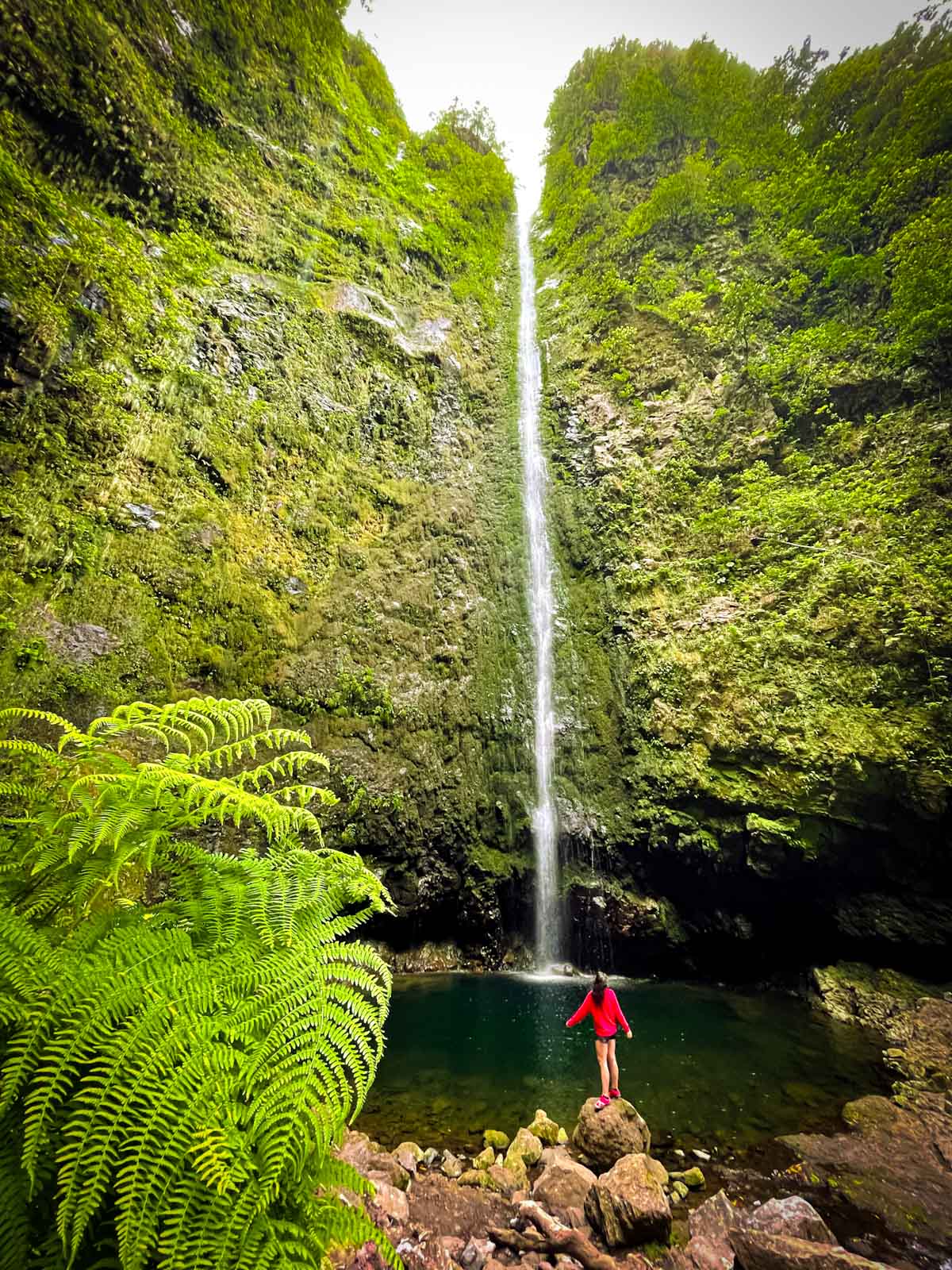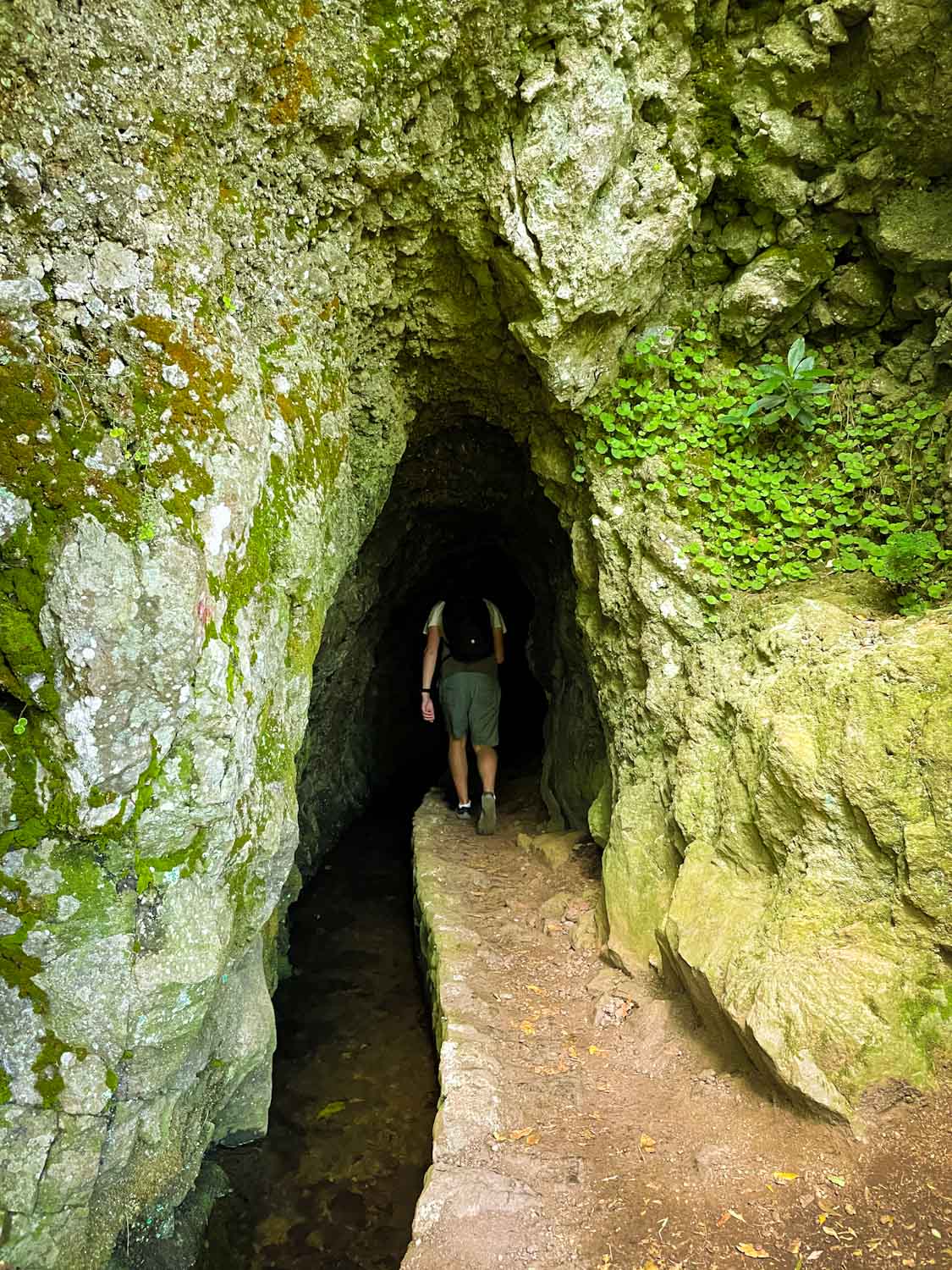 This unique hiking route is filled with jungle, tunnels, and waterfalls, but is probably the most difficult of these routes. You can leave your car at THIS parking lot and then follow the route.
It is paid parking, however, we arrived back from the trail after their working hours, which is after 6 PM, and did not have to pay anything – the barrier was open!
There are actually two versions – the shorter one, which is about 12 kilometers altogether, and the longer version is about 16-17 kilometers. Most of the hikers take the shorter version and turn around at the spectacular Caldeirão Verde waterfall.
However, if you continue, you will see many more waterfalls, many more tunnels, and many more amazing views over the valley and the mountains. If you have time – do it!
The final destination for the longer route is not so spectacular – just a simple waterfall in a canyon-like place, but the path is the exciting thing (tunnels, waterfalls, stairs, levadas, etc. along the way)!
Make sure to pack enough food and drinks, as well as appropriate clothes and a flashlight – you will have to cross 24 tunnels (!), by going there (12 tunnels) and back the same way (extra 12 tunnels)!
Start location: OPEN MAP!
Happy exploring!
Hiking is one of the best things you can do in Madeira! Nature, jungle, mountains, incredible coastline, ocean, and the unique 'levadas' are the biggest treasures of the island, and what better way to fully experience them than going for a hike?
Most of the walking routes are a bit demanding, however, they are definitely worth it! If you can, please, leave a comment below if there are any significant changes to anything that is written in this blog post! Many thanks!
More Madeira travel inspiration!
PIN FOR LATER!