15 famous Instagram spots for the best photos of Madeira
Madeira is a unique island. The scenery, the mountains, the everyday life, the ocean, and so on. If you asked me, how much time you would need to explore the island to the fullest, I would just tell you – as much as possible!
But it is not possible for all of us to spend an unlimited amount of time traveling, so these are the most special sights and places for visiting and for taking some amazing photos as a keepsake from this magical island!
1. Mystical Madeira: Fanal forest in fog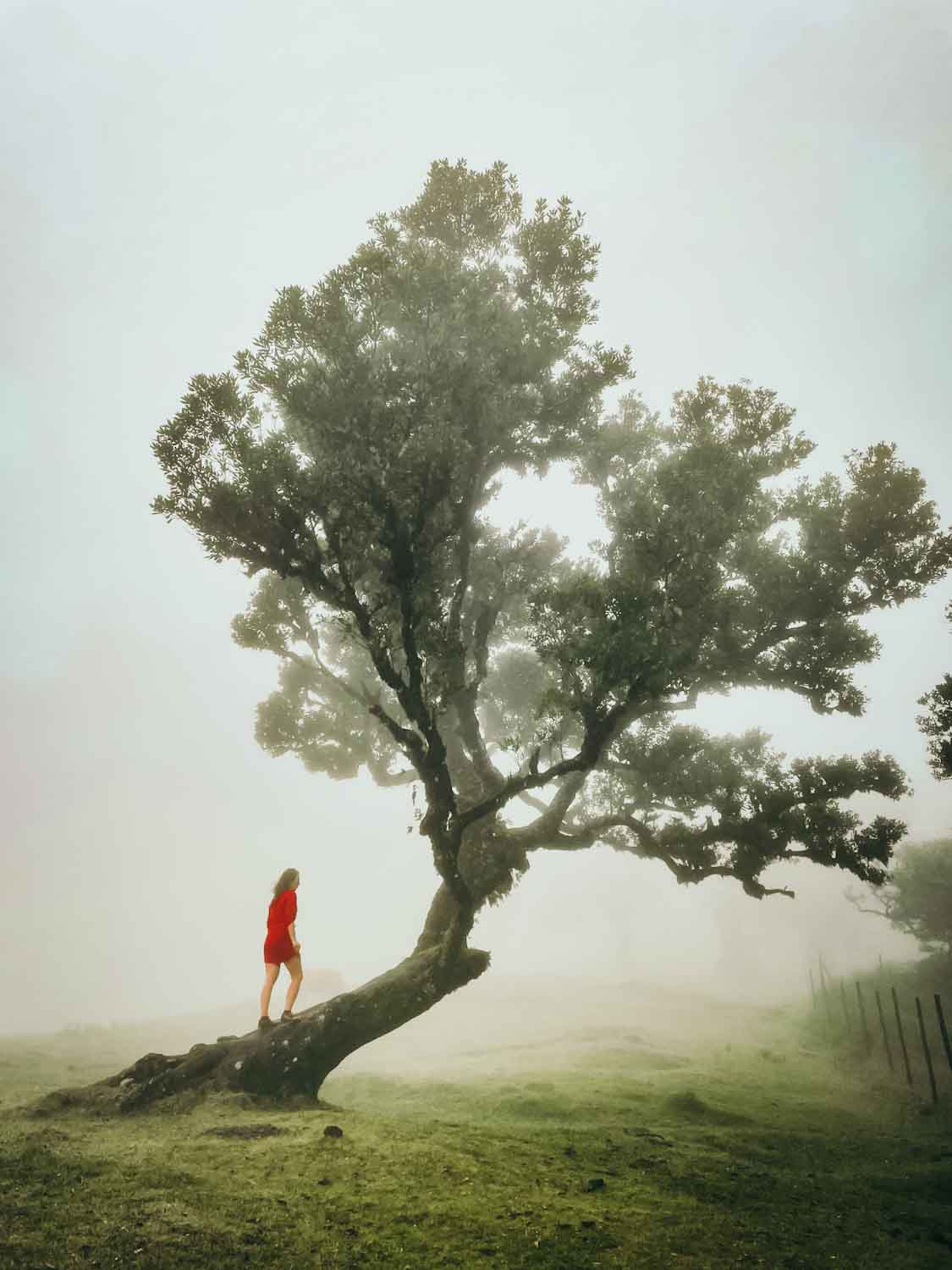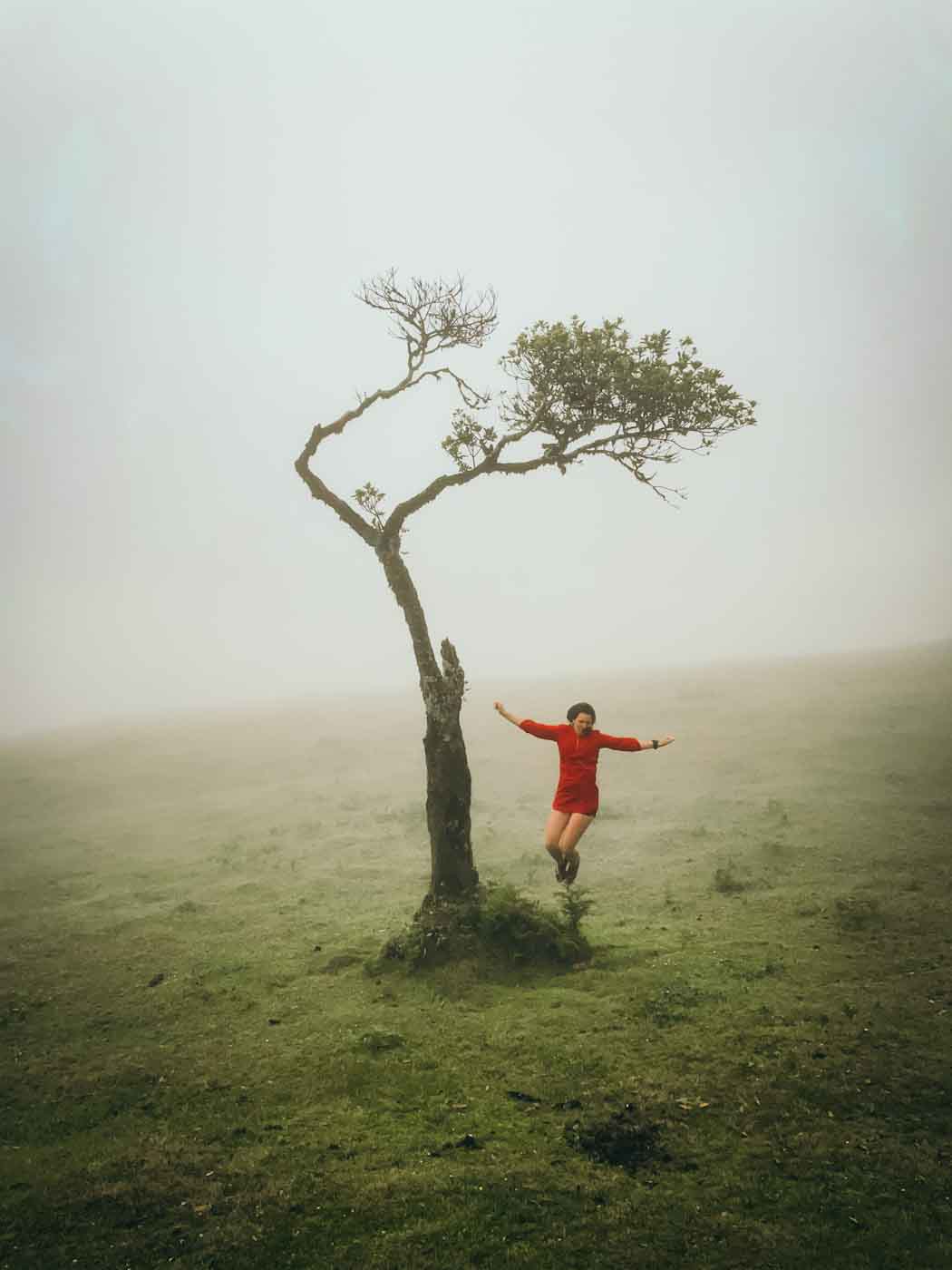 The Fanal forest is a park-like area full of very old and cranky trees. This is THE place to go when it is rainy or cloudy in Madeira (and it is very often – especially in the North part of Madeira, which gets all the humidity from the ocean).
On a clear and sunny day, this is just not the same. The fog gives this place some mysterious and scary vibes and is an amazing combination for very unique photos! Just stroll around and find the best trees for a photo!
Location: OPEN MAP!
2. Traditional Madeira: traditional houses in Santana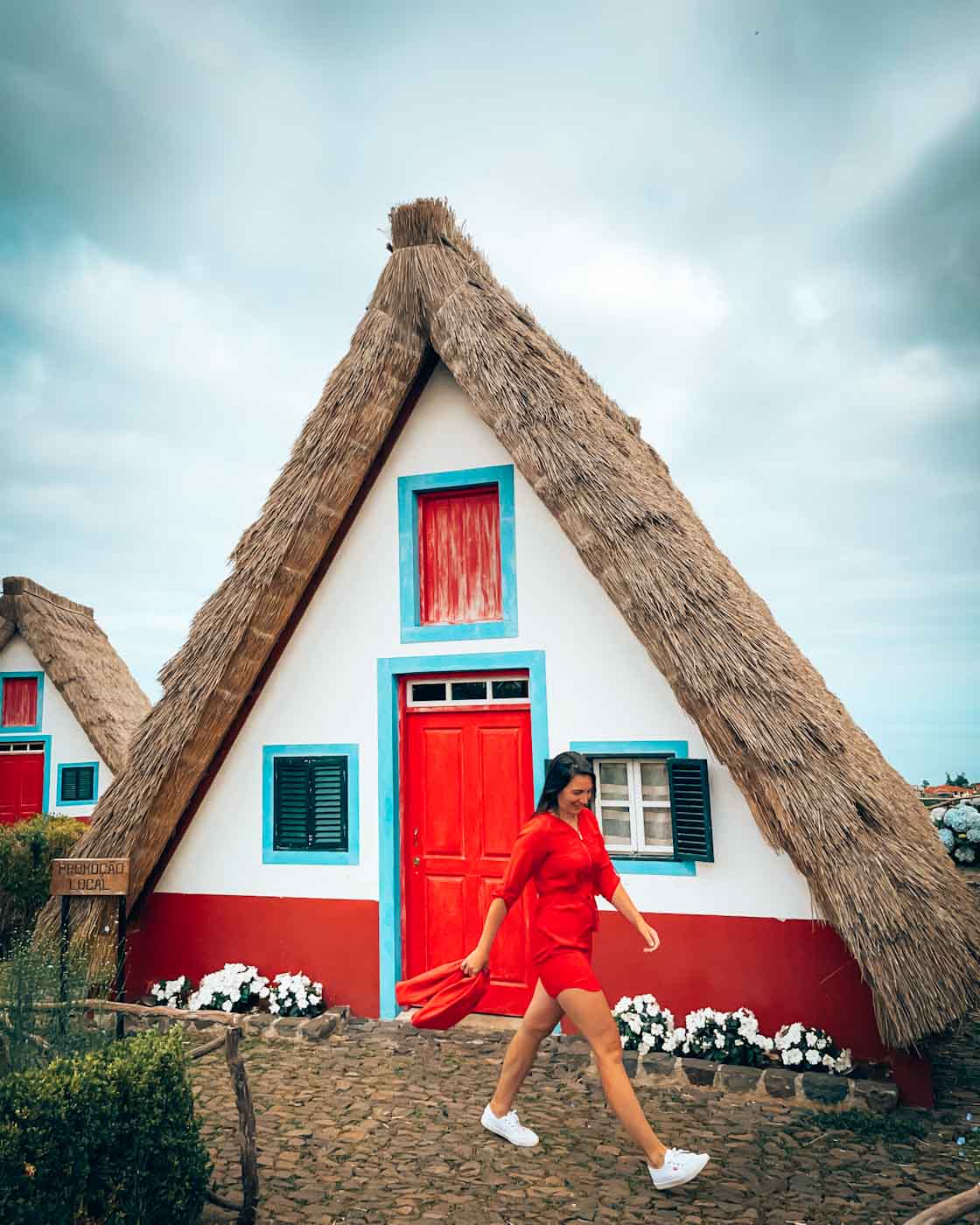 These beautiful traditional Madeiran houses look like they have been built for a fairytale film set! But they are actually examples of houses locals used to live in a long time ago!
You can find them in many places around the island, but the most popular place is in Santana town center – there are many houses together and you can get to them for free. You can visit them any day and any time of the day!
Location: OPEN MAP!
3. Balcões viewpoint
This gorgeous balcony is one of the most beautiful viewpoints in Madeira! I would definitely include this place in the must-see list of Madeira!
Leave your car at the side of the road HERE in Ribeiro Frio town and head by foot for a 1.5-kilometer walk one way to the balcony.
This place is best enjoyed with some snacks while soaking in nature, the silence (it is far away from roads and streets), the mountains, and the valley. Don't you think this looks just amazing?
Location: OPEN MAP!
4. Cascata dos Anjos (Angels Waterfall)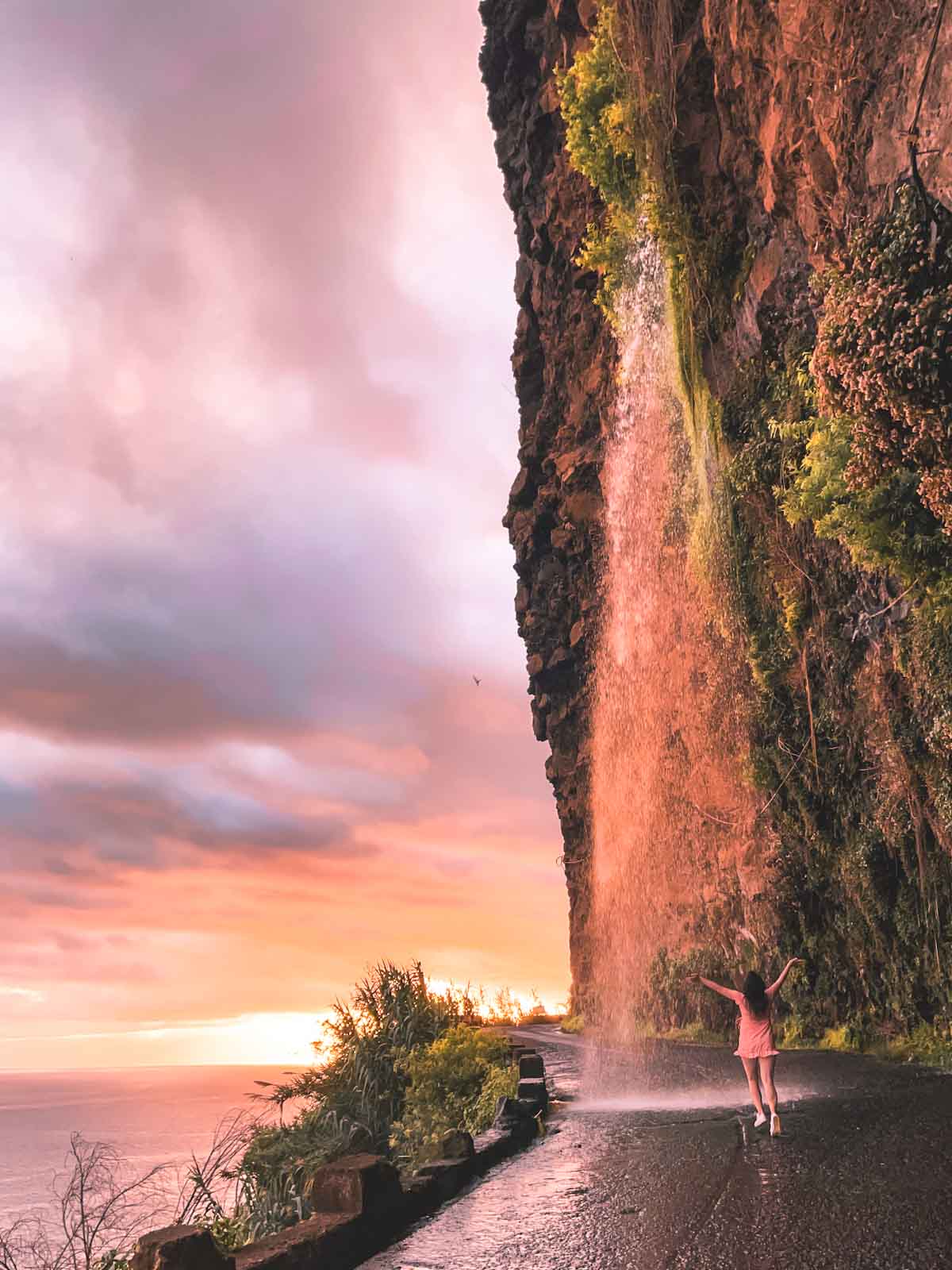 This waterfall is one of the most famous waterfalls in Madeira and also the most fun! It falls right on the road, so you can drive your car under it (car wash for free!), as well as get out of the car and dance around or run through it!
I can assure you – grown adults were playing like kids around it! You can visit this place any time of the day, but it is especially beautiful during the sunset! There are no parking places, but everybody just parks their cars at the side of the road.
Location: OPEN MAP!
5. Ilheus da Ribeira da Janela rocks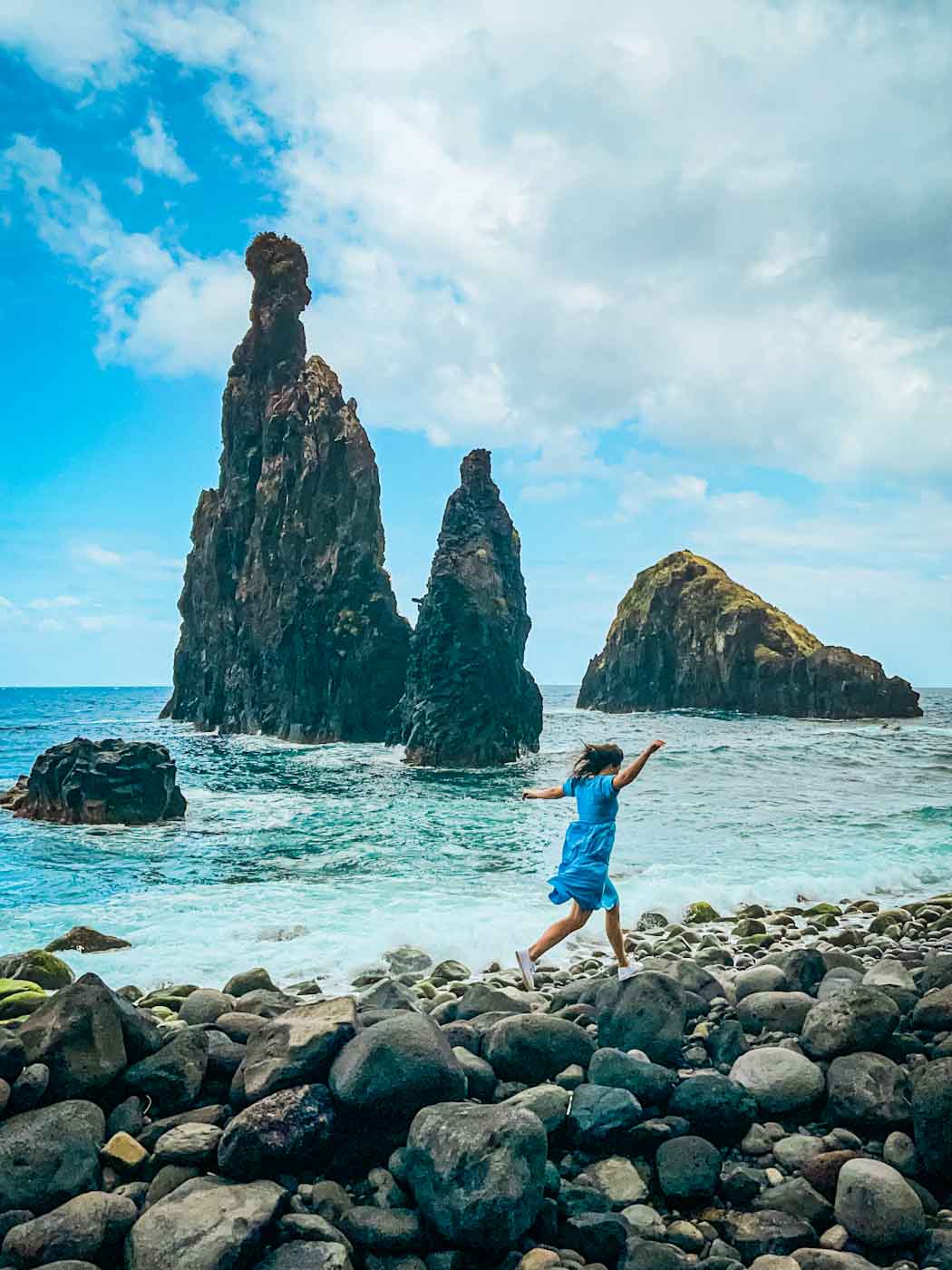 These majestic cliffs in the ocean are an impressive sight! They are so sharp and huge – something to remember from the volcanic island of Madeira!
The beach is covered with rocks and not particularly suitable for swimming or a day at the beach, but you can easily spend some time here and have a picnic if the weather cooperates.
We visited this spot on a very windy day, which is something you get quite often on the North coast of Madeira, so we did not spend too much time here, but a picnic is a great option on a good day!
Location: OPEN MAP!
6. Véu de Noiva Waterfall (Bridal Veil waterfall)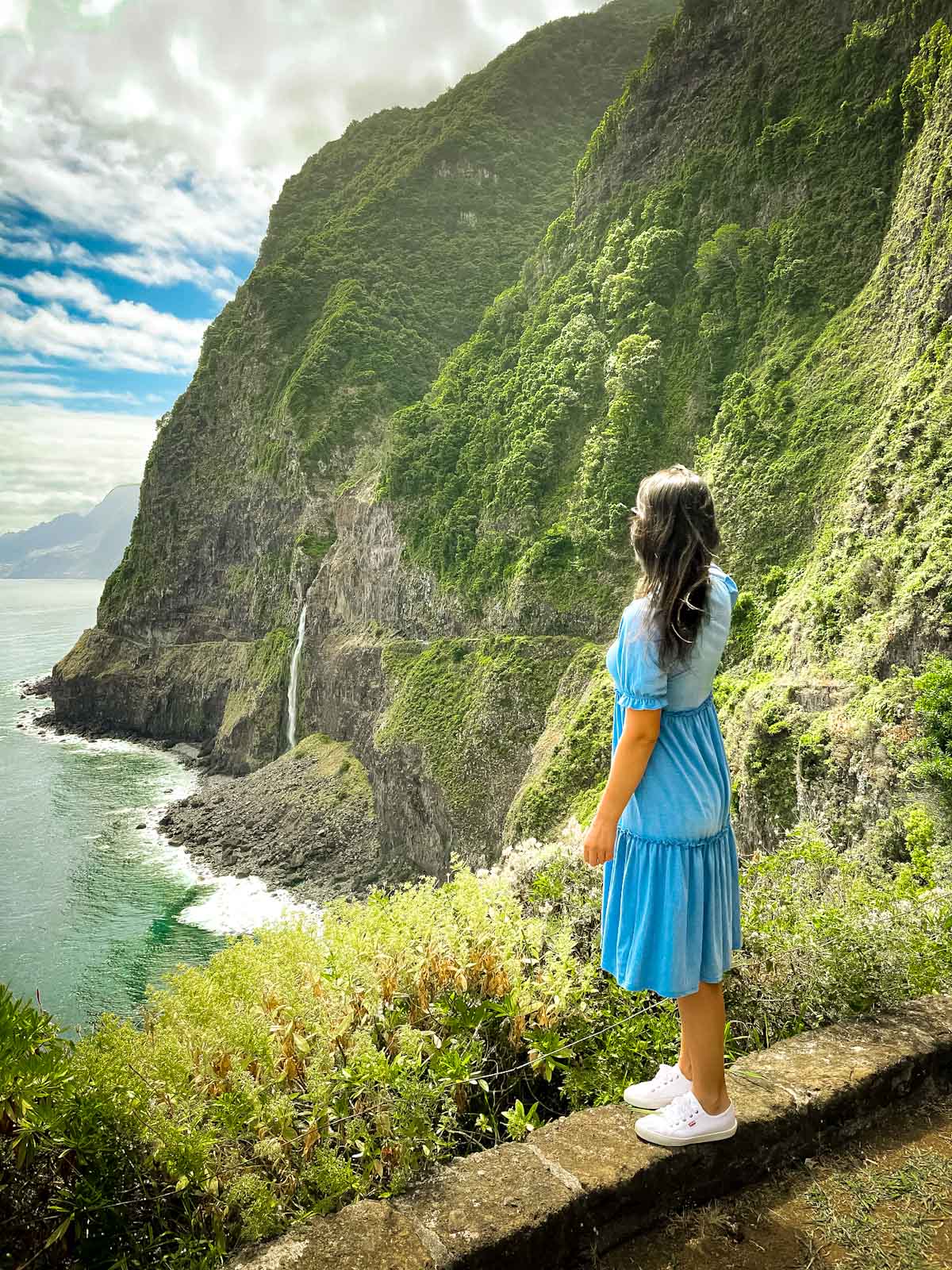 This Bridal Veil waterfall is one of the most beautiful and unique ones on the island because it falls right into the Atlantic ocean. Plus it has this typical coastline of North of Madeira around it – steep and very green cliffs.
The old road, that leads to the waterfall and in the past has been used for transportation, is now closed because it is unmaintained and because of the danger of falling rocks.
But there is a beautiful viewpoint, where you can take some photos and observe this beautiful view! Next to it is a parking lot and a souvenir shop, so this is one of the waterfalls, which is really easy to get to.
Location: OPEN MAP!
7. Guindaste viewpoint
This viewpoint on the North part of the island is one of the most famous viewpoints and one of the most beautiful ones as well. You can easily see the whole North coast of Madeira when the weather is clear.
Standing on the cliff and comparing the coastline to the ocean, you can get the actual difference between the two – how huge are the cliffs and how really high they get compared to the ocean. Plus it is very easy to get to this place and you can park your car right next to the coast.
Location: OPEN MAP!
8. Levada do Moinho – Levada Nova waterfall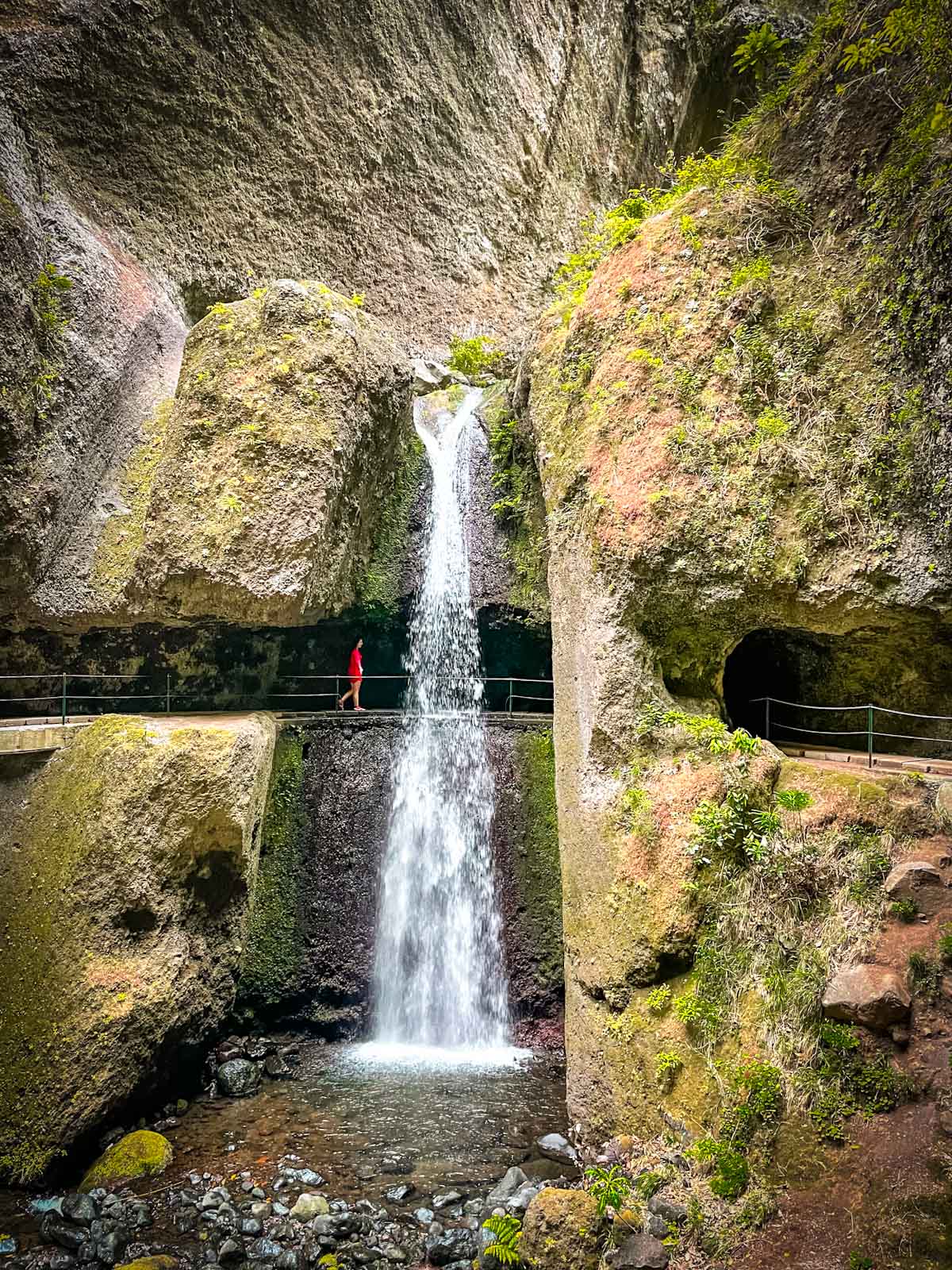 This waterfall is the highlight of the 'Levada do Moinho – Levada Nova' hiking route. Most of the trail goes by the side of a valley and you can soak in some wonderful views.
But then the part of the waterfall bends into the mountain and you will actually have to go through a tunnel that goes behind the waterfall and then it leads into the mountain, so a flashlight will be very useful!
Otherwise, it is a pretty easy hike – mostly flat with a distance of 5 kilometers one way and the same distance back. You will have to leave your car at the church HERE and then continue on foot.
Location: OPEN MAP!
9. Above Madeira: Pico do Arieiro mountain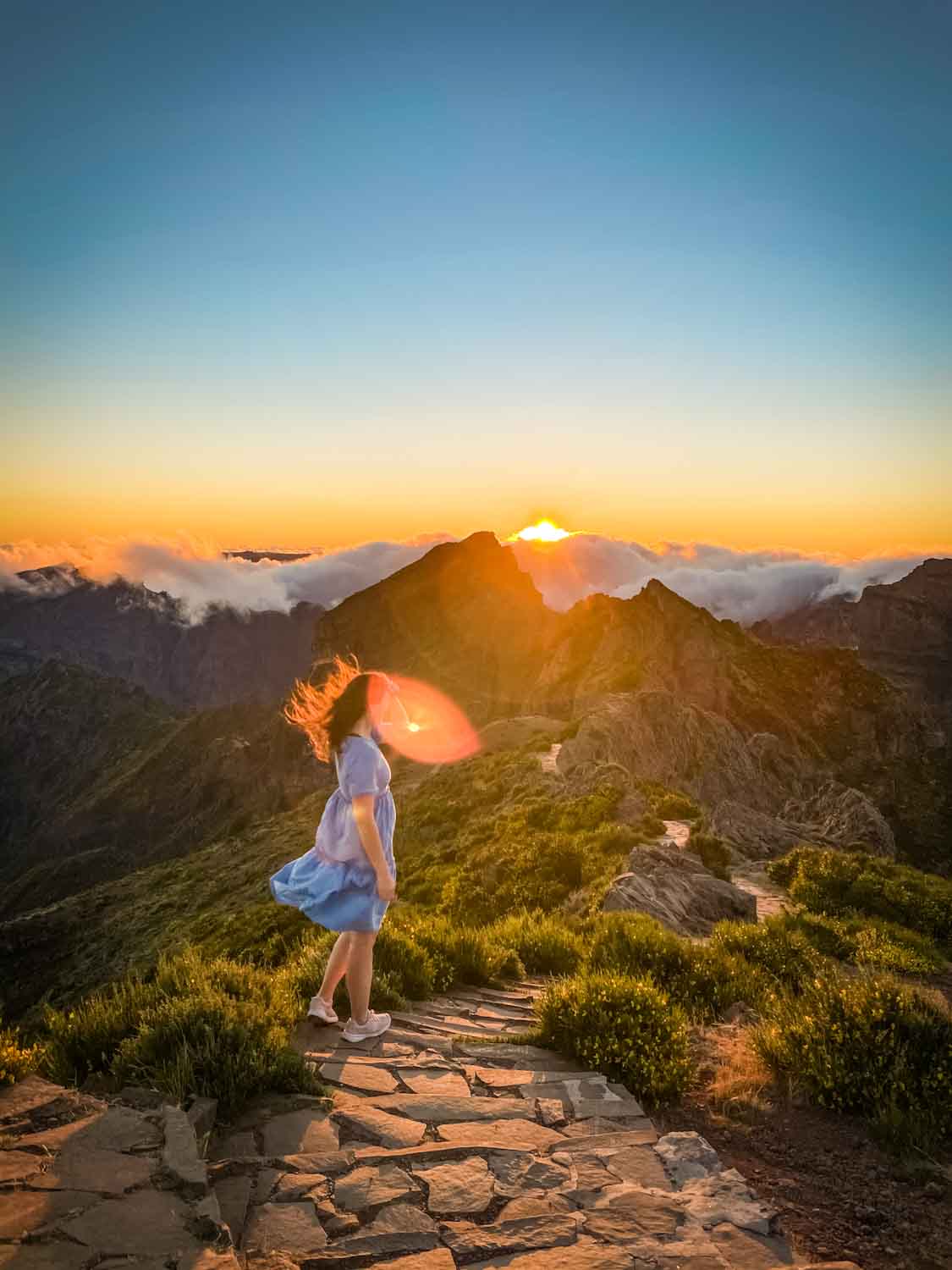 Pico do Arieiro is the third highest mountain in Madeira and the most popular one! You can drive a car to the very top of the mountain and very easily get some incredible photos of either sunrise, sunset, or just spectacular views over the mountains.
This place is also the start of the 'Pico do Arieiro-Pico Ruivo' walking route, which leads from the third highest mountain in Madeira to the highest peak and back – a very popular trail for hikers and adventure seekers!
This is a must-see spot for all visitors of Madeira! TIP! Before you go, check the weather conditions on the mountain, there is a webcam for it HERE!
Location: OPEN MAP!
10. The '25 Fontes' waterfall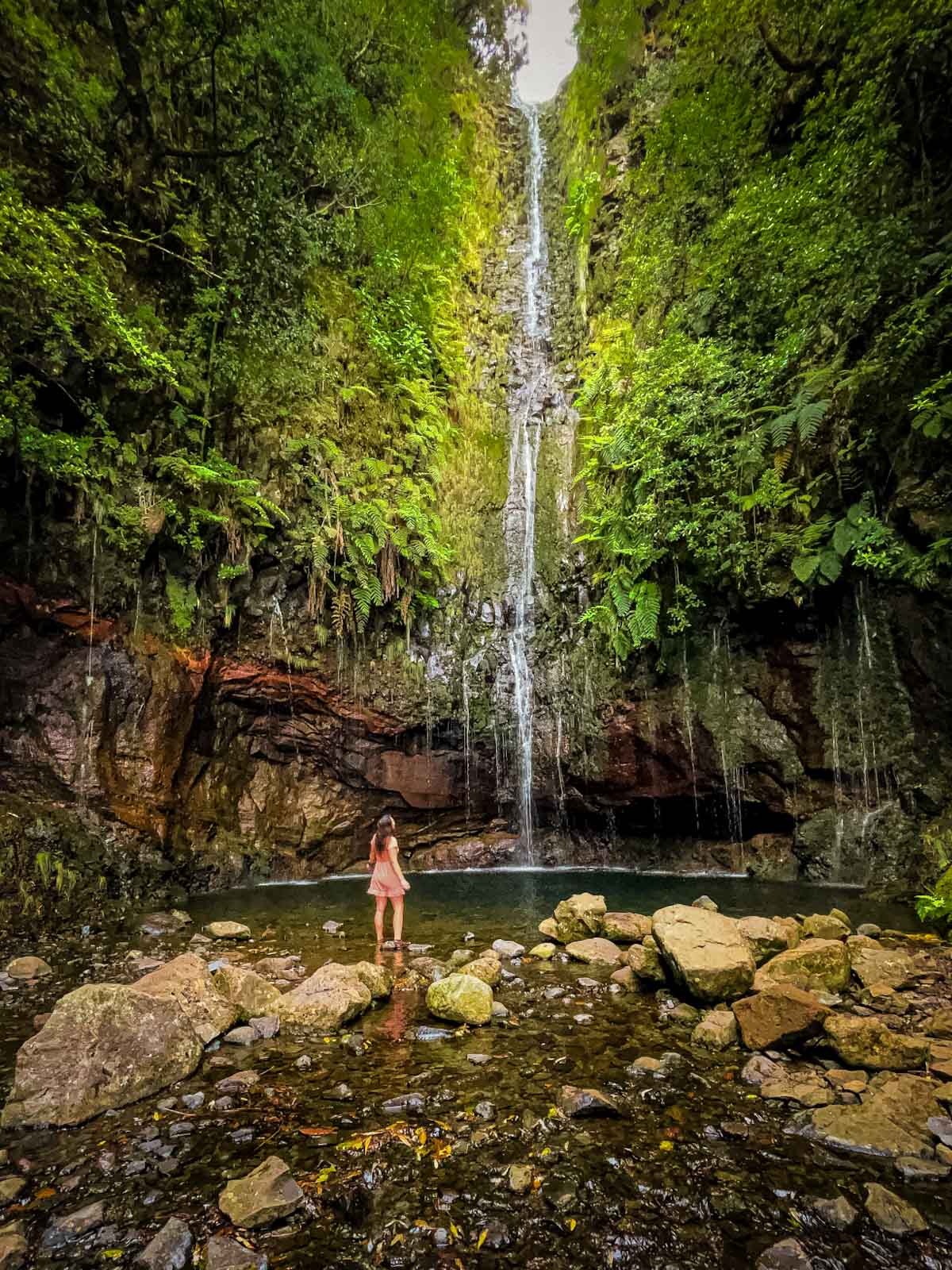 The '25 Fontes' waterfall is a unique waterfall, that consists of 25 different streams of water with a bigger one in the middle.
It is a very beautiful place in the mountains and a place to go if you like hiking and observing beautiful landscapes. On this same walking route – Levada das 25 Fontes – is another, Risco waterfall, which makes this route twice as worth going!
However, it will be a decent hike, so be ready for a couple of hours hike and take some snacks and drinks with you! You will have to leave your car in THIS parking lot uphill. Beware that this is a VERY popular hiking trail!
Location: OPEN MAP!
11. Eira do Serrado viewpoint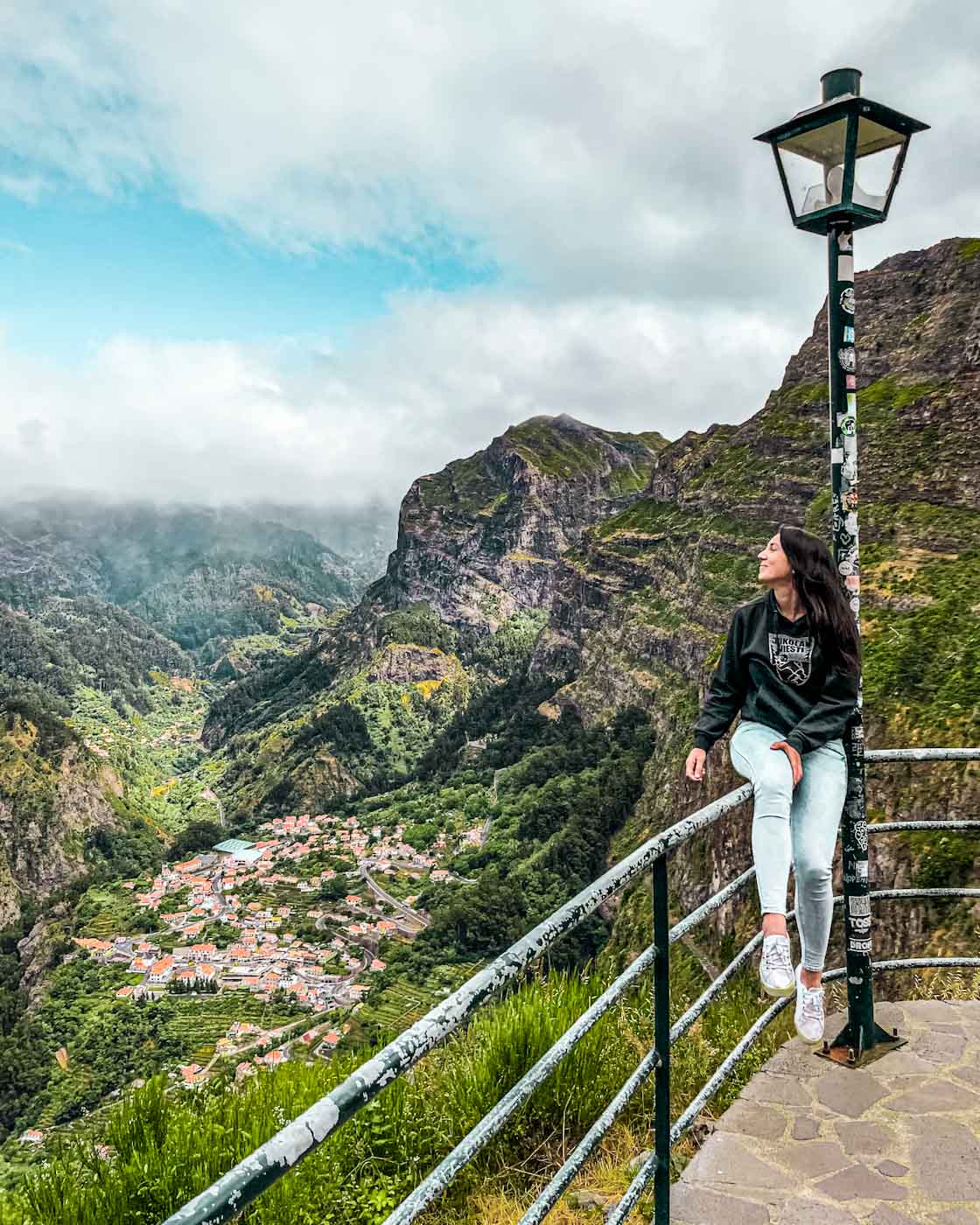 The view from Eira do Serrado viewpoint overlooking the Valley of the Nuns and a remote village, Curral das Freiras is one of the most spectacular viewpoints in Madeira. The valley is actually a crater of a volcano with the village in the middle of it.
You can drive a car to the very top of the hill, where the viewpoint is, plus there is a hotel, a cafe, and a souvenir shop. We spent a good amount of time just observing the view – it is very magical and looks like a painting!
Location: OPEN MAP!
12. Porto Moniz city with volcanic pools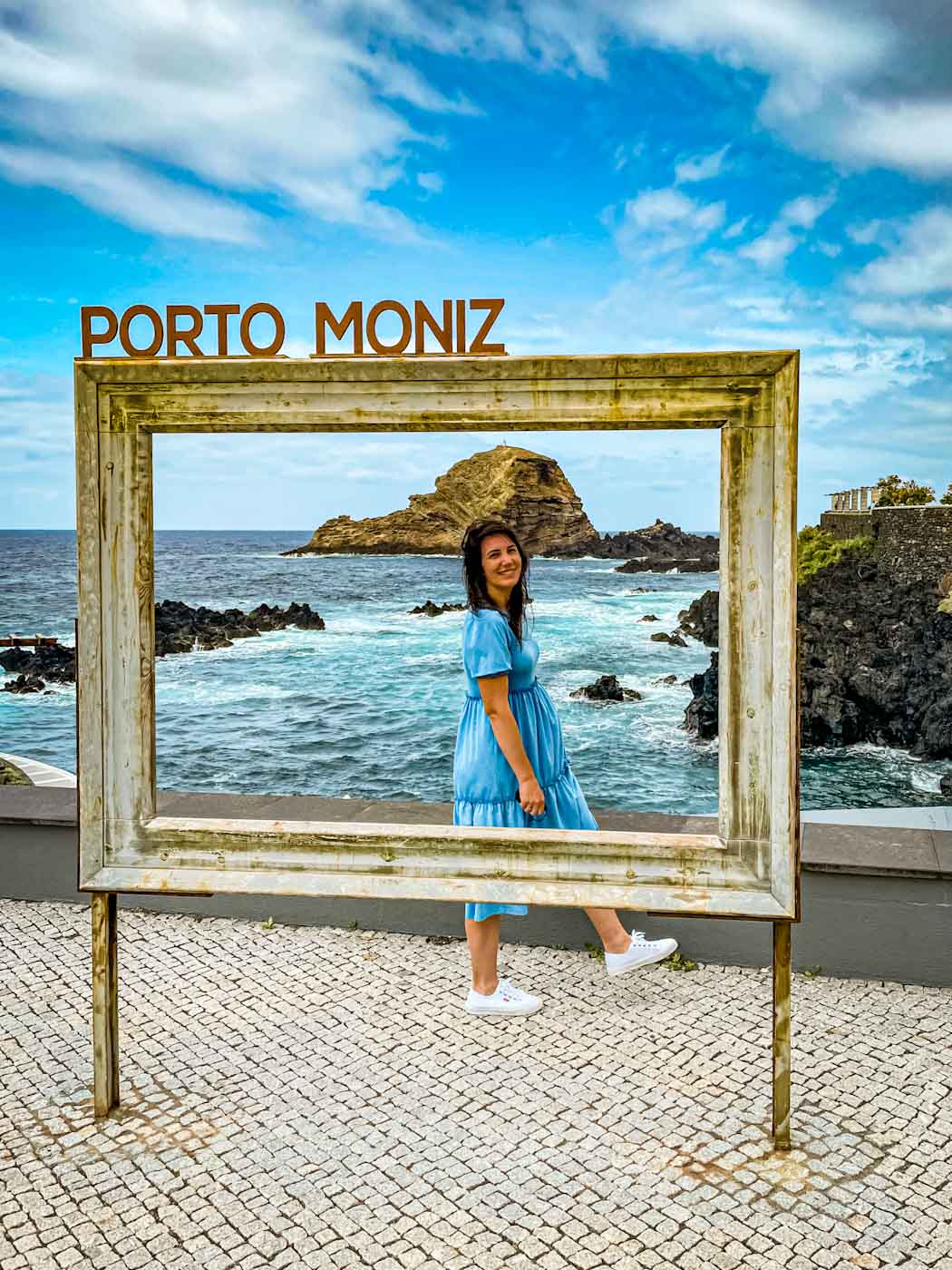 Porto Moniz town in Madeira is known for its natural volcanic swimming pools that were formed by lava coming out of a volcano and meeting the ocean, then becoming solid and forming pool-like rock formations.
The waves from the ocean filled those with water and they became an interesting place for swimming. This town is located at the Northwest corner of the island. A nice place to walk around, check out both volcanic pools and have lunch.
Location of the frame in the picture: OPEN MAP!
13. The end of Madeira: Ponta de São Lourenço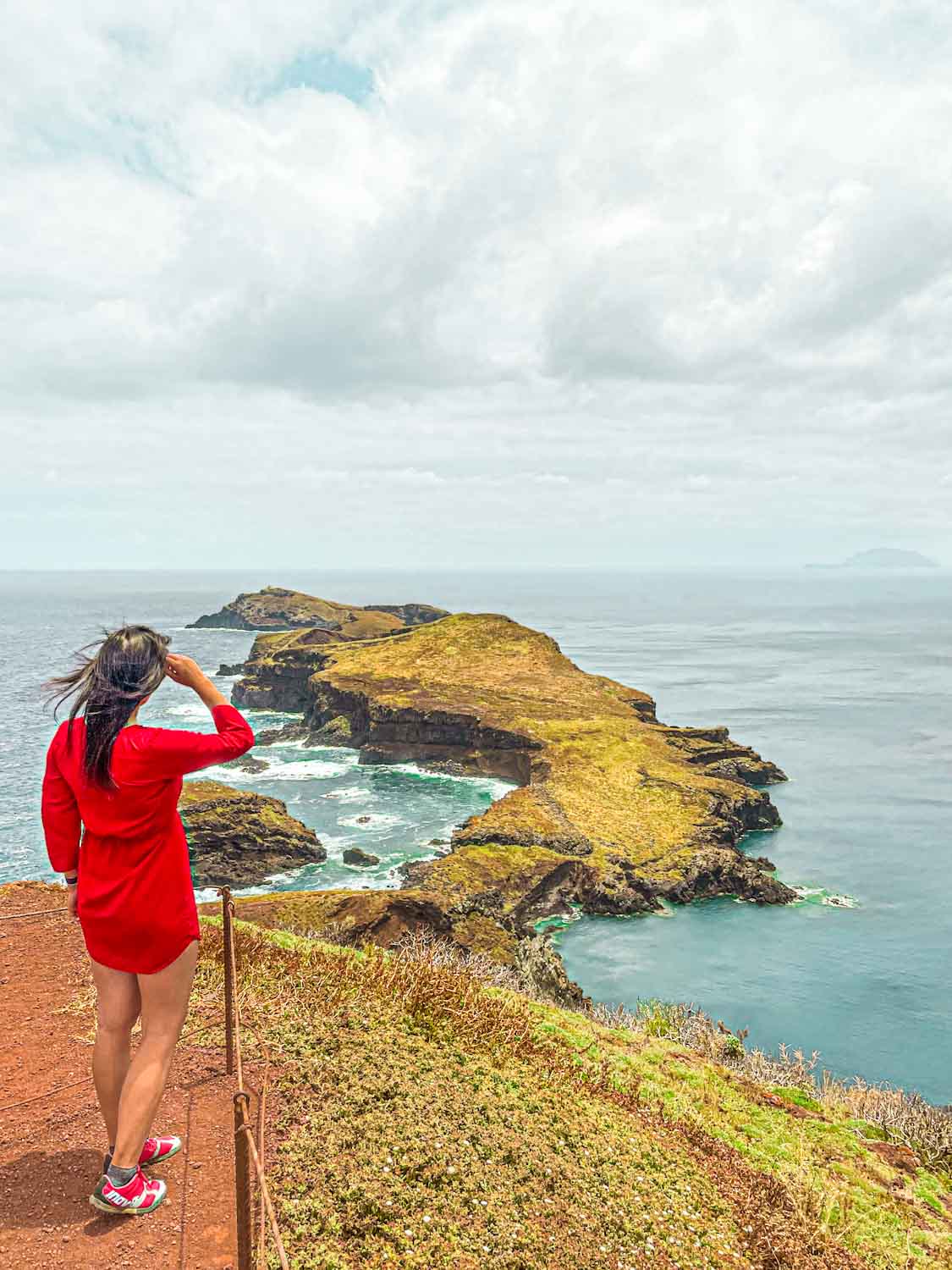 Ponta de São Lourenço is the easternmost point of Madeira. A point, where the land ends, if you could say so because there is nothing more – just an endless ocean in front of you.
If you want to visit this place, you will have to go for a 3.5-kilometer walk one way, but it will be soooo worth it! The easternmost point of Madeira is a protected area with impressive landscapes.
Typical Madeira is usually green and jungle-like, but this corner of the island does not have a single tree on it – just naked land and huge cliffs! If you have time, you have to include this walking route – Vereda da Ponta de São Lourenço – in your itinerary!
Location: OPEN MAP!
14. Risco waterfall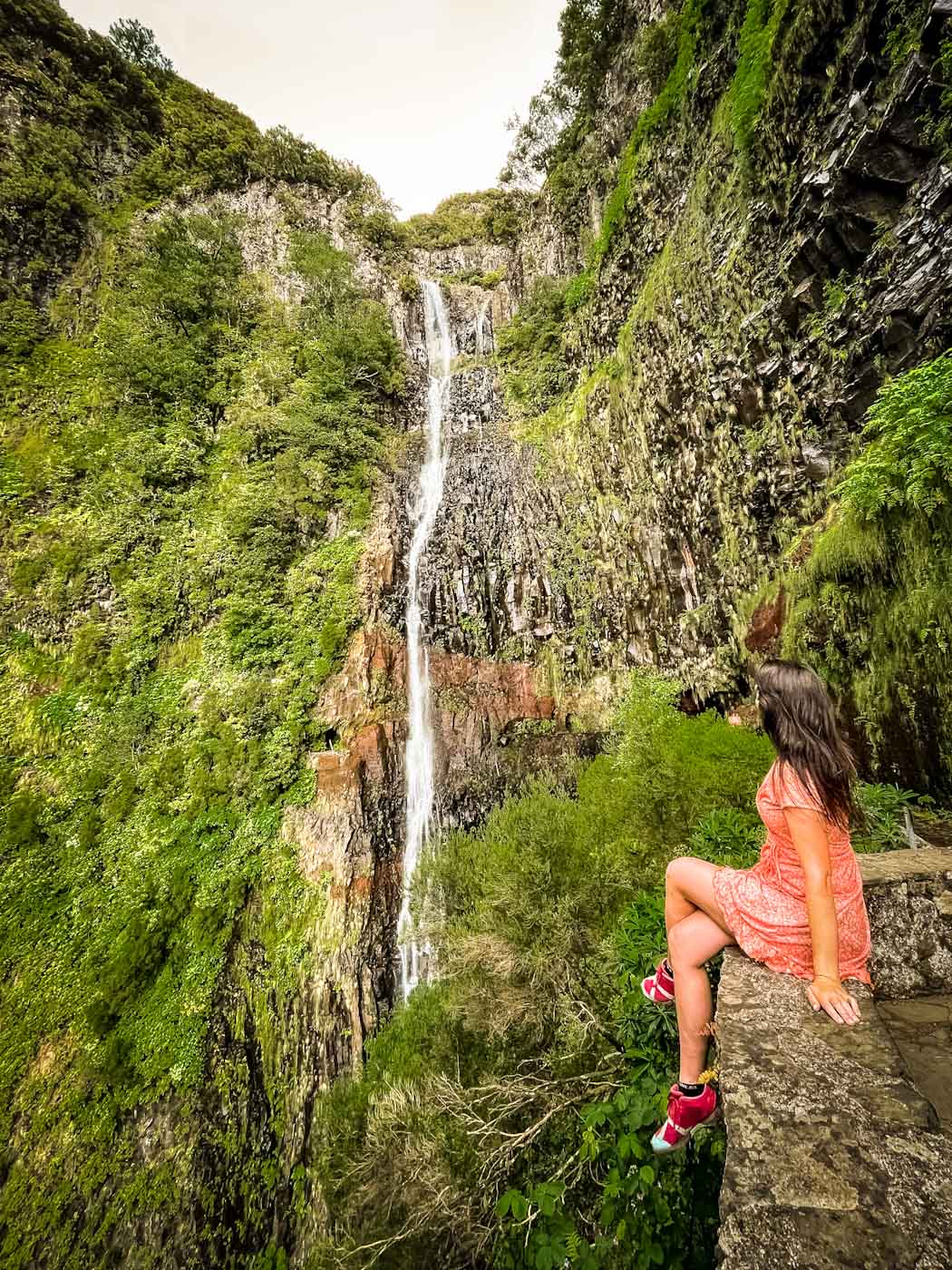 If you wish to get a photo of one of those super tall waterfalls, that are typical in Madeira, Risco waterfall could be the choice! It is located in the middle of the island, and you will have to do some hiking to get there, but not too difficult as other hiking routes.
You have to take the 'Levada das 25 Fontes' walking route and take a little detour – at one spot there will be road signs pointing to the direction of the waterfall. Go for it! It is more than 100 meters tall and looks very impressive! Sadly it did not fit in my photo!
Location: OPEN MAP!
15. Typical Madeira: Quinta do Furão viewpoint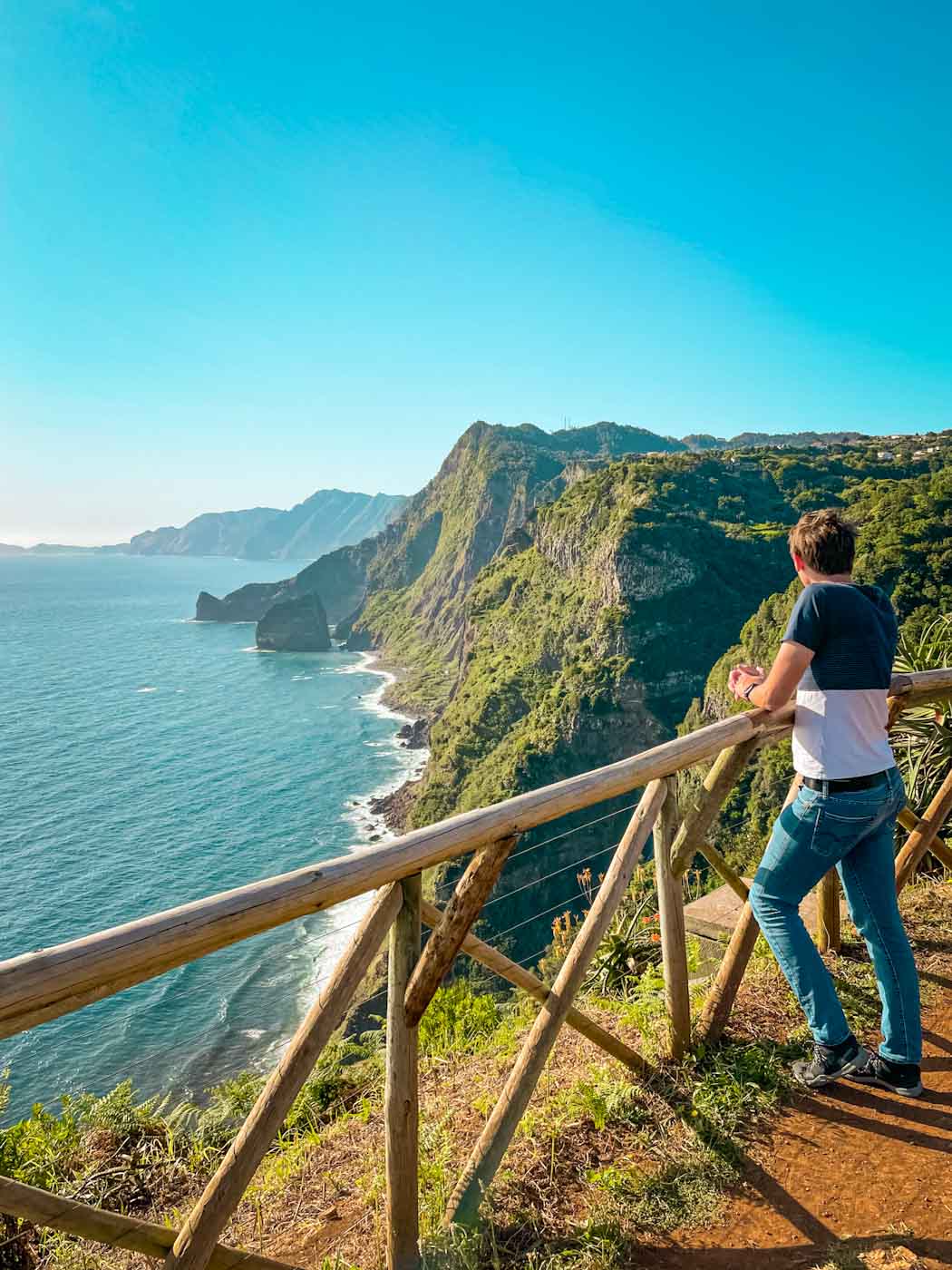 What you see in the photo is typical Madeira – very green, very steep, very sharp cliffs meeting the Atlantic ocean. This is what the North coast of the island looks like and some part of the South coast as well – maybe not that green, but still very huge and steep cliffs.
I don't know about you, but this looks just majestic! Plus, here you can see all of the coastline till the very end – Ponta de São Lourenço. Also from this spot, you can see a waterfall falling into the ocean – another typical sight in Madeira!
Sadly it did not make it into the photo. Next to this place is probably one of the most beautiful hotels on the island and its restaurant – Quinta do Furão, where you can go and have lunch with this view. It can not get too much better than this!
Location: OPEN MAP!
Happy exploring!
Madeira is an adventure island! It is made for those who love exciting things and exploring and can appreciate such things as rainy days and muddy trails – just to get to see some beautiful mountains or waterfalls.
I was a bit speechless when I first arrived on the island – how can it possibly be so wild, green, and beautiful? If you can, please, leave a comment below if there are any significant changes to anything that is written in this blog post! Many thanks!
More Madeira travel inspiration!
PIN FOR LATER!