7 famous waterfalls you have to see in Madeira
When I first arrived in Madeira, I was in shock. Apart from some parts on the Southside of the island, there was water everywhere, and I really mean it. Madeira has countless waterfalls, as well as thousands of kilometers of water canals called 'levadas' throughout the whole island, and rivers of course.
If you pay attention when driving around the North part of the island, you will always be able to see at least one waterfall. They are basically everywhere, but these are my favorite and definitely some of the most famous waterfalls on the island.
1. Cascata dos Anjos (Angels Waterfall)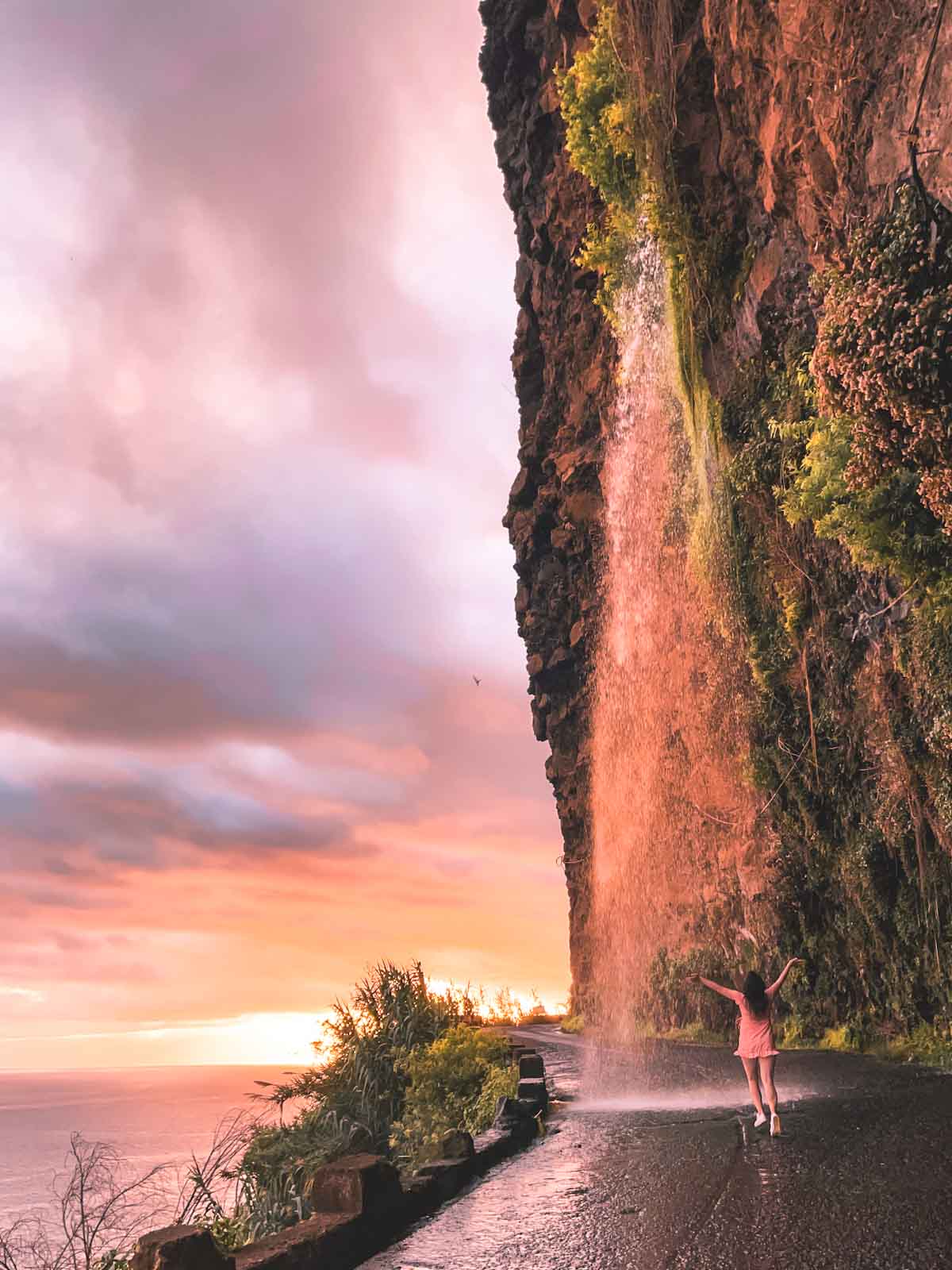 This is probably the most fun waterfall because it falls right on the road where cars are driving – a car wash for free! Everybody has fun driving a car under the water as well as running around it like happy children!
It is quite a popular one, and especially beautiful during the sunset, but you can visit it any time of the day. It is located just next to the Ponta do Sol town – just drive through a tunnel and you will arrive at the right spot. Drive slowly – there might be people on the road.
Location: OPEN MAP!
2. The '25 Fontes' waterfall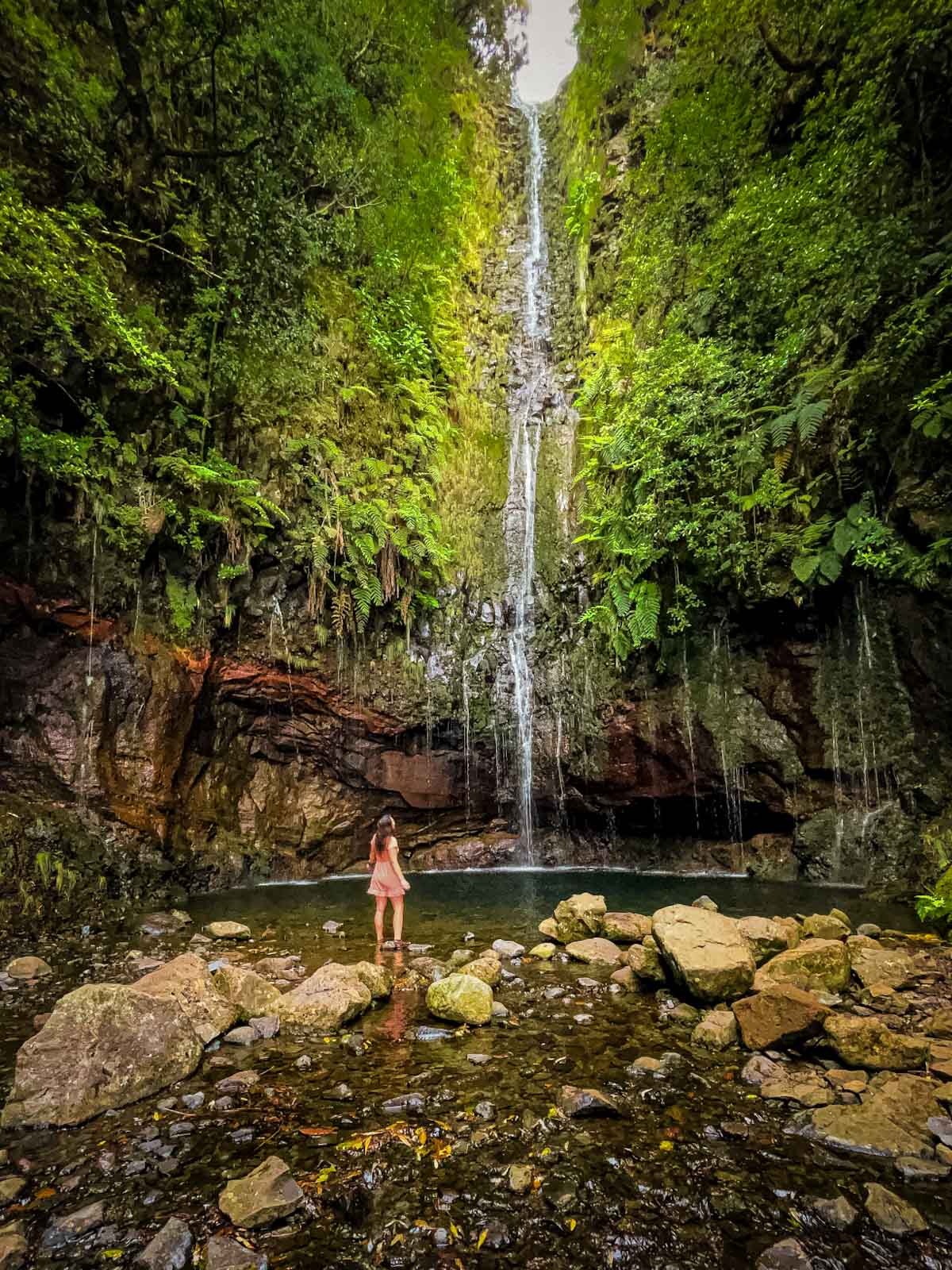 As you can probably tell from the name, this waterfall consists of 25 different streams of springs with a bigger one in the middle. I tried to count them – there are definitely 25 different places with water streams around a small pond at the bottom.
This waterfall requires a bit of a hike – leave your car in THIS parking lot and head downhill to the valley. It is about 3 kilometers away, but with some downhills and uphills, so be prepared for a decent, however very beautiful exercise.
We started walking at 6 PM in the evening in June and were the only ones at the waterfall. Of course, I used this opportunity to jump in the water and scare away some fish, hehe!
Location: OPEN MAP!
3. Véu de Noiva waterfall (Bridal Veil waterfall)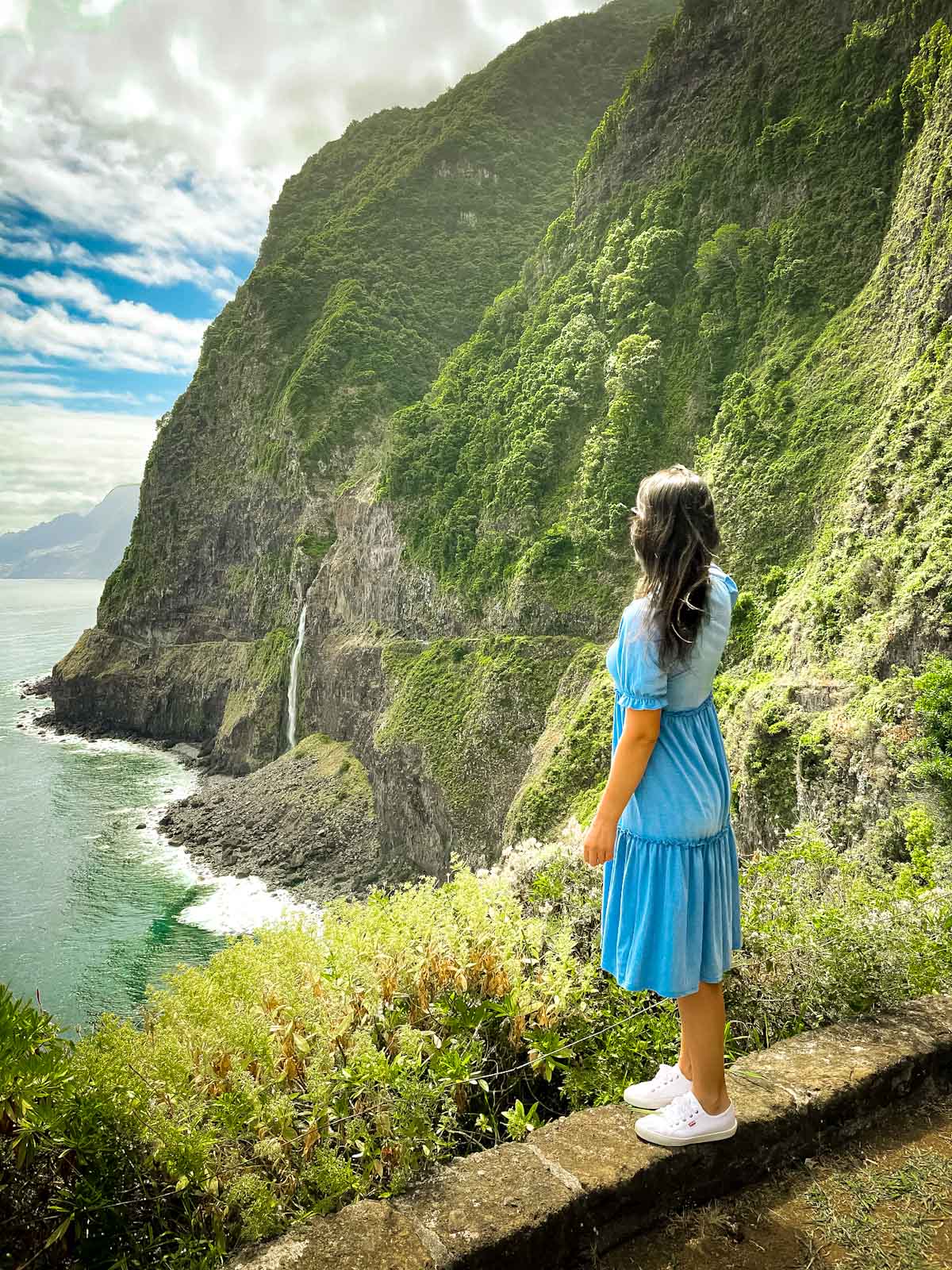 This is a beautiful and unique waterfall in the North part of Madeira, that falls into the Atlantic ocean. Although you can not get close to the waterfall due to the dangerous and unmaintained road, it is a majestic sight from afar as well.
There is a beautiful viewpoint, where you can observe and enjoy this beauty. Plus it is very easy to get to – you can park your car next to the viewpoint! Does it resemble the bridal veil? What do you think?
Location: OPEN MAP!
4. Levada do Moinho – Levada Nova waterfall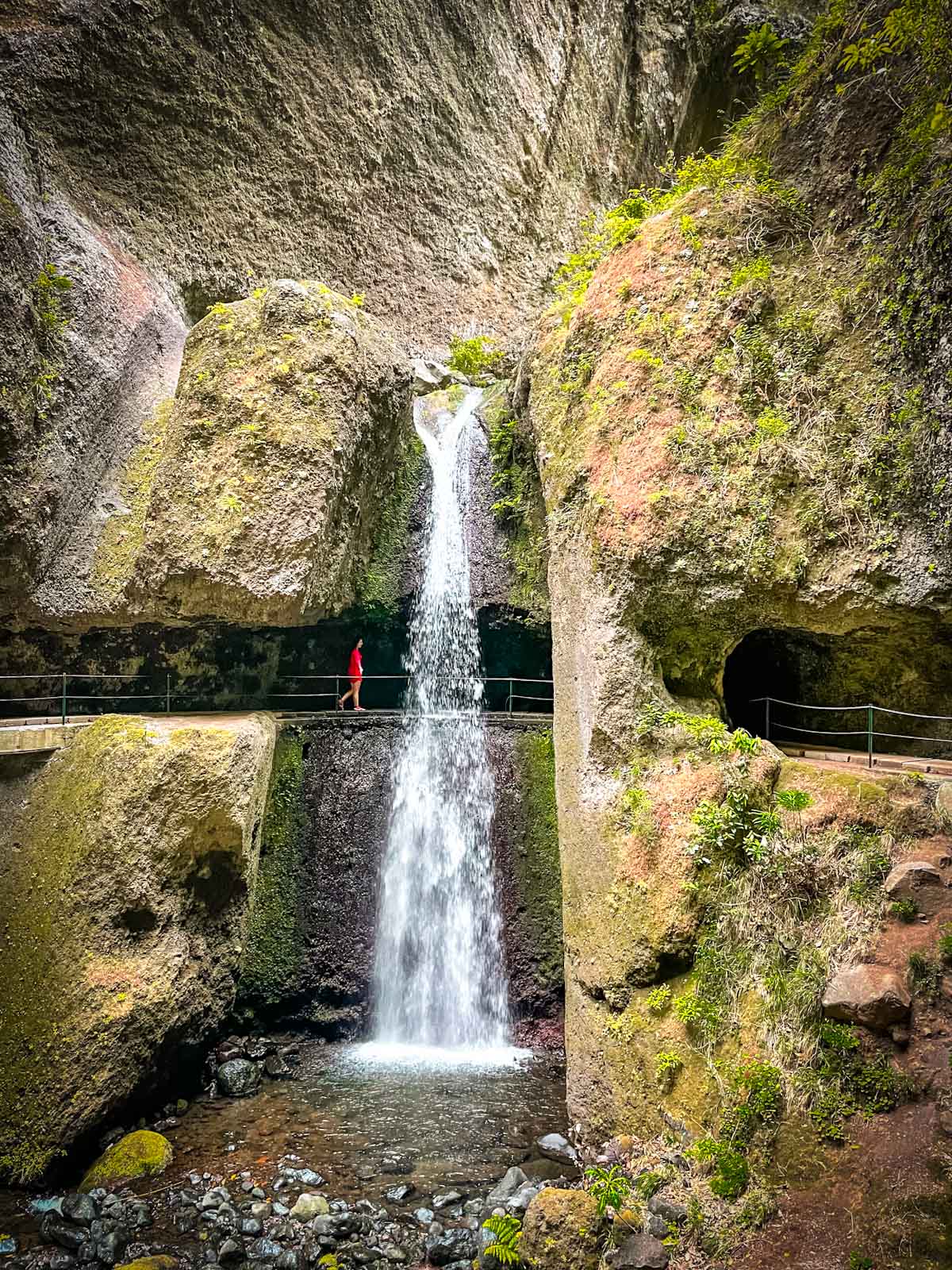 This stunning waterfall is part of the Levada do Moinho – Levada Nova walking route. It is a 5-kilometer walk in one direction and the same distance back. There is a tunnel that leads behind the waterfall for some amazing photos as well as a unique experience.
Hikers usually park the car HERE, at the church, and then continue on foot. Is a very easy hike – mostly flat and with beautiful views over the valley. This is one of my absolute favorite waterfalls on the island!
Location: OPEN MAP!
5. Risco waterfall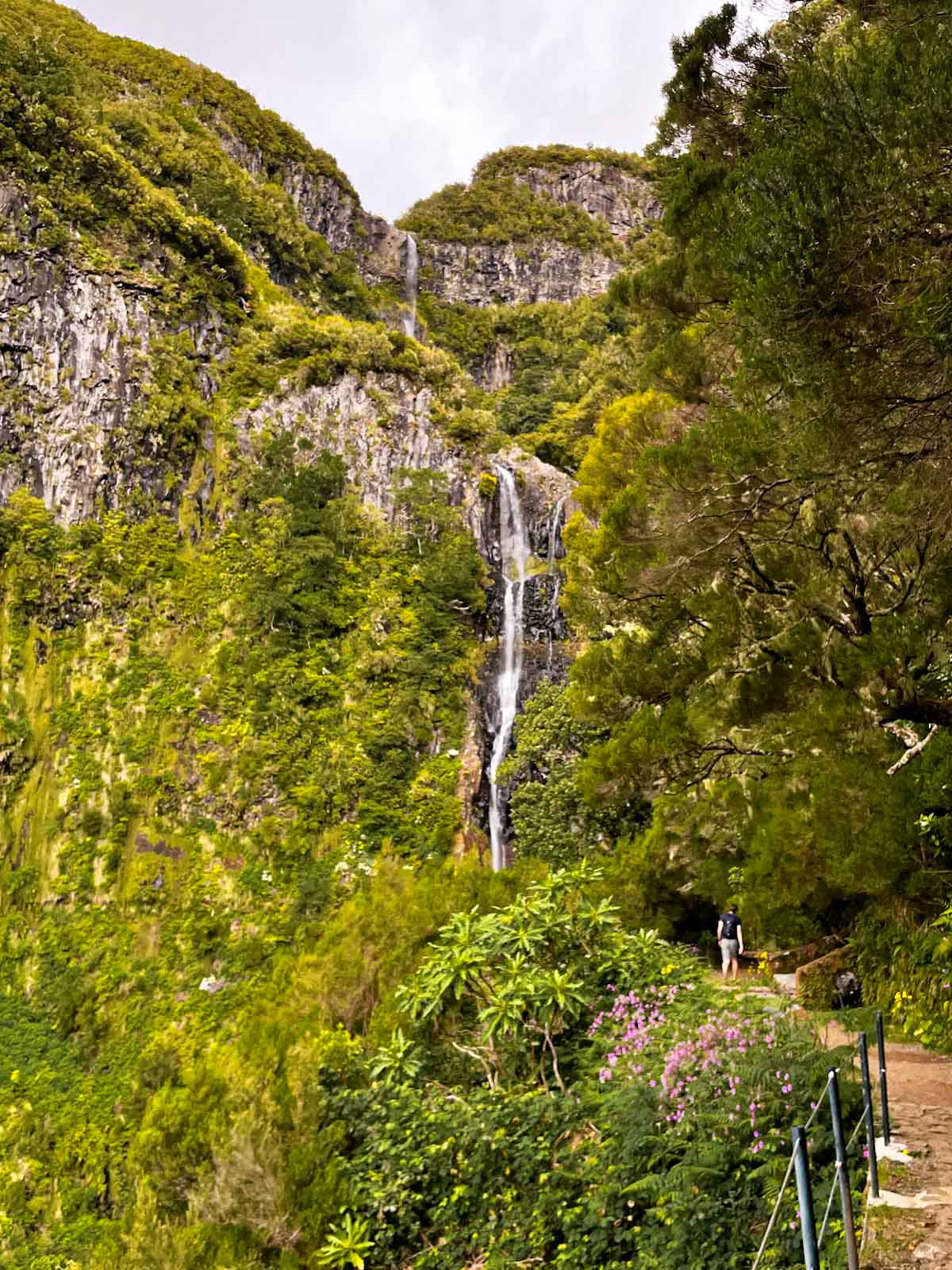 This amazing waterfall is more than 100 meters high and is located on the same walking path as the '25 Fontes' waterfall – it is just a small detour from the main path, but so worth it!
When you access the waterfall, you actually can not see the bottom of it – it is far behind the trees. It is a very majestic sight and I would definitely recommend you to visit it!
Location: OPEN MAP!
6. Caldeirão Verde waterfall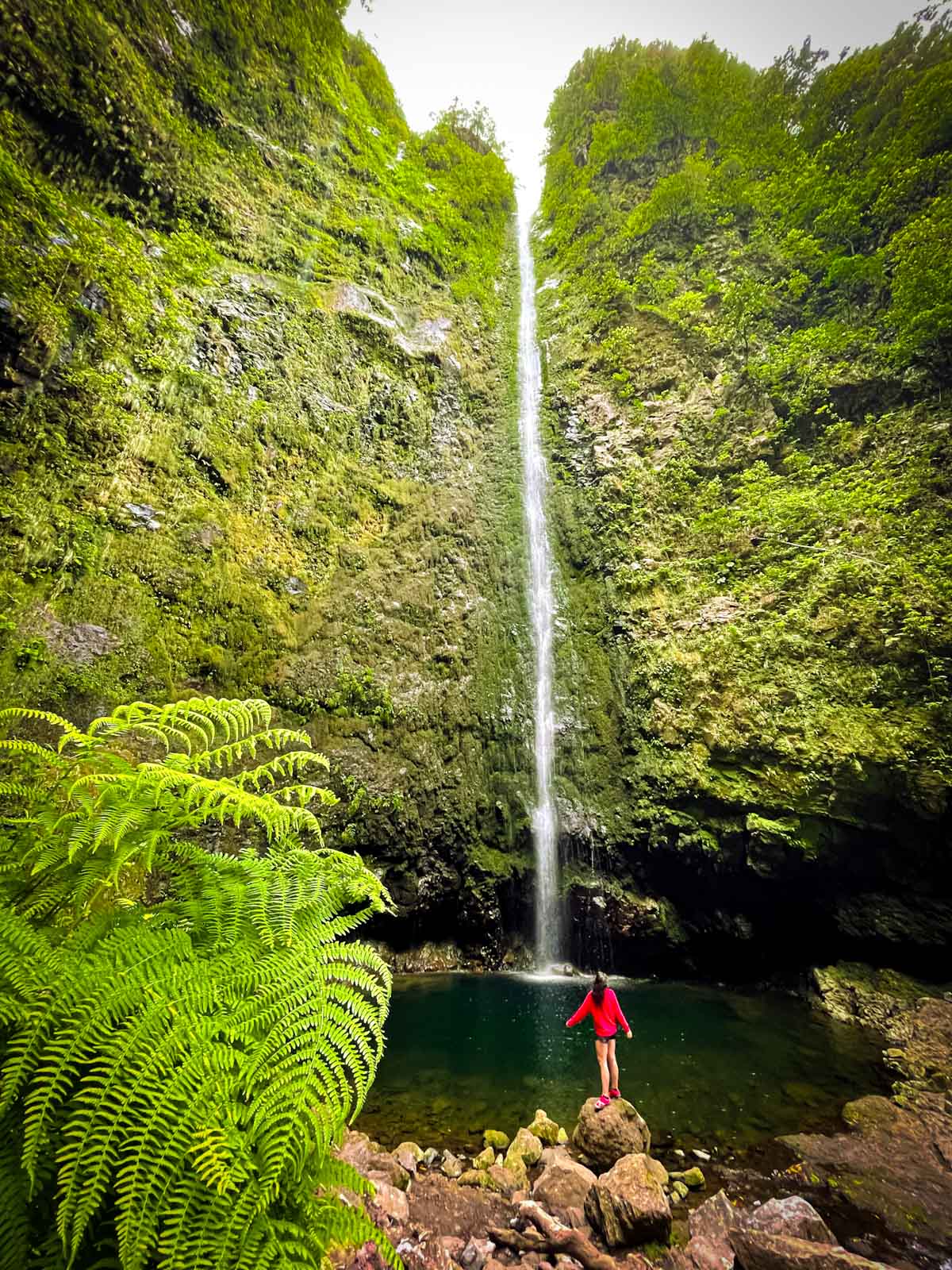 Located on one of the most popular hiking routes on the island, this 100-meter waterfall is the perfect place to have a picnic, enjoy the view and soak in the nature of Madeira.
It is a 6-kilometer hike one way, so be prepared for a long walk. There are many tunnels as well, so you will need at least your phone or a flashlight to light the way.
There is a big parking lot for a fee at the beginning of the trail, however, we came back from the trail after their working hours which is after 6 PM and nobody asked us to pay anything – the barrier was open. Remember to bring some snacks and drinks for this walk – it is a long one!
Location: OPEN MAP!
7. Garganta Funda waterfall (Deep Throat waterfall)
It may not seem like anything special, but I still think this is a beautiful waterfall during more rainy days and not during summer, when we were there.
If you happen to be in the West part of the island, I would recommend you to visit this place. It is very easy to get to and doesn't require lots of hiking like other waterfalls.
Location: OPEN MAP!
Happy exploring!
Madeira is definitely a paradise for hikers as well as for lovers of beautiful waterfalls! When you are on the Northside of the island, and drive along the coast, just pay attention to the mountains behind you.
I can almost guarantee, that you will notice some water streams going down the mountainside and leaving naked lines on the green volcanic rocks. If you can, please, leave a comment below if there are any significant changes to anything that is written in this blog post! Many thanks!
More Madeira travel inspiration!
PIN FOR LATER!