Ultimate bucket list: best places to see when driving the Ring Road in Iceland
It is very easy to travel around Iceland – just drive the famous Ring Road (road No.1) that goes around the perimeter of Iceland and that's it! You have seen basically all of Iceland!
If you have at least 2 weeks to spare in Iceland then Ring Road is the best option to see as much as possible from this beautiful country. Read more to find out how to drive the Ring Road and all the bucket list places you can visit along the way!
This post contains some affiliate links. If you use these links to buy something I may earn a small commission at no additional cost to you ♥
How to drive the Ring Road in Iceland?
The Ring Road starts at the capital city of Iceland – Reykjavik. And there are, of course, two ways to drive – either clockwise or counterclockwise around the island. I would highly, highly recommend doing it counterclockwise for two main reasons.
Firstly, almost all of the most beautiful locations you are dying to see are located in the South of Iceland. Reykjavik is located in the Southwest so you would start your trip on a high note by visiting every incredible place you have been dreaming to visit!
Secondly, these long road trips are often unpredictable and sometimes you run out of time. It means you have to cut things out of your itinerary in the final part of your trip.
You don't want to leave the South part for the end of your trip and risk cutting out a big chunk of some of the most beautiful places this country has to offer!
If you are left with extra time, you will find where to spend it! However, if you are short on time, you will regret not visiting the South part at the beginning of your trip! Trust me!
How to use this guide?
All the following bucket list places have links to Google Maps. You can click on the link, open Google Maps, and then press 'Save' on those attractions you would like to visit. Or you can save them all and sort them out later!
When you click on 'Save' you have the option to save the place in a list. You can choose to create a new list and name it 'Iceland' so that all the places you have saved on Google Maps don't mix together.
After going through this bucket list you will have a separate folder of saved places to visit in Iceland. You can also use Google Maps navigation when you are in Iceland to get to those places. And you can always read reviews of these places any time you debate whether to go or not.
Before you embark on your trip to Iceland, you may want to have a look at these Tips and Tricks for the best trip to Iceland! I wrote everything you should know before going there (especially if you are going there for the first time!). I hope you find this information useful!
Ring Road in Iceland: Bucket list places in the South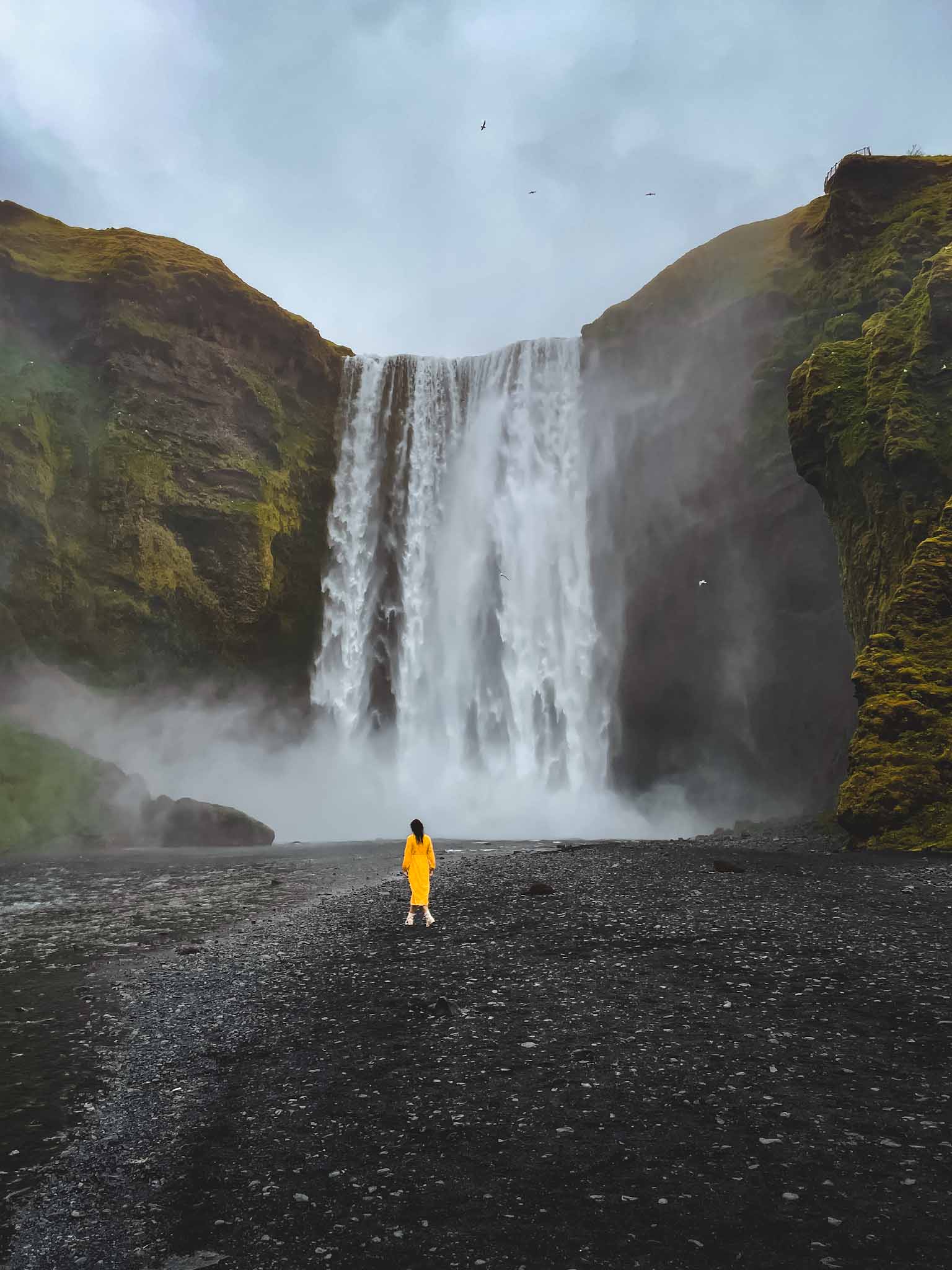 Golden Circle
The Golden Circle is a famous loop near Reykjavik with multiple tourist attractions. That is a typical route for those who don't have too many days to spend in Iceland. During this route, they will get to see at least some cool spots of this beautiful country!
The most notable spots along the Golden Circle you should stop by are the famous Thingvellir National Park, where I suggest walking till the very end called the Dead Man Walk. This is the place you can observe the tectonic plates separating. And the 'Dead Man Walk' part is the most narrow part.
Then you can go to the Kerid Crater, watch the Strokkur geyser erupt at the Geysir Hot Springs, and be impressed by the Gullfoss waterfall. If hot springs are your thing then you can consider visiting Hrunalaug Hot Spring (entrance for donations) and Reykjadalur Hot Spring Thermal River.
We also drove by the Commonwealth Farm to see the famous turf roof buildings. It is a museum, but you can observe the buildings from the outside for free.
Road to Vik village
Next up is a road trip to the East with many beautiful waterfalls. You can start with the unique Gluggafoss waterfall and continue with the famous Seljalandsfoss (the one you can walk behind).
Definitely don't skip the Gljufrabui waterfall nearby! How many other opportunities you will have to visit a waterfall inside a mountain?
Waterfall adventures continue more East with the world-famous Skogafoss and also an incredibly beautiful Kvernufoss nearby. After that, it will be a drive with an option to visit your first glacier in Iceland – the Sólheimajökull glacier.
It is very easily accessible and worth a visit! Solheimasandur Plane Wreck is the next tourist attraction if you are looking for that photo of the famous plane wreck in an empty lava field.
If not, then it is time for some impressive views, rocks, and basalt columns. You can drive up to the Dyrhólaey cliff to see the giant rock arch and the view over the Endless Black beach (you can't really get down to the beach, so the view from above is all you get!).
This is a place people usually are looking for puffins. They are famous sea birds that come to nest near the seacliffs. From the Reynisfjara viewpoint, you will see the must-visit Reynisfjara beach and the Arnardrangur cliff up close.
Then it is time for one of the most incredible places in Iceland – Reynisfjara black sand beach. It has a mountain with huge basalt column caves as well as a huge basalt column wall where you can climb on and take some impressive photos.
From the beach, you will also get e great view of the Reynisdrangar sea stacks – basalt rock formations in the ocean. Then it is time to go to Vik village.
You can drive up the hill to Vík i Myrdal Church to get a great overview of the village, the mountains, and the Reynisdrangar sea stacks. We also paid a visit to Skool Beans bus cafe – the best coffee I tasted in Iceland!
Driving to the Diamond beach and Vatnajökull National Park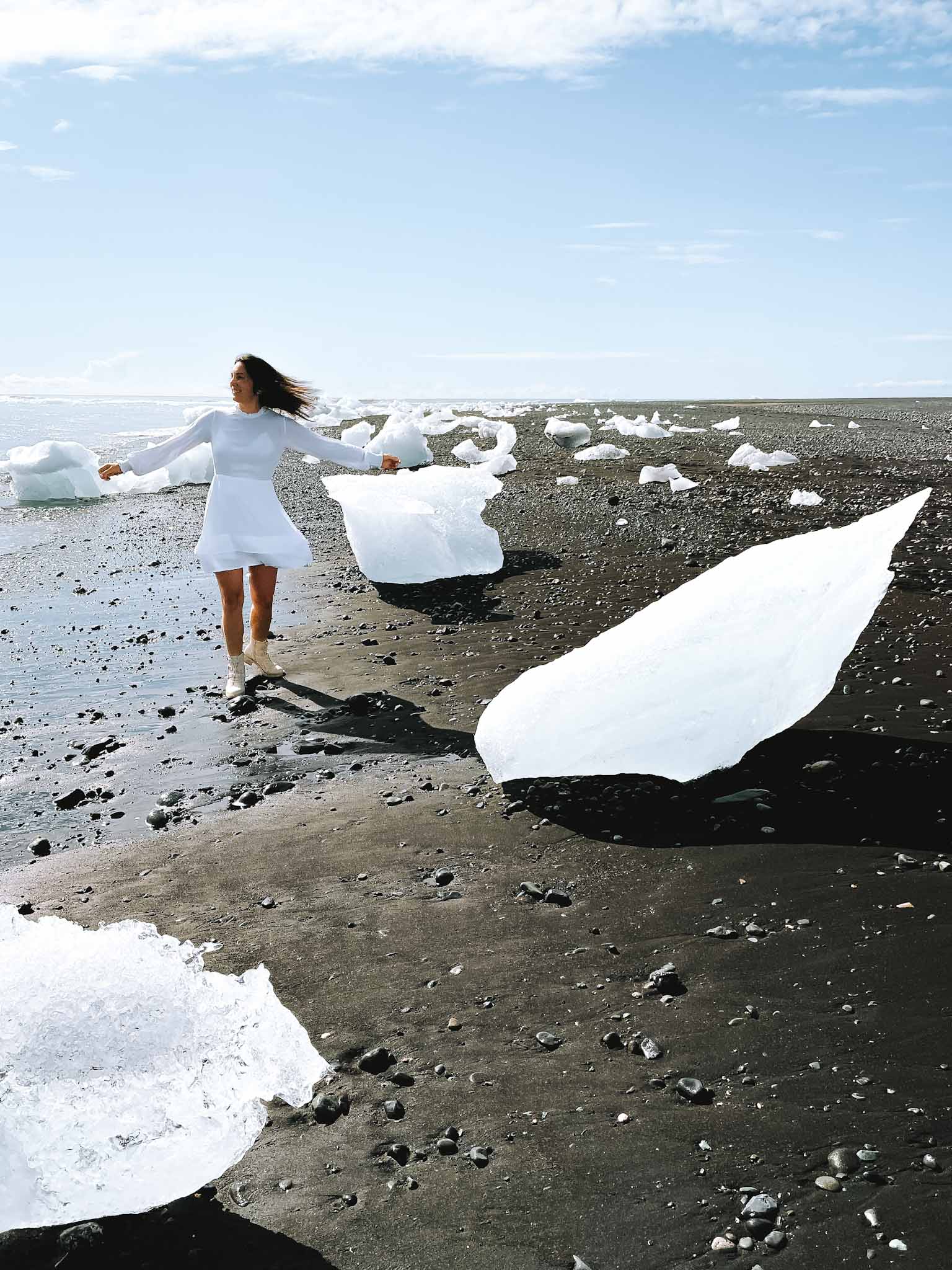 The last stretch along the South coast of Iceland includes some of the most impressive and beautiful places in Iceland. Your trip from Vik village starts with the Gígjagjá or the Yoda cave that truly looks like the Jedi Master! And it continues to Fjaðrárgljúfur – the famous canyon with the most unbelievable views!
Then it will be a longer drive to the Vatnajökull National Park. You can stop at the side of the road to take a photo of the Lómagnúpur mountain before arriving at the Skeiðará Bridge Monument and the second biggest glacier in Europe – Vatnajökull!
You have to visit the beautiful Svartifoss waterfall with the hexagonal columns behind it. And here you can enjoy different views of the glacier – you can walk up close to Skaftafell Glacier and also to Svínafellsjökull Glacier. Also, don't forget to take a look at Hvannadalshnúkur from below – it is the highest peak in Iceland!
Tip! While you are in this area, consider joining this award-winning TripAdvisor hiking tour on a glacier in an extra small group! You will be exploring moulins, crevasses, and other-worldly formations in the glaciers.
This tour differs from other glacier tours because it will drive you up close to the glacier so you have more time for walking on actual ice! All equipment necessary for hiking is included!
When you continue on the Ring Road you can drive into the Hof village to see the fairytale-like Hofskirkja turf roof church. Up next is one of my absolute favorite places in Iceland – Múlagljúfur Canyon. It is a remote and unknown canyon that is not so easy to get to, but totally worth it. How to find the canyon?
Read more HERE! Then definitely stop at the Fjallsárlón Glacier Parking to see the glacier lagoon full of broken-up glaciers. Then finish this South coast stretch at the Jökulsárlón Glacier Lagoon and the Diamond beach.
Ring Road in Iceland: Bucket list in the East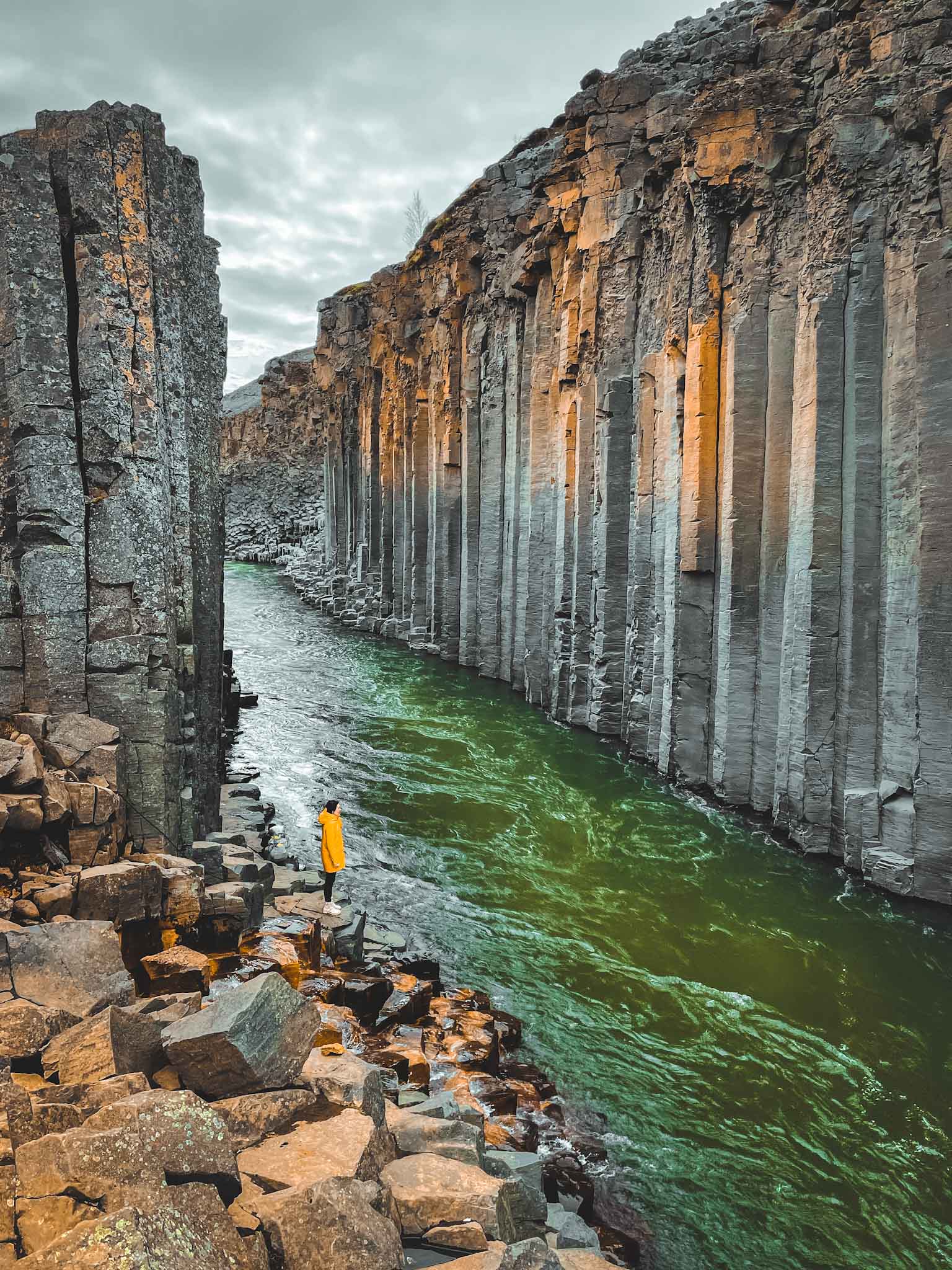 For me, everything that comes after the famous Diamond beach is considered in the East part of Iceland. The first spot you should definitely include in your Ring Road itinerary in the East is Stokksnes beach and Vestrahorn mountain.
It is a beautiful black sand lagoon with an incredibly photogenic mountain as a backdrop. To enter this private area, you have to drive to the Viking Café to buy tickets. This area also has a couple of hiking trails. They will give you a map of hiking trails together with the tickets at the Viking Café.
After that, you can continue the road trip. You can stop at this amusing Red Chair on a small hill at the side of the road before embarking on a bit longer journey up to the Northeast until you reach the town Egilsstaðir.
From here you can drive to a small and absolutely stunning village Seyðisfjörður. This small village is also featured in the movie The Secret Life of Walter Mitty.
It is located in the inner part of a fjord and is surrounded by mountains. For me, the most interesting part of this town was the famous blue church at the end of the Rainbow-colored street!
After visiting Seyðisfjörður, you will have to go back to Egilsstaðir and continue off the Ring Road to visit Hengifoss. Hengifoss is the third-highest waterfall in Iceland.
It is a demanding hike up there, but totally worth it! Hengifoss is famous for the red clay stripes pressed between the black volcanic rocks. Looks really cool.
What is even cooler – along the way to Hengifoss you will encounter another beautiful waterfall – Litlanesfoss. It is not that famous, however, it has a unique twist to it – this waterfall has the tallest basalt columns you will see in Iceland!
After visiting these beautiful waterfalls you have something special coming up next! One of the most beautiful and unbelievable places in Iceland – the Stuðlagil Canyon.
Yes, this is the place with beautiful basalt column walls and a greenish-blue water river flowing between them. This is a must-visit place in Iceland, but make sure you visit this place correctly!
If you want to get down to the water level and get these famous photos of you standing next to the river and looking at the huge basalt column walls, then you have to know how to get there. Turns out it is not possible to access the river if you go to the West side!
Although the spot in Google Maps is marked on the West side of the river, you MUST go to the East side. Don't make a mistake, because the journey to the other side will be quite long!
Read more >>> How to how find the hidden Stuðlagil Canyon in Iceland?
Ring Road in Iceland: Bucket list places in the North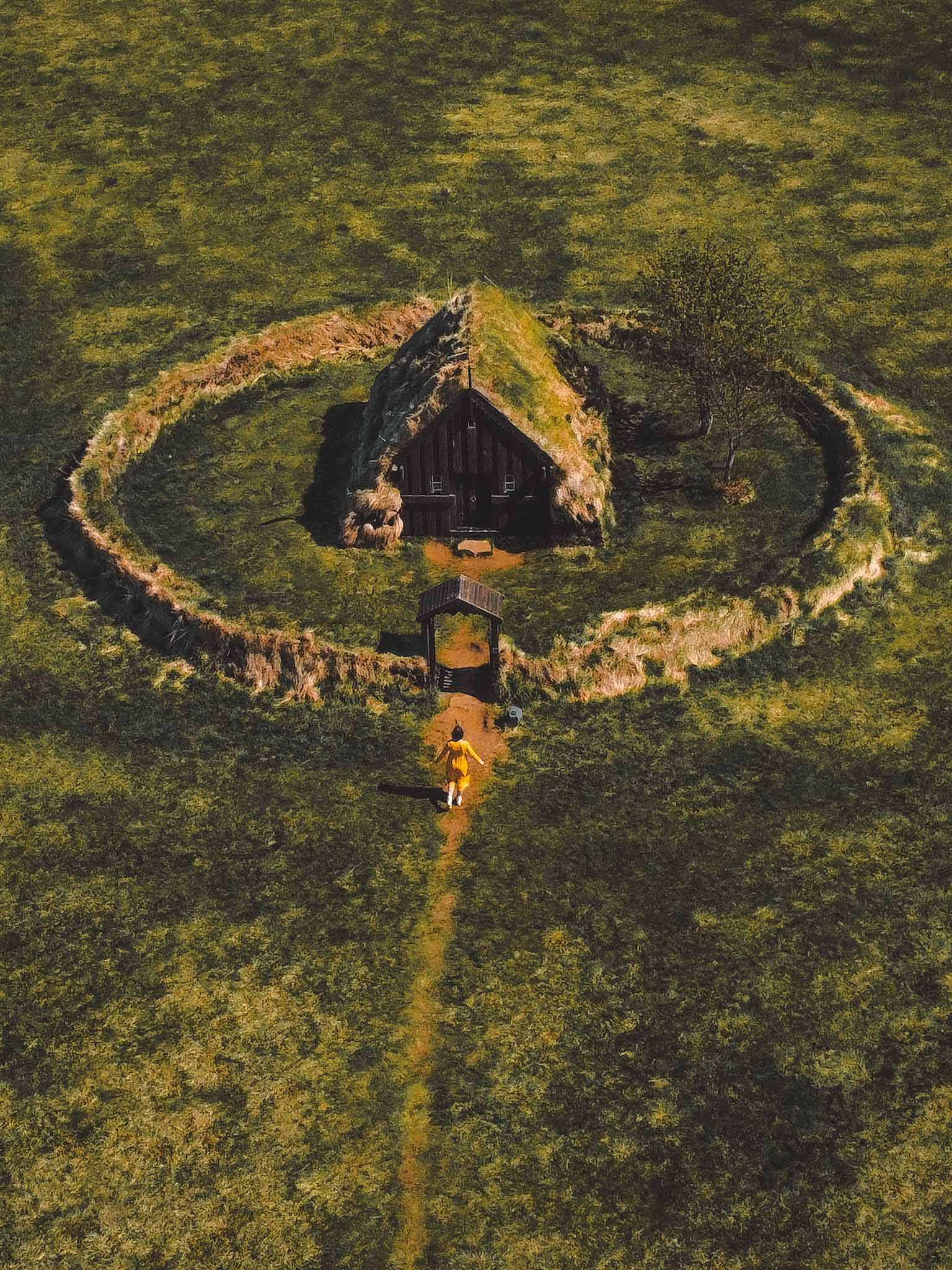 After visiting the canyon you will continue to the North of Iceland. And you will be met with two options again. Option one is to take a detour on road No.85 and travel to the very North of Iceland – actually the most Northern part of mainland Iceland.
Along the road, you can visit such a unique place as Raudanes Point with incredible coastal rock formations, and then drive to one of the furthest and remotest villages in Iceland – Raufarhöfn – to see the Arctic Henge.
It is a man-made sundial made of 6-meter-tall stone arches. After that, you should head back to the Ring Road again through road No.864.
If you are not ready to spend time on extra detours, then continue on the Ring Road in the direction of Myvatn lake. First, you can visit the famous Dettifoss and Selfoss waterfalls. Dettifoss is the second most powerful waterfall in Europe, so don't skip them!
Then you will arrive at the Myvatn lake area where you have multiple objects to visit. You can drive up to Krafla volcano crater to see the beautiful blue crater lake. Then, walk around Hverir geothermal area and see the earth in action with fuming holes and mud pots.
After that, take a plunge at Mývatn Nature Baths (for a fee), climb up to Hverfjall black volcano, or visit the famous Grjótagjá cave from The Game of Thrones.
After visiting the Myvatn lake area you can continue the Ring Road up until the very impressive Goðafoss waterfall. That is the last stop before getting to the second largest city in Iceland – Akureyri.
It is a beautiful city where you can stop for some grocery shopping, go to a nice cafe, or walk along the promenade. Then you have only two unique spots left in the North.
The first one is Grafarkirkja – the oldest church in Iceland. And the second one is Hvitserkur – a 15-meter-tall basalt rock formation in the ocean that resembles an animal. I thought it looks like a rhino or a wild boar, haha!
Ring Road in Iceland: Bucket list places in the West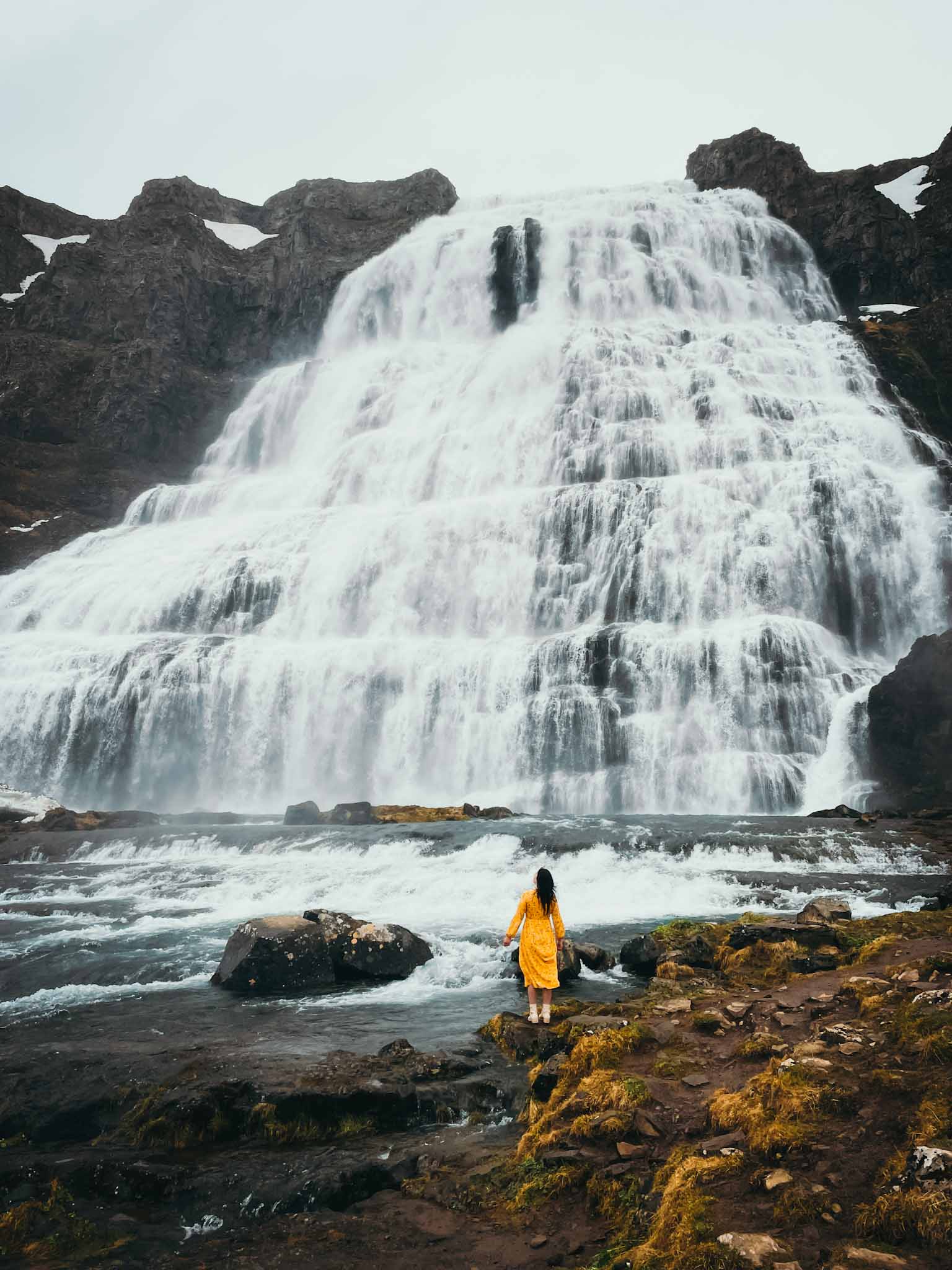 Westfjords
Now you are entering the West side of Iceland and it is decision time again. Usually, the Ring Road doesn't include the Westfjords – a remote peninsula in the West of Iceland. Maybe because there aren't too many impressive places to see.
Or maybe because the roads are slow, there will even be some gravel roads, but the distances are big, so it will be a loooot of driving. If you decide to skip the Westfjords, you can drive straight to the Snæfellsnes peninsula.
We couldn't miss the Westfjords, so we went for it! Westfjords are full of hot springs where you can take a dip in the hot wild 'jacuzzis'. Some of them are maintained like the Pottarnir á Drangsnesi jacuzzis out in the open air.
They only ask for donations to help maintain them. There are toilets, showers, and changing facilities available across the street. They change the water every day, so it is a great option to relax away from the busy world.
You can surf through Google Maps to find other places to enjoy geothermal water – just look for 'hot pot', 'hot spring', or 'geothermal' and read some reviews!
Other places to visit in the Westfjords include the Dynjandi waterfall – one of the most beautiful and impressive waterfalls in Iceland!
You can also stop at the Garðar BA 64 shipwreck as well as visit the famous red sand beach – Rauðisandur Beach. I would recommend going there during the low tide to see more of it because it is mostly covered by water during high tide.
There are other white-sand and red-sand beaches nearby – Örlygshöfn Beach, Golden Beach Tungurif, and Breiðavík Beach are the most notable ones.
Snæfellsnes peninsula
Next up you have one of the most visited areas in Iceland – the Snæfellsnes peninsula. It is near Reykjavik so it gets included in many itineraries even for those travelers who have come to Iceland for a shorter time.
The most prominent spots you can visit in this peninsula include Kirkjufell Mountain and Kirkjufellsfoss waterfall – one of the most photographed mountains in Iceland.
Also Ingjaldshólskirkja church on a mountain, Lóndrangar coastal rock formations, Arnarstapi village with beautiful coastal rock formations and stone bridges, Rauðfeldsgjá Gorge as well as the famous black church Búðakirkja.
Road to Reykjavik
After visiting the Snæfellsnes peninsula the road trip continues in the direction of Reykjavik and Reykjanes Peninsula – the one where the capital city is located. But there are some spots you can and you should stop by along the way.
One of them is the famous Glymur waterfall – it is a gorgeous 198-meter-tall waterfall inside a canyon. It was once considered the highest waterfall in Iceland until recently a bit higher one was discovered.
If you are not ready for such a hike, you can stop by Thorufoss waterfall – it is a small but very beautiful waterfall and another filming location for The Game of Thrones.
Then the road trip has led you back to Reykjavik. Definitely spend some time exploring Reykjavik – it is not a big city so you don't need much time to explore it. Hallgrimskirkja church – the symbol of Iceland is the place you should not miss in Reykjavik!
Other places you can visit in Reykjanes peninsula include geothermal SPAs like Blue Lagoon and Sky Lagoon if you are up for a relaxing dip in geothermal waters as well as the so-called Bridge Between Continents. And this is how it ends! Now you have done a full circle (and some more!) around Iceland!
Happy exploring!
In my opinion, Iceland is THAT country everyone should visit once in their lives! It is full of magical and unbelievable nature spots and places you won't really see anywhere else on Planet Earth! I hope this information helps you in any way to prepare for your trip to this one-of-a-kind country! Happy exploring!
PIN FOR LATER!