7 famous places to see basalt columns in Iceland
Basalt columns in Iceland are a celebrity around there! Almost all the tourists who come to Iceland want to see this unique natural phenomenon with their own eyes! And rightly so!
It looks quite incredible that something that once was liquid lava could form these perfect hexagonal-shaped basalt columns. Here are 7 easy places you can go to see the famous basalt columns in Iceland!
Read more >>> 5 beautiful beaches to visit in Iceland
1. Reynisfjara black beach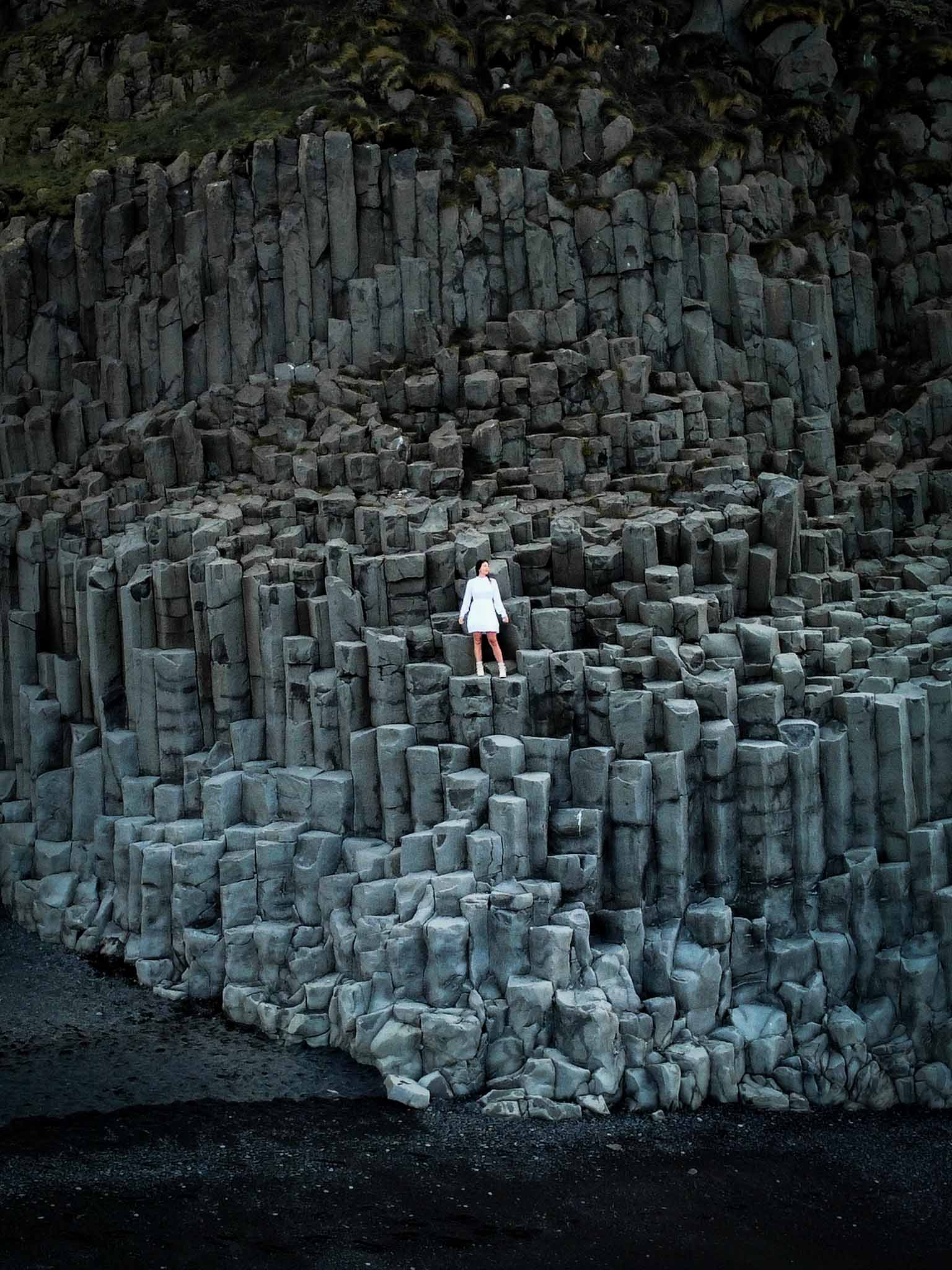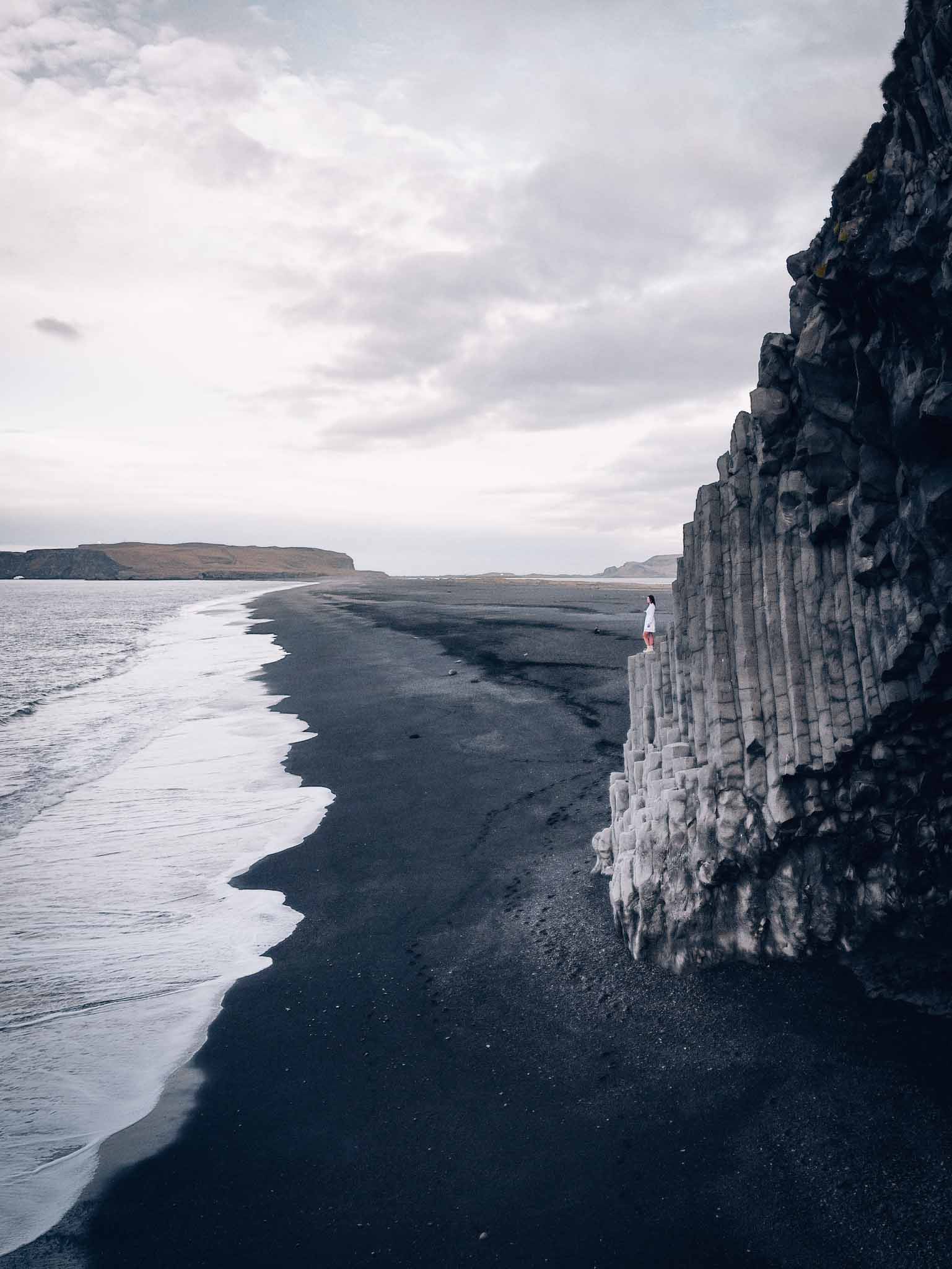 Reynisfjara Beach is probably one of the most popular places in Iceland and for a good reason! It was also one of my favorite places to see! This beach is famous for its black sand and the huge basalt column wall at the shores of the ocean.
This wall is easy to climb and is an amazing place for photos. Black sand, dark grey basalt columns, and a wild ocean is the perfect recipe for a dramatic photo!
Now, you should know that this beach can get very crowded. There is a lot of place for everybody on the basalt columns, but if you crave a photo without anybody else, I would strongly suggest arriving early in the morning.
There might be some other tourists or photographers, but you will definitely have more opportunities for a great photo. Don't forget to include Reynisdrangar rocks in your photos as well!
Location: Reynisfjara beach · Parking lot · Reynisdrangar rocks · Basalt columns
Read more >>> 5 beautiful beaches to visit in Iceland
2. Reynisfjara cave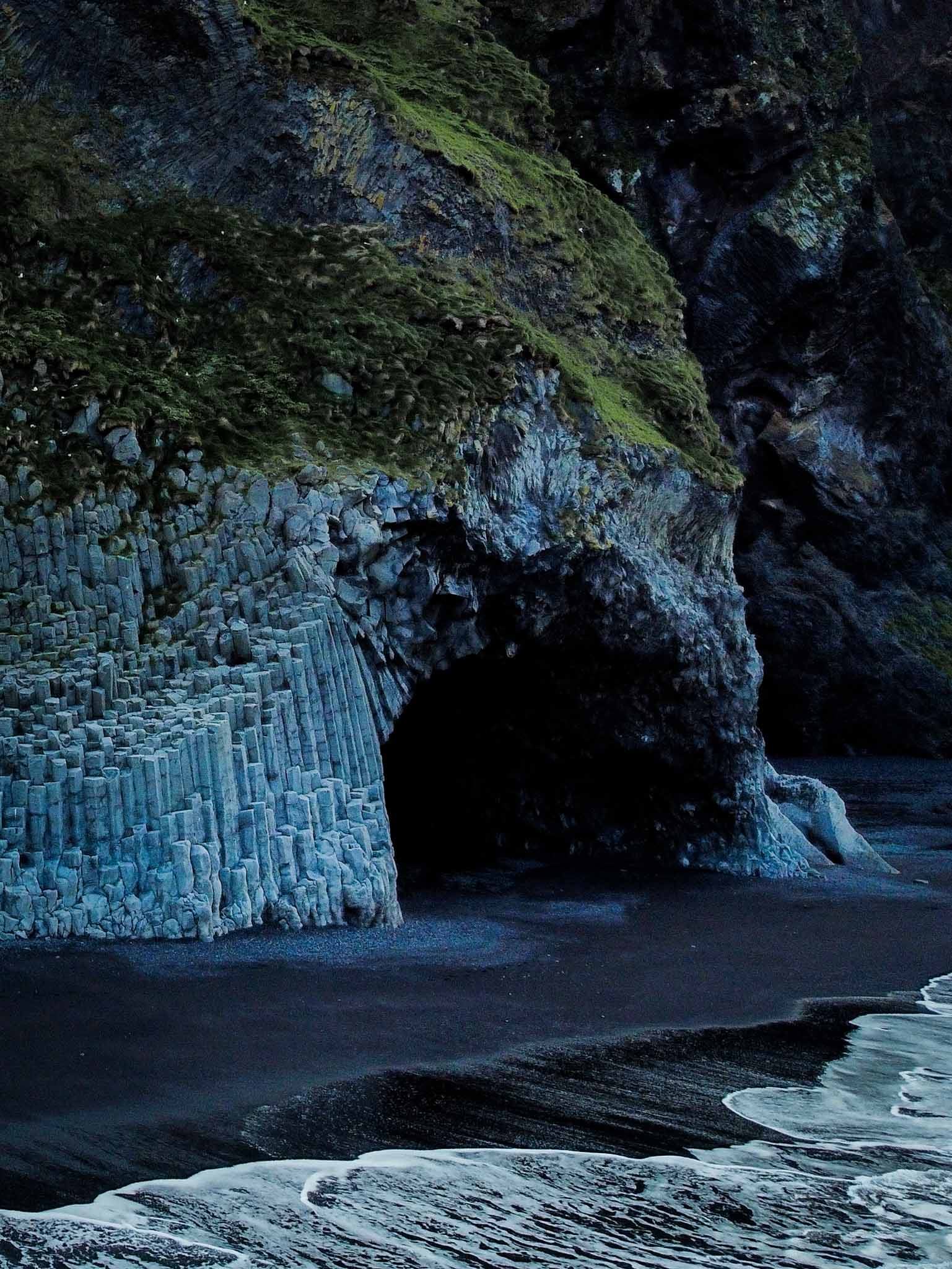 There is one more corner of Reynisfjara beach you should check out! There is a big cave with basalt column walls – you can find it if you go past the corner of the mountain along the seashore.
Now, because the ocean is a bit wild here and the waves may be dangerous (there are warning signs about the 'sneaker waves' – bigger waves every once in a while that have pulled people inside the ocean) I would recommend going there during low tide to be safer.
To be fair – there are two big caves at Reynisfjara beach. One is called the Hálsanefshellir cave and you will see it immediately when you get closer to the beach. It is located more inland on the dry side of the beach.
The other basalt column cave is located around the corner further along the beach, and it is much deeper and more interesting as you can walk deep inside it and be under the basalt column mountain.
Many people come to the beach, see the first basalt column wall, see the first cave, get scared of the waves and leave. However, I recommend walking along the beach to see the cave and the views of the Reynisdrangar rocks. If the weather allows it!
Location: Reynisfjara cave · Hálsanefshellir cave
3. Stuðlagil canyon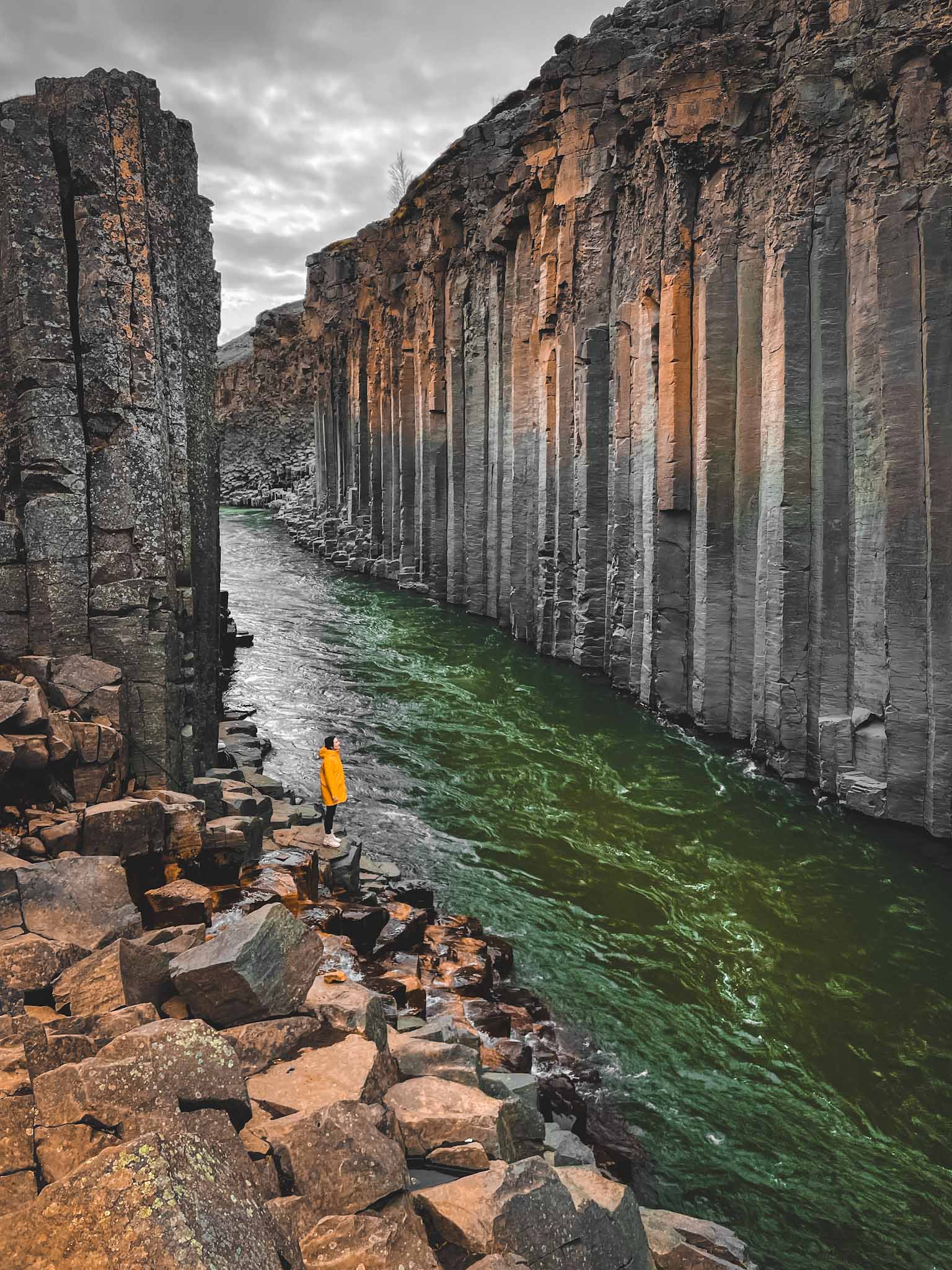 You have probably seen pictures of the Studlagil Canyon around the internet. I think this is one of the most picturesque places in Iceland and one of the most famous places to see the basalt columns in Iceland!
Actually – this is the place in Iceland with the most amount of basalt columns. It has become quite popular among tourists. The most important thing you should know is that you can get down to the water level only from the East side of the canyon.
The West side has a viewing platform above the cliff, but you can't get down and get nice pictures. To get there, first, you have to drive along a gravel road until the East side parking lot, then you have to drive across the bridge, turn right, and continue on the dirt road for 2 more kilometers.
The real parking lot is here. The road is bumpy, but we drove slowly and got to the end! From the parking lot, you can only continue on foot. There is private property, however, it is allowed to walk the road to the canyon.
Those will be another 2 kilometers on foot until you reach the real spot. You won't miss it as it stands out very well. Make sure to get down to the river to see everything up close! It is quite a sight!
Location: Studlagil Canyon · Parking lot · Photo location
4. Stuðlagil waterfall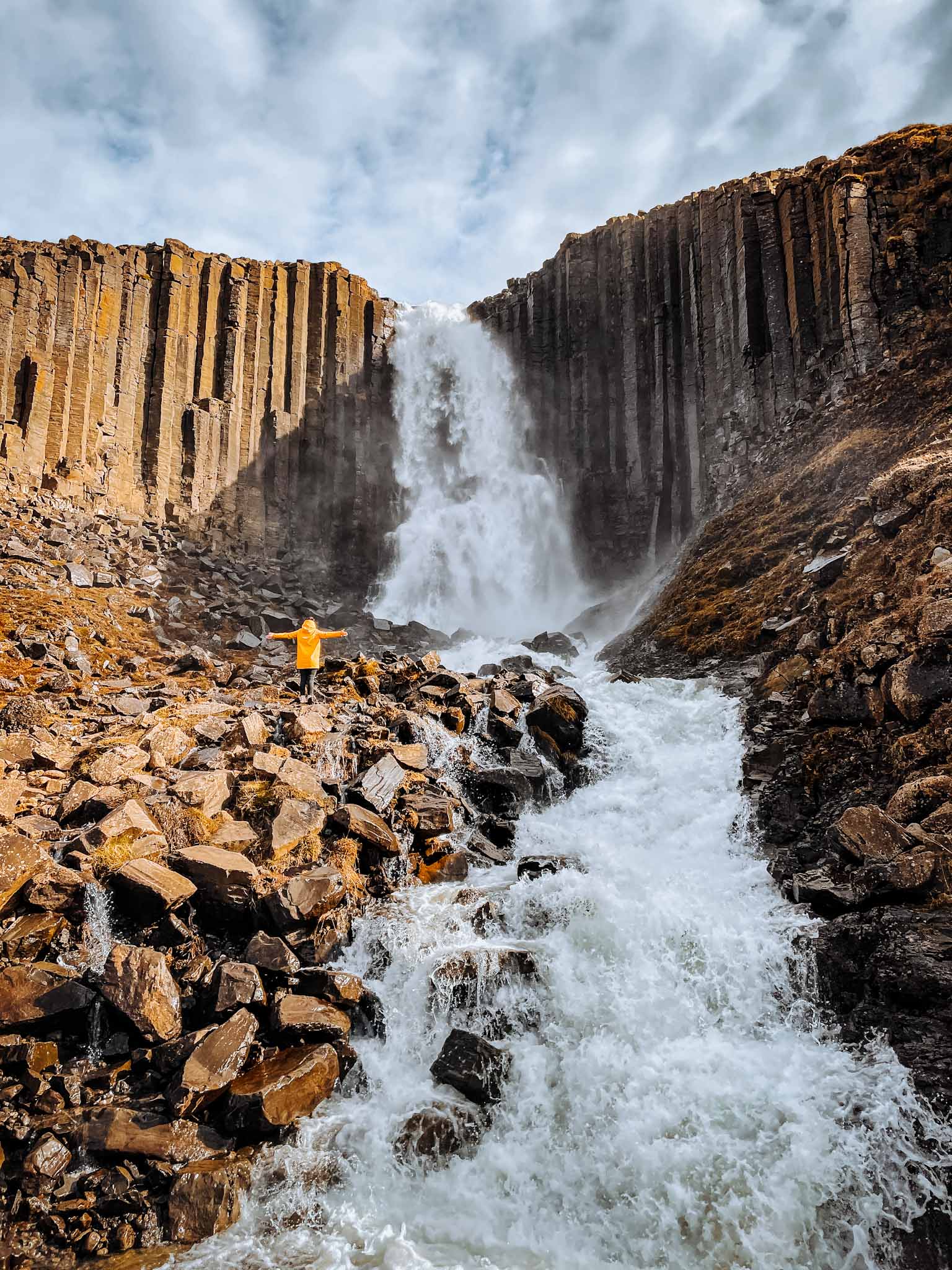 There is nothing better when you can combine visiting one place with another beautiful tourist attraction nearby! Luckily, the hassle of getting to Stuðlagil Canyon pays off beautifully. Why?
Because there is a huge waterfall along the way to the canyon and it is located just a few meters from the 'real' parking lot where you leave your car to further continue on foot.
The waterfall is quite high and – unsurprisingly – it has these beautiful and famous basalt columns all around it! The waterfall allows you to get very close to it and explore the basalt columns.
Make sure to use this opportunity to see them, because other basalt column waterfalls are not so accessible. Or they have become so popular that there are signs around them forbidding to get closer to them.
Location: Stuðlagil waterfall · Parking lot
5. Svartifoss waterfall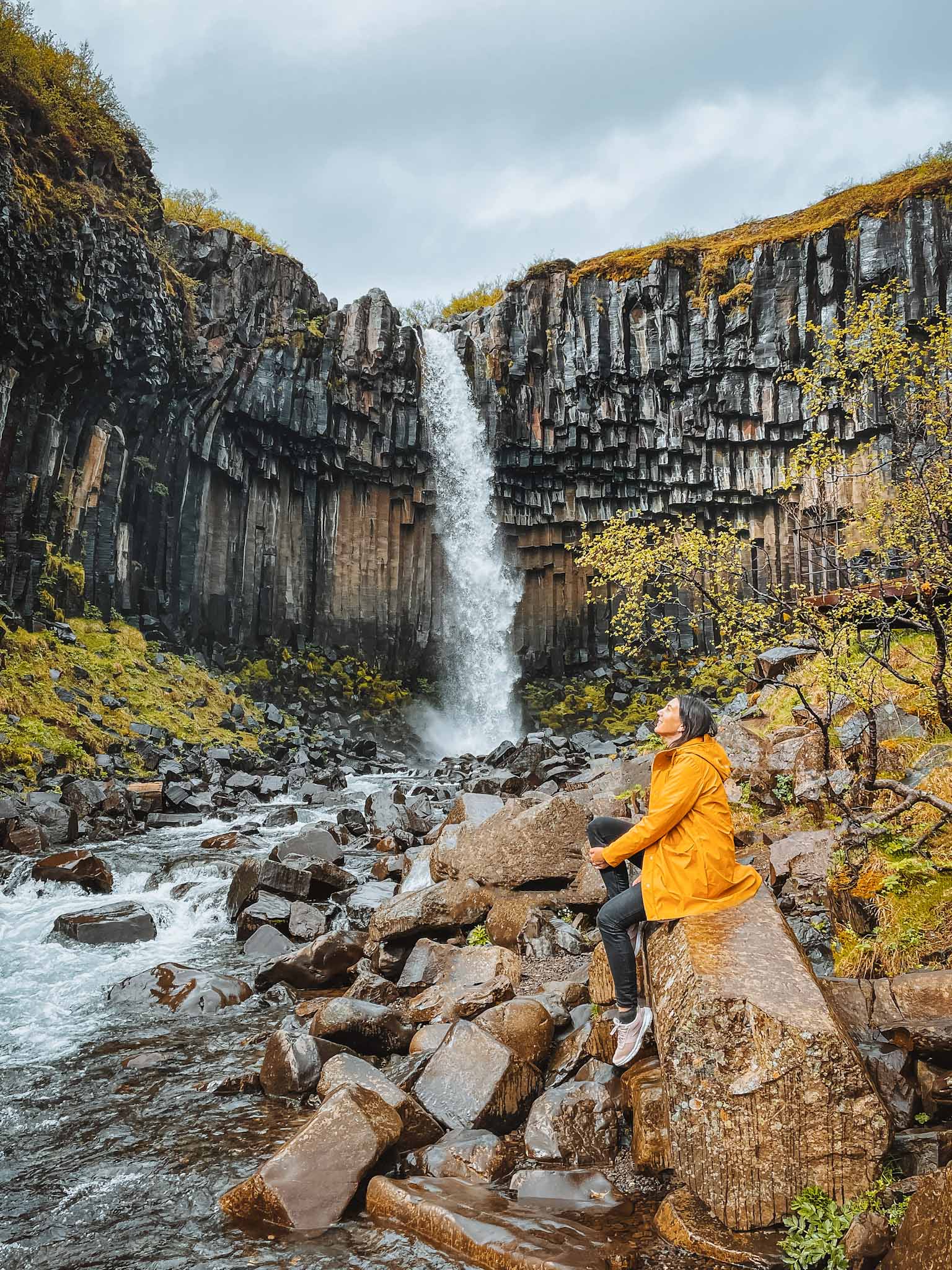 Svartifoss waterfall means the 'black falls' and it is one of the most beautiful and iconic waterfalls in Iceland. All thanks to the black basalt columns that surround it!
In case you are doing the Ring road or you are traveling in the direction of Diamond Beach, you can use this opportunity to stretch your legs and take a walk to this magical waterfall.
You will have to park your car at the Skaftafell Visitor Center and then follow the signs leading to the waterfall. Although it is a bit of a hike – about 1.5 kilometers one way with some vertical meters as well, I would say that it is not too difficult.
There is a beautifully created walking path all the way to the waterfall, including some information boards. If you have more time, you can also check out and hike to the nearby glaciers – Skaftafellsjökull glacier or Svínafellsjökull glacier.
Location: Svartifoss Waterfall · Parking lot
6. Litlanesfoss waterfall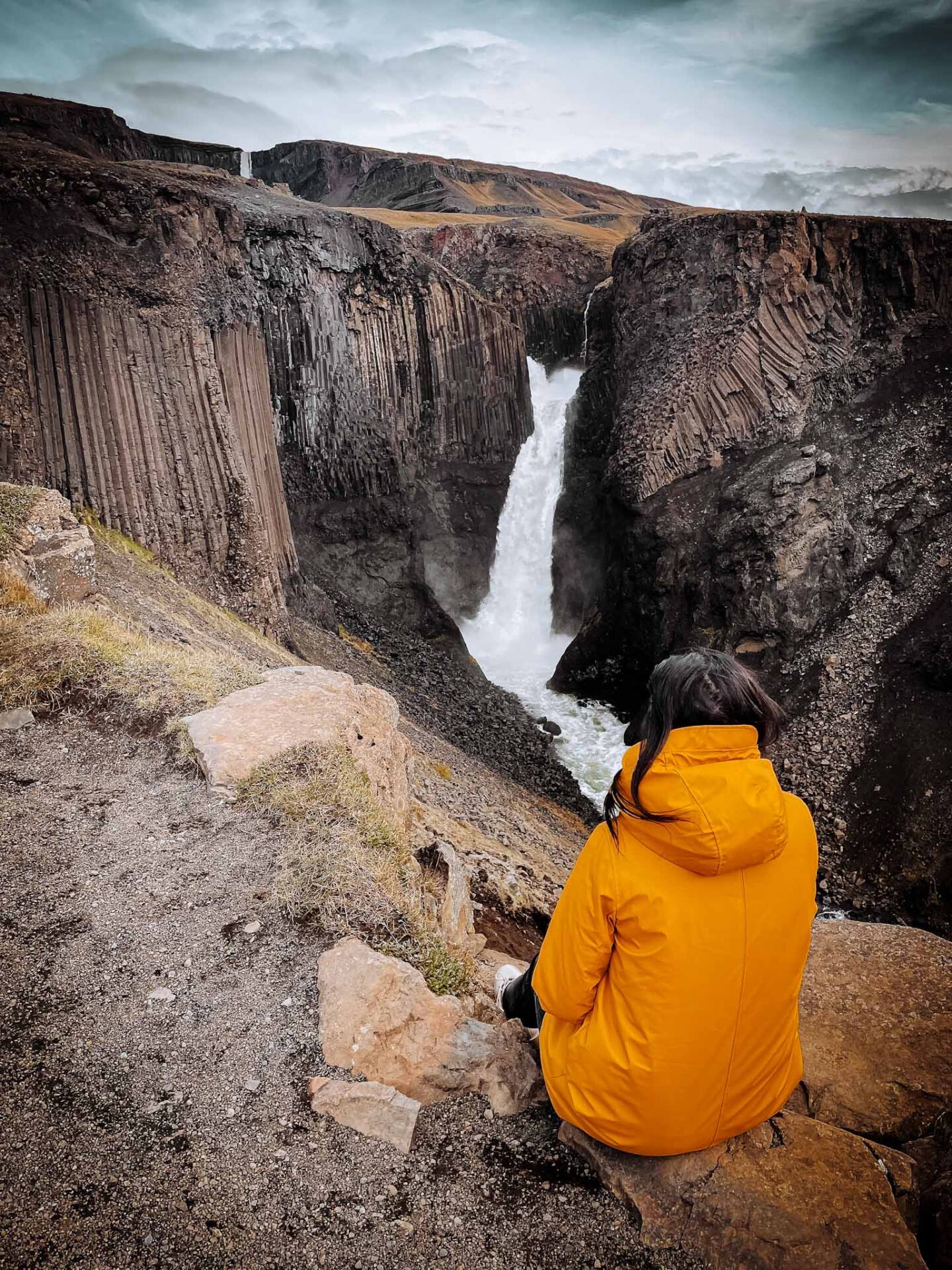 This iconic waterfall is often overlooked and overshadowed by others. However, Litlanesfoss waterfall is surrounded by the tallest basalt columns in the whole of Iceland!
Sadly this waterfall doesn't get the recognition it deserves, because right nearby you can see the third-highest waterfall in Iceland – Hengifoss. It is more famous and people usually come here to see it, not Litlanesfoss.
In my opinion, Litlanesfoss is just as impressive. Especially because it is surrounded by a gigantic amount of tall basalt columns in hexagonal shapes (the tallest columns in Iceland!).
Getting there is not complicated – there is a parking lot to leave your car and then there is a well-marked walking path to the waterfall. The biggest challenge will be the uphill hike – both waterfalls require some hiking uphill, but it is worth the effort!
Location: Litlanesfoss Waterfall · Hengifoss Waterfall · Parking lot
7. Hallgrimskirkja church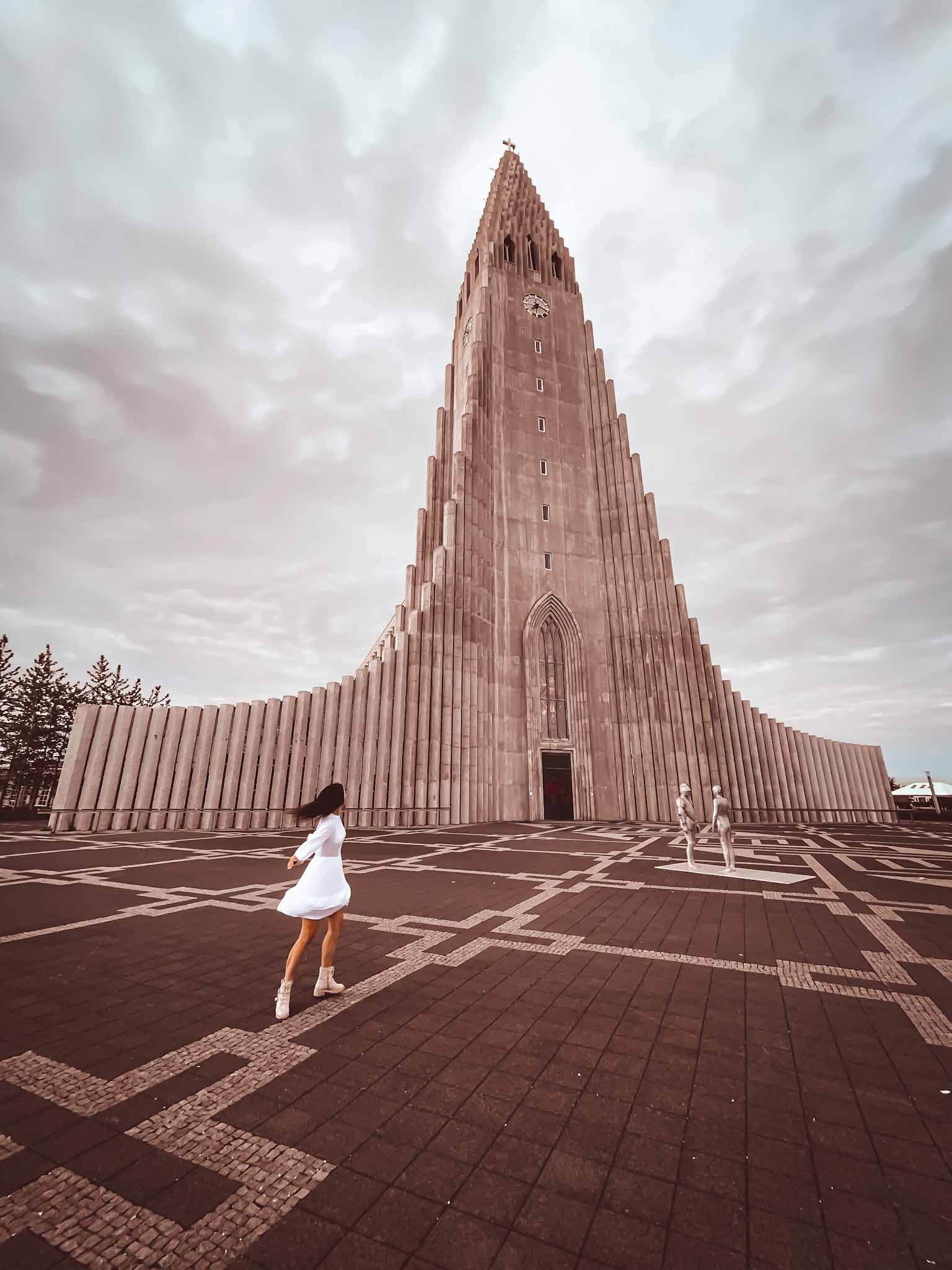 Well, you didn't expect to see this iconic building on this list, right?! But actually, it fits very well here and you should definitely visit this church as it is probably the most famous tourist attraction in the whole of Reykjavik!
Hallgrimskirkja is not only the highest church in Iceland reaching 75 meters in height, but it is a symbol of Iceland. And what makes it very unique is the architecture!
It was made to resemble the nature of Iceland – more specifically the basalt columns that you can see in many places around the country.
It is said that the Svartifoss waterfall was the biggest inspiration for the architecture of Hallgrimskirkja church. Definitely make a stop at this place!
Location: Hallgrimskirkja
Happy exploring!
Basalt columns in Iceland are iconic! It seems that people go to Iceland expecting to see certain things and places, and basalt columns are definitely one of the natural phenomena people crave to see. In my opinion, Iceland is THAT country everyone should visit once in their lives!
Iceland is full of magical and unbelievable nature spots and places you won't really see anywhere else on Planet Earth! If you can, please, leave a comment below if there are any significant changes to anything that is written in this blog post! Many thanks!
PIN FOR LATER!