27 most iconic Instagram spots in Iceland
There is an abundance of beautiful photo places and Instagram spots in Iceland! From volcanoes to waterfalls, from basalt column walls to black sand beaches, from hot water baths to picturesque churches.
Iceland is truly a wonderland! Here are the 27 best Instagram spots for amazing photos of Iceland that you can visit if you are doing the famous Ring Road around the country! Happy exploring!
Read more >>> 15 hidden gems and unique spots in Iceland
1. Reynisfjara black sand beach with basalt columns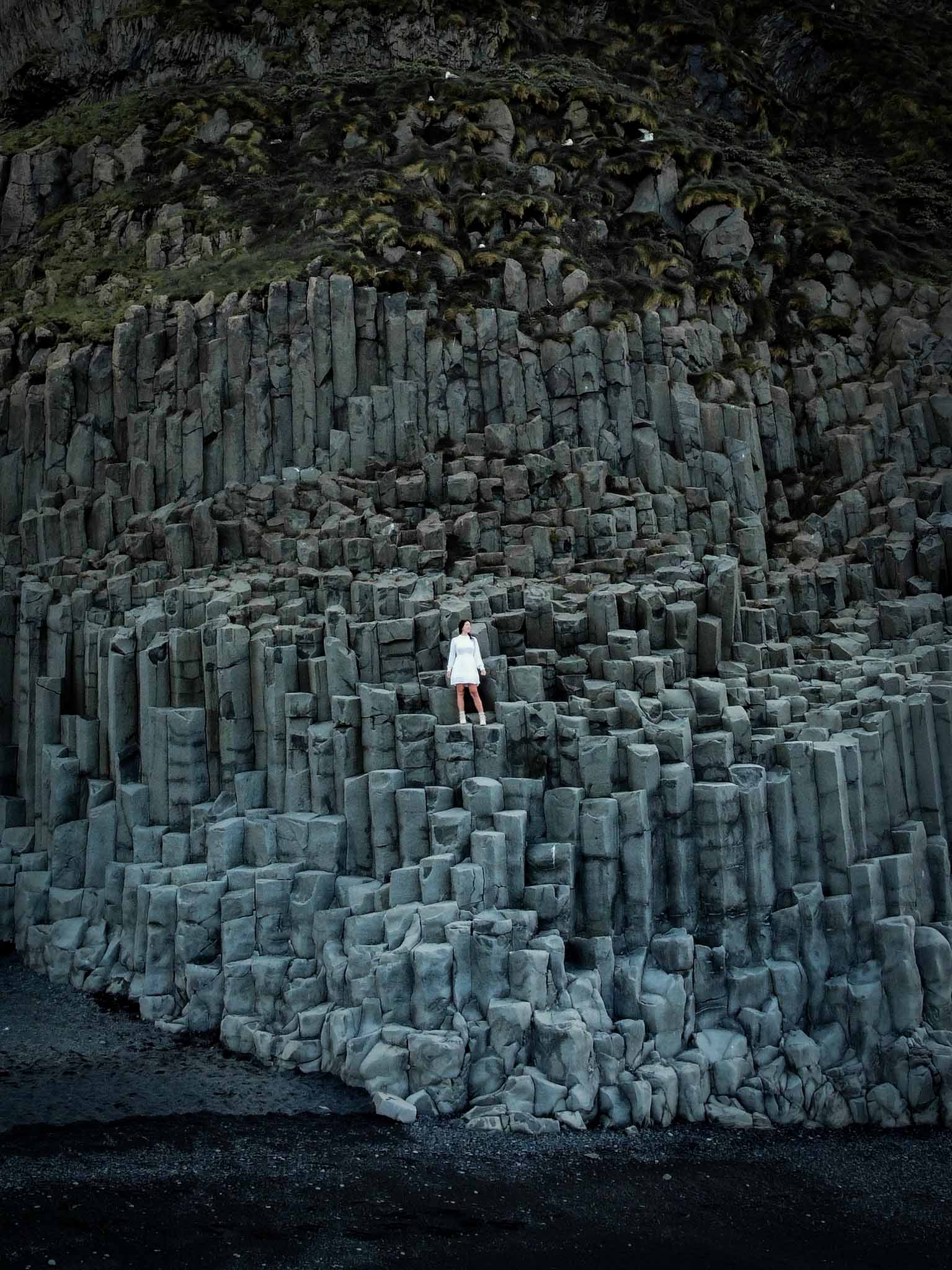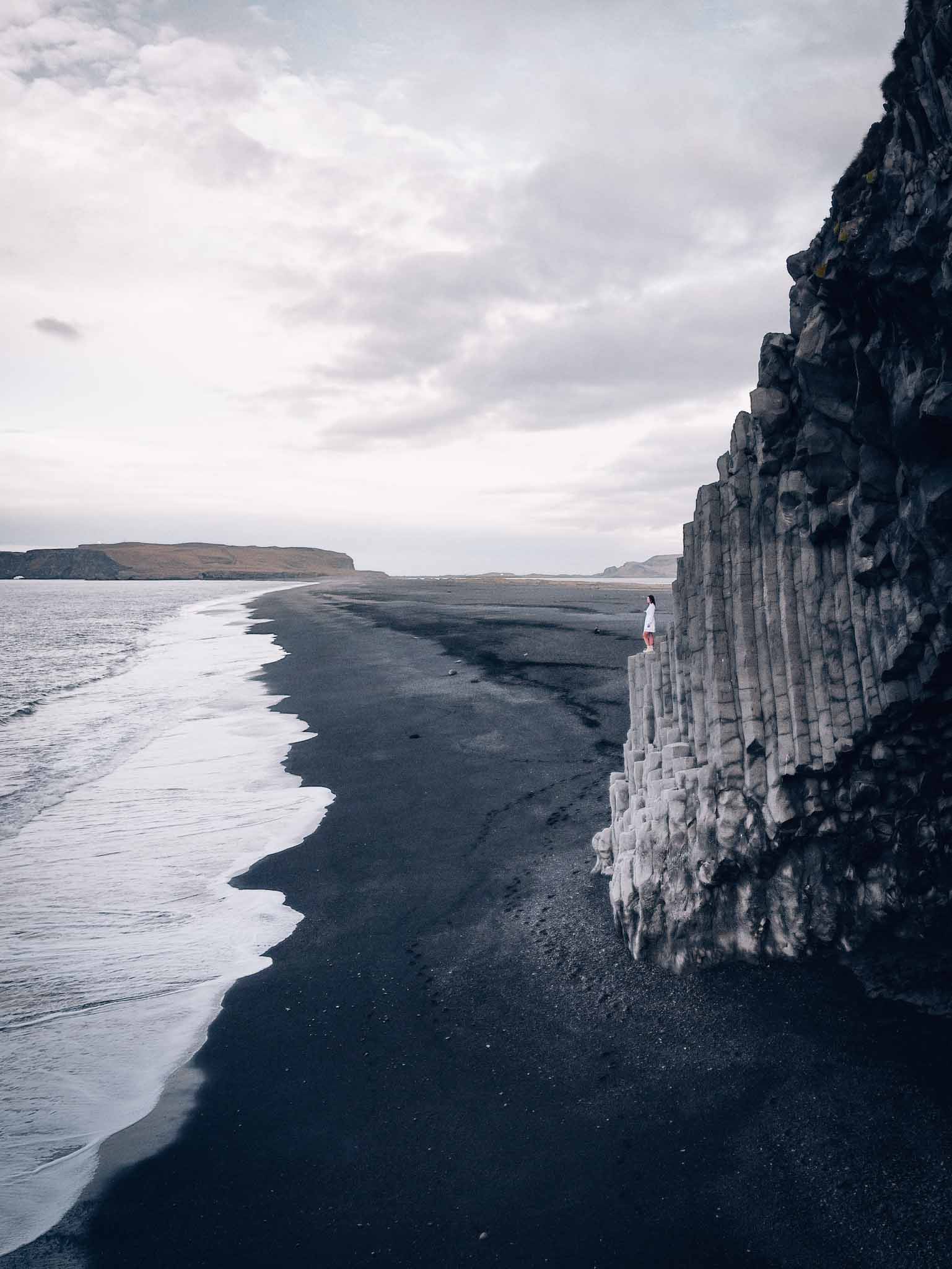 Reynisfjara Beach is probably one of the most popular Instagram spots and tourist attractions in Iceland – and for a good reason! It was also one of my favorite places to see!
This beach is famous for its black sand and the huge basalt column wall at the shores of the ocean. This wall is easy to climb and is an amazing place for photos. Black sand, dark grey basalt columns, and a wild ocean are the perfect recipe for a dramatic photo!
Tip! Come here in the morning to avoid big crowds!
Location: Reynisfjara Beach · Parking lot · Basalt columns
Read more >>> 7 famous places to see basalt columns in Iceland
2. Reynisdrangar basalt sea stacks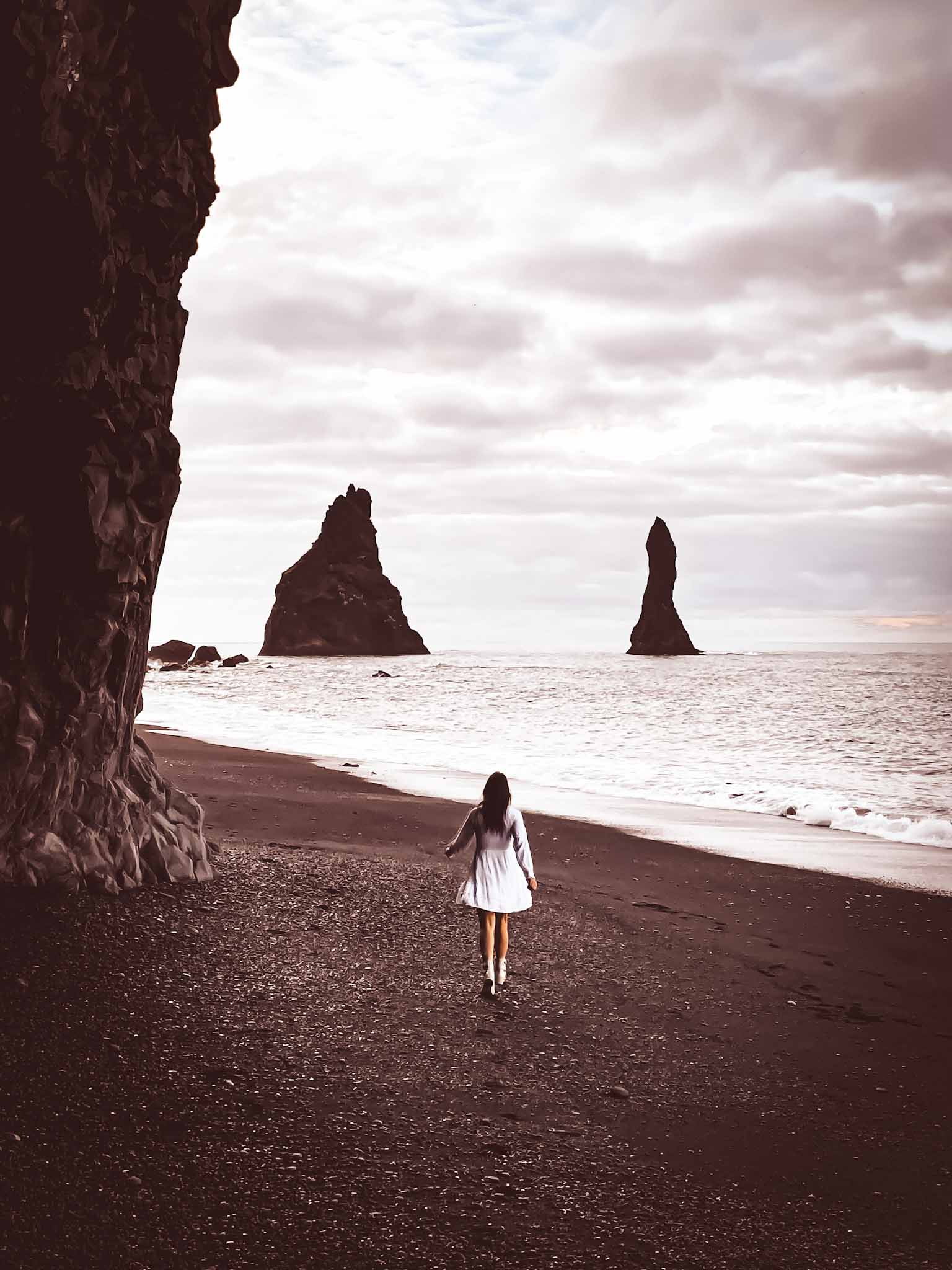 Another reason why Reynisfjara Beach is one of the most visited places in Iceland is definitely Reynisdrangar sea stacks in the ocean. When you are at the beach, these sharp 66-meter-high rock formations near the coast stand out very well.
Some legends say that those were trolls who wanted to pull a ship ashore but were turned into stone when the sun came up. They look super dramatic in real life as well as in photos!
Location: Reynisdrangar · Parking lot
Read more >>> 21 amazing rock formations in Iceland you won't see elsewhere!
3. Stuðlagil canyon – river between basalt column walls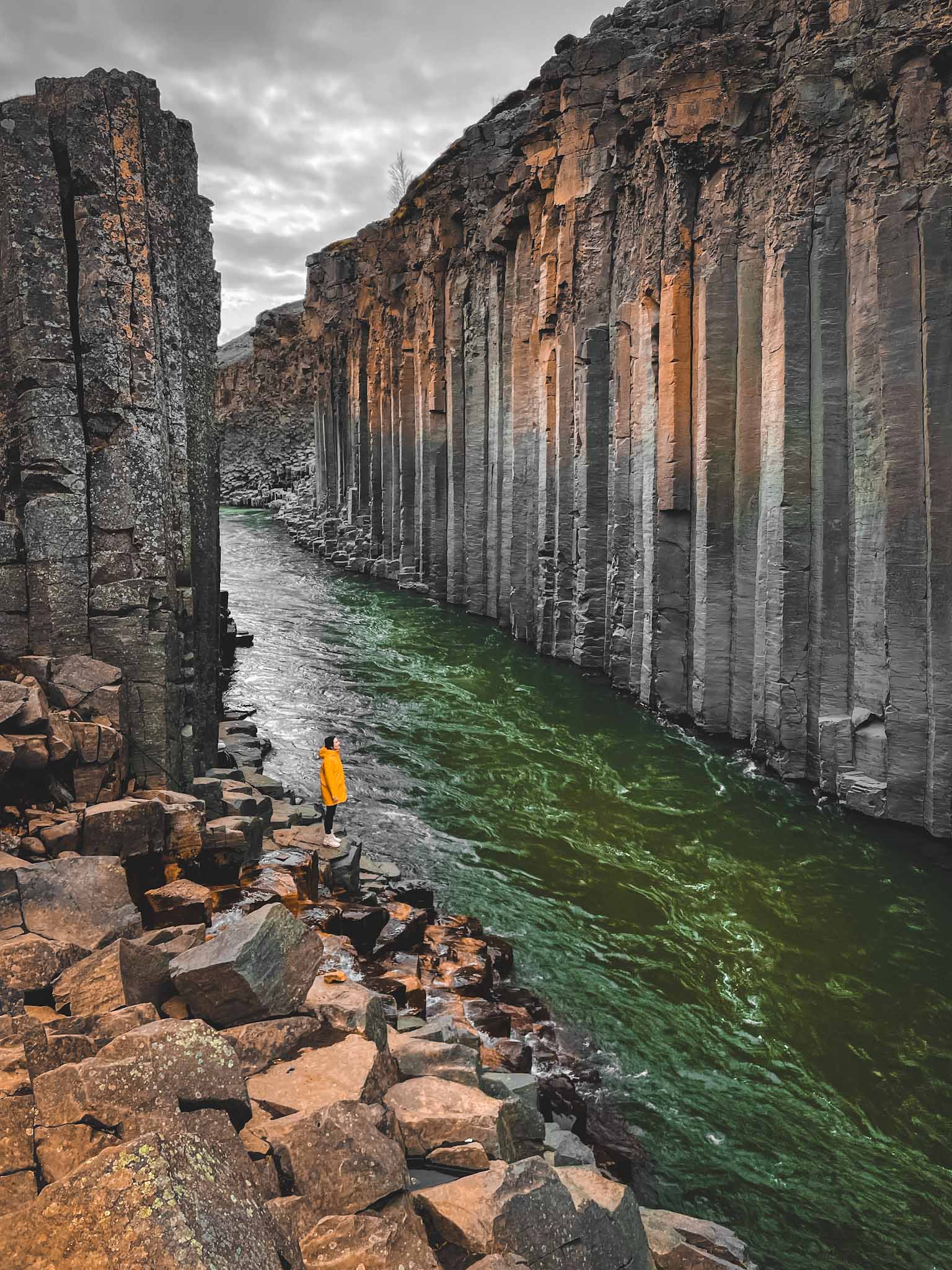 One of the best Instagram spots in Iceland is definitely Stuðlagil Canyon with gigantic basalt column walls and a greenish-blue water river. Did you know that this is the place in Iceland with the most amount of basalt columns?
You should know that you can only access the canyon on the river level from the East side of the canyon. And it will be a looong journey if you make a mistake and go to the West side. Read more about visiting this place in this blog post about 5 amazing canyons in Iceland.
Location: Studlagil Canyon · Parking lot
4. Vestrahorn mountain and Stokksnes beach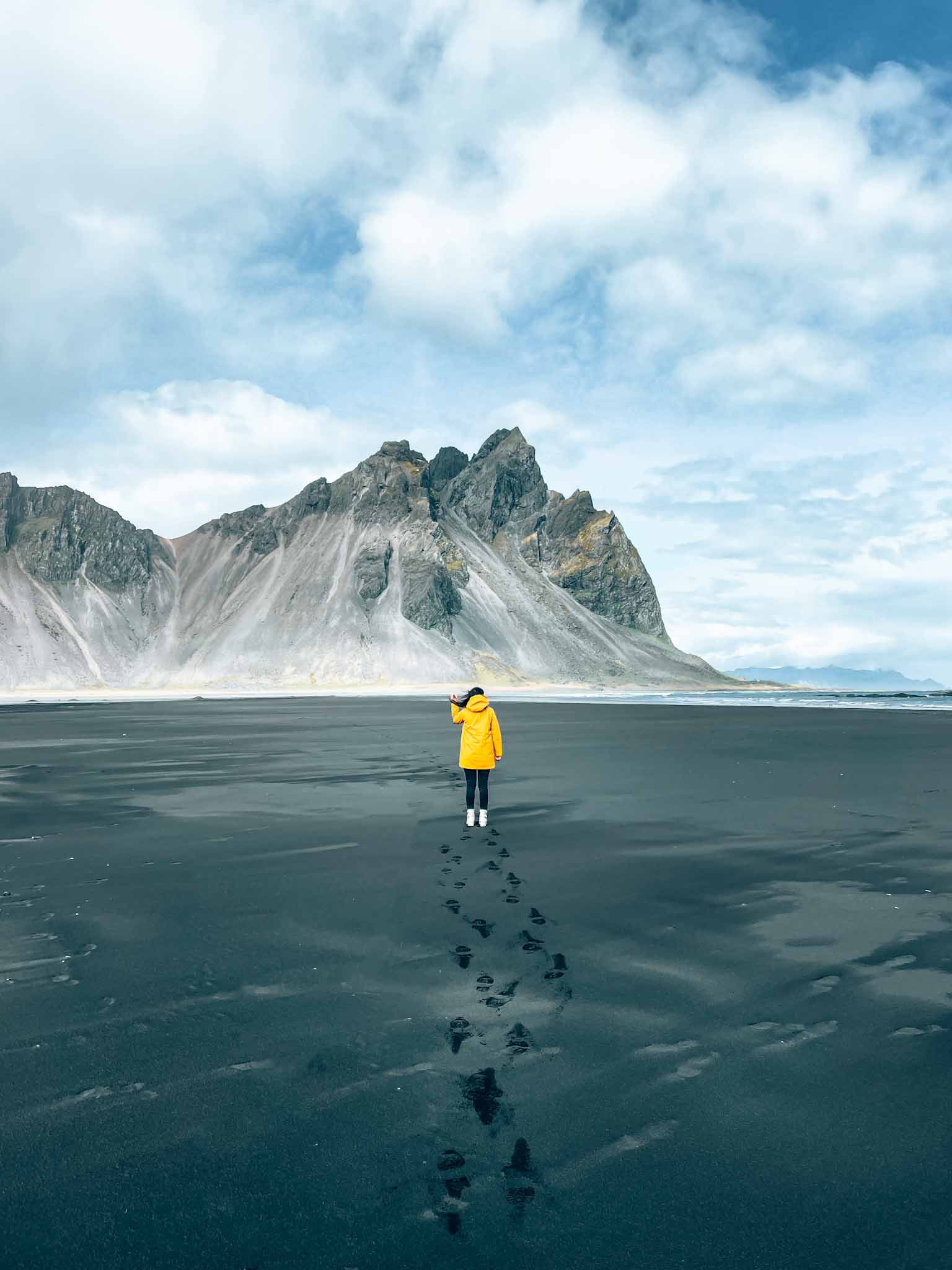 Vestrahorn mountain (454m) and the beautiful black sand Stokksnes beach next to it is probably one of the most photographed places in Iceland and definitely one of the best Instagram spots as well!
However, I do hope you get here when the weather is good and the mountain is not hidden behind clouds! This place is actually on private property and there is an entrance fee to see the beach and the mountain up close. You have to drive to the Viking Café, pay 6.50 EUR per person, and then you can enter the area.
Location: Viking Café · Vestrahorn mountain · Stokksnes beach
Read more >>> 5 beautiful beaches to visit in Iceland
5. Gígjagjá – the Yoda cave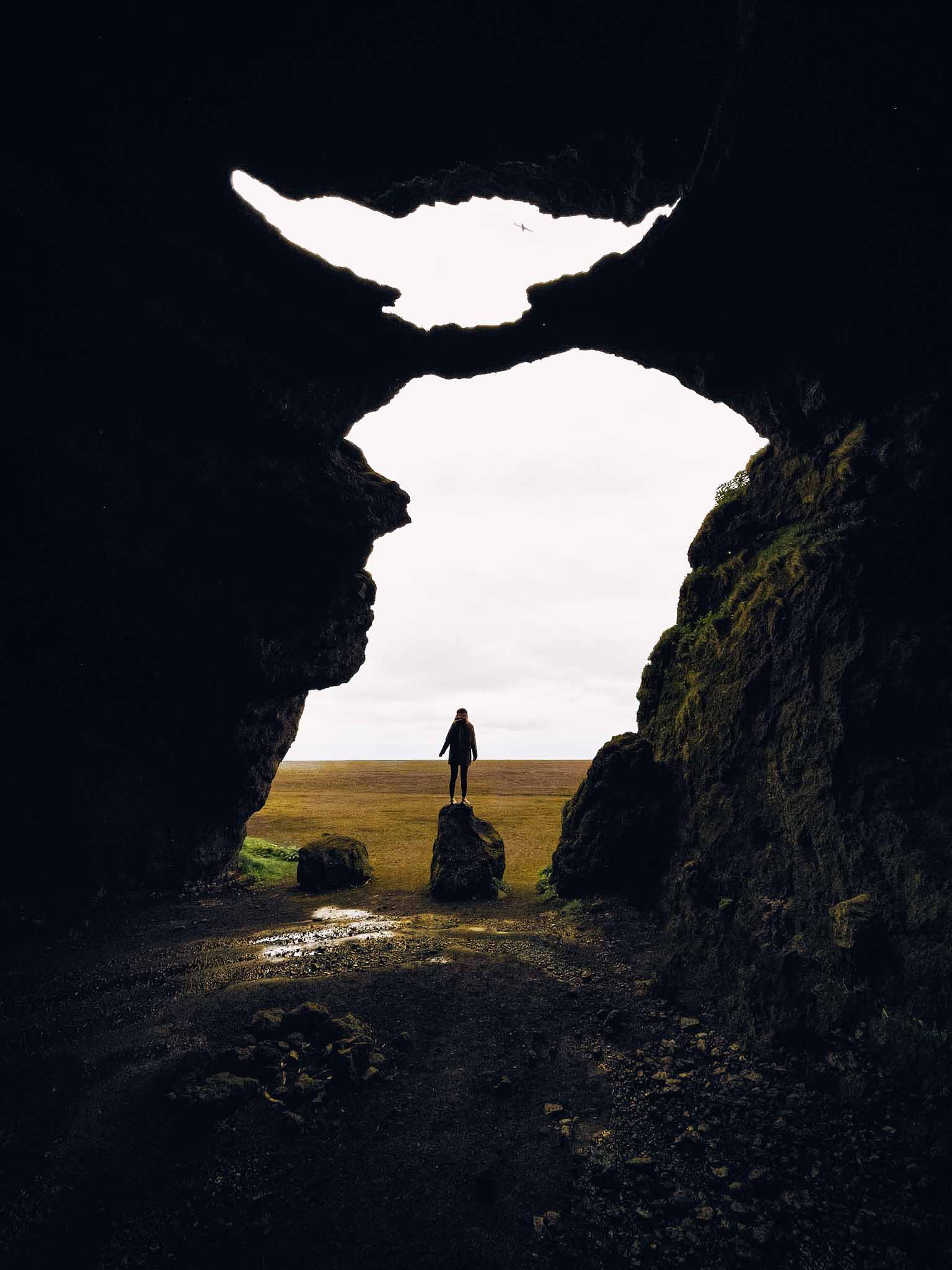 The Yoda cave was one of the most intriguing places in Iceland for me. How is it possible that a cave somewhere in Iceland looks like Yoda from Star Wars, haha?
But it really does! Not so much from the outside, but definitely from the inside! This is a must-visit Instagram spot in Iceland for all the Star Wars fans for sure!
Location: Yoda cave
6. Diamond beach and Jökulsárlón glacier lagoon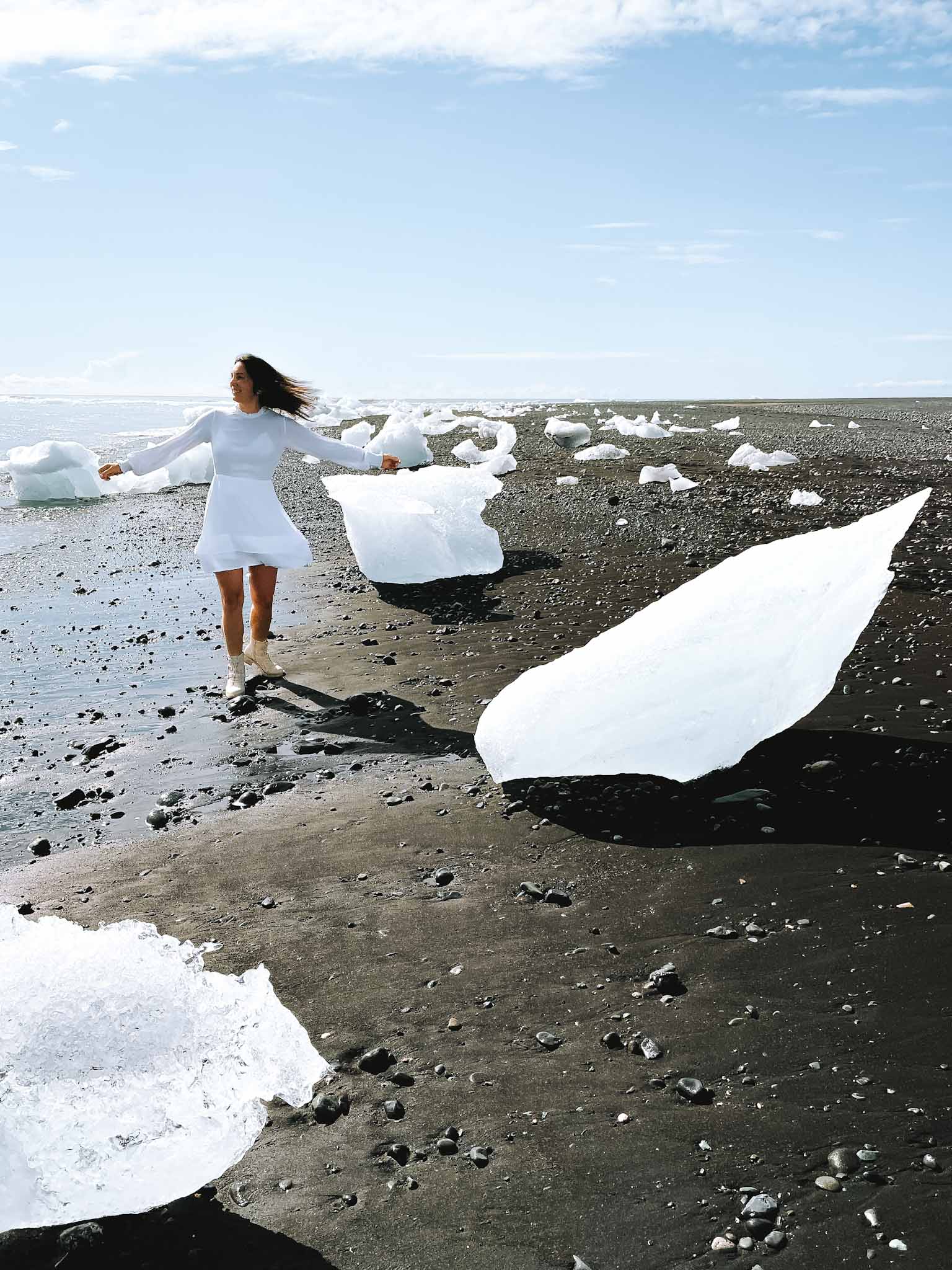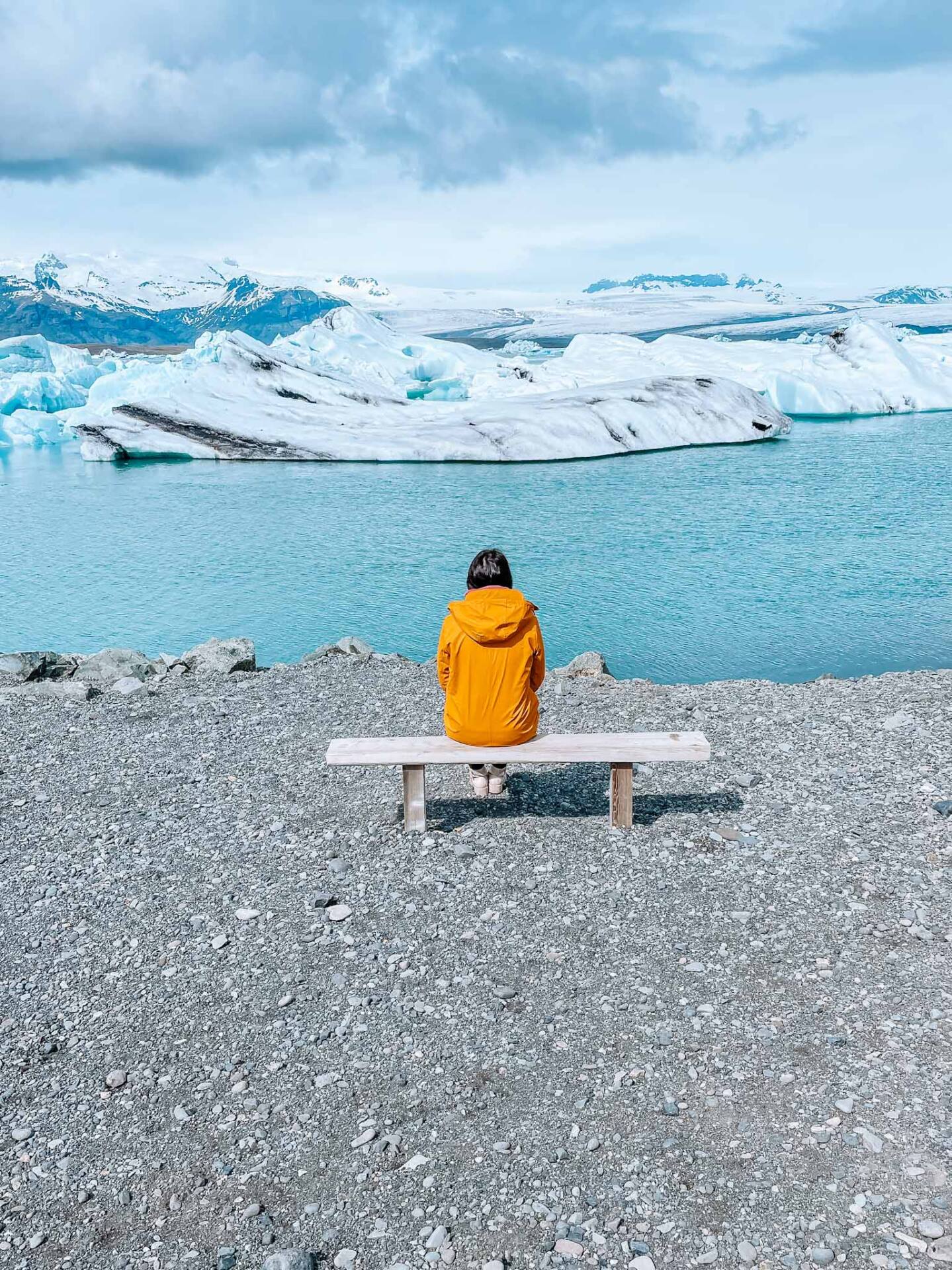 Diamond Beach is one of the most popular beaches in Iceland. It is located near the Jökulsárlón iceberg lagoon. The glacier melts, and icebergs break off of it and later break up into smaller pieces.
Those then are washed into the ocean through a canal connected to the ocean. The waves simply wash them ashore where the broken-up iceberg pieces rest until they melt completely. They look like blueish-white diamond pieces lying on the black sand – and that is where the name of the beach came from.
Location: Diamond beach-East side · Diamond beach-West side · Jökulsárlón Glacier Lagoon
7. DC-3 Plane wreck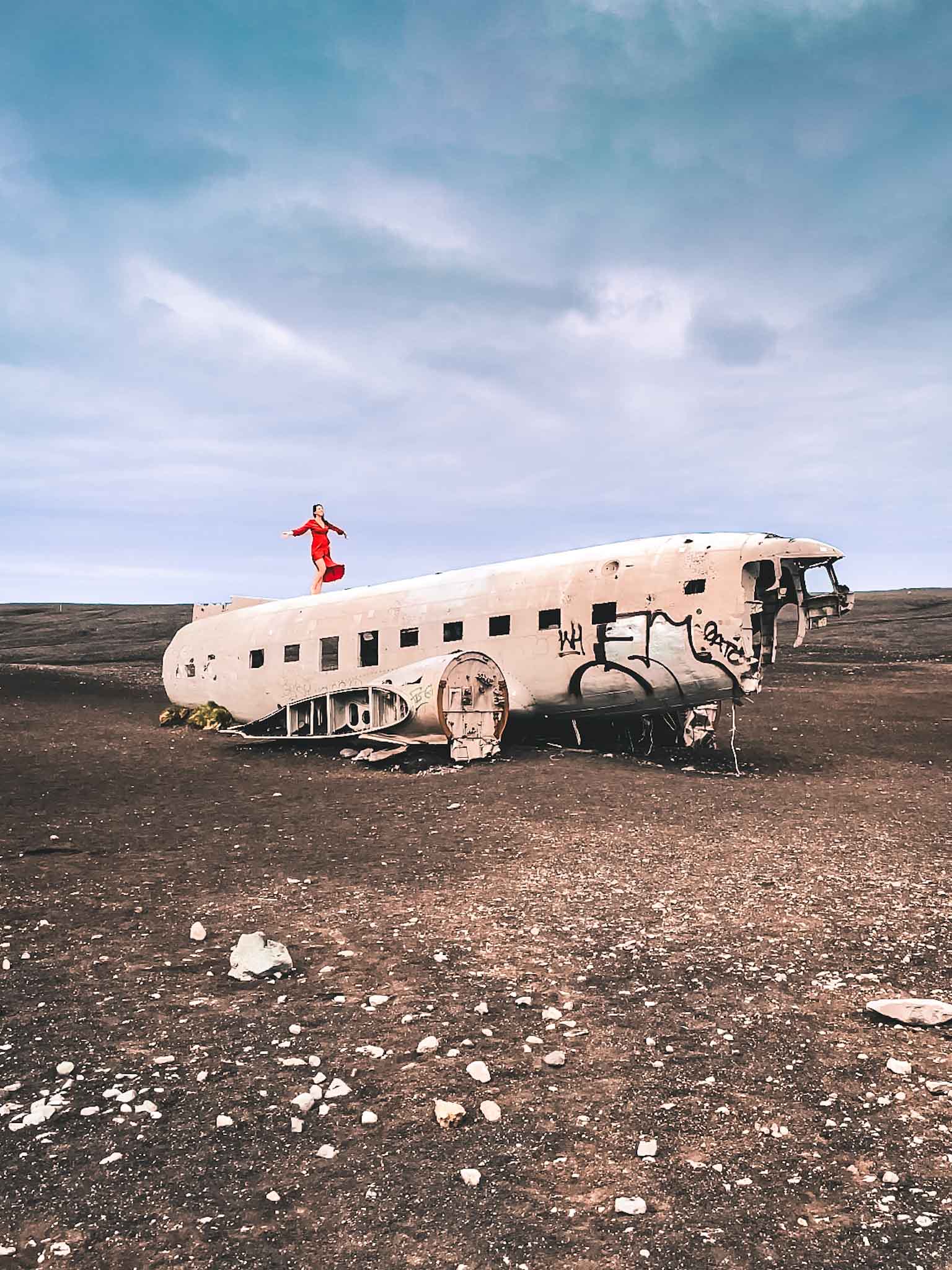 DC-3 Plane Wreck is definitely one of the most unique places and one of the most famous Instagram spots in Iceland! It is an abandoned plane wreck of the US Navy plane that crashed in an empty lava field in Iceland in 1973.
Luckily, everybody survived. This spot became extra famous when it was featured in Justin Bieber's music video. You can get there either on foot (3.8 kilometers one way) or by shuttle bus (the round trip ticket costs about 20 EUR).
Location: Plane wreck · Parking (for a fee)
8. Rainbow street and church in Seyðisfjörður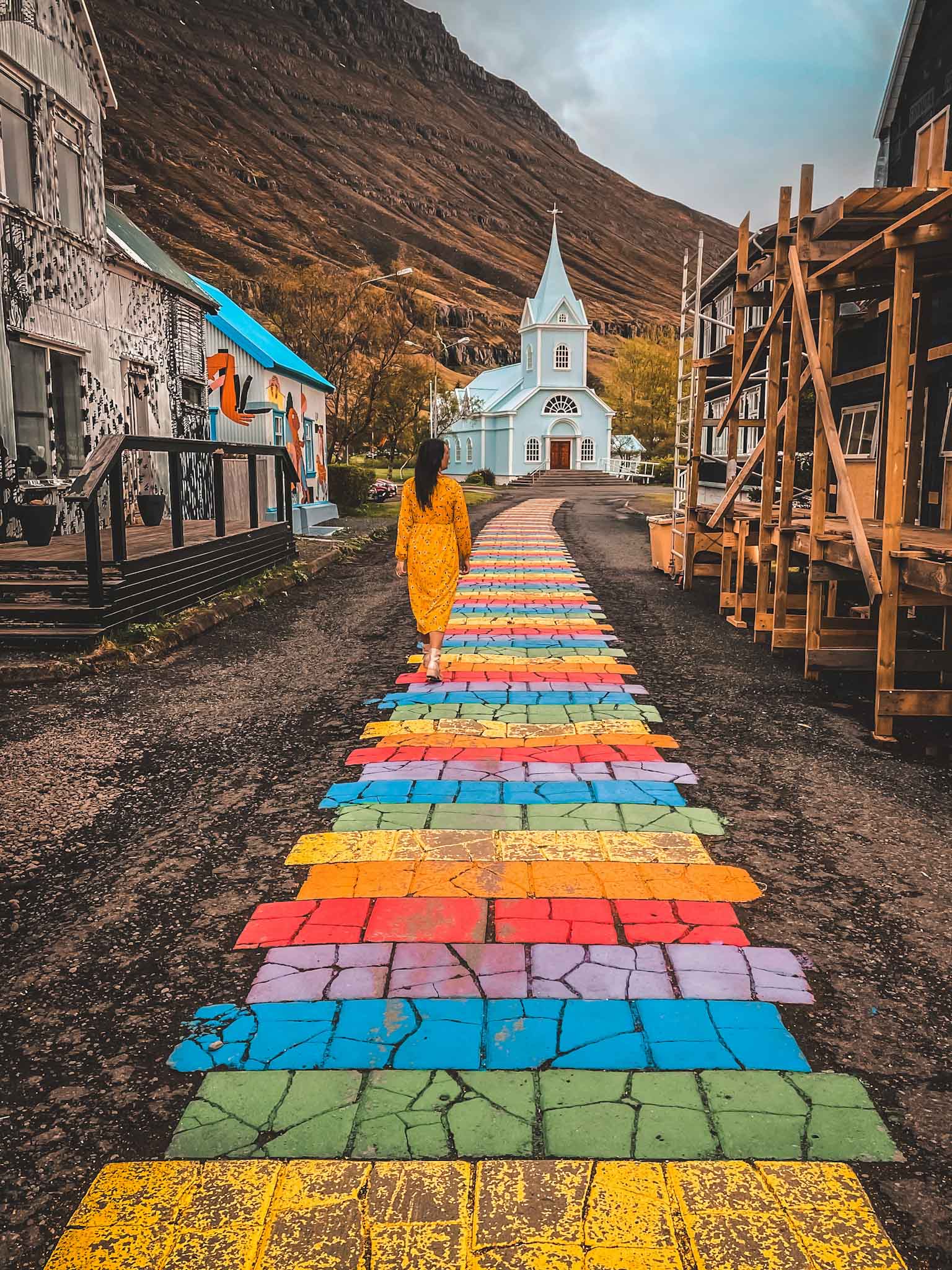 Seyðisfjarðarkirkja is the most Instagrammable church in Iceland! It is a tiny blue church in the far East of Iceland in the town of Seyðisfjörður.
What makes it one of the best Instagram spots in Iceland is the rainbow-colored street leading to it. Besides, it is a small and very charming town located between the mountains and next to a fjord. Definitely worth the long drive, if you ask me!
Location: Seyðisfjarðarkirkja · Rainbow road · Parking places
Read more >>> 7 famous and picturesque churches in Iceland you should see!
9. Skógafoss waterfall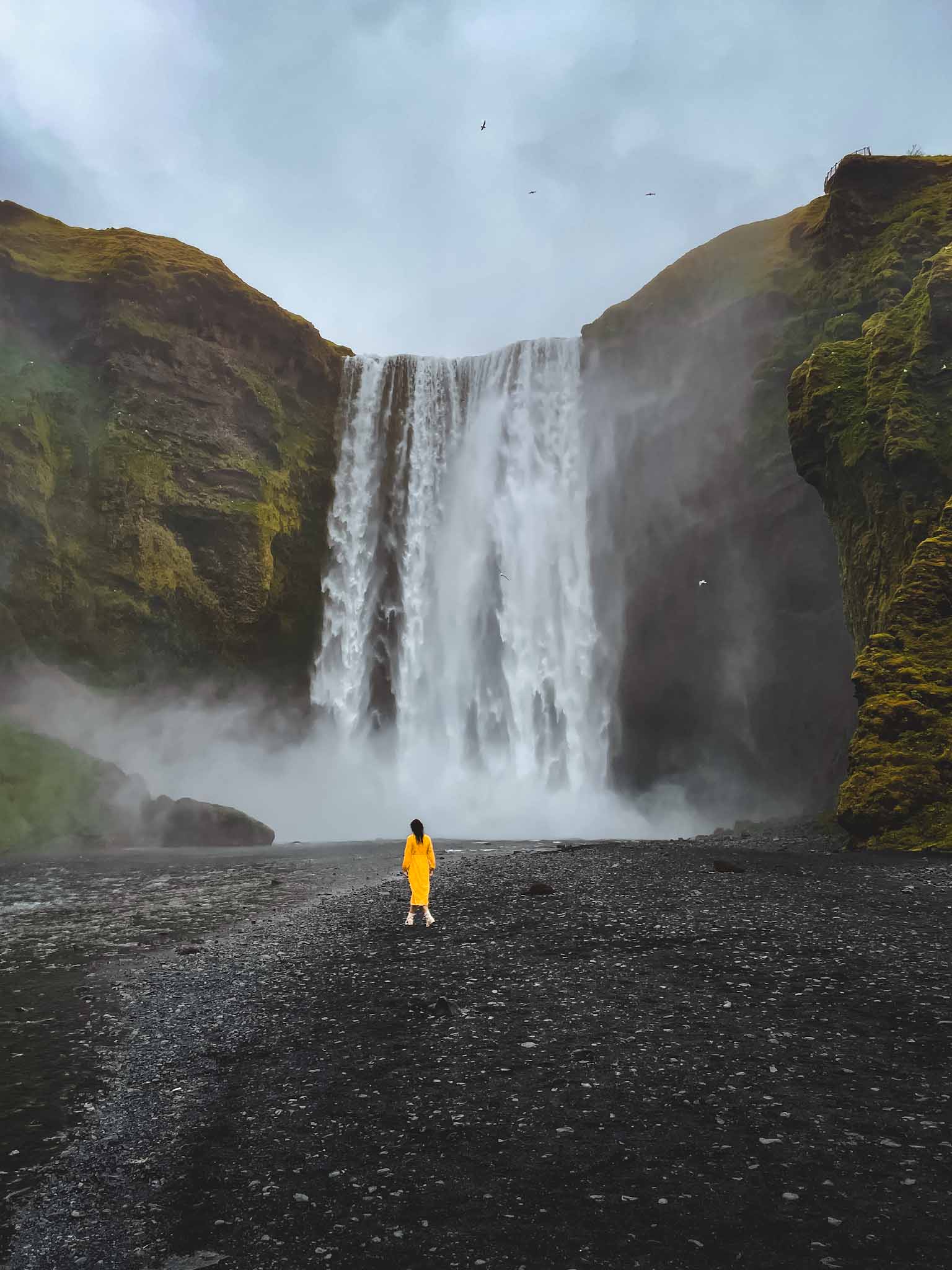 Skogafoss has to be the most iconic waterfall in Iceland! Despite the fact that it is one of the most visited waterfalls, it was definitely one of my favorite waterfalls in Iceland and one of the best Instagram spots as well!
It is beautifully shaped in a perfect rectangular shape – it is 25 meters wide and 60 meters high. Skogafoss has also featured in multiple movies and series such as The Game of Thrones, The Secret Life of Walter Mitty, and even Thor: The Dark World.
Location: Skógafoss waterfall · Parking lot
Read more >>> Here are 19 stunning waterfalls in Iceland you should visit!
10. Hallgrimskirkja church in Reykjavik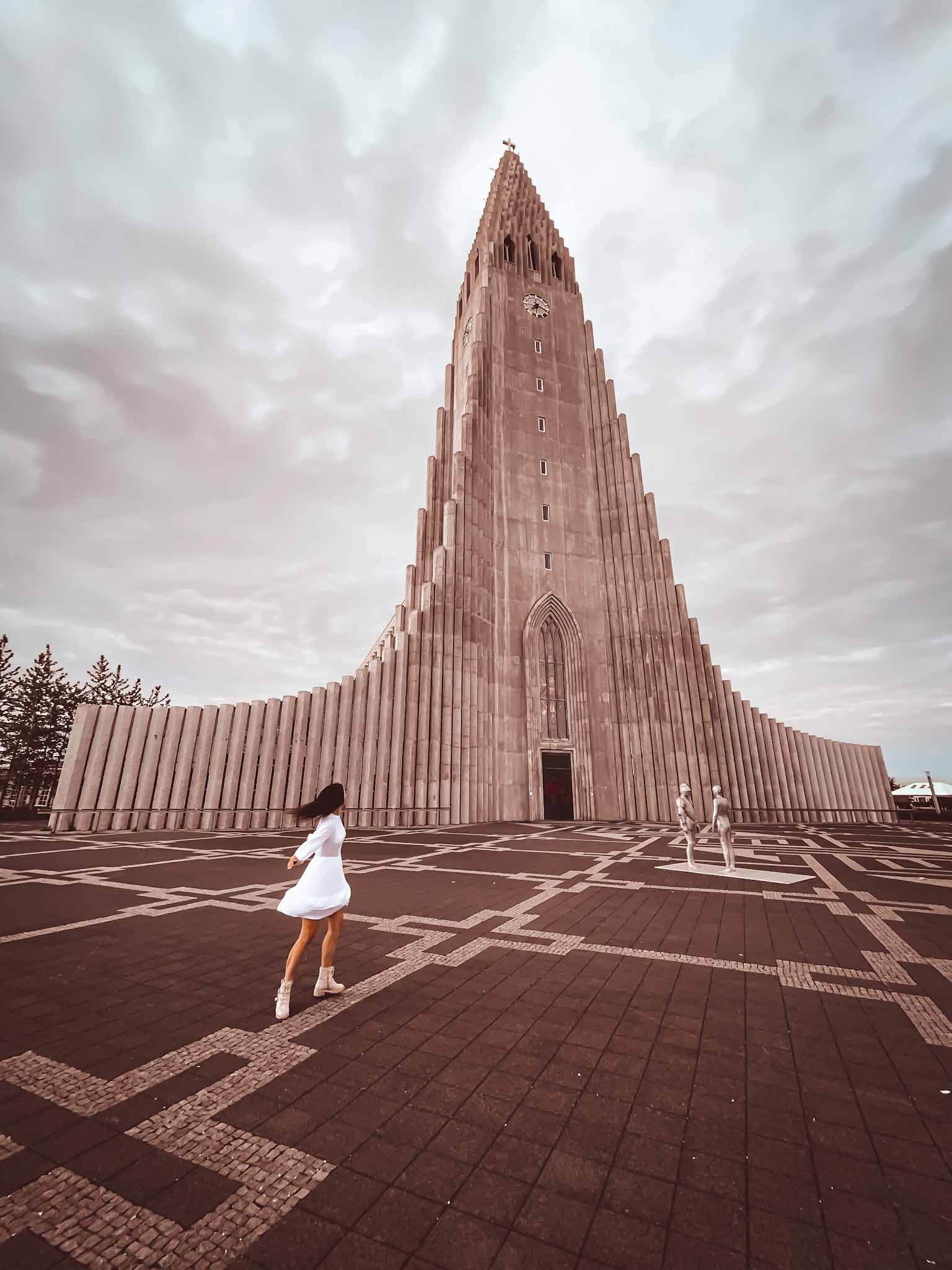 A trip to Iceland won't be complete without a visit to the capital city – Reykjavik. Hallgrimskirkja is not only the highest church in Iceland reaching 75 meters in height, but it might be the most famous church and a symbol of Reykjavik and Iceland.
So visiting this church is a must! What makes it unique is the architecture – it was built to resemble Icelandic nature, especially the natural basalt columns that you can see in many places around the country.
Location: Hallgrimskirkja
11. Seljalandsfoss waterfall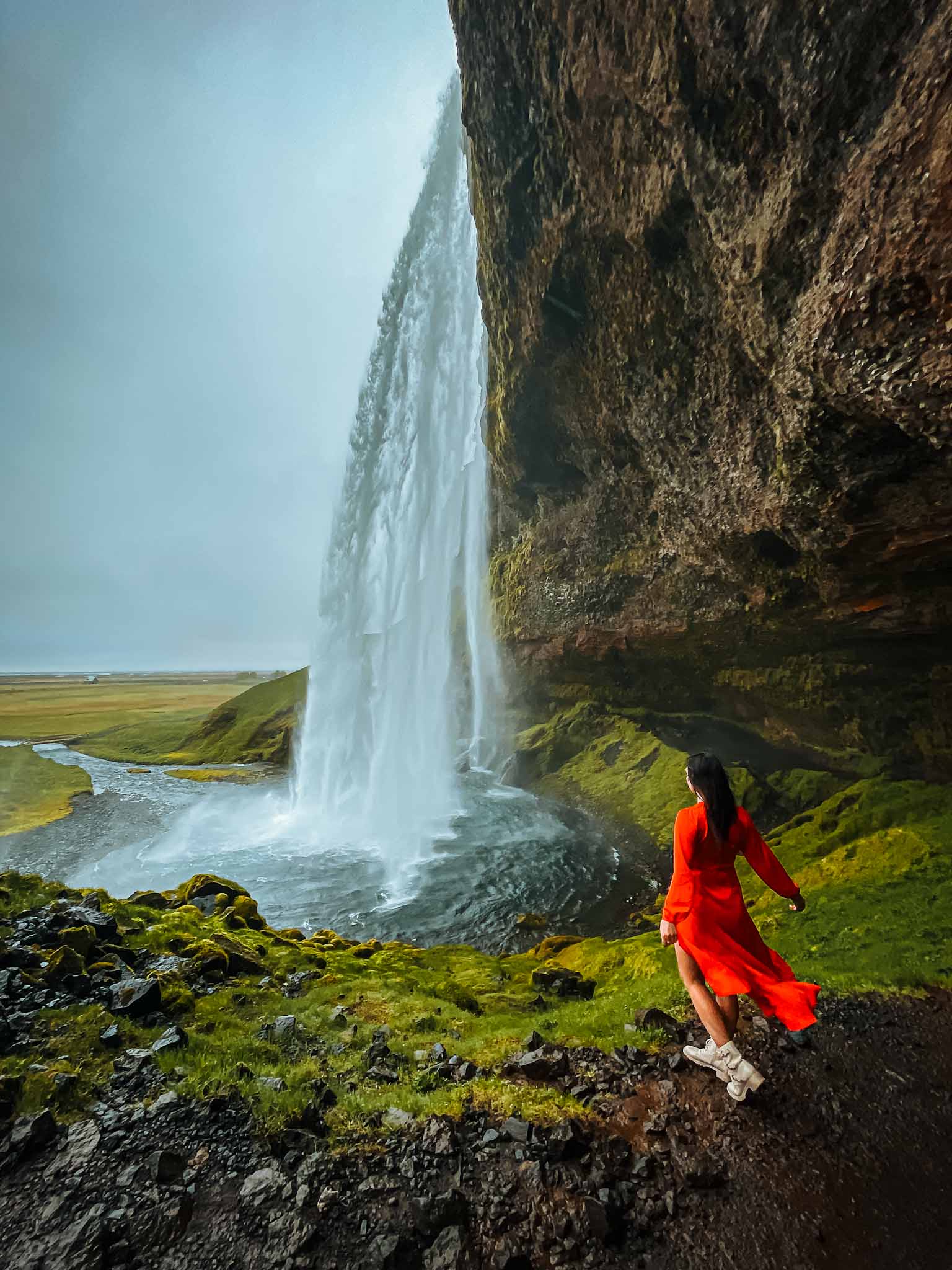 Seljalandsfoss waterfall has to be amongst the most visited places in Iceland. And rightly so – this majestic 60-meter waterfall is quite unique because you can actually walk behind it and come out the other way. There is an official path going behind it and around it.
Tons of tourists use this unique opportunity to come here. You will be interested in the fact that it falls off a cliff that used to be a seacliff ages ago – once there was a coastline of the ocean at this exact place. Come here early to avoid crowds and get that unique Instagram photo without other people in it!
Location: Seljalandsfoss waterfall · Parking lot (for a fee)
12. Geothermal baths – Blue Lagoon, Sky Lagoon, and others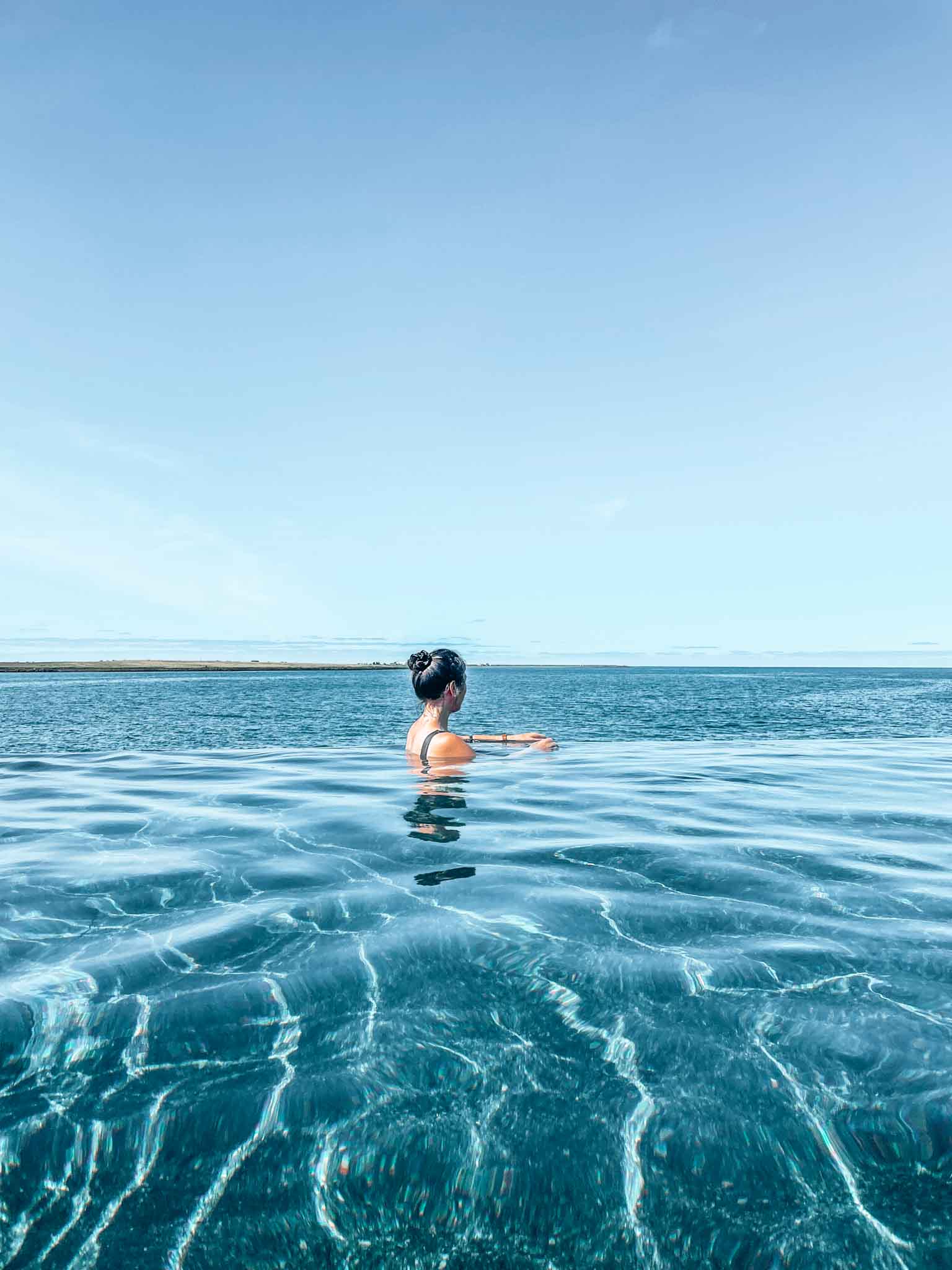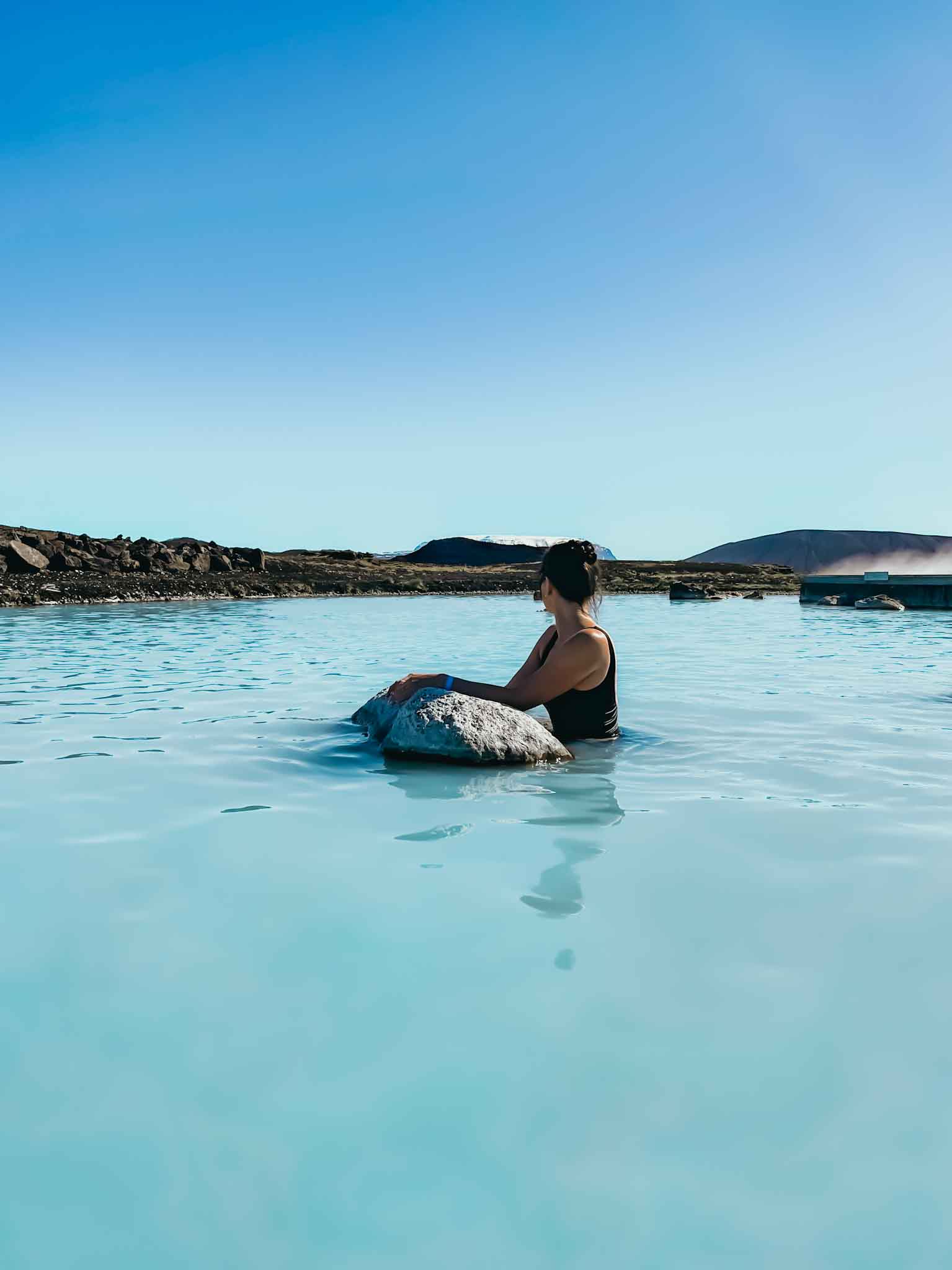 One of the most exciting experiences you can have in Iceland is enjoying the thermal baths. Iceland has an abundance of geothermal waters and you will quite often see hot water rivers, hot pots, baths, and pools around Iceland.
Some of the hot pools are available for free, and some are for donations, but you can also enjoy man-made geothermal spas like Sky Lagoon, Secret Lagoon, Blue Lagoon or Myvatn Nature Baths, or other places.
The best part about these thermal baths is that you can relax in them all year round! Plus having beautiful nature surrounding you – it is an unforgettable experience and makes for a unique photo as well!
13. Búðakirkja – the black church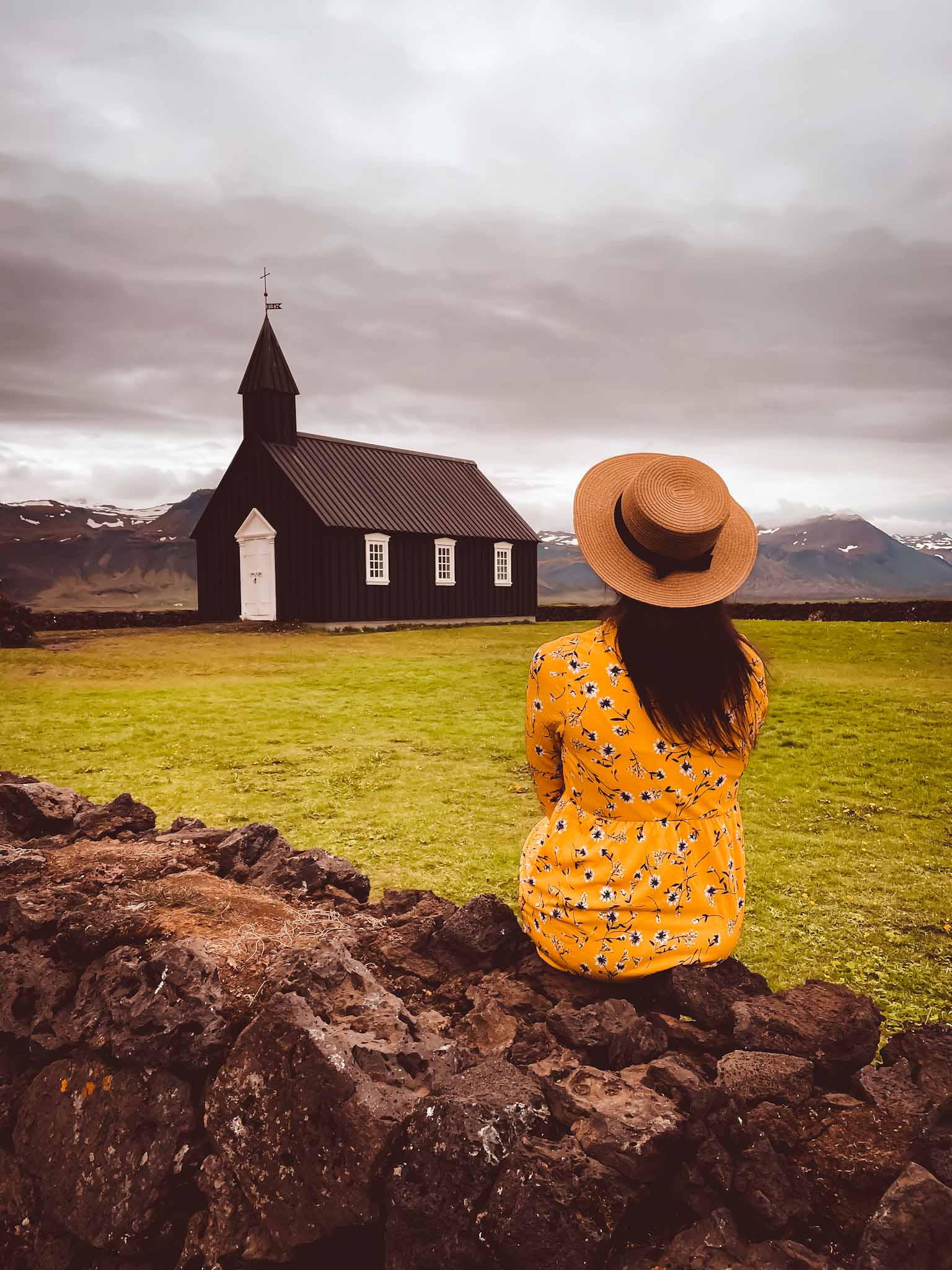 Búðakirkja is a small wooden church located in the Snæfellsnes peninsula – not far away from Reykjavik. The most famous feature of this church is that it is black and stands out very well in the area.
It has mountains and the ocean as a backdrop which makes it even more dramatic and impressive. Thanks to the fact that it is very easily accessible, it's a popular picture place for tourists and one of the most Instagrammable churches in Iceland for sure!
Location: Búðakirkja
14. Kirkjufell mountain and Kirkjufellsfoss waterfall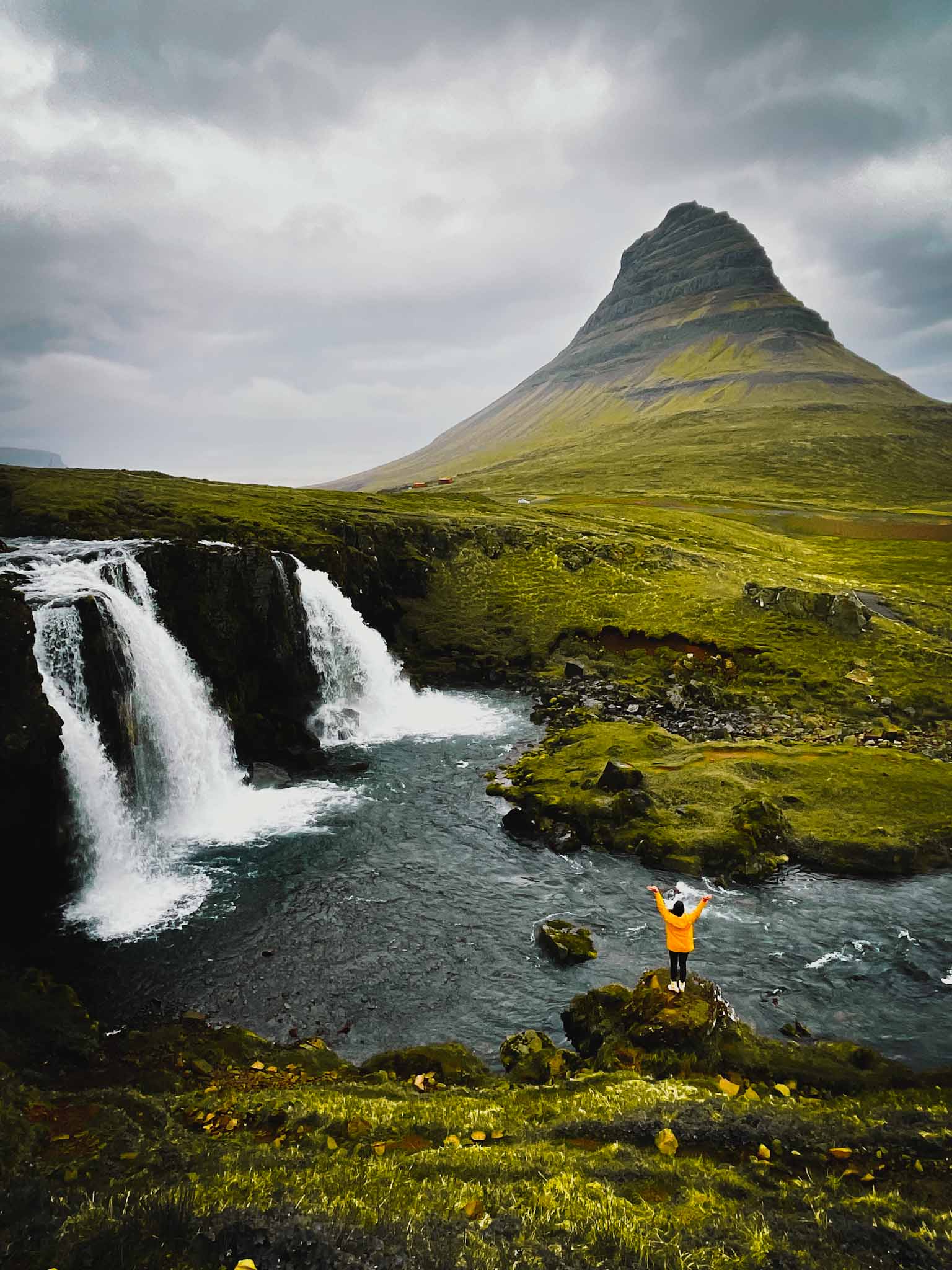 Kirkjufell (463m) means 'the church mountain' and it is allegedly the most photographed mountain in Iceland! So this place has to be amongst the best Instagram places in Iceland, right?!
Although, to me, the mountain reminds a wizard's hat not a church tower, haha! The best photo spot of Kirkjufell Mountain is from the side of the waterfall – Kirkjufellsfoss. A beautiful waterfall with a unique mountain in the background is a recipe for an incredible photo.
Location: Kirkjufellsfoss Waterfall · Parking lot (for a fee)
15. Svartifoss waterfall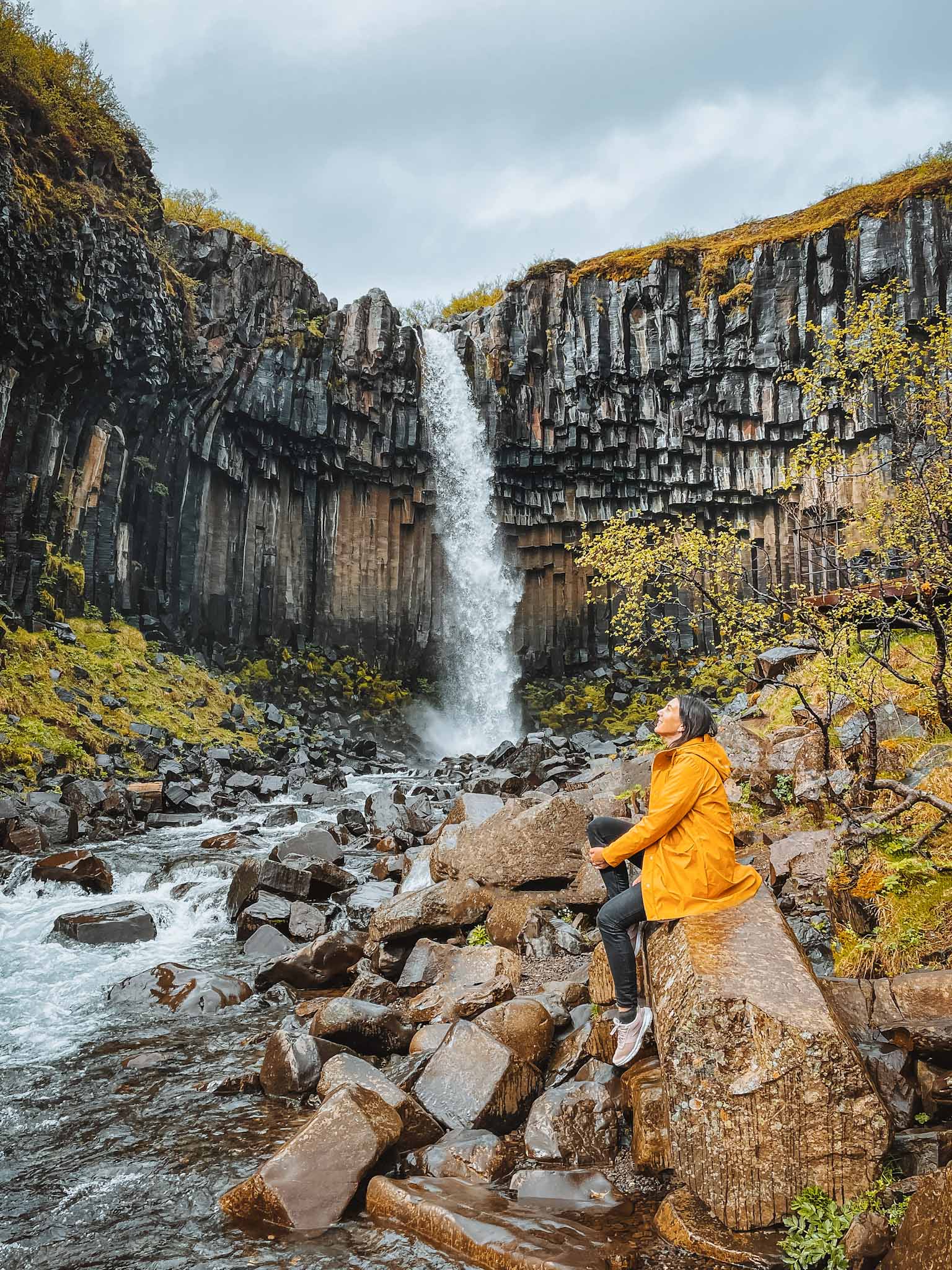 Svartifoss waterfall means the 'black falls' and it is one of the most beautiful and iconic waterfalls in Iceland. All thanks to the black basalt columns that surround it – which makes it an excellent Instagram spot in Iceland!
Everybody loves those hexagonal basalt lava columns, right?! Also – did you know that this waterfall was the biggest inspiration for the architects of the famous Hallgrímskirkja church in Reykjavik? One more reason to visit this beautiful place!
Location: Svartifoss Waterfall · Parking lot
16. The Endless Black Beach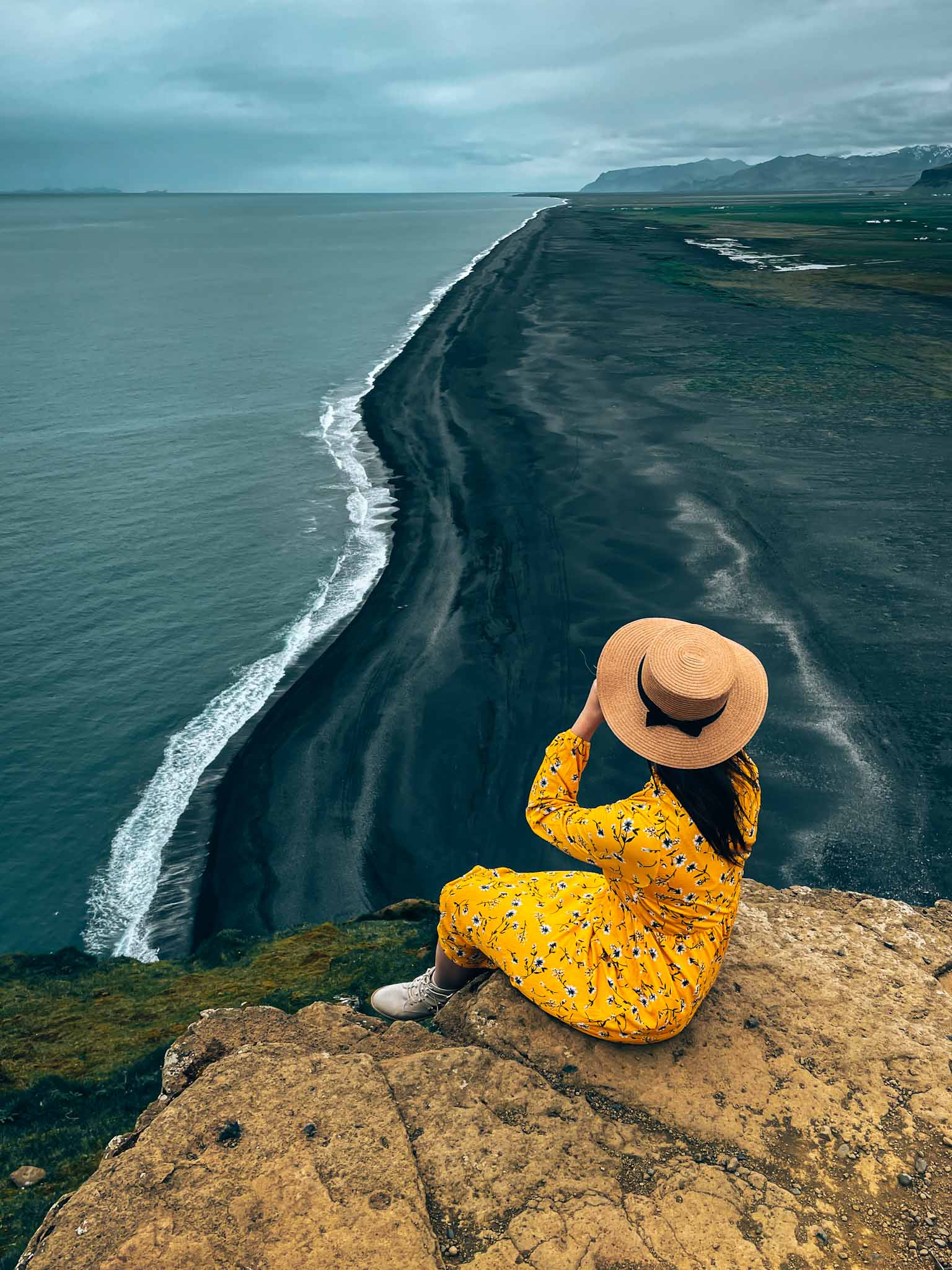 The view over the Endless Black Beach is truly spectacular. It seems like this beach doesn't have an end – it reaches tens and tens of kilometers away. However, the beach itself is quite difficult to access at sea level as there aren't too many roads and if they are, they go through private properties.
So the best view you can get of this beach is from the top of the Dyrhólaey cliff near the Dyrhólaey lighthouse. Dyrhólaey is a popular place to visit because there is a natural rock arch where the famous seabirds – puffins – love to nest during the summer season.
You will meet many people with binoculars in their hands here trying to see the birds! However, you should know that this area has working hours during their mating season (usually May-June) when you can access the area from 9 AM till 7 PM (hours may change).
Location: Viewpoint of the Endless Black Beach · Parking lot
17. Gljúfrafoss waterfall inside a mountain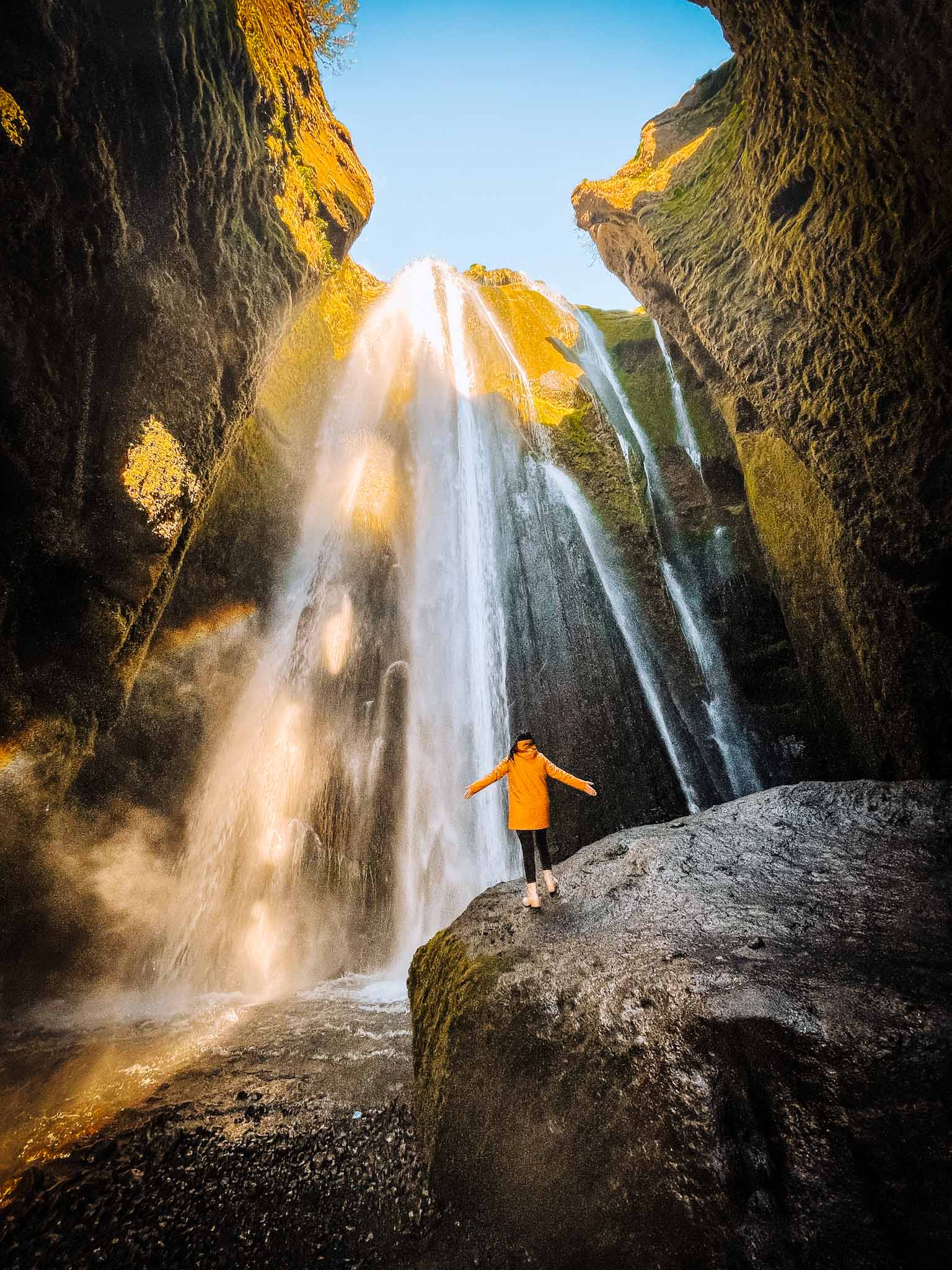 Visiting Gljúfrafoss waterfall was an adventure! The name of it means the 'inhabitant of the canyon'. It is located inside a mountain, and you can get there through a narrow opening between the mountains.
To access the waterfall you will have to go along the river. However, it is not too difficult, because there are big stones in the river where you can step on to keep your feet relatively dry.
However, standing inside the canyon will be a wet experience, but totally worth it! There is a huge boulder inside the canyon where you can stand on to take some unique and unforgettable photos!
Location: Gljúfrafoss or Gljúfrabúi waterfall · Parking lot (for a fee)
18. Fjaðrárgljúfur – the famous river canyon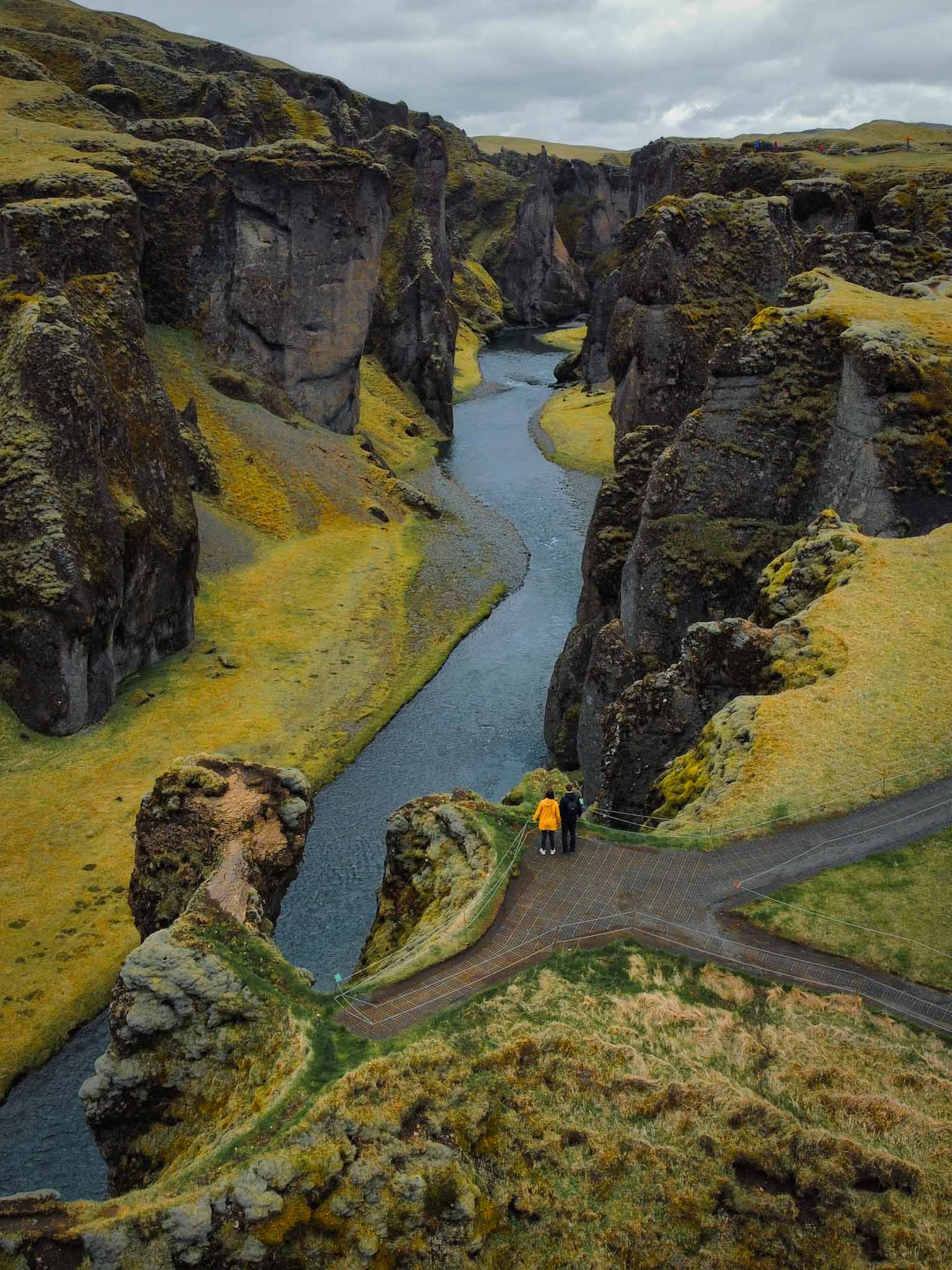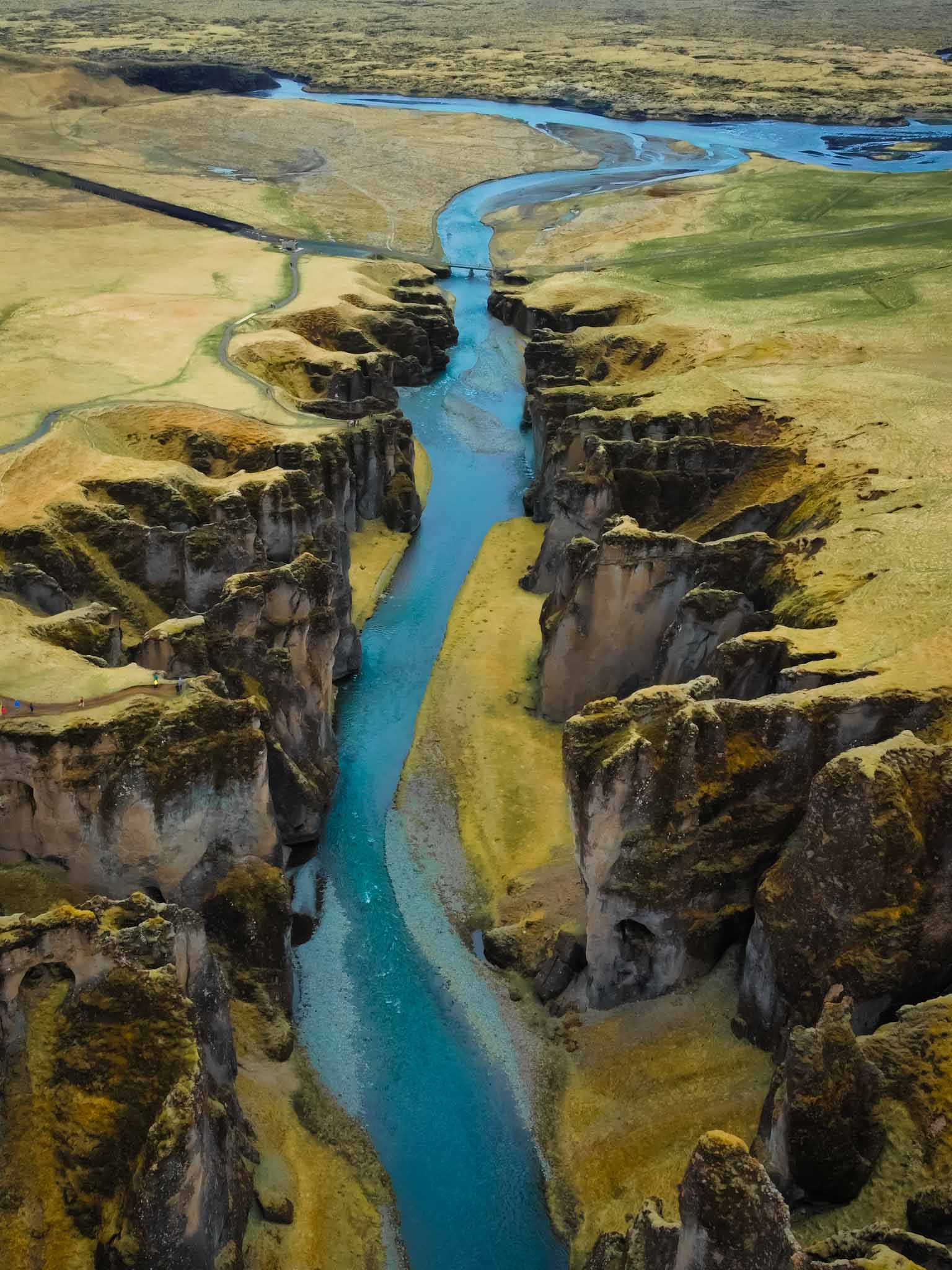 With a winding river and steep 100-meter walls, this canyon seems like a beautiful painting. Canyon walls are pretty unique – winding and forming rock formations in beautiful shapes!
Getting to the canyon is quite easy – you can actually drive very close to the canyon and the viewing platform. From there you can then walk downwards along the side of the canyon to see it from different perspectives.
You will be happy to find out that it is allowed to fly a drone above the canyon so you can get some pretty breathtaking photos here from a different perspective (if you have a drone, of course)!
Location: Fjadrárgljúfur · Parking lot at the viewing platform · Parking lot 2
19. Hengifoss waterfall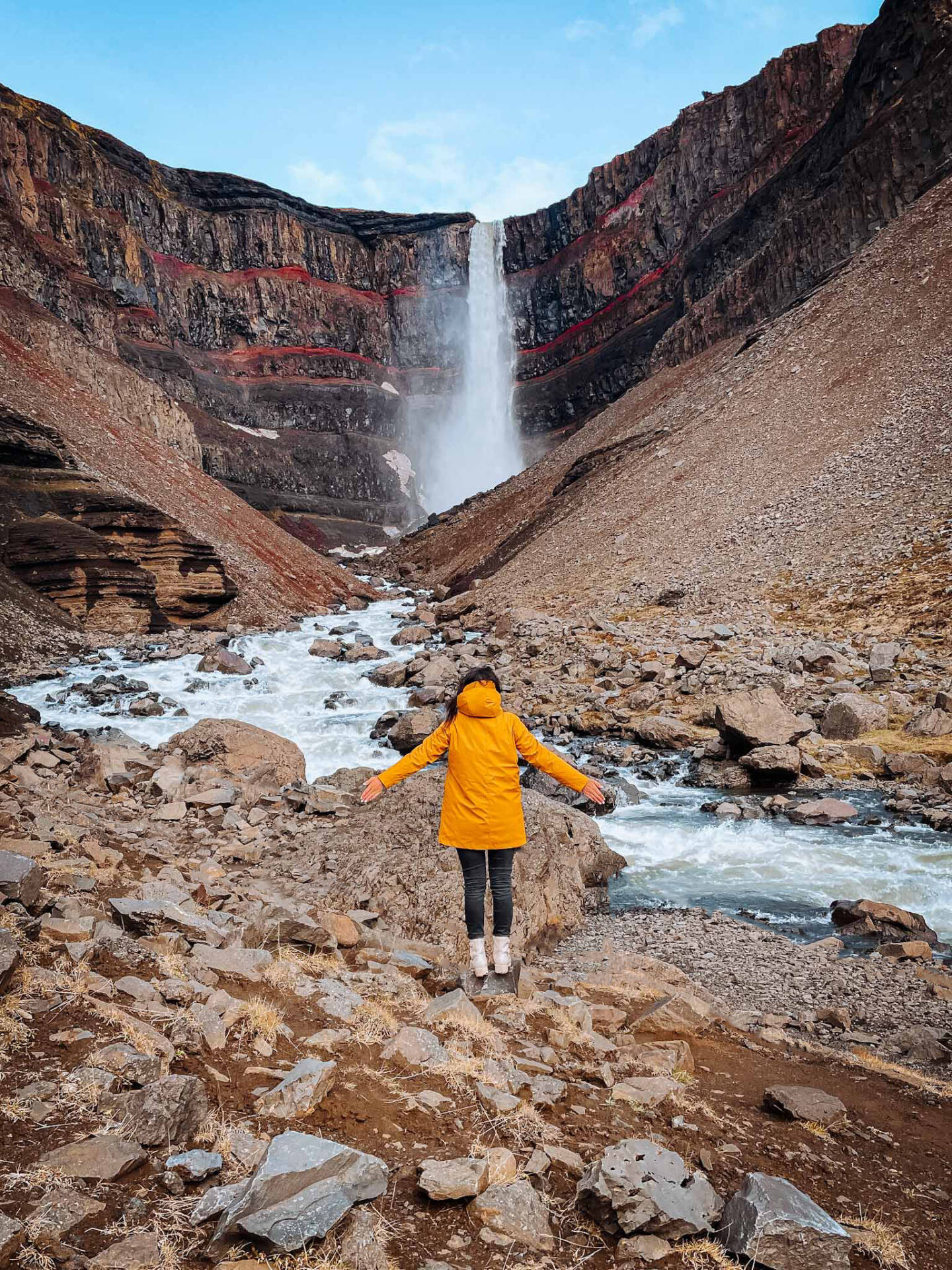 Hengifoss waterfall, falling from 128 meters, is the third-highest waterfall in Iceland! However, the most unique part about it is that between the black basalt rocks, there are red clay stripes.
This creates a unique look and is definitely something you don't see very often! I mean, a red-striped waterfall? What else does Iceland have to offer? This is definitely a unique Instagram spot in Iceland!
Location: Hengifoss Waterfall · Parking lot
20. Ingjaldshólskirkja – church on a mountain
Ingjaldshólskirkja is a solitary church on a mountain in the Snæfellsnes peninsula. It was built of concrete at the beginning of the 20th century.
The most beautiful pictures of this church you will get if you stop at the side of the road before the church – there is a straight road leading right to it and the church sits on a small mountain with even bigger mountains as a backdrop.
Location: Ingjaldshólskirkja
21. Strokkur geyser
One of the most entertaining places and also one of the most unique places in Iceland is the geothermal area beside the Hvítá River. Here you will find the famous Strokkur geyser which erupts every 3 to 5 minutes.
There are other geysers, hot springs, and hot pots too. You can't swim here, because the water is boiling hot, but it is super entertaining to watch the eruptions! Come here in the morning to avoid crowds! There is no entrance fee!
Location: Strokkur · Parking lot
22. Stone bridge in Arnarstapi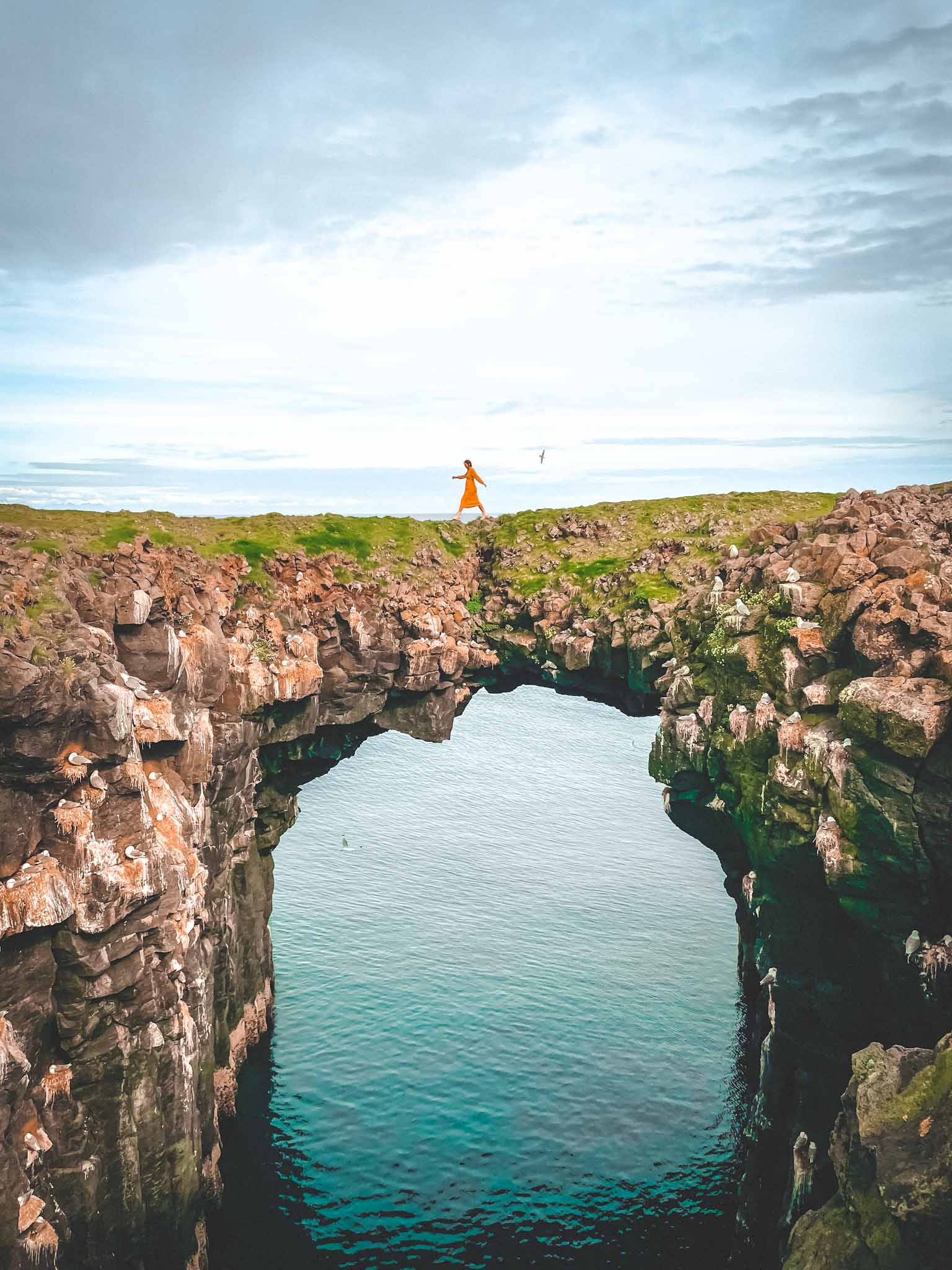 Arnarstapi is a fishing village in the Snæfellsnes peninsula and a place you should definitely include in your Iceland itinerary!
There is an area along the coastline full of unique and pretty amazing rock formations. That includes a stone bridge that is connected to the shore (meaning – you can walk on it!), so it's a great spot for some interesting Instagram photos!
Location: Stone bridge · Parking lot 1 · Parking lot 2
23. Kvernufoss waterfall
If you come to visit Skogafoss waterfall, I strongly suggest visiting Kvernufoss as well. It is often overlooked by tourists. However, it really deserves all the attention! It is located in a small canyon-like area with dreamy green moss around it.
The most unique thing about it is that you can walk behind it! It might be the wettest experience you will have in Iceland, but it will make for some great photos! You can't go around it from behind – there is no path further, so you will have to go back the same way you went behind it!
Location: Kvernufoss Waterfall · Parking lot
24. Hvitserkur – an animal-shaped rock formation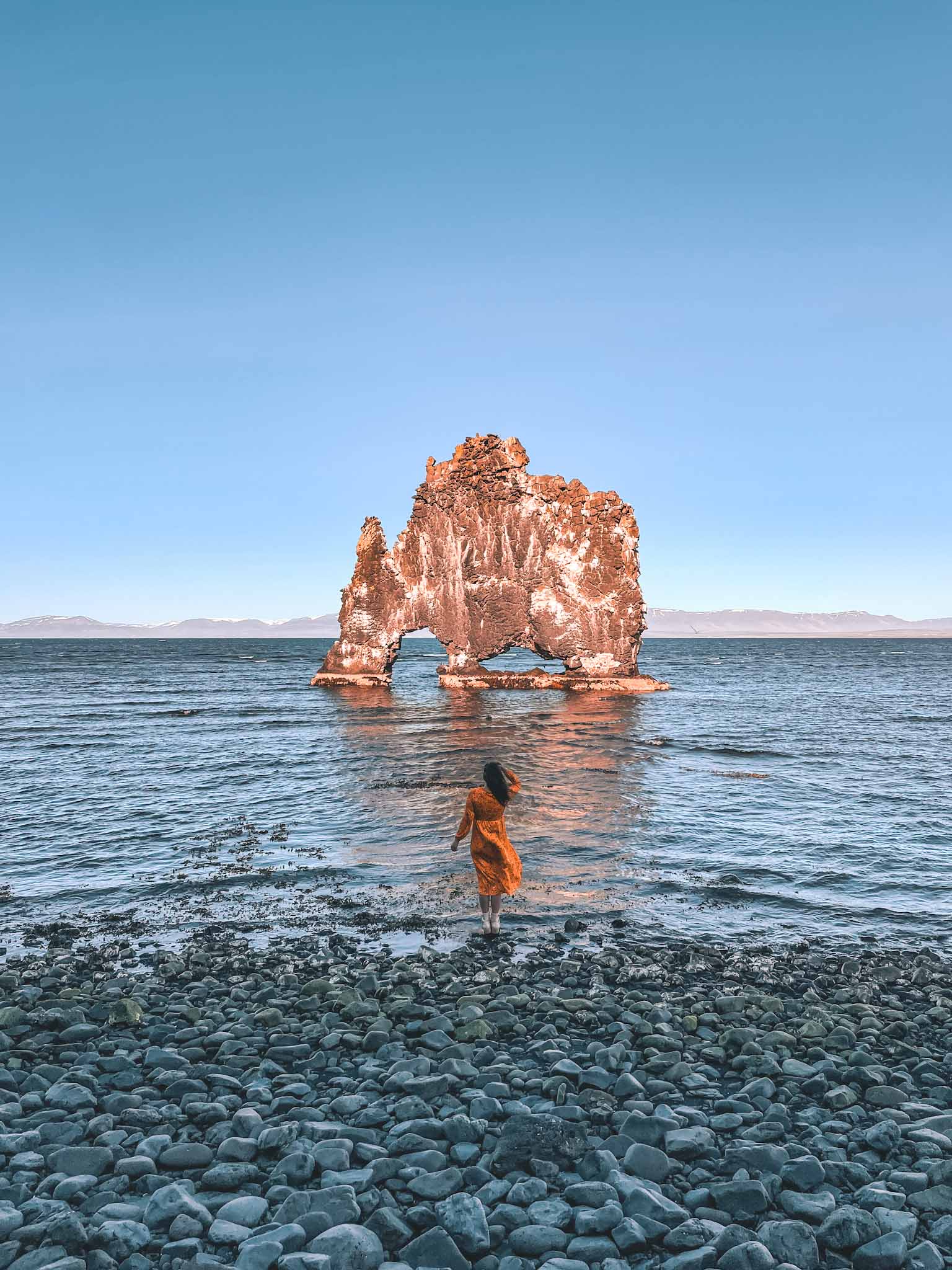 Hvítserkur is a 15-meter tall basalt rock formation in the ocean near the coast in the Northwest of Iceland. This is definitely one of the strangest and one of the most unique places and rock formations in Iceland!
Some say that this rock formation looks like a troll, a dragon, a rhino, an elephant – you name it! What do you think it looks like? I am torn between a rhino and a wild boar. If you are driving the Ring Road, I really suggest visiting this rock formation. You will get a unique photo as a reward!
Location: Hvitserkur · Parking lot · Viewing platform
25. Múlagljúfur – the fairytale canyon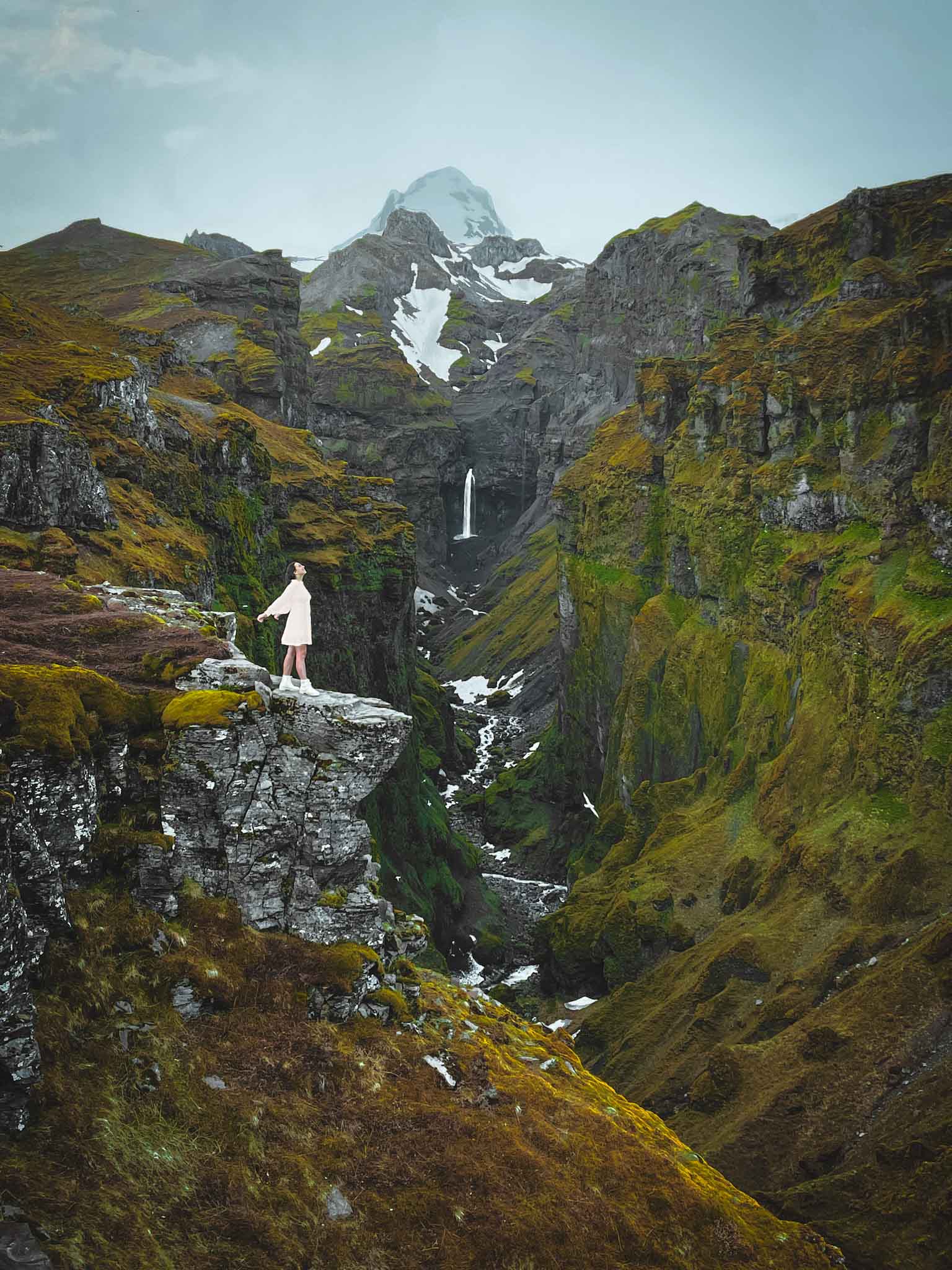 Mulagljufur Canyon is one of the most scenic places in Iceland. It is located in the Southwest part of the country and is a lesser-known place. If you like hidden gems and smaller crowds, this place is definitely for you.
The canyon offers incredible fairytale-like views over two valleys and rivers, as well as two waterfalls. And all that in front of a mountain backdrop. The perfect Instagram spot in Iceland in my opinion! Read more about how to find this place in this blog post!
Location: Múlagljúfur · Parking lot · Photo location
26. Dynjandi Waterfall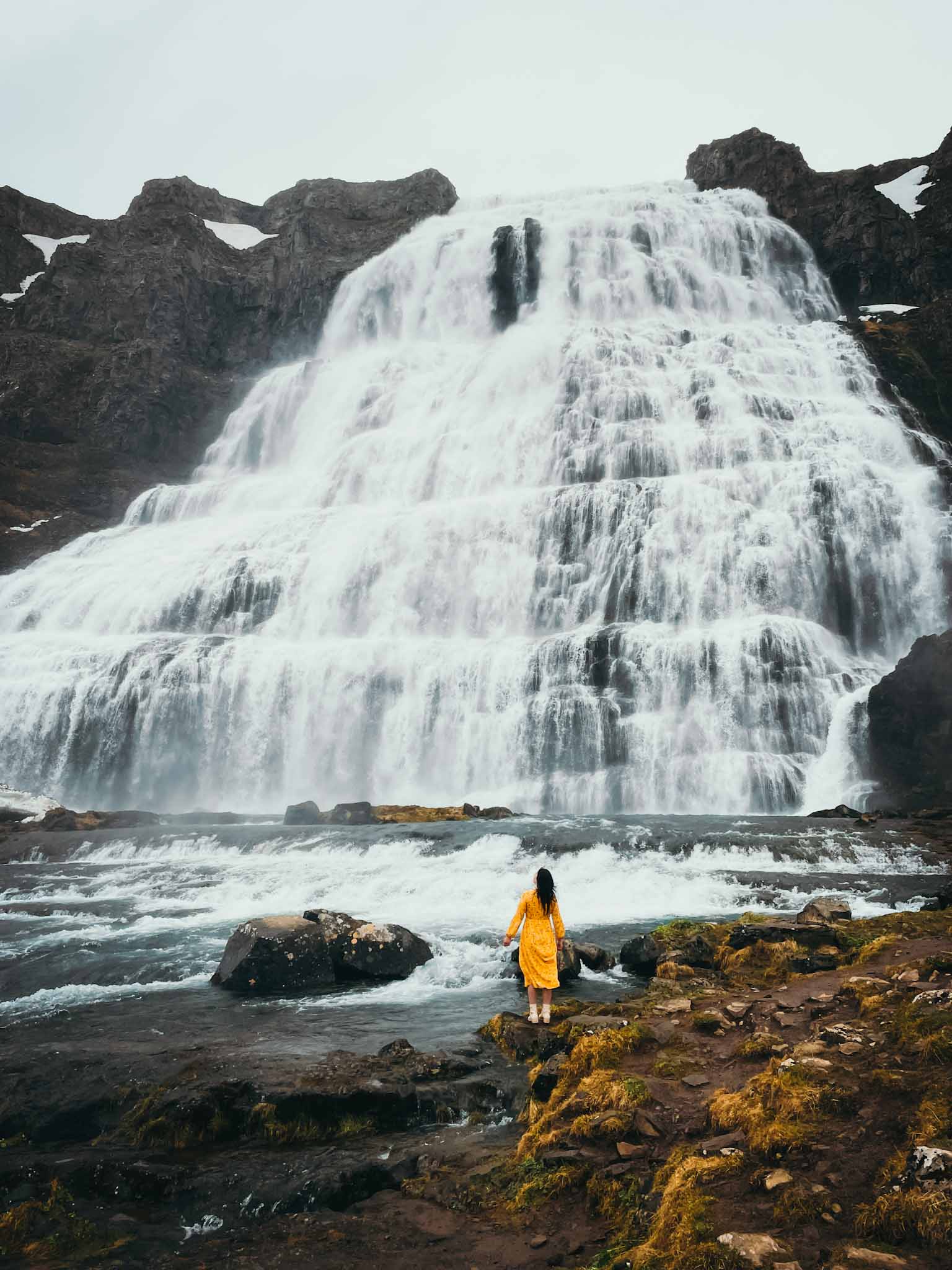 Dynjandi Waterfall is definitely one of the most picturesque waterfalls in Iceland! It has these unique rock terraces where water is falling down reminiscing a bridal dress or a veil.
Actually, the name of the waterfall means 'thunderous noises' which is what you will hear when you get close to it. It is truly beautiful – 30 meters wide at the top and 60 meters at the bottom, this 100-meter-high waterfall was one of the most beautiful things I saw in Iceland.
The only con about this waterfall is that it is located in the Westfjords – quite far from other popular tourist attractions. However, this is one of my favorite Instagram spots in Iceland, and I think it is worth the effort if you have time!
Location: Dynjandi Waterfall · Parking lot
27. Turf churches Grafarkirkja and the Commonwealth farm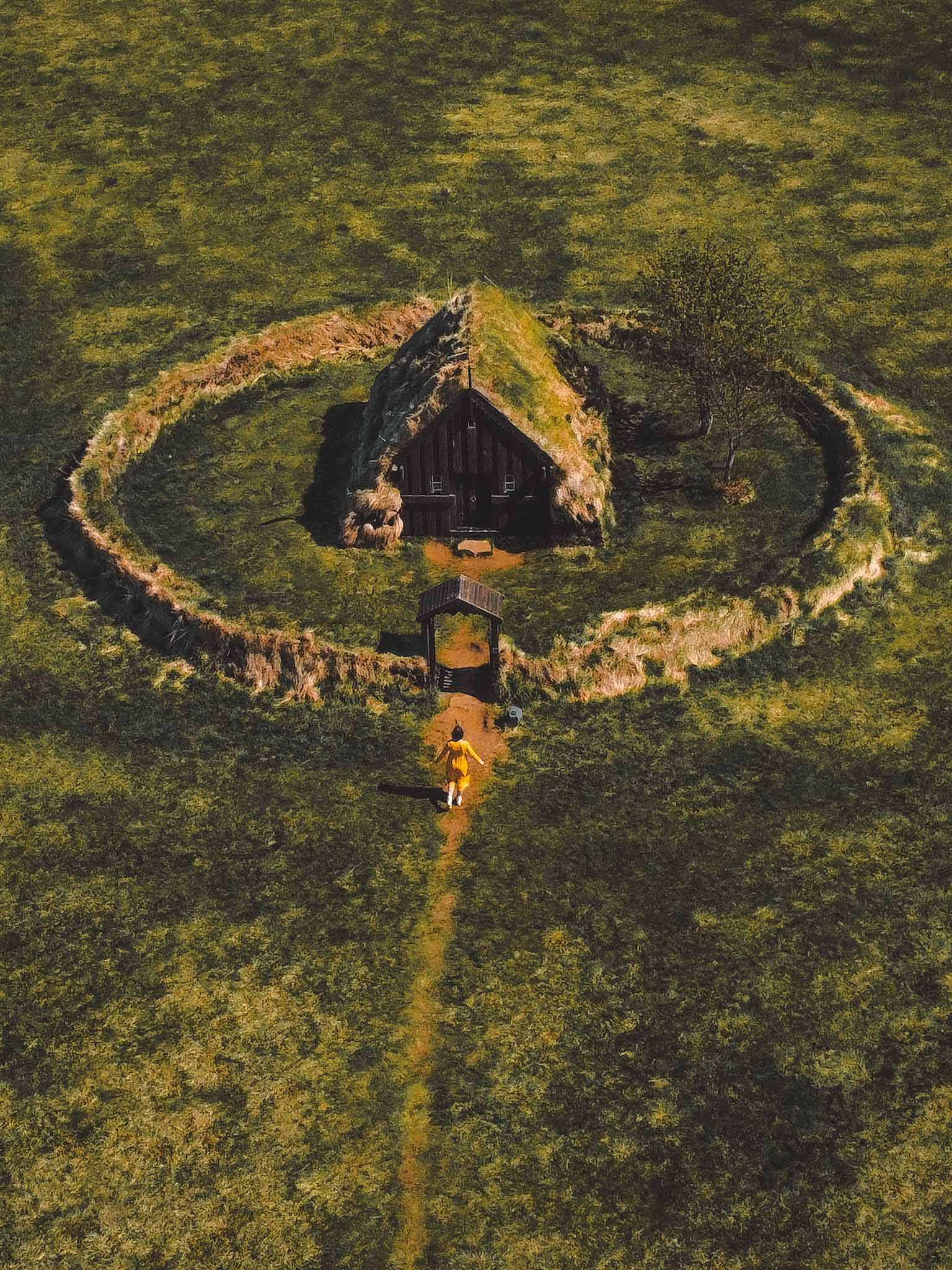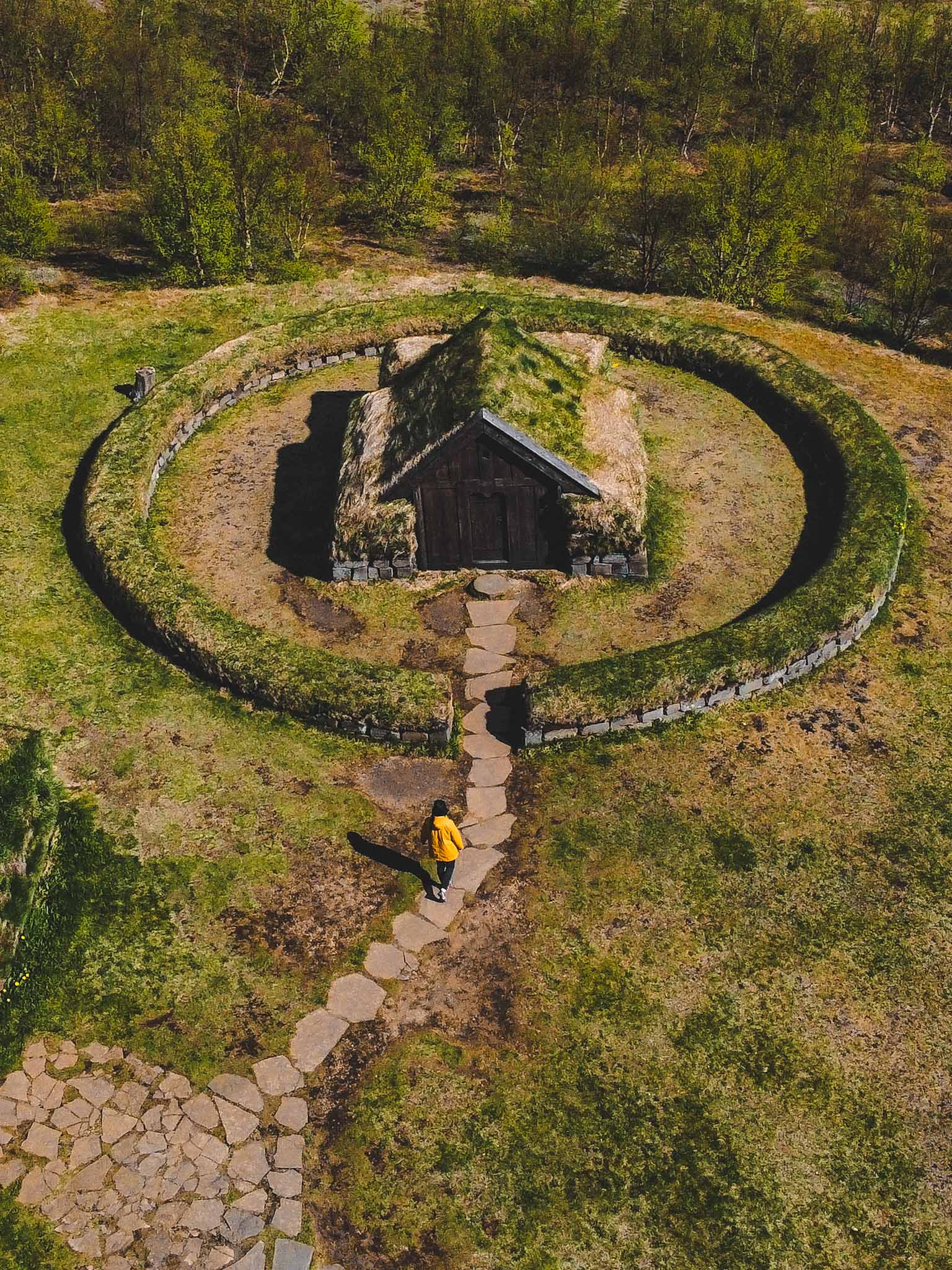 One of the most unique man-made sights you will see in Iceland are these beautiful turf churches with circle-shaped fences around them. This is how they used to build churches a couple of centuries ago in Iceland.
Today only about 6 turf churches are left in Iceland and they are really worth a visit and make for a beautiful photo spot – especially if you have a drone and can take a photo from above. But they look really cool from the ground level as well.
Two of my favorite and most Instragrammable turf churches in Iceland were Grafarkirkja and a replica of a Viking-era church at the Commonwealth Farm museum (you can see it from the outside for free!).
Grafarkirkja is the oldest turf church in Iceland and its origins date back to the 17th century, so definitely try to include at least one of these Instagram spots in your Iceland itinerary!
Location: Grafarkirkja · The Commonwealth Farm and Church
Happy exploring!
In my opinion, Iceland is THAT country everyone should visit once in their lives! It is full of magical and unbelievable nature spots and places you won't really see anywhere else on Planet Earth! If you can, please, leave a comment below if there are any significant changes to anything that is written in this blog post! Many thanks!
PIN FOR LATER!