7 unbelievably beautiful natural stone arches in Iceland
Natural wonders come in different shapes and sizes, but natural stone arches in Iceland are probably some of my favorite places to see. It just shows how great of an architect nature is!
It was only after the trip to Iceland that I realized that there are many beautiful natural stone arches in Iceland! Here are 7 of my favorite stone arches in Iceland!
1. Dyrhólaey sea arch
Dyrhólaey Peninsula is a very popular place to visit in the South part of Iceland. Probably the most popular reason for visiting this place is because there is a big chance to see the puffins – sea birds that come to nest in the seacliffs during the summer season.
Another reason is that there is a beautiful view over an endless black beach (read more about beautiful beaches in Iceland in this blog post!).
Thirdly and most importantly, there is a beautiful and very huge volcanic sea arch. You can't walk on it as it is THE place for puffins to build their nests, but it looks incredibly mighty from afar as well.
Getting there is very easy as there is a tarmac road going to the very top of the cliff. After you leave your car at the parking lot, follow the path in the direction of the lighthouse. There is a viewpoint of the sea arch right behind it!
You should know that during mating season for the puffins (May-June) this area has working hours from 9 AM to 7 PM, but the working hours might change, so better see for yourself!
Location: Dyrhólaey sea arch · Parking lot · Viewpoint of the sea arch
2. Stone bridge in Arnarstapi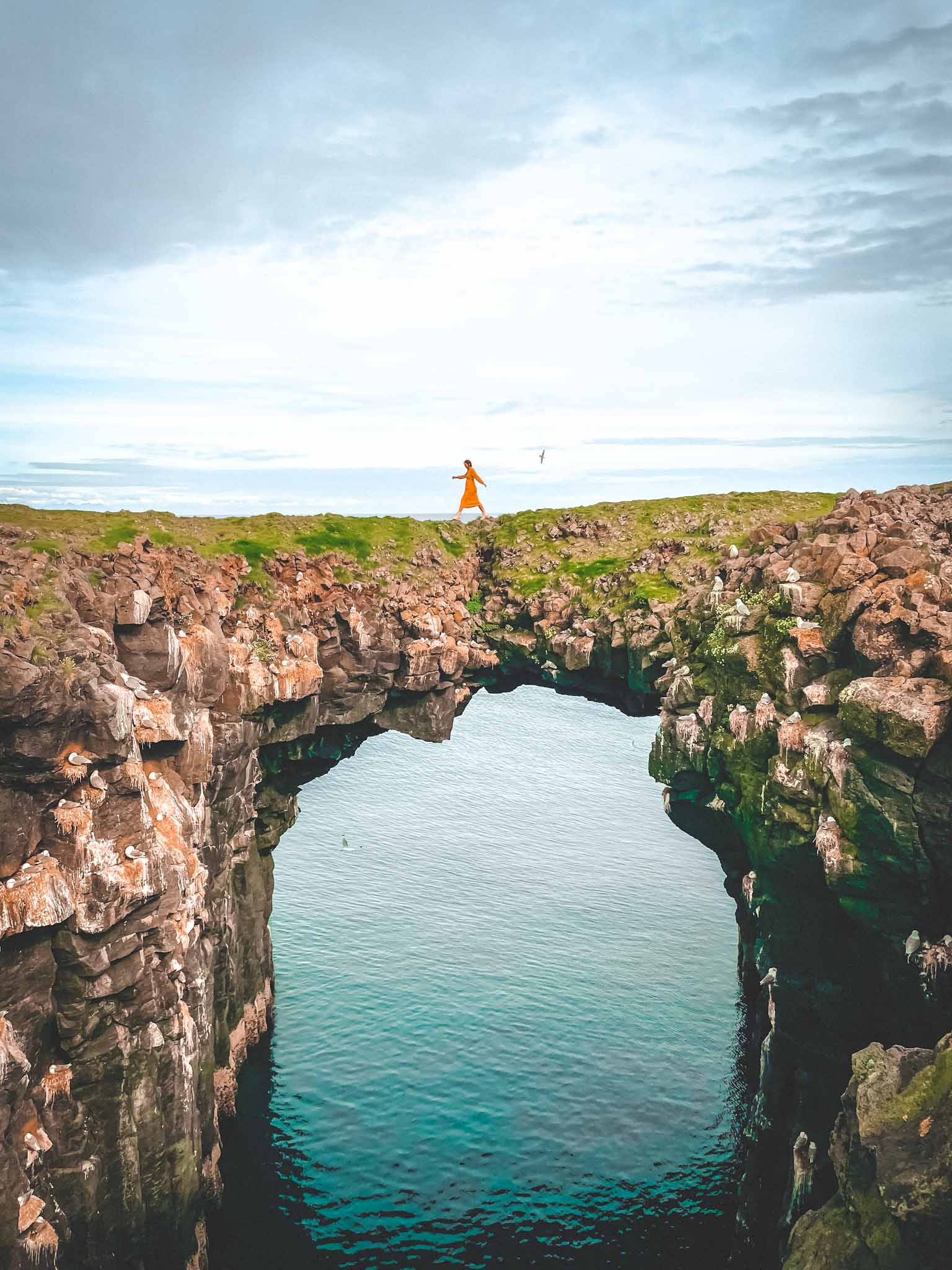 The natural stone bridge in Arnarstapi town in Snæfellsnes Peninsula was probably my favorite stone arch in Iceland. Maybe because it is quite high from the ocean level or because you can freely walk on it.
We came here in early June and it was the peak of nesting time for birds. So there were a lot of them near the stone arch which made this view very lively.
To get to this spot you can park your car at two different places – at the Arnarstapi harbor or at the Arnarstapi hotel.
Both parking lots are connected to the walking path that goes along the coastline (it just goes there and back again). It is quite a popular short hike because of the different rock formations in the ocean near the coast.
Location: Stone bridge in Arnarstapi · Parking lot 1 · Parking lot 2
3. Gatklettur – the Arch Rock at Arnarstapi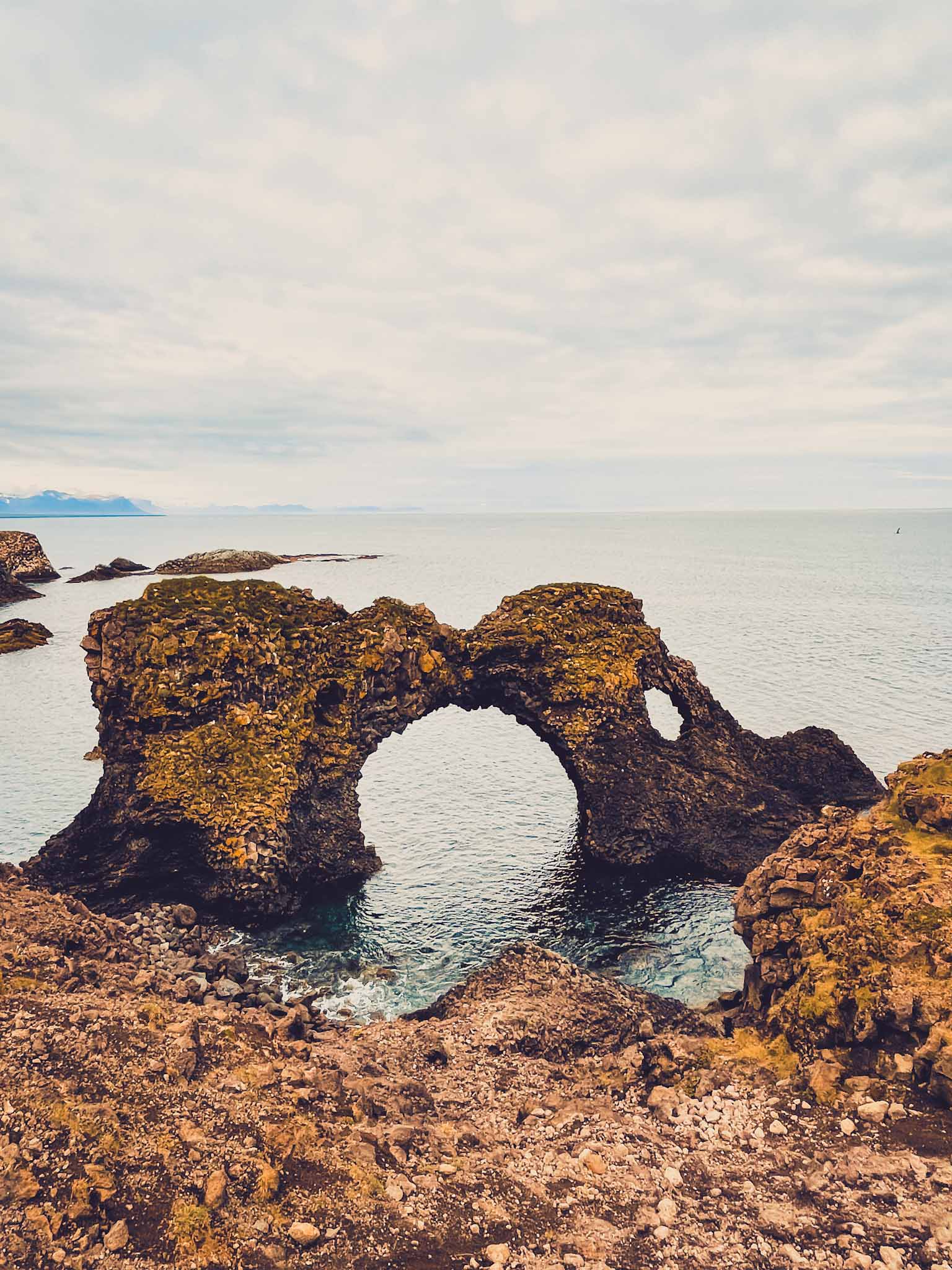 If I didn't convince you already to travel to Arnarstapi village, here is another reason for it. There are actually two sea arches in Arnarstapi village. Very near to the stone bridge, you will find a viewing platform with an amazing view – this stunningly unique Gatklettur arch rock near the coast.
You can't climb on this one as it is not connected to the coastal cliff, however, it doesn't change the fact that this is one of the most unique rock formations have ever seen. There is not only a beautiful arch but also a circular hole on the side of it. Definitely worth a visit!
Location: Gatklettur – the Arch Rock  · Parking lot
4. Rauðanes sea arch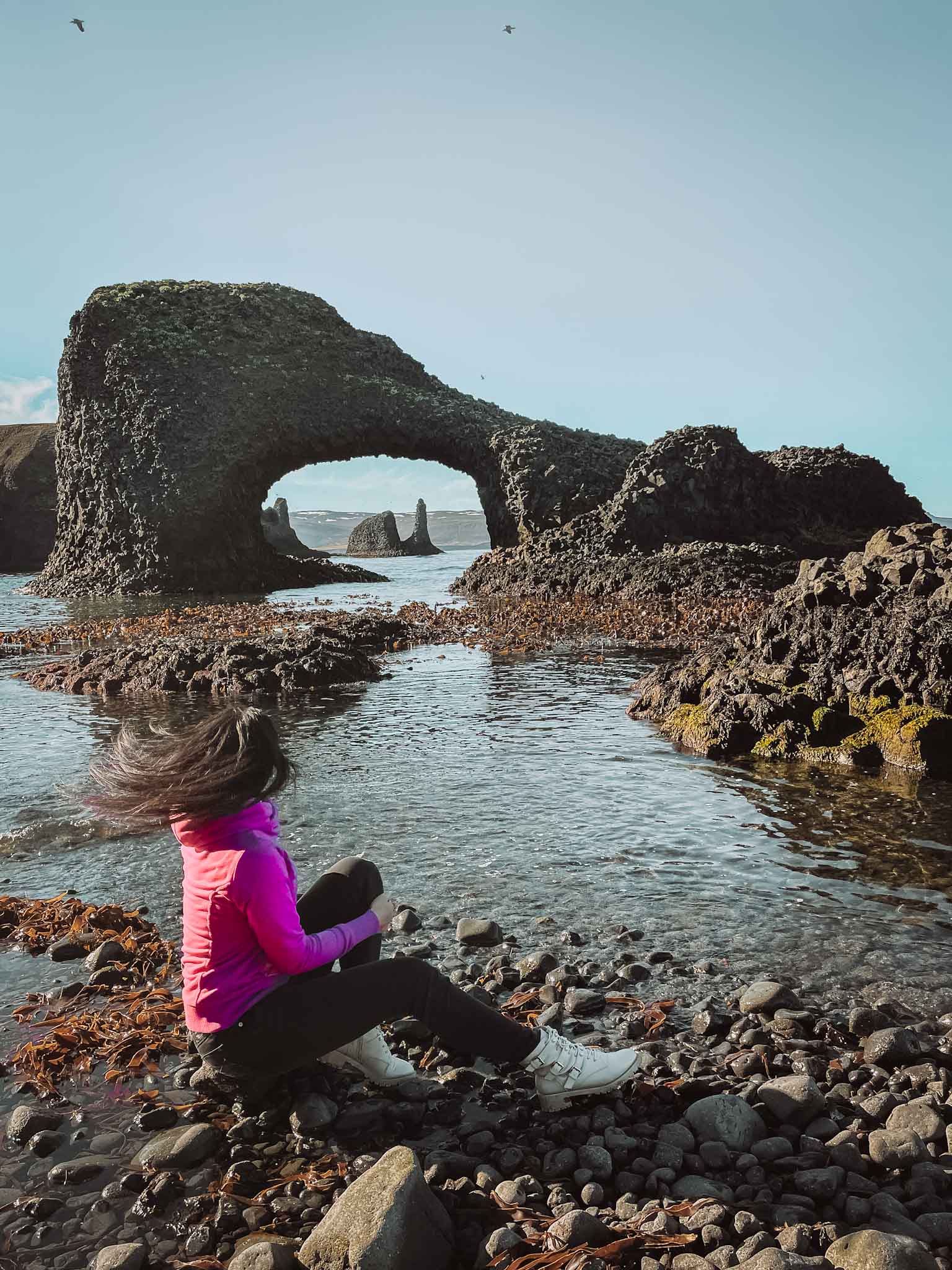 Rauðanes point in the far Northeast of Iceland is another unique coastal territory. This area is so remote and untouched that you might not even see a single person there.
However, here you will encounter a truly beautiful natural stone arch with rounded corners – looks like somebody made it out of clay or something.
If you descend to the ocean level (there is a path from the top of the cliff to the beach) you will get this beautiful and unique view with sharp sea stacks inside the arch. How amazing is this?
Getting there is a bit of a hassle. This area is super remote – it is located near the Svalbarð settlement in the Northeast of Iceland. You will have to drive inside the Rauðanes peninsula until the parking lot.
For us the dirt road was damaged so we had to park a bit earlier. From the parking lot, it will be a 2-kilometer hike along the coast until you reach the right location (see the link to Google Maps below).
There is an information board and a designated path so it should not be a big problem – just go along the coast until you reach the point in Google Maps. Don't forget to bring some snacks and drinks with you!
Location: Rauðanes sea arch · Parking lot
5. Rauðanes coastal arch
I have to repeat myself but again – if I didn't convince you to visit the Rauðanes peninsula, then I have another reason for you.
There is again another natural stone arch in this area. Along the coast, on your way to the previous stone arch, you will encounter another huge coastal arch.
You can easily walk on it and get a nice picture if you wish because it is connected to the coastline. This is probably the biggest or one of the biggest stone arches in Iceland!
Location: Rauðanes coastal arch · Parking lot
6. The Arctic Henge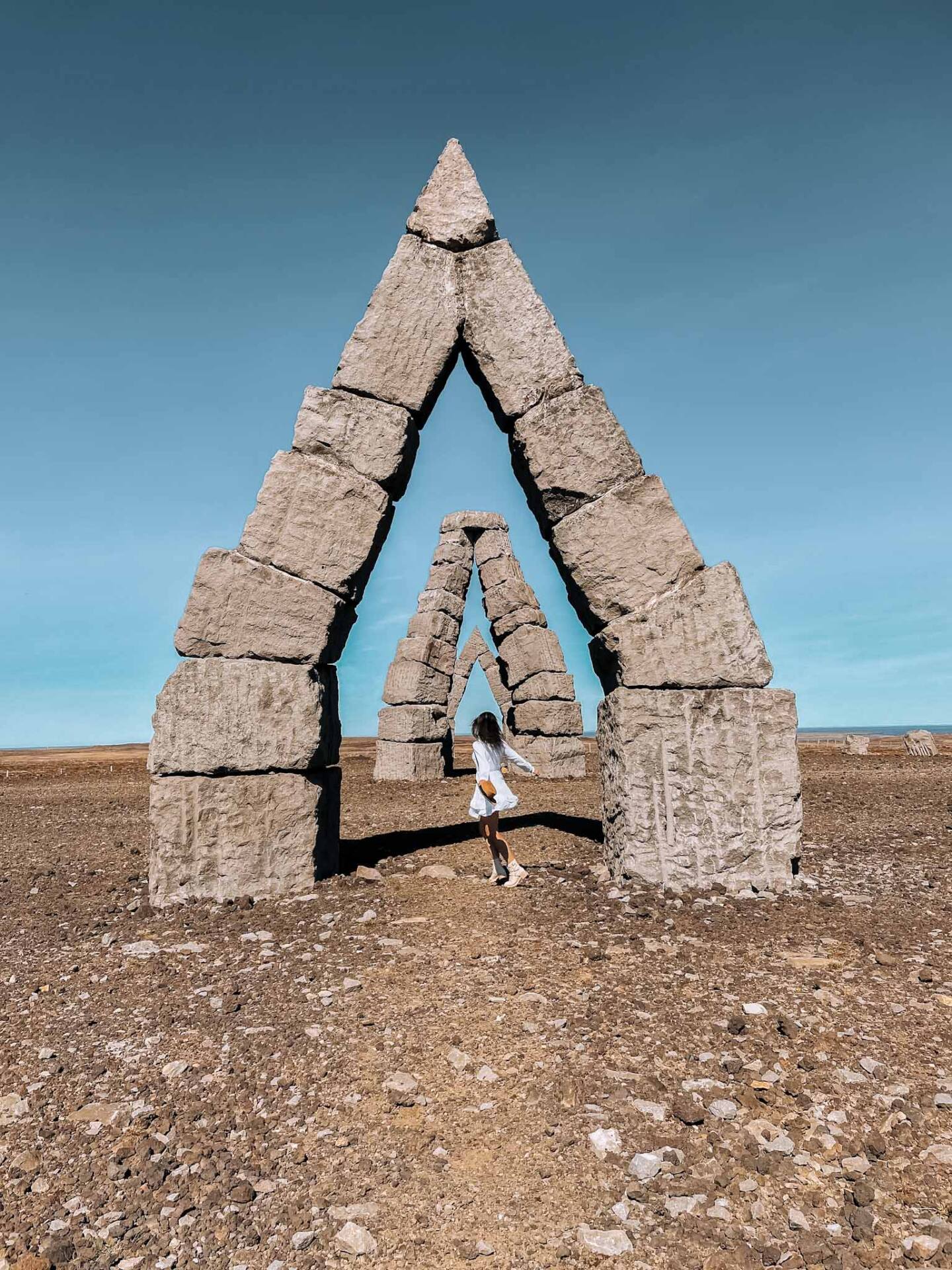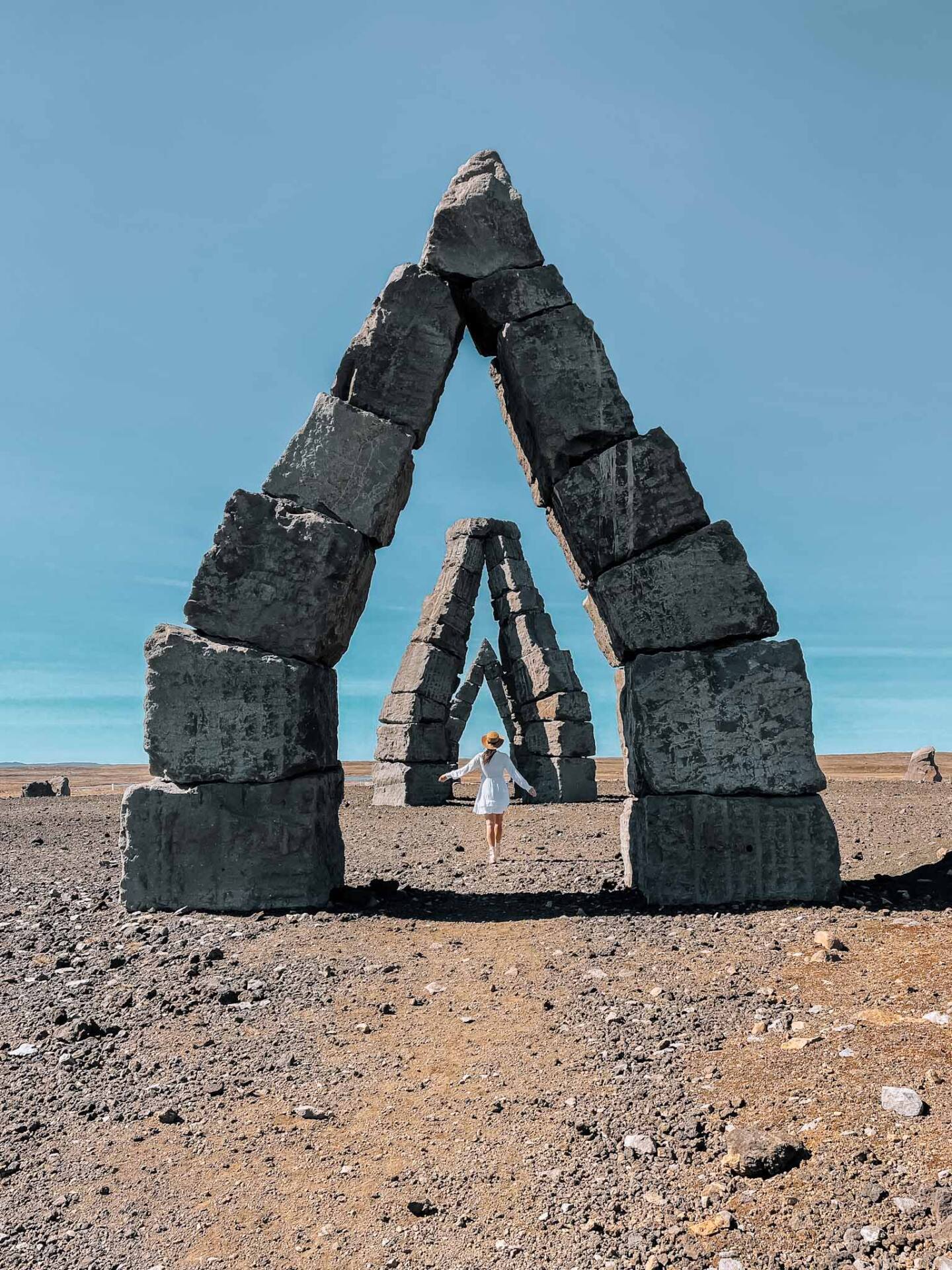 Yes, I admit – these are not natural stone arches. However, I should say that the Arctic Henge fits quite well in this list. It is located in one of the most remote villages very near the Arctic Circle – Raufarhöfn.
The Arctic Henge is a group of huge stone arches (6 meters tall) that are meant to be like a huge sundial. It is still under construction however all the arches are there and you can get some unique photos from unique angles.
If you happen to be in this area, especially if you are driving to the Rauðanes point, I really recommend stopping at this place. There is a parking lot next to it and it is a short walk up the hill to the Arctic Henge and stone arches.
Location: The Arctic Henge · Parking lot
7. Hvitserkur – an arch of an animal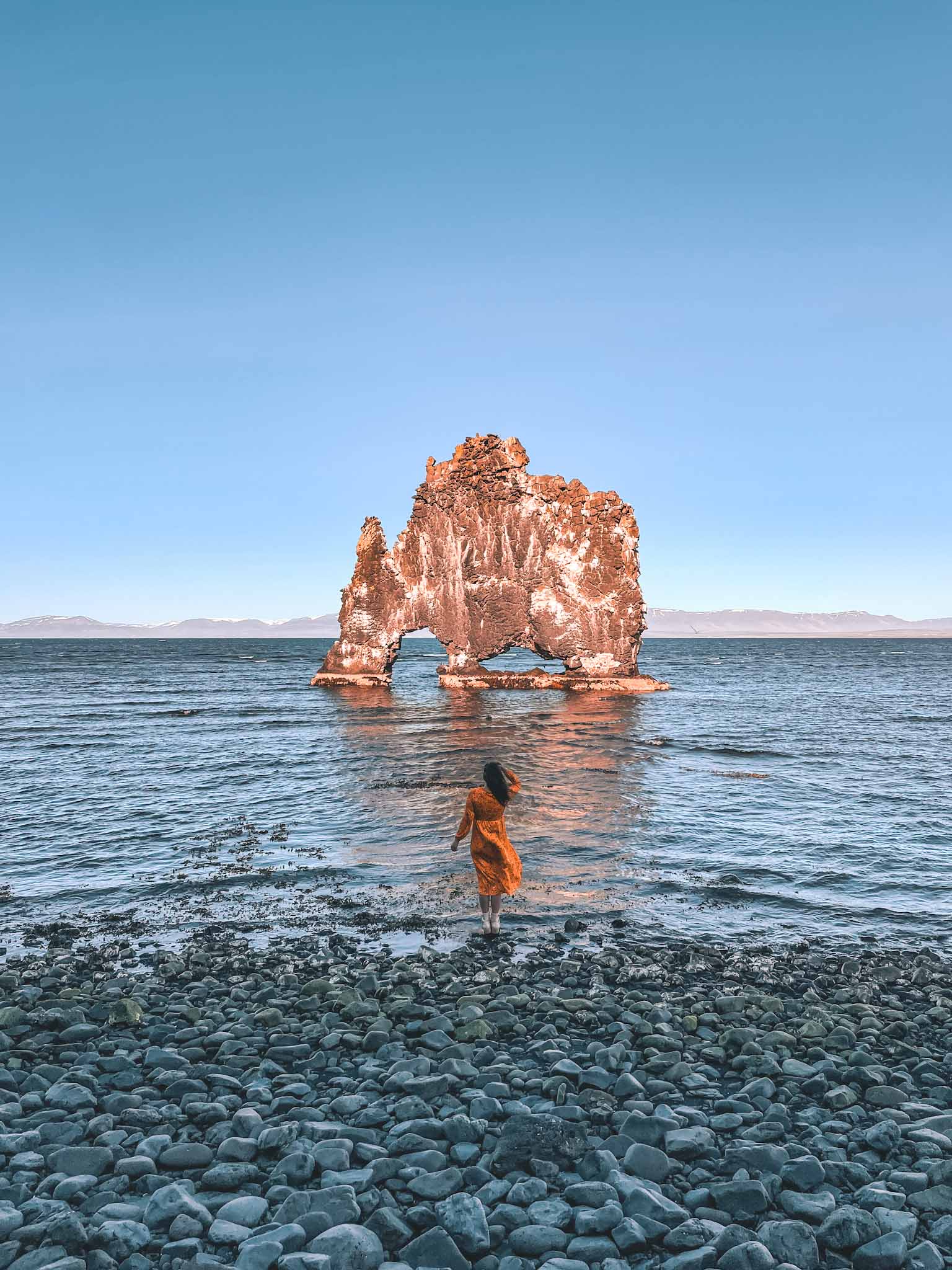 Hvítserkur is a 15-meter tall basalt rock formation in the ocean near the coast in the Northwest of Iceland. This has to be one of the most unique stone arches in Iceland and some would say that it doesn't resemble a stone arch.
But it has some similarities with it and I think this place definitely deserves to be included in this list. Some say that this rock formation looks like a troll, a dragon, a rhino, an elephant – you name it! What do you think it looks like? I am torn between a rhino and a wild boar.
Getting there was a long drive. What made it longer was gravel roads. Yes, about 25 kilometers on a gravel road (and that is only one way!) to see this place.
But this is what Iceland is all about – visiting remote, wild, and untouched places, and seeing them with your own eyes. At least there is a nice parking lot with tables to have lunch and rest after the drive.
There is a viewing platform on the cliff where you can see the rock formation from above. However, there is a small path leading down the cliff to the beach to see it from the ocean level.
We did descend to the ocean level. I would not recommend doing it during rain, but on a dry day, it wasn't too difficult.
Location: Hvitserkur · Parking lot · Viewing platform
Happy exploring!
Natural stone arches in Iceland are a true natural phenomenon! And there are plenty of these phenomena in Iceland. It just makes you wonder how full of surprises nature is. I really hope you will include at least some of these wonderful stone arches in your Iceland itinerary. Have a wonderful trip!
In my opinion, Iceland is THAT country everyone should visit once in their lives! It is full of magical and unbelievable nature spots and places you won't really see anywhere else on Planet Earth! If you can, please, leave a comment below if there are any significant changes to anything that is written in this blog post! Many thanks!
PIN FOR LATER!