5 beautiful beaches to visit in Iceland
Beaches are probably not the reason people are visiting Iceland! However, I think they deserve some attention because there are some truly unique beaches in Iceland!
Also, Iceland won't be the best place for a beach day as the water is too cold to swim in for most people. However, you can definitely appreciate the beauty of beaches by simply looking at them or taking a walk. Here are five of the most special beaches in Iceland!
1. Reynisfjara Beach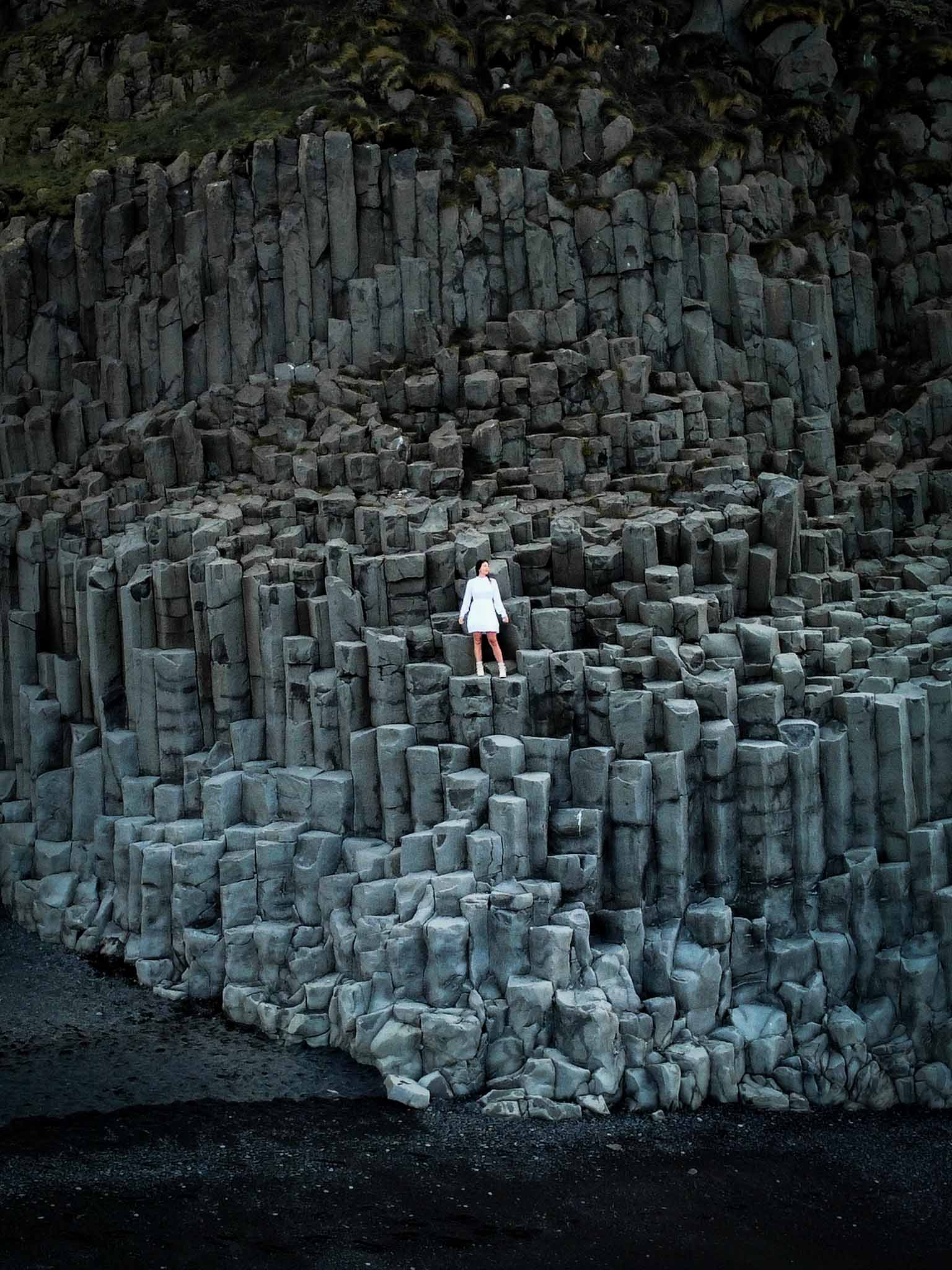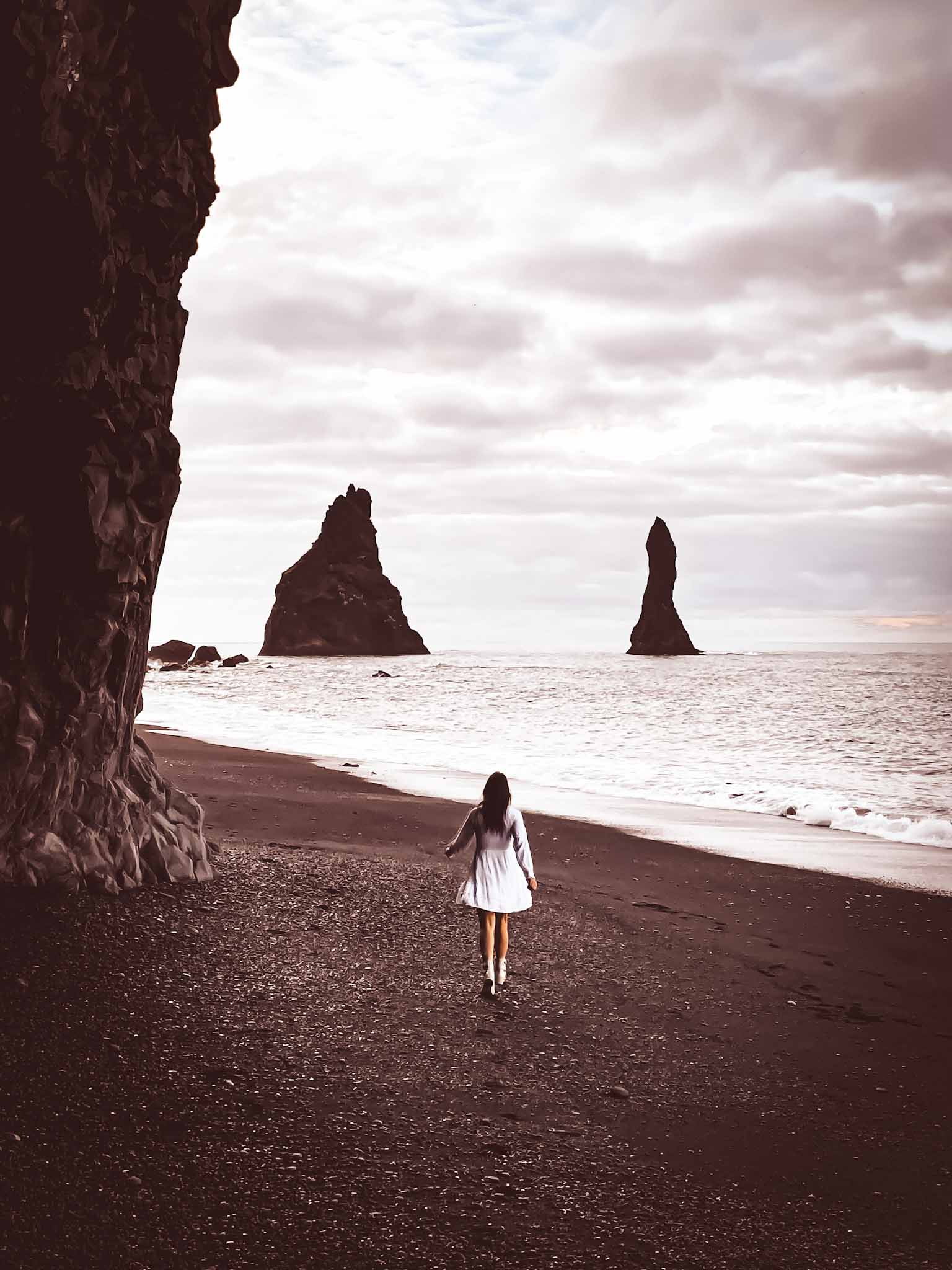 I definitely think that Reynisfjara beach was my favorite beach in Iceland. Despite the fact that it is probably the most popular one, haha!
There are many reasons you will love it too – it has huge black basalt columns at the beach, there are two basalt column caves at the beach, it is a black sand beach and there are dramatic sharp rock formations – Reynisdrangar – in the ocean next to it!
Getting there is quite simple – you can drive to the very beach and park your car in a huge parking lot. There is also a restaurant and toilets available. During the day this beach will be super crowded, so if you are looking for some time alone there, definitely come early in the morning!
There is also a black sand beach at Vík village – on the opposite side of the coastal rocks, but the view is definitely better at Reynisfjara beach.
Location: Reynisfjara beach · Parking lot · Reynisdrangar rocks · Basalt columns
2. Diamond beach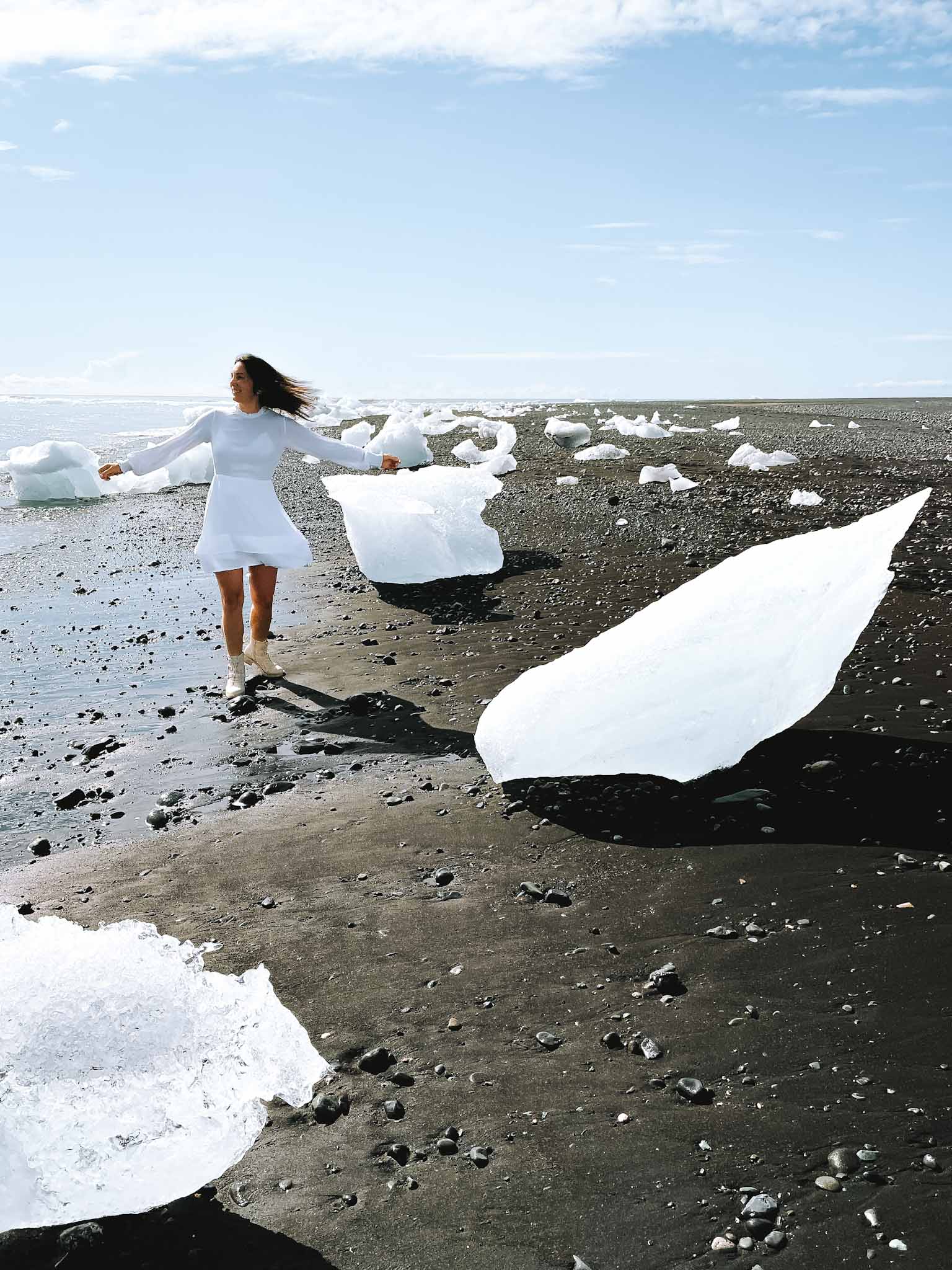 Diamond beach is definitely one of the most popular beaches in Iceland. The unique thing about it and the reason for its name is because of broken-up iceberg pieces that have been washed ashore. They look like blueish-white diamond pieces on the black sand background.
The beach is located near the Jökulsárlón iceberg lagoon where the glacier melts, icebergs break off the glacier and later break up into smaller pieces. The smaller iceberg pieces then are washed into the ocean through a canal connected to the ocean.
After that, the waves simply wash them ashore where they rest until they melt completely. The most important thing you should know is that Diamond beach stretches on both sides of the canal connecting the glacier lagoon with the ocean.
I definitely recommend checking out both sides, because sometimes there are more 'diamonds' on one side than on the other. If you are looking for some time alone here, then come early in the morning.
Location: Diamond beach-East side · Diamond beach-West side · Jökulsárlón Glacier Lagoon
3. Stokksnes beach and the Vestrahorn mountain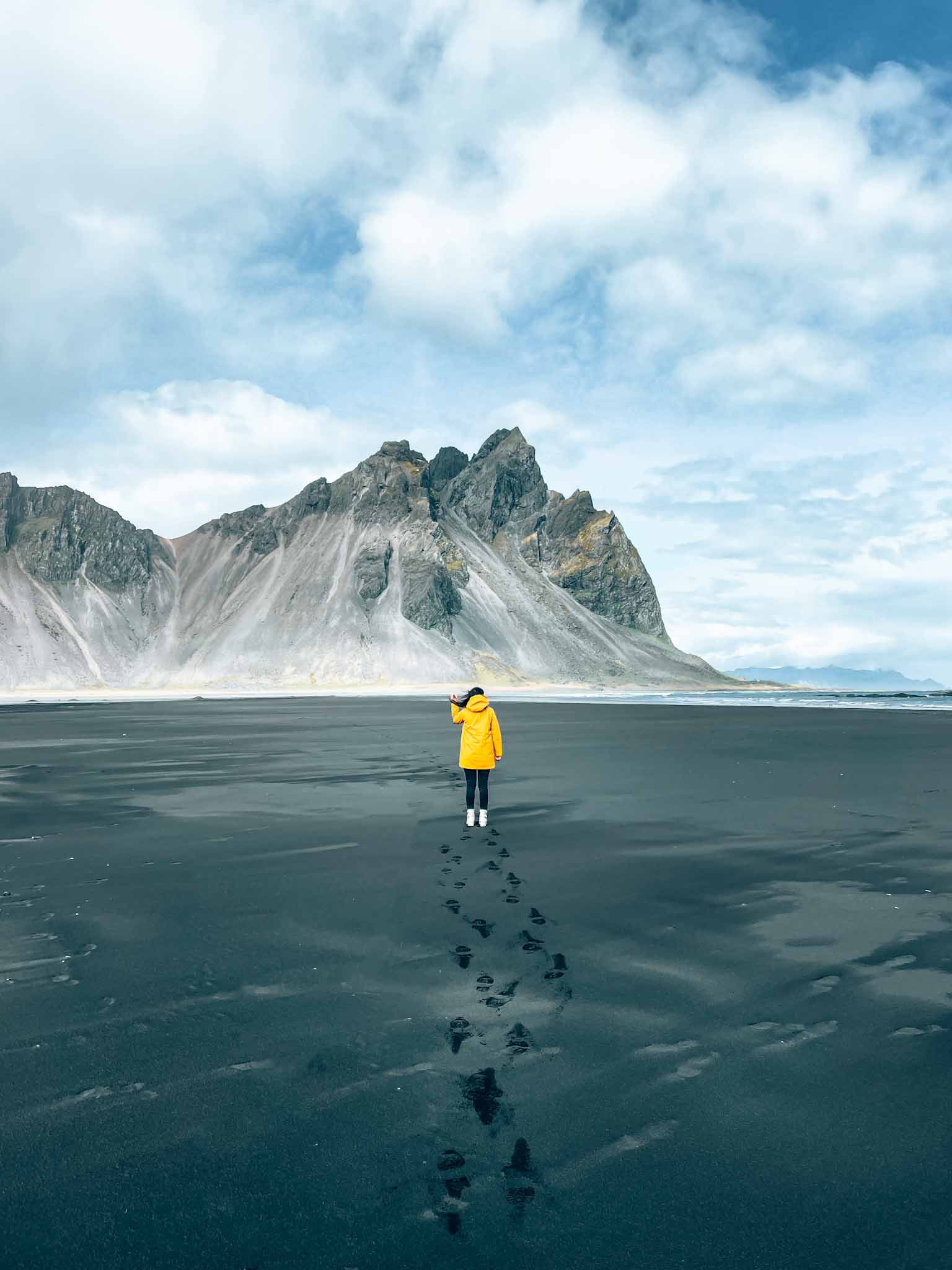 Stokksnes beach is a huge black sand beach in the Southeast part of Iceland. It is mostly known for the surrounding mountains, especially the Vestrahorn mountain (reaching up to 454 meters) which has become so popular amongst tourists and photographers.
I mean, just look at the photo, it explains everything itself! You should know that this place is on private property and there is an entrance fee to see the beach and the mountain up close.
You have to drive to the Viking Café, pay 6.50 EUR per person, and then you can enter the area. The entrance fee also includes visiting an abandoned 'Viking village' that was actually made for a movie but has long been left and forgotten and is breaking apart.
There are also some hiking trails in the area if you are looking to spend some more time there. The routes will be given to you when you buy the entry tickets.
Location: Viking Café · Viking village · Vestrahorn mountain · Stokksnes beach
4. The Endless Black Beach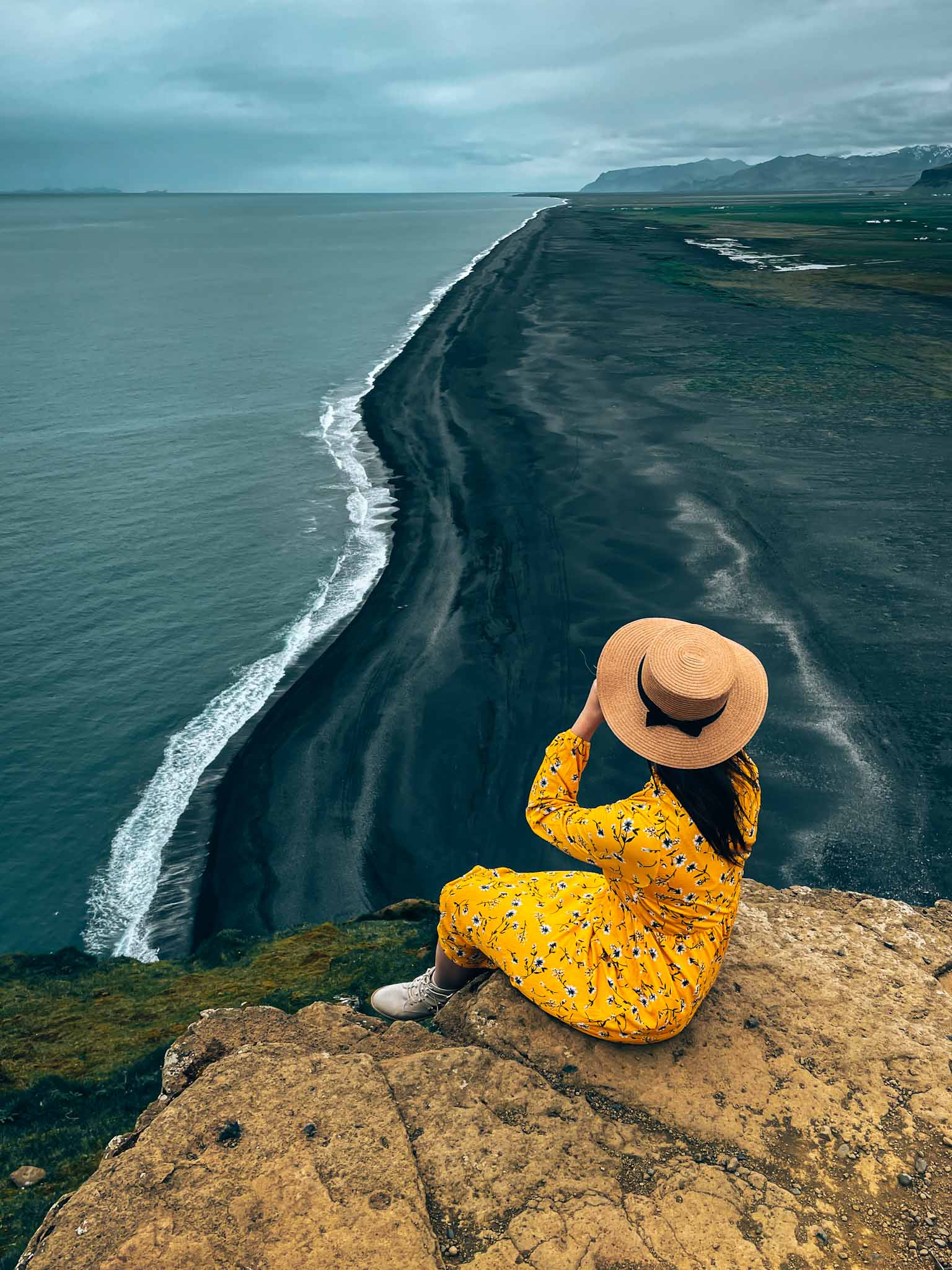 The view over the Endless Black Beach is truly spectacular. It seems like this beach doesn't have an end – it reaches tens and tens of kilometers afar. However, the beach itself is quite difficult to access at sea level as there aren't too many roads and if they are, they go through private properties.
So the best view you can get of this beach is from the top of the Dyrhólaey cliff near the Dyrhólaey lighthouse. Dyrhólaey is a popular place to visit because there is a natural rock arch where the famous puffins love to nest during the summer season.
You will meet many people with binoculars in their hands here who are trying to see the birds! However, you should know that this area has working hours during their mating season (usually May-June) when you can access the area from 9 AM till 7 PM (hours may change).
Location: The Endless Black Beach · Dyrhólaey peninsula · Viewpoint · Parking lot
5. The Red sand beach Rauðisandur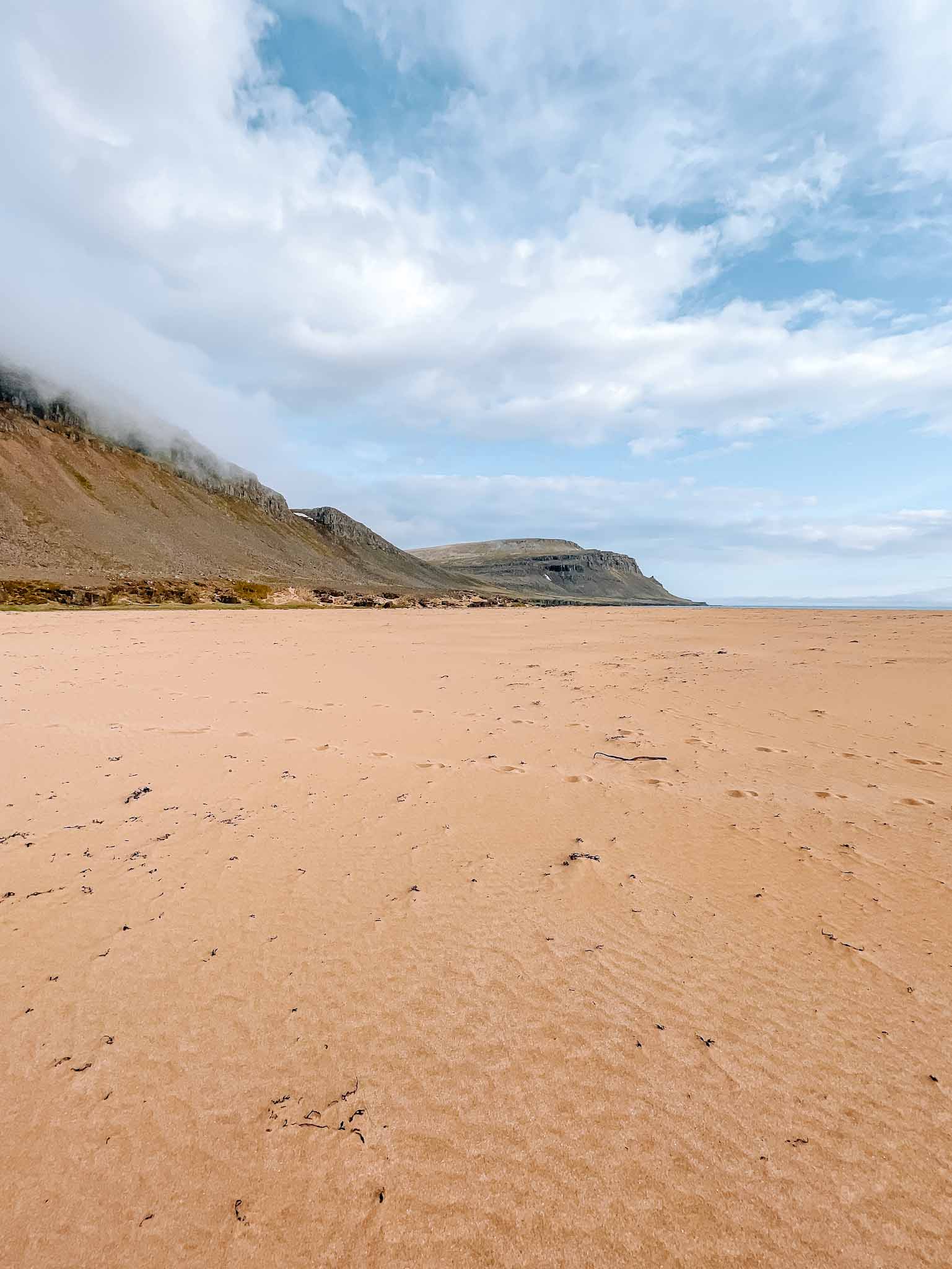 Rauðisandur beach translates as the Red Sand beach. It is a one-of-a-kind beach in Iceland and is located in the Westfjords. The beach got its name after the color of the sand, however, I would not call it red, but rather a dark yellow or orange!
Nevertheless, it is a special beach because almost all other beaches in Iceland have black sand. Psst! There are other white-sand and red-sand beaches nearby the famous Rauðisandur beach – Örlygshöfn Beach, Golden Beach Tungurif, and Breiðavík Beach are the most notable ones.
Rauðisandur beach is super remote – it will be a veeery long drive and definitely not worth it to drive inside the Westfjords specifically for this beach. But if you are visiting Westfjords, you should definitely include this beach in your list of places to see in this area.
The beach is truly mighty – it is about 10 kilometers long. However, there is one thing you should take into account when you visit this place. During high tide, you won't see much of the beach as it will be almost completely covered by water.
If you are looking for endless yellow sand views, then come here during low tide. In any case, at least some parts of the sand will still be visible during high tide.
I would recommend parking your car at the Melanes campsite as it is the closest place you can drive to the beach. There are also toilets available for donations if you need to use them.
Location: Rauðisandur beach · Melanes campsite (parking lot)
Happy exploring!
In my opinion, Iceland is THAT country everyone should visit once in their lives! It is full of magical and unbelievable nature spots and places you won't really see anywhere else on Planet Earth! If you can, please, leave a comment below if there are any significant changes to anything that is written in this blog post! Many thanks!
PIN FOR LATER!