How to find the heart-shaped rock in Algarve? All you need to know!
The heart-shaped rock formation in Algarve has become one of the most iconic photos for Algarve visitors. But how to find the heart-shaped rock? In this blog post, you will find the exact location on the map of the heart-shaped rock, how to get there and what to expect. Happy exploring!
This post contains some affiliate links. If you use these links to buy something I may earn a small commission at no additional cost to you ♥
Where is the heart-shaped rock in Algarve?
Click to open the location on Google Maps: Heart-shaped rock in Algarve
Heart-shaped rock is a beautiful hidden gem in Algarve. It is not an official tourist attraction, so you need to know where to go to find it.
The heart-shaped rock is visible from a coastal cliff at one of the most beautiful beaches in Algarve – Praia da Marinha. The beach is located between Carvoeiro and Armação de Pêra towns.
The heart-shaped rock is actually not a single piece of rock that has a hole in a shape of a heart. In reality, there is a coastal cliff with two arches that form an upper part of the heart and then you combine it with a narrow gap on a different coastal cliff that forms the bottom part of the heart.
In a specific place at a specific angle, these tho different cliffs form a shape of a heart! It is an unusual sight for sure!
How to get to the heart-shaped rock in Algarve?
Step 1. Drive to Praia da Marinha beach. You definitely need a car to get there or you can take a taxi if you are staying nearby. Definitely bring a bag of beach day items as Praia da Marinha is one of the most beautiful beaches in Algarve.
You will definitely want to explore Praia da Marinha beach if you still haven't done it. You can also take some hiking gear as the coastline is incredible from above. Strolling along the coast was one of my favorite things to do!
Praia da Marinha has a big parking lot where you can leave your car for free. However, it does get crowded during the day. Usually, there are also street vendors next to the parking lot where you can buy some snacks and beach items.
Praia da Marinha beach is also a starting or ending point to a beautiful and famous coastal hiking trail – Seven Hanging Valleys – which goes along the coastline.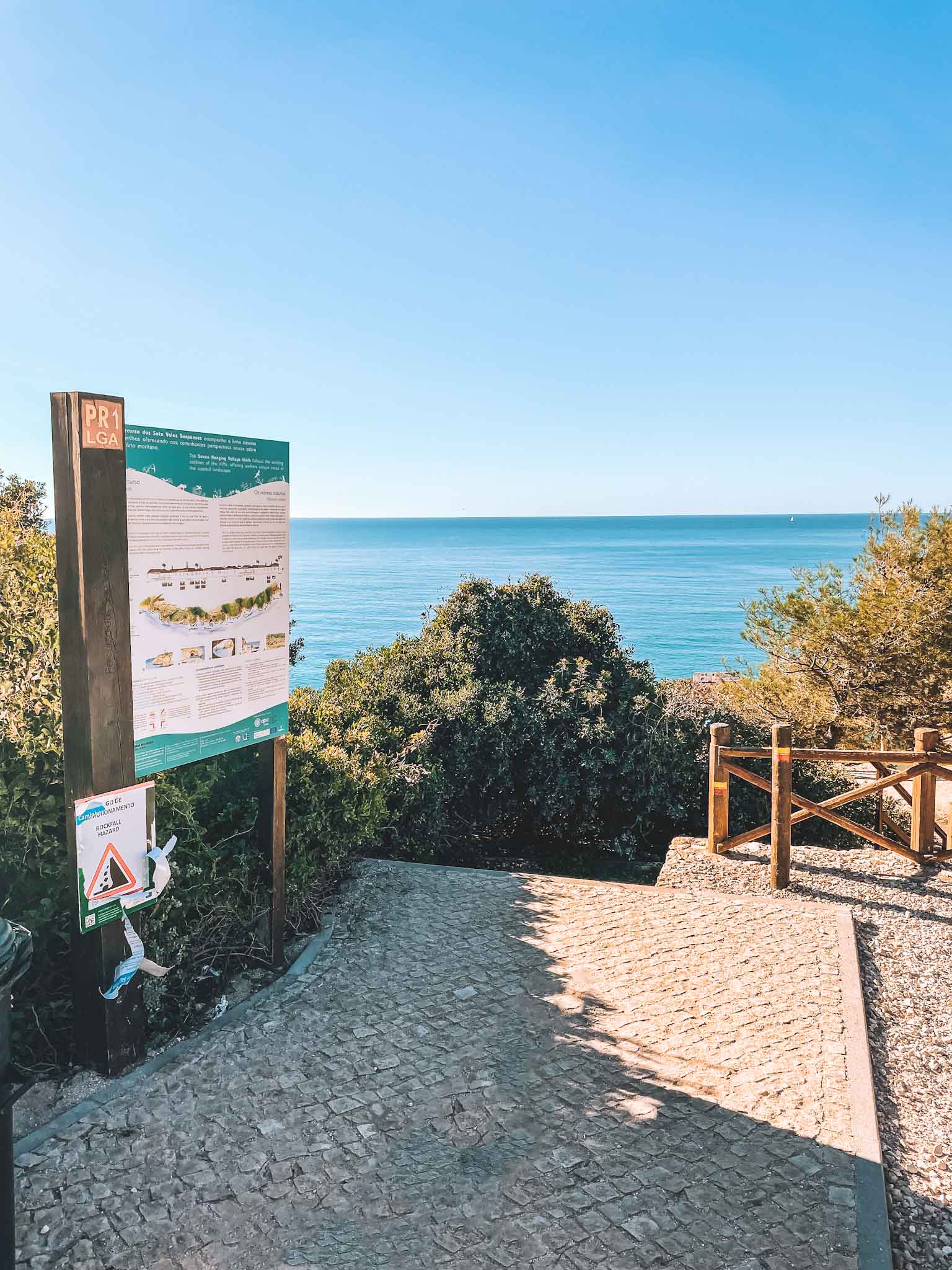 Step 2. Hike along the coast to the right spot! When you arrive at the parking lot and park your car you will have to go in the direction of the ocean. But remember that you have to stay on the coast and NOT go down to the beach.
There is a big square with some benches visible as you are approaching the ocean. On your right, you will see a signpost describing the Seven Hanging Valleys trail and a path forward. This is where you need to go.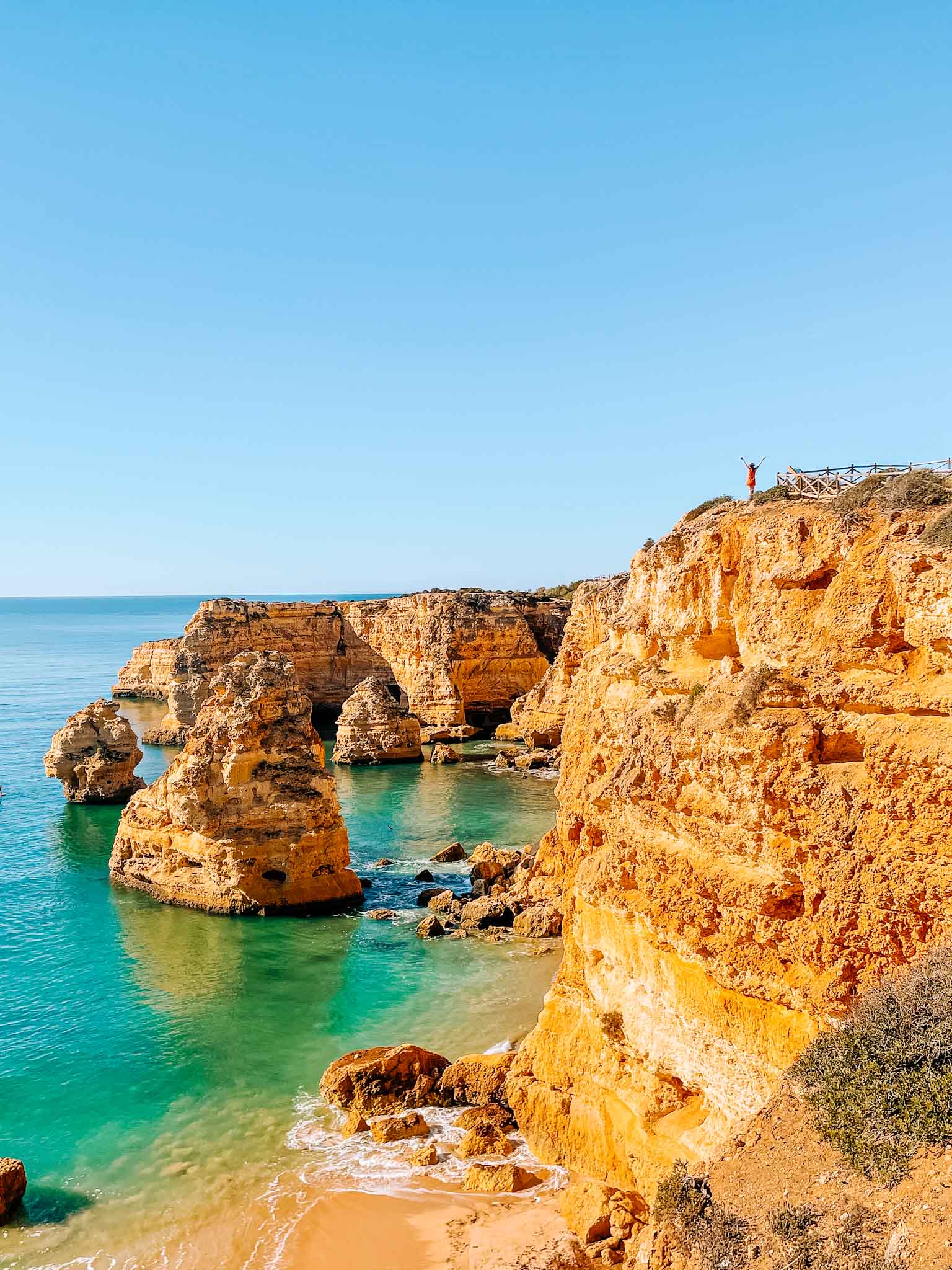 The views and the coastline is amazing so soak it in! You can take some photos along the way. After the first steps along the coast, you will already notice the double-arched coastal cliff a bit further away.
You need to go in that direction! The double-arched cliff is also called Elephant Rock. So simply follow the coastline for a couple of hundred meters in the direction of Elephant Rock.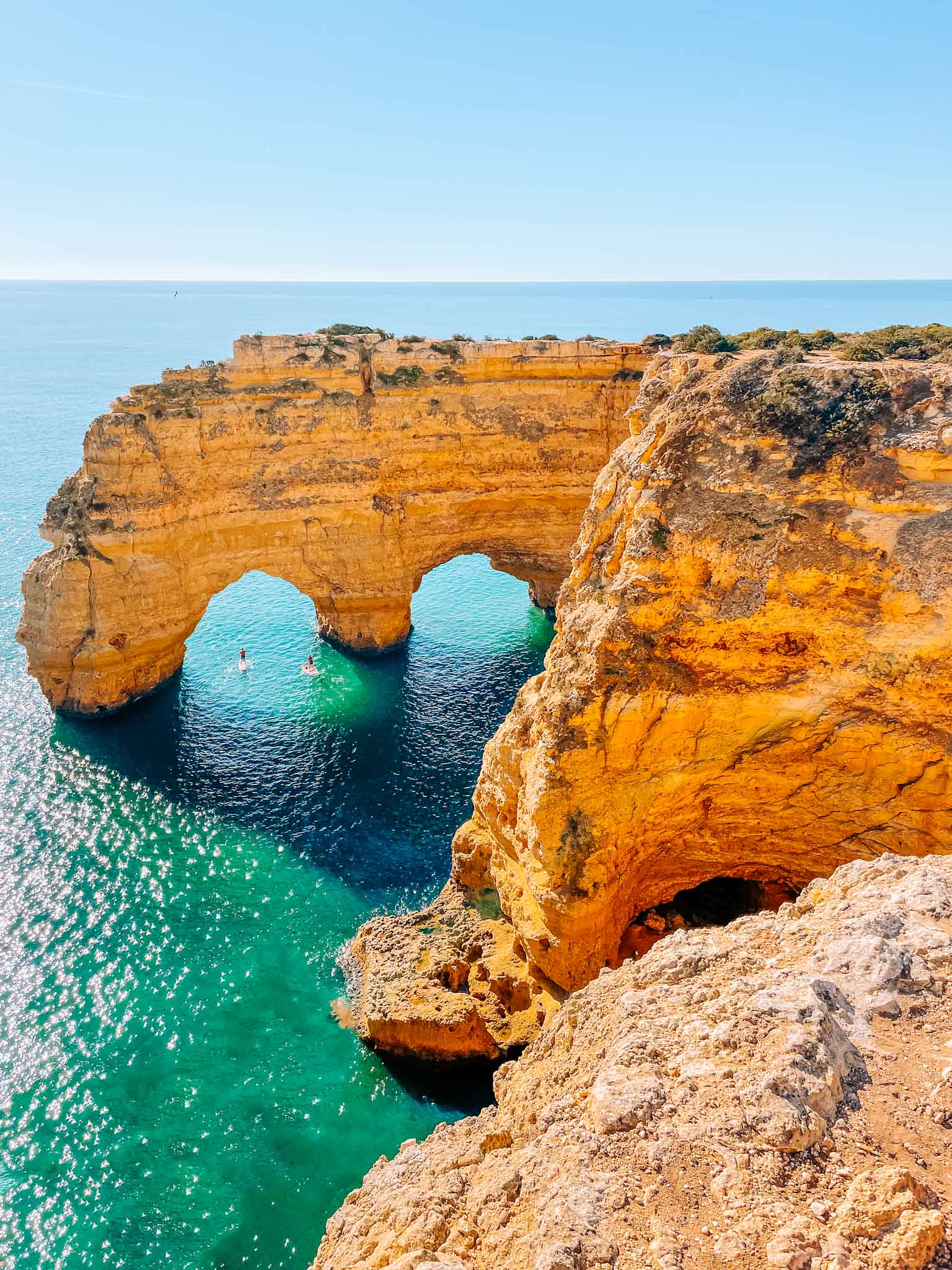 After a couple of hundred meters, you will reach a viewpoint located here. There is a wooden fence around the cliff. Usually, people stop here to take photos of the arch, however, this is not where the heart-shaped rock is.
After the viewpoint, you will notice a wooden staircase. You need to climb down those stairs and find a small path that goes right behind the wooden fence. The path leads right to Elephant Rock.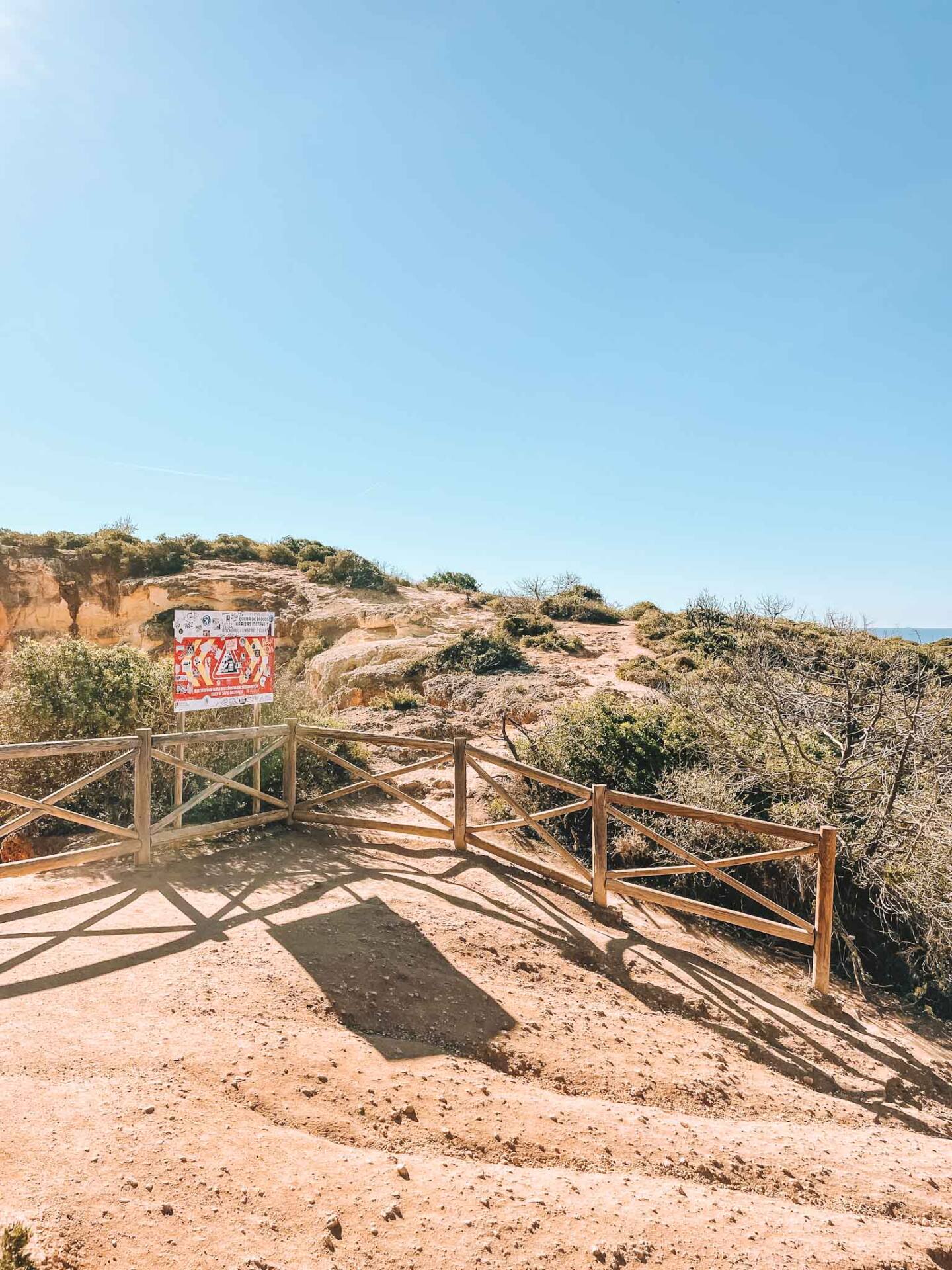 Step 3. Find the heart-shaped rock. After finding a small path behind the wooden fence that goes straight on the Elephant Rock, you have basically reached the spot. Do not go on the double-arched rock.
On your way there, you need to turn left from the path (about 50 meters from the wooden fence) and find a gap at the cliff that forms a heart when combined with double arches. It is located around here. You can compare the photo with reality and you will know you are in the right spot.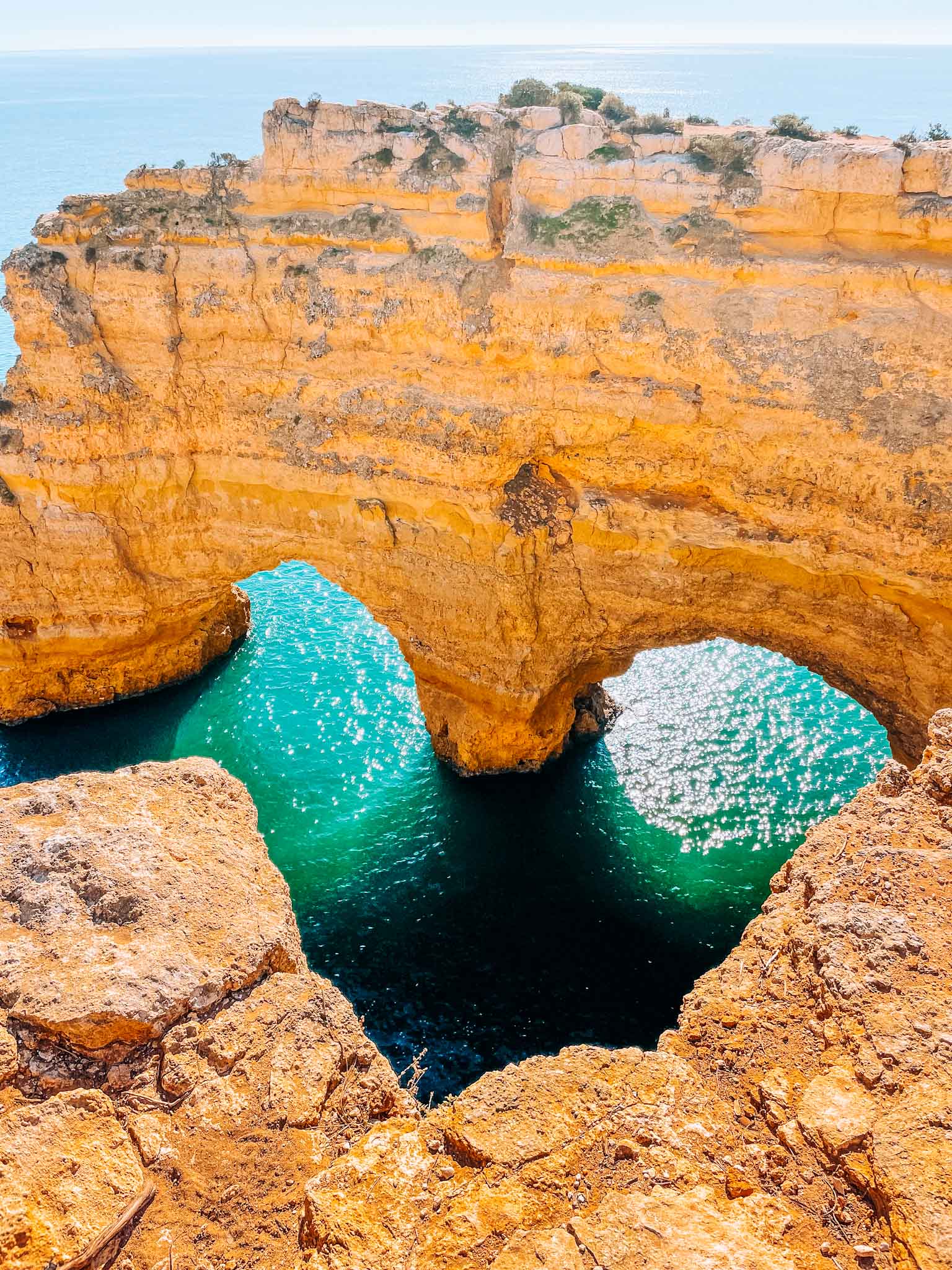 Remember to be careful. Rock falls are not uncommon and you should evaluate risks on your own. Going too close to the edge of the cliff can be dangerous. Also, try to be respectful to the nature around you and try to preserve everything so that others also have an opportunity to enjoy it! Thanks a lot!
When to go to the heart-shaped rock in Algarve?
The heart-shaped rock formation is visible from the coastal cliffs so the tide in the ocean doesn't affect visibility. I would not necessarily choose a rainy or windy day because coastal cliffs become slippery and more dangerous.
During the day there can be a lot of boats, SUP boards, and kayakers around those cliffs. It means that they might be in the way of the photo. I would choose to go in the morning (before 10 AM) or in the evening closer to the sunset for extra glow in the photo.
What else to do at Praia da Marinha?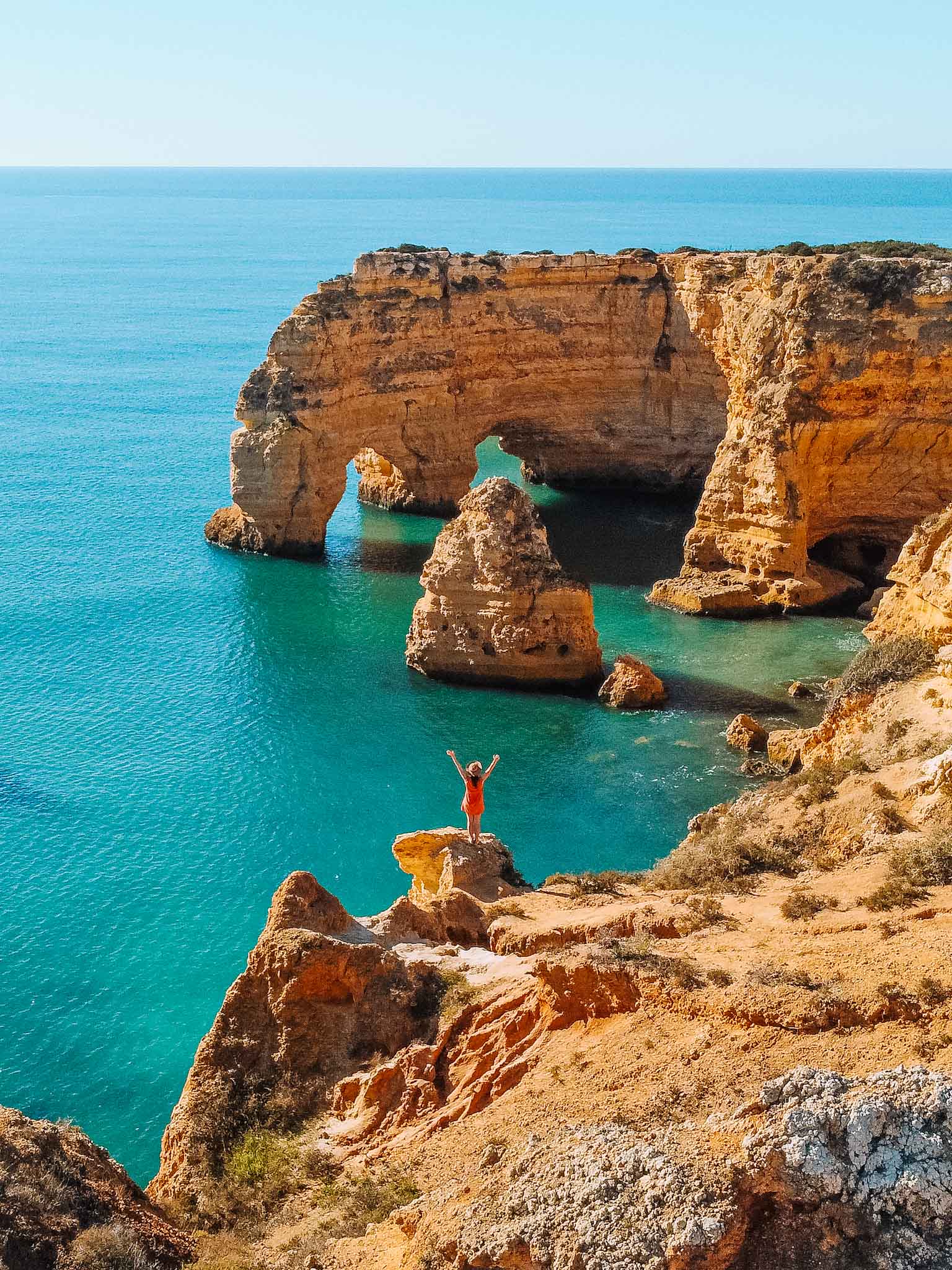 In case you are into photography, there are some of the best Instagram spots in Algarve right at this beach or nearby. It is actually a great spot to take your vacation photos. In case you like to do something more active, I already mentioned the Seven Hanging Valleys trail.
The trail follows a path along the coast from Praia da Marinha to Praia do Vale de Centeanes while visiting some of the most incredible rock formations. You can also join a Seven Hanging Valleys guided tour in a small group.
Just a short distance from Praia Marinha is the world-famous Benagil cave. A huge coastal cave with a circular hole in the ceiling and two arched entrances. You can only get there from the sea so you can get to Benagil beach and join a kayaking tour right from the beach (see the first option).
This way you will be able to not only enter the famous cave but also spend time kayaking along the coast and see the Praia da Marinha beach and all the rock formations from the ocean.
Happy exploring!
Algarve is one of those must-visit destinations and regions in Europe! There is no other place with so many beautiful, unique and different beaches, breathtaking coastal cliffs, charming towns, and this relaxing Southern vibe! If you can, please, leave a comment below if there are any significant changes to anything that is written in this blog post! Thanks!
More Algarve travel inspiration!
PIN FOR LATER!