Algarve Bucket List: 15 best things to do in the beautiful Algarve, Portugal (+map!)
Have you done all of these bucket list things to do in Algarve? After living for two months in different parts of Algarve, I created this list of must-see places and best things to do in the beautiful region of Algarve in the South of Portugal.
The most beautiful part of Algarve is definitely the unique coastal area with otherworldly caves and jaw-dropping cliffs – something you won't see anywhere else in the world, so I really recommend focusing on those places when visiting Algarve. Happy exploring!
This post contains some affiliate links. If you use these links to buy something I may earn a small commission at no additional cost to you ♥
1. Visit these bucket list beaches in Algarve with beautiful cliffs!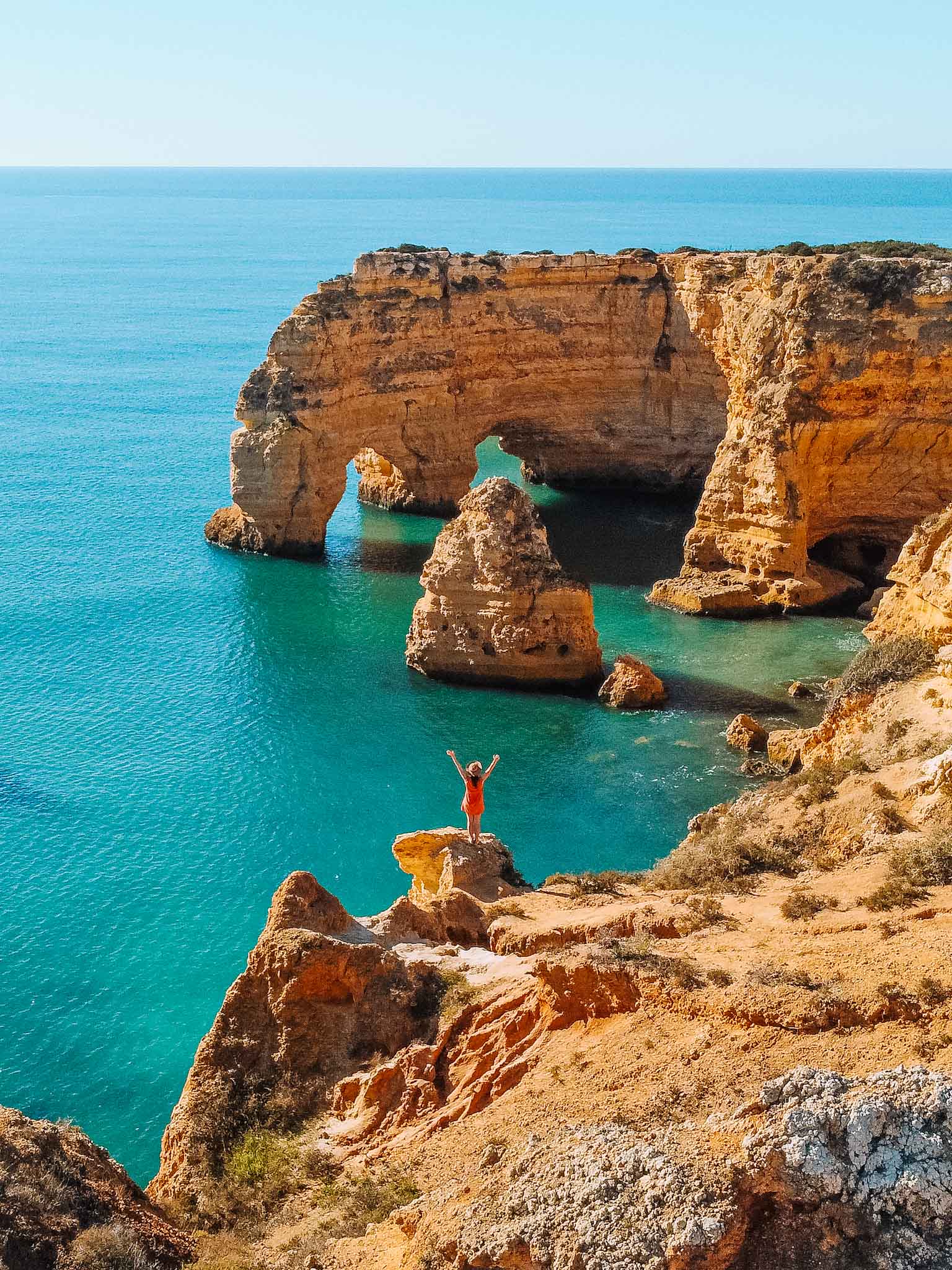 Beaches with beautiful rock formations are the crown jewel of Algarve! There is just something mesmerizing about those ochre-colored rock pillars and rock formations, the turquoise water, and the golden sand.
To be honest, Algarve has some of the most beautiful beaches I have ever seen in my life and I have to say that I have traveled quite a bit! I have a blog post about the most beautiful beaches in Algarve with the most beautiful cliffs, where you can see the ultimate list of the top beaches with photos and locations on a map.
However, if you want a shortlist of the best beaches to go then definitely go to Praia da Marinha beach (pictured above), wait for the low tide and explore Praia dos Três Irmãos (especially Praia da Prainha corner), and definitely go to Praia dos Três Castelos (at low tide). If you are closer to Lagos town, then Praia do Camilo is a stunning beach to visit to see beautiful cliffs.
2. Get inside the world-famous Benagil cave!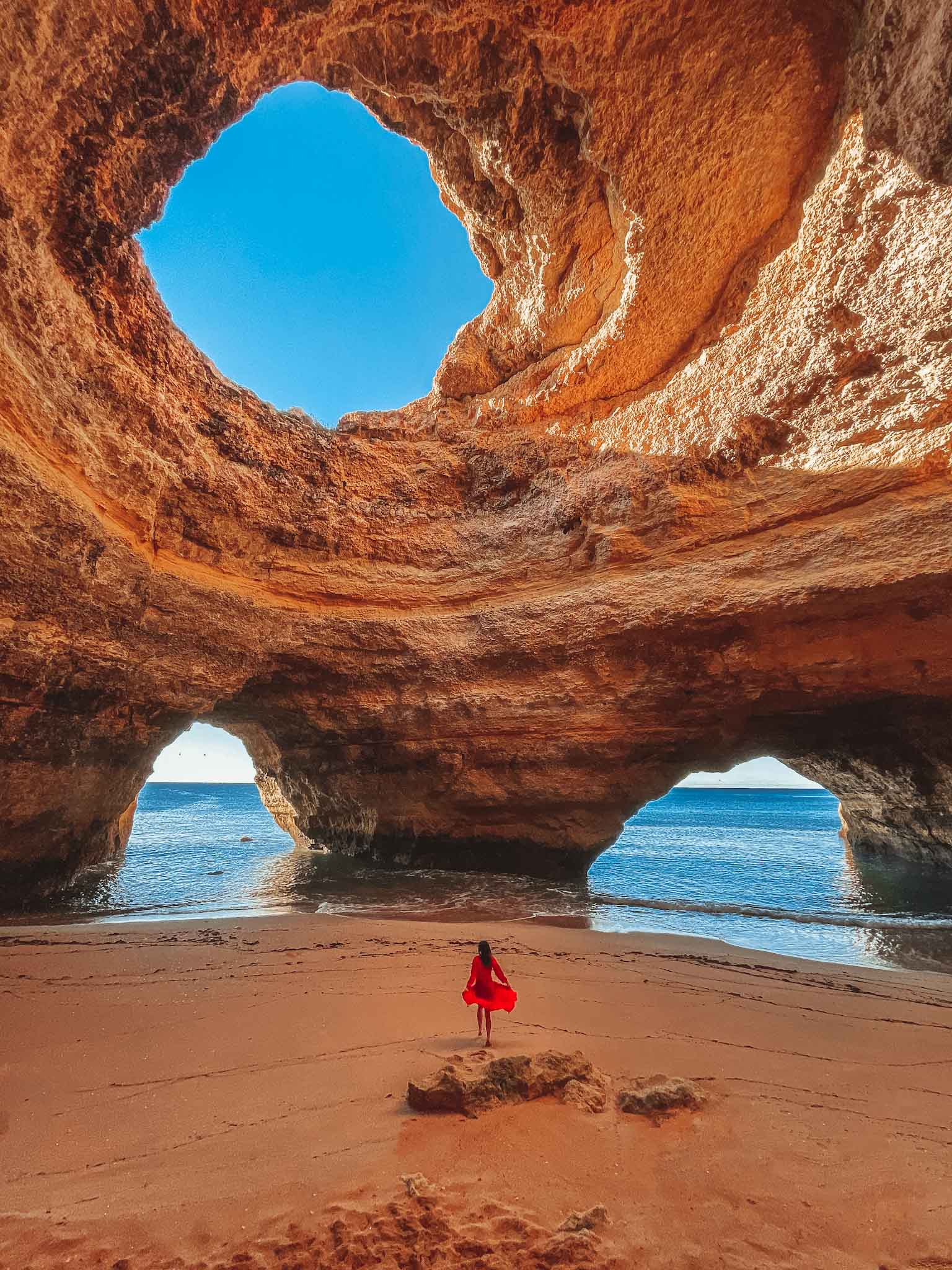 Visiting the Benagil cave is a bucket list thing to do for every tourist in Algarve! The Benagil cave is probably the most famous tourist attraction in Portugal so it is a must-see place in Algarve. Read more detailed info about how to visit the Benagil cave here.
The Benagil cave is a huge coastal cave or sea cave with two arched entrances and a circular hole in the ceiling. Did you know that such caves with circular holes in the ceiling in Algarve are called 'algars'!? So you might see this cave also called as 'Algar de Benagil' or the 'Benagil algar' instead of the 'Benagil cave'.
How to get to the Benagil cave?
There are two main ways to get to the cave but the experiences will differ greatly – either you join any kind of boat tour or you go by kayak/SUP board.
The difference is that by going there in a kayak or SUP board you are allowed to enter the cave, walk around and take photos. By going on a boat tour you will not be allowed to disembark and walk around the cave.
How can I enter the Benagil cave and walk around?
This cave is only accessible by the sea so you need to book a kayaking tour to see this place or you can also go on a SUP board. We actually did both of these and were very happy! Being in the cave is a whole other experience than just peaking inside it from a boat!
How can I see the Benagil cave from a boat?
If seeing the cave from a boat is fine for you then I would recommend this boat trip from Portimão port (they have the sunset trip option too!), or you can also join a boat trip from Lagos, or a boat trip to see dolphins and the Benagil cave from Albufeira port.
Are there other caves to visit in Algarve for free?
Yes, but smaller ones! I have a blog post of the most beautiful caves and algars to visit in Algarve! Check it out in case you are staying longer in Algarve or you are looking for an extra adventure as many of them aren't even on Google Maps! Besides, many caves are only accessible during low tide.
Location: Algar de Benagil
3. Find the heart-shaped rock at Praia da Marinha!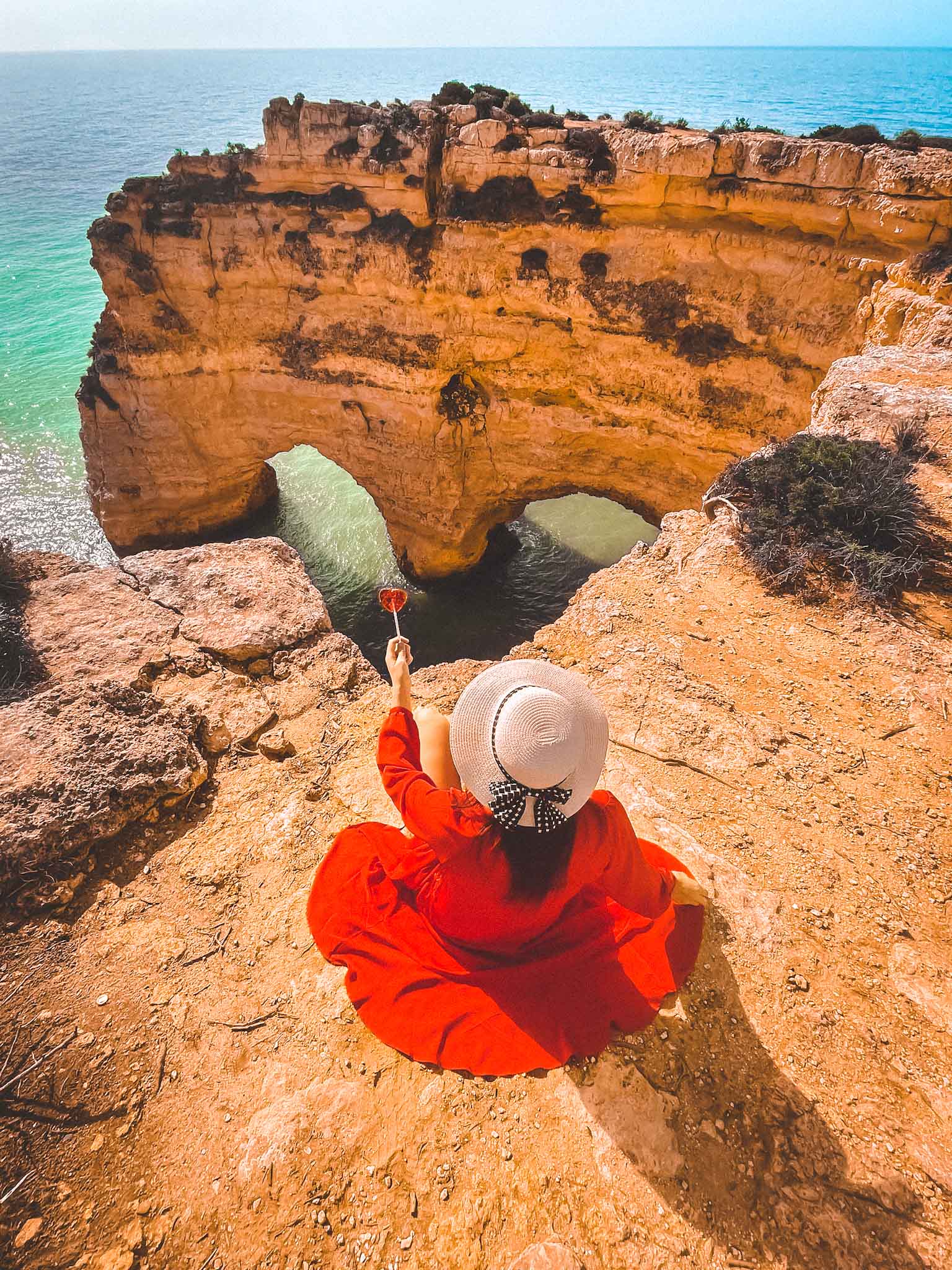 I think this beautiful spot is definitely a must-see place here and taking a photo of the heart-shaped rock is a bucket list thing to do in Algarve! It is not Photoshop – there is actually a heart-shaped rock in Algarve at Praia da Marinha beach!
By the way, it is not a single piece of rock! There is a coastal rock with two natural arches next to the beach. And if you look at the arch from a specific place up from the cliff at a specific angle, it actually creates a shape of a heart! You will find the location below, but I also wrote a step-by-step blog post about how to find the heart-shaped rock in Algarve!
Location: Heart-shaped rock · Parking lot
4. Hike the famous Seven Hanging Valleys coastal hike!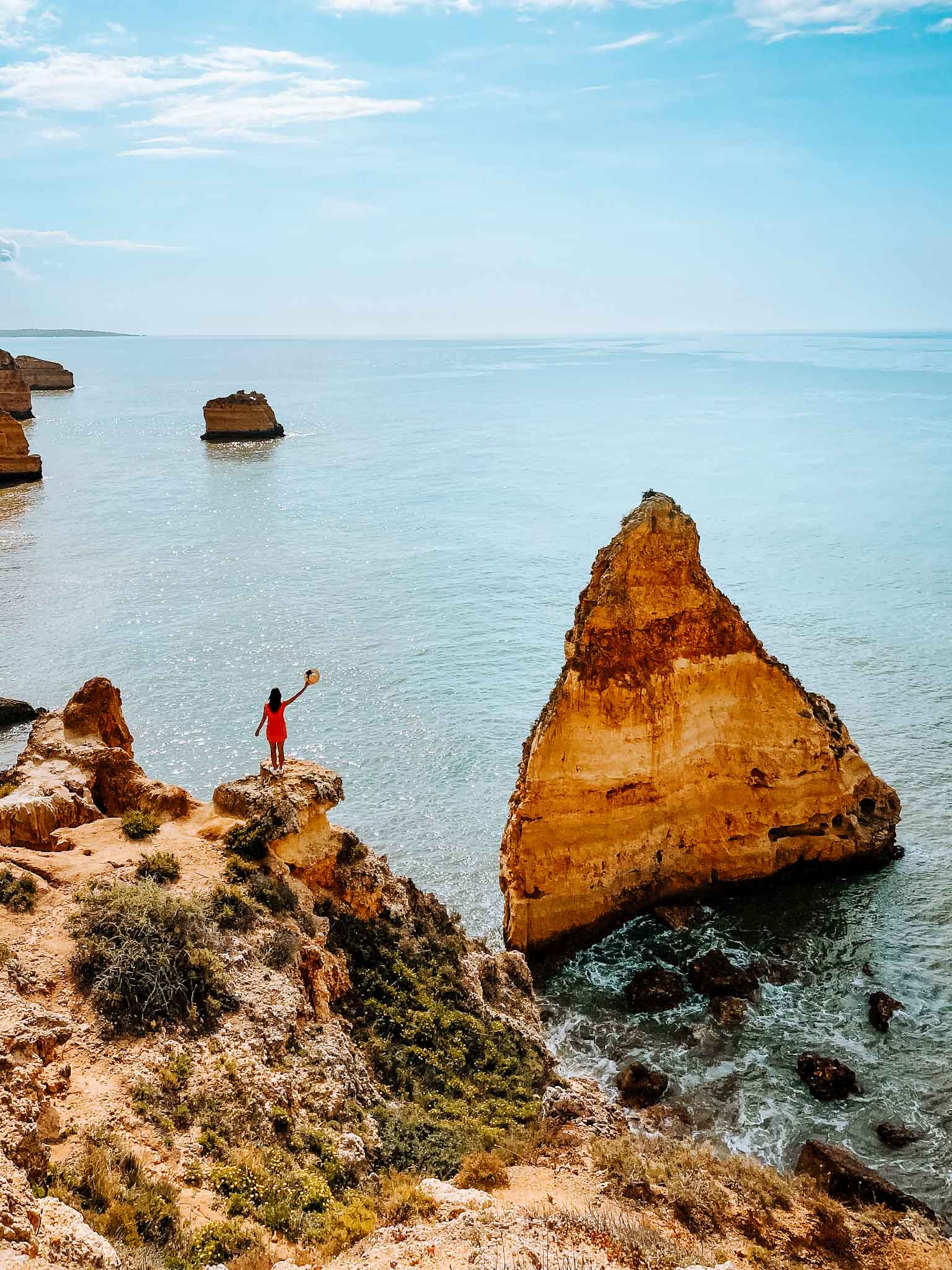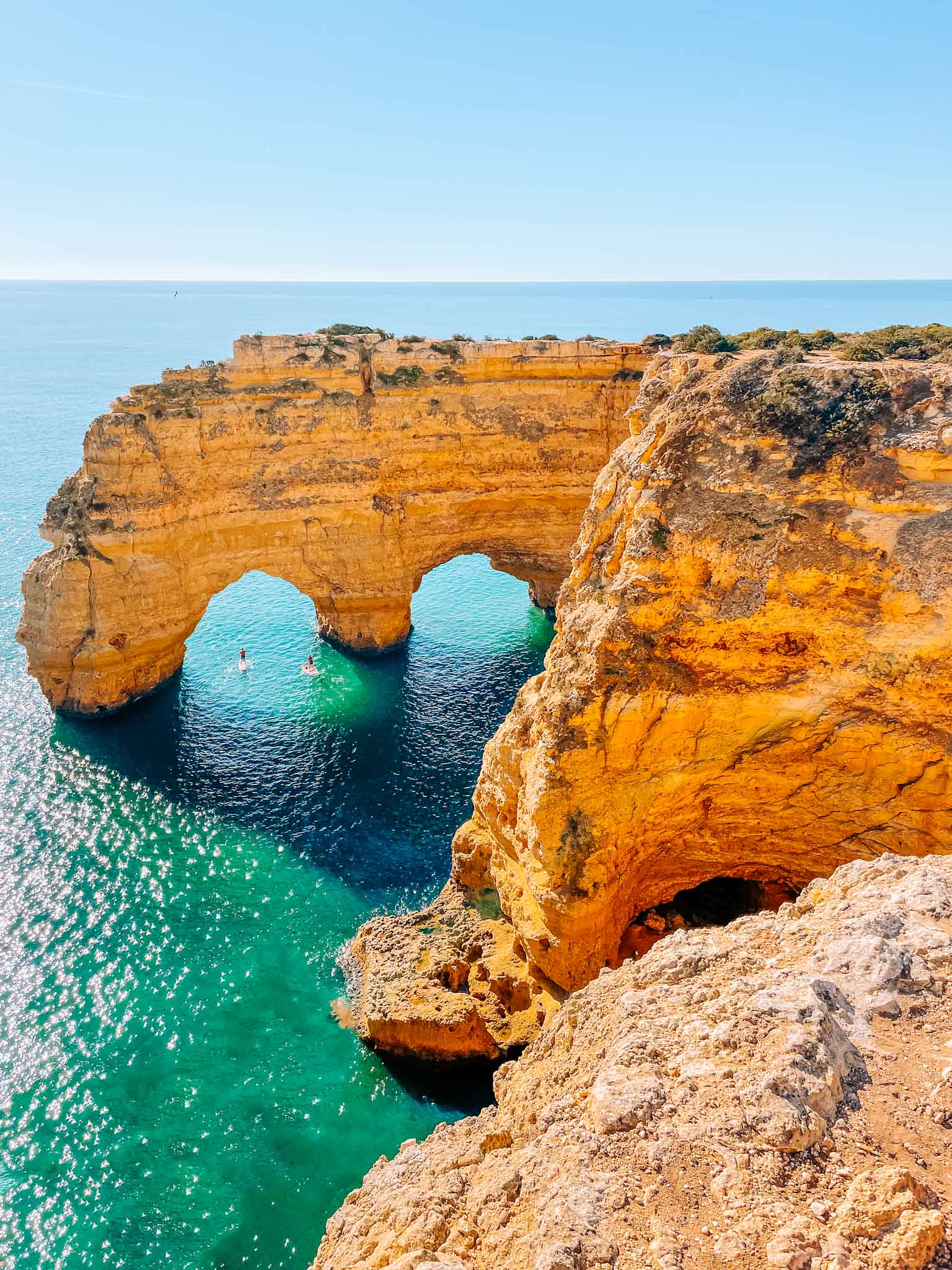 While you are at Praia da Marinha beach looking for the heart-shaped rock you should definitely use the opportunity to hike the famous coastal trail – Seven Hanging Valleys! It is one of the most popular hiking trails in Portugal. The route lets you experience the uniqueness of Algarve's coastline.
Seven Hanging Valleys hiking trail is a coastal hiking route between Praia da Marinha beach and Praia do Vale de Centeanes beach. The hike is easy to follow as it goes along the coast and is marked with red-and-yellow trail markers. You will see cliffs, sea caves, algars, arches, and other rock formations along the way. The hike is 6 kilometers long one way.
If you are not comfortable walking on your own and better do it in a company then you can consider joining this Seven Hanging Valleys guided walking tour. They will not only show you all the important places along the way but tell you more about the fascinating coastline of Algarve. Plus you get to taste some traditional Portuguese specialties!
5. Visit the famous Ponta da Piedade coastline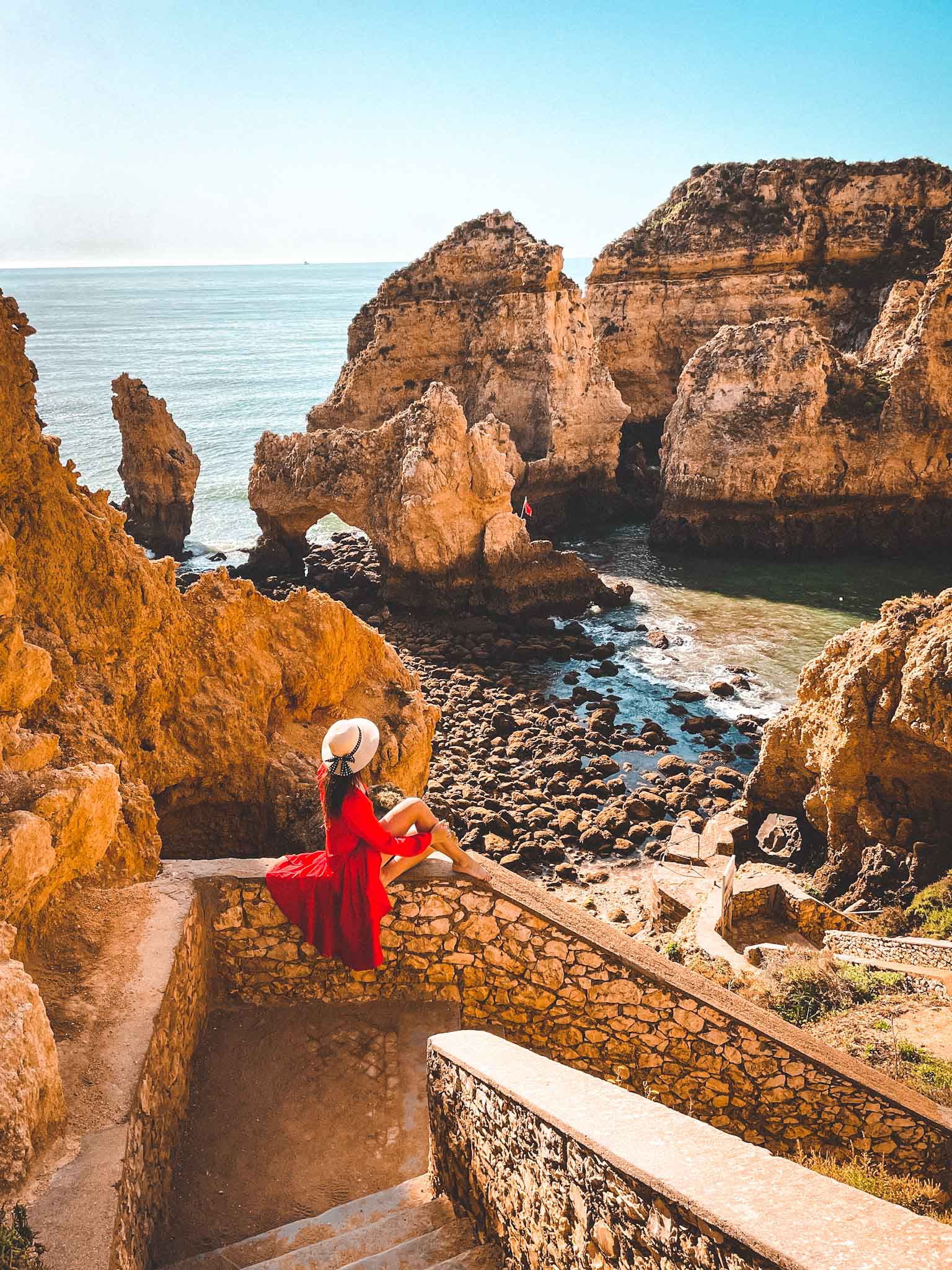 Ponta da Piedade is one of the most famous tourist attractions in Portugal and definitely a bucket list thing to do in Algarve! Ponta da Piedade is an area near Lagos where you can observe an especially impressive coastline.
By the way, it is best to visit during high tide (it will be more beautiful when the stones are covered by water)!
The coast and the ocean are full of unique golden-colored rock formations near the coast and further into the ocean. If you think of Algarve and its uniqueness then Ponta da Piedade is where you can see it the best.
You can enjoy this beauty not only from the coast but also from the water. There is a boat cruise in a small group from Lagos port along the coast to Ponta da Piedade to explore beautiful rock formations from the sea.
However, if you are into kayaking then you will love to join this boat and kayaking tour from Lagos to Ponta da Piedade where you will jump on a kayak and explore the caves and sea arches of Ponta da Piedade. They even let you swim in those crystal clear waters!
Location: Ponta da Piedade
6. Watch the sunset in the ocean at Cabo de São Vicente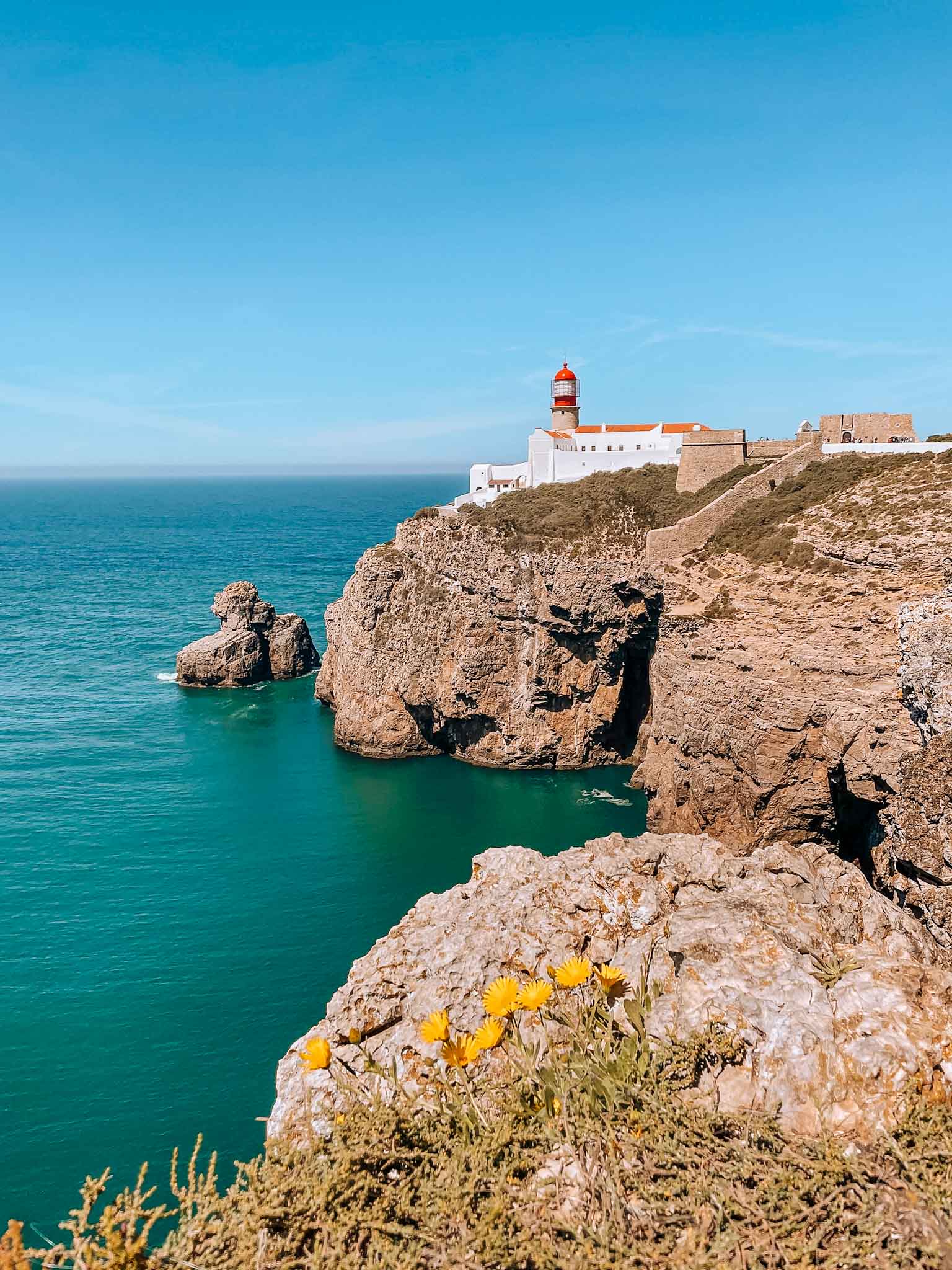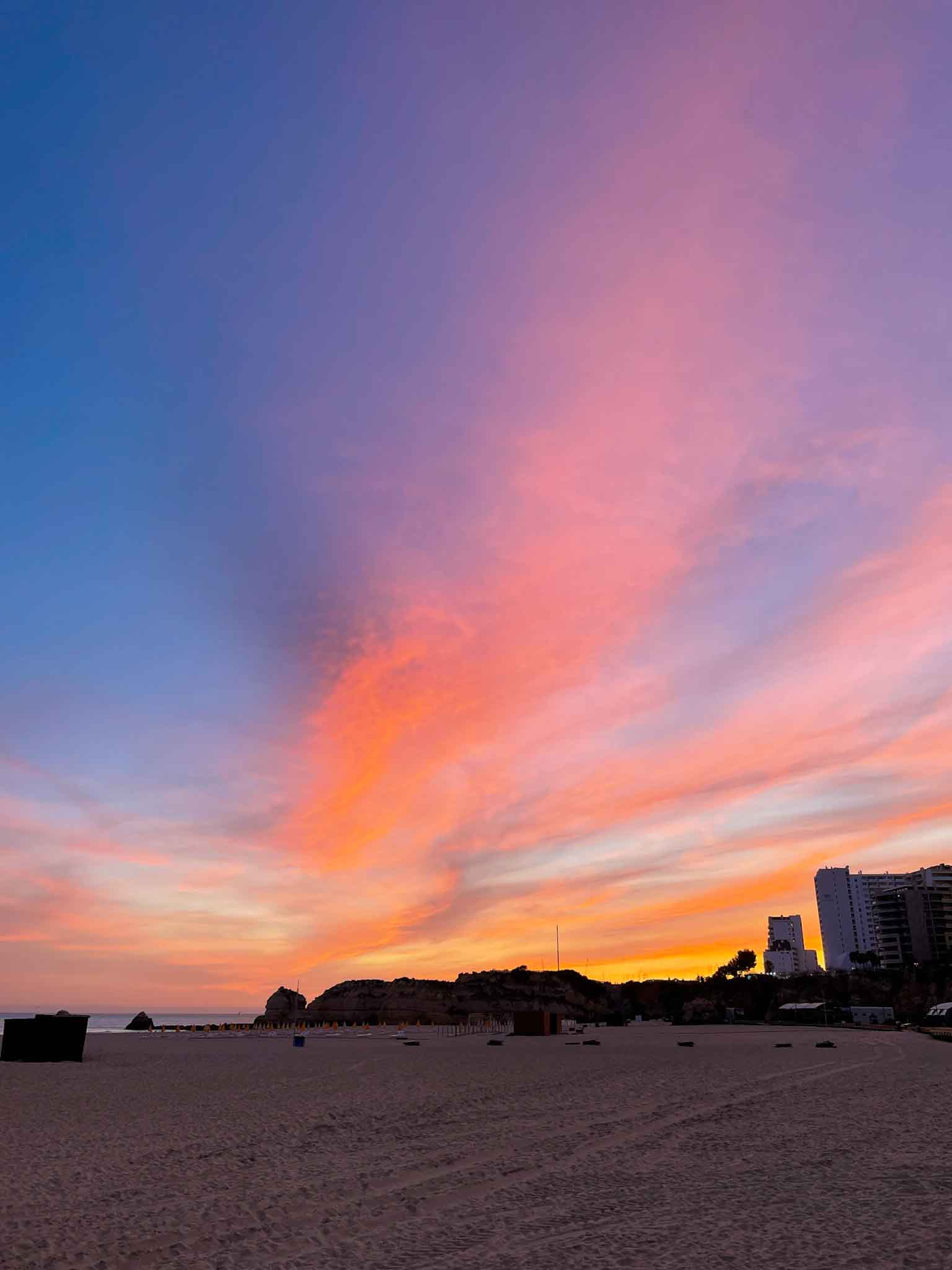 Visiting Cabo de São Vicente – the Westernmost point of Algarve – is a bucket list activity in Algarve on its own. However, you can combine it with watching a jaw-dropping sunset in the Atlantic Ocean at this exact spot.
Cabo de São Vicente (Cape St. Vincent) is a unique area in Algarve. It is the southwesternmost point of Portugal and also of Europe's mainland. The area has very impressive views – the coastal cliffs reach up almost vertically to about 75 meters.
This is probably amongst the best places to watch the sunset in Algarve, however, if you can't get here for the sunset, this is definitely a bucket list place to visit at any time of the day! There is also a huge lighthouse at the cape to visit.
Location: Cabo de São Vicente
7. Explore wild beaches, sea caves, and cliffs from a boat!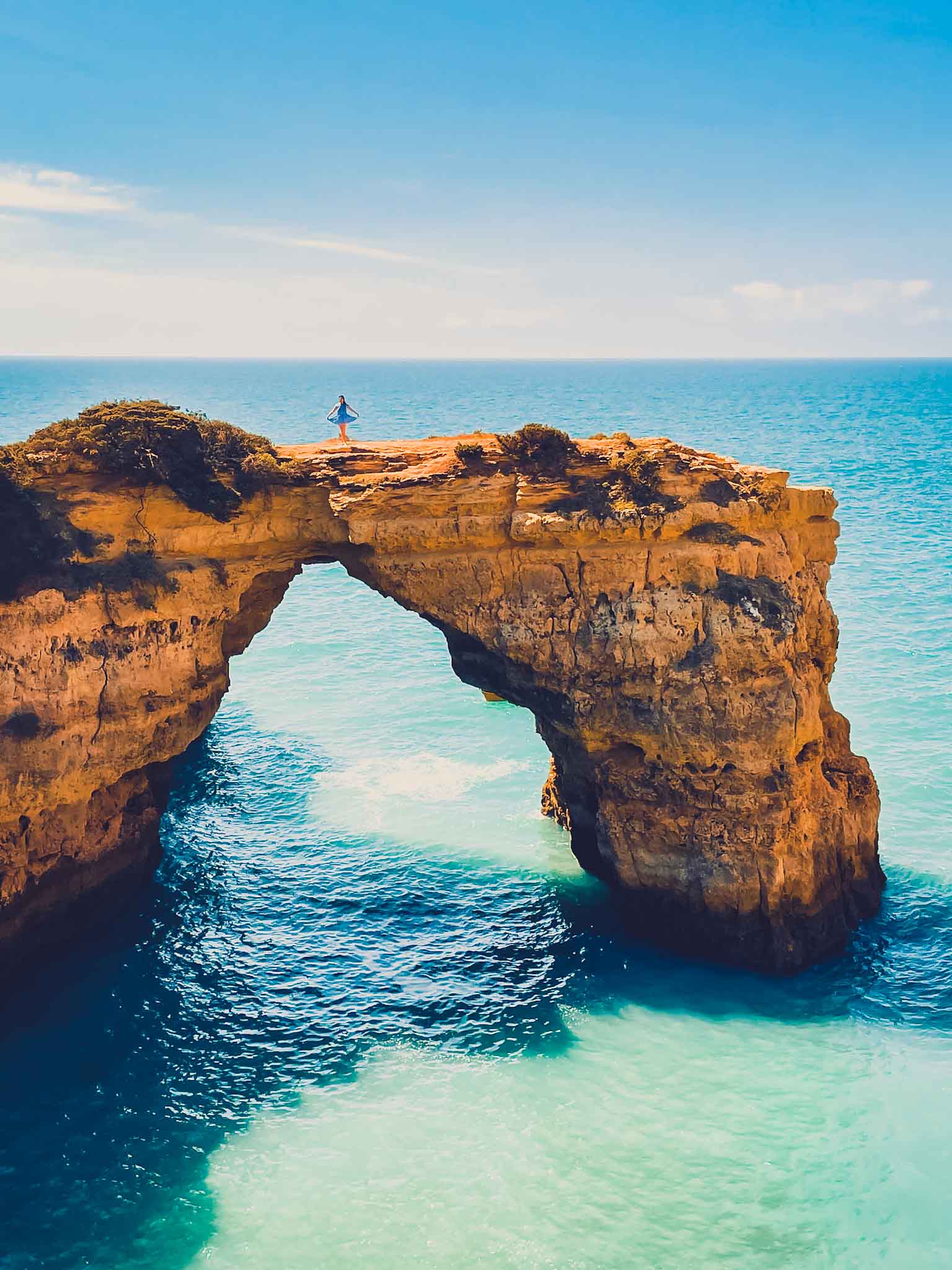 One of the best bucket list things to do in Algarve is to go on an unforgettable boat trip to visit sea caves, hidden beaches, and algars that are not accessible from the shore. And did you know that there are such unique rock formations in Algarve like a beaver, gorilla, elephant, submarine, and more?
You can visit some of the rock formations from the coast like the Albandeira arch however it will definitely take more time as you have to drive there and then walk to each spot.
Taking the boat is the fastest and most efficient way. It is also an opportunity to hear more about Algarve and these unique natural formations from a guide.
There are a couple of opportunities you can choose from like this speed boat tour with a sunset option from Portimão, this coastal exploring and dolphin-watching tour from Albufeira, or this simple boat tour from Armação de Pêra to 10 caves and 15 deserted beaches! Obviously, all these boat tours around Algarve will be fairly similar.
8. Explore Lagos Old Town and go for a relaxing brunch!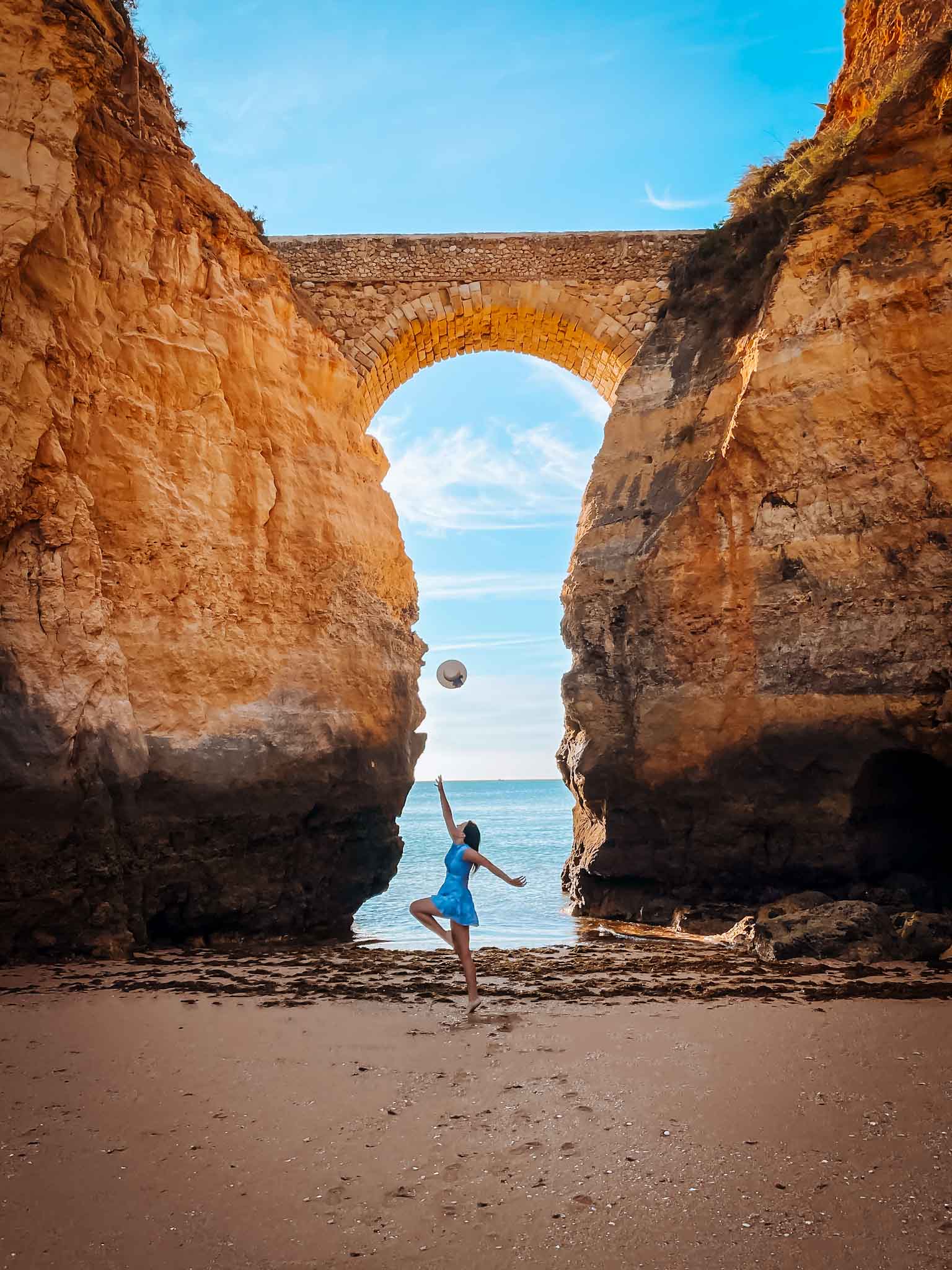 Lagos was definitely my favorite town in Algarve, especially the Old Town. Those white houses, cobblestone streets, a promenade along the river, golden-sand beaches, and the abundance of the best cafés in Algarve! Especially if you are a specialty coffee lover, haha! There are many reasons to like Lagos!
Lagos is great for relaxing at the beach – there is a long white sand beach just next to the town (without cliffs) that is great for a relaxing day at the beach or even surfing.
But there are also really beautiful beaches to explore nearby with unique cliffs. Praia do Camilo, Praia de Dona Ana, and Praia dos Estudantes with a huge Roman bridge are some of them.
Lagos is the closest town to the famous coastal area – Ponta da Piedade. You can go there from Lagos either by boat on a boat tour or explore by kayaks. Or you can drive a car and see it all from the coastal cliffs. There is also a boat trip that goes from Lagos to the Benagil caves!
After water activities, you can explore the old town, find a great brunch place in Lagos and relax with a cup of coffee or a smoothie. There are many boutique shops and even street markets in Lagos.
For those who have come to Lagos to enjoy a vacation, this wine-tasting tour in a small group would be a perfect choice to relax and have fun!
9. Shop at the iconic Portuguese pottery shops!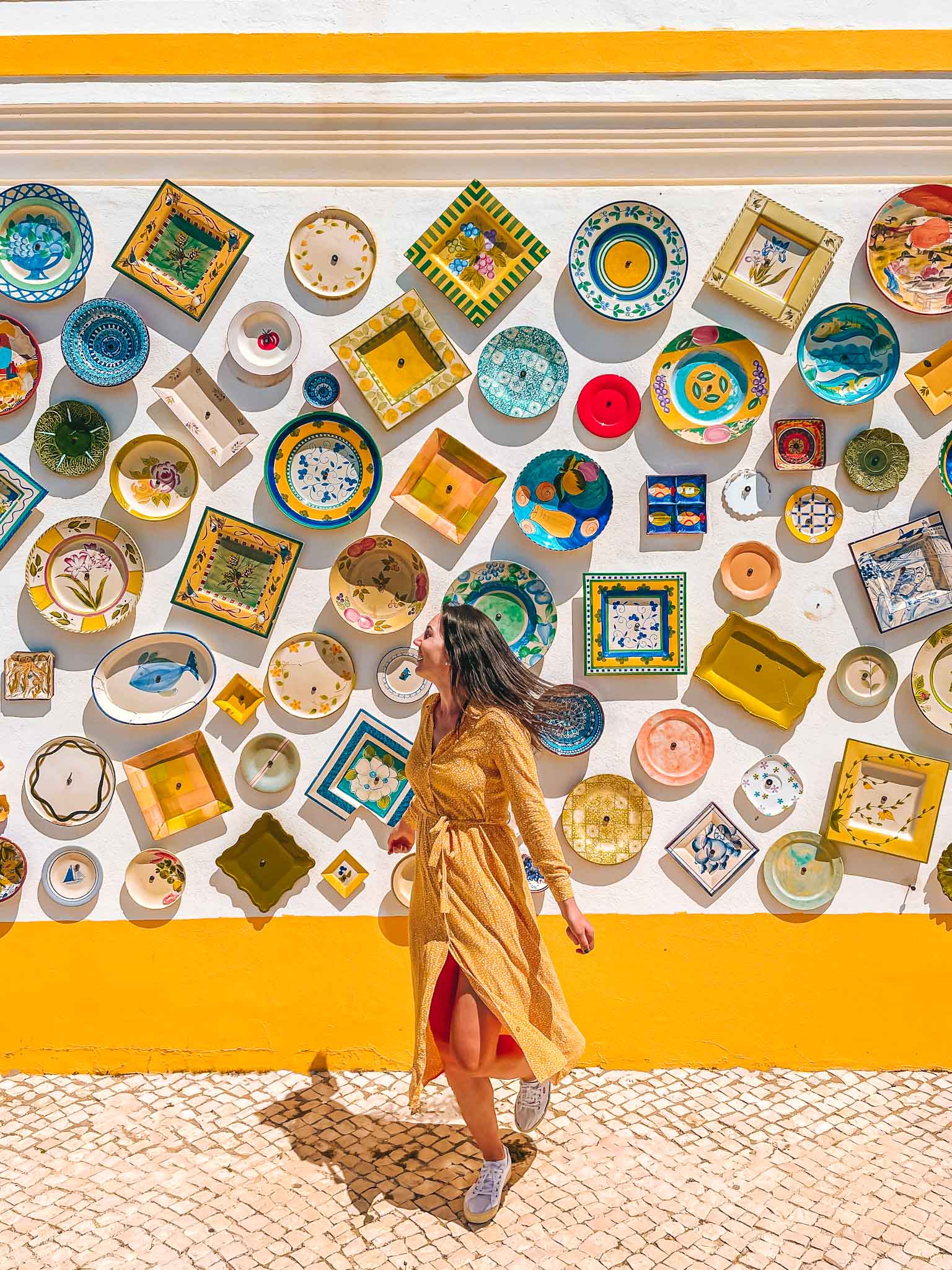 If there is one place you should go looking for some souvenirs from Algarve then it is definitely traditional pottery shops. There are two especially beautiful pottery shops in Algarve – Cerâmica Paraíso in Raposeira and Artesanato a Mó in Sagres.
They not only have cute and picture-perfect buildings decorated with colorful pieces from the store, but they also have an abundance of beautiful and colorful ceramic dishes and souvenirs for you to purchase.
Just make sure to bring cash with you! They didn't accept card payments when we visited to buy some gifts for my dear granny.
Location: Cerâmica Paraíso · Artesanato a Mó
10. Visit Ria Formosa – one of the '7 Natural Wonders of Portugal'
If you happen to travel to Algarve by plane and land at Faro airport during the day then you might see the magical spectacle of Ria Formosa Natural Park lagoon. It was recognized as one of the '7 Natural Wonders of Portugal' in 2010.
Ria Formosa is an ever-changing network of water canals – a wetland that is separated from the ocean by sandy islands and sandbanks. It is also an important area for migratory birds as they stop here on their way between Africa and Europe.
As it is a lagoon you can only experience it by boat or different water transport. The most popular way to visit this natural wonder of Portugal is to take a boat tour from Faro.
You will sail through the water channels, see migratory birds, and hear about this natural phenomenon before disembarking and exploring the sandbank islands of Farol and Deserta.
Location: Ria Formosa Natural Park
11. Enjoy the former fishing village – wonderful Albufeira!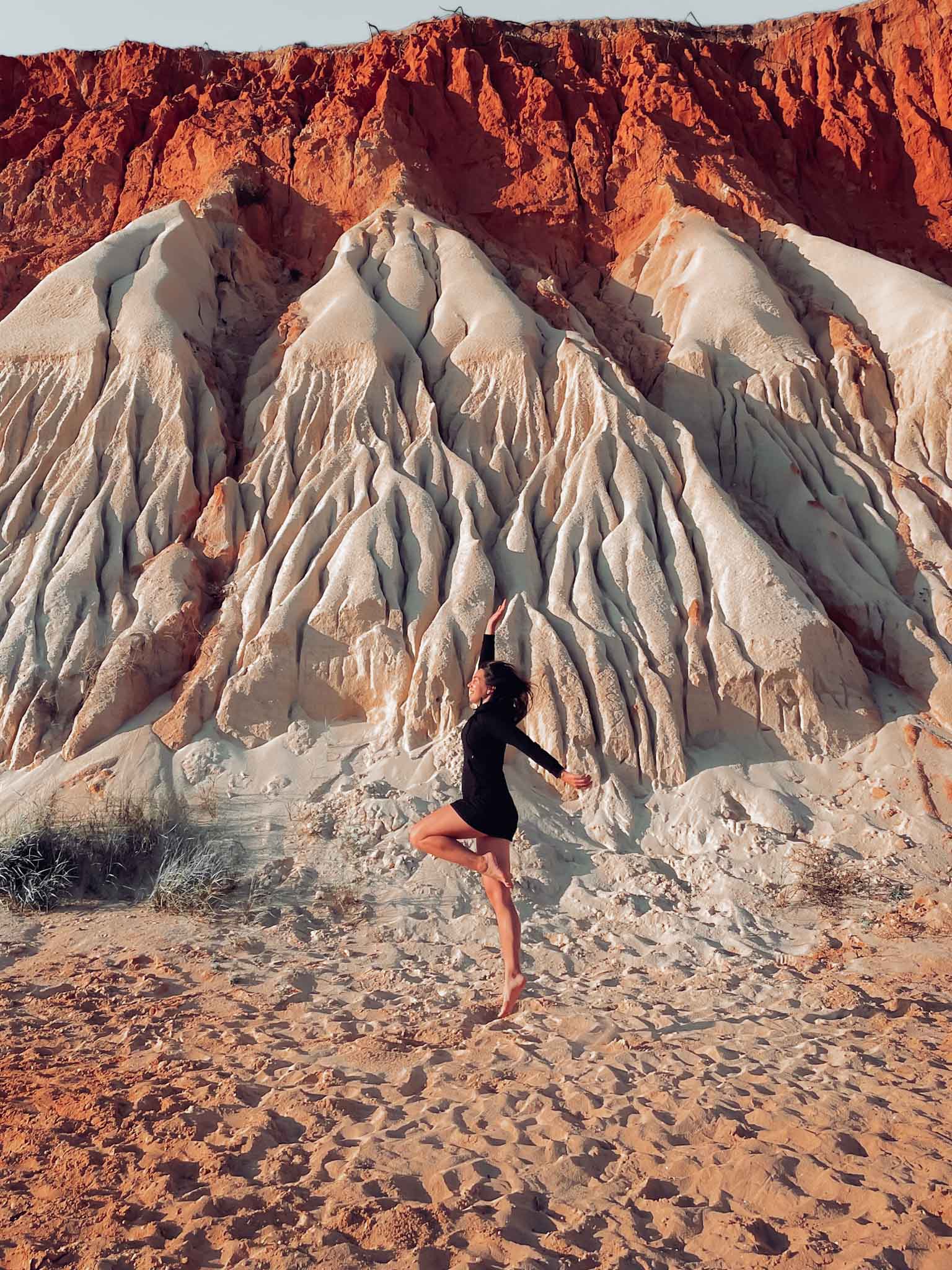 Albufeira used to be a small fishing village on the Southern coast of Portugal. However, today it has grown into a major hub for travelers and visitors to Algarve! Paying a visit to Albufeira is definitely a bucket list thing to do in Algarve!
Whether you only enjoy the golden sand beach of Albufeira or you admire the white houses above the coastal cliffs, Albufeira has a lot to offer. The first thing to do in Albufeira is to jump on a Tuk-Tuk sightseeing tour and in 2 hours you will visit all the popular spots around the city.
Albufeira is also the best place to learn how to surf. There is a visible surfer culture in this area! You can also go on a half-day winery tour, taste some wine, and learn about the history of winemaking.
The tour includes a visit to the beautiful town of Sagres. While in Albufeira, make a stop at Marina de Albufeira to admire the most colorful houses I saw in Algarve!
12. Hike Carvoeiro Broadwalk to Algar Seco and Boneca's Cave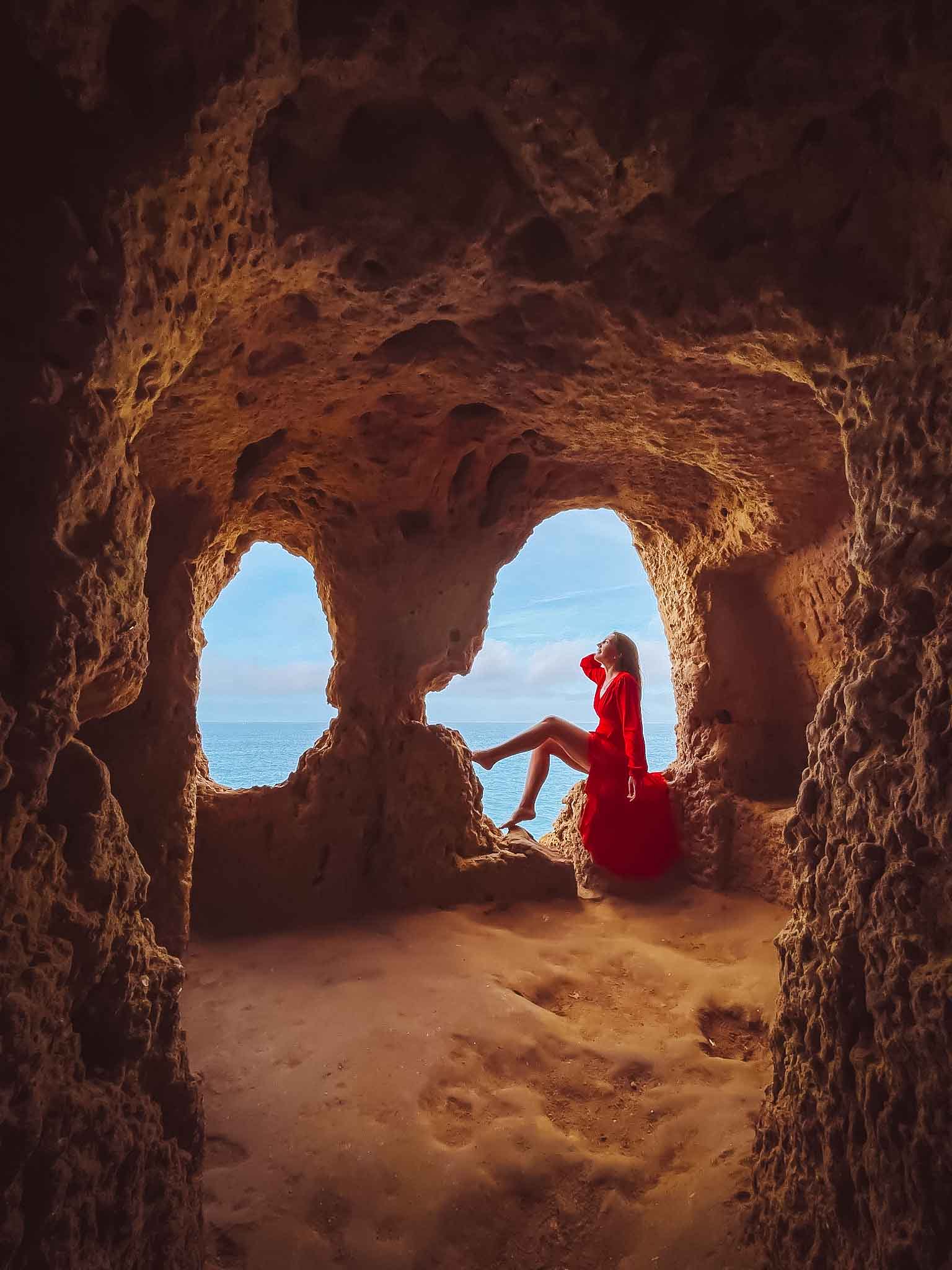 Carvoeiro Broadwalk is a 600-meter-long wooden walkway along the coastal cliffs in Carvoeiro town. It has information boards along the route with facts and additional explanations about the formation of coastal rocks and the unique area.
Along the walk, you can explore Algar Seco – a rocky area at the coastline in Carvoeiro full of different and unique rock formations including rock pools, caves, arches, tunnels, and more. One of the main attractions in this area is Boneca's cave.
Boneca's cave translates as the Doll's cave as the cave has two oval holes looking out to the ocean. Apparently, the holes look like a doll's eyes (if you look at them from the ocean). There is a narrow tunnel leading to the 'doll's eyes'. See all the locations below!
Location: Boneca's cave · Algar Seco · Carvoeiro Broadwalk
13. Explore Faro and visit the Chapel of Bones!
I am not usually a fan of visiting cities. Some of them are worth it, however, in many cases, the most beautiful spots are away from the cities. But Faro might be worth it after all – it has some unique attractions that are worth including on your Algarve bucket list.
First of all, Faro is a very old town so visiting the historic center is the first thing to do, then you can pay a visit to the city gates, the Cathedral of Faro and the Castelo de Faro fortress. Then walk through the Arco da Vila to Faro Marina. Or you can do a 90-minute Cultural Faro Tour on a Segway if you prefer!
There is a unique place in Faro to visit – Capela dos Ossos de Faro or the Chapel of Bones. It is a tiny, tiny chapel built of human bones and features more than 1000 skulls. In case you are wondering, those bones were taken from monks. There is a couple-of-EUR entrance fee to this chapel.
Of course, there are many water activities that you can do in Faro. You can jump on a boat and go dolphin watching in the Atlantic Ocean. Or you can visit the already-mentioned Ria Formosa – one of the 7 Natural Wonders of Portugal. There is a boat tour from Faro through the canals of the lagoon to the sandbank islands of Farol and Deserta.
14. Find some hidden gems in Algarve!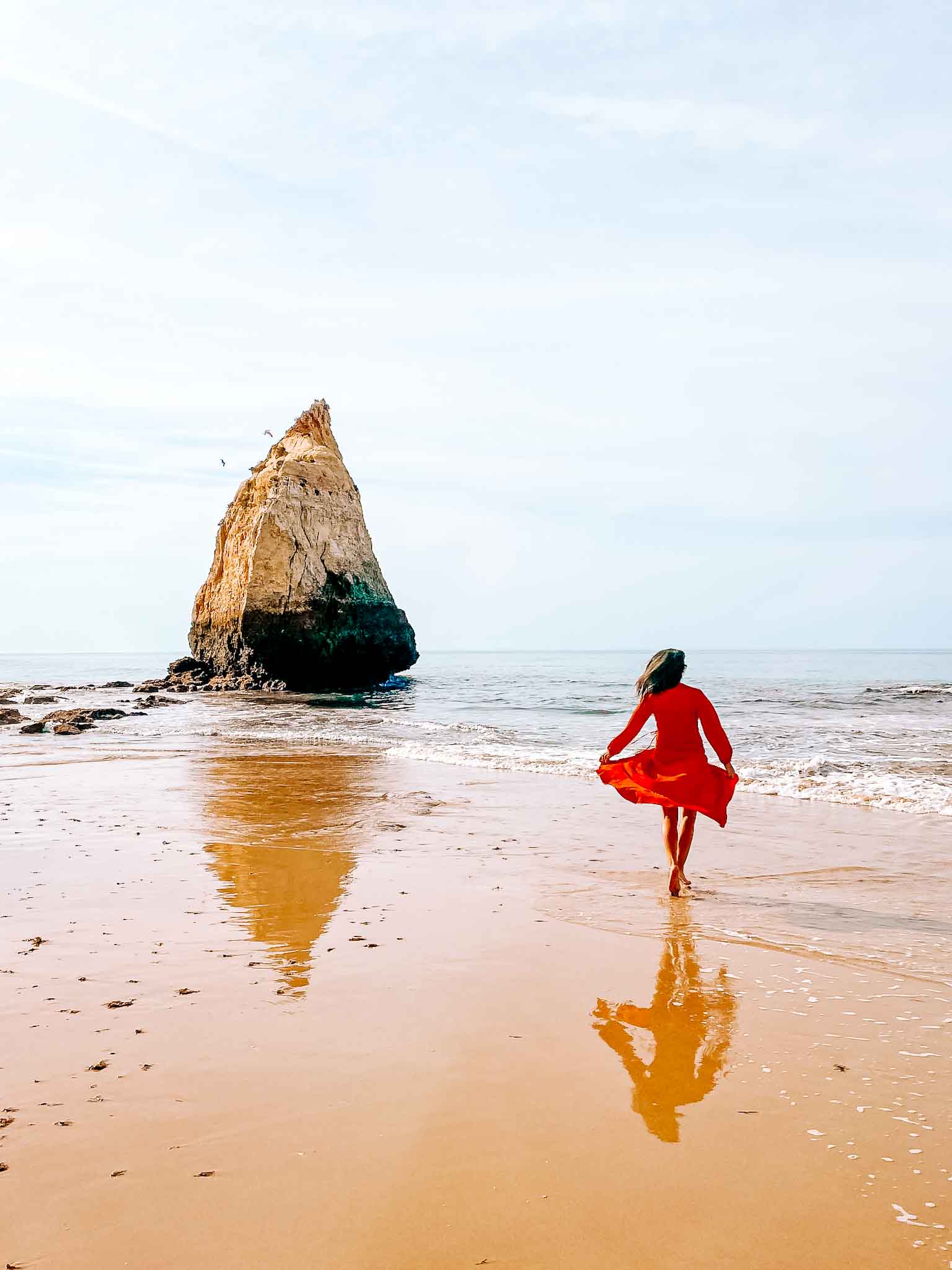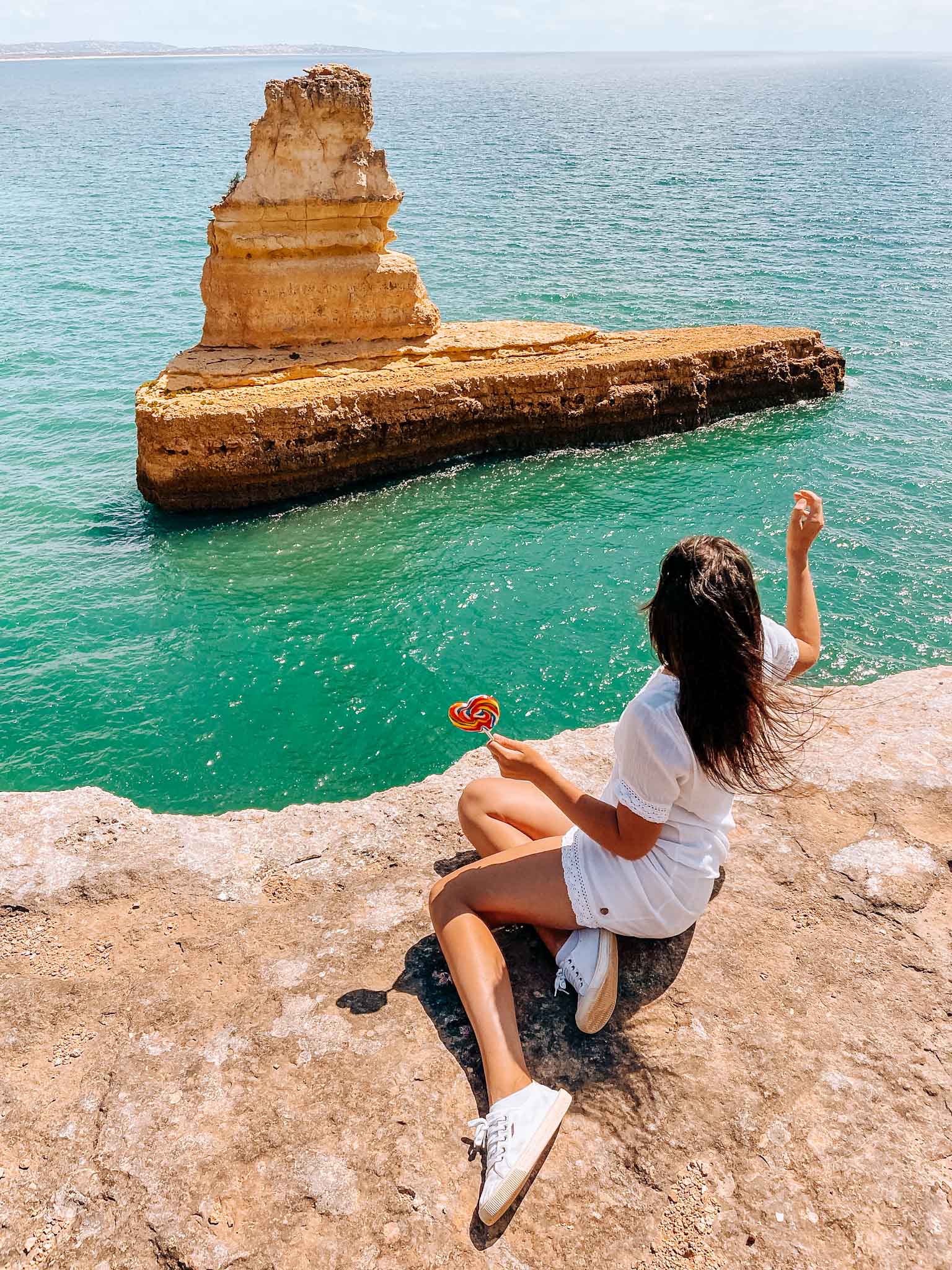 Did you know that there is a Yellow submarine in Algarve? Diamond rocks? Hidden algars where you can walk inside (no need to take a boat tour)?
Check out this blog post about hidden gems in Algarve to see more! And scroll through these unique caves and algars that you can visit in Algarve! Most of them, except for the Benagil cave, you can visit for free!
Sometimes you don't need to go on paid tours to get amazing memories. Sometimes it is possible to create your own adventure and make memories for a lifetime! I love exploring hidden gems and doing unusual things when traveling. So put some hidden spots in your Algarve bucket list and go explore!
15. Visit the secret villages of Burgau and Ferragudo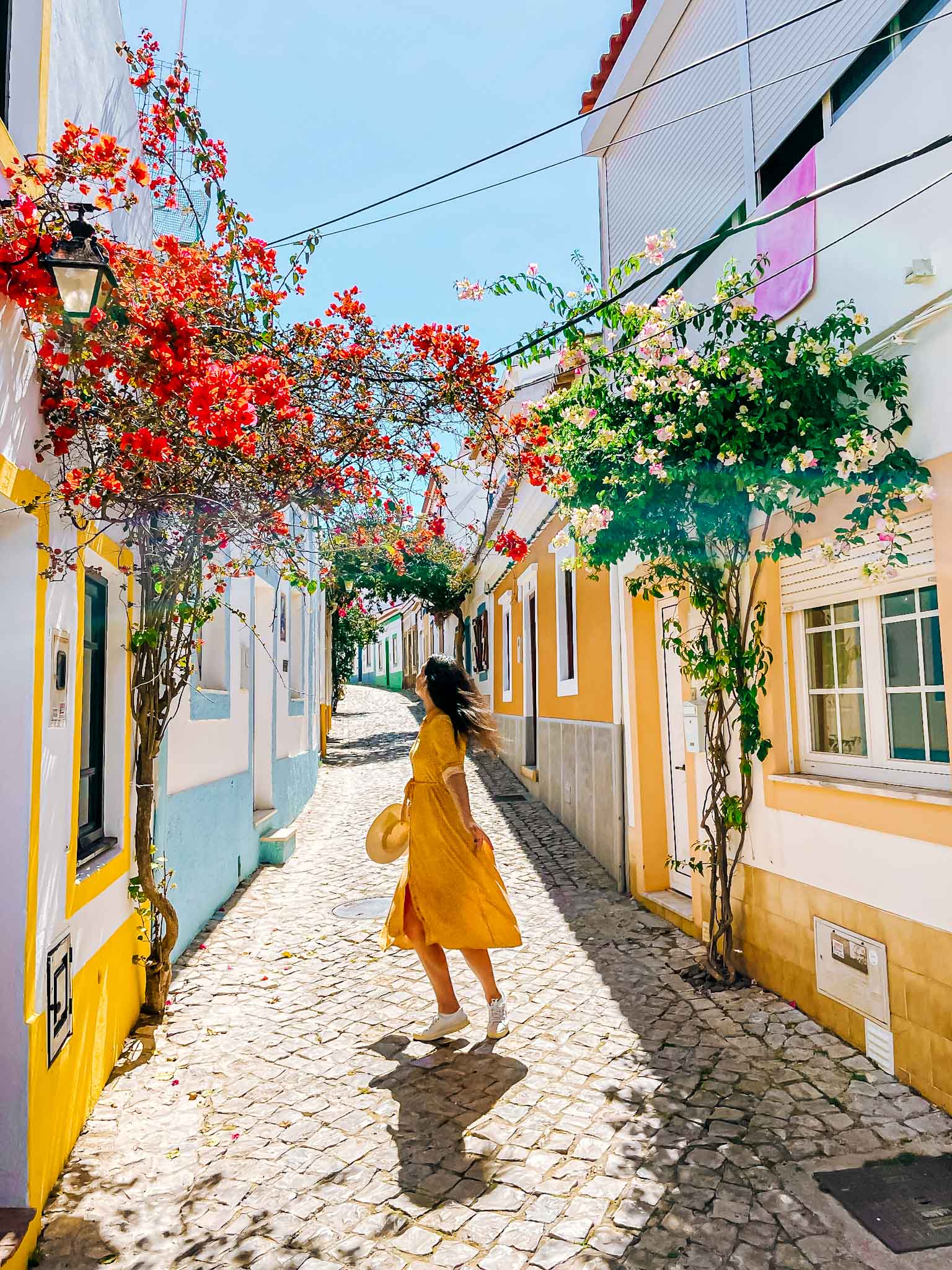 White little houses with blue doors and flower-covered roofs, tiny streets, cute cafés, and ocean air. Often times it is not those big towns and cities that are worth visiting but rather those small secret villages that have that local charm and best-kept secrets.
Burgau village in Algarve is also named the Portuguese Santorini. It is thanks to the white houses and blue doors. But not only blue, haha! The village has a nice sandy beach, a very relaxed atmosphere, and more quiet life. Definitely check out Love Burgau café if you happen to come here.
Ferragudo is a small fishermen's village near Portimão. White houses, narrow streets, stairs, blooming trees, and pots full of flowers and plants. The old part of Ferragudo village has many picturesque corners.
We particularly enjoyed Dr. Luiz António dos Santos street in Ferragudo (photo above). You can get my photo locations in this blog post.
Is Algarve worth visiting?
With some of the most beautiful beaches in the world and some of the most unique rock formations you will ever see, including the world-famous Benagil cave, Algarve is a must-visit region not only in Portugal but in Europe.
Instead of going to those Mediterranean beaches, I encourage you to pay a visit to Algarve at least once! We spent about 2 months in Algarve and felt that we could explore even more time there! I do not regret a single day spent in Algarve and you won't either!
Even if you don't have too much time to spend in Portugal, I really recommend visiting Algarve – even if it is just for a day or two! Without a doubt, you can do at least 3 to 5 of these bucket list things in one day!
How many days is enough for Algarve?
I hope that by reading this blog post you realize that there is quite a lot to do in Algarve! And there is a lot to do for everyone – surfing, boat trips, cave exploring, coastal hiking, visiting villages and towns, wine tasting, relaxing at the beach, kayaking, shopping, and so on!
I would say you need at least 5 to 7 days to do all or most of these things that I have mentioned in this Algarve bucket list! However, even if you can only stay for 3 days it will be a fantastic experience to at least see the main tourist attractions in Algarve.
In case you have only a few days, definitely go to Ponta da Piedade, relax at Praia da Marinha beach, go on a kayaking tour to the famous Benagil cave, and choose a boat trip along the beautiful coastline!
When is the best time to go to Algarve?
Obviously, Algarve is a summer holiday destination! Summer months – June, July, and August – will have the warmest water temperatures, hottest days, and sunniest skies! However, we visited Algarve in April, May, October, and November and I can say that it was great! Of course, except for a few rainy days, haha!
Obviously, early mornings and late evenings get chilly, but during the day it warms up quite a bit! Autumn months from September to November will have warmer water temperatures than in spring as the water still hasn't cooled down from the summer heat. Some days might be rainy, but there will be fewer tourists.
If you are one of those who like adventure, traveling cheaper, and seeing smaller crowds then go at the end of April, at the beginning of May, or in autumn – October, or November. If you don't mind people and just want nice summer holidays, then go in the summer months!
Where to stay in Algarve?
If you are not intending to rent a car and drive around, then it is best to stay in the bigger towns like Albufeira, Lagos, and Portimão. There are many tours you can take from those bigger towns to make your vacation extra eventful. I would not stay in Faro if I wanted to explore places because Faro is more farther away from the best spots!
If you are going to rent a car and you are willing to drive around Algarve, then I would choose someplace more in the middle of the region. Somewhere between Albufeira and Lagos would be a great place to stay. Although, I have to say that Lagos is my favorite town out of all Algarve towns.
Happy exploring!
Algarve is one of those must-visit destinations and regions in Europe! There is no other place with so many beautiful, unique and different beaches, breathtaking coastal cliffs, charming towns, and this relaxing Southern vibe! If you can, please, leave a comment below if there are any significant changes to anything that is written in this blog post! Thanks!
More Algarve travel inspiration!
PIN FOR LATER!