Here are the best Instagram spots in Algarve of the most beautiful places you can visit in Southern Portugal. In this blog post, you will find all the Instagram spots in Algarve with photos, descriptions, how to get there, and exact locations where they can be found on Google Maps. Happy exploring!
This post contains some affiliate links. If you use these links to buy something I may earn a small commission at no additional cost to you ♥
1. Heart-shaped rock at Praia da Marinha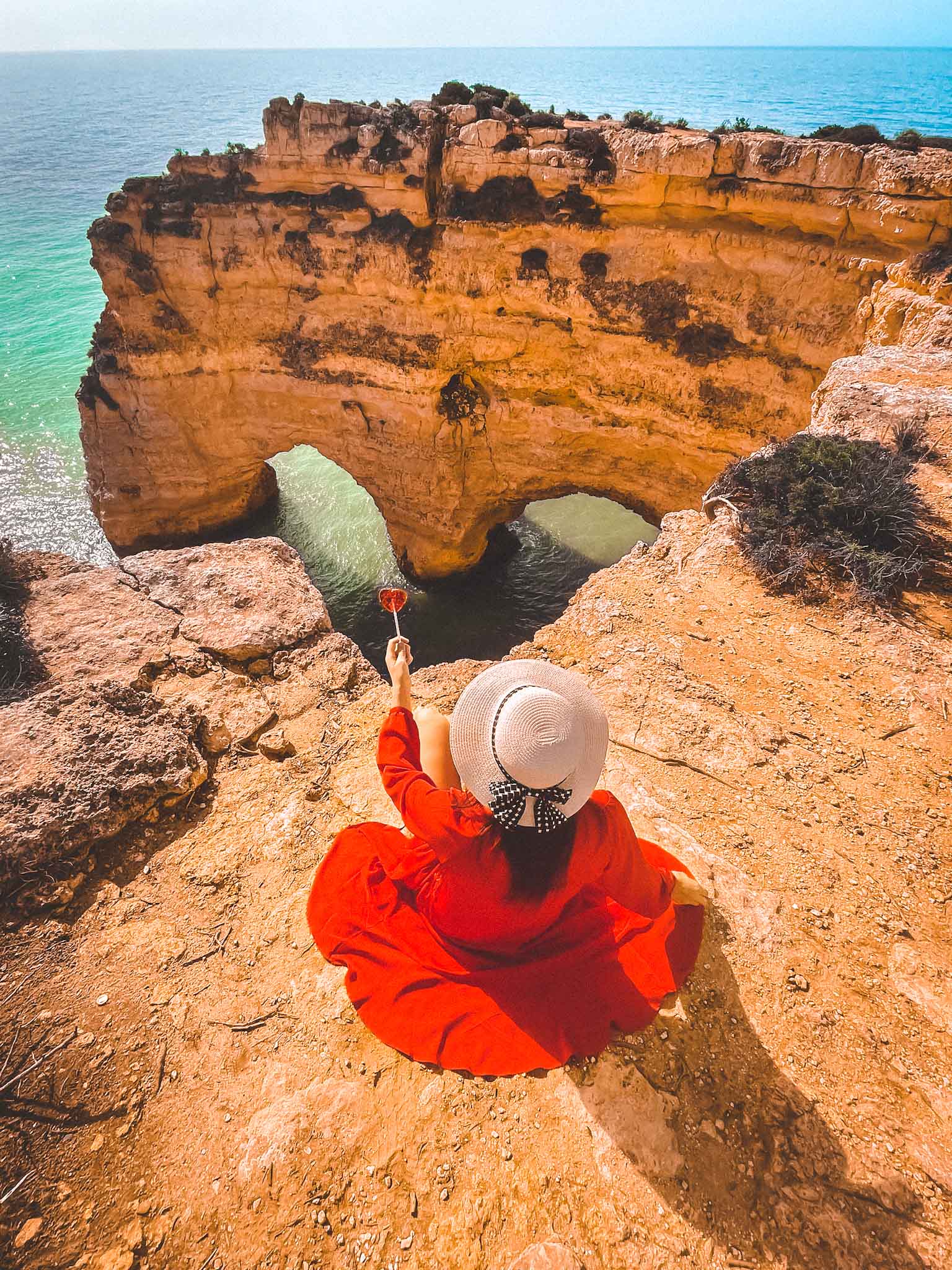 Have you seen this kind of photo on the Internet? No, it is not Photoshop – there is actually a heart-shaped rock in Algarve at Praia da Marinha beach! Read more about how to find the heart-shaped rock here!
There is a coastal rock with two natural arches next to the beach and if you look at the arch from a specific place up from the cliff at a specific angle, it actually creates a shape of a heart! This has to be the most famous Instagram spot in Algarve for sure!
Location: Heart-shaped rock · Parking lot
2. Ponta da Piedade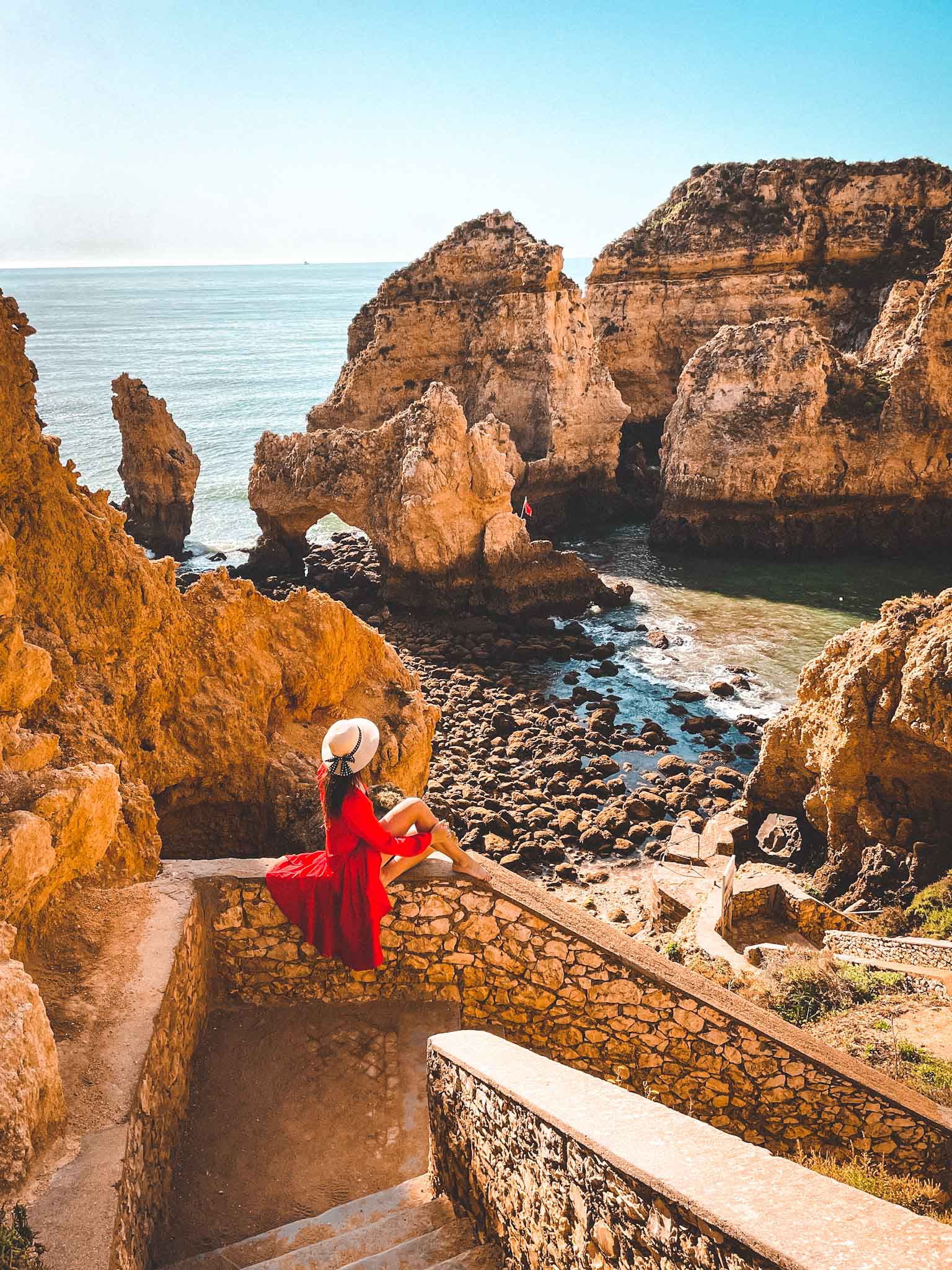 Ponta da Piedade is one of the most picturesque places in Algarve and it is magical at any time of the day – come here for the sunrise or the sunset, or during the day to observe the beauty of Algarve at its finest!
It is an area in the ocean full of beautiful rock formations in orange and yellow colors that are a stunning contrast to the blue waters.
You can enjoy this beauty not only from the coast but also from the water. There is a boat cruise in a small group from Lagos port along the coast to Ponta da Piedade to explore beautiful rock formations from the sea.
However, if you are into kayaking then you will love to join this boat and kayaking tour from Lagos to Ponta da Piedade where you will jump on a kayak and explore the caves. They even let you swim in those crystal clear waters!
Location: Ponta da Piedade · Photo location
3. Algar de Benagil or the Benagil cave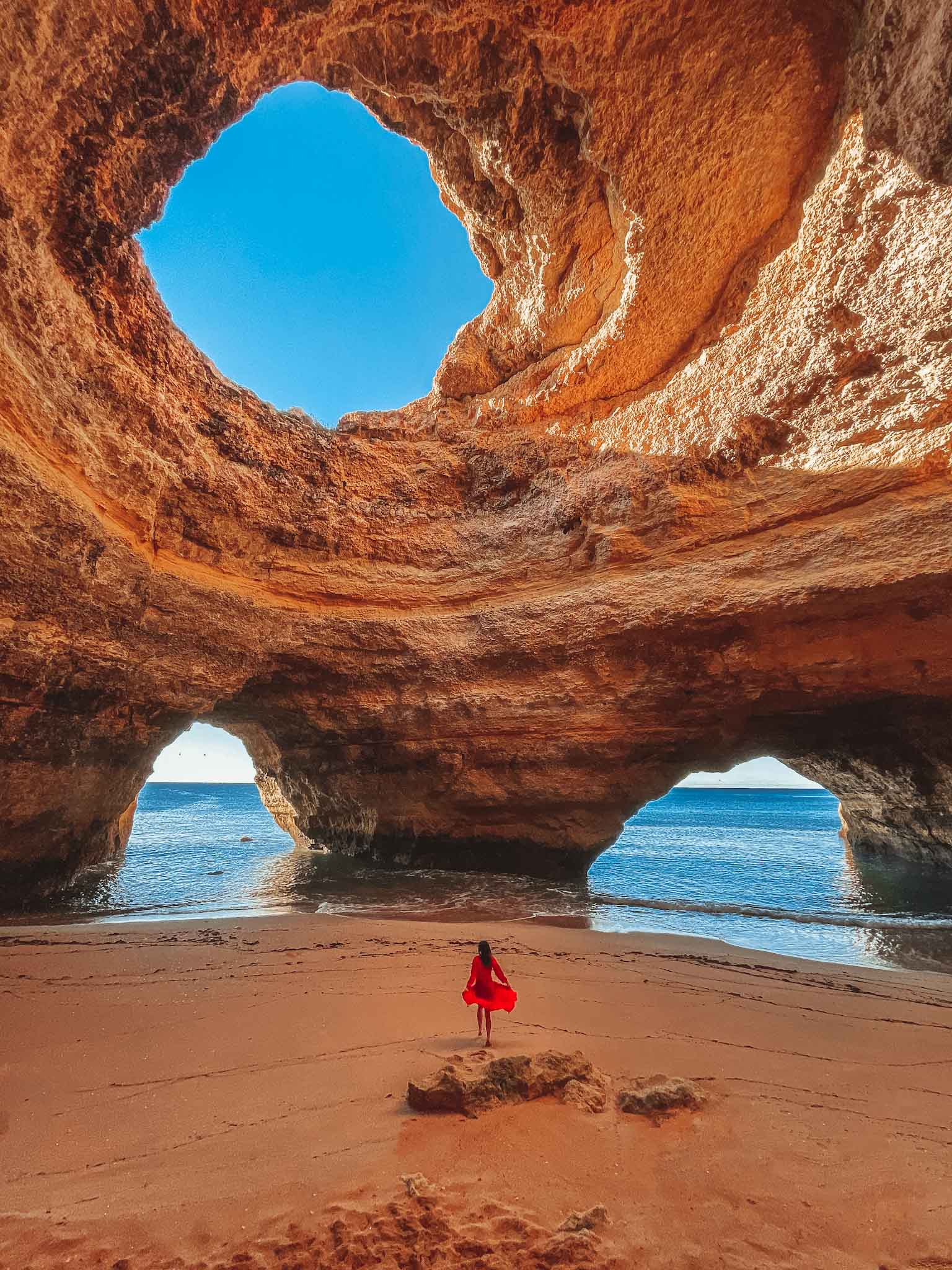 The Benagil cave is probably the most famous tourist attraction in the country so it is a must-see place for any visitor. It is a huge coastal cave with two entrances and a circular hole in the ceiling. Read more about how to visit the Benagil cave here.
This cave is only accessible by the sea so you need to book a kayaking tour to see this place (see the first option!) or you can also go on a SUP board. This is the only way you can get inside the cave and walk around.
Important! You will find many boat tour offers all over Algarve offering to take you to the Benagil cave. You have to know that these boats will take you as far as they can inside the cave (depending on the tide in the ocean!), but you will NOT be allowed to disembark and enter the cave on foot due to safety reasons.
You will have to stay in the boat. If that's fine for you, then I would recommend this boat trip from Portimão port (they have the sunset trip option!), or you can also join a boat trip from Lagos, or a boat trip to see dolphins and Benagil cave from Albufeira port.
Location: Algar de Benagil · Parking lot (free)
4. Arco de Albandeira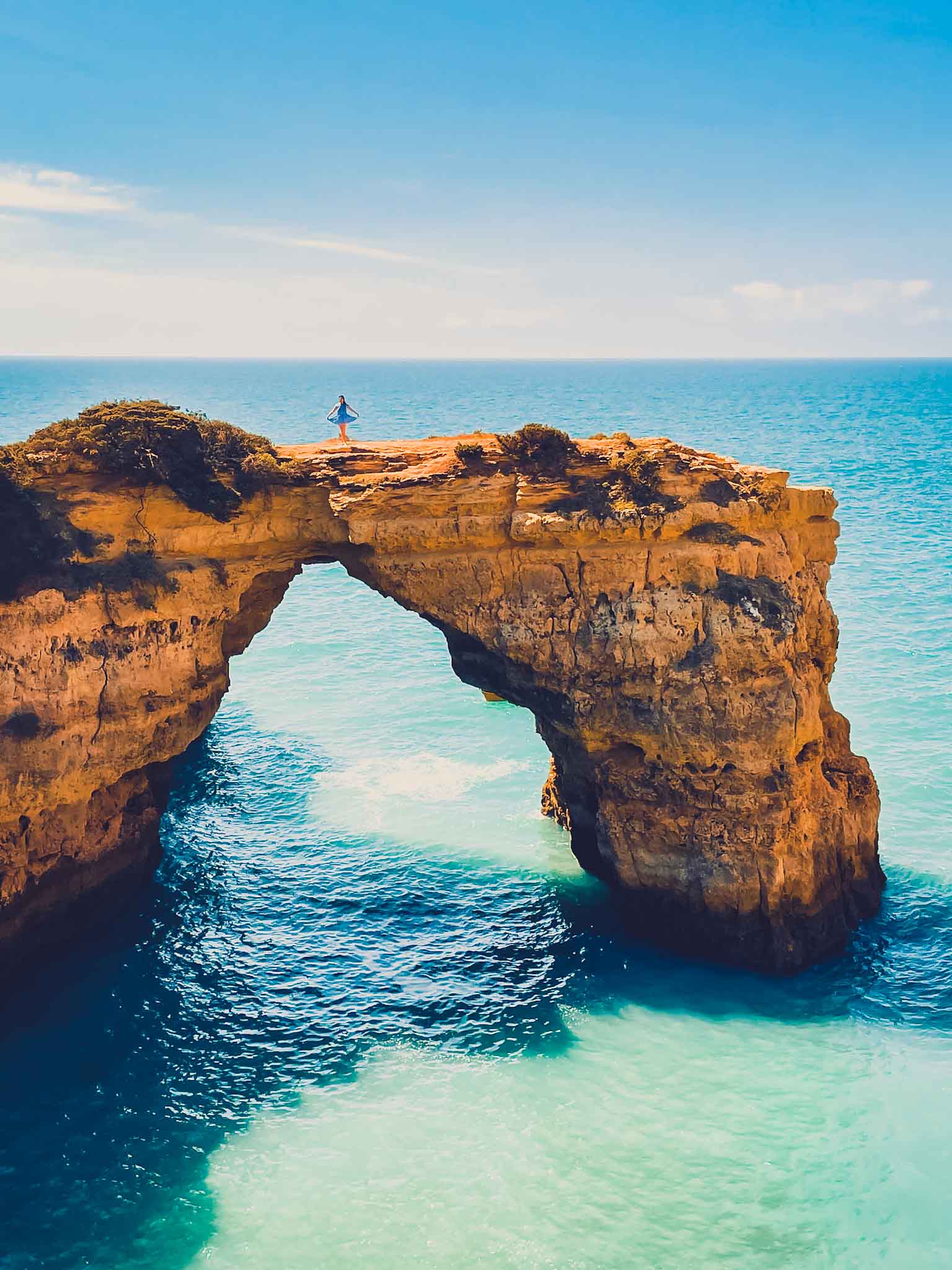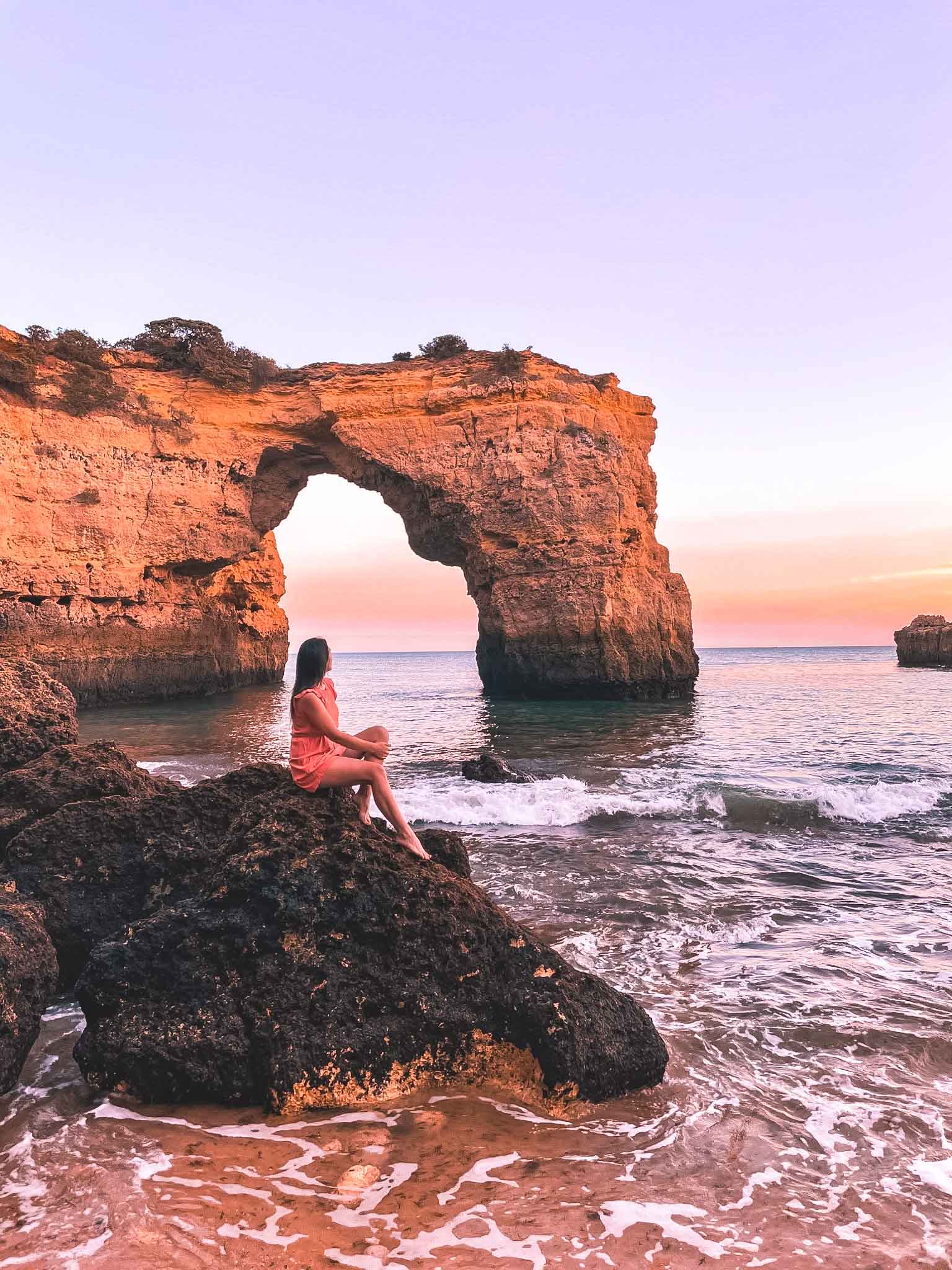 Arco de Albandeira is one of my favorite Instagram spots in Algarve! It is a huge rock arch in the sea between Carvoeiro and Armação de Pêra towns. The best part about the arch is that you can walk on it and observe the beauty up close! Or you can wait for the low tide and walk through a tunnel to the beach right under the arch!
There are also different boat trips coming to visit this beautiful arch by the sea (like this boat trip to wild beaches and also the Benagil cave and this one from Armação de Pêra to 10 caves (including the Benagil cave) and 15 deserted beaches!). The arch looks mighty whether you visit it from the ocean or from the coast!
Location: Arco de Albandeira · Parking lot
5. Praia dos Três Irmãos beach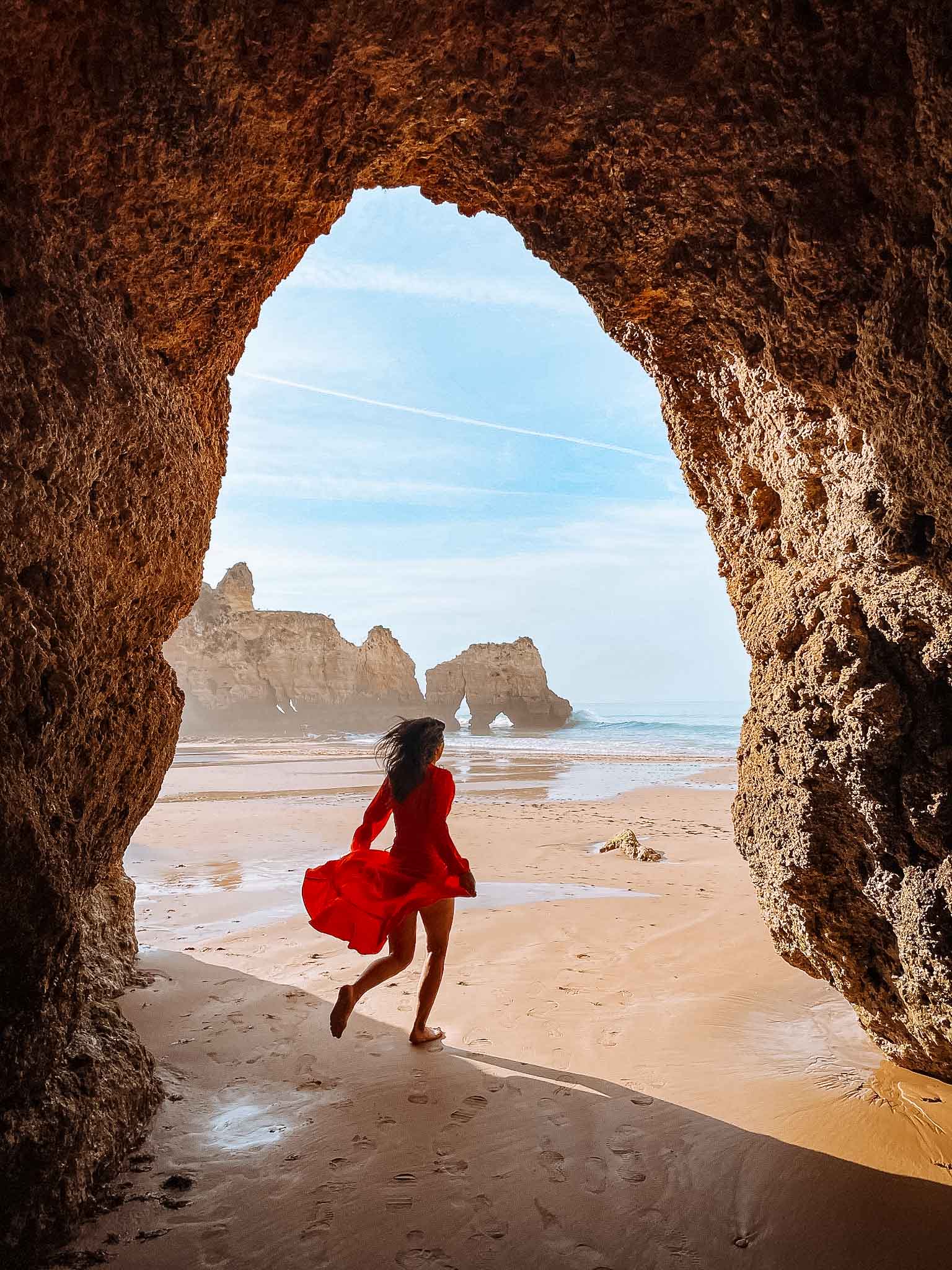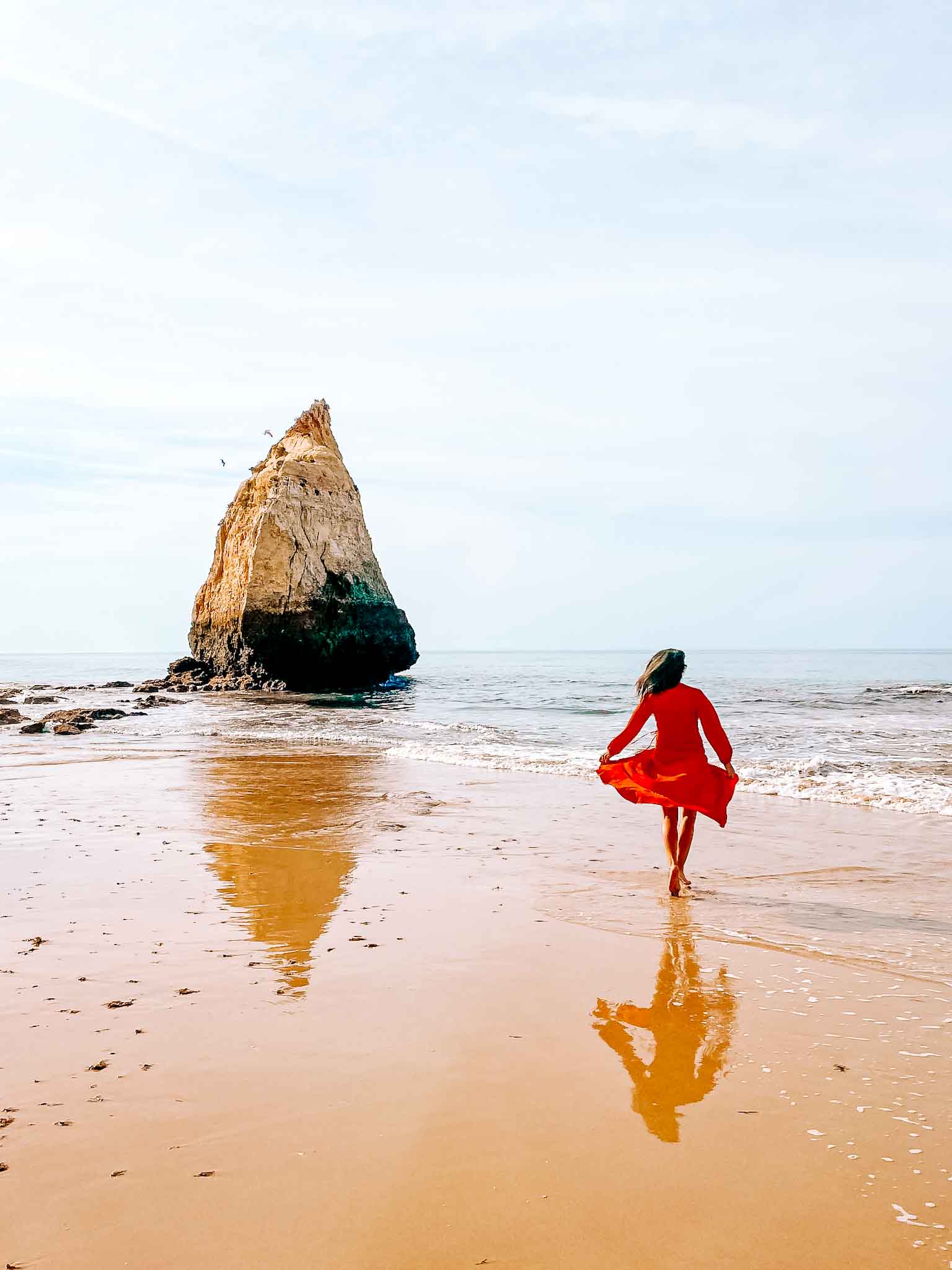 There are many famous and beautiful beaches in Algarve with amazing rock formations. However, I have to say that this beach – Praia dos Três Irmãos – probably tops the list of my favorite beaches in Algarve.
It is also one of the most instagrammable beaches in Algarve with beautiful rock formations in every corner. My favorite ones are the cave or an algar with interesting rock formations in the distance (first photo) and the beautiful Diamond rock (locations below).
There is another cave on this beach you should check out – read about it in this blog post! Make sure to come here during low tide when the rock formations are out of the water!
Location: Praia dos Três Irmãos · Algar at Praia dos Três Irmãos · Diamond rock
6. Roman bridge at Praia dos Estudantes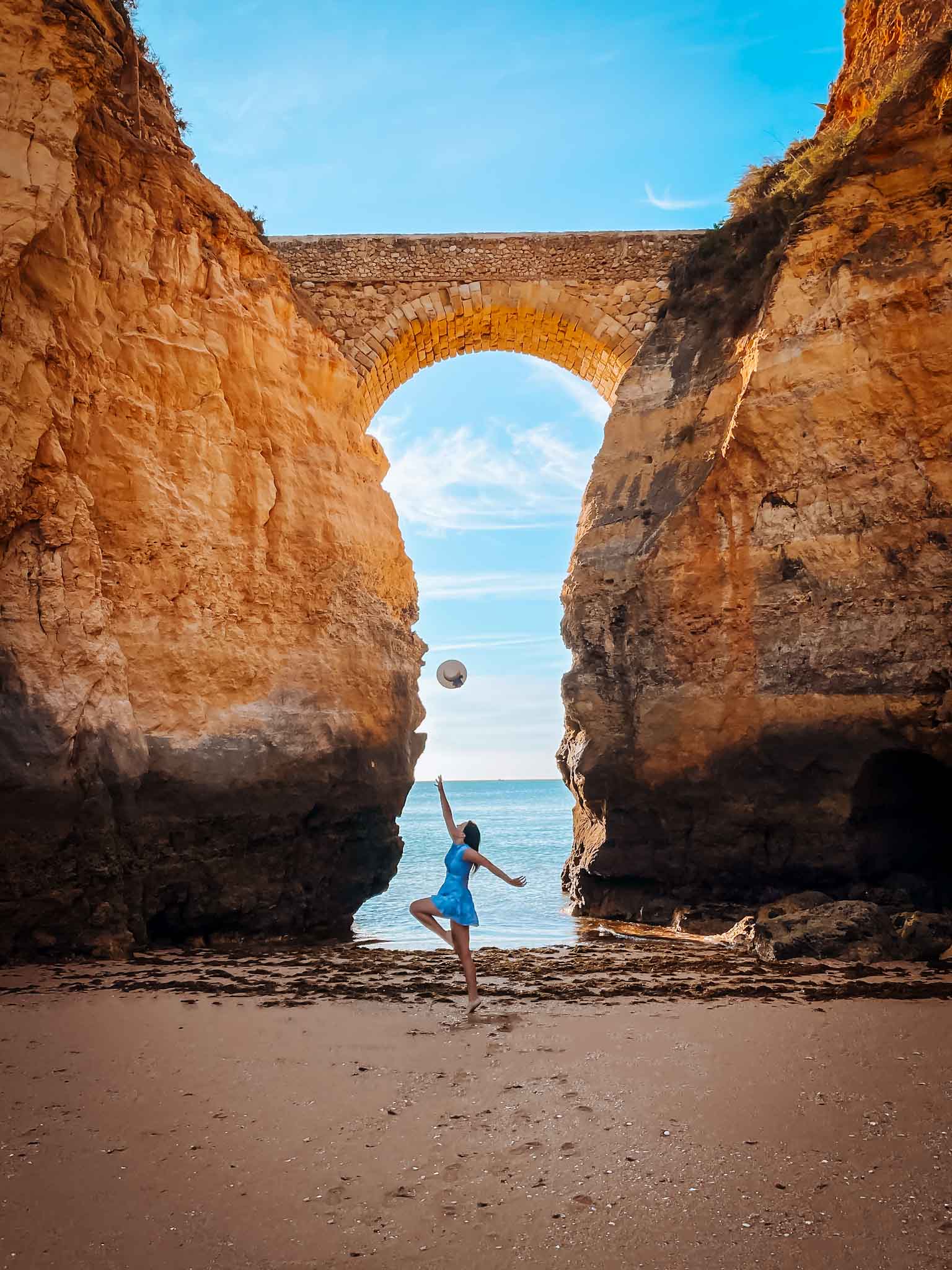 Praia dos Estudantes is a tiny beach in Lagos that has a second part – and it can be accessed through a tunnel that goes through a cliff. What makes it very unique and special is the huge Roman bridge that connects two coastal cliffs.
You can actually walk on it, but the view from the beach is even more impressive. Make sure to come here closer to low tide! It is one of my favorite Instagram spots around here in Algarve!
Location: Praia dos Estudantes · Parking lot · Photo location
7. Praia da Marinha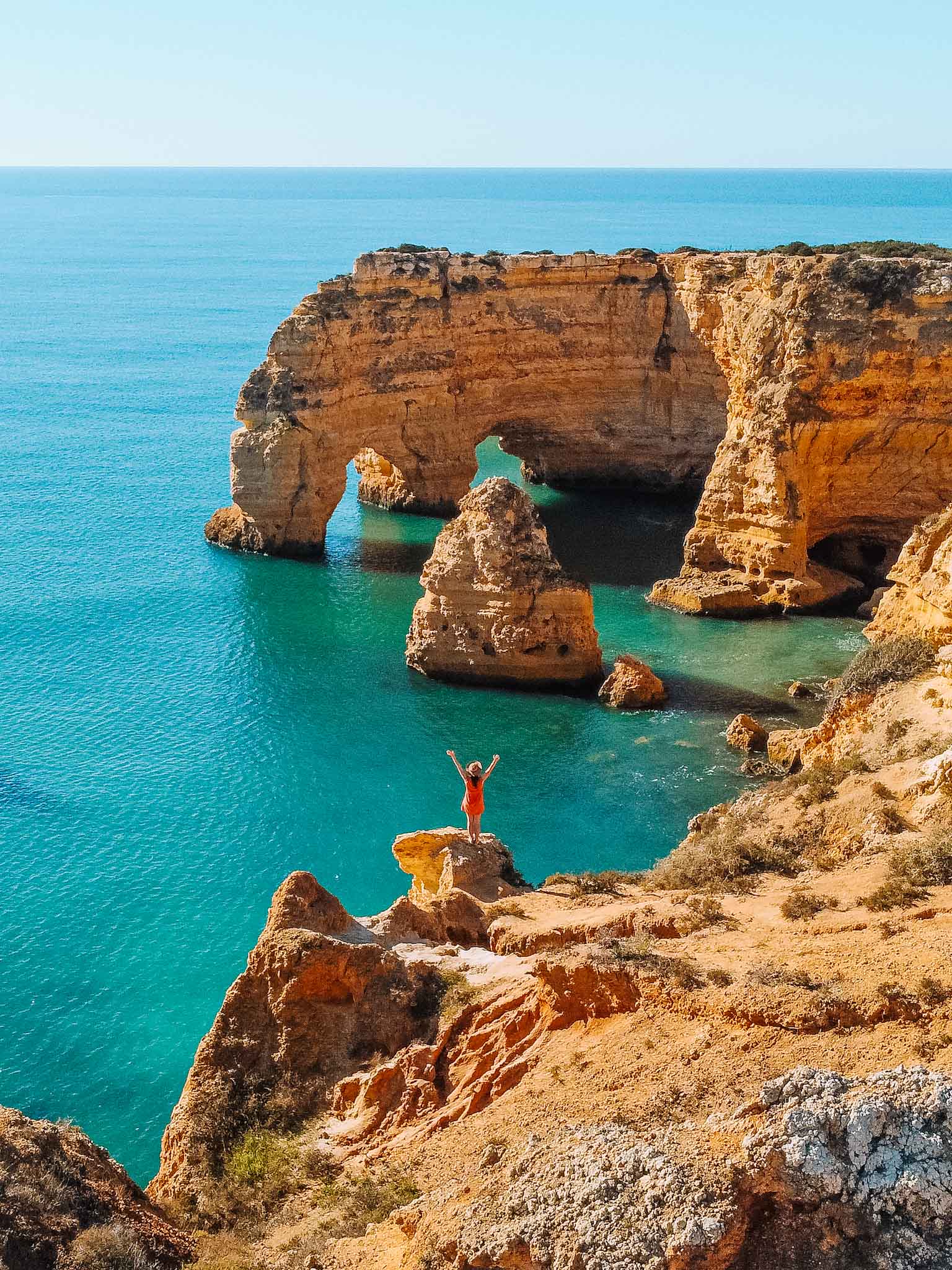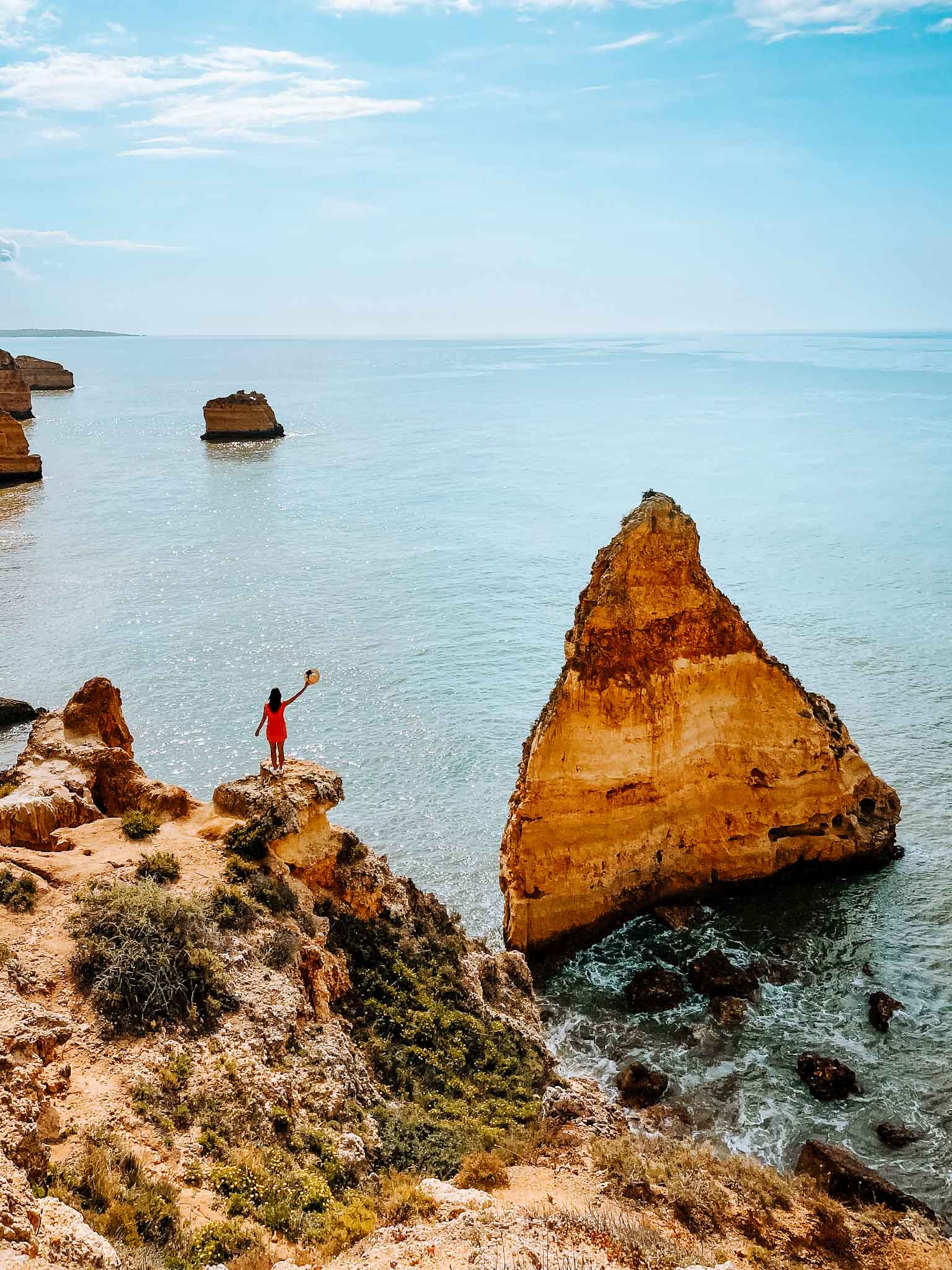 Praia da Marinha beach is another one of my favorite beaches and also one of the best Instagram spots in Southern Portugal. I already mentioned the heart-shaped rock you can find at this beach, however, there are many other photo possibilities.
The rock formations are so unique and impressive that you should consider taking some more shots here. My favorite is a small rock platform above the cliff where you can stand on and take photos from different angles.
The spot I am standing on is the same, but look how different photos are if you change the angle! This is a great photo opportunity during high tide when the beach becomes less accessible.
Location: Praia da Marinha · Parking lot · Photo location (rock platform)
8. Elephant Rock at Praia da Marinha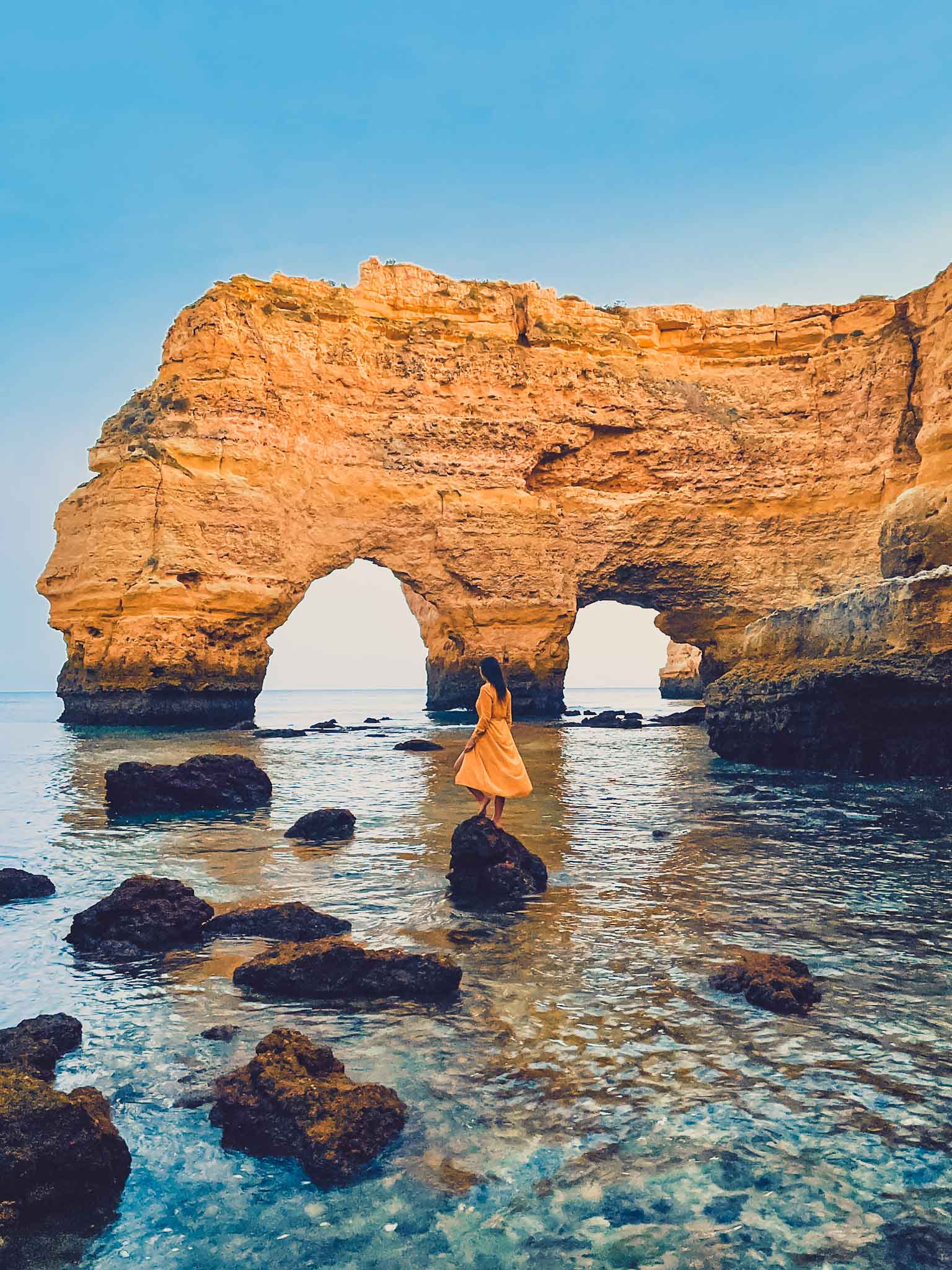 Another photo possibility that Praia da Marinha beach offers is this double arch cliff in the water. It is the same one that forms the heart-shaped photo, however, this arch deserves a separate recognition. Some call it the Elephant Rock as it resembles an elephant if you look at it from the water.
You can access it from the beach during low tide or you can climb on it from the coast, or you can join a kayaking tour or boat tour to see it from the water. Either way works great and makes a nice photo!
Location: Elephant Rock
9. Yellow Submarine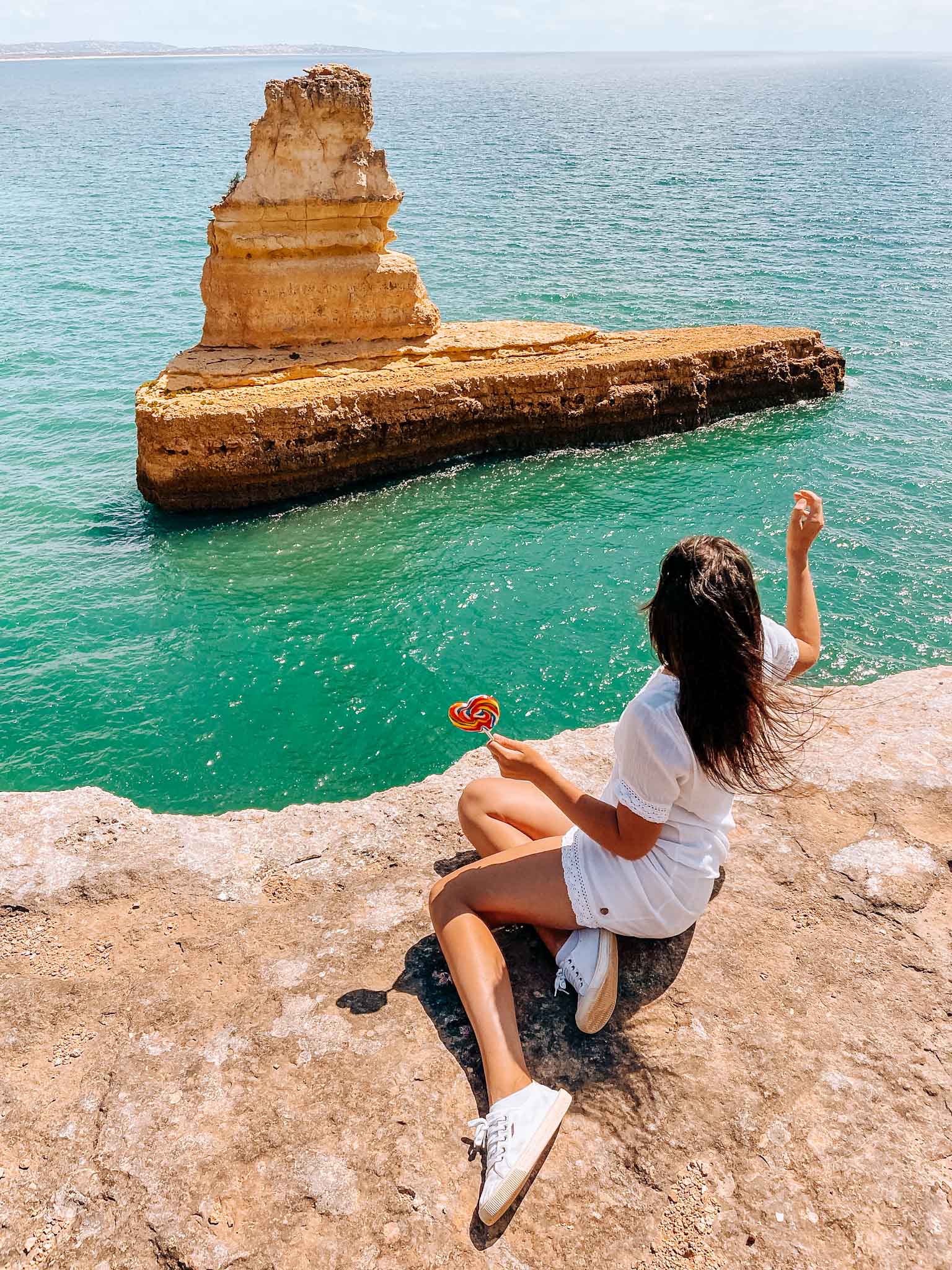 Yellow Submarine rock is amongst my favorite Instagram spots in Algarve! It really looks like a giant yellow submarine, haha! It is quite a distance into the sea so you can't access it on foot however you can join a boat tour in a small group from Armação de Pêra.
The tour will take you to the most beautiful sea caves, tunnels, and crazy rock formations including the Yellow Submarine and the famous Benagil cave. You can easily observe this rock from the coast too!
Location: Yellow Submarine · Photo location
10. Praia de Carvoeiro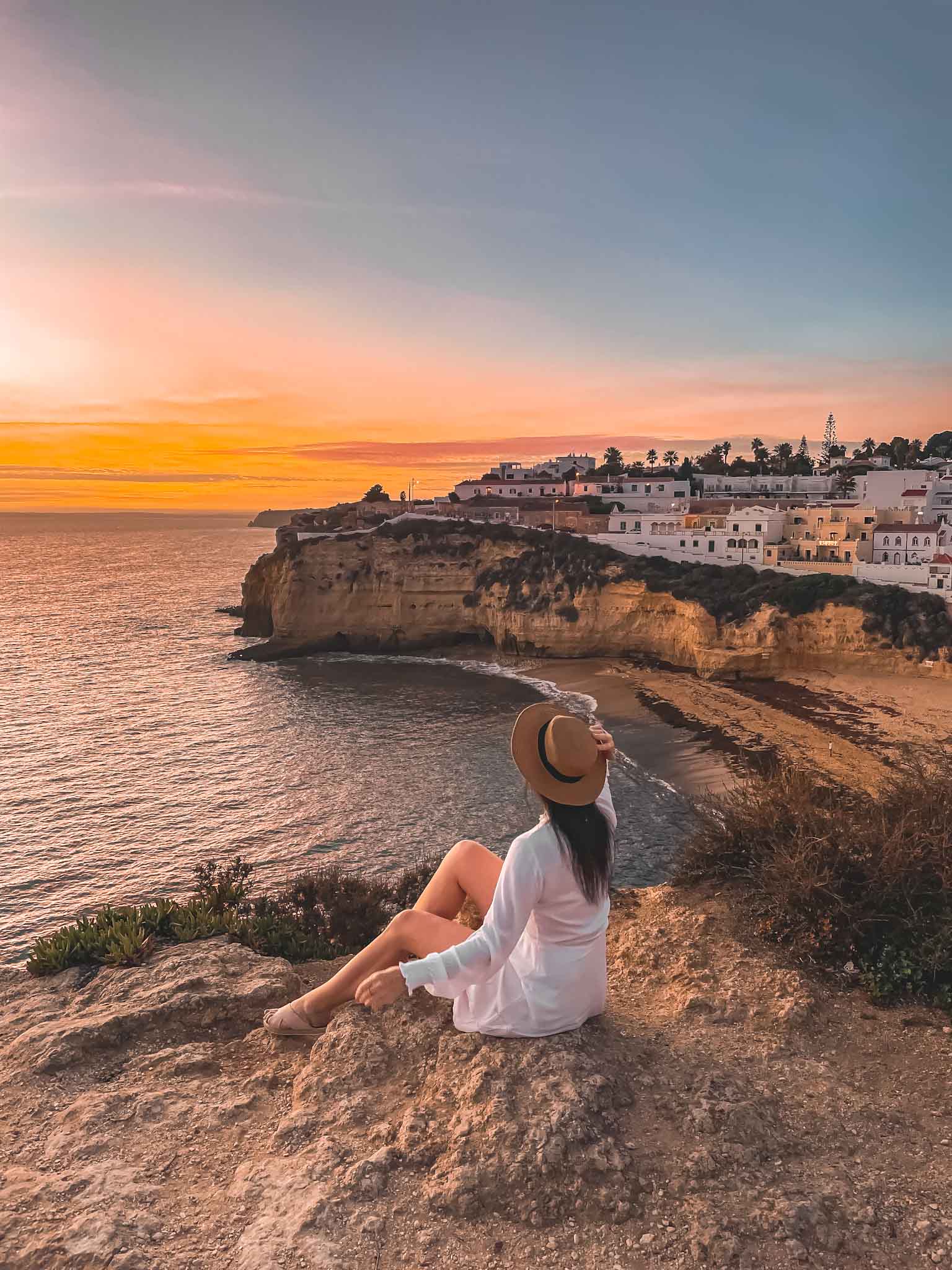 Praia de Carvoeiro is a dreamy and picturesque beach in Carvoeiro town. It has golden sand and steep cliffs surrounding it. It is even more magical during the sunset when the town lights up. There is a nice viewpoint (location below) near a chapel where you can get this view and enjoy the sunset.
Location: Praia de Carvoeiro · Photo location
11. Algar at Praia dos Três Castelos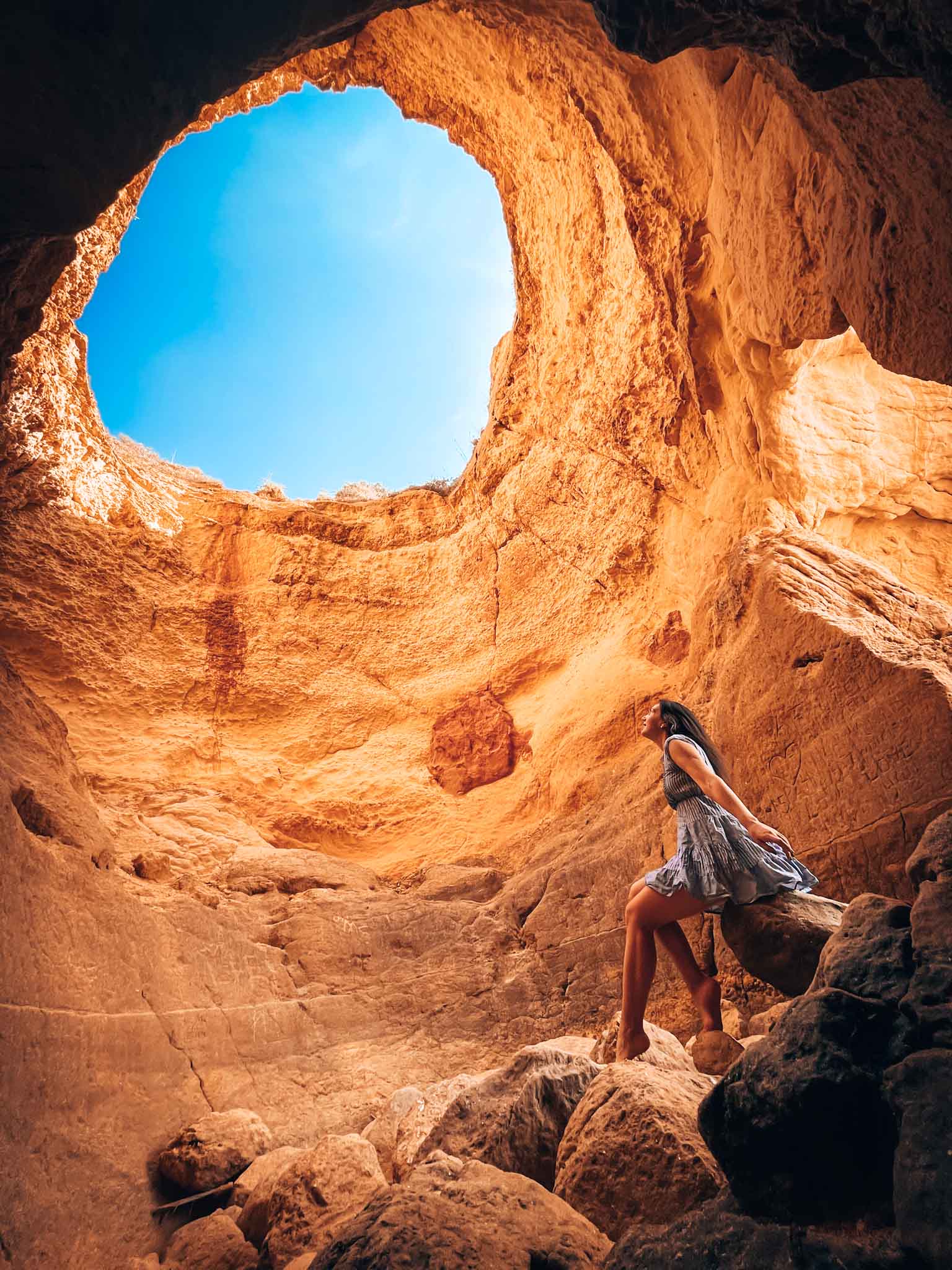 This spectacular algar at Praia dos Três Castelos beach was one of my favorite discoveries and Instagram spots in Algarve. It is located at Praia dos Três Castelos beach in Portimão and is very easily accessible.
The algar has two entrances from the side of the beach, but you can also observe it from a viewpoint from above (but you can't make a photo like this, tho!). It is easy to access – just go to the beach and find this spot, there will be narrow entrances to this cave. Remember to come during low tide!
Location: Algar at Praia dos Três Castelos
12. Boneca's Cave at Algar Seco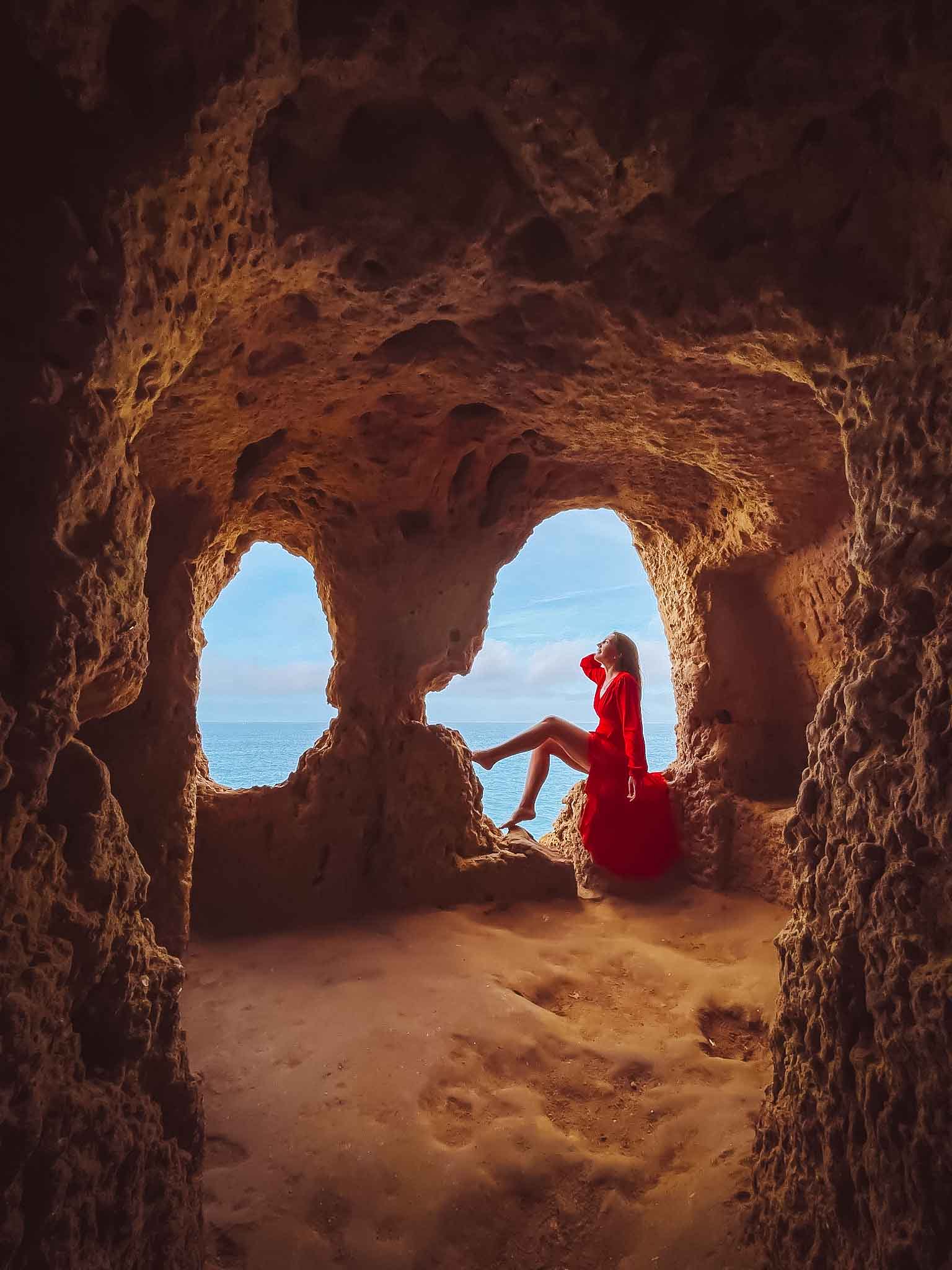 Algar Seco is a rocky area at the coastline in Carvoeiro full of different and unique rock formations. There is a wooden walkway called Carvoeiro Broadwalk nearby where you can walk along the coast and learn more about the rock formations in Algarve.
Definitely check out this area and take a short walk along the coast! One of the main attractions in this area is Boneca's cave. It translates as the Doll's cave as the cave has two oval holes looking out to the ocean.
Apparently, the holes look like a doll's eyes (if you look at them from the ocean). One of the coolest Instagram places in the area! There is a narrow tunnel leading to the 'doll's eyes'.
Location: Boneca's cave · Algar Seco · Carvoeiro Broadwalk
13. Pottery shops at Raposeira and Sagres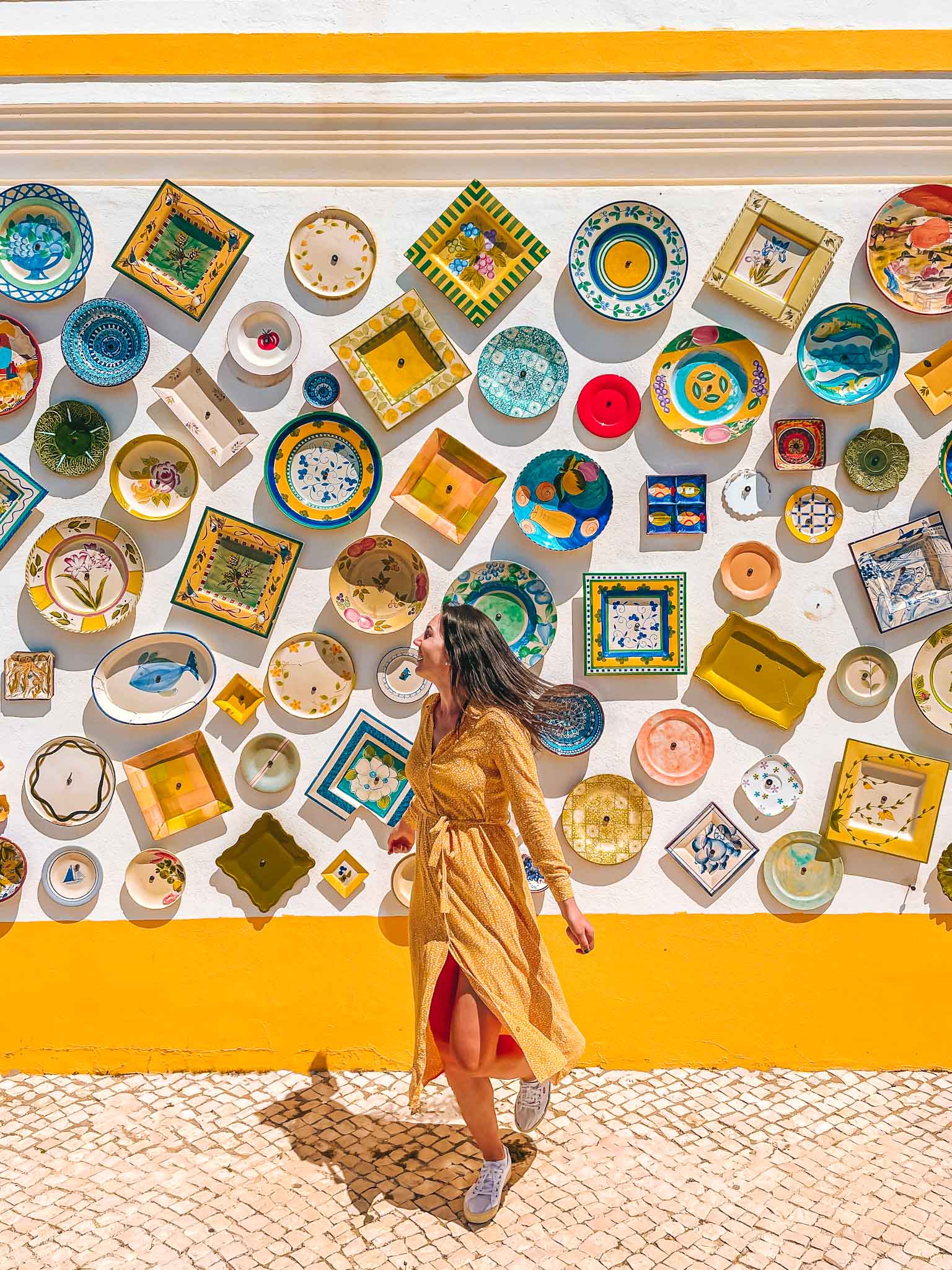 If there is one place you should go looking for some souvenirs from Algarve then it is definitely traditional pottery shops. There are two especially beautiful ones in Algarve – Cerâmica Paraíso in Raposeira and Artesanato a Mó in Sagres.
They not only have cute and picture-perfect buildings decorated with colorful pieces from the store, but they also have an abundance of beautiful and colorful ceramic dishes and souvenirs for you to purchase.
Just make sure to bring cash with you! This is the place to get some of the most colorful Instagram photos in Algarve and some of the most beautiful souvenirs at the same time!
Location: Cerâmica Paraíso · Artesanato a Mó
14. Praia do Camilo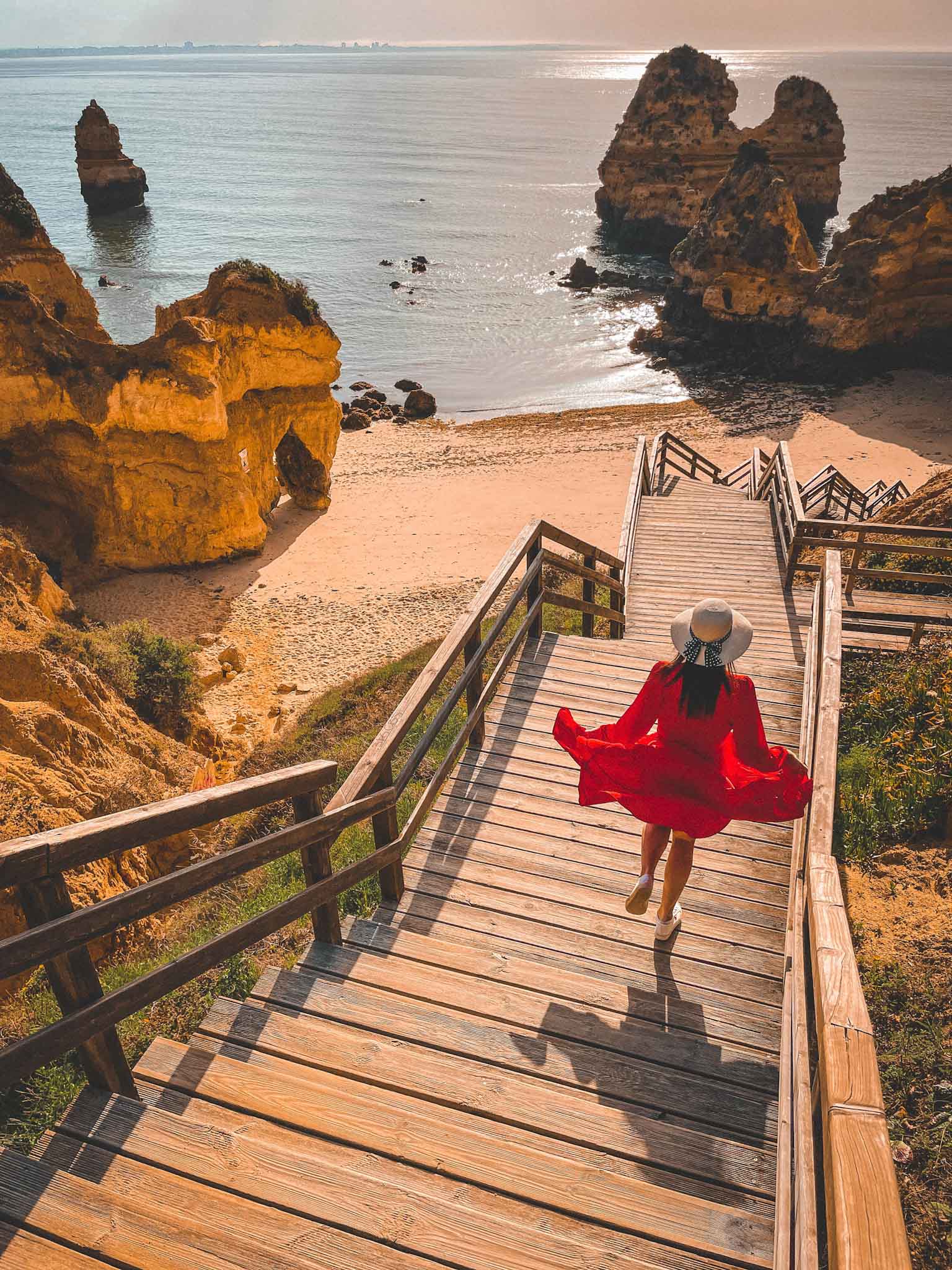 Praia do Camilo is not only a must-visit beach in Algarve but also one of the most picturesque Instagram spots in Algarve. It is a small sandy beach with impressive ochre-colored rock formations and a beautiful wooden stairway leading down to the beach.
Praia do Camilo beach is definitely best enjoyed during low tide – that is when the beach is more wider, cliffs are more accessible and you can even walk through a tunnel and access the second part of the beach.
Location: Praia do Camilo · Parking lot
15. Burgau village – the Portuguese Santorini
White little houses with blue doors and flower-covered roofs, tiny streets, cute cafés, and ocean air. Burgau village in Algarve – also named the Portuguese Santorini – has those perfect Instagram spots wherever you look.
The village has a nice sandy beach in case you want to relax by the water. Definitely check out Love Burgau café – they have amazing breakfasts, pizzas, smoothies, cocktails, and so on. And – it is located next to a tiny and cute yellow house!
Location: Burgau · Photo location (first photo) · Photo location (second photo)
16. Colorful rocks at Praia da Falésia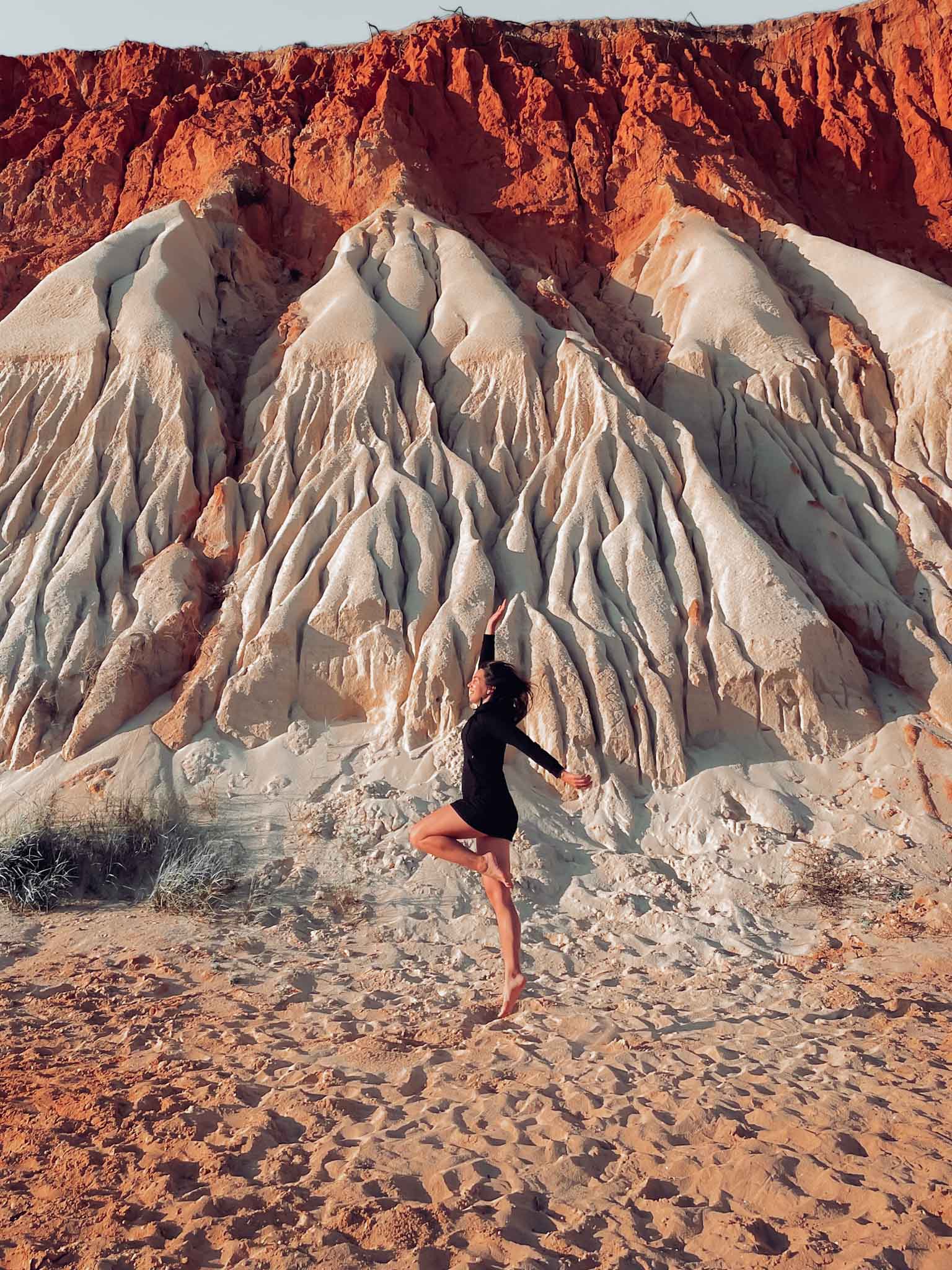 Praia da Falésia beach was one of those beaches in Algarve that surprised me the most! Just look at these coastal cliffs! The beach is not only super long and a great choice for a beach day.
But it has this unbelievable background with rocks in two colors – red and white. I have never seen something like this in my life – a true hidden gem in Algarve that you should definitely check out!
Location: Praia da Falésia · Photo location · Parking lot
17. Old village of Ferragudo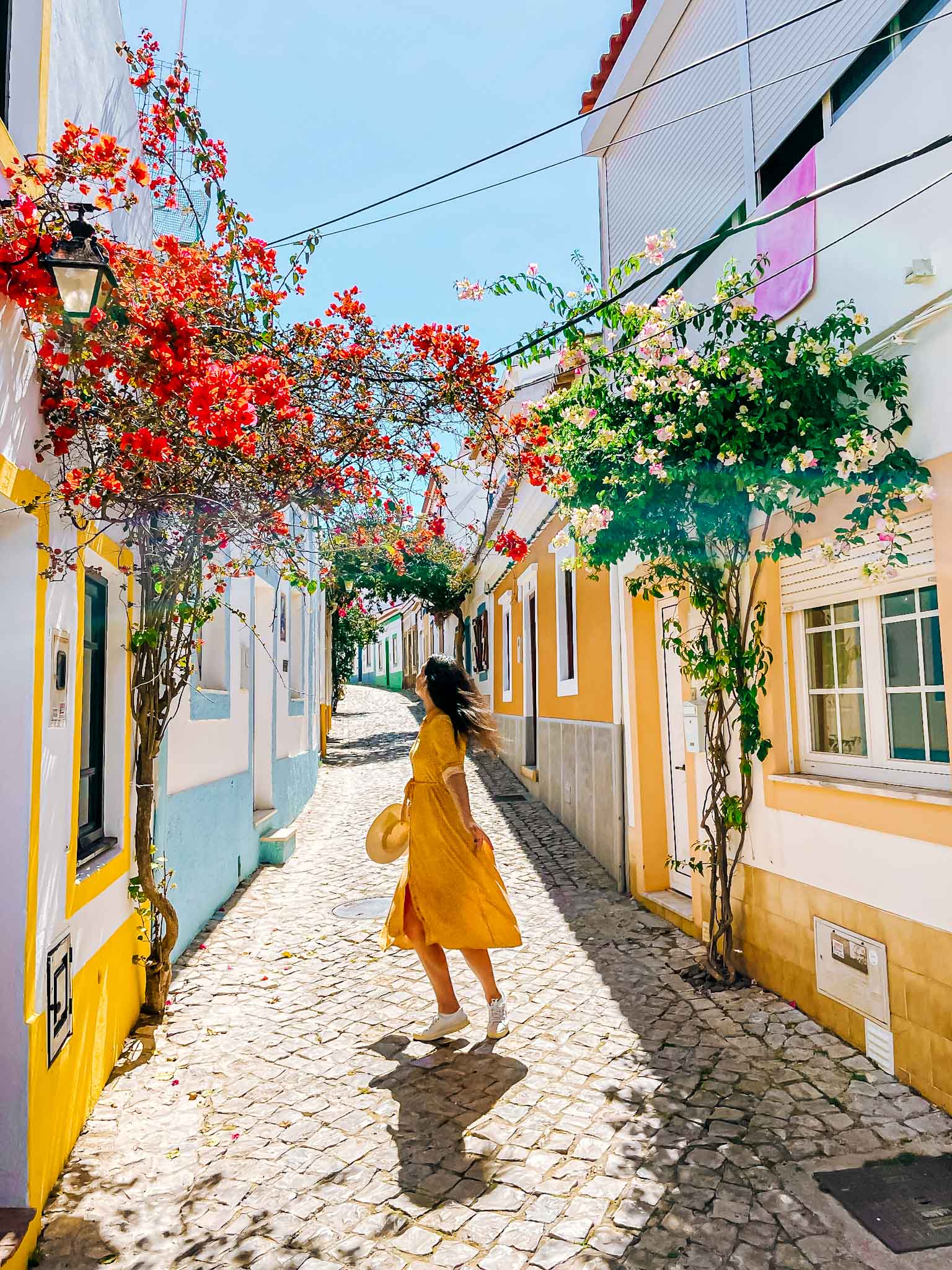 Ferragudo is a small fishermen's village near Portimão. White houses, narrow streets, stairs, blooming trees, and pots full of flowers and plants. The old part of Ferragudo village has many picturesque corners.
You might just want to stroll around the streets and enjoy the place. We particularly enjoyed Dr. Luiz António dos Santos street in Ferragudo – a narrow street with colorful houses and flowers hanging over the narrow path.
Location: Ferragudo · Photo location
18. Algar at Praia João de Arens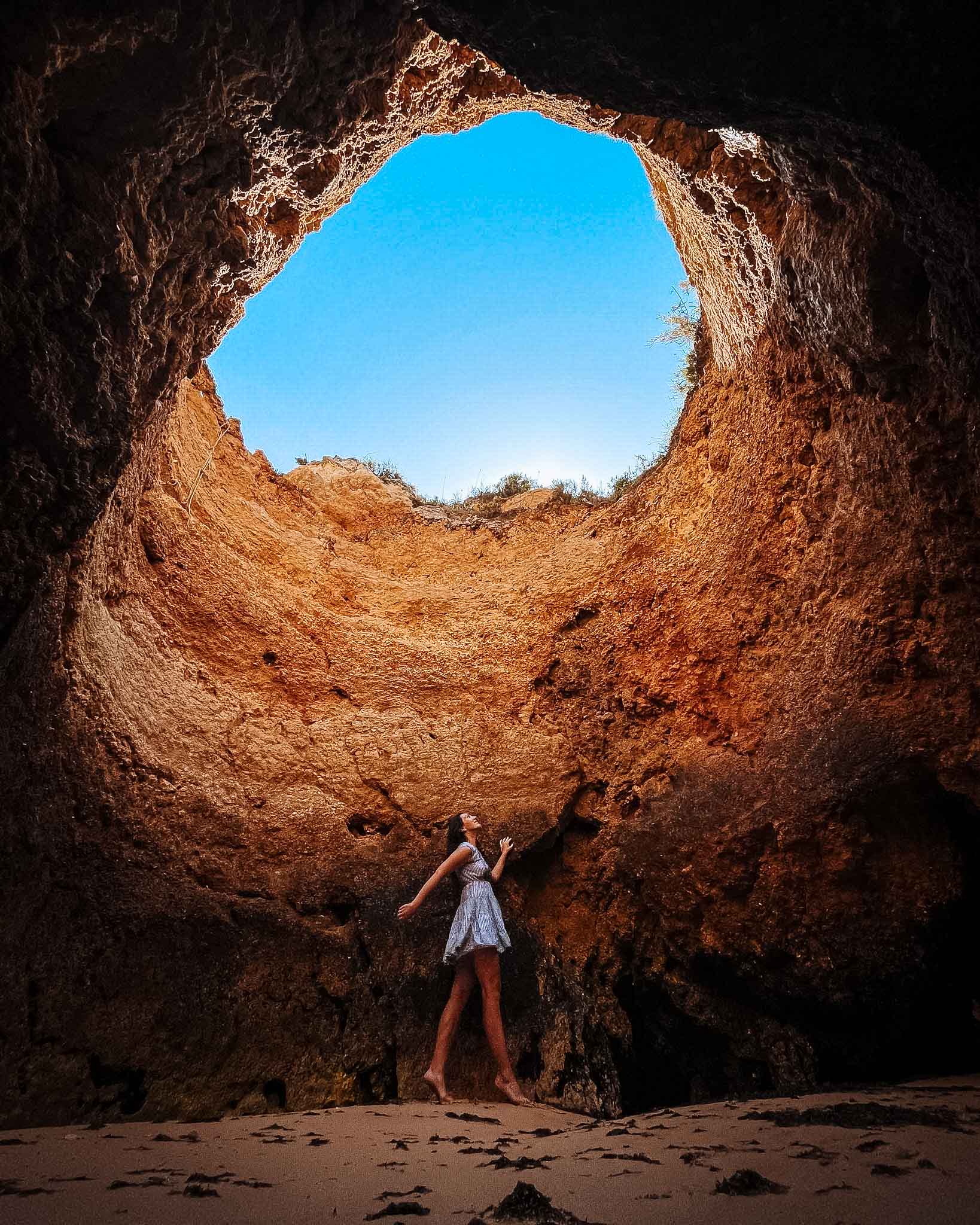 This is probably one of the coolest Instagram spots in Algarve. It is not easy to find and not easy to access this algar, however, if you are an adventurer, you will love it!
In order to get here you can park your car at Praia do Alemão parking lot, then climb uphill and follow a coastal path until you reach Praia João de Arens beach. Then find a narrow path downhill to the beach.
When you are at the beach you have to find a pathway under a cliff to get to the next part of the beach. It is visible and accessible only during low tide. You will just have to bend over to get through there.
When you get to the next beach, walk across it in the direction of the rocks you will see in front of you and find a small access hole to the algar. It is quite low and you will have to get down on your knees to get there. We used the wide-angle setting on our phone to make this photo.
Location: Algar at Praia João de Arens · Parking lot
19. Praia dos Três Castelos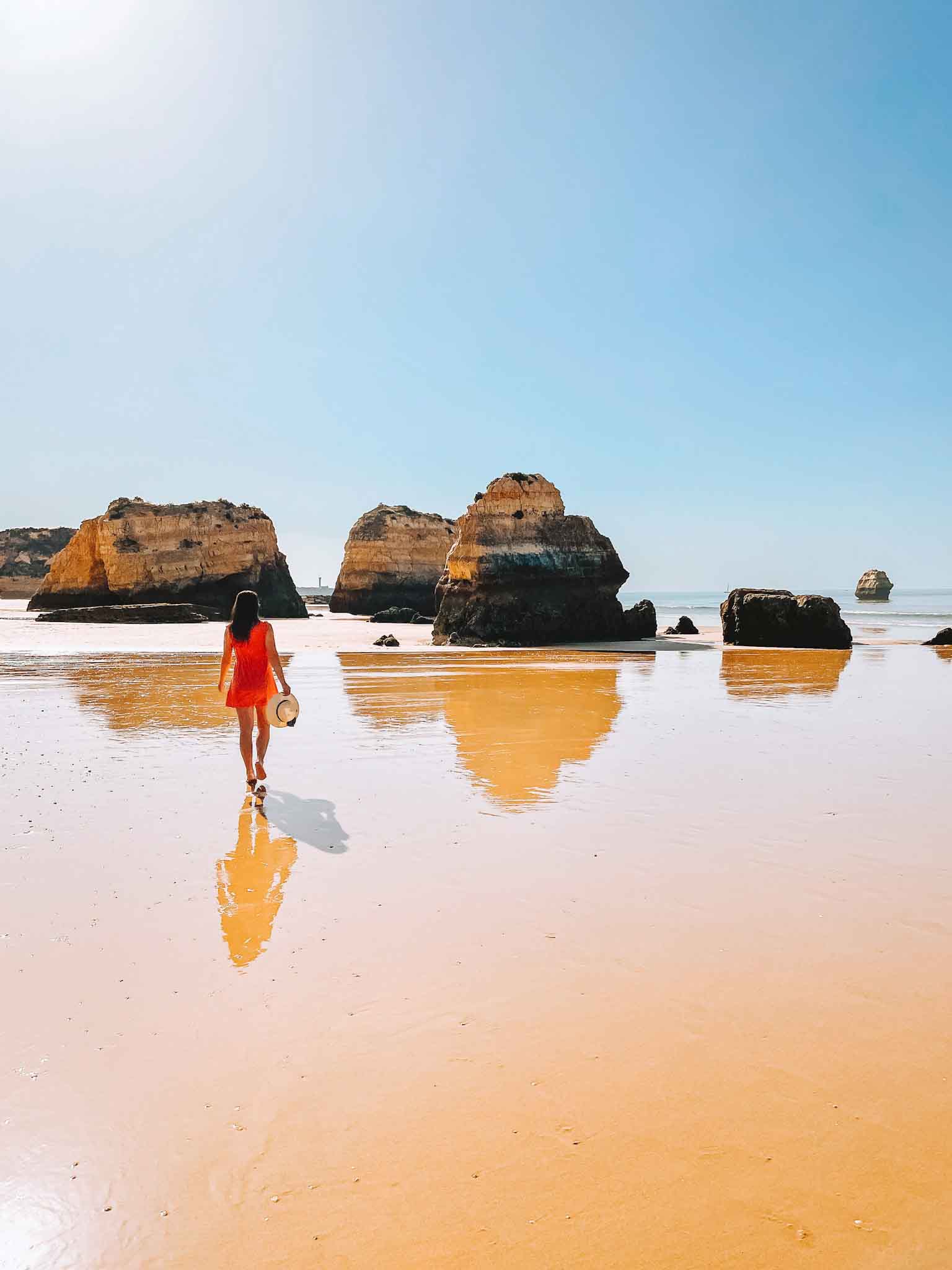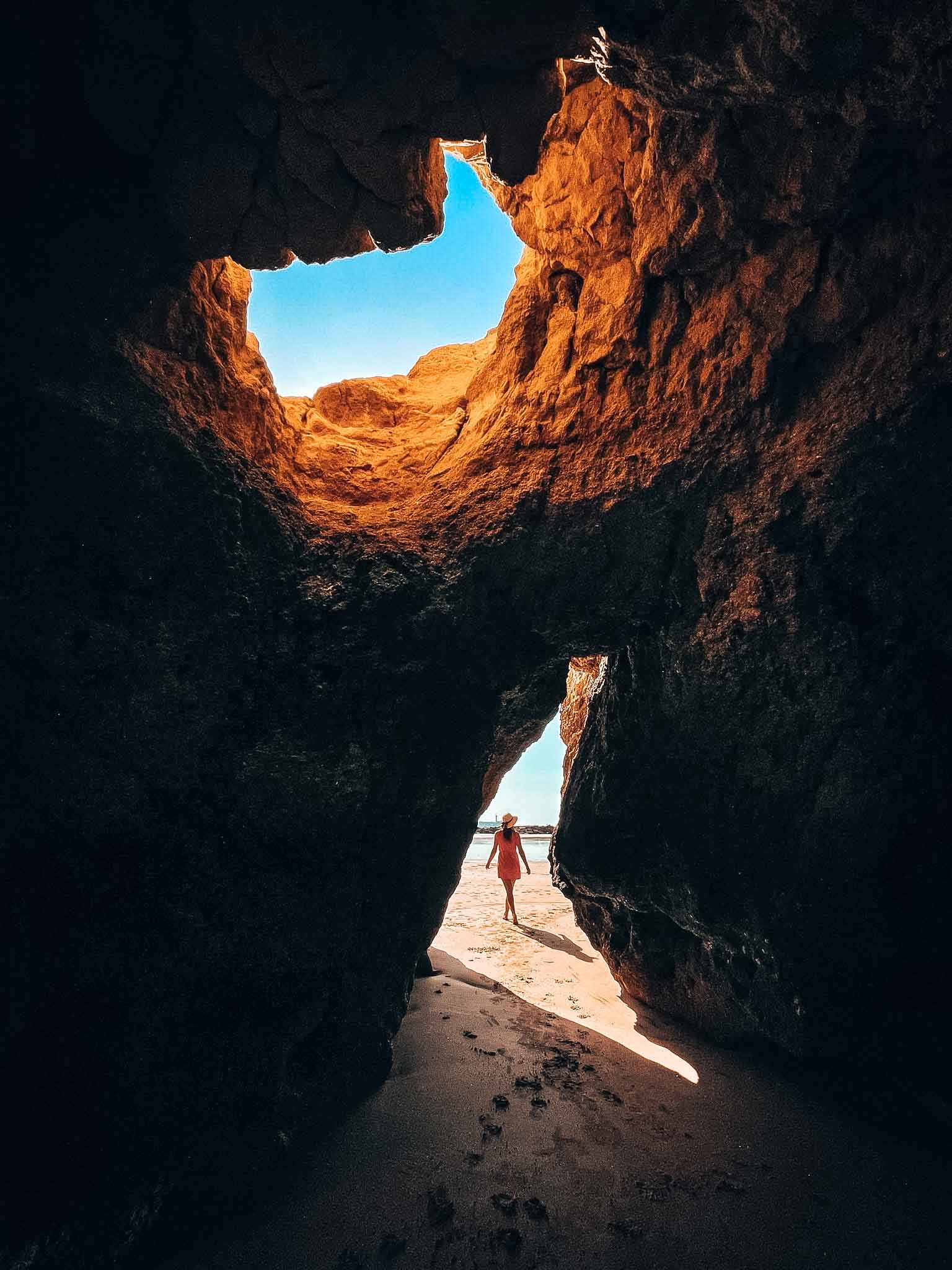 Praia dos Três Castelos is one of the most picturesque beaches in Algarve. If you are looking for that one beach where you can have photos with ochre-colored rocks in the ocean then Praia dos Três Castelos beach is a great spot.
I do recommend coming here during low tide as many more rock formations will become accessible! During one of our walks, we discovered this narrow cave (second photo) inside a rock. You will find more info about the cave in this blog post.
Location: Praia dos Três Castelos
Happy exploring!
Algarve is one of those must-visit destinations and regions in Europe! There is no other place with so many beautiful, unique and different beaches, breathtaking coastal cliffs, charming towns, and this relaxing Southern vibe! If you can, please, leave a comment below if there are any significant changes to anything that is written in this blog post! Thanks!
More Algarve travel inspiration!
PIN FOR LATER!