6 best spots in Teide National Park for the most amazing photos
Teide volcano is definitely the most prominent tourist attraction and symbol in Tenerife. Is it possible to go to Tenerife and not visit Teide National park to get a glimpse of the famous volcano? Here are the best photo spots in Teide National Park to get the most amazing photos of the Teide volcano in Tenerife.
Read also >> 19 ultimate best Instagram spots in the island of Tenerife
1. Mirador Azulejos II and burning Teide in the sunrise!
This is my favorite photo spot in Teide National Park to get that unique photo with Teide volcano at the end of a long straight road. Make sure to check if there are no cars around you!
We went there early in the morning for the sunrise to get this amazing photo when Teide was colored in orange shades because of the sunrise.
Location: Mirador Azulejos II
2. Roques de García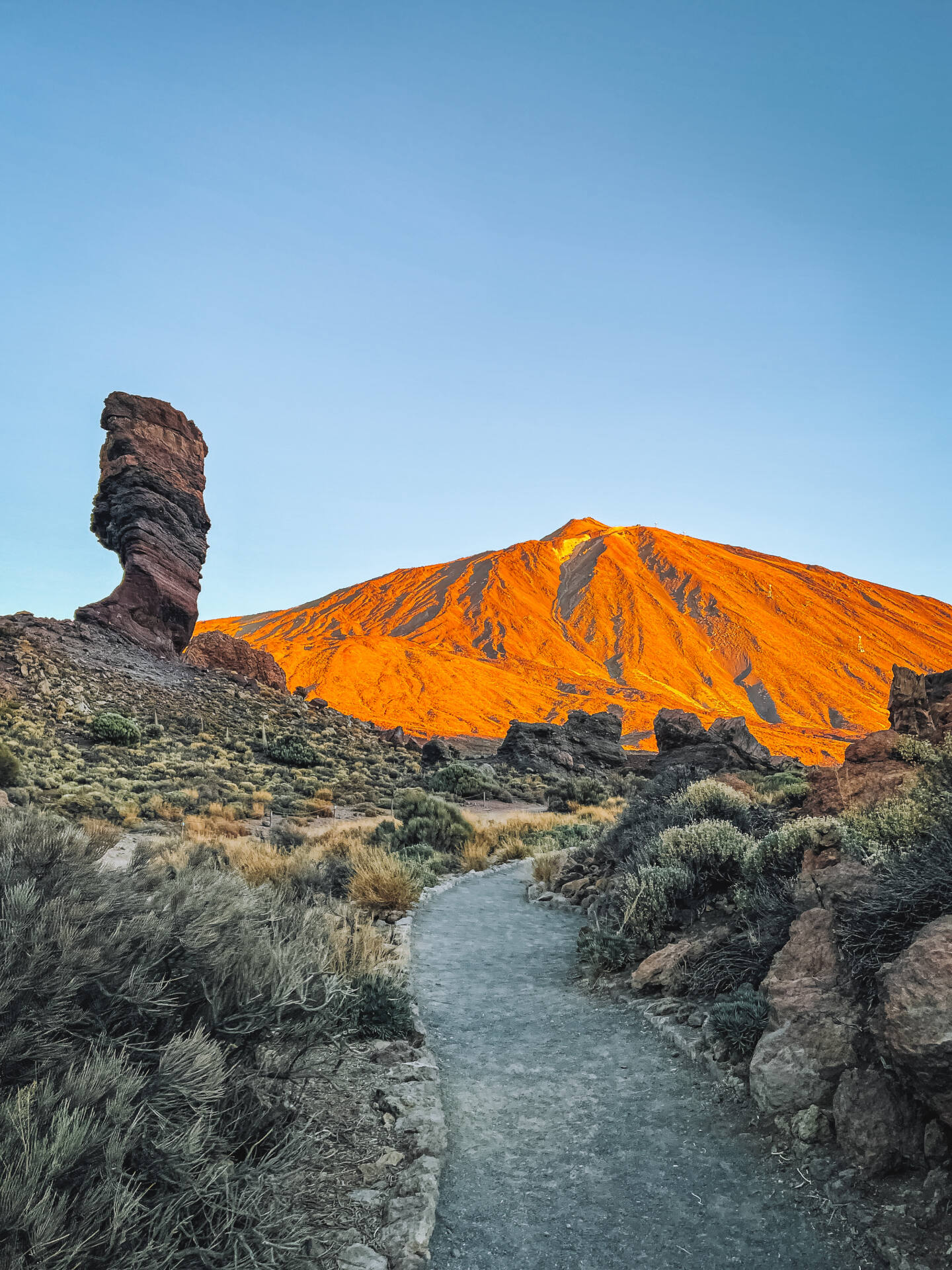 These beautiful lava monuments called Roques de García are one of the busiest places in Teide National Park during the day – tons of tourists visit them even in wintertime.
There are hiking trails and climbing places around, plus many campers park here. As you can see early morning was the best idea for us to go there – the silence, burning Teide, the majestic moment – something I won't forget.
Location: Roques de García
3. La Ventana de Igueque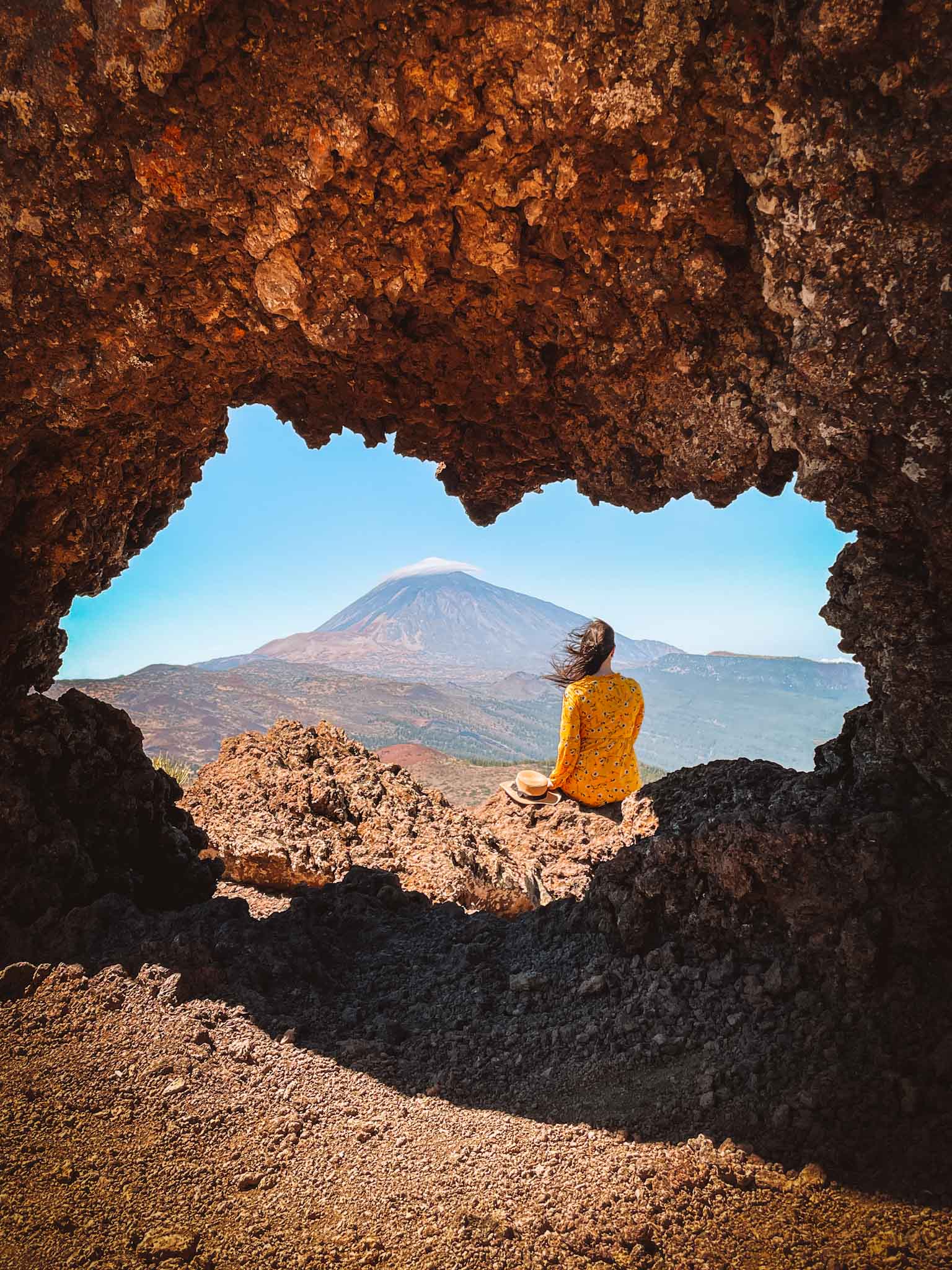 La Ventana de Igueque or 'the window of Igueque' is a small stone arch in Teide National Park. It is too small to sit inside it however it makes for a beautiful frame of Teide volcano if you can position yourself further ahead.
It is located next to a hiking trail near Mirador de La Tarta. In order to get there you have to park your car here at the side of the road and follow a dirt road that will lead you to the stone arch. It is located about 1 kilometer from the parking spot.
Location: La Ventana de Igueque · Parking places
4. Mirador de Esperanza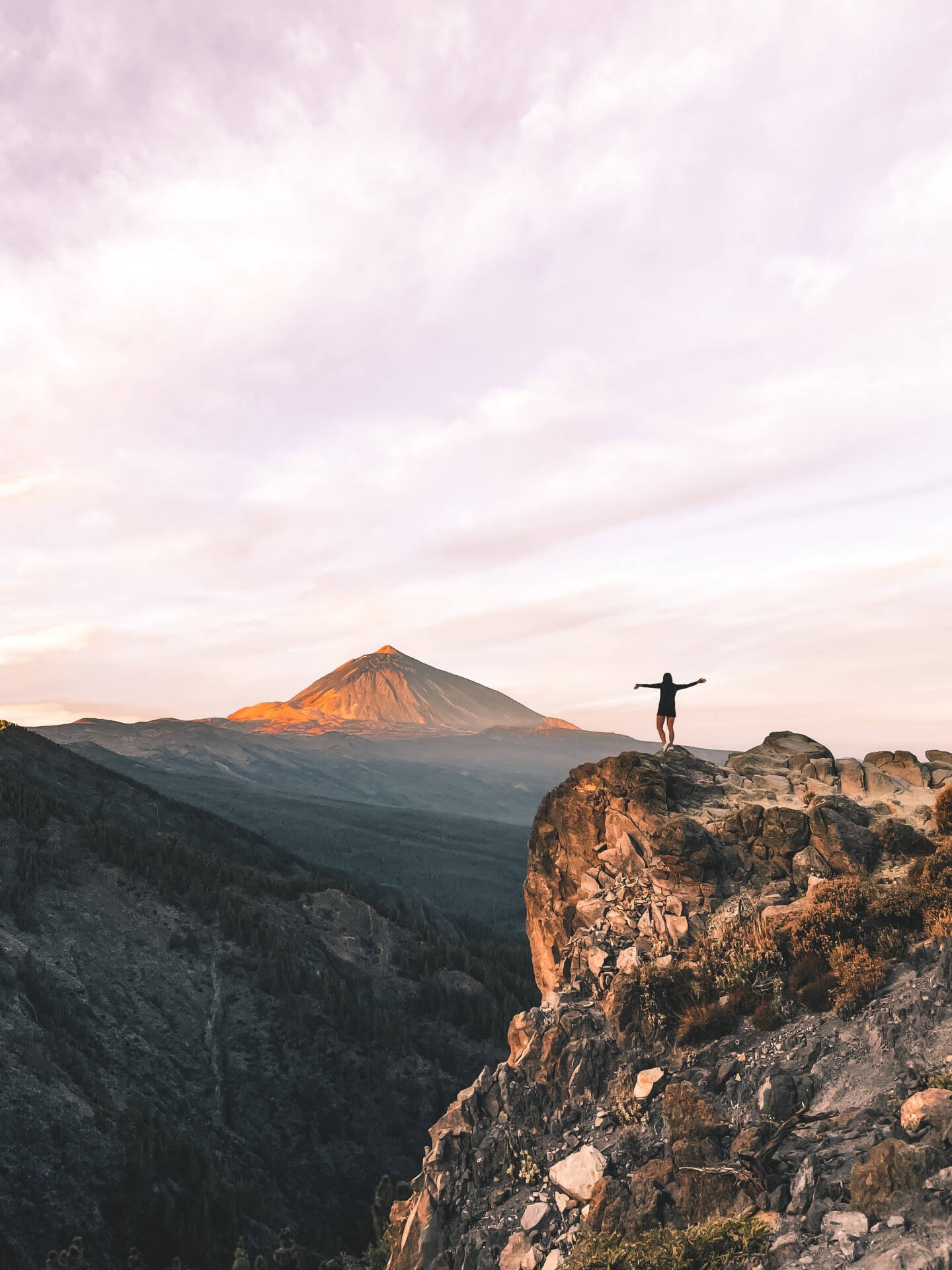 Teide during the sunrise is my favorite sight, but Mirador de Esperanza is the perfect place for both – the sunrise and the sunset.
It is not an official lookout point, however, it is definitely one of my favorite photo spots in Teide National Park. There is a beautiful cliff, where you can sit and have a picnic while observing the valley and Teide volcano.
Location: Mirador de Esperanza · Parking places
5. Mirador de Chipeque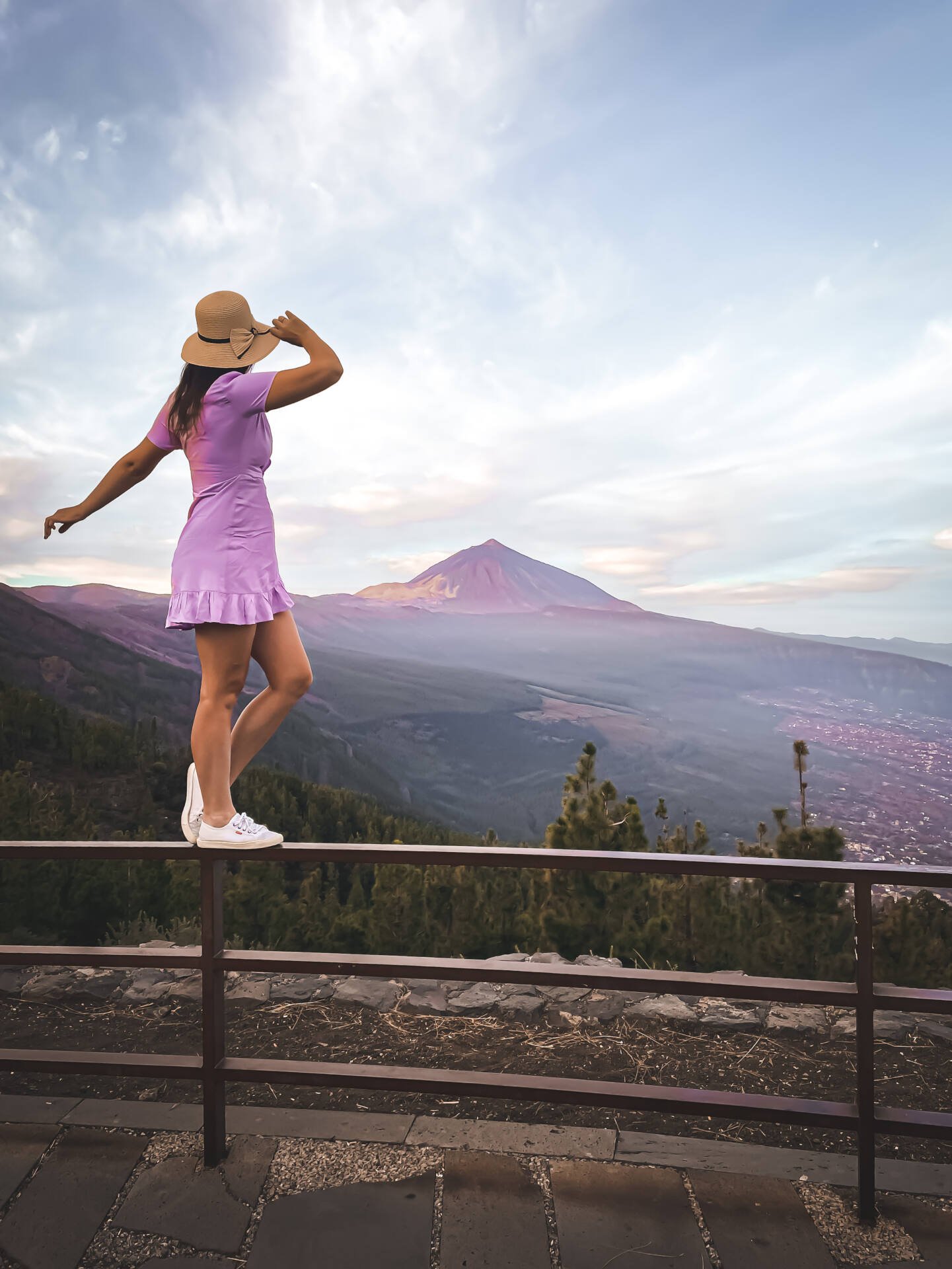 This lookout is easy to reach by car and is a very popular place for travelers, who are hunting for the best photos of the Teide National Park. It overlooks the West side of Tenerife and has a clear and beautiful view of Teide.
We had to return here multiple times because in November the weather was more cloudy and we weren't so lucky – this place was covered in clouds when we went there in the evening, however, we got a beautiful view in the morning!
Location: Mirador de Chipeque
6. Mirador La Tarta – meet Teide at the sunset!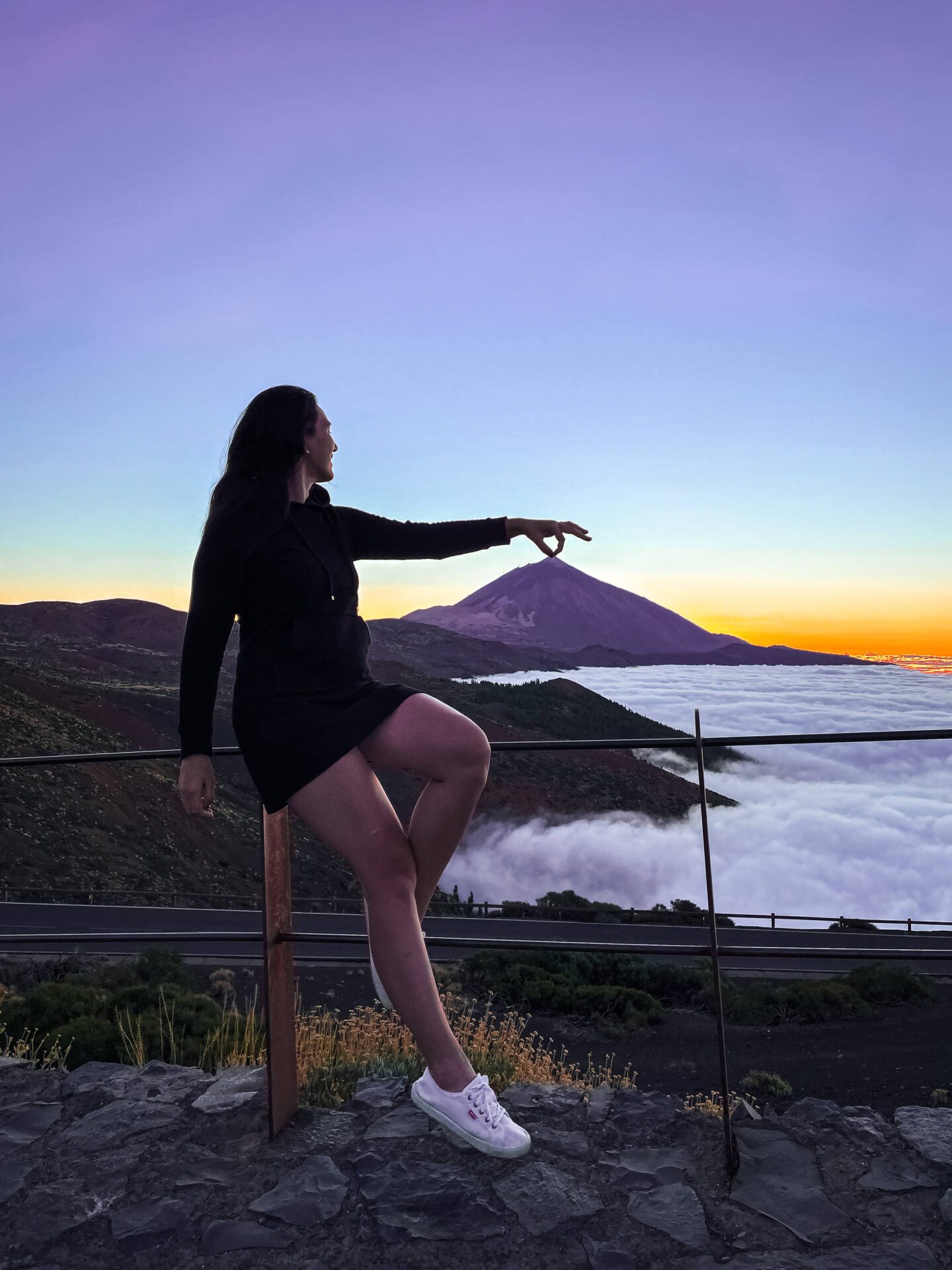 Well, finally a different sight – Teide during the sunset. This was truly a special moment because the sunset was right behind the peak of Teide.
The sun colored the clouds that were coming up the mountains and it was truly amazing. If you have a chance I really recommend you to see Teide National Park either during the sunrise or sunset.
Location: Mirador La Tarta
Happy exploring!
There is a road that crosses the island and goes from South to North through the Teide National park – right through the middle of the island (TF-21 and then to TF-24). You can get many amazing views along the way.
If you have a chance, you can do this trip, but if not – you can easily choose one of the above-mentioned places and go for that special photo. If you can, please, leave a comment below if there are any significant changes to anything that is written in this blog post! Many thanks!
PIN FOR LATER!