Here are 7 exciting adventures you should do in Tenerife
Tenerife is for everybody – simple tourists, who love to lay at the beach and adventure lovers, who love spending their time doing fun and exciting things! These are my top adventures in Tenerife that I loved doing and that I think almost everybody can do!
1. Summit Teide volcano (3718m) – the highest mountain in Spain!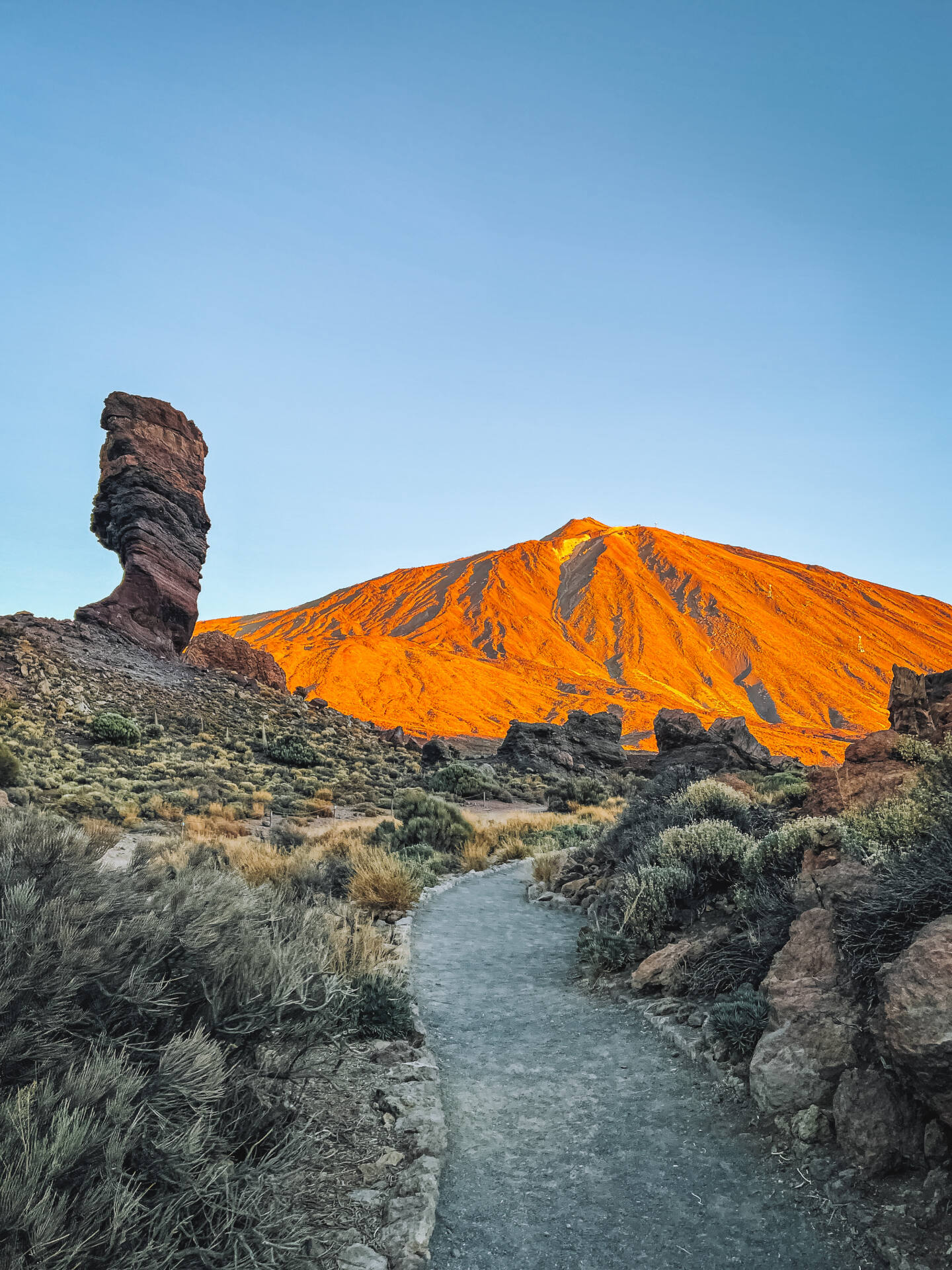 Teide is the most prominent symbol of Tenerife. It is not only the highest mountain in Spain (3718m) but also one of the highest volcanoes in the world. The whole island was created because of volcanic activity.
Visiting the main character of the island is a must! There are different options when it comes to summiting the Teide volcano. To make it easier for you to understand here is a visual material of the volcano and all the options you have. Quick links you might need:
How to climb Teide mountain?
Option 1: Extreme difficulty. In short – you go on foot from sea level to the summit! It is a true challenge and requires a lot of planning and training. There is an official trail that is very well-marked till the top of the mountain.
The start is at Playa Socorro at sea level. The trail takes you 27 kilometers up the mountain and finishes at 3718 meters above sea level at Teide summit.
Remember that you have to get down as well! Either you hike down all the way to the beach covering 56 kilometers in total or you wait for the first cable car and buy a ticket downhill, is up to you!
The cable car will only take you down to 2356 meters above sea level, so then you have to find transportation back. You can read more about this challenge here!
Option 2: High difficulty. This is a popular option for hikers and adventurers. You can drive by car up to Montaña Blanca at 2355m and then on foot till the summit at 3718m.
There is a hiking route from Montaña Blanca to the summit. It actually might be one of the most popular trails in Tenerife as well as one of the most popular options to climb to the summit.
It is not too extreme, but you have to be fit enough and ready for 8 kilometers, 800 vertical meters, and 4-6 hours of climbing. Of course, depending on your fitness level.
Remember, that you have to get back down as well! Read more about this trail here! NB! The route in the link doesn't include the last 200 vertical meters till the summit!
Option 3: moderate difficulty. This is the quick way for those who don't have time, but still want to check that box of summiting Teide.
You will have to drive to Teleférico del Teide cable car station at 2356m, then take a cable car up to 3555m, and finally on foot up to the summit!
The last hiking part is about 600 meters in distance with almost 200 vertical meters. It will take you about 30-40 minutes to climb up to the summit.
Get a permit to access the summit of Teide!
You need a permit to access the summit of Teide! Teide volcano is accessible to all up to 3555 meters above sea level. The final vertical meters till the summit at 3718 meters can only be accessed if you have a permit.
There is a guard at the beginning of the trail. He will ask you to show your permit and identification document. Remember, that you have to apply for it for a specific day at a specific time! If you are late – you are late!
How to get a permit? You can do it HERE! Luckily, the permit is for free. Unfortunately, you have to book it in advance a month or more before you go – they disappear fast.
In the winter months, it is not so hectic – many places are available even a week or two in advance. However, the high season will be tough.
I have noticed that sometimes people cancel their reservations and suddenly new available places appear on that day or for the next day. If you are flexible with time, you can check the website every day and see if any new available spots have appeared!
How to climb Teide without a permit?
Yes, there are options for you if you check the website and no permits are available for you on your desired vacation dates! Don't give up on your dream! Check the options below! I hope at least one of them will help you get those amazing views of the island!
Option 1 is to find guided tours to the Teide summit! Official tour guides have special permits reserved for them automatically! If the permit website doesn't show any available permits, look for guided tours.
They may have some spots still available on their website – it just means that you will have to go in a group, however, some of them offer a transfer, catering, pick-up and drop-off at your hotel, etc. Just google 'Teide summit guided tour' and scroll through some websites.
Option 2 is summiting Teide outside permit hours! If you notice on their website, you can obtain permits for limited hours between 9 in the morning till 5 in the afternoon. After those working hours there won't be anyone up on the mountain who could ask for your permit.
Beware that this means you will have to climb Teide up and back downhill on foot because the cable car has the same working hours. And that could mean you will have to either climb up or down in the dark, but it still is a great option.
Some people choose to start the climb from Montaña Blanca at night in order to reach the summit at sunrise. Then they either wait for the first cable car at 9 AM to go down or just use the daylight to walk back down and admire the views.
Option 3. This is not exactly the summit, but you will still get amazing views! Did you know that most of the people who take the cable car uphill actually don't climb to the summit? When you exit the cable car at the upper station at 3555m above sea level, you have 3 possible options you can go to.
One is a trail that leads to the summit and this is only if you have a permit. But there are two more trails you can go – either go Northeast to Mirador de la Fortaleza to see the Northern part of Tenerife or you can go to Pico Viejo Vantage Point to see the Southside.
Or go to both of these points as they are quite a short distance from the cable car. You will still get amazing views over the island standing at 3555 meters above the Atlantic ocean!
2. Explore Masca valley and Masca village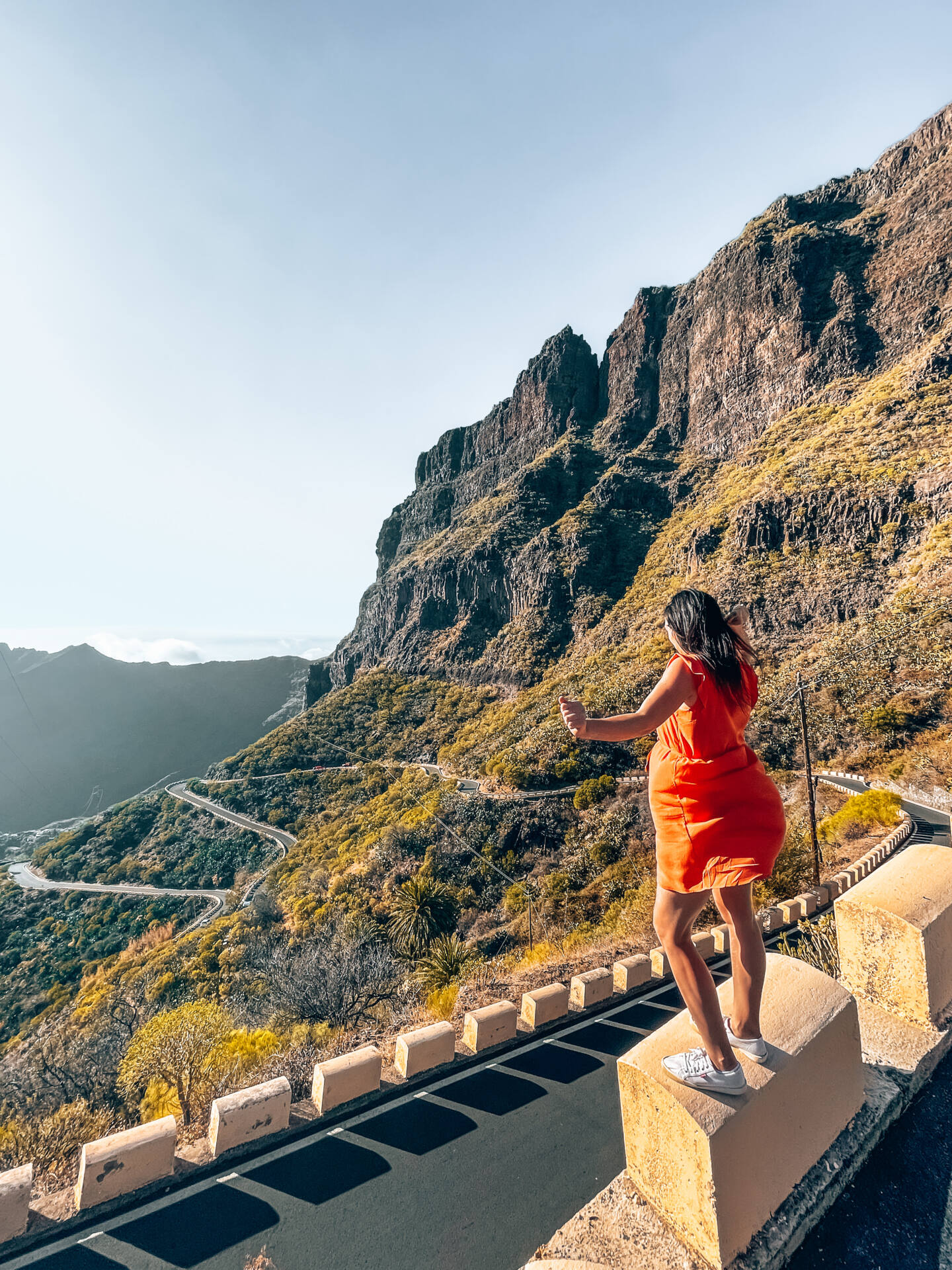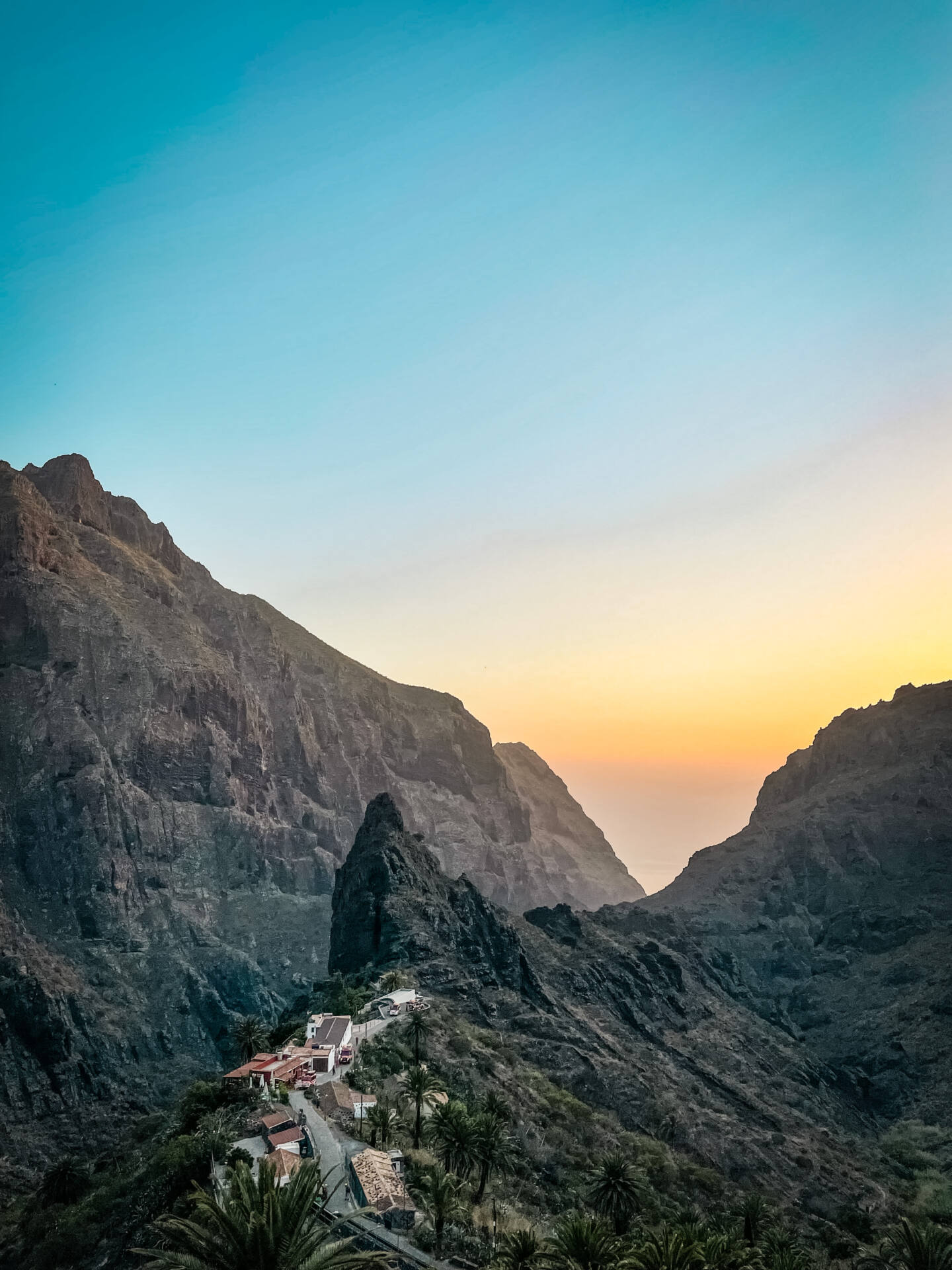 Masca village is one of the most special places in Tenerife. The village is located in a deep valley between steep cliffs.
You can get there by car or by bus (there are bus tours to the village) descending a narrow hairpin-type road which is an adventure in itself, especially if you have to exchange with bigger vehicles along the route…
There are many viewpoints along the road as well, where you can stop and observe the beauty. It won't be possible to park your car inside the village, so leave it at the first parking place you see – the traffic is normally quite busy around here!
The village itself only has approximately 90 inhabitants. There is not much to do here except for some hiking trails, however, it is an extremely popular tourist attraction because of the views and the experience. The valley, the cliffs, and the rock next to the village.
It all makes this place super special. You can also drive through the valley and reach the Mirador La Cruz de Hilda viewpoint on the other side of the valley. There is a nice café/restaurant and a souvenir shop with amazing views from the other side of the valley and village.
Masca village: Google Maps
Mirador La Cruz de Hilda viewpoint: Google Maps
3. Swim in volcanic pools
The coastline of Tenerife is as diverse as it can be. There are man-made white sand beaches, natural black sand beaches, there are pebble beaches, rocky beaches as well as non-accessible places, and finally – volcanic pools made by lava.
Volcanic pools – in Tenerife called 'charco' – are a great option for swimming because very often the waves in the ocean are quite big and it is too dangerous to go for a swim – the waves can suck you inside the ocean or throw you to the rocks.
However, the volcanic pools are separated from the ocean with rocks and protect you from the waves. Definitely, an interesting adventure, if all you have known is white sand beaches! Some of well known and popular 'charcos' are:
4. Go underground and explore lava tubes
Are you ready for an adventure underground? Cueva del Viento or Wind's cave is the fifth largest lava tube in the world (18 kilometers long) and you can visit it (well, a short part of it!)!
There are guided tours in English and in Spanish in groups of about 10-12 people. You can buy tickets (20 EUR per person) HERE! The tour is 2 hours long and very informative.
Actually, you will be listening more than walking – the guide tells you about different types of lava, volcanoes, lava formations, nature, and wildlife. You will see a video about lava and then get on a bus and drive to the caves. Before entering you will see different lava formations and how and when they formed.
The cave itself is cold and dark (they give you helmets and headlamps), so you should wear long clothes and comfortable shoes because the floor of the lava tube is as rugged as can be!
The walking distance is actually very short – maybe 200 meters one way and then back, but the guide will tell you and show you everything about it. There was also a challenge – everybody had to switch off all the lights and sit silently in the cave in total darkness for 1 minute. I hope you are not claustrophobic!
Cueva del Viento: Google Maps
5. Visit Anaga Rural park in the North and go for a hike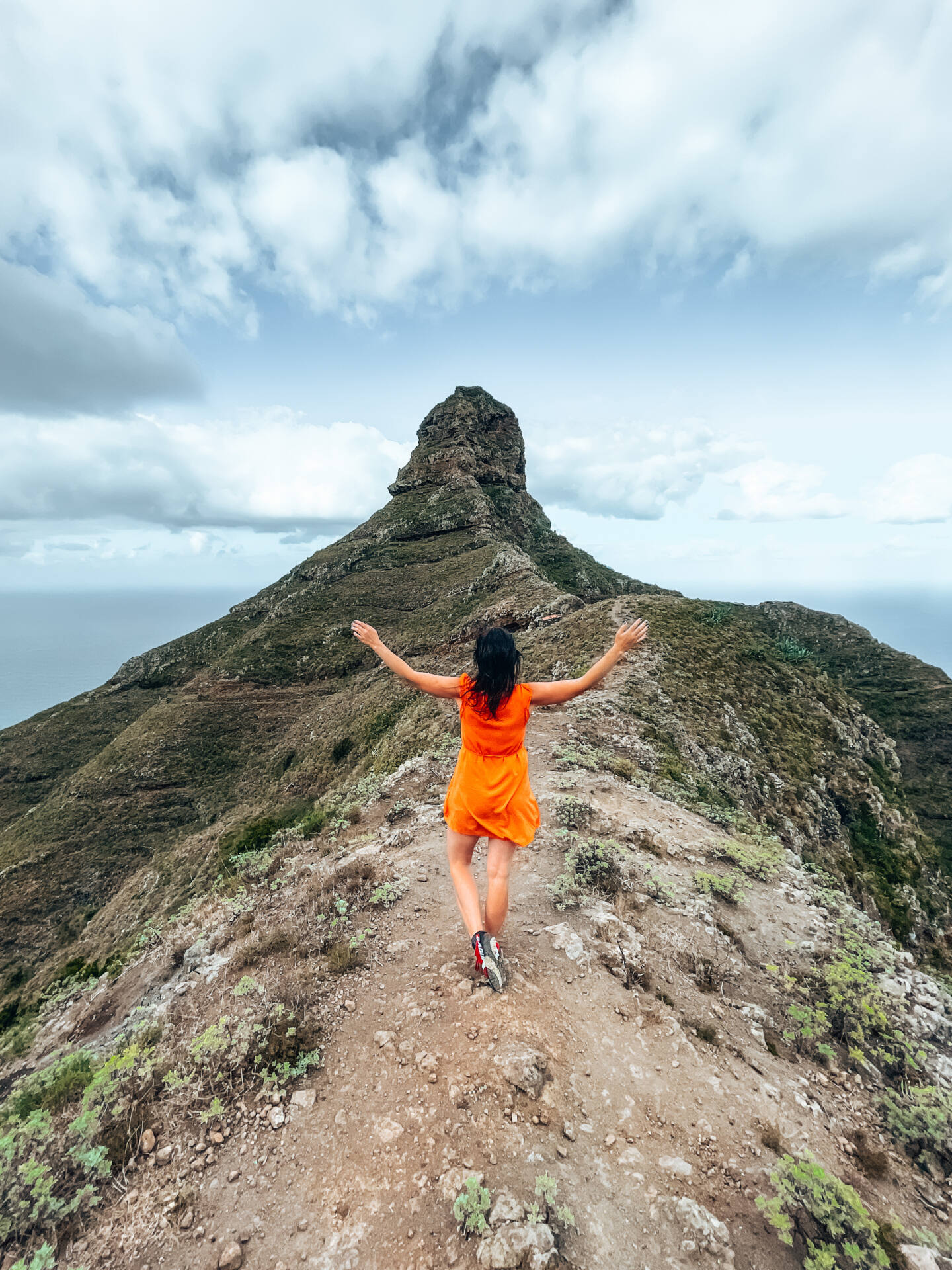 Tenerife is not all about beautiful beaches, volcanic rocks, and Teide! There is a special and very unique part of the island in the North! Anaga rural park on the Northside of the island is quite a unique place in Tenerife.
Sometimes it really didn't feel like Tenerife at all. It is green with lots of trees (sometimes it felt like in some fairytale secret forest), beautiful hiking routes (with very few people), and many viewpoints. It is a bit wild if you can say so.
If you are an adventure seeker like me, then definitely pay a long visit to this part of the island! You can visit many unique spots like Roque de Taborno (the so-called Matterhorn of Tenerife) and hike around it.
You can get a picture of Roque de las Animas near Taganana town, visit one of the most beautiful and remotest beaches – Playa Benijo with its sharp rock formations, or hike to the end of the land – til Playa de Roque Bermejo, which is the Northernmost area in Tenerife.
6. Chase the best lookouts in Teide National Park and watch the sunset above clouds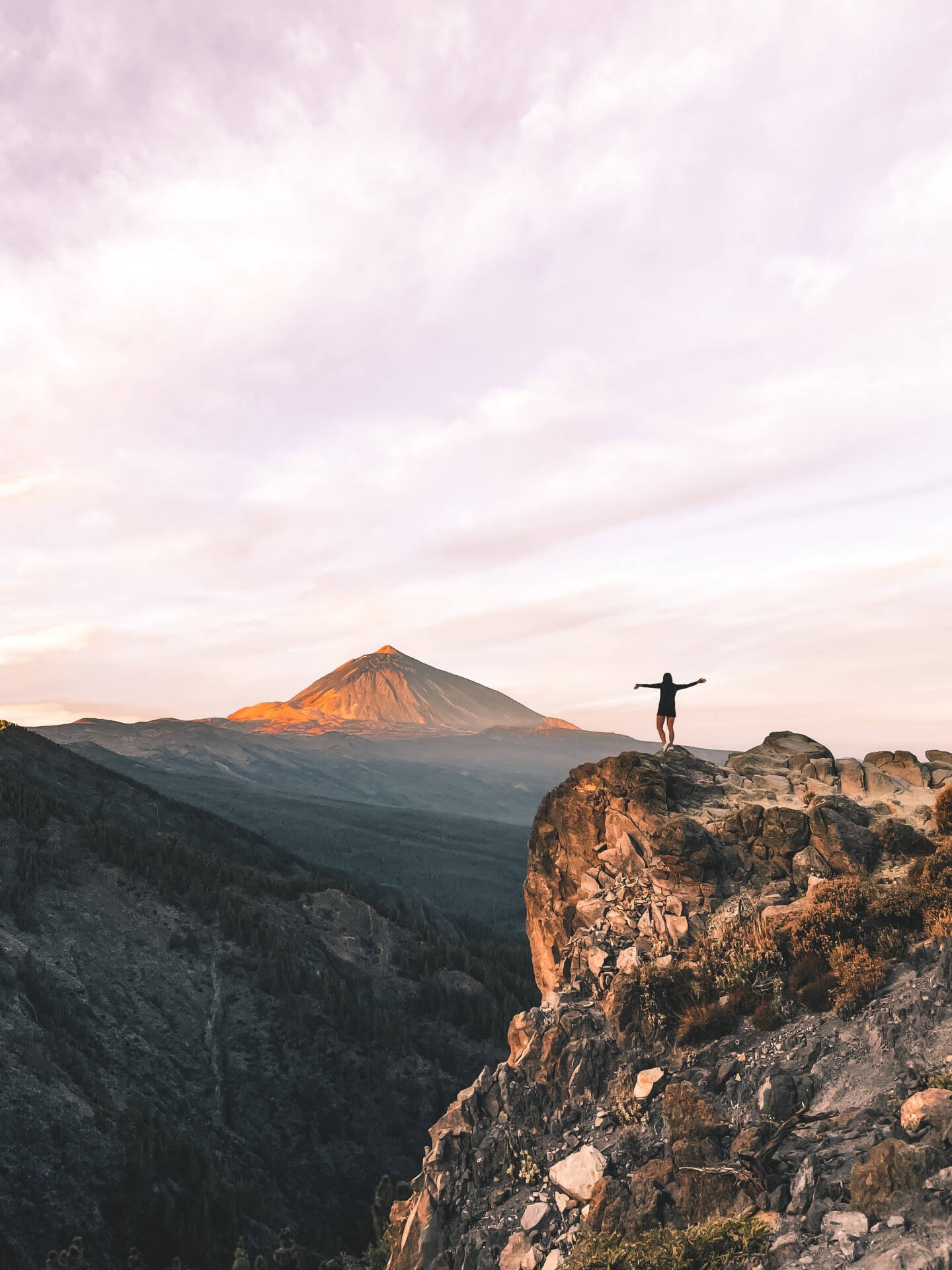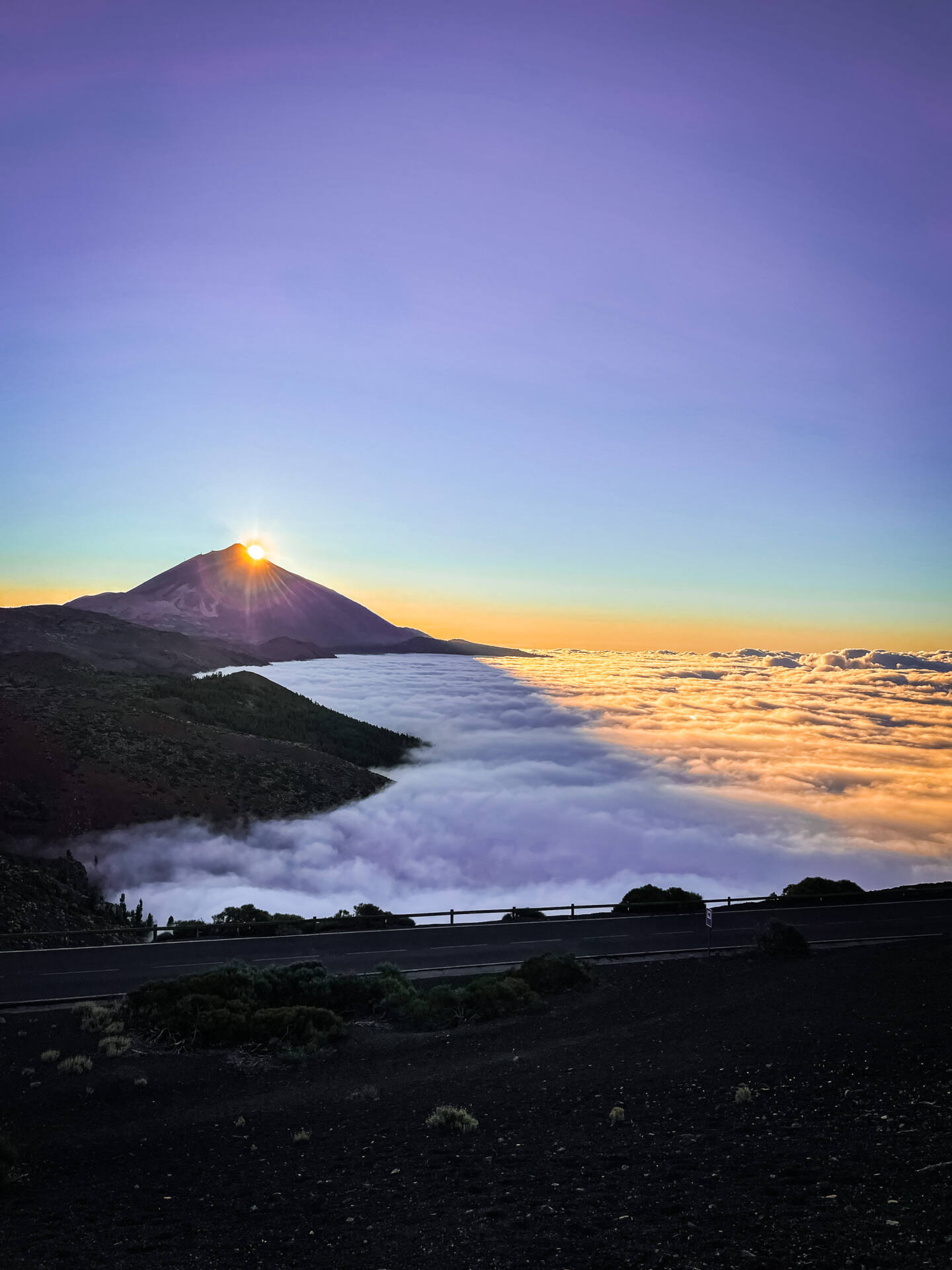 Have you been to Tenerife at all if you haven't seen Teide or driven through Teide National park? I mean, everyone should get that perfect photo with the Teide volcano in the background.
So I think one of the best adventures you can have in Tenerife is to rent a car and drive up to the mountains to chase the best lookout points of Teide.
Tip! Everybody will visit Teide during the day, but if you look for a real adventure, then wake up early and go there during the sunrise or stay up there later to get that beautiful sunset behind Teide.
Nobody was up there in the morning, so that was one of my favorite moments in Tenerife! Watching the rising sun color Teide in yellow and orange was unforgettable!
I have a separate article about the best viewpoints of Teide volcano with pictures from each of them. If you take the road TF-38, then turn to TV-21, and finally to TF-24, then you will get all the best possible viewpoints of Teide, as well as the ocean and both sides of Tenerife. You will see the whole island!
If you have time, take this route (from either direction), take some snacks with you, and have a picnic at the place/lookout you like the most! It will be an unforgettable adventure in Tenerife, that you will definitely remember!
7. Go on a boat trip to meet whales and dolphins
Tenerife is home to many species of whales and dolphins, so going on boat tours and spotting some sea animals is a usual thing around there. We even saw a sea turtle in its natural habitat – just floating in the ocean!
A boat tour is definitely a good option, even if you are afraid of boats or water because they take good care of you. Most of the boat tours are located in the South part of Tenerife – around Los Cristianos-Adeje area, but there are a couple of tours in other places in Tenerife.
There are speedboat tours, catamaran tours as well as sailboat tours. You can go for a 2-hour trip or you can choose a 3-hour trip with catering on board.
The easiest way to find a tour is to google 'whale watching Tenerife' and see what is available. We went on a 2-hour trip with Peter Pan sailboat which cost us 45 EUR for 2 people. Drinks were also included in the price.
There was a photographer as well, who took pictures of everyone and later on arrived on the boat again with printed photographs that you could buy, but it is not mandatory. Remember to use sunscreen and take a hat with you, because you might have to sit in the sun for 2 or 3 hours on a boat.
Happy exploring!
Tenerife might sound like a touristy place, because of the sunny and warm climate, but there are many adventurous things you can do there. I would say that everyone can find something to do in Tenerife! If you can, please, leave a comment below if there are any significant changes to anything that is written in this blog post! Many thanks!
PIN FOR LATER!