9 hidden gems and unique spots in Cádiz, Spain
Explore Cádiz off-the-beathen-path and visit these unique places and hidden gems in Cádiz to make your trip more adventurous! We spent multiple days walking around the Old Town of Cádiz and found many secret and cool spots that we included in this list!
In this blog post, you will find all the places with descriptions, photos, and locations where they can be found on Google Maps. We really enjoyed stepping back in time while walking around the city and visiting historic remains of different times. Happy exploring!
Read more >>> 19 best Instagram spots for amazing photos in Cádiz, Spain
1. Teatro Romano de Cádiz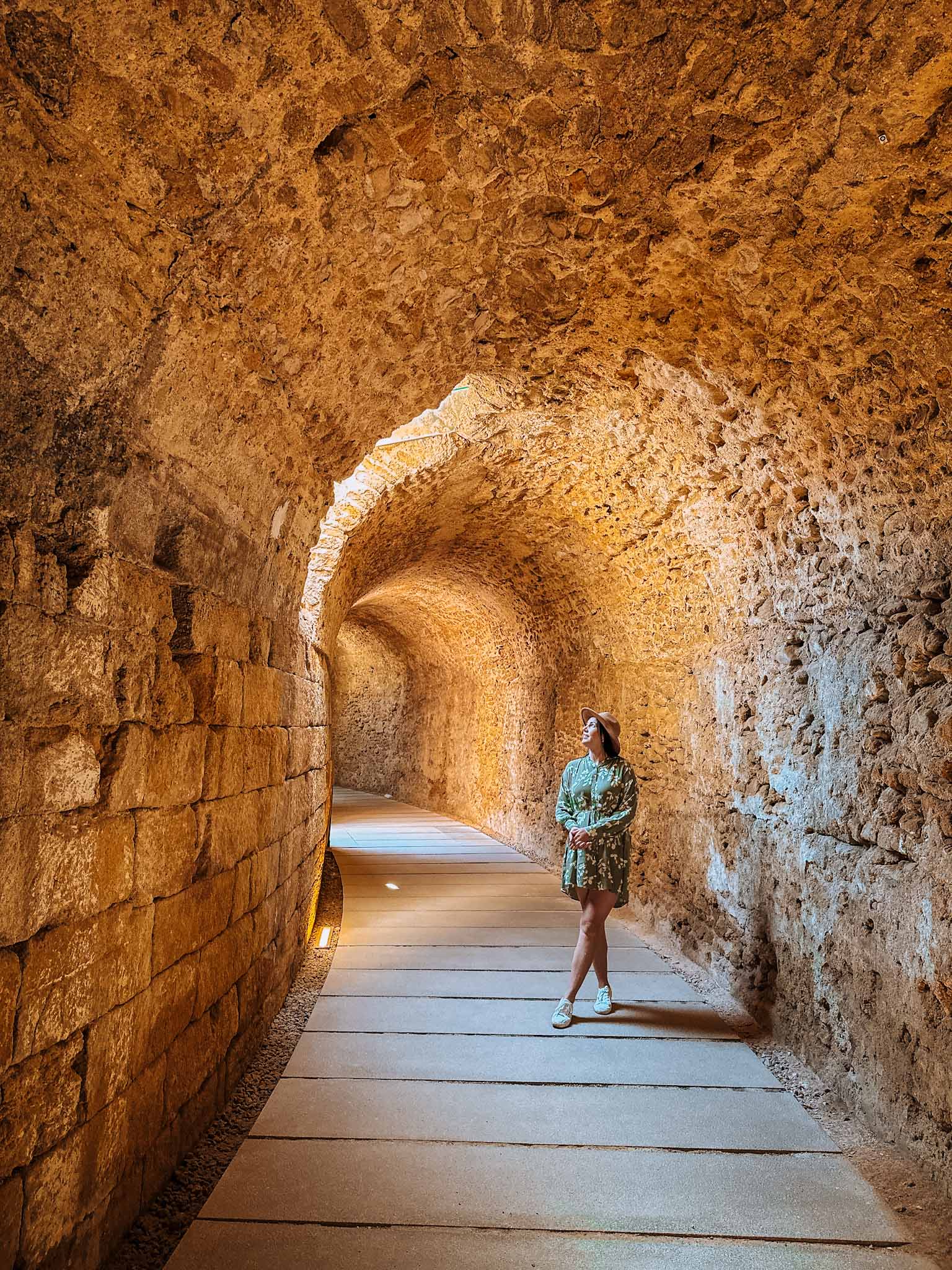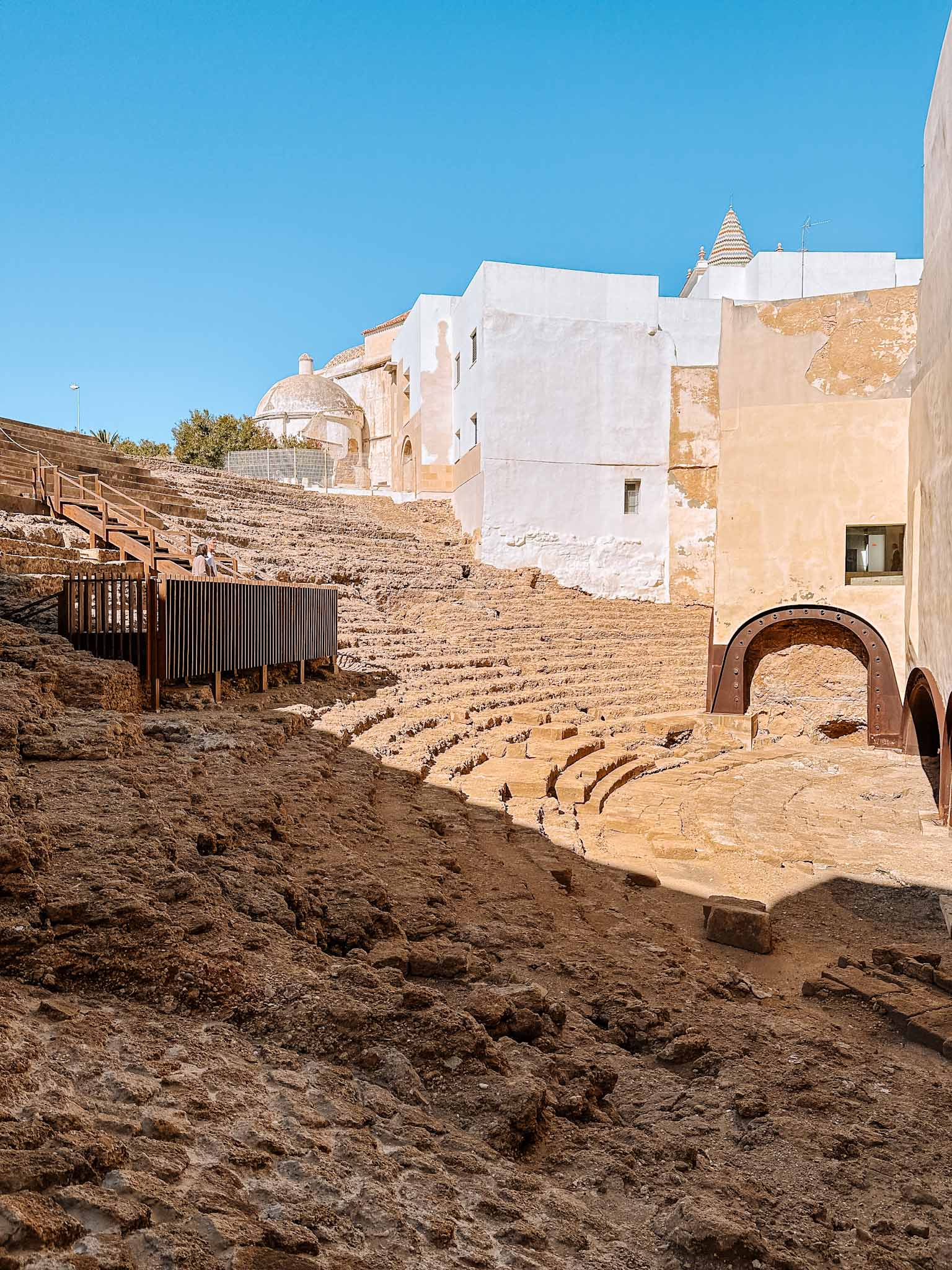 Teatro Romano de Cádiz was one of my favorite hidden gems and one of my favorite finds in Cádiz. I did not consider visiting this place at first. Why would I include a Roman theatre when visiting a Spanish city, however, it is free to visit and I thought I should give it a go.
It turned out to be quite impressive. We only paid a quick visit to this site, but it was not a big hassle as it is located right in the heart of the Old Town squished between the houses maybe 100 meters away from the cathedral. Definitely worth a visit!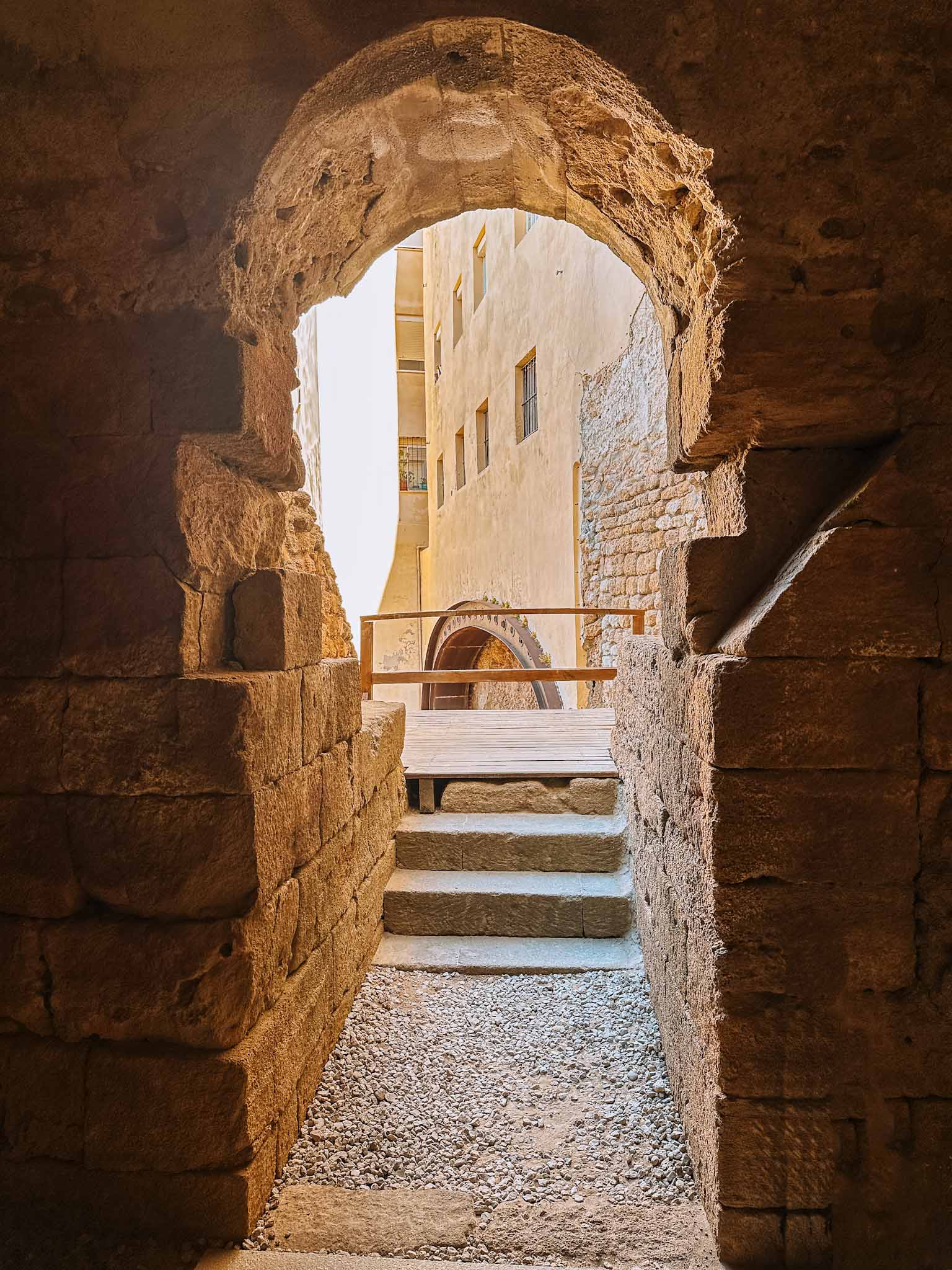 If you want to take a look at how Cádiz was about 2000 years ago then this is the place to go. This partly-excavated ancient theatre was built by Romans and could house 20 thousand people. This is huge for that time!
The coolest part about this place was that there is an underground tunnel behind the theatre where you walk around the theatre from behind and then enter the arena through portals in the walls! Just like people two thousand years ago! So cool!
Location: Teatro Romano de Cádiz
2. Cádiz's hidden waterfall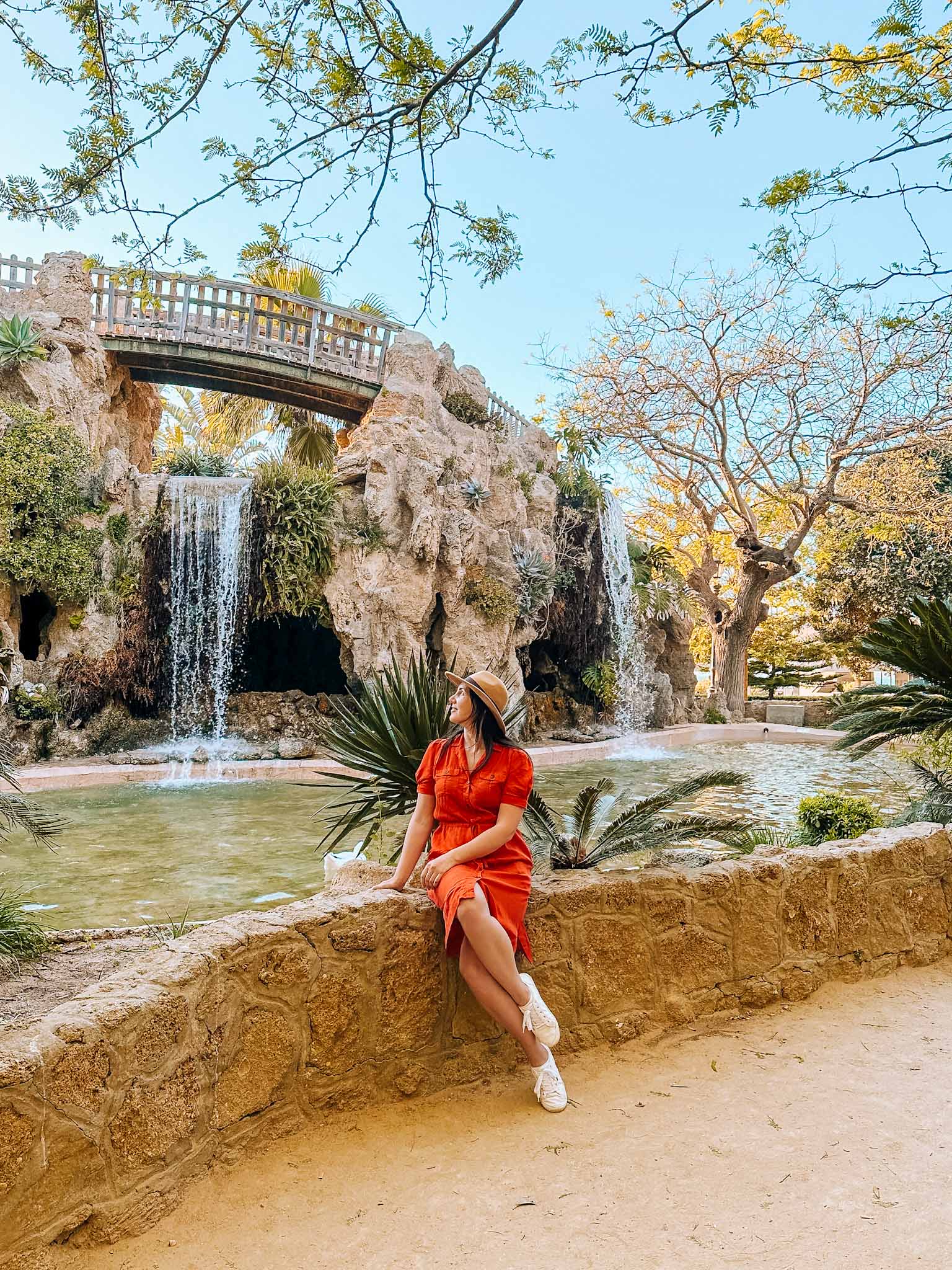 Hidden deep inside Parque Genovés park you will find a beautiful elevated rock with a pond full of birds around it. You can actually climb up to the top of the rock and see the park from above!
The best part about this rock is that there is a beautiful cascade with multiple water streams falling down the rock and creating multiple waterfalls. It looks like a wonderful oasis for sure!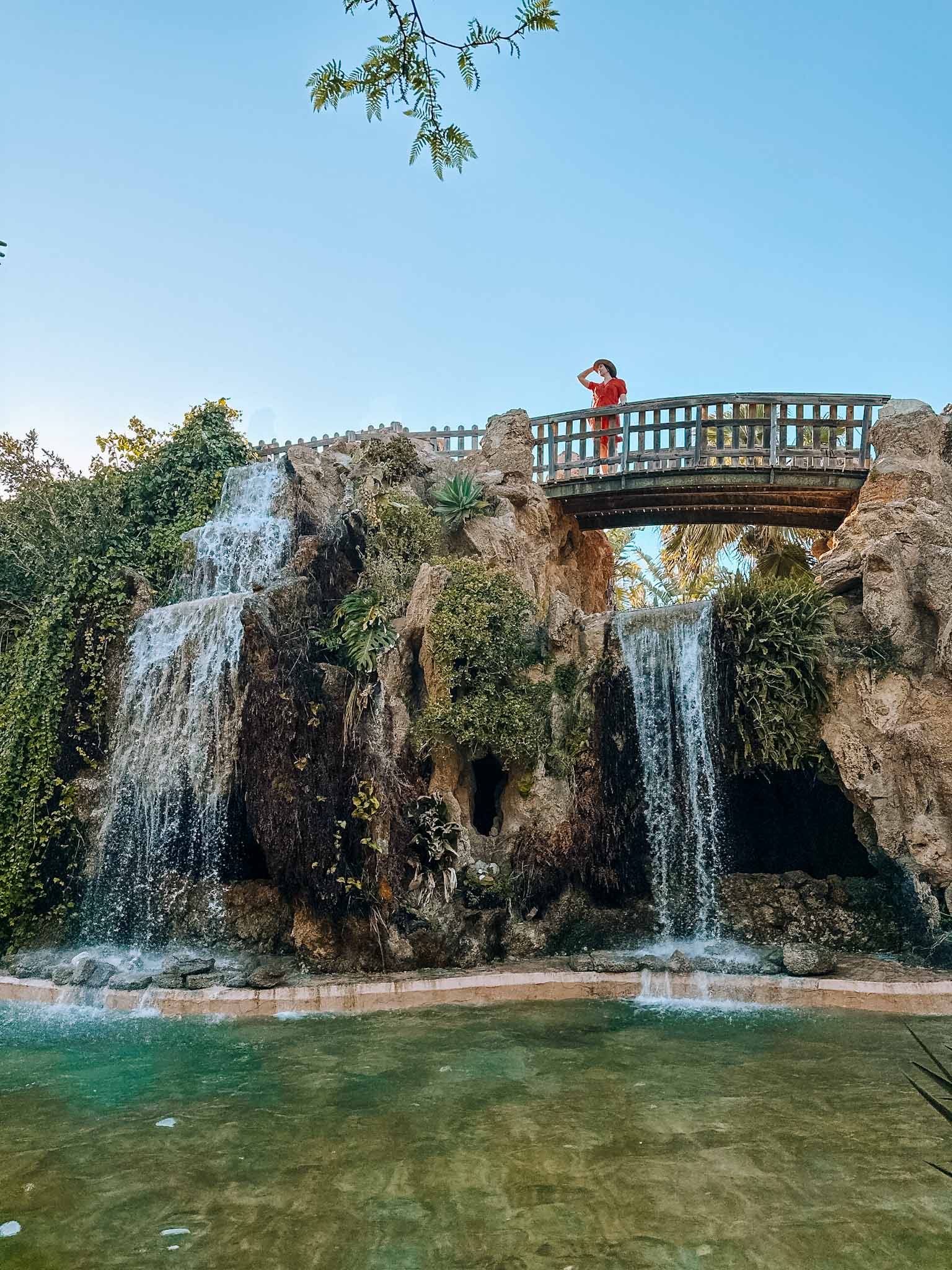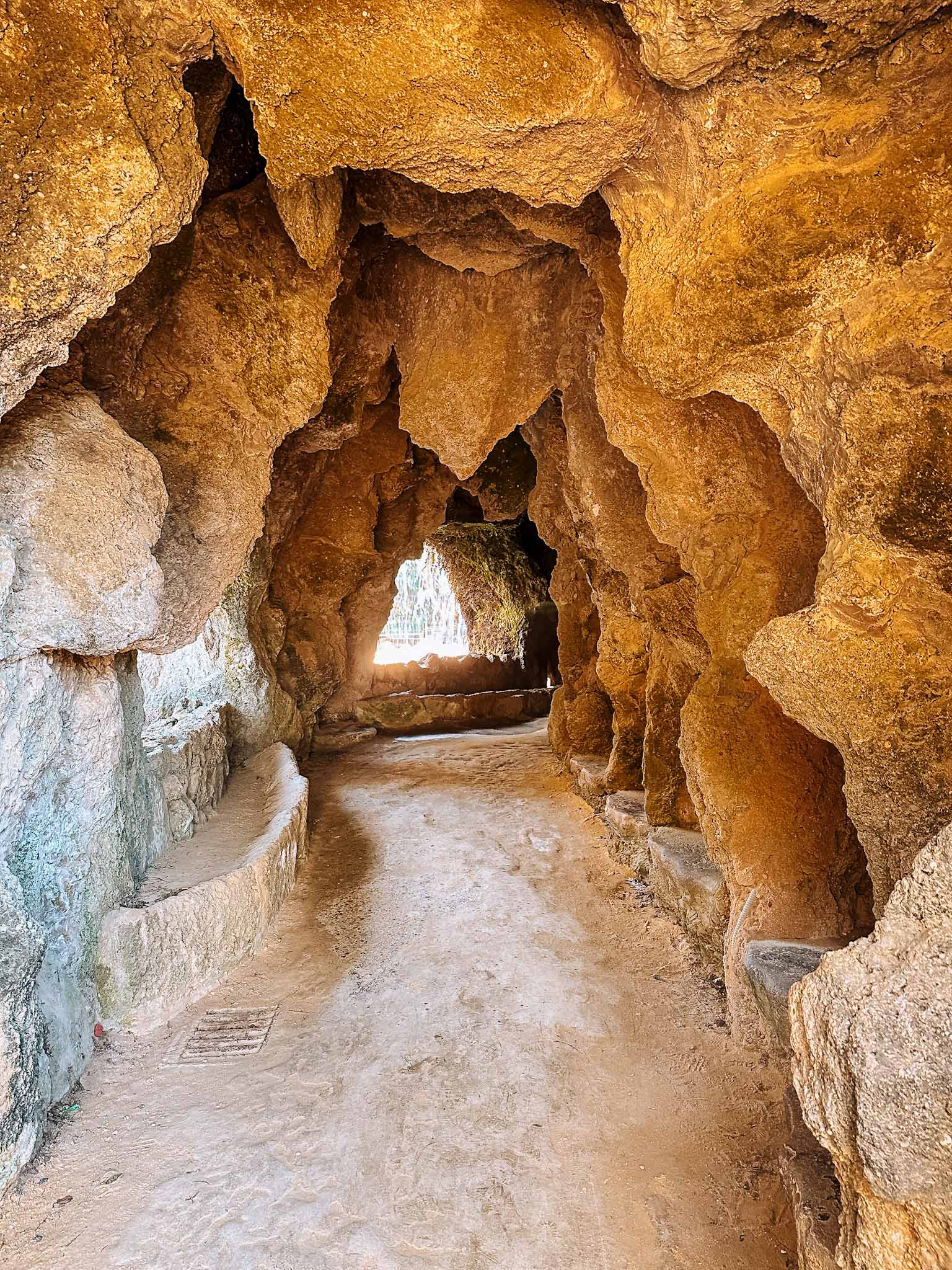 Although it is an artificial waterfall (the same as the rock it is falling down from!), it still is something very unusual for a city like Cádiz. So definitely check out this place! It is very easy to find!
Another curious part about this oasis is that there is a cave-like tunnel through the rock where you can walk right behind the cascade. There are openings in the tunnel where you can see the water falling and get some splashes on your face too, haha.
Location: Cádiz's hidden waterfall – Parque Genovés
3. Crazy-shaped trees in Parque Genovés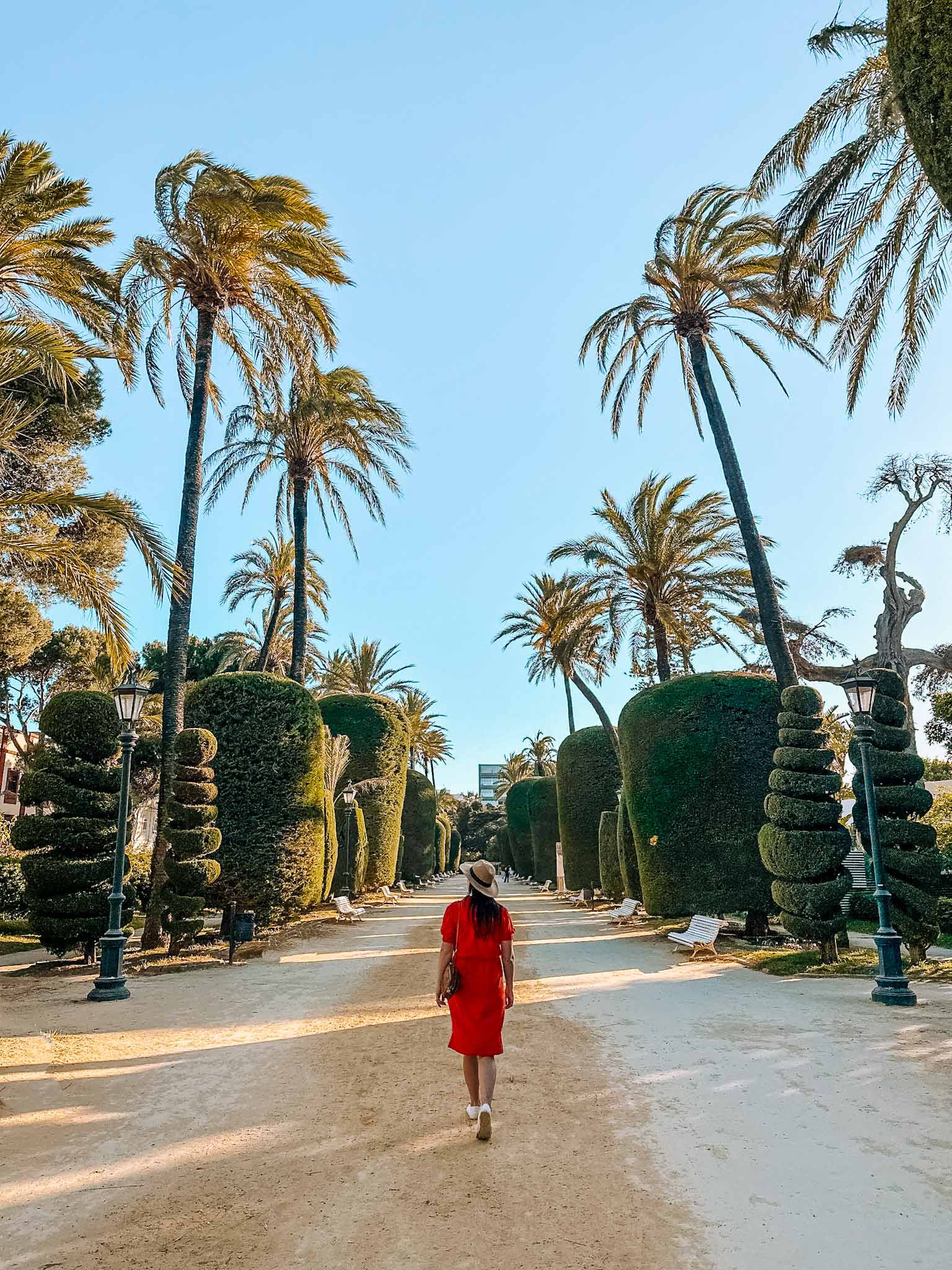 Apart from the waterfall, Parque Genovés hides some more secrets which is why it was one of my favorite hidden gems and discoveries in Cádiz! At first, you may think there isn't anything special about a simple park. However, this park really takes the cake!
Parque Genovés is a fantastic and unique garden with trees cut in different and cool shapes, tall palm trees, a pond for ducks to swim, and, of course, an artificial hill with caves, and a waterfall. Definitely visit its beautiful alley with crazy trees lining on both sides of it. There are numerous benches to sit on end enjoy this spectacle!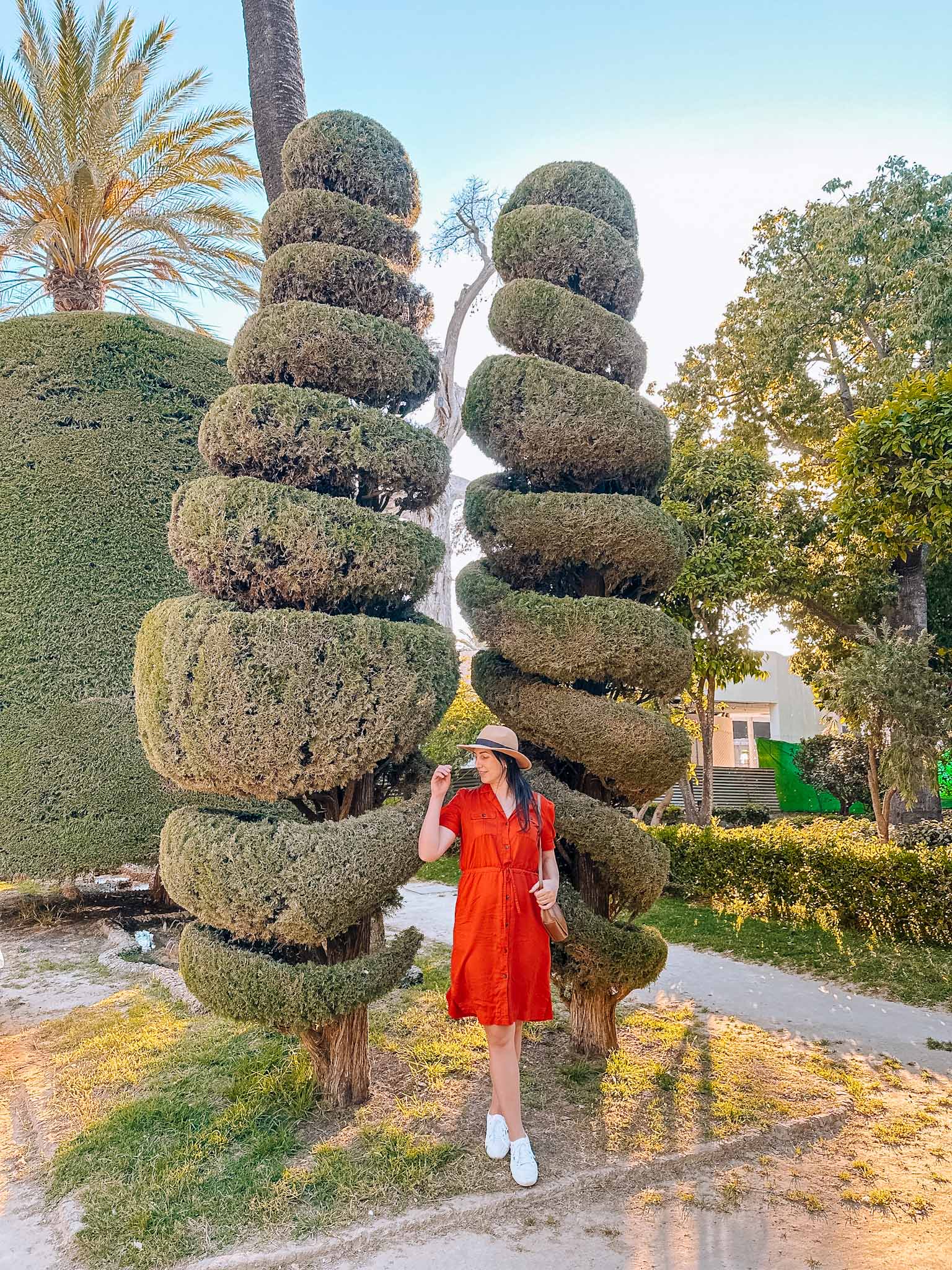 I definitely did not expect to see a unique place like this in Cádiz. Make sure to pay attention to working hours, because, although the visit to the garden is free and it is accessible to the public, the garden remains closed during the night.
This is a great place to get some shade during hot days and a more quiet place to hide from the buzz of the city. The garden is well-maintained and looked after, so kudos to the local municipality for creating such a cool and unique oasis!
Location: Parque Genovés
4. Bell tower of the Cathedral of Cádiz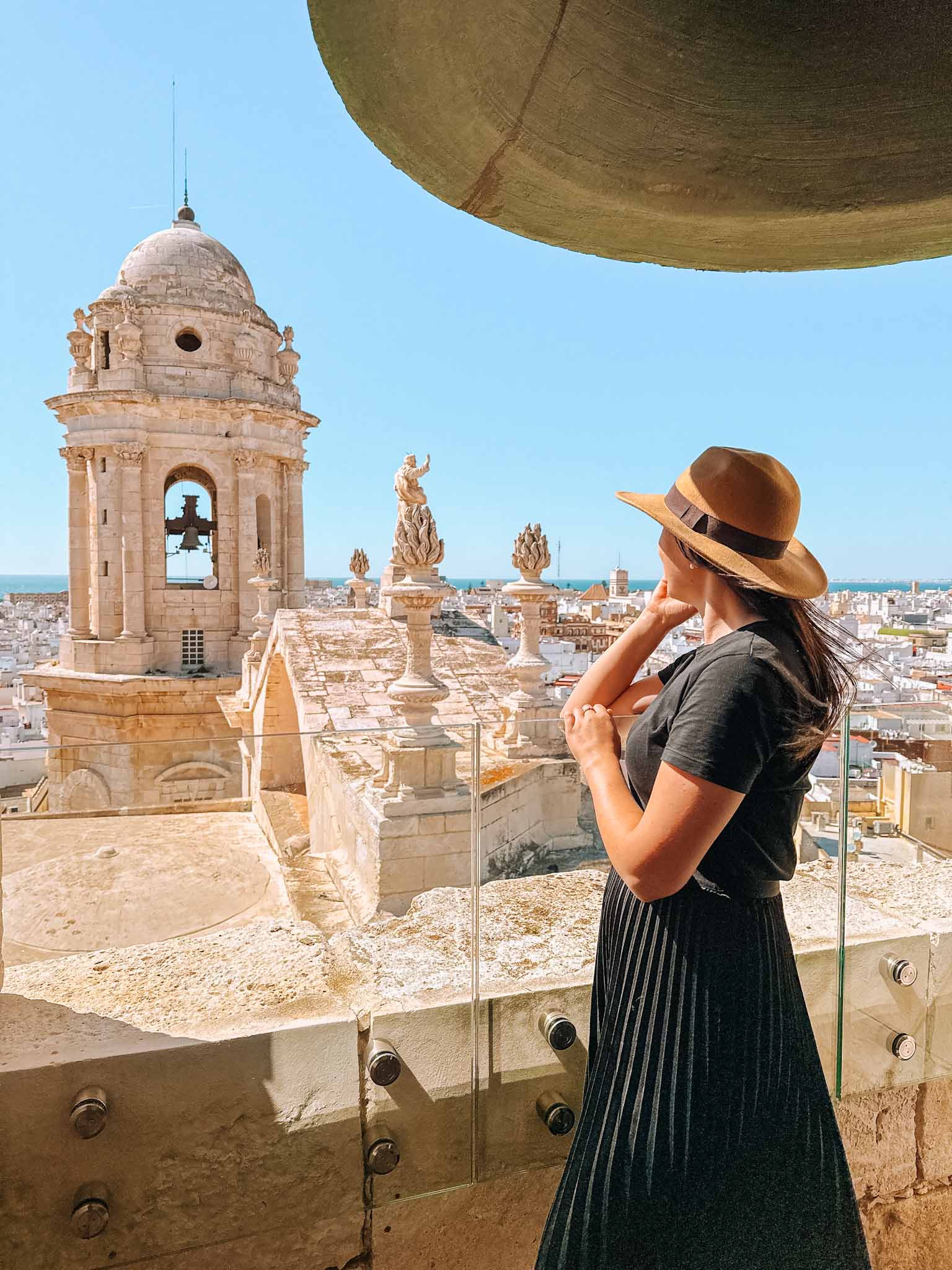 Catedral de Cádiz is amongst the most beautiful buildings in Cádiz and one of the main tourist attractions in the city. The construction of the cathedral started in the first half of the 18th century and lasted for more than 100 years. It was built in neoclassical and baroque styles.
If visiting the inside of the cathedral doesn't appeal to you then this definitely will – you can actually climb up to the Bell Tower (or Clock Tower) of the cathedral. You not only get amazing views over the city but you get to stand under the church bells when they hit every quarter of the hour!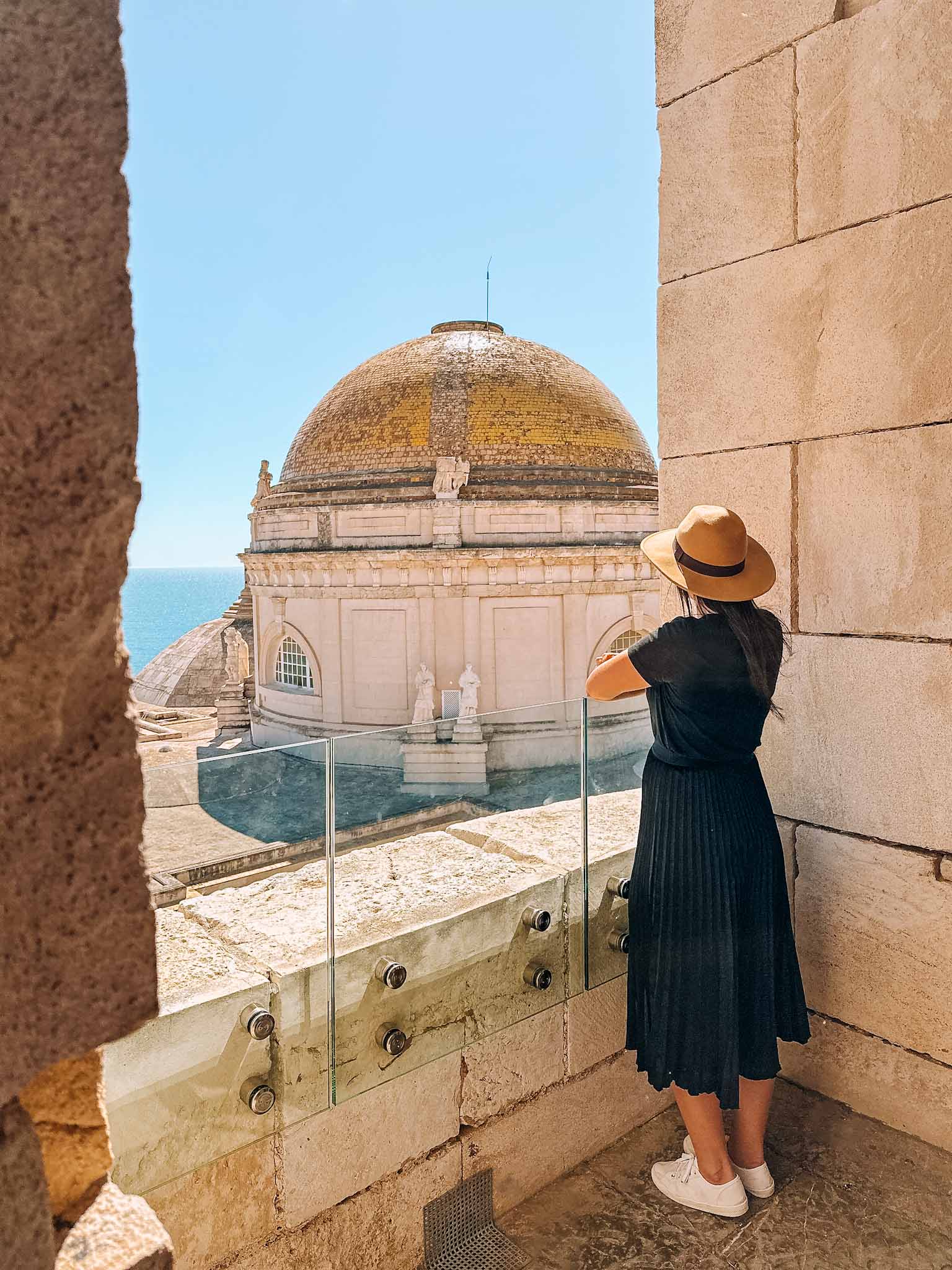 The Bell Tower of the Cathedral of Cádiz was one of my favorite hidden gems in Cádiz! Climbing to the tower is included in the entrance fee to the cathedral. First, you visit the cathedral, and then at the exit of the cathedral, there is a door to get to the tower.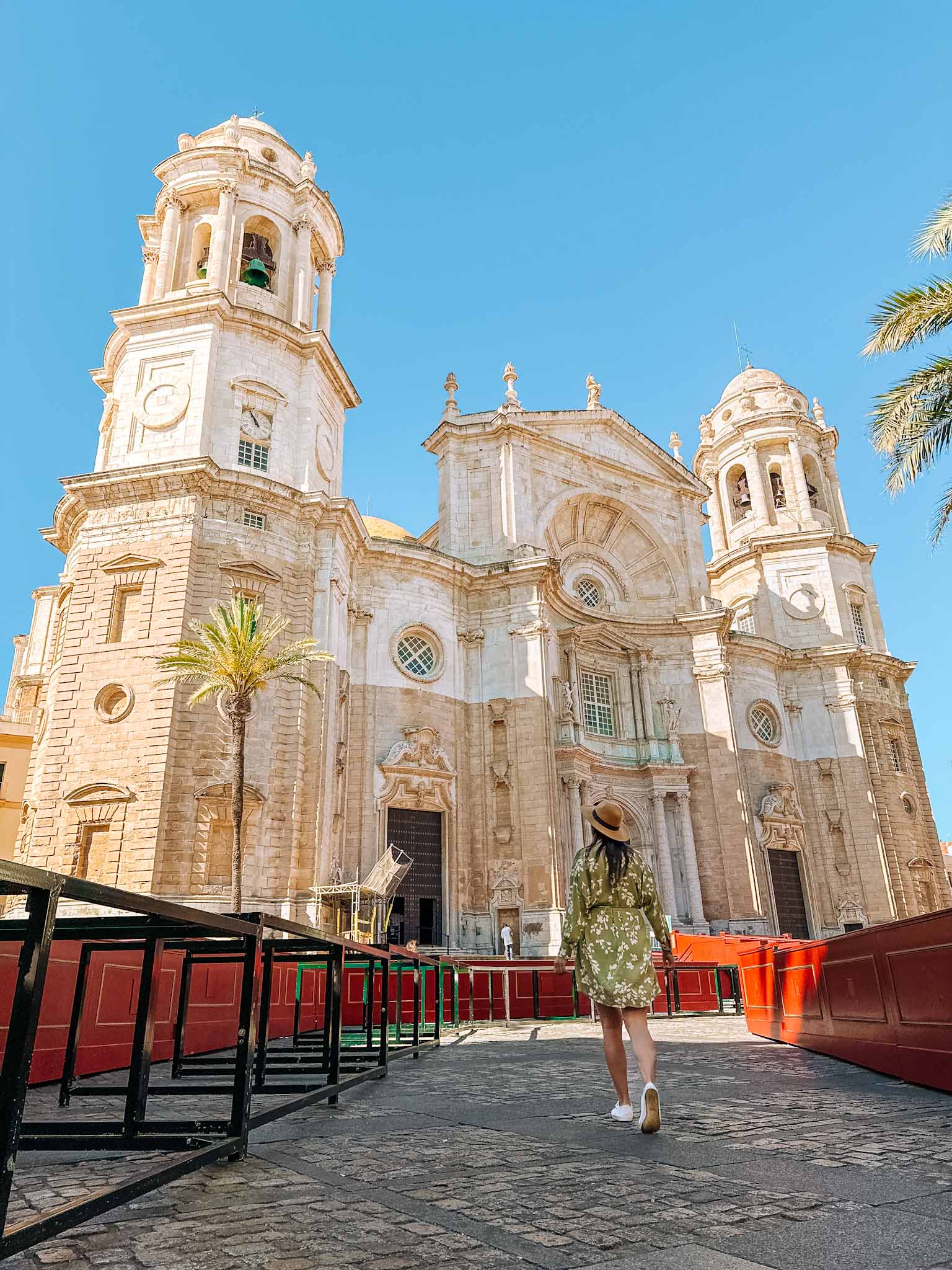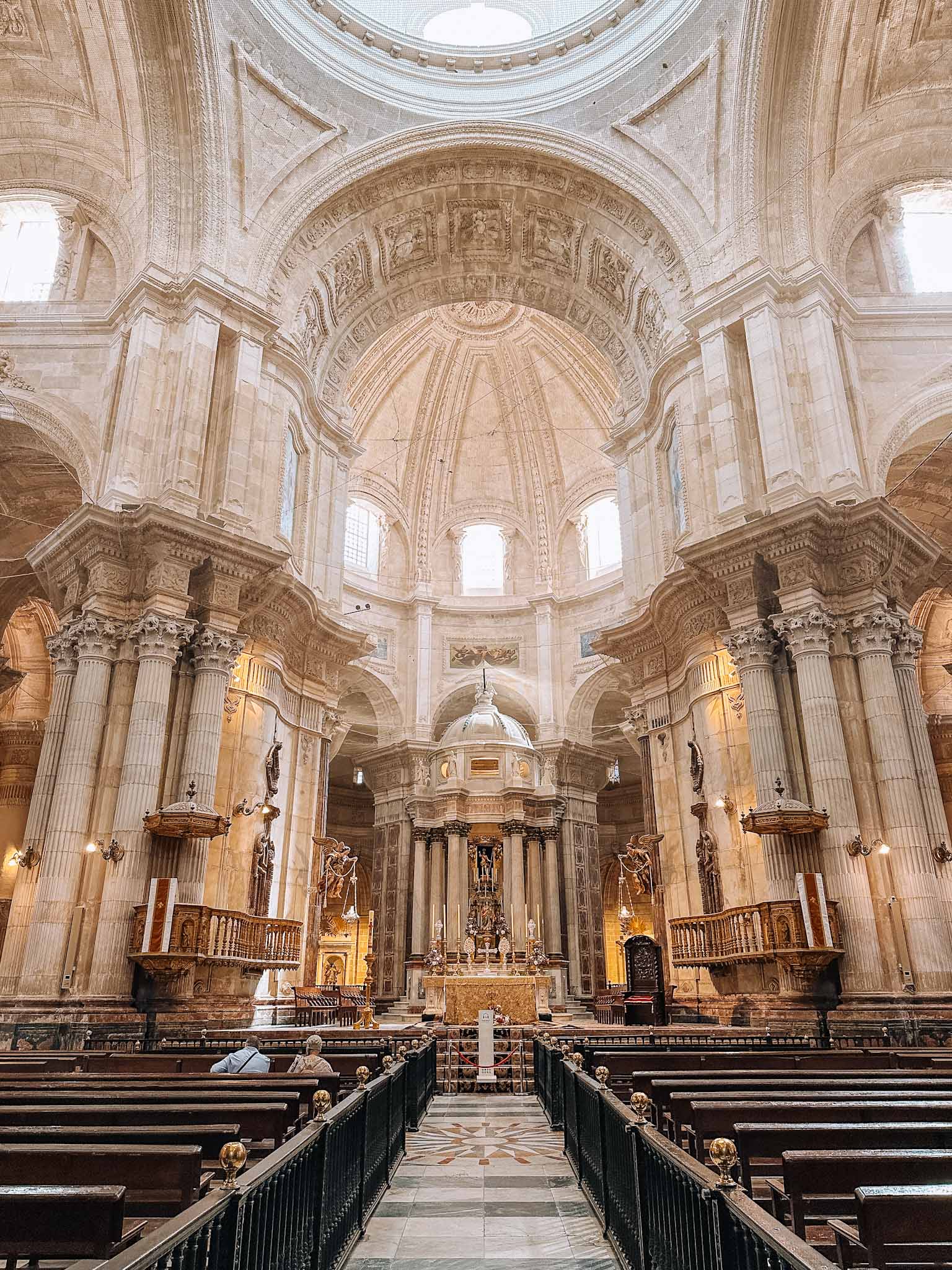 The climb is long. There is a continuous incline spiraling upwards until the very top of the tower. There are no stairs, but a flat surface leading up. Once you get to the top there are 360-degree views over the city.
I really recommend walking up there at full hours when the bells ring. It was loud and it was fun to experience the bells ringing! Definitely one of the coolest places and experiences in Cádiz!
Location: Bell Tower of the Cathedral of Cádiz
5. Castillo de Santa Catalina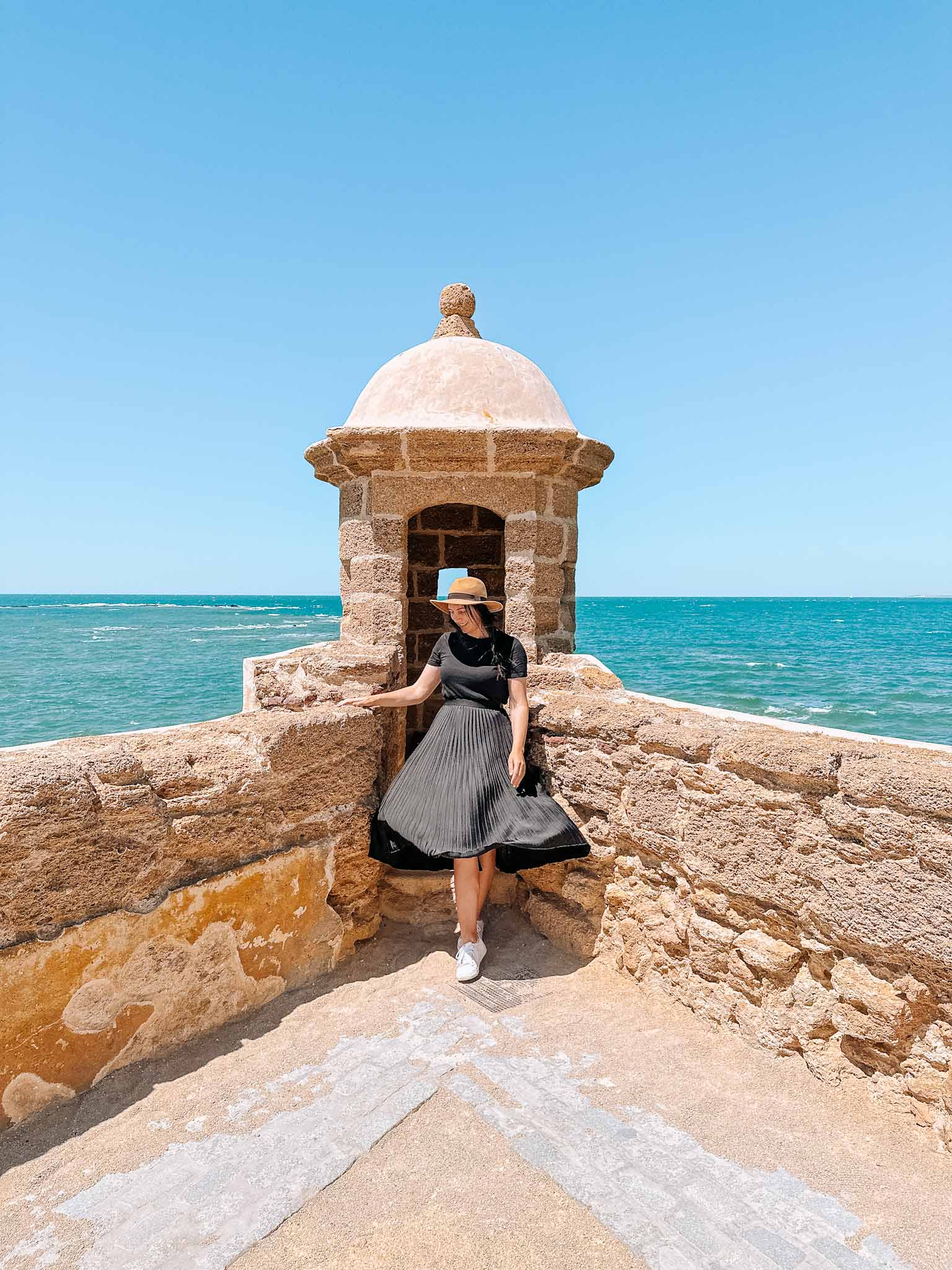 Castillo de Santa Catalina is an oceanside defensive fortress in Cádiz. The best part about it – the entrance to the 17th-century fortress is free! However, it has working hours so definitely check before going. It is located right next to the famous La Caleta beach.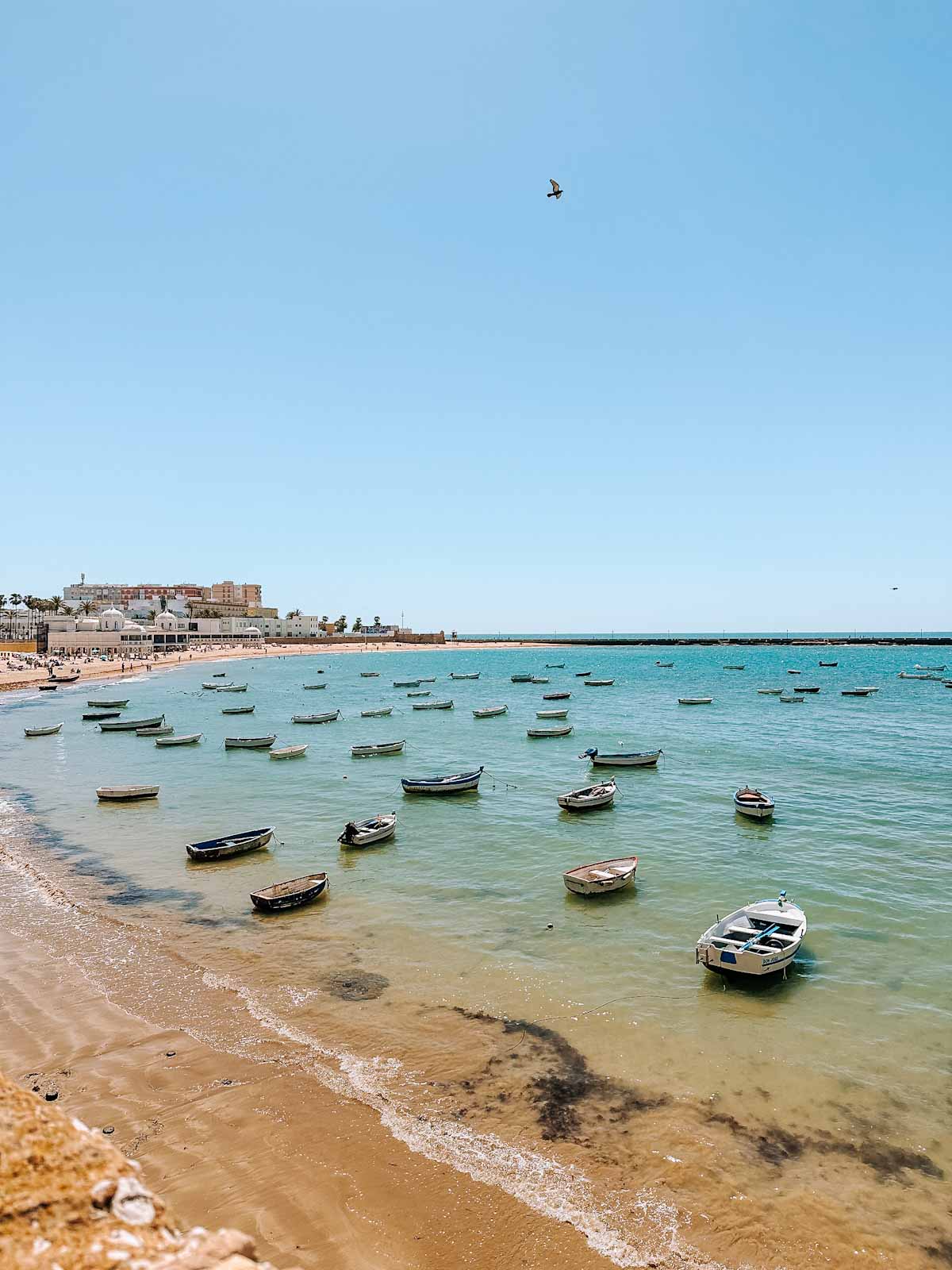 The fortress offers amazing ocean views and feels like stepping back in time when Cádiz was an important port and trading hub for Spain.
It was imperative to defend the city because of its location. Attackers came from all sides so this fortress is a unique testimony of the past times this city has once experienced.
There are really nice ocean-side views around the castle and the fortress. I especially loved the view of La Caleta beach bay where local fishermen park their boats (most of them are parked in the water).
There is also a small church open for visitors inside the walls of the fortress. You can walk inside there and climb up to the upper floor to see it from above. Definitely take a look! This is a cool place to explore if you have spare time in Cádiz!
Location: Castillo de Santa Catalina
6. Secret stone archways in the Old Town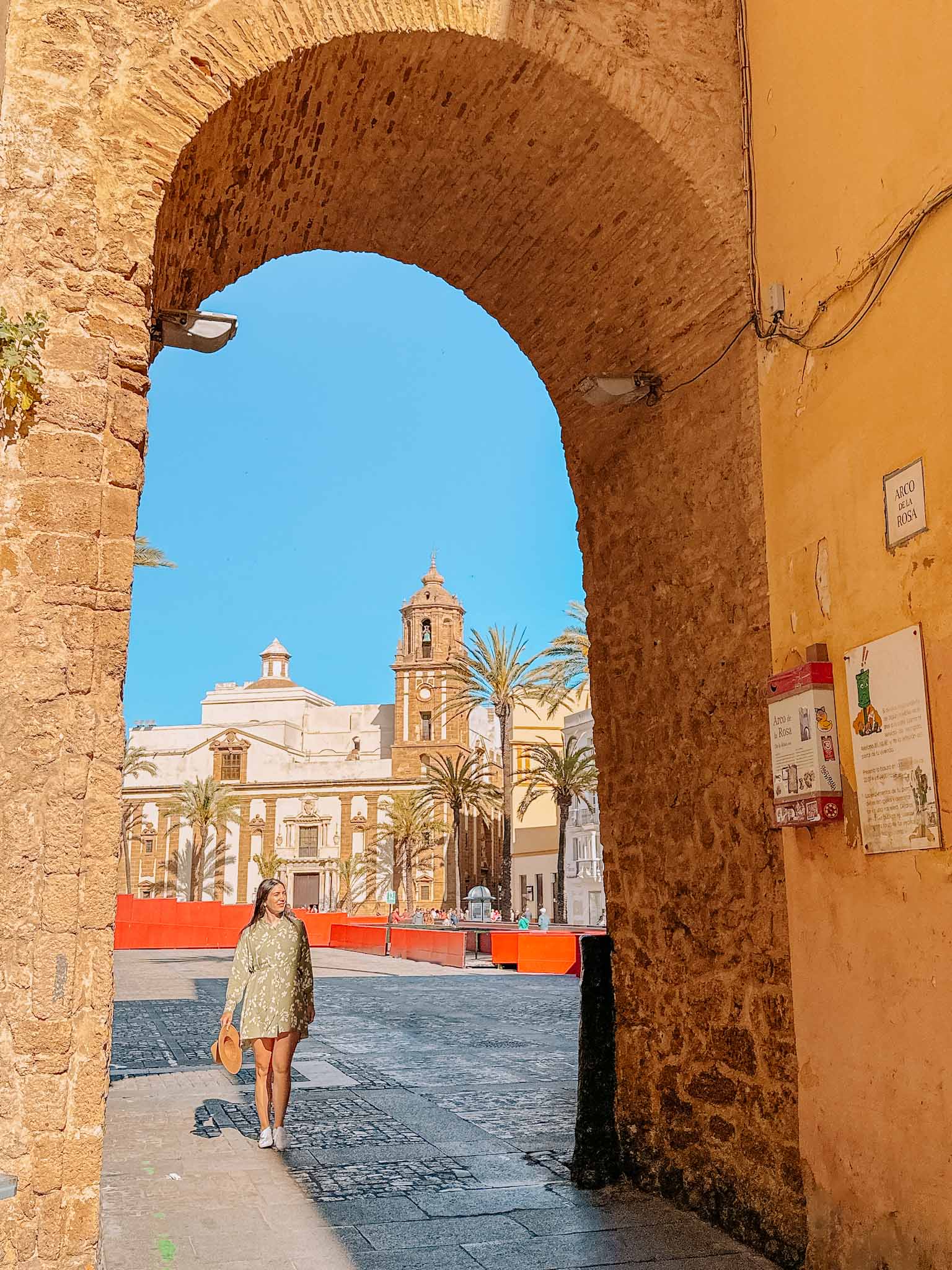 The Old Town of Cádiz is famous for having multiple stone arches – a legacy from the past. Cádiz is often regarded as one of the most ancient cities in the Western World so walking the winding streets of the Old Town definitely feels like stepping back into the past. Here are all the ancient stone arches of Cádiz!
Arco de la Rosa is one of my favorite stone arches in the Old Town of Cádiz because you can see the whole Plaza de la Catedral square through the arch. The arch is located right next to the cathedral so you can visit it at the same time you go to the cathedral.
Arco del Populo is another one of my favorites in the Old Town of Cádiz. It is located in the oldest neighborhood and the heart of the Old Town – El Pópulo. You will find it just a hundred meters away from Arco de la Rosa and the cathedral. It is rather long, dark, and very distinct.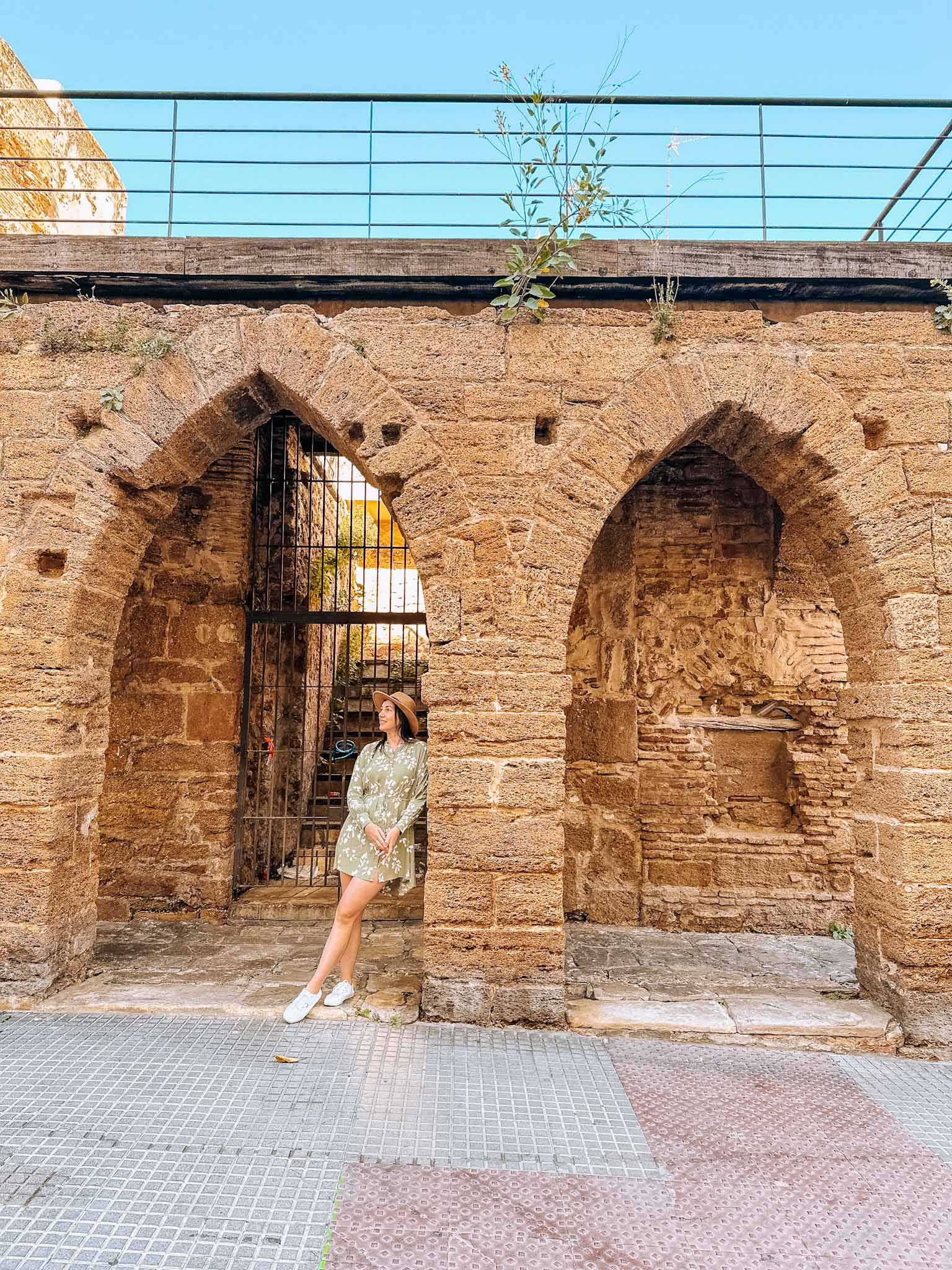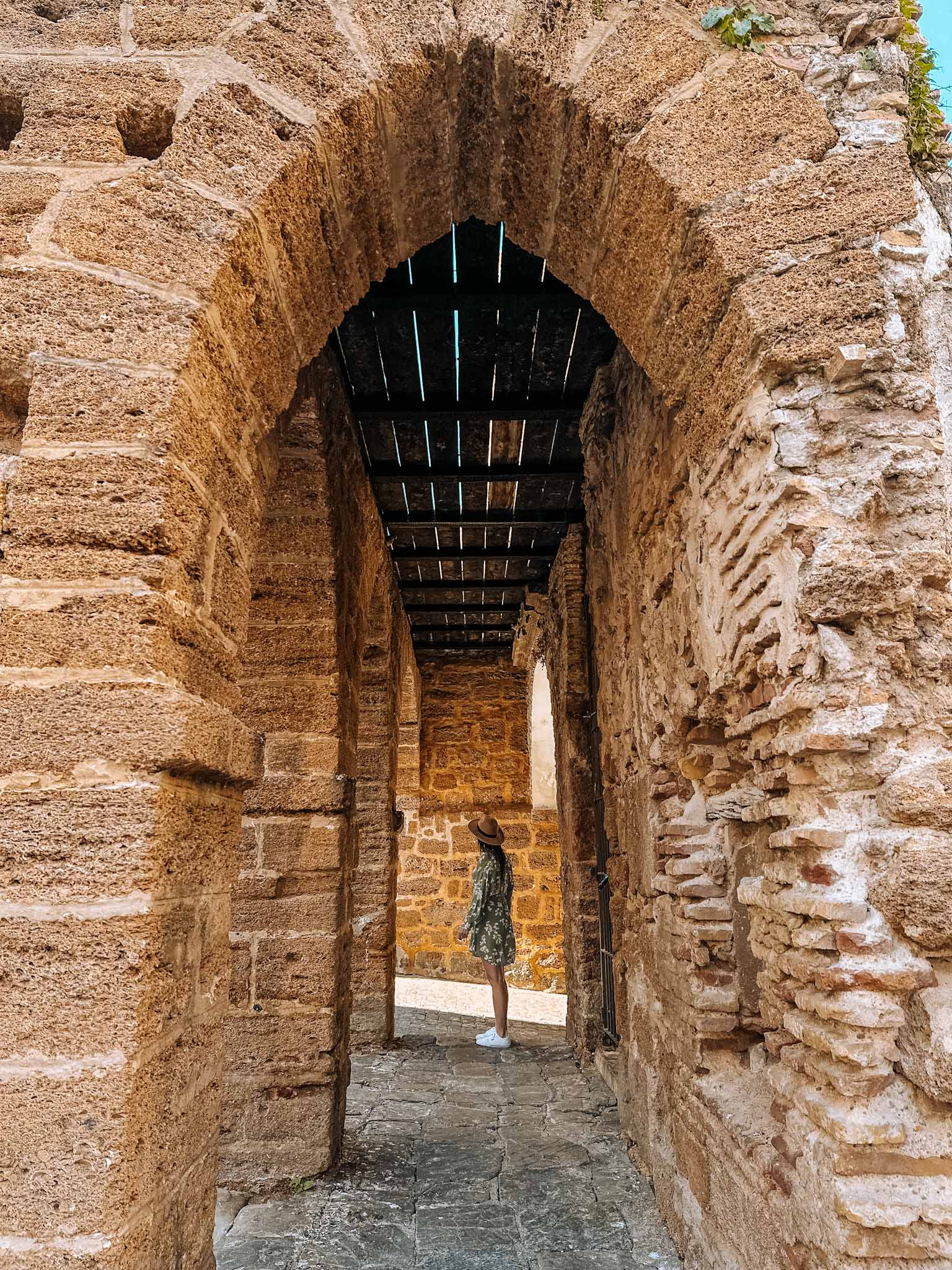 Next up is Arco de los Blanco also known as Puerta de Tierra. It is a Medieval gateway that formed a part of the Medieval city walls and served as an entrance to the city. Next to Arco de los Blanco, you will find remains of Castillo de la Villa castle and some more fragments of the city walls.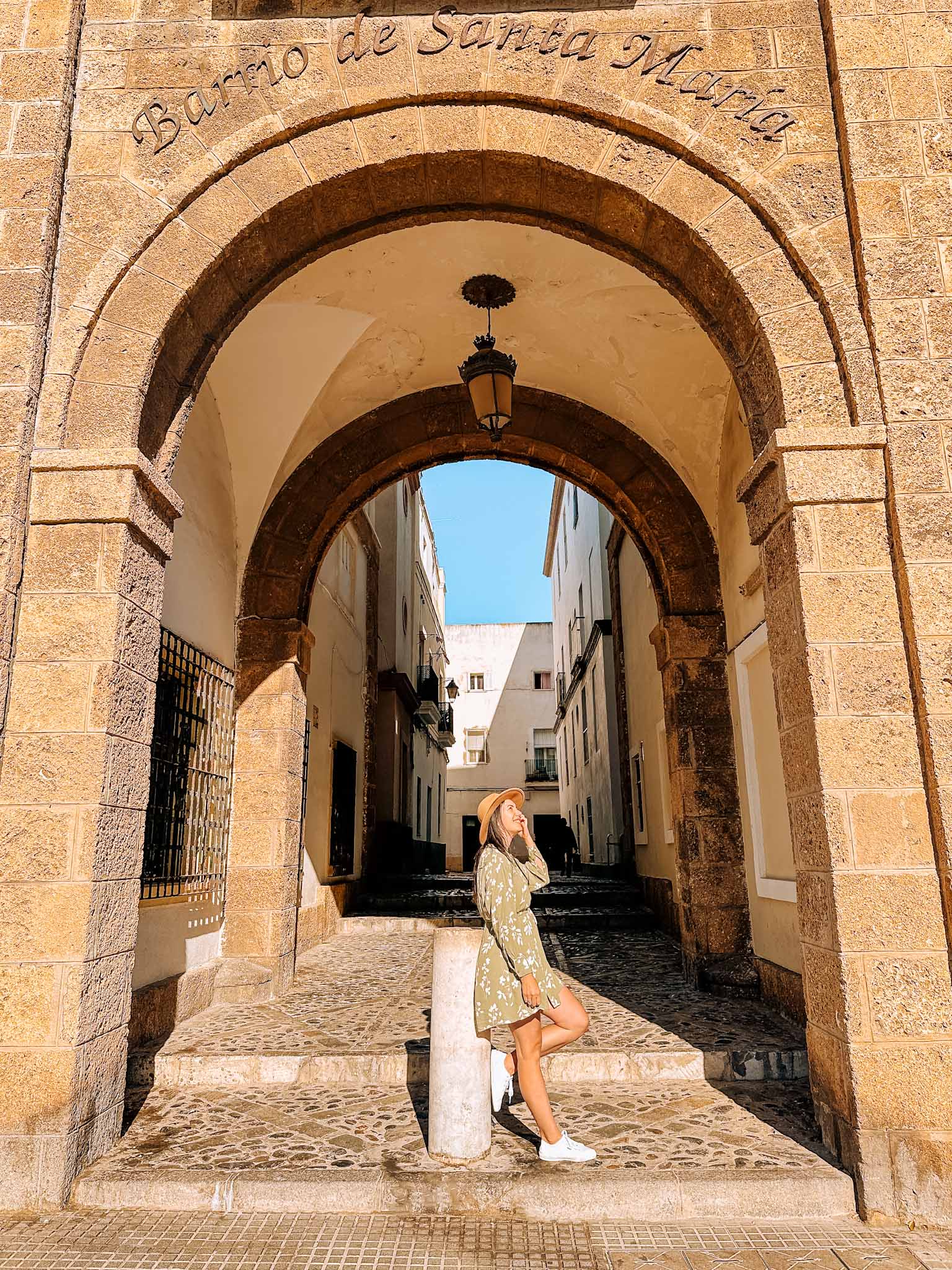 Last but not least – Puerta del Barrio de Santa María. The gateway serves as an entrance to the Santa María neighborhood – the cradle of flamenco. We stopped here because it was on our way.
Otherwise, it is not worth walking kilometers just to see the arch. However, it is very beautiful and definitely is one of those places where you feel like stepping back in time to a few centuries ago.
Location: Arco de la Rosa – Arco del Populo – Arco de los Blanco – Puerta del Barrio de Santa María
7. Sunset viewpoint at La Caleta Beach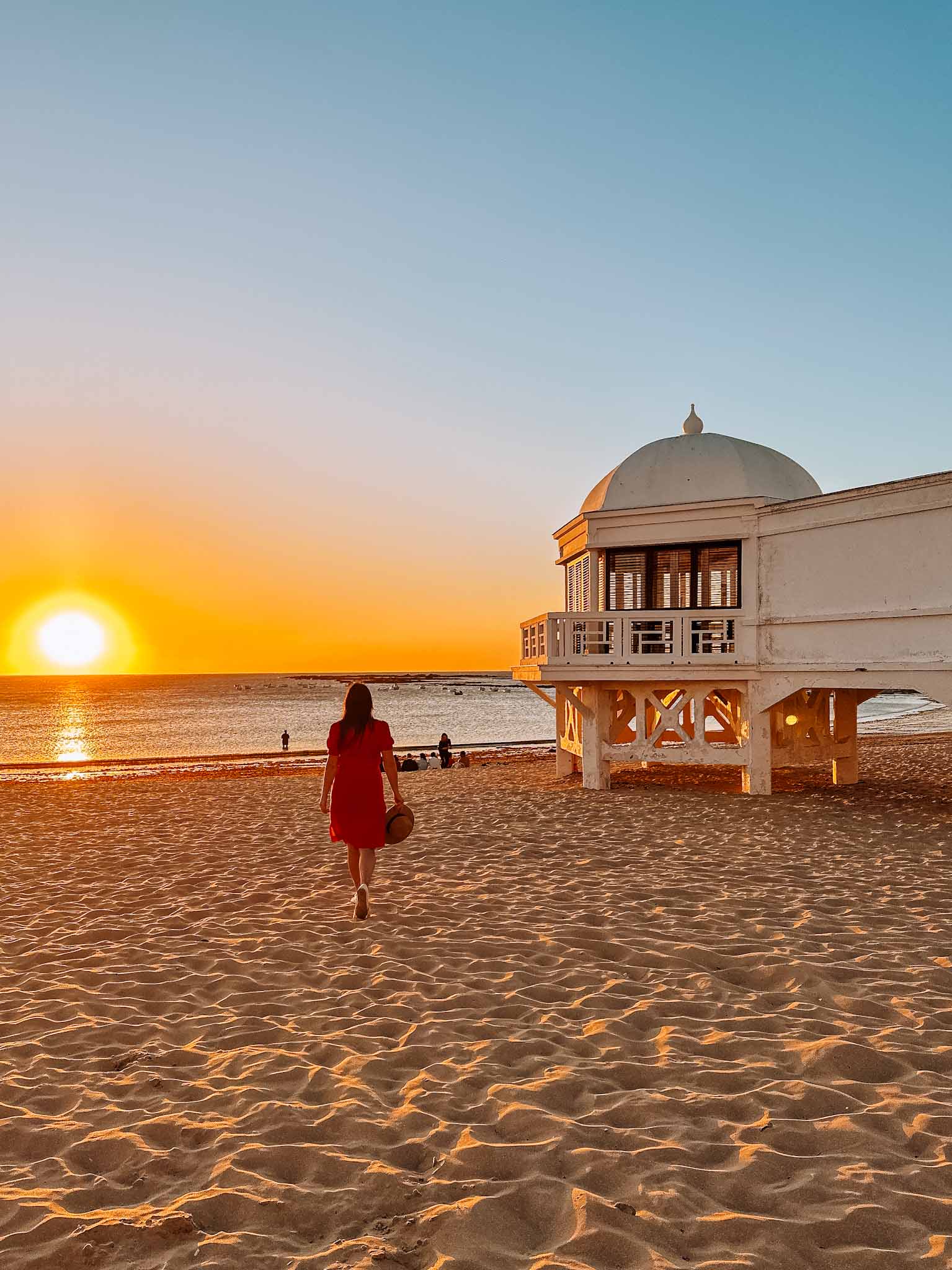 Postcard-perfect sunset? Yes, please! La Caleta Beach is one of the most popular beaches in Cádiz. People come here to relax, spend time at the beach, play sports, watch the sunset, and so on.
Located right in the middle of the beach there is a unique white building in a curved shape – Underwater Archaeology Center Headquarters. This building and the ocean make for a beautiful postcard-perfect sunset-watching place in Cádiz.
We also visited this beach many times during our stay and the most memorable time was the last day when we watched the sunset in the ocean. If you can, definitely come here for the sunset, but it will be just as beautiful during the day too.
Location: Viewpoint of La Caleta Beach
8. Hundred-year-old ficus trees at Jardines de Alameda Apodaca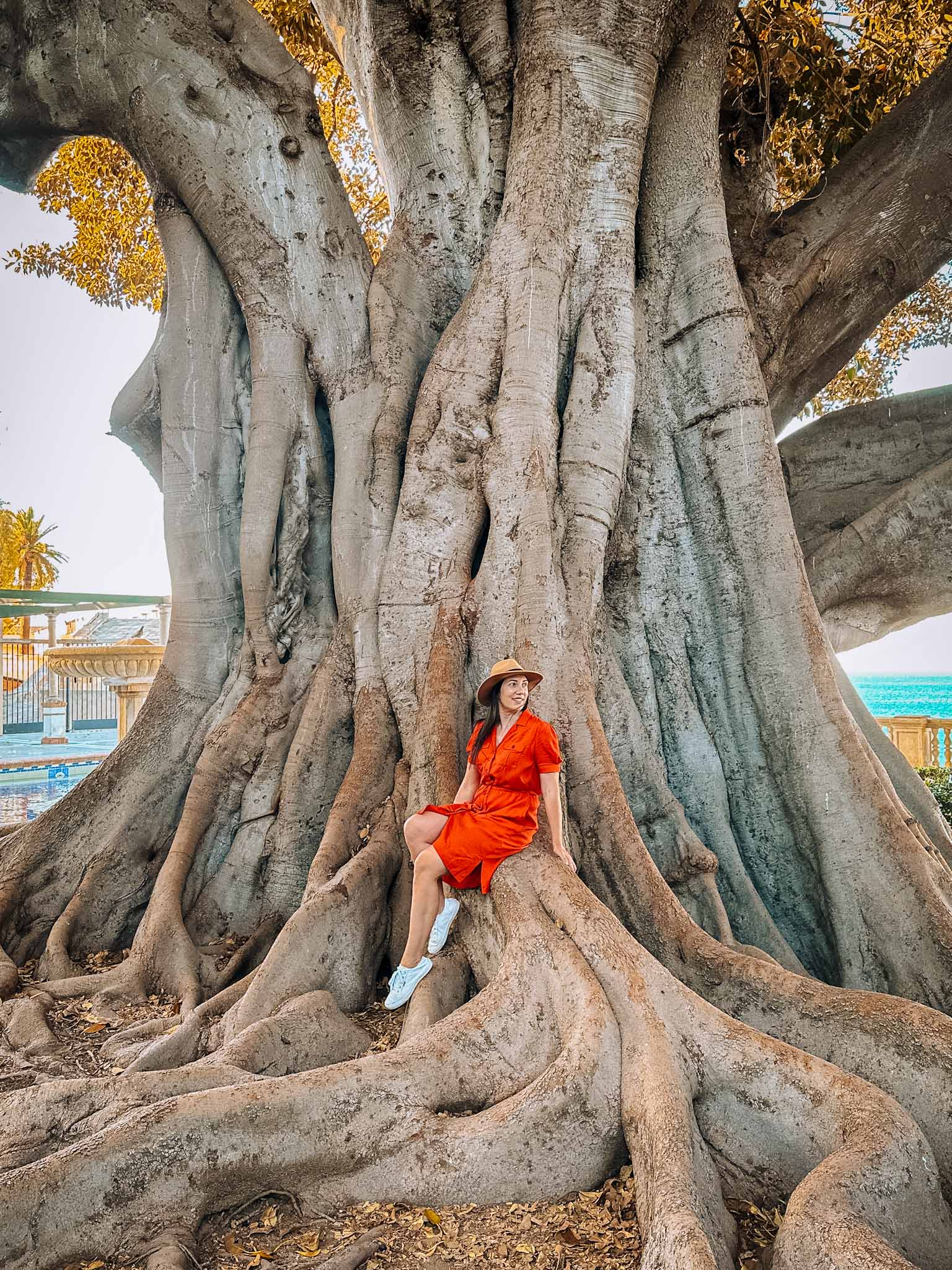 Some of my favorite hidden gems in Cádiz I found along the oceanside promenade – Alameda Apodaca. It is a wide pathway with gardens, restaurants, flower bushes, trees, beautiful benches, and even some old cannons and sentry boxes along the seaside walls.
Somewhere along the way on Alameda Apodaca, you will find a unique garden – Jardines de Alameda Apodaca. It is an absolutely beautiful seaside garden with massive ficus trees, overgrown archways full of blooming flower bushes, and beautiful ceramic benches.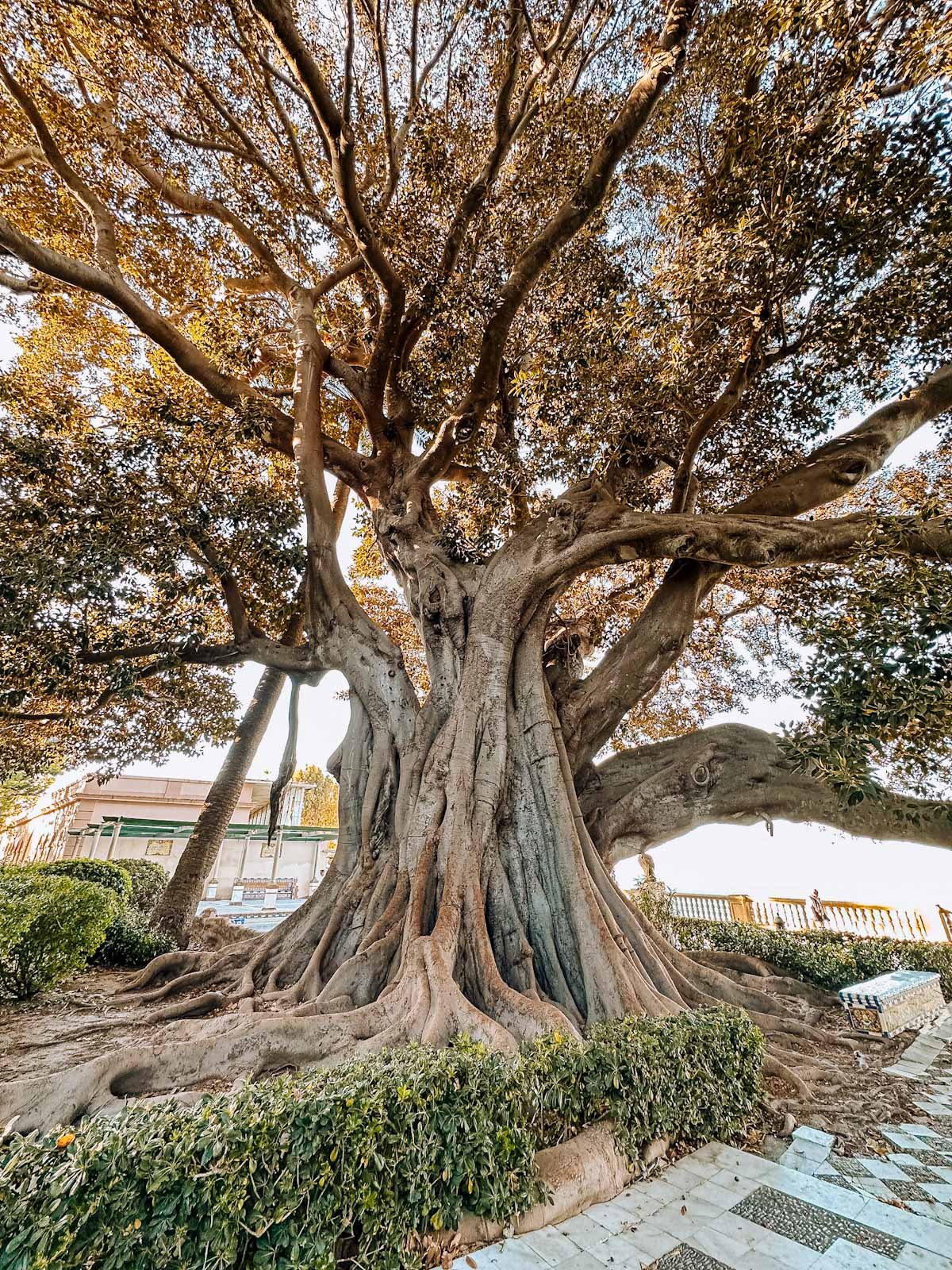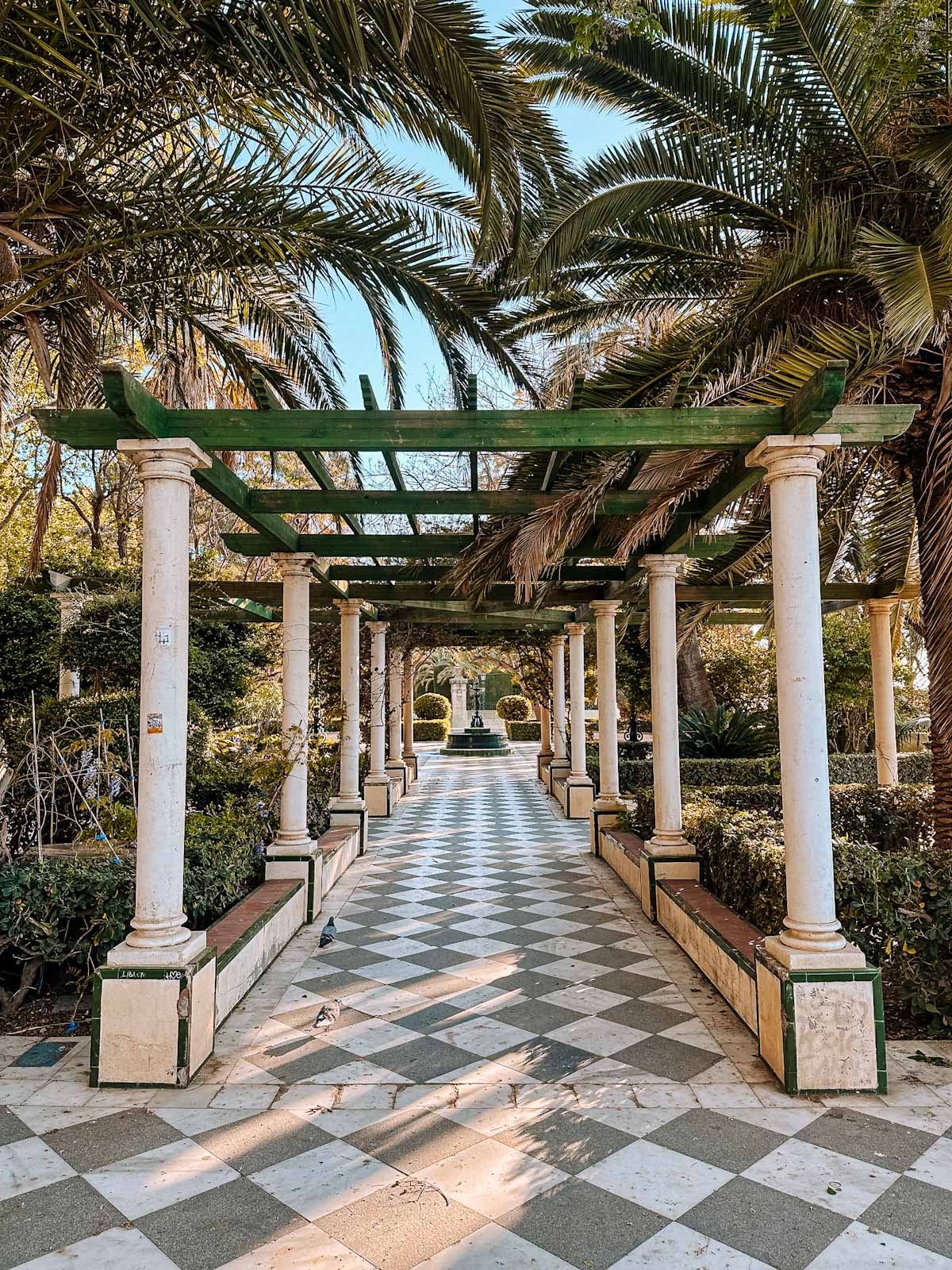 In Jardines de Alameda Apodaca you will not only find shelter from the hot sun, a place to relax and take a breath but also some of the craziest ficus trees you will ever see. These were definitely some of my favorite secret spots to discover in Cádiz!
Those ficus trees are absolutely massive, but the best part is those crazy roots! They stretch out so far and so high that you can easily sit on them. They are pretty gigantic, haha! If you believe the information, the trees are a hundred years old or more! No wonder they are massive!
Location: Jardines de Alameda Apodaca – Big ficus trees (there are two of them!)
9. The bustling Mercado Central Cádiz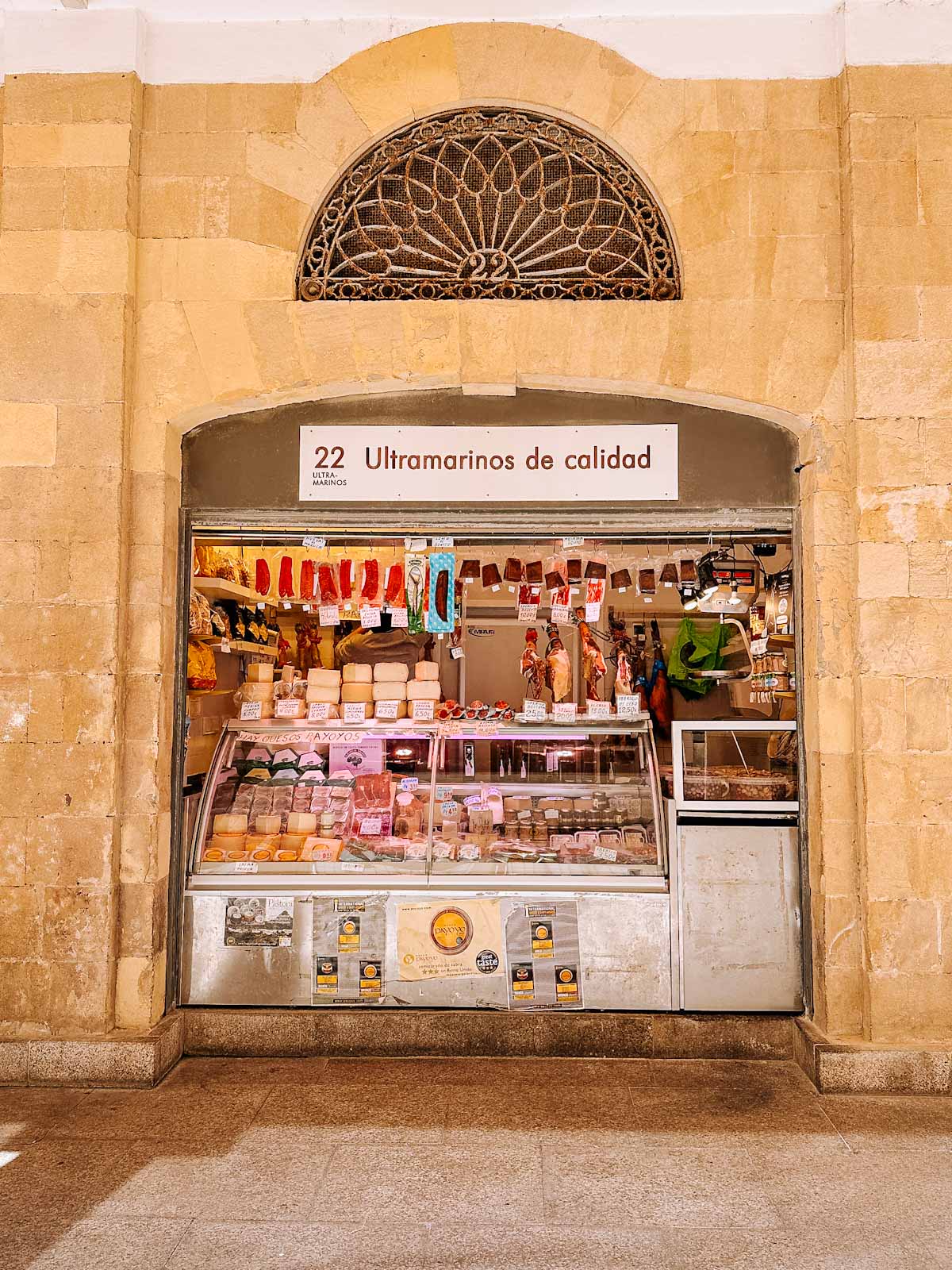 Mercado Central Cádiz is a gastronomic paradise! In this market, you will find numerous open food stands where you can get all kinds of dishes for lunch – sushi, kebab, hotdogs, fried seafood, tapas, pizzas, and so on.
But you can also get fresh ingredients and homemade products from vendors as well – starting from cheese and sausages, vegetables, fruits, and some interestingly prepared sea urchins for you to try! The market is very bustling so try to not get lost there!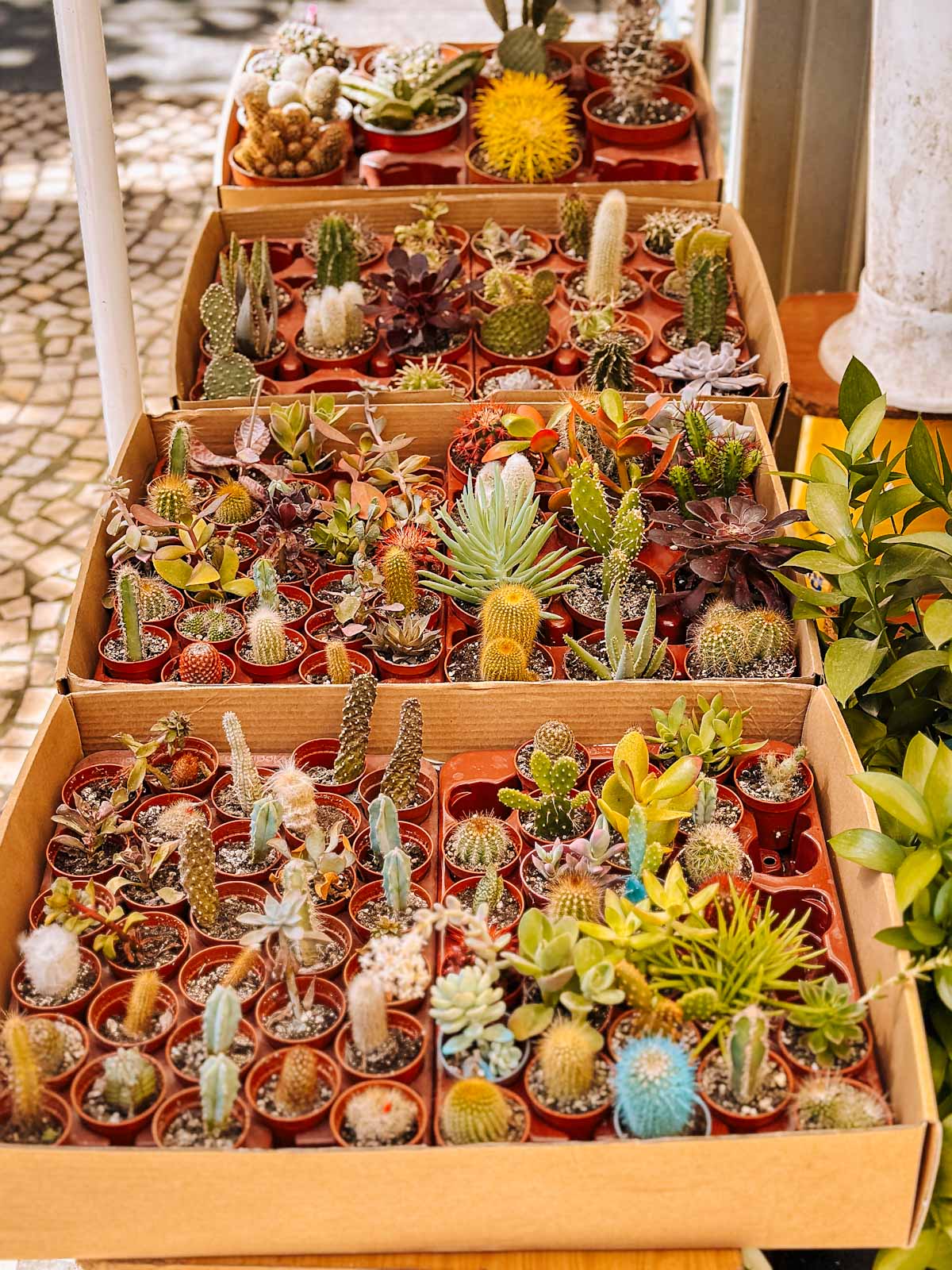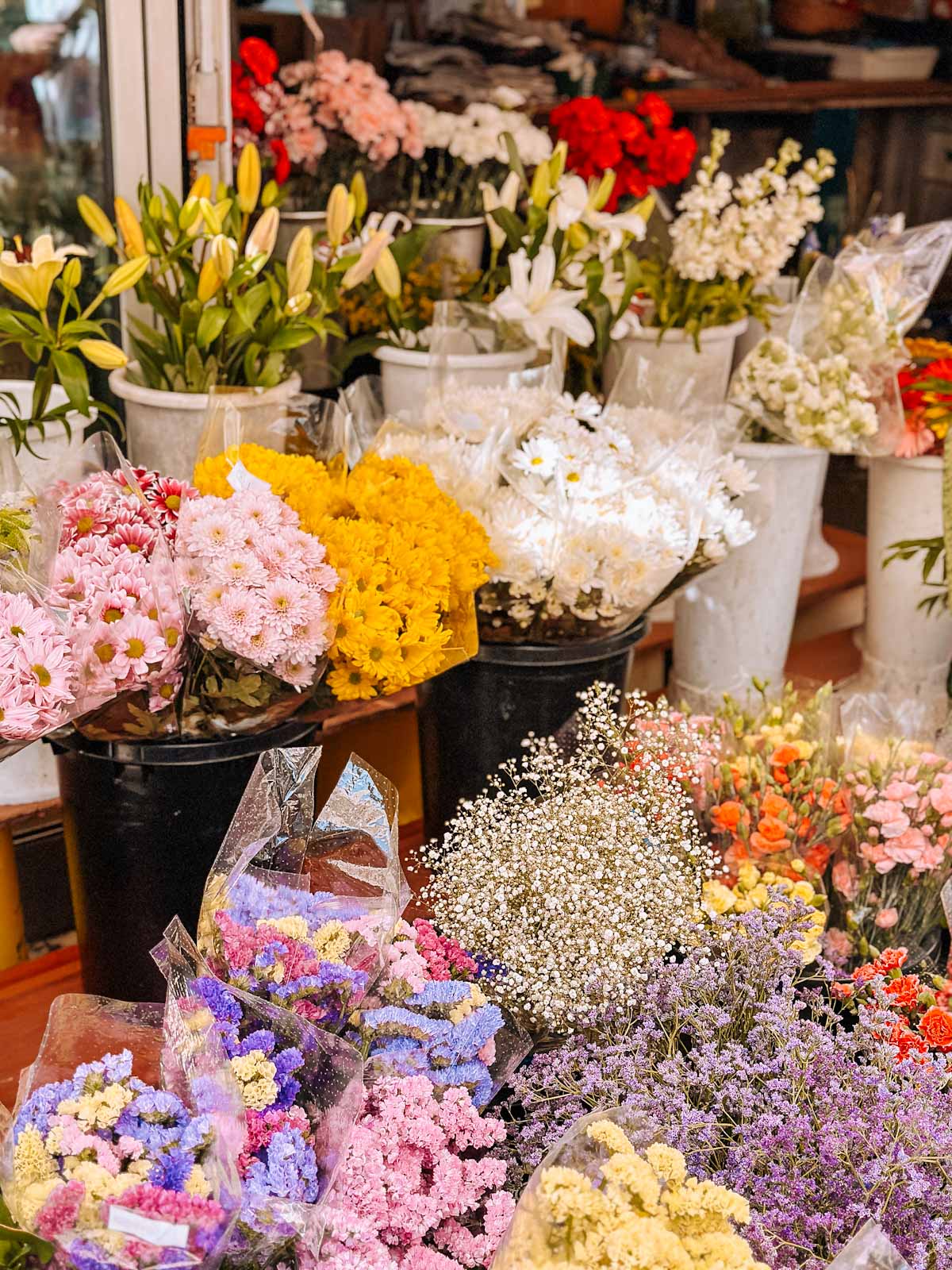 However, Mercado Central Cádiz is not the only must-visit place in the area. The streets and squares right around the market usually are also full of street vendors offering different products, souvenirs, and anything else you might need.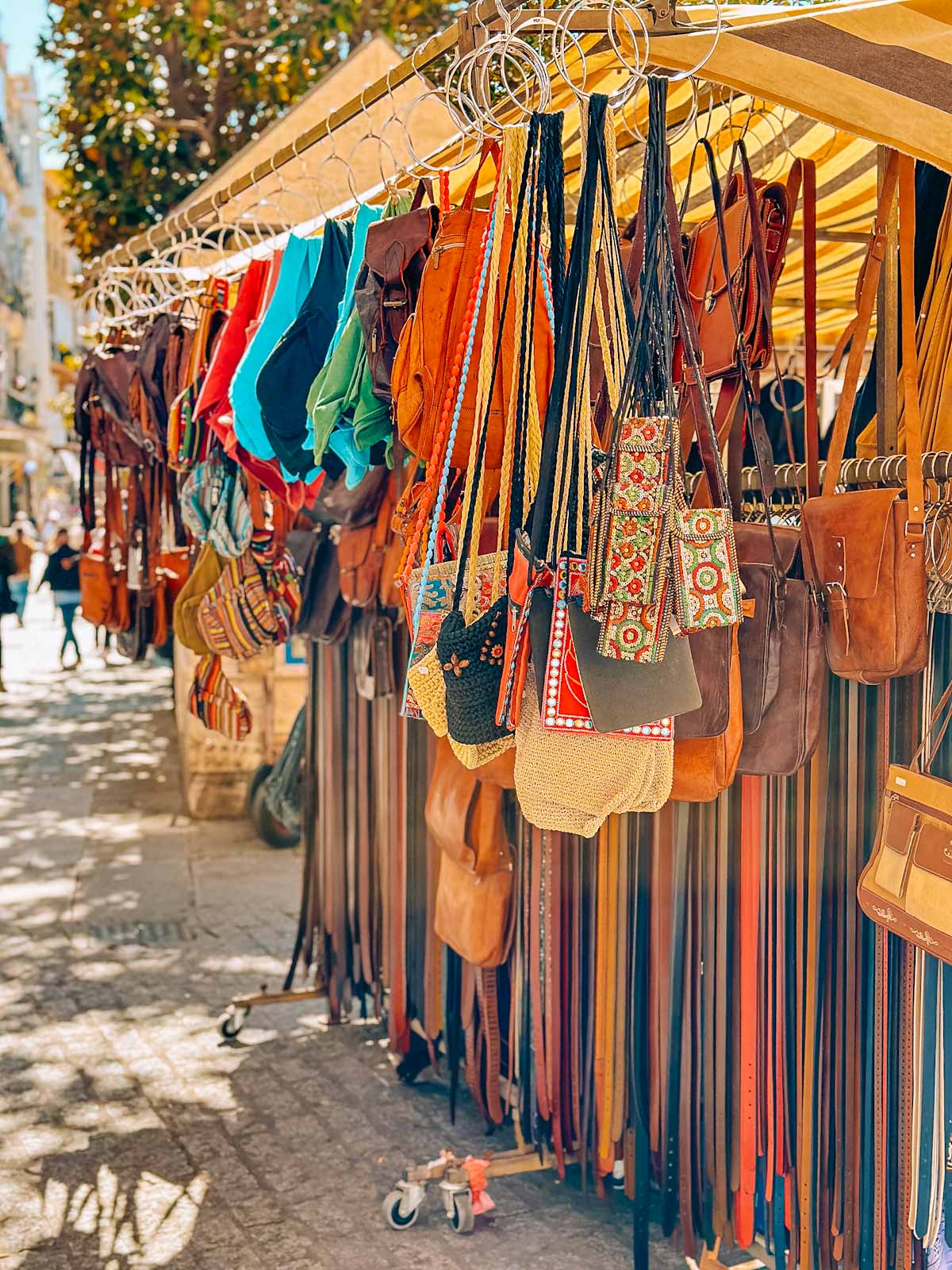 There is a fantastic little square right next to the market – Plaza de las Flores or the Flower Square. Definitely pay a visit here to walk through an ocean of flowers, along cafés and restaurants, and other street vendors. I loved exploring and wandering around the area next to the market! Don't miss it!
Location: Mercado Central Cádiz – Plaza de las Flores
More Andalusia travel inspiration!
Happy exploring!
Cádiz is one of the most iconic cities in Andalusia and Spain. Cádiz once played one of the most important roles in Spain's history serving as the base for exploration trips around the World.
Considered as the oldest city in Western Europe it offers the opportunity to step back in time while walking the streets of Cádiz Old Town. With its rich historic heritage, it is a great spot to explore in Andalusia!
I hope you enjoy your time in this emblematic city by visiting unique corners in the Old Town, the cathedral, gardens, seaside fortresses, and promenades! It is a place like no other! Happy exploring!
PIN FOR LATER!