Ultimate guide: 23+ best things to do and see in La Palma island
La Palma island in the Canary Islands – also called 'the beautiful island' and 'the green island' – is truly a beautiful gem in the Atlantic Ocean. Despite being one of the smallest islands amongst the Canary Islands, it is one of the most diverse for sure! Here are the best places to visit and the best things to do in La Palma island with locations on Google Maps. Happy exploring!
Read also >>> 17 Best Instagram Spots For Amazing Photos Of La Palma!
This post contains some affiliate links. If you use these links to buy something I may earn a small commission at no additional cost to you ♥
Best things to do and see in the North of La Palma
The North part of La Palma is basically the greenest place you will find in the Canary Islands! Lush green jungles and waterfalls are something a bit unexpected in the Canary Islands, but here we are! These are the best things to do in the Noth part of La Palma!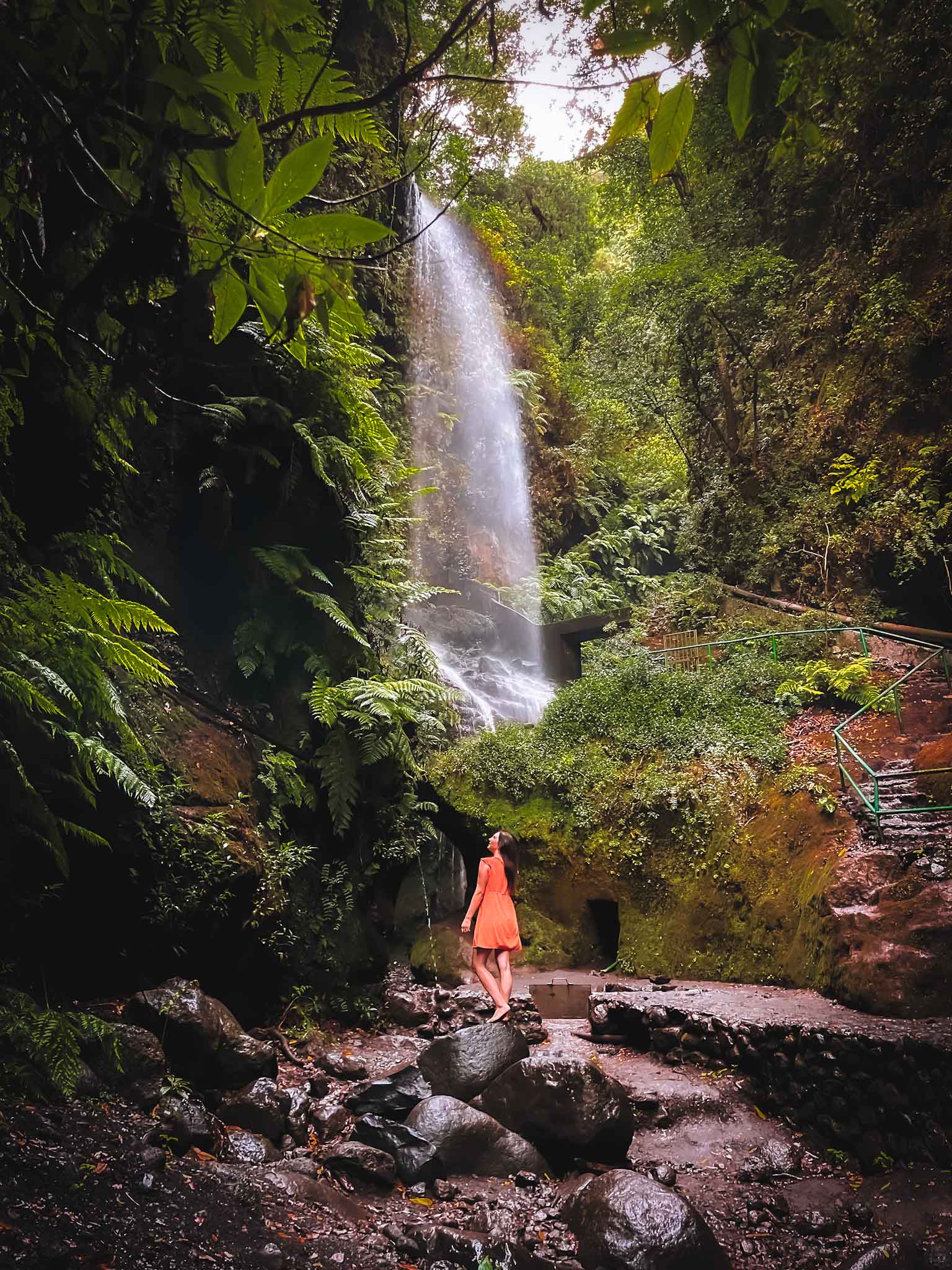 This is undoubtedly the biggest and most beautiful waterfall in the Canary islands! It is very easy to access as you can drive a car very close to it and then hike a couple of hundred meters till you reach the waterfall. The hike is also very magical and it goes through tunnels and along water canals.
2. Hike the 'Cubo de La Galga' trail
This is one of the most popular and also one of the easiest hiking trails in La Palma. Even if you are not a hiker, I really recommend doing this trail! It goes along a deep river gorge and through lush green forests with huge trees. Join this guided trekking tour to Cubo de La Galga for a hassle-free experience!
3. Drive to the highest point in La Palma – Roque de los Muchachos (2426m)!
La Palma is the second-highest island in the Canary Islands after Tenerife. Did you know that you can drive to the very top of the mountain by car? From there you basically have some of the best views over the island.
You can consider joining this guided trekking tour to Roque de los Muchachos and experience hiking along the famous crater of Caldera de Taburiente with unforgettable views!
4. Take a dip in the wonderful natural volcanic pools!
Sandy beaches are not so fun, so I really enjoyed visiting some of the best natural volcanic pools in La Palma! If you are on the East coast, then definitely visit Charco Azul volcanic pool. On the North coast, the most famous spot is the Natural pools of La Fajana.
However, on the West coast, Puerto de Puntagorda is my absolute favorite place followed by a wilder spot – Puertito de Santo Domingo. Read more about 7 Unique Swimming Spots In La Palma!
5. Admire jaw-dropping views over Playa de Nogales!
This is probably the wildest and most beautiful beach in La Palma! The beach is surrounded by spectacular coastal cliffs and you can observe everything perfectly from above. This is one of my favorite spots in La Palma for sure!
6. Hike the tunnels of Marcos y Cordero trail!
This is not the easiest hiking trail in La Palma, however, it is one of the most unique things you can do in La Palma. This hike has many tunnels and breathtaking views over green valleys.
Mirador Cueva del Canga is definitely my favorite viewpoint in La Palma. It actually looked like we were in Thailand or Indonesia, haha! There are magical views of sharp green mountains and deep valleys hence it is a must-visit!
Another one of my favorite spots nearby was Túneles de Las Mimbreras. There are multiple narrow tunnels on a scenic mountain road.
Best things to do and see in the central part of La Palma
The central part of La Palma accommodates a ton of unique attractions! This is undoubtedly the busiest area of La Palma in terms of the best things to do and places to visit.
Here you will find the volcano Tajogaite which was created in the 2021 eruption as well as the landmark attraction Caldera de Taburiente National Park which you can enjoy by going on different hikes or driving to viewpoints that surround this beautiful crater.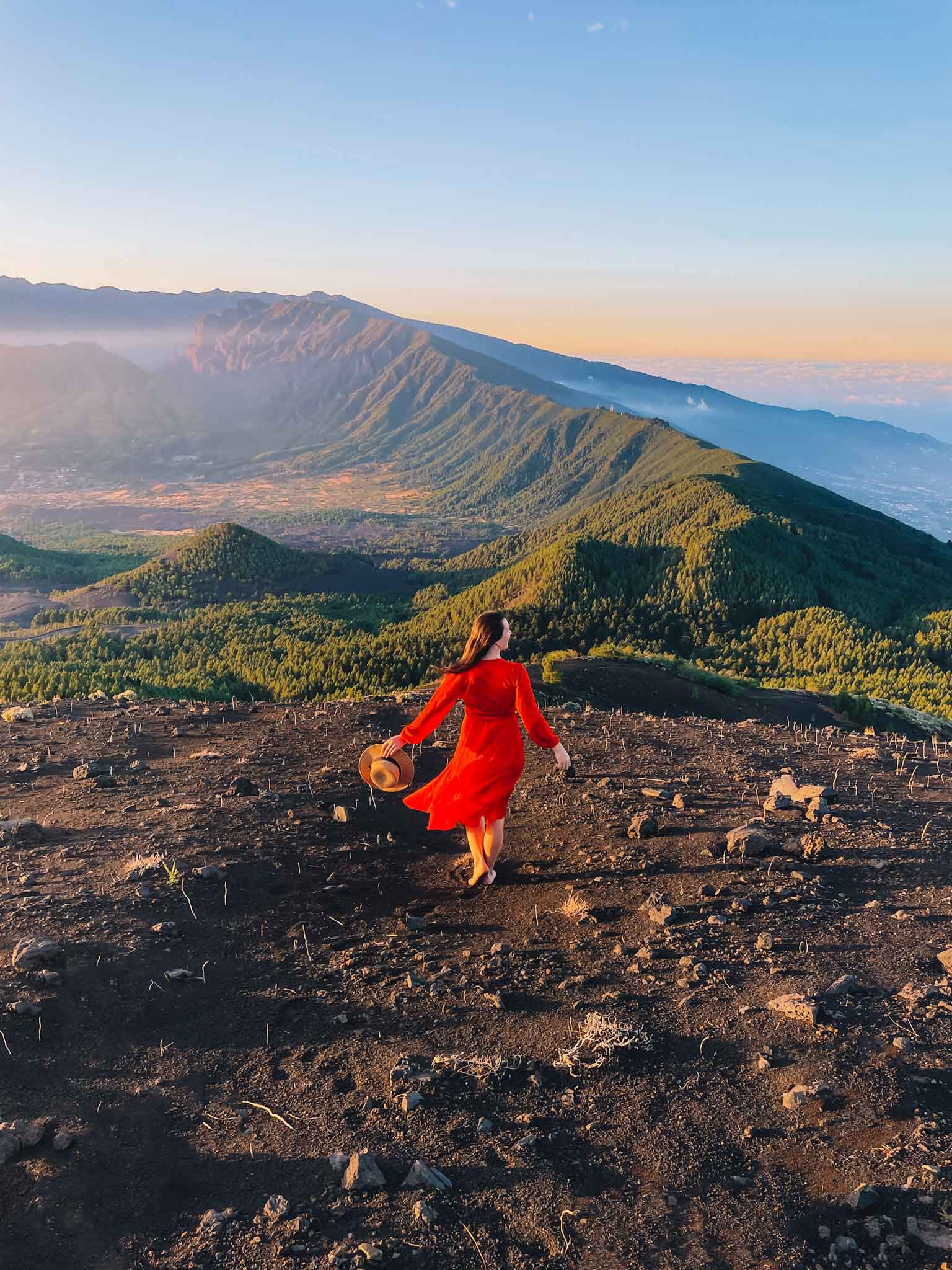 West coast of central La Palma
8. Visit the capital of the island – Santa Cruz de La Palma!
Admire the famous Balcones de la Avenida Marítima, walk along the promenade, sit at a café with a sea view, or get lost in the streets of the capital! Also, you can drive up to the Mirador de La Concepción to see the city from above!
One of the most famous types of trees in the Canary islands is definitely the dragon tree. You can see two gigantic twin dragon trees not far from the capital of La Palma! By the way, another great spot to see two somewhat crooked dragon trees is on the West coast at Mirador de Los Dragos!
Getting to the volcano Tajogaite which erupted in 2021 is not possible because there is an exclusion zone around it. The lava fields are still very hot and the volcano still emits toxic gasses. However, you can access the volcano up close through a guided tour. Once in a lifetime activity, isn't it?
This 12-kilometer hike inside the Caldera de Taburiente crater was one of the best activities for me in La Palma. The hike is very scenic and the reward for that is super unique because there is a colorful waterfall at the end of the trail!
This is a unique viewpoint in the Caldera de Taburiente National Park where you can enjoy pure nature! Remember that you need to apply for a permit in order to drive up to the viewpoint! You can get the permit here or you can go up there after 4 PM when the access is not limited.
13. Climb up to Pico Birigoyo at sunset or sunrise (photo above)!
One of my core memories from La Palma was definitely watching the sunset from Pico Birigoyo! It is a volcano in the middle of the island where you can see the whole island from above!
This is the view I will not forget for a long time as we had a clear sky and we could see the whole island from one coast to another!
West coast of central La Palma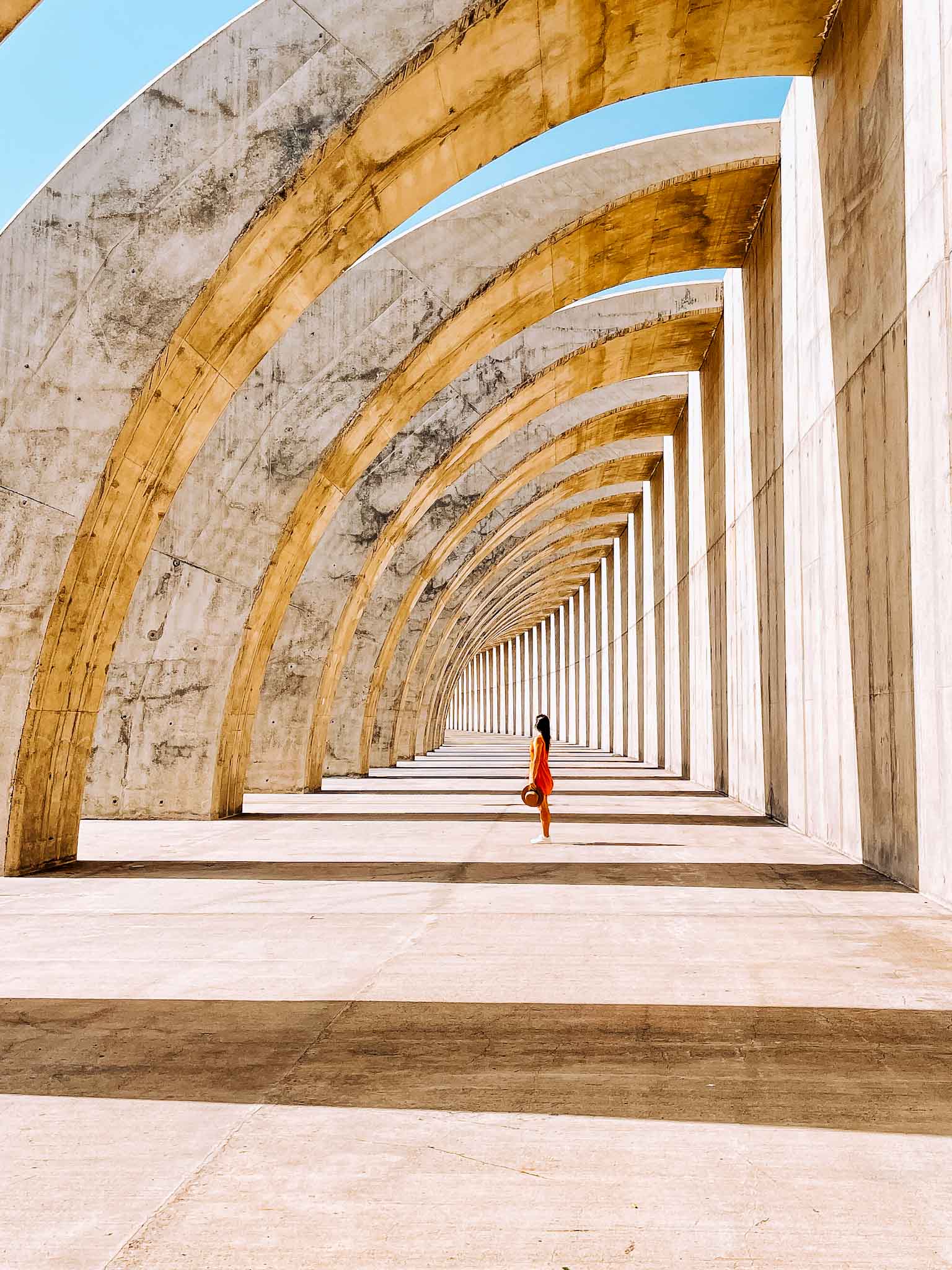 This is hands down one of the most unique experiences that you can have in La Palma. Besides, you learn something new while exploring something unique!
This particular underground lava tube was created by an eruption in 1949. From here you can also observe the aftermath of the volcanic eruption that took place in 2021.
15. Explore the seaside town and port of Tazacorte!
This little town – Tazacorte – was one of my favorite spots on the whole island and there is a lot to do! Definitely drive down to Puerto de Tazacorte and explore its unique architecture (picture above!)!
You can walk along the beautiful seaside promenade or relax at the beach. There are many different restaurants at the seaside to enjoy.
One of the best things to do in La Palma is to enjoy the ocean. On this tour, you will not only see dolphins and whales, but you will see a volcanic sea cave and the new lava delta in the ocean that was formed by the 2021 volcanic eruption! It is one of a kind experience!
17. See the best view of the new volcano from Mirador del Time (from afar)!
This is 100% one of my favorite spots on the West coast of La Palma. From this viewpoint, you can see the whole West coast and get great views of the new volcano – Tajogaite – that was formed during the eruption in 2021. There is also a shop and a café, where they serve tasty coffee.
18. Explore the magical Porís de Candelaria fishing village in a cave!
This village has to be one of the most unique places in La Palma! A tiny fishing village that is hidden in a gigantic 50-meter coastal cave. Can you imagine? You can join this sea kayaking tour from Porís de Candelaria village to Cueva Bonita sea cave for an unforgettable experience!
Best things to do and see in the South of La Palma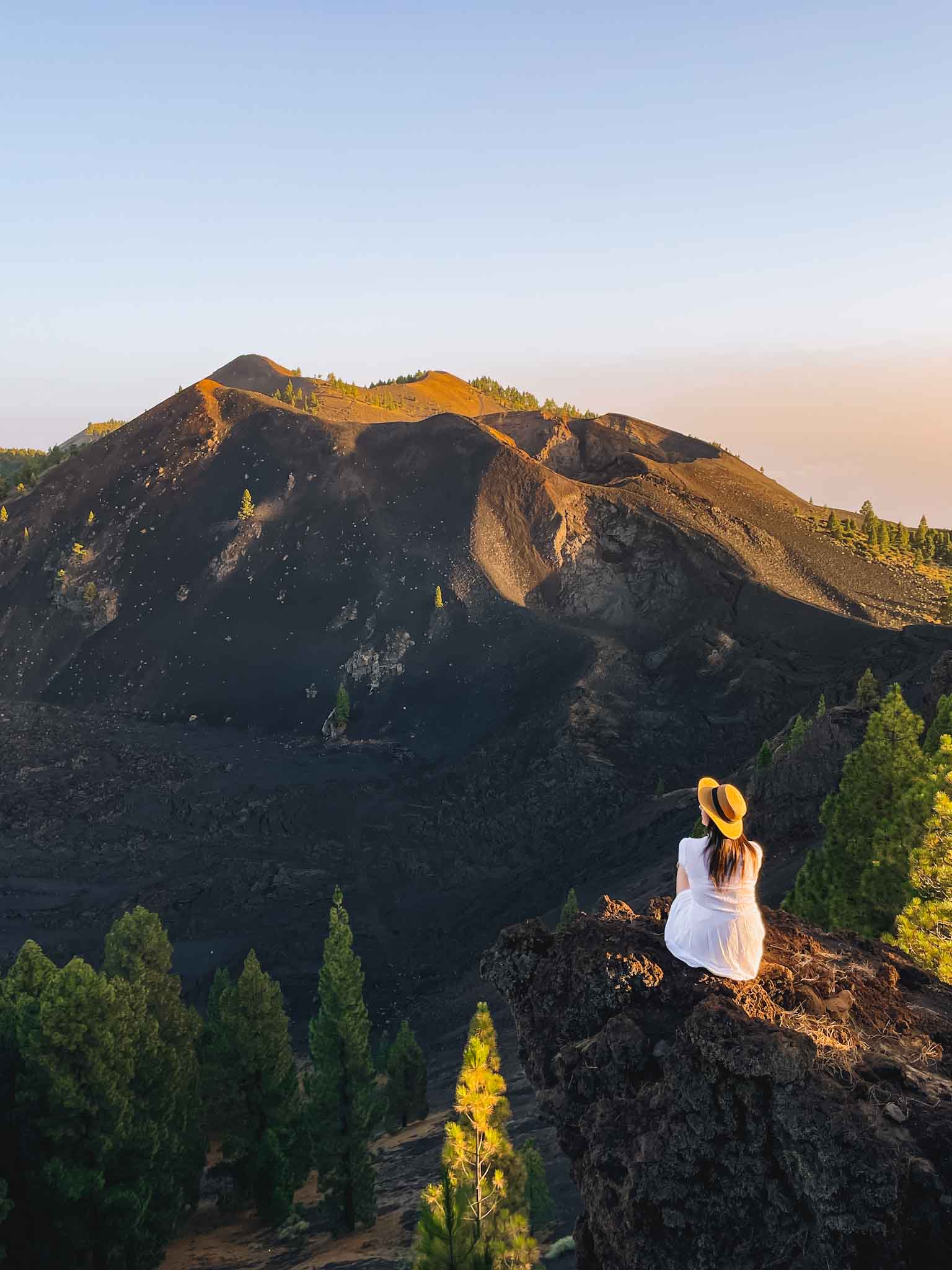 The South part of La Palma is definitely the complete opposite of the North. No more jungles and waterfalls for you because the South of the island only has naked lava fields and volcanos, haha.
In the South, you can observe the aftermath of some of the latest volcanic eruptions. It is a very impressive sight for sure!
One of the best things to do in the South is definitely visiting the salt fields of Fuencaliente! They are a beautiful and unique contrast to the volcanic area.
You can go on a self-guided tour through the fields and learn something new about the process of making salt. There is also a restaurant and a souvenir shop where you can buy salt.
20. Hike 'Ruta de los Volcanes' hiking trail!
This famous trail that goes from Fuencaliente lighthouse to El Pilar recreational area is definitely one of the best things to do in La Palma for hikers.
The hike is 24 kilometers long and you need to pre-book a taxi that will take you back to your car. However, you can choose this Guided Volcano Trekking tour as an easier alternative!
21. Visit the landmark volcano – El Duraznero (photo above)!
If you are not ready for a 24-kilometer hike, then maybe you are ready for 12 kilometers? My absolute favorite spot during Ruta de los Volcanes trail was this landmark volcano – El Duraznero.
You can walk a shorter route to this volcano and back. Definitely the highlight of my trip! Read more about how to get to this volcano here!
There are a couple of good beaches around the Southern part of La Palma where you can spend time at the beach. But there is one pretty unique spot at Playa de Echentive. There are hidden volcanic pools with crystal clear water.
One of my favorite beaches on the island was definitely Playa de la Zamora. Firstly, it is a great place to watch the sunset in La Palma. Secondly, there are some unique spots like a stone arch and a sea cave that are visible during low tide. Makes for some unique photos!
Happy exploring!
La Palma surprised me in a good way as I didn't know such a small island can accommodate so many different climates, landscapes, and unique places! I truly hope you get to enjoy this island! If you can, please, leave a comment below if there are any significant changes to anything that is written in this blog post! Many thanks!
More La Palma travel inspiration!
PIN FOR LATER!