Ultimate guide: 21+ best things to do and see in El Hierro island
El Hierro is a special little island in the Atlantic Ocean that surprised us in a good way. There is so much to do on "Meridian Island"! So here are the best things to do and see in El Hierro island with locations, descriptions, and the information you need to know about them. Happy exploring!
Read also >> 19 Ultimate Best Instagram Spots You Have To See In El Hierro
This post contains some affiliate links. If you use these links to buy something I may earn a small commission at no additional cost to you.
How to get to El Hierro island?
El Hierro island is actually the second smallest of the eight main Canary Islands, surpassing (in size and inhabitants) only La Graciosa island which is located at the shores of Lanzarote.
The closest islands to El Hierro are La Gomera, Tenerife, and La Palma. It is possible to get to the so-called 'island with soul' by both – air and sea.
Actually, we flew into the island by air from Tenerife and left El Hierro by sea with a ferry back to Tenerife. Flying is definitely faster and Binter Canarias, as well as canaryfly, are the most frequent airlines to go between the Canary Islands. They will fly you to the only airport on the island – Aeropuerto de El Hierro (VDE).
As for the ferries, there is basically only one option to El Hierro currently – only Naviera Armas ferries travel to this island from the South of Tenerife (Los Cristianos port). The ferry trip is 2h30min long and will arrive at Puerto de la Estaca village on the East coast of El Hierro, which is not far from the airport.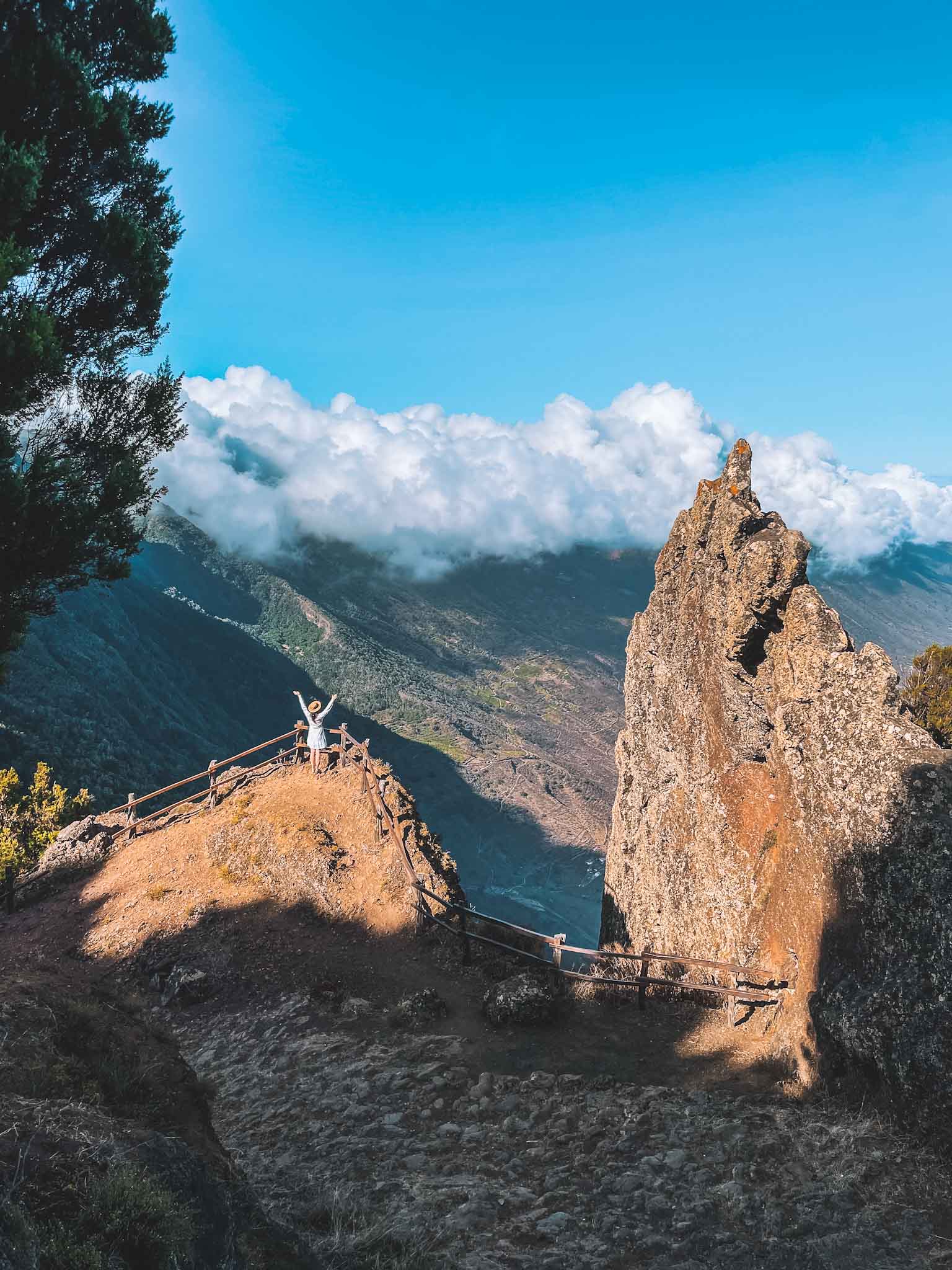 How to get around in El Hierro?
You may think that El Hierro is a small island (and it is comparatively!), however, it takes quite some time to travel around the island. Besides, it has a bit of a relief and plenty of slow mountain roads.
I highly recommend renting a car because of that. There are only a few car rental companies. You can compare prices here at RentalCars.com. We chose the local company Cicar and picked up the car at the airport, but left it at the port in Puerto de la Estaca.
Where to stay in El Hierro?
We stayed in Frontera during our travels around El Hierro and I can only recommend this place! Although the capital and the biggest town on the island is Valverde, I think Frontera is the best choice for a stay.
It is located more or less in the middle of the island and gives you equal travel times to both ends of the island. Plus there are more tourist attractions located around and near Frontera, so it is a better base for travelers. You can check hotels in Frontera here on Booking.com.
How to use this El Hierro travel guide?
All the following places have links to Google Maps. You can click on the link, open Google Maps, and then press 'Save' on those attractions you would like to visit. Or you can save them all and sort them out later!
When you click on 'Save' you have the option to save the place in a list. You can choose to create a new list and name it 'El Hierro' so that all the places you have saved on Google Maps don't mix together.
After going through this bucket list you will have a separate folder of saved places to visit in El Hierro. You can also use Google Maps navigation when you are in El Hierro to get to those places. And you can always read reviews of these places any time you debate whether to go or not.
El Hierro travel guide: best places to visit in the North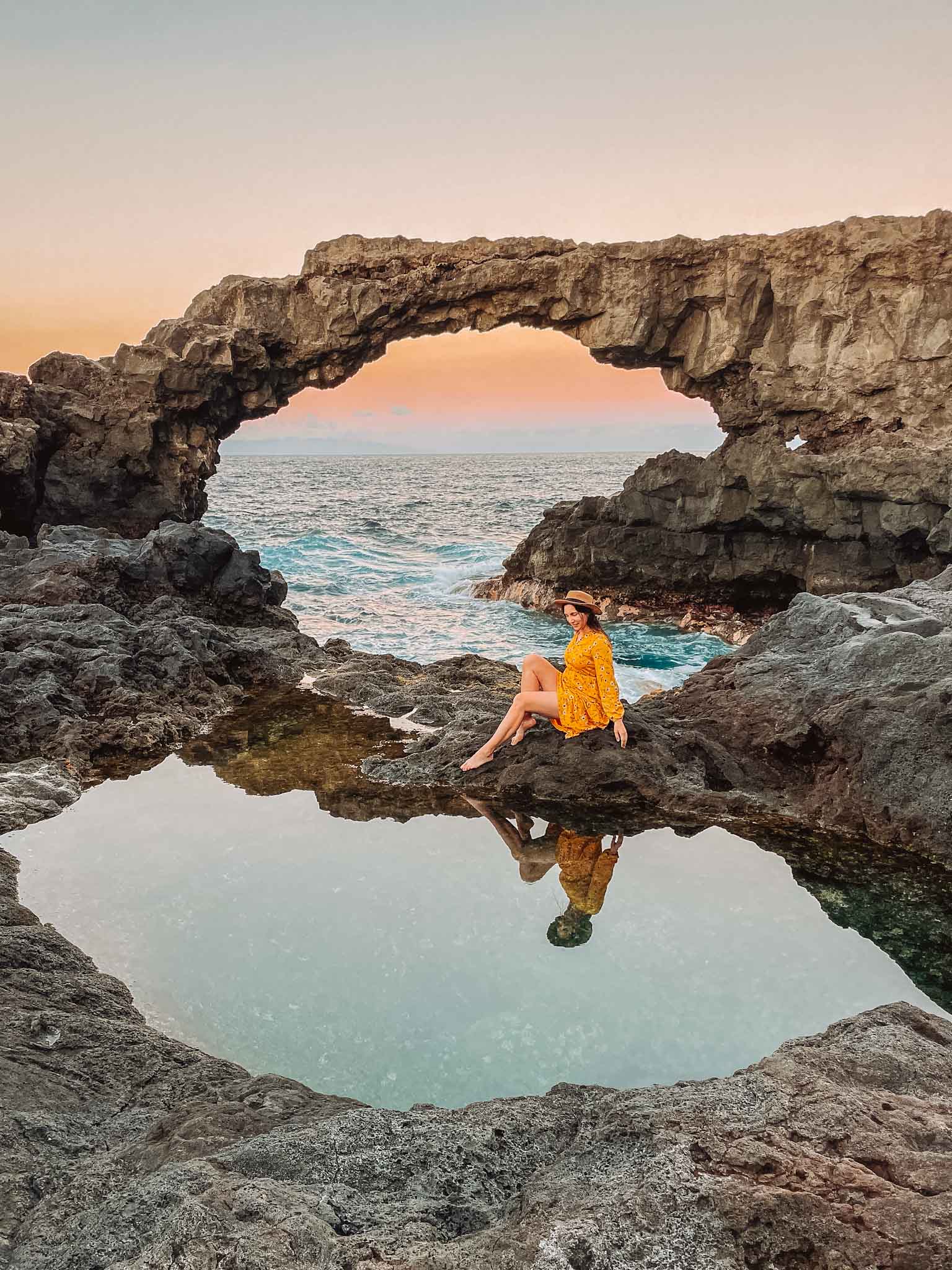 1. Pozo de Las Calcosas
It is a picture-perfect tiny village surrounded by huge cliffs that you can only access by foot after descending a narrow path down a steep cliff.
It is famous for its beautiful natural volcanic pools as well as impressive lava formations. Visiting this village is definitely one of the best things to do in El Hierro!
Location: Pozo de Las Calcosas
2. Charco Manso
Charco Manso is one of my favorite areas in El Hierro. It will definitely surprise you with beautiful natural volcanic pools, rock arches, caves, volcanic tubes, and other crazy volcanic rock formations.
We especially liked the natural stone arch and a natural volcanic pool next to it which is pictured above, by the way.
Location: Charco Manso
3. Árbol Garoé
Árbol Garoé is known as the sacred tree of the island and it is said that the tree could accumulate enough water with its leaves that was enough for the whole population of the island.
Unfortunately, a hurricane knocked down the original Garoé tree, and a new one was planted instead. There is a small entrance fee to this place.
Location: Árbol Garoé
4. Tamaduste
Tamaduste is the most beautiful town on the island, in my opinion! It is a picturesque place that is known for the huge natural pool in the middle of it.
The natural swimming pool is surrounded by a beautiful promenade where you can walk along the water or choose a restaurant and enjoy life!
Location: Tamaduste
5. Valverde
This is the capital of El Hierro and, although there isn't anything world-famous, still, you can definitely stop at La Tafeña restaurant in case you are hungry as well as take a look at the Ethnographic Center 'Casa de las Quinteras'.
There is a hidden gem near the town – a viewpoint with huge white sculptures called 'Monumento A Los Bailarines Herreños'. Check it out!
6. Mirador de La Peña
It is a famous viewpoint above the cliff overlooking the West side of the island. The difference between the valley and the clifftop is about 1000 meters!
There is a building at the viewpoint with a nice restaurant in it where you can enjoy some local cuisine. The mastermind behind the idea of the building was the famous Canarian architect César Manrique.
Location: Mirador de La Peña
El Hierro travel guide: best places to visit in the East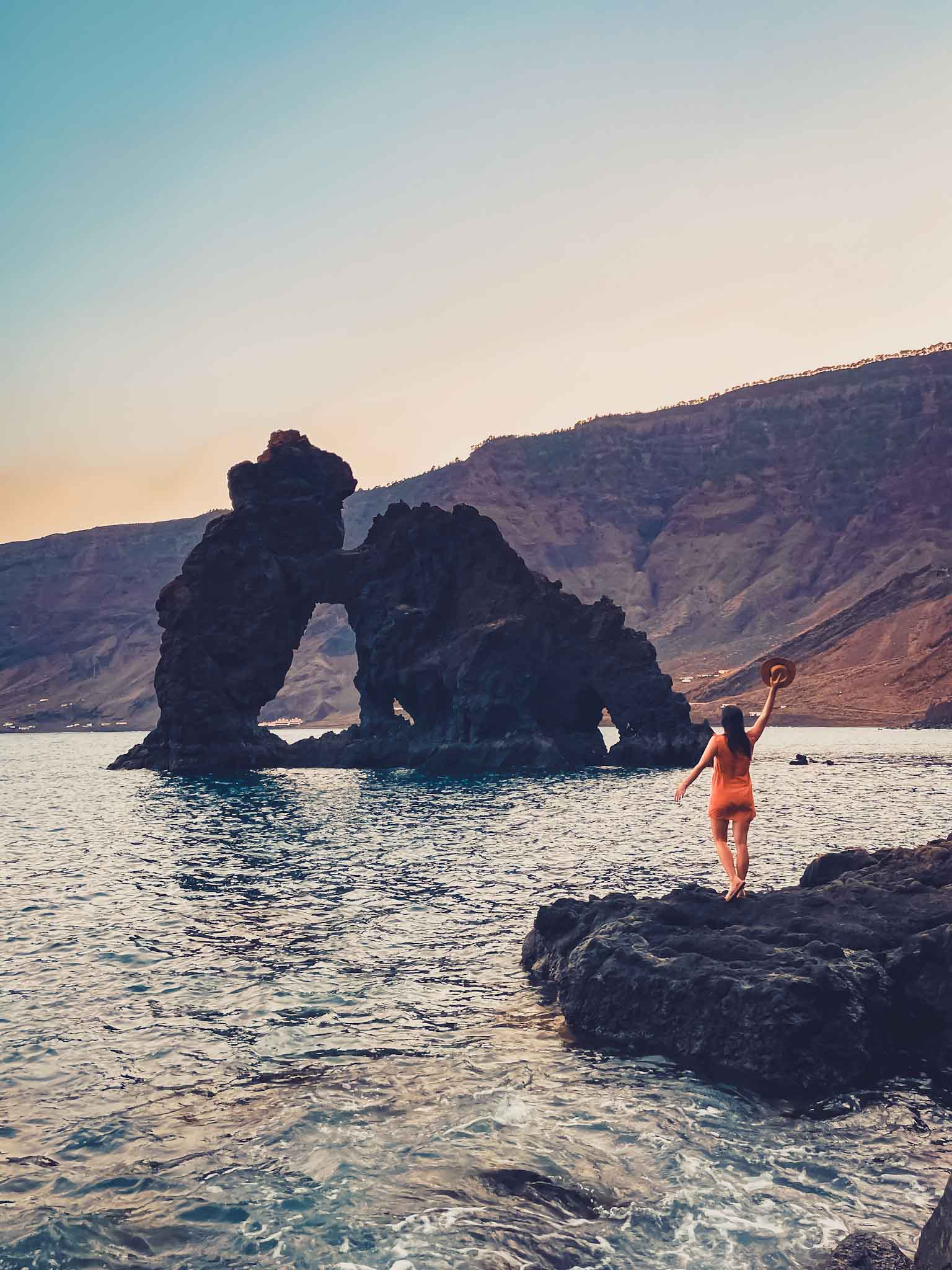 7. El Roque de La Bonanza
Roque de La Bonanza has to be the most famous rock formation in El Hierro. It is a distinctive natural volcanic rock formation near the coast on the East side of the island.
To some, it may even look like an animal-shaped rock formation (pictured above), but what do you think?
Location: El Roque de La Bonanza
8. Mirador de Isora
Mirador de Isora is one of those hidden gems in El Hierro! This viewpoint overlooks the East side of the island and is a great spot for photos as well as simply taking a break from driving and having a picnic.
Another amazing viewpoint around this area is the Mirador de Las Playas overlooking the valley of Las Playas.
Location: Mirador de Isora
9. La Restinga and the Southernmost point of Spain
La Restinga is the southernmost village in El Hierro and in Spain. If you are into diving then this is the hotspot of all the companies that offer diving services.
You can walk to the Southernmost point of Spain which is near the village or try some local Canarian dishes in a restaurant like El Refugio. Or you can drive to the popular swimming spot at Playa de Tacorón to enjoy time in the water.
Location: La Restinga
El Hierro travel guide: best places to visit in the Central El Hierro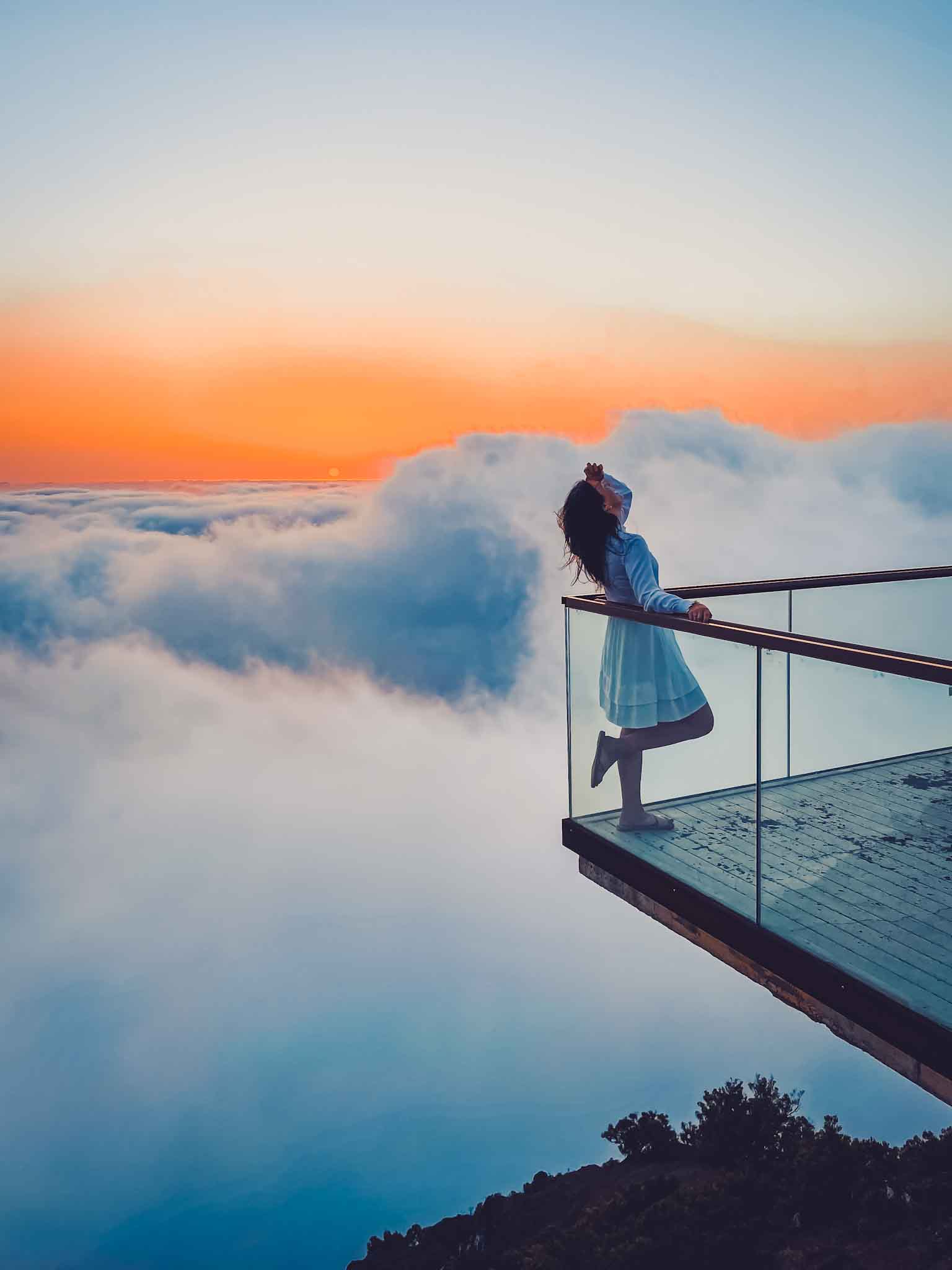 10. Camino Jinama trail
This is one of the most famous trails and also one of the most popular activities to do in El Hierro. What makes it special is the short distance (it is only 3-4 kilometers long) and the huge vertical difference between the start and the finish of the trail (about 885 vertical meters).
At the top of the cliff, there is the most beautiful glass viewpoint – Mirador de Jinama – which I highly recommend visiting during the sunset (pictured above)!
Location: Camino Jinama trail
11. Sendero La Llania trail
La Llanía is one of the most popular walking routes that goes through different types of forests. You will find many somewhat crooked trees covered with moss here and it is definitely spooky at times.
There is a stunning viewpoint along the trail – Mirador La Llanía – where you can observe the West coast of El Hierro. You will also stumble upon Mirador de La Hoya de Fireba – a viewpoint at an impressive volcanic crater.
Location: Sendero La Llania trail
12. Pico de Malpaso
With 1500 meters above sea level this is the highest summit on El Hierro island. The best part about this mountain is that you can actually drive a car to the very top of it!
Of course, we used this amazing opportunity to go there during the sunset. If you are up for a short hike (3km round trip), you can hike to the famous Pino Piloto hollow pine tree that survived a forest fire. Read more about Pino Piloto here.
Location: Pico de Malpaso
13. Campanario de Joapira
One of the most interesting spots on the island is Campanario de Joapira which is basically a church bell tower sitting atop a red volcano – Montaña Joapira.
The bell tower is located at the same spot as Campo de Lucha – an absolutely unique and beautiful red-colored stadium. You can access both places for free.
Location: Campanario de Joapira
14. Charco Azul
Charco Azul is one of the best places to go for a swim in El Hierro. This area is full of smaller and bigger natural volcanic pools and is very accessible at the same time.
Here you will find beautiful caves, archways, and different volcanic rock formations. This is definitely a must-visit place, however, make sure to come here during low tide!
Location: Charco Azul
15. La Maceta
Natural swimming pools in La Maceta are amongst the best spots for swimming on El Hierro island. There are multiple huge swimming pools that are connected to each other, as well as a big parking lot.
A short walk from the pools you will find Mirador Punta del Pozo which is one of my favorite hidden gems in El Hierro. There are two beautiful volcanic arches to explore in case you are into these things.
Location: La Maceta
16. Charco de los Sargos
Charco de los Sargos is another amazing swimming spot in El Hierro. And also, it is another amazing spot to enjoy different volcanic rock formations like volcanic pools, caves, and arches.
If I had to choose a place to go for a swim, I would definitely choose this one as the volcanic pool is deep and big enough even during low tide. If you like beautiful volcanic arches, then I recommend checking out Arco de las Puntas which is a short drive from here!
Location: Charco de los Sargos
17. Ecomuseo de Guinea y Lagartario
In this museum in Frontera, you can visit a set of old 16th-century houses showing how people lived here as well as check out a small volcanic lava tube, plus see how they try to preserve the local species of giant lizard.
There is a breeding site for them. However, there is an entrance fee of 9.50 EUR here and the tour guide only offers tours in Spanish.
Location: Ecomuseo de Guinea y Lagartario
El Hierro travel guide: best places to visit in the West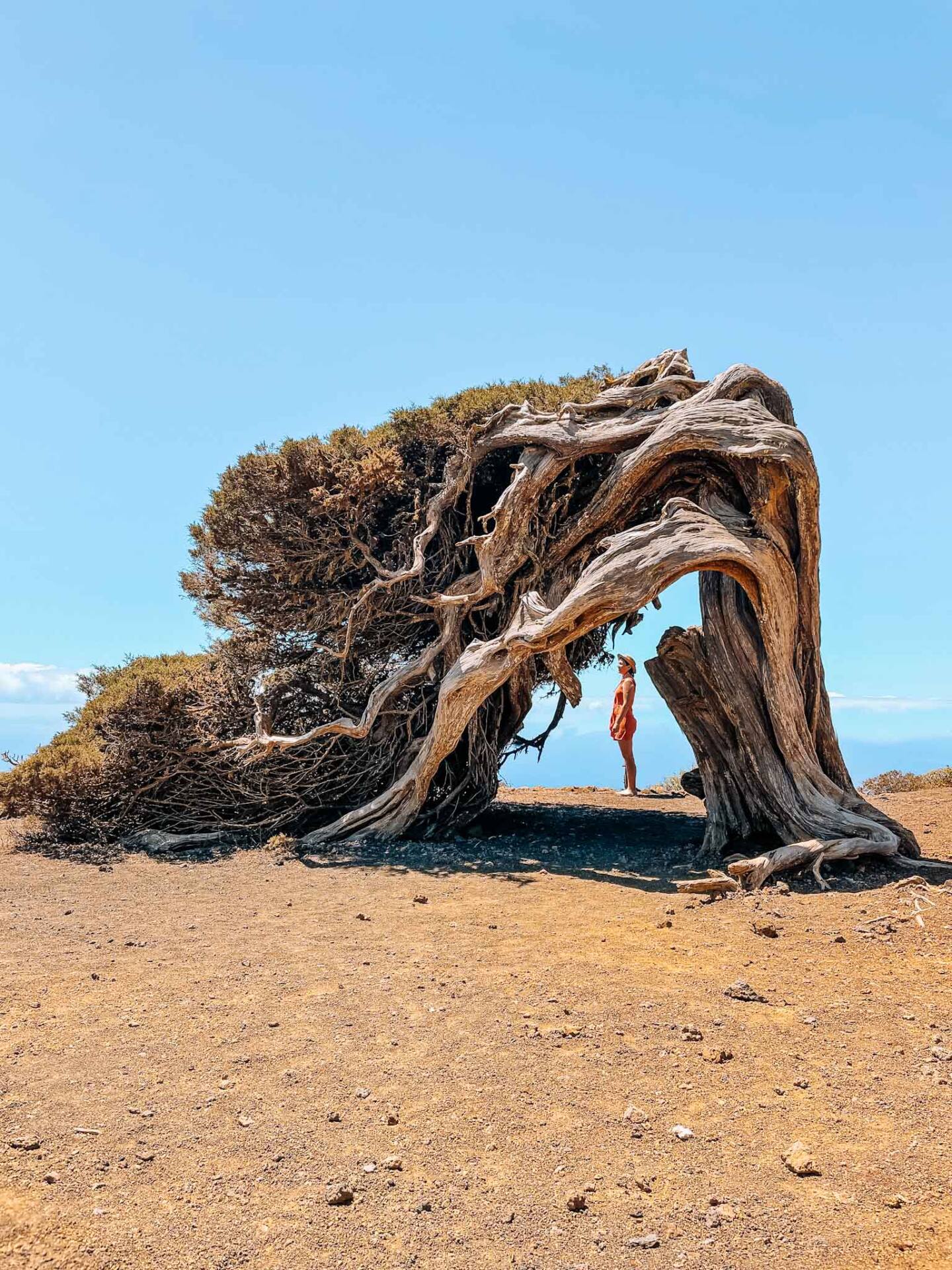 18. Arco de la Tosca
Arco de la Tosca is the longest stone arch in El Hierro. It is also one of the best places to watch the sunset as it is located on the West Coast.
Definitely spend time walking along Punta de la Sal as well because there you will encounter many more giant volcanic arches and rock formations.
You can also pay a visit to Arenas Blancas beach nearby which is the only white sand beach in El Hierro! Not the best option for swimming, tho.
Location: Arco de la Tosca
19. El Hierro Sabinar
This special juniper tree, which is the most famous tree on the island, is fighting the permanent all-year-round Trade winds that blow in the same direction all the time.
So the tree is crooked because of that. You can drive almost all the road to the tree, however, the last kilometers are on a bumpy dirt road. Only the last 200 meters were too bad to drive, so we hiked.
Location: El Hierro Sabinar
20. Faro de Orchilla and a secret volcanic lava tube
Faro de Orchilla lighthouse is a popular place to visit because it is the Westernmost area in El Hierro, a popular place for watching the sunset and you can even walk to the ultimate Westernmost point in El Hierro and in Spain not far from there.
However, there is also one absolutely hidden gem close by – an underground lava tube open to everyone next to the lighthouse. It is about 100 meters long and absolutely dark so you will need a flashlight.
Location: Faro de Orchilla – Secret volcanic lava tube
Where to buy the best quesadilla?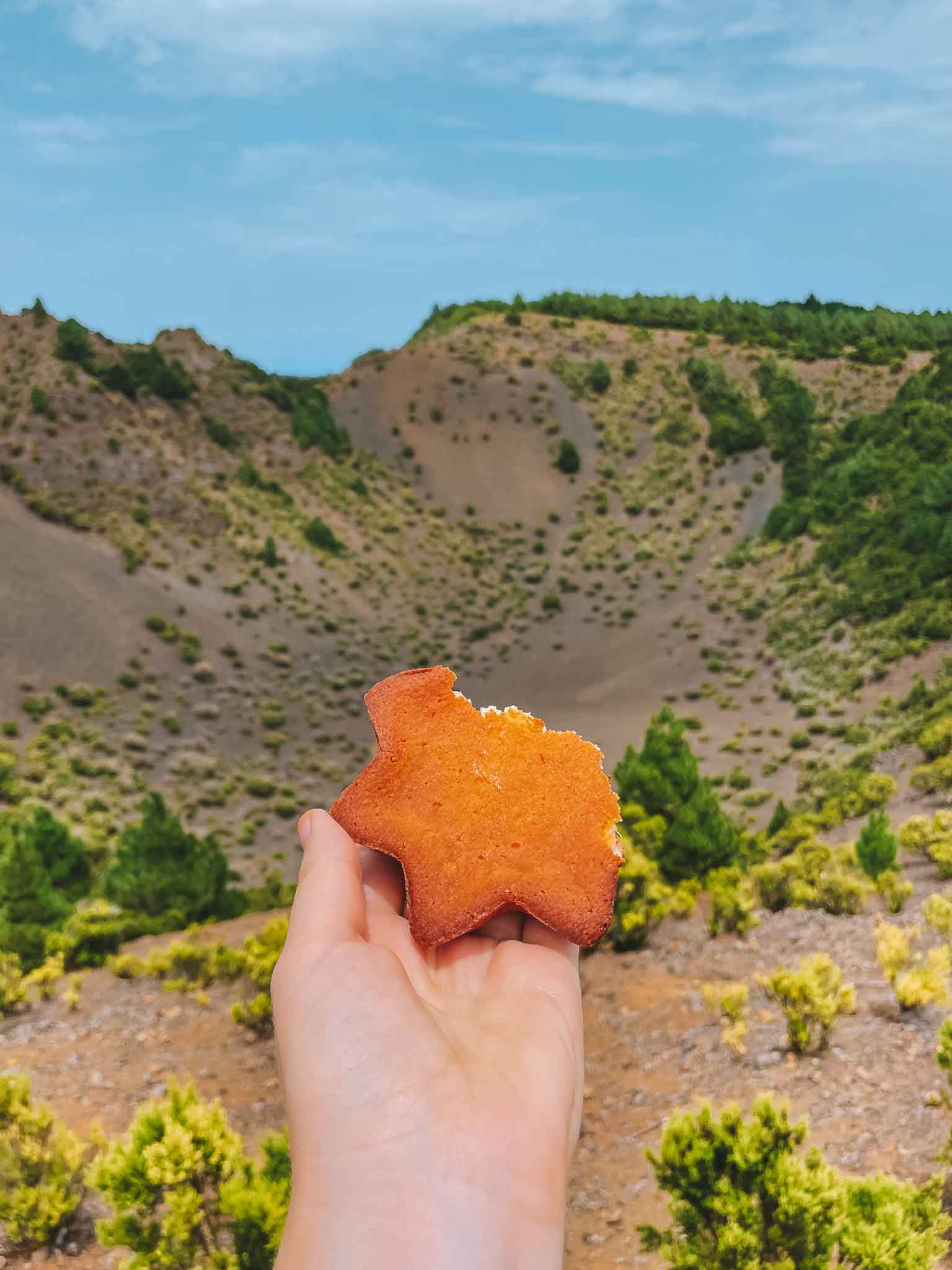 21. Try local quesadillas!
What are the quesadillas? Well, this is one of the reasons we liked El Hierro so much, haha! It is a local dessert that is typical of this island.
It is prepared in the shape of a flower with the main ingredient being a mix of local cheeses. Basically, it is a type of local cheesecake! It is very rich and sweet so you can't eat too many of them.
Where to buy the best quesadillas? We tried many places around the island and decided that the ultimate best and most delicious quesadillas you can buy in Quesadillas Guarazoca. They stay moist and with crunchy edges even days after buying them!
Other places with quite good ones were Quesadillas La Abuela de El Hierro which is located in Frontera as well as Horno y Dulceria Torres on the East side of the island.
Happy exploring!
El Hierro is like a hidden gem of the Canary Islands. Although it is a small island, it is very diverse and has dramatic cliffs, incredible viewpoints, rock formations, impressive hiking routes, beautiful beaches, and, above all, delicious local quesadillas.
If you can, please, leave a comment below if there are any significant changes to anything that is written in this blog post! Many thanks!
PIN FOR LATER!