7 unique caves you should see in Gran Canaria
Exploring caves in Gran Canaria was one of my favorite activities! While traveling around Gran Canaria you can observe that there are caves throughout the island!
Not all of them are worth visiting, so I have created this list of some of the most interesting and unique ones! I have also included two not-so-typical caves for you to visit if you happen to be near and are looking for some extra adventure!
1. Cuevas de las Cuatro Puertas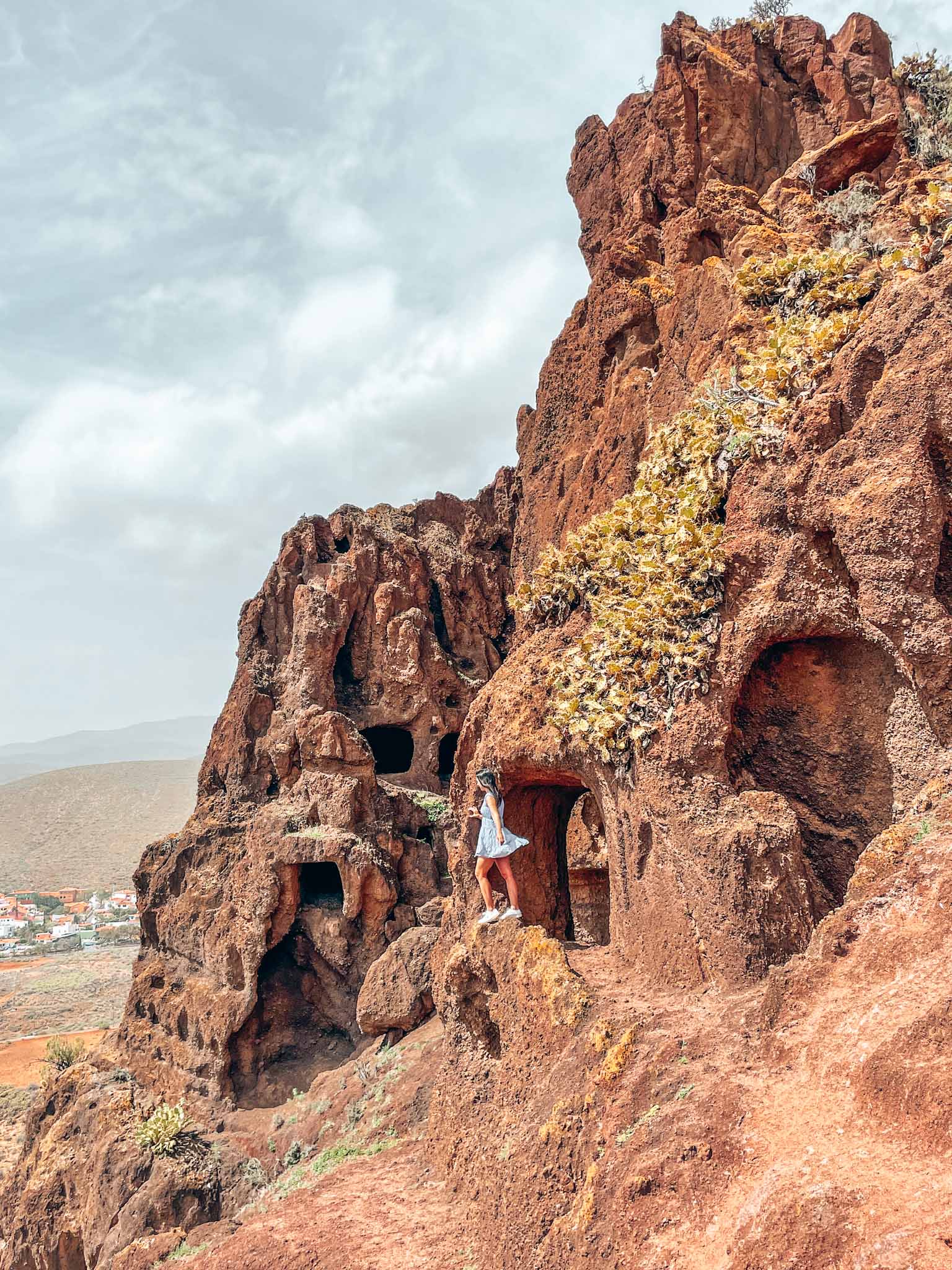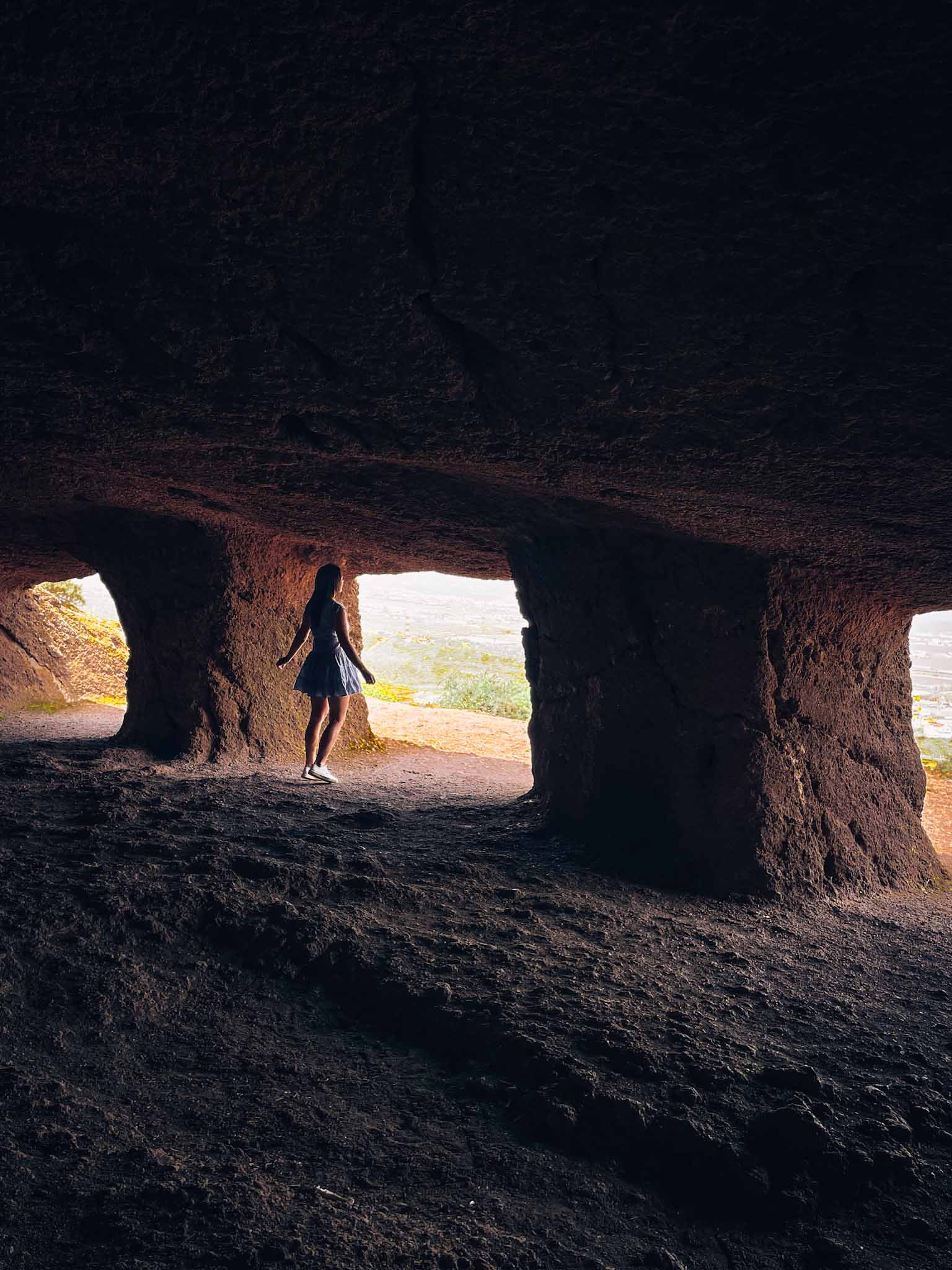 Although the name of this place is Cueva de Cuatro Puertas and it sounds like a single cave, actually it is a complex of caves with 'Cuatro Puertas' cave being one of the most important of them.
This group of caves is located on the mountain Montaña Bermeja. You can drive up there by car and park very near the caves. Then you can follow a path around the mountain top and visit all the groups of caves which once were a place for aboriginal people to store goods and to live.
My favorite spot was Cueva de los Pilares – looks like a small village or like a big family lived there some time ago! It was a cool experience to see such historic places with my own eyes!
Location: Cueva de las Cuatro Puertas · Cueva de los Pilares · Parking places
2. Cueva de San Rafael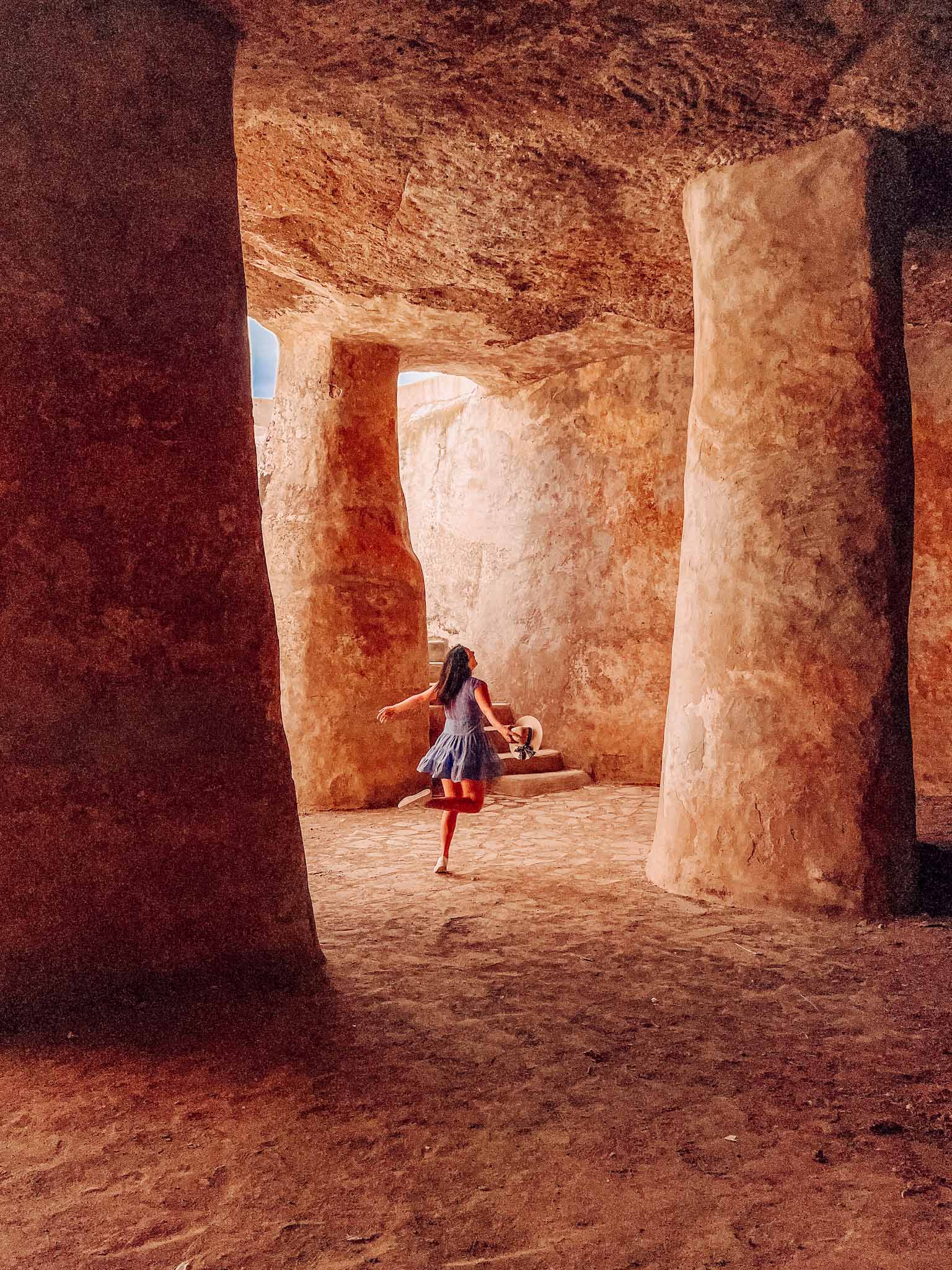 Cueva de San Rafael is actually not a real cave, but it is a water reservoir in an abandoned countryside property near Telde town. When you enter the property (there is an open gate), you will soon see on your right an open underground space with stairs leading further down.
After going down the stairs you will see multiple huge stone pillars connecting the floor to the ceiling. They almost look like something from an ancient Egyptian temple! This place is quite simple and, sadly, totally abandoned, however, it looks really cool in photos.
Location: Cueva de San Rafael · Entrance gate · Parking places
Read more>>> 15 amazing Instagram photo places in Gran Canaria
3. Cuevas del Rey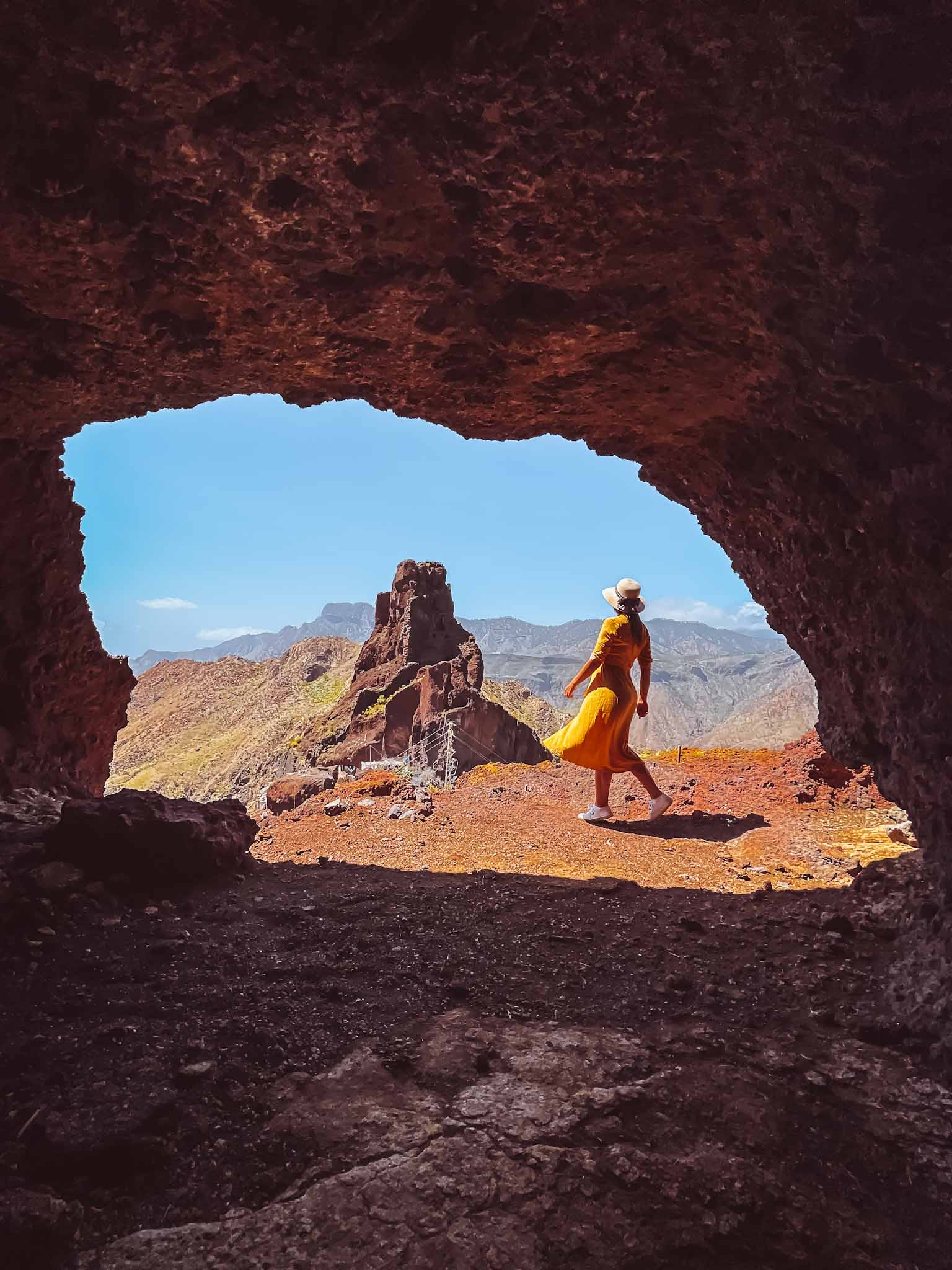 Cuevas del Rey or the King's caves are aboriginal caves located next to a small village 'El Roque' not far from the prominent Roque del Bentayga cliff in the mountains of Gran Canaria.
These were probably my favorite caves in Gran Canaria! Mostly because of their location and great views, but also because of the vibes and atmosphere we got there while exploring the caves above a tiny village into the 'nowhere land'. I sometimes wonder how people even live in such inaccessible places!?
When you drive to the village there are maybe 3 parking places right before the first house. That is where you can park your car or anywhere else where you can find a spot.
Then you have to walk in the village and turn left to a path leading straight up the cliff. There is a small path above the same houses you parked your car at. Then it is up to you how far you go and explore.
There are many caves that are accessible and some are too dangerous to get to. I especially enjoyed the ones that had the view of the village and the rock on the opposite side of the village!
Location: Cuevas del Rey · Parking places
4. Cuevas de Acusa Seca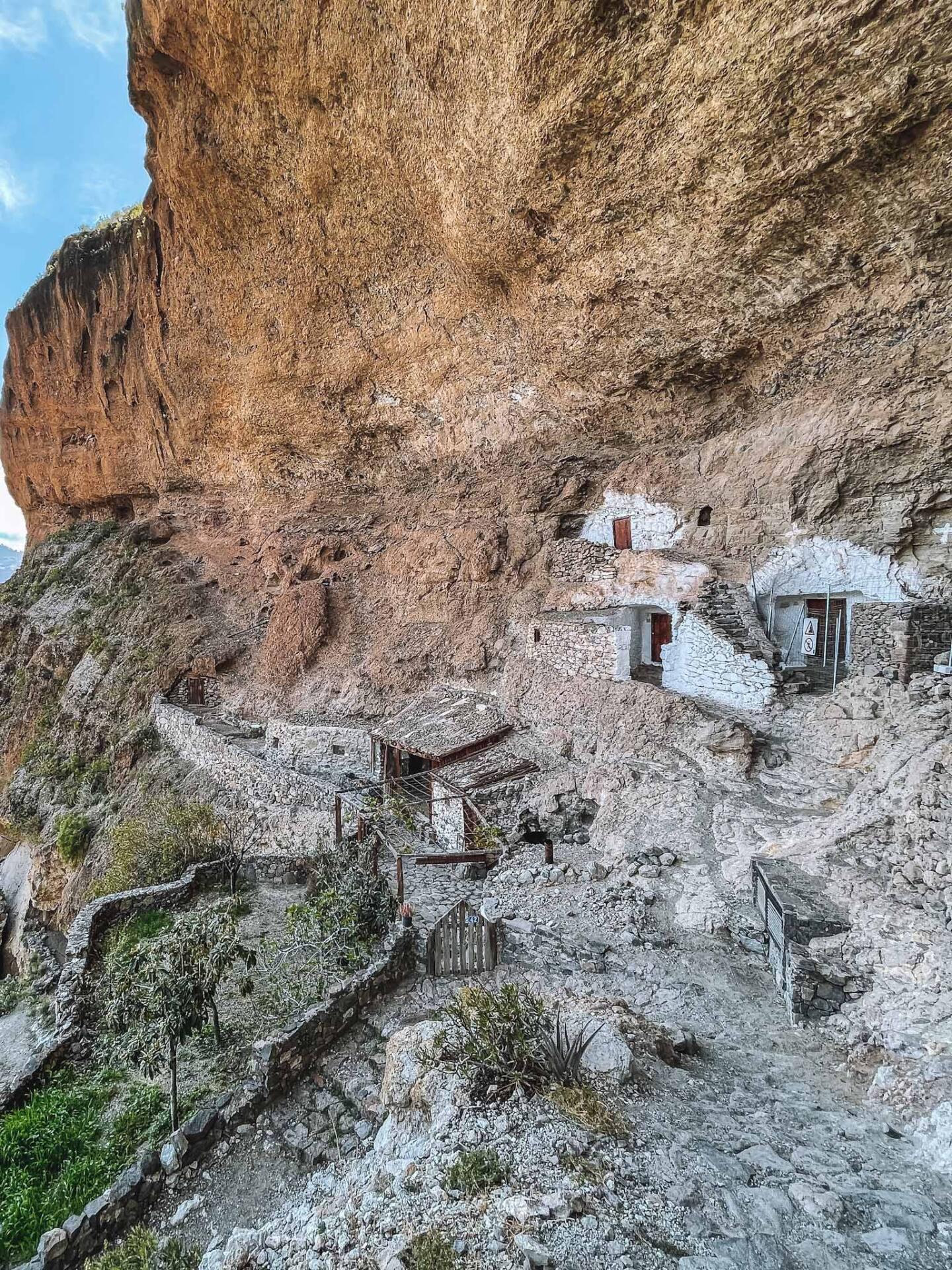 Acusa Seca is an archeological site in Gran Canaria! There are dozens of caves carved into the side of a mountain with incredible views over the mountains of Gran Canaria.
These are probably the coolest caves in Gran Canaria in terms of the view they offer – you can very clearly see both landmark rocks of Gran Canaria (Roque Nublo and Roque Bentayga).
Nowadays some of the caves have been built as cave houses that people can rent as accommodations. If you wish to visit the regular caves, you will have to go past all the cave houses (there is a tiny village – just a couple of cave houses) and then a path will take you along the mountain with numerous caves.
Many are too high and inaccessible, but most of them are at ground level where you can go inside! We followed the path for a while and then just turn back and follow the same route back. It's a nice and easy hike with amazing views!
Location: Acusa Seca village and the start of the trail · Parking places
5. Caves of Valeron
Caves of Valeron or also called 'Cenobio de Valerón' which translates as the 'Monastery of Valeron' is an archeological site of a group of caves that were used as a storage place for goods and tools as well as other purposes by the aboriginal people until the Spanish conquest.
These are the only caves on this list you will be asked for an entrance fee of 3 EUR (per adult). There is a wooden path and stairs built for accessing the caves with information boards along the way. You can see the caves from a distance, but you can not enter them as the soil is too fragile.
There is also a tiny aboriginal house along the path where you can enter and inspect a situation people lived in centuries ago. All in all, it is a nice spot, and very interesting to see so many storage caves together – something you won't see in other cave sites.
Location: Caves of Valeron · Parking place
6. Cueva El Gigante
One of the most unique caves we visited in Gran Canaria was definitely Cueva El Gigante. It is a random place in nowhere but it is an actual aboriginal cave.
What is strange is that, mostly, people lived in groups and you will see a lot of cave sites around the island with many caves located together. But this cave is a giant one and sitting alone on the top of a mountain.
To get there you need to drive to the gate of the Observatory of Temisas and then continue on foot. At first, you have to use the access road of the observatory (you can go around the gate a bit further down the road – there is a path).
Instead of turning in the direction of the observatory, the road will continue straight uphill. You have to walk to the top of the mountain and then look for quite a big hole in the ground.
That is the access hole to the cave. You can enter there and walk down to the cave through a small tunnel. It is not too difficult tho, but you have to bend down to get there. This was one of my favorite caves in Gran Canaria!
Location: Cueva El Gigante · Parking place
7. Sea caves at Taurito beach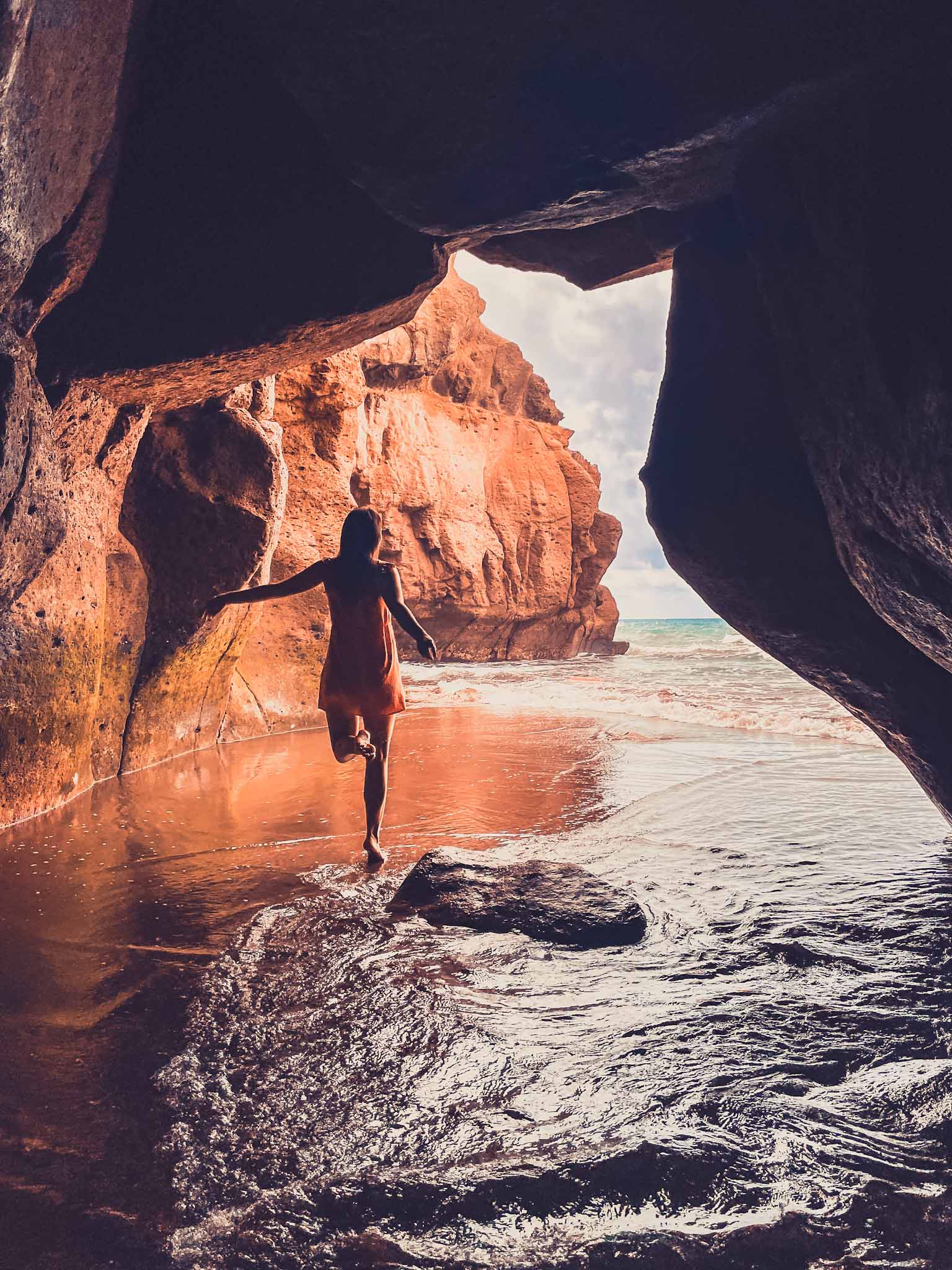 Gran Canaria also offers some spots around the island where you can visit sea caves. One of the easiest places to do so is Taurito beach.
To visit the caves you should wait for the low tide and go to the Southeast side of the beach (if you come from the city, the caves will be on the left-hand side of the beach). They are very close to the main beach so it is not difficult to find them at all!
Location: Sea cave at Taurito beach
Happy exploring!
Gran Canaria is a rich island when it comes to nature, mountains, and aboriginal historic sites. Caves have always been one of my favorite places to visit – they tell a story about the island, how people lived, and how nature formed throughout the ages.
I hope you get to visit at least some of these caves in Gran Canaria! If you can, please, leave a comment below if there are any significant changes to anything that is written in this blog post! Many thanks!
PIN FOR LATER!