Ultimate guide: 17 best things to do and see in Isla Mujeres, Mexico
Isla Mujeres is a magical island at the shores of Mexico full of colorful life, beautiful beaches, and tasty food. Here are the best things to do and see in Isla Mujeres. In this blog post, you will find all the things to do, see, eat and experience with descriptions and locations. Happy travels!
Read also >>> 17 best Instagram Spots For Beautiful Photos In Isla Mujeres
This post contains some affiliate links. If you use these links to buy something I may earn a small commission at no additional cost to you ♥
Best places to visit in Isla Mujeres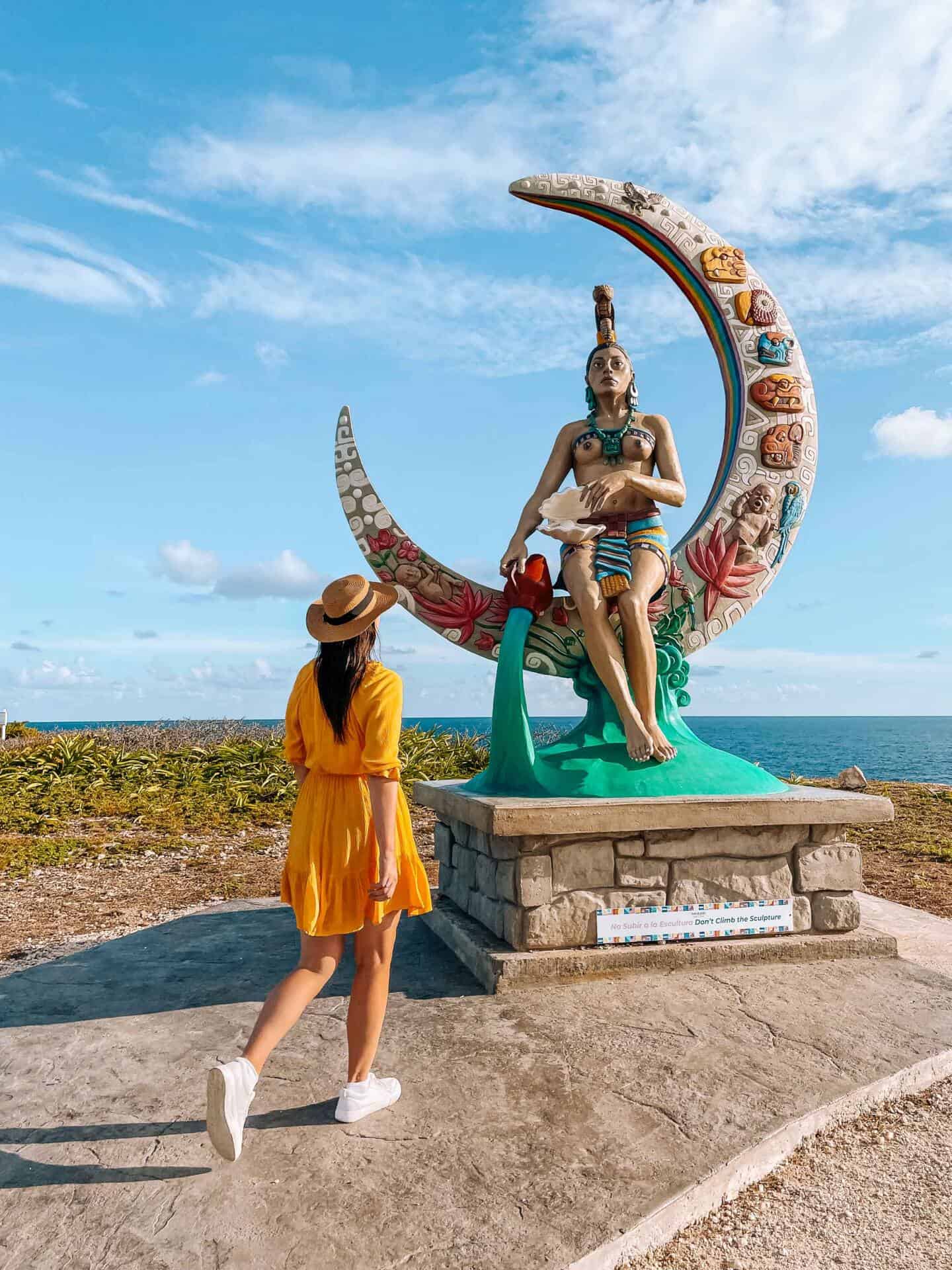 These colorful letters with the background of the endless Caribbean sea tell exactly where you are and how it is going. Because it can only be great in Isla Mujeres! If you feel jetlagged, come here to watch the sunrise in the Caribbean Sea!
2. Enjoy the famous Playa Norte beach!
Playa Norte is probably one of the main reasons people are traveling to Isla Mujeres! It is definitely the most beautiful beach in Isla Mujeres and allegedly one of the most beautiful beaches in Mexico and even in the World. The whole North and Northwest corner of the island is a beauty!
3. Take a trip to Punta Sur!
Take a bus, or a taxi, or rent a golf cart or moped to get to the Southern end of Isla Mujeres! Explore the sculpture park, look at the white-and-blue lighthouse, greet the Goddess Ixchel, admire the coastal cliffs and walk around the ruins of an ancient Mayan temple. The entrance fee to the sculpture park is 30 pesos per adult.
MUSA museum with hundreds of underwater sculptures is probably one of the most famous tourist attractions in the Yucatán peninsula but you can only 'visit' the museum through either snorkeling or scuba diving tours.
5. See the colorful murals and buzz of the streets!
The main part of Isla Mujeres is the Northern end – this is where you will see the buzz of streets and colorful street art everywhere.
Either go on a guided street art, culture, and history tour or walk around on your own – I suggest walking along the busy Miguel Hidalgo street and Avenida Juárez.
Best things to do in Isla Mujeres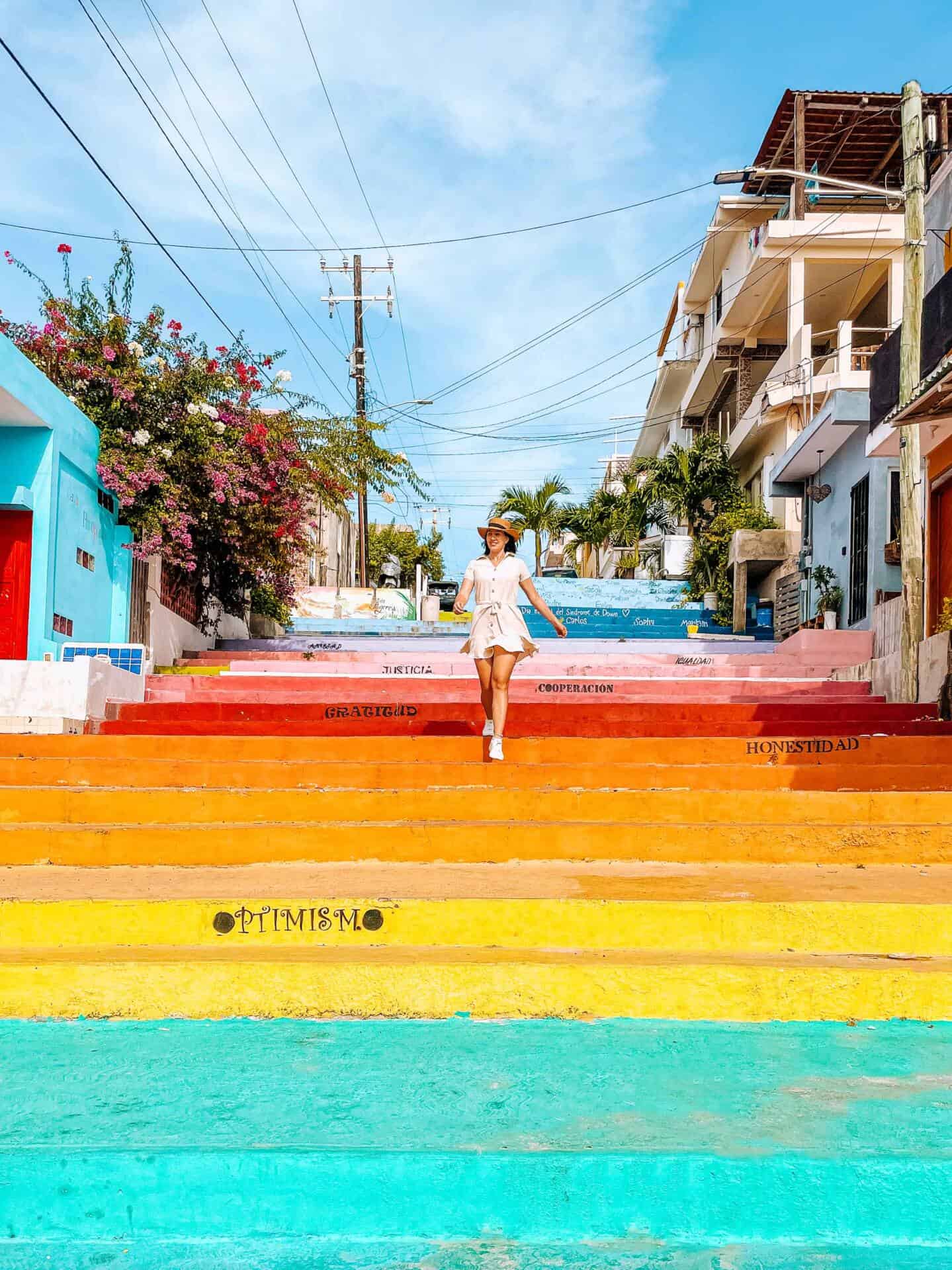 6. Climb the Rainbow Stairs – a hidden gem in Isla Mujeres!
These beautiful rainbow-colored stairs are a hidden gem in Isla Mujeres located in the middle of the island. There are multiple words written on the stairs with positive meanings. Those words include – honesty, gratitude, cooperation, empathy, optimism, and more.
7. Go shopping in the streets of Isla Mujeres!
The best places to go souvenir shopping in Isla Mujeres are the shopping center Perla Negra near the ferry terminal, as well as the red-and-white lighthouse souvenir shop.
You can also walk along Avenida Rueda Medina, Miguel Hidalgo street, and other main streets on the Northern end of the island.
8. Take a trip around the island!
If you only stay in the North, does it count that you have seen the island? It is very easy to take a trip around the island – most people will rent a golf cart or a moped for the day, or take a taxi. There are also buses going around the island and you can hop off anywhere you want.
Fishing in the crystal clear water of Mexico a couple of miles off the coast of Isla Mujeres and trying to catch barracuda, snapper, or grouper (depending on the season) sounds like a fun thing to do with your family, friends, or as a couple!
10. Spend a relaxing day at a beach club!
Beach clubs are a great choice if you want to relax at the beach and have all the amenities available to you. We had a great time enjoying Albatros Beach Club where you pay 40 USD for a huge sunbed and an all-you-can-eat buffet and an all-you-can-drink bar.
Coolest experiences to have in Isla Mujeres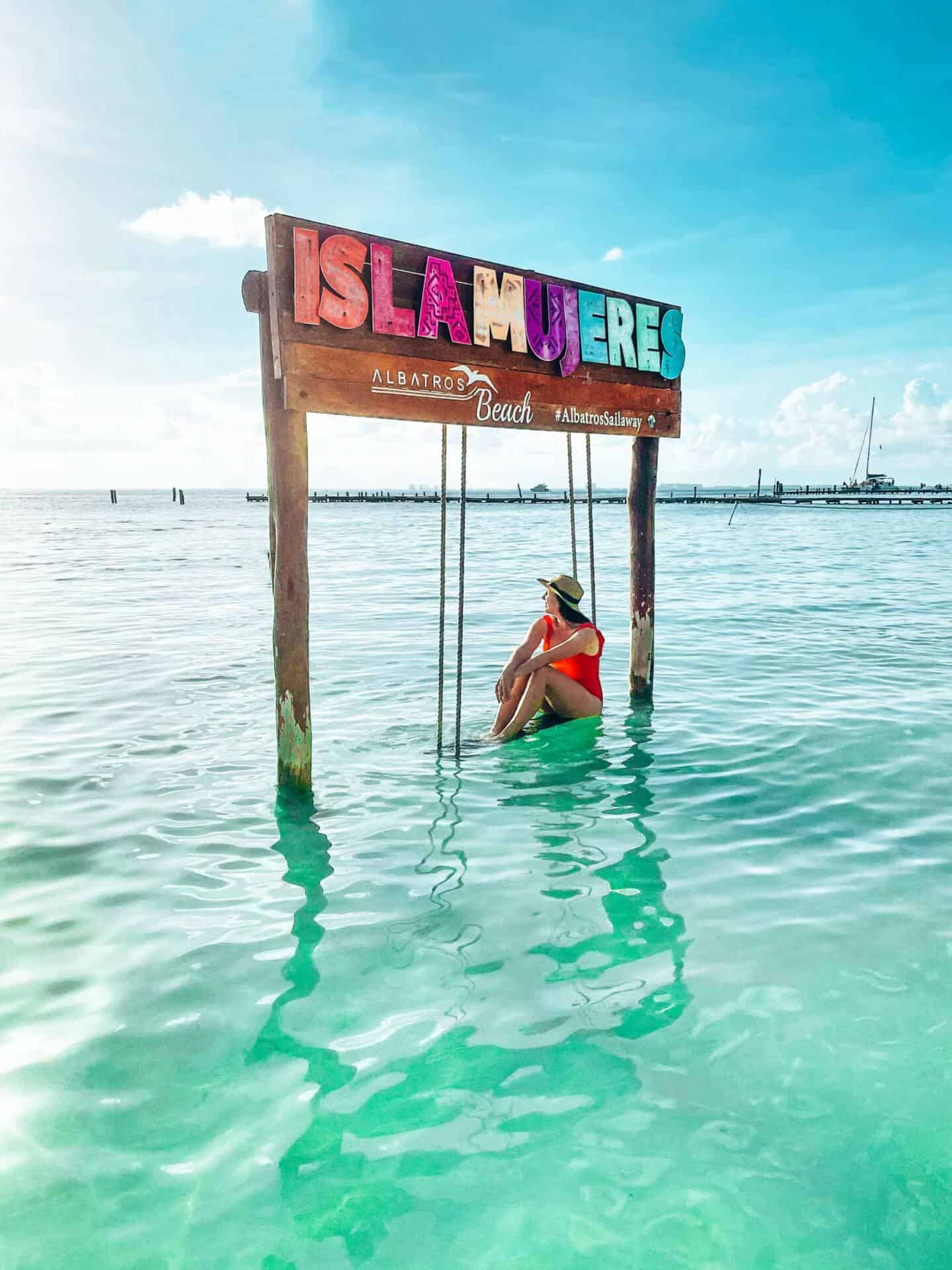 11. Try swinging in the swings in the Caribbean sea!
I don't know if a more dreamy scene is even possible – you sitting on the swings in the Caribbean sea and feeling the warm waves of the sea on your skin.
Seems like an ultimate dream to me! Read more here about different places where you can get swings in the water in Isla Mujeres!
12. Chill in a hammock in the water!
Ok, maybe there is a competition to the swings in the Caribbean sea – laying in a hammock in the warm waves of the Caribbean sea sounds as dreamy as swinging in the swings! There are many places around the island you will find hammocks. We got them at Albatros Beach Club.
A boat trip in a transparent boat in the Caribbean sea to visit the coral reefs, turquoise waters, and colorful marine life. It has to be one of the most memorable things you can do in Isla Mujeres!
14. Experience the coolest place in Isla Mujeres – the IceBar made of ice!
Yes, there is actually a bar where you can enter a room that is built out of ice! You can spend some time there and cool down. For the price you pay (around 20 USD), you get two drinks and a shot. If you are looking for unusual things to do in Isla Mujeres, then this is it!
Best places to eat in Isla Mujeres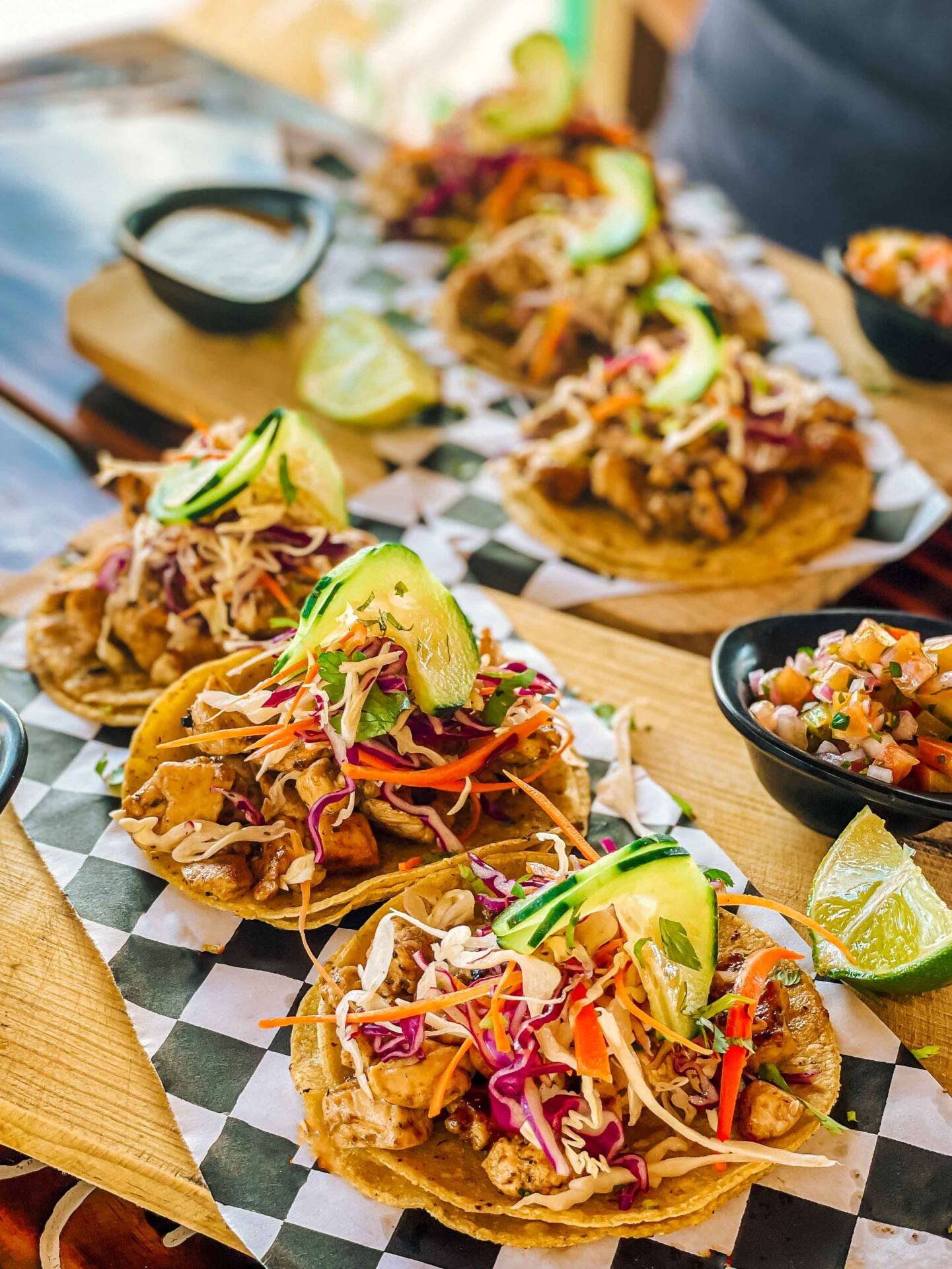 15. Los Tacos de Humo – for the best guacamole and tacos you will ever eat!
This was actually the first place we went to during our stay in Isla Mujeres, and it did not disappoint! Not only their tacos were yummy (one portion is 3 tacos of the same kind), but their guacamole! Wow. It was the most delicious, mouth-watering guacamole I have ever tasted in my life.
16. Beachin' Burrito – for the best burritos in Isla Mujeres!
I can safely say that I had one of the best, if not the best meal in Isla Mujeres right at Beachin' Burrito. After all, burritos are a Mexican dish, so we had to try them out!
This place is really small and there are only a couple of places to sit, but, boy oh boy, the burritos were SO GOOD! I ordered chicken burritos and they came with potato chips and a sauce.
17. Café Mogagua – for a great meal any time of the day!
This place is an all-around great place to go to any time of the day! They open as early as 7 AM and serve great breakfast including eggs, enchiladas, toasts, pancakes, and waffles.
During the day you can get really nice lunch options (salads, soups, burritos, pasta, and so on). But up until 11 PM, they are open for dinner and drinks.
Read more >>> 11 best places to eat in Isla Mujeres, Mexico
Happy exploring!
Isla Mujeres in Mexico is one of those vacation destinations you dream about – palm trees, white sand, turquoise water, colorful houses, and tasty food. A combination of dreams! If you can, please, leave a comment below if there are any significant changes to anything that is written in this blog post! Many thanks!
PIN FOR LATER!