9 exciting adventures for a better trip to Gran Canaria!
Gran Canaria is the perfect place for some easy and fun adventures! There are mountains, beautiful views, and unique nature, as well as crazy mountain roads, unseen rock formations, and historic caves.
You can't possibly explore all of the island, but having some fun and exciting adventures during your trip to Gran Canaria will make it more memorable and thrilling! Here are nine fun and easy adventures you can do in Gran Canaria!
1. Go on a hunt for caves in Gran Canaria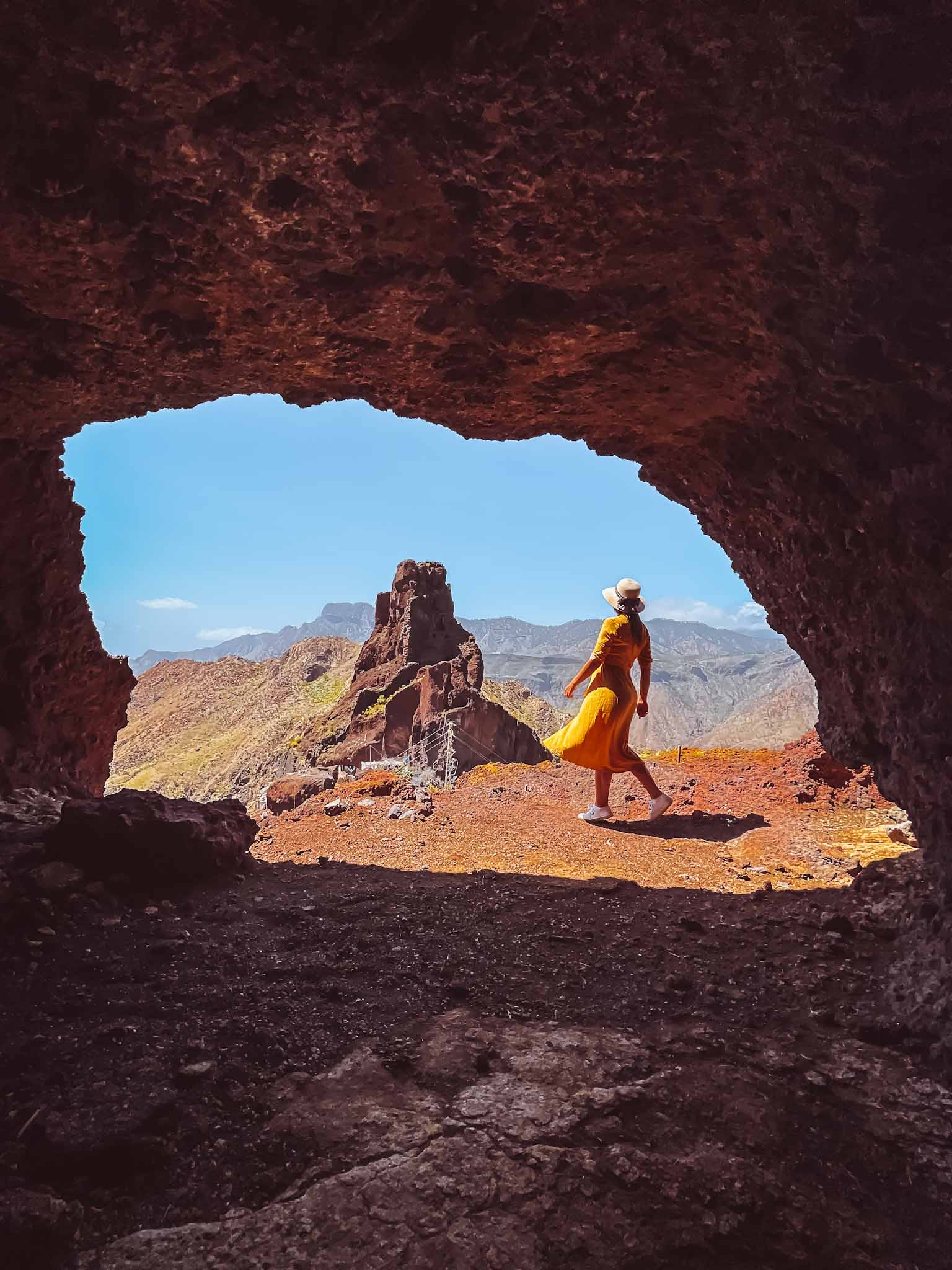 Exploring caves in Gran Canaria was one of my favorite adventures there! While traveling around Gran Canaria you can observe that there are caves throughout the island – there are aboriginal caves like Cuevas del Rey, Acusa Seca village and caves, Caves of Valeron, Cueva de Cuatro Puertas, and others.
But there are also some pretty unique caves like Cueva de San Rafael, which is not actually a cave, but is a man-made water reservoir! We also visited some 'secret' caves like Cueva El Gigante which was one of my favorite caves of all. Read more about the different caves you can visit in Gran Canaria and how to get there HERE!
2. Wait for the sunset above the mountains of Gran Canaria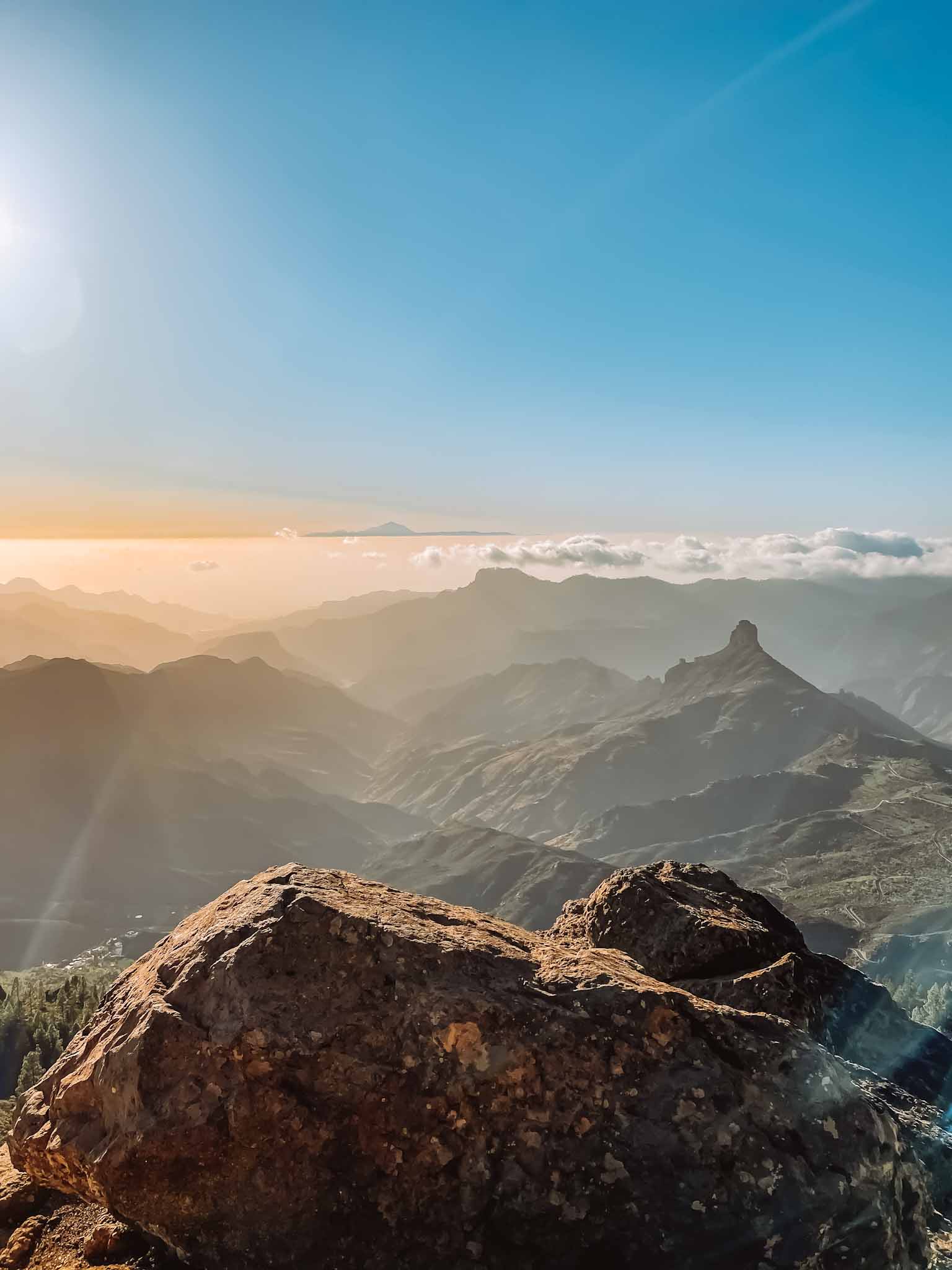 Can you imagine having a picnic during the sunset in the mountains of Gran Canaria while observing the island from above? Maybe even see the Teide volcano in Tenerife?
That is definitely an amazing idea for your vacation in Gran Canaria! Some of the best places to wait for the sunset above the island are Roque Nublo cliff, Pico de las Nieves peak, and Mirador del Balcón!
If you are ready for a 1.5-kilometer hike (one way!), then you should aim for Roque Nublo – it is a popular place for watching the sunset, but at the same time the area is quite big, so there will be a place for everyone.
Pico de las Nieves is reachable by car in case you are already tired from the activities during the day! There is a parking lot at the top, but it is limited, so it is not guaranteed you will have a place there. Mirador del Balcón is another TOP place for watching the sunset.
It is a viewpoint above the ocean on the West coast of Gran Canaria. There are very few places, but you will see the sun disappearing in the ocean and the Teide volcano on Tenerife island right in front of you! Magical!
3. Explore the famous Barranco de las Vacas ravine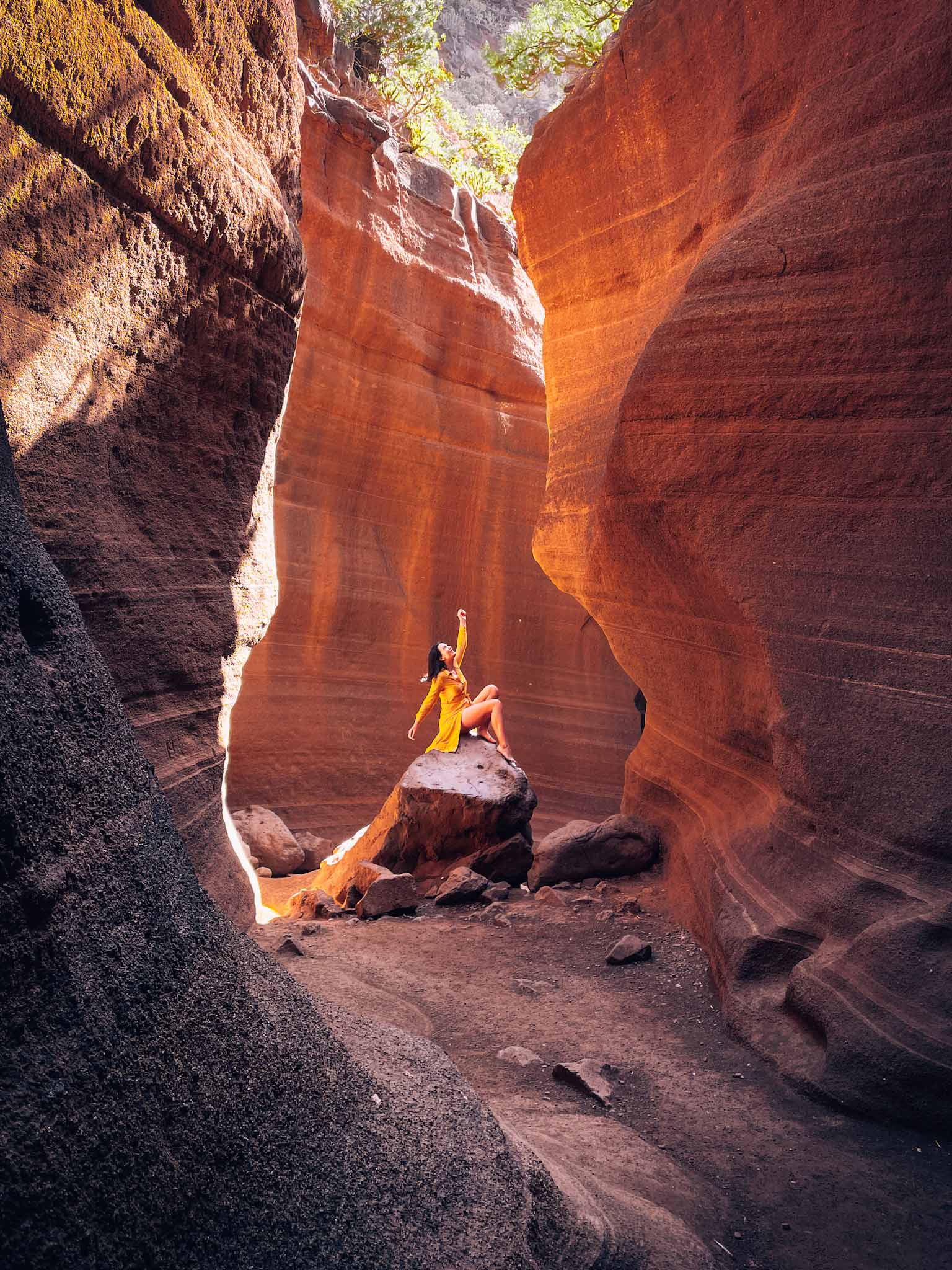 Barranco de las Vacas or Las Vacas ravine is probably my favorite rock formation in Gran Canaria and one of my favorite adventures in Gran Canaria as well! This is an easy one, so you should definitely include this in your Gran Canaria itinerary!
It is a short trail (around 300 meters) that goes through a beautifully shaped and narrow ravine that has been formed due to erosion. It looks simply amazing! You can get there by car (parking places below), and then continue on foot.
At first, you have to reach the bridge, climb over the road fence, and descend down to the bottom of the ravine (there is a path leading downhill). Then go through the tunnel below the bridge and follow the ravine slightly uphill.
It is only about 200-300 meters long so you will soon see all the beauty the ravine offers. I would recommend going early in the morning to avoid bigger crowds! There is also a hiking path in the other direction, however, you will not see anything like these rock formations there!
Location: Barranco de las Vacas · Parking places 1 · Parking places 2
4. Have a picnic above the clouds with cakes from Dulcería Nublo
Gran Canaria had some of the most beautiful views over the mountains I had ever seen. Sometimes I could just sit and stare at the view.
I didn't want anything else! If you are up for an easy adventure, I would suggest buying some snacks and driving to a viewpoint or a special place in the mountains to have a picnic.
If you wish to make this picnic even more authentic I would recommend stopping at Tejeda mountain village and visiting the famous Dulcería Nublo. They have the tastiest cakes in Gran Canaria plus they are at very affordable prices.
You may even have to wait in line to get inside the bakery! After that choose a viewpoint (mirador) somewhere in the mountains and have a picnic there! This will be a chill and pleasant adventure in Gran Canaria in case you are looking for a more peaceful day!
5. Drive to the top of Gran Canaria and see the island from above
In my mind, visiting the highest point in Gran Canaria is a must-do adventure in Gran Canaria! Especially because you can drive up to the very top of the island (well, almost!).
The highest point you can get to by car is Pico de las Nieves, but right next to it is a sharp rock called Morro de la Agujereada which is the highest point in Gran Canaria.
You can't climb up there, but you can look at it from, like, a 30-meter distance. You should definitely use the opportunity to drive to the top of the island!
If you decide to visit this spot, there are numerous extra things you can do! Number one is, of course, observing the highest peak in Gran Canaria – Morro de la Agujereada at 1956 meters above sea level.
But there are a couple of special places right next to it! Just a few meters below the parking lot you will find a rock formation that looks like a mushroom – Roque del Señor Champiñon.
You will have to climb about 30 meters down from the parking lot (there is a path!) to get to it. It is a funny-looking rock that you can access quite easily.
But right behind it, you will find a window-shaped rock – Ventana del Morro – where you can actually sit inside and observe the same amazing views, but more privately than in the parking lot with a lot of other people.
6. Walk around the crater of the most recent volcano in Gran Canaria
Caldera de Bandama is a volcanic crater and is the last known volcanic activity in Gran Canaria that took place about 2000 years ago. The crater is about 1 kilometer wide and 200 meters deep and there is a circular trail that goes around the rim of the crater.
It is not too difficult, so definitely something doable during your vacation! Especially if you wish to check 'walking around the volcano crater' off of your list, haha! The hike around the volcano crater is about 3.5 kilometers long however the length will actually depend on where you will park your car.
There are multiple spots along the road to leave your car. The start of the trail is HERE! In case you change your mind and decide not to walk around it, you can still drive to the very peak of the volcano – Pico de Bandama – and observe the crater from above as well as the views over the surrounding area of Gran Canaria.
7. Explore the Wild West – drive along the crazy West coast mountain roads
If you ever analyze the map of Gran Canaria you will notice, that the East side of the island has a highway going around the island and stretching also to the North and to the South.
But the Westside between Taurito town in the South to Agaete town in the North does not have a highway – only smaller mountain roads. This part was probably one of my favorite parts in Gran Canaria.
Because this Westside is a bit more difficult to access and drive, it is more remote, and quieter and there are fewer tourists. The wild Westside has beautiful mountain roads bending around the sharp coastal cliffs.
They offer you some of the most beautiful sights on the island – a beautiful blue ocean on one side and incredibly steep and rugged cliffs on the other side. On a clear day, you can see Tenerife island with Teide volcano while you are driving along the coastline.
Driving this road is truly an adventure! It will be much slower, but very rewarding! If you like simply driving around and seeing things I would recommend you to start at Taurito town and drive along the West coast up to the North.
Definitely stop at Los Azulejos rainbow rocks as well as Mirador del Balcón on the way. Then make a stop in Agaete town, go to the port and find a nice seaside restaurant to have lunch at.
In Agaete, you can observe the ferries coming into the port from Tenerife as well as the breathtaking rugged coastline next to the ocean. It looks pretty wild and it is something you won't see anywhere else on the island (the coastline of the Eastside is pretty flat).
8. Enjoy the views and do some hiking in the mountains
Being in the mountains is an adventure you must have in Gran Canaria! Driving there is an adventure in itself but going on a hike is even better!
There are numerous hiking trails in Gran Canaria, and if you are going there to do mostly hiking, then this blog is not for you. I want to offer some easy and cool adventurous things for simple tourists who have come to the island to enjoy but to do something fun as well.
Hike to Ventana del Nublo
A hiking adventure that is not too difficult could be hiking to the Ventana del Nublo – a beautiful window-shaped rock formation where you can see Roque Nublo through it.
It is a 1.5-kilometer hike one way with just a few vertical meters. Very easy and doable even for kids and elderly people. Grab some snacks and have a picnic there! Read more about hiking to Ventana del Nublo HERE!
Hike to Roque Nublo
The second hiking adventure you must do is a 1.5-kilometer hike to Roque Nublo. It will require some more climbing, but if you take your time and don't rush, then it is very doable also for kids and elderly people.
Roque Nublo is the most famous rock formation in Gran Canaria, so make sure to avoid driving there during peak hours. You won't even have any parking places!
Hike to Ventana del Bentayga
The third hiking adventure I recommend doing is of moderate difficulty. It is definitely more challenging because it requires some off-road hiking skills and sometimes you need both hands and legs to get up the mountain.
The hike to the Ventana del Bentayga is a 1.6-kilometer hike one way, but you will have to climb some 200 vertical meters. However, I have to say that this was my favorite hike and the views were stunning!
This is also a more unknown hike, and we were the only people there. Read more about hiking to Ventana del Bentayga HERE!
9. Explore the local desert – walk on the sand of Maspalomas Sand Dunes
Maspalomas Sand Dunes is a natural phenomenon! I mean, how can an island be of volcanic origin and have a golden sand desert on it? But it is all natural – the sand has been washed up from the Atlantic Ocean!
If you are done with the mountains and want a different kind of adventure, you should go to Maspalomas Sand Dunes and walk around, take some photos, take a walk along the beach and take in the view – the blue ocean on one side and the golden sand desert on the other side. Maybe have a picnic or spend a day at the beach?
Happy exploring!
Gran Canaria is the perfect island for adventurers! You have it all on this island – a beautiful coastline, beaches, mountains, volcanos, amazing views, and crazy roads. It would be such a shame not to explore the island to the fullest!
I hope you get to do at least some of these easy and exciting adventures in Gran Canaria! If you can, please, leave a comment below if there are any significant changes to anything that is written in this blog post! Many thanks!
PIN FOR LATER!