Charming Óbidos: 17 best things to do in Óbidos, Portugal
The medieval town of Óbidos is one of the most charming places in Portugal. Referred to as the 'Town of the Queens' this place introduces you to medieval architecture through its narrow cobblestone streets, squares, walls, and the medieval castle.
Óbidos is the perfect destination for a day trip from Lisbon! We visited Óbidos in the middle of summer, exploring known and hidden corners of this magical town including Óbidos castle, Rua Direita street, city walls, and the famous Óbidos chocolate shops.
But my favorite place in Óbidos was the Porta da Vila gate with the beautiful Portuguese tiles – azulejos! In this blog post, you will find all the best things to do in Óbidos with photos, descriptions, and locations on Google Maps. Happy exploring!
This post contains some affiliate links. If you use these links to buy something I may earn a small commission at no additional cost to you!
1. Visit the glorious Castle of Óbidos!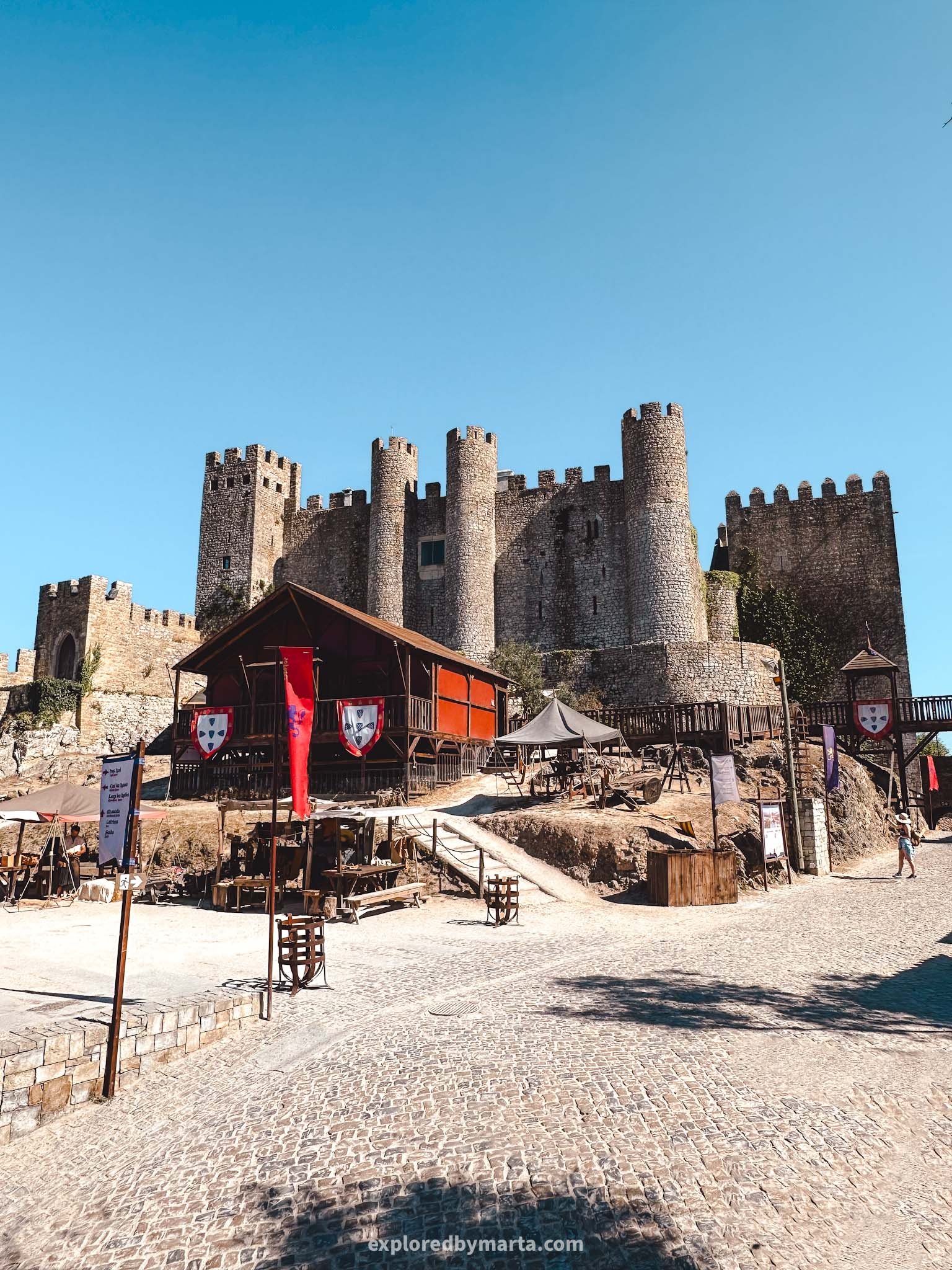 One of the must-do things to do in Óbidos is to visit the Óbidos Castle. The castle is one of the most famous medieval castles in Portugal and is among the Seven Wonders of Portugal – the most iconic landmarks in Portugal voted by the Portuguese people.
Want a local guide? Join Medieval Tales and Secrets Spots Walking Tour in Óbidos!
Construction of the castle took place during the 12th and 13th centuries, but the castle and the fortifications were rebuilt, expanded, and renovated over the centuries that followed. The castle also suffered great damage during the 1755 Lisbon earthquake.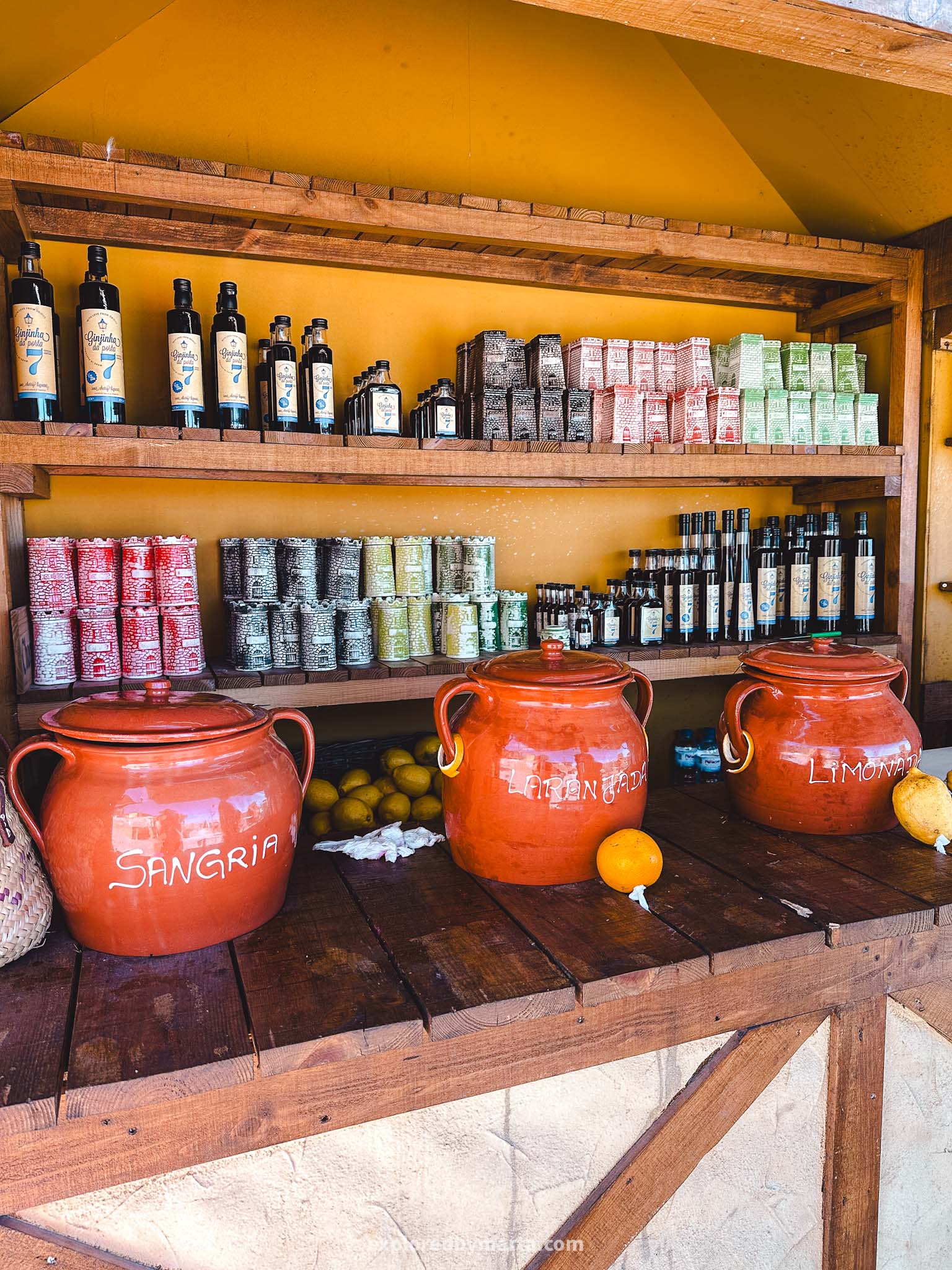 Óbidos Castle sits on a hill about 80 meters above sea level. It is part of a defensive structure that consists of the castle, towers, and defensive walls that completely encircle the Óbidos Old Town.
The castle building mixes different architectural styles and has elements of Gothic, Manueline, Baroque as well as Romanesque architecture. During the medieval centuries, this town and castle were favored as a residence by many Portuguese queens.
The castle itself today is turned into a luxury hotel, so you cannot visit the castle as a tourist unless you book a stay there.
It is part of a hotel network in Portugal called 'Pousadas de Portugal' where historic state-owned buildings (like castles and palaces) are turned into hotels. This helps the state earn income to maintain the old buildings.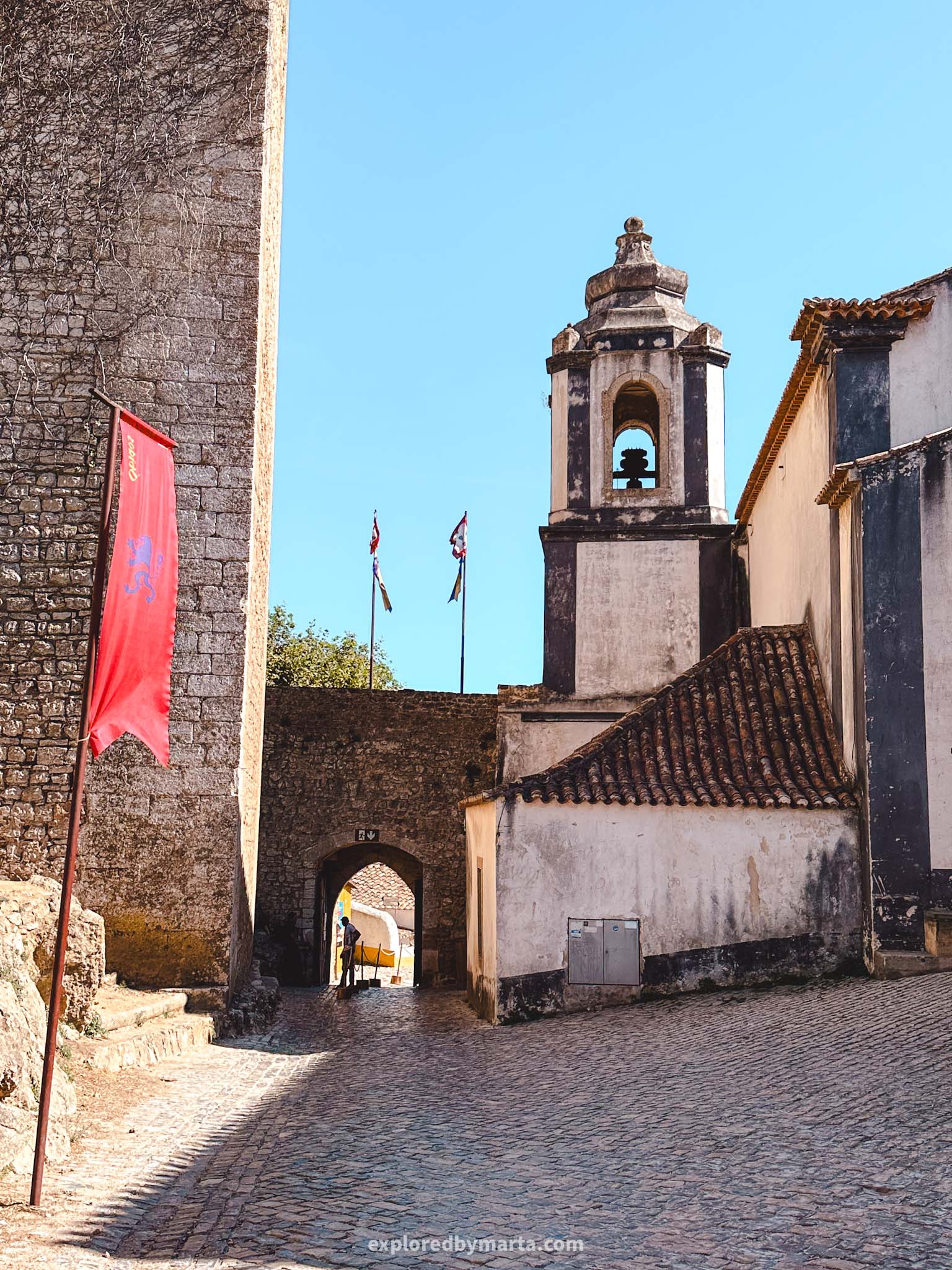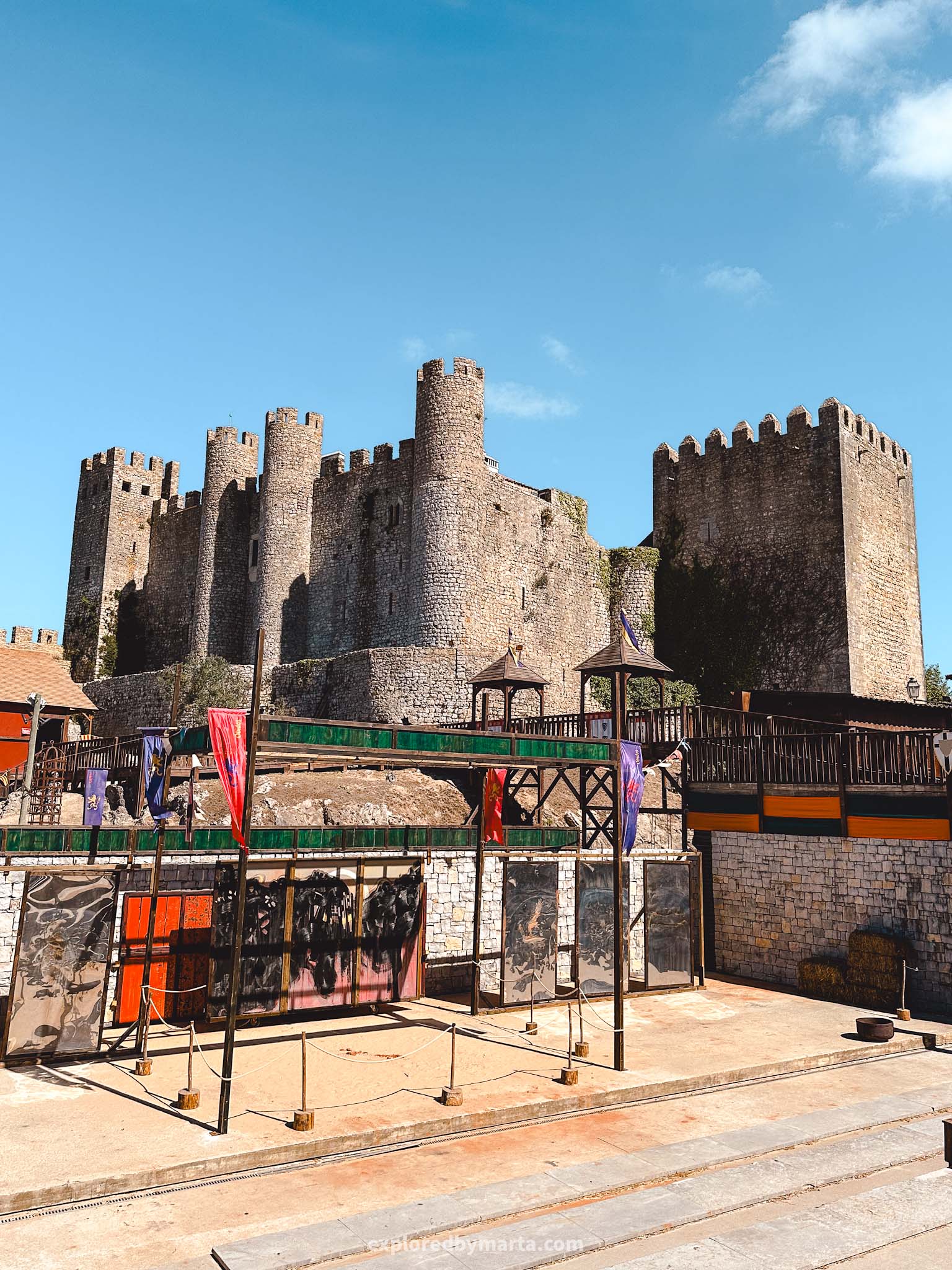 Óbidos Castle also hosts medieval shows and activities. You can see the program at the entrance to the castle grounds, however, when we visited there must have been a lunch break as nothing was going on.
In any case, it looked like a fun place with medieval singing, different tools and arms, some food, and other activities. But we did get a typical Portuguese lemonade in a special clay pot in the shape of a castle tower. We got to keep it as a souvenir!
Location: Castle of Óbidos
2. Walk around the medieval walls of Óbidos!
Did you know that the entire town of Óbidos is encircled by massive defensive castle walls? It is true. And the best part about it is that you can actually walk around the town walls like a town guard a couple of centuries ago!
You can climb on the walls using stairs near the Óbidos castle or next to the city entrance gate – Porta da Vila. The perimeter of the walls reaches more than 1500 meters (nearly a mile) and offers amazing views over the whole town!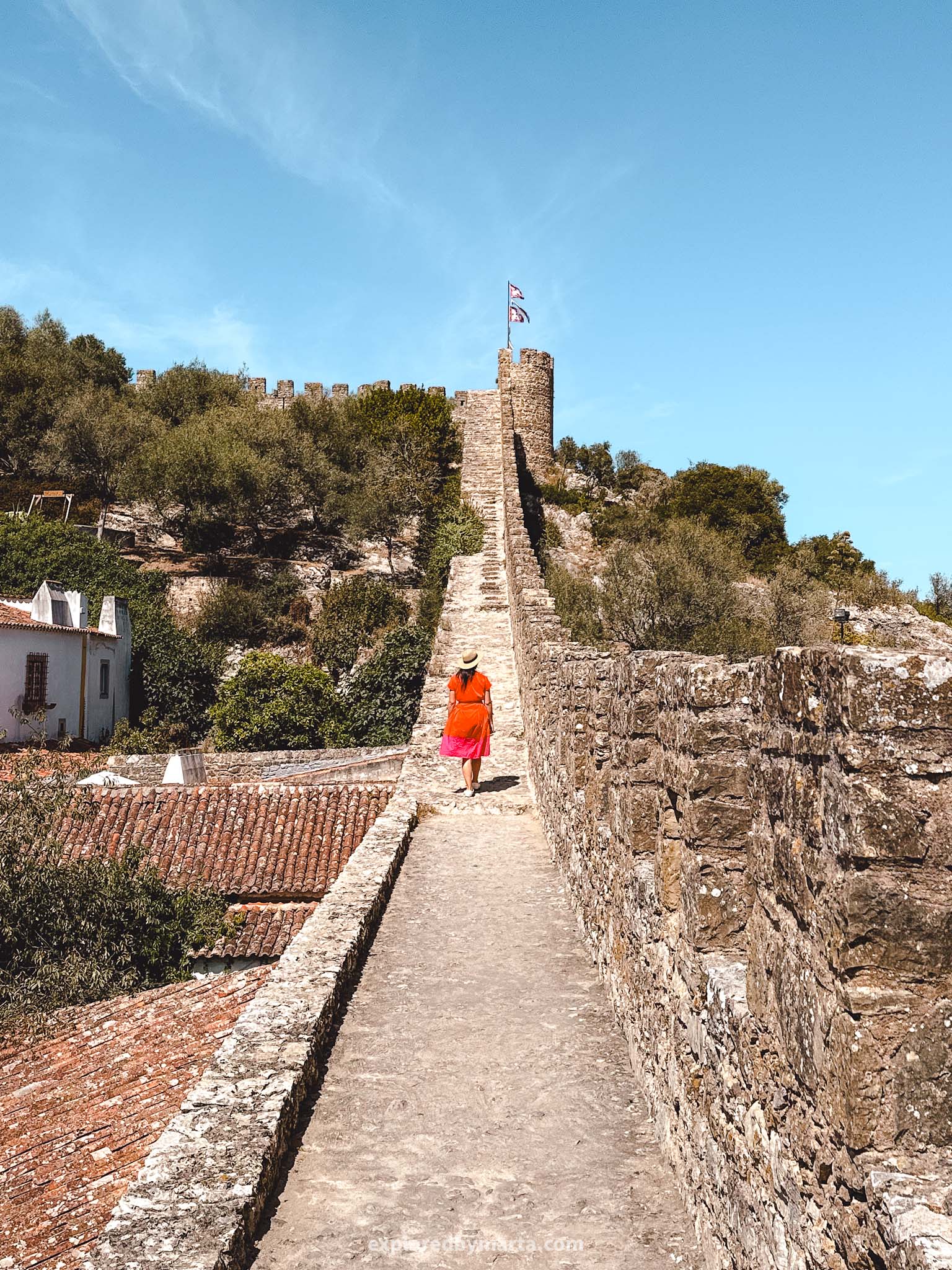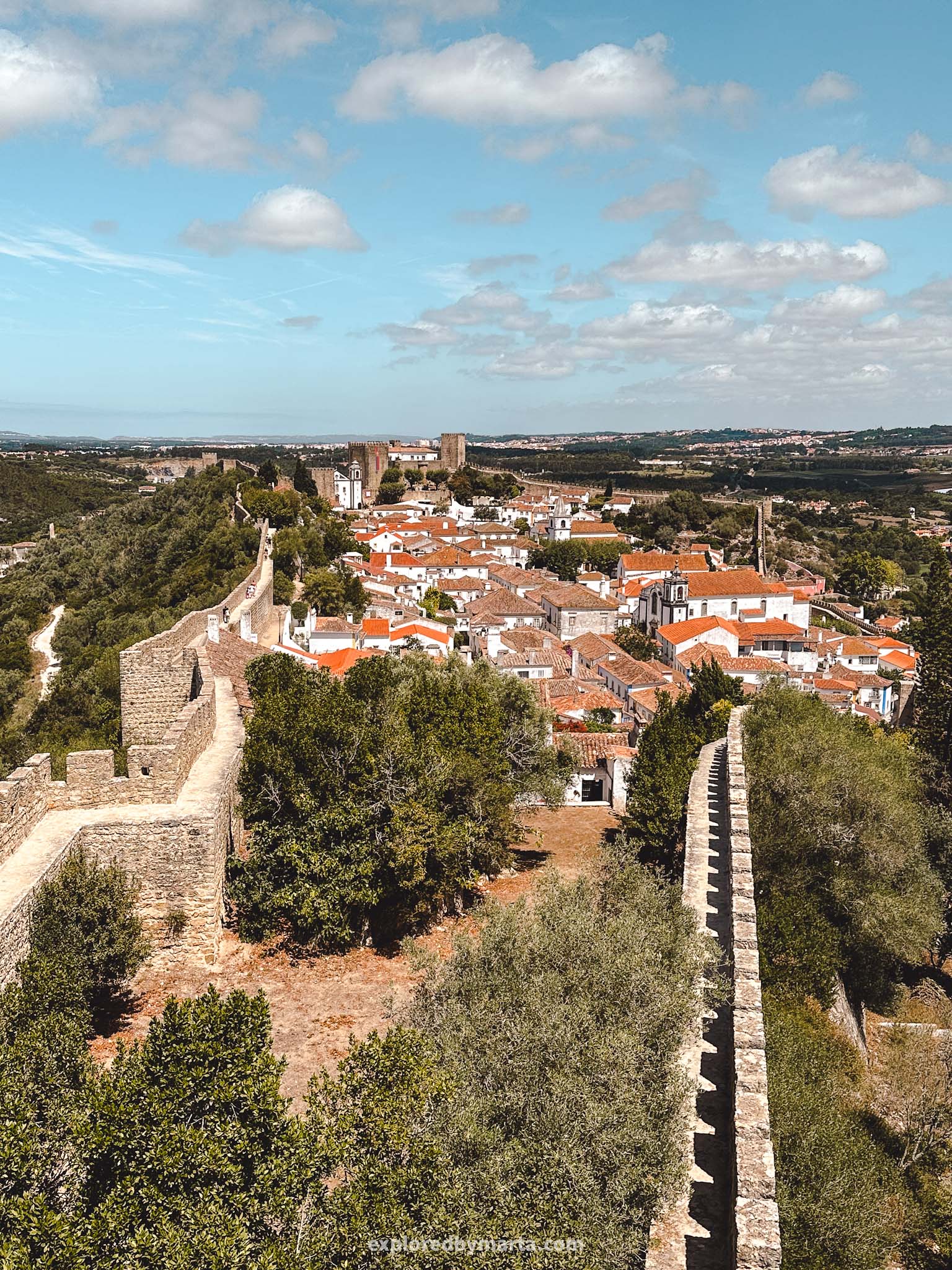 This small town is like no other in Portugal. In 1210, King Afonso II, the third king of Portugal, gave the title of this town to his queen, and ever since that moment, this town has had a special connection to Portugal's queens.
Later in the 13th century, King Dinis offered Óbidos to his wife Isabel on the occasion of their marriage. Although it was part of her dowry (payment for the marriage), people love to romanticize the fact and call this town a gift to the queen!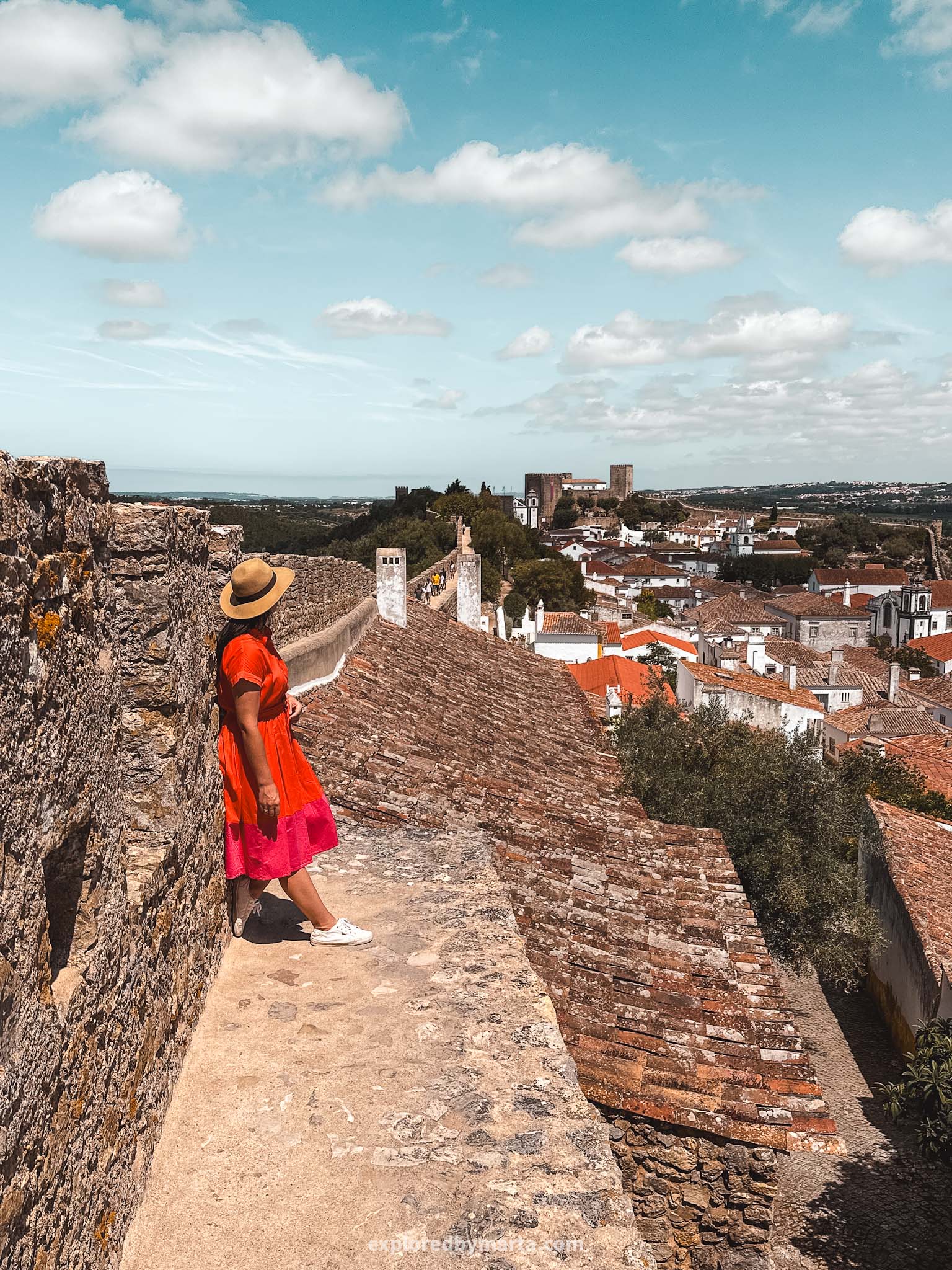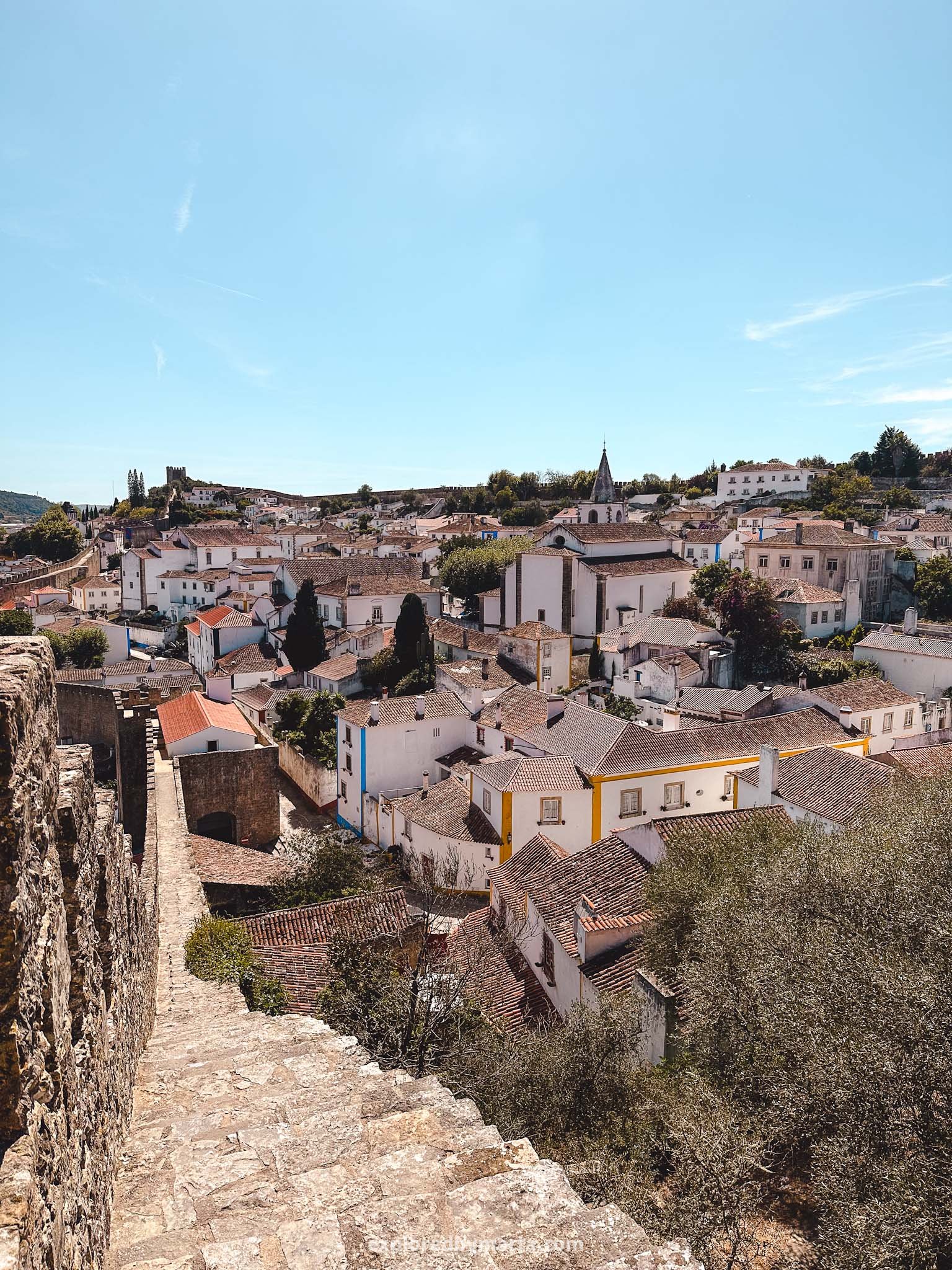 Walking around the town walls was one of my favorite things to do in Óbidos! However, at times the path is rather narrow and there are no fences, so you have to be careful. In some places, the walls reach as high as 13 meters!
The path takes you along many defensive towers as well. I felt like a true knight guarding my town, haha! The town was fortified by the Moorish as far back as the 8th century, however, the walls were later restructured and rebuilt by the Portuguese.
Location: Wall of Óbidos
3. Take a photo at the famous Porta da Vila gate!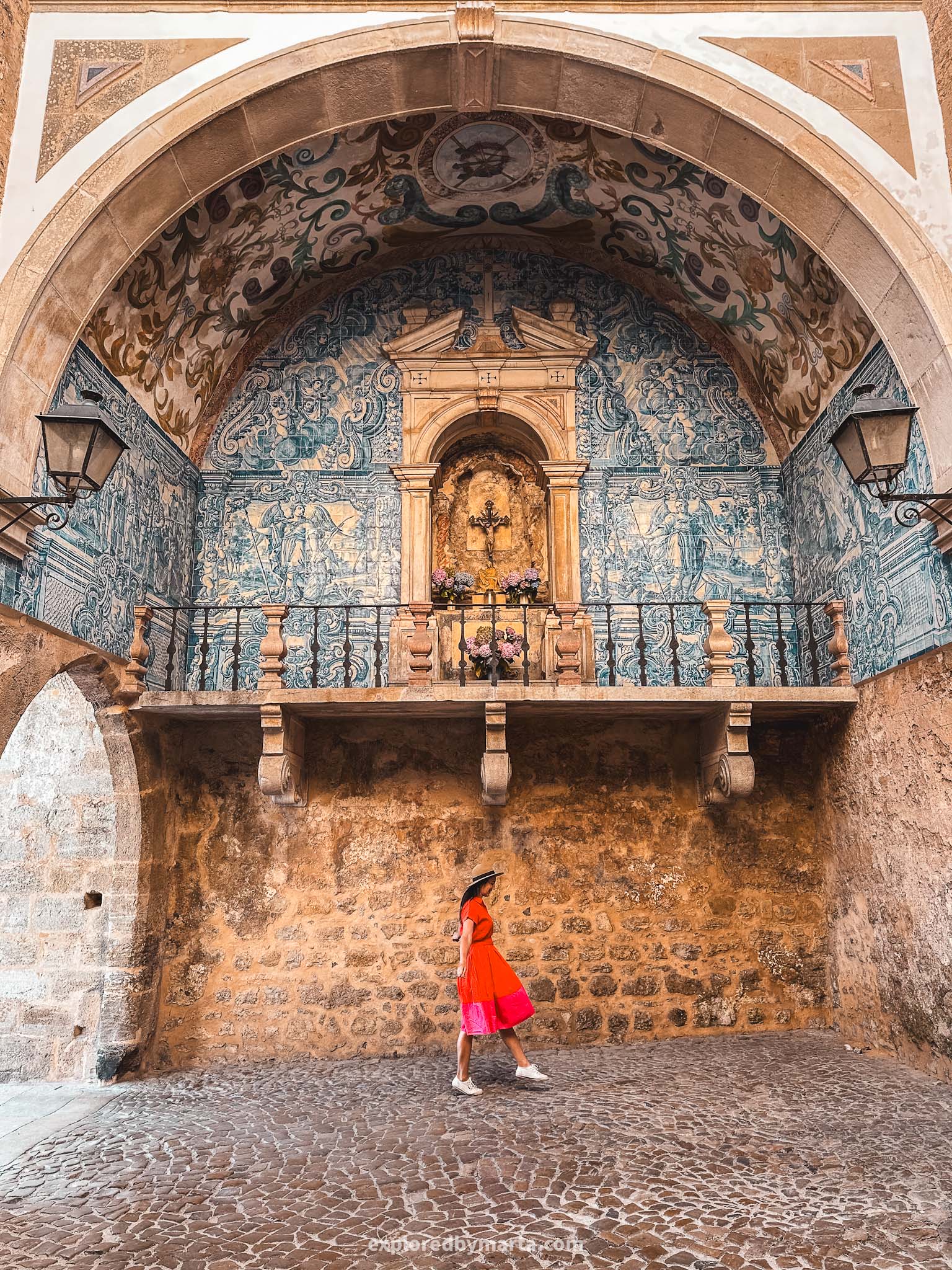 Porta da Vila was my favorite attraction in Óbidos. It is a stunning entrance gate to the town that is still used today as the main entrance to the fortification. Cars and even minivans regularly use this gateway as we noticed when we were there.
The gateway is the best photo spot in Óbidos thanks to the stunning Baroque balcony and blue and white azulejo tiles. Construction of the main gateway dates back to the 14th century and here you can observe the presence of medieval defence architecture.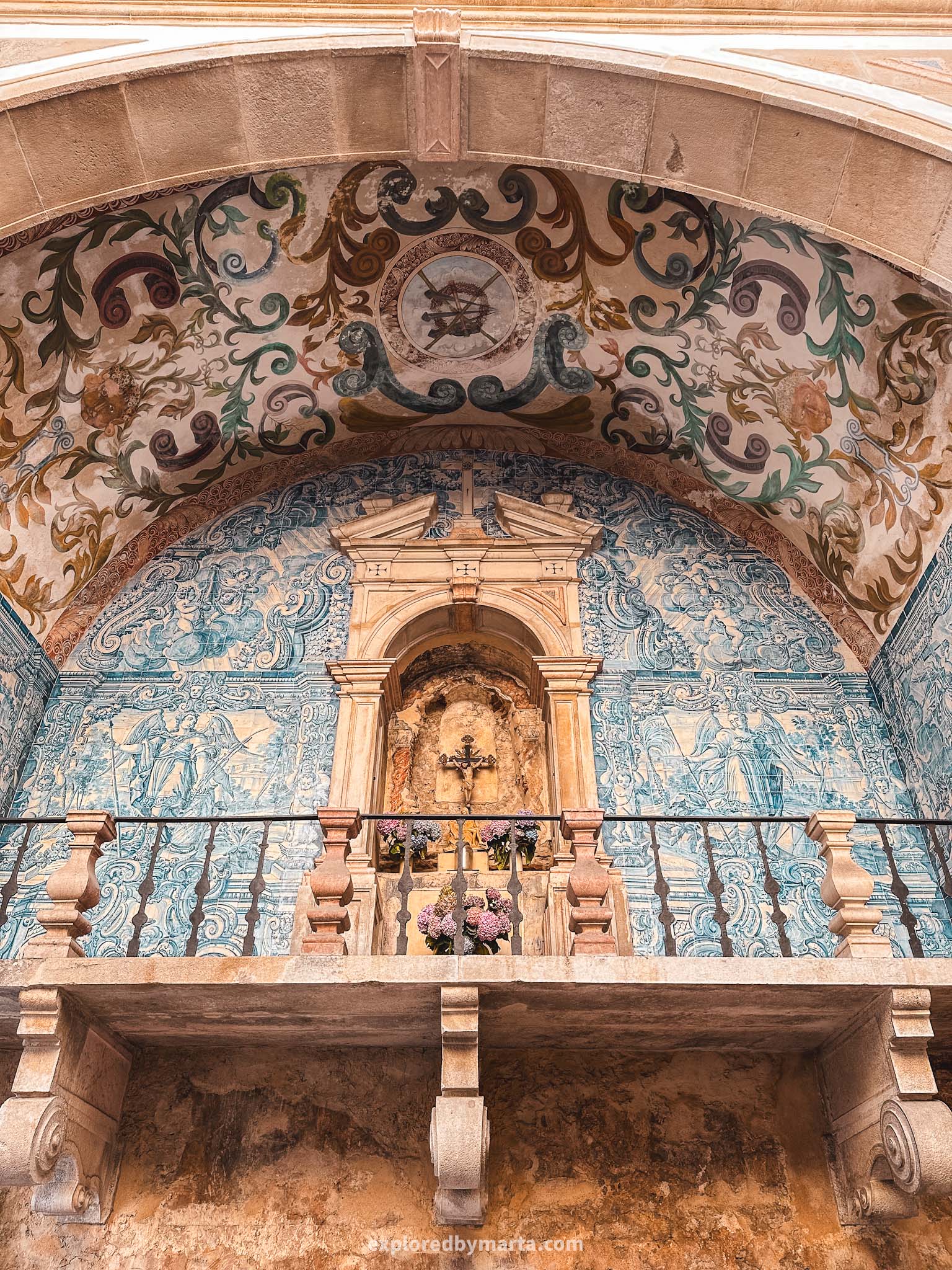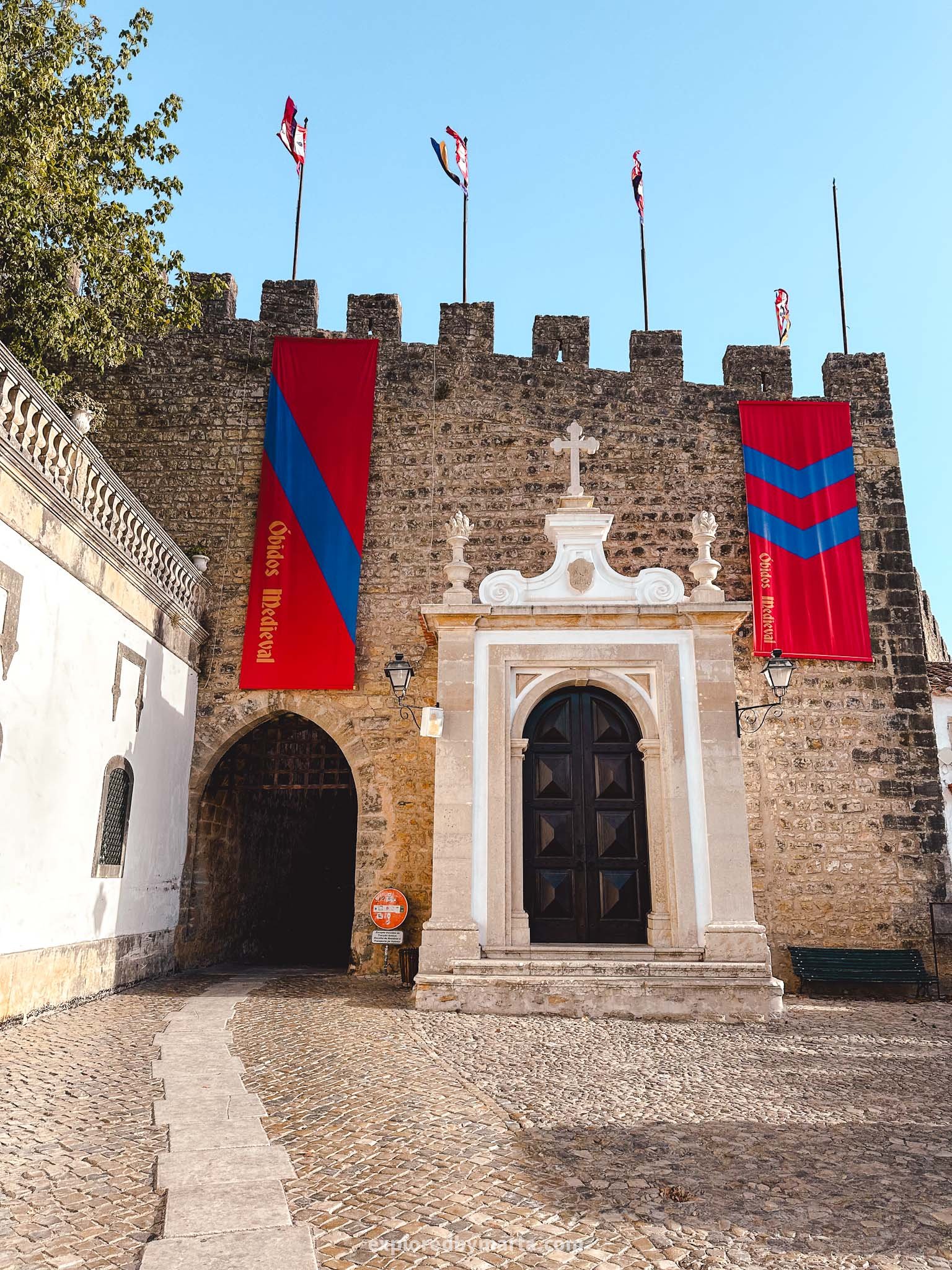 It is impossible to miss the gate as it is one of the few places where you can enter Óbidos Old Town. We parked our car in a free parking lot next to the aqueduct and this was the entrance we used to get to the town.
In order to get a photo without any cars, minivans, or people, we came here in the early morning. After 9 AM the usual buzz of the streets of this historic town starts to appear and it gets harder and harder to get a crowd-free photo here. Just so you know!
Location: Porta da Vila
4. Explore the colorful Rua Direita shopping street!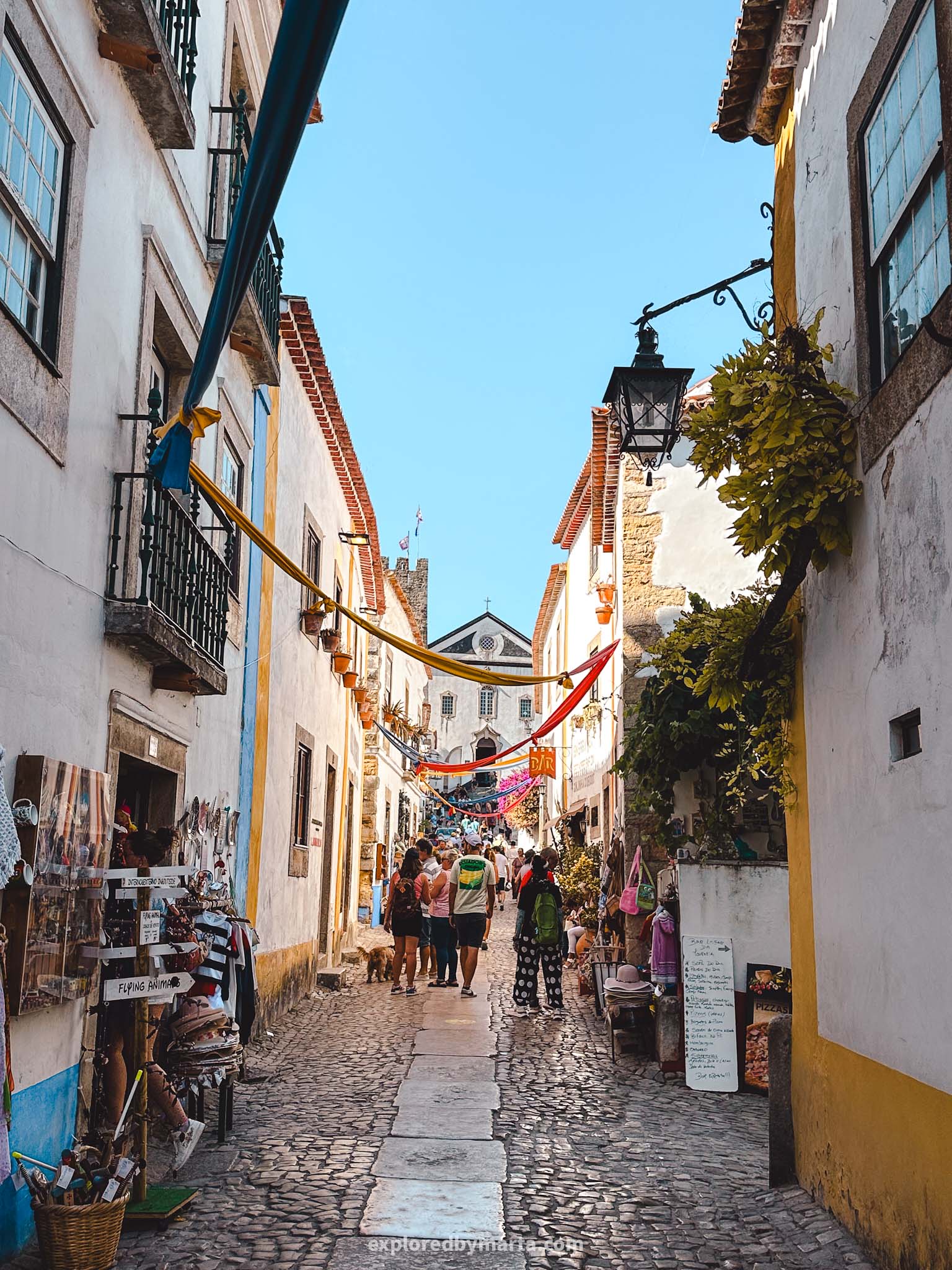 One of the best things to do in Óbidos is to go shopping and explore the landmark street – Rua Direita. It is the main street in Óbidos and is lined with boutique shops, souvenir shops, cafés, restaurants, and more.
Almost all the shops put their goods outside on the street in stands, shelves, or baskets, so it feels like a big marketplace. The street is full of color and scents everywhere you look. Walking the whole length of this street is a must when visiting Óbidos!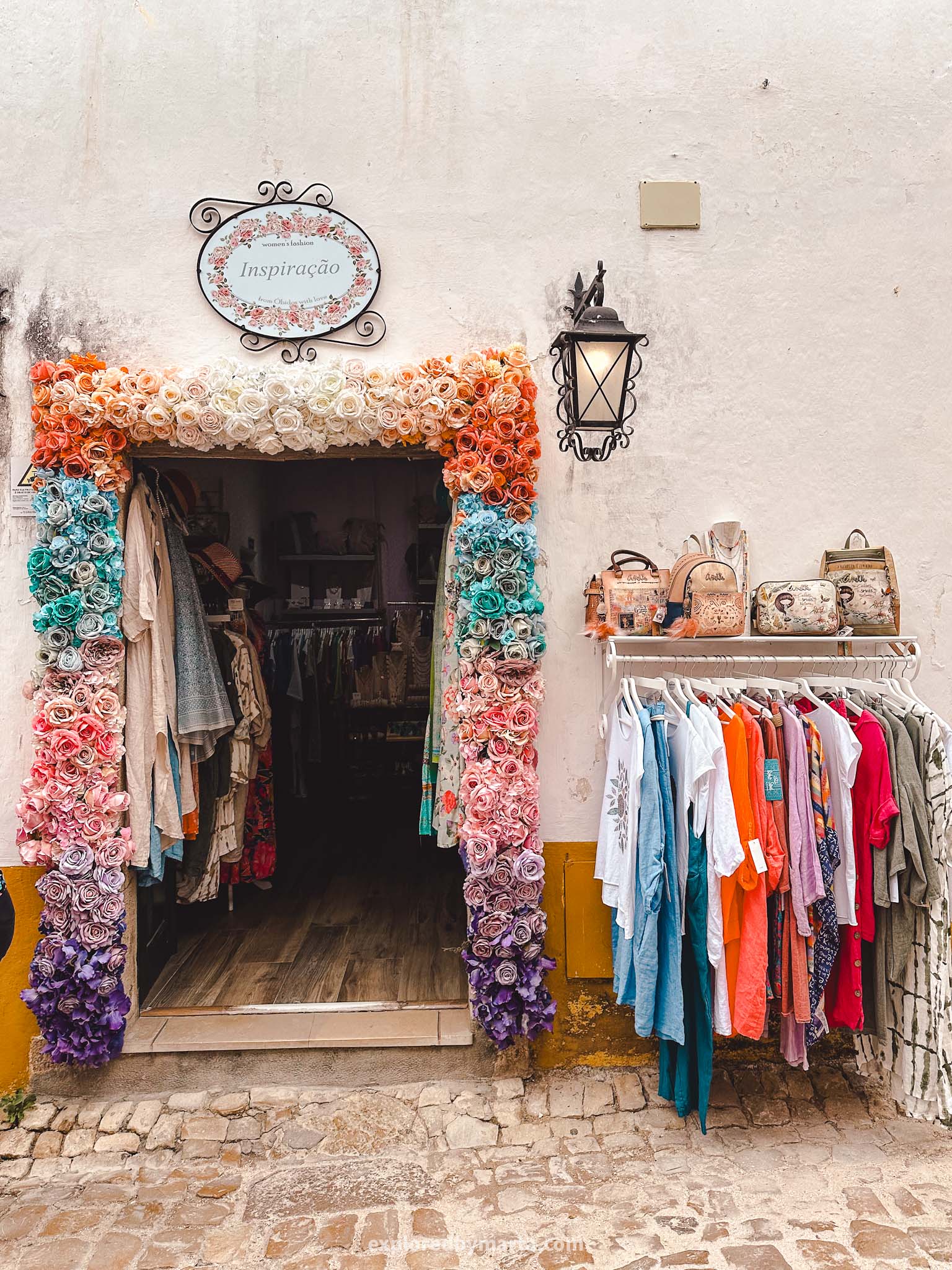 I am usually not a big fan of things or stuff as souvenirs, however, we did buy the traditional Óbidos chocolate from a couple of chocolate shops right on this street. Anyway, it was fun to just walk around and feel the buzz. I felt like I was at a festival!
Location: Rua Direita
5. Explore the traditional chocolate culture in Óbidos!
Óbidos Chocolate House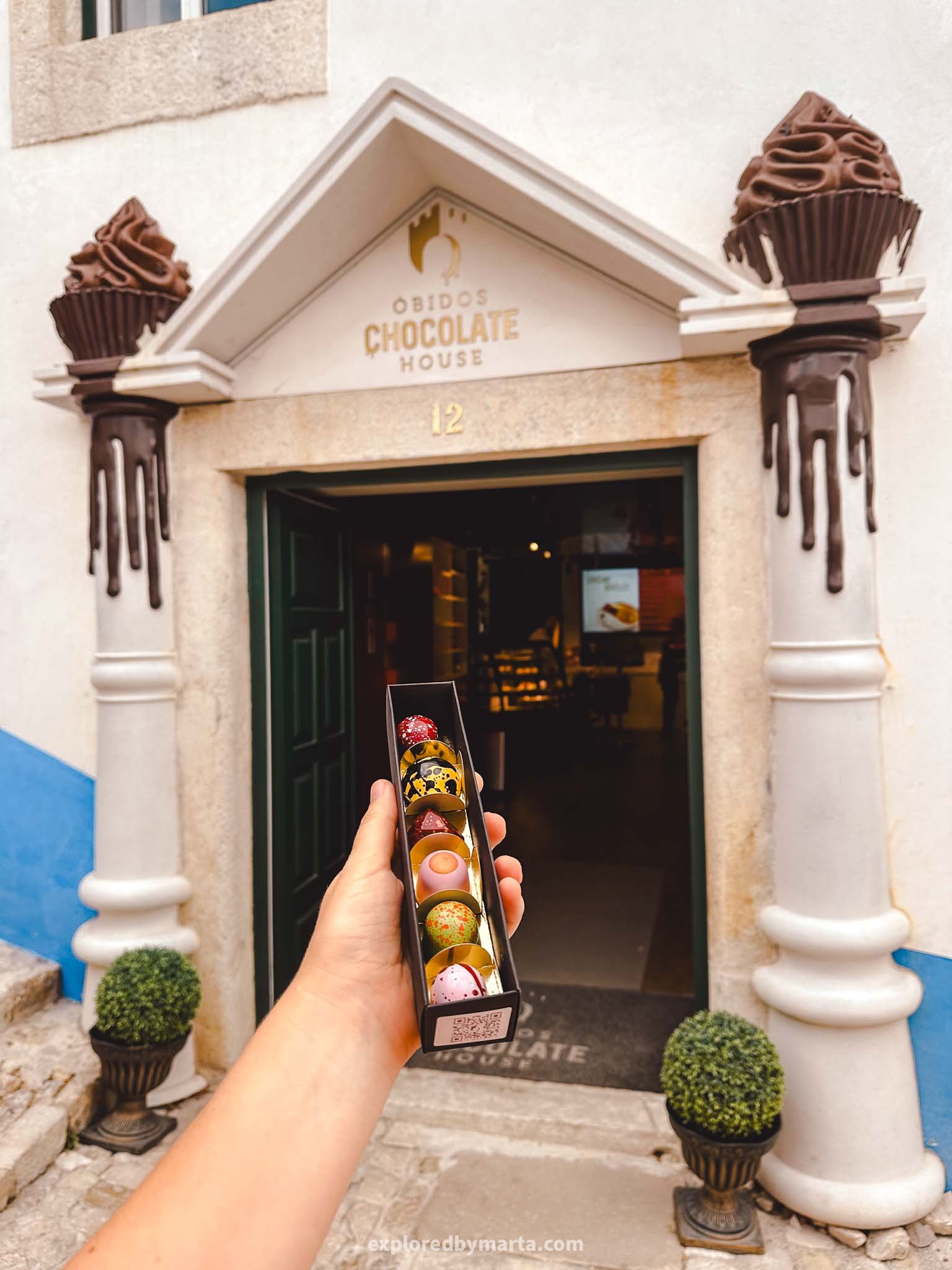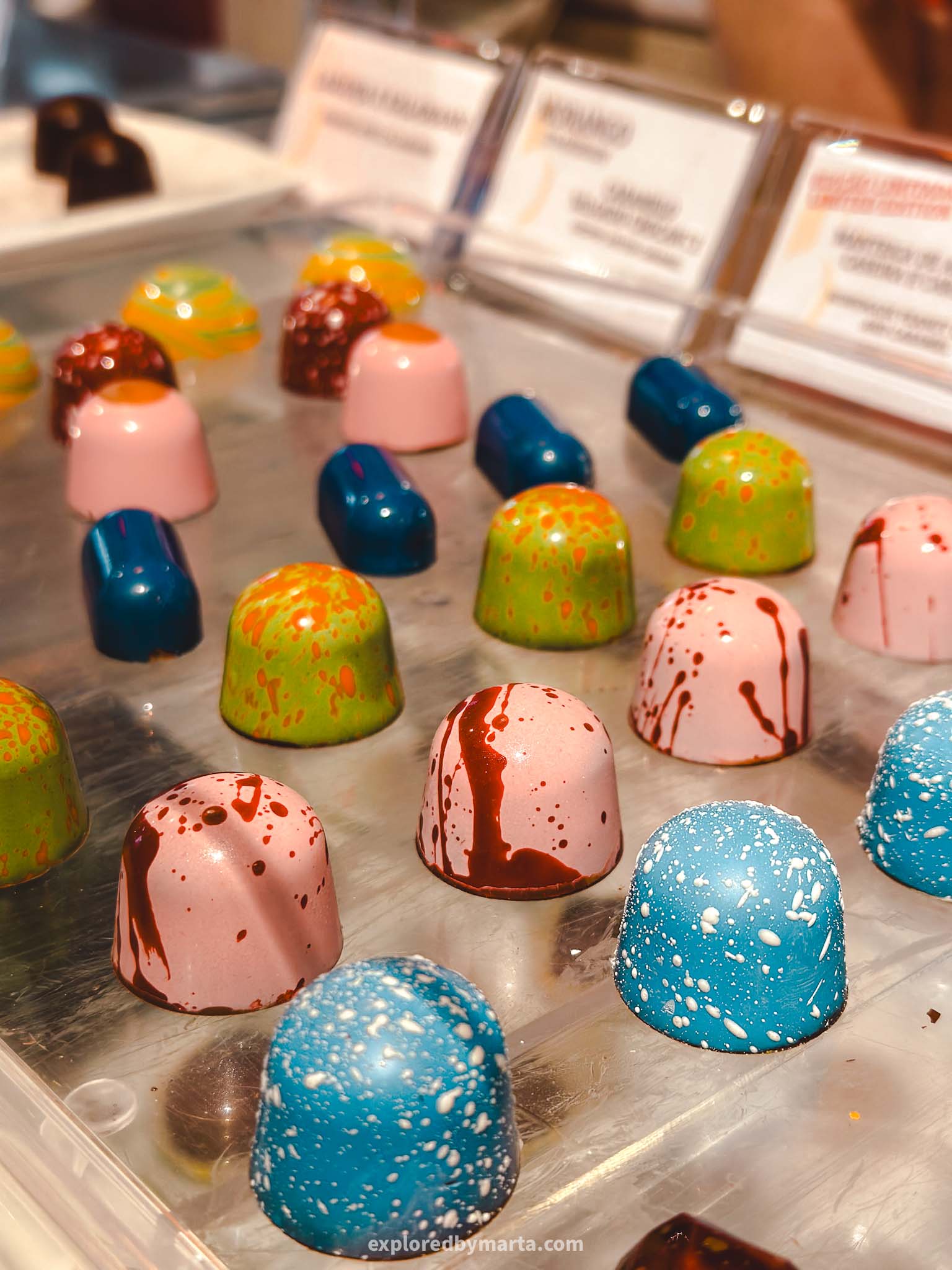 Did you know that chocolate is a thing in Óbidos? One of the best things to do in Óbidos is to explore the traditional chocolate culture and taste the local chocolate in all its variations.
Óbidos even hosts an International Chocolate Festival that has taken place in Spring every year since 2002. It is when the whole town turns into a big festival and celebration of chocolate featuring famous artists, shows, and other festivities.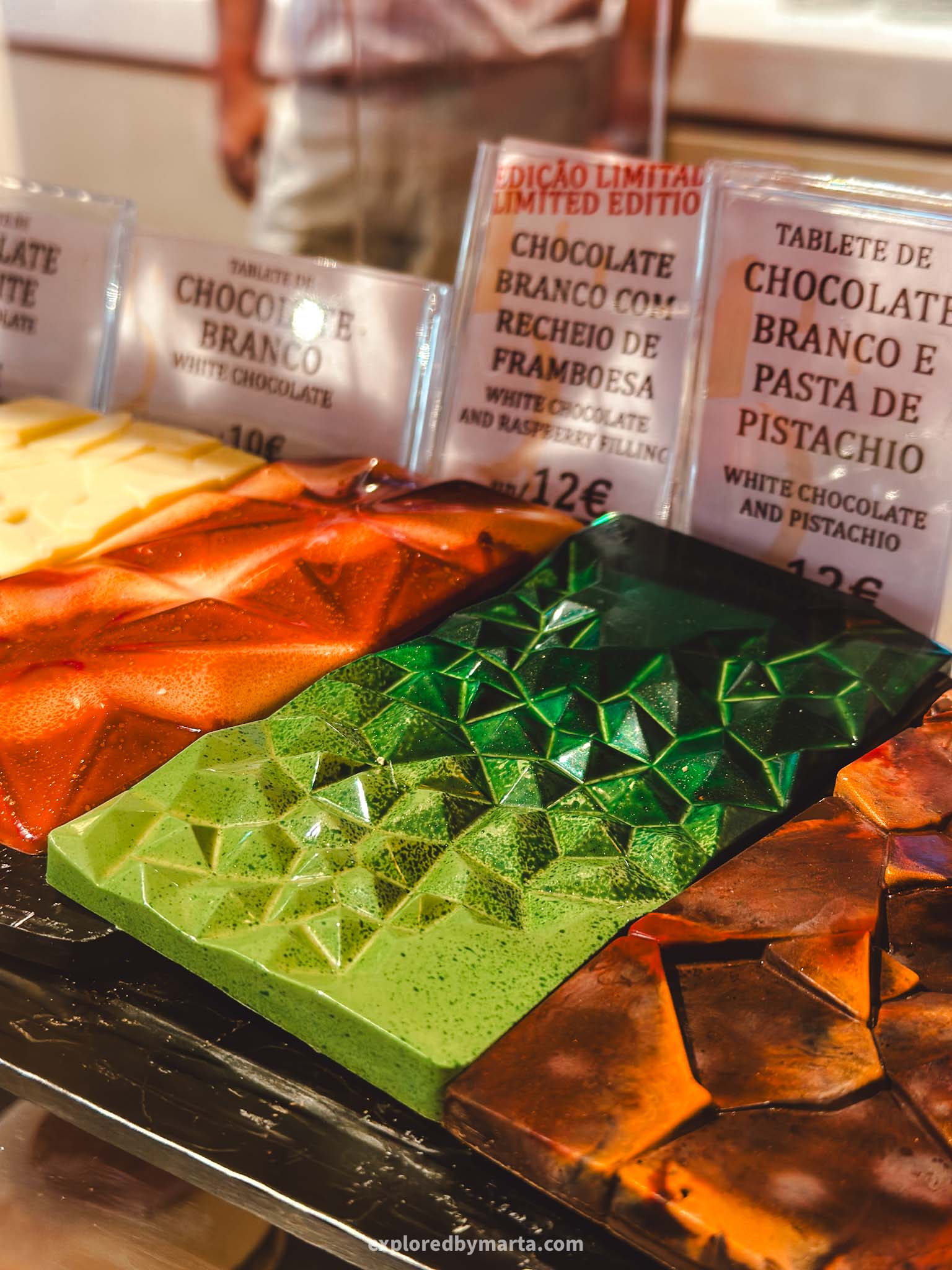 You can observe one of the masterpieces from the festival in Óbidos Chocolate House. Each year has a theme and there are chefs who carve chocolate sculptures just for this event.
When we visited there was a Spiderman figure put on display from this year's festival. It said that it took an impressive 278 hours to make this masterpiece!
Besides checking out the chocolate sculpture, you can also buy some chocolate made in Óbidos for yourself. They have creative chocolate bars as well as bonbons. We chose a box of six bonbons filled with different tastes.
Because it was a hot day and we didn't want to waste the chocolates, we finished all of them right away. They were fantastic! They also offer other snacks like ice cream rolls and drinks. I loved this place!
Location: Óbidos Chocolate House
Fábrica das Bombokas
Óbidos Chocolate House is more like a café with limited chocolate options. In case you are more interested in some different tasty souvenirs from Óbidos, I recommend checking out Fábrica das Bombokas.
They are a local chocolate and souvenir shop offering chocolate from Óbidos in different variations – chocolate bars, chocolate lollipops, artisan chocolate with nuts and berries as well as chocolate bonbons filled with tasty fillings.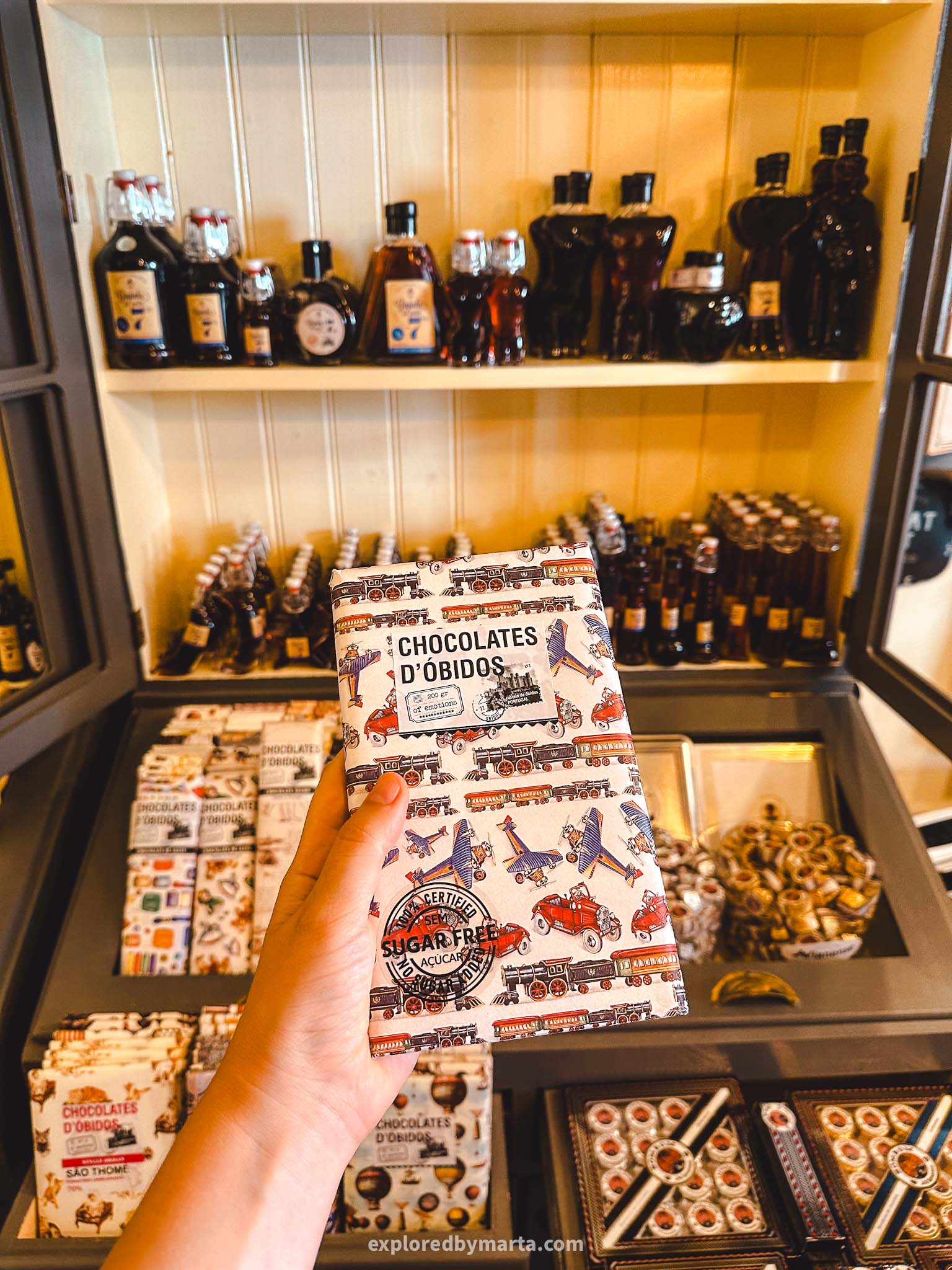 We could not resist the temptation of Óbidos chocolate and bought some more chocolate here as well. This is the best souvenir shop you can find in Óbidos!
Apart from chocolate products, they also offered cookies, candy jars, as well as bottles of pastel de nata liqueur, and other stronger drinks as well!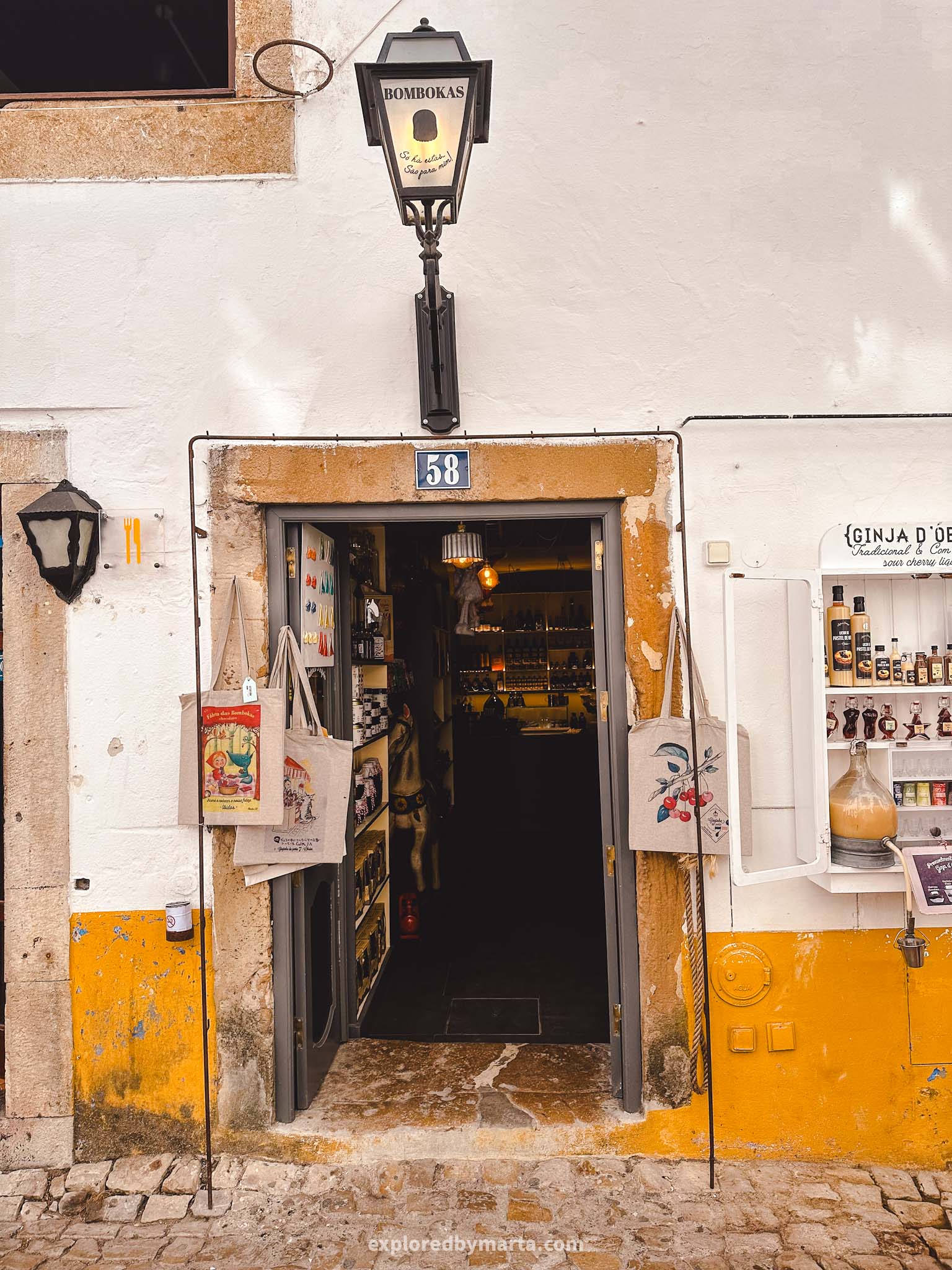 Tip! In case you are visiting Óbidos during summertime, buy chocolate souvenirs at the end of your visit so that they don't melt in your bag!
This cute artisan shop was a bit hard to find as it was in the wrong location on Google Maps. Just check my photo with the front facade of the shop and look around on the street. You should then find it right away!
Location: Fábrica das Bombokas
6. Take a shot of the local Ginja de Óbidos!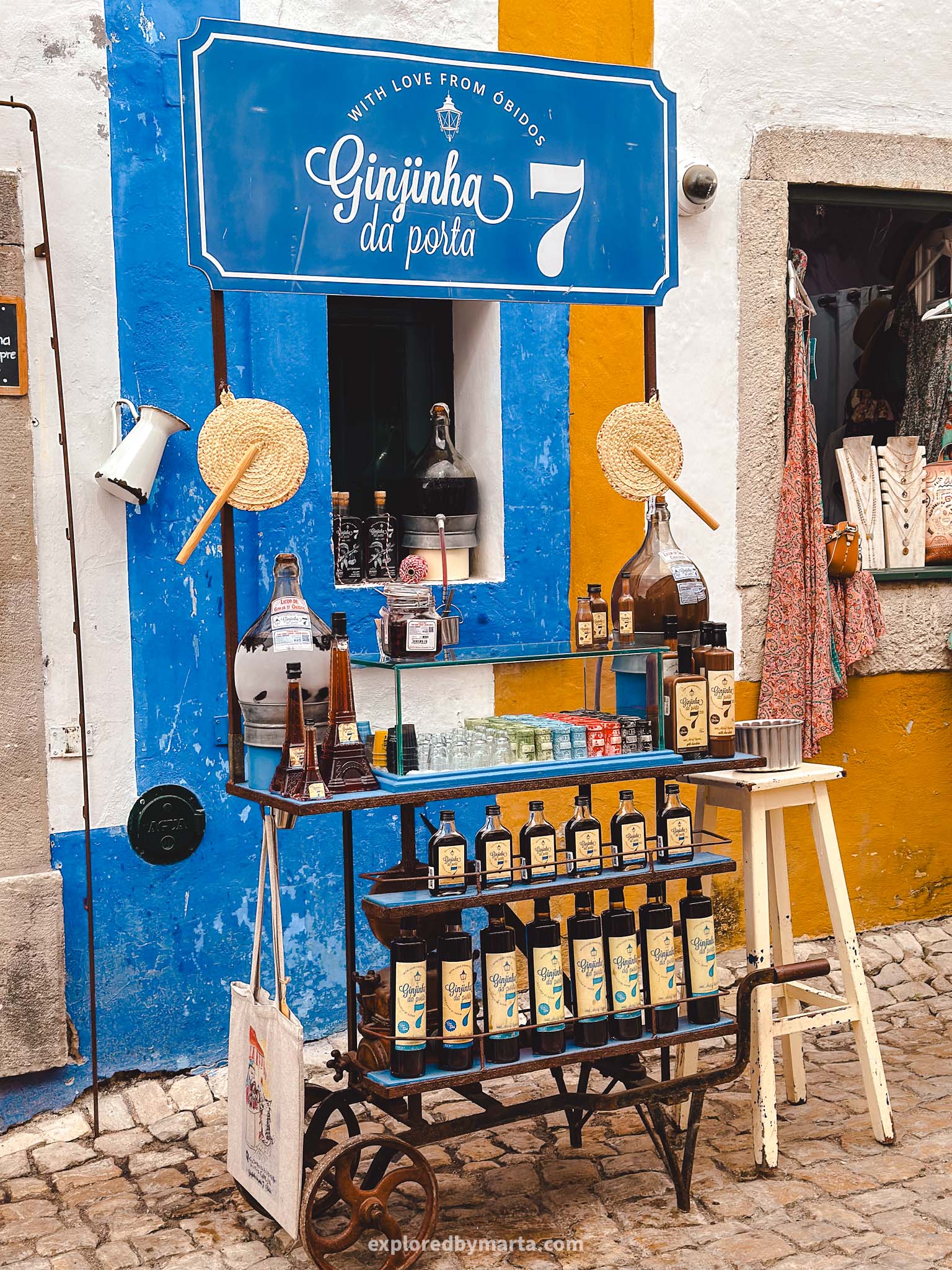 One of the must-do things in Óbidos is to try local Ginja de Óbidos! Ginja or Ginjinha is a Portuguese liqueur made of sour cherries, sugar, and usually cinnamon. It is served in a small shot often with a berry at the bottom of it.
However, Ginja de Óbidos is special. Thanks to the special status of chocolate in Óbidos, in this town Ginja de Óbidos is served in a small chocolate cup, so you get a drink and an edible cup in one bite. it is a bomb of sweetness, bitterness, and sourness all together!
As you walk down the Rua Direita street you will notice many places selling this typical drink. Either on the street or inside the shops but you can get Ginja de Óbidos in numerous places here. It is a local specialty after all!
7. Try a typical Portuguese dish at Casa Portuguesa do Pastel de Bacalhau in Óbidos!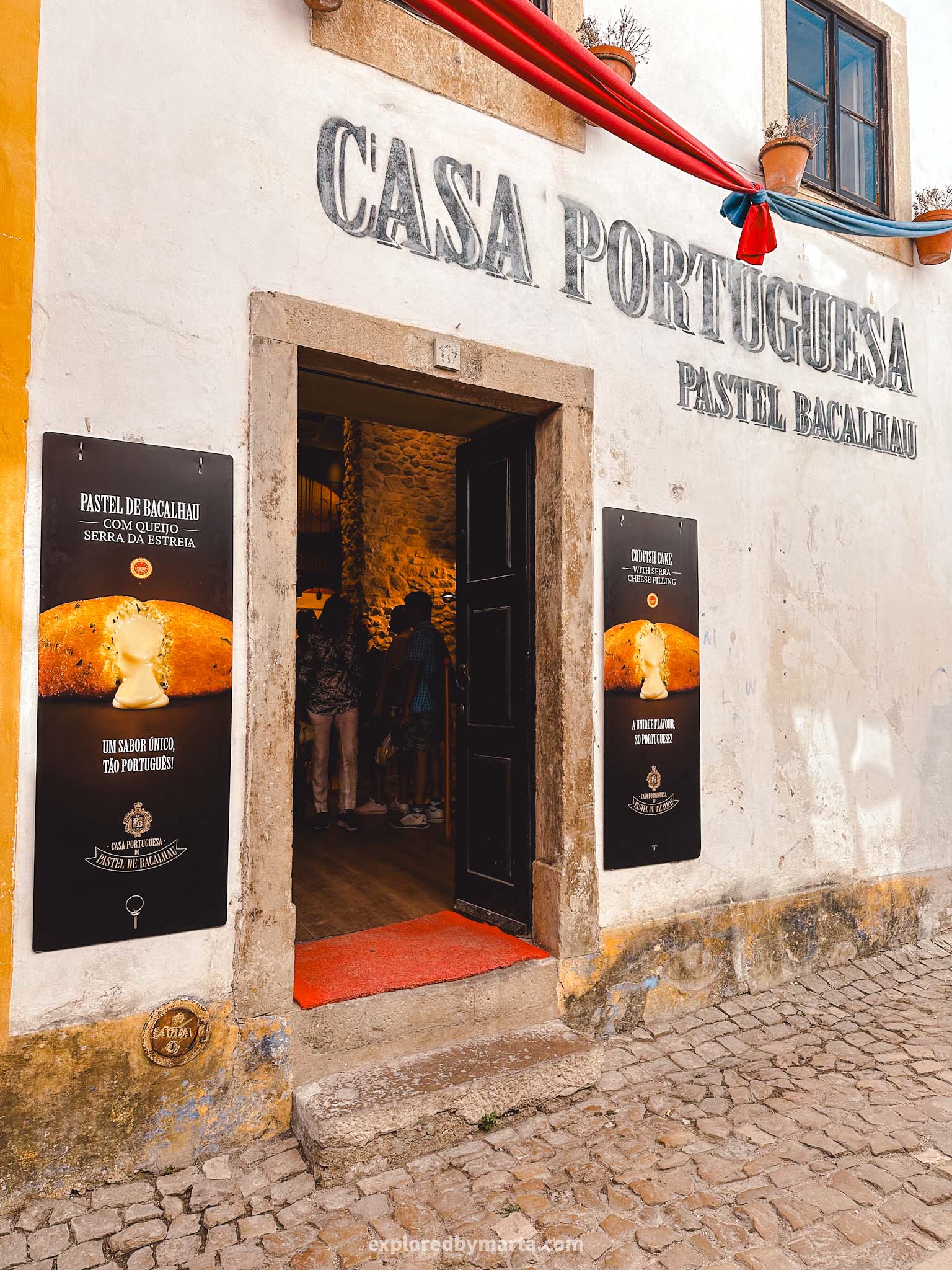 Another must-visit place in Óbidos is Casa Portuguesa do Pastel de Bacalhau where you can taste the typical Portuguese dish – Pastel de Bacalhau which translates from Portuguese as codfish pastries.
These pastries are typically made of such ingredients as potato puree, onion, parsley, and codfish. They are then mixed together in a ball with eggs and milk. Then the ball is deep-fried. I usually call them – Portuguese croquettes!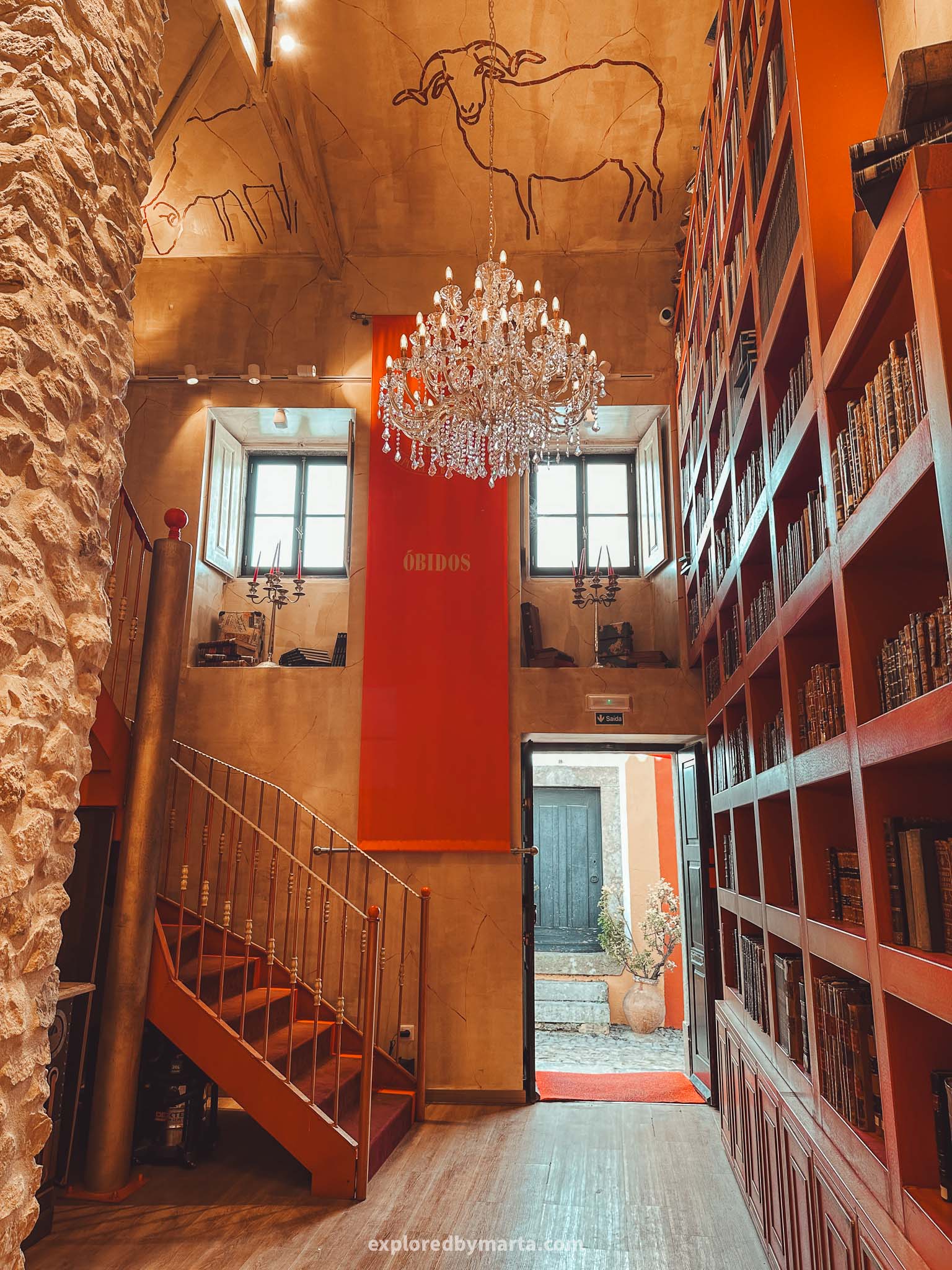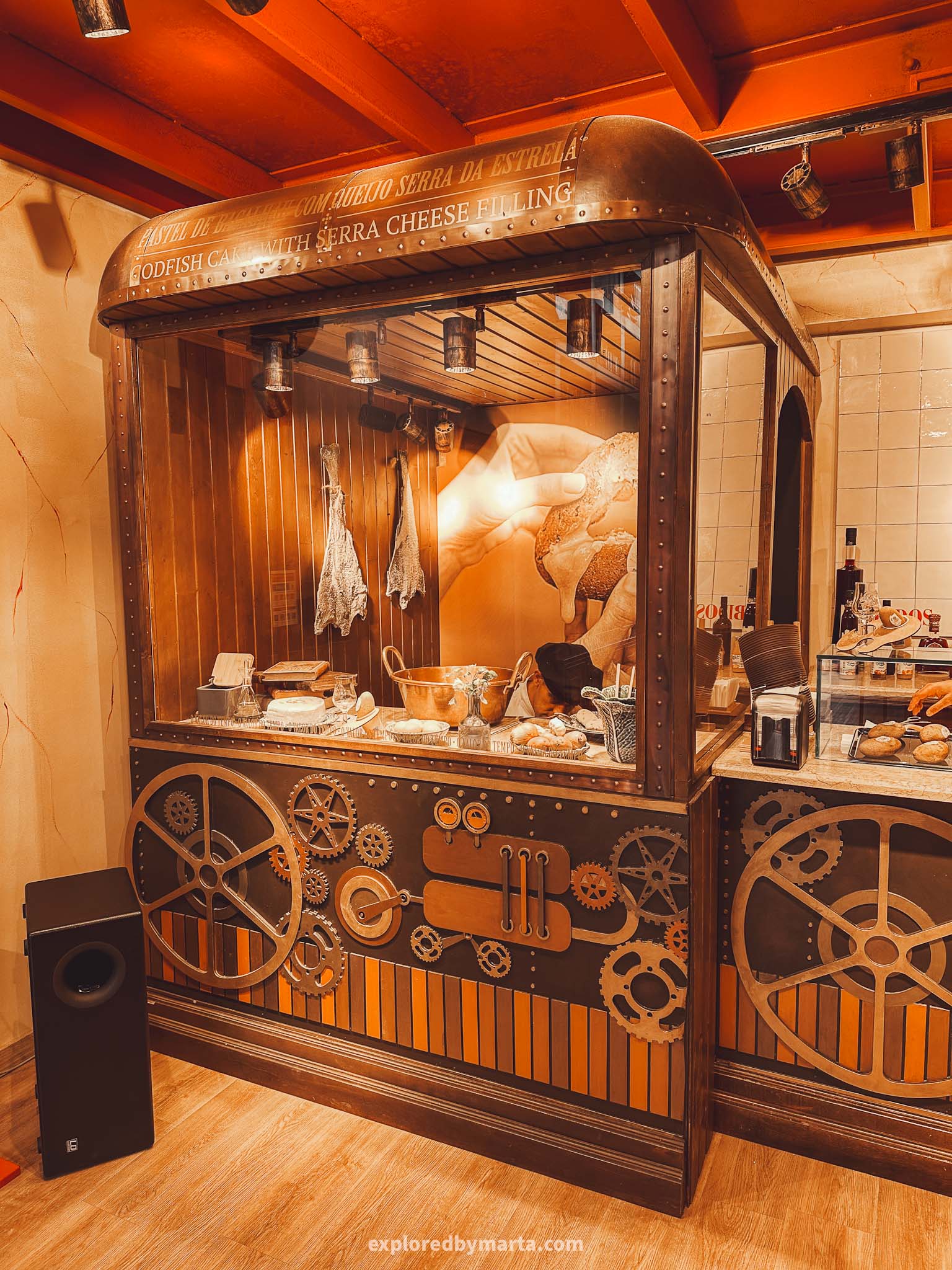 Honestly, I am not a big fan of fish dishes, however, it is definitely worth a try! This cute place in Óbidos specializes in making these croquettes so it is the perfect place to try one.
As you enter the place, first you have to pay for the amount of Pastel de Bacalhau you want (one costs 5 EUR), then you go to the chef and give him the ticket. He will then make you your order while you can see with your own eyes how he prepares everything.
This is the perfect place to go if you crave a quick snack. Plus you get to see how everything is made. I only tried Pastel de Bacalhau once in Portugal and it was right here in Óbidos!
Location: Casa Portuguesa do Pastel de Bacalhau
8. Take a photo with the Knight of Óbidos!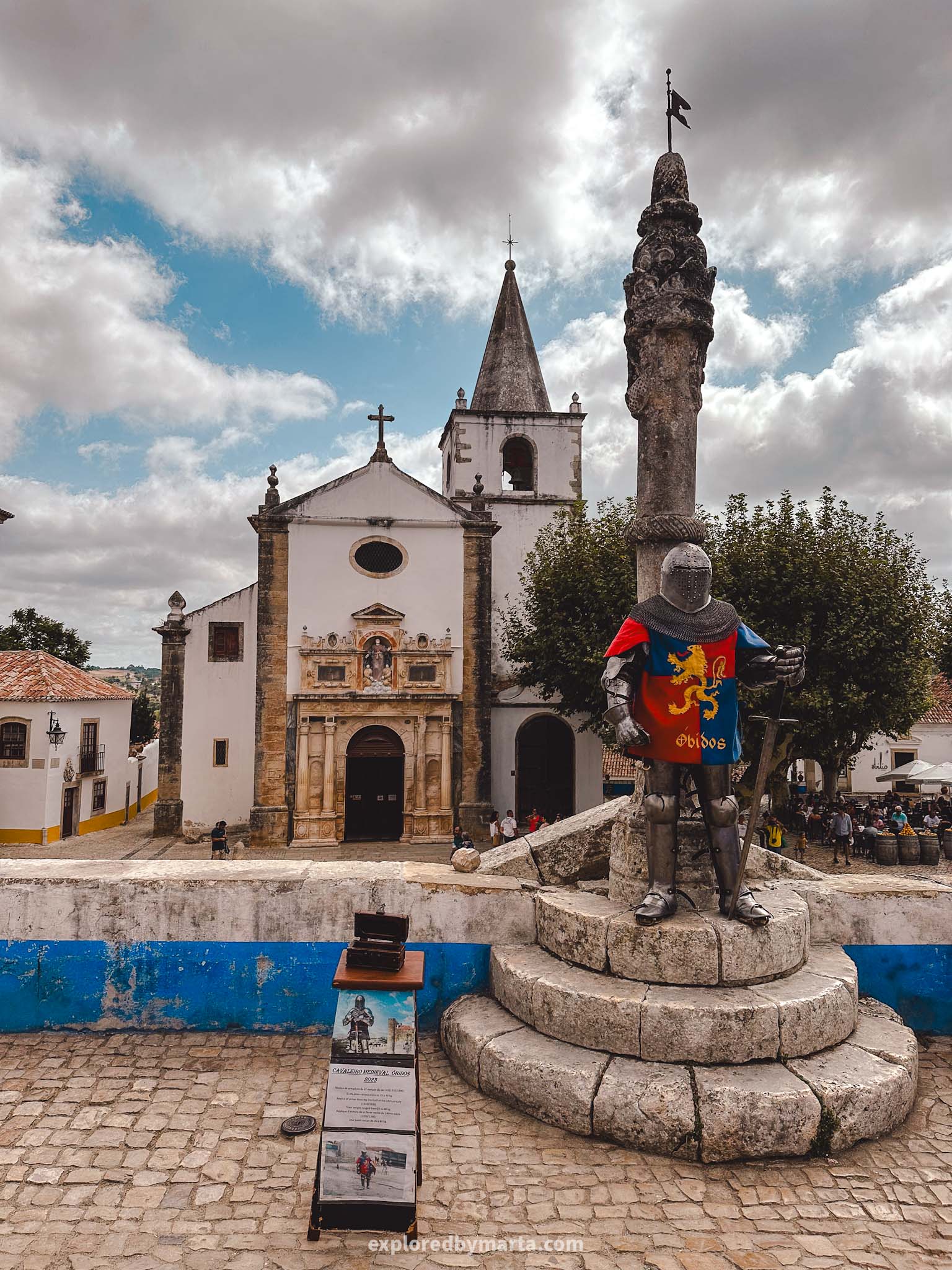 Another unusual thing to do in Óbidos on the famous Rua Direita street is taking a photo with the Knight of Óbidos! The legendary knight dressed head to toe in metal armor stands next to the beautiful 16th-century pillory of Óbidos!
The pillory was built in Manueline style and bears the coat of arms of King Manuel I of Portugal. If you are lucky, you will meet the Knight of Óbidos, but, if not, check out the next tourist attraction right behind the pillory – Igreja de Santa Maria church!
Location: Pelourinho de Óbidos
9. Pay a visit to Igreja de Santa Maria church!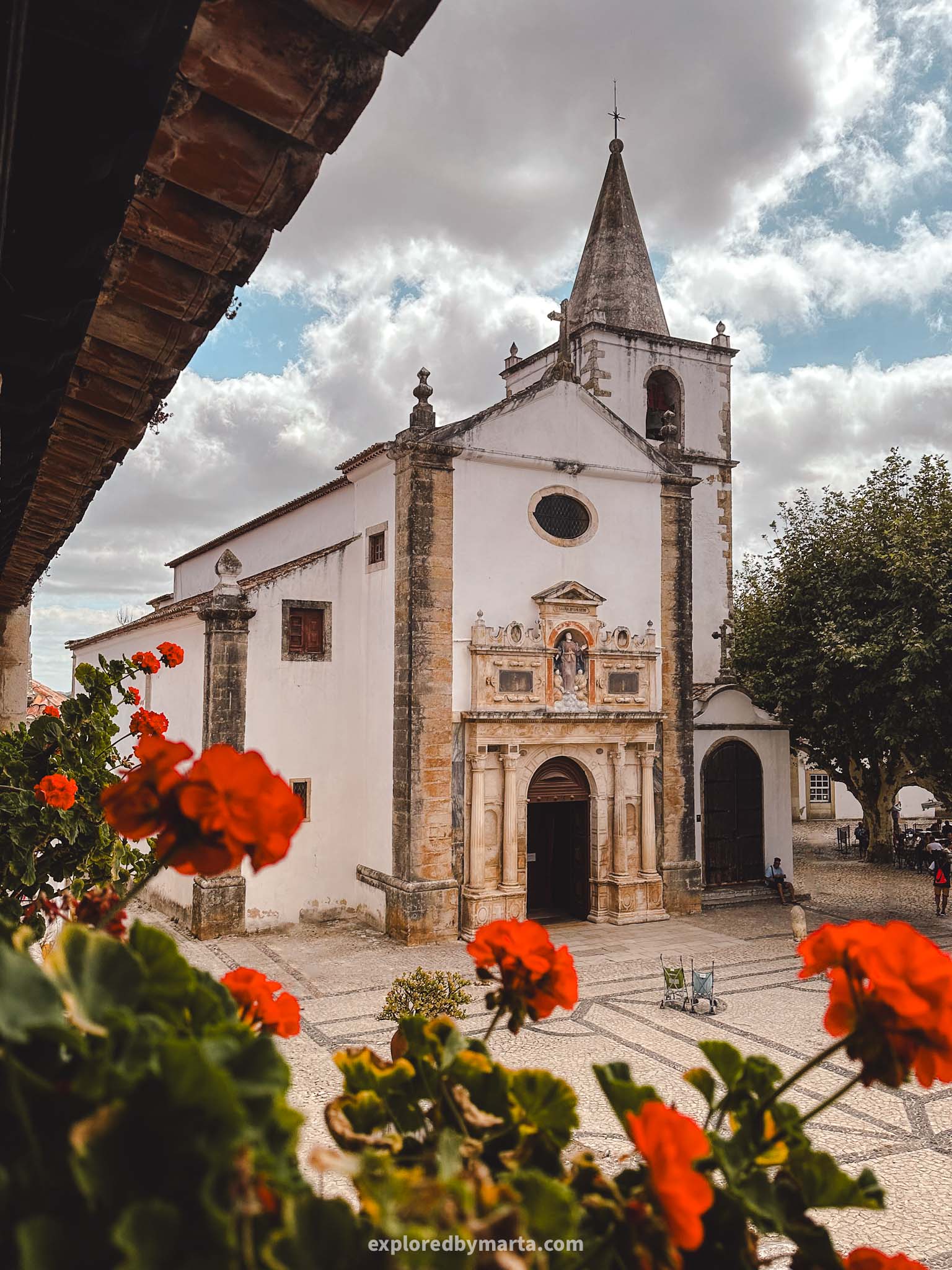 Igreja de Santa Maria, in my opinion, is the most beautiful church in Óbidos! It boasts a beautiful Mannerist portal with columns and statues that invite any visitor to continue exploring inside. This is where the true beauty uncovers itself!
With walls covered with glazed blue-and-white tiles, decorated with painted wood, and stunning frescoes, it is one of the most beautiful places in Óbidos. Next to the gilded altar, there is a Renaissance tomb of the captain of Óbidos who served in the 16th century.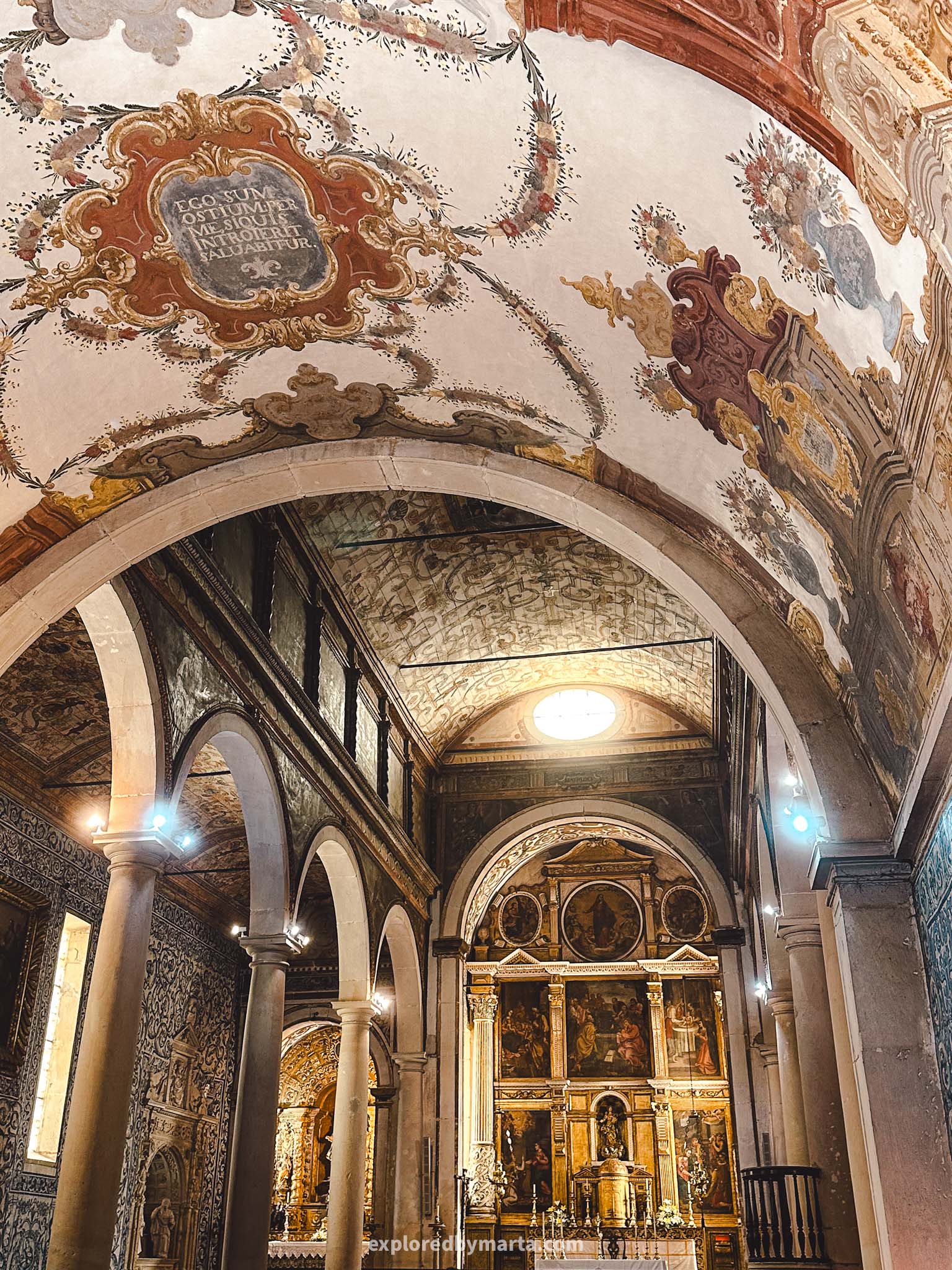 This church has seen many important events over the centuries. For example, in the 15th century, this church was the place where soon-to-be King D. Afonso V of Portugal got married to his wife Isabel when they were only ten and eight years old.
The church was renovated and rebuilt many times over the centuries. However, as we see it today, this building dates back to the 16th century when it was built by the initiative of Queen D. Leonor. If you can spare a minute, definitely take a look inside!
The Church of Saint Mary serves as the main church of Óbidos and sits in the middle of a big square – Praça de Santa Maria. It is the main square of the town and is usually full of life and festivities. It is a popular place for people to gather and enjoy conversations.
Location: Igreja de Santa Maria
10. Visit the former Óbidos prison at Arco da Cadeia!
While you are near the church, consider stepping a few meters behind it to find one of the most unique houses in Óbidos – Casa do Arco da Cadeia. This unusual building stands out as it is built as an arch stretching over a street.
Casa do Arco da Cadeia was built during the 14th-15th centuries and it once served as a Town Hall as well as Óbidos prison! Who would have thought!? You can see this house and its Gothic arch from the square next to Igreja de Santa Maria church!
Location: Arco da Cadeia
11. Relax at the scenic swing – Baloiço de Óbidos!
One of my favorite things to do in Óbidos was swinging in this scenic swing overlooking the whole town. Óbidos swing sits on a terraced platform right next to the defensive wall in the Northeast corner of Óbidos Old Town.
If you want a little moment of peace and quiet then definitely stop by this place. Óbidos swing is amongst the most scenic swings in Portugal with a beautiful view overlooking the whitewashed houses and terracotta rooftops of this magical town.
Location: Baloiço de Óbidos
12. Visit Livraria de São Tiago – a bookshop inside a church!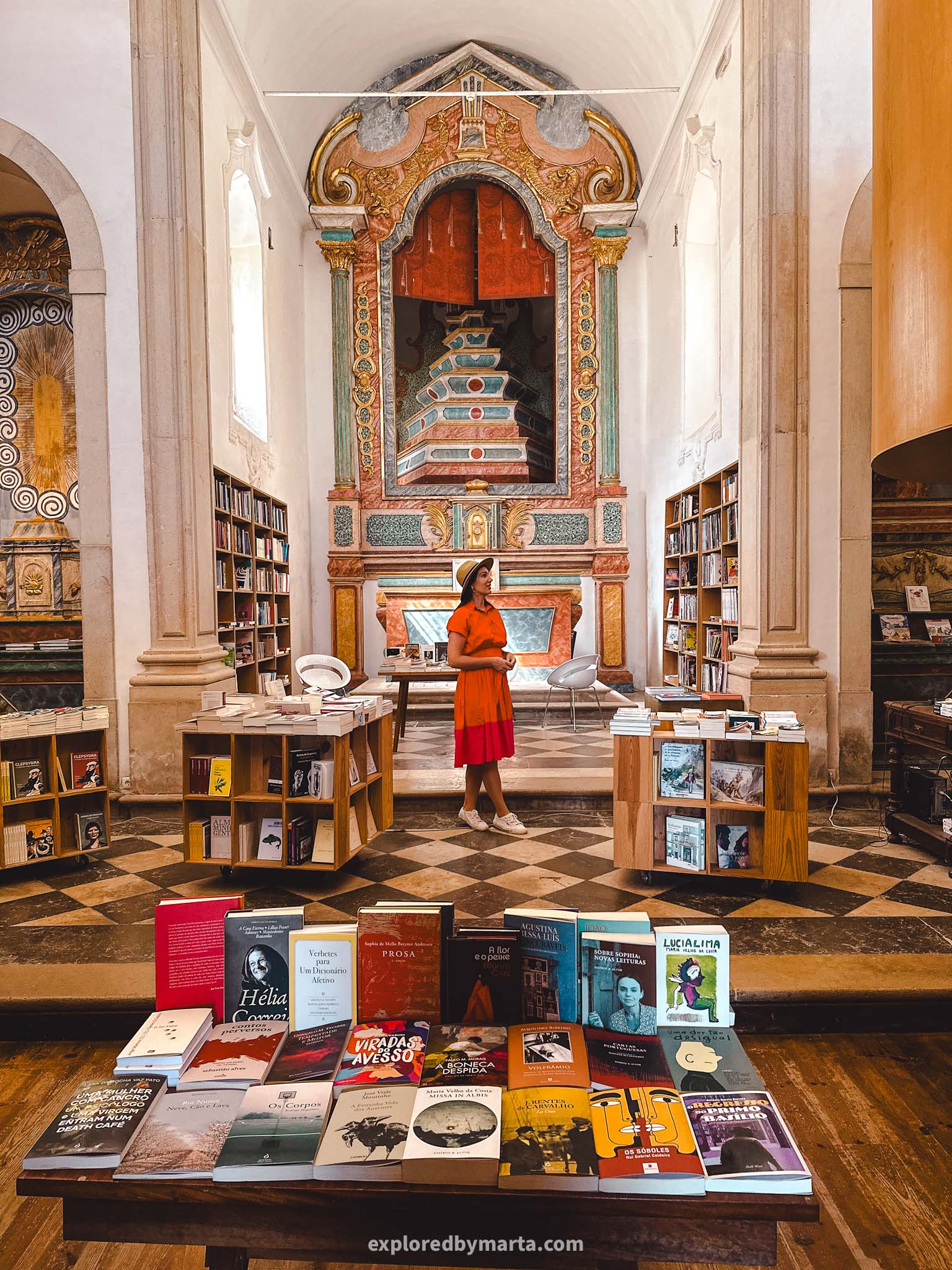 Another unusual building in Óbidos is Livraria de São Tiago. It is a unique bookstore that is built inside a church. From the outside, it looks like a proper church with a cross and a bell tower however the inside is turned into a store.
The church was actually built in the 12th century as the castle church. Unfortunately, it completely collapsed during the 1755 Lisbon earthquake and was rebuilt a couple of years later in the 18th century.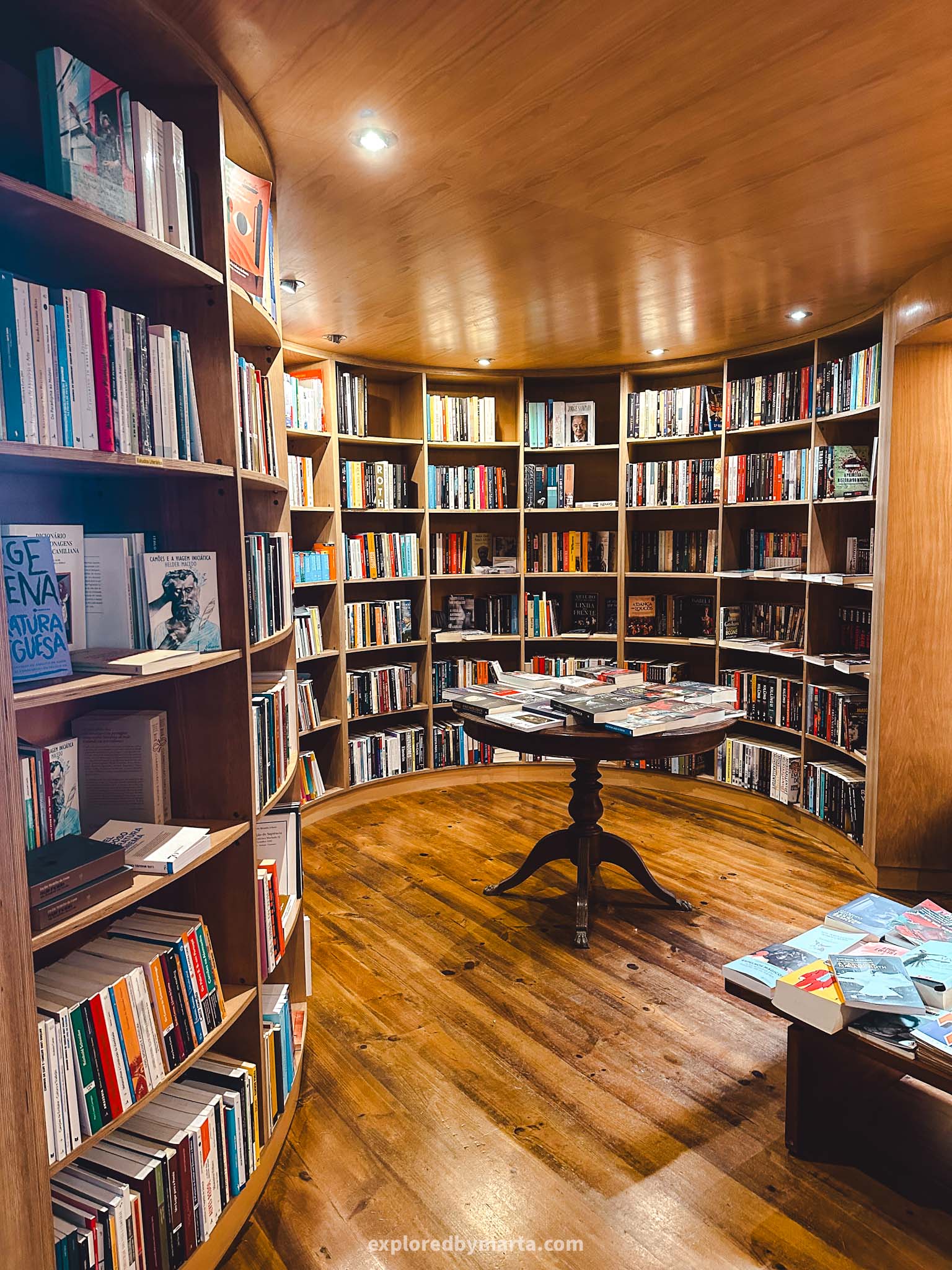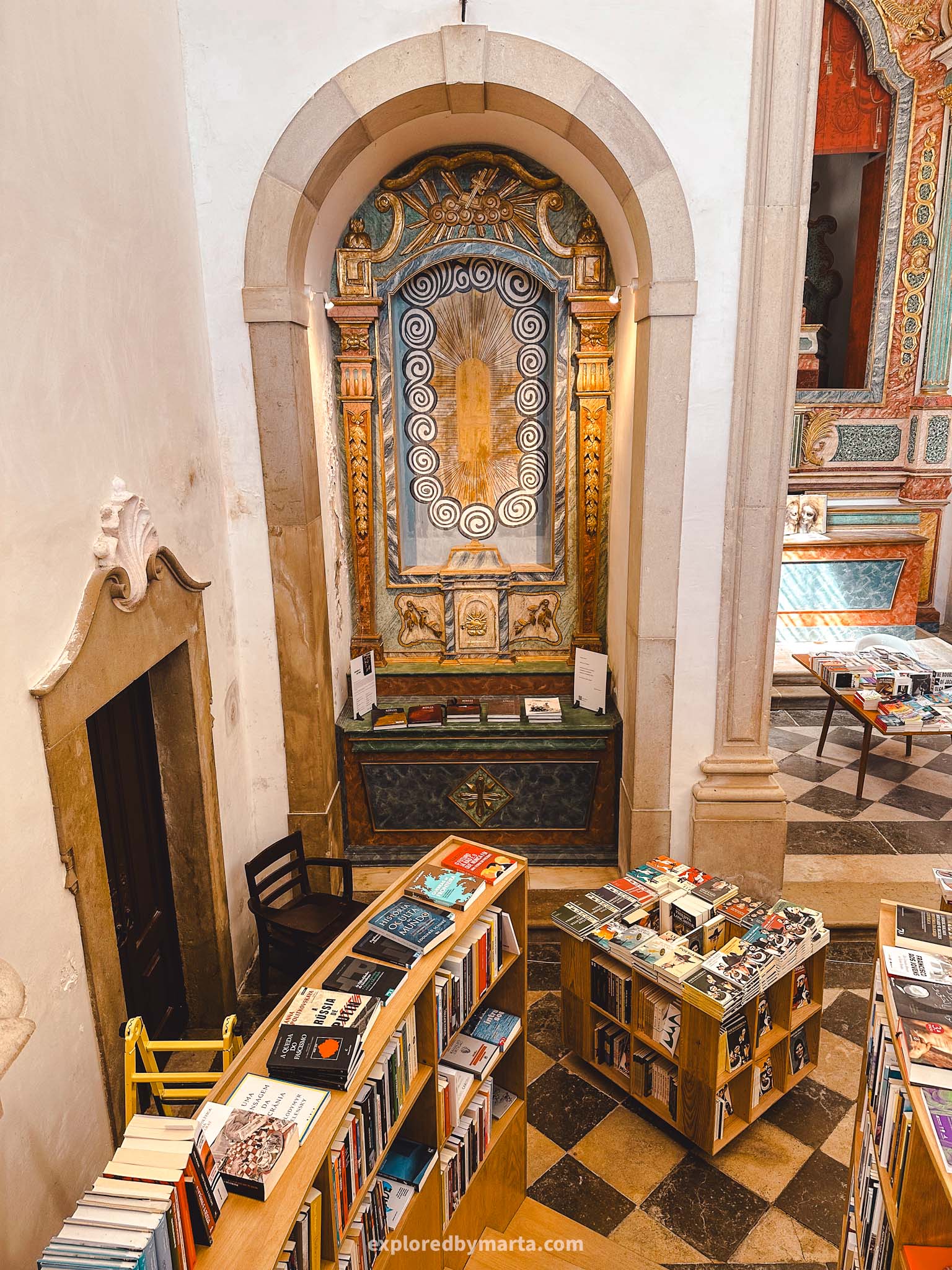 Today it doesn't serve as a church anymore and there are no church-related activities happening inside it. It is completely rebuilt as a book store however there are still a couple of chapels and altars preserved inside.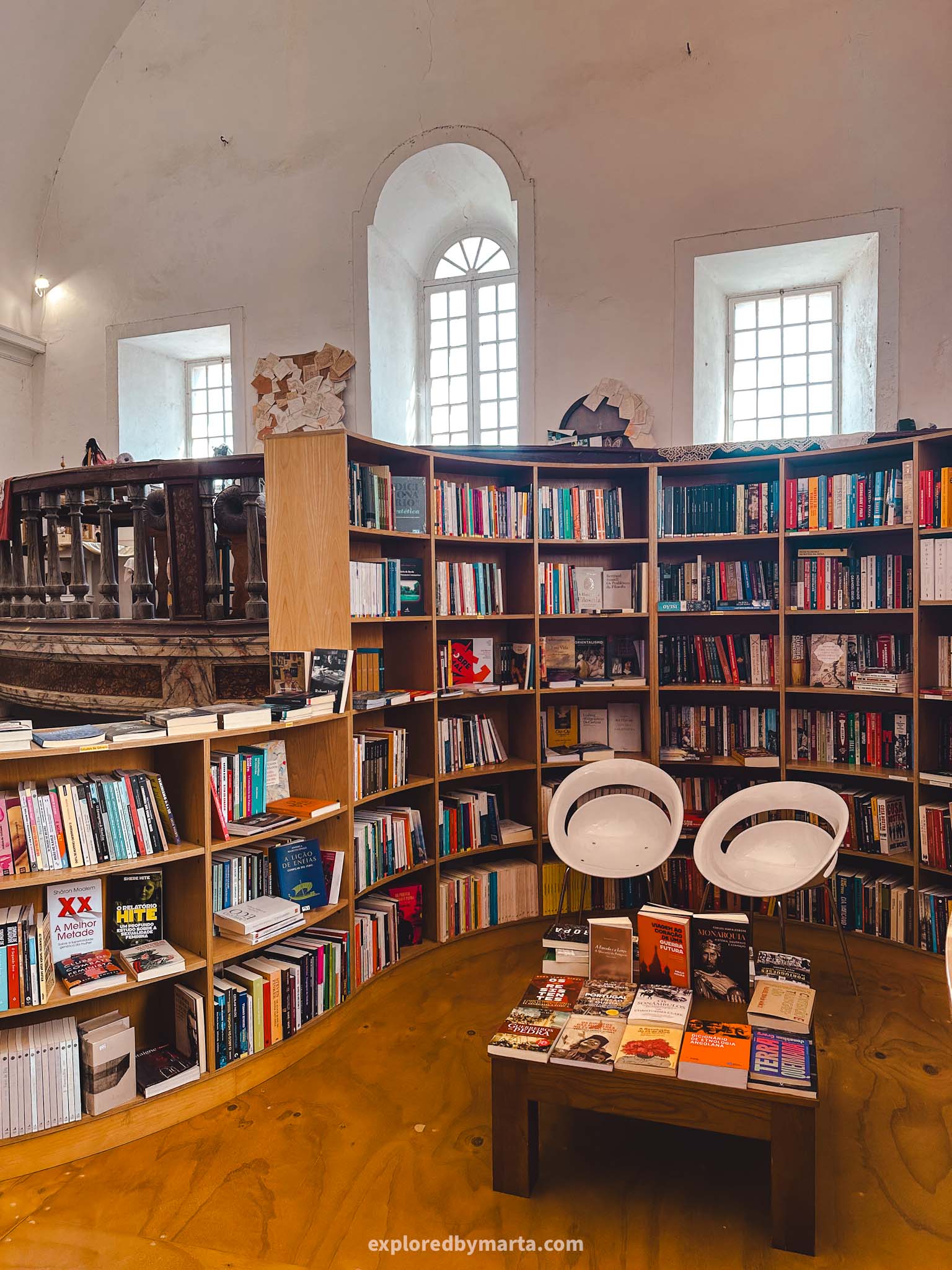 This is definitely a unique place in Óbidos and is worth visiting especially because of its location – it sits right next to the entrance to the Castle of Óbidos. Don't forget to check their working hours before you go!
This is also one of the best places to get some souvenirs from Óbidos, like a recipe book of Portuguese dishes (like pastel de nata). But if you understand Portuguese, you will definitely have more options. I did not see many English language books.
Location: Livraria de São Tiago
13. Admire Comur – the unique library of canned fish!
While you are in the area, you can pay a visit to another unique library! This time it is a librabry of typical Portuguese canned fish at Comur! Comur is actually a brand that is well known in Portugal for its beautiful shops and beautiful cans of different fish.
Canned fish are amongst the most popular souvenirs you can buy in Portugal so they have stores in basically every major city and town. However, each shop looks different and, in my opinion, they have outdone themselves in Óbidos!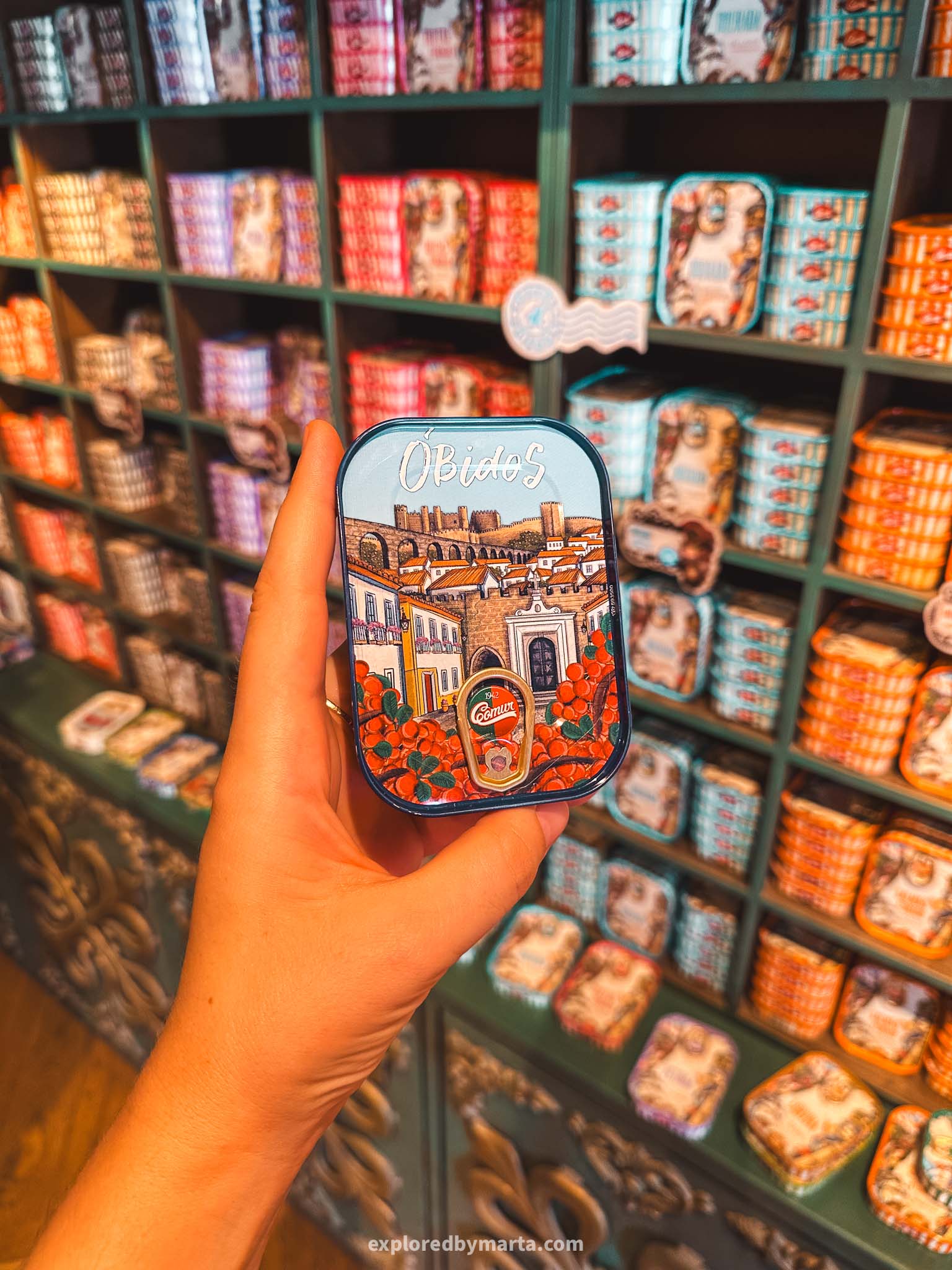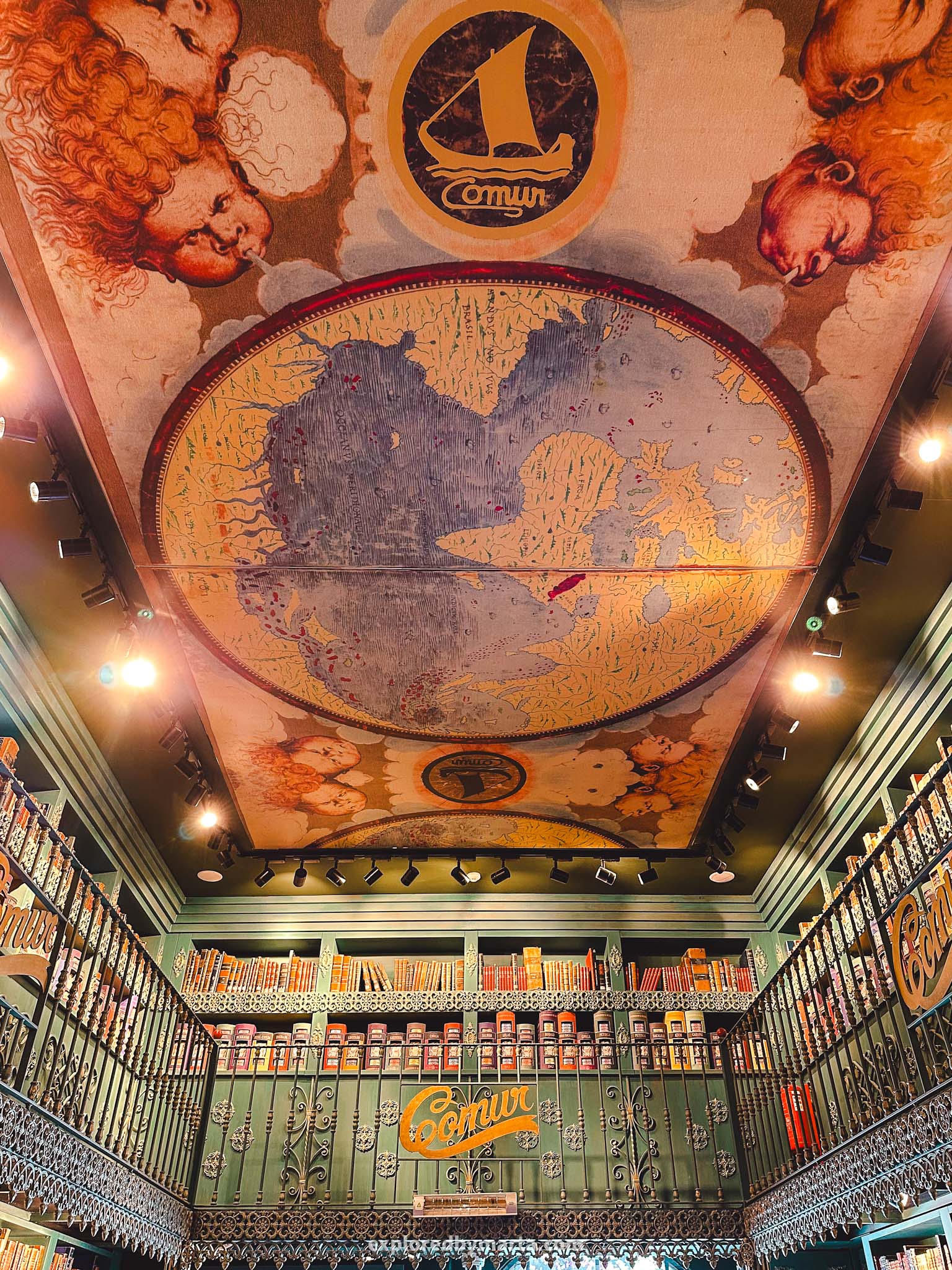 As you enter the store, you are transported to a different age. Floor-to-ceiling bookshelves filled with cans and books cover the walls in a Harry Potter book-worthy manner.
The ceiling is decorated with a large world map reflecting the world or how people thought it looked. Some of the cans bear Óbidos' name with beautiful illustrations but others have years so you can buy a can with your birth year as a souvenir.
We didn't buy any fish here, but we bought canned fish from Comur shop when we were visiting Lisbon. We got two cans of dorada fish and we ate it with pasta. Others simply put it on toast or a slice of whole wheat bread. We liked it!
Location: Comur – Óbidos
14. Check out Acueducto de Óbidos or Aqueduto de Usseira!
Located right in the middle of the main Óbidos parking lot is a massive 16th-century aqueduct. It was built by the order of Queen Catherine of Austria in order to supply the town's fountains with water.
The Acueducto de Óbidos is 3 kilometers long and it connects the mountains of Usseira where the source of the water is to the town of Óbidos. If you arrive at Óbidos by car, this is the place where you will park so the aqueduct will be impossible to miss.
Location: Acueducto de Óbidos
15. Feed your taste buds in local restaurants and cafés!
Pastel de nata at Nata Lisboa in Óbidos
You can't leave Óbidos without any food in your belly! In case you simply want a quick snack like a tasty pastel de nata with a cup of coffee or fresh orange juice, I recommend Nata Lisboa – they have the best pastel de nata in Óbidos!
Location: Nata Lisboa – Óbidos
Avocado Coffee & Healthy Food
We came to Óbidos in the morning so we were craving some breakfast. The best breakfast and brunch in Óbidos you can get at Avocado Coffee & Healthy Food. They offer yummy burgers, toasts, wraps, salad bowls, and all kinds of drinks! I recommend!
Location: Avocado Coffee & Healthy Food
In case you are craving some real food and want to sit down for a proper meal then here are some of the highest-rated restaurants in Óbidos:
16. Check out the Sanctuary of Senhor Jesus da Pedra!
Located on the outskirts of Óbidos Old Town is the Sanctuary of Senhor Jesus da Pedra – a beautiful church with a hexagonal floor plan. The construction of this church started in the first half of the 18th century.
Although the church is a couple of centuries old, it looks simple and modern but is still beautiful and special. It is a Baroque church with carvings, marble, images, paintings, and furniture.
There is a legend about the origin of the church. It says that after a long period of drought that damaged agriculture, a farmer heard something calling him in a pile of bushes.
It turned out to be a stone cross with an image of the crucified Christ on it. After the farmer praised God, it started to rain. This stone cross still to this day can be seen inside the church. If you have time, definitely stop by to check out this place!
Location: Sanctuary of Senhor Jesus da Pedra
17. Take a trip to the unique Berlengas archipelago!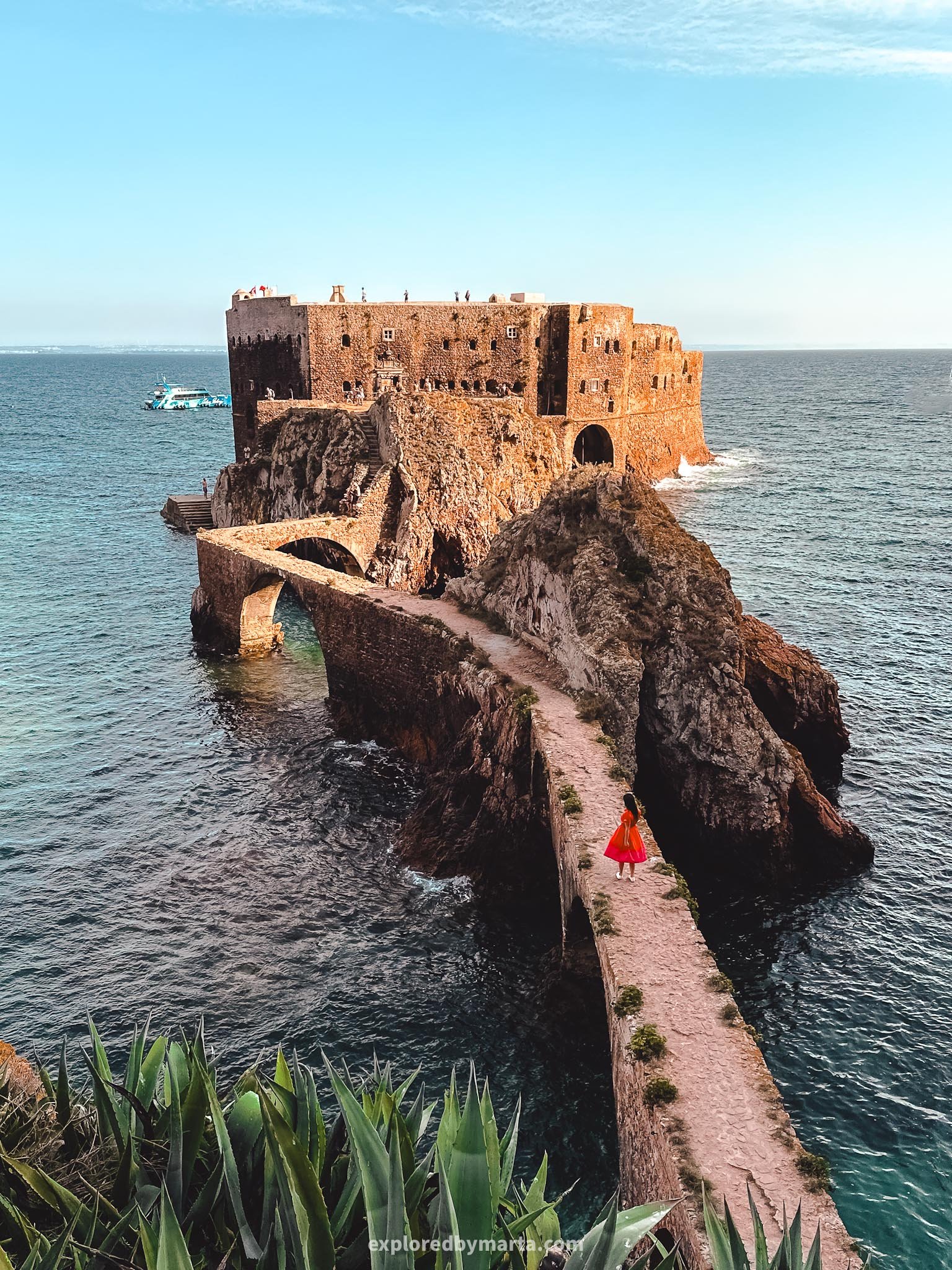 One of the bucket list things to do in Portugal is to take a boat trip to the Berlengas Islands. It is a small archipelago just off the coast of Portugal near Peniche. Óbidos is only a 25-minute drive away from Peniche making it a perfect detour during your visit!
Berlengas Islands are known for crystal clear waters – people enjoy the beaches as well as cliff jumping here. The most famous tourist attraction on the Berlengas Islands is Fort of São João Baptista.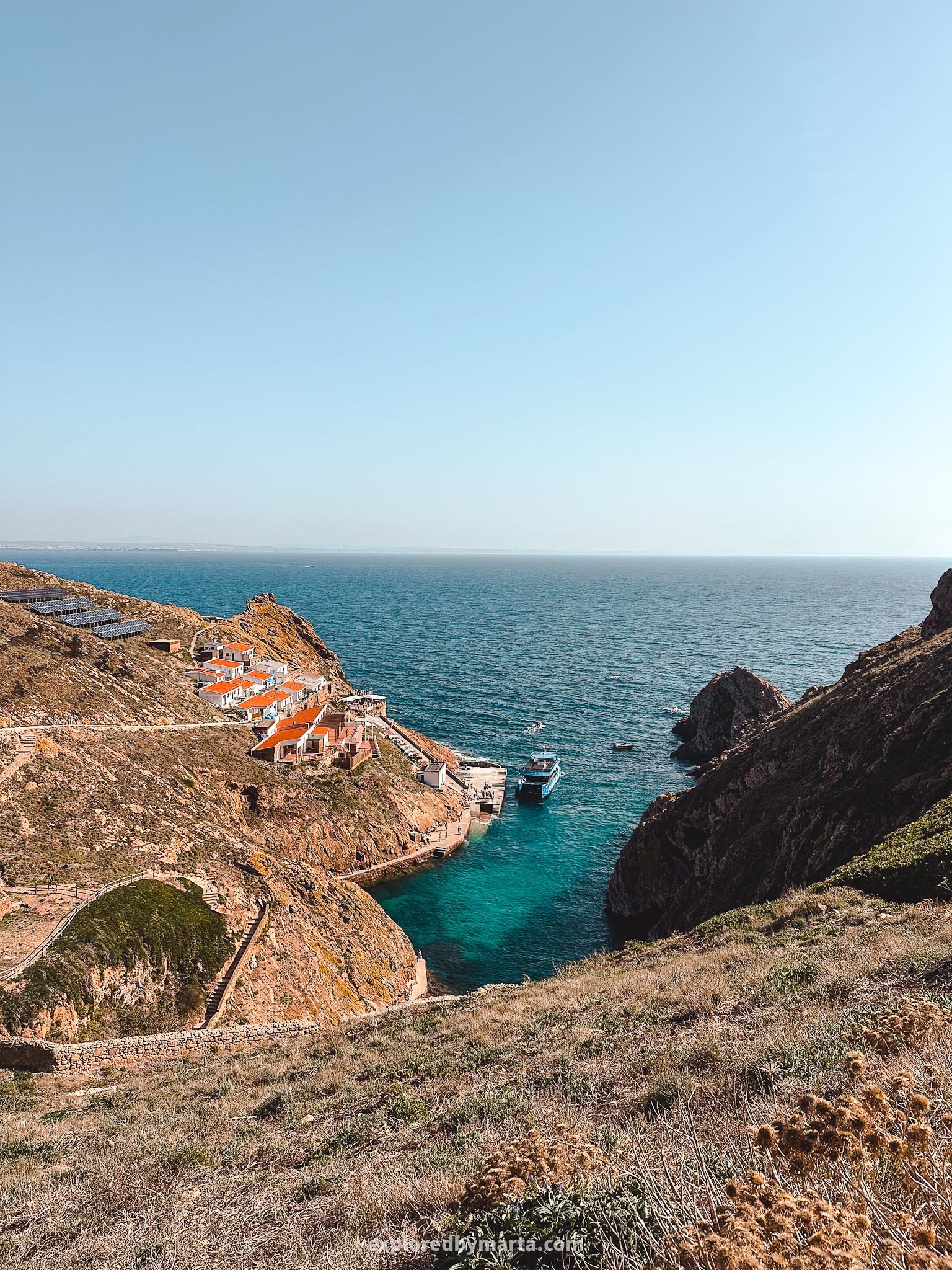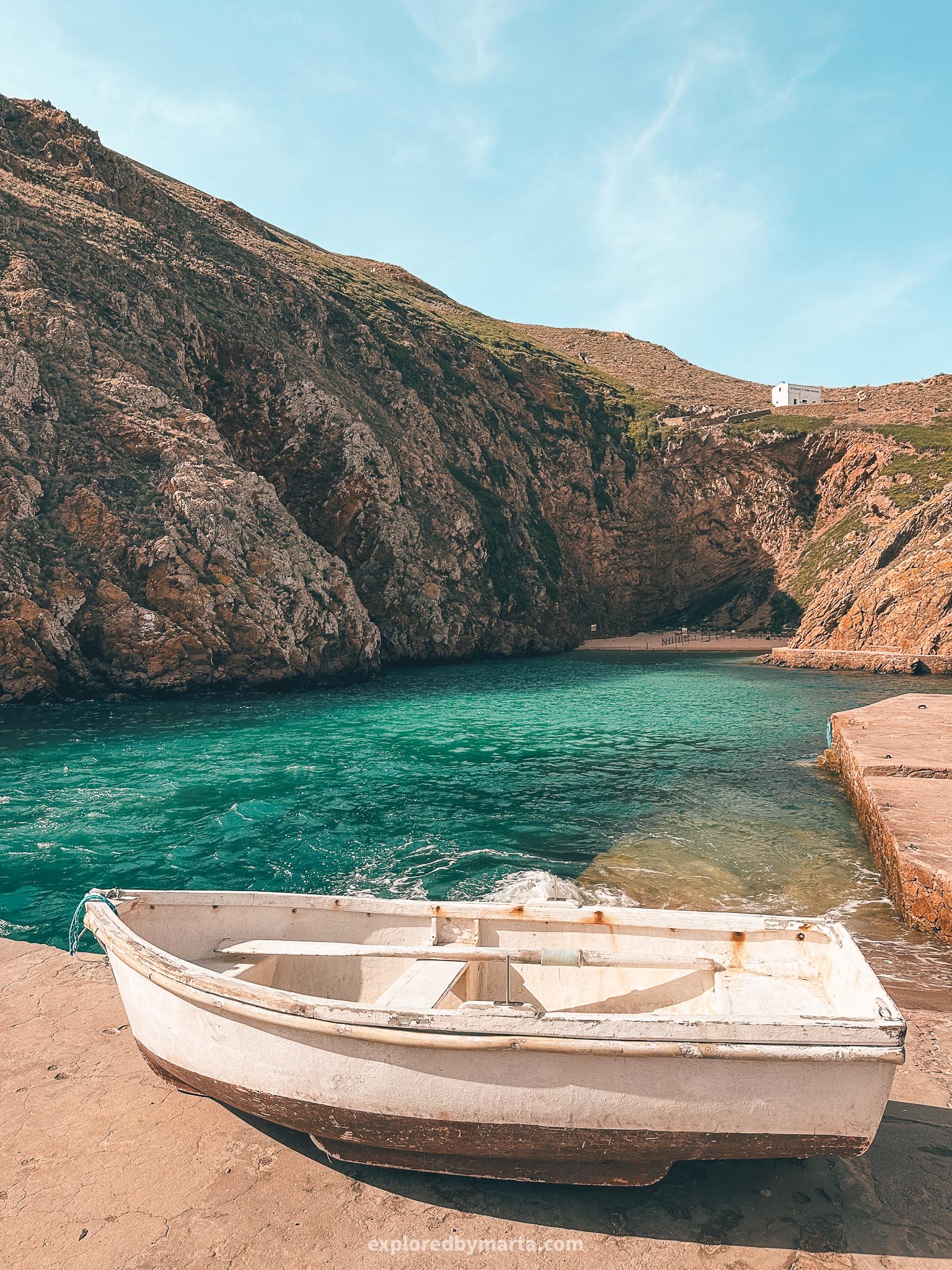 This fort is a military defensive structure. The octagon-shaped fort was built from the remains of an old monastery that was abandoned due to regular pirate attacks. It was constructed during the 17th century.
Today it is one of those hidden gems in Portugal that tell the tales of the past. You can explore the outside of the fort for free, or you can pay 1 EUR to explore it from the inside. I highly recommend taking a trip here!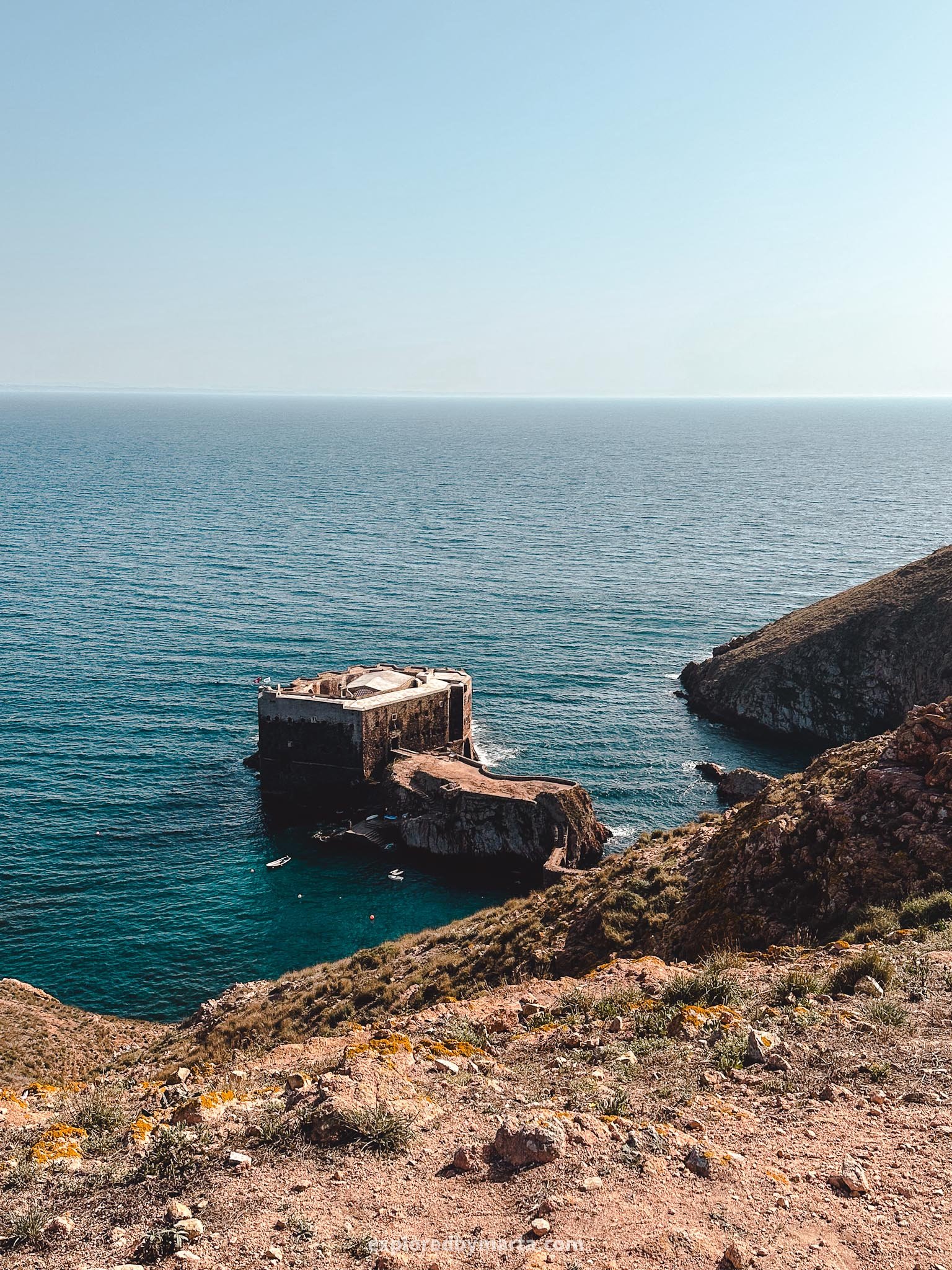 How to get to the Berlengas Islands?
In order to get there, you need to buy a round-trip ticket to Berlengas online (this is the one we went with) for the exact time you wish to go. You will have about 3 hours to spend on the island before the ferry departs.
Before the trip, you have to register on berlengaspass.icnf.pt and obtain a Berlengas Pass by paying a tourist tax for visiting the archipelago. It cost us 3 EUR per person, but you must do it prior to your trip. Nobody checked it for us tho, but they asked if we had done it.
On the day of your trip, you have to drive to the port of Peniche. They have a paid parking lot right next to the ferry that goes to the Berlengas Islands. You have to arrive about 30 minutes before departure.
Definitely bring some snacks, drinks, comfortable shoes, and sunscreen. There is little shade on the island. Some of the paths are not paved. The fort is located 1 kilometer from the port so it will be a bit of a hike with some vertical meters as well.
Location: Forte de São João Baptista
Happy exploring!
We visited Óbidos during our 3-month road trip around Portugal and I absolutely fell in love with this charming town. It is located just an hour North of Lisbon making it a great place to go in order to step back in time to the Middle Ages.
I hope you enjoy your time in Óbidos and in Portugal as much as we did! And I hope you will get some travel inspiration from this blog post to make your trip to Óbidos even more exciting, memorable, and filled with lots of fun things!
PIN FOR LATER!