Ultimate guide: 15 best things to do and see in Puerto Morelos, Mexico
Puerto Morelos is an authentic fishing village at the shores of the Caribbean sea full of unique sights and a relaxed atmosphere. Here are the best things to do and see in Puerto Morelos. In this blog post, you will find all the things to do, see, eat and experience with descriptions and locations. Happy travels!
Read also >>> 11 best Instagram spots for beautiful photos in Puerto Morelos
This post contains some affiliate links. If you use these links to buy something I may earn a small commission at no additional cost to you ♥
Best places to visit in Puerto Morelos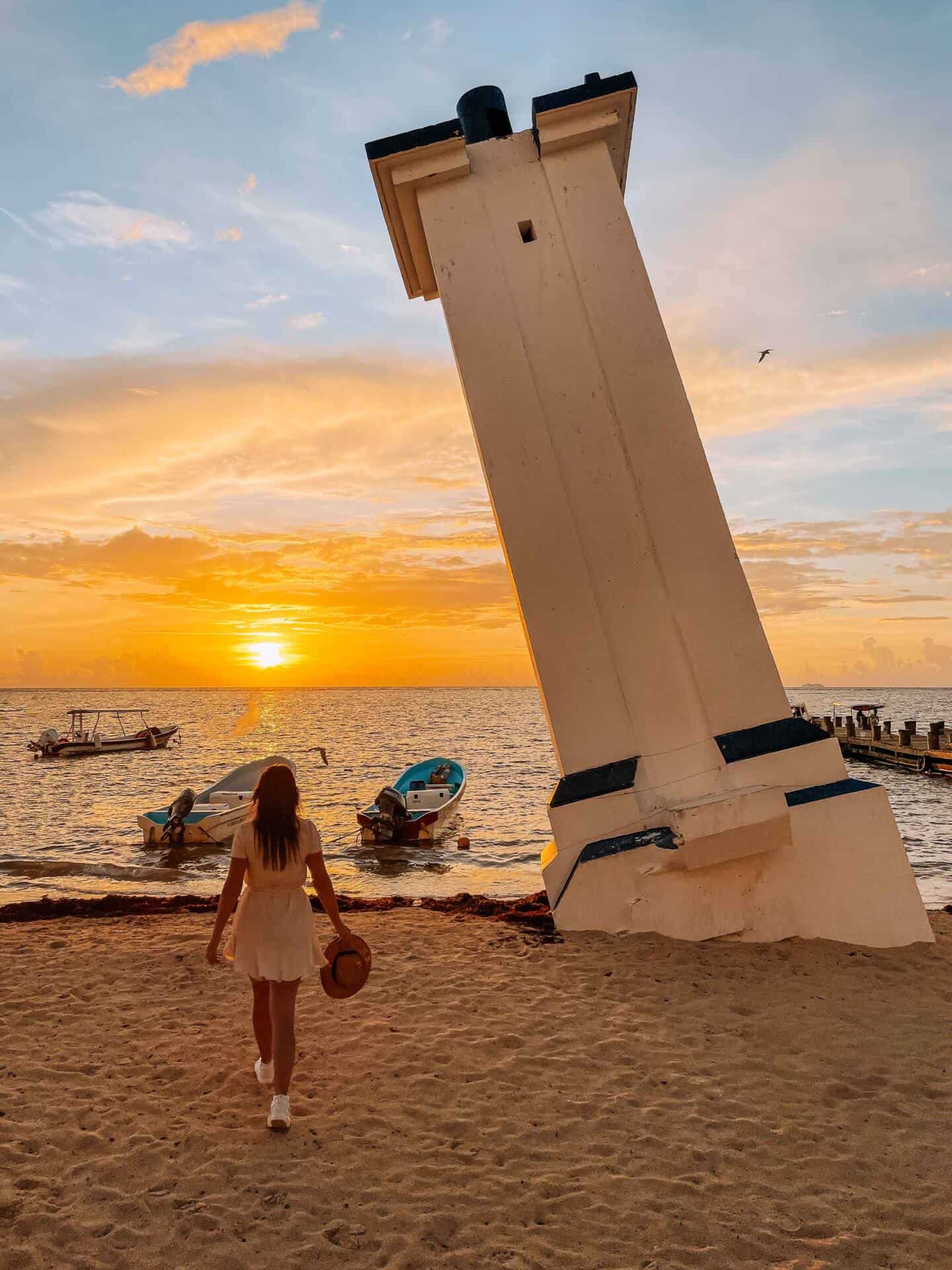 The beautiful white-and-blue lighthouse in Puerto Morelos is like a Mexican version of Italy's Leaning tower of Pisa! The lighthouse was damaged in the 1967 Hurricane Beulah. Today it stands as a symbol of strength and resilience. This is a must-visit place in Puerto Morelos.
2. Enjoy the seaside promenade and take a photo with the colorful Puerto Morelos letters!
They have these colorful town and city names in every place here in Mexico, I guess! As you walk along the palm tree-lined promenade, you will notice the letters of the town. Don't forget to take a photo as a keepsake!
3. Enjoy the white sand beach!
Puerto Morelos has a beautiful long stretch of white sand beach. If you start at the leaning lighthouse you can walk along the beach for quite a while. The closest part to the lighthouse even has a Blue Flag beach award. Go barefoot and enjoy the relaxing stroll!
4. Visit the fun Croco Cun Zoo – a conservation place for wild animals!
This incredibly fun and interactive animal conservation zoo is amongst the best places to visit in Puerto Morelos. Animals not only roam around freely in the park, but you get to feed them and touch them and learn about them! Such a cool experience! Get tickets for an expert-guided tour in English here!
Best things to do in Puerto Morelos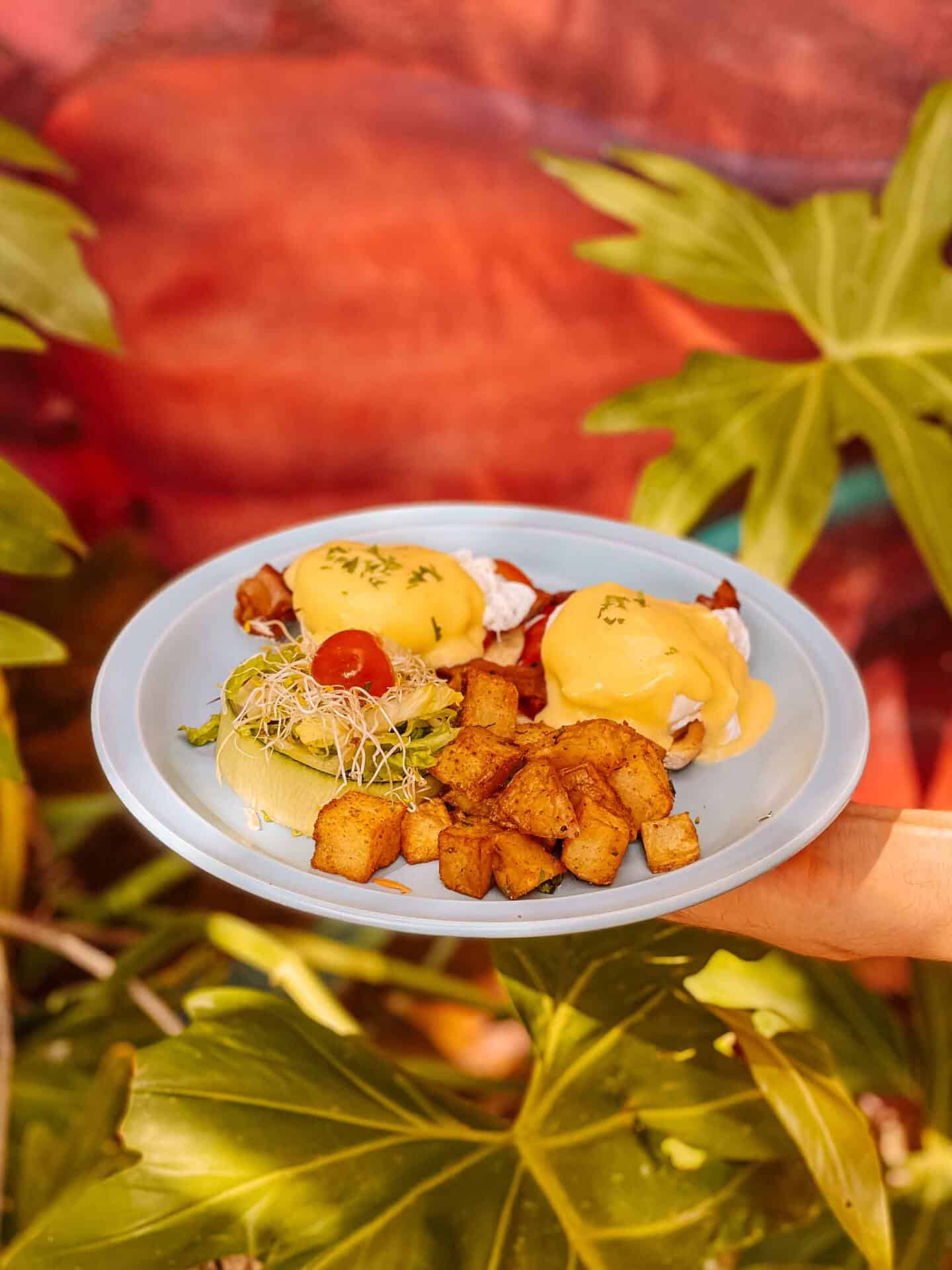 There is no better way to experience the local culture and find out about the traditions of local people other than going on a food and drinks tasting tour! Learn more about this town by tasting different tacos, and tequilas and getting lost in the Flea Market!
Snorkeling at the barrier reef just off the coast is probably the best thing to do in Puerto Morelos! Join a snorkeling trip in a small group to one of the most beautiful underwater areas in the world (equipment is included!) and experience the other-worldly beauty of the underwater world!
7. Explore the cenotes at Ruta de los Cenotes!
The area near Puerto Morelos is dotted with cenotes – sinkholes with crystal-clear water suitable for swimming. Ruta de los Cenotes is a 21-mile stretch with around 60 cenotes connected to each other by underground pathways. You can either choose a nearby cenote and visit on your own (like Cenote Siete Bocas) or join a jungle ATV adventure tour to cenotes!
8. Take a walk in the jungle forest at the botanical garden!
The Dr. Alfredo Barrera Marín Botanical garden is a paradise for jungle lovers! Take a walk through the lush green forests full of butterflies, iguanas, spider monkeys, and other wildlife. Plus, pay a visit to an ancient Mayan archeological site.
Cool experiences to have in Puerto Morelos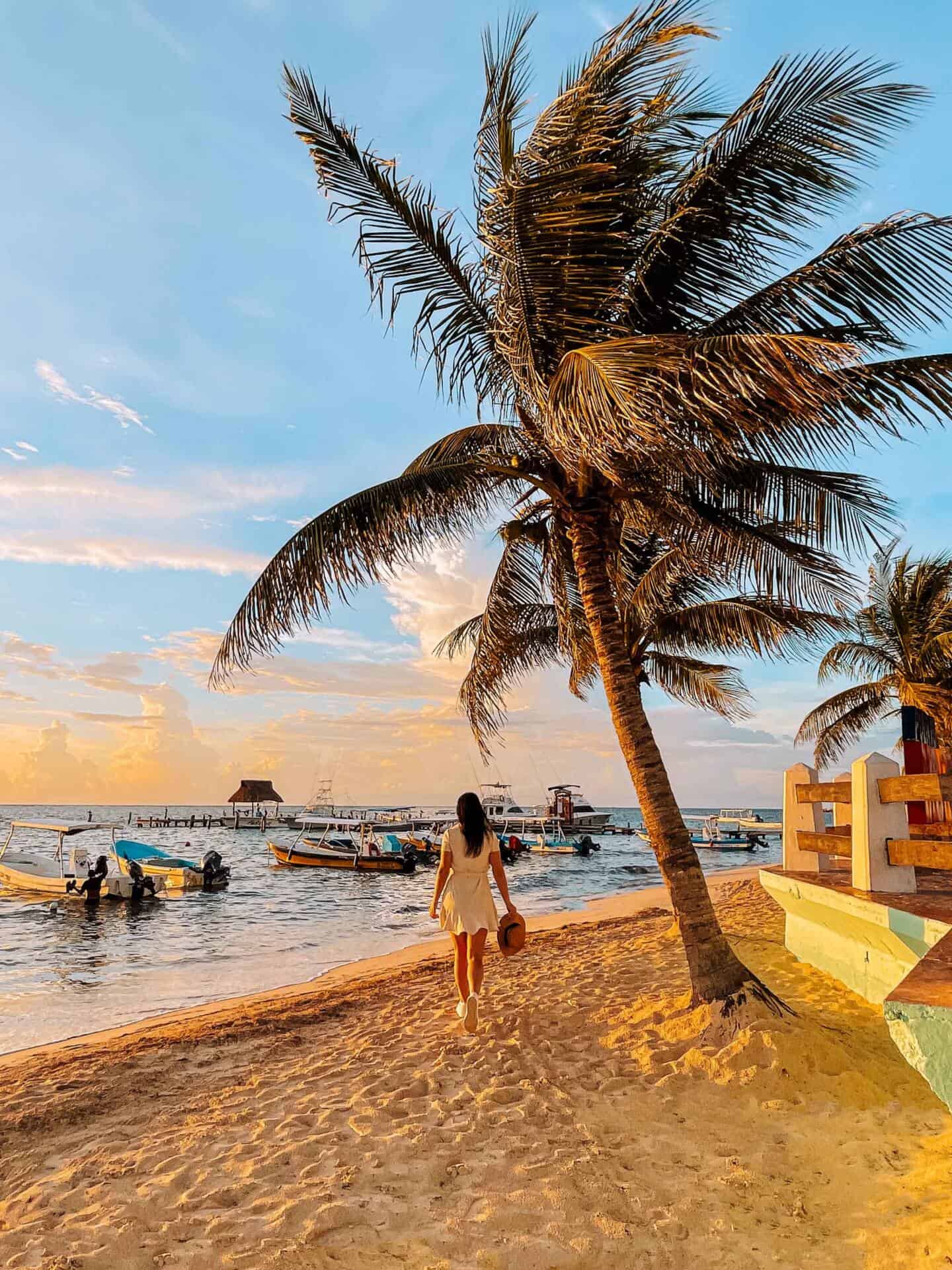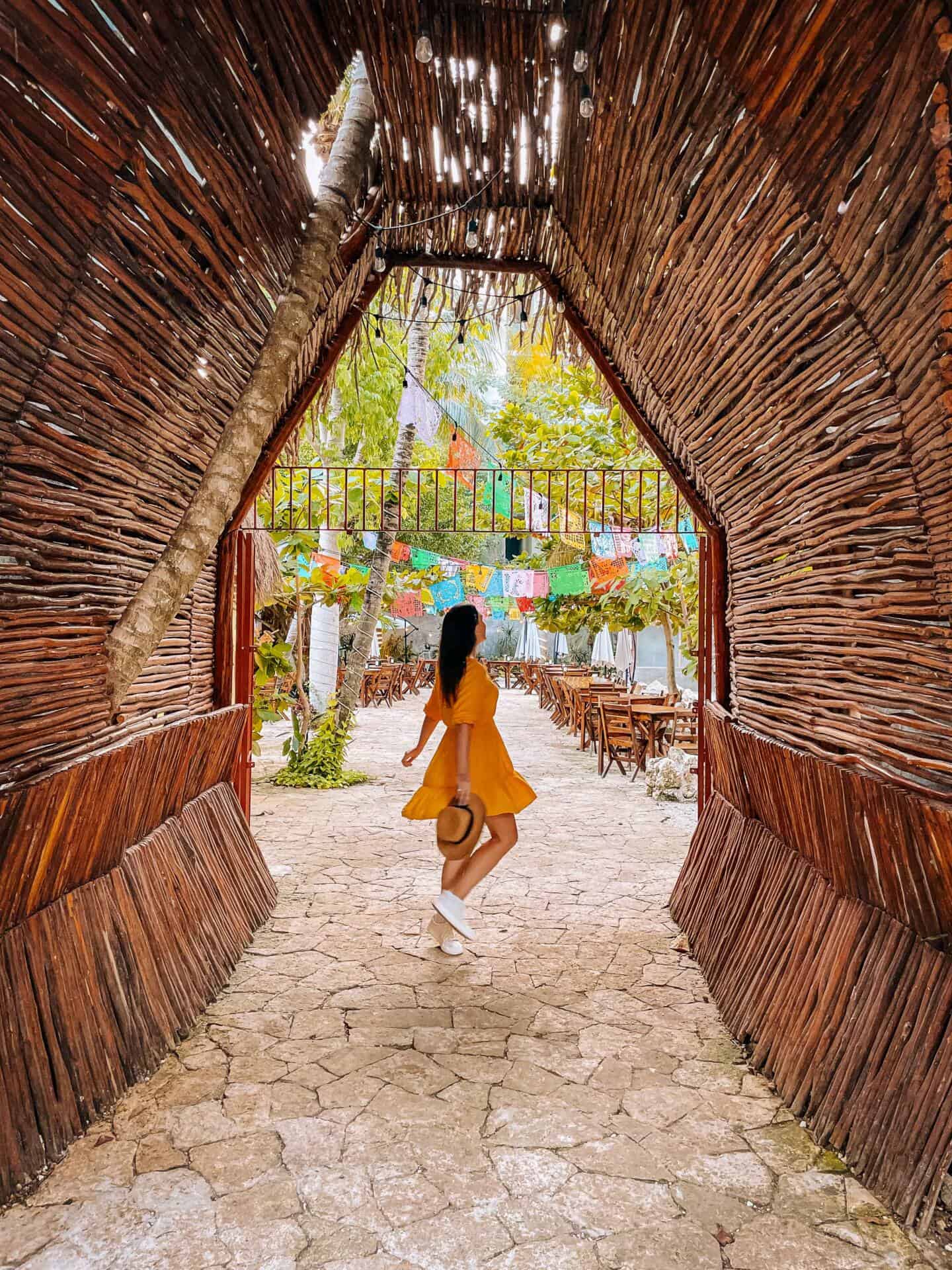 Sometimes the most beautiful things in life are free – like sunsets and sunrises. The advantage of this town is that it is located at the shores of the Caribbean sea and you can see the sun emerging from the sea in the morning. We experienced two beautiful sunrises at the leaning lighthouse and the wooden dock that stretches into the sea. Magical!
10. Shop at the arts and craft market on the streets of Puerto Morelos!
This town has a small but wonderful street market and other artisan shops around the town where you can shop for some locally handmade gifts and crafts. I bet you will love getting lost in the streets and finding something you like.
Have you ever bought an ice cream in a chapel? You can in Puerto Morelos! There is a wonderful ice cream shop with homemade ice creams inside a chapel-like building located in the center of the town right next to the town's church.
12. Enjoy fishing in the Caribbean sea!
Once you get to Puerto Morelos and go to the center, you will hear many local tour guides offering you various water activities – one of them will be fishing!
What better way to commemorate a visit to a fishing village than by going on a fishing trip with locals!? Just go to the local guides (most of them are at the leaning lighthouse) and they will help you with everything you need.
Best places to eat in Puerto Morelos
Enjoy the jungle-like atmosphere at Mi Pueblo Hokum restaurant with an inner garden, dine under the trees and enjoy different wooden structures that they have built to decorate the restaurant.
They offer both local dishes as well as some international options to choose from. My favorite restaurant in Puerto Morelos!
Treat yourself to some amazing gourmet tacos with a unique twist at El Socio Taqueria Naiz. They do like being different here with some tasty and unusual food combinations, so you won't be disappointed!
15. Enjoy local fish at El Pesquero seafood restaurant!
You have to dislike seafood in order to not visit a seafood restaurant while exploring a fishing village at the shores of the Caribbean sea! El Pesquero is a great all-around choice for some local vibes and quality seafood with some freshly caught fish.
Happy exploring!
Puerto Morelos is a relaxed small fishing town in Riviera Maya. This is really the place to go if you wish to skip the buzz of popular tourist destinations! If you can, please, leave a comment below if there are any significant changes to anything that is written in this blog post! Many thanks!
PIN FOR LATER!